Good afternoon lovely ones, how has your day been. First up, if you're not following us on Instagram already, you really need to be. Done? Then let's carry on 🙂 University Lecturer Julia married Scientist Jo on 5th April 2015 with a service at Broughton Chapel of the Sacred Heart and the reception at Eden, both on the Broughton Hall Estate in Skipton, North Yorkshire.
It's a real pleasure to be able to feature the work of photographer Ryan at Shutter Go Click Photography for the very first time. Ryan was on hand to document all the love of this beautiful and fun-filled day, and I adore how he has captured the retro vibe of the day alongside all those happy smiles.  Enjoy folks!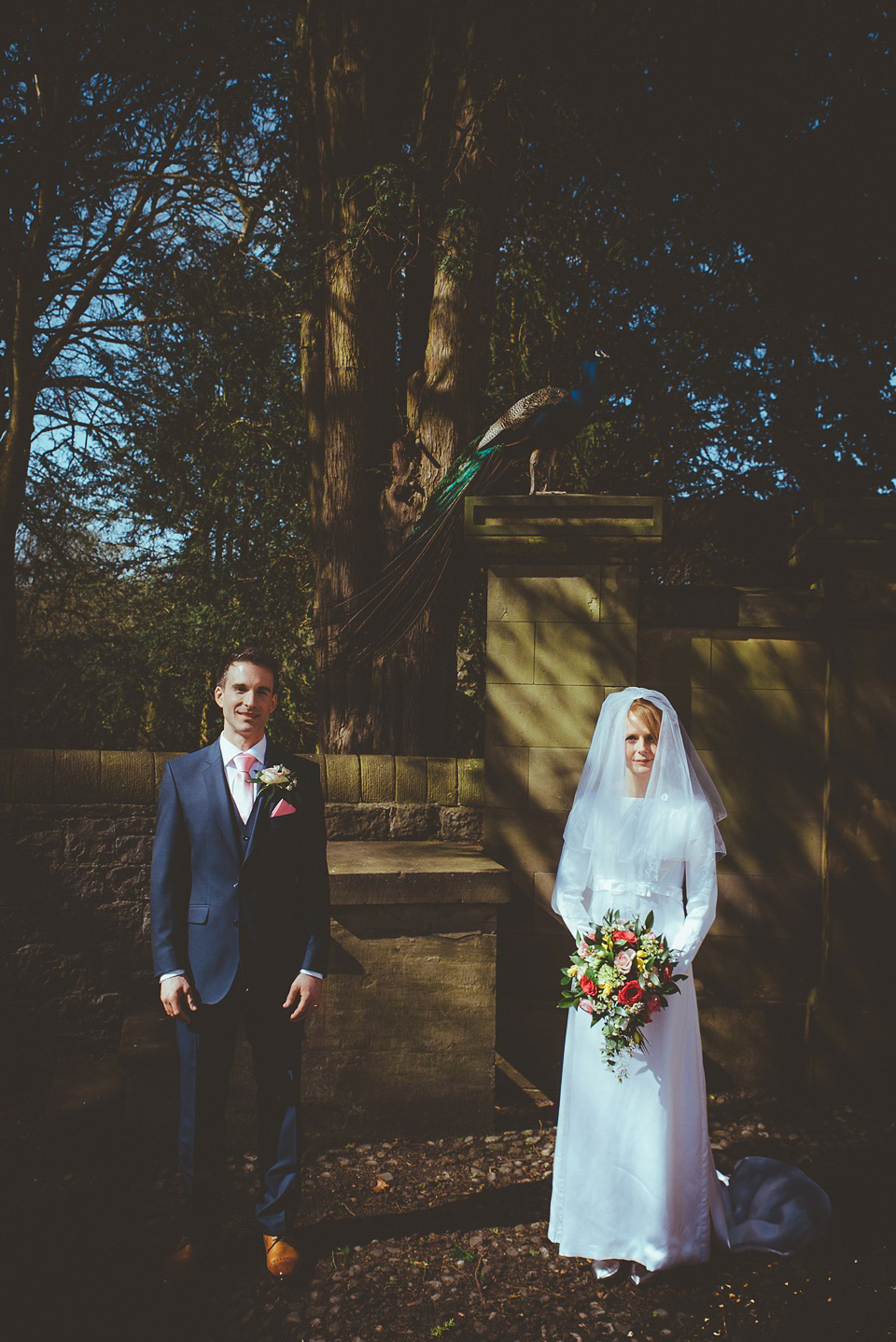 Julia's exquisite 60's original vintage dress and veil were both purchases from Glory Days Vintage in York.
"I knew I wanted a 1960s style vintage dress but always thought I'd go for something short and unconventional. When Hayley at Glory Days Vintage teamed the dress up with a short veil that had little daisies sewn in, we were all sold! She altered the train to make it detachable, which worked really well."
"The material didn't have a lot of stretch in it at the top though, which meant that it would have been difficult to dance in, so I changed into the short dress for the evening. The combination worked well in the end."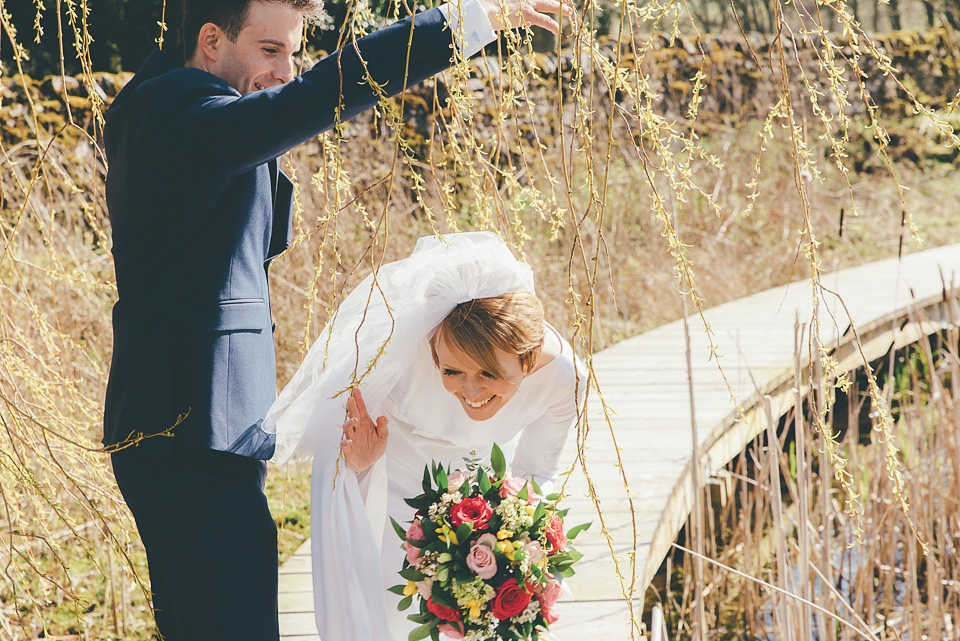 "Ryan at Shutter Go Click Photography was amazing! He's a fantastic guy who is not only an extremely talented photographer but also has a knack of making everyone feel at ease, and I think this is reflected in the beautiful photos he takes."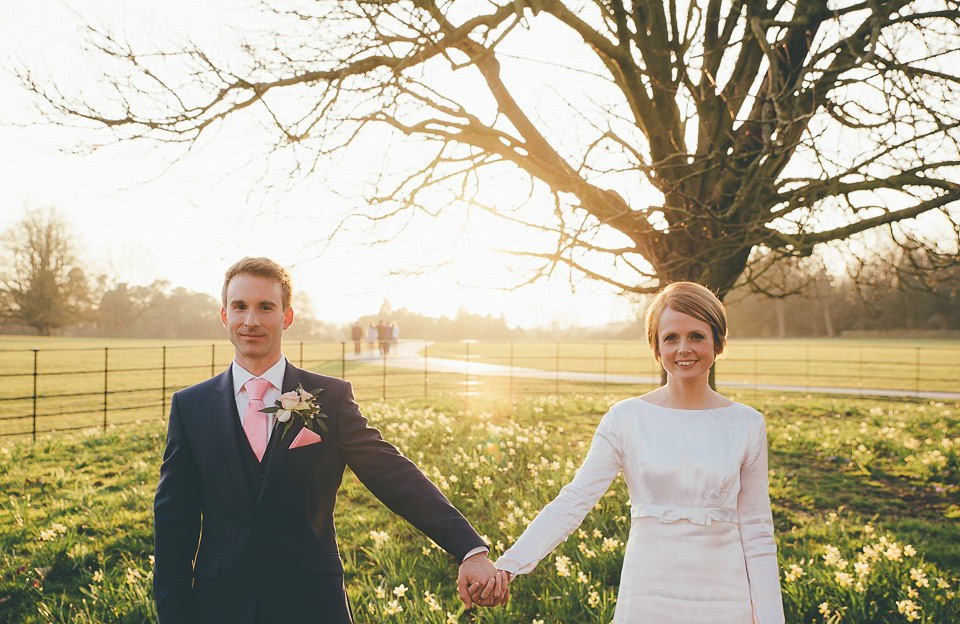 "Ryan arrived in the morning, spending time with each of us as we were getting ready, and by the time we were walking to the chapel for the ceremony he felt like an old friend! His pictures are unique, not what you'd expect to see in wedding photography, and that's what I love about them.
The photos he took perfectly captured the spirit of the day. You can't ask for more than that really. I think we're lucky to have found Ryan towards the start of his career. In a few years' time, I'm pretty sure we wouldn't be able to afford him, so my advice to anyone getting married would be to snap him up now!"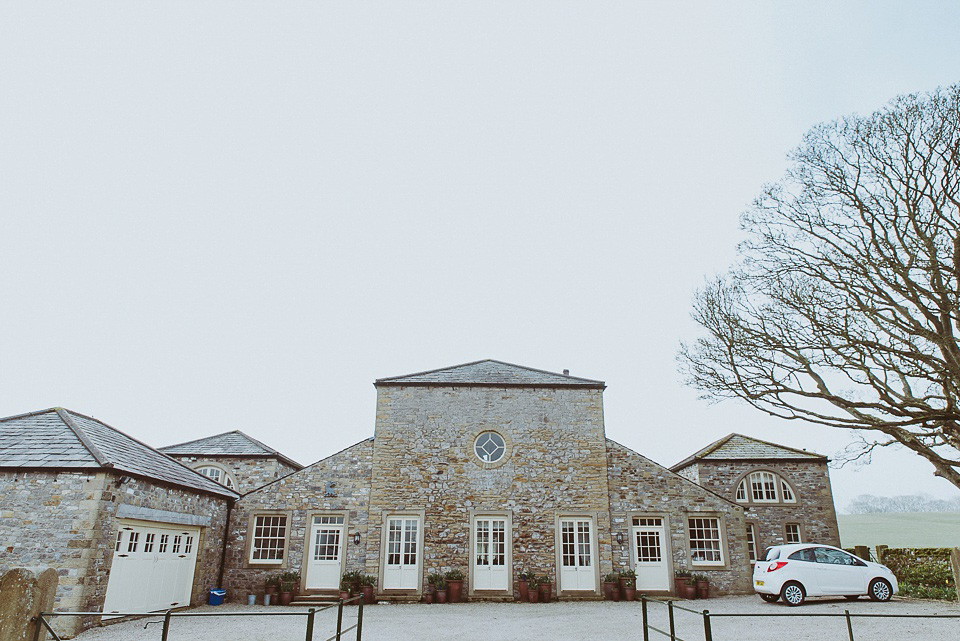 Whilst Julia's dress was from Glory Days Vintage in York, it wasn't actually the first dress she purchased…
"I had bought a short white and silver 1960s dress for £75 from Catherine Smith Vintage Fashion in Harrogate about a year before the wedding and decided that this would be perfect for the big day. I was delighted that I'd found a bargain wedding dress with minimal fuss! But, I was sorry that my mam and bridesmaids hadn't been involved in the decision, so we all went to Glory Days Vintage in York a few months later to have a fun afternoon and to make sure that there weren't any dresses out there that would be better for me. I'm so glad we did."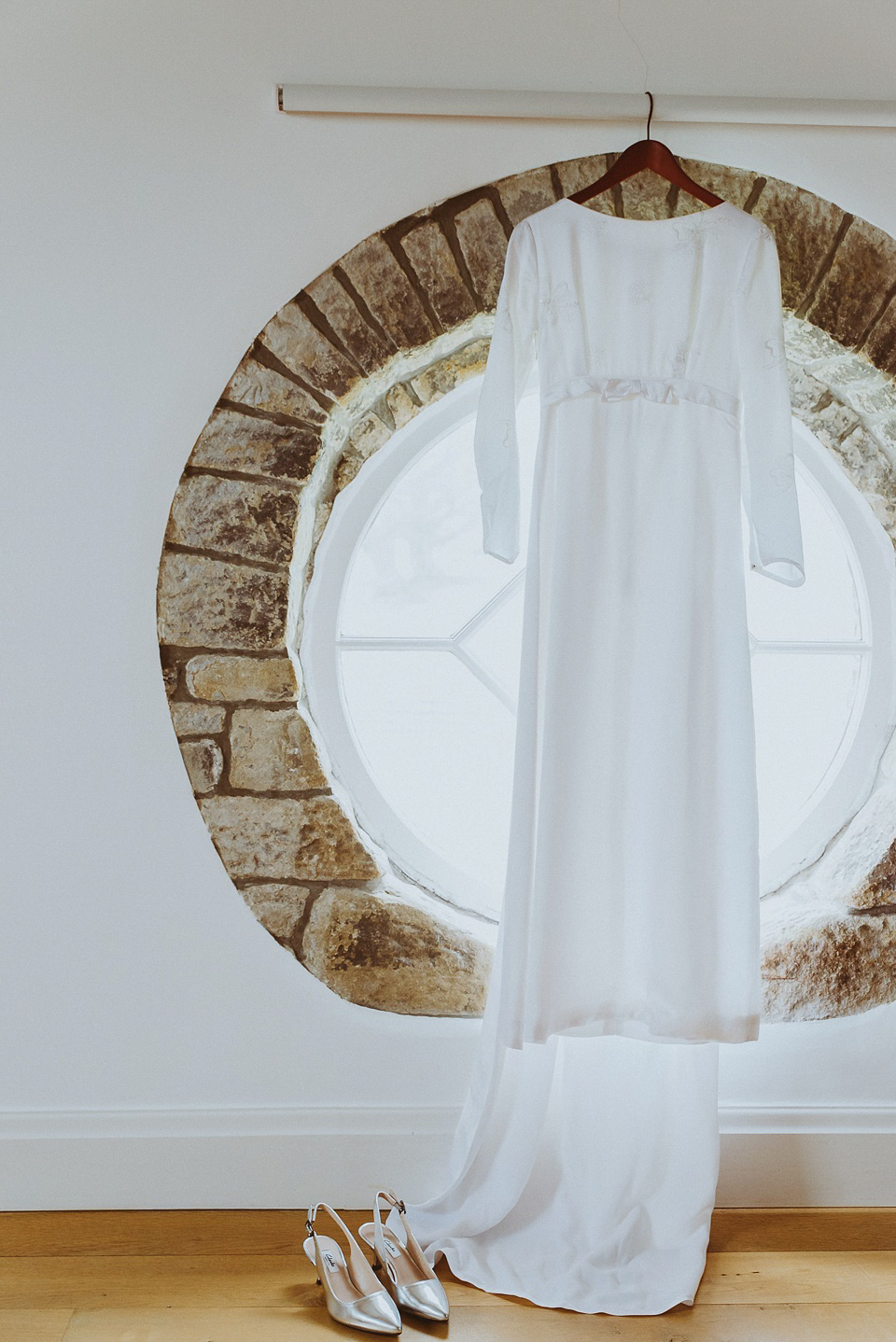 "Hayley at Glory Days Vintage  is lovely and has some amazing dresses. When I tried on the dress I eventually bought we all knew it was the one. It sounds a bit daft, but when I put it on, all of a sudden I felt like a real bride. I could really imagine myself walking down the aisle. It felt like a proper wedding dress, especially with the gorgeous train at the back, but without all the fussiness that I'd wanted to avoid. I loved the simple, classic cut and the understated detailing at the top."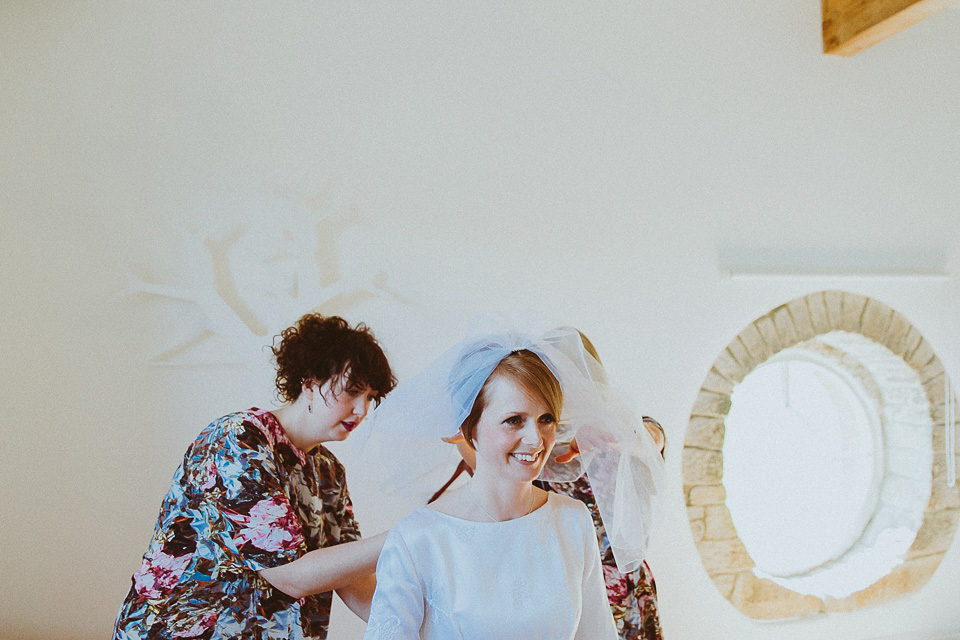 "Sue Marron, a friend of my Mum, did all of our flowers and we were delighted with them. We wanted something fairly informal for the table flowers – nothing too regimented, just a mix of spring flowers. I love tulips and daffodils anyway and they're perfect for an Easter wedding. I had a rough idea of the shape and colours I wanted for my bouquet, but pretty much gave Sue free rein. I loved the end result. The colours were so vibrant and looked great on the photographs."
"Joe and I met at a BBQ organised by mutual friends at Highbury Fields in Islington, London. It was Saturday 1st October 2011 and a random heat wave meant that temperatures in London soared to 30 degrees. I was meant to be working but decided that I couldn't miss the last day of summer by being indoors. Joe had plans with friends elsewhere in London but decided to drop into the BBQ for a quick bite to eat first. The rest (as they say) is history. We got engaged on Christmas Day 2014 while visiting Joe's family in Austria."
"We all did our own make-up. Bride and bridesmaids' hair was styled by Matthew Sutcliffe, who works at Renengade in Leeds. The colour on my hair was by Chantelle Green, a mobile hairdresser based in Teesside."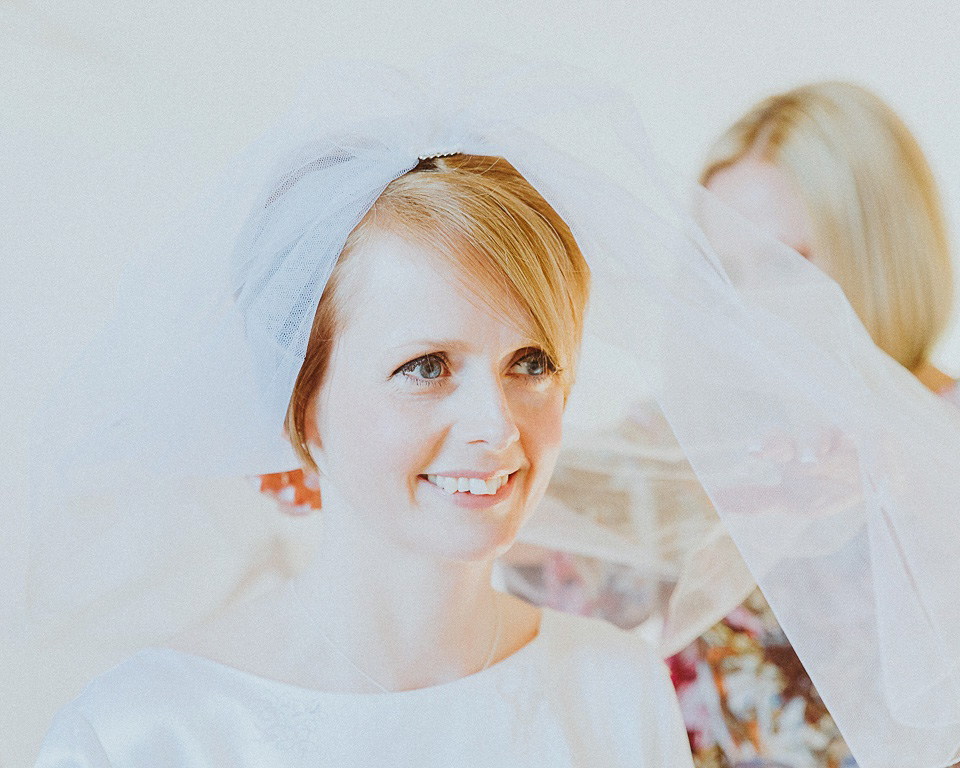 "My shoes were from Clarks – I wanted silver metallic shoes with a small heel that would be comfortable all day. It was surprisingly difficult to find any that fit the bill until my mum spotted these on the Clarks website."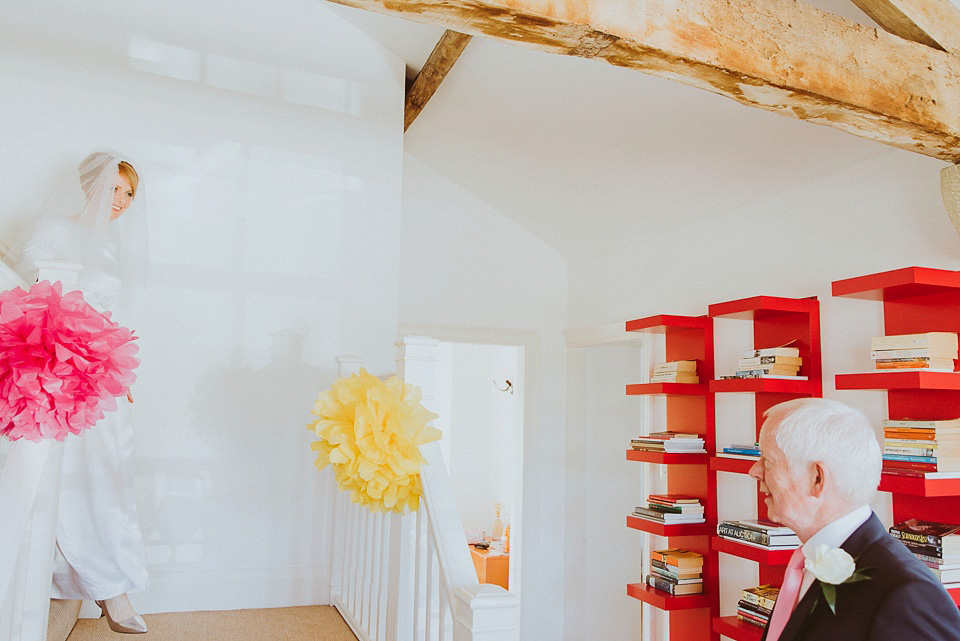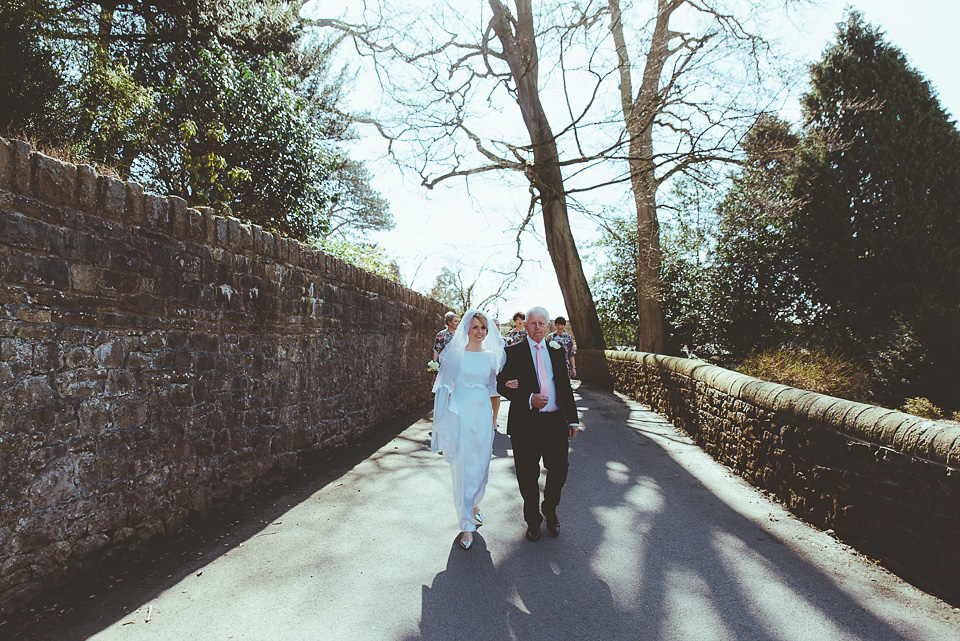 "One of my bridesmaids, Katy Lassen, who also happens to be an amazing stylist, found these dresses for us from & Other Stories. I loved the bold print and think it worked really well against the simplicity of my dress."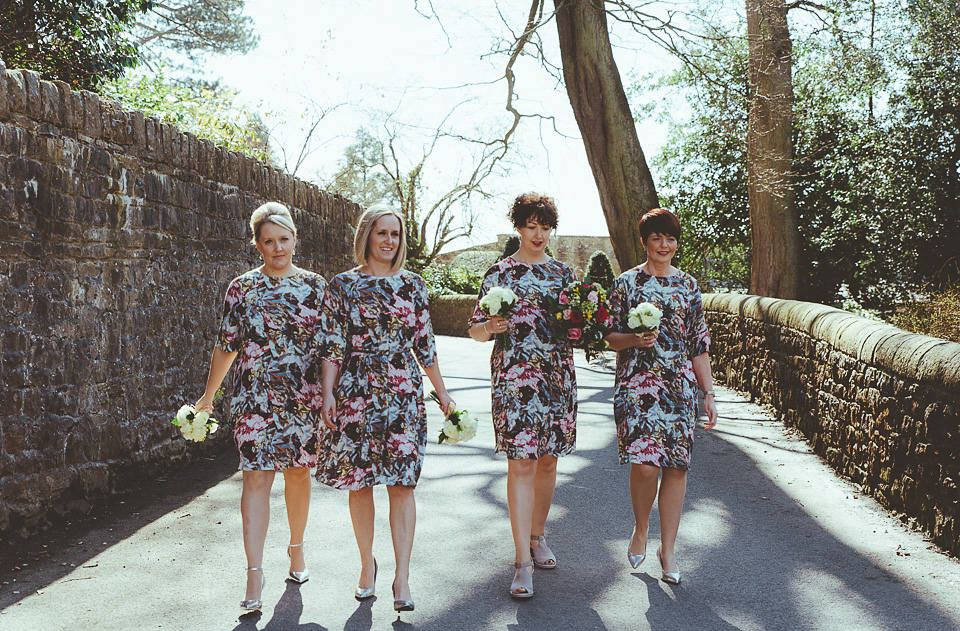 "One of my best friends got married at the Broughton Hall Estate in Skipton, North Yorkshire.  shortly before we got engaged. They stayed at a holiday home on the Estate called Eden. We visited them there the day after the wedding and fell in love with the place. When we got engaged we both knew that we wanted to hire Eden for our wedding. It's beautiful but also lends itself to a relaxed, intimate wedding.
It was the house and the amazing Yorkshire Dales surroundings that inspired us initially. In terms of style, I've always loved 1960s fashion, so I knew I wanted a vintage 60s dress and to bring in other little touches from that era where possible. We were also inspired by the season – light, bright spring colours, daffodils and tulips!"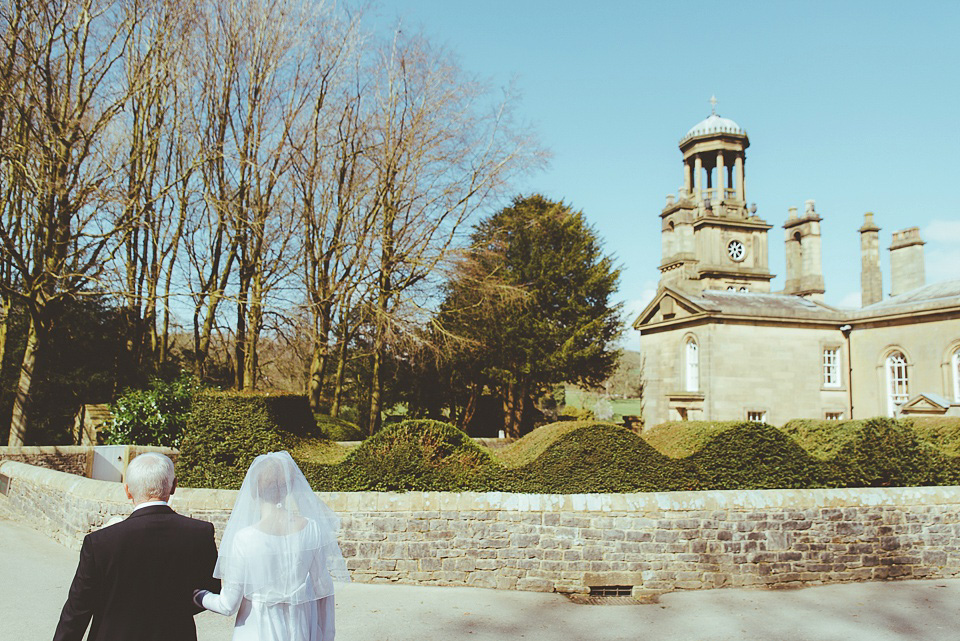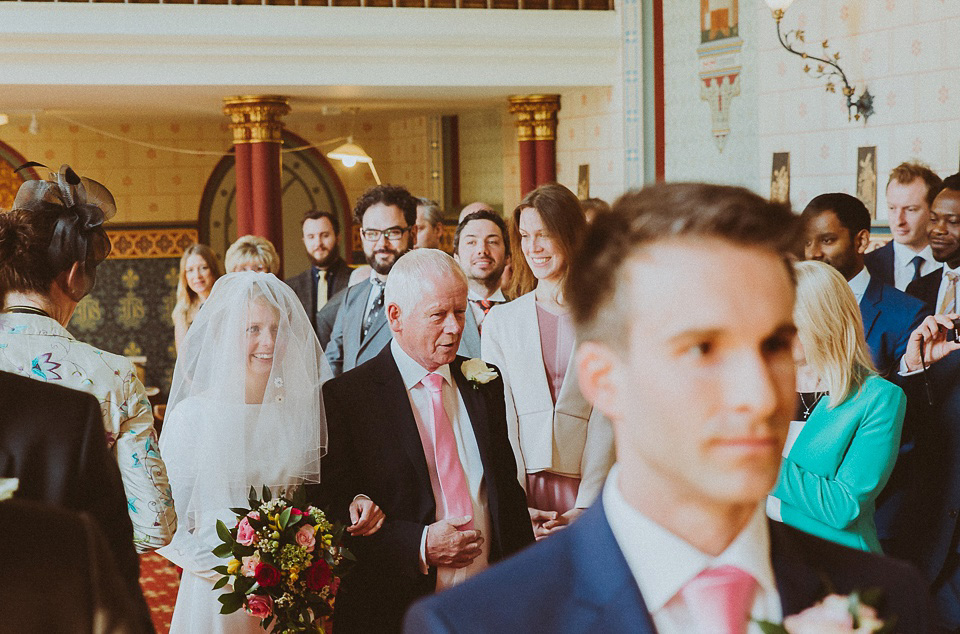 "Our rings were from Bradleys – they were really helpful in finding the right rings for us. I wanted a wedding ring that fit with my art deco engagement ring. We visited about 15 different jewellery shops, from independent shops to commercial chains, and found rings that were ok but not amazing. In Bradleys, the shop owner's daughter took one look at my engagement ring and seemed to know exactly what would work. She showed us a wedding ring engraved with an art deco pattern. This one was thicker than we wanted (4mm) but they were able to order us a smaller (2mm) ring engraved with the same pattern. The end result was looks amazing – thanks Bradleys!"
"Joe bought his ring on the same day because Bradleys' had the 5mm 9ct rose gold ring he wanted in the size he needed right there. On top of that, we also got a 20% discount, which was being offered because of the York street festival. So great service and great value!"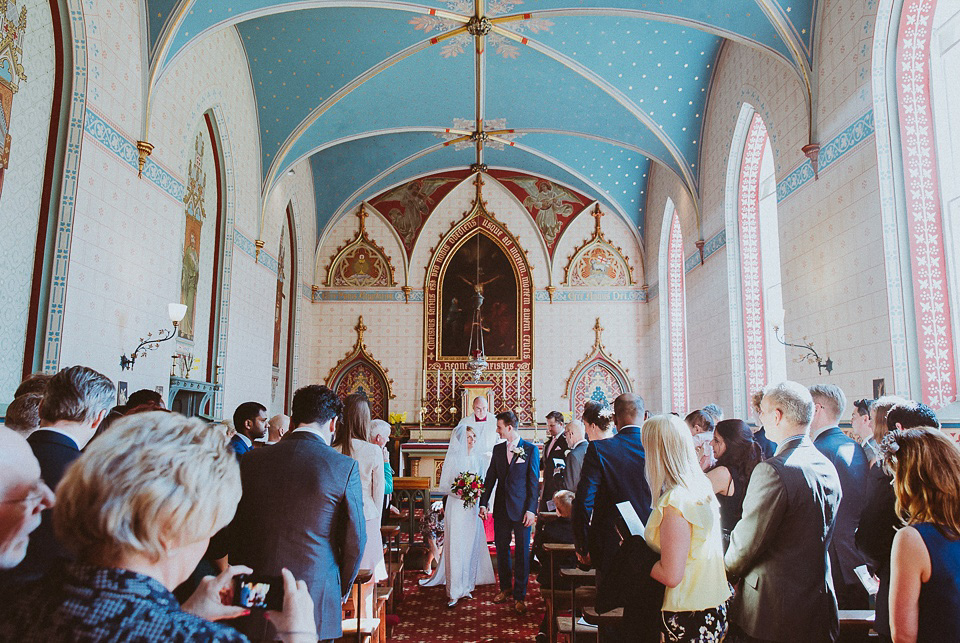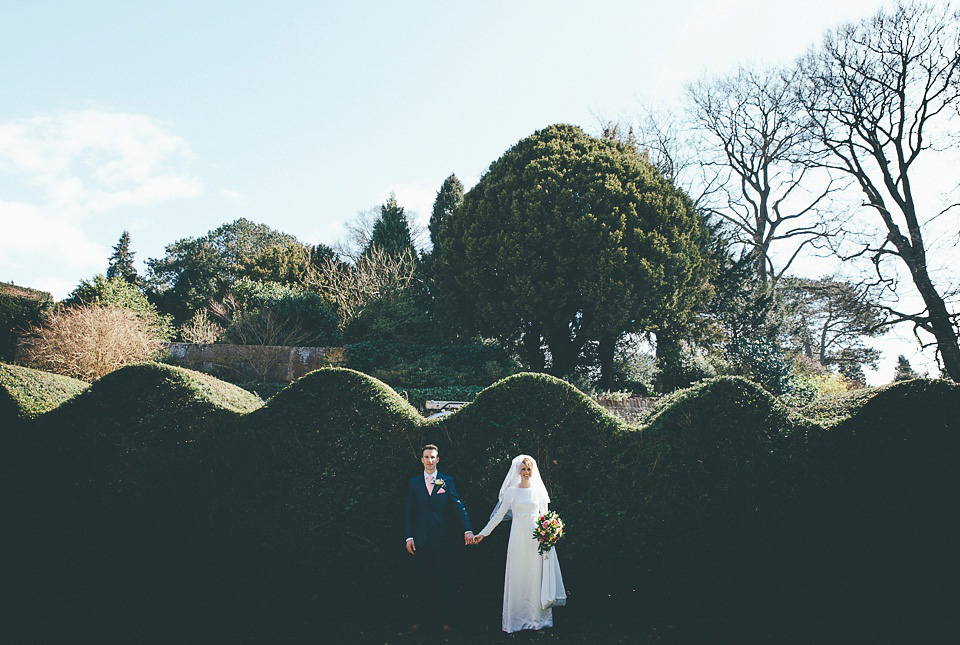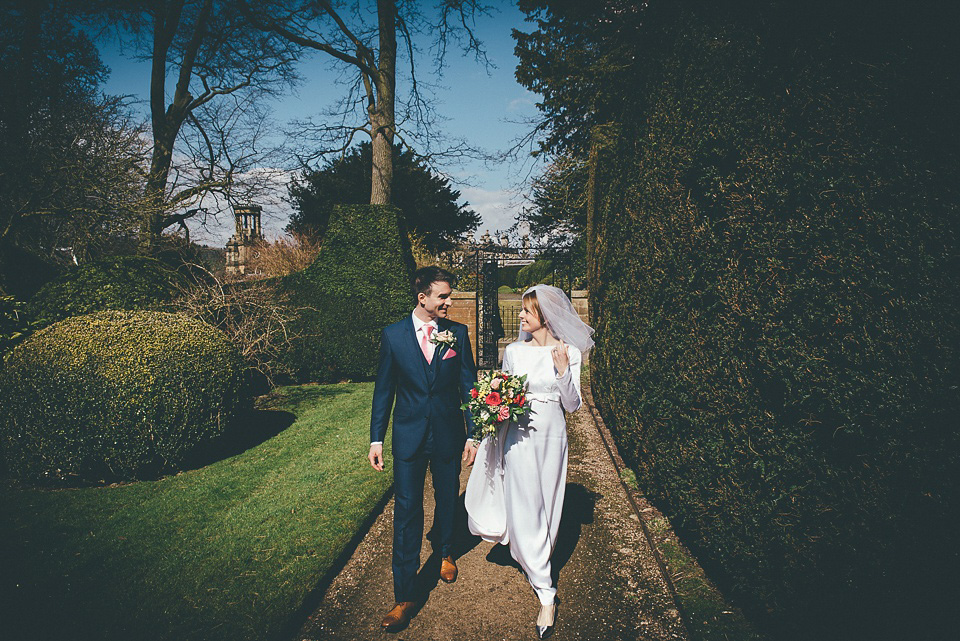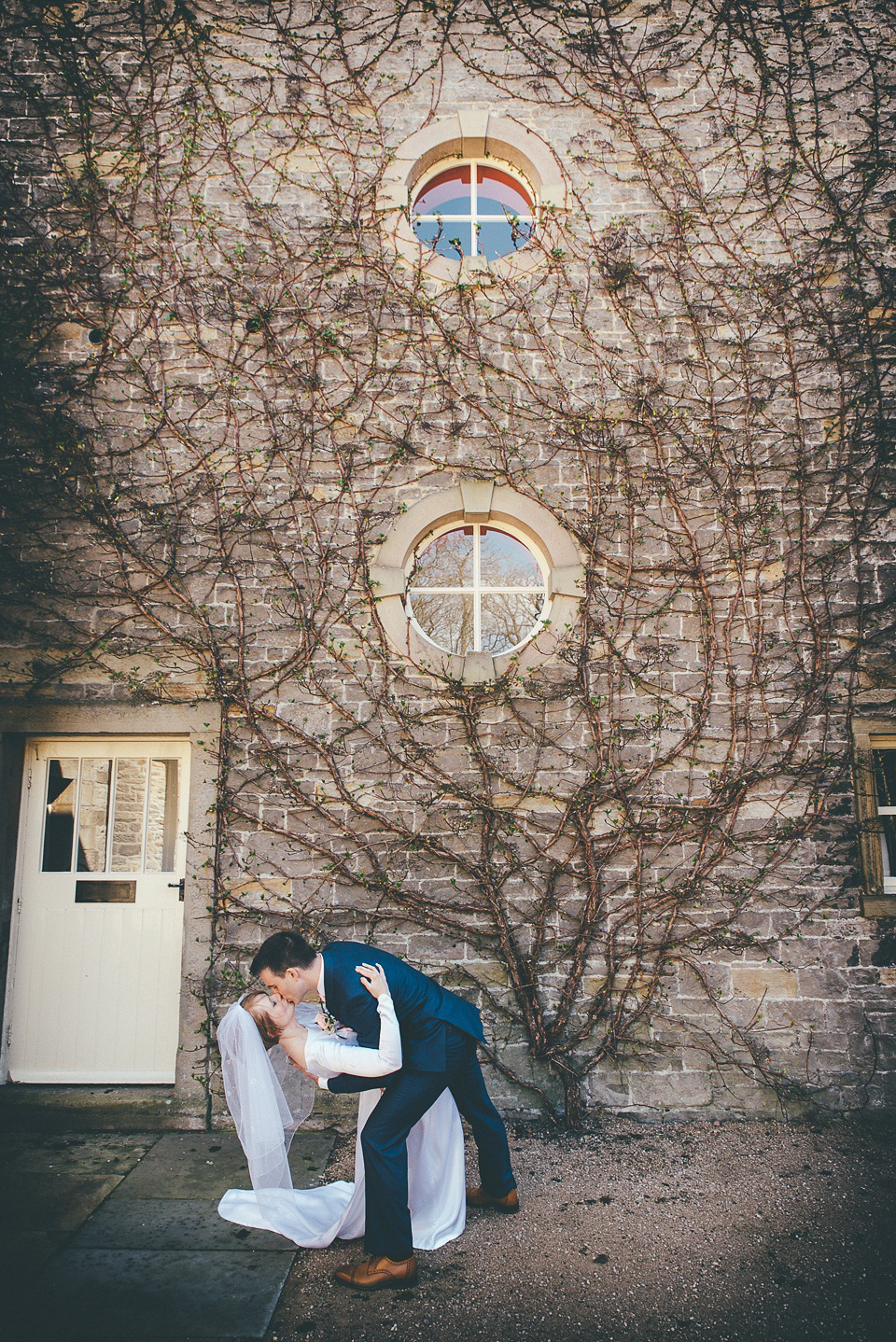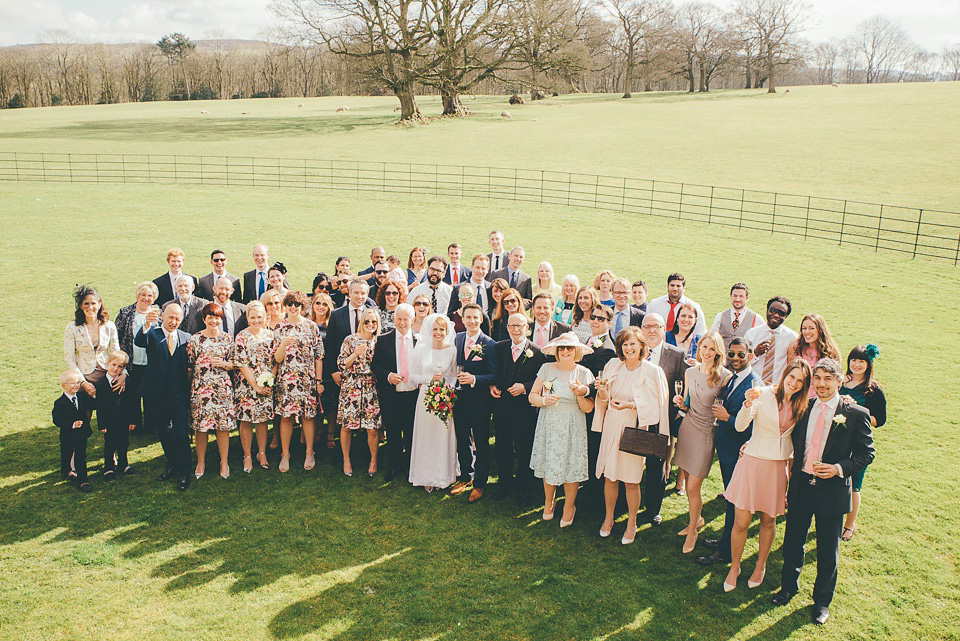 "The venue was so beautiful we didn't need to do much. One of my gorgeous bridesmaids, Jane Hutchinson, made pom poms for the ceiling. There were a few hiccups when trying to hang them, but in the end they looked fantastic!"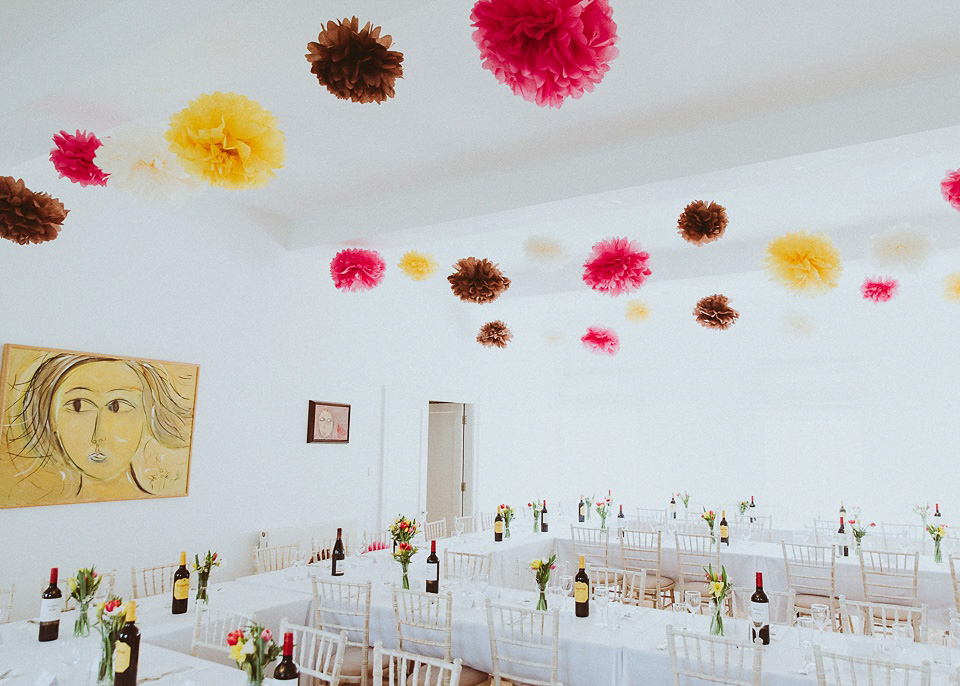 "We went with GFS Catering after we sampled their excellent food at a friend's wedding. They're based at Broughton Hall Business Park, which makes it very handy for weddings on the Broughton Hall estate. To start, we had a mixture of canapés, which were served with our own Prosecco and Pimm's in the garden. The selection included roast beef with mini Yorkshire puddings, king prawn skewers, tomato mozzarella skewers, salmon and chive tartlet, smoked salmon with sweet dill sauce, and Wensleydale rarebit on a crisp crostini. The main meal was a hog roast with all trimmings, which was fantastic and went down very well with the guests!
Dessert was a selection of cakes made by friends and family, and cheese with port. Later in the evening GFS Catering served Beef and Ale Stew, which was much appreciated by everyone who needed it to soak up the booze! It was also delicious."
"We had a free bar all day and organised it ourselves by stocking up on drinks in the months leading up to the wedding when we saw offers at the Supermarkets. Christmas was a particularly good time for this! We hired two bartenders from Harrogate, Dan Lloyd and Greg Boyle, to serve the drinks and mix a range of fantastic cocktails. Their cocktail menu included Espresso martini, strawberry daiquiri, mojitos and margaritas. The bar was provided by GFS and all the other bar equipment – fridges, freezers and glasses – was hired from Blue Sky Event Solutions. A tip for anyone thinking of doing the same sort of thing is to us this website to estimate how much wedding drink will be needed."
"One of my amazing bridesmaids, Jill Page, made our wedding cake. We had a delicious carrot cake (our favourite) and a tower of lemon cupcakes with vanilla frosting. The whole thing fit perfectly with the theme of the wedding: relaxed, homemade and gorgeous!"
"Our first dance was a Viennese waltz. Joe is Austrian and we wanted to include a few Austrian touches in the day. We had some lessons in advance from the North Leeds Dance Academy and kept it as a surprise. It all went well, except perhaps for the lift, during which Joe managed to lift my skirt up dangerously high!"
"After the first dance we had a Cèilidh band to get everyone up onto the dance floor. We'd planned to have a cocktail hour after the Cèilidh, but in reality, the cocktails started much earlier and continued all night! Dan and Greg, who ran the bar, were absolutely amazing and really helped to create a party atmosphere and to make sure the day ran smoothly. Their Espresso Martinis went down particularly well! Rather than having a DJ, we hired a sound system and made our own playlists on Spotify, featuring lots of 90s indie classics.
The sound system was hired from Star Sound PA in Skipton. One of the bonuses of hiring a house in the middle of nowhere and providing the booze was that the party could carry on as long as we wanted it to. We didn't make it to the end of the playlist till 4am!"
Words of Wedded Wisdom
"Our best advice would be: Don't worry about what other people think you should do. The wedding is about the two of you, so just make every bit of the wedding day exactly what you both want it to be. If you do that, you can't wrong! Ultimately what everyone wants to see is a happy bride and groom.
My second piece of advice would be to spend your money on the important things like food and drink and don't worry so much about the other stuff.
Finally, we didn't use wedding favours – my experience is that these tend to get left on the tables at the end of the night, which seems like a waste. We put the extra money into alcohol for the cocktails, which I think everyone appreciated!"
What a beautifully photographed and fun day – Julia, you look so beautiful in your 60's gown and so perfect in it that your images could have been plucked from a much treasured 1960s family album – I love your dress, but I love your pouffy 60's veil!
Huge thanks to Ryan of hutter Go Click Photography  for being so lovely to work with. It's great to feature your work for the first time Ryan. May this be the start of many!
Readers you can find more 60's inspired weddings here.
Love Annabel xx
Photographer – Shutter Go Click Photography
Venue  – Broughton Hall Estate in Skipton, North Yorkshire
Wedding Dress + Veil – Glory Days Vintage in York
Shoes – Clarks
Accessories – vintage earrings
Perfume – Chanel Chance
Groom – Magee blue wool 3-piece suit bought at Robert Smart
Bridesmaids – & Other Stories
Florist – Family friend
Cake – Family friend
Rings – Bradleys
Catering – GFS Catering
Stationery – DIY