Happy bank holiday lovely ones, I really hope you're able to enjoy a hard-earned lie-in today – and a chance to lie back and truly immerse yourself in this most charming of weddings. Actress Jenni Melear and Magician Stuart MacLeod, who is from the UK double act Barry and Stuart, tied the knot at Prestonfield House in Edinburgh, Scotland on 26 June 2014.  Jenni, a natural beauty, looked the epitome of feminine elegance in her gown from 'Shareen' in Downtown Los Angeles – what with a beautiful floral crown and splash of red lipstick, she looks quite the Grecian inspired goddess for her nuptials in this most beautiful part of the Scottish coastline.
"We wanted our wedding to have a romantic, intimate, woodland feel. The color scheme was inspired by the beautiful MacLeod hunting tartan in Harris Tweed, handmade on the Isle of Harris. The muted blues, greens, browns and splash of burnt orange in the tartan guided our florist in her design of our bouquets, centrepieces, and my flower crown."
Photography by Paul Raeburn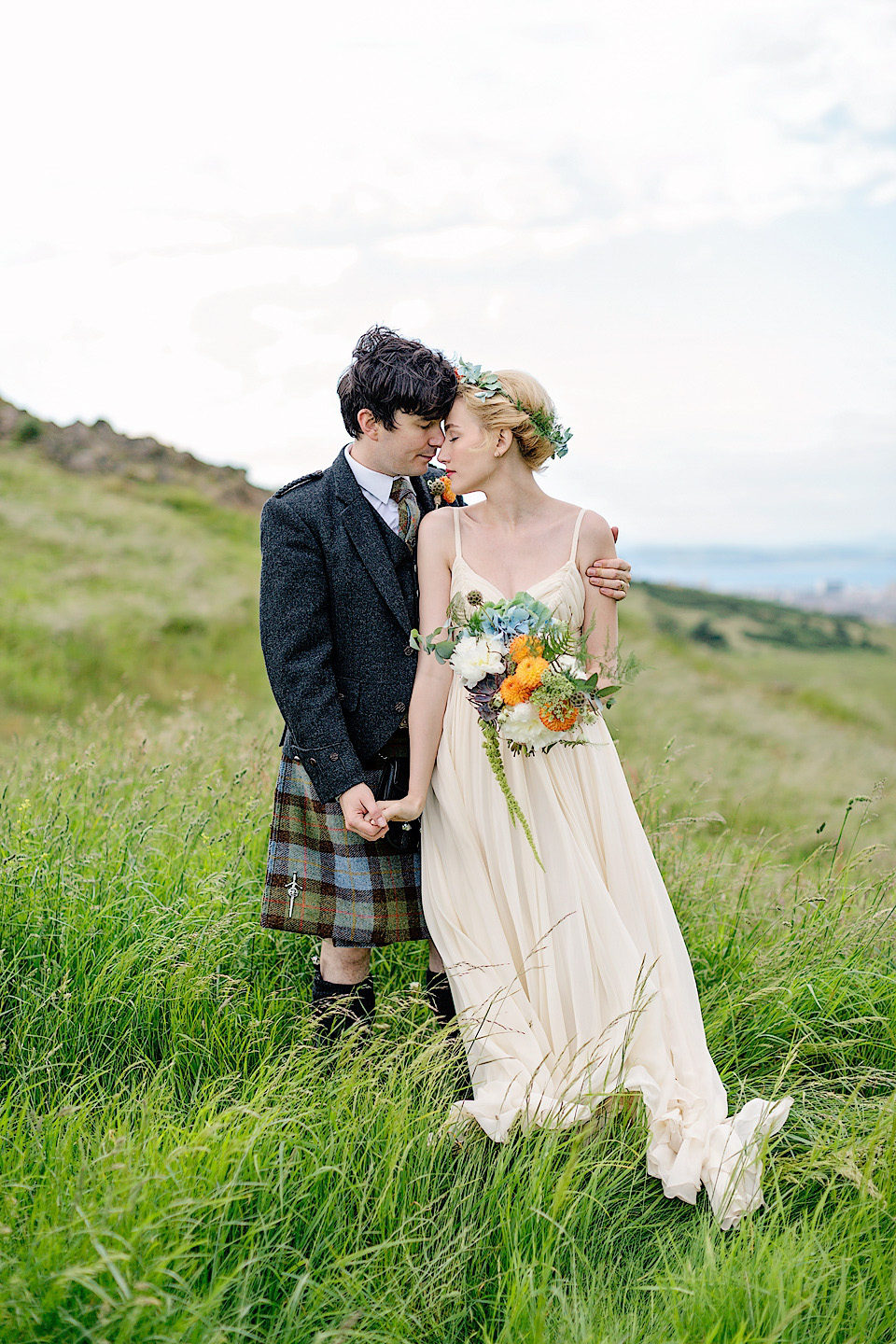 "My dress was from Shareen in Downtown Los Angeles. I purchased it in store after buying and returning three other dresses! Shereen's designs are simple, elegant, and romantic and she really knows what looks good on different women's bodies.  The buttercream color was so stunning and worked so much better on my pale skin than white. It was comfortable, fit like a glove, and was simple enough to allow for a statement flower crown.
I also wore 'Poppy' by Coach. This is my regular perfume, and it's light with scents of cucumber, freesia, and gardenia. I wanted to smell familiar to my groom."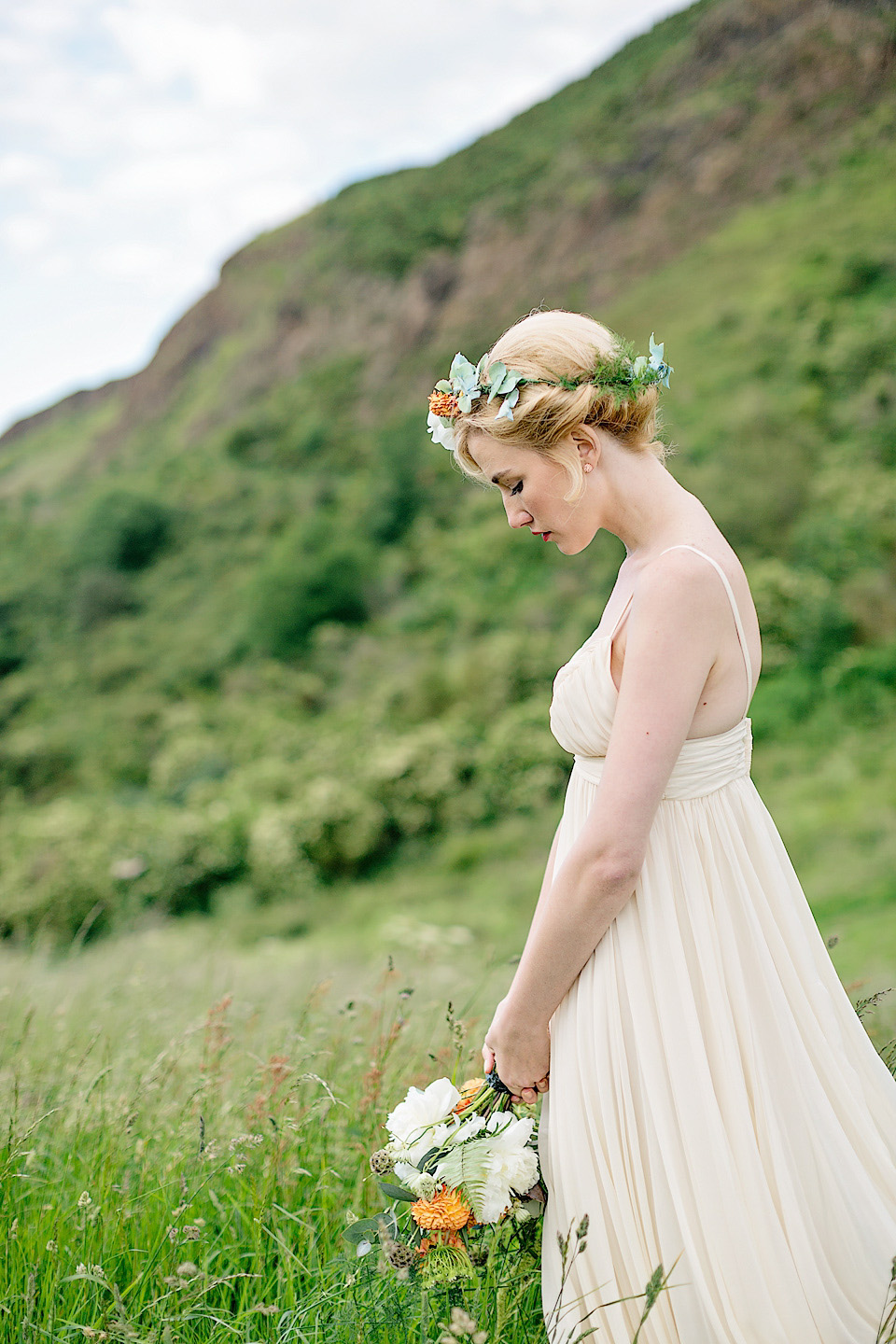 "Linzi Deprez of Jack Fleuriste is truly a visionary. Her style is unique, elegant, and bold. I wanted a romantic woodland and Linzi came up with the perfect arrangements included white peonies, blue hydrangea, orange ranunculus, green asparagus fern, seed pods, and waxflowers.  I knew I would be wearing a fresh flower crown, and probably drove Linzi crazy with a hundred questions because I wouldn't see it until the day and was so nervous for how the whole look would come together.
When she arrived at my suite and showed me the completed crown my heart filled it was so stunning.  The girls all gathered as our hair stylist placed it on my head, and it was just perfect. My eyes filled with tears and I had that indescribable 'this is it!' moment with my most important women surrounding me with love."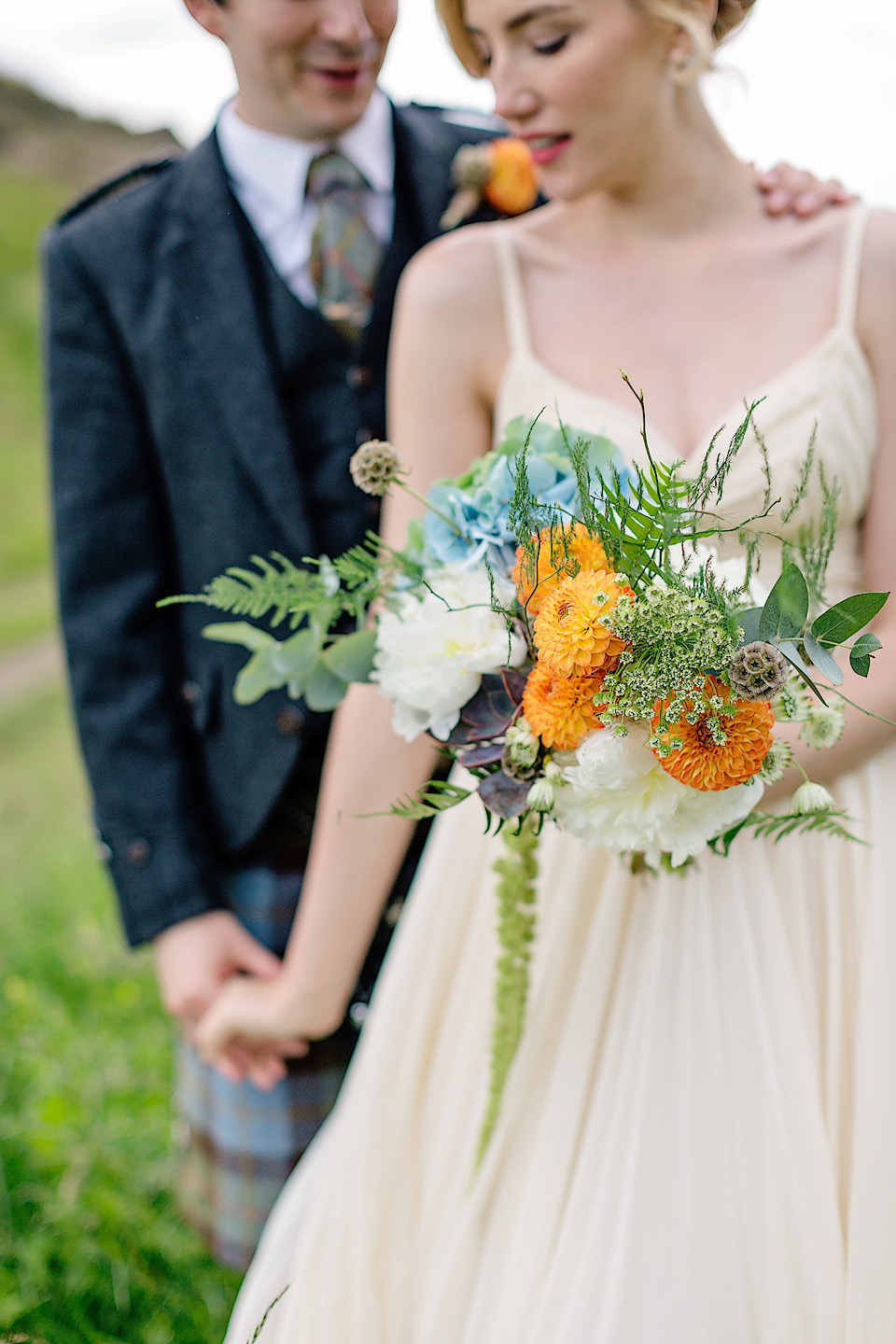 "My bridesmaids each wore dresses they chose themselves with different colors from the tartan. My maid of honour wore blue and they other two bridesmaids wore green and brown."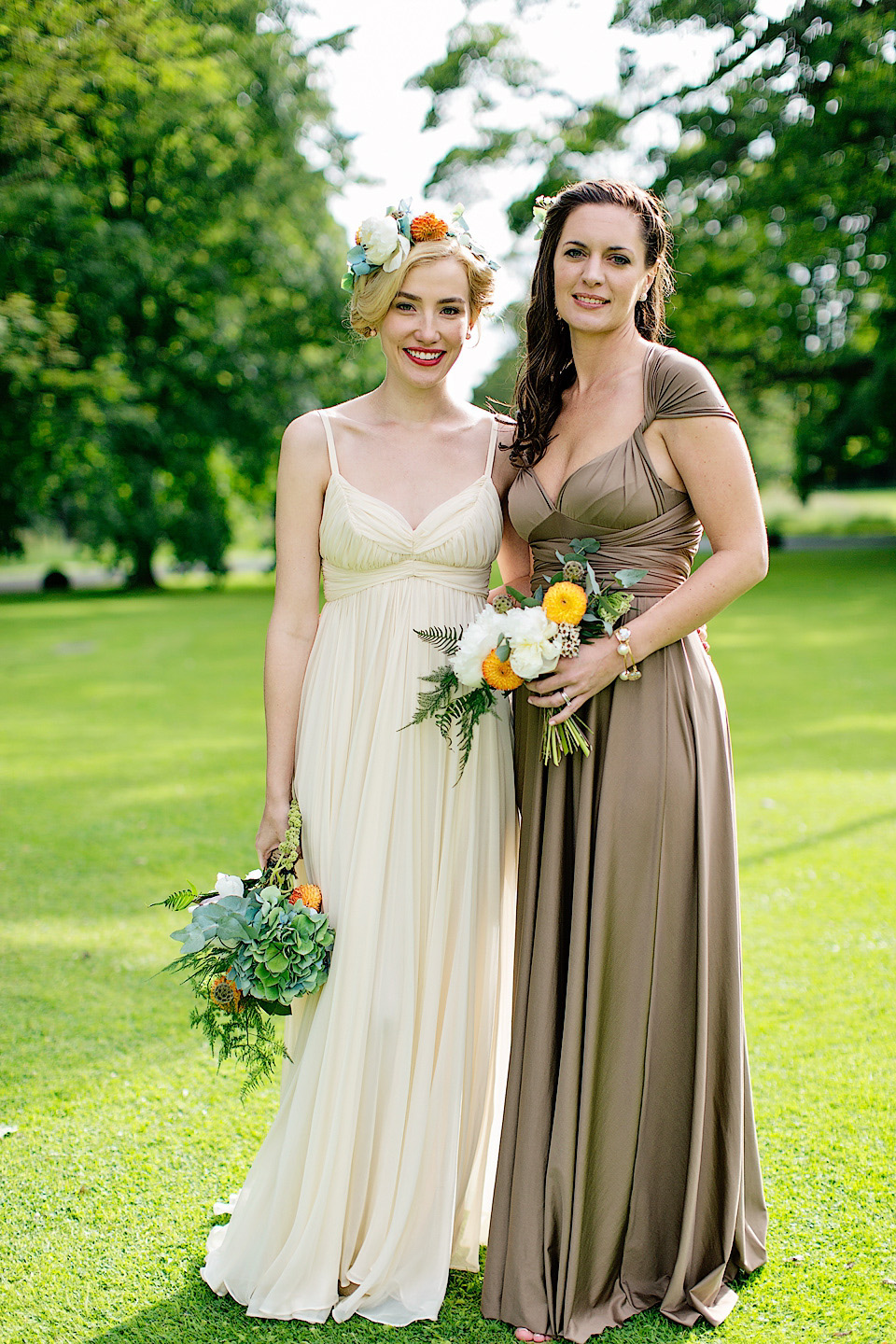 "Choosing a photographer was probably the biggest decision we made. We did a lot of research to find someone unique, stylish and cool, not a typical wedding photographer. Paul Raeburn won us over hands down. He shoots bands and album covers as well as weddings and always stays up to date on the latest in photography trends.
We had a vision for our bridal party and family photos, a Wes Anderson style that seemed so fitting for the ornate setting at Prestonfield, and Paul totally got it. He's also an incredibly lovely person who was just nice to have around for three days capturing the special moments."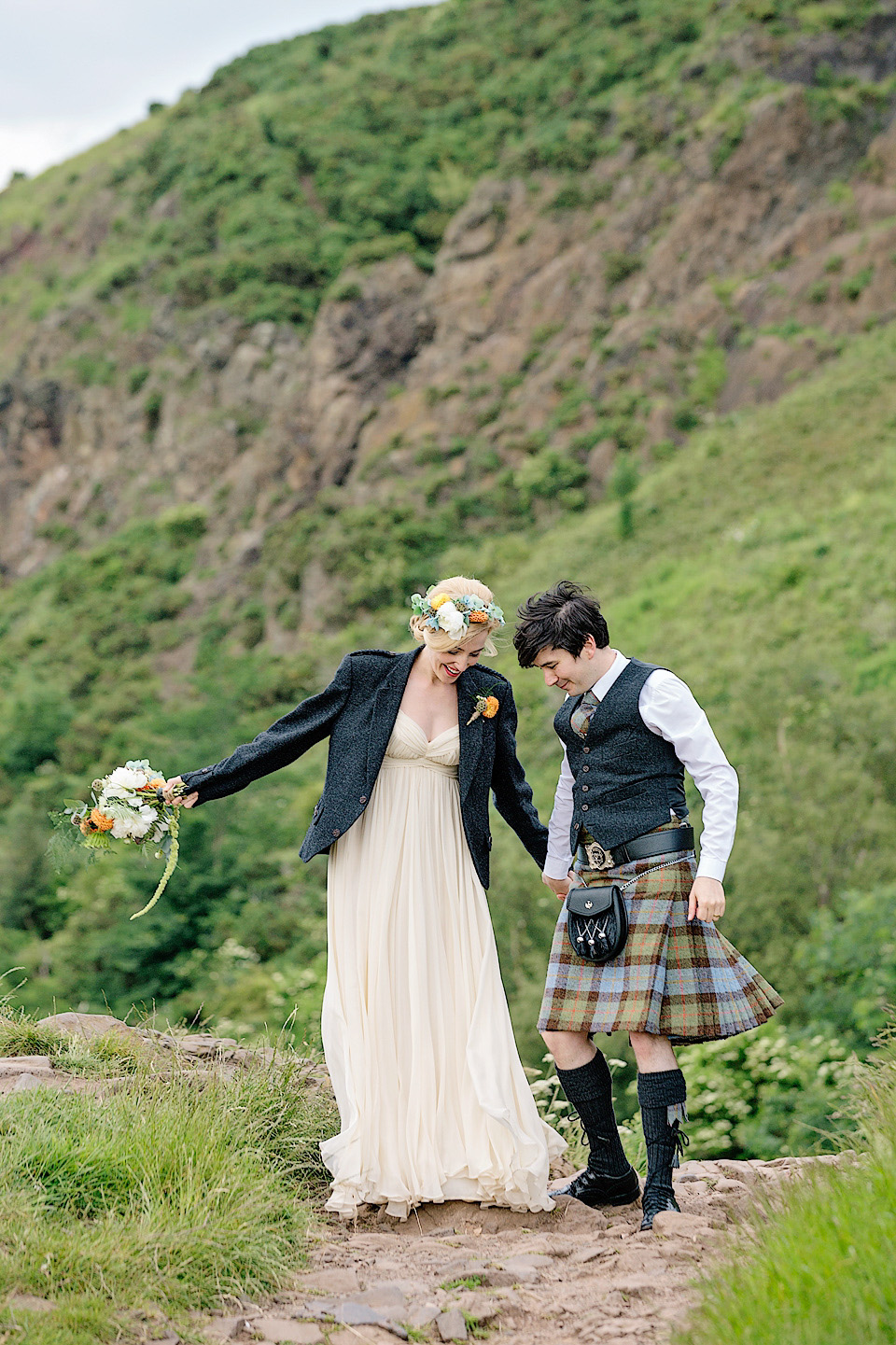 "Paul was with us for three days – first capturing a pre-wedding shoot around the city of Edinburgh, then for our talent show rehearsal dinner, and finally for our wedding day. He captured the entire experience authentically and beautifully." 
We decided not to have a videographer because we both work in the entertainment industry and didn't want to feel like we were working! We just wanted to capture a day in photos and leave the rest for our memories."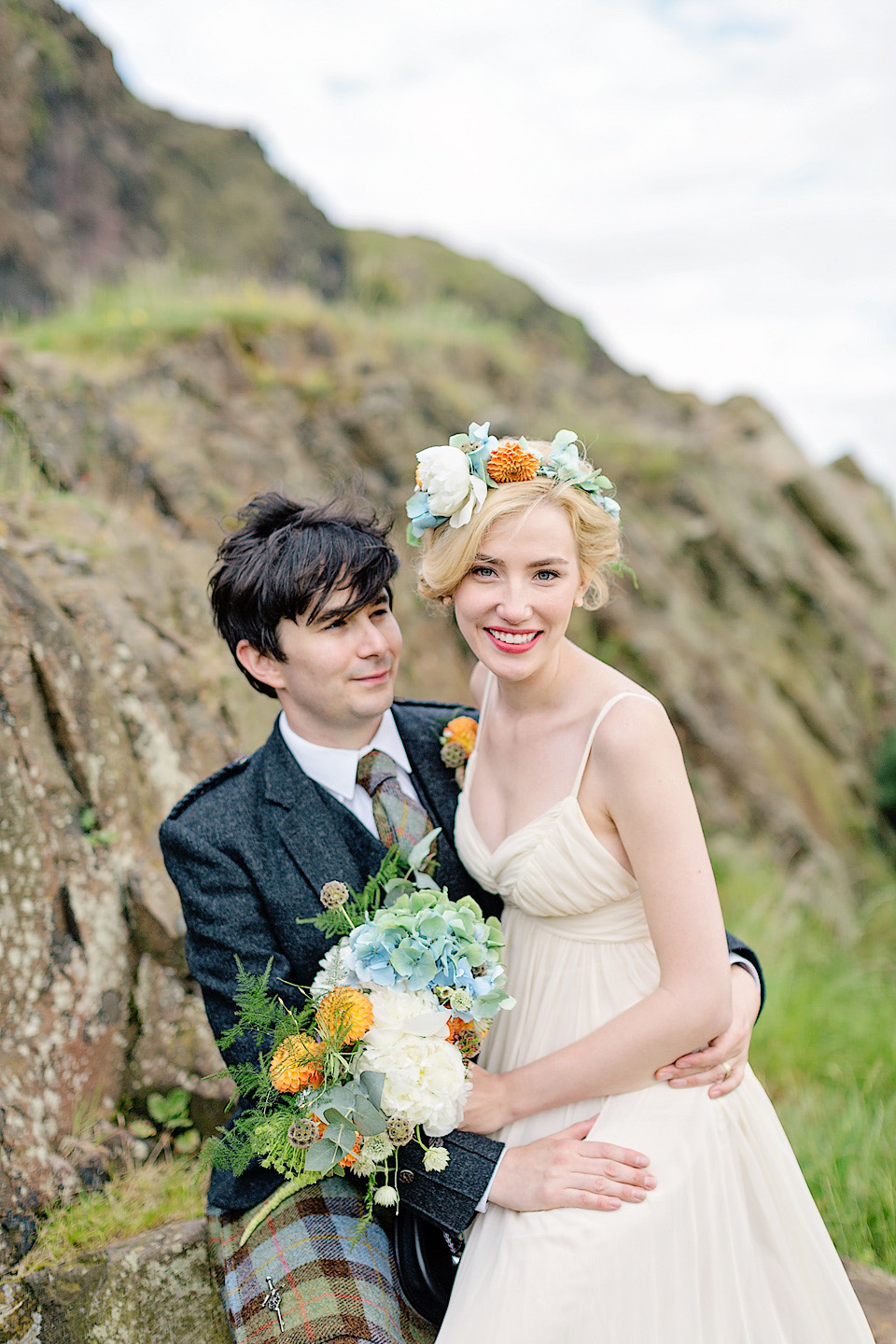 "My good friend and artist, Whitney Arrington, designed our gorgeous invitations. She painted a stunning watercolor of Prestonfield House including their signature peacocks and very cute RSVP cards with two highland cows."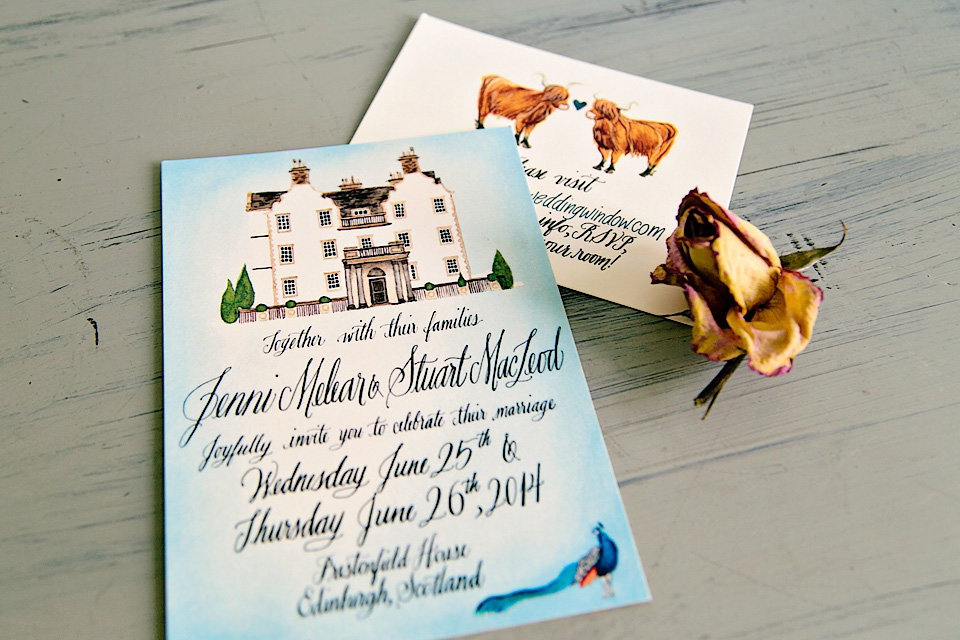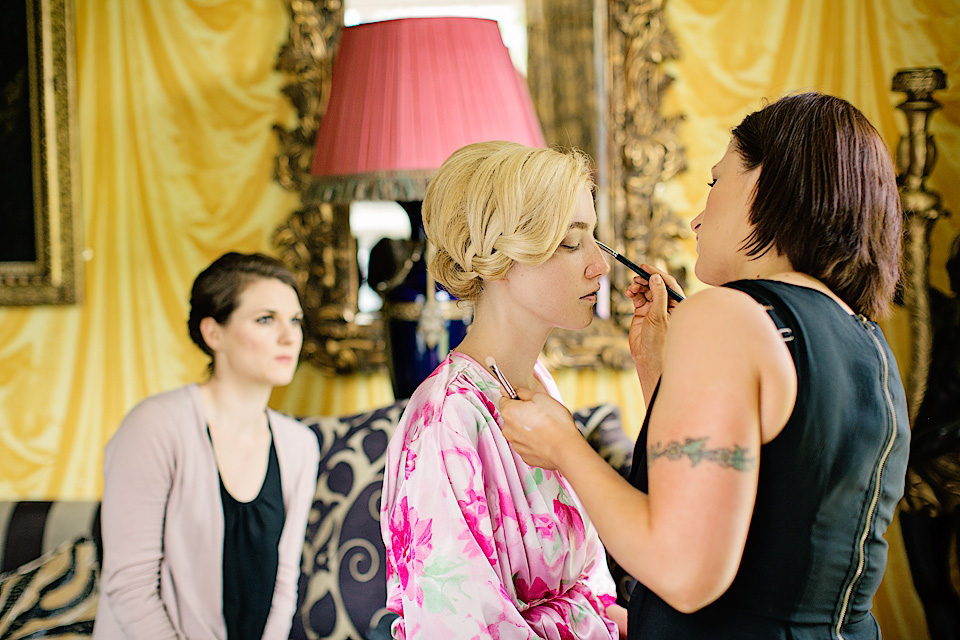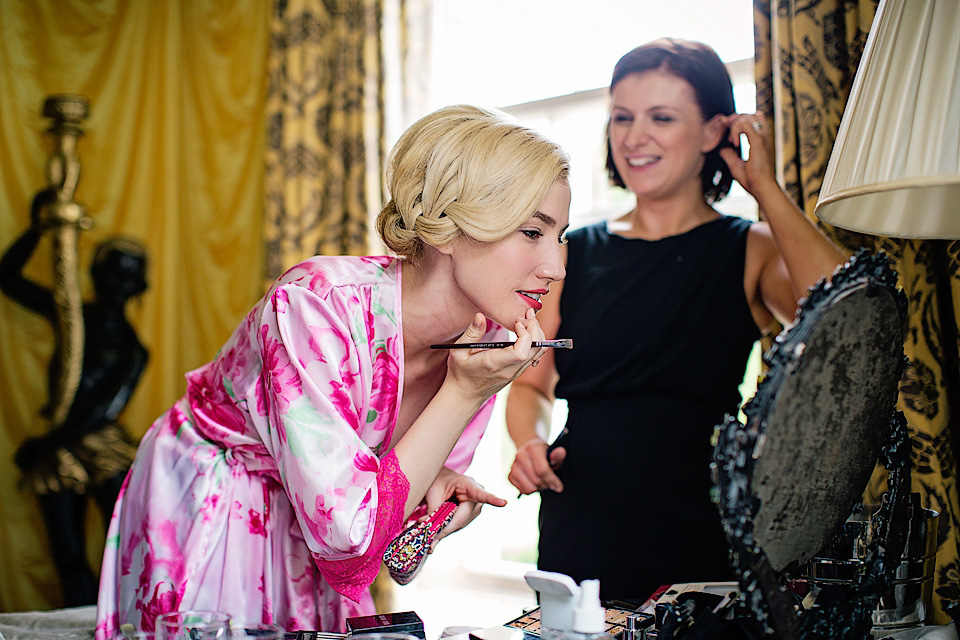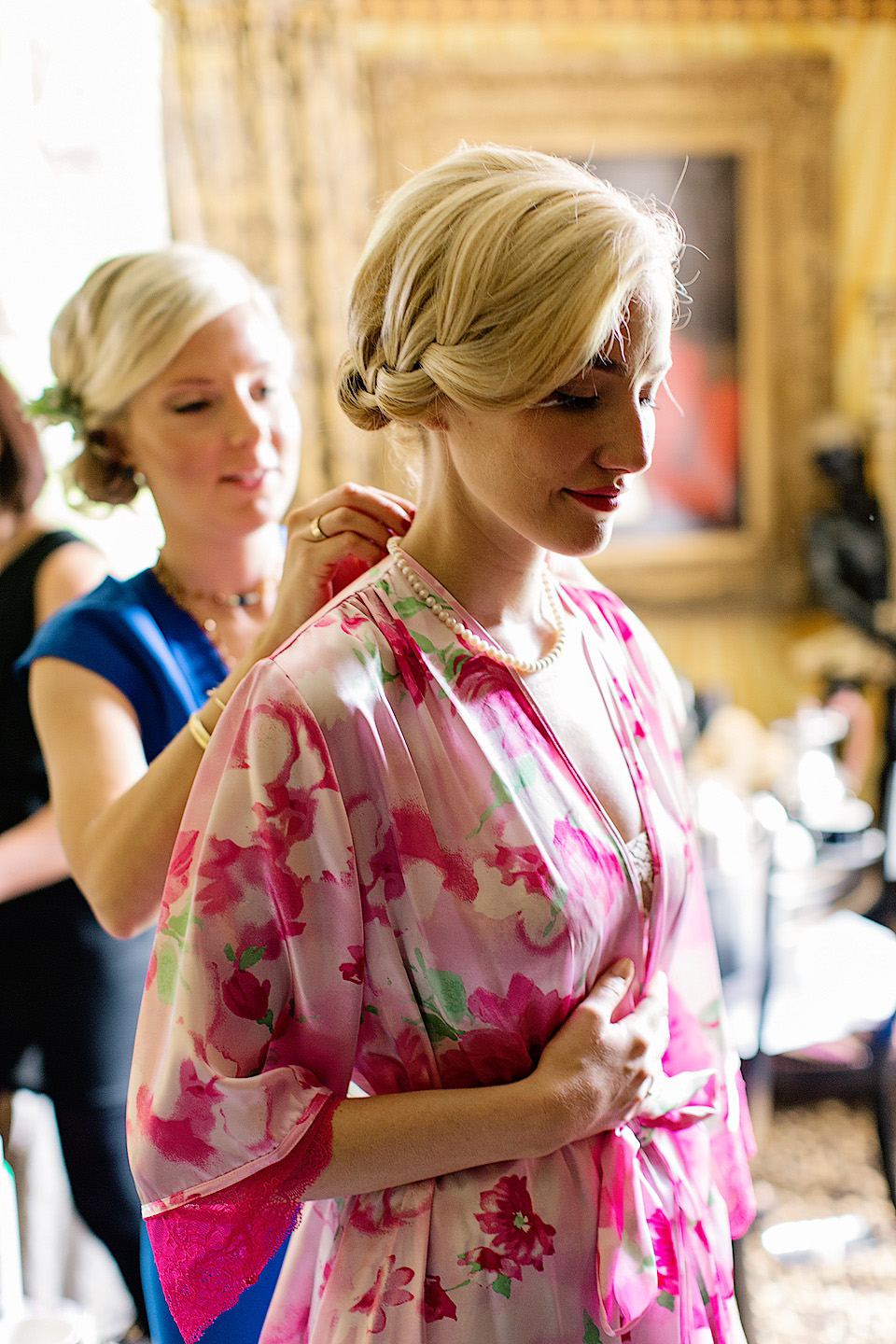 "I wore a pair of simple sparkly studs that matched my shoes. Nothing too elaborate, the crown was the star of the show!"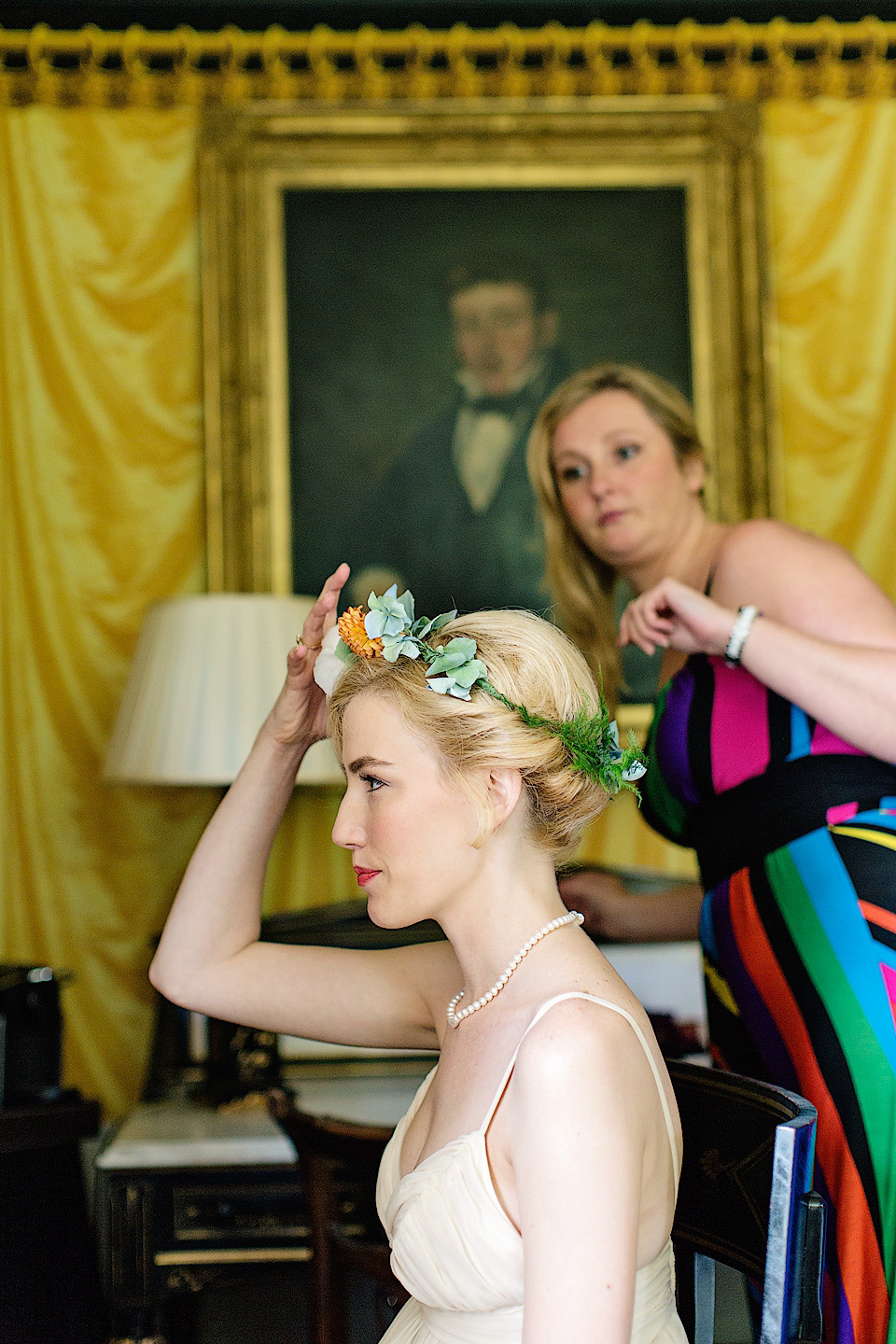 "Stuart and I met at the 2009 World Magic Awards in Los Angeles. He was there to receive an award for Best Comedy Illusionist of the Year and I had just moved to LA to pursue my dream. It was a three day job that I didn't think much of, and certainly didn't expect to meet the love of my life. On the last night of the show there was an after-party with loud music and celebrities but it felt like we were the only two people in the room."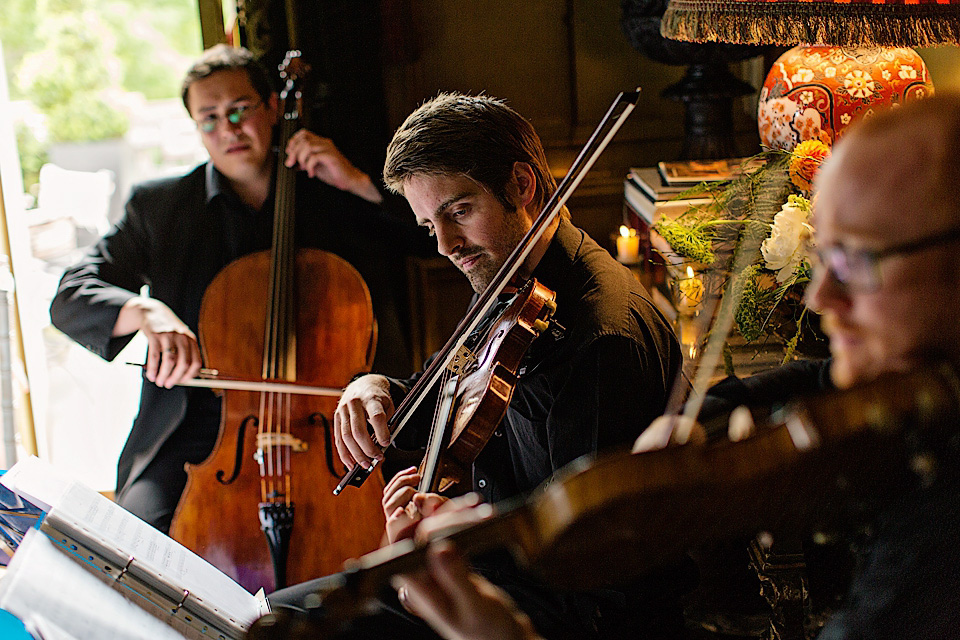 "We talked for hours but never admitted our feelings for each other, and I cried the whole drive home thinking I had just met my soul mate but would never see him again. I thought about him for months, but it wasn't until a year and a half later that we reconnected. I found out later that Stuart created a Facebook account just get get back in touch with me, and it started with a few messages, then long emails, until we were eventually up all night fighting the eight hour time difference on Skype, absolutely obsessed with talking to each other every day."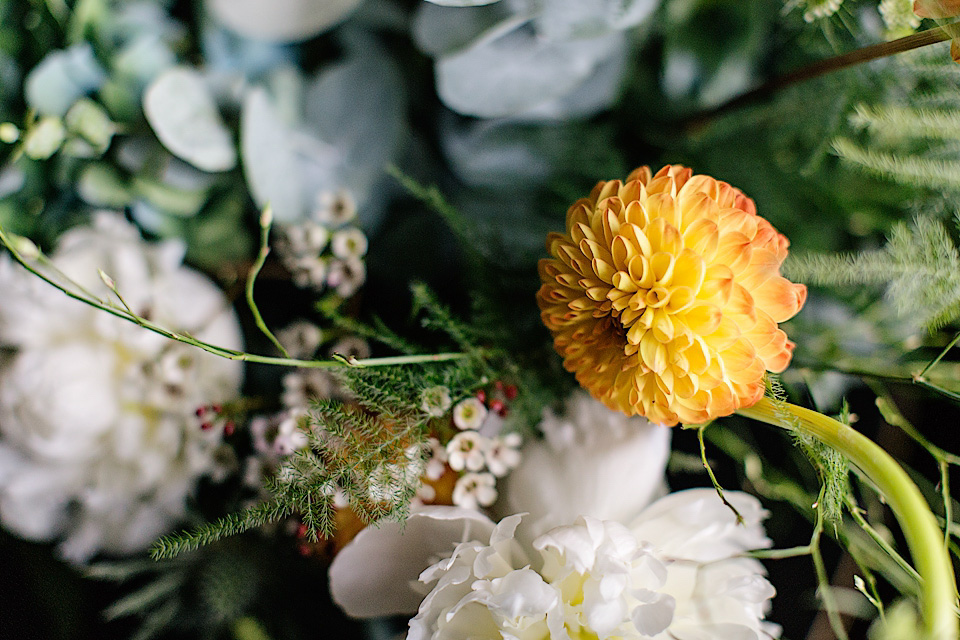 "One of the most fun parts of the wedding was all the men wearing kilts, including the Americans. They loved playing dress up and my hubby-to-be helped them put all the traditional pieces on correctly."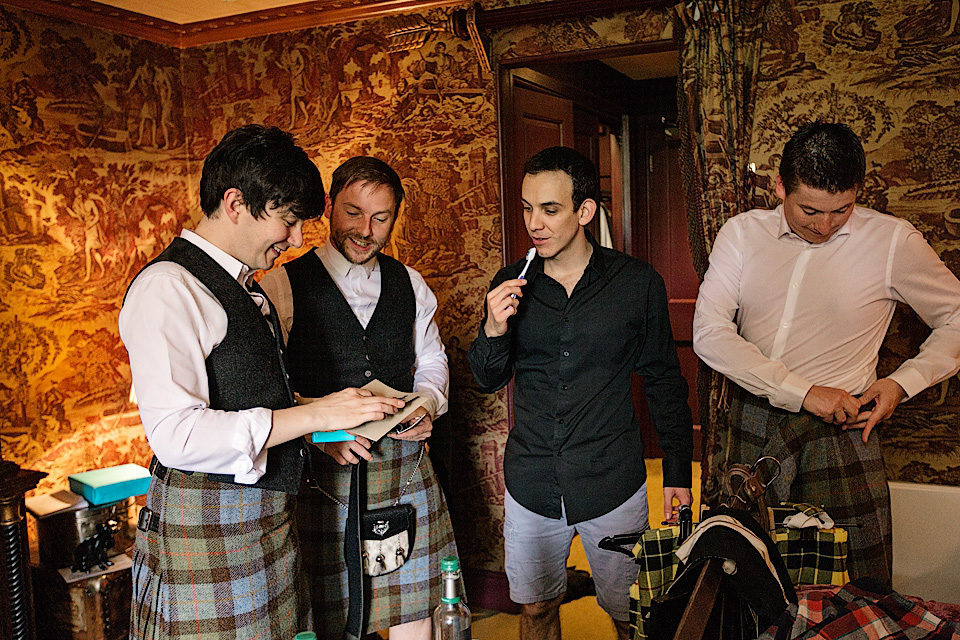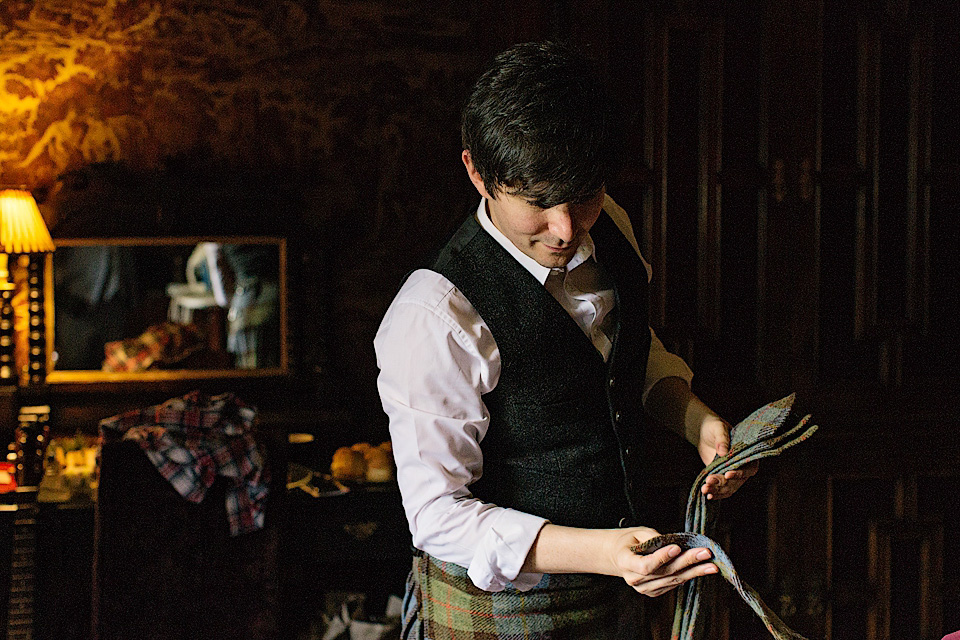 "Stuart came to visit me in Los Angeles in September 2011 and that was it. We were head over heals in love and there was no going back. We traveled back and forth from London to LA for the next two years which was so difficult but worth it. Stuart proposed under a waterfall in Ojai, California on a super quick 48 hour trip in between jobs in Europe.
Stuart finally made the move to LA in October 2013 and we still just appreciate all the little things like going to sleep and waking up together every day."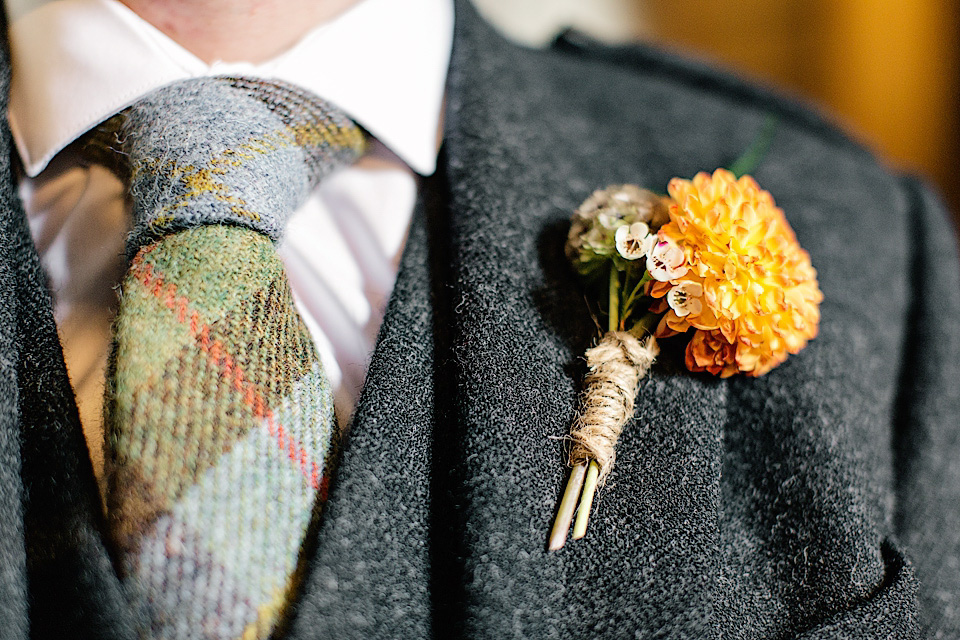 "My father gave me away. I couldn't even look him in the eye when I met him at the top of the stairs to walk down the aisle because I was trying so hard not to  cry!
I walked down the aisle to "Kissing You" from Baz Luhrmann's Romeo and Juliet, a song that means a lot to us."
"Our ceremony was done by an interfaith minister, Morag Cameron, and was the most significant part of the wedding for us. We spent a lot of time writing our marriage vision, talking with Morag, and creating meaningful, spiritual, and romantic vows. We included an ancient Scottish hand-fasting ceremony using a strip of the same tartan from the kilts. That is a moment I will never forget."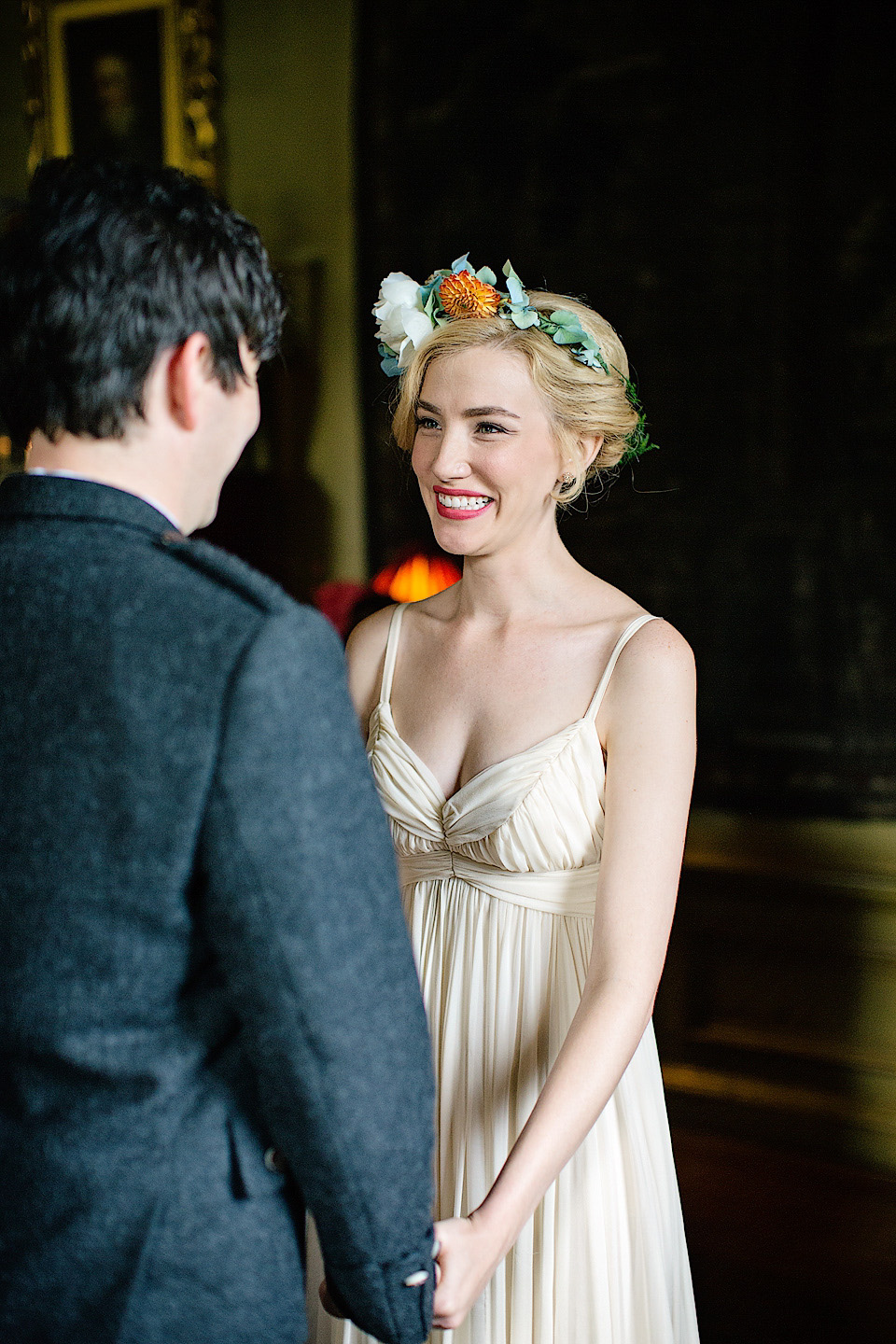 "We designed my engagement ring together with Sofia Kaman, the most amazing jewellery designer in Los Angeles, a stunning pear shaped champagne diamond set in rose gold. My wedding band is also in rose gold with delicate little leaves and Stuart's ring is a wide yellow gold band with the look of torn edges."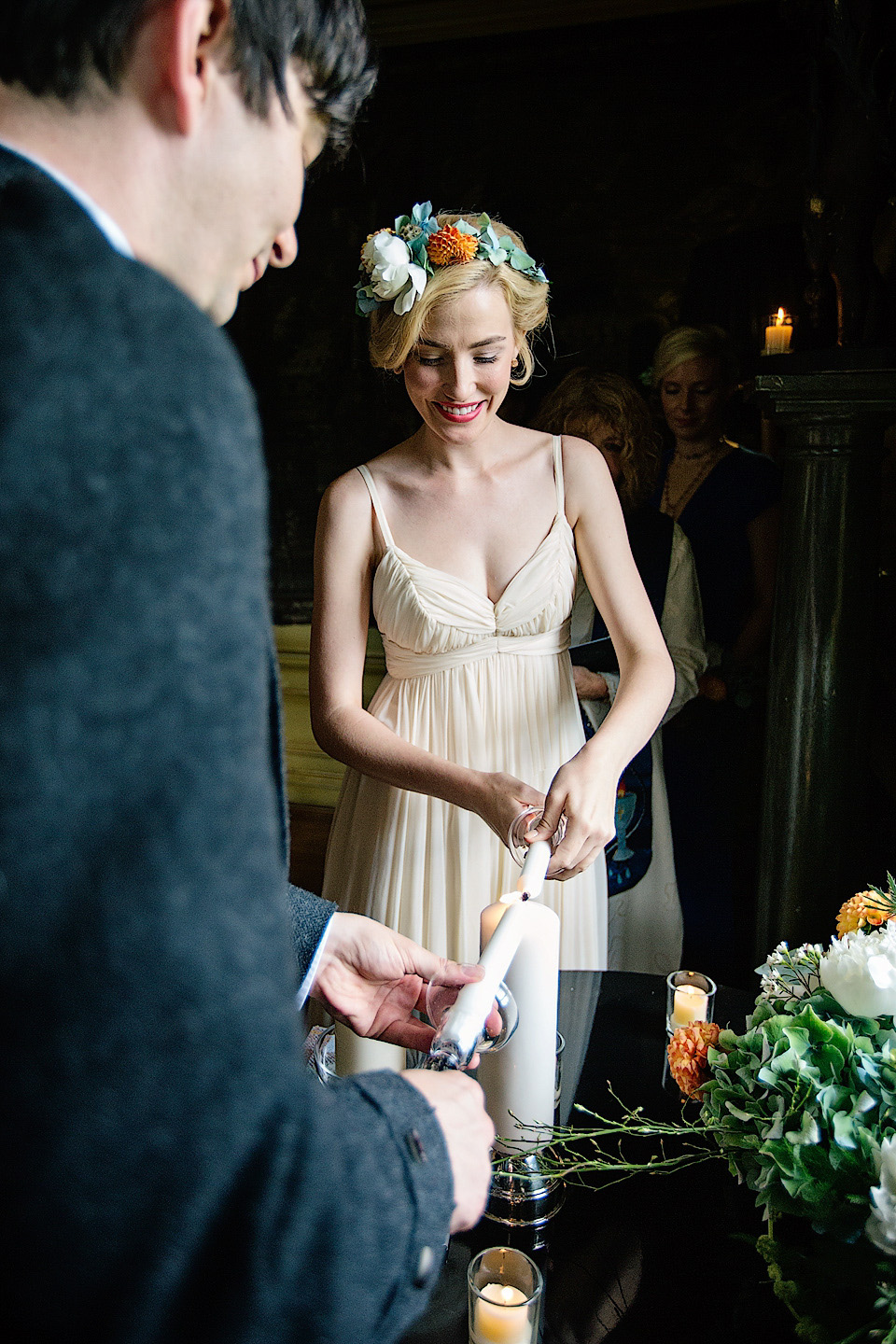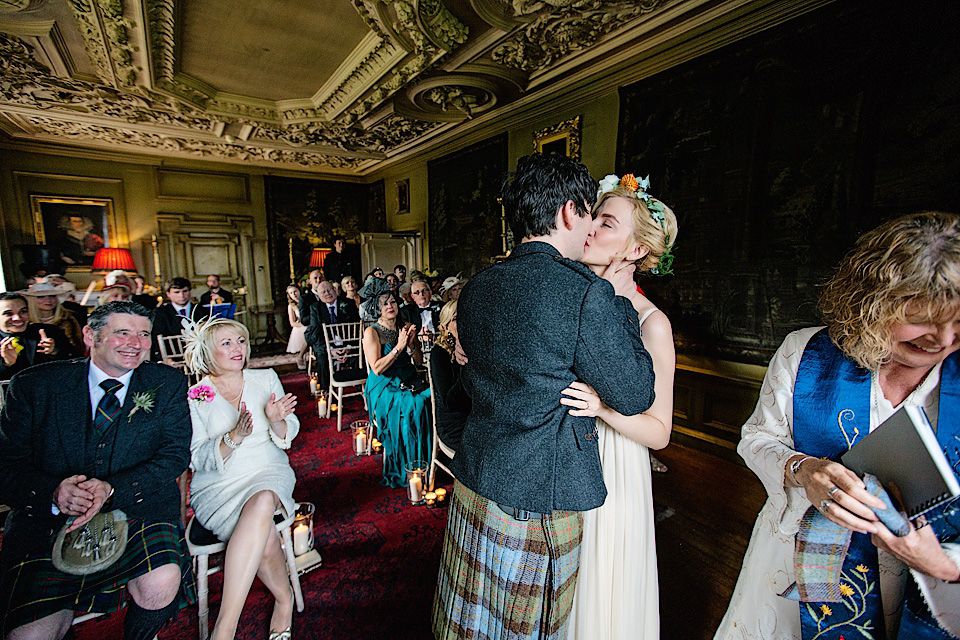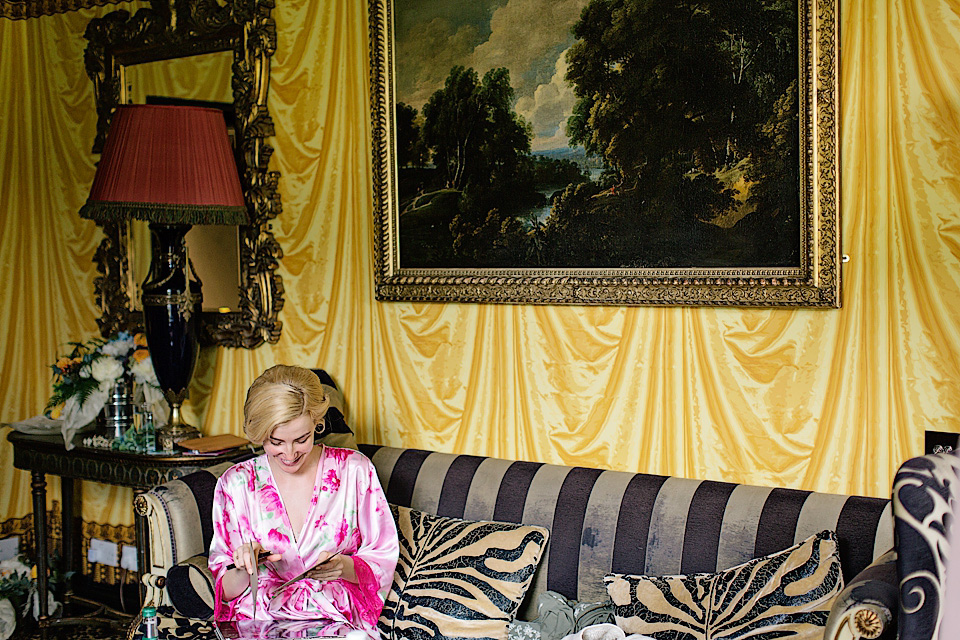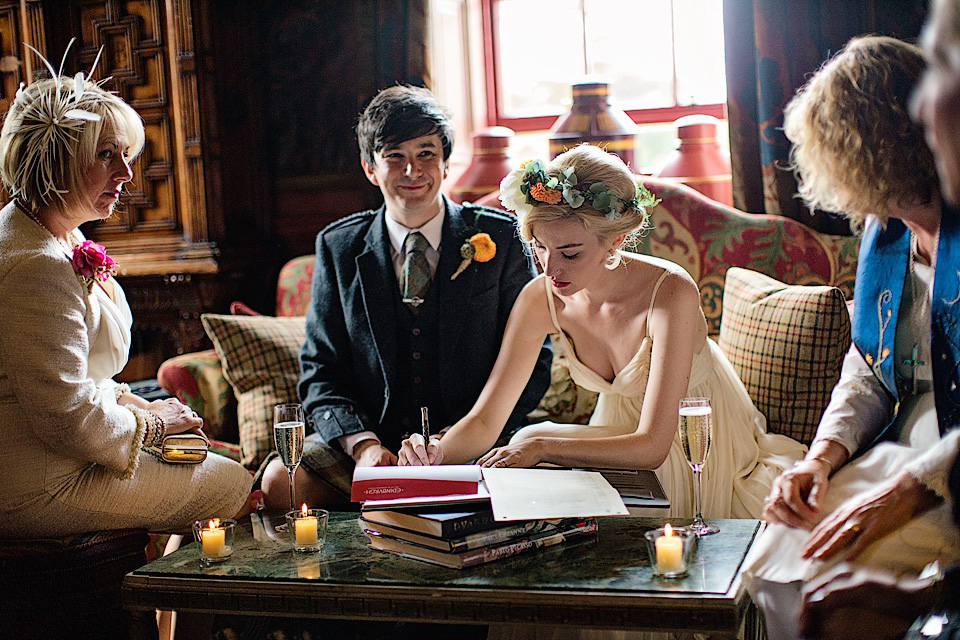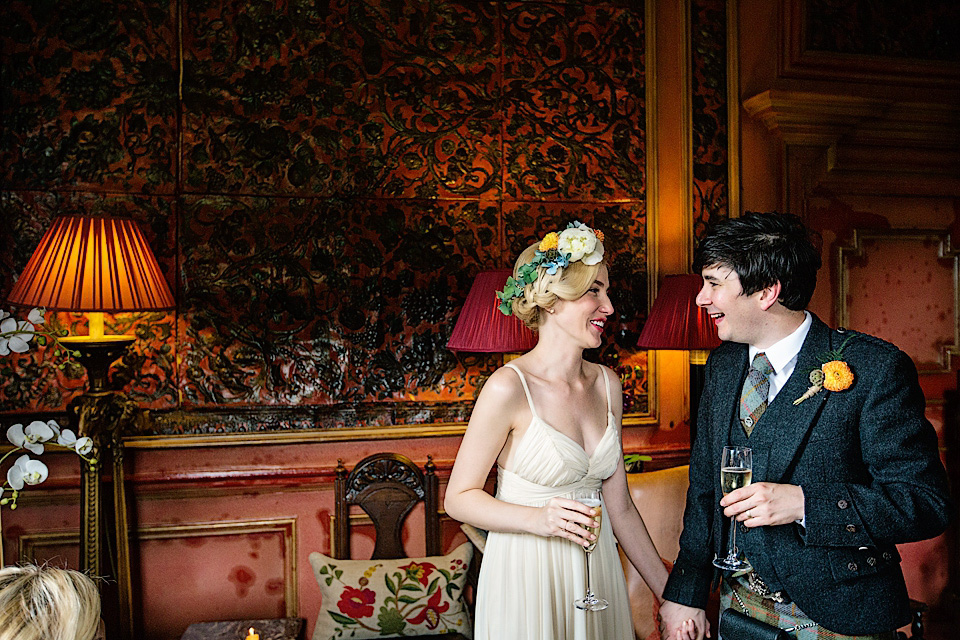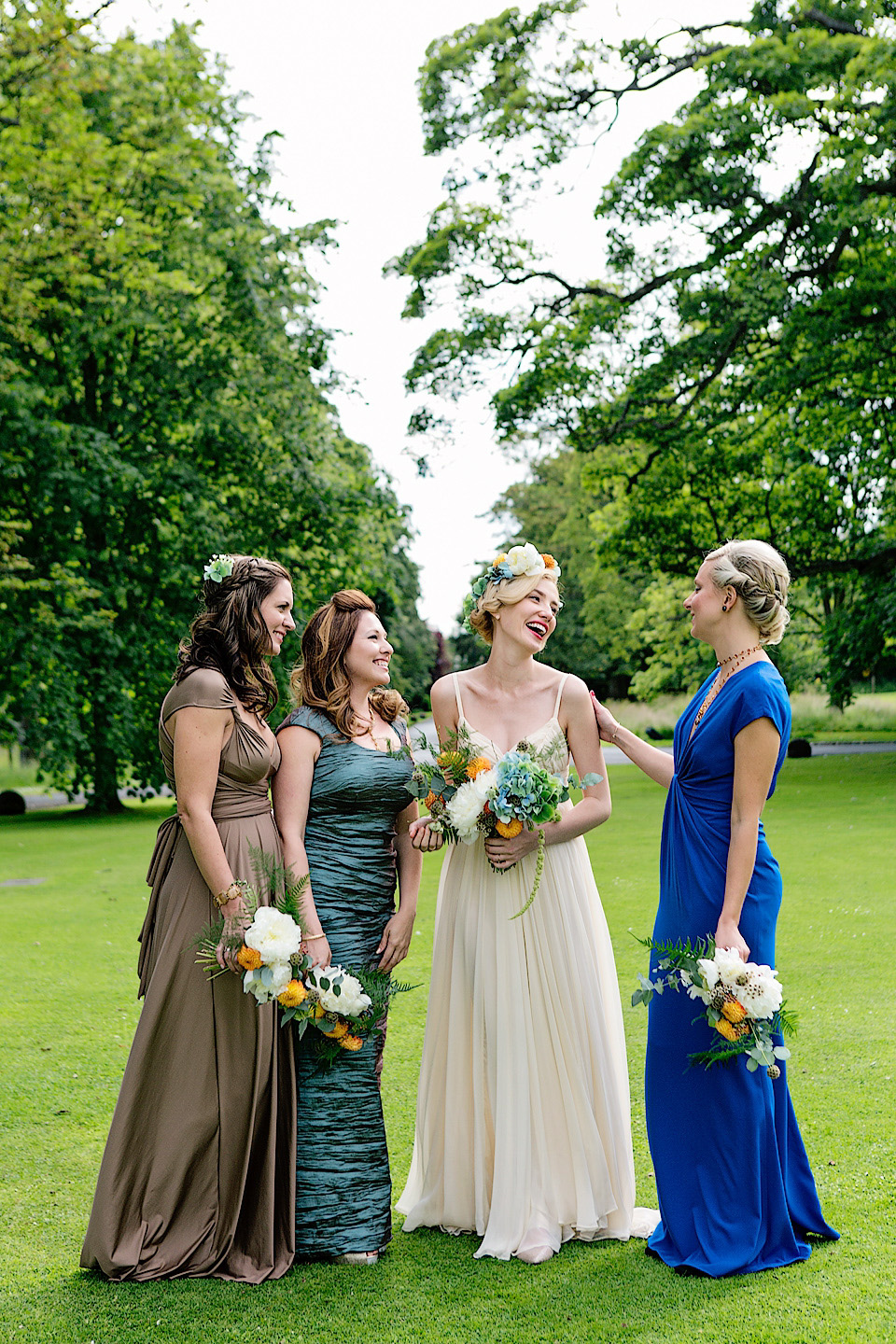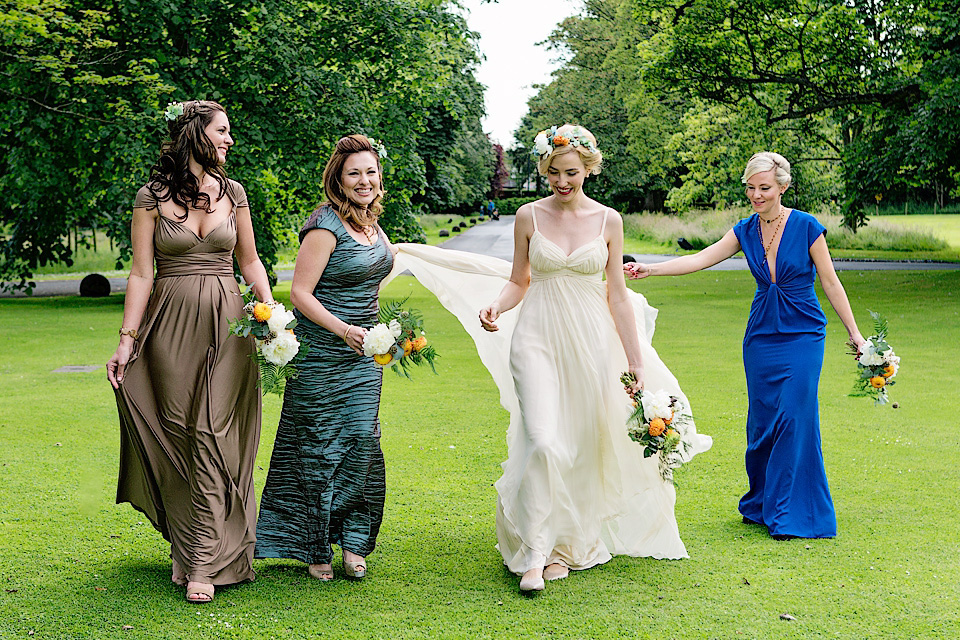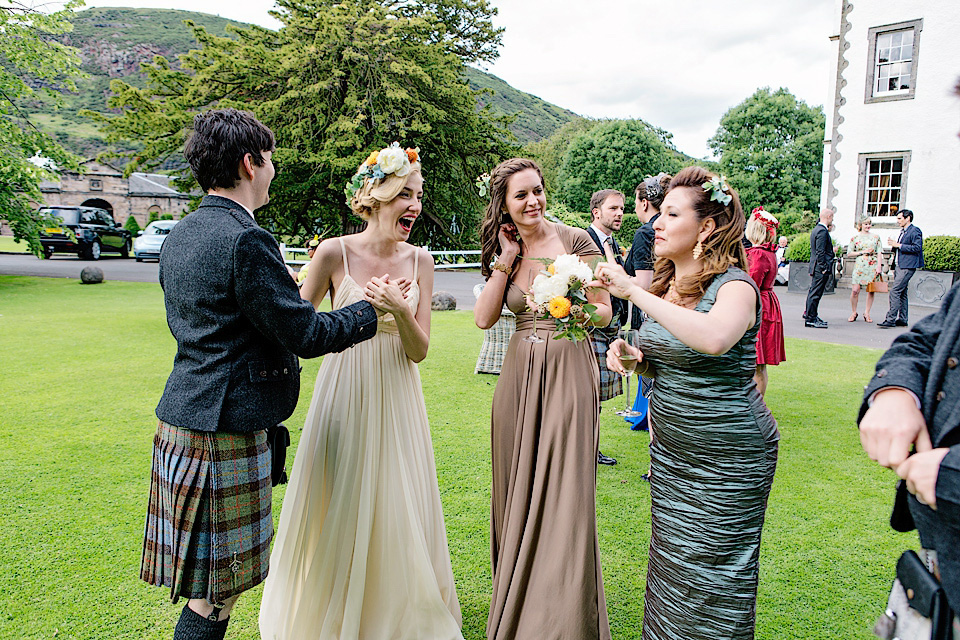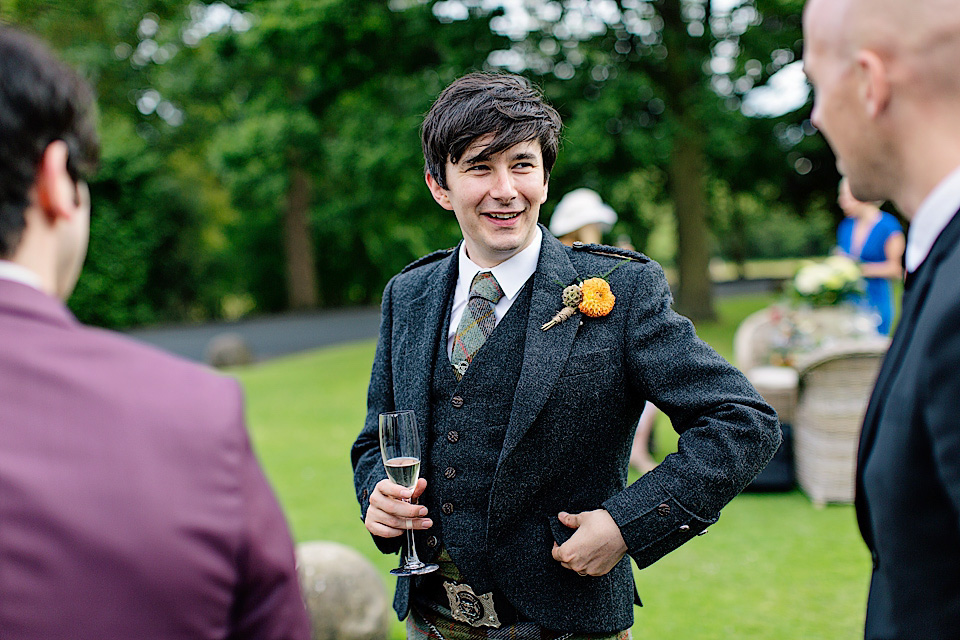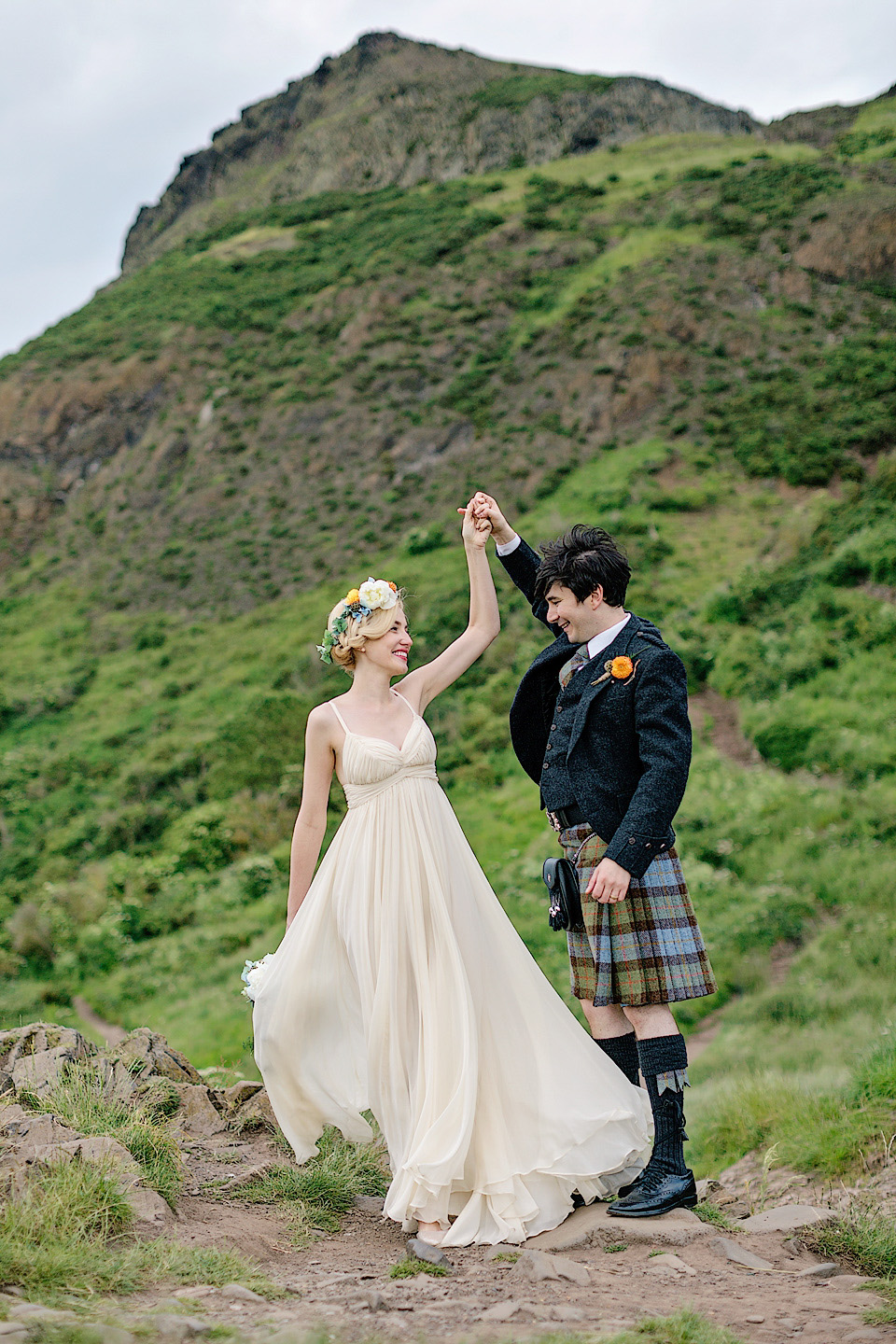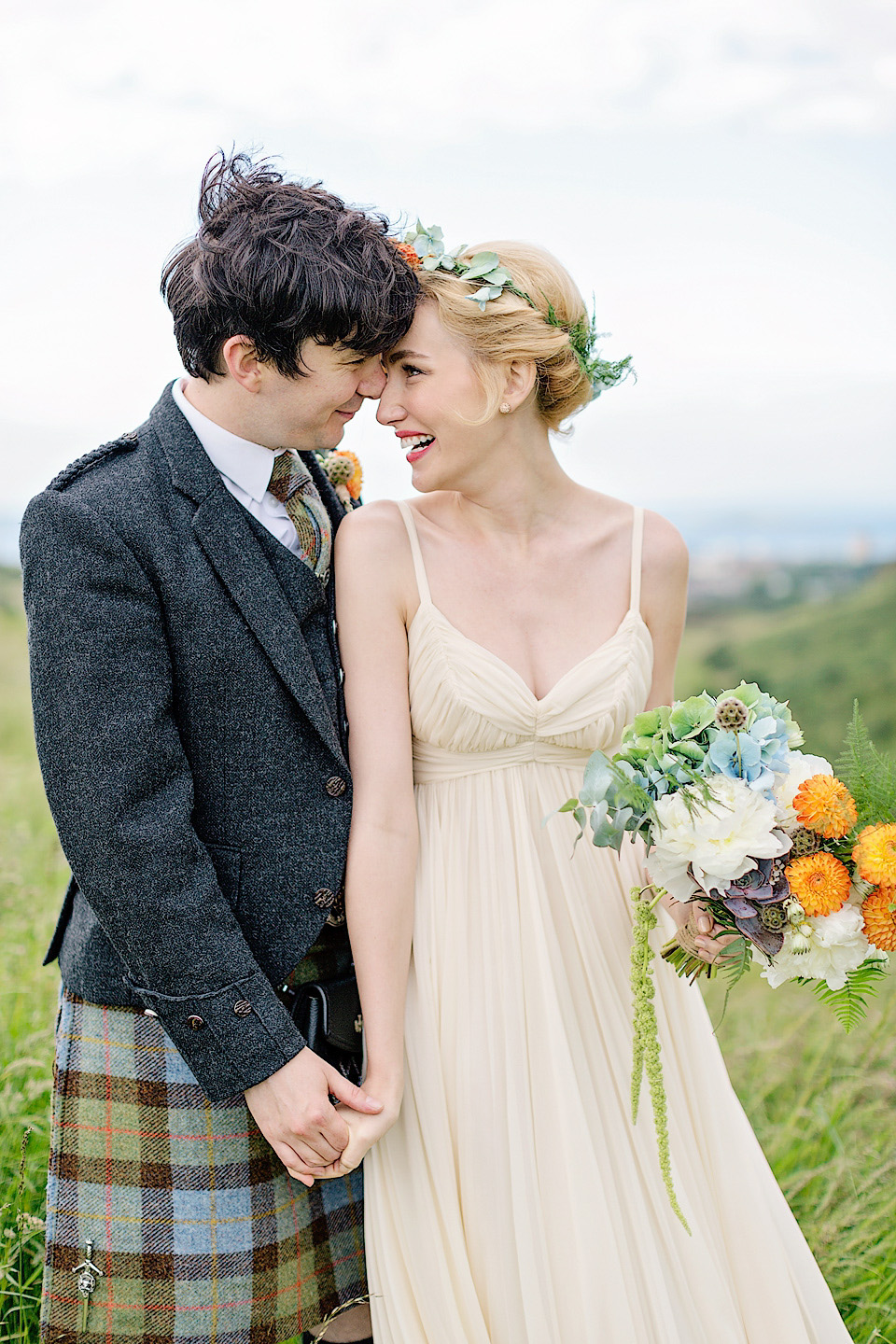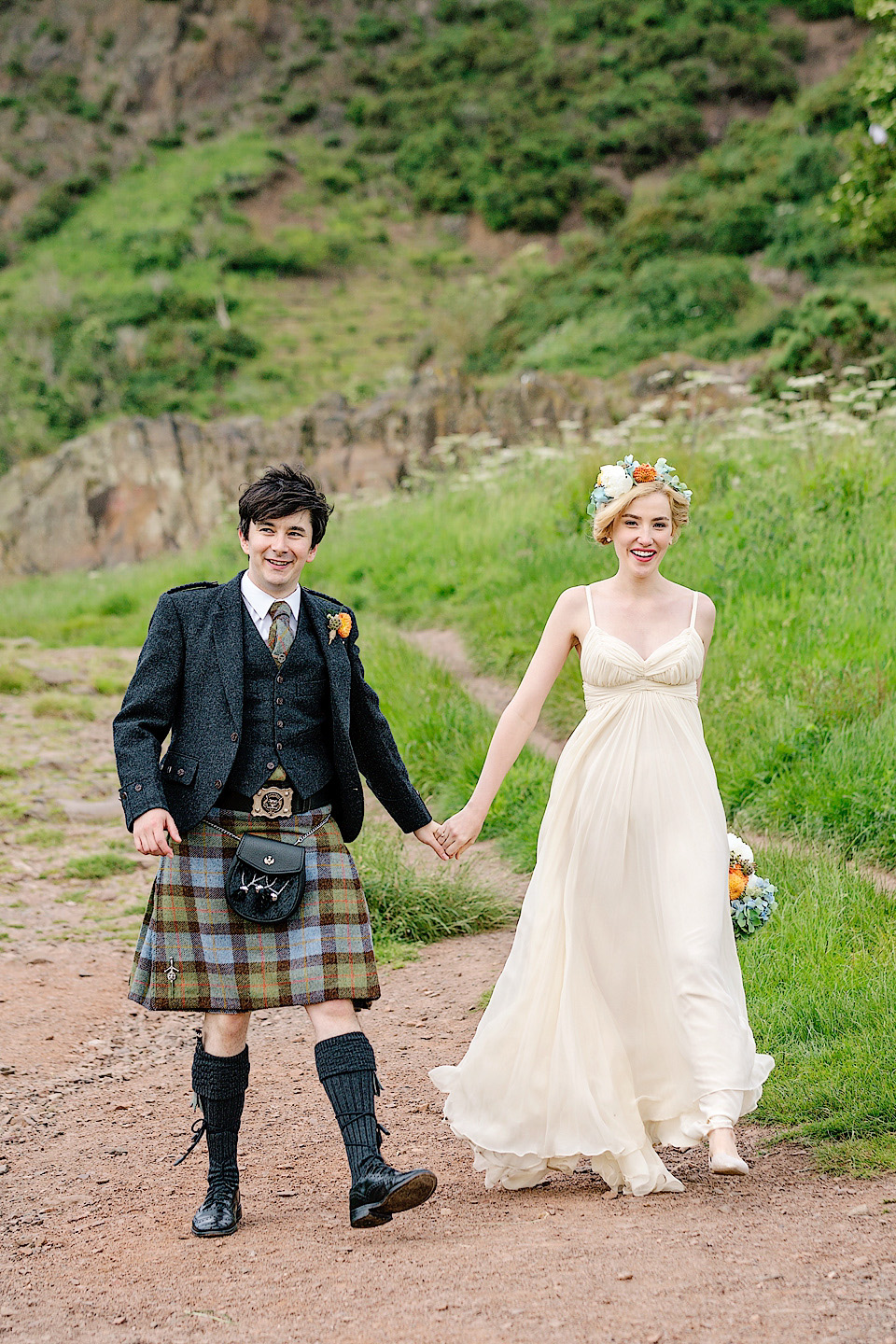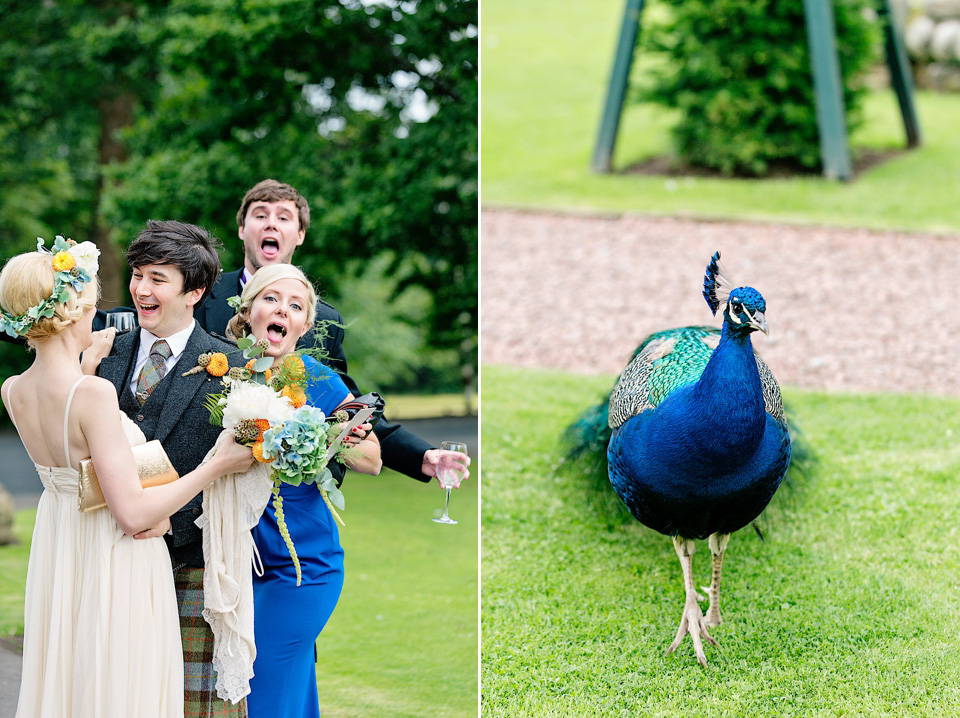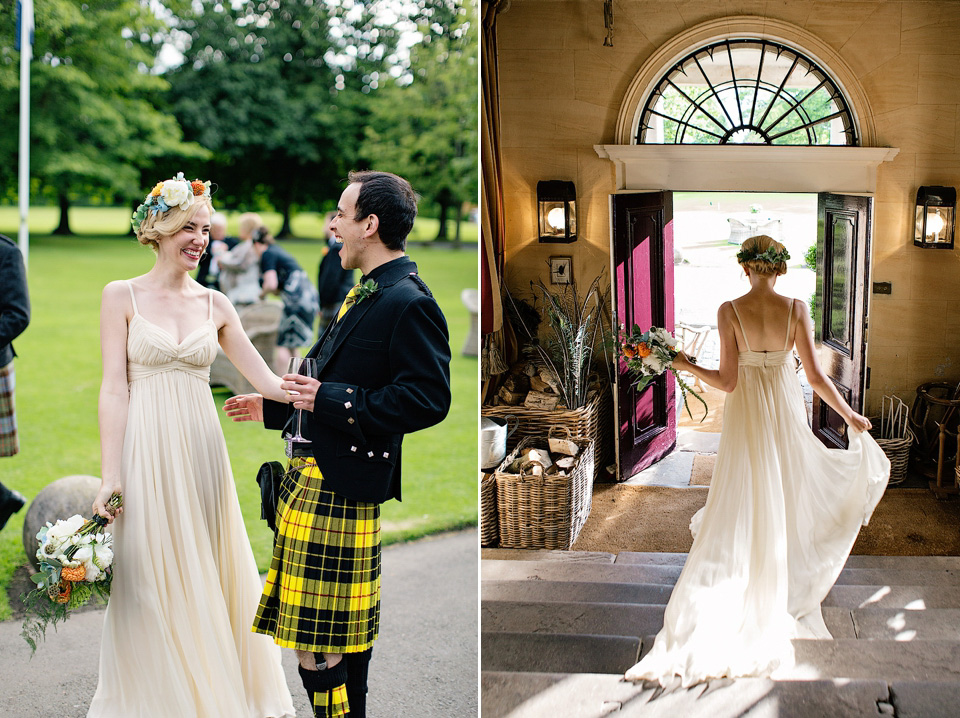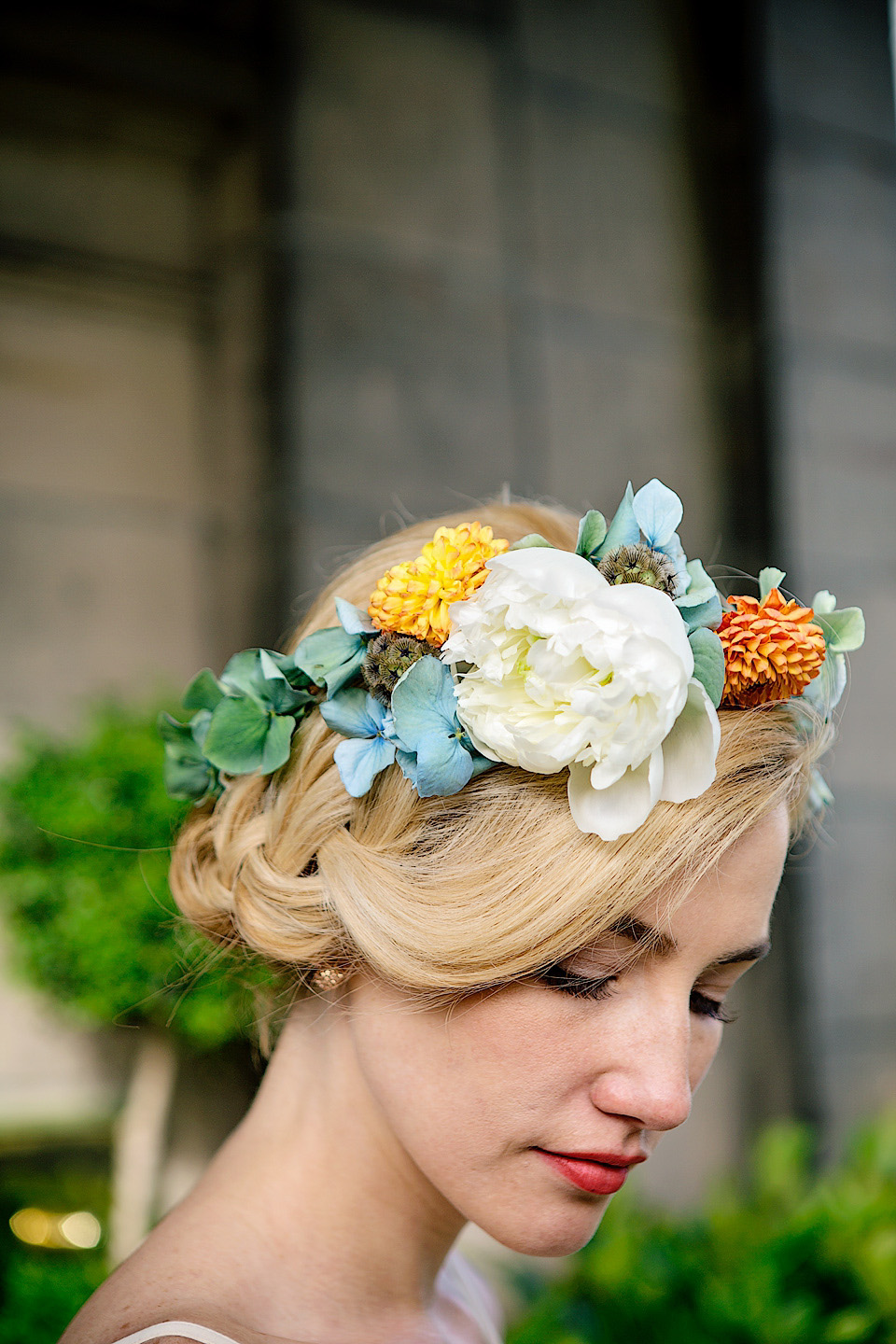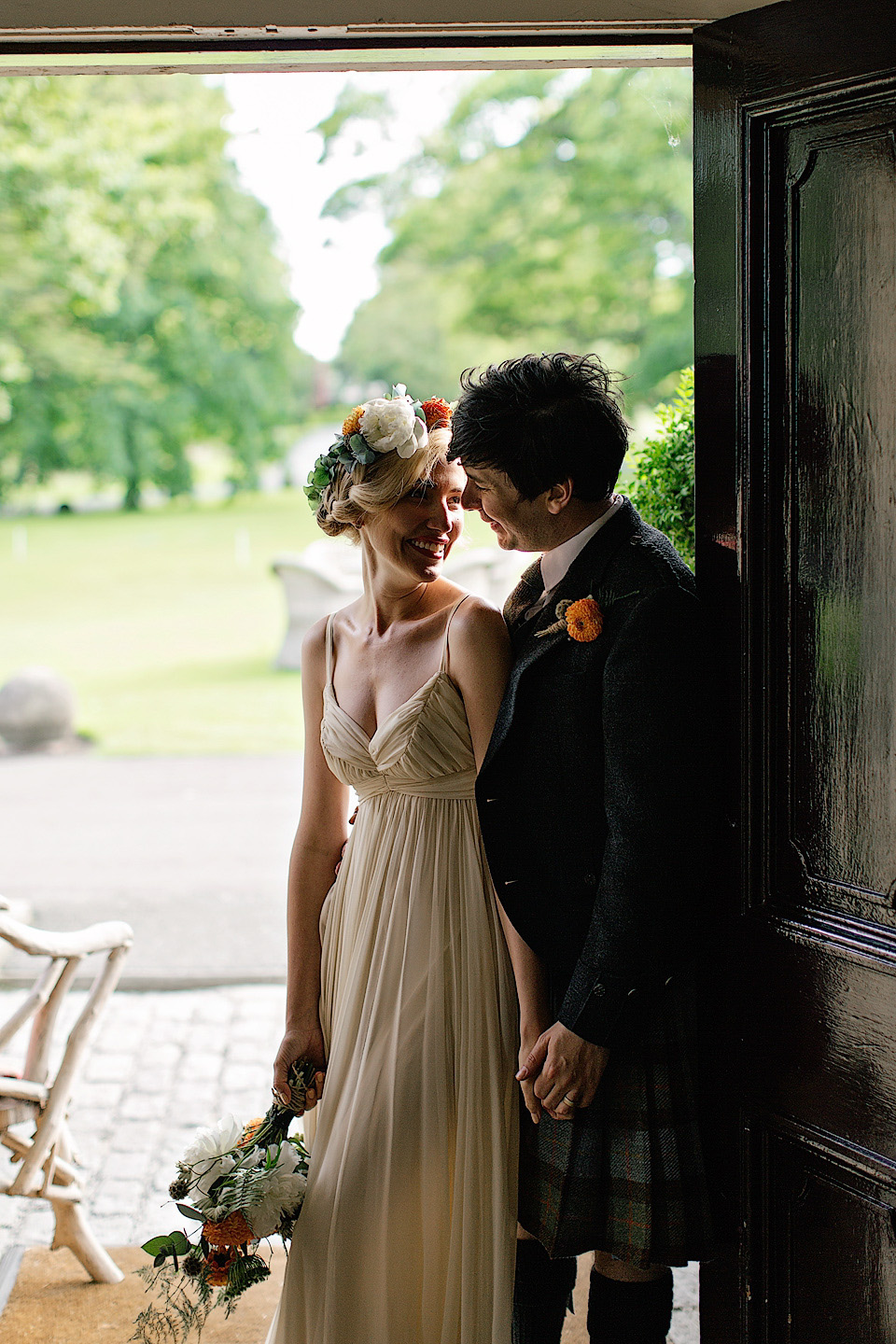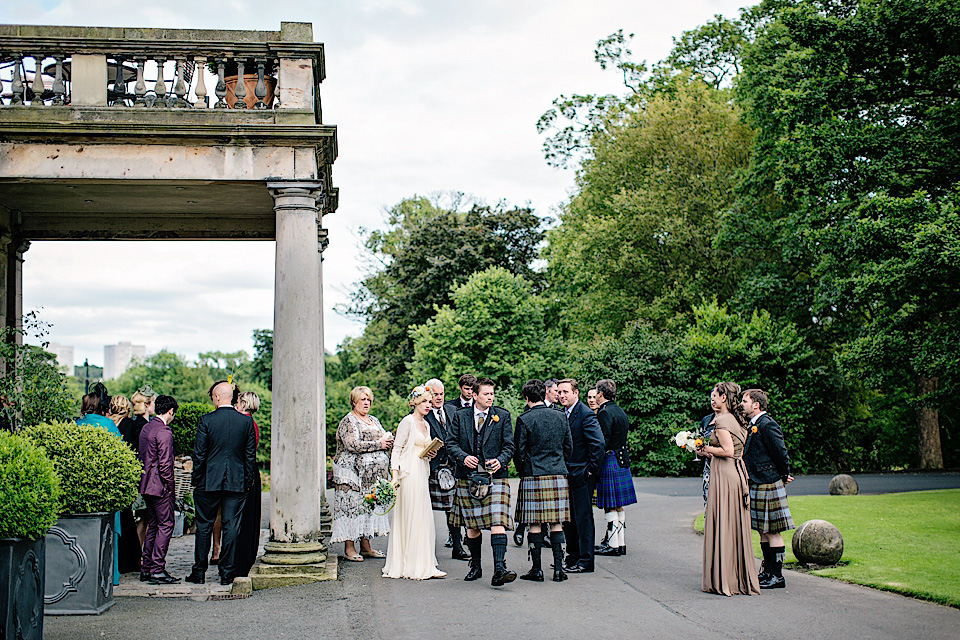 "Prestonfield is so stunning already with no detail overlooked, each room designed from floor to ceiling, that we didn't need to do much to the space. Just the addition of candles, moss, and flowers gave the woodland-inspired romantic feel we were going for.
In terms of decor, we just lots of candles, moss, and flowers. Prestonfield doesn't need much, which is great for a destination wedding because I was able to show up and know everything would be stunning."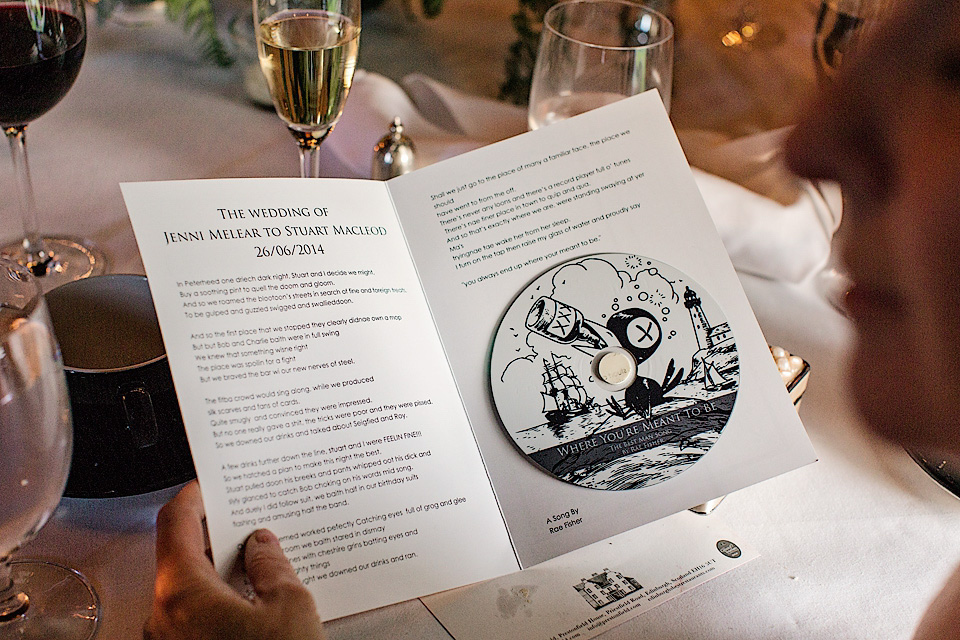 "Prestonfield's chef did both our rehearsal dinner and wedding dinner. He is a Michelin-starred chef and also did Madonna's wedding so we were in good hands! The food was to die for, the best meals we could have asked for.
We didn't want a traditional cake and didn't care much about cutting the cake, so instead had a gorgeous dessert table provided by Mimi's Bakehouse. Mimi's worked with our florist Linzi to create the look and the result was incredible, not to mention the best cakes and treats we've ever tasted, including some yummy vegan options!"
"For favours, we had key chains made in swatches of the same Harris Tweed used in our hand-fasting ceremony and had make up and shaving bags in the tartan made for our wedding party."
"We had a bagpiper set the mood early in the day by the Pickled Piper, and a string trio played songs we loved from classical to modern as the ceremony neared. They played the theme from Braveheart during our unity candle ceremony, which brought even the toughest of American guys to tears. For the reception we had the best wedding band in town, a husband and wife team called Bleeker. He kills it on the guitar and her voice is insane.
They were so cool and let us be silly and come up and sing on the microphone and hilariously led my American guests through some traditional Scottish ceilidh dances. Stuart and I did an impromptu performance of the Elephant Love Medley from Moulin Rouge and the crowd went wild. Everyone insisted we had pre-rehearsed it but we're just dorks who happened to know every word!"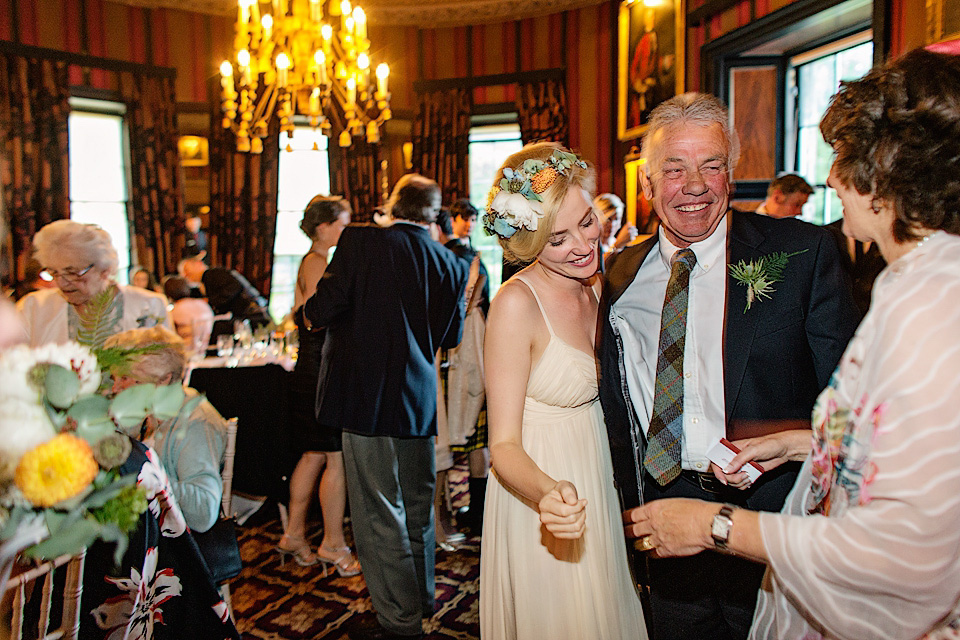 "As for some of my favourite moments – the hand-fasting ceremony was so special and romantic during our ceremony, and the impromptu Moulin Rouge performance was hilarious and so much fun. Seeing my American family attempt a ceilidh dance was amazing, and at one point we had to stall for time while our best man set up for the first dance so my best pal Adrian sang "Friends in Low Places" a cappella to keep the crowd entertained. Honestly it's hard to pick one moment, we laughed and cried tears of joy for the entire three days!"
"Stuart's best man, Rae, played our wedding song live, Ben Folds' 'The Luckiest', which made our first dance so personal and special. The song is about all the wrong turns and stumbles that have led us here, to each other, and reminds us how we truly lucky we feel to have found each other despite 5000 miles and impossible odds."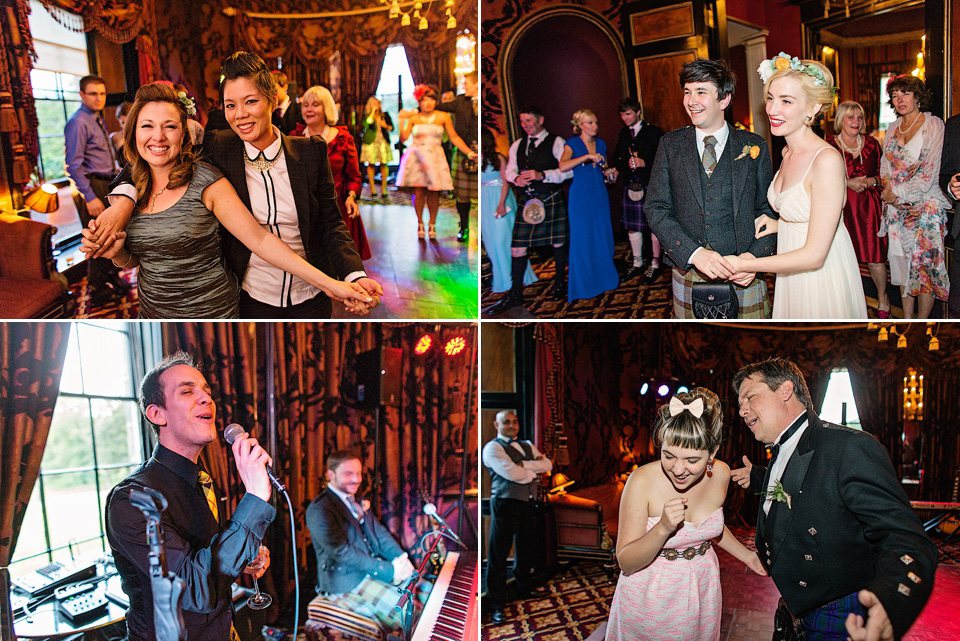 Words of Wedded Wisdom
"The bride sets the tone for the wedding, and that's the most important thing. If you are stressed and anxious, everyone else will be. If you allow yourself to relax and enjoy every moment, your groom, family, and friends will feel the love and joy radiating off of you. Soak up every hug, every cheer, every smile, and every tear. Look in your new husband's eyes and feel the palpable love surrounding you and carry that feeling into your new life together."
Besides a happy home with my beautiful husband and our baby (a scrappy rescue chiweenie by the name of Birdie), I'm a total wedding convert. Being a bit of an anti-bride before this whole experience, I'm the biggest sap for weddings now! It was so magical and beautiful I want to relive it a hundred times, and want everyone else to have an experience that is that special to them. I'm such a convert that I'm in the process opening a bridal shop here in Los Angeles called 'The Blushing Bird', where we will focus just on accessories – head pieces, veils, gloves, jewellery, shoes, lingerie, cover ups – all the things that make the look come together after you've chosen the dress.  Weddings have become so personal and unique now that no two brides are the same and I'm so excited to be part of that creative process."
What a truly beautiful and elegant day – and I adore those words of wedded wisdom.  My immense thanks to bride Jenni for sending in her wedding with such enthusiasm and kind words for Love My Dress – I wish you all the very, very best in pursuing your new bridal boutique business Jenni!
Readers, I would absolutely love to know what you think of this most elegant of days.  Are you inspired by anything in particular? The dress, the flowers, that flower crown or simply the whole utterly laid back and laughter filled images?
Have a very lovely bank holiday Monday all.
Love Annabel x
Photographer – Paul Raeburn
Venue + Catering – Prestonfield House in Edinburgh, Scotland
Wedding Dress – Shareen in Downtown Los Angeles
Shoes – Inexpensive sparkly champagne flats ordered online
Perfume – 'Poppy' by Coach
Groom – MacLeod hunting tartan kilts in Harris Tweed. Kilts and jackets made by Georgian Kilt
Bridesmaids – Own choice
Florist + Flower Crown – Jack Fleuriste
Dessert table – Mimi's Bakehouse
Entertainment – The Pickled Piper + Bleeker
Rings – Sofia Kaman
Stationery – A friend