Happy Monday to you all! Did you celebrate the looooong summer evening light yesterday? When I was in the UK my annual tradition was to go to a beautiful country pub with my family and sit in the beer garden overlooking the rolling green hills of the South Downs, watching the sun go down and marvelling at it still being light so late into the evening! Now, let's celebrate this magical time of year and unleash our inner hippies with this delightful Summer Solstice wedding and beautiful golden hour images by Eclection Photography.
Ruth, a freelance designer and Tom, who works in film, married legally on 21st December 2013 in a registry office, then celebrated their union on the 21st June 2014 in true party style with tipis in a field near Lingfield, Surrey.
Photos by Eclection Photography
"We wanted a relaxed affair. Tom has run parties before and we just wanted a big celebration with everyone there. I guess our love of music, good food and a good party! I didn't want a colour scheme or anything too contrived."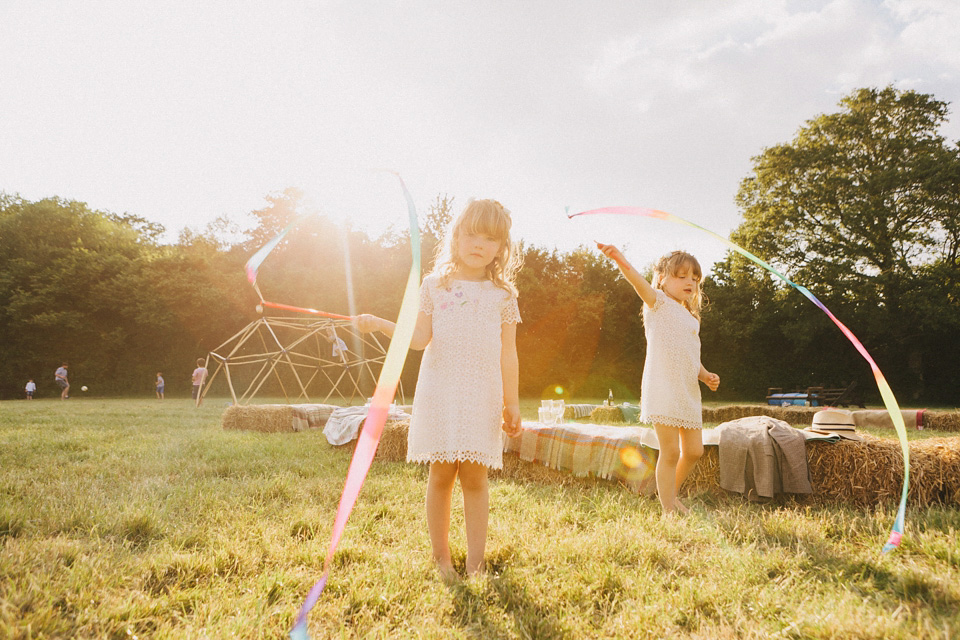 Have you seen these bridal separates previously featured on Love My Dress? Ruth also went with this growing trend – and the result is divine. How clever to use inspiration from her favourite nightgown. Underwear as outerwear – I love it! 🙂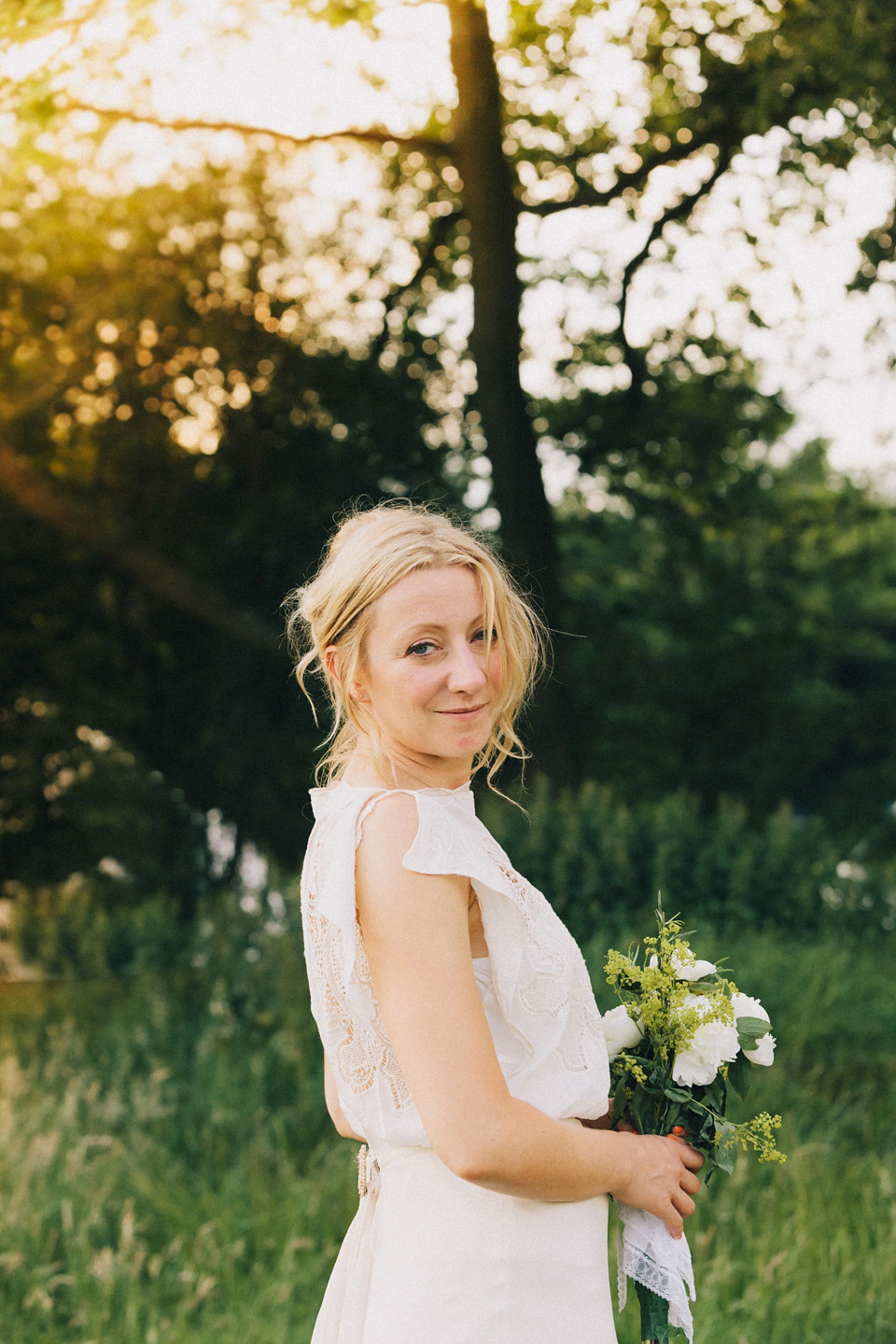 "I worked with Rebecca at The Pocket Library – it was very much a collaboration. It was a long journey and it changed along the way. Inspired by bridal separates I wanted something that I could wear again. The creative process developed and we used my favourite nightie to produce the top. I loved the back…"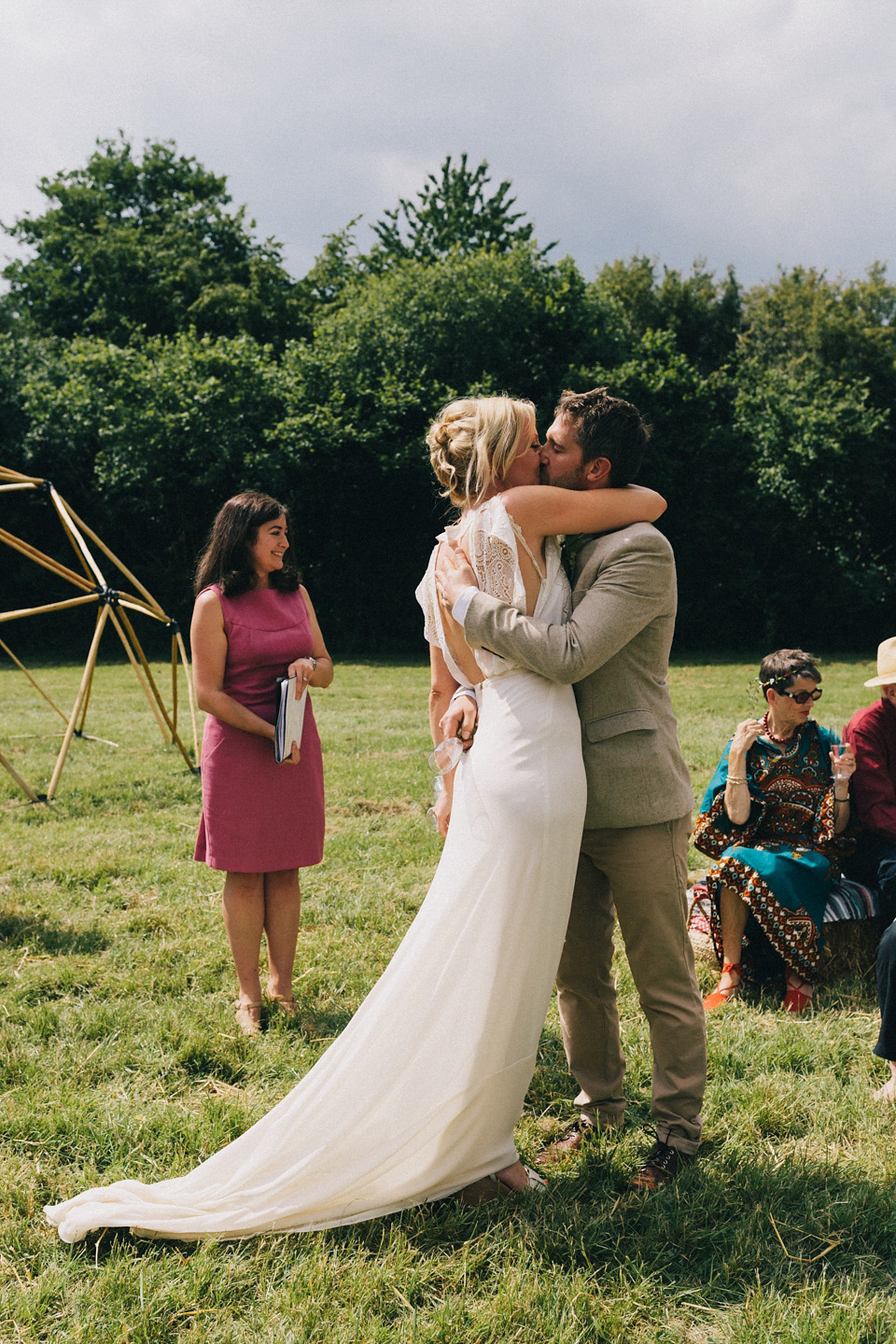 The couple met via an online site, Guardian Soulmates, had their first date at music festival Lovebox, then Tom popped the big question at a small music festival, thus their choice of wedding party venue and theme was totally perfect!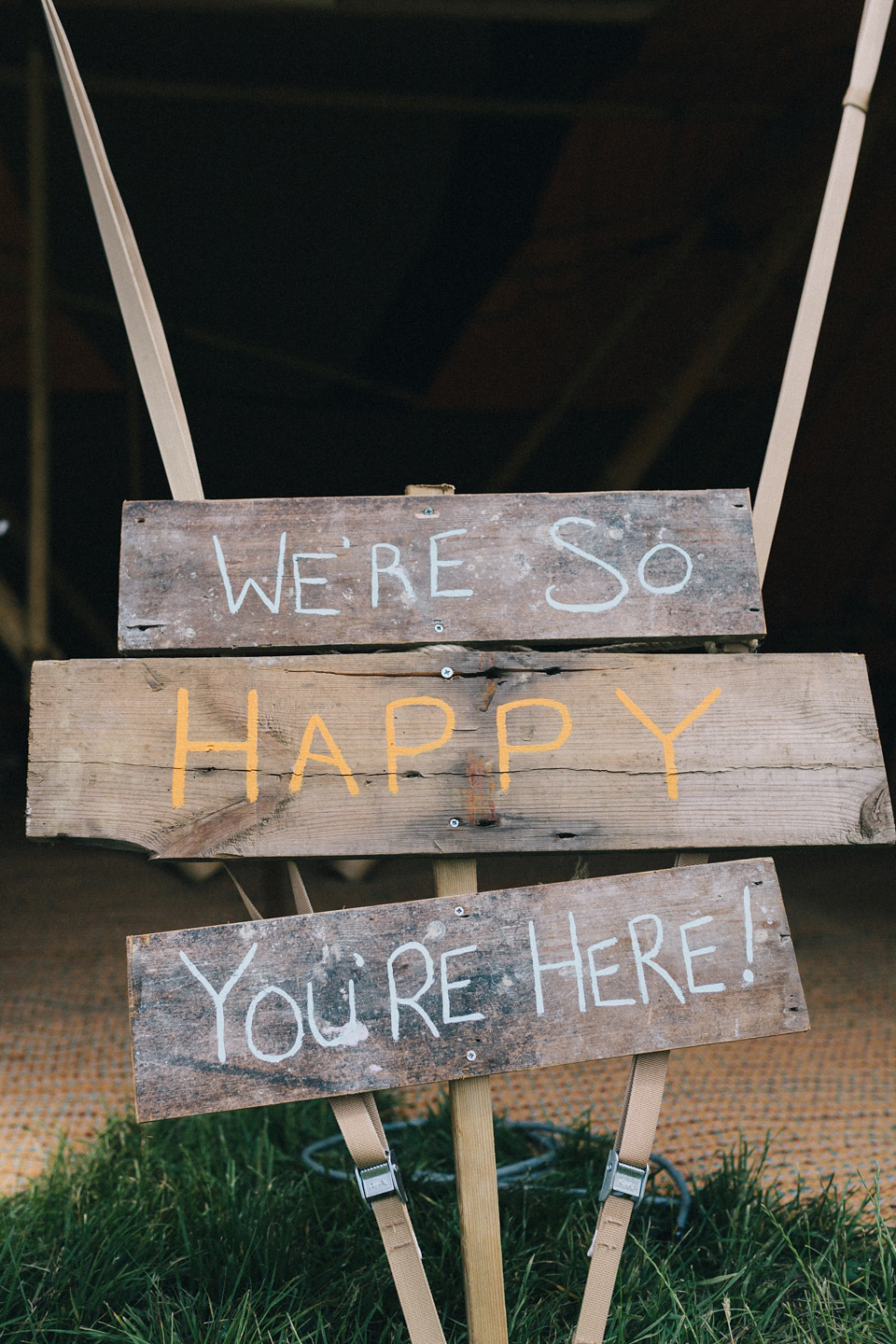 Eclection Photography captured the vibe of the couple's wedding party perfectly. Such a happy crowd of revellers! And I just love how Heather has caught the changing light, from bright blue skies in the day, to sunset, and finally the long evening twilight. Beautiful!
Ruth paired her gorgeous Stella McCartney wedges from Matches with an Annina Vogel vintage gold necklace and a spritz of her favourite perfume.
"Chloe, it's the only scent I wear and Tom loves it."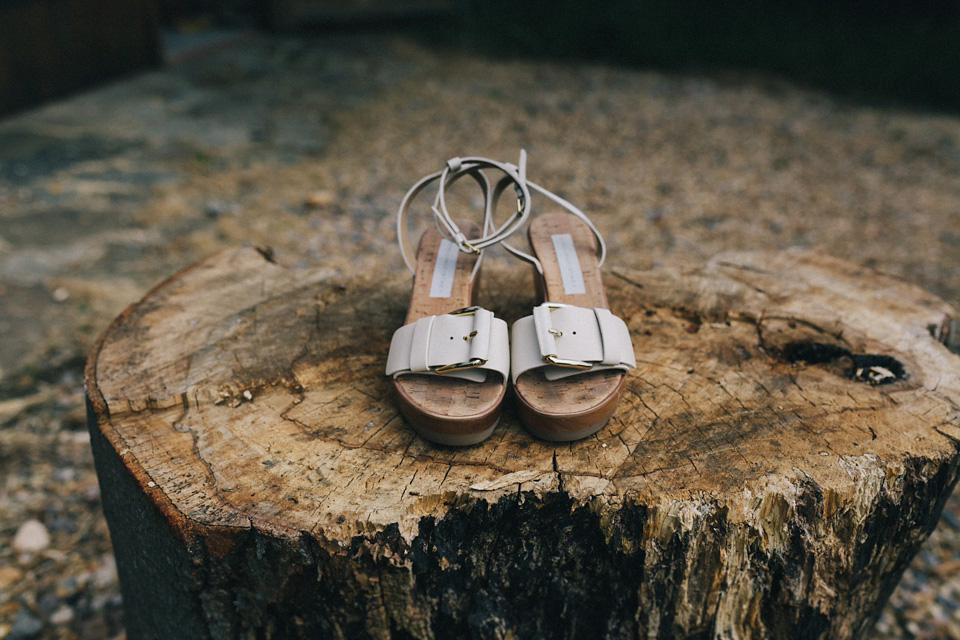 With the help of family and friends, Ruth and Tom purchased and styled their own flower arrangements.
"We did them ourselves – we got them from a local wholesalers and from my sister in law's garden. I wanted something relaxed with a variety of colours. My new mother-in-law, family and friends helped the day before with the tables flowers and I did my own bouquet. My mother-in-law did the wonderful chandelier of flowers. As we didn't have a lot of money to spend on flowers I wanted to have one big statement piece."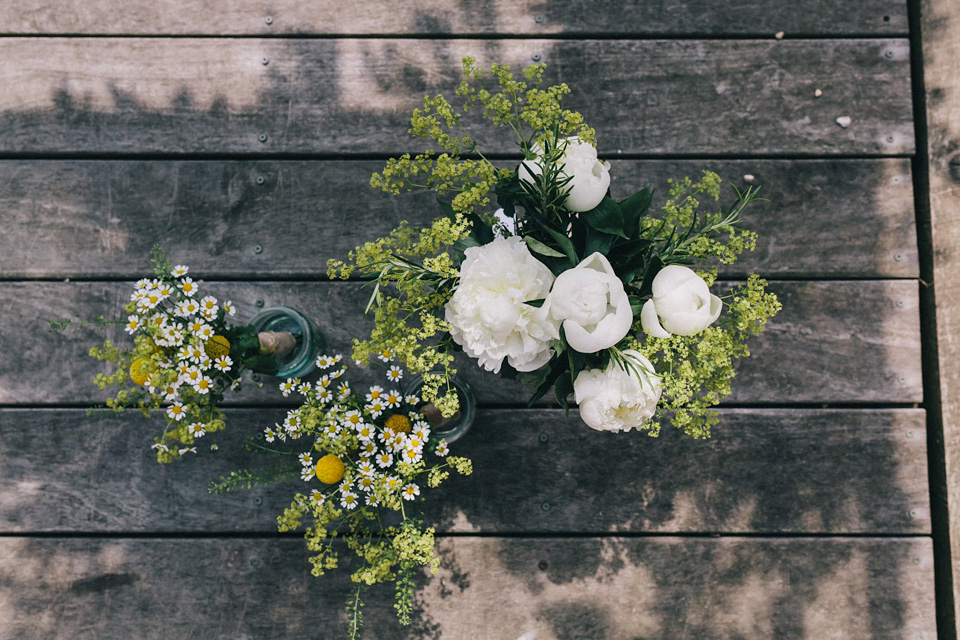 The sweet white lacy dresses and shoes for the girls were from Zara Kids. Ruth chose something they could wear again and with leggings when it got cold later on. The girls also wore pretty pendants engraved with their initials from Etsy. And for a little bit of boho inspo – flower garlands for their hair.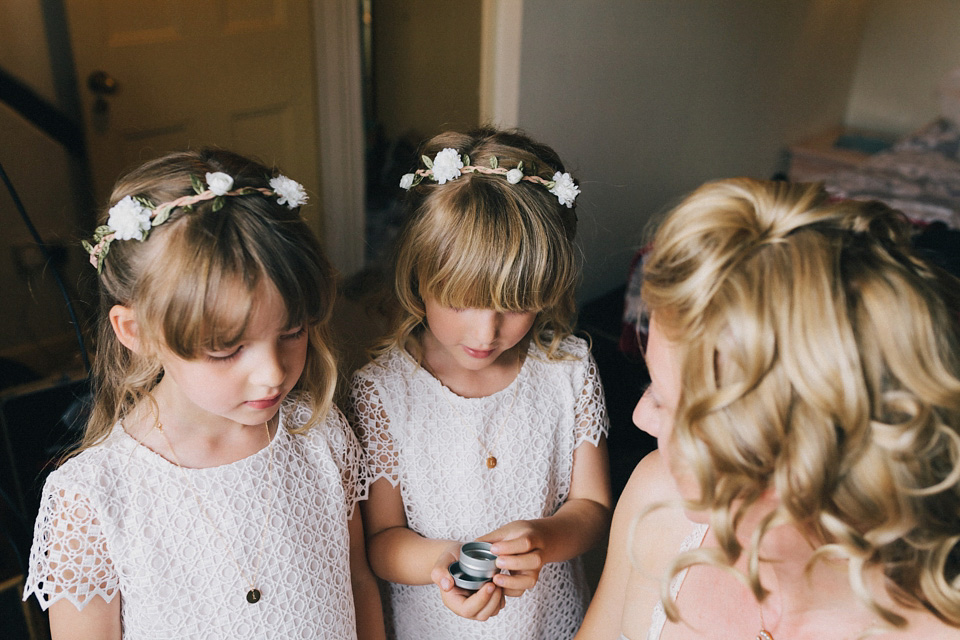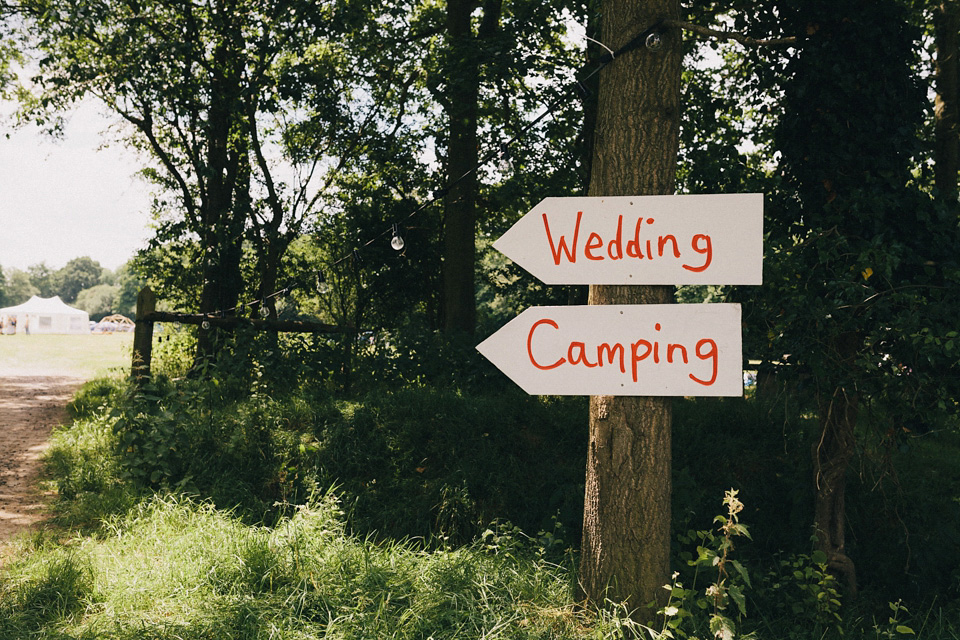 The groom looked dapper in Gap chinos, a Liberty shirt, Topman waistcoat and jacket and a groovy daisy as a buttonhole piece, whilst the groomsmen wore their own relaxed attire.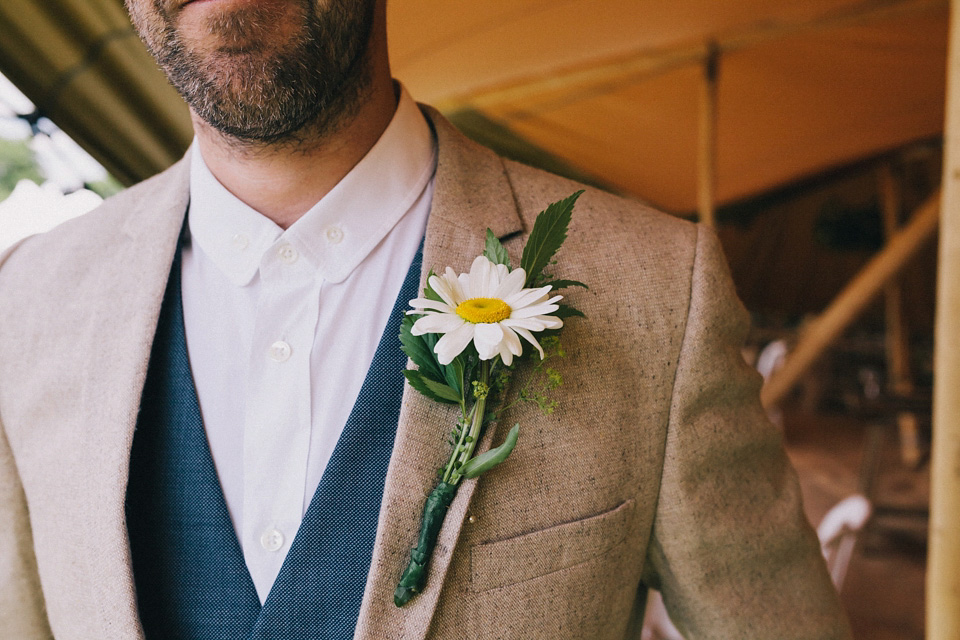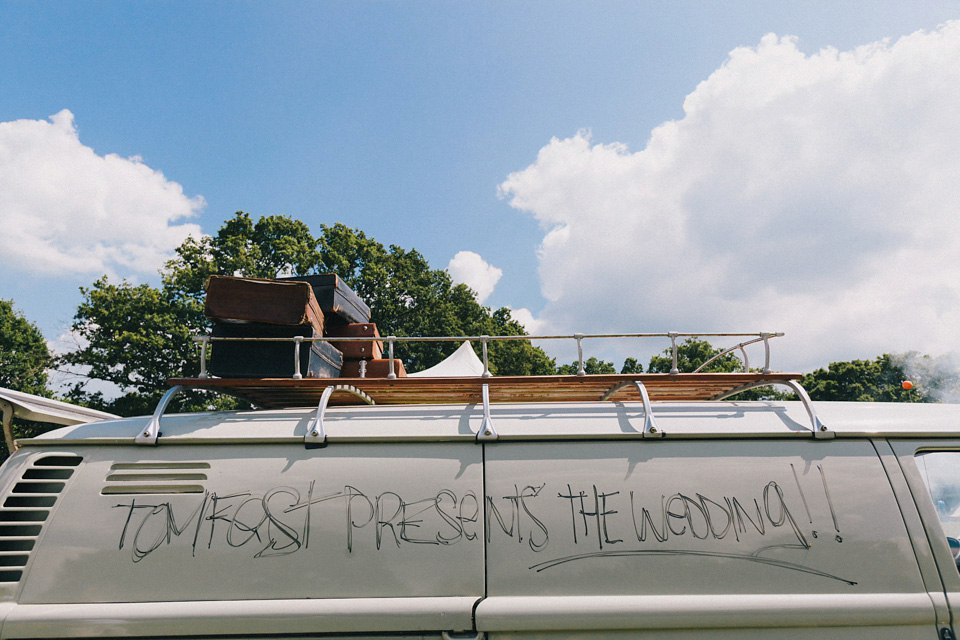 The field was peppered with hay bales and blankets for the guests to relax on and what a fabulous idea – a cocktail bar from the back of a kombie van!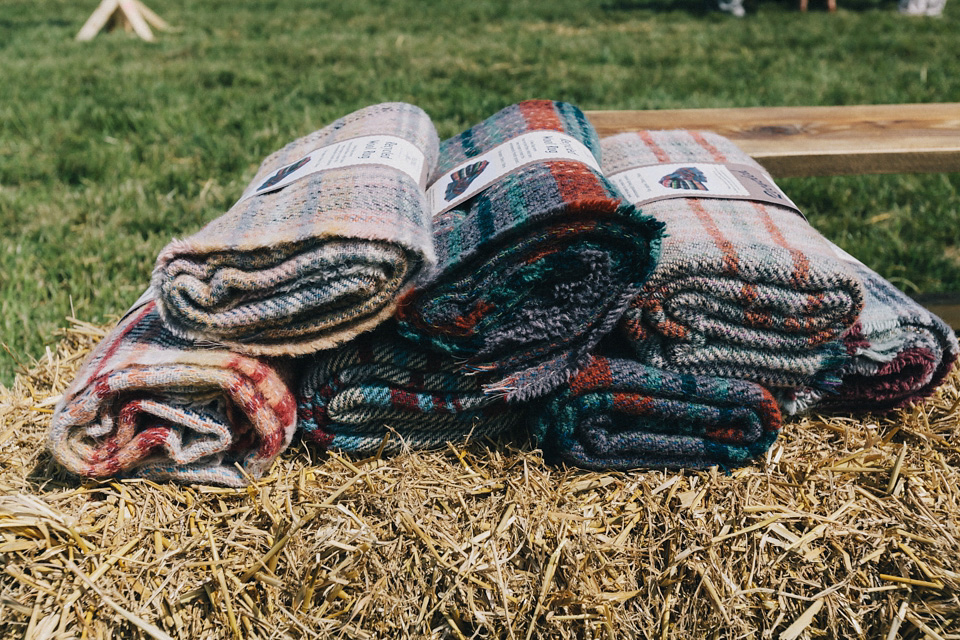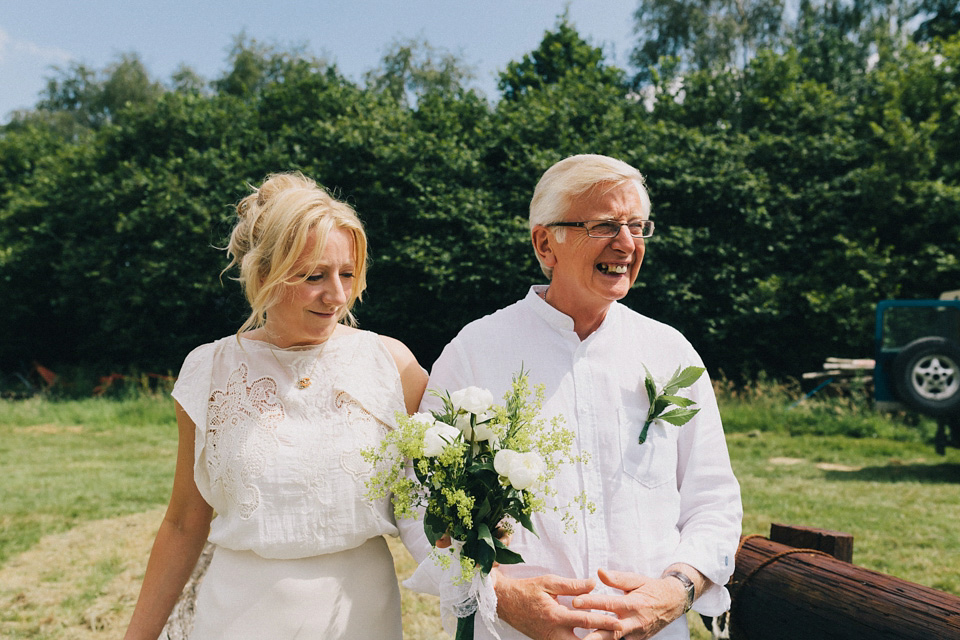 Ruth father walked her to the Humanist ceremony, run by Ginny Collins, to the tune 'Blackbird' by Crosby Stills and Nash.
The ceremony included a single reading, the 'Owl and the Pussycat'. I love the image of the couple's family and friends surrounding them during the ceremony, ready to pop their corks.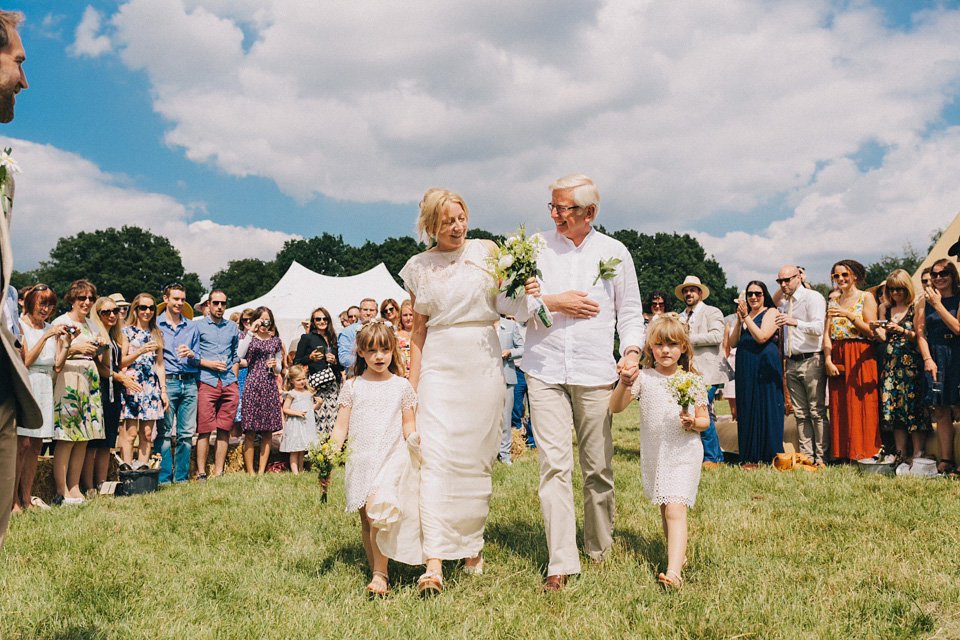 "We tailored our own vows and did something very similar in June to the vows we said at the registry office. We wanted people who couldn't be there the first time to hear the same words. One of our vows promised that we would 'cherish our uniqueness' – it concentrated on having a life of adventure with lots of laughter."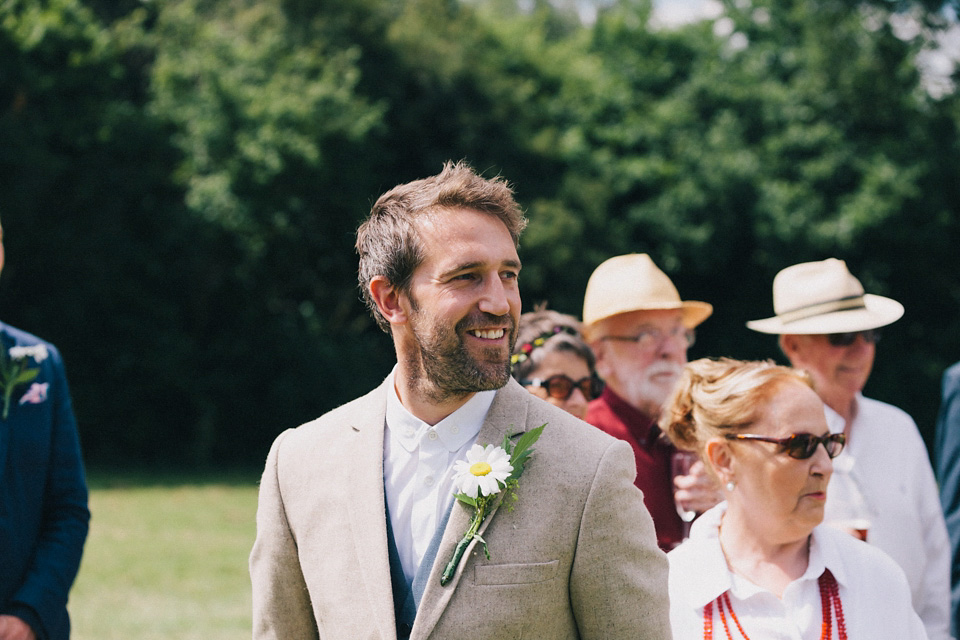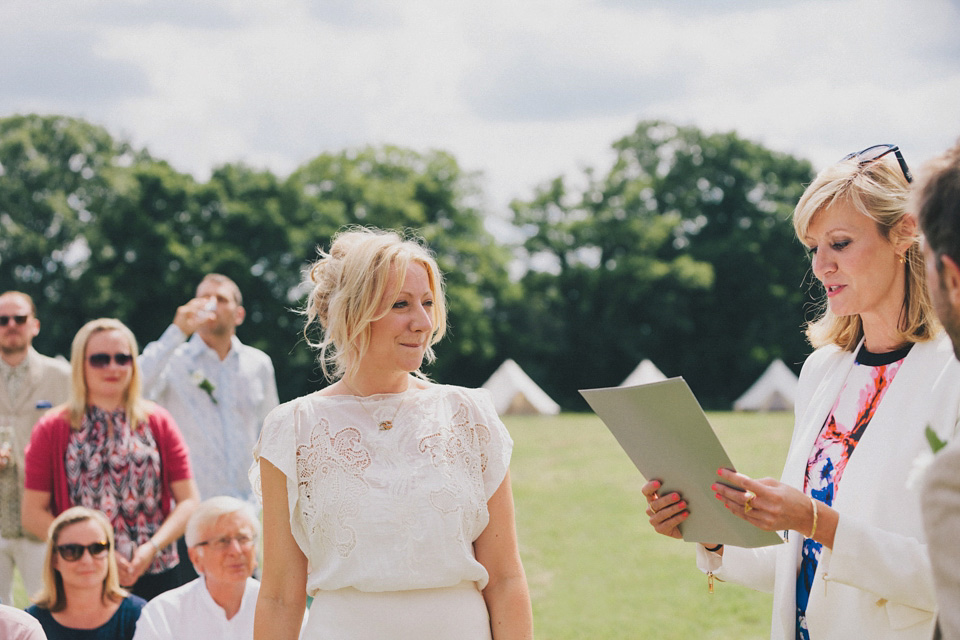 "Tom had his white gold band made by a silversmith on the island of La Gomera. He was working away and I came to visit. I got mine from Annina Vogel at Liberty, I have two, one for each wedding. Any excuse!"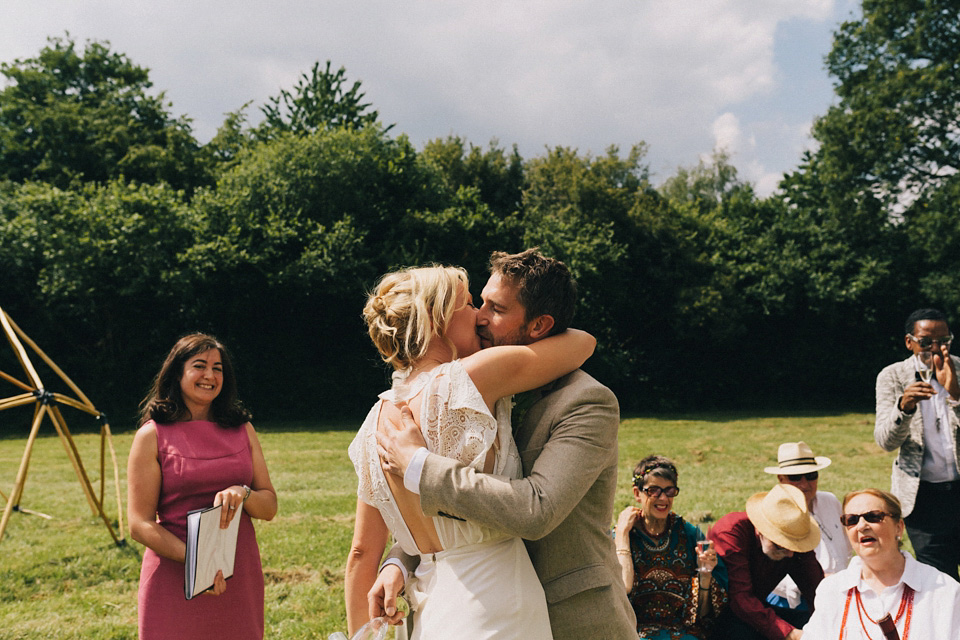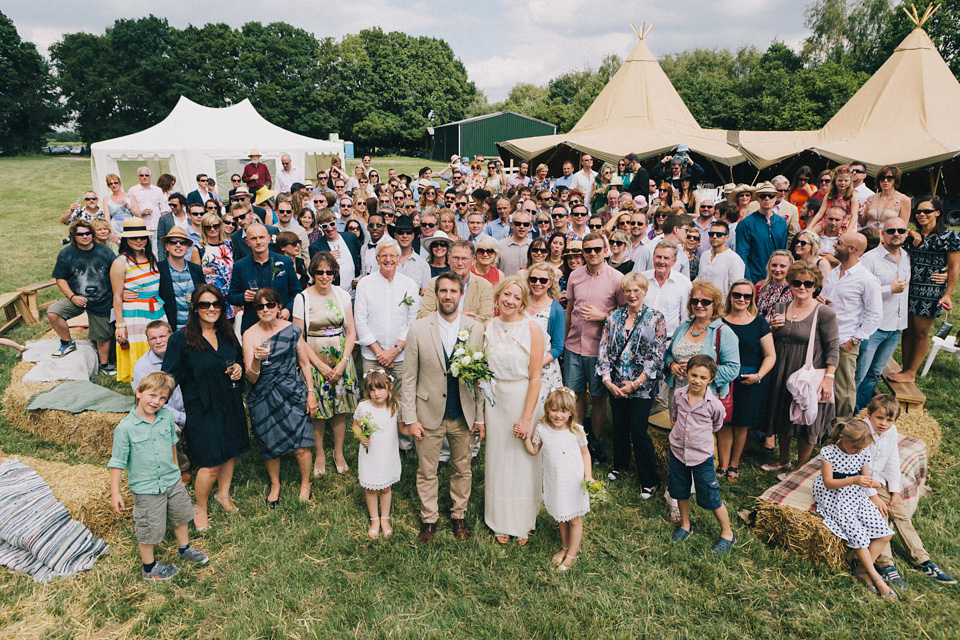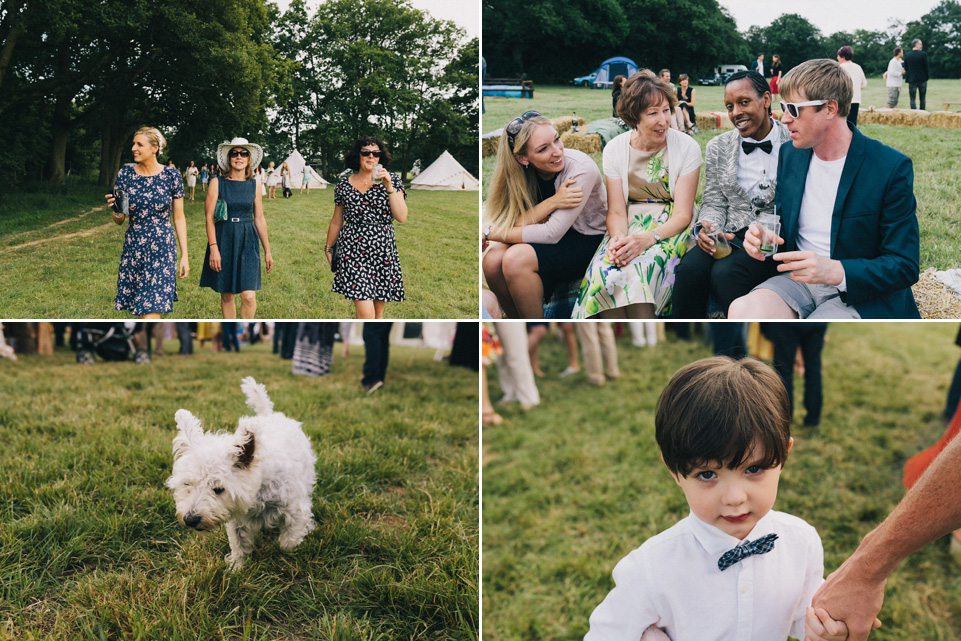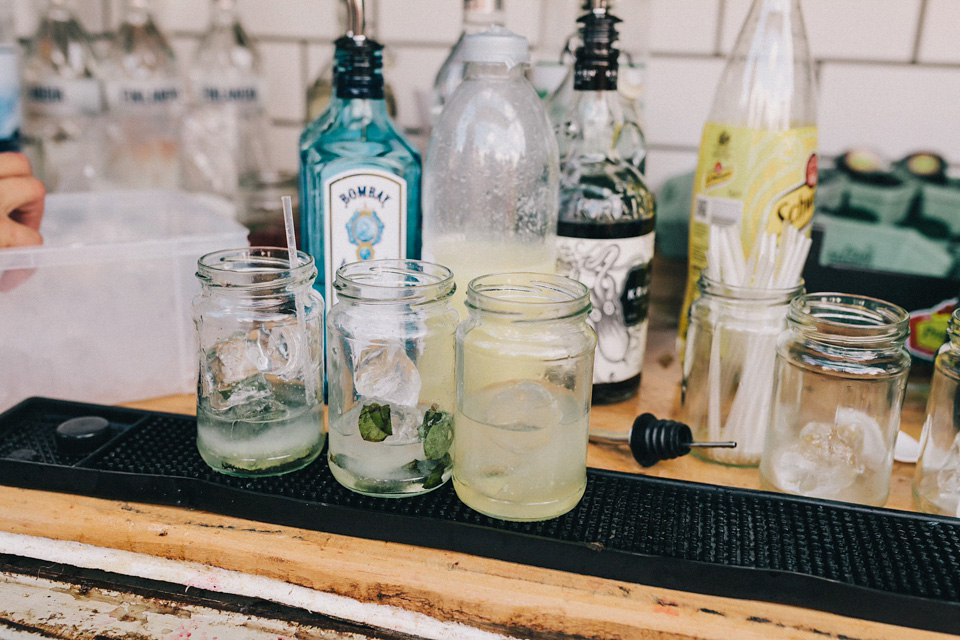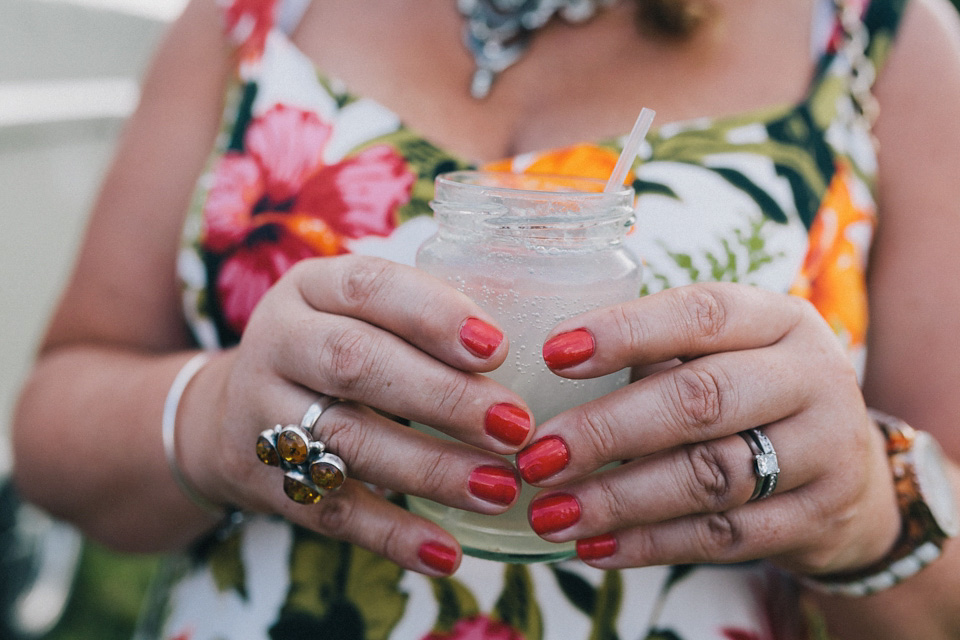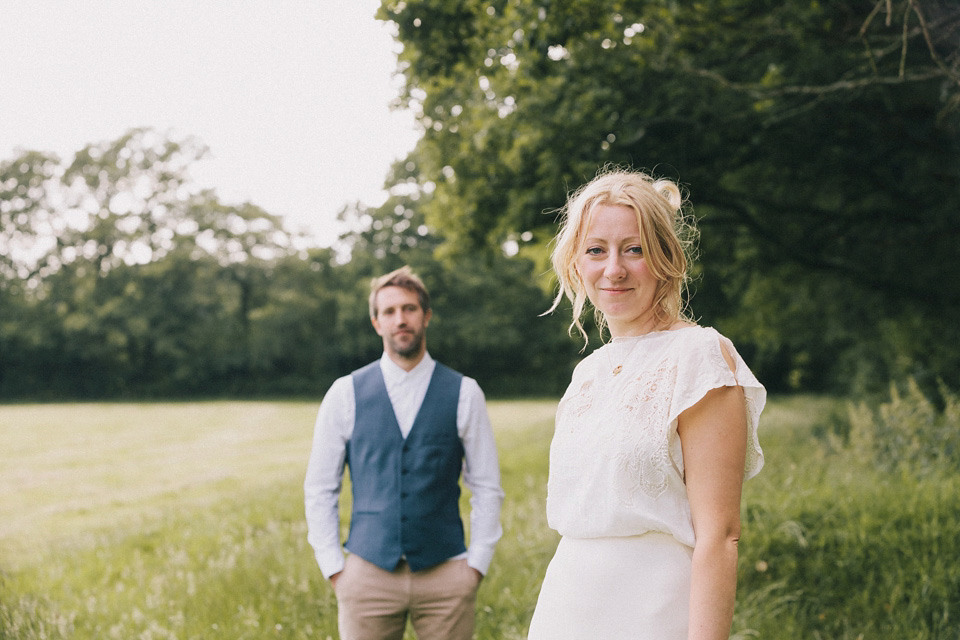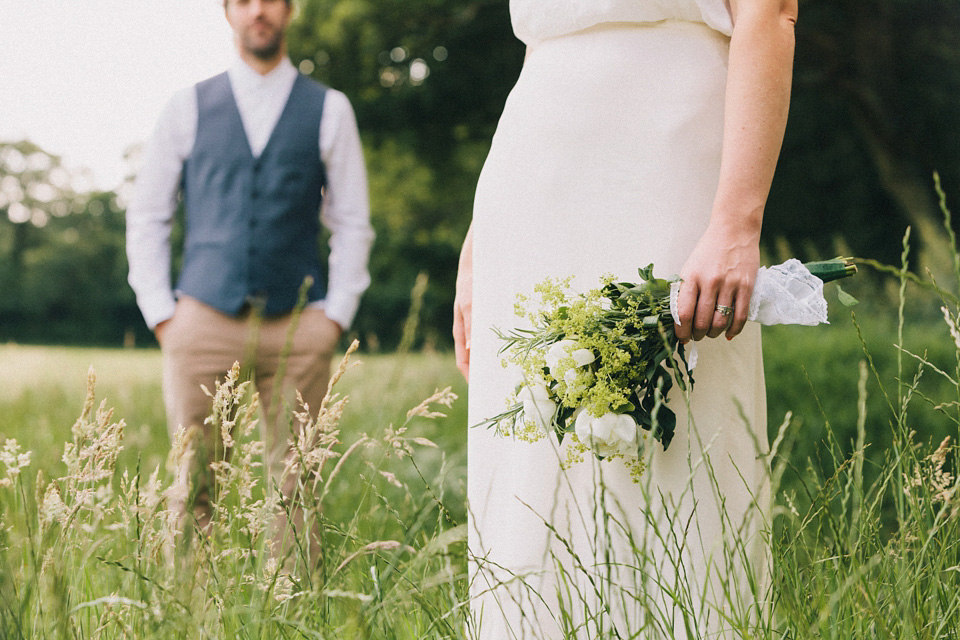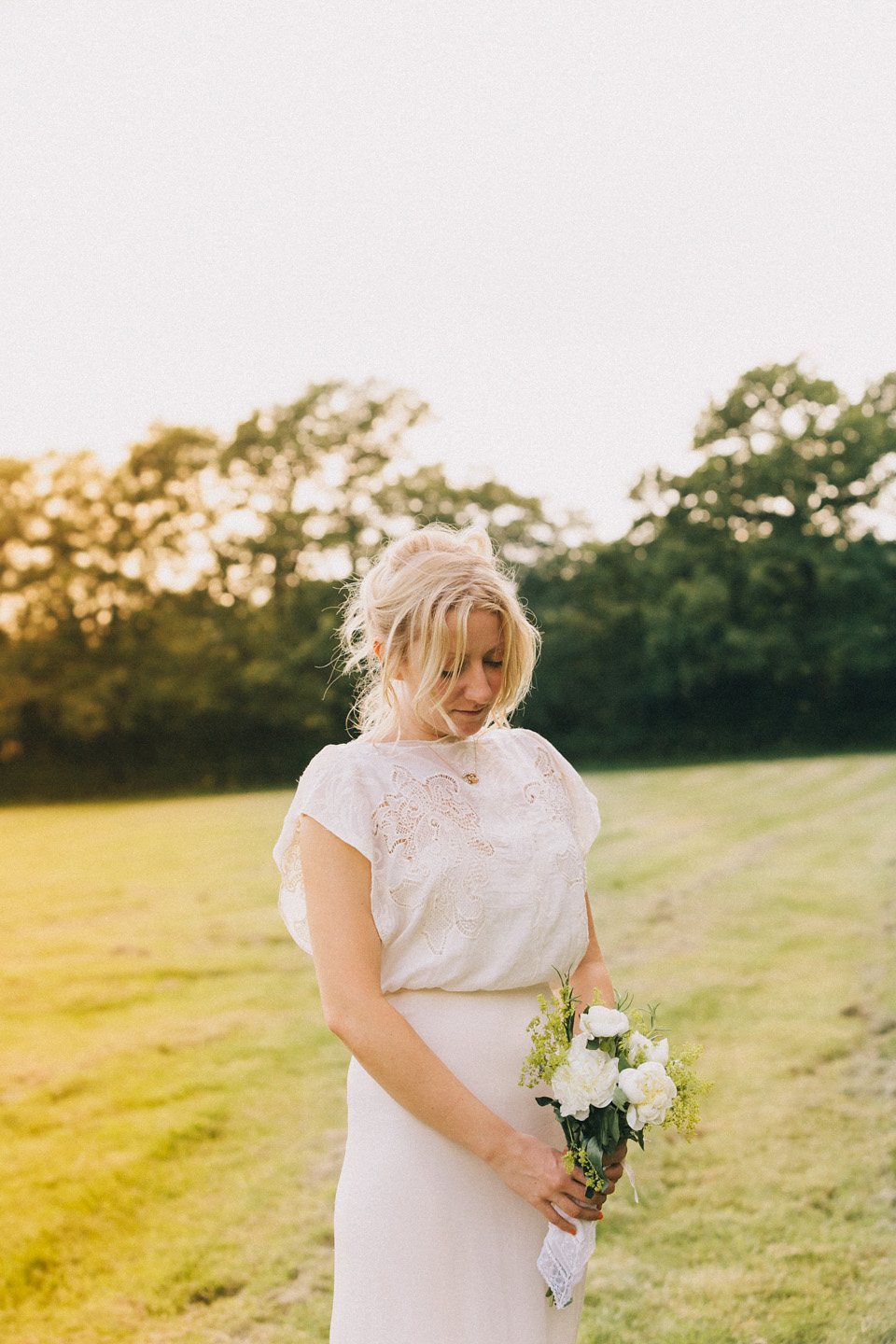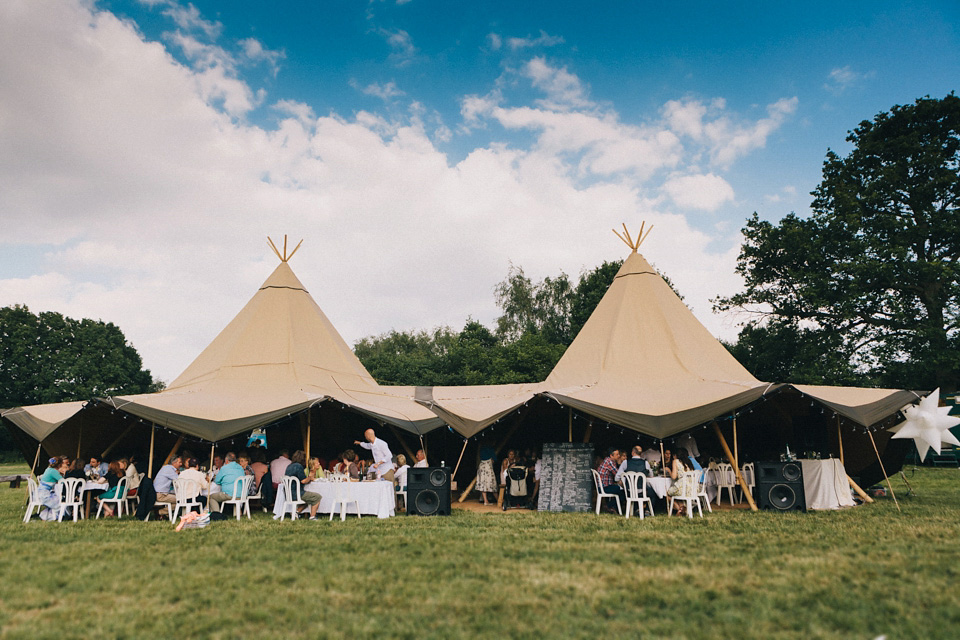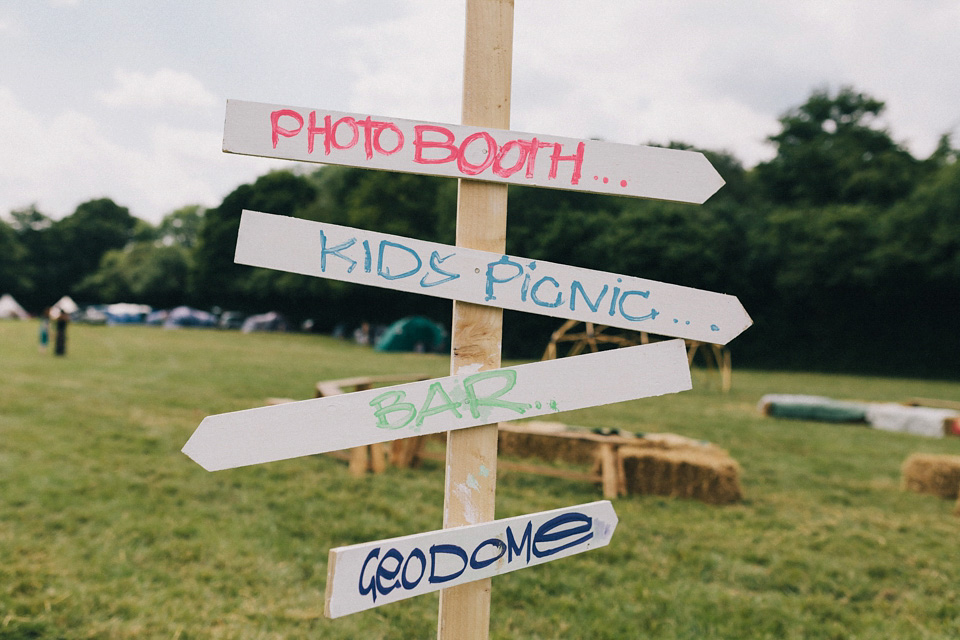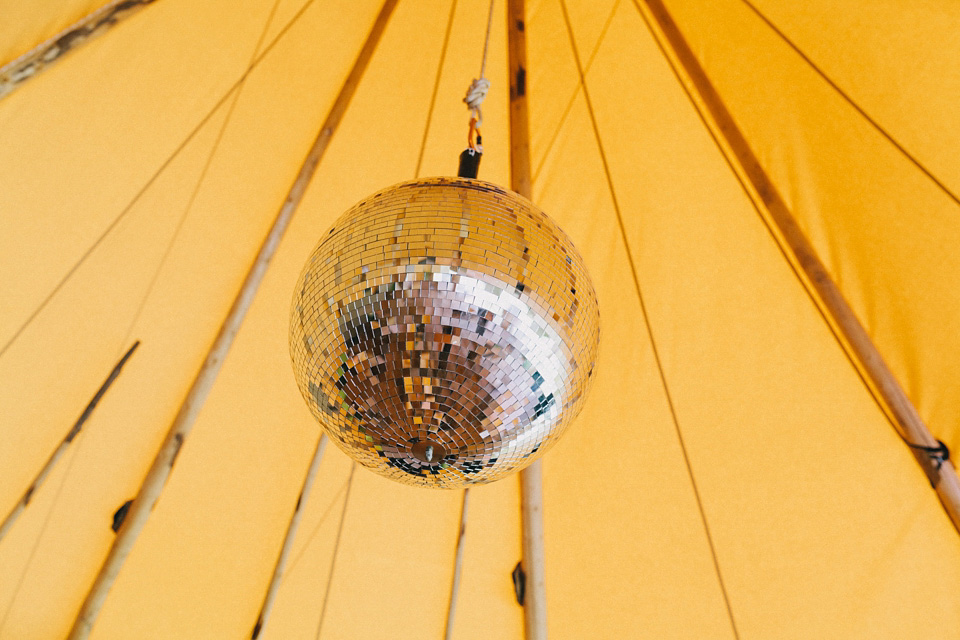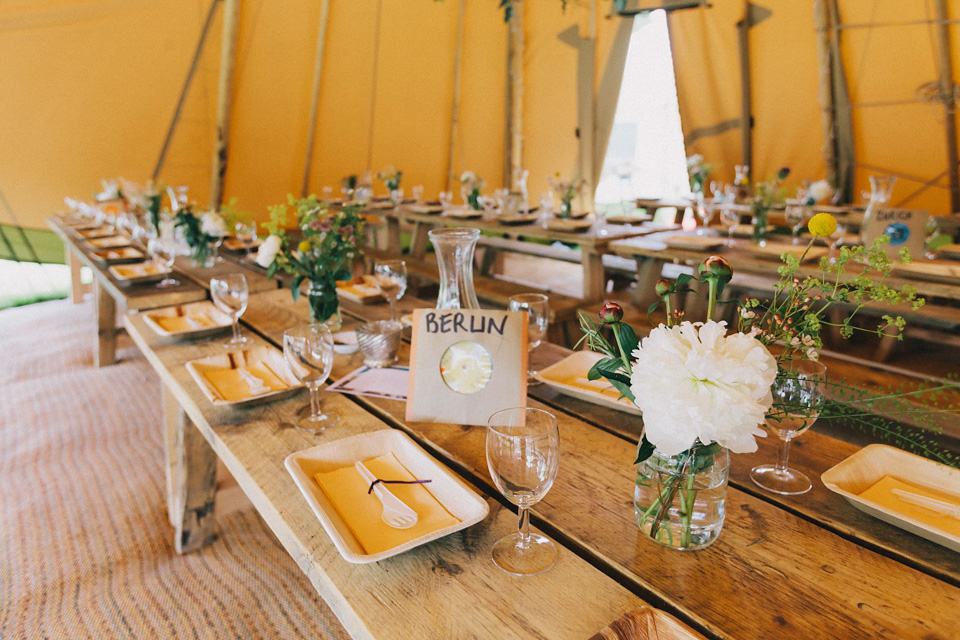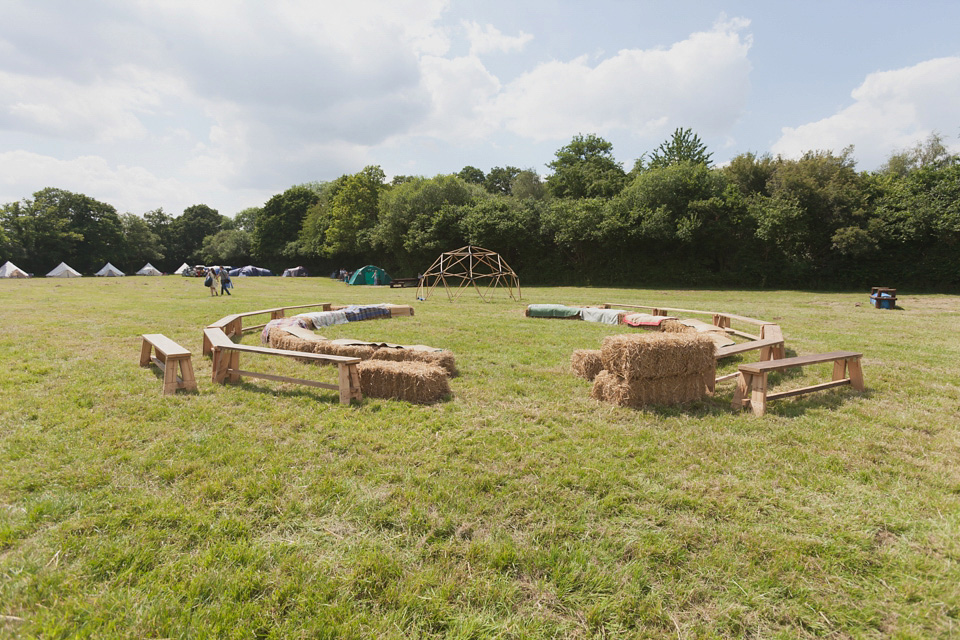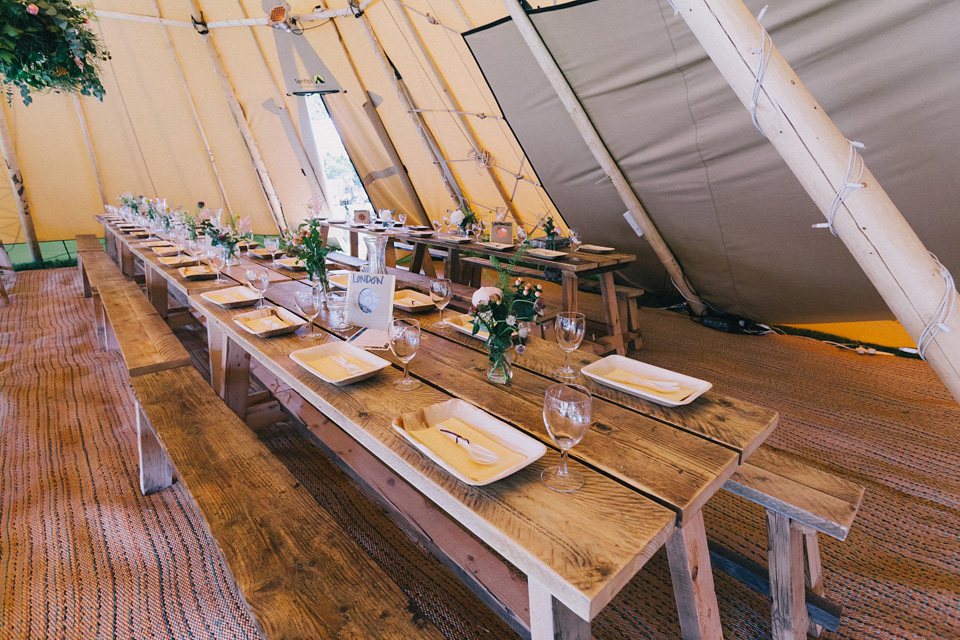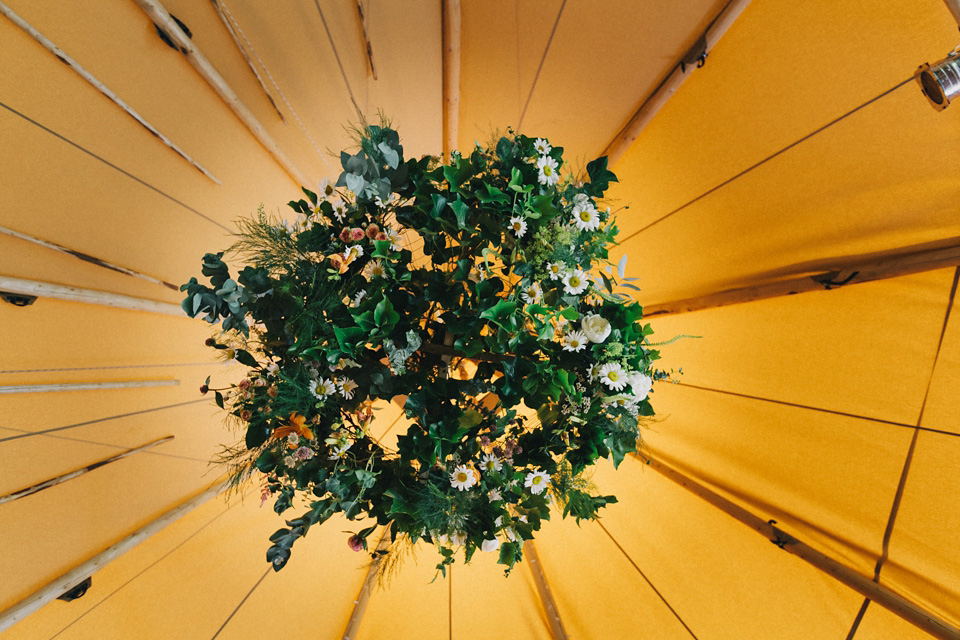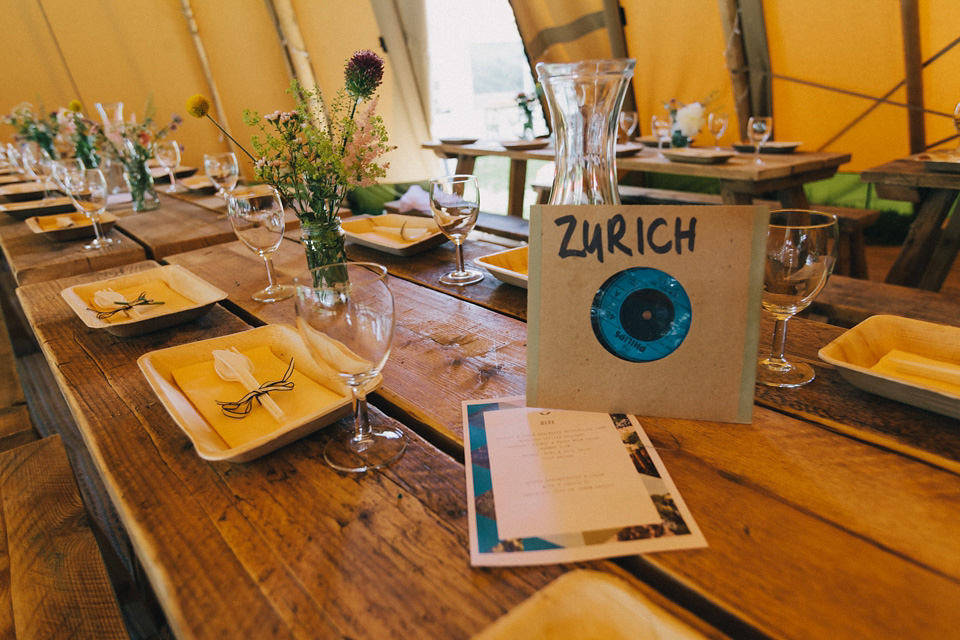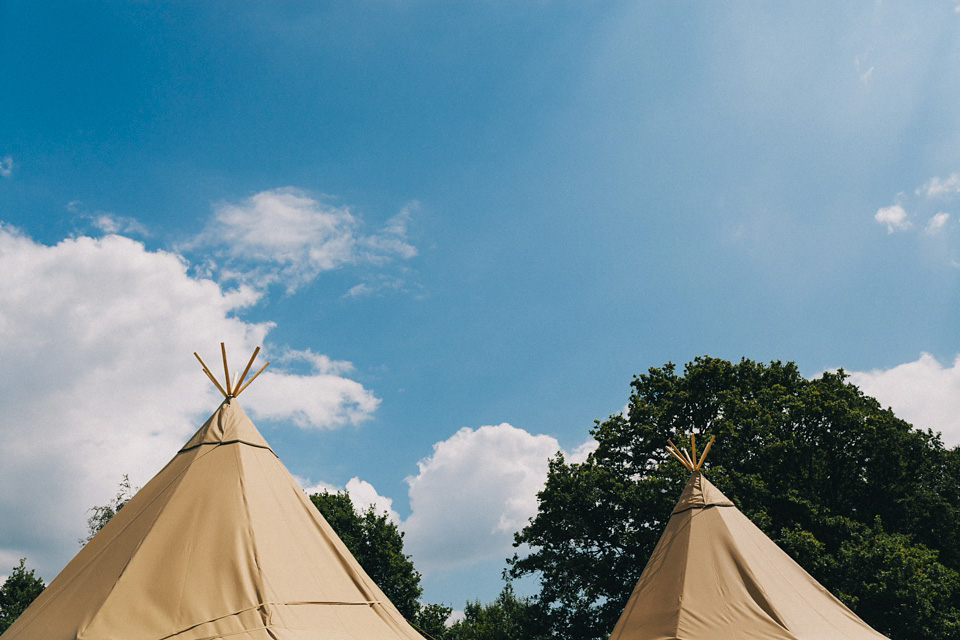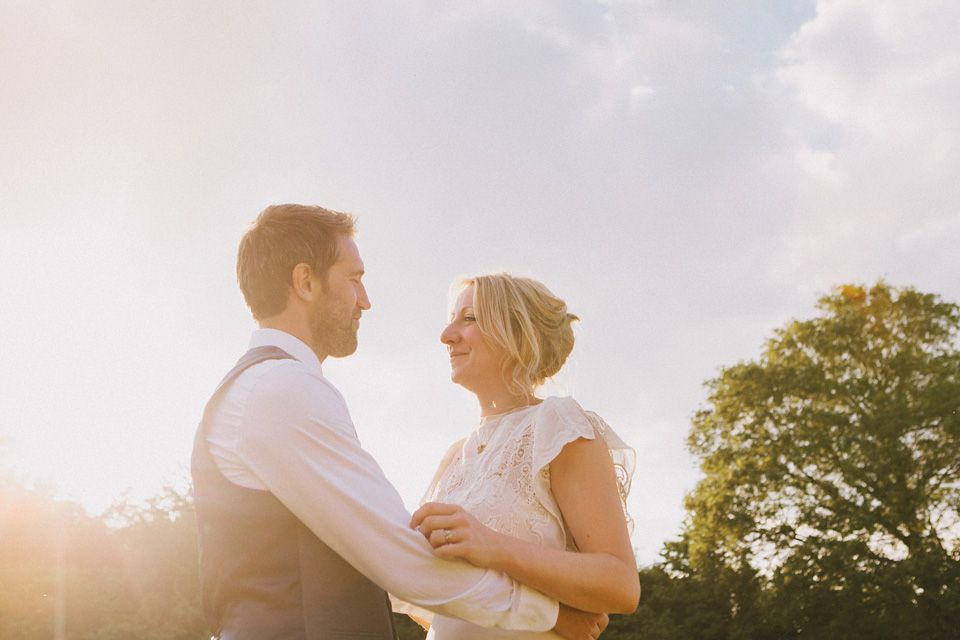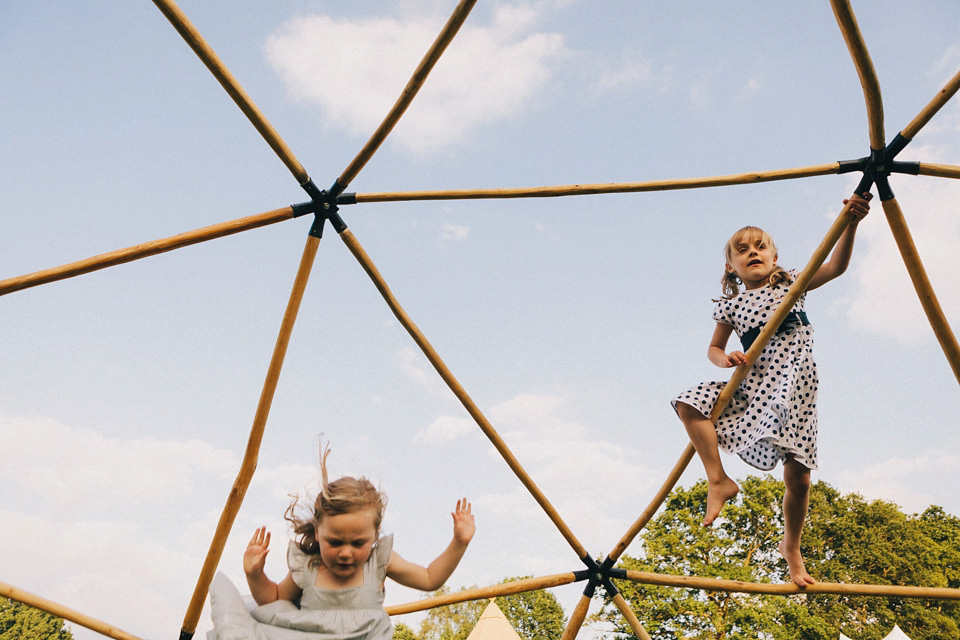 "A friend of Tom's, Alan Richards, owns a pub and a private catering business, The Long Dog Pub, and he did the food and the drinks. His cocktail van was the best!"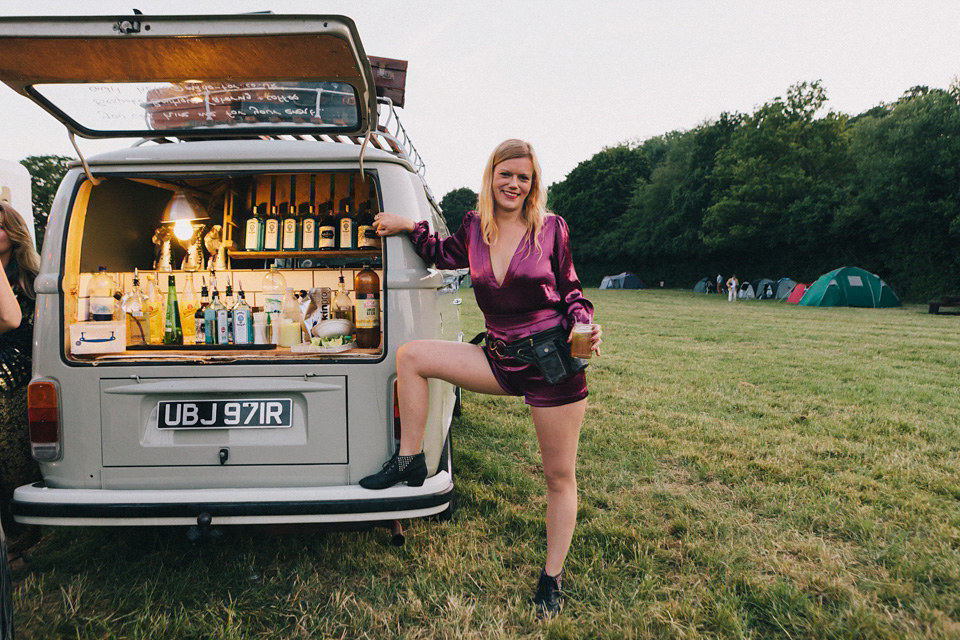 Ruth reflects on her favourite parts of the day and what they might have done differently.
"All of it! I wish I could have paused the day and spent more time with everyone. I tried to get around all the tables to see everyone but didn't manage it. Oh no, I did love the champagne corks popping just after we were pronounced 'Husband and Wife'. We wanted to get straight on with the celebrating!"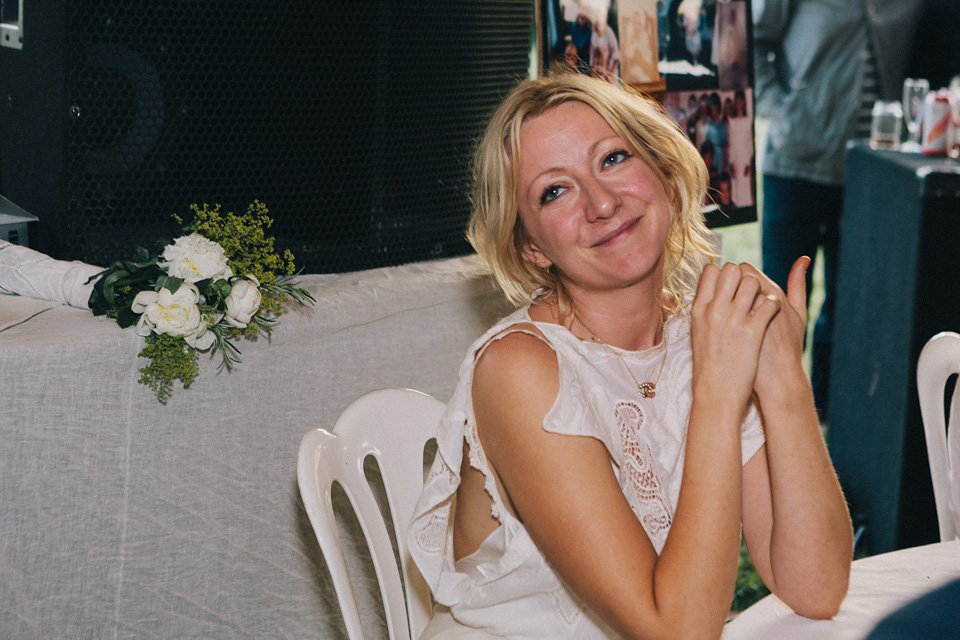 Tom and various friends helped out with the evening shenigans as DJ's – and I had a giggle at this confession about the couple's first dance …
"I'd have perhaps made sure we managed our first dance and actually got up in time for breakfast the next day. We missed saying goodbye to a few people. I also wish we had got more people to help in the morning, poor Tom was running around and didn't stop until just before the ceremony."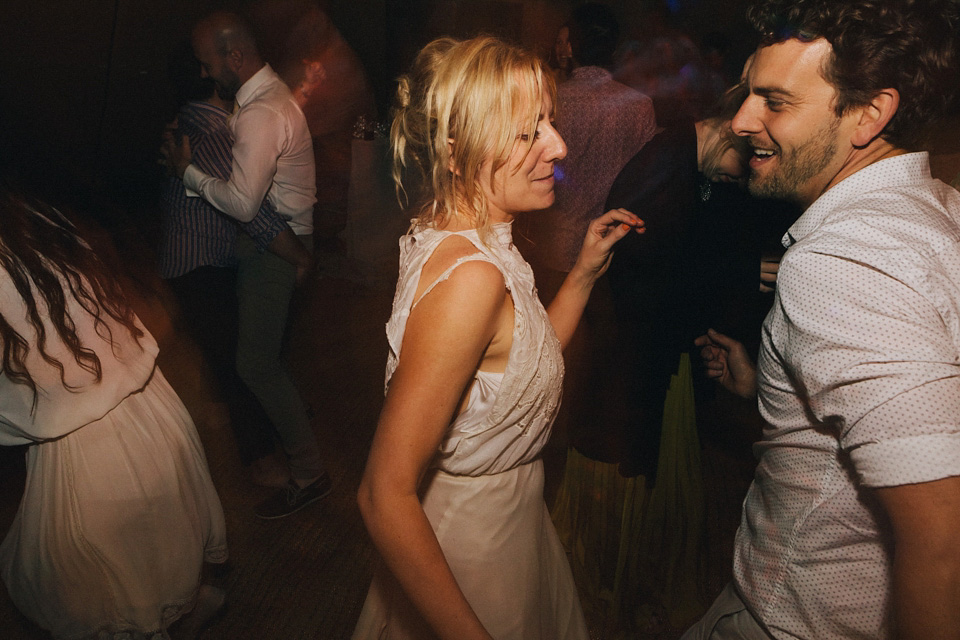 Words of Wedded Wisdom
"Oh god, I don't feel like I have any wisdom to impart. I guess it's that you don't have to spend a lot of money. Let your friends help, focus on what is important, the people and the fact that you are celebrating your relationship with the people that you love and that love you.
We missed our first dance! It was meant to be a Chet Baker tune that we both love. We trusted the job of making it happen to the person who was probably most drunk at that point!"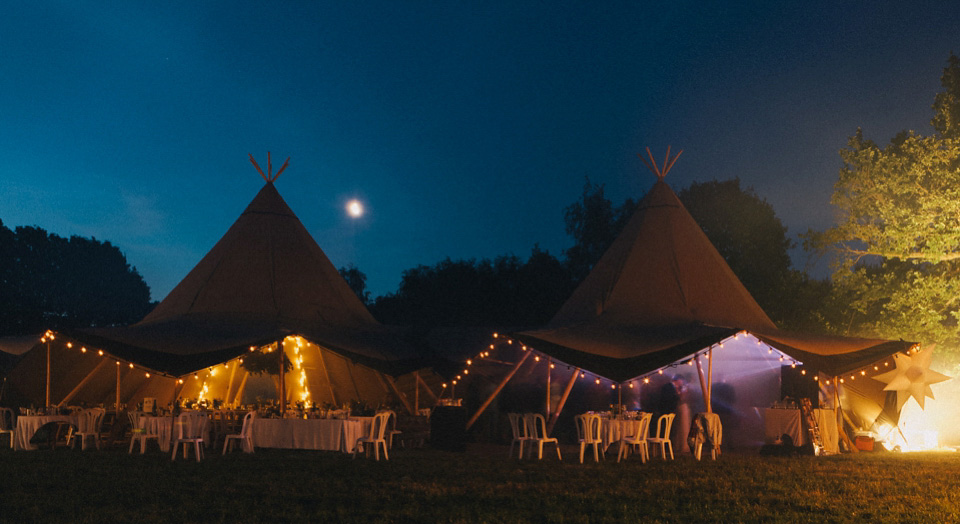 What a magical wedding celebration – all the people you love together, a festival vibe, and on the longest day of the year, just brill! Ruth and Tom, I loved sharing your wedding party and I hope you had a groovy time celebrating your 1-year anniversary yesterday! And a very big thank you to Heather from Eclection Photography for the wonderful images.
Be sure to check out other married couples who met online that we've previously featured on Love My Dress. It's definitely the dating way of the future 🙂
Have a jolly rest of week lovelies!
Love Jo – xxx –
Photographer – Eclection Photography
Venue – a field near Lingfield, Surrey
Humanist Celebrant – Ginny Collins
Dress – The Pocket Library
Shoes – Stella McCartney wedges via Matches
Bride's Accessories – Annina Vogel vintage gold necklace
Bride's Scent – Chloe
Bridesmaid's Dresses and Shoes – Zara Kids
Bridesmaid's Jewellery – A pendant engraved with their initials via Etsy
Groom – Gap chinos, Liberty shirt, and Topman waistcoat and jacket
Best men – Own attire
Flowers – By the couple and family and friends
Rings – Ruth's two Annina Vogel rings via Liberty and Tom's via a silversmith on island of La Gomera
Stationery – friend Laura Bailey
Catering – The Long Dog Pub
Hair and Make-up Artist – Claire Paynter (The Ginger Princess)
Entertainment – Tom and friends as DJ's
Transport – a friend's Defender and own VW Campervan