Hello readers! Today, we are whisking you away to the hills of Tuscany, Italy for a relaxed, homespun destination wedding. When I first read about today's nuptials, my heart quickened a little; a wedding in a 17 century theatre followed by a reception in the Tuscan countryside? Yes please! This gorgeous wedding was styled by Danielle of professional Italian wedding planners, Wiskow & White – who we most highly recommend if you are looking tie the knot in this beautiful country. You can find more details about Wiskow & White via our Little Book For Brides wedding directory, or click the social media/contact links below;
Lucy, a marketing manager for Oxfam, married Ben, a Graphic Designer, on the 28th of August 2014 in the stunning surrounds of Teatro Ciro Pinsuti in Sinalunga, Tuscany, followed by a reception in a villa nearby.
Photography by  Ed Peers
"We absolutely adore Italy and wanted our wedding to embrace as many Italian influences as possible. We chose a yellow colour scheme in homage to the lemons and sunflowers that were in season and we opted for a rustic theme in keeping with the setting. Ben, who is a graphic designer, incorporated this theme in our invites, menus and order of service."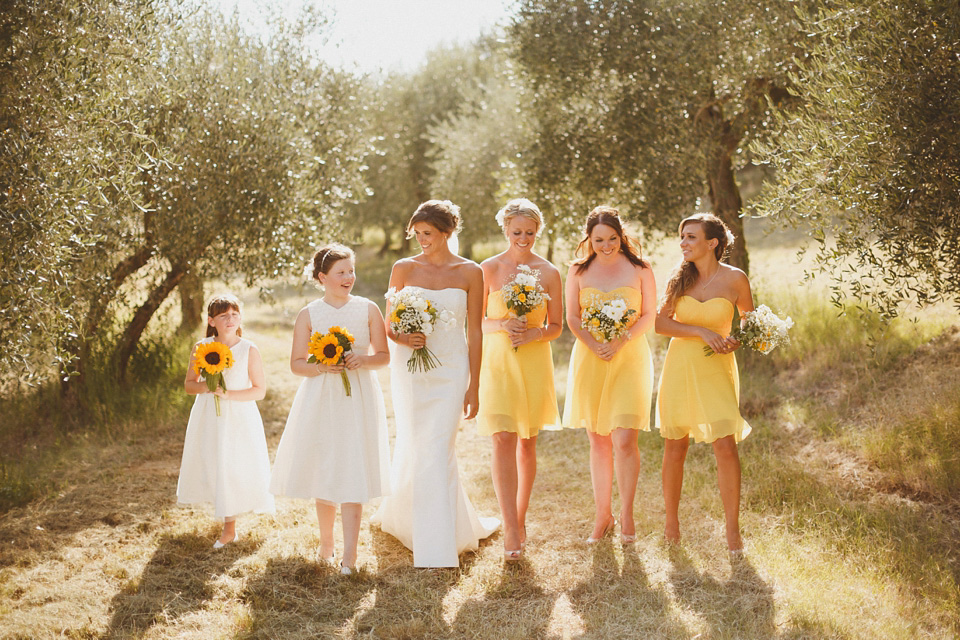 When I saw the photos (captured in stunning detail by Love My Dress favourite photographer, Ed Peers) I wasn't disappointed. Take a few moments to soak up the Tuscan light, sunflowers and olive groves.
Today's wedding is brimming with thoughtful, homemade details and a naturally beautiful bride wearing a gorgeous Johanna Hehir gown.
Ben and Lucy met at work, but didn't become an item until they were brought together while travelling separately in South America. Romantically, Ben came to Lucy's rescue in Venzuela when she and her brother faced some difficulties. The rest, as they say, is history!
"Ben and I met at work about 10 years ago and after a few social events we realised that we really liked each other. It took a while for us to get together and we finally became official when we were both travelling in South America separately. Ben had won a competition to trek to Machu Picchu in Peru and I was travelling with my younger brother (who was recovering from a stroke at the time) when we got into some difficulties in Venezuela. I contacted Ben and he travelled across three countries, taking three flights to get to us. From then on I knew that I HAD to be with him forever. We continued to travel as a three and had an amazing time in Brazil."
"Ed Peers is the best wedding photographer I have ever seen and I couldn't recommend him more. He is such a lovely man and so nice to work with. Ed is a natural photographer and his photographs are outstanding."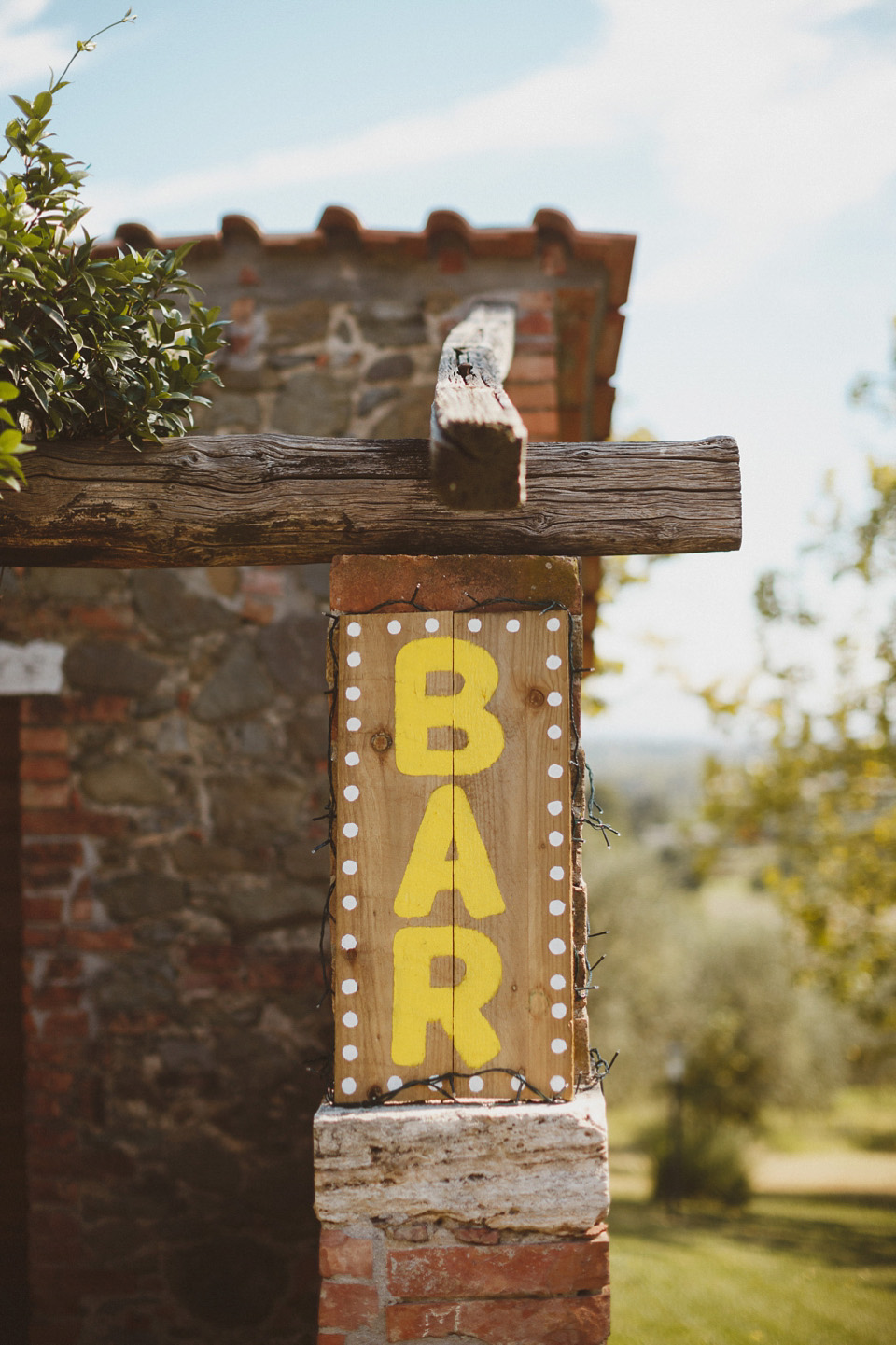 Lucy's purchased both her gown and veil in charity shops! Lucy found her beautiful strapless Johanna Hehir gown at The Oxfam Bridal Room in Leatherhead. The dress had never been worn and was a donation from Johanna herself:
"My dress was the first one that I tried on. I knew instantly that it was right, I just felt so comfortable in it. Because of my frame, and the heat in Italy, I knew that I wanted a simple strapless dress. The lace detailing gave it some depth without being too fussy.
Coincidentally, my veil was also from a charity shop. On my hen do in Clapham, we were challenged to source various items and one was a veil. My mum's team found the most beautiful veil for just £4 and I used it on the day!"
On her feet, Lucy wore a pair of flat Jimmy Choo sandals, which provided a 'bit of sparkle and a lot of comfort." In her hair she wore fresh flowers to match her bouquet and a pair of pearl earrings, a gift from her mum.
The bridesmaid's lovely yellow dresses were a bespoke the tailor they met in Vietnam. Lucy paired their vibrant gowns with nude heels from Marks & Spencer. The girls wore infinity bracelets as part of their 'thank you' gift from Lucy and flowers in their hair.
"When I first told the girls they were wearing yellow, I don't think they were that sure! However, they were the perfect colour for our wedding and they loved them in the end."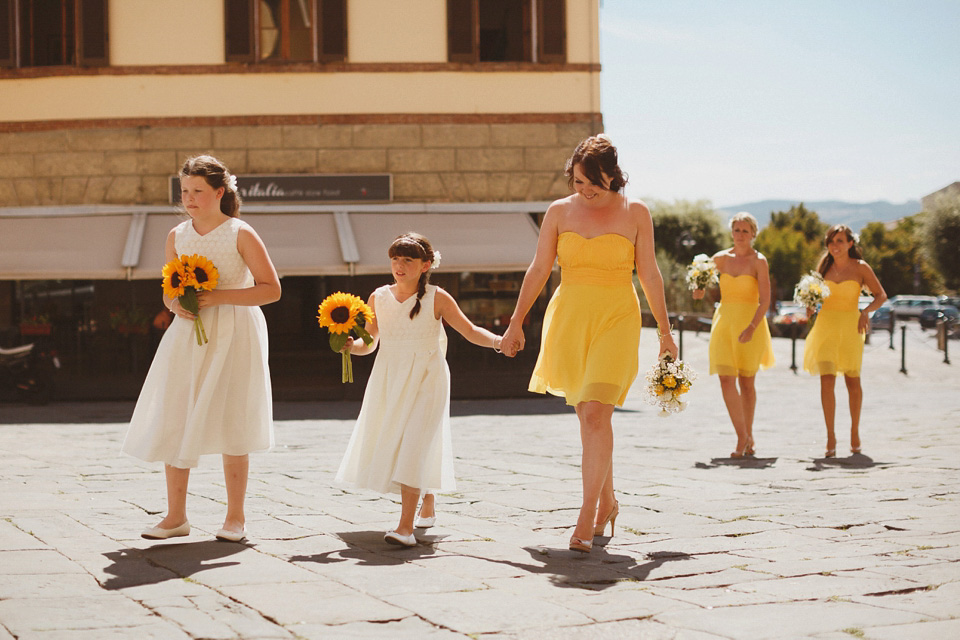 Lucy's flower girls looked very sweet in Ivory Monsoon gowns, paired with sunflower bouquets.
"The theatre we married in was built in the 1600's and only one other couple had got married there before us. We found a loophole in the system and went for it! We held our reception nearby, in a villa in the Tuscan countryside. Luciano, the owner of the villa, hadn't held a wedding there before, so it was very kind of him to let us have the reception at the house (it was a bit of a one off).
He was so accommodating and really made the experience special for us. We chose this area of Italy as we got engaged while on holiday there and it held special memories for us."
Ben and Lucy opted for an Italian civil ceremony and chose to write their own vows (which proved emotional!). Lucy's friend, Bob, played her favourite song, Dog Days are Over by Florence and The Machine, on the guitar as our bride made her way up the aisle accompanied by her father.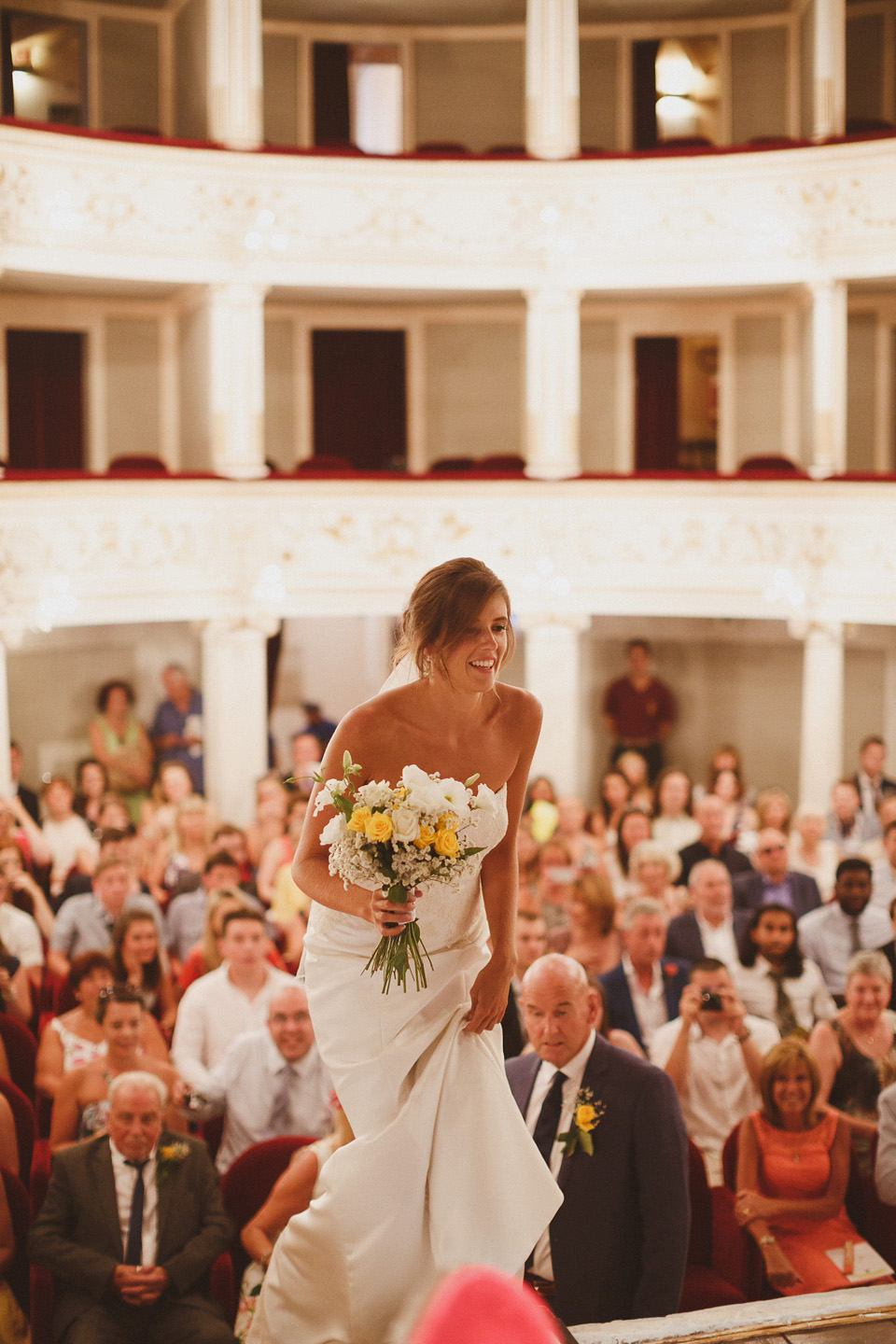 "The ceremony was my favourite part of the day. Surprisingly I wasn't nervous at all, I felt so calm, so, so happy and warm – it was an absolutely incredible moment. Our Italian ceremony was short and sweet and quite different to a UK one (we couldn't believe how quickly we were married!). We made promises to each other that were about looking after each other and our future family.
We both wrote our own vows which we read through tears to one another and one of my bridesmaids read the words from the song 'All I want is you'."
In a lovely, personal touch Lucy and Ben added the story of their wedding to the order of service, including details of how they got together and also how they knew each guest.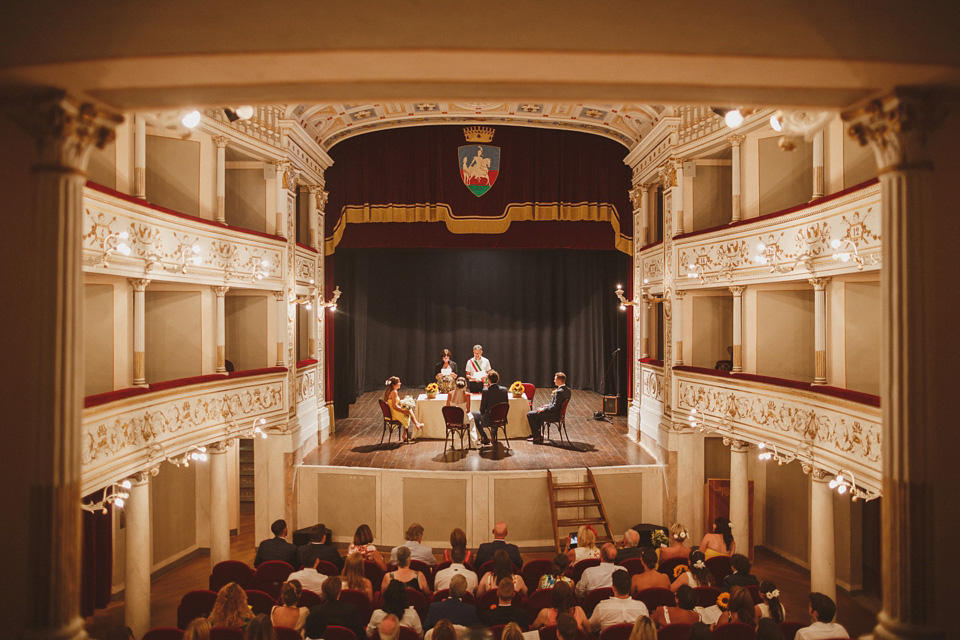 "I wouldn't change anything about the day, but I do have a funny story…when Ben arrived at the theatre to set up, just twenty minutes before the ceremony, the door was locked. The caretaker had taken the key home and wasn't answering his phone! This meant that our wedding started thirty minutes late while the locals (including the fire brigade!) tried to source the key. It didn't matter to us as it was so 'Italian' and our guests were enjoying a beer and a glass of prosecco in the sun. Classic Italy!"
The handsome groom wore a suit he had tailor made during a trip to Vietnam and a shirt, tie and shoes from Marks & Spencer. Lucy lovingly sewed a heart, stamped with their wedding emblem, onto the inside of his tie.
"My husband and I travelled to Vietnam earlier in the year as part of a big trip to Asia. We found a tailor that we loved and we asked him to make Ben's suit. Ben's 6ft 7, so it's quite hard for him to find things that fit well and the tailor offered the perfect solution at a very reasonable price. It also meant that we could choose everything about the suits, including a yellow lining to match the colour scheme!"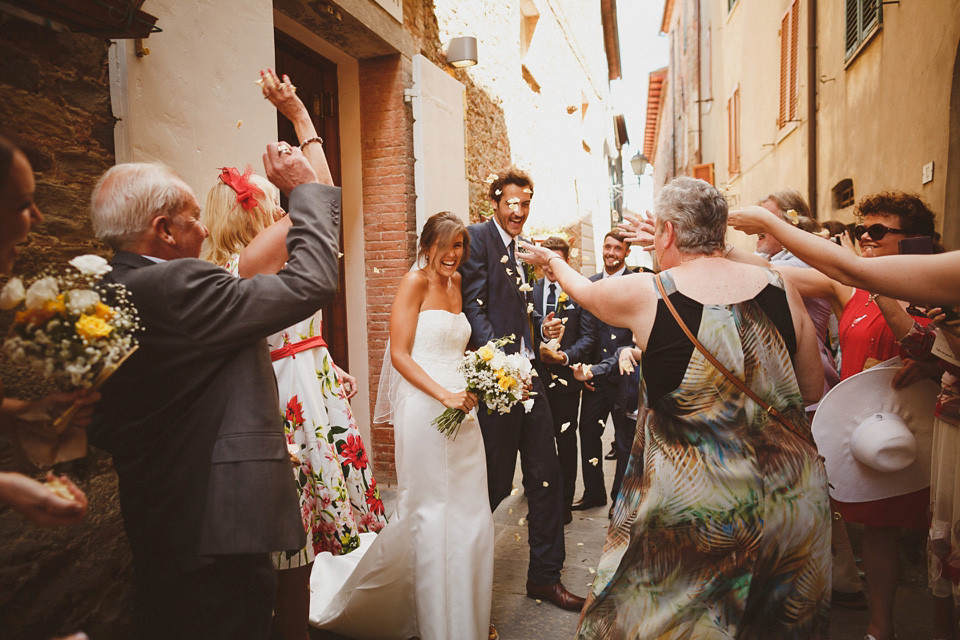 After the ceremony, Ben and Lucy's guests enjoyed an ice cream in a bar in the town square. They gave each guest a 'gelato ticket' so that they could claim their free ice cream!
"We decorated the tables with lemons and olive branches and made a lot of bits and bobs ourselves to bring the wedding together. We used material from the local market to make cushion covers for our chill out area, created all of our signage using scraps of wood and our guest book was a collection of postcards that Ben designed, incorporating our travelling photos."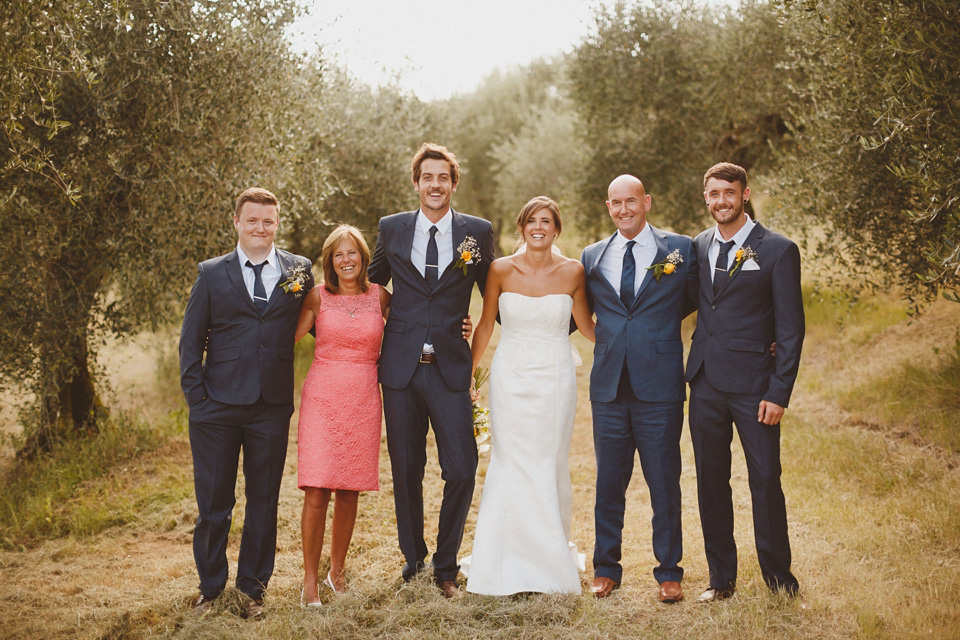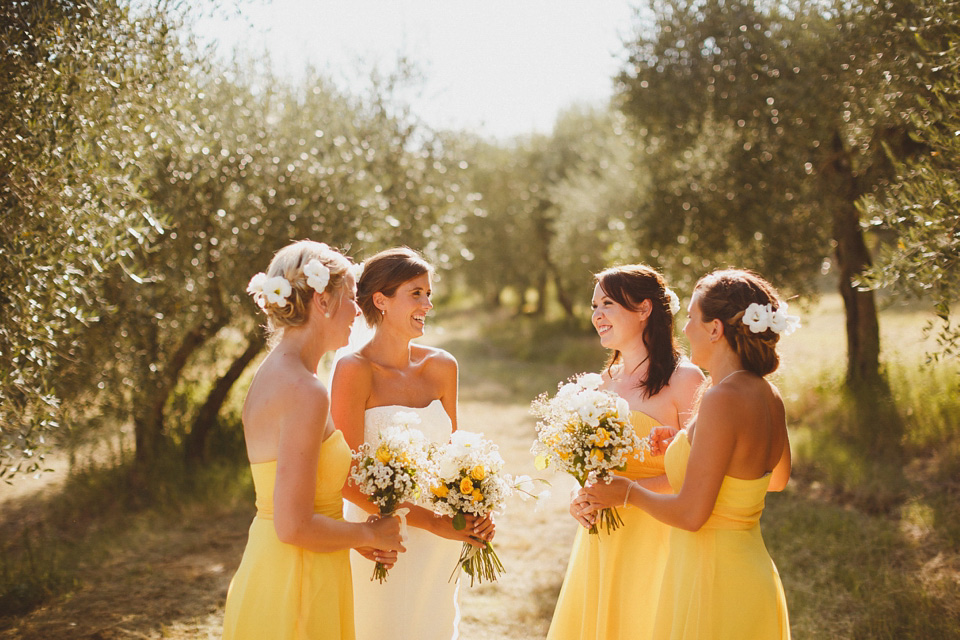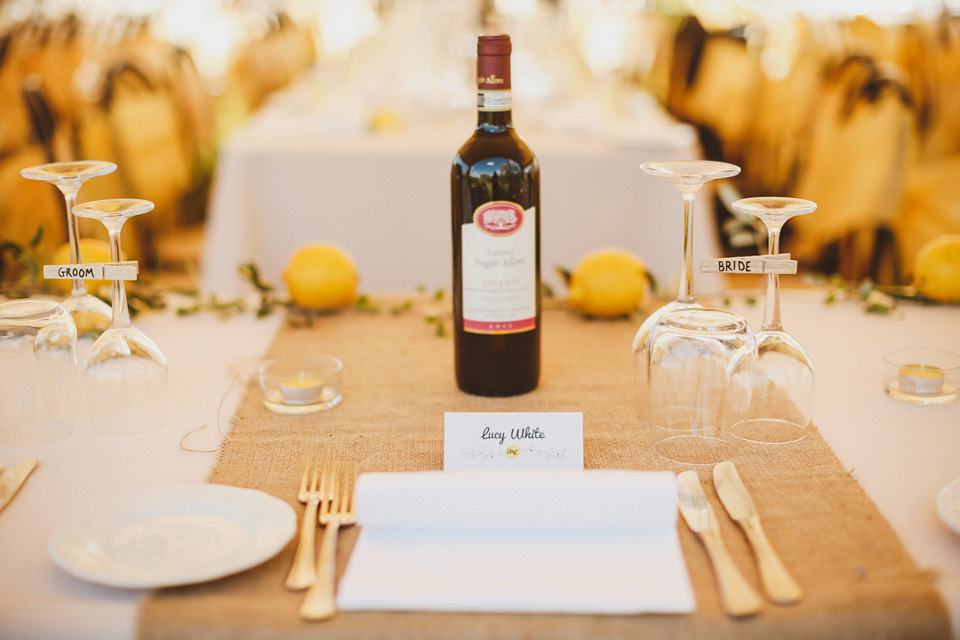 Ben and Lucy gave their guests mini bottles of Limoncello and traditional Italian sugared almonds as favours. To help keep their guests kept cool in the Tuscan heat, our couple supplied fans printed with their wedding logo.
Our talented bride arranged all of the beautiful flowers the day before wedding!
"I arranged sunflowers and foliage in tomato tins for the tables and all the bouquets and buttonholes. It took a whole day but it was worth it!"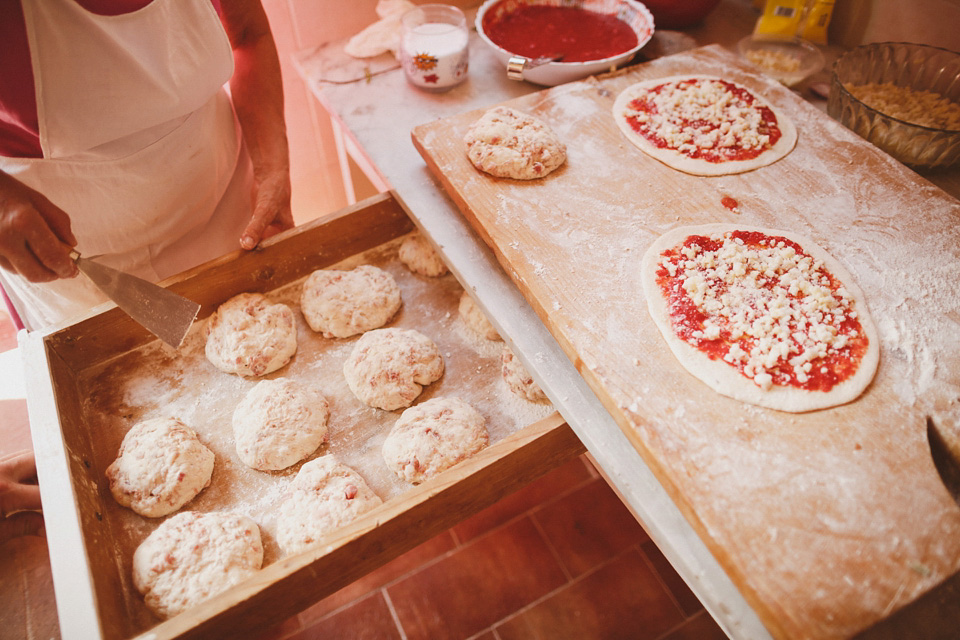 Words of Wedded Wisdom
"I'm quite a fussy person and I tend to get quite stressed. Somehow, this didn't come out during the wedding planning! Each time I felt a little flustered I would say 'this is your wedding, it's meant to be fun' and it'd all fizzle out again. The wedding planning and the build-up generally were amazing because I was able to completely enjoy it and avoid what could have been quite a stressful time for me. Stay calm and you'll enjoy everything a lot more, even if things (inevitably) don't go quite to plan."
Thank you so much to Ben and Lucy for sharing your beautiful day and to Ed Peers for capturing it so wonderfully (you can find more of his weddings here). If today's wedding has captured your imagination, make sure you take a look at this article by our lovely Lovette, Kate, who is planning her own wedding in Tuscany. For those of you are new to Love My Dress, The Lovettes are our blogging brides who have kindly agreed to share their wedding planning journey. You can find Kate's first article here.
Are you planning a destination wedding? If you've been inspired by today's wedding we'd love to hear from you in the comments section below! To see other destination weddings on the blog, please click here.
Wishing you a very happy and sunny rest of your week,
Annora x
Photographer – Ed Peers
Planner – Danielle Wiskow of Wiskow & White
Venue – Teatro Ciro Pinsuti
Wedding Dress – Johanna Hehir gown purchased at The Oxfam Bridal Room, Leatherhead, Surrey
Shoes – Jimmy Choo
Groom – Suit tailor made in Vietnam + shirt, tie and shoes from Marks & Spencer
Bridesmaids – Dresses tailor made in Vietnam + shoes from Marks and Spencer
Flowergirls – Monsoon
Florist – Arranged by the bride
Catering + Cake – Dolci Tradizioni Toscane
Transport – Father of the bride's convertible Mercedes
Rings – 77 Diamonds
Stationery – Created by the groom, Ben White, of the White Creative