Hello Thursday lovers, how are you today? Thanks for being patient and allowing us the morning off. In traditional 'throwback style', we shared a link to an exquisite Scottish-Indian wedding celebration on our Facebook page this morning – a wedding we first featured on our blog back in 2012. Did you know we actually have heading towards six years of archived wedding features now? Mobile users- press on the gold button to the top left of the screen to pull up menus and search options – desktop users, use the dropdown menus at the top of the page.
This morning's wedding is one that took place in a part of the country I adore.  TV Dubbing Mixer Emily married Freelance TV Editor Simon on 2nd May this year at Newton Hall, at Newton By The Sea in Northumberland.
Photography by Jonny Draper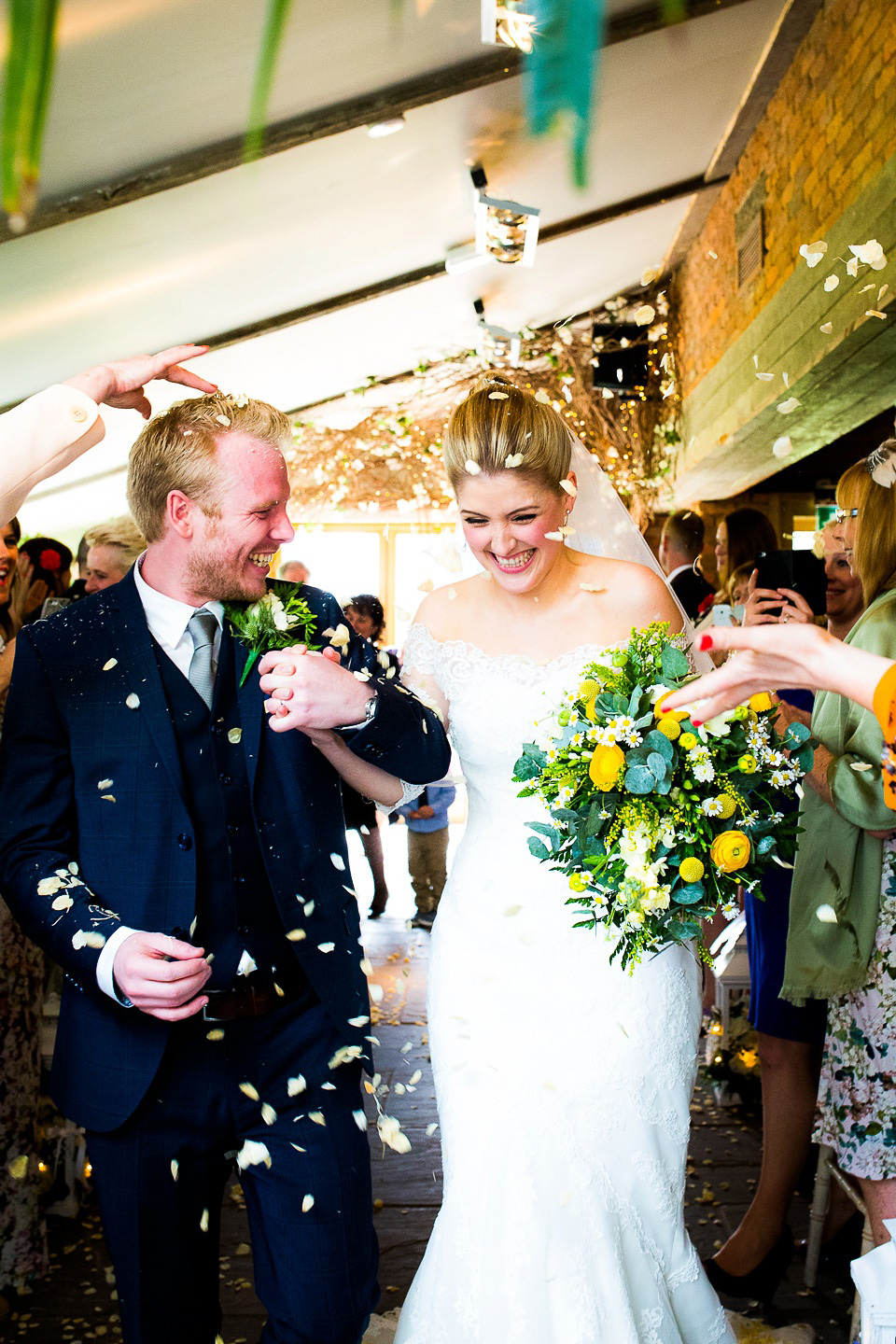 "We were keen that our day was fun and relaxed but wanted a venue that was a bit different too. Newton Hall ticked all the boxes for us. Northumberland is a beautiful area and Newton Hall was very close to a beautiful beach."
"Newton Hall has been brilliantly decorated, quirky and fun but tasteful and elegant. The Garden Suite was just stunning, we fell in love with it the first time we visited. Having been to the venue in both glorious sunshine and torrential rain, we were reassured that should we be unlucky with the weather, the venue would still be amazing."
Stationery + table plan by Lara Emily
Emily chose to wear a most elegant gown by Pronovias along with a silky tulle veil by HM Veils, both purchases from The Knutsford Wedding Gallery.
"Our style and ideas developed over time. We really wanted it to be fun and relaxed in a vintage style. I looked at numerous blogs and wedding websites, along with Pinterest, to get ideas and with the help of family and friends we cherry-picked our favourites and honed them to our liking."
"Linda and her team at Simply Flowers, Northumberland made all the bouquets, buttonholes, floral table runners, and created the floral display in the trunk on the signing table. They also supplied all the flowers for the table displays, which my Mum, Aunty and several family friend's then put together in the individual vases.
Also my Mum, Carol and Aunty Barb, also created the floral displays within the lanterns which were placed down the aisle using artificial flowers, candles and fairy lights."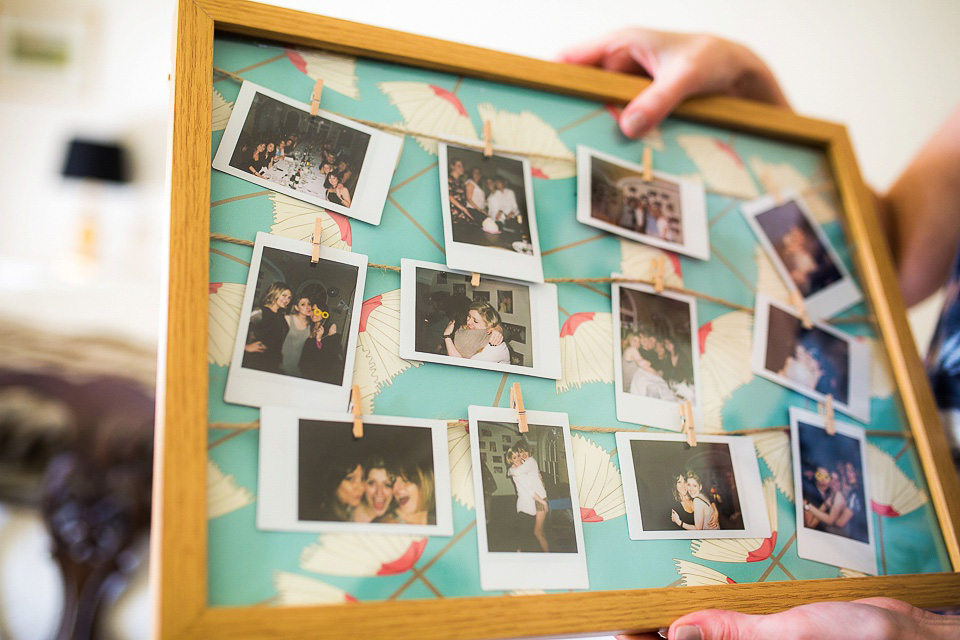 "We asked two of our good friends and ushers Patrick and Gavin if they would drive us in their cars.  I should also should mention that with the location being very remote and taxis infrequent, we hired a few coaches to transport guests to and from the venue. We used Travelsure Coach Company to do this,"
"Each bridesmaid wore different style dresses  in the same material that were designed and made by Sammy Bish (emailsam[email protected]  – her website is under construction). I wanted a mismatch of dresses and so after a discussion with each bridesmaid about what they liked, we came up with designs that each wanted.
Sammy Bish, one of our friends, is a British born, Saigon Based designer, who specializes in tailor made, custom bespoke pieces to suit the bridal parties needs, and a percentage of the profits made goes to women's charities in Vietnam."
"My dress was one of the first dresses I actually tried on, and even though I went on to several other shops and tried a lot more dresses, I could never get the same feeling I had had when I had seen myself in this dress. I knew I wanted lace and originally had not wanted a strapless dress but as soon as I saw my figure in this dress it changed my mind.
Joy and Camilla from The Knutsford Wedding Gallery also let me try a bolero, which was an off the shoulder style made using the same lace as the dress. This effectively gave me two dresses in one, so for the ceremony and wedding breakfast, I wore the off the shoulder bolero and then when I wanted to get my dancing arms going, I took it off to show the strapless dress and borrowed my Mum's pearl necklace."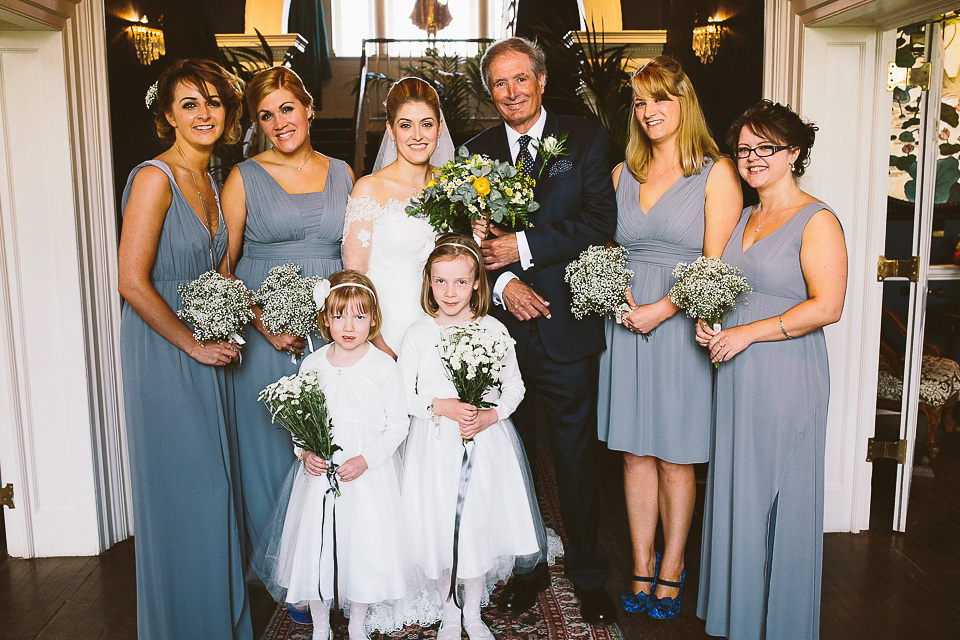 "Simon and I met through work around 10 years ago when we were both runners, but didn't get together till much later. Simon tried and failed to teach me how to edit. Si proposed over lunch on a river boat cruise in Kerela, India in January 2013. We didn't really begin looking properly for venues until the following year and so booked Newton Hall about a year before the wedding."
"My dad Michael walked me don the aisle and gave me away. We walked down the aisle to an Instrumental Version of The Rose (written by Amanda McBroom, and sung by Bette Midler)."
"We had three readings which included A Slippery Weasel, by Ariadne Cass-Maran – a fun reading which provided just the right sentiment for us and our marriage.  We also had 'Marriage', read by Jenny and Janine – another fun, light hearted piece and was great read by two people.
Finally we had 'The Life That I Have by Leo Marks'.  This reading read by Dave was at the end of our ceremony, and was suggested to us by my Dad Michael. We just fell in love with the words and they really resonated with us. This made a lot of people cry too."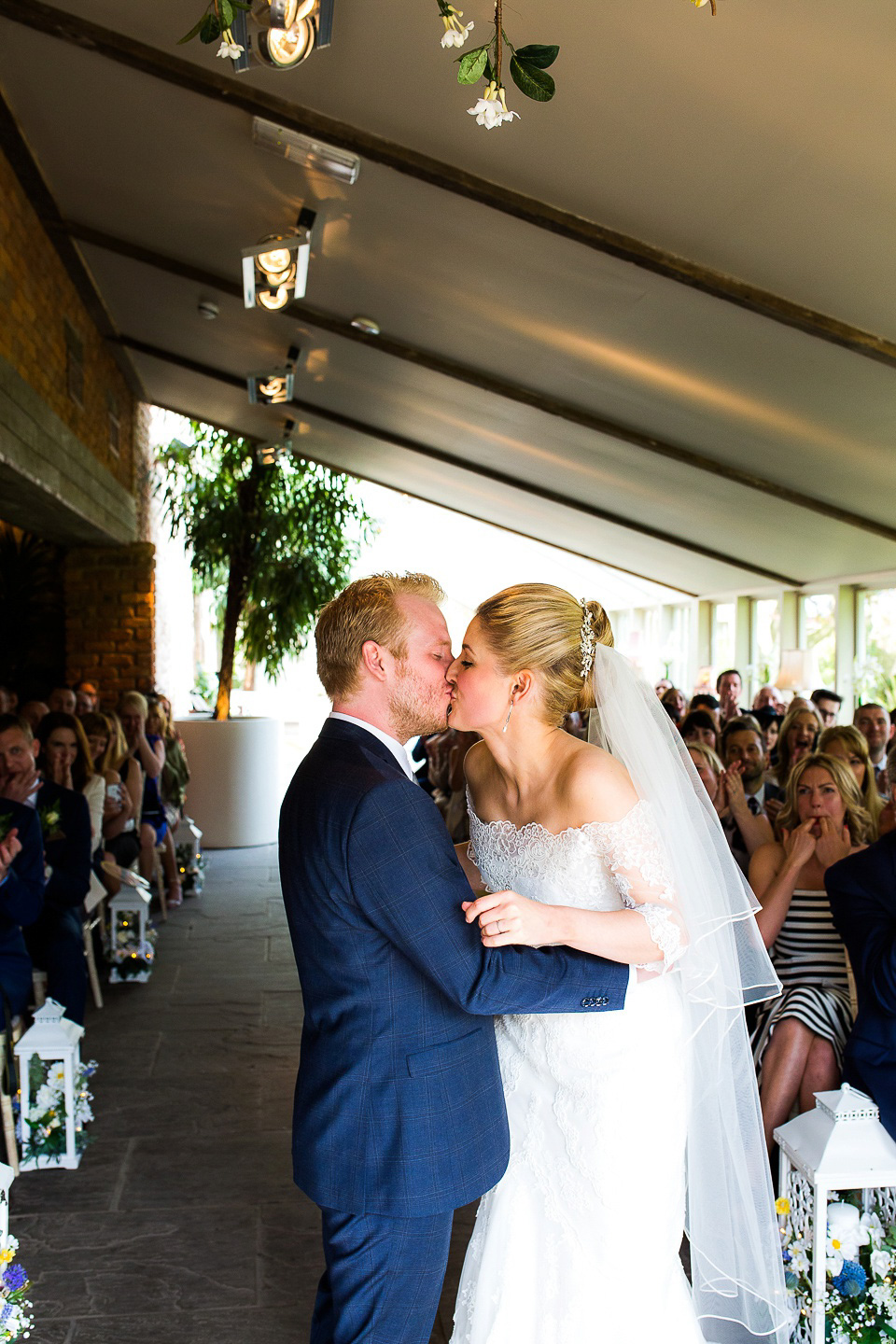 "My nephews, Aidan and Finley weren't technically page boys but were a big part of our day so wanted to include their outfits which were from Matalan."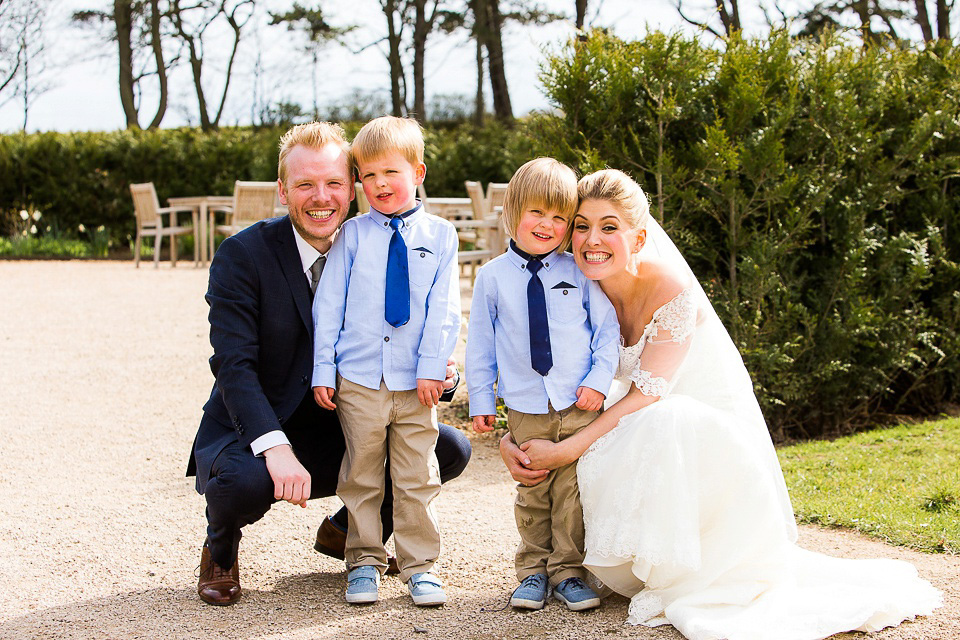 "We hired the awesome Jonny Draper. Prior to the wedding, Jonny organised a morning photo shoot with us around the Northern Quarter where we live. This proved invaluable as it really helped us get used to being photographed, allowed us to see the style in which he works and added an extra layer of special-ness to the build up to the wedding.
On the day he was fantastic, we had decided on a more natural/un-staged style of photography, with very little time spent taking formal photos, the emphasis being on capturing the moments that make up the day.
The results were fantastic and totally inline with the original brief. They captured the enjoyment of our friends and loved ones on our special day and the formal photos that were taken ranged from traditional to fantastically stylised."
"Our friend Sinead's dad Francis at F Smith Bakery in Bollington (no website), made us a three tiered Pie Cake. We wanted something savoury rather than sweet, as Simon doesn't really have a sweet tooth. So the bottom tier was Meat and Potato, the middle layer was Pork Pie, and the top tier was Cheese and Onion."
"We had polystyrene planes for wedding favours,  which we bought from Amazon – we'd both had them as kids."
"It's hard to choose a favourite part of the day, but they include seeing each other for the first time as I walked down the aisle with my dad, getting married and seeing all our loved ones celebrating and enjoying themselves with us.
I can't honestly think of anything we would do differently. If they weather had been warmer, it would have been nice to have made more use of the gardens at the venue."
Words of Wedded Wisdom
"Never be afraid to ask for help! Without the support and generosity of our families and friends we simply wouldn't have been able to create all the details for the day. People are often a lot more enthusiastic about giving you help to create your wedding dream than you would expect.
Don't get too stressed over the little details. Yes you want them to be right but ultimately what really matters is you, the groom/bride and your guests having a good time. The little details are lovely but not a deal breaker. If it's stressing you out too much, reconsider how much value it will have, and whether another option would be better.
Also a factor to consider is your location. We are Manchester based and our families are from the Wirral and Macclesfield, so the venue was a minimum of 3.5 hours drive away. Every time we went up to the venue we had to plan what we hoped to achieve in our visit, and be detailed in what could be done from the venue's local area and what we would be bringing up. All of it was worth the effort, as Newton Hall was amazing but it certainly added an extra factor to be considered in transporting all the decorations up. Again a lot of help was needed from friends and family."
What lovely day! Such a sense of joy and fun and happiness.  Our love and thanks to photographer Jonny Draper for sharing his work with us today  you can see more from Jonny on Love My Dress here.
Ladies, are you planning on wearing a deliciously beautiful Pronovias gown on your wedding day?
Love Annabel xx
Photographer – Jonny Draper
Venue  – Newton Hall, at Newton By The Sea in Northumberland
Wedding Dress – Pronovias, that she purchased from The Knutsford Wedding Gallery
Veil – HM Veils via The Knutsford Wedding Gallery
Headpiece – Pearl  hair comb via Retrobridal
Shoes – Carvela Kurt Geiger Shoes + Converse to dance in.
Accessories – Earrings – Hestor Vintage Pearl Drop Earrings from livechic
Perfume – Trussardi
Grooms Suit – Tiger of Sweden through Selfridges + waistcoat via The Kooples + Shoes by Office
Bridesmaids -Sammy Bish ([email protected])
Flowergirls – John Lewis Girl Lace Mesh Bridesmaid Dress
Page Boys – Matalan
Florist – Simply Flowers, Northumberland
Transport – Travelsure Coach Company
Makeup Artist – Nicola Botha, freelance Bobbi Brown makeup artist (email [email protected])
String Lights- Lights4Fun
Lanterns, candles, bottles + faux flowers – Inspirations
Entertainment – Super Session