Hello lovelies! I have the most delightful wedding to share with you all. When I saw the bride's dress, my breath was literally taken away. So take a tea break, relax, and let me whisk you away to a little island for this Summer wedding.
May, previously a doctor with the NHS and now undertaking research, and John, an engineer based in Japan, tied the knot on 30th August 2014 at Temple Island along the banks of the River Thames, near the market town of Henley-on-Thames.
Photography by Mike & Tom
The beautiful bride looks absolutely divine in her dress – which she found in Malaysia after an initial unsuccessful hunt in the UK.
"I had tried on so many in the UK but it was really difficult as most trial dresses are sized between 12-14. I am a size 8 or slightly smaller. Having huge clips pinching into the dresses to make them fit you was definitely not the best dress hunting experience so I took the risk and waited till I went home to Malaysia for a holiday and, thanks to a friend, discovered Celest Thoi."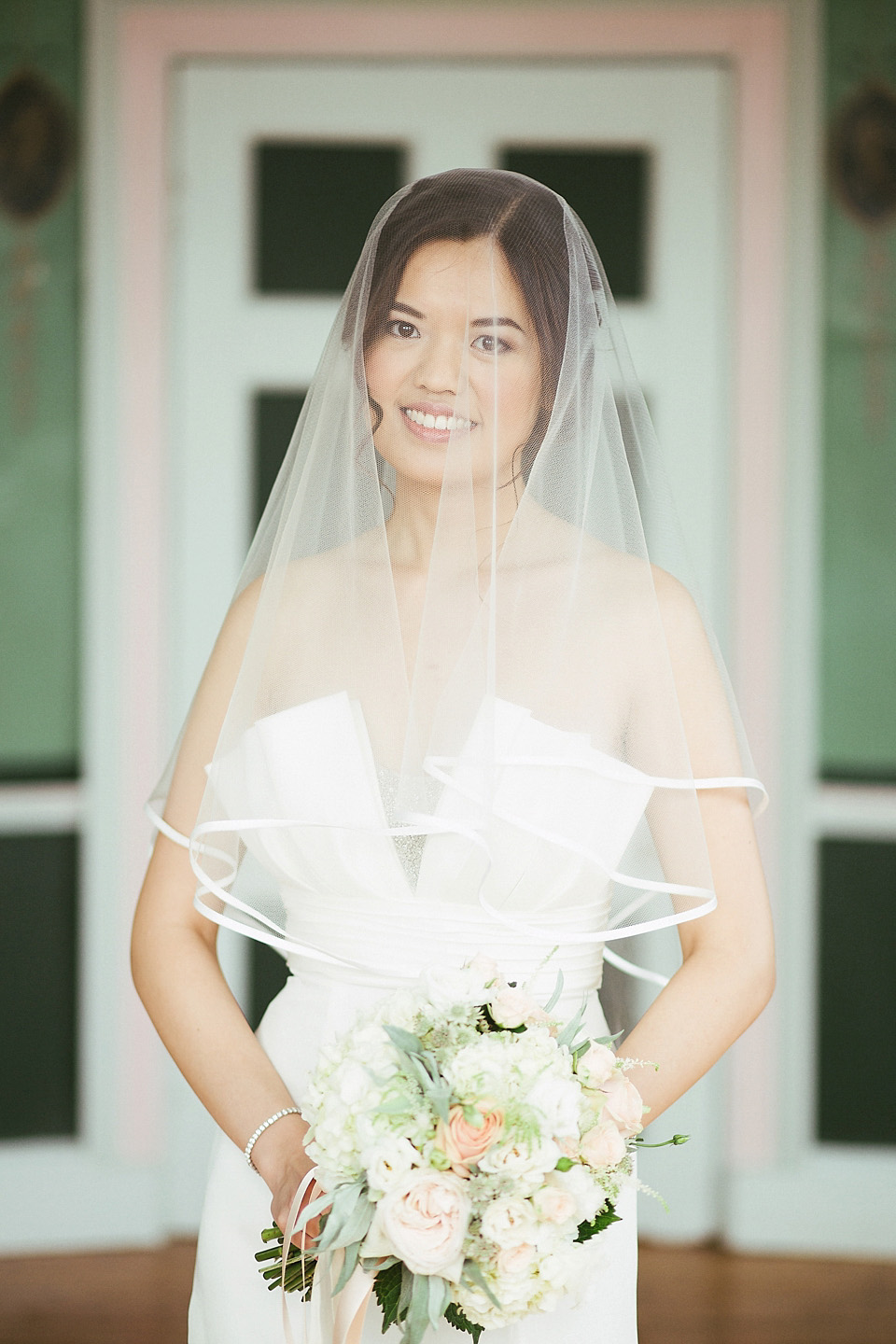 May topped off her stylish ensemble with a Celest Thoi veil, Coast heels, a spray of Carven Le Parfum – and real flowers for her hair.
The couple chose Mike & Tom for their pictures and were delighted with the results.
"Mike and Tom were fantastic and really accommodating from our engagement shoot to our actual big day. They blended in well with guests and are extremely down to earth and mega-talented."
"We were strangers who met and started chatting at the buttery cafe in Oxford and suddenly he asked me out the next weekend."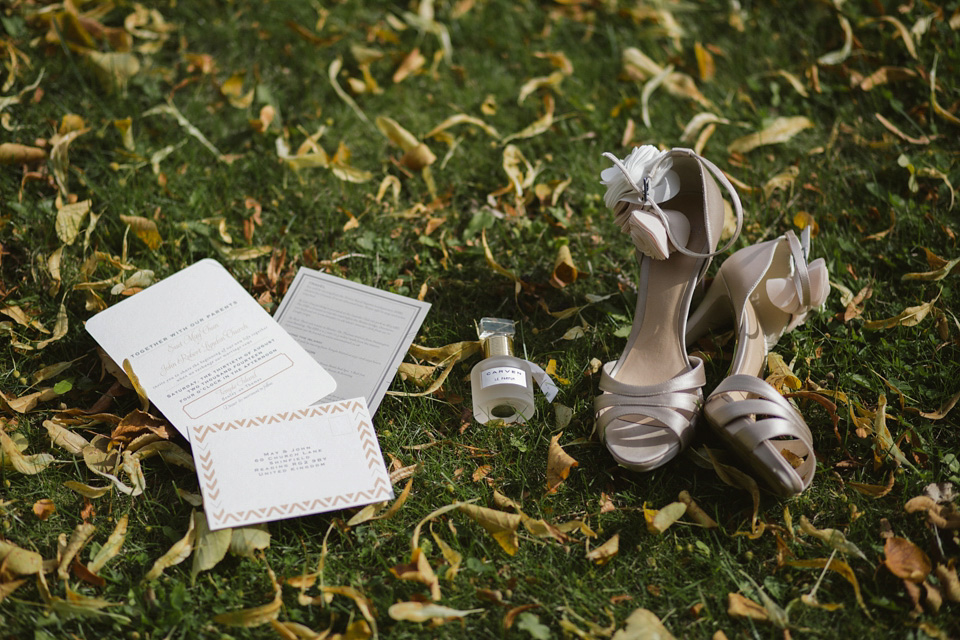 "We stole little flowers from my wedding bouquet and Charlotte individually pinned it onto my loose chignon."
"My mum was immediately taken by a lacy mermaid tulle dress which I must admit was very pretty, but I noticed that Celest did not mention one particular silk dress by the corner (she went through nearly all her designs with me). I asked her about it and she said that yes I could try it but it does not suit many people and apart from her models, no one has chosen that yet.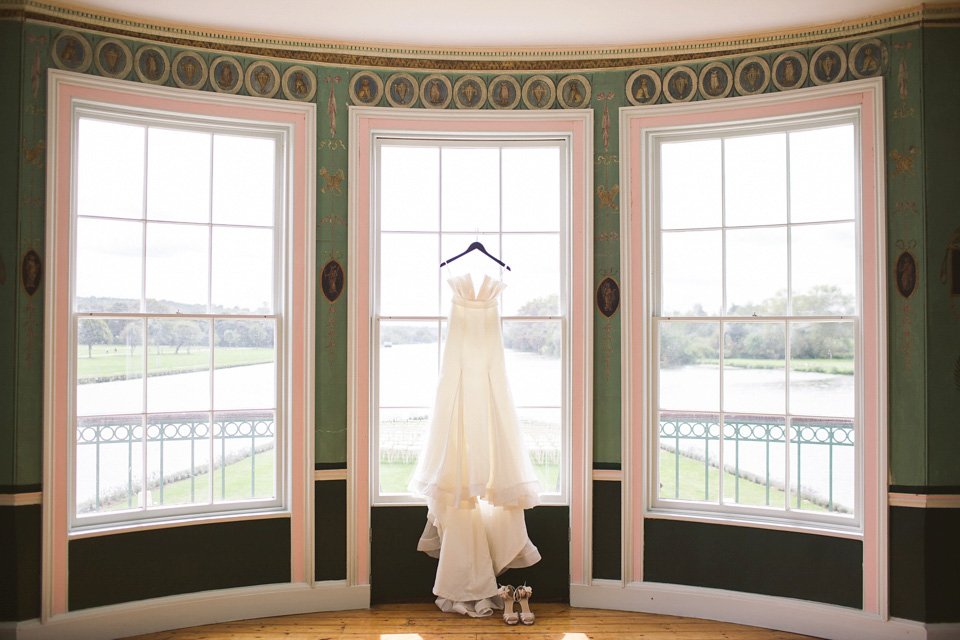 "I put it on and it fit nearly perfectly but what struck me was how light and airy it was. I loved how subtle and unique the details were; from the Swarovski band around the bust, the gentle trumpet flare and the way the dress glided when I moved. It felt and looked like a dream and I knew that was the "feeling" people say you get when you find THE dress."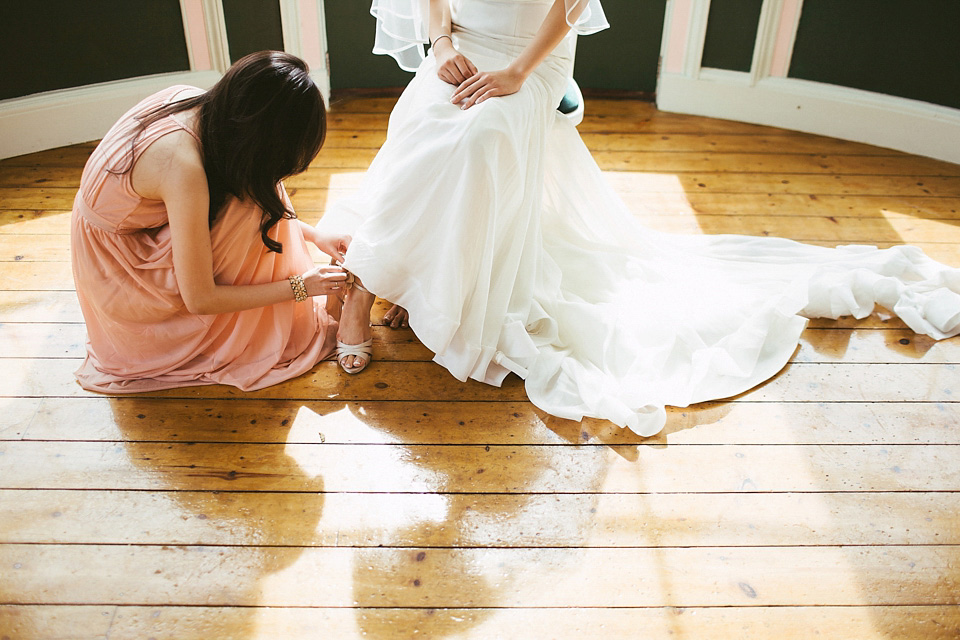 "I was juggling busy shifts and John was not around to help as he had already left for Japan, so I went to the first florist who responded to my email enquiries. Ruby and Grace were so lovely and patient with me and my ideas as well as the challenge of getting to and setting up on the island. Highly recommended!"
The bridesmaids donned lovely floor-length peach gowns from Valerie Fan and a range of heels. What a stunning colour scheme – and it ties in so well with the décor.
"Temple Island was really special and I hoped everyone enjoyed the boat rides as much as I did. John's family secretly arranged for Upper Thames Rowing Club to display a banner for us as we sailed towards the island on the 'Lilyanna' from boat hire company Hobbs of Henley.
Strangers gathered on the banks to witness our ceremony and we had quite a few passing by on boats shouting out congratulations and compliments!"
The bride was walked down the aisle by her dad – what a lovely image this is of a beaming May heading towards John. I love the shots we depict on Love My Dress of the moment the brides approach their husbands-to-be; the facial expressions completely give away the intense emotions.
John sported a Marks and Spencer suit and, together with the groomsmen, added quirky touches with their colourful accessories.
"We absolutely adored their bowties and bright stripy socks, all bought at really good prices from Etsy."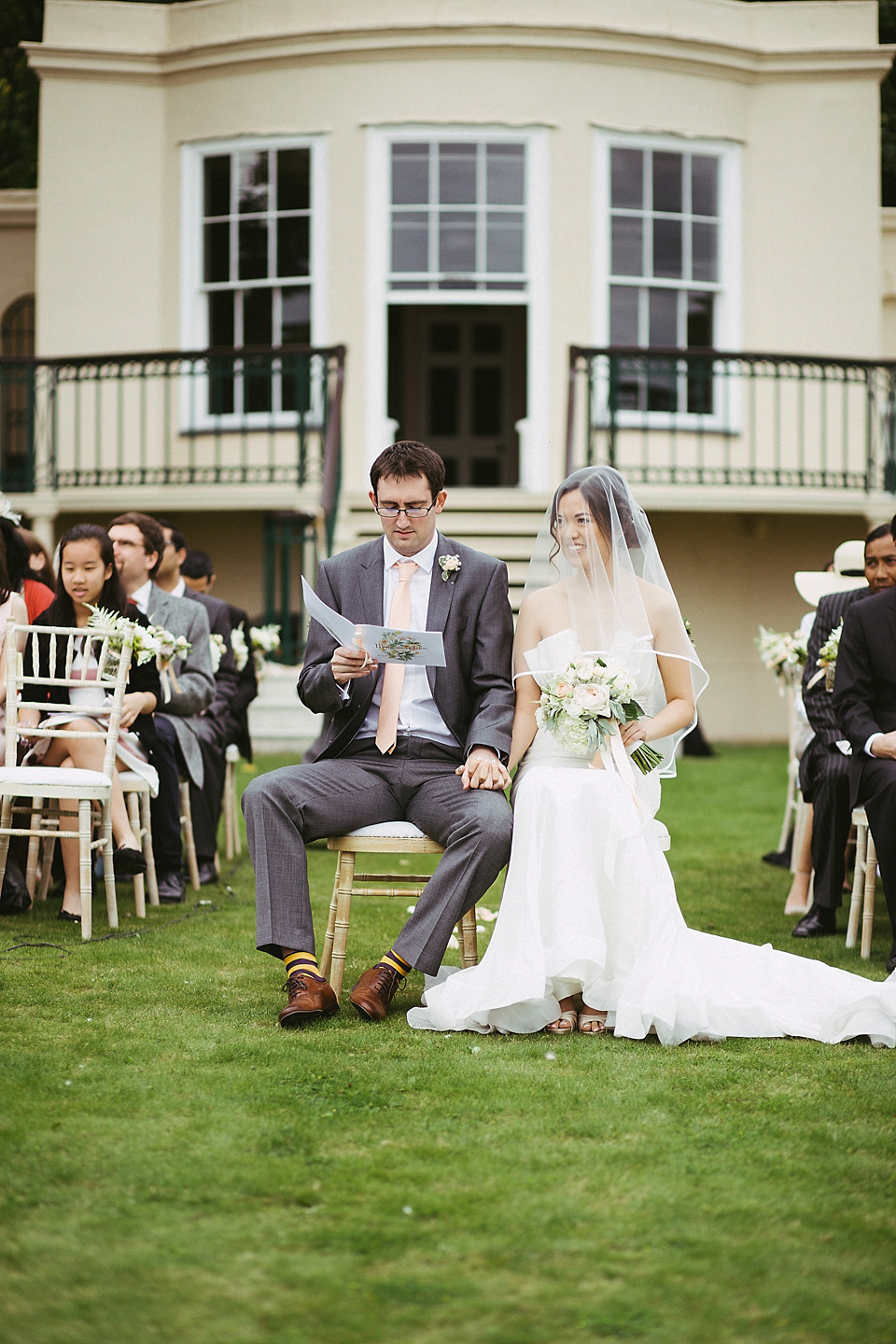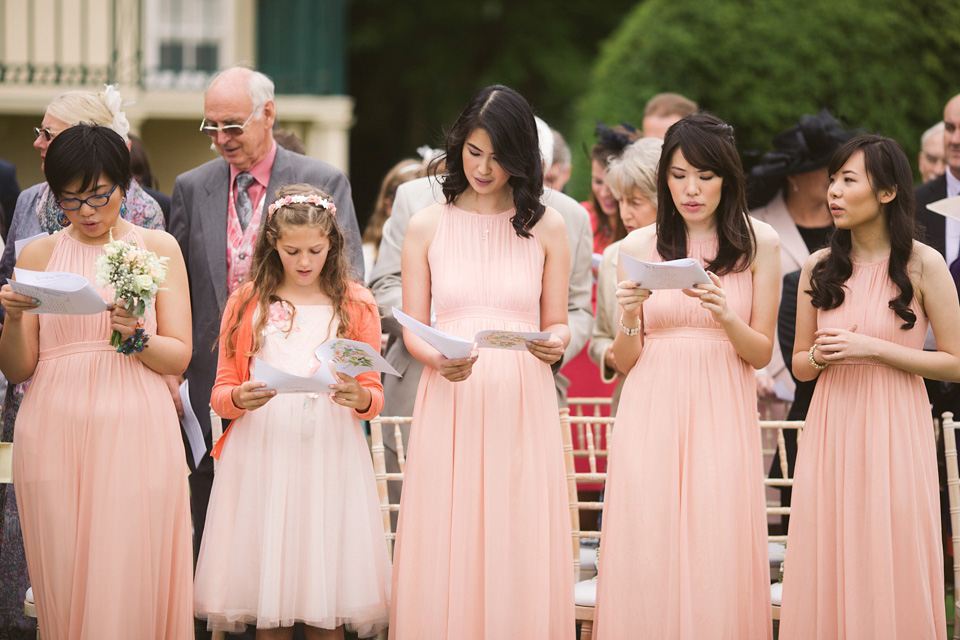 "We both wrote our own vows and it was a good thing John said his first because mine was longer. John mainly spoke about his promises to me whilst I added snippets of our 'hailstorm date' before my promises because that date brought out all his best bits which made me fall in love in the first place.
We chose an excerpt from Captain Correlli's Mandolin and 1 Corinthians 13 as our readings. We wanted something to remind us always about the enduring nature of love and that the highlight of our marriage is not our wedding which is simply a start to a lifelong journey of love."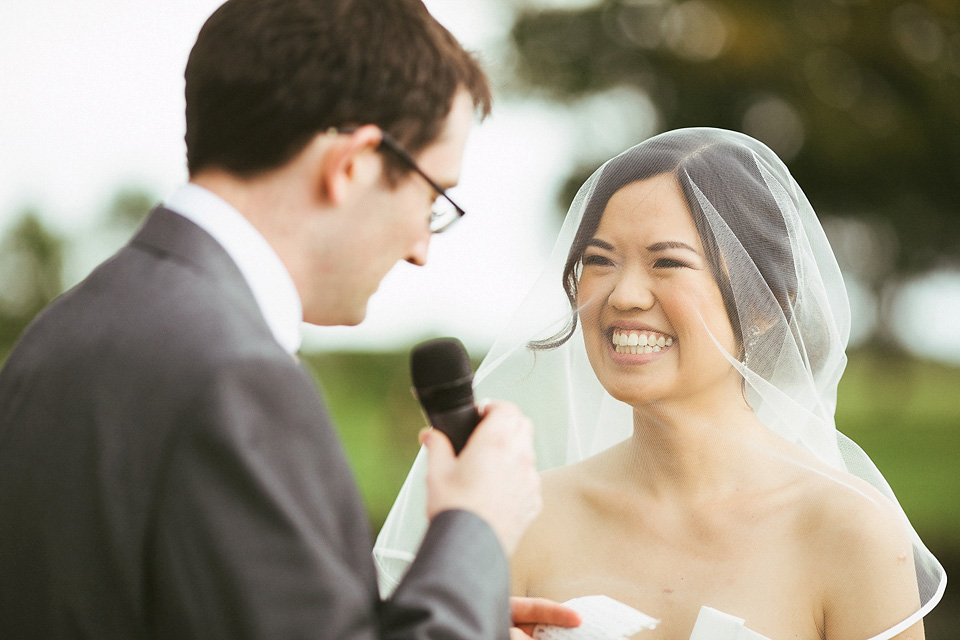 The couple found their chic wedding rings via 77 Diamonds, composed their own vows and chose two special, heartfelt readings.
"We had a separate tea ceremony and wedding dinner back in Malaysia to involve everyone else who could not come to the UK. John's parents, sister and family and aunt travelled to Malaysia for that which was brilliant!"
"For the favours we ordered wildflower seeds from Emorsgate Seeds and I packaged them into tiny packets and bought personalised tags from Ebay which says 'Grow The Love' with growing instructions at the back. We wanted guests to be reminded of the time we shared every time they looked at their garden."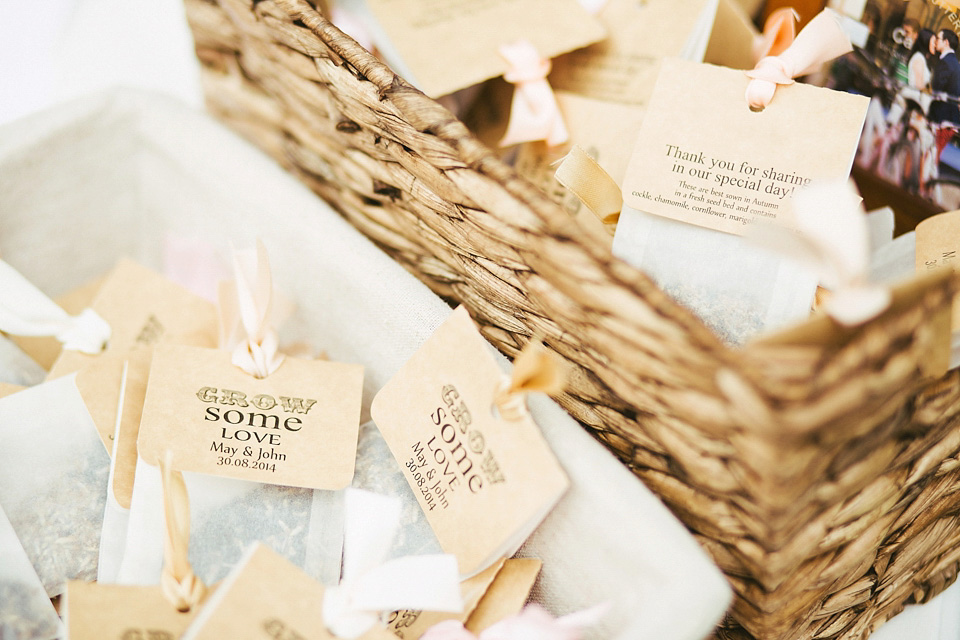 The sweet and pretty stationery was by Dodeline Design and suited the overall peachy colour scheme and theme perfectly. The décor was a range of peaches, with name-tag leaves (such a fabulous idea), flowers in jars, picture frames and macaroons – and I just love the story behind the couple's favours.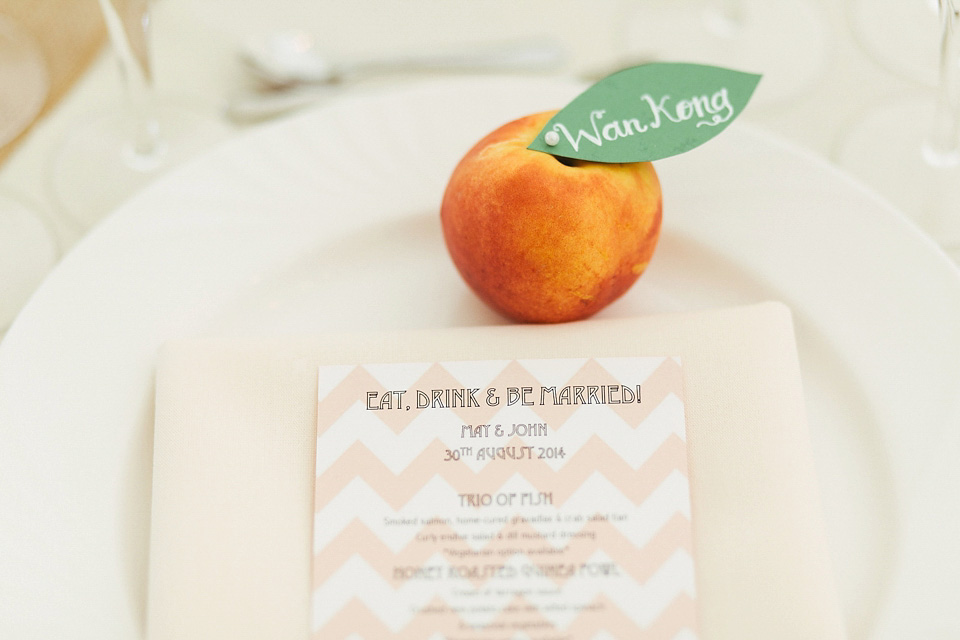 Words of Wedded Wisdom
"There will always be small things that do not turn out to plan (in our case, the cake and not enough petals thrown on the aisle) but know that it really is insignificant. It's never too early to plan out details and source out different vendors. It makes for a less worrisome wedding especially if you have to be out of the country for a good duration before your big day like us! If you know you are going to be away, it would probably be wiser to hire a professional wedding planner."
'John was very jetlagged as he had only travelled back a few days before the wedding. He wished he had at least a week or two to rest and gear up for the big day. We would also have preferred to have had a rehearsal but because it was on an island and involved far too many people coming from abroad and boats, it was not possible."
Congratulations to May and John – thank you for sharing your day with us and I wish you both a very happy future. And a huge thank you to Mike and Tom for sharing these lovely images.
Has our couple inspired you to have a wedding by the water or arrive via boat? If so, click here for previous waterfront weddings we've previously featured on Love My Dress.
Here's to a productive week ahead everyone!
Love Jo x
Photographer – Mike and Tom
Venue – Temple Island, Henley-on-Thames
Dress + Veil – Celest Thoi
Shoes – Coast
Scent/Perfume – Carven Le Parfum
Bridesmaid's Dresses – Valerie Fan
Groom and Best Man – Marks and Spencer suits and bowties/stripey socks via Etsy
Florist – Ruby and Grace
Rings – 77 Diamonds
Catering – Elegant Cuisine
Cake – Supplier unknown
Stationery – Dodeline Design
Favours – Emorsgate Seeds and personalised tags from Ebay
Makeup Artist – Charlotte Elizabeth
Entertainment – Derrick & Callista Yeoh + Vintage Jazz Duo
Transport – via boat from Hobbs of Henley