Gosh what a phenomenally beautiful day – so warm and sunny. I simply adore weather like this, it lifts my spirits no end and makes me feel so happy to be alive and it just feels right sharing beautiful sunny images like this on a day like today.  This delightful shoot was both styled and directed by my lovely friend Lizzie Jones of Wedding Yurts, and is aimed at encouraging couples planning to marry outdoors during the warmer months, to consider hiring a Yurt. Lizzie and I have met and worked together on several occasions before, so I can speak first hand at the absolutely delightful and charming quality of the service she provides, and of the majestic beauty of the yurts that she hires and styles for weddings. These aren't just straight forward wooden constructions – they are beautifully hand-built and exquisitely styled inside too.
The shoot itself features a light and decadent colour palette of cream, gold and blush with flecks of pinks and copper touches. I adore the essence of decadent, festival bride glamour these images evoke.
"I really wanted to create a fun, beautiful, relaxed yet luxe atmosphere with lots of laughter. In short, it's a shoot that absolutely reflects what Wedding Yurts is all about."
Photography by Xander & Thea for Wedding Yurts
As the warm weather blesses us with it's presence and the desire to get outside grows by the day,  I can't help but picture dreamy wedding scenes – fields, meadow flowers, guests sipping on fresh lemonade and strawberries and relaxing within the comfort of one of Lizzie's deliciously styled Wedding Yurts.
These images were actually shot in Spring this year with the idea of showcasing how Spring weddings can be styled using a yurt, but I think these images more than loan themselves to the concept of a Summer wedding too.
I just love the essence of femininity and elegance Lizzie and her team have captured throughout these images as the models laugh and frolic about on the hay bales and sheepskin, dip into delicious cake topped with edible flowers and relax amidst the charm of the whole, rustic, boho-luxe yurt setting.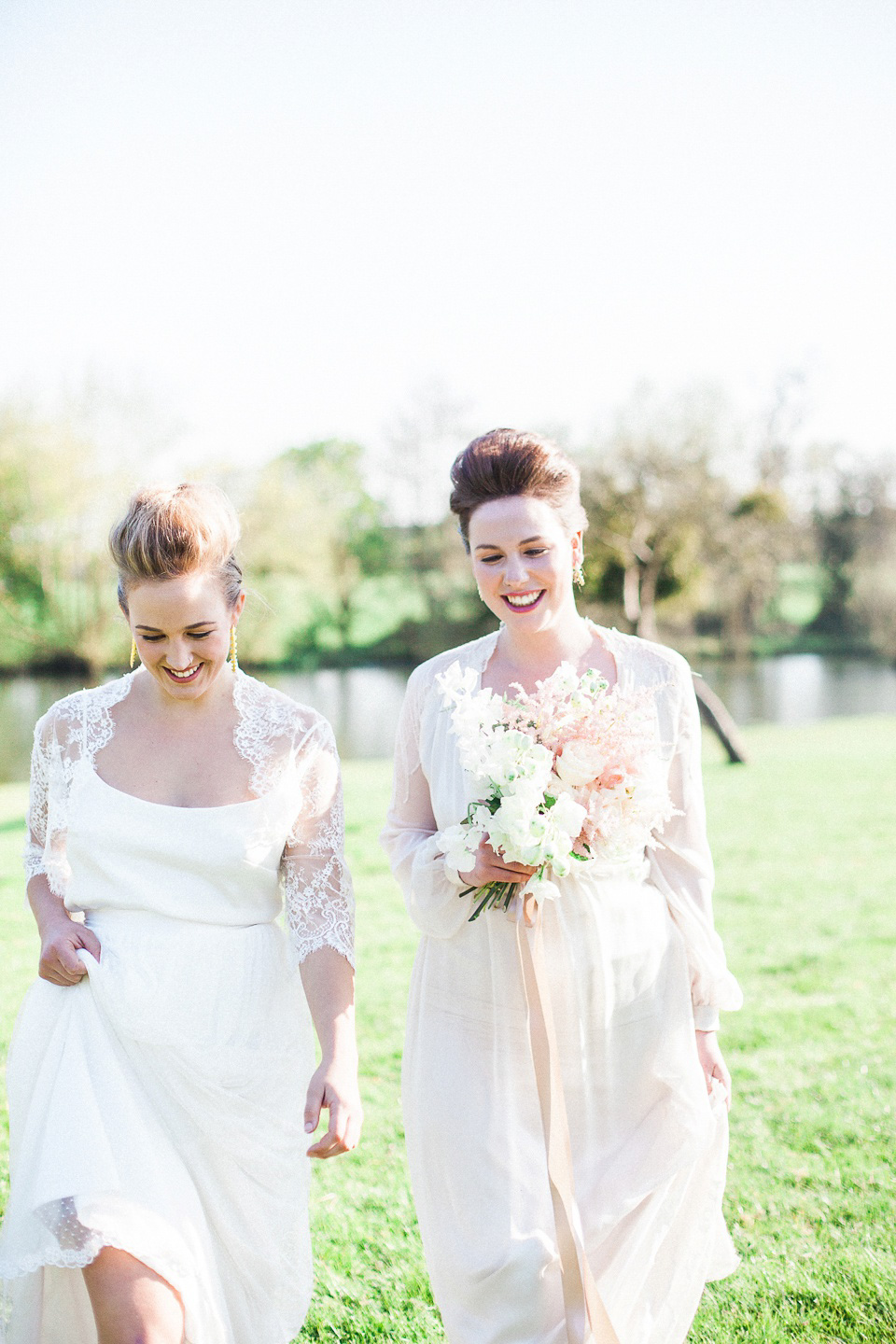 The simple glass jars are filled with masses of seasonal English flowers, delicate lace tablemats contrast with concrete candleholders and soft gowns combine with edgy hairstyles. It's a story of contrasts and a tale of the gloriously unexpected that appeals to Lizzie:
"I love this shoot because it's just full of surprises. From the gold industrial plastic chairs that contrast with the natural structure of the yurts and the tulle and sequins that sit among straw bale sofas and old wooden crates to the tarnished silver cutlery and etched crystal saucers that hold vintage champagne or one of Wedding Yurts' signature cocktails."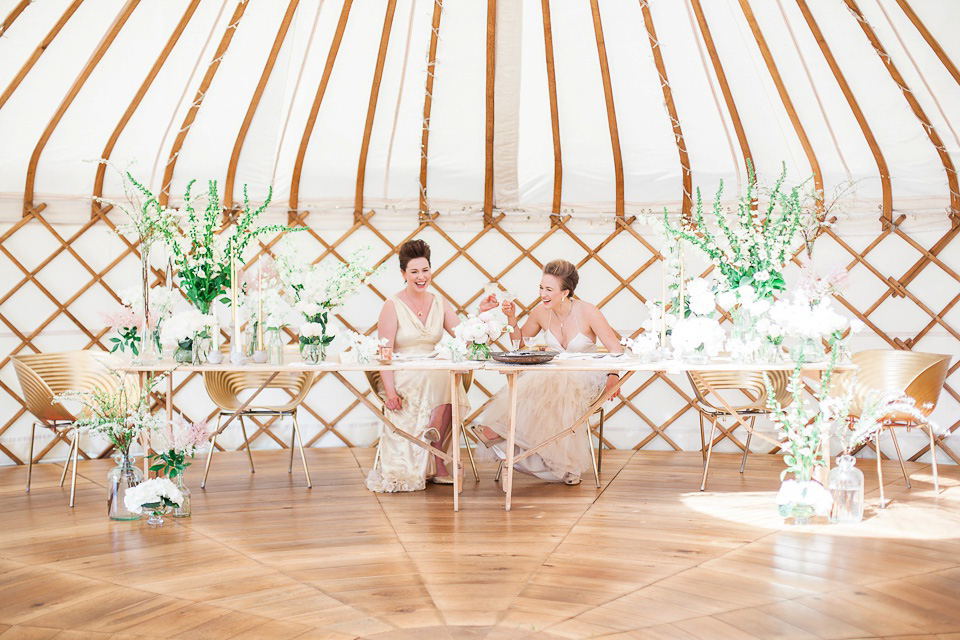 The shoot adds another layer of interest by featuring a best woman rather than a retinue of bridesmaids:
"I know I'd love to see more best women at weddings and having met a few in the last couple of years, I can say they're always brilliant. They make a speech and they're totally there for the bride. It's a truly suitable title for your very best friend."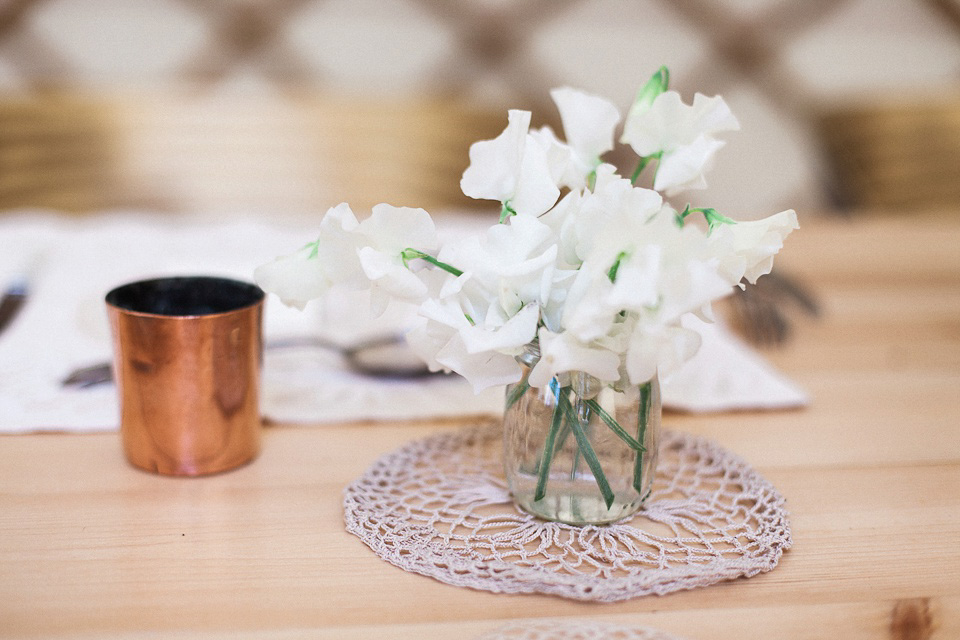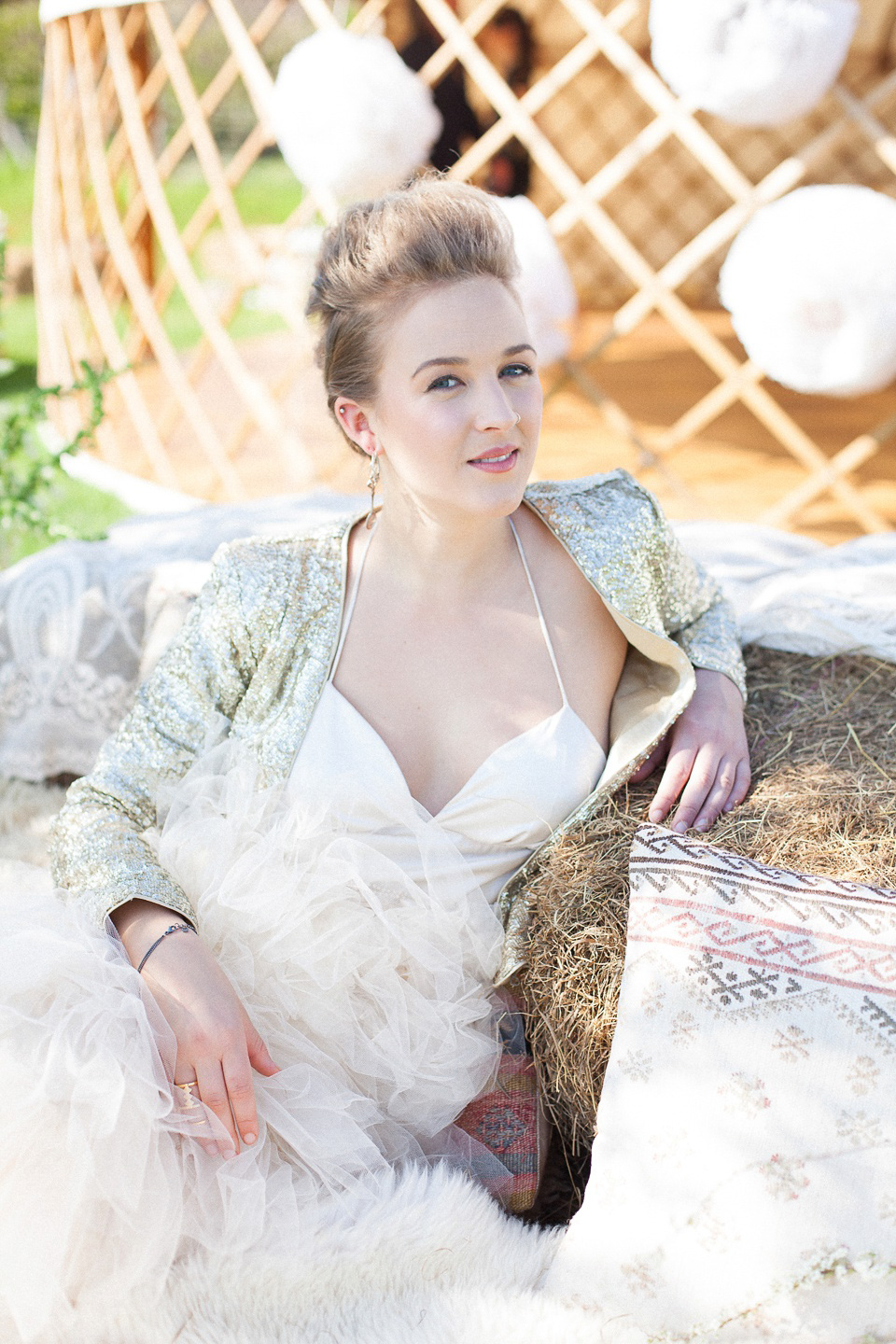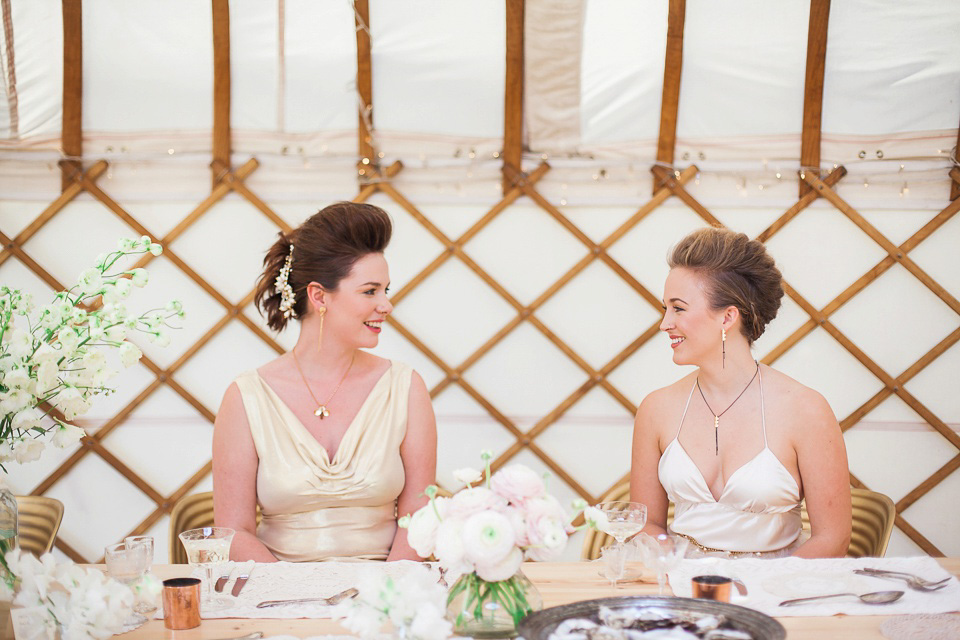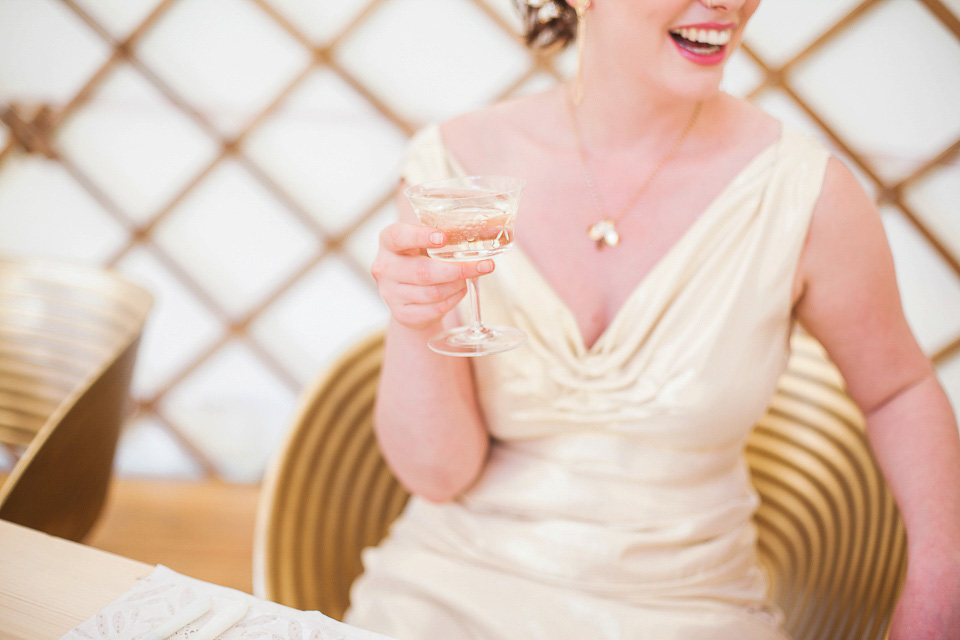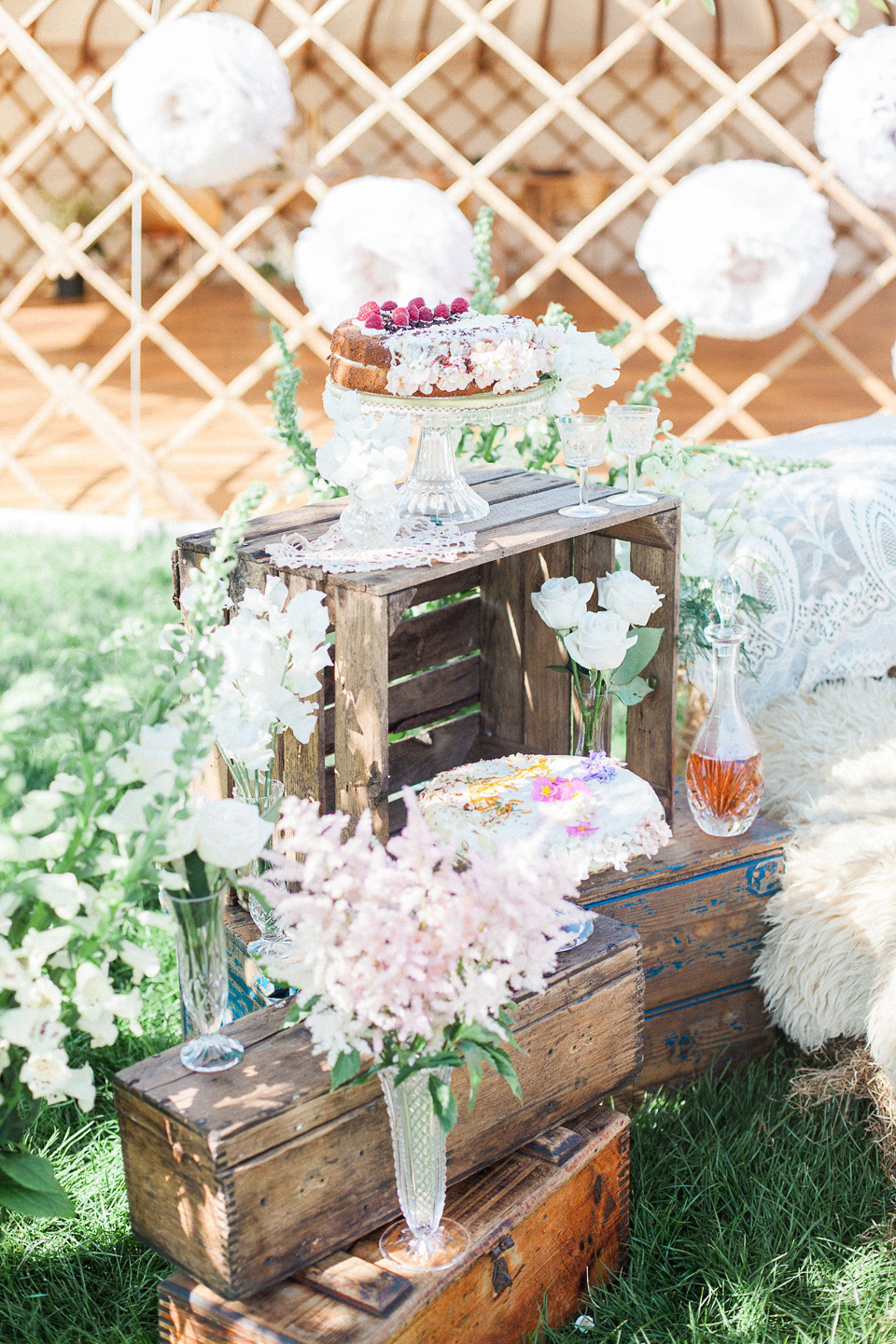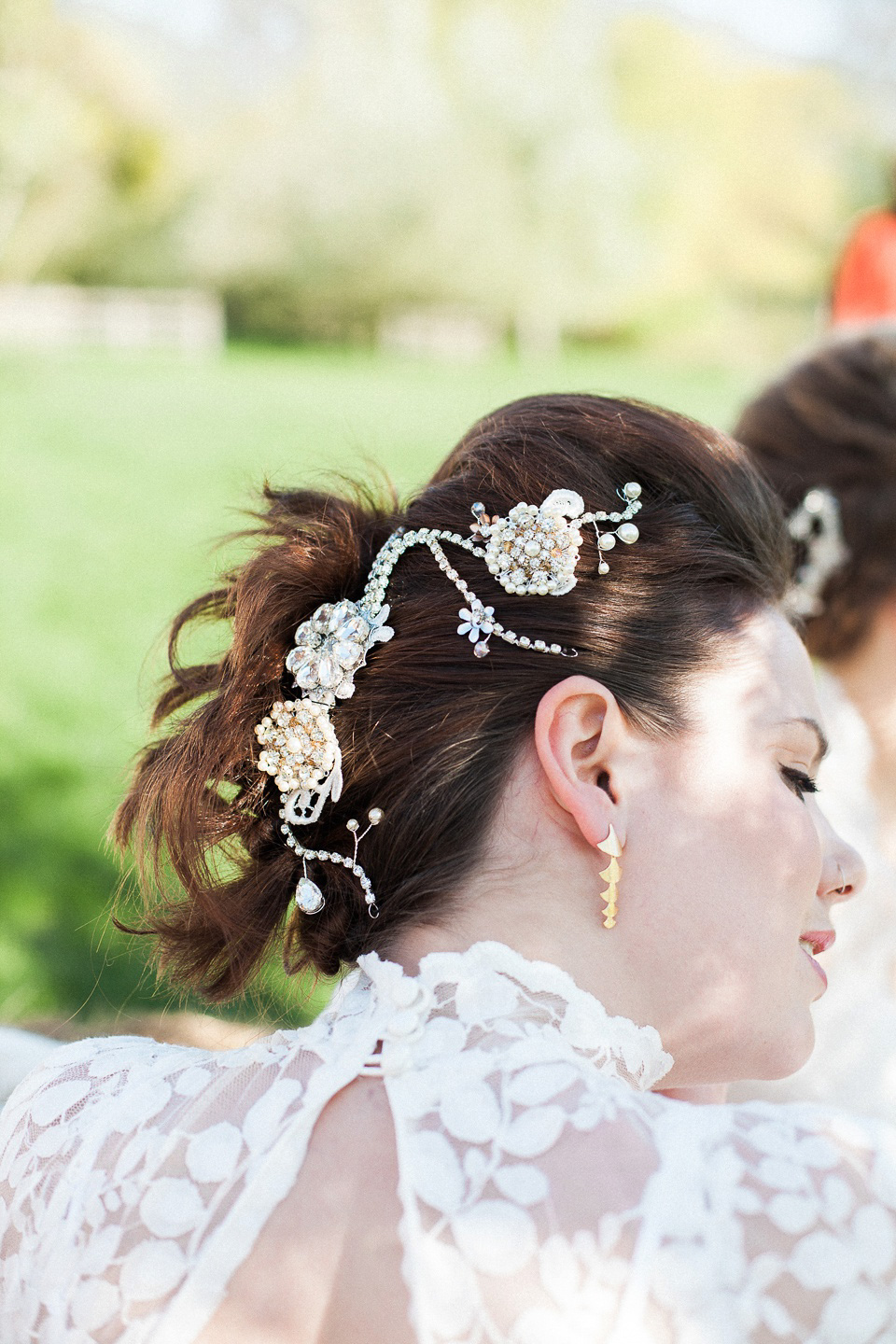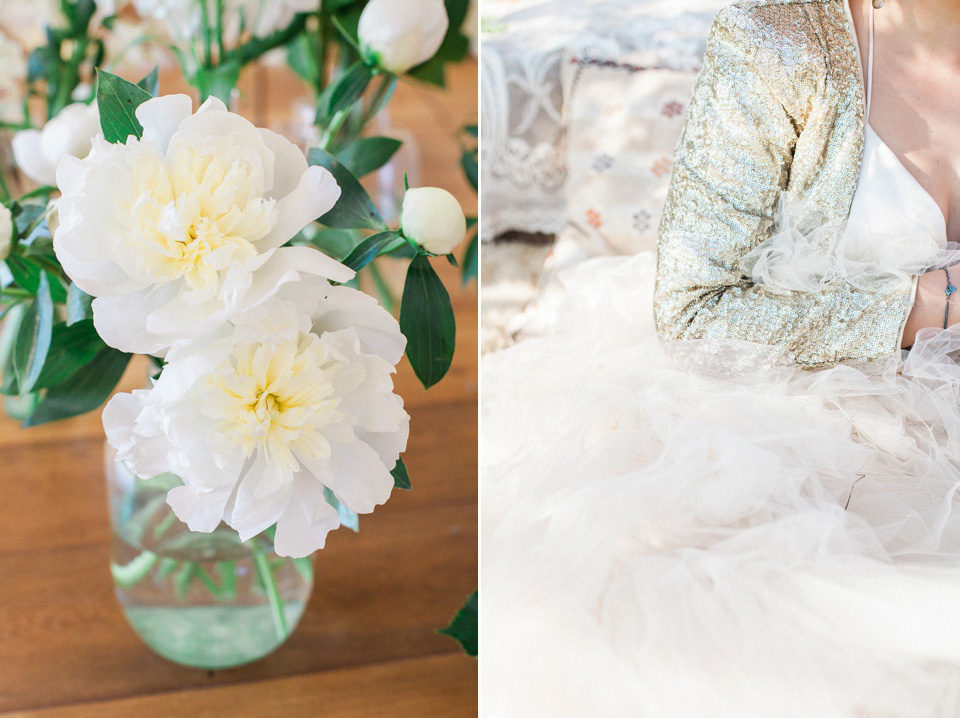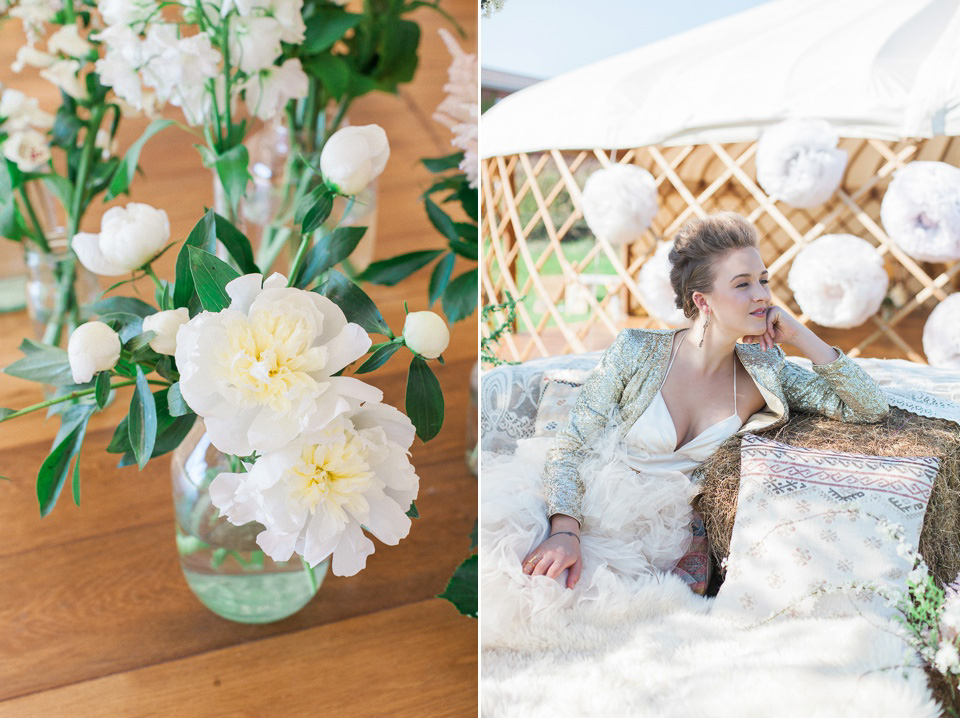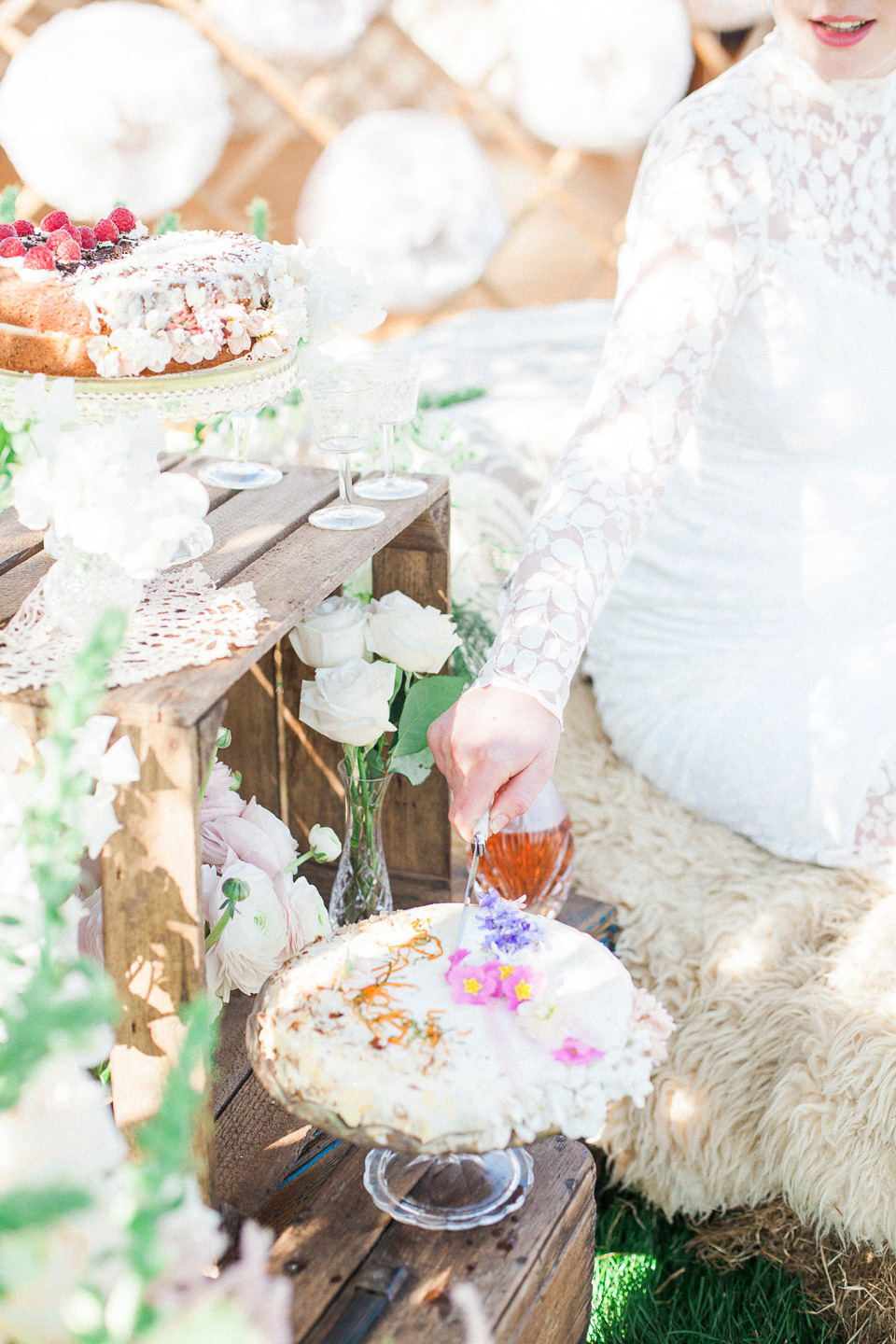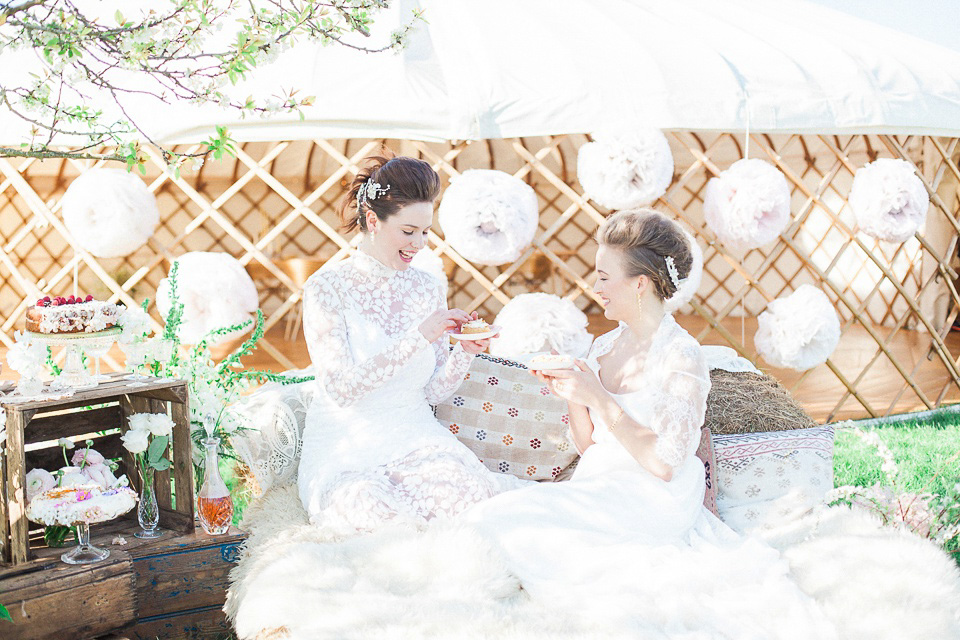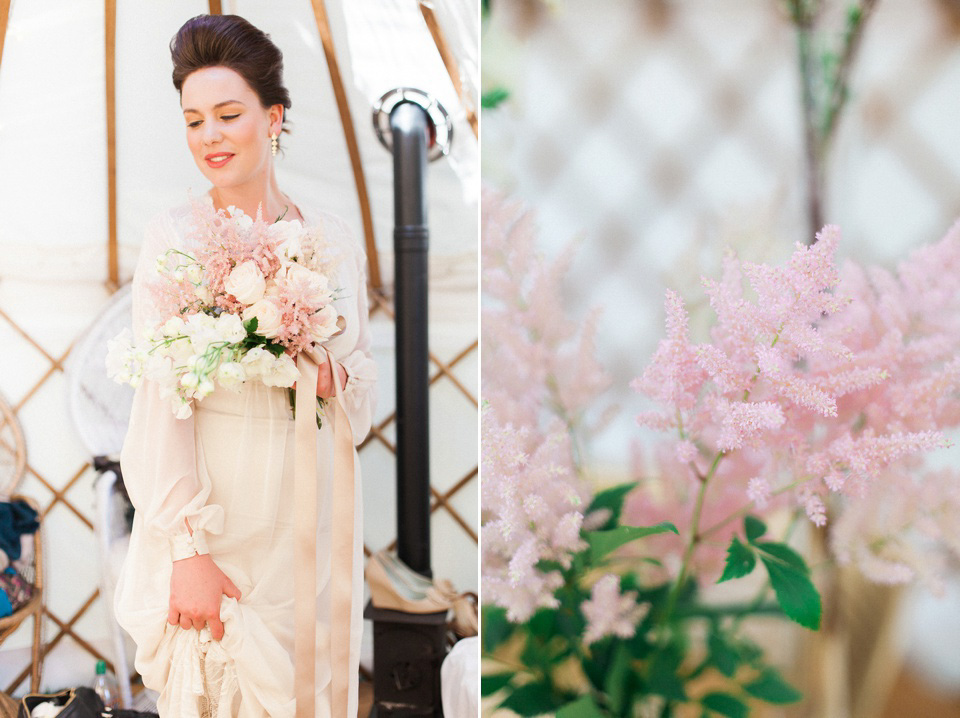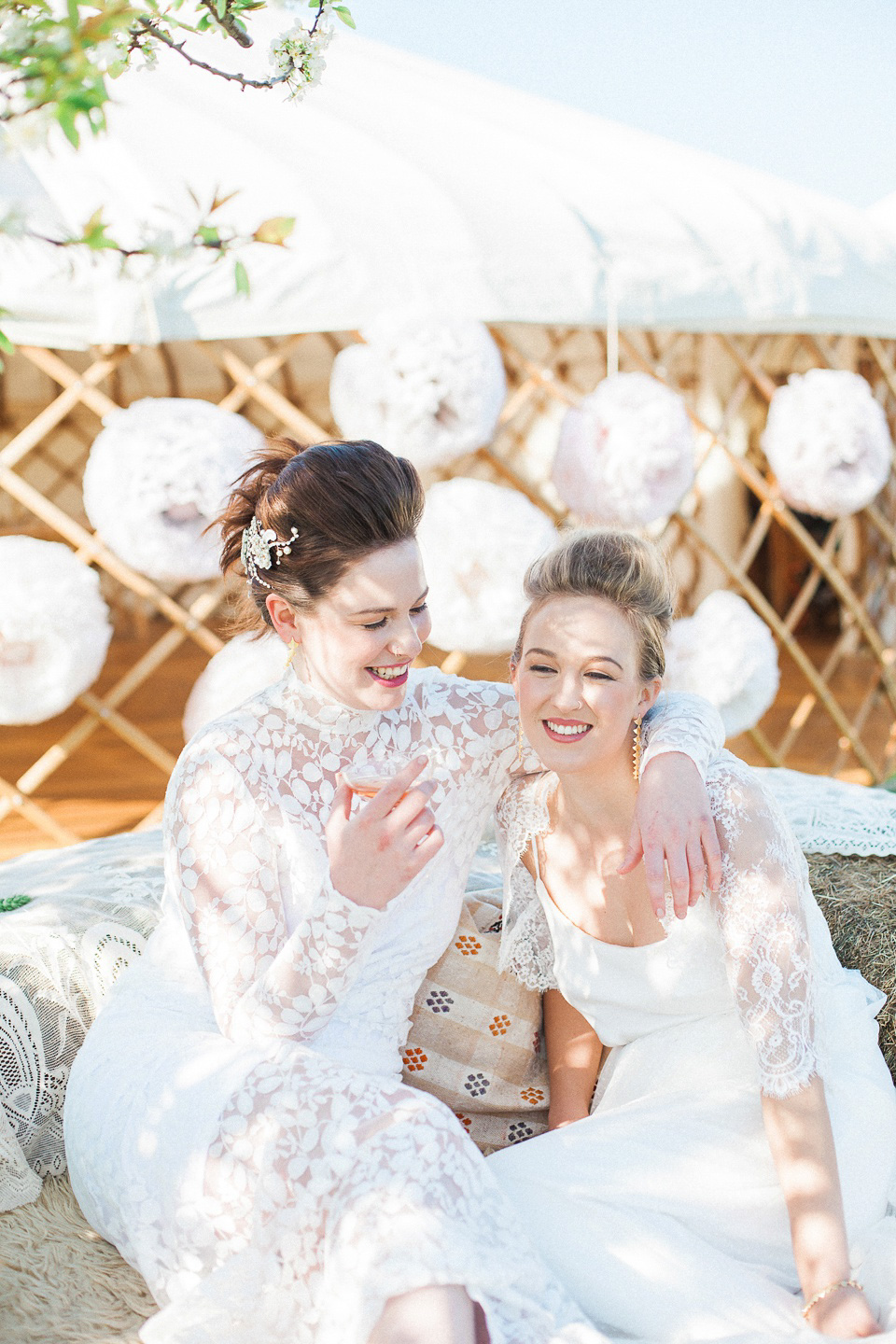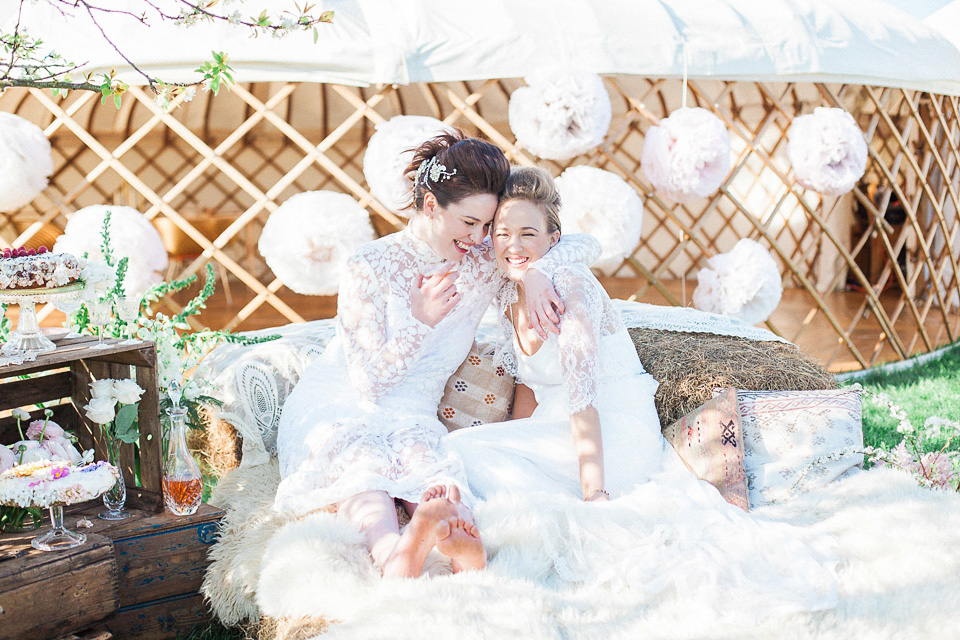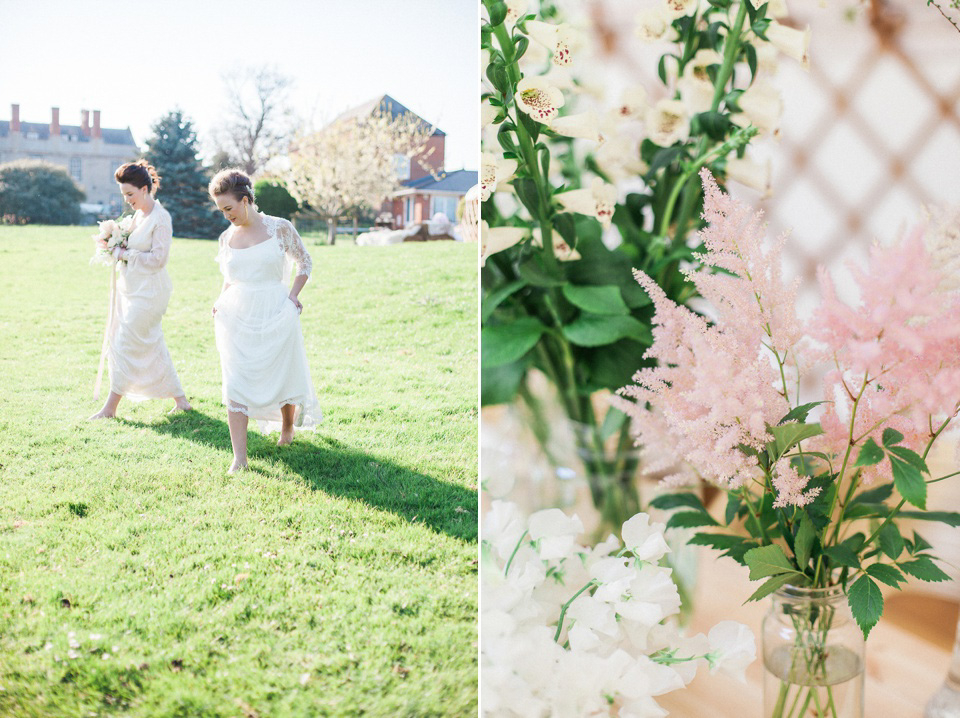 Who'd have thought that a yurt could offer such unexpected glamour, decadence and sense of luxury? I truly love the way Lizzie runs her business and I'm such a huge fan of her beautiful Wedding Yurts.
If you are considering hiring a yurt/s for your own wedding, my strong advice is that you contact Lizzie without delay. You'll find all the details you need at weddingyurts.co.uk.
Wedding Yurts can cover events right across the UK and all prices include set-up and breakdown and all electrics etc.  The yurts themselves are handmade in the UK and are 32ft (seating 90), 20ft (seating 40) or 12ft (seating 16). They can be used in any combination to seat up to 150 guests. The honeymoon yurt can be hired alone or as part of a reception yurt package whilst the champagne bar yurt is an excellent addition to any event. Wedding Yurts also offer styling, decoration and wedding day co-ordination packages and they can also advise of suitable locations for you should you need.
Oh and when you do connect with Lizzie – be sure to tell her we recommended her, and make sure you ask her about her AMAZING raw chocolate!
Are you planning an outdoor wedding and might you be considering hiring a yurt?
Much love,
Annabel xx
Photographer  – Alethiea De Pasquale of Xander & Thea
Wedding Yurts, Styling and Art direction – Lizzie Jones of Wedding Yurts
Bridal Gowns – Jessica Charleston
Flowers – Christiane Simmons of Honeysuckle Bee
Make Up  – Katy Pheiffer
Hair Stylist – Annie Russell 
Jewellery – Cara Tonkin 
Stationery – Bunti Blue Designs
Cakes – Radha Kuhnert
Oysters – Maldon Oyster Company
Hair Accessories – Klaire Van Elton 
Giant Paper Pom Pom Peonies – Pom Pom Blossom
Venue – Maisemore Court Farm
Models – Maya Black and Lizzie Van Zyl