Welcome to the weekend lovely readers.  If you happen to be a wedding supplier, may I direct your attention to our brilliant new project Little Book for Brides, and just say, if you haven't heard already, that we're offering all wedding suppliers who apply in August with a free, three month listing. Go, here, now!
I'm genuinely so very delighted to be sharing these images today.  Their fine art quality appeals to me very much of course – all that dreamy light and tulle but the fact the headpiece designer happens to be this glamorous bride, whose wedding we shared on Love My Dress back in 2012, makes me very happy indeed.
Photography by Katja Scherle for Beretkah
Tatiana is not only a talented hair and makeup artist, leading the team at Esteem Makeover, she also creates the most exquisite headpieces under her brand Beretkah. In fact, I first featured Tatiana's Beretkah designs back in 2011.
These new designs for brides in gold are just sublime. I've long had a love affair with gold headpieces and it's so utterly refreshing to see something really different.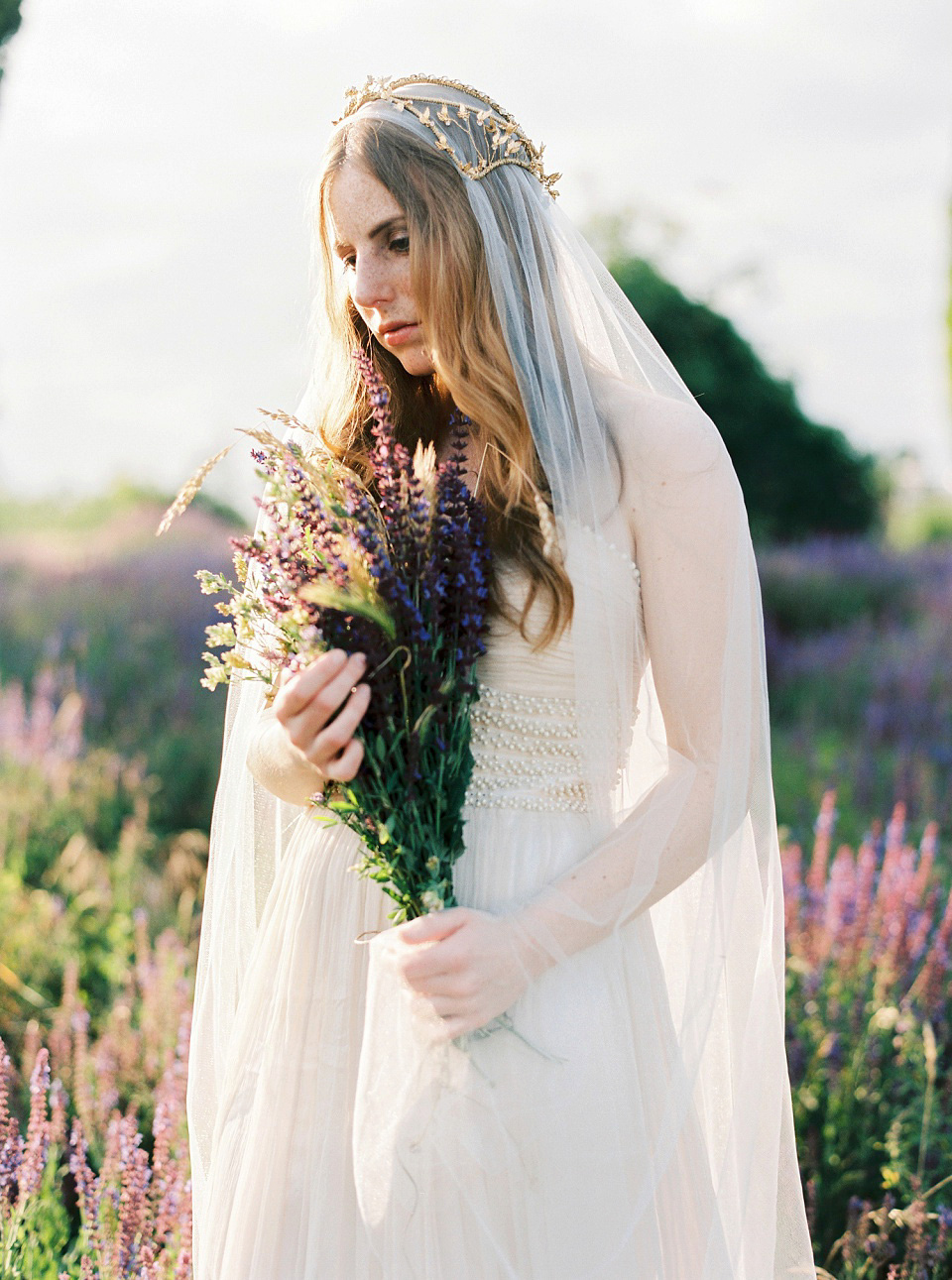 Taking inspiration from the Edwardian with the floral crown pieces through to the 1950's with the elegant birdcage veil attachment, they appear to have been created with the Love My Dress bride in mind.
Artist and stationer Nicole Sprekelmann handpainted all the organic floral shapes We hope to inspire brides to consider a late summer wedding: soft blush tones mixed with lush and bold colours, elegant elements mixed with a simple organic surrounding. And almost guaranteed: beautiful warm and sunny days!
The nature of this shoot was to inspire brides to consider a late summer wedding in soft blush tones mixed with lush and bold colours and to be confident mixing elegant elements with a simple organic surrounding.
I think possibly my favourite piece overall has to be this crown of gold leaves and pearl berries. What a breathtaking design…
These images rich in colour, texture and light, were shot at that beautiful golden hour shortly before sunset and really bring the gorgeous gold Beretkah headpieces alive. I am deeply in love with these designs…
You can find out more about Tatiana's most exquisite gold headpieces by visiting the Beretkah website at beretkah.co.uk. And for those of you who may be looking for a very talented hair and makeup artist, take a moment to visit Tatiana's professional bridal beauty website esteemmakeover.co.uk.
Huge thanks to Tatiana, photographer Katja Scherle and the full creative team for sharing these lovely images. I really hope that you have loved looking through these exquisite designs today.
Love Annabel x
Photographer – Katja Scherle // @festtagsfotografien
Styling, hair + makeup – Esteem Makeover // @esteemmakeover
Model – Marilla
Headpieces – Beretkah // @beretkah
Dress – Joyce Young // @joyceyougcollections
Stationery – Nicole Sprekelmann