Hello readers.  We have the loveliest summer barn wedding for you today, featuring a gorgeous lace dress, a flower crown and drinks in milk bottles- perfect for brightening up this autumnal weather. Bride Hannah and groom Damien married in their local parish at Holy Trinity Catholic Church in Sutton Coldfield with a reception at at Packington Moor Farm, Lichfield on Saturday 17th July this summer.  Keeping the day relaxed and fun was very important to them both, and feeding and watering everyone well was high on the agenda!
"We are a laid back couple and we wanted this to be reflected in the day, whilst honouring many of the usual wedding traditions.  Once we had chosen the venue our theme was built around the barn and it needed very little decoration.  I was really keen on having a pastel colour palette and did not want everything to match too much.  My favourite phrase throughout the planning process had to be 'relaxed' and I think anything too coordinated would have gone against this theme."
Photography by Jo Hastings Photography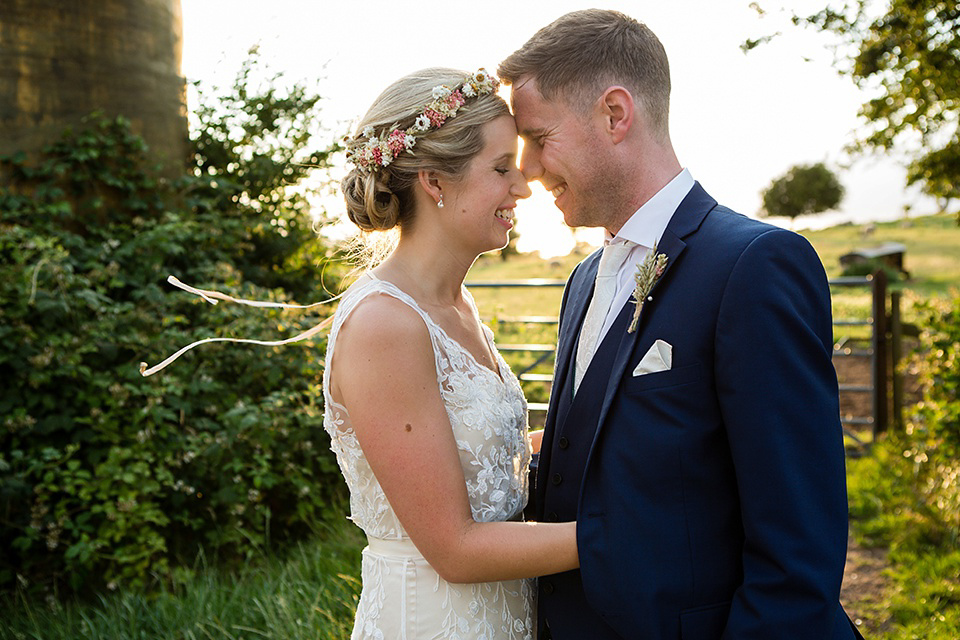 "Before we were engaged we had never imagined our wedding day in much detail.  We both knew we'd like a short engagement and to be married in the summer months. We are both from large Irish Catholic families and it was important to us to share it with as many of them as possible."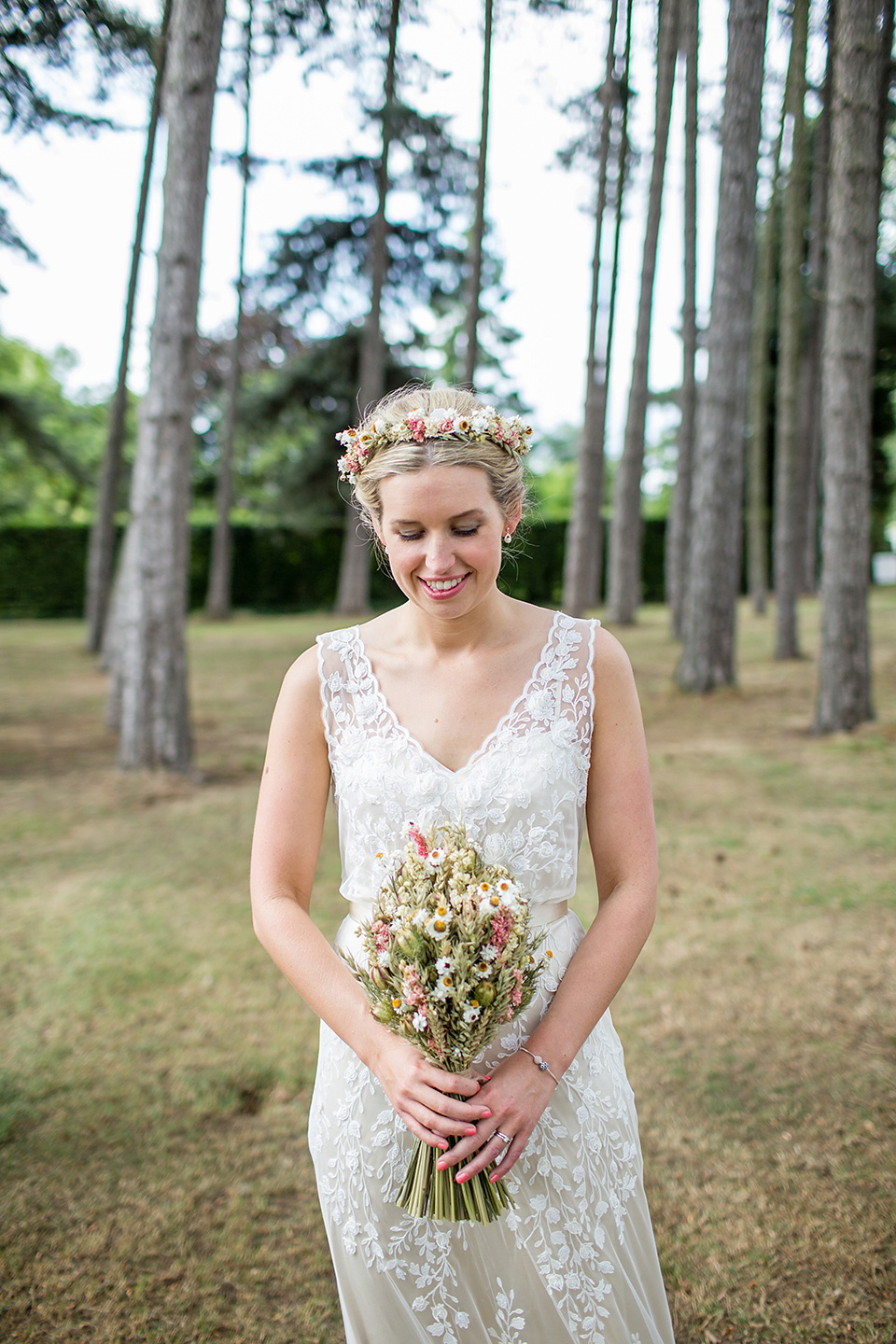 The couple chose Jo from Jo Hastings Photography to capture every moment of the big day, after meeting her when she photographed another family wedding.
"We first met Jo when she photographed my sister's wedding.  We were blown away by their wedding photos and knew that we would not find anyone better to capture our day."  
"Jo is fantastic at capturing the most natural moments and each time I look at our photos I am transported back to that very moment feeling each and every emotion.
Since the day we have received so many compliments from guests about Jo who were also really impressed with how she managed to be everywhere just at the right time!  We really felt like Jo was one of our friends at the wedding and we enjoyed spending time with her throughout the whole process, we can't thank her enough."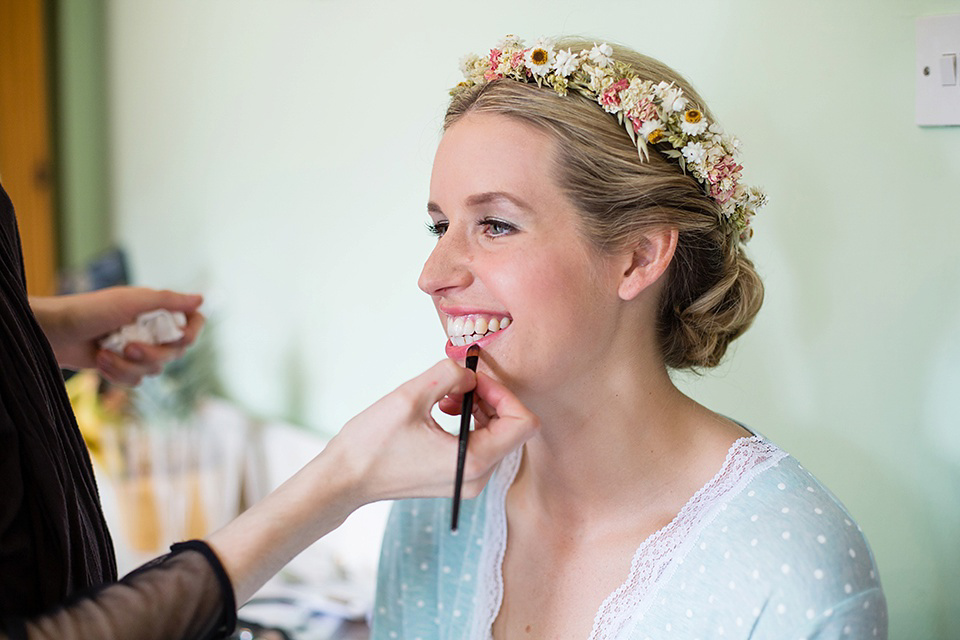 For her bouquet, those of her bridesmaids and the reception floral decoration, as well as her hairpiece, Hannah chose to use dried flowers- a wonderful idea if you would like to keep your flowers after the big day.
"Our flowers in church were beautifully put together by Maureen, a parishioner at Holy Trinity Catholic Church, while the rest of our flowers were from The Artisan Flower Company.  We first saw them at The Wedding Show at the NEC in the December and fell in love.  I loved how different they were to the usual wedding flowers and they complimented the rustic barn perfectly."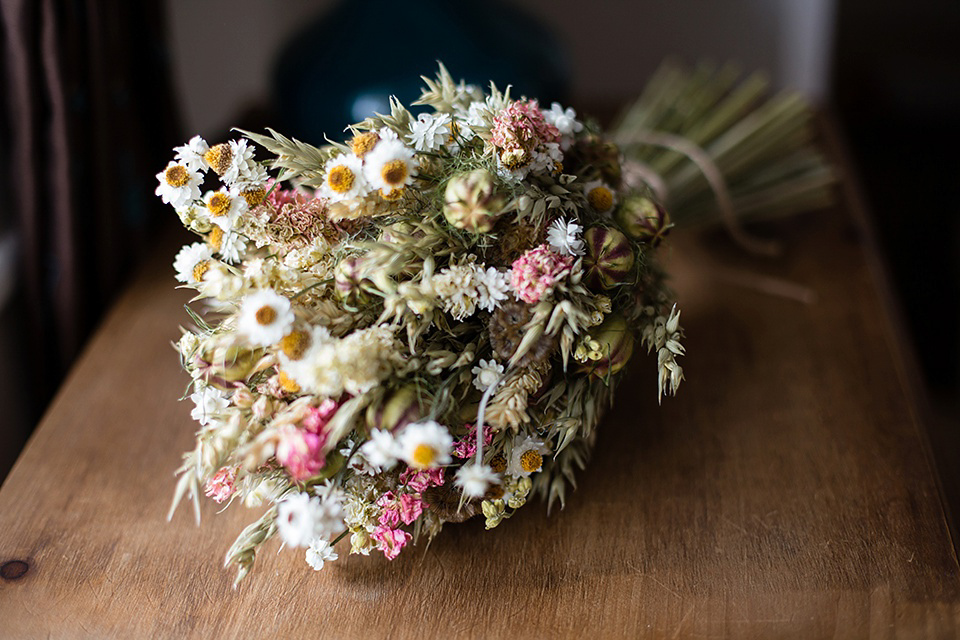 "My bouquet was the same as the bridesmaids just a little bigger, and the buttonholes and hair flowers were from the same collection- 'Rustic Country'.  Sam (from AFC) was a fantastic help to us throughout.  We dressed the barn with bunches of dried lavender, larkspur, oats and wheat, placed in glass jars and jugs, with dried petals scattered over the tables.  The best part about the flowers is that they are now displayed in our home and many of our guests also took some home to enjoy too."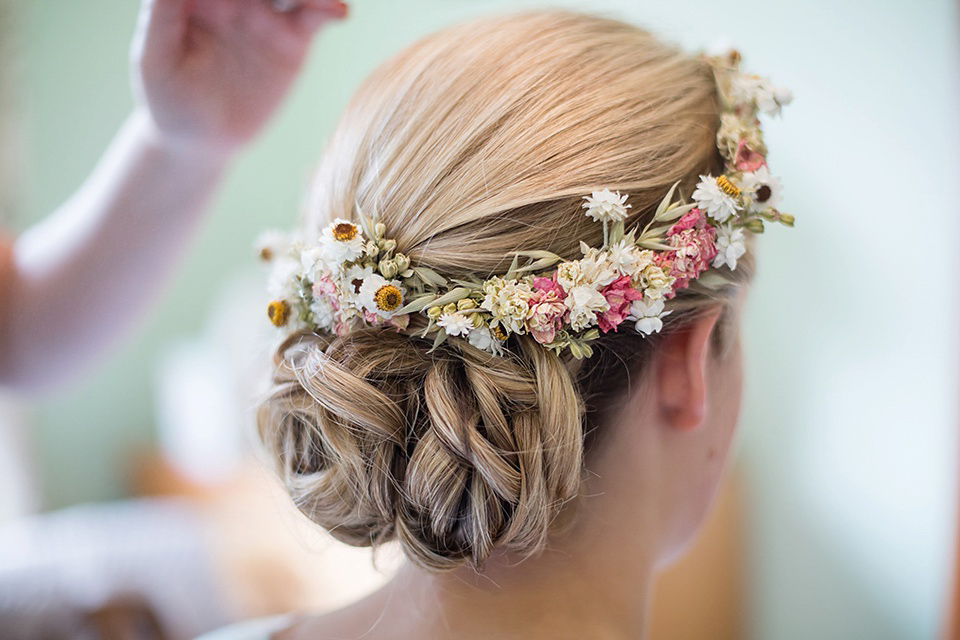 Hannah wore the beautiful 'Sian' by Catherine Deane, purchased from Catherine's design studio in London.  I love the simplicity of the style, complimented by the intricately patterned lace.
 "I had actually seen 'Sian' days after our engagement on Pinterest, however, I was convinced that it was only stocked in America and quickly tried to forget about it as I thought it was out of my reach.  After a couple of visits to local bridal shops where I tried on the most beautiful dresses, I couldn't shake the feeling that they weren't right.
As a jeans, t-shirt and trainers girl they all seemed a little too uncomfortable or too bridal for me and I was adamant that I wouldn't compromise on comfort as I knew it would ruin my day if I could not eat, dance and enjoy myself because of a dress."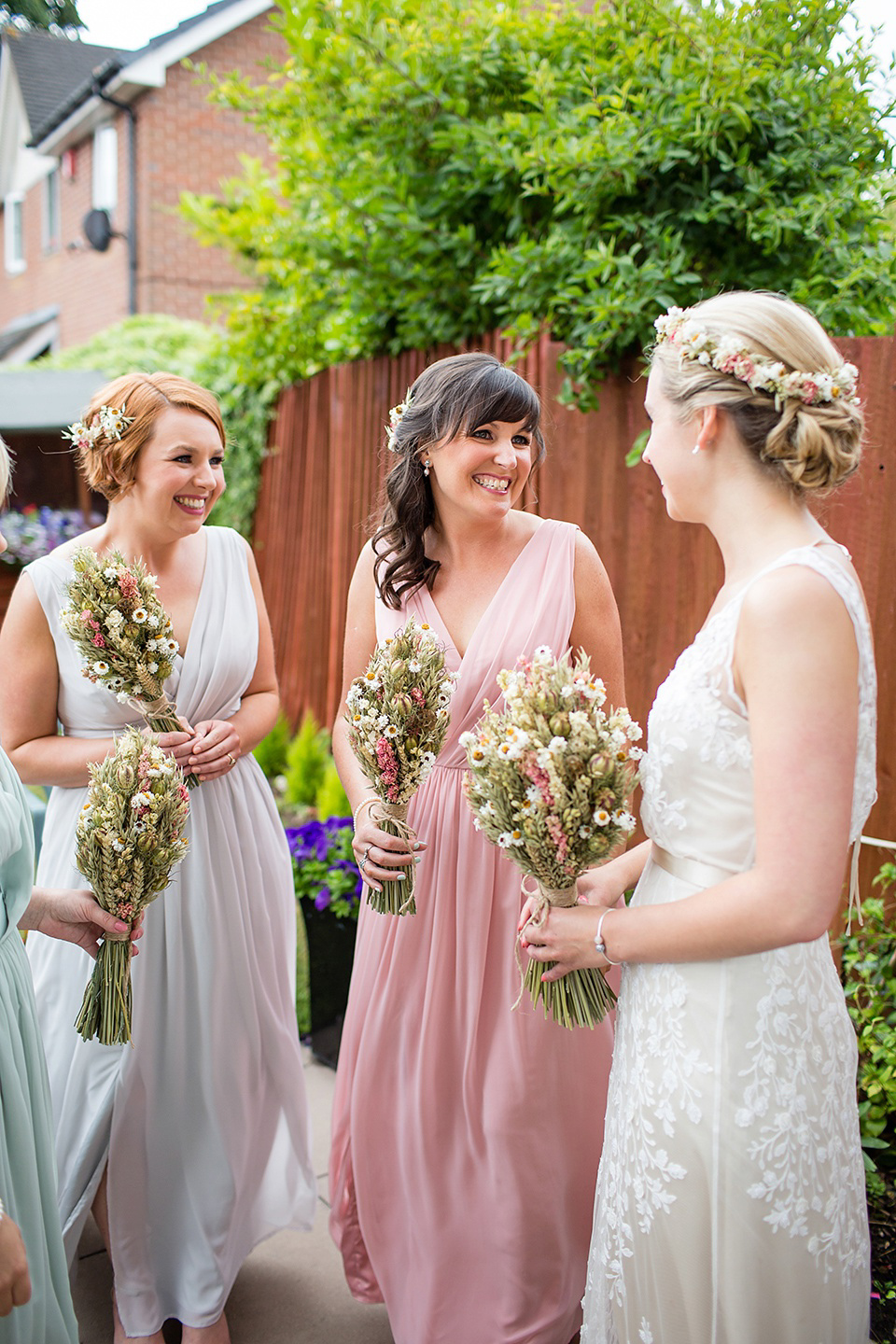 "My sister and Mom were beginning to get a little frustrated with me as they thought many of the others were perfect for me.  Days later I was longingly looking at the Sian Gown again and (finally) did my research and found that Catherine Deane was stocked in London, I booked an appointment tried on the dress and took it home with me the same day.
My dress was everything I wanted – it was comfortable but flattering, detailed without being over the top and I didn't just feel like a bride, I felt like me, but the best version of me."
Hannah complimented her gown with a fabulous pair of Rachel Simpson shoes in ginger and gold leather and a beautiful dried flower circlet from The Artisan Flower Company.   Her pearl droplet earrings were her 'something borrowed' and her Pandora bracelet was her 'something new'- a gift from her Mum.  Damian added the dedication charm which she opened on the morning of the wedding.
I love that the gift came from both her Mum and her husband to be- joining her loved ones together in one keepsake piece.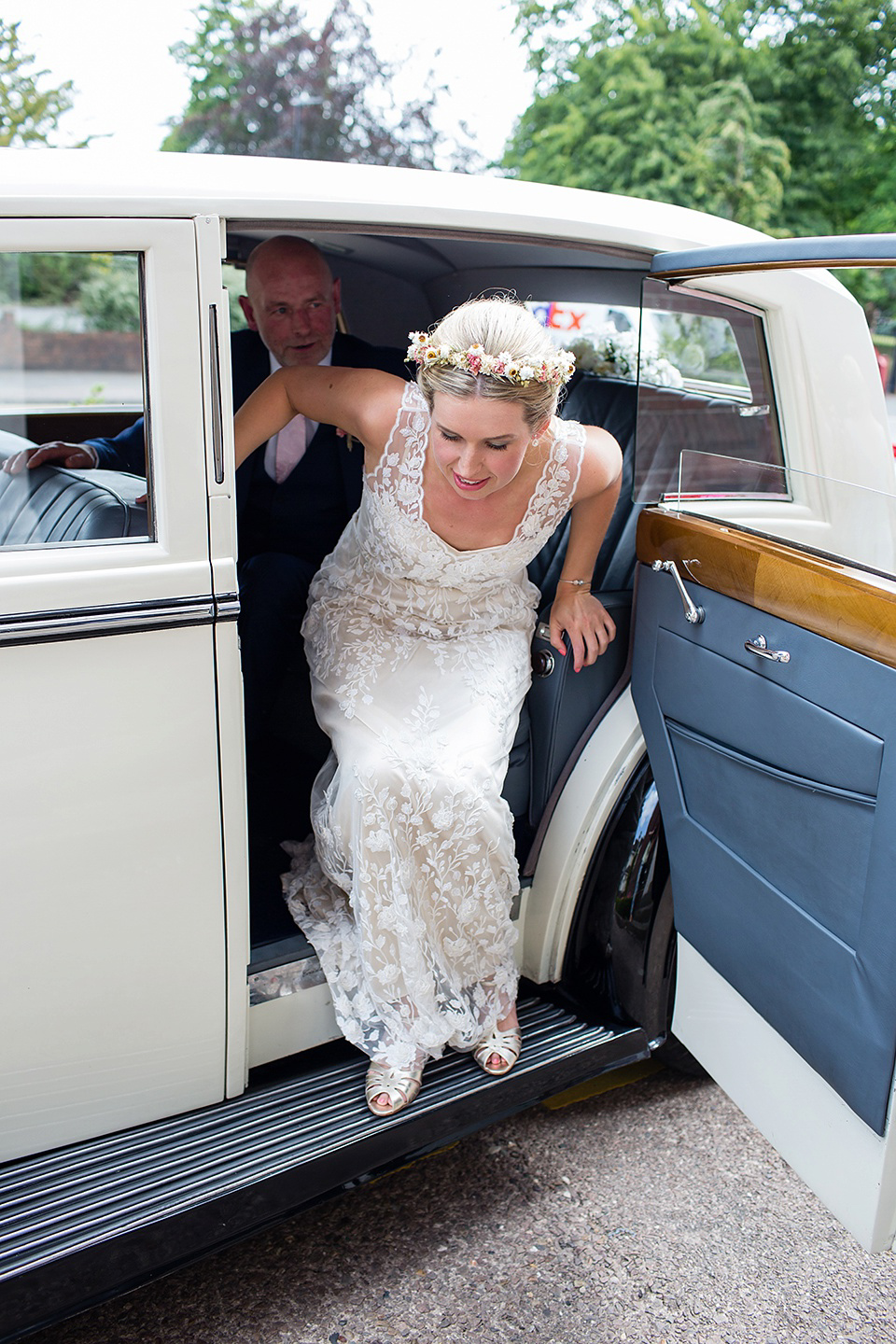 "Damian and I both began working at the Student's Union bar at Chester University in 2008.  Before our first shift there was a staff social arranged and that's when we met, I noticed him instantly and we got chatting later in the night.  A couple of evenings later as I was working behind the bar I had my first taste of Damian's dancing (which he is well known for!), as his t-shirt flew across the room, I did wonder what I'd let myself in for."
"The rest as they say is history, we spent our final year working hard and laughing even harder.  Damian is convinced that his dance skills are what lured me in but I still beg to differ"
The couple got engaged seven years later on a trip to Cheshire and booked their church and venue within the month, marrying almost exactly a year later.
"At the church we had the fantastic church choir and organist who performed throughout the service and we arrived at Packington Moor to Ben Drummond who sat in the courtyard playing guitar and singing for our guests.  It was a great touch for the reception drinks and many friends have commented on how brilliant Ben was on the day."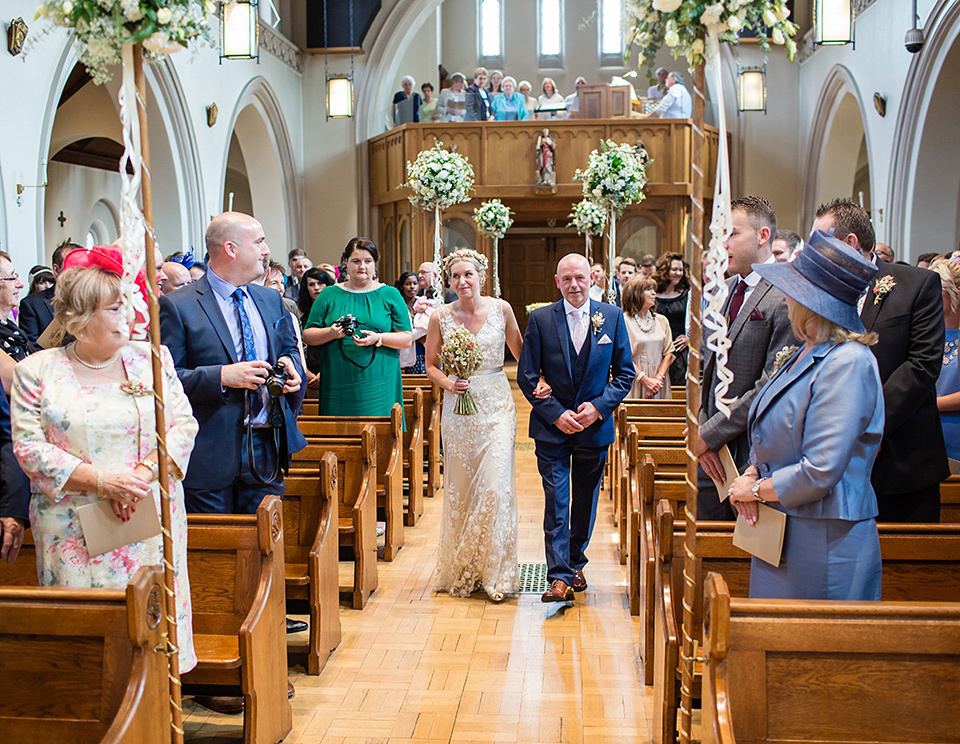 Hannah was walked down the aisle by her beaming Dad to Pachelbel's Canon in D, played by the church organist- one of my very favourite pieces of music, and an absolute wedding classic.
The couple exchanged the traditional Catholic vows, and family and friends gave traditional readings.  Such enormous smiles throughout in this ceremony- I love it when you can almost feel the happiness of the couple, and that of their friends and families.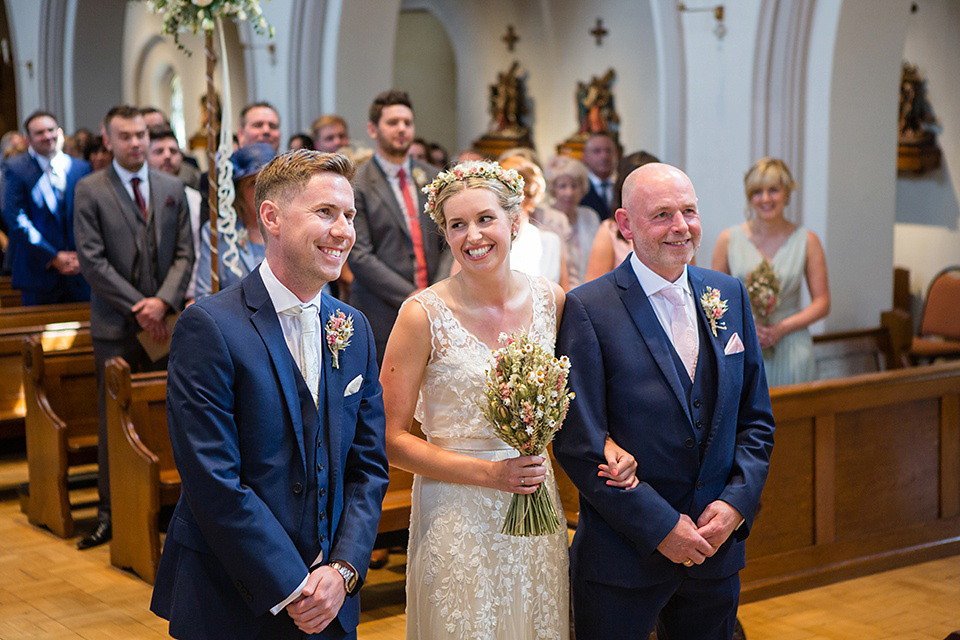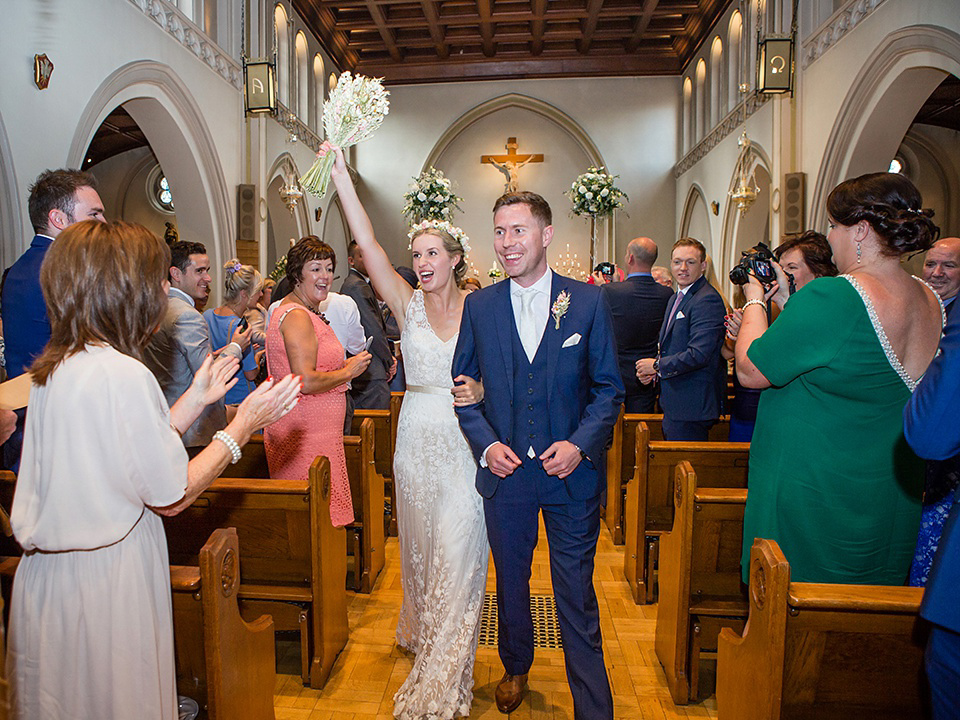 Damian looked dashing in a blue, slim fitting suit, with matching suits for his groomsmen.
"Damian wore an ivory tie, whilst the groomsmen and our Dads wore pink.  Everyone scrubbed up really well and it was great that Damian stood out with his different colour tie."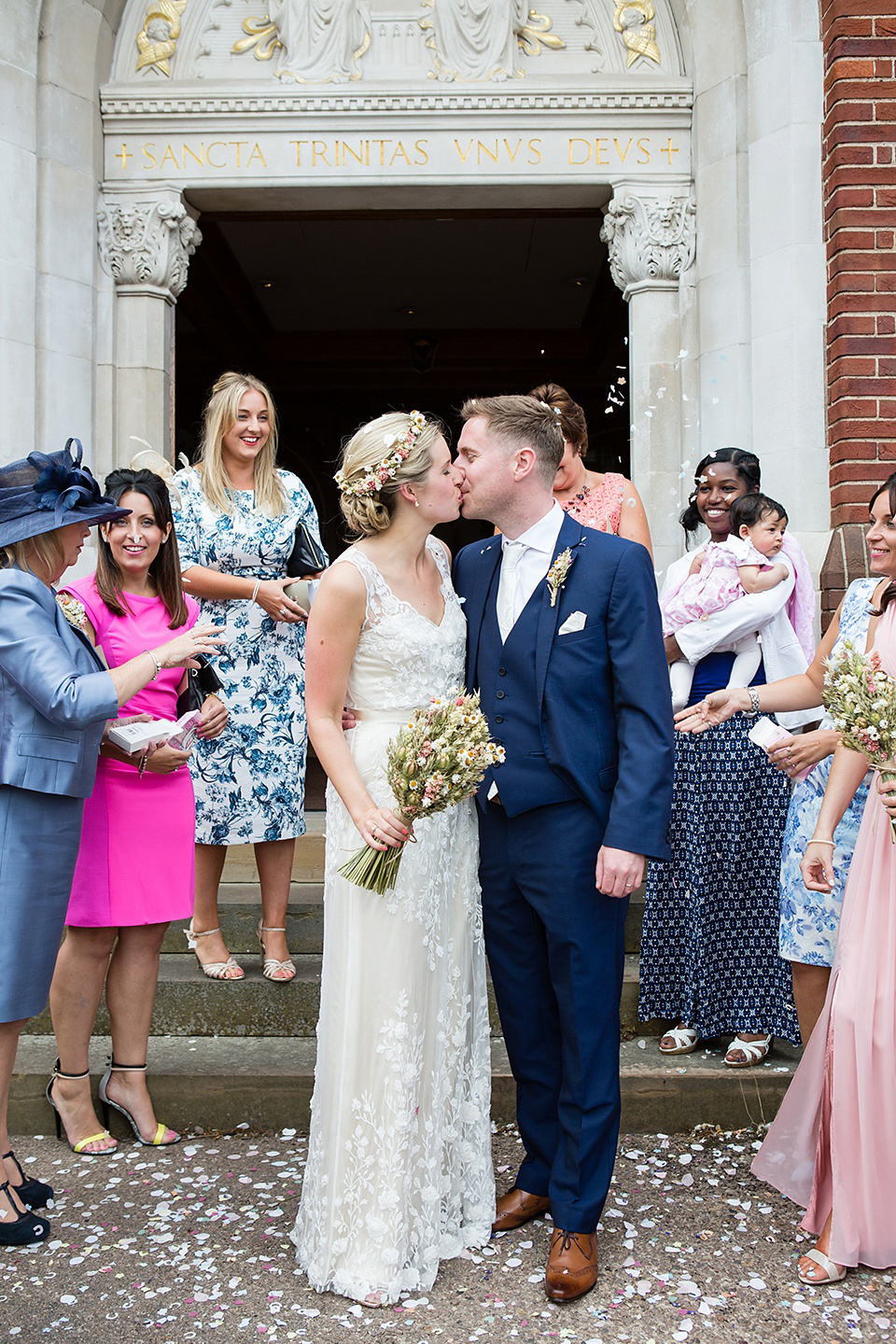 The newlyweds travelled between their venues in style in a 1939 Rolls Royce 'Wraith', while the bridesmaids travelled behind in a 1973 Daimler, hired from Celebration Wedding Cars.
"The cars were amazing and the chauffeurs were so lovely, we felt so special travelling in style to the wedding and enjoyed a glass or three of prosecco on the way to the reception!"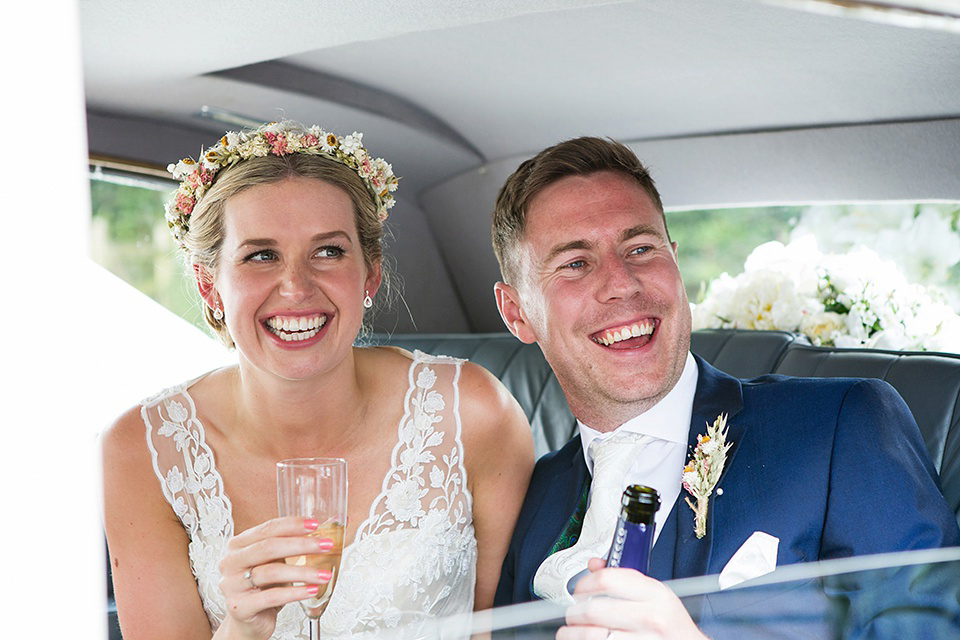 Bridesmaids Hayley, Caroline and Amy wore dresses from Dessy, purchased from Wedding Belles in Four Oaks (where Hannah informs us that the service was fantastic!)  All three ladies wore dried flower slides which complimented the colours of the dresses perfectly and chose their own hairstyles to match their personal taste.
"I was really relaxed about the style of bridesmaid dresses and wanted my maids to look like themselves and feel great.  It was really easy to choose a style as we all loved the same dress and we choose the colours blush, oyster and celadon as they fitted my pastel colour palette and the girls all looked stunning and are already planning when they can wear them again."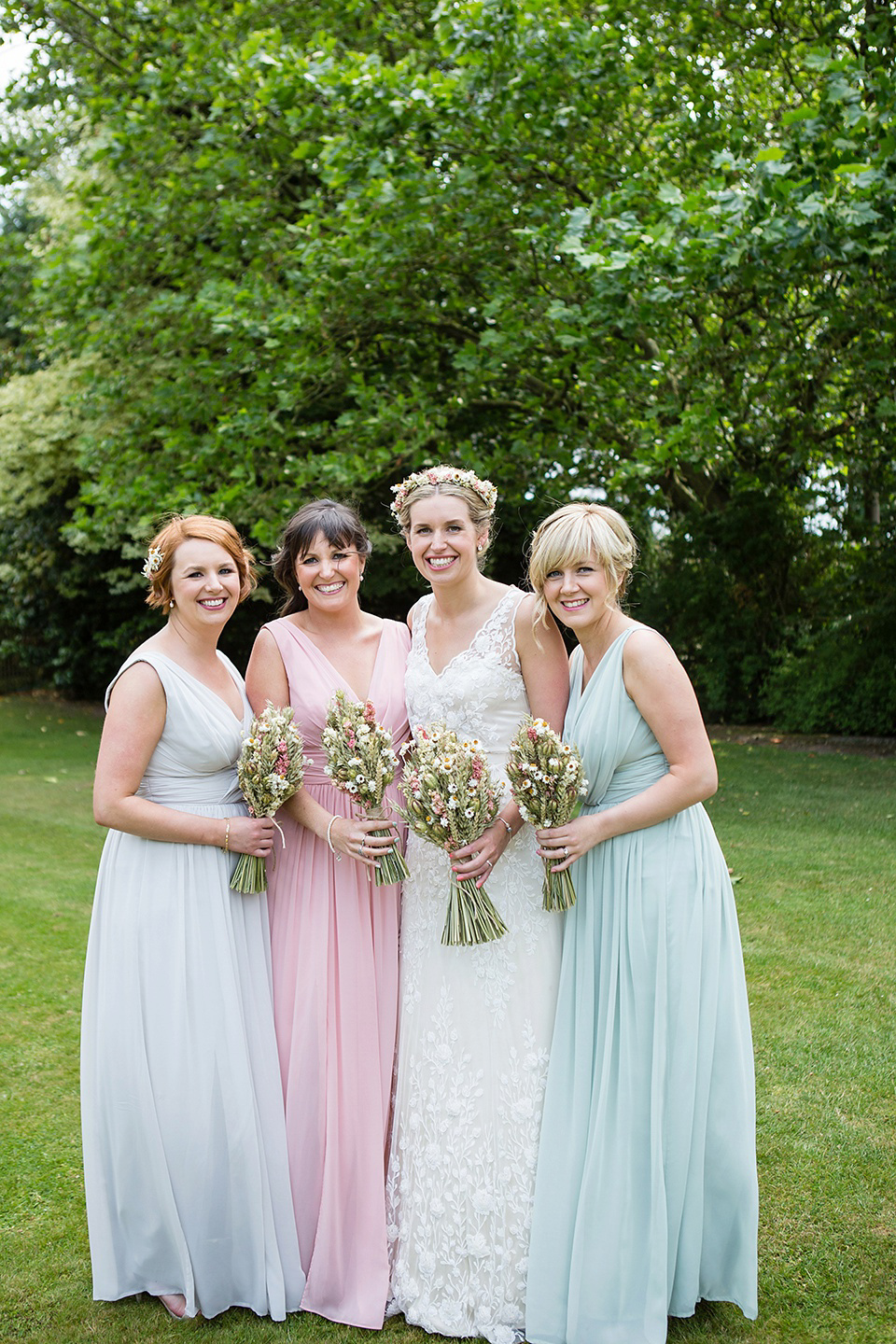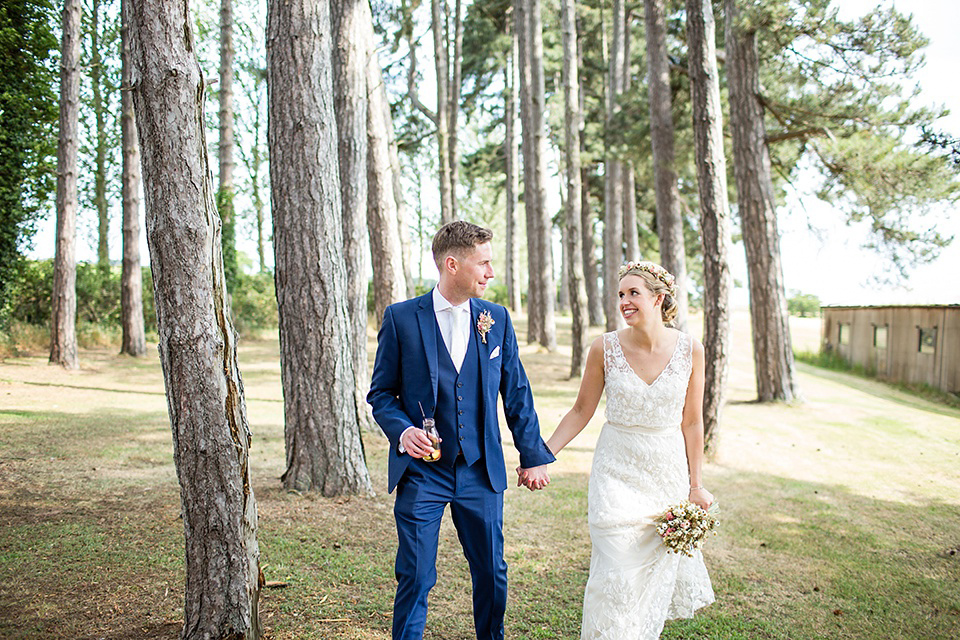 "We looked at four or five venues; Packington was the last and there was no competition, it had everything we were looking for.  We were looking for somewhere with privacy, we didn't like the idea of sharing our venue with another wedding party or hotel guests. 
We loved the outdoor space the courtyard offers and the rustic barn needed little decoration as its beauty spoke for itself- we kept the decoration minimal as the beams and open brickwork in the barn were a great backdrop."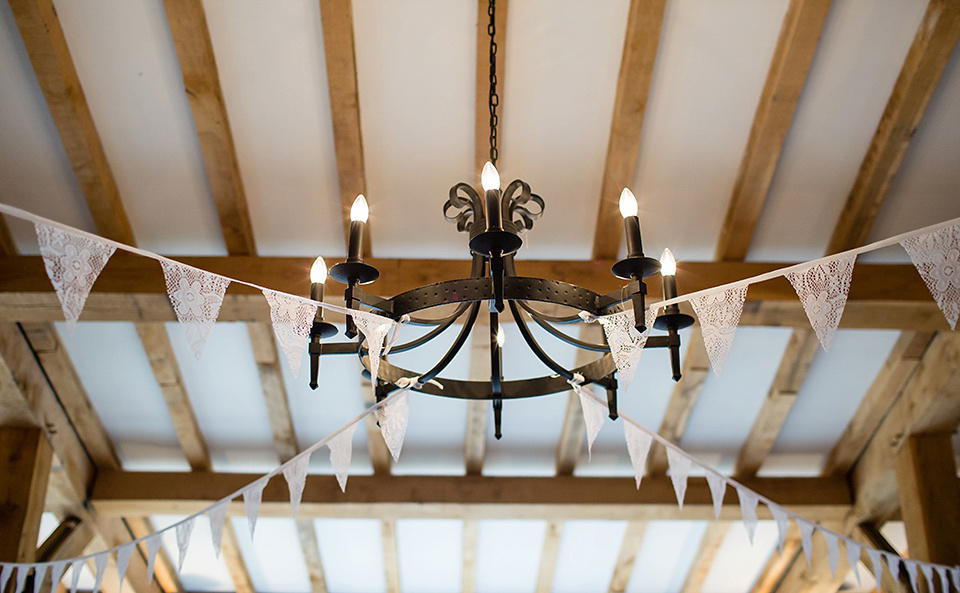 "All our food and drink was provided by Galloping Gourmet, the recommended caterer for Packington Moor.  We enjoyed canapés and white peach sangria as reception drinks in cute little milk bottles and our wedding breakfast consisted of shredded pork and apple spring roll to start, fillet of beef with seasonal vegetables for main and triple chocolate brownie and ice cream to follow.  We had a fab pizza oven and popcorn for our evening guests which everyone loved!"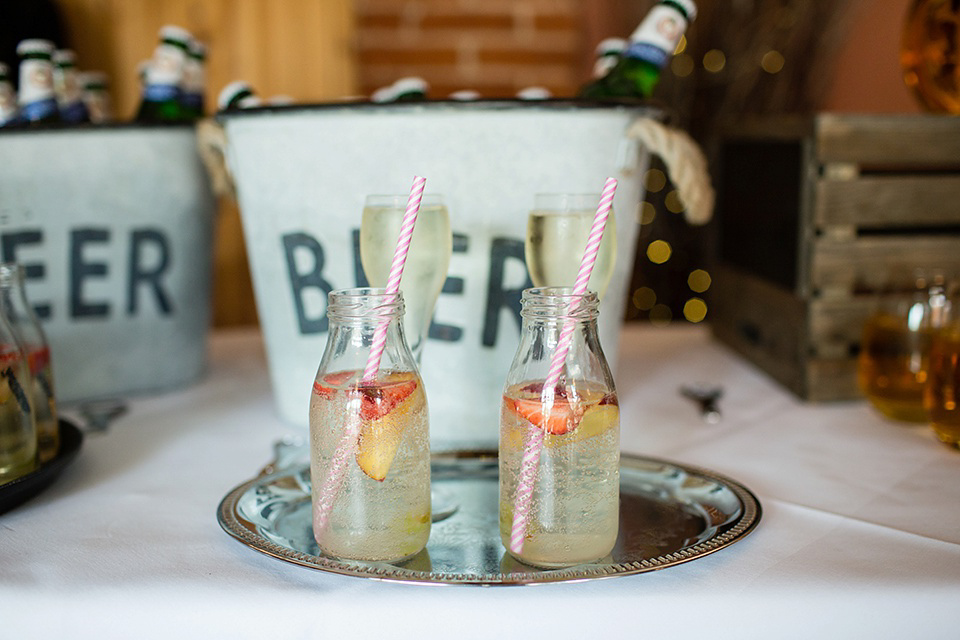 "There is nothing we would change about our day.  There were little things that didn't go exactly as we thought they would but we did not even notice.  The only thing we cared about on the day was that everyone ate good food, drank good wine and celebrated in style, and we all certainly did!
"Everything was absolutely fantastic.  From the moment we woke up to the moment we fell to sleep we were both beaming with pride.  We were so excited to marry each other and so proud that we had planned such a brilliant party for everyone.  We worked really hard at making sure the day was ours and tried not to be influenced by too many people and we think that really showed on the day. 
We didn't worry too much about tradition or timings we just let the day happen.  We ate, drank and danced the night away with our family and friends and it was the best day of our lives."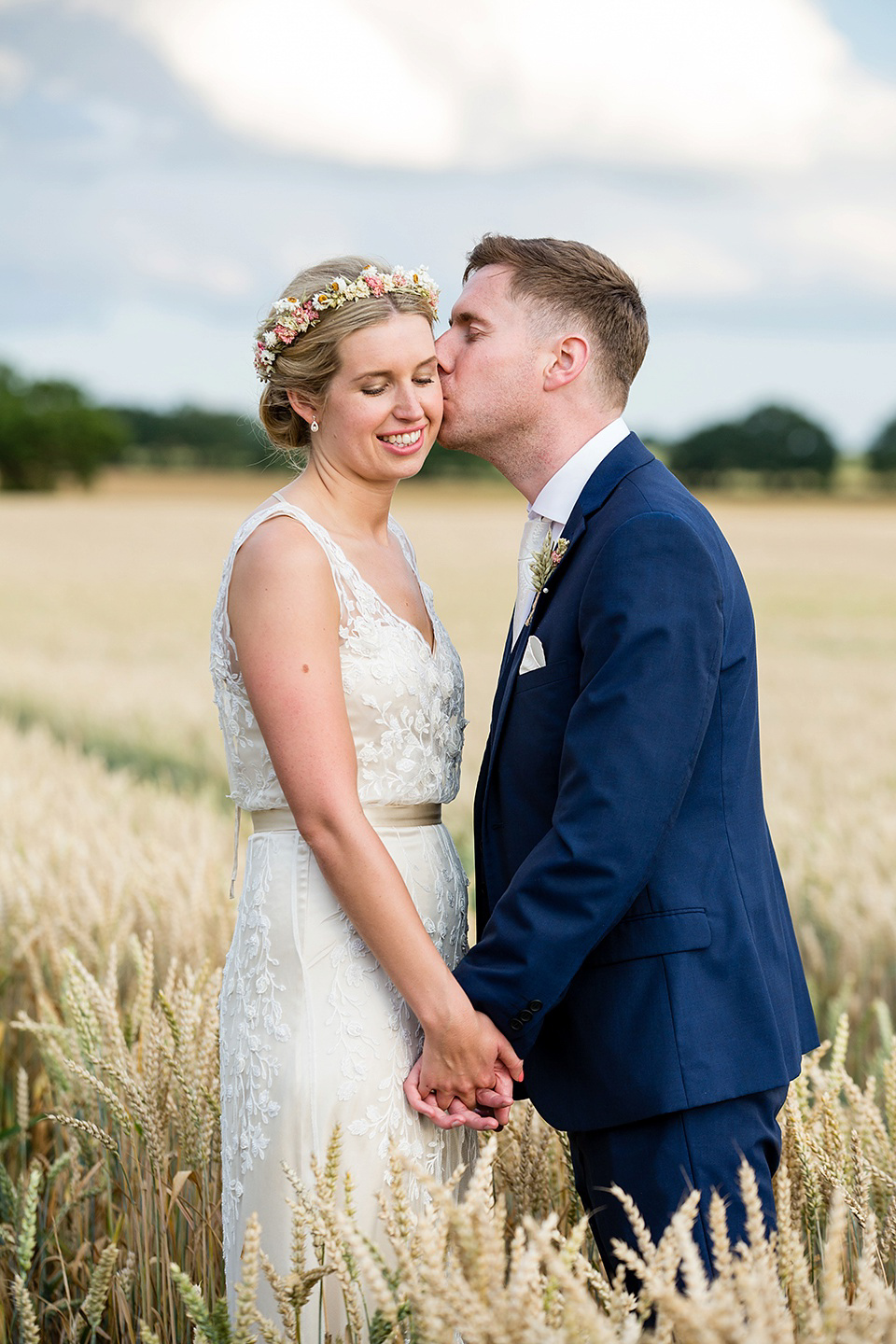 Words of Wedded Wisdom 
"Enjoy every moment from right from the day you are engaged.  Lots of people talk about your wedding day being the best day of your lives when actually, I had the best year of my life.  Every part of the process from choosing a dress to food tasting was all a fantastic experience. 
Take it all in and enjoy each moment for what it is.  It isn't all about the wedding day; it's about having fun and creating memories together.  Start your engagement as you wish your marriage to continue, we filled ours with lots of laughter and time spent with family and friends creating happy memories."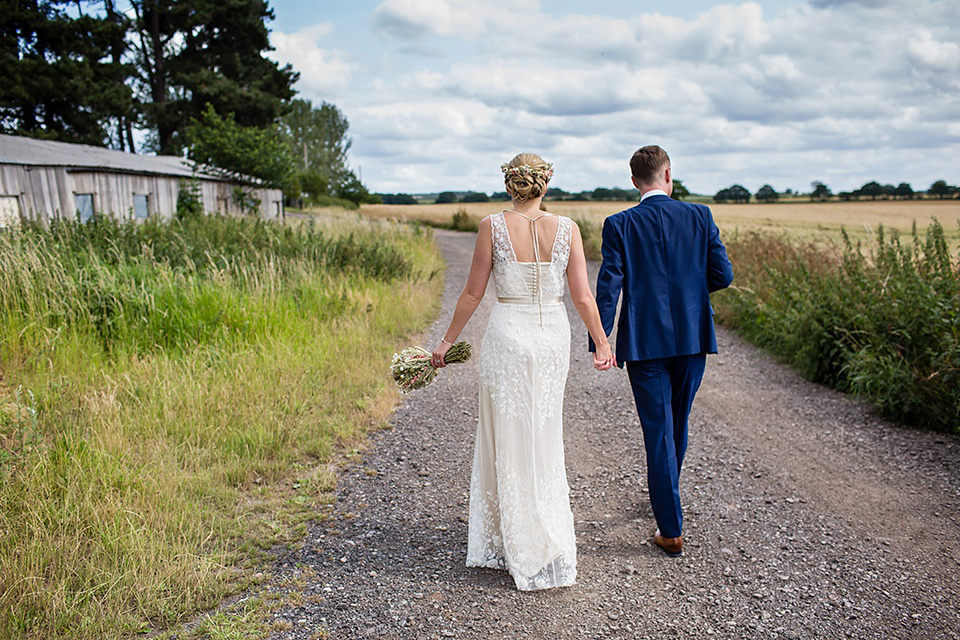 I love these Words of Wedded Wisdom so much – Hannah is so right, enjoy every second of your planning, as well as the day itself.
Thinking of a barn wedding for your own celebrations?  Why not take a look at some of the other barn weddings we have featured?  They make such a lovely backdrop for country themed days.  I fancy getting out in the countryside after looking through these photos…  I'm off to dig out my wellies ready for the weekend!
Much love,
Shona x
Photographer – Jo Hastings Photography
Venue – Packington Moor Farm, Lichfield
Wedding dress – 'Sian' by Catherine Deane
Hair accessories – A dried flower circlet from The Artisan Flower Company
Shoes – Mimosa by Rachel Simpson
Accessories – Earrings, borrowed from Hannah's mum; bracelet, Pandora
Perfume – Daisy by Marc Jacobs
Bridesmaids' dresses – From the Dessy collection, purchased from Wedding Belles in Four Oaks
Accessories- Dried flower slides from The Artisan Flower Company
Groom – Ted Baker suit, hired from Moss Bros
Accessories – Ted Baker
Florist – The Artisan Flower Company
Cake – Alexandra Cakes, Tamworth (no website)
Catering – Galloping Gourmet
Rings – Newey's Jewellers
Stationery – Yellowstone Paper Works
Hair stylist – Sam Holden via Makeup by Jodie
Makeup artist – Rosanna Velin via Makeup by Jodie
Transport – Celebration Wedding Cars
Entertainment – Ben Drummond
Bunting hire – Rachel's Country Bunting