Well, it truly has been one of those days! Crazy, emotional, surreal, wonderful – a 'love my friends and family hard' kind of days. I don't mean to sound all cryptic but you know what, it truly has been the best, most beautiful, blue skied day and I'm so happy right now.  It's also been ridiculously busy and so our afternoon post has turned into an evening post but, I'm sure you guys won't mind letting us off that just this once.
These beautiful images were sent in by Anna of Bianco Photography who was inspired in creating this styled set of images by the new 'painted desert' collection of gowns by Elizabeth Dye. I'm so delighted to see Shhh My Darling was involved with this shoot too – stationery designer Jenny is a member of our Little Book For Brides. Have you visited our beautiful new wedding supplier and vendor directory yet?
"I knew Elizabeth from previously having photographed her lookbook, and she was in London for her trunk show at the Heart Aflutter bridal boutique, so the idea of working together for a dedicated styled shoot came pretty natural."
Photography by Bianco Photography
"I wanted to create a bridal scene inspired by the ancient figure of the Alchemist: half way between science and magic. I imagined a wilful, determined and romantic woman, thoroughly connected to her inner nature. I think that Elizabeth's collection is perfect for a woman like that – it's dreamy in a beautifully unique way."
Shhh My Darling is a member of Little Book For Brides
"Cecilia, with her impeccable taste, founded the perfect accessories for the dresses and contacted Love Art Wear Art for the shoes (they create limited edition shoes, making only 150 pairs of each style) and We Are Arrow for the beautiful jewellery."
"The Alchemist had the goal of changing ordinary metals into gold, so we decided to use golden details throughout, including within the stationery, jewellery, shoes and make up too."
"Wedding Stylist Joanna of Bride To Bijoux transformed the space with a selection of vintage and antique props including books, skulls, victorian keys, crystals and bell jars, that Rebecca of Ivy Pip and Rose filled with her incredible composition. More, she made one of my dreams come true and created an incredible bouquet with a pink pineapple in it!"
Florist Rebecca of Ivy Pip and Rose says "The theme for the shoot was potentially quite dark but still romantic. I was drawn to woodland and spring flowers which leant themselves to the creative vision, and the glass domes and apothecary bottles sourced by Joanna of Bride To Bijoux."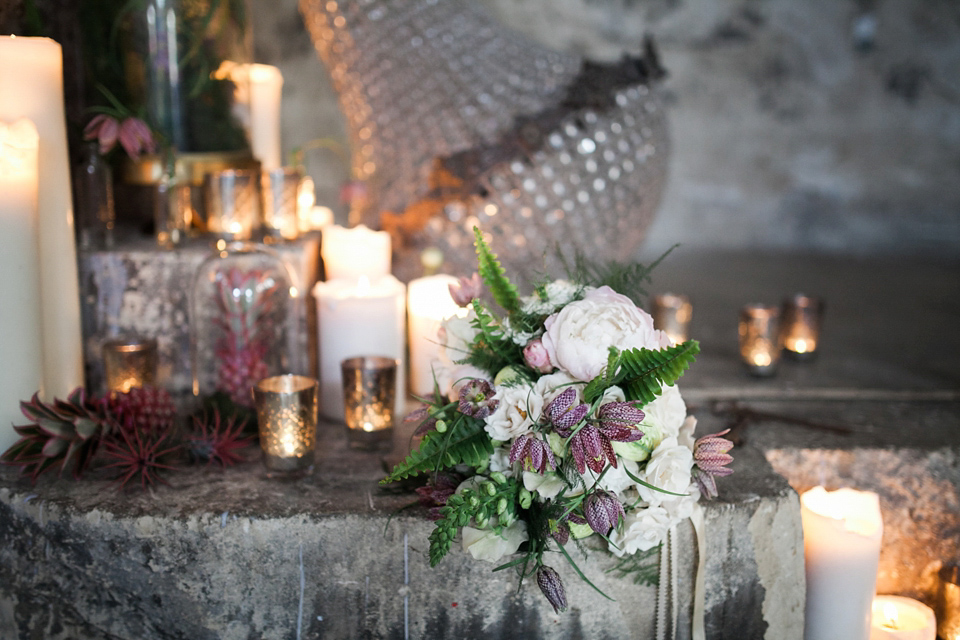 "Foxgloves, fritillaria, ferns and moss worked brilliantly with more eclectic elements such as mimosa, anemones, an orchid or two, white majolica roses and of course the miniature pineapples which lifted the bouquets."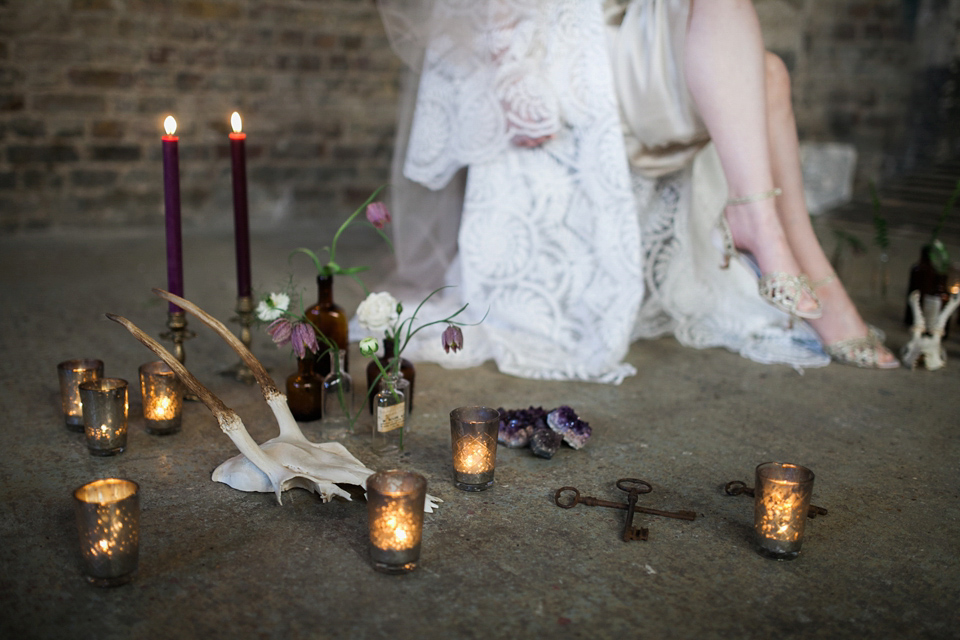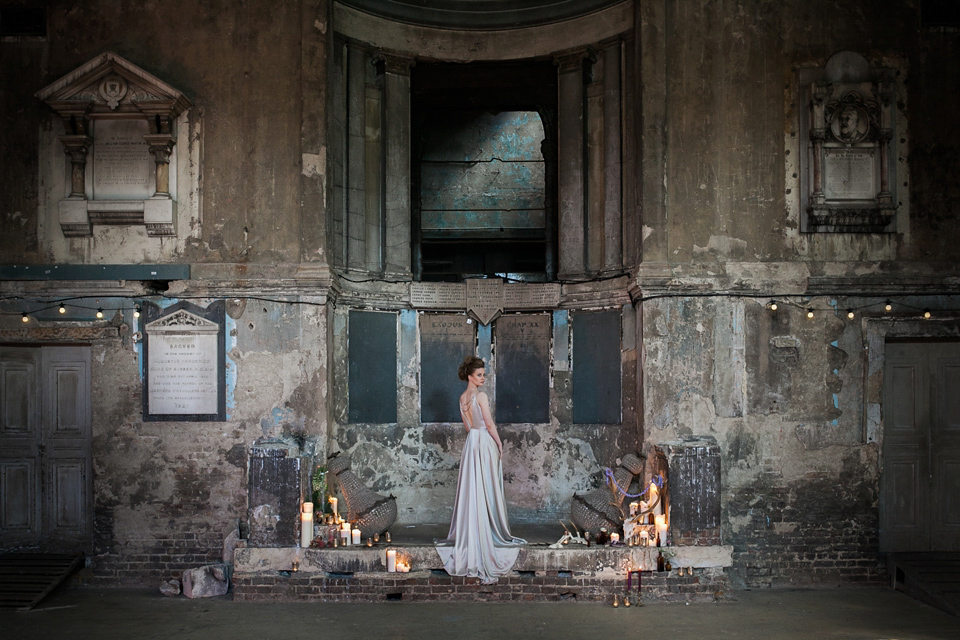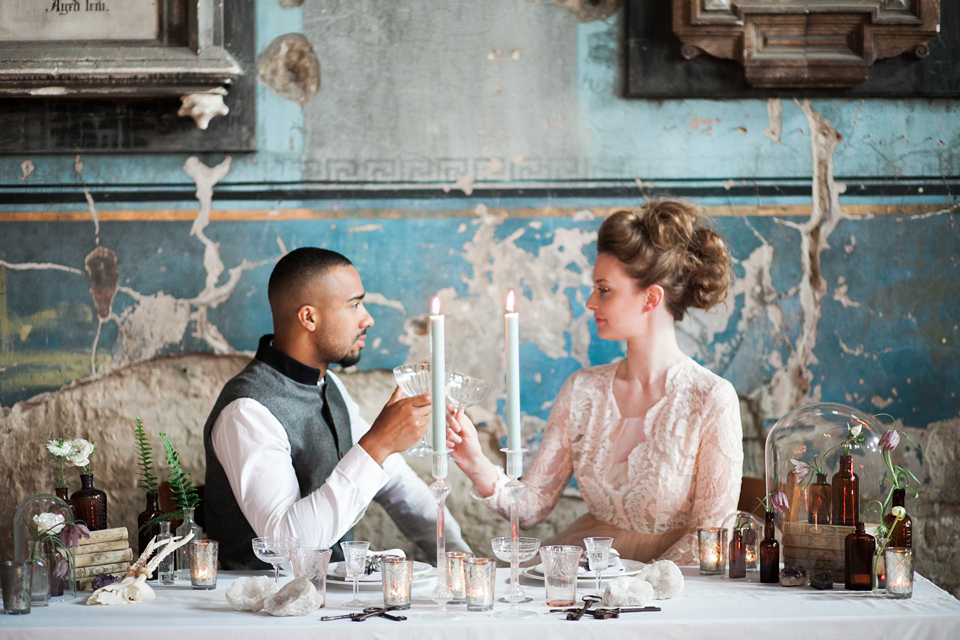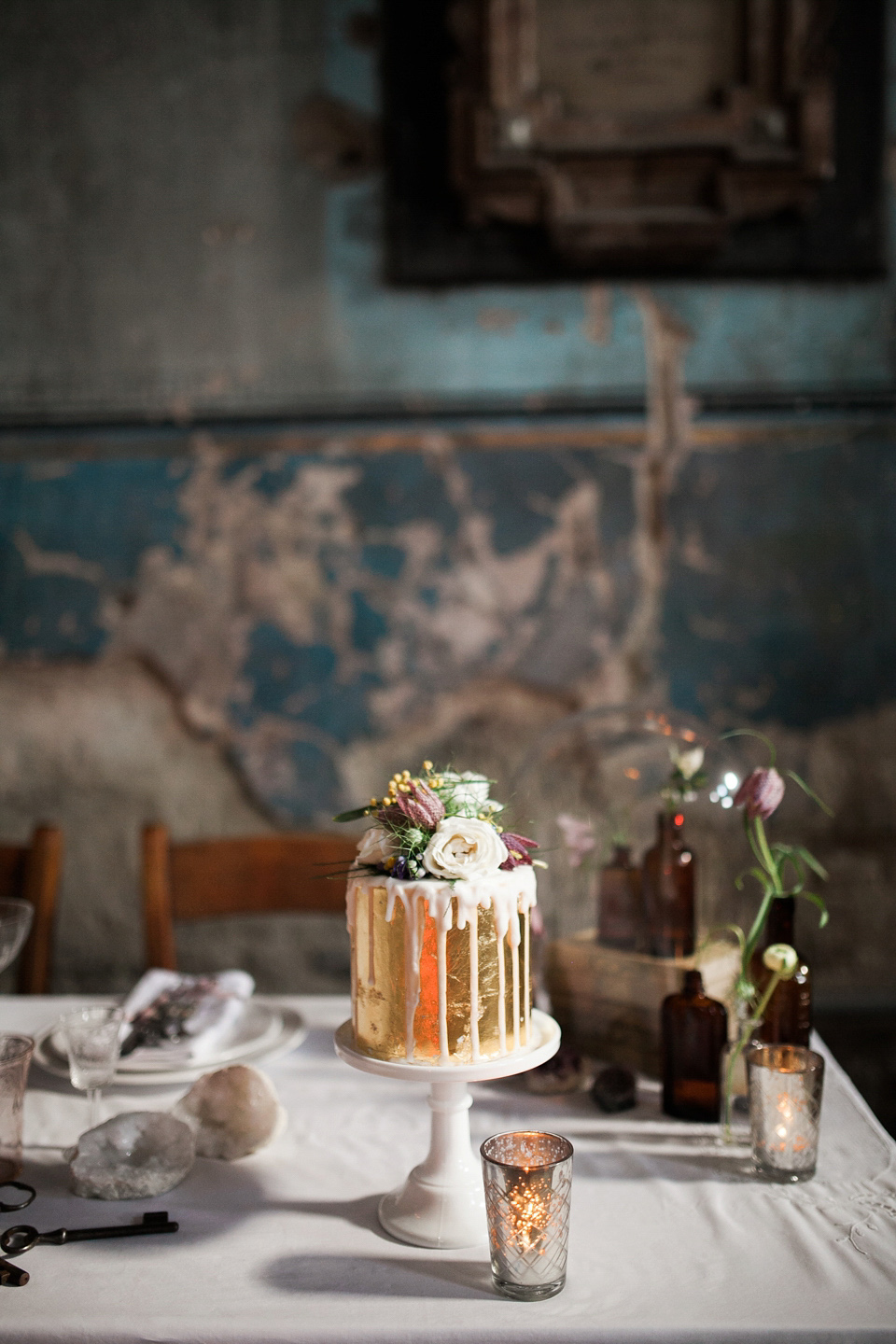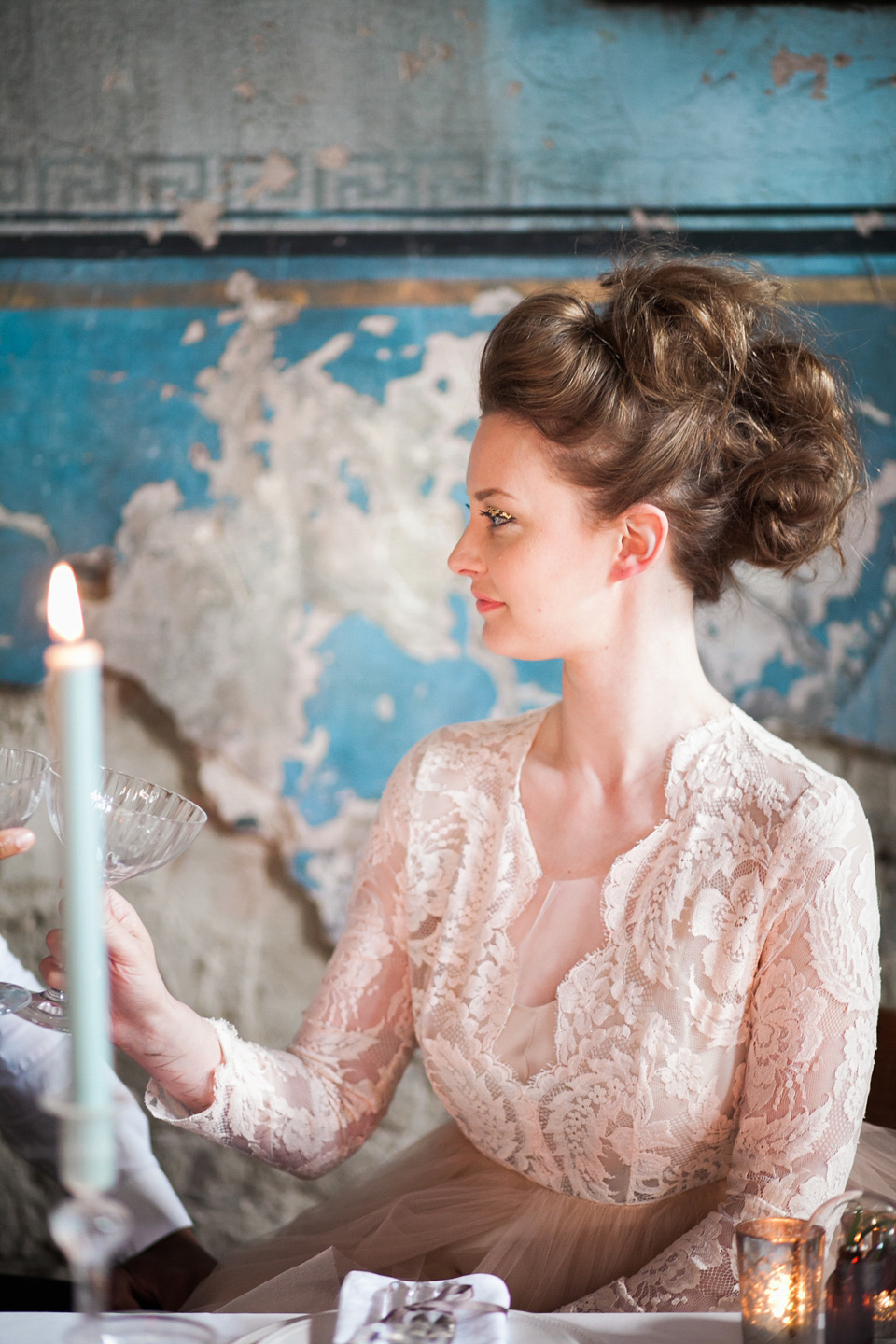 Finally the wonderful stationery designer Jenny of Shhh My Darling (who is a member of our Little Book For Brides) turned to the art of famous Flemish painters as inspiration for this shoot…
"Opulent floral still-life paintings, often scattered by alchemic symbols (Dutches artists knew Alchemy language very well) were my main inspiration."
I hope you love these beautifully curated and inspiring images as much as I do.
Have a very lovely evening all,
Love Annabel xx
Photography – Bianco Photography
Venue – The Asylum Chapel in Peckham, London
Styling – Bride To Bijoux
Flowers – Ivy Pip and Rose
Stationery – Shhh My Darling
Cake – Sugared Saffron
Dresses – Elizabeth Dye via Heart Aflutter bridal boutique
Jewellery – We Are Arrow
Shoes – Love Art Wear Art
Groom – Sir Plus
Hair + Makeup – Laura Anne