So how's Monday so far for you? It's been dark over here in Whitby, North Yorkshire, since 3.30pm this afternoon! I recall the long, warm summer nights not so long ago and thinking 'I can't imagine it being Winter again'. It soon comes round, and that's quite exciting for all your winter brides to be! I hope whatever stage of the wedding planning you're at right now that this sweet little Lochside wedding in Scotland inspires you and makes you smile this afternoon.
PR Account Director Jacquelyn tied the knot with William, an Analyser Technician in the oil and gas industry, on 2nd May 2015 at Monachyle Mhor Hotel in Balquhidder, Scotland.
"We wanted our wedding to essentially be a great big party. We just wanted a fun day with our family and friends and nothing to be too formal or structured. It had to be in Scotland as that's where we're both from, it had to have great food as we both love eating in nice places and we wanted to have a free bar for everyone. As long as those were covered, we felt we were on to a winner."
We are delighted to recommend Mirrorbox in our
beautiful wedding directory, Little Book For Brides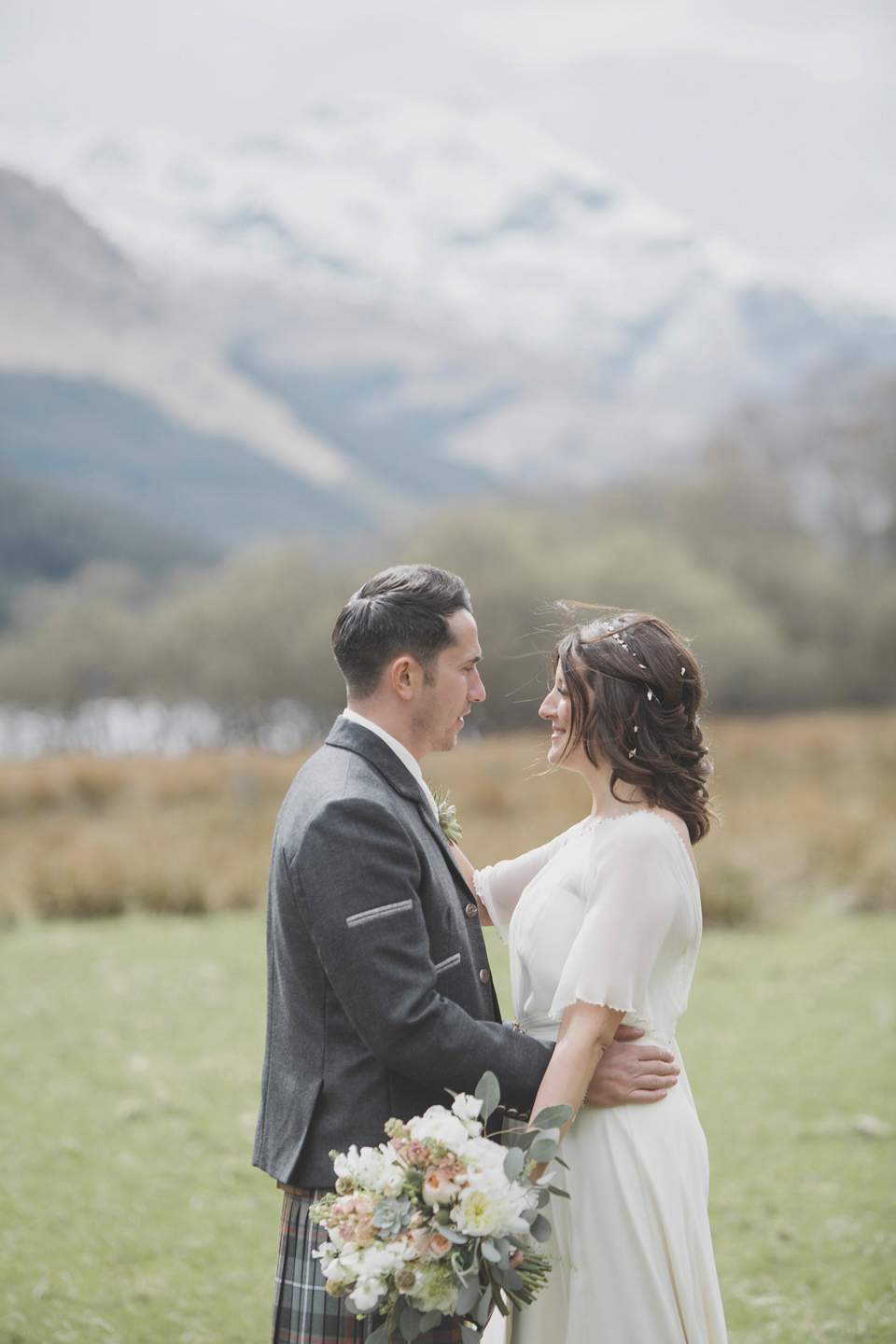 "The rest just evolved quite naturally. As I work in PR, planning events is a common part of my job, so I never really got stressed when planning the wedding and I wasn't really too rigid about a theme or colour scheme. I really enjoyed the whole thing and loved the way it all came together on the day."
"The flowers played a huge part in our day. We got married in May so that peonies would be in season and I knew exactly what type of flowers I wanted before we did any other wedding planning. We were so lucky that William's sisters (Adele and Michelle) are florists. They own Jennifer Morrison Florist in Stirling and I've always been a huge fan of their work."
"Monachyle Mhor Hoter is a unique, boutique hotel, which you arrive at by driving four miles down a single-track lane that winds along the bankside of Loch Voil. When we went to view it for the first time, that drive gave me goosebumps and I think I knew in that moment, without even viewing the venue or tasting any of Tom Lewis's amazing food that that was where I wanted to get married. After the viewing William and I got in the car and both agreed instantly it was the one. We then cancelled all our other viewings."
"I love shoes, especially high heels. All my friends know me for it, so I knew on my wedding day I had to have some epic footwear. The only trouble was that I ran the London Marathon six days before the wedding so I couldn't risk any strappy sandals as I didn't know what state my feet might have been in. I actually bought the first pair of shoes I tried on, but not before trying another 10 or so on just in case!
I ended up with a pair of champagne coloured, leopard print, glittery Jimmy Choo's called 'Anouk'. They sound awful so please show a picture of them! They were completely over the top, but I loved them and despite being almost 5in heels, I wore them the whole day."
"I wore the Jenny Packham 'Betty' dress from the 2015 collection. I purchased it from the Jenny Packham Bridal Boutique, Elizabeth St, London. I think I always knew I wanted a Jenny Packham dress. Originally I thought I wanted a short wedding dress, as I didn't think I suited full-length dresses and, I also have a bit of a thing for shoes so like to show them off! I fell in love with a short Carolina Herrera dress online, but it wasn't available in the UK and any other short dress I tried on just didn't feel 'special' enough. The minute I tried my dress on I loved it.
It made me feel the way I think you're meant to feel in your wedding dress and any notion of a short dress went instantly out the window."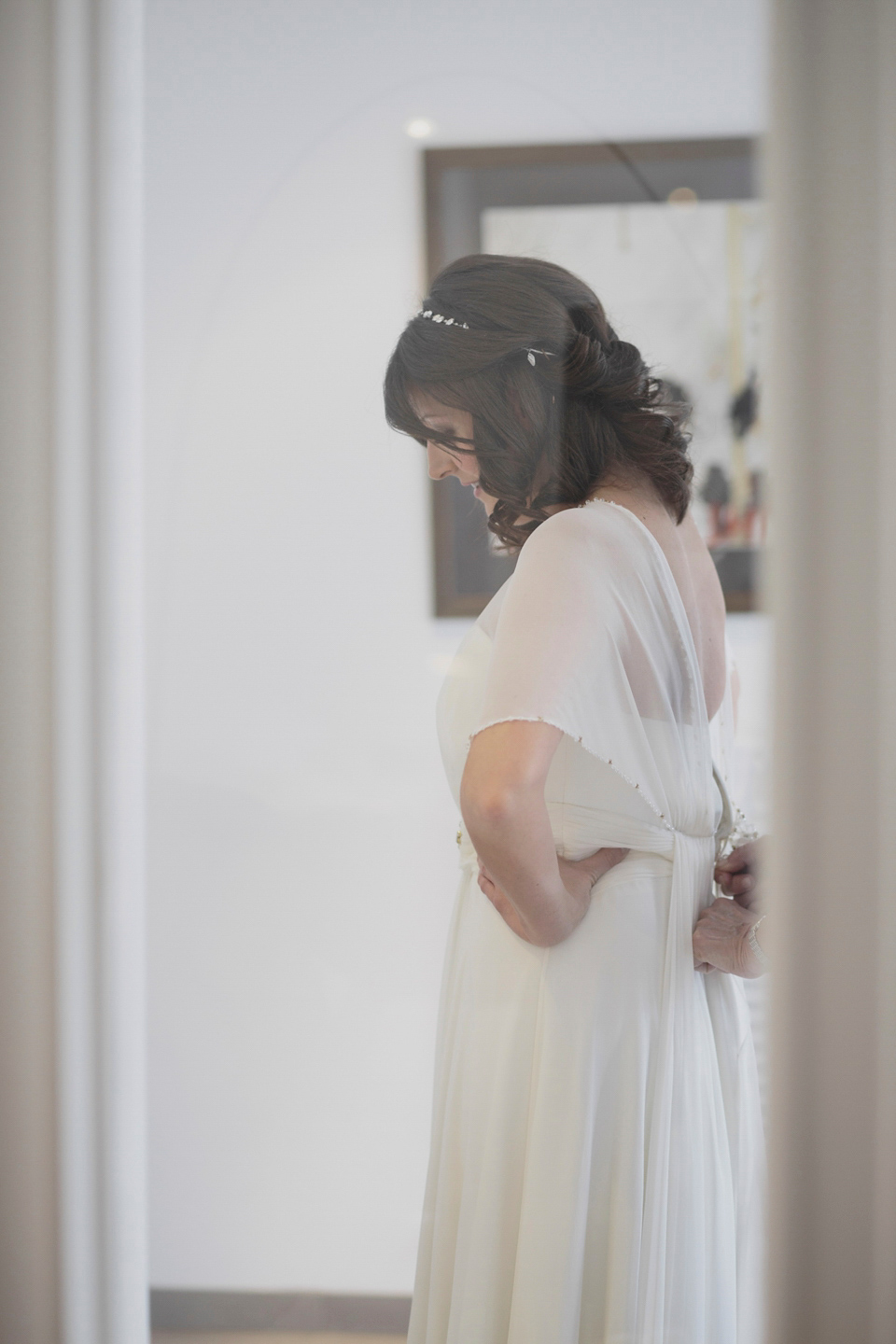 "Trying on my dress at the Jenny Packham boutique was such a great experience too. Gemma, who assisted me, was fantastic – nothing was too much trouble and I even got to go outside to a private courtyard so I could see what my dress would look like in natural light. I think I tried it on three times before committing (I was training for the London Marathon at the time so couldn't decide which size to buy!) but each time I went, I received the same great service.
I would highly recommend it to any brides-to-be in London. I also have to mention Tola, who is a dress-fitting extraordinaire! She made the most amazing tweaks to my dress to ensure it fitted perfectly and we always had such a laugh at each fitting."
"The bridesmaid's dresses were strapless maxi dresses from Mango, but William's Aunt Vera customised them by adding some straps. Each bridesmaid wore a Dinny Hall gold and crystal pendant, which was their thank you gift."
"I didn't wear a veil as my dress had the most amazing train and I felt I could get away without it. Instead I wore a Jenny Packham headband in my hair for a little bit of bling."
"I spent hours chatting with Adele and Michelle of Jennifer Morrison Florist in Stirling about exactly what we wanted. As they're based in Scotland and I lived in Essex, Pinterest was fantastic to allow us to share ideas. I knew I wanted peonies and succulents but then pretty much gave them free reign on the other flowers, as long as it all felt natural to fit in with the barn setting at Monachyle Mhor.
My bouquet had lots of soft blush peach shades and natural creams, accents of silvery grey foliage and succulents. We also had David Austin Juliet Roses, peonies and white sweet peas, which had the most amazing scent."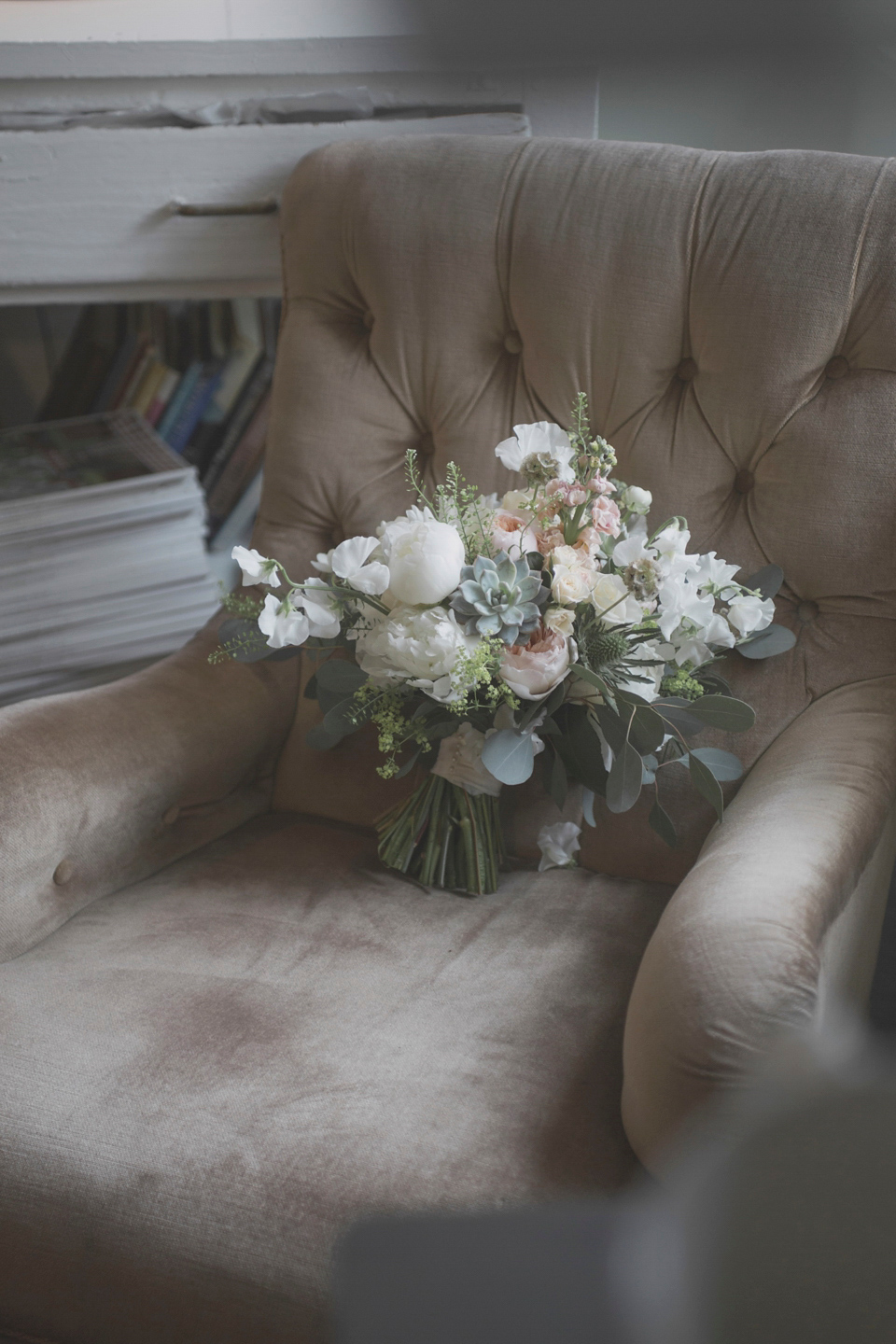 "William had my engagement ring custom made at Hearts of London in Hatton Garden and I absolutely loved it so we decided to get our wedding bands made there too. Eddi and Bret are amazing at what they do and nothing was too much trouble. We're both over the moon with how our rings turned out.
Other than my wedding and engagement ring I didn't wear any other accessories. I'm not really in to wearing a lot of jewellery so I didn't want to change anything on my wedding day. I wanted to feel like me and not as if I was playing dress up."
"For the men's button holes, we continued this rustic, natural theme using thistles, succulents and twine.
We then used the same collection of flowers throughout the barn. The tables had a runner of fresh moss, twine wrapped jars, and lots of ivory candles with succulents and roses dotted throughout. I loved that Adele & Michelle thought to put the succulents in jam jars so I was able to give them away as extra favours to guests at the end of the night."
"William and I have known each other since we were at school and have been a couple since we were 16! There's been a lot of long distances in the way from me moving to London, then William working off-shore and then more recently Saudi Arabia, but we always managed to make it work.
We were together for fifteen years before William finally proposed on the banks of Loch Lomond in January, 2014. It was a complete surprise, I genuinely had no idea. In fact, I had been complaining to my boss only the day before that I was probably never going to get married!"
"William wore a bespoke kilt suit by 21st Century Kilts and looked so handsome! As I'm an only child, my family name would be ending after I got married so as a way of honouring my family, William decided to have his kilt made it my clan tartan rather than his, which I thought was such a nice gesture and my dad loved it too.
Howie at 21st Century kilts is fantastic. He really knows his stuff and does lots of extra details that you just don't get in a traditional kilt. We were really chuffed with the final result and its something William will be able to wear again and again.
"My dad, Alan accompanied me down the aisle to the sound of a piper."
"Neither of us are great at being the centre of attention so were happy just to go with the standard vow format – less to remember when you're nervous!"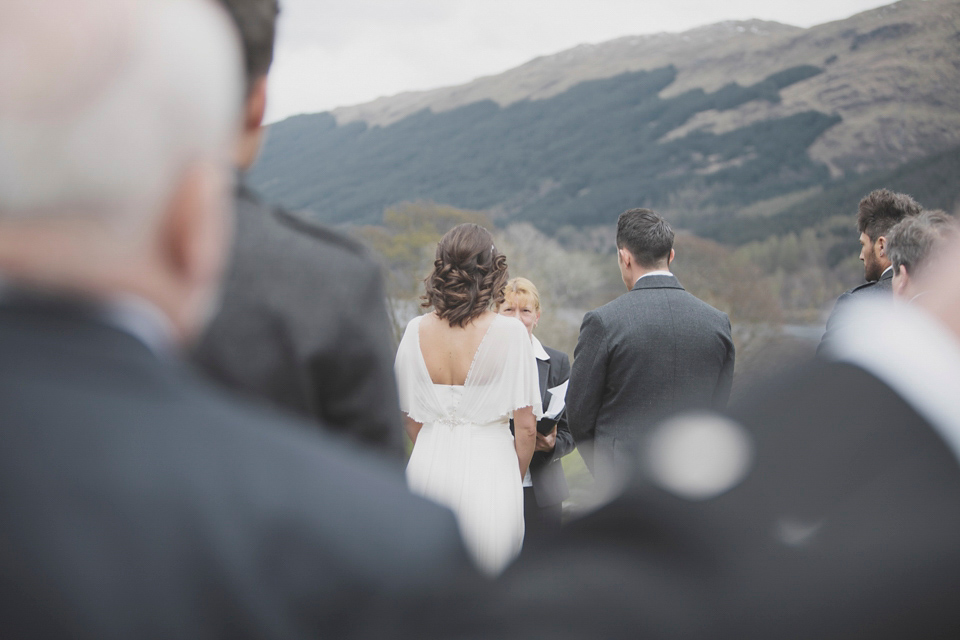 "At the end of the ceremony, the registrar read out a traditional Scottish Celtic Blessing, which the congregation repeated back to us. We had never seen it done at a wedding before so thought it was a bit unusual."
William and Jacquelyn
May you have walls for the wind
A roof for the rain
And drinks beside the fire
Laughter to cheer you
Those you love near you
And all that your hearts may desire.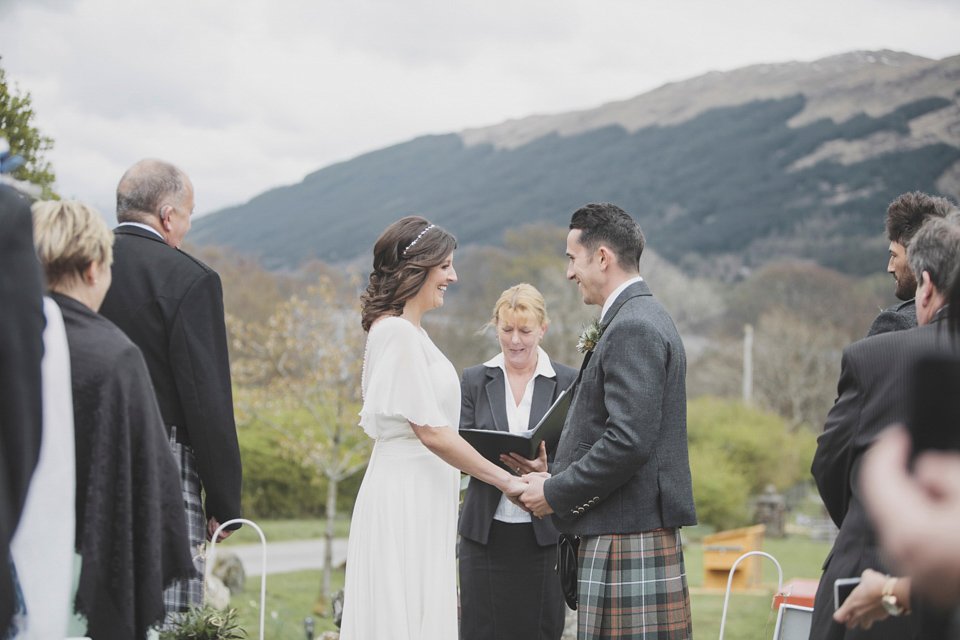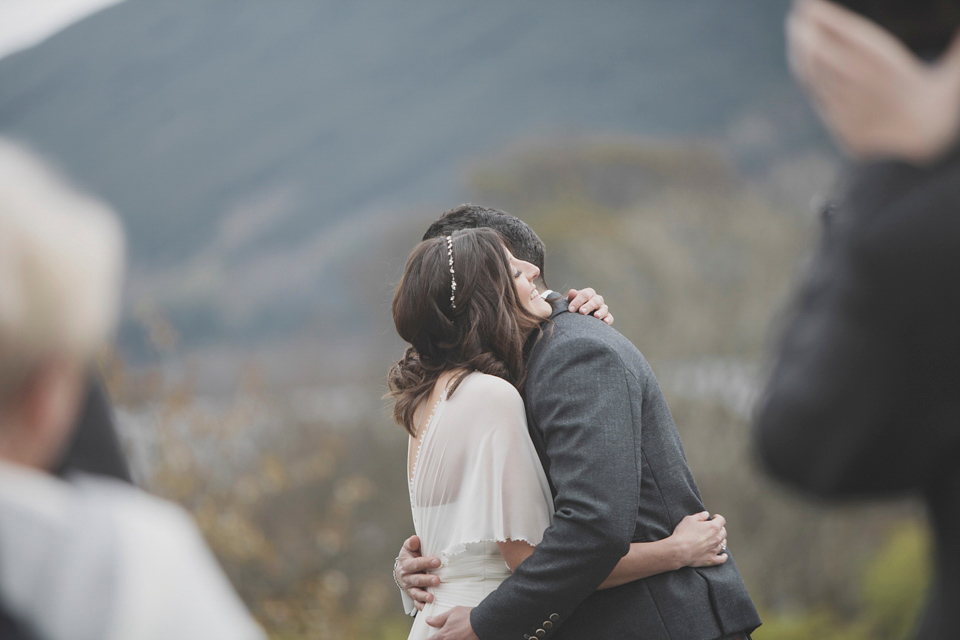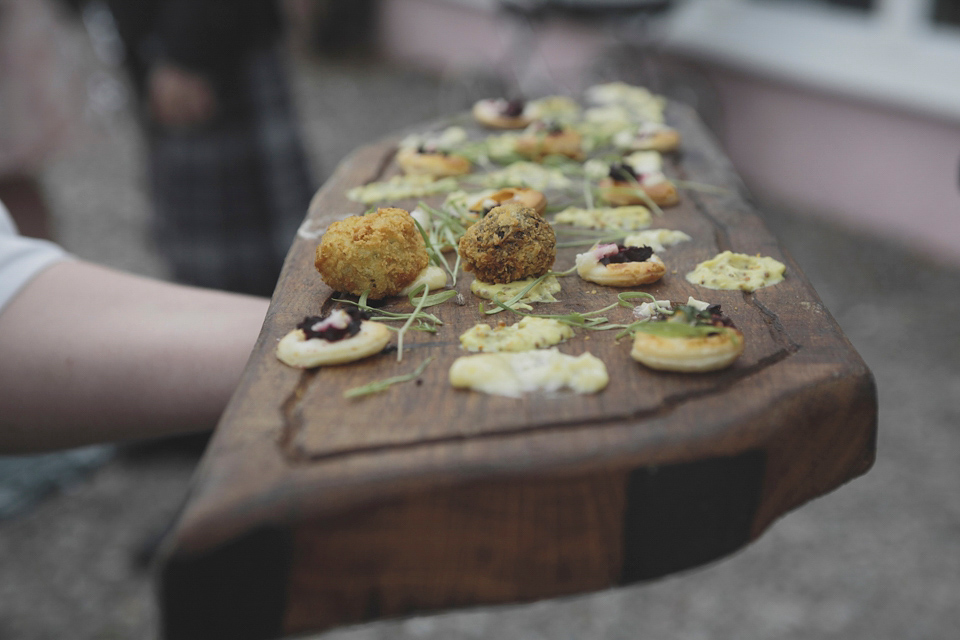 "William and I both hate having our picture taken or being recorded so we knew from the start we would never have a videographer at the wedding. This meant that we had to choose our photographer carefully to ensure we had a brilliant record of the day that we could look back on for years to come. We definitely choose right with Mirrorbox.
We loved their style from previous work that we had seen on Love My Dress and then when I first met Sam over coffee in Edinburgh we got on really well, she instantly put me at ease and I knew I had made the right choice. Unfortunately, as William was working in Saudi, we were unable to have a pre-shoot so just had to go with it on the day, but we both absolutely love our photos (all 500 of them!) and have had so many compliments from family and friends."
"We had such fun when we went off to do our husband and wife pics. We traipsed through a muddy field over to the loch-side, which ended up getting some fab shots by the mirrored art installation on the shore as well as an impromptu tractor ride. At one point Sam was lying in the middle of the field – dedication to the perfect shot! I can't praise Mirrorbox highly enough and would urge all couples looking to book their photographer to snap them up quick!"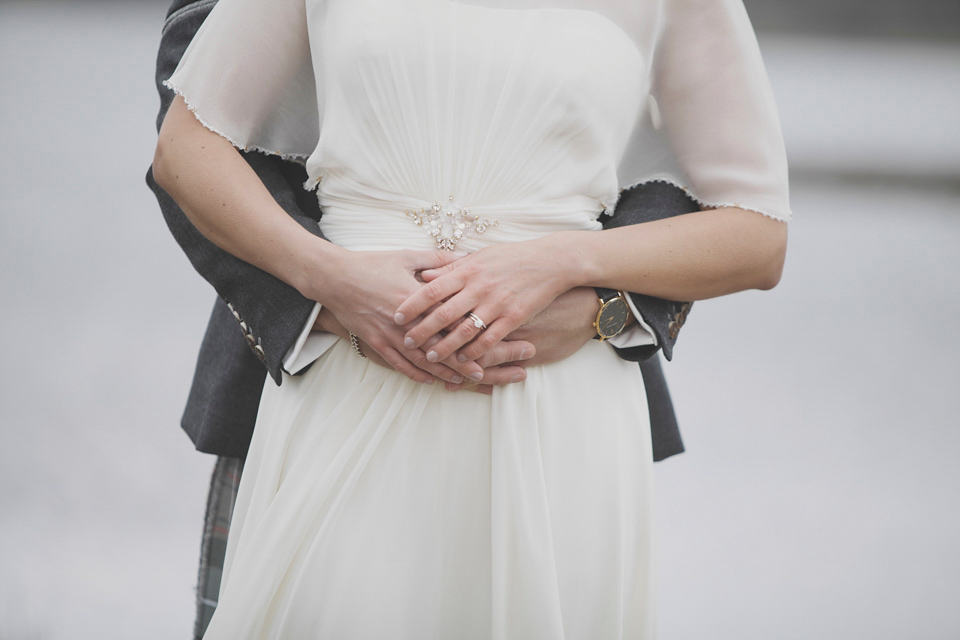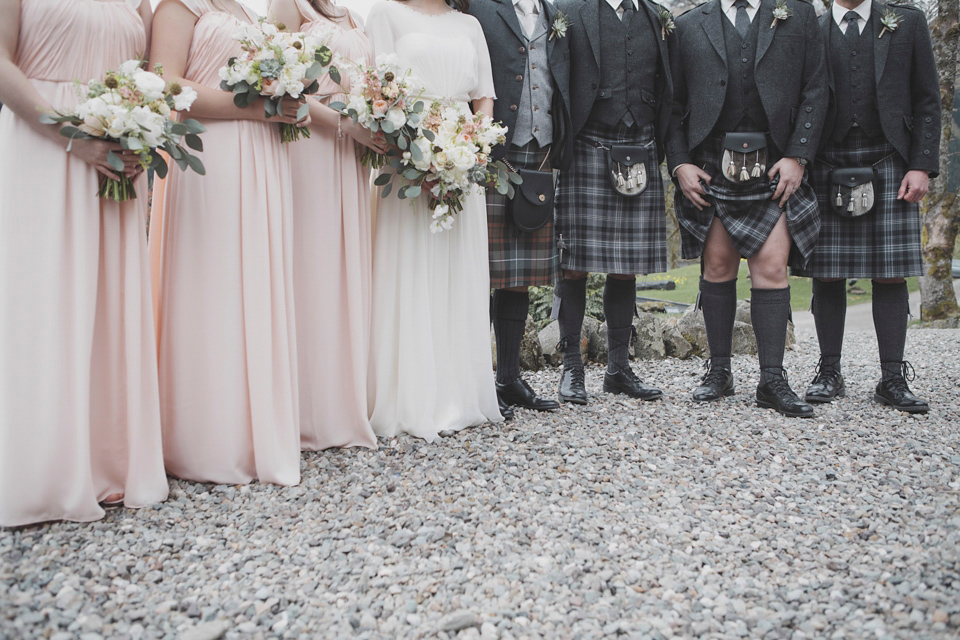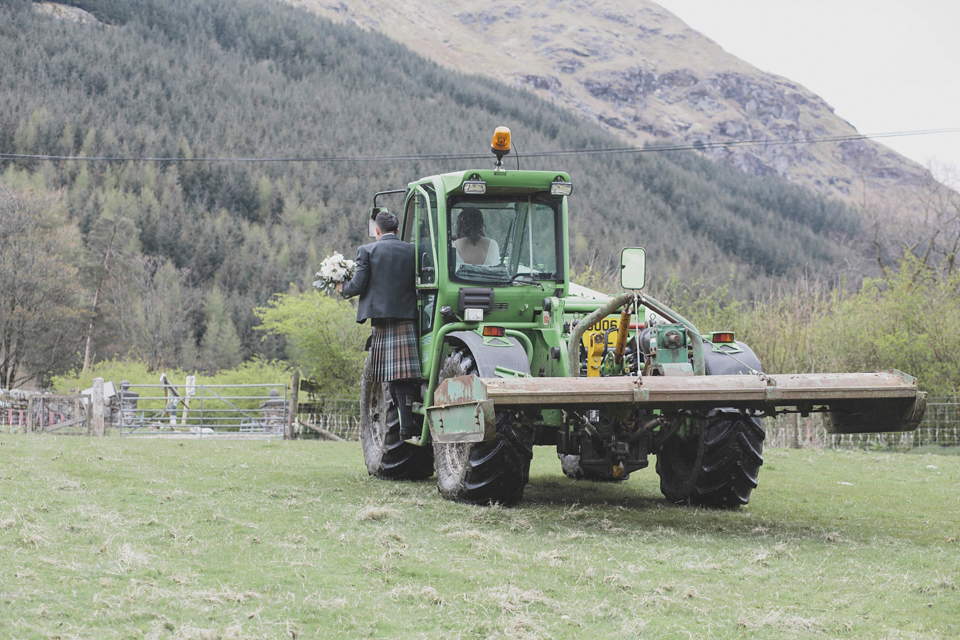 Sadly the couple felt let down by their stationery supplier so we are unable to provide a listing.
"Once thing I would like to mention however is the wooden place card holders. My dad hand-cut each one. I had seen them online, but they were quite pricy, especially to buy 100 so my dad took it upon himself to make them himself and they looked fantastic – just what I wanted."
"Our wedding favours were actually a wedding gift from my bridesmaid Yvonne and her husband Daniel. It was our own custom brewed wedding beer complete with bespoke label. It tasted delicious and they went down a storm with our guests."
"Flowers were the main décor and we didn't need many other props. We did add some giant balloons for table centre pieces which we used to attach the table names to. We replaced the string on there with twine to be in keeping with the jam jars on the table and fixed them in place with stones we collected from the loch side."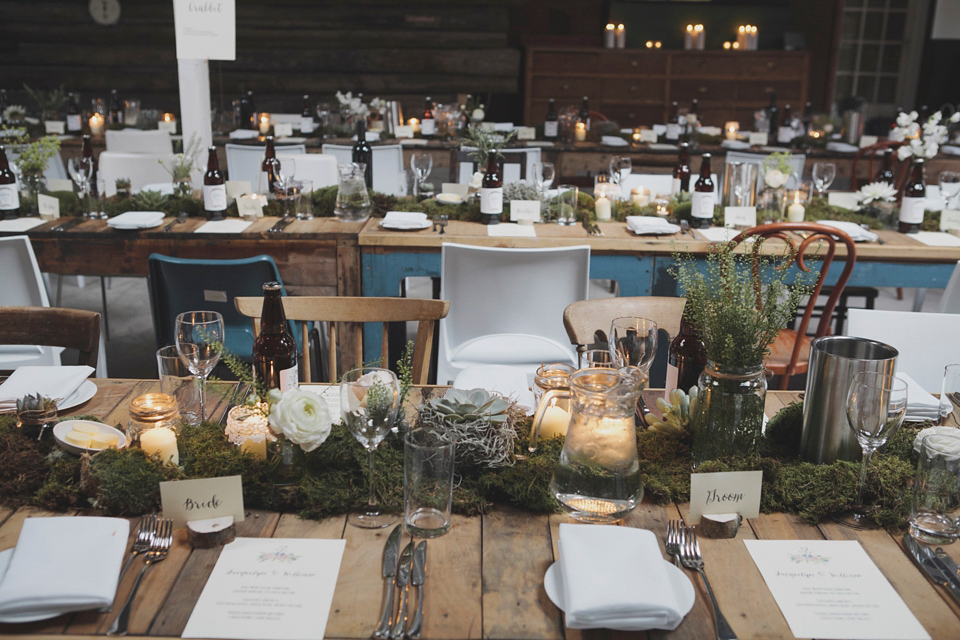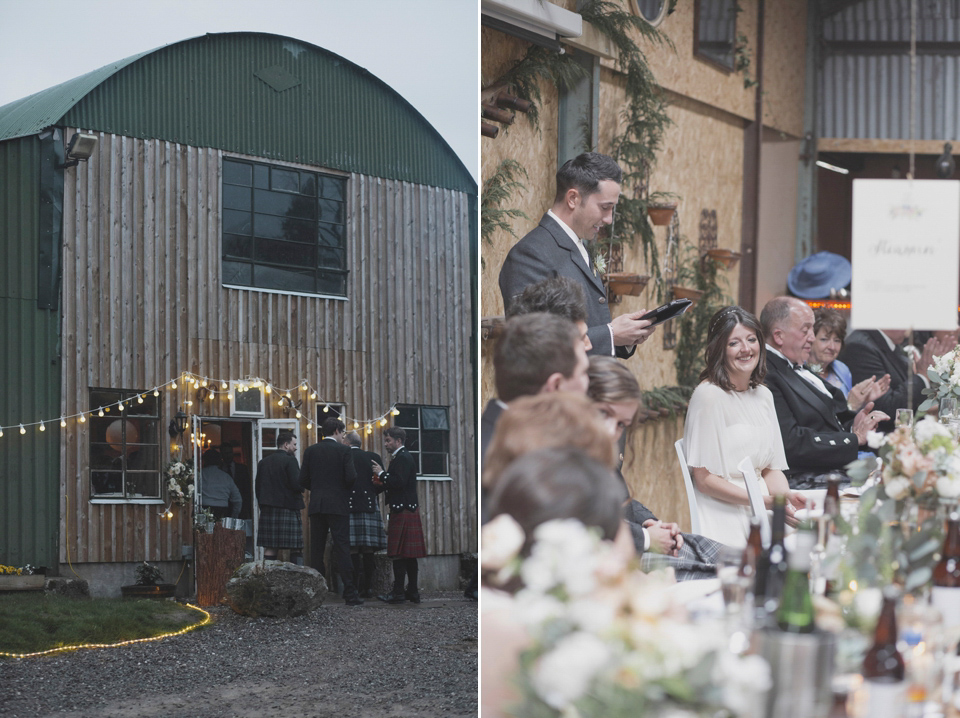 "My mum made our cake and it was delicious! William hates royal icing and we both hate fruit cake so it was a non-traditional cake with vanilla sponge and frosting. I just wanted something plain in design, which we then decorated with fresh flowers to match the table settings."
"Our first dance was Drake's 'hold on, we're going home', but the Arctic Monkey's BBC Radio 1 live lounge version of it. A bit of an unusual choice, but we didn't want anything cheesy and that's the kind of music we're both in to so we went with it! The wedding band were amazing and said they'd happily learn it for us and they did it perfectly on the night."
Words of Wedded Wisdom
"If you're anything like William and I and have been together for a long time, I bet you turn up at parties together, get a drink and then go your separate ways – usually girls on the dancefloor and boys chatting by the bar. You then meet up a couple of times during the night, but don't really spend the night together as a couple. Yes, you still have a great time, but do not do this at your wedding reception! Someone told me to hold on to William's hand during the evening reception and mingle with our guests together. It was a great piece of advice so something I'd definitely pass on to other long-term couples getting married.
Also, if you're getting married in Scotland just assume it's going to rain on your wedding day. I did and then when it didn't I was so happy you'd have thought I'd won the lottery. We quickly decided to move the chairs from the gazebo to the lawn so we were able to get married outside.
There's so many that it's difficult to choose, but I think that moment, just after we'd been pronounced husband and wife was my favourite. I just remember our first married couple kiss and then all of our favourite people in the world clapping and cheering. It set the tone for the rest of the day – a great big party! We wouldn't have changed a thing. It was a great day from start to finish."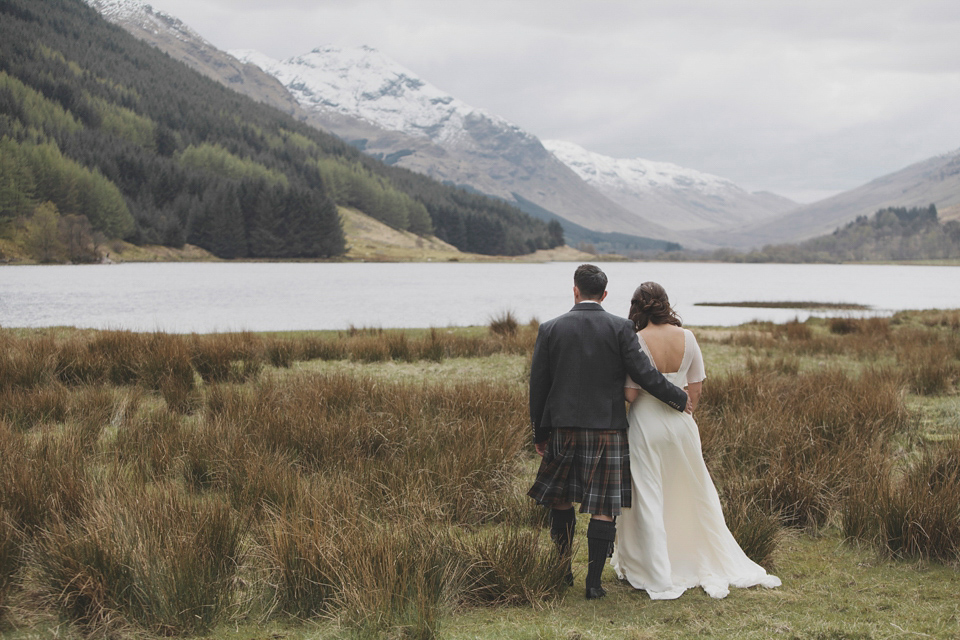 What a beautiful day, with that beautiful kind of laid back and effortlessly glamorous style. Huge congratulations to you both Jacquelyn and William. It's such a lovely pleasure to be able to share your wedding on Love My Dress today.
It's also an immense pleasure to be able to share the work of the wonderful Sam and Sequoia, aka, Mirrorbox.  We've been supporting these talented photographers for a number of years now and are very proud to be able to do so. If you'd like to find out more, take a look at the Mirrirbox listing in our new wedding directory, Little Book For Brides.
Have a lovely Monday evening all – it's date night in our house and I'm off out for a lovely meal with my husband shortly!
Love Annabel xx
Photographer – Mirrorbox
Venue + Catering –  Monachyle Mhor Hotel in Balquhidder, Scotland
Wedding Dress – Betty by  Jenny Packham (S/S 2015 Collection)
Headpiece –  Jenny Packham
Bride's Shoes – Jimmy Choo, Anouk
Bride's Hair Accessories – Jenny Packham Jewel Headdress in Silver
Perfume – Jo Malone's Pomegranate Noir
Groom – 21st Century Kilts + Tod's shoes + Sporran Nation + Thomas Pink shirt + Lanvin tia via Selfridges
Groomsmen – GKilts hired via Geoffrey The Tailor, Edinburgh
Bridesmaids – Mango
Florist –  Jennifer Morrison Florist in Stirling
Cake – Made by the bride's mum
Transport – A tractor!
Entertainment – Something Blue Wedding Band
Rings – Hearts of London in Hatton Garden
Makeup Artist – Amy Irving
Hair Stylist – Pro Bridal Team Scotland
Balloons – Lets Party Stirling