Hello ladies! Are we covered in tinsel and sparkle yet?! I am. To be honest, it's very rare I'm not! My tree has been up for about two weeks and I have been covering everyone in Christmas cheer since early November.
Follow makeup artist Kylie McMichael on Instagram
Kylie is also a member of our wedding directory, Little Book For Brides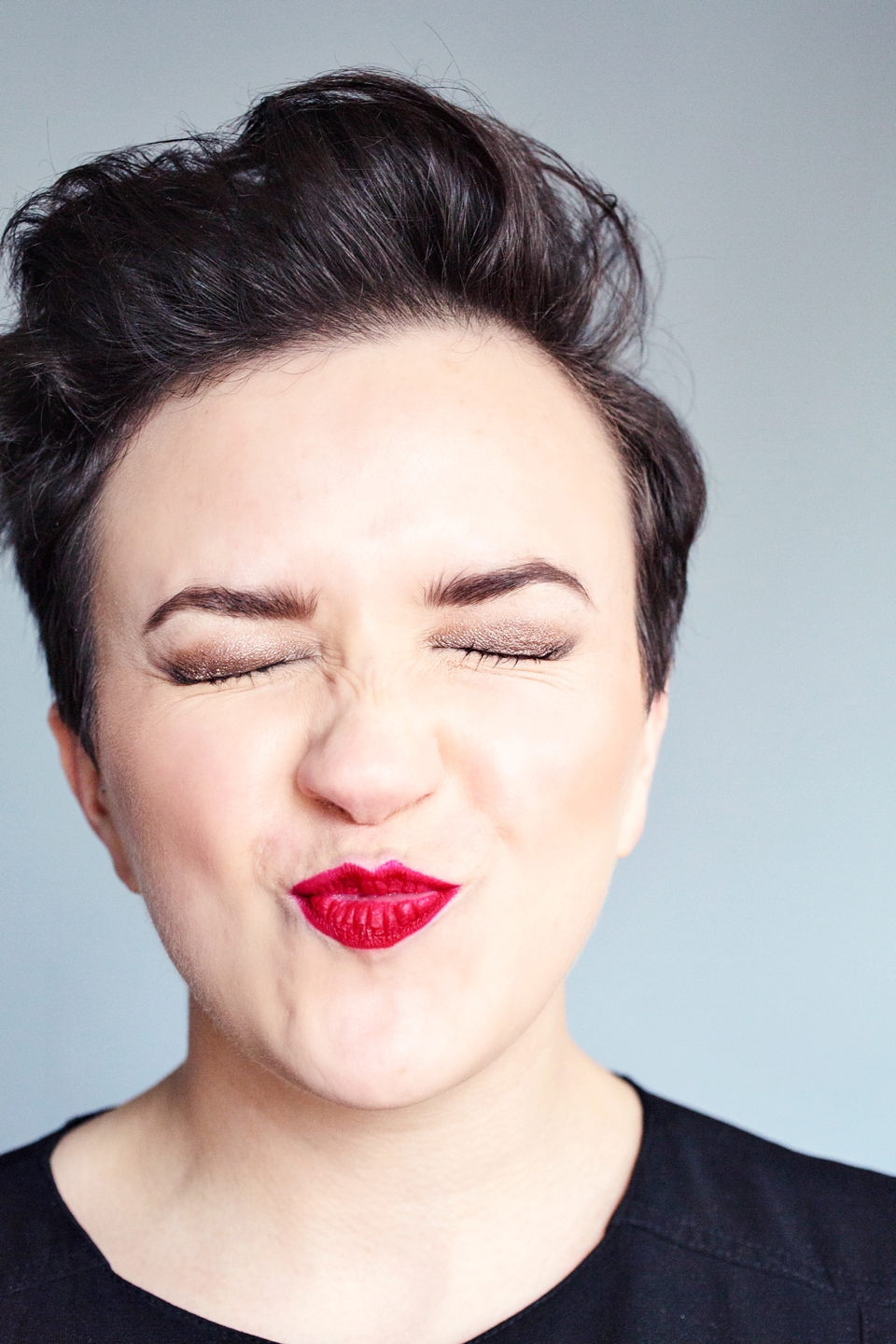 All photography by Lisa Jane
I love Christmas. I love absolutely everything about it. I love the excuse to drink from midday during the week whilst you're wrapping presents.
I love twinkly lights everywhere and I ADORE spending that extra time with my loved ones, watching them open gifts my husband and I have specially selected for them. I also love absolutely ANY excuse for a red lip and smoky eye. Which is what I'm bringing to you gorgeous ones today!
Now, the idea of this tutorial is an either or. I've gone all out smoky with a few beautiful shades of deep sparkle, you can do one or all three. I also love mixing a red lip with a strong eye. Again, if you're more a nude gal then wear your best with pride
I have started by prepping my skin as I always do in the morning. Buff with a warm flannel, a generous spritz of rose water, my Chantecaille serum, my Clarins Eye Gel and Embryolisse Crème Concentre. These ensure my make up stays fresh for 12 hours, my sensitive skin is calmed and soothed and my eye puffiness retreats for another day.
Curl your lashes and attach a Shadow Shield under each eye, or one at a time if you prefer! I'm adding MAC 's Pro Longwear Paint Pot in Constructivist with a concealer brush this is your perfect smoky primer. Never use Foundation or Concealer to prime your eyelids, it's greasy and will crease anything else you put on top of it in minutes. Applying from the base of your lashes to just above half way, blend the line with a dense but fluffy brush.
Add Earth Metal by Bobbi Brown.  to the centre of the lid with your middle finger using a pat push motion.
Wipe said finger and do the same thing on the outer corner with All Spice and on the inner corner with MAC's Day Gleam.
Add Clinique's Stroke of Midnight eye shadow at the base of your lashes to add depth to the look, get that smoky going!
Repeat the process under the lower lashes. Keeping the order the same, Allspice on the outer edge with a hint of Stroke of Midnight, blending Earth Metal into the middle.
Use a lip brush to pat and push Day Gleam into the inner corners of your eye. This will make the most of keeping your eyes gorgeously noticeable in those candlelit rooms.
I'm using Surratt's Autographique liner as it's a lovely, easy to use water resistant eye lining pen. Trace a line into your lashes again, to add depth and definition.  I've used Benefit's BadGal Waterproof Liner perfect for teary eyes under the lower lashes for a sexy non budge smudge.
Finish your eyes with a slick of mascara and lots of it for really thick and voluminous lashes. I've also traced clear gel and Mahogany, a cool ash brown into my eyebrows with a fine angled boar brush and traced a fleshy toned brightening pencil under my brow to really make it pop.
After we've removed the Shadow Shields start your base. As my skin is crazy dry and sensitive I'm using Nuxe's DD Cream in Light. It's super moisturising and gives a really healthy glow. If you're of the oilier skin type, try Clarins DD Cream, or Bobbi Brown's BB Cream . Both are great for Normal to Oily Skin. If you've very stressed and troublesome skin and suffer with acne get yourself to Boots for Dermablend. I apply this with my fingers and pat and push to blend in. Buff any excess away with a duo fibre blending brush.
Add concealer, my favourite is by Amazing Cosmetics I'm using Medium and Fair Golden as my complexion is changing every day, with another of the same concealer brush as before.
With your duo fibre blender start glowy skin with Clarins Instant Light in Rose applied to the cheek, paying attention to the highest points, add MAC's Mineralise Powder in Soft and Gentle with the same brush to really accentuate it, the cheek should look almost wet.
I've added more coverage to my lower cheeks as they flush red when I'm warm or fizz induced 😉 I'm using Bobbi Brown's Foundation Stick in Warm Sand as it offers great coverage and isn't drying.
vAdd your blusher of choice, you can find helpful hints and tips via my Youtube channel, I'm using Uber Beige by Bobbi Brown which is a dull peach, perfect double- use as an illuminating bronzer.
I've added more of contour- yes I said it!; with my Clarins Bronzing Duo, really blending it into my cheekbones. After putting each product on the brush I've been taking the excess off by blotting it on my hand. This ensures you end up less clown face and more sophisticated lady.
Now, on to the red lip. I find lots of ladies are so very scared of red lips and I'm not entirely sure why as red lips suit EVERY SINGLE one of you. You just have to either find a shade that you love, or if you're going to follow rules, find your perfect shade according to skin tone. I also find it helps by wearing a matt lip finish. This means no shine. It's modern, refreshing and stops it wearing off so easily. In Winter, ensure your lips are always lipstick ready by wearing lots of lip balm to bed. My usual red lip go to is Icon by Hourglass.
I start on my bottom lip, gently fanning the wand down and wide. Before I go any further I press my lips together gently so they imprint on each other. This almost acts like a blot and disperses the product nicely. I then paint the rest of the bottom lip, pressing again so the bottom becomes defined with minimal effort. This also means minimal mistakes!
Take the wand and starting from the bottom corner of the top lip paint towards the first curve, as you get to the tip follow the cupid's bow back down. This should create a natural but beautifully curved lip colour line and fill. Repeat on the other side. I've added more Illamasqua Vow pencil to the corners to really make my lips pop.
And there you have it. The beauty with this look is you can mix and match according to Turkey cooking and present opening times and level of effort required 😉 You can layer the sparkle as seen here,  or keep to the base and really smoke it out with the black eye shadow and liner. Will you be jazzing things up with the red lip as seen, or will you keep things simple and elegant with your favourite nude? Tweet and Instagram us your party looks with the hashtag #LMDParty.
Much love and I hope you enjoy recreating this look!
Kylie x
_________________
Feature author Kylie McMichael is our new contributing Beauty Editor. She is also a member of our beautiful new wedding directory, Little Book For Brides.  You can connect with Kylie through Instagram, Facebook and Twitter.