With less than two weeks to go until Christmas (and it's not like I'm counting!), we thought it was time to continue our festive weekend in style by sharing some of the gifts that we'd like to find under the tree on the 25th. We also thought this would be a lovely way to re-introduce some of the team behind Love My Dress, you can read more about us all here.
Some of our writers and contributors have sent in their Christmas wishlists and they're bursting with beautiful, indulgent and altogether gorgeous ideas. So, if you're still on the hunt for that special present for a loved one or if you've yet to write your own Christmas list, then this is the feature for you. Failing that, you could always 'accidentally' leave this page open for someone to see (or maybe casually mention it to your Mum, you know). Who better to start us off with our Christmas dreams than the extraordinary founder and editor of Love My Dress, Annabel Beeforth herself…
Annabel
"We're moving house this Christmas! And so I've been scouring the interior design magazines and website for several weeks now for ideas of what I'd love to fill our beautiful new space. As for my office, I very much hope that Father Christmas will be treating me to a beautiful gold 'Wild & Wolf' telephone from John Lewis. I have a similar phone in pale green – our old branding colours. Now that it's all about gold for Love My Dress, a phone in the same colour is one of life's absolute essentials, don't you think? I know it's naughty too, but I can't help but hanker after this beautiful Mulberry Bayswater handbag in Oxblood.
I've long fancied one of these bags for such a long time now but held off from spoiling myself. know, it's pretty expensive – but not as expensive as many of their other bags! And a Mulberry bag is an investment for life. Well I think so anyway."
"This year, I was lucky enough to spend time in Tuscany with a group of social media influencers,  during which I met the wonderful and inspirational Bri of Design Love Fest. I had several insightful conversations with Bri over late night drinks and amazing Tuscan food. One of the things she told me to do on returning to England was to watch 'The Eye Has To Travel', a documentary about former Harpers Bazaar and Vogue Editor, Diana Vreeland. I did, and in the process swiftly became somewhat obsessed with the visionary that was Vreeland. I covet this book about Diana Vreeland and would love to see it propped up on my office book shelves once we move home.
My favourite social media platform and app ever in the whole wide world is Instagram. I so love sharing images and connecting with our reader community through our Instagram account. I have a separate personal account too which allows me to share things a little more personal to me. One of the Instagrammers I've followed almost since she started out is Rachel Brathan, aka, @yogagirl. Watching Rachel grow and become an international success in this time has been so utterly inspiring. I adore how grounded she stays and the many words of wisdom she shares daily through her open heart of an Instagram account. I have to have a copy of Rachel Brethen's Yoga Girl book for Christmas.
Finally, a couple of items from my mainstay, Anthropologie, including this beautiful cape.  I treated myself to a similar one whilst in New York this year and it has pockets and wholes for your arms – perfection. Finally, it's taken me to get to my 40's to figure out I just don't really get on with slippers, so I think I'd rather keep my tootsies warm with a lovely pair of warm, wooly socks!"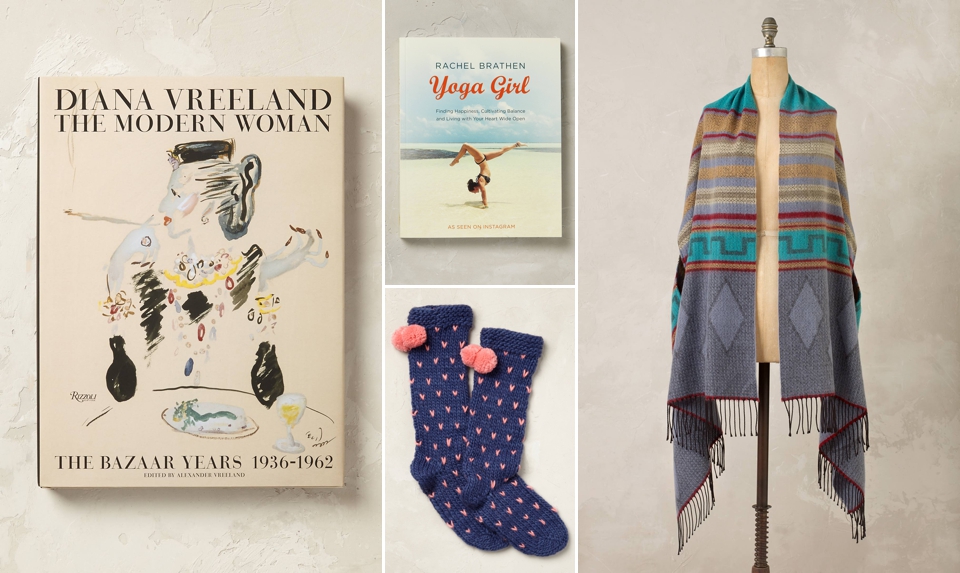 Annora
Features writer Annora Sutton's list features all things great and small:
"After enjoying a special bridal consultation at Jo Malone, I bought the Red Roses body lotion for our wedding. I am completely in love with the heady combination of rose, violet and lemon – it's Turkish Delight in a bottle! All I need now is the cologne. My beloved Moroccan, tooled leather, handbag has been on its last legs for a while now. Thankfully, I have found the perfect replacement in this little beauty from Fossil. It's the perfect size and shape for every day.
I was lucky enough to take a cookery class at The Devilled Egg Kitchen Academy in Bristol as part of a friend's hen do. The proprietor, Barbora Stiess, is one seriously talented and creative chef and really fun to be around! The Devilled Egg has just launched online and I'm hoping that Father Christmas will bring me a subscription to a yearlong supply of delicious recipes and masterclass video tutorials!
One of my best friends is getting married in January and I have been looking for the perfect dress for the occasion. I love the bold print and flattering shape of this wiggle dress from ASOS. With next day delivery available until the 23rd of December, ASOS is ideal for the last minute shoppers amongst you!
A cabinet might seem like an unusual Christmas gift but I have been lusting after this incredible original Indian shrine cupboard from Tombola Vintage for quite some time. I already have the perfect spot in mind for this stunning piece from my favourite purveyor of vintage furniture and curios."
Michelle
Michelle Kelly is the creative force behind Pocketful of Dreams and her inspirational style guides here on Love My Dress (plus this ace Christmas DIY) always make us sigh with happiness. As you can imagine, Michelle's Christmas wishlist is all kinds of beautiful:
I use florals extensively in my event designs and work with some of the UK's leading floral artists who continually inspire me with their talents. My floral-arranging game has definitely become much stronger over the years and, although I would always leave it to the professionals for an event, I still have a yearning to learn more about this fine art. So this Dutch Masters Golden Age Floral Design by florist Jay Archer course would be right up my street, combining an incredible hands-on experience with more artistic inspiration than you can shake a stick at.
This year has been all about the home-renovations for me and my partner and we've really tried to focus on making our home feel cosy and cosseting, filled with only the things we love. One item that would look incredible in our living room is this textured weave at Object Style. It's by a textile-artist called Maryanne Moodie and I just love the luxe yet artisan feel of it.Then I would also need this stunning white porcelain vase with it's delicate paper-fan style detailing. This piece would complete the cosy textured look of my lounge and could be filled with epic my floral arrangements following my course with Jay. 
I'm much more of a summer than a winter girl but one thing I do love about the festive season is winter whites and cosy knits. This year I've been looking for something that will keep me stylish yet warm and I could so see this Elizabeth and James feather-trimmed sweater working with a multitude of outfits from jeans to sparkly skirts and a flash of red lipstick. And finally, this Wild Horses photographic print is by Australian lifestyle photographer Kara Rosenlund and I just love it for the raw beauty and sense of love that it evokes. I am totally imagining that these two horses are having a little love-in, whispering sweet nothings to each other.
Shona
Features writer Shone Raffle-Edwards yearns for some delightful seasonal treats:
"My Christmas list would have to include these fabulous wellington boots from Joules, perfect for wintery walks in the snow (or rain!) and exactly my kind of jewel toned colours. I love to craft so this beautiful ink stamp from Noolibird would be perfect for crafting all my thank you cards post Christmas! I would love Jo Malone's English Pear and Freesia candle – I wore the scent on my wedding day and now every time I smell this gorgeous scent, it whisks me back there in a second
This beautiful throw from Anthropologie, perfect for snuggling under (even if my husband says I have too many throws- he's wrong!) and finally, this gorgeous little necklace from Edge of the Woods on Etsy would make me day because foxes always make me smile."
Our gorgeous antipodean features writer Jo Singletary knows exactly what she wants this Christmas:
"For me, Christmas is all about being with family. This year will be my first Christmas in Australia since 2009 and I'll be introducing my husband Michael to his first Aussie Christmas and a whole new set of traditions. The last five years have been filled with roaring fires, chestnuts, a hot roast lunch starring huge homemade Yorkshire puddings, layers and layers of clothes, a long walk in the *fresh* air after lunch, and maybe even a little bit of Surrey snow. 
Hubby and I are having a bit of a lean Christmas with gifts this year (we're saving up for our honeymoon!), but here's a few little things that I've asked Santa to pop down the chimney:
Wildflower by Drew Barrymore – I've always admired Drew Barrymore. She's been to hell and back, stuck to her convictions, and is such an inspirational businesswoman, mother, and fellow flower lover, so I'm keen to kick back over the Christmas break by the pool with this great read.
CK One by Calvin Klein – I just love this scent and wore it on my wedding day and am running a little low, so it's perfect timing!
Claire Pettibone exclusively for Trumpet & Horn – And if money was no object, or the lottery gods choose my numbers, then this absolutely stunning Ariel ring is definitely on my wishlist! Claire's wedding dress styles inspired my own dress design and I've fallen in love with this beautiful collection of rings, made exclusively for Trumpet & Horn. 
Katrina
The super talented wedding planner, Katrina Otter has filled Love My Dress with practical advice aplenty this year so it's lovely to see that her Christmas list mix indulgence with sensibility:
My current go-to home accessories obsession is Nordic House, whose collections perfectly captures and radiates a cool Scandi and elegant urban vibe.  Whilst I'd love to purchase everything from their current collection, top of my wish list is the EVA range of plates and Soft Gold Cutlery.
A pair of Hackney Empire 'Hamond' Standard Lampshades in Midnight – after all what's not to love about a traditional tassel fringed lampshade featuring a hookah-smoking sloth, a frog in a bowler hat and a fanning otter!  
A classic Black & Bone stripe Day Designer from Fraser & Parsley – the perfect and most stylish planning tool for 2016!
Hudson Boots are my staple footwear and it's safe to say my current pair have seen better days! I've been narrowing down styles and trying to decide which pair to add to my wish list – the Horrigan Black Multi  or Encke Beige Suede (or both?!)
This year there was a new addition to the Otter household in the form of a Victorian Bulldog called Dorothy.  Since her arrival in May she's managed to annihilate a pair of my jeans, a pair of my shoes, 6 curtain tie-backs and all of my bikinis! As I'm spending this Christmas abroad a new bikini is a pretty essential item to add to the wish list, which is why the Orchard collection from Tory Burch, with it's flattering shape and graphic floral print makes a surprise / random appearance on a Christmas wish list!
Katie
Katie Isles, our Social Media Engagement queen also has her eye on a few of life's little luxuries this festive season:
Top of my Christmas list this year is health and happiness and the odd little miracle, however I wouldn't mind a couple of these little beauties from Father Christmas!
Liz Earle's Botanical Essence™ No.15 Eau de Parfum is over 90% derived from sustainably sourced natural ingredients to create a seductively elegant 'olfactory jewel'. This perfume contains some of my most favourite smells of cinnamon, bergamot and Damask rose. It has a strong scent which lasts all day and people always ask what I'm wearing as it's rather distinctive. I'm on my second bottle and always fear running out so I need a back up!
As my house is currently a building site, I'm not sure that tinsel and turkey are going to feature much in the Isles household this year. However, I can make it smell nice and I've fallen in love with Neom Organics room fragrances. They are made with the finest 100% natural ingredients and scented with essential oils which fill the air with natural goodness. I recently bought 'Tranquility' with English lavender, sweet basil and jasmine and it filled my bedroom with such a gorgeous smell that I'd love a different one in each room. 
Finally, I'm a bit of a home bird so a lovely pair of brushed cotton, cosy PJs in the winter are essential. Any pair from Hush are always a welcome addition to my collection. I've actually seen a few Love My Dress brides wearing this pretty floral patterned pair on the morning of their weddings.
Kylie
Kylie McMichael is our hair and make-up guru and, as you might well imagine, her list is very good looking:
My first is Lisa Eldridge's Face Paint, The Story of Make Up. I love a bloomin' good bit of coffee table worthy literature. Last year's was Sali Hughes Pretty Honest and this year I'm going all out colour and glitter. Lisa is a hero of mine and one of the few Artists out there that completely knows her stuff, to find this gorgeous tomb under the tree this year will be just fabulous. The second gift I'm hoping for will actually materialise in the New Year. I've wanted to learn how to drive for years and now seems a good a time as any. My poor husband is currently my chauffeur, driving lessons in my stocking will change that!
I do love a new bit of bed linen. And it has to be cotton. My bedroom is white with a single floral wall. I love a clashing print to go with it so this year I'm loving this 70's inspired set by Zara. J'Adore anything French, this Whistles Tres Bon t shirt gets my vote for fuss free dressing. You can wear it with a skirt, jeans, anything and look effortlessly chic.
My last but not least is Kiehl's Creme de Corps Soy Milk and Honey Whipped Body Butter. It's so lush to put on either after a hot bubble bath to snuggle into cosy PJ's with or before a big night out as the scents are heady and luxurious.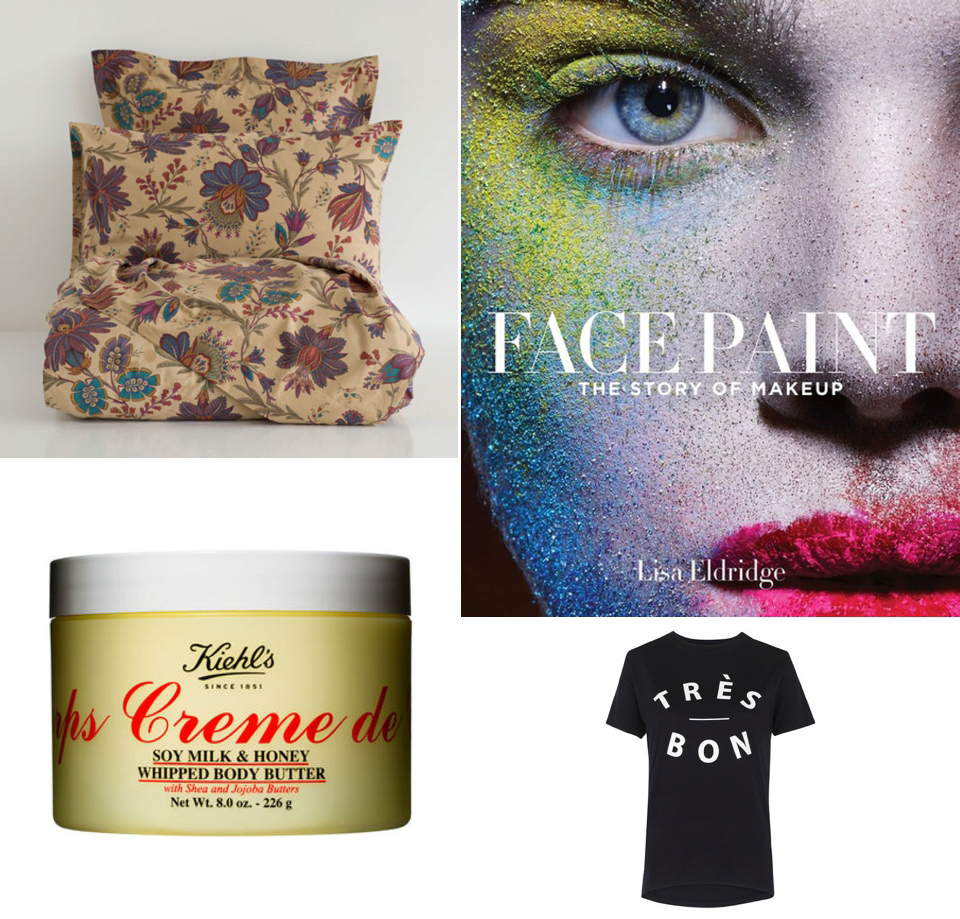 Caoimhe
The wonderful Caoimhe Anderson, another of our fab features writers has a wonderful wishlist that includes a little bit of everything brilliant:
I have just moved into a new apartment and after stocking up on the essentials I am turning my attention to the items which will enhance the look and atmosphere of the space. I am hoping that someone will kindly gift me some beautiful candles. The Bearded Candlemakers have a gorgeous range with finely honed unique scents. I particularly love 'A Real Turf Fire'.
I have been lusting after a Monica Vinader piece for a while now but I must not be hinting hard enough so I'm putting it out there for all to see! I love the colour combination and shape of this Rose Gold and Aquamarine Stacking Ring. It's unique but very wearable, perfect for day to day.
Any book that delves into the inner workings of a designer's mind is a must read for me. Even better when it's a list as talented and diverse as those featured in Talking Fashion: From Nick Knight to Raf Simons in Their Own Words by Jan Kedves. If it's not under the tree I will be ordering it as a new year's gift to myself!
I absolutely love the shower foams from Rituals. The smells are so intoxicating and linger long after the water has stopped running. Yogi Flow has a sweet rosy scent, perfect for chilly mornings. This Ayurveda Gift Set will ensure that I won't be running out anytime soon.
And as for me, well my list is all about time cosy time-out treats. Firstly, I do love a good pyjama day and my Christmas holidays are the time when I indulge! These pyjamas from White Stuff will keep me warm and comfortable during my time in front of the fire. Everyone who knows me will tell you that my Amazon wishlist is legendary and I add so many books to it in the run up to Christmas hoping that there'll be plenty of new reads under the tree on Christmas morning. I love golden age crime fiction and I'm hoping for some seasonal detective reads!
Jewellery by Alex Monroe will always make me smile (especially after I met Alex himself this year whilst reporting for Love My Dress) and these swallow stud earrings would make my day. I spend my days writing and love to be accompanied by a delicious whilst I'm tap-tapping at my keyboard. After spending some time at the Jo Malone Townhouse earlier this year, I'm an complete fan of these glorious scents so the Limited Edition Roasted Chestnut candle would be a real seasonal treat. Finally, when I do make it outside, I love to be warm so this poncho from Joules really needs to be hanging in my wardrobe sooner rather than later!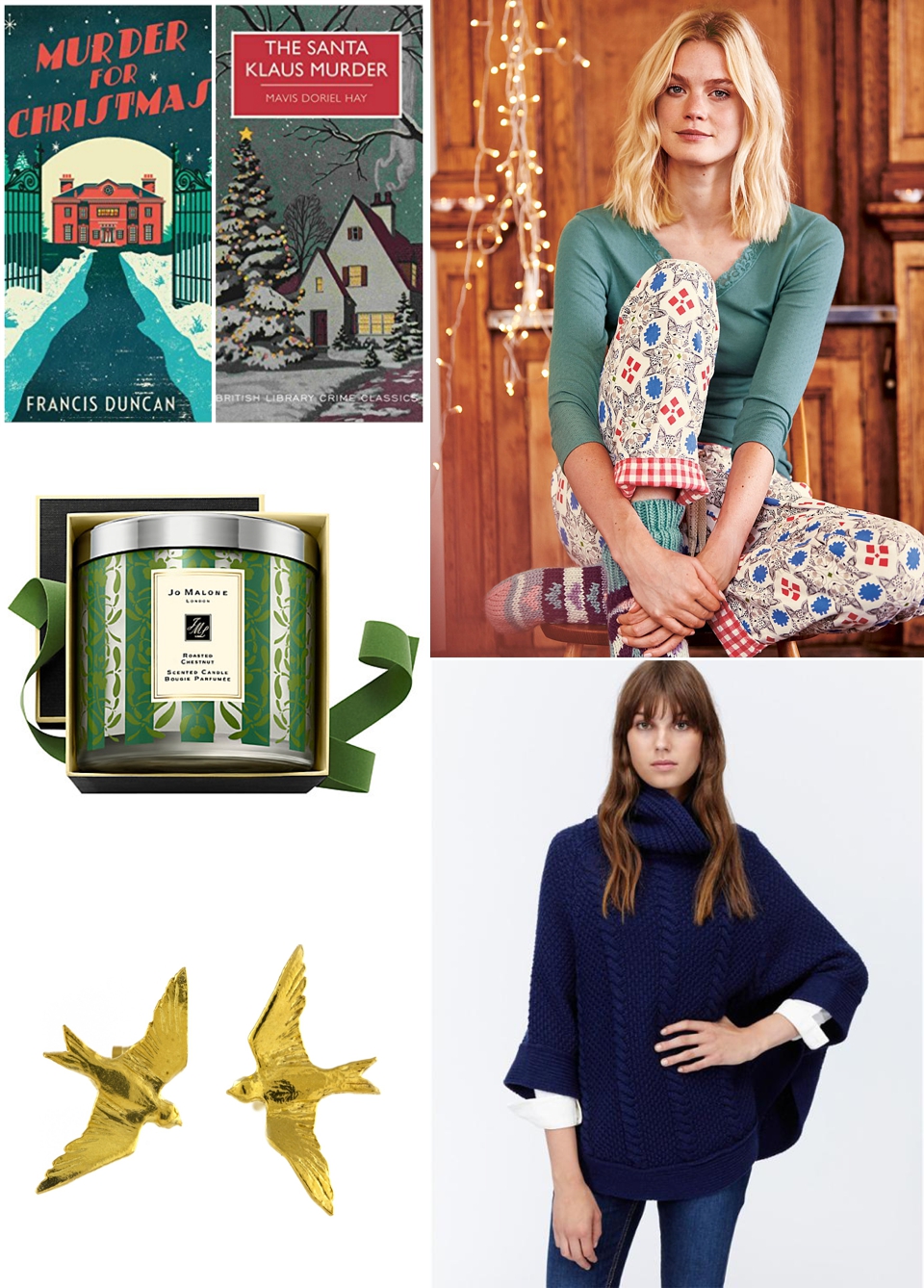 We'd love to hear what's on your wishlist this Christmas so do share your ideas with us and whatever your festive plans entail, we wish you so much joy and happiness.
Love Tamryn x