Good morning! Well, if ever there was a wedding to blow away the cobwebs and lift the January blues, this is it. Today's nuptials have really captured my imagination. I am totally in love with the way our couple have styled their big day; from the pairing of poppies, cacti and homespun geometric décor to our bride's bespoke, fashion forward, chain detail gown (created by dressmaker Eileen Prior), today's wedding has been crafted so very beautifully. The couple's INCREDIBLE cake is a case in point; it is a real masterpiece, lovingly made by the bride (proprietor of the wonderful Little Bear Cakery, who we are very proud to recommend through our Little Book For Brides) and adorned with breathtakingly realistic sugar flowers. Clare and Darren tied the knot on the 6th of June 2015 at The Barn at Bury Court in Bentley, Surrey…
"Darren and I met at a music festival in Serbia in 2006 and got engaged some eight years later on a cliff top in Portugal. We married 21 months later."
Photography by Anushé Low
Our creative bride designed her own wedding dress, enlisting the help of dressmaker Eileen Prior to make her vision a reality. I absolutely love the gown's geometric beaded, waistband and low, chain detail back. WOW!
"I went to a few different bridal shops to get a feel for what shape would suit my figure best. I had a firm idea of the dress that I wanted to wear but I couldn't find anything I liked within budget so I decided to go to a dressmaker recommended by my mum's friend. From there it was such a simple process – I described my ideas to Eileen and she instantly brought it to life."
Our couple's big day was captured, in stunning detail, by award winning photographer Anushé Low. I love Anushé's use of light in these beautiful images.
Cake by the bride (Little Bear Cakery)
View Little Bear Cakery in Little Book For Brides
"We booked wedding photographer Anushé Low as soon as we had our date. I had been aware of her work for a while, even before we were engaged, and knew that I would love her to take our wedding photos. I love her minimalist style which worked well with our simply styled wedding."
Clare purchased her geometric gold hair chain from The Altered Chain, via Etsy and accessorised with a bangle and a pair of tribal inspired earrings from US based designer Pamela Love. Readers, I have a little confession…I had to take a break from writing this feature to peruse Pamela Love's collection! I recommend taking a peek…
"My beaded sandals were from John Lewis and I wore my usual perfume, Miracle by Lancôme, as I wanted to smell like myself!"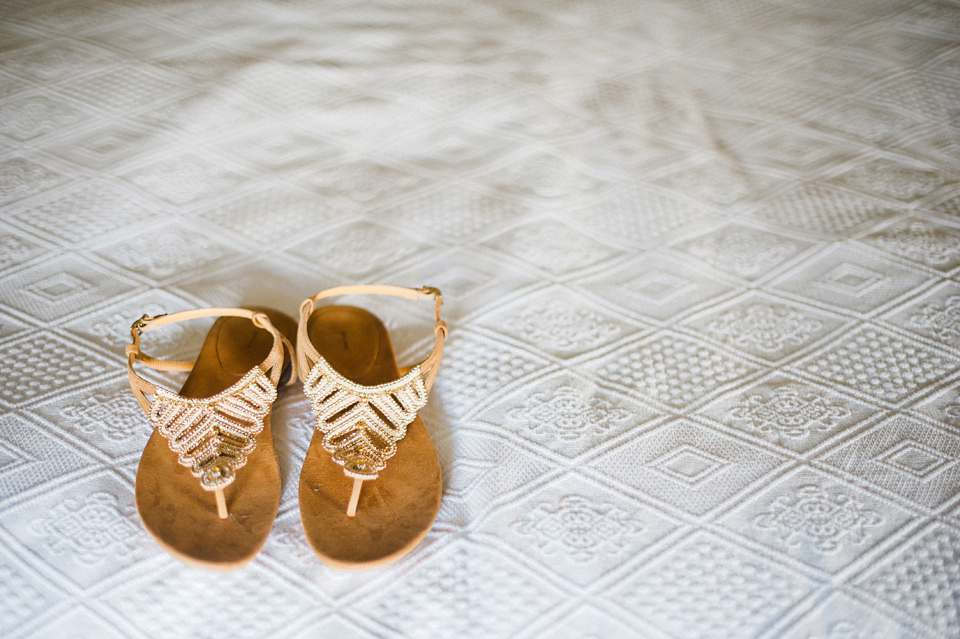 Clare and Darren's beautiful bouquets and buttonholes were arranged by a friend of the couple, Sarah of The Flower Bird.
"Sarah is a friend who I have met since working in the wedding industry. We bought the rest of the wedding flowers at the flower market with Sarah, which were then arranged by a family member."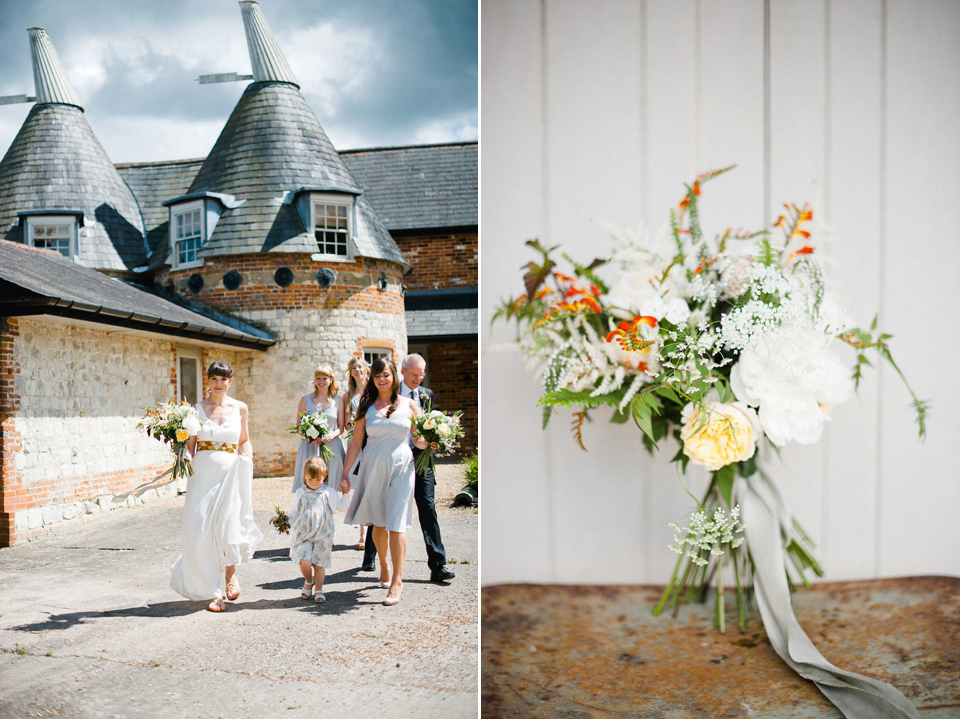 Clare's three bridesmaids wore pale blue dresses from Monsoon, with her lovely little flowergirl sporting a dress created by Darren's mother using fabric from Liberty.
"I gave each 'maid a gold hexagon necklace (to match the wedding cake!) as a thank you gift."
"We wanted to get married somewhere we could hold our ceremony and reception in the same location. We were particularly taken with how beautiful the gardens were at Bury Court and the fact that the barn was so lovely it didn't need much doing to it. Suzanne and Tessa from the venue were incredibly helpful in the run up to the wedding and ensured that everything ran like clockwork."
Clare's dad, James, walked her down the aisle to Ludovico Einaudi's 'I Giorni' with Radiohead, Bonobo and Horace Andy featuring elsewhere in the ceremony. Our couple opted for two readings; 'I wanna be yours' by John Cooper Clarke and an extract from one of my favourite childhood books, The Velveteen Rabbit by Margery Williams.
"We felt that many of the traditional readings didn't particularly suit us so chose these two instead."
"Mine and Darren's wedding bands were created by Tessa Metcalfe whose designs I have admired for some time. Because of my work, I don't wear my engagement ring most of the time, so I wanted an interesting wedding ring to make up for it. I fell in love with Tessa's signature pigeon claw rings and chose one as my wedding band."
"Darren had always been sure that he didn't want a ring but after meeting Tessa at my ring consultation, he decided it might be nice after all. He didn't want a traditional band either, so Tessa created a rough textured band in oxidised silver for him."
Darren opted for a dark blue, three piece bespoke suit from Austin Reed which he wore with a Reiss shirt, grey tie and a pair of tan brogues from Loake. Our groom accessorised with a tie clip from Moss Bros, arm bands from John Lewis and a collar bar from Kasun London (a wedding day gift from his bride).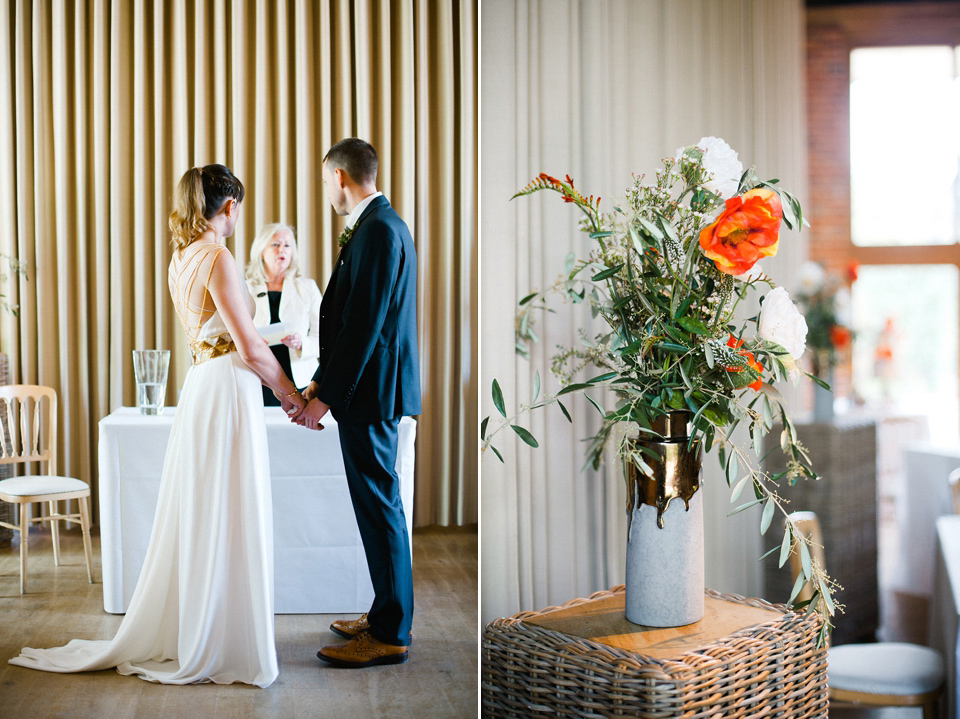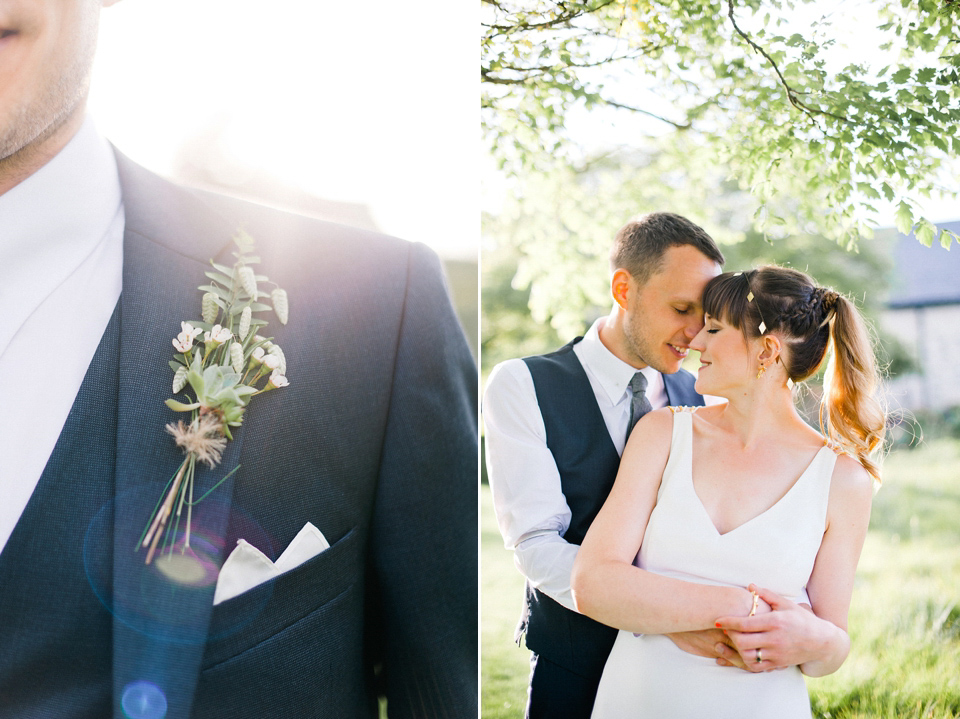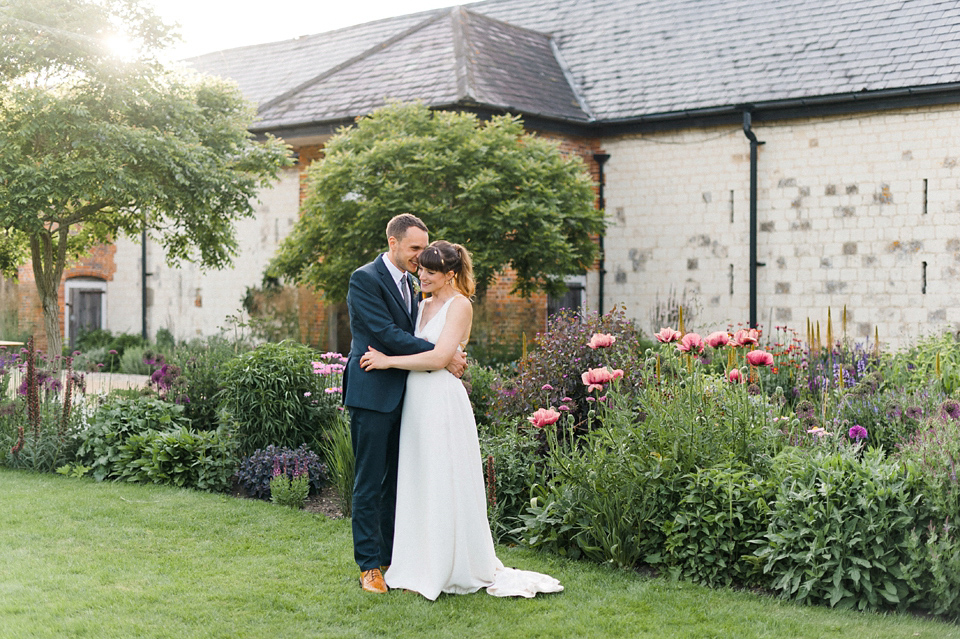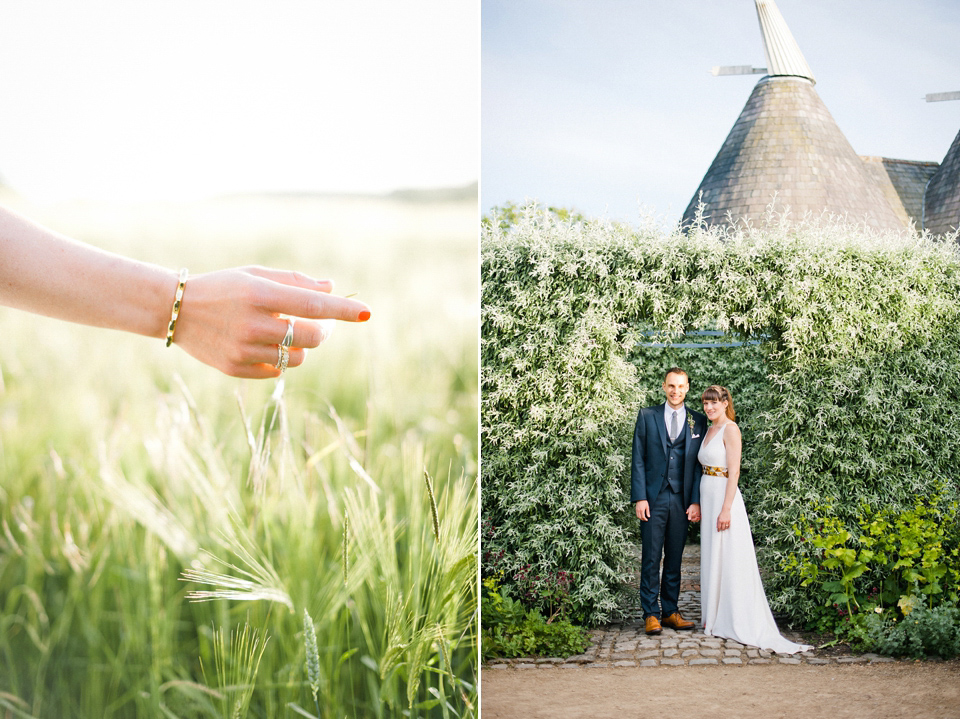 Our couple's stunning cake was designed and created by the bride who is the proprietor of Little Bear Cakery. Just look at those poppies! They are the most realistic and beautiful sugar flowers I have ever seen. Clare is one seriously talented designer and baker! You can find the Little Bear Cakery listed in our recently launched Little Book For Brides, a beautifully curated resource especially designed for couples searching for their perfect wedding supplier.
"The most exciting part of the wedding preparation for me was of course the cake! The inspiration came from my love of Iceland poppies and their beautiful bendy, organic forms. I wanted the poppies to look as if they were growing out of the cake and showed them in all stages of development from bud, to shedding their little case, to full bloom.
As I didn't want to be slaving away on the cake in the run up to the wedding, I created the sugar flowers the week before and kept the rest of the design quite simple with a few metallic hexagons. I also sourced a stunning silvery grey silk ribbon from Lancaster & Cornish to finish the cake, which matched the ribbon on my bouquet."
The couple's stationery was crafted by two friends of the couple with artist Jennie Webber creating a beautiful illustration to reflect the venue décor and Nick Cobby carrying out the design side of things.
"The illustration for our stationery was done by my bridesmaid, Jennie Webber, who is an incredibly talented artist. The rest of the design and typography was then done by our equally talented friend Nick Cobby who is a graphic designer and worked alongside Jennie to create all of the stationery."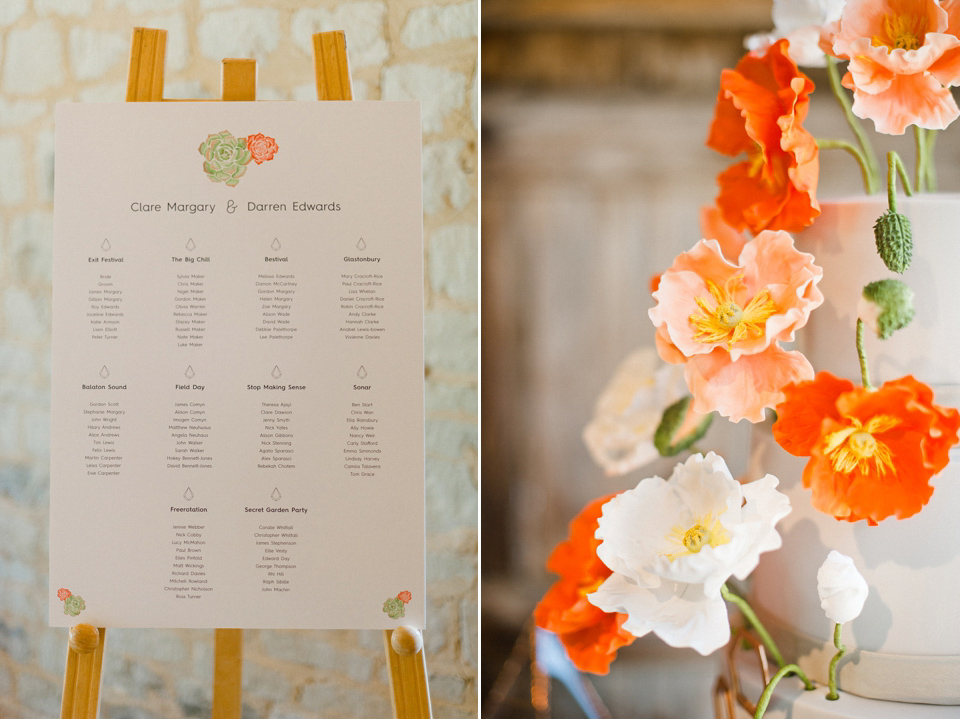 With a little help from their family and friends, our creative couple handcrafted most of their décor.
"Pretty much all of the décor was DIY. I made the hanging geometrics either side of the aisle as well as a geometric per table. I also made the table runners with the help of Darren's mum. The succulents for the tables were potted by Darren and his best men as well as the terrarium which sat on the cake table."
"I knew that I wanted to decorate the tables with poppies as they were the main inspiration for the cake, however due to the time of year, Iceland poppies were going to be too temperamental. Instead, we opted for giant silk poppies which were mixed in with real flowers in the main arrangements and placed a single poppy on each table along with the succulents. The potting of the succulents was a team effort between Darren, his mum and his best men.
We wanted to keep the styling simple but modern as The Barn at Bury Court is such a beautiful setting in its own right. In homage to how we met, we named all of the tables after music festivals we had been to together."
"Our food was created by Jacaranda Catering. Our guests are still commenting on how much they loved the wedding breakfast. Everyone said it was by far the best wedding food they had ever had."
"As I work in the wedding industry I am constantly exposed to many wedding blogs. One of my favourite blogs is Love My Dress. I really like that Love My Dress showcases a broad spectrum of weddings and styles without losing its quality. The blog has a luxurious feel which appeals and I especially like that it is very good at crediting suppliers. It is after all the suppliers that make the wedding industry what it is today and they all rely heavily on successful blogs like Love My Dress to provide support and recognition."
Why thank you so much Clare.
Clare and Darren opted for 'La Ritournelle' by Sebastian Tellier for their first dance, a song which reminds them of when they first met.
"We didn't want a band and we have a number of friends that are DJs so we called upon our friends Ben and Elles to get the dance floor going."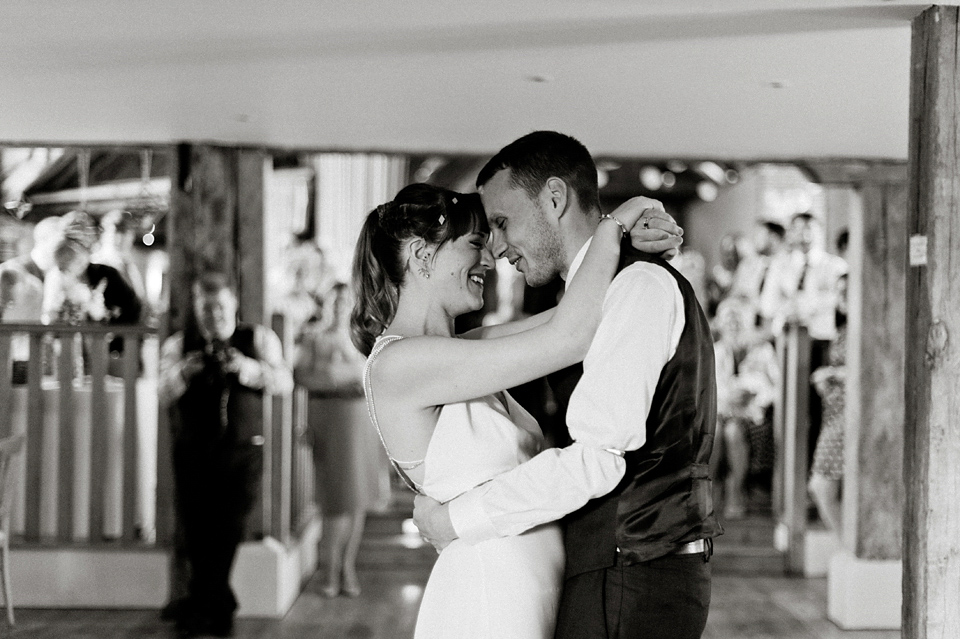 Words of Wedded Wisdom:
"Once you start a task, whether it be deciding on table décor or sourcing a vase, try and see it through straight away from start to finish. I found that I wasted hours half-making decisions on lots of things which only resulted in having to start all over again."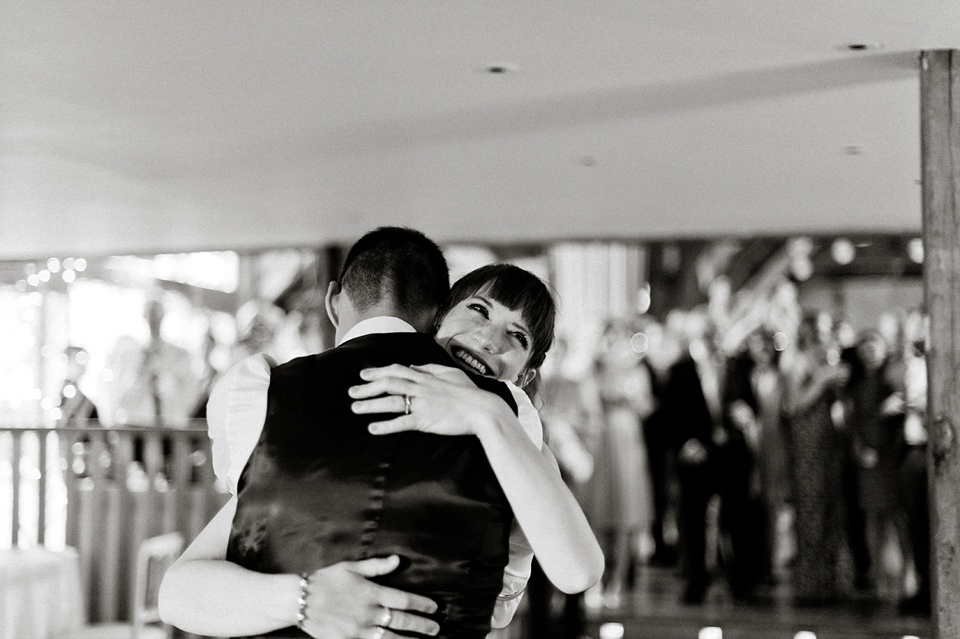 Clare's advice really rings true for me – the amount of times during my own wedding planning I began searching for one thing only to be distracted by another!
A huge thank you to our couple for sharing the details of their nuptials with us and to Anushé Low for the wonderful images. If you'd like to see more beautiful weddings captured by Anushé please follow this link. You can find further DIY inspiration on the blog here.
Wishing you a great rest of your week!
Annora x
Photographer – Anushé Low
Venue – The Barn at Bury Court
Wedding Dress – Designed by the bride and created by dressmaker Eileen Prior
Headpiece – Altered Chain via Etsy
Shoes – John Lewis
Accessories – Bracelet + earrings from Pamela Love
Bride's Scent – Miracle by Lancôme
Groom – Bespoke suit from Austin Reed + Reiss shirt + Loake shoes + collar bar from Kasun London + tie clip from Moss Bros + John Lewis arms bands
Bridesmaids – Monsoon dresses
Flowergirls – Created by the mother of the bride using fabric from Liberty
Florist – The Flower Bird
Cake – Created by the bride, who is the proprietor of Little Bear Cakery
Rings – Bespoke rings by Tessa Metcalfe
Catering – Jacaranda Catering
Stationery – Jennie Webber + Nick Cobby
Hair & Makeup Artist – Suzanne Dusek