Hello again Saturday lovers. We've already shared one beautiful wedding today, and now we're treating you to another.  It gives me much pleasure this afternoon to be adding the beautiful wedding of Kat and Dan to our much loved wedding blog.  Kat, who works on events and programmes for Girlguiding married her beau Dan who works on exhibitions at the Natural History Museum, on 11th July last year with a ceremony at Chester Town Hall followed by a reception at Eccleston Village Hall. The couple both grew up in the area, although they met in London, their families still live there.
Their day has a strong essence of effortless elegance about it which was all beautifully captured in these images by Emma Bilsborough.
"Our reception venue was my biggest inspiration – a beautiful village hall in the chocolate box village of Eccleston. We wanted the day to be relaxed and informal to match the summer garden and the village feel – anything too stylised or buttoned up would have just felt wrong for us. " didn't have any bridesmaids – as a couple we aren't big on fuss so we pared pretty much everything down to the essentials!"
Photography by Emma Bilsborough
"I saw an image on Pinterest of a three tier cake covered entirely in hundreds and thousands with beautiful white icing bows on each layer. I loved the fun of it so did some Googling and found a supplier local to my parents, Gayle Jones of Gayle's Yummy Cake, who I sent the photo to and asked her if she could make it."
Ladies, if you're looking for your own cake-maker, try the cake-makers listed in our beautiful wedding directory, Little Book For Brides.
Kat wore the very beautiful 'Eden' by Jenny Packham, which she purchased from The White Closet in West Didsbury.
"I chose the dress because it was pretty much the only one I tried on that didn't make me feel like I was pretending to be someone else. Although it is heavily beaded it was so comfortable to wear. There's no train to worry about tripping over, no lacing to deal with and crucially I could go to the toilet by myself in it! Seriously though I felt amazing in the dress and the platinum colour, which was a very pale grey silk slip with gold and bronzes in the beading, worked well against my pale skin and hair."
"Dan and I met in 2007 when we were both working at The Science Museum in London and were friends for a little over a year before we started dating. We got engaged in February 2014 during a break in the Lake District. Dan was hoping to find a scenic spot to pop the question but torrential rain foiled his plan and we got engaged over a cup of tea whilst we were drying off! It was no less special and we celebrated by having a pint and a pie – pretty much perfect."
Dan wore a suit from Moss Bros which he teamed with shoes from Jones the Bootmaker. The pretty buttonhole was provided by Great British Florist.
"Dan's two brothers and my brother acted as ushers, and his friend Nate was the best man. Everyone wore their own suits."
"My dress was very heavily detailed so the only other accessories I wore were diamond stud earrings which were made using the gold from my grandmothers wedding ring. She passed away over 10 years ago so it was special to feel like she was there with me on the day."
"My dad, Robert walked me down the aisle – we were accompanied by an orchestral version of the Beatles song 'Across the Universe'."
"We didn't bother with orders of service or menus and I made the place cards myself using kraft paper place cards bought from Amazon and a set of typewriter stamps from Hobbycraft."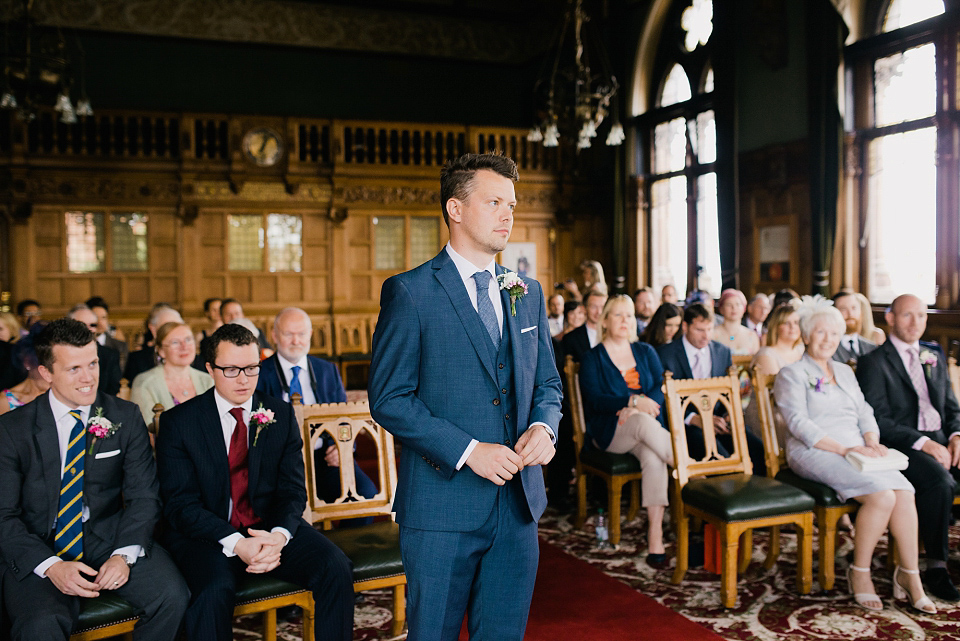 "The absolute best part of the day was the moment I reached the end of the aisle looked into Dan's eyes as we were about to get married. We were both just so happy."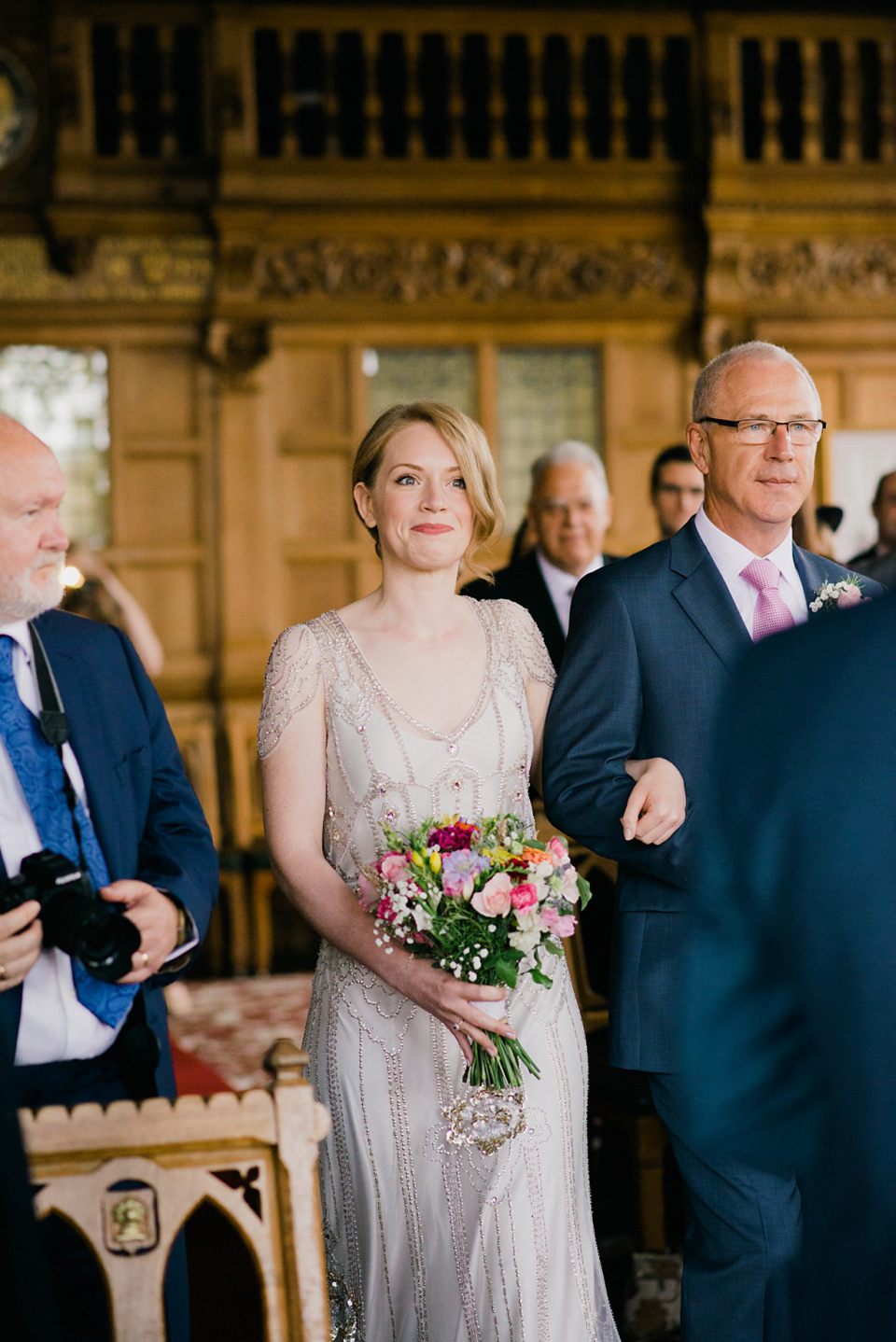 "We had two readings and we chose both of them because they were not too soppy and had a bit of humour and feeling to them which summed up our relationship!
My friend from university Danny read I Like You by Sandol Stoddard. Here's an extract…"
I like you and I know why, I like you because you are a good person to like, I like you because when I tell you something special, you know it's special And you remember it a long, long time You say, Remember when you told me something special And both of us remember.
When I think something is important you think it's important too, We have good ideas When I say something funny, you laugh I think I'm funny and you think I'm funny too
I like you because you know where I'm ticklish And you don't tickle me there except just a little tiny bit sometimes But if you do, then I know where to tickle you too
You know how to be silly – that's why I like you If I am getting ready to pop a paper bag, then you are getting ready to jump.
"We both wanted something simple when it came to our rings – Dan never wears jewellery so didn't want anything too flash. The folk at Ring Jewellery had loads of different finishes and materials and they were able to cut a notch out of my ring so that it would sit snugly against my engagement ring."
"Dan's friend Russ who he's known since he was a teenager delivered a second reading called 'How Falling In Love is Like Owning a Dog', by Taylor Mali. Here's an extract…"
Sometimes love just wants to go for a nice long walk.
Because love loves exercise.
It runs you around the block and leaves you panting.
It pulls you in several different directions at once,
or winds around and around you
until you're all wound up and can't move.
But love makes you meet people wherever you go.
People who have nothing in common but love
stop and talk to each other on the street.
Throw things away and love will bring them back,
again, and again, and again.
But most of all, love needs love, lots of it.
And in return, love loves you and never stops.
"We saw some photos that Emma Bilsborough had taken at our reception venue for another wedding and really loved how she had captured the feeling of the day without formality. When we met her to talk things through before the day we knew we'd made the right choice. She and Mandi were absolutely brilliant on the day and managed to get some fantastic shots of some of our more camera shy guests without them even noticing."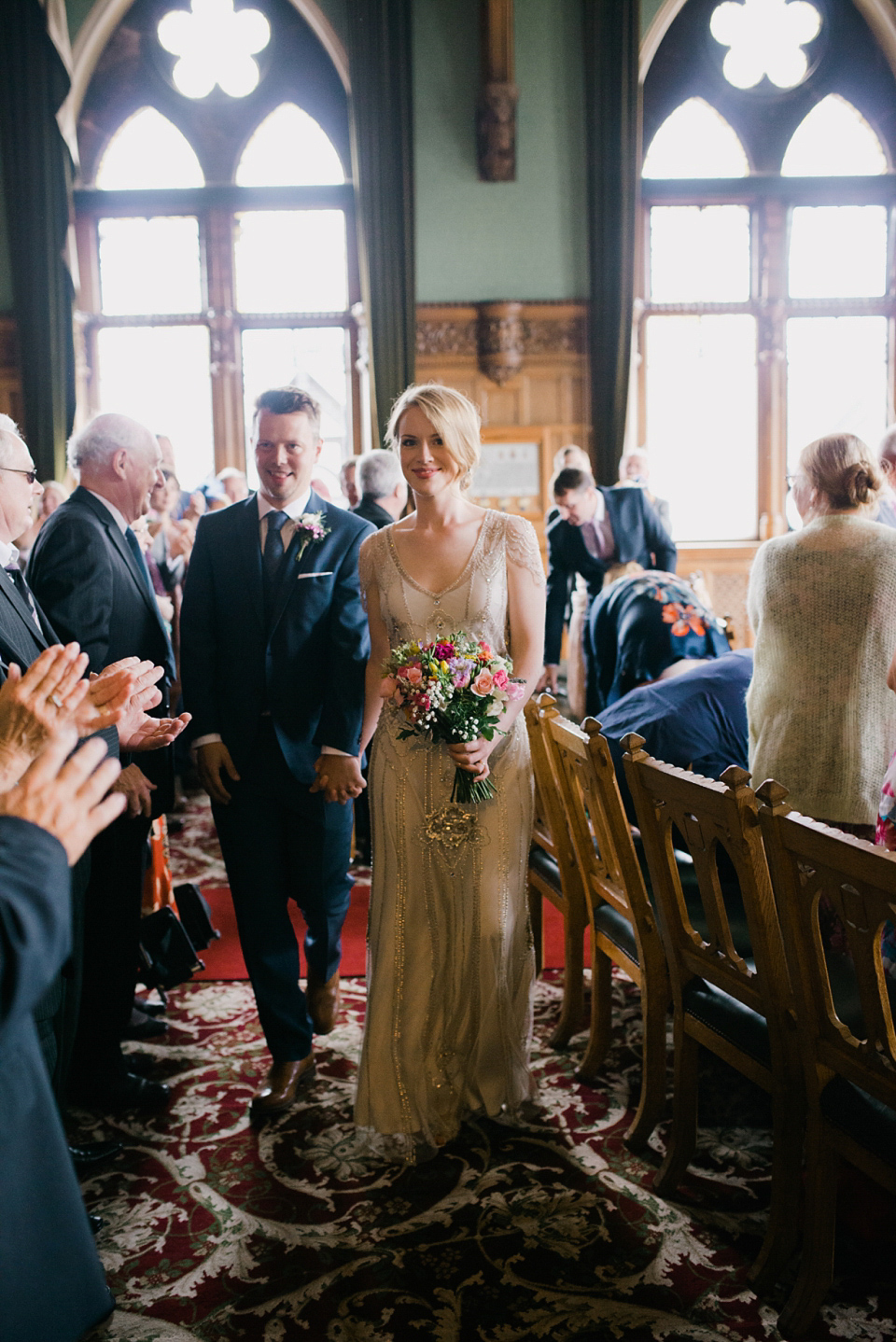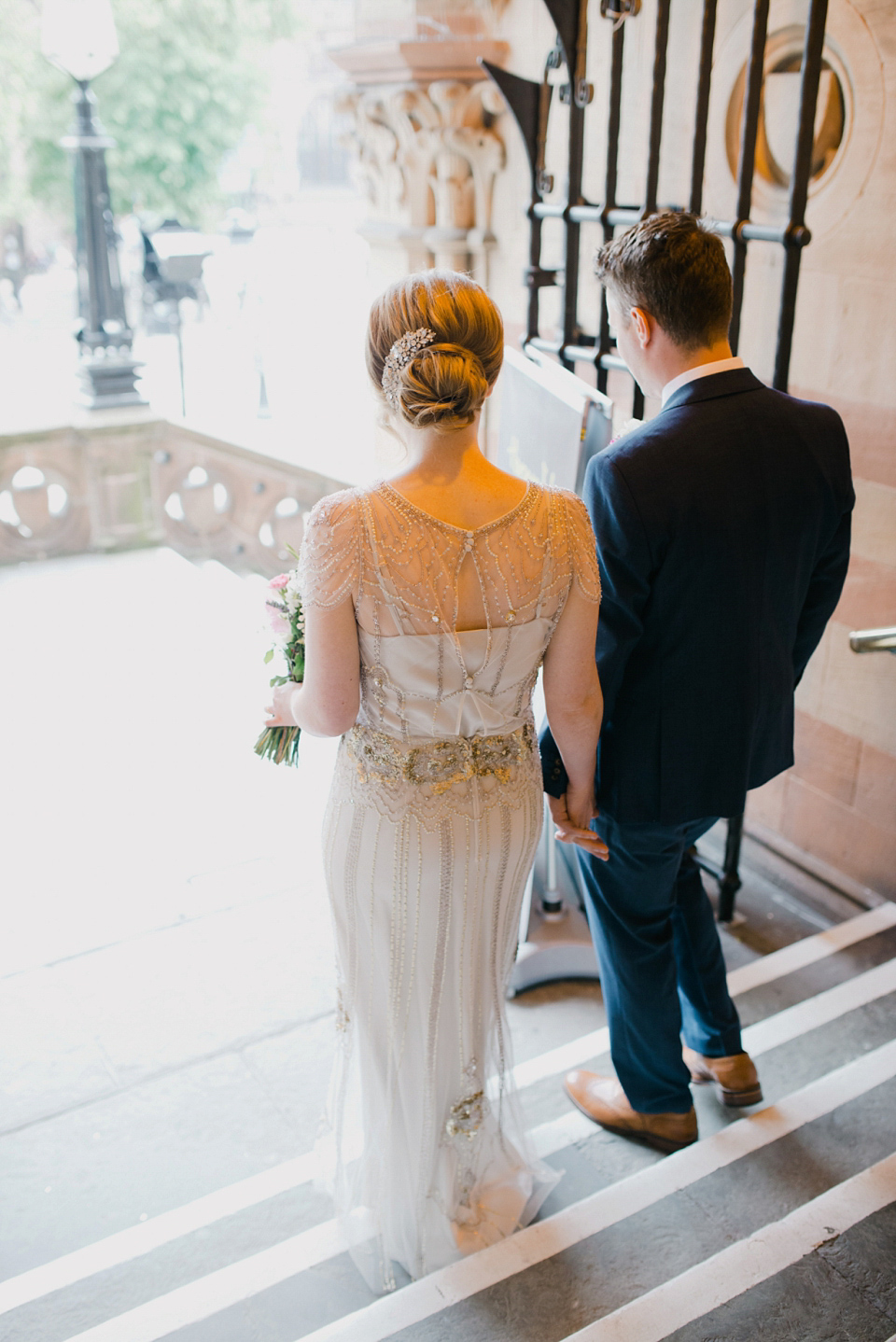 "I travelled to the ceremony in a lovely taxi organised by Phil Branch from Argyle Taxis and we sorted all the cars at the end of the night through them too.
To transport all of our guests from the ceremony at Chester Town Hall to the reception we hired a vintage route master bus from Routmaster4Hire. We travelled with everyone else as we didn't want to miss out on the fun."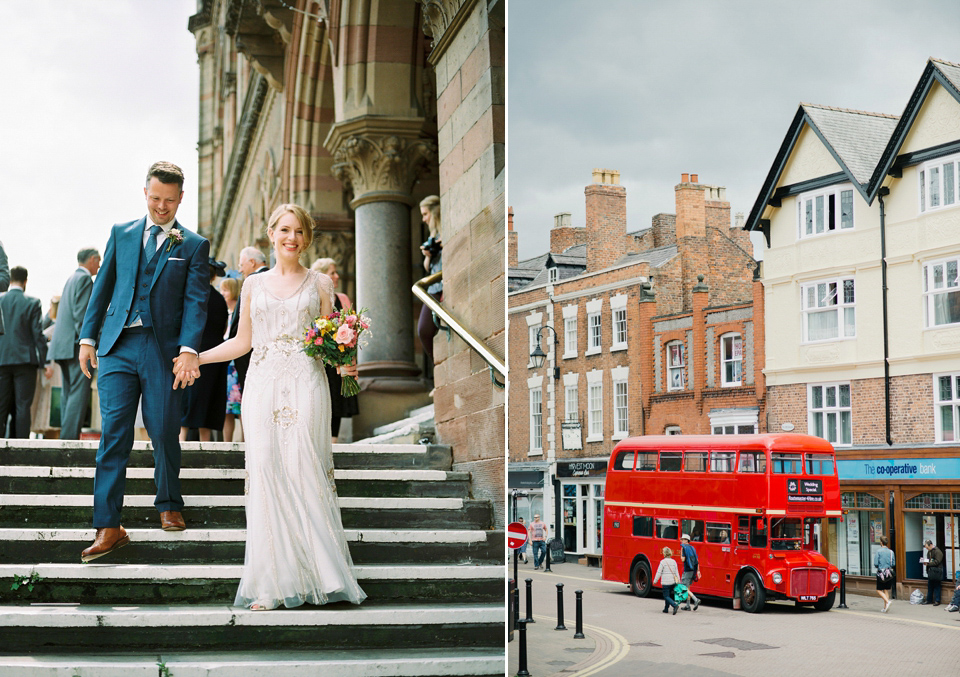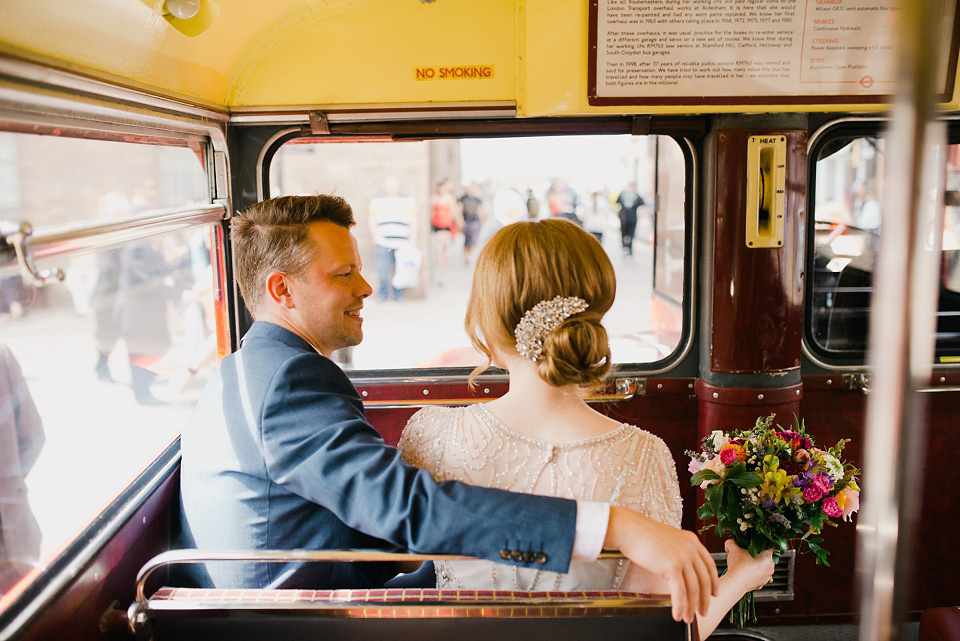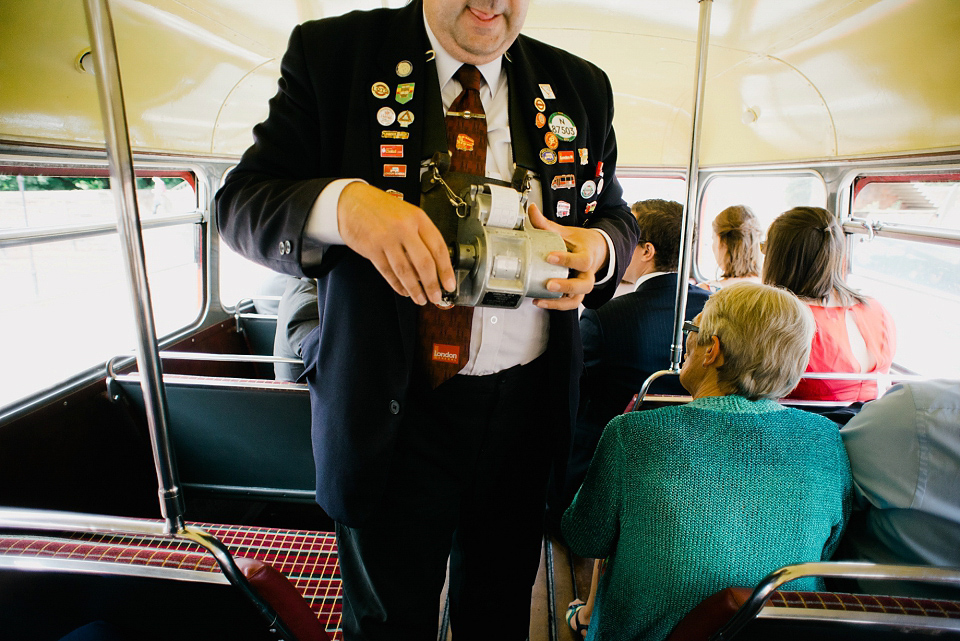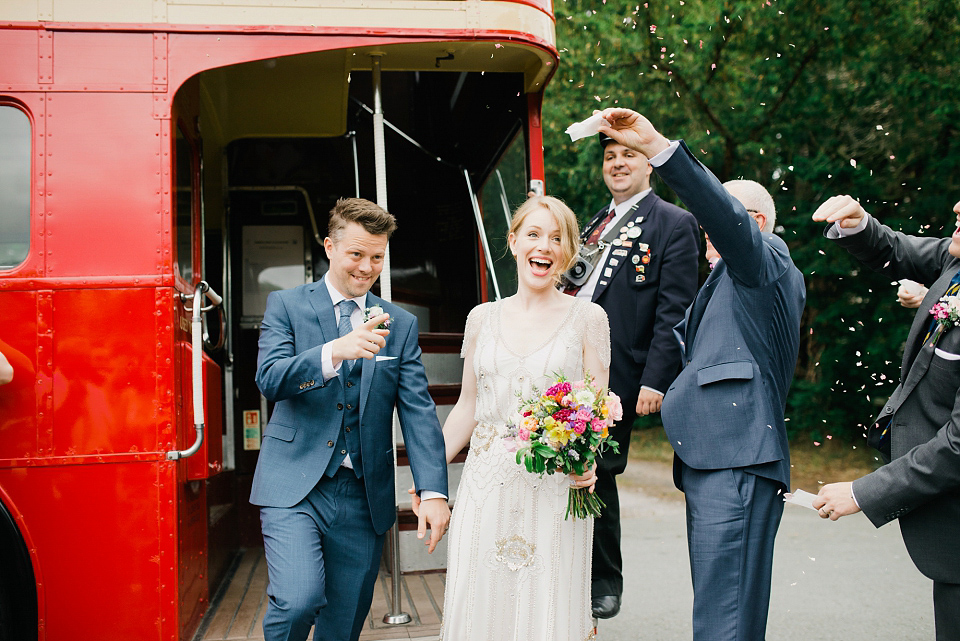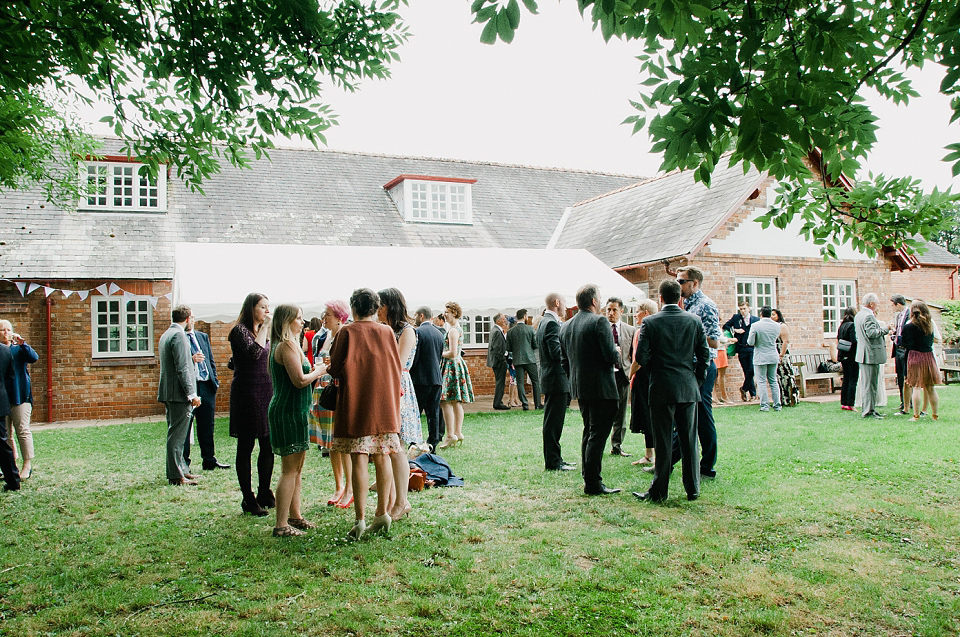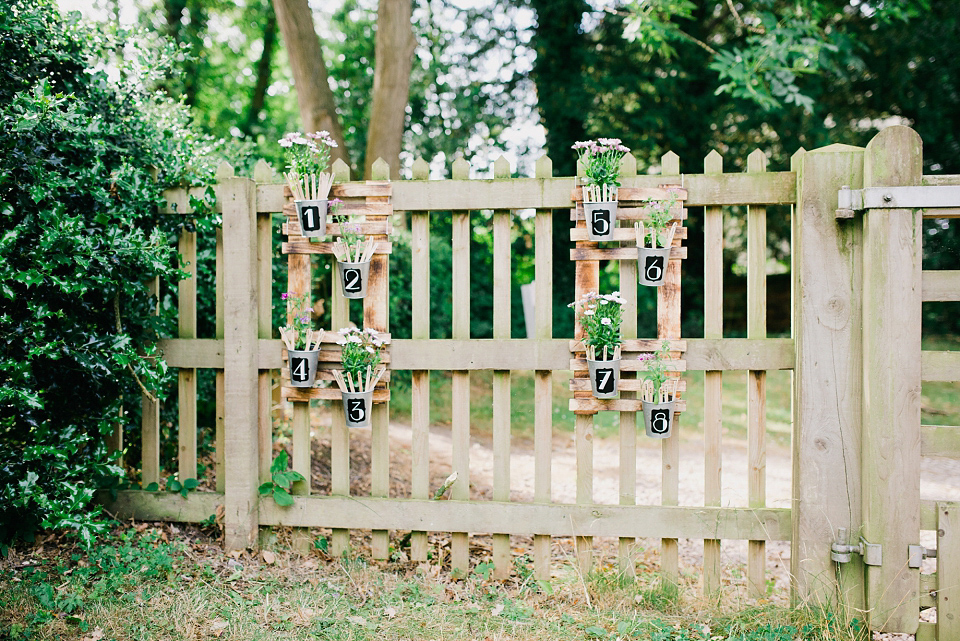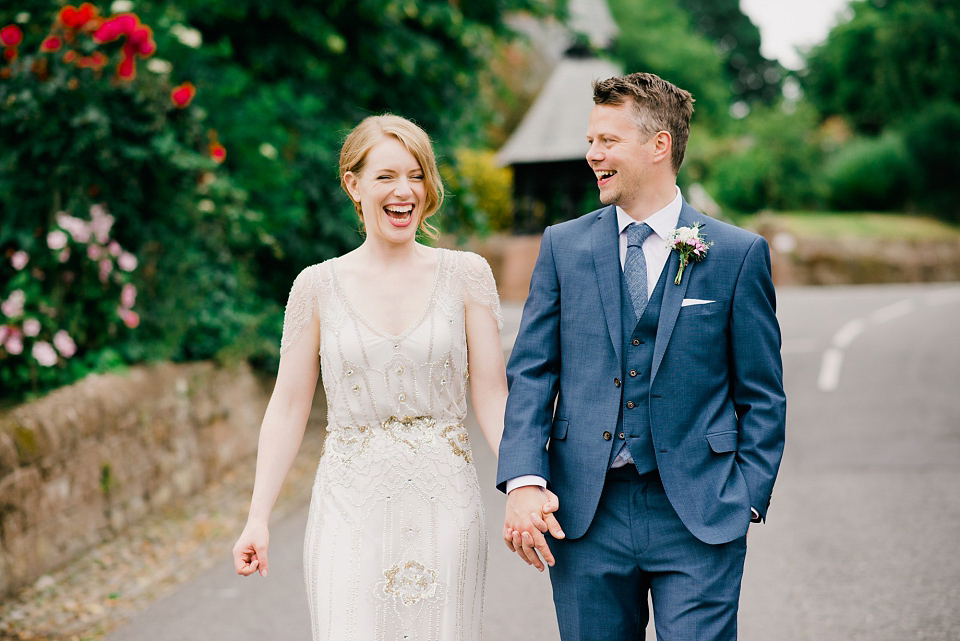 "The food by Stable Cuisine was really important to us – we wanted everyone to have an enjoyable meal and feel really treated by us on the day. When we met Phyl the owner of Stables Cuisine she ushered us into her cottage kitchen and pulled warm scones out of the Aga which she served us with jam and cream and a massive pot of tea. We knew then that we could trust her to make our guests feel cared for and we wouldn't have to worry on the day.
The food was fantastic and our guest are still talking about it – especially the mini Yorkshire puddings with rare roast beef we had as canapés."
"We used scratch cards as wedding favours which was loads of fun – my dad even won a tenner! I made kraft card holders for them, stamped 'good luck' on the outside and tied them closed with string. I got a bag of 2015 brand new pennies from the post office and attached one to the front of each favour with double sided tape so our guests weren't scrabbling around for coins!
I used a lot of hessian to soften some of the more municipal features of the working village hall."
"For the table numbers I made miniature bunting using white card, normal string and my stamps again. I strung it between two wooden skewers and stood these in empty French beer bottles that we had a lot of fun collecting."
"We bought three large buckets of mixed seasonal blooms and my mum and I spent the morning before the wedding putting together the table arrangements and flowers for the venue. I had collected loads of glass jam jars and old candle jars and we just went for it putting together things we like the look of. I really wanted the flowers to look like they'd been gathered from a field so I didn't mind what varieties I had and it was fun to see what was delivered. We got the button holes and corsages form the same supplier and were really happy with what we got."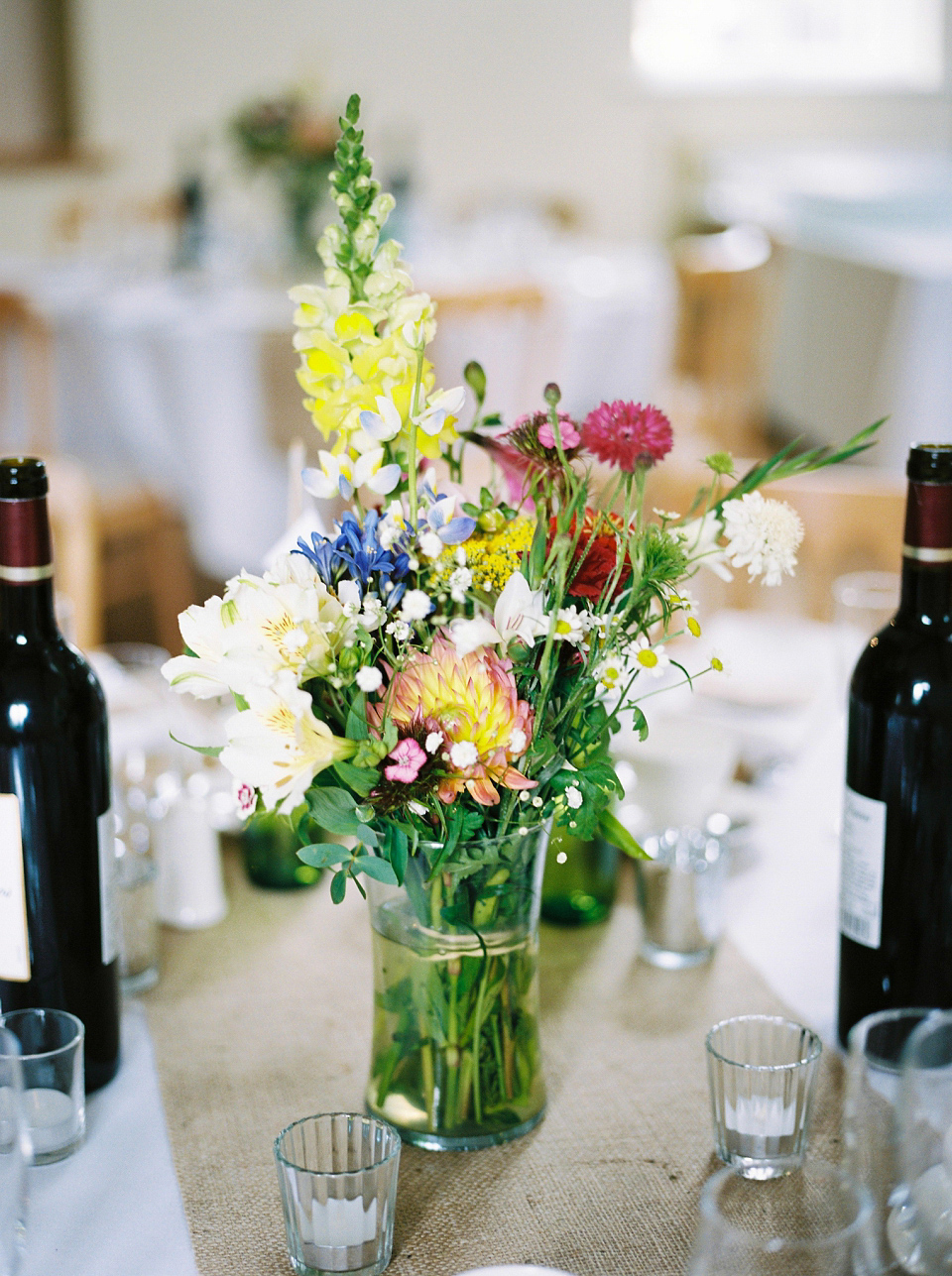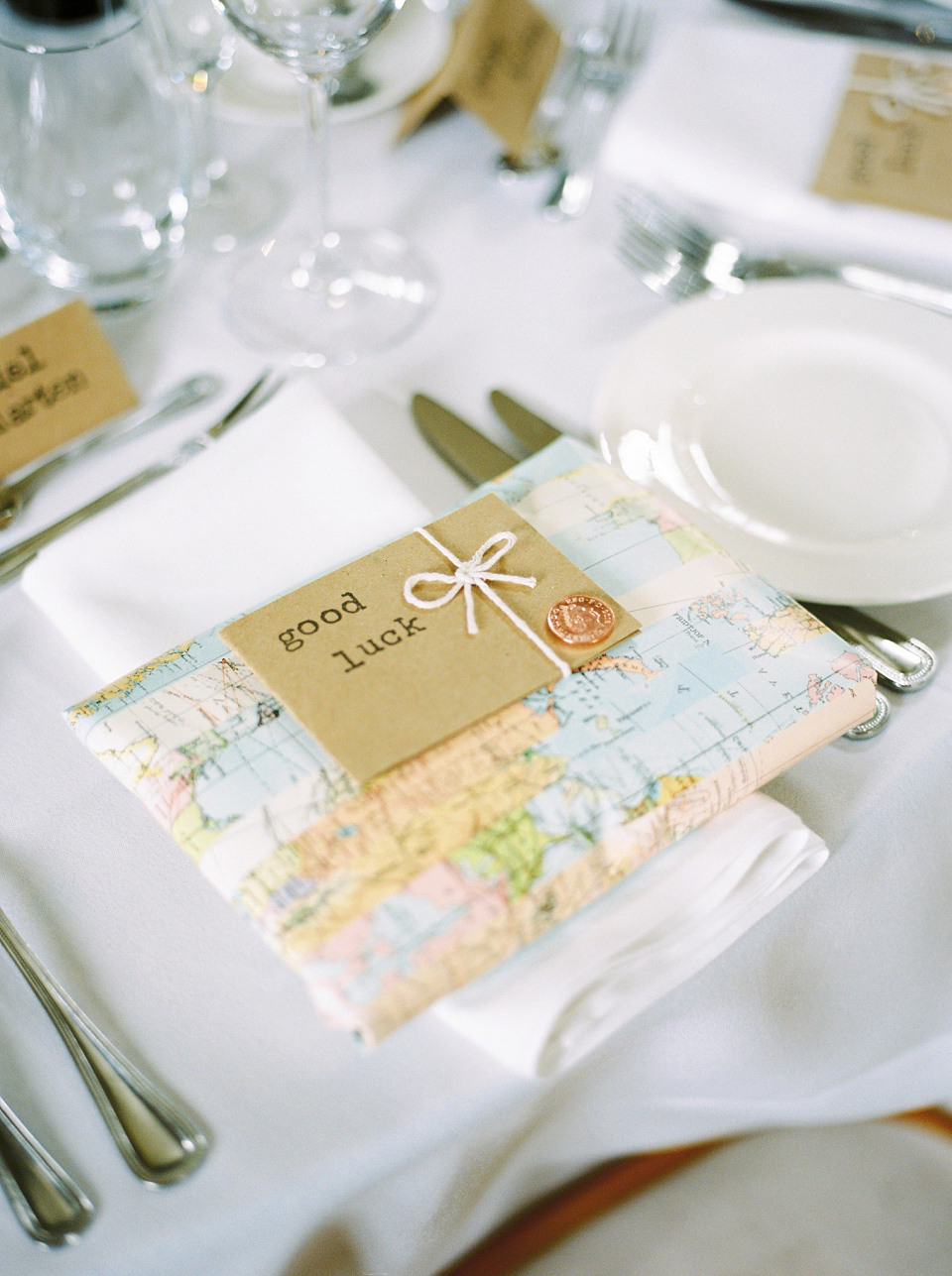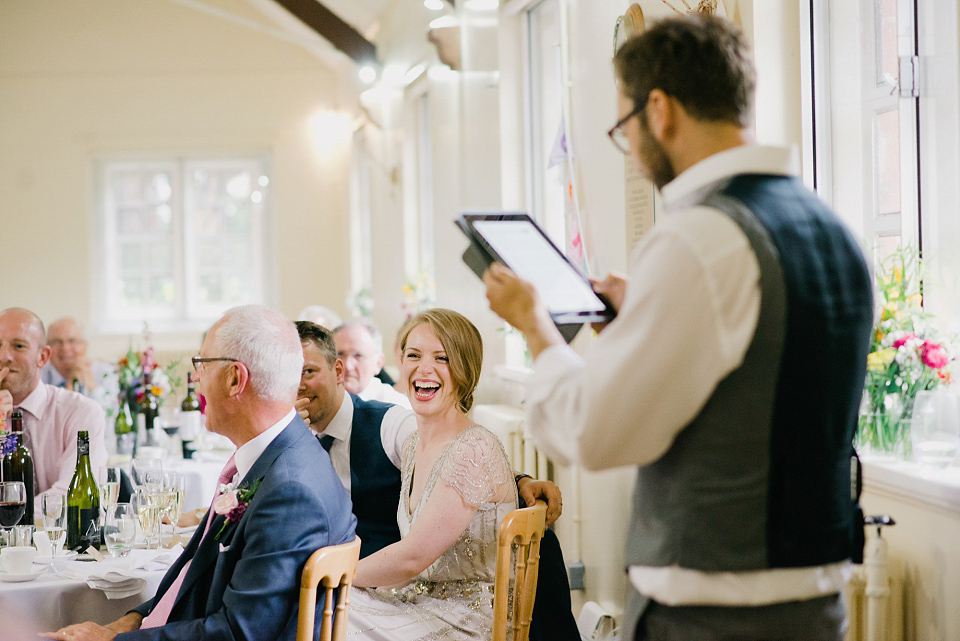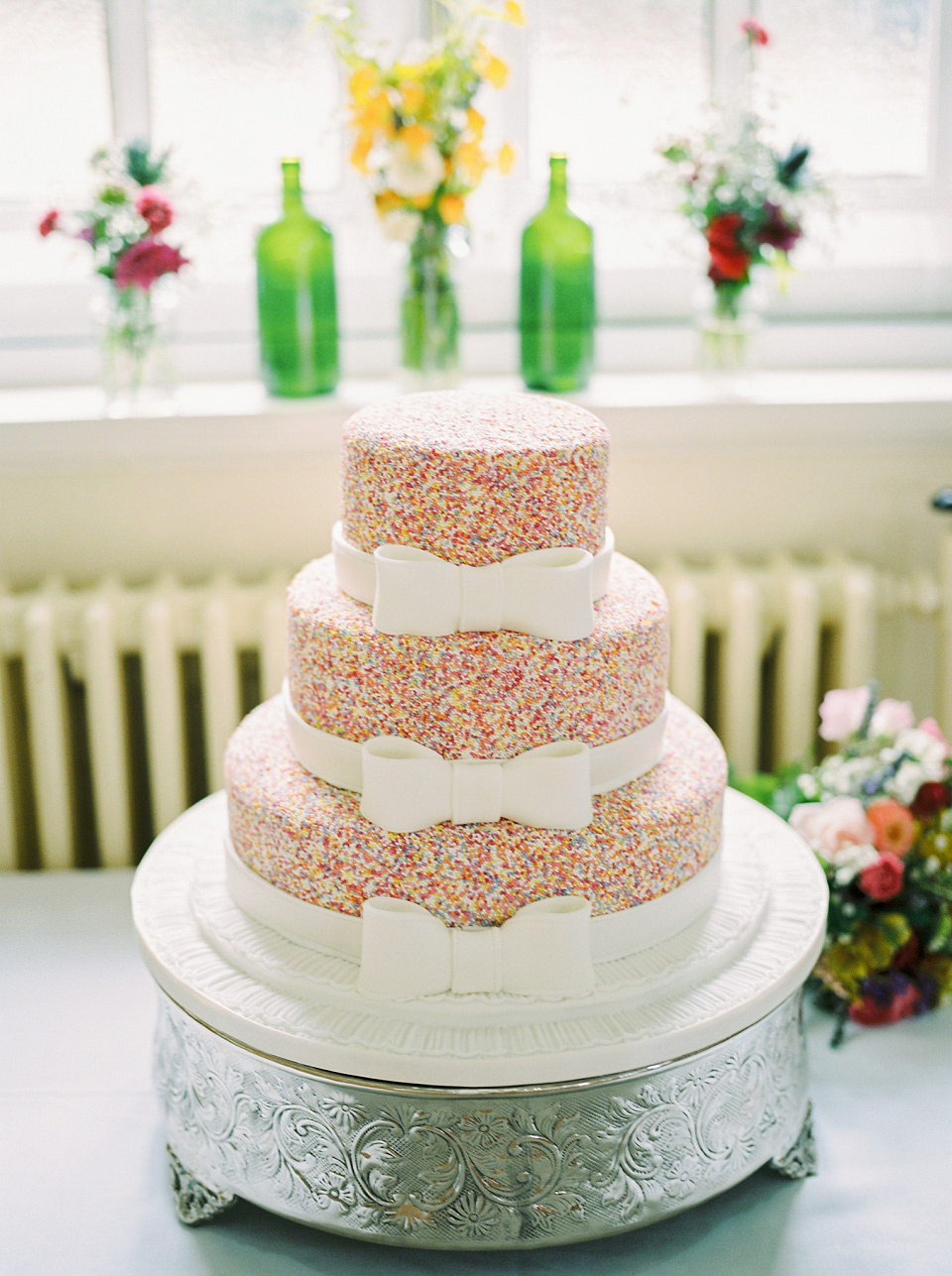 "Our cake was absolutely amazing – not only did it look exactly as I wanted but it tasted delicious! The bottom layer was a traditional fruit cake and the top two were classic victoria sponge. The guest absolutely demolished it but my mum rescued the top tier and it's sitting in her freezer!"
"We had the Eels version of Can't help Falling in Love with You. It's a beautiful version of a classic song – and most importantly it is only 2 minutes long so minimum embarrassment time for the first dance."
Words of Wedded Wisdom
"My biggest tip is to find suppliers you trust and then let them do their jobs. Don't spend the whole day worrying about things – that's what you're paying them for. By the time the day came around I didn't worry about anything and it really made me able to enjoy myself and be in the moment."
The other thing to remember is that the tiny details that become so important to you when you're planning everything probably won't be noticed by the majority of your guests. So give yourself a break and don't sweat the small stuff. Just remember that if you feed people, give them a nice drink and play some tunes you've pretty much bossed weddings."
My love and thanks to Kat and Dan for sharing their beautiful day, and to photographer Emma Bilsborough too, more from which you can see on Love My Dress here.
Have a lovely Saturday afternoon and evening all,
Love Annabel xx
Photographer – Emma Bilsborough
Venue  –  Chester Town Hall + Eccleston Village Hall
Wedding Dress – Eden' by Jenny Packham via The White Closet in West Didsbury
Bride's Hair Accessories – Glass jewelled comb via Ebay
Shoes – Rachel Simpson, Ginger in Gold via Elegant Steps in Birkenhead
Perfume – Marc Jacobs Woman Eau de Parfum
Groom – Moss Bros + Jones the Bootmaker
Florist – Great British Florist
Cake – Gayle Jones of Gayle's Yummy Cake
Transport – Argyle Taxis + Routmaster4Hire
Entertainment –
Rings – Ring Jewellery
Catering Company – Stable Cuisine