Hello folks. What better way to start the week than with a quirky, open air, Scottish Tipi wedding! I have to confess; I have a real soft spot for nuptials north of the border. Scotland's wild, rugged, countryside and historic, cultured cities offer a wealth of spectacular backdrops for weddings, plus the light in this special part of the world has a quality seldom found elsewhere. Furthermore, the rules and regulations governing alfresco weddings in Scotland are much more relaxed than those south of Hadrian's Wall; allowing couples to make the most of the scenery and tie the knot wherever they choose.
Audrey and Andrew became husband and wife on the 1st of August 2015 at The Falkland Estate in Fife, Scotland. The couple held their humanist ceremony outside, in a ruined chapel, followed by a reception in a giant hat tipi overlooking the estate's acres of lush green hills and ancient woodland. We are delighted that one of our Little Book For Brides members took these photographs – the wonderfully talented Paul Joseph.
"The setting of our wedding was so beautiful, there was very little need to overcomplicate things. My family and I are very creative so it was our chance to experiment and make things. We didn't want a theme or to be too colour coordinated. Andrew wanted to wear tartan and I love neon colours so we incorporated both of these elements."
Photography by Paul Joseph Photography
Find Paul Joseph Photography in Little Book For Brides
Follow Paul Joseph on Instagram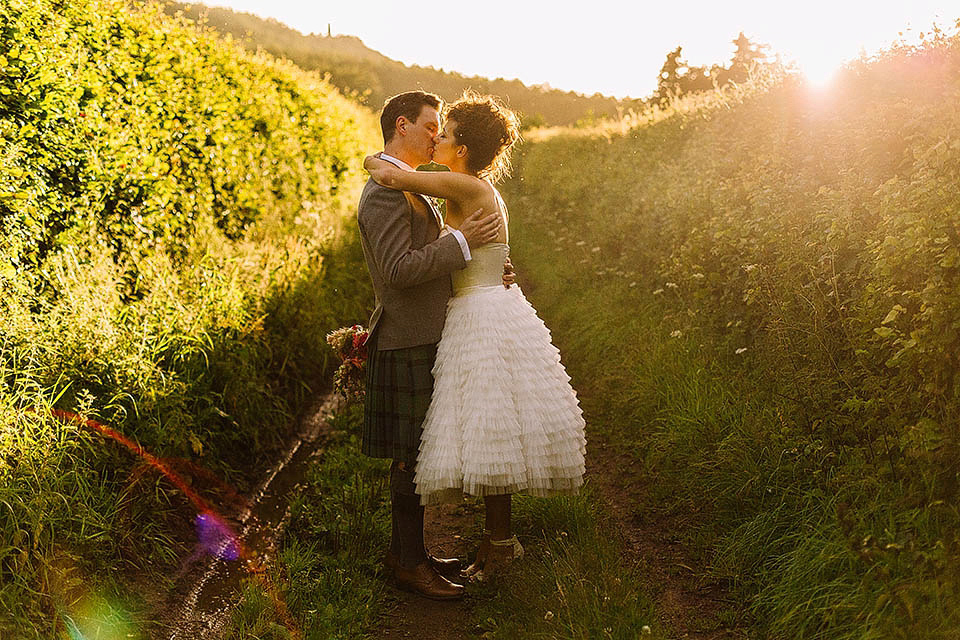 Audrey wore 'Harriet' by House of Mooshki; a short tea length wedding dress, which she purchased from Pretty Woman in Edinburgh. I love the gown's strapless silk satin bodice and tulle layered ruffle skirt! Her three bridesmaids looked fabulous in ivory ASOS skirts paired with silver, sequinned tops from Coast. Continuing the neon theme, each 'maid wore a pair of brightly coloured shoes.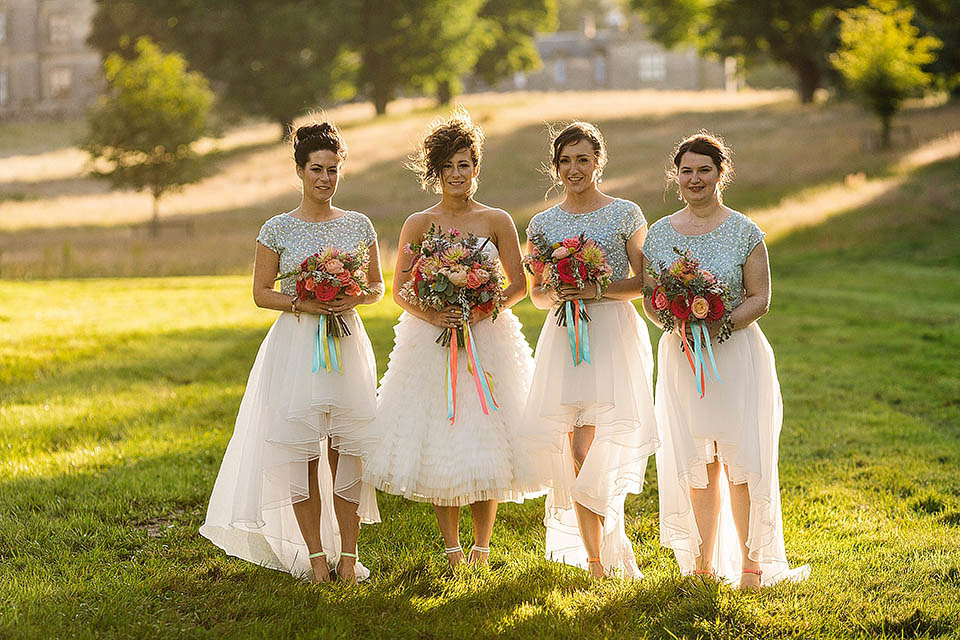 Our couple's big day was captured by Paul Joseph Photography. I love the sense of joy and fun which emanates from these beautiful images…
"Paul Joseph Photography were outstanding! They are the champion of all wedding photographers and one of the best decisions we made for our wedding. Paul Joseph captured every tiny little moment, look and glance perfectly. We didn't know they were there half the time and they were loads of fun. Our photos are beautiful and a brilliant record of our day."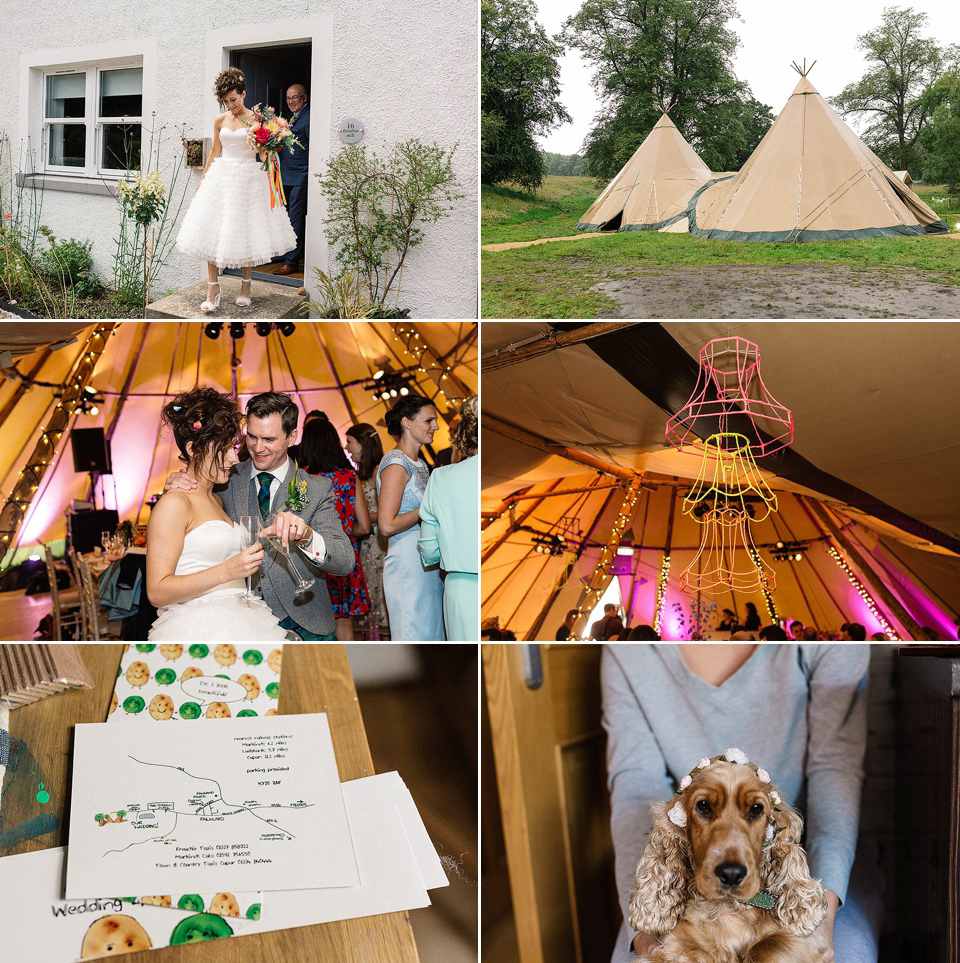 Audrey and Andrew first met seven years ago while working at the same branch of NatWest in Edinburgh. After Audrey moved to London their paths did not cross again until she returned to the city in 2012. Following a few furtive emails, the couple met up again and the rest is history! After a year of dating, Andrew proposed atop of Edinburgh's legendary peak; Arthur's Seat…
"On the day of the engagement, I didn't suspect a thing. Andrew suggested we went for a walk up Arthur's Seat to watch the sunset, which we'd been meaning to do for a while. On the way up, we both got lazy so we decided to head for the crags instead. Andrew proposed while we were snacking on Babybels, cocktail sausages, cheesecake and pineapple chunks, watching the best sunset I've ever seen."
Our bride wore a few flowers from her bouquet in her hair and a pair of block heels with feather detail from Topshop.
"My makeup was applied by Sophie Crompton who is MAC qualified. She is just starting out and is utterly brilliant."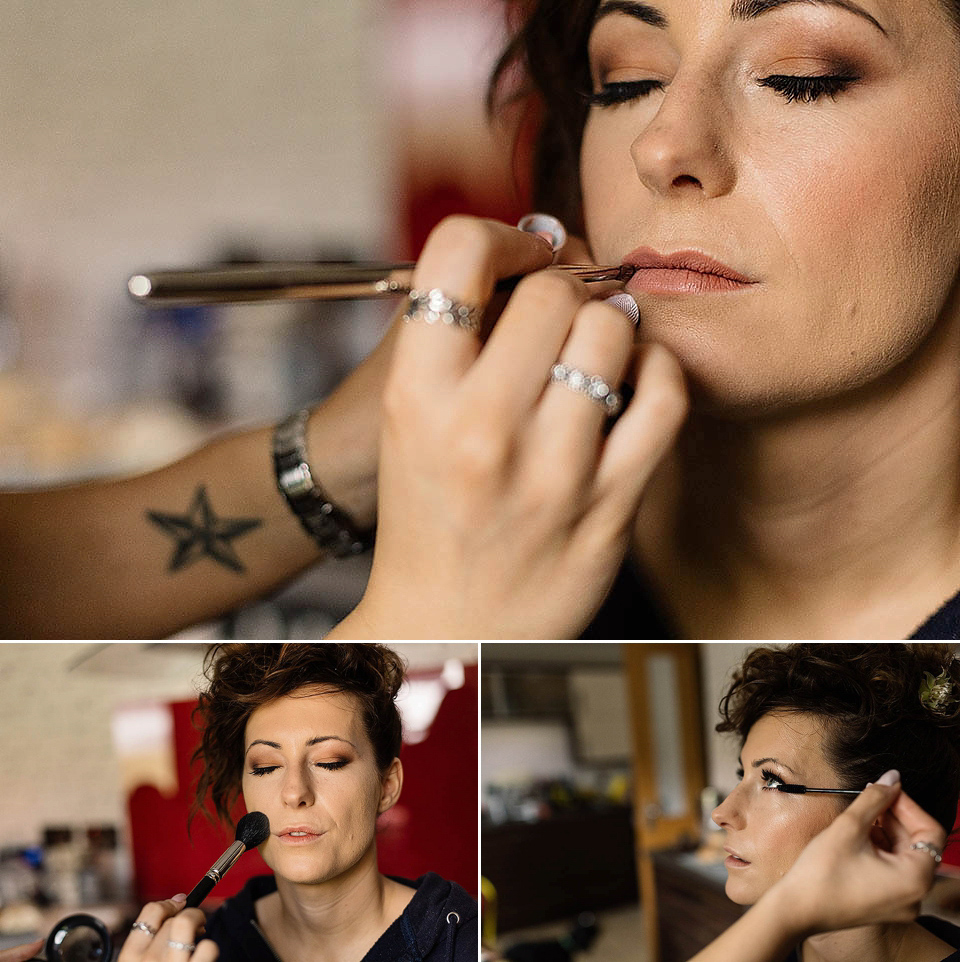 "In the first dress shop I went into the lady said: 'there are two types of brides. The first are the girls who have dreamt of being a bride since they were tiny, and dress shopping is the culmination of all their dreams to be a princess. Then there are brides who dread it and just need to get it done. You are the latter.' She was so right."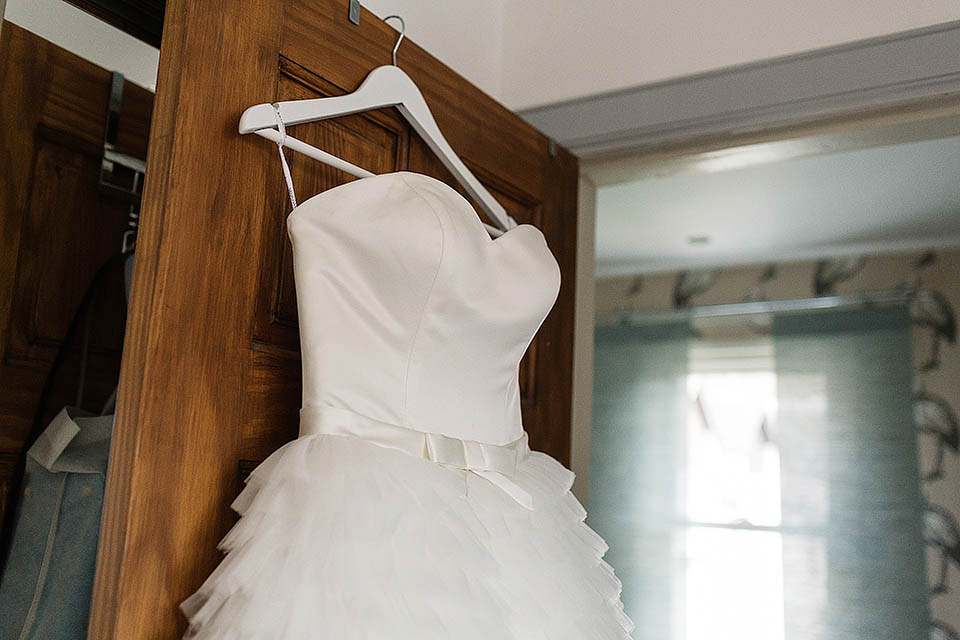 "Every dress I tried on was hilarious and everywhere I went there were reams of frilly, pearly, shimmery fabric. In one shop I felt surrounded! All the dresses were bulky and unflattering (I didn't think I had back fat until I tried on a wedding dress!) and I couldn't find even one dress that appealed. They all aged me."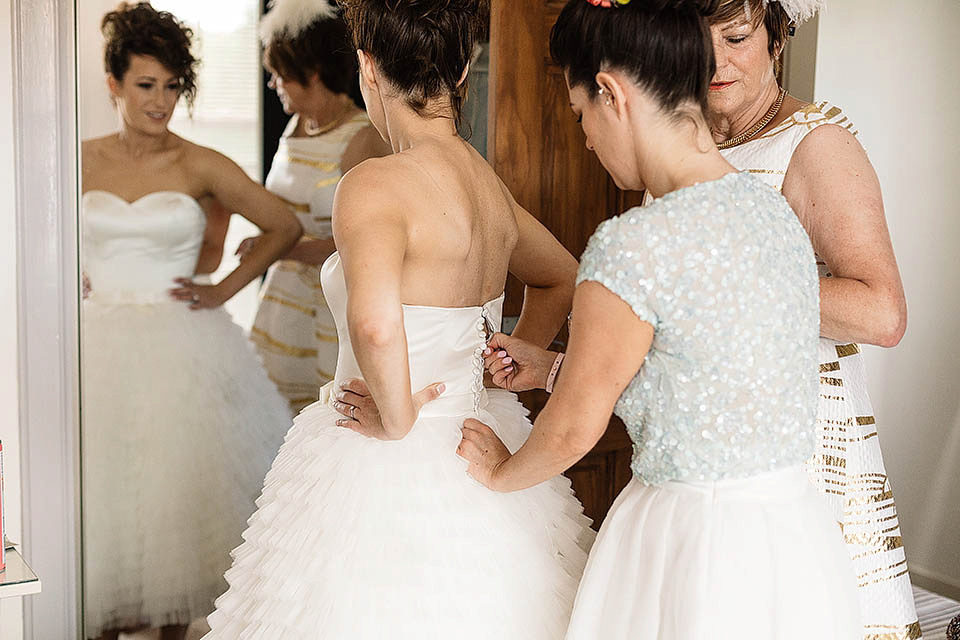 "I had all but given up when I discovered House of Mooshki at Pretty Woman. My sister picked out a wild card which turned out to be perfect. Just like when Ollivander matches the young wizards to their perfect wand in Harry Potter, I was matched to my perfect dress! It was short, slightly funky and somehow didn't add bulk (or back fat), plus it made me feel like a lady."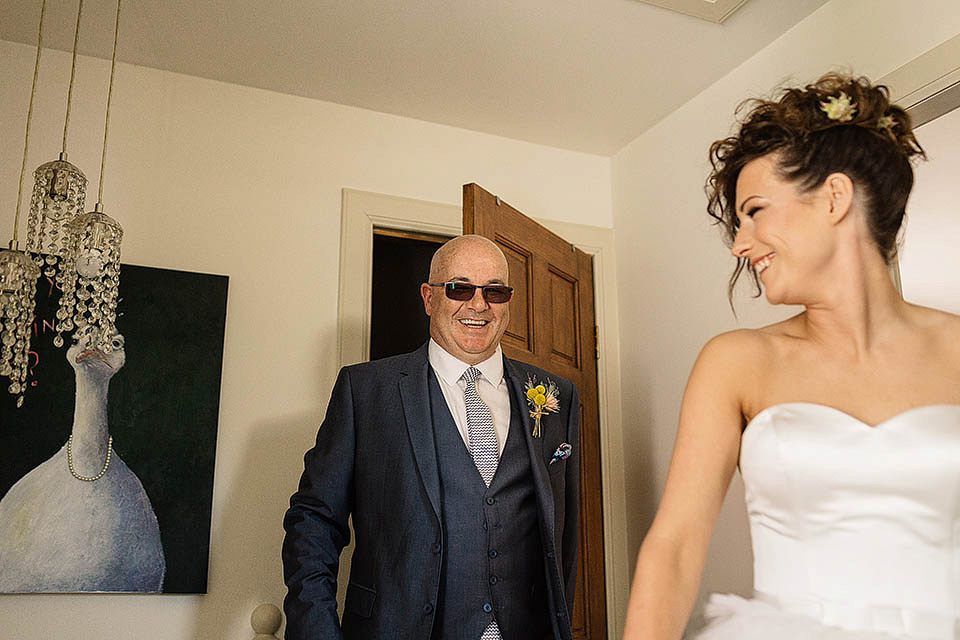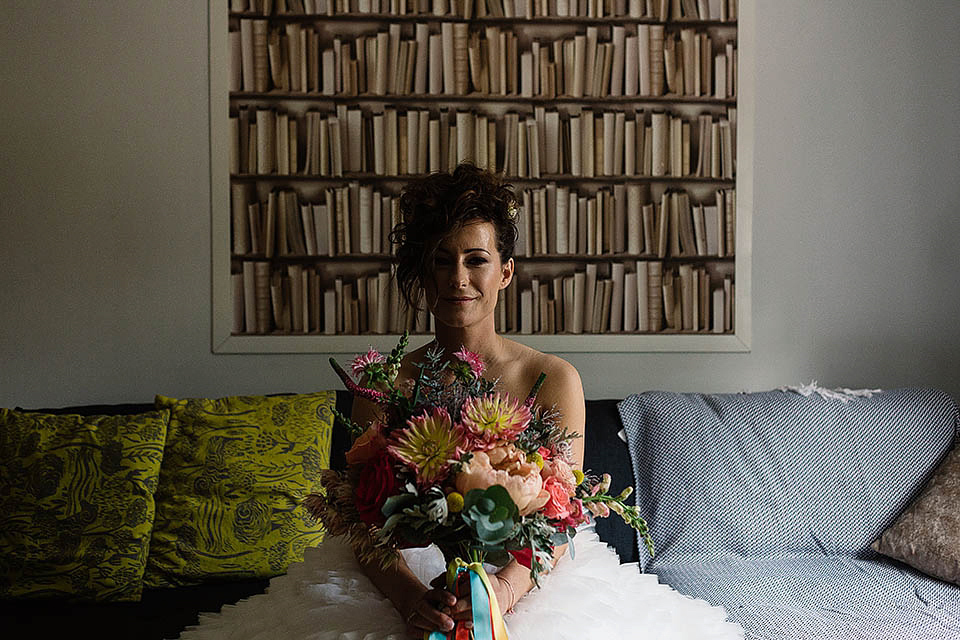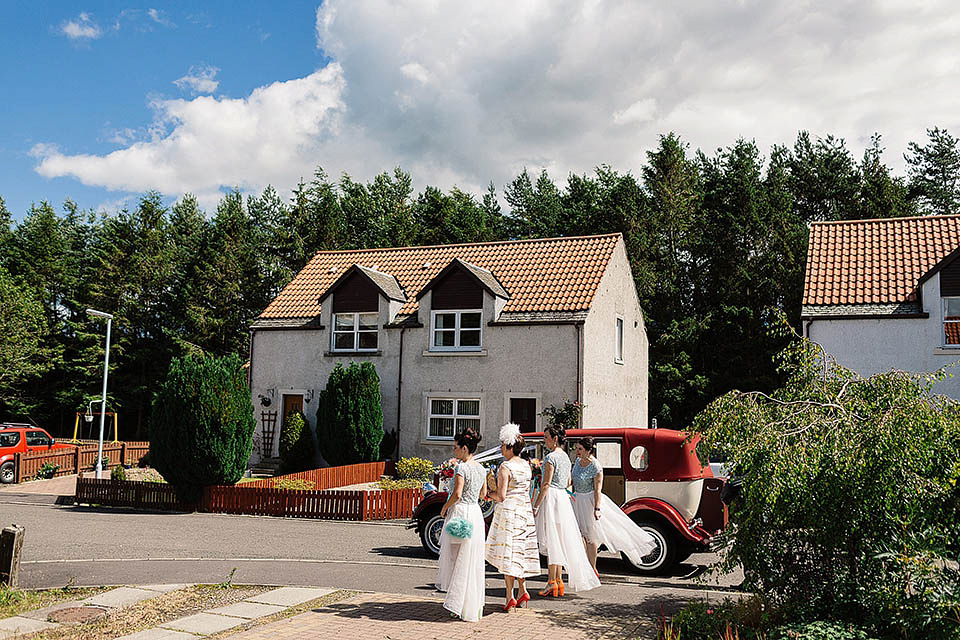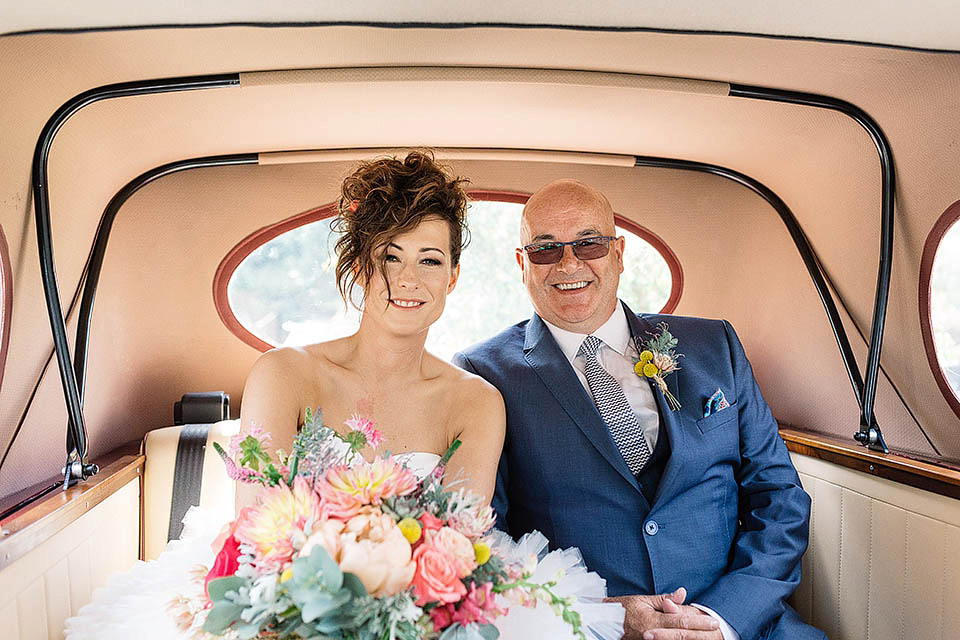 Meanwhile, Andrew looked handsome in traditional Scottish attire, dressed in a blue and green kilt and a tweed waistcoat and jacket from MacGregor and MacDuff in Glasgow.
"Andrew's favourite part of the day was the time we spent together on our own (with Paul and Kelly) our photographers. It was so nice to spend time with one another and take a breath."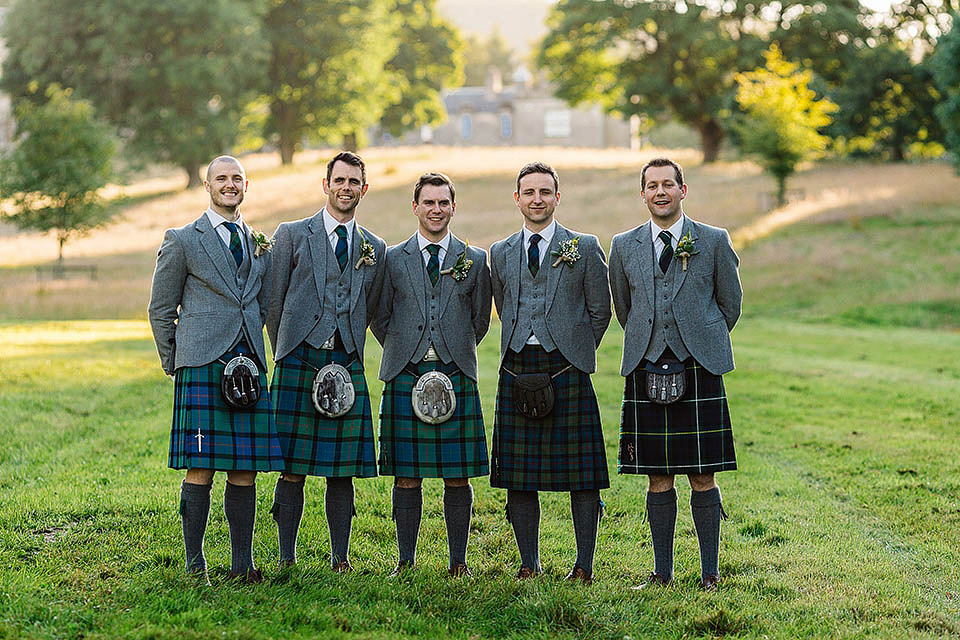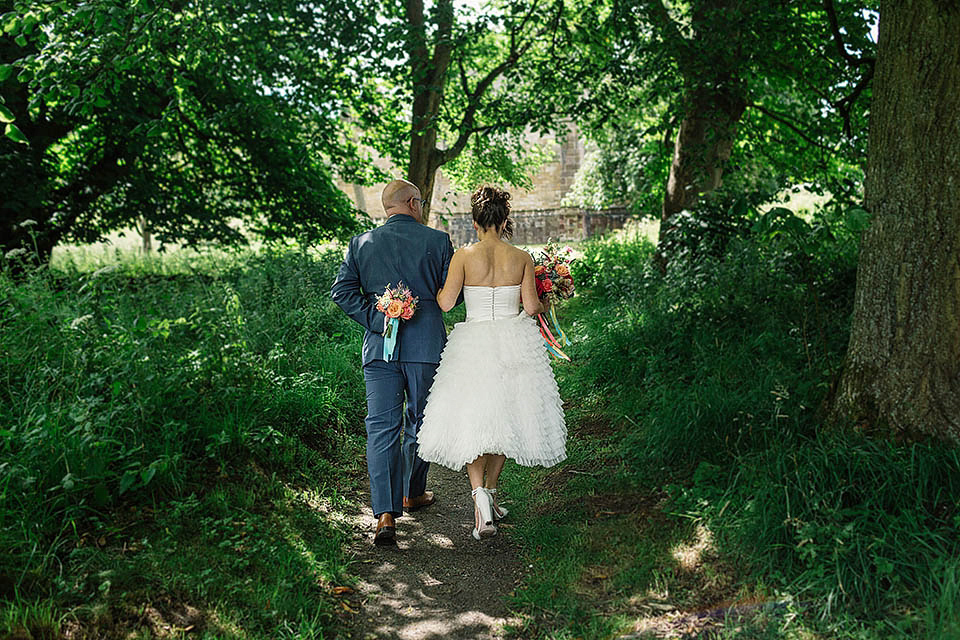 The couple tied the knot in a dreamy open air location; a ruined chapel set in the grounds of The Falkland Estate. Audrey's dad walked her up the aisle to Johann Pachelbel's 'Canon in D Major', performed by a string quartet.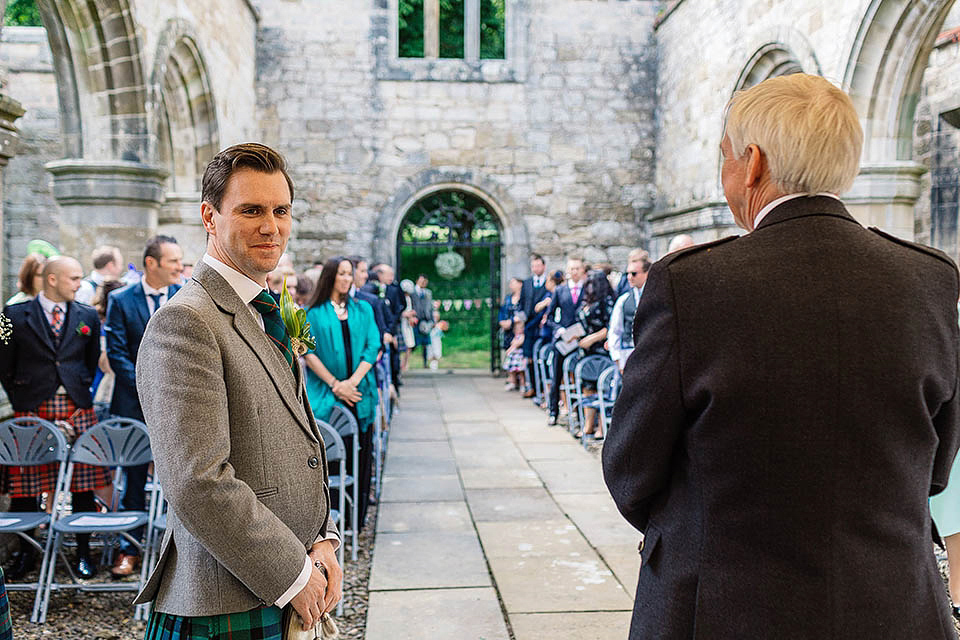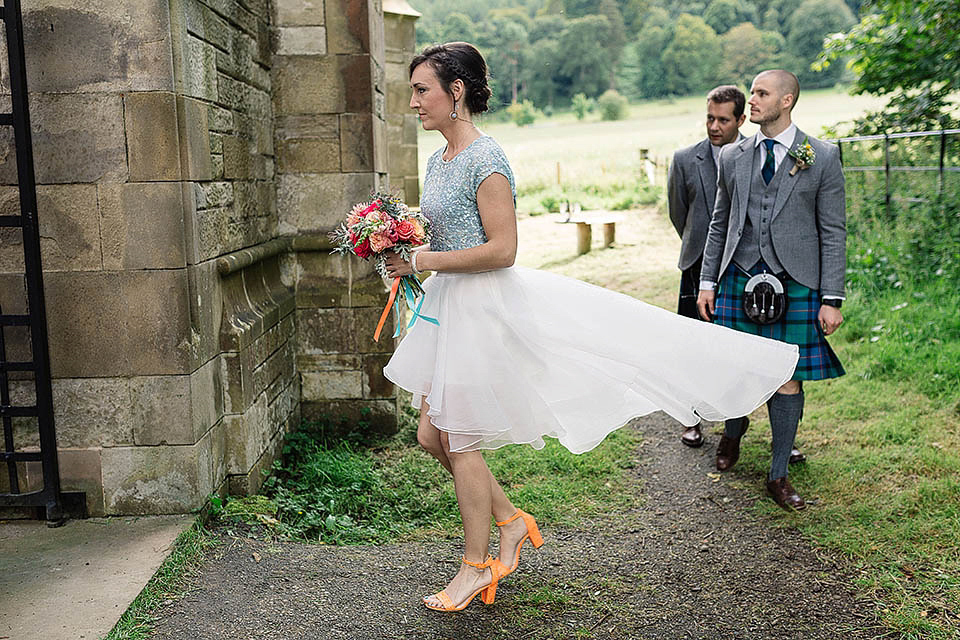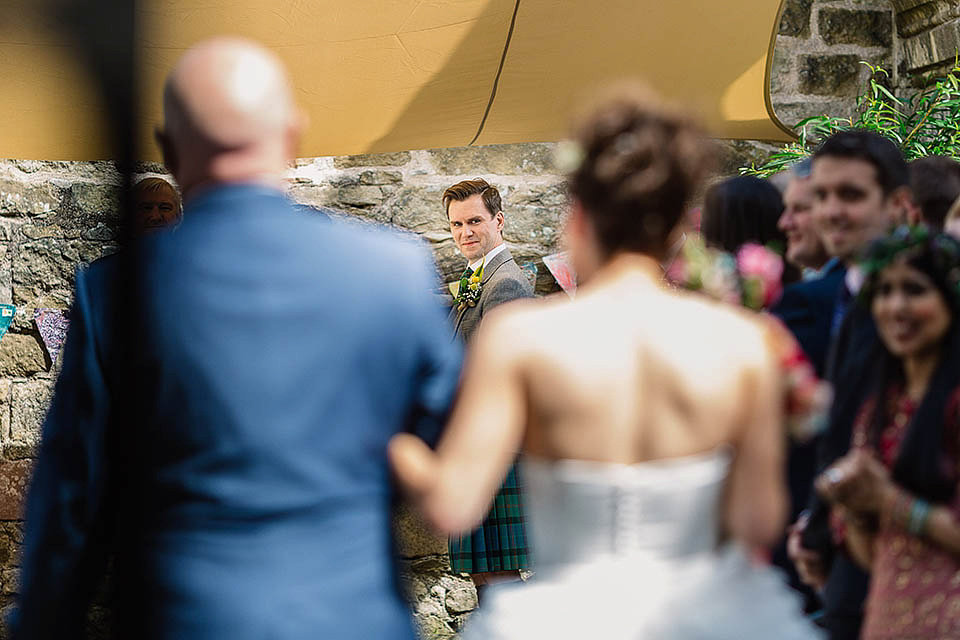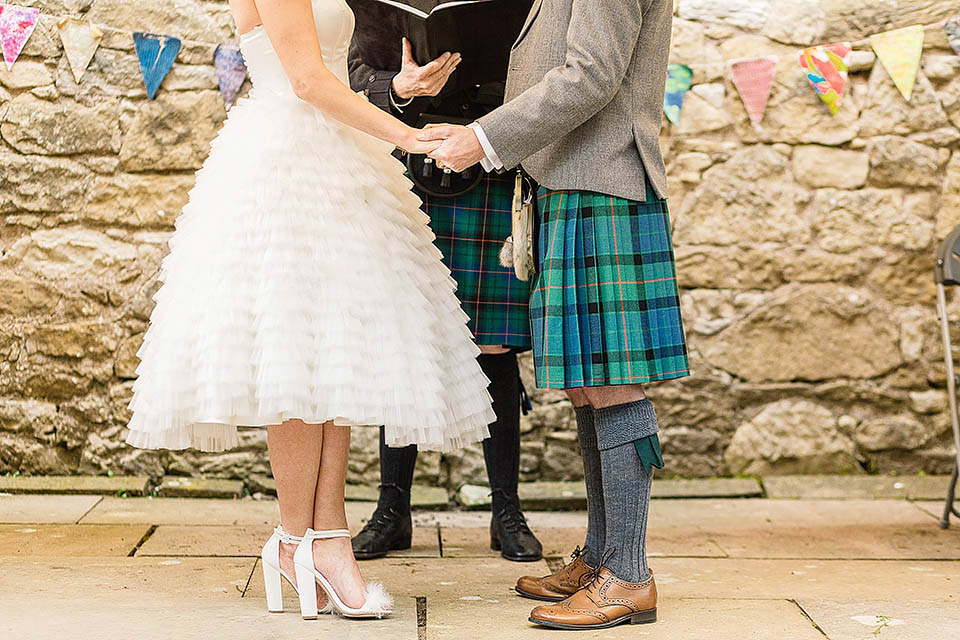 Our couple, who opted for a humanist ceremony, chose two readings: 'I Like You' by Sandol Stoddard Warburg and 'Patience' by Lang Leav…
"We chose 'I Like You' because it illustrates how easy and silly love should be – and perfectly describes the way we are with one another and we chose 'Patience' because I am always late and Andrew is always early!"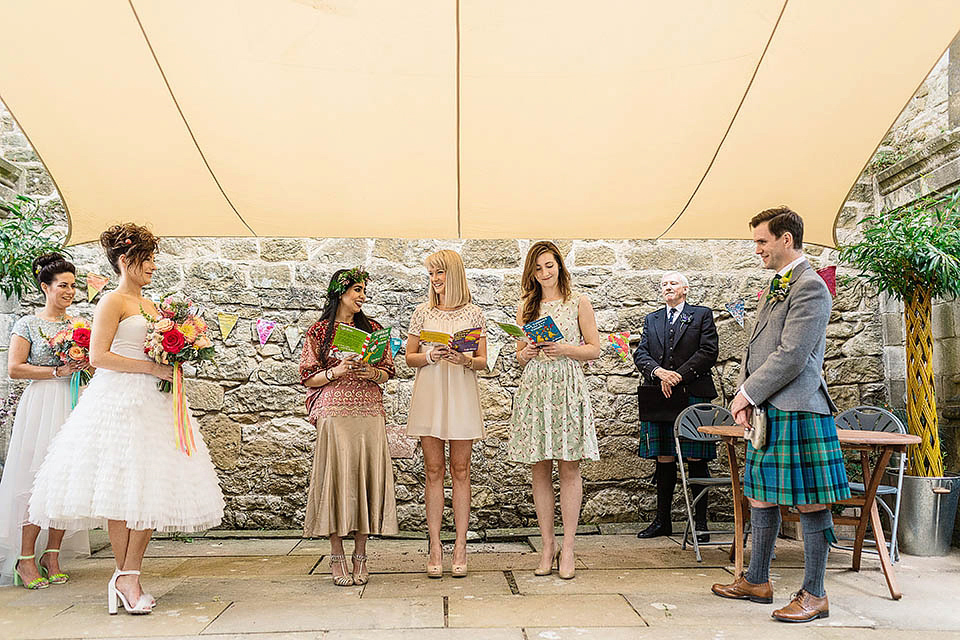 "The ceremony was one of my favourite parts of the day because all of our friends and family were together and it was the bit with real meaning."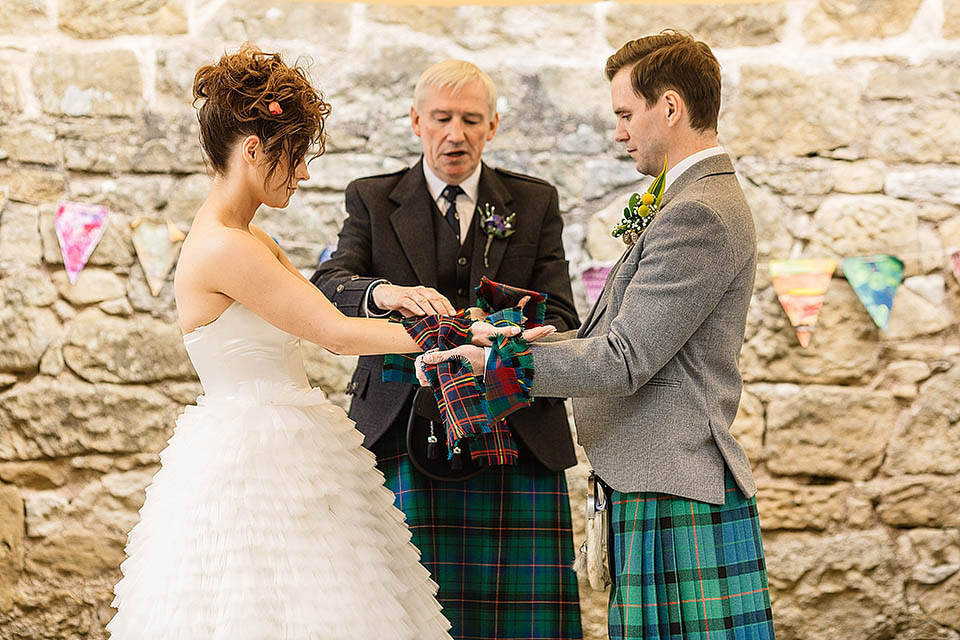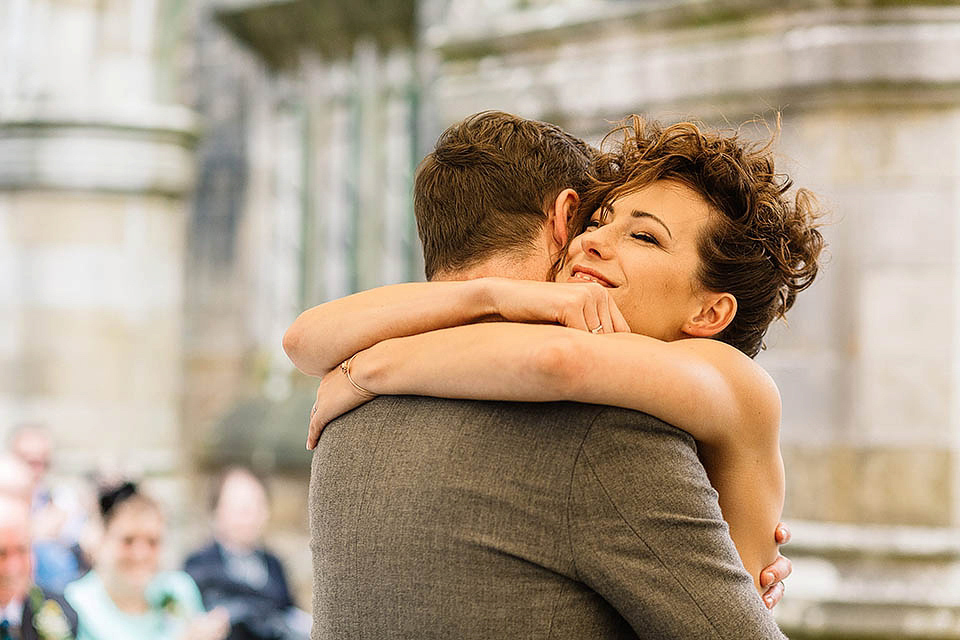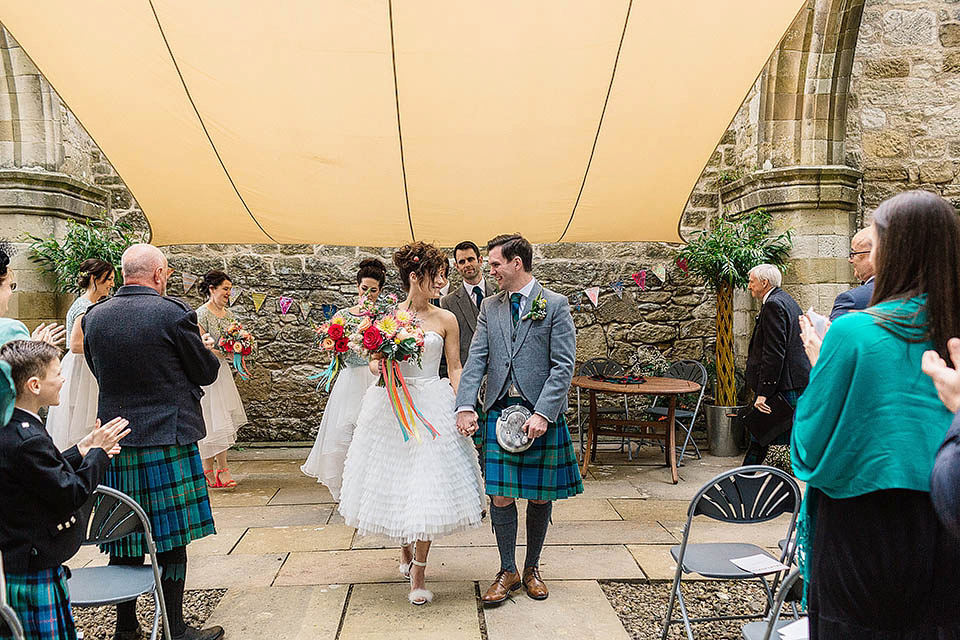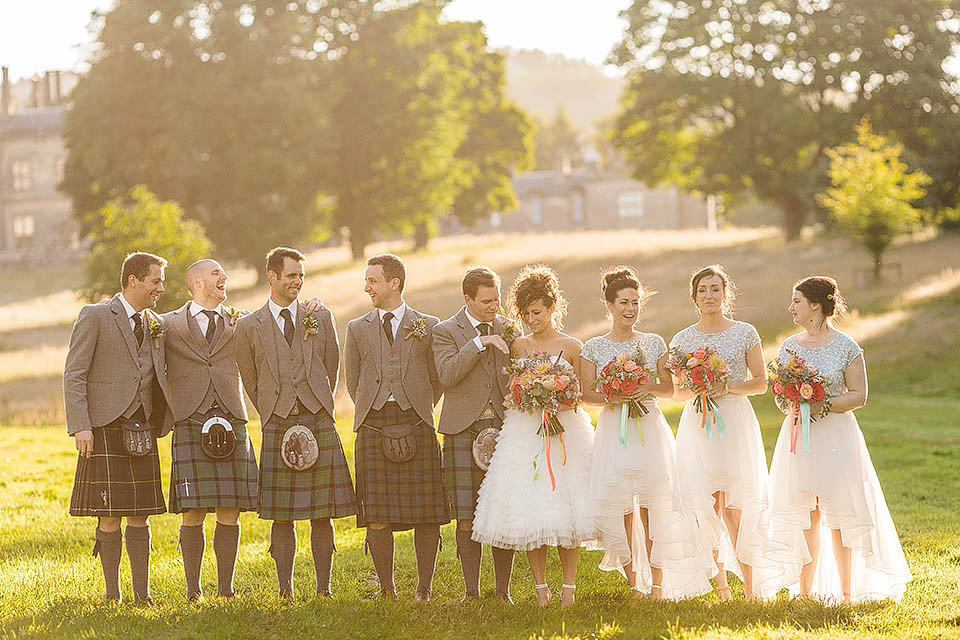 "Our bouquets were arranged by Floral Menagerie. They were out of this world and I loved the addition of the neon ribbons. My mum made planters for the aisle and arranged the table flowers – she couldn't have done a better job and we got our buttonholes from Blacketyside Farm Shop – they were just perfect!"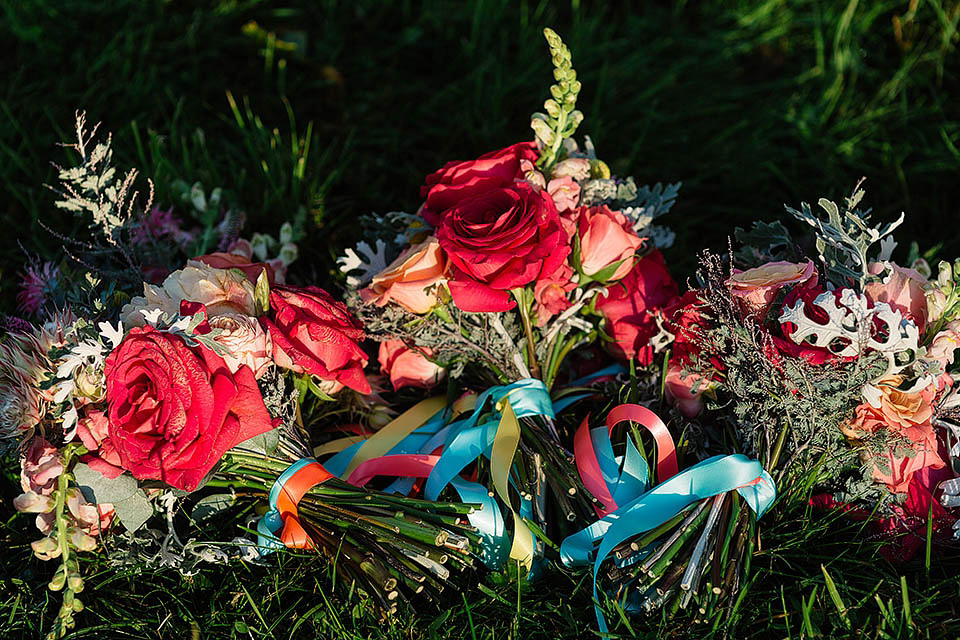 "My mum bought some old lampshades and wrapped them in neon bias binding to hang from the roof of the tipis."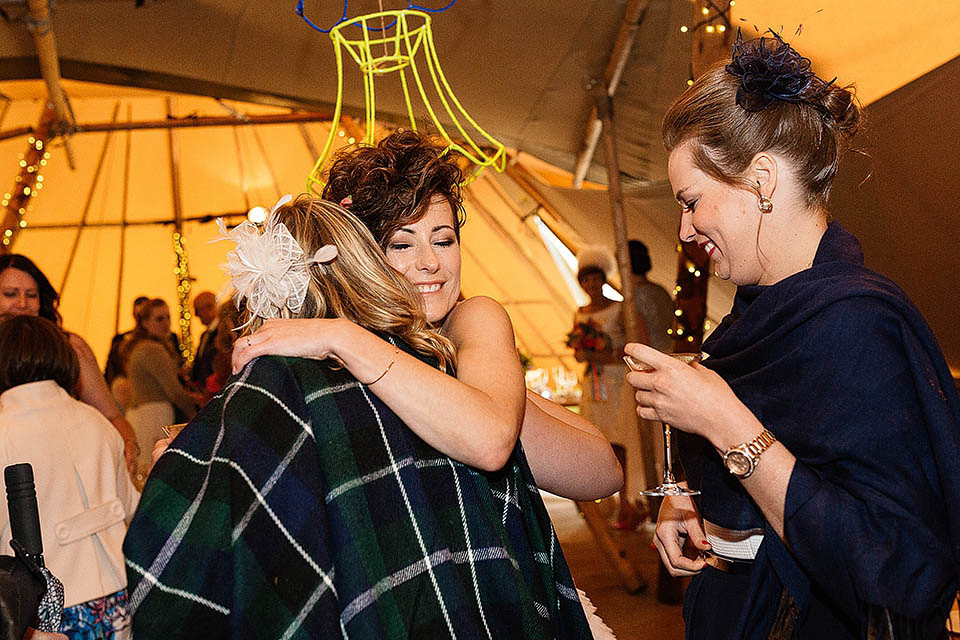 In addition to their brightly coloured blooms, the couple decorated their tipi with neon candlesticks and upcycled lampshade frames…
"I spent a long time fussing over how I'd do the invitations. I eventually settled on sketches of Andrew and I as a Potato head and a Pea head (our nicknames!) and this became the theme throughout all the stationery. I even made my own font, which is quite easy to do, and put it all together on Photoshop. The invitations were printed at Printed.com and were great quality."
"My grandad was born in a cottage near to The Falkland Estate and his favourite place was Falkland Hill. I used to come to the estate to feed the ducks with my family, as a toddler and I've visited many times since.  
Most venues seemed a bit prescriptive and rigid, whereas the The Falkland Estate gave us the  freedom to create a wedding that was totally ours."
Readers if you would like more of a low-down on wedding venues (via an honest, no bull-style feature), then read this post and this post.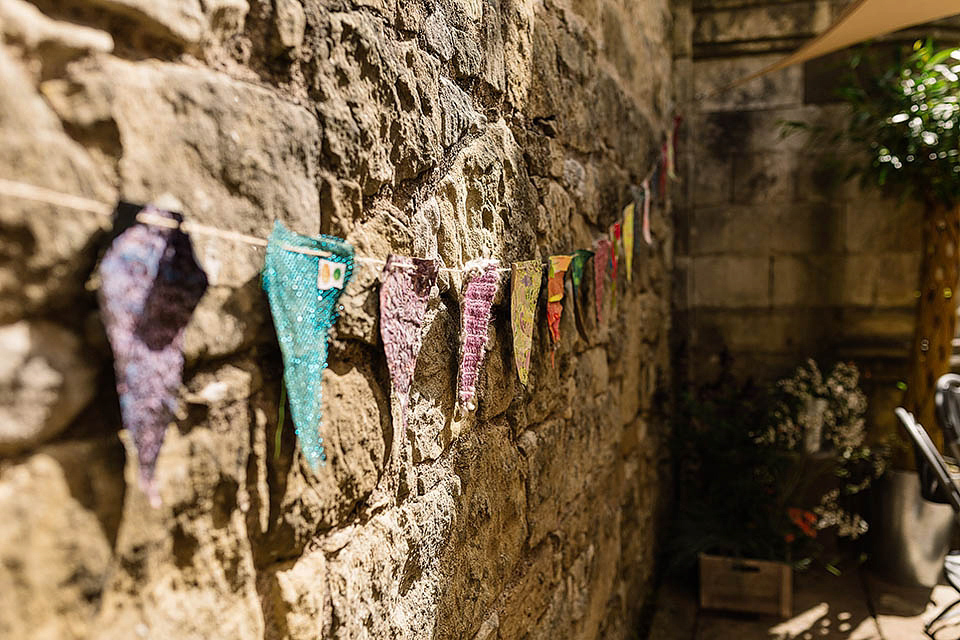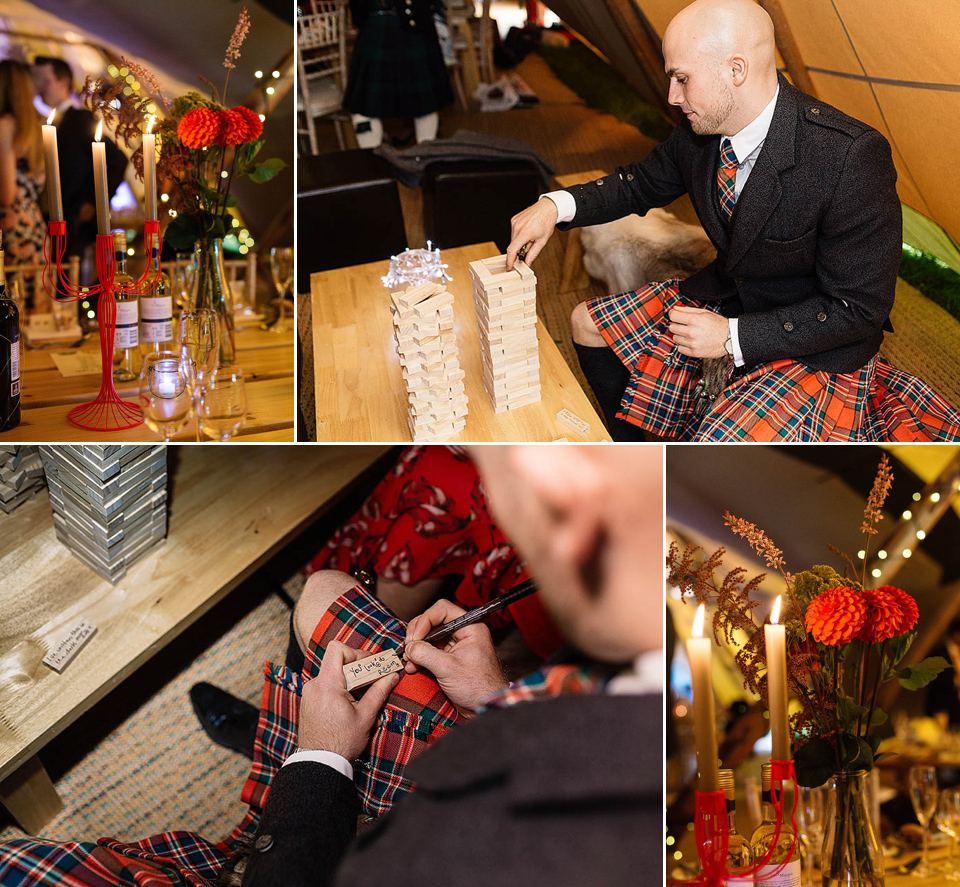 "I really loved the speeches, especially my Dad's. He was really nervous about it but it was really heartfelt and sincere, and FUNNY!  A lot of people have said to me since the wedding how much they enjoyed his speech."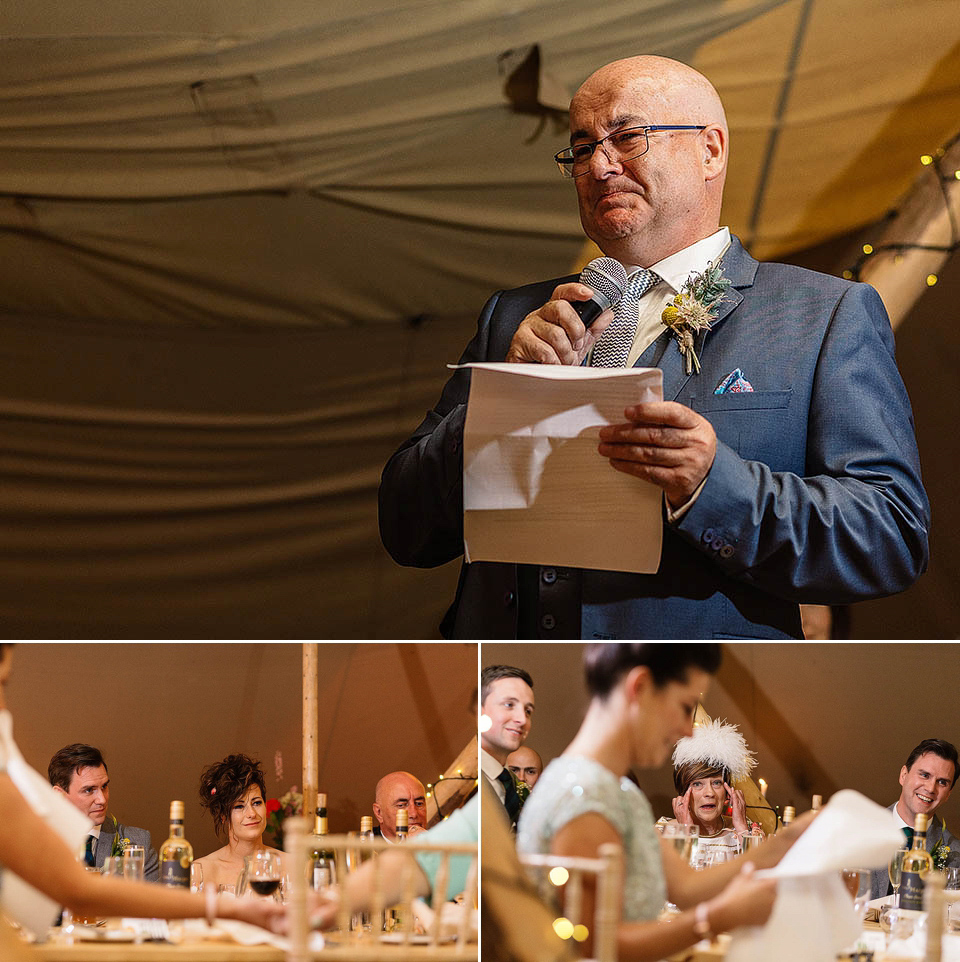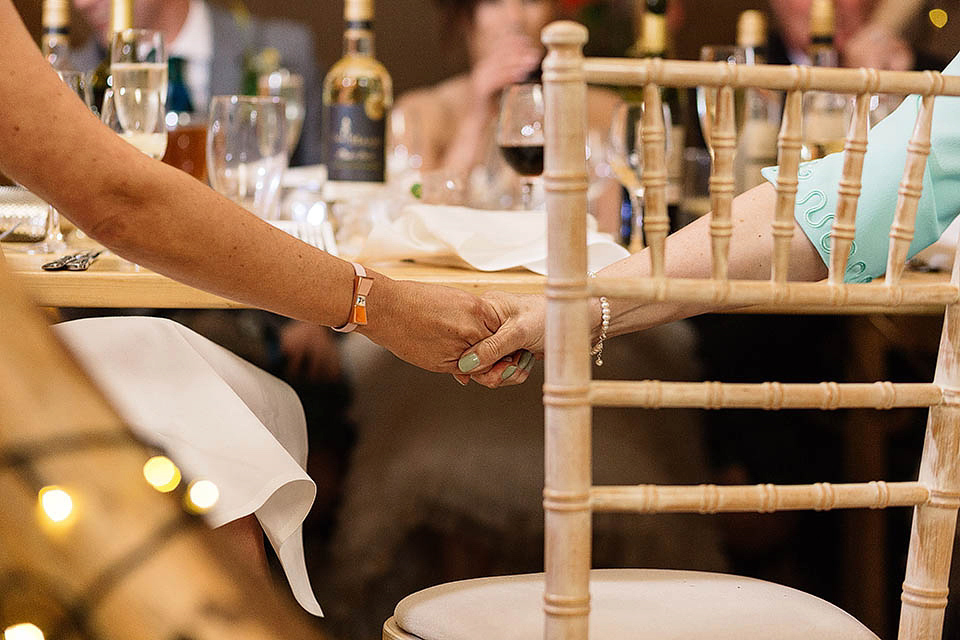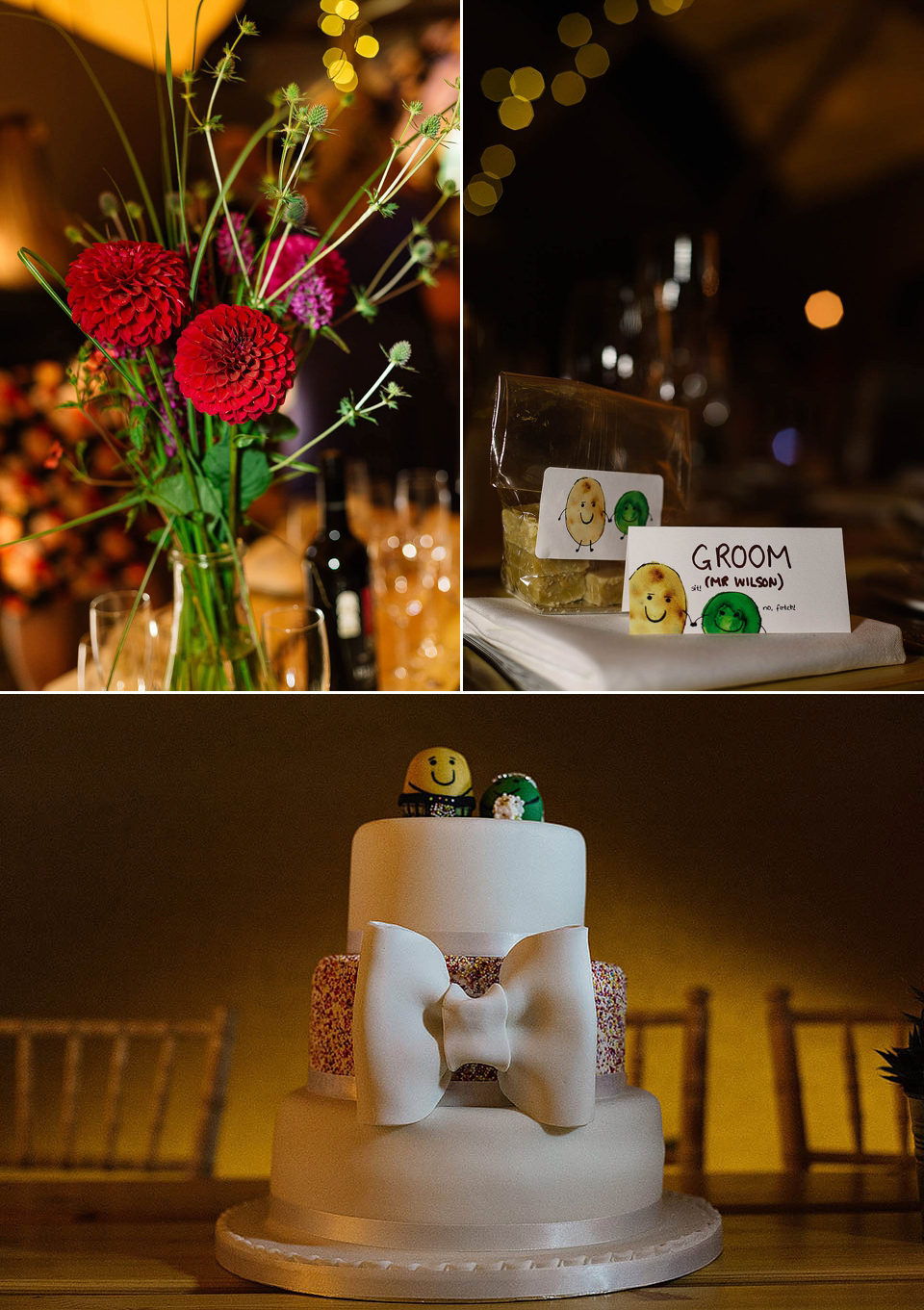 "Our caked was created by Temptations Boutique Bakery and consisted of three tiers of chocolate, carrot, and vanilla, one of which had hundreds of thousands – it was super tasty! Temptations even recreated our potato and pea head design from our invitation. The girls were great and really listened to what we were after."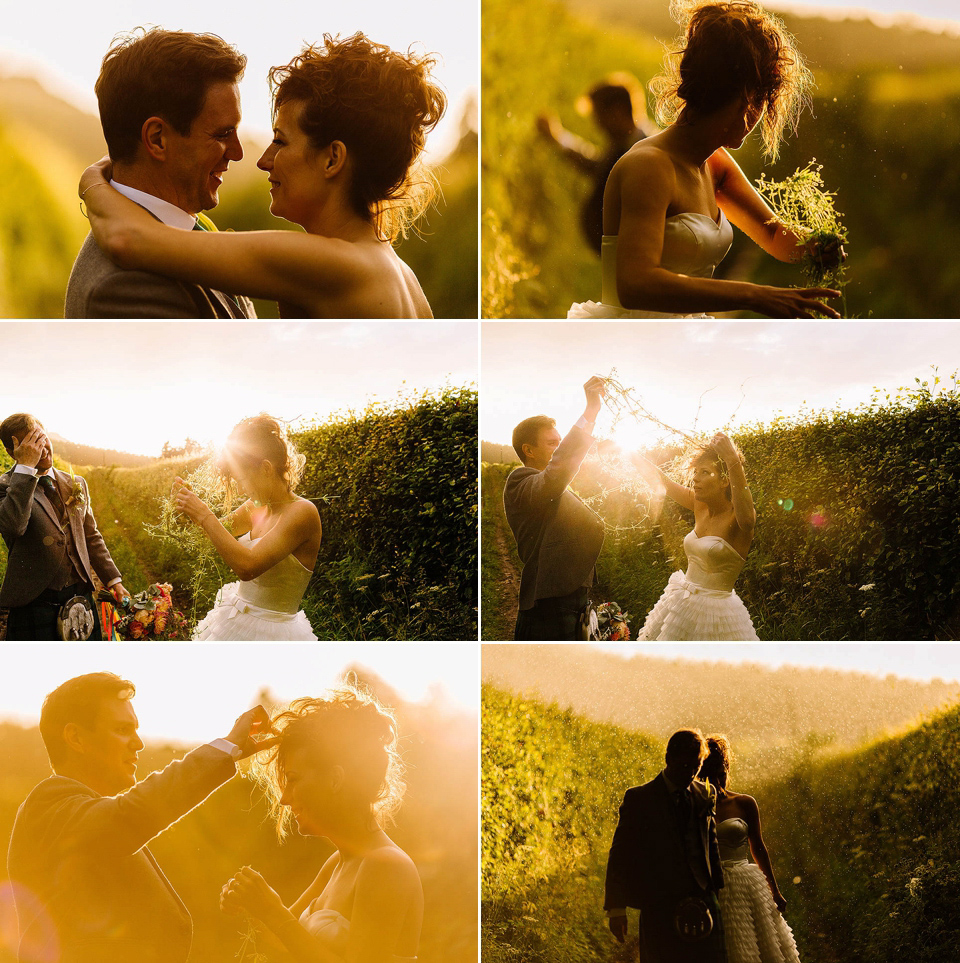 Audrey and Andrew's entertainment was provided by DJ Nicola Bear from Wedding Jam. I love the photos from the evening – the dancefloor looks really fun!
"Nicola was REALLY good. We chose a DJ as we loved clubbing in Ibiza and really dislike wedding bands. Nicola played a great range of dance and house music and had the floor full all night. When she stopped everyone was chanting 'one more song, one more song!'"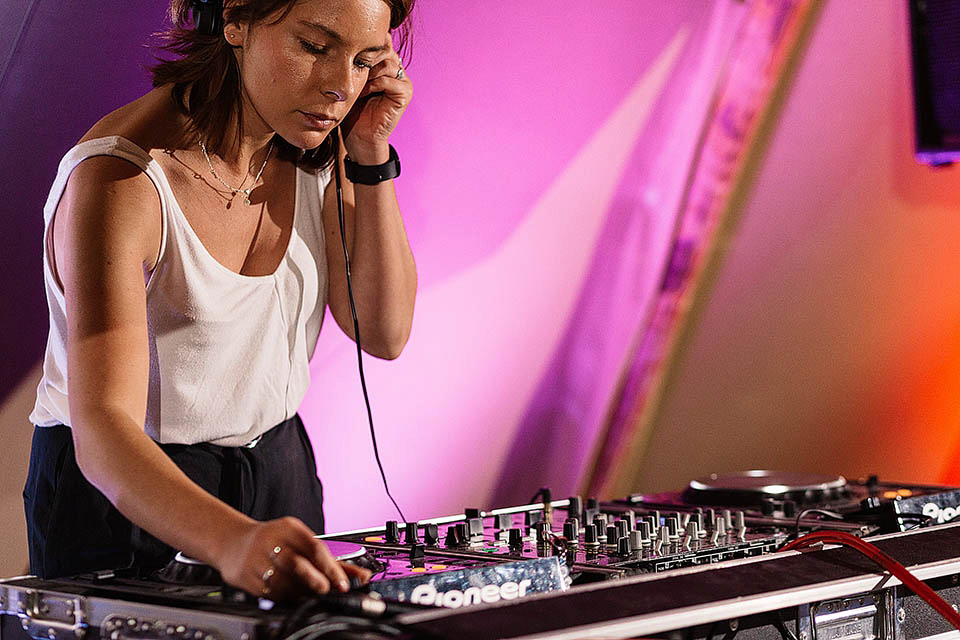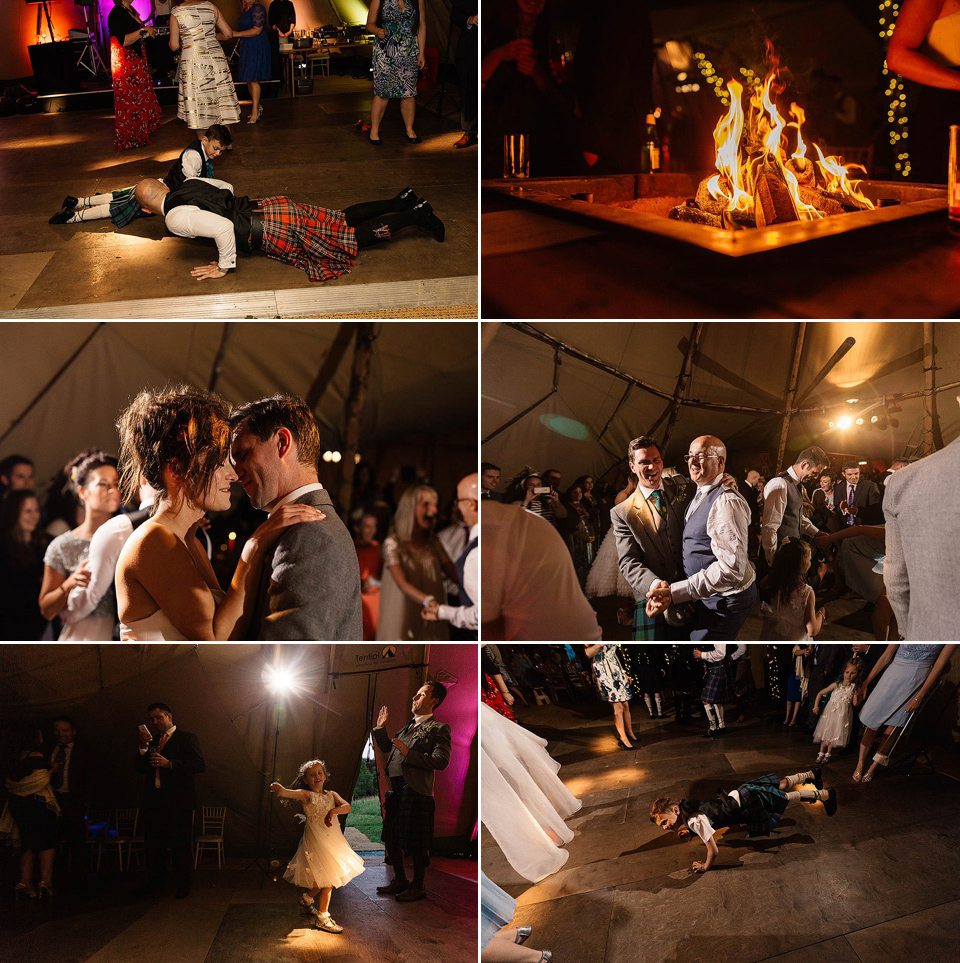 Words of Wedded Wisdom
"Do it your way and don't let anyone tell you otherwise! You know what you want. When we told our guests were getting married outside we were asked countless times, 'Oh but, what if it rains?'. Carry a brolly and stand under it!"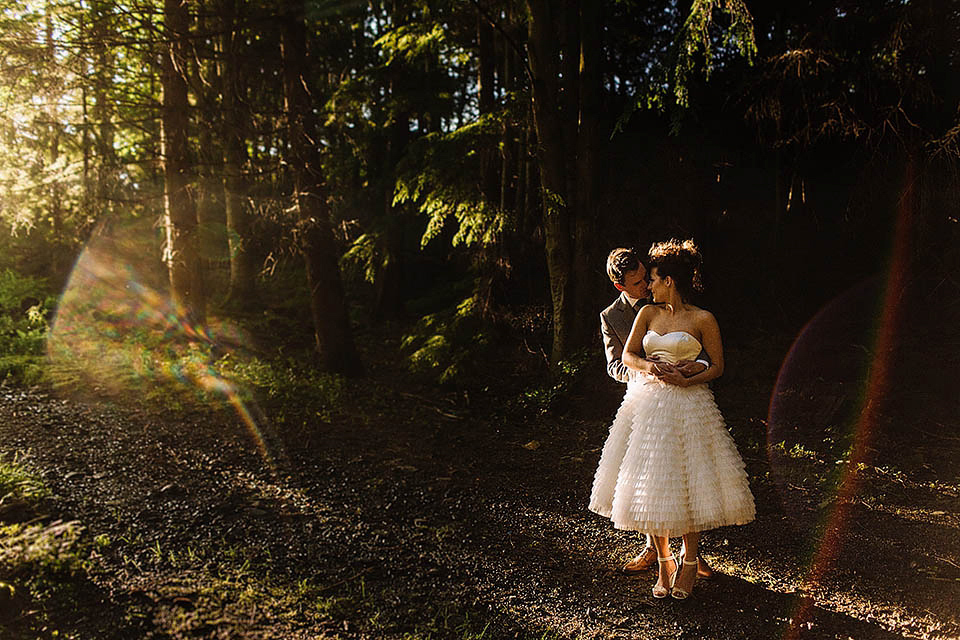 A huge thanks to the happy couple for sharing their big day and to Paul Joseph Photography. If you'd like to see other lovely Scottish weddings, please do follow this link. You can find lots of dreamy, open air weddings in our extensive archives.
Wishing you a wonderful rest of your week!
Annora x
Photographer – Paul Joseph Photography
Venue – Ceremony held in a ruined chapel, followed by a reception in a giant hat tipi hired from Highland Tipis, both held in the grounds of  The Falkland Estate, Fife.
Wedding Dress – 'Harriet' by House of Mooshki, purchased from Pretty Woman in Edinburgh
Shoes – Topshop
Groom – MacGregor and MacDuff, Glasgow
Bridesmaids – Coast tops + ASOS skirts
Flowergirls – Monsoon
Florist – Bouquets from Floral Menagerie + buttonholes from Blacketyside Farm Shop + aisle flowers and table décor arranged by the bride's mum
Cake – Temptations Boutique Bakery
Transport – Rosebine Wedding Cars, Fife
Entertainment – DJ Nicola Bear from Wedding Jam
Rings – Rox, Edinburgh.
Catering – Regis Banqueting
Stationery – Designed by the bride and printed at Printed.com
Makeup Artist – Sophie Crompton Makeup Artistry