As I write this, I'm sitting in my local pub that's just around the corner from home, soaking up the late afternoon sunshine in the beer garden. It reminds me of lazy weekends in the UK where I would head into London on the red double-decker bus, discover the sights, sounds and tastes of a new borough and finish up with a drink in its local establishment. I'd always laugh as I entered the pub as, being vertically challenged, I never had to duck under the low-beamed entrance. I was in one of these London pubs, quietly reading and sipping a drink, when a wedding party suddenly burst through the doors. The couple's happiness and laughter was completely infectious and I burst into a grin at their newlywed joy. I can just imagine the same thing for our lovely bride and groom, as they arrived to celebrate their nuptials at The Londesborough pub in Stoke Newington.
Meet Catherine, a medical secretarial manager, and Daniel, who works as head of business intelligence. They wed on Friday 21st August 2015 at Islington Town Hall, then held their reception at the pub, and the couple watched their vintage theme materialise throughout the planning stages.
"The vintage styling of the day wasn't particularly conscious; it just emerged naturally through our love of all things old and retro. We didn't want a particularly rigid colour scheme and share a love of bright colours and mismatching, so just went with a loose palette based on the bridesmaid dress fabrics I'd chosen, and hoped the colours would all come together."
Photography by Natalie J Weddings Photography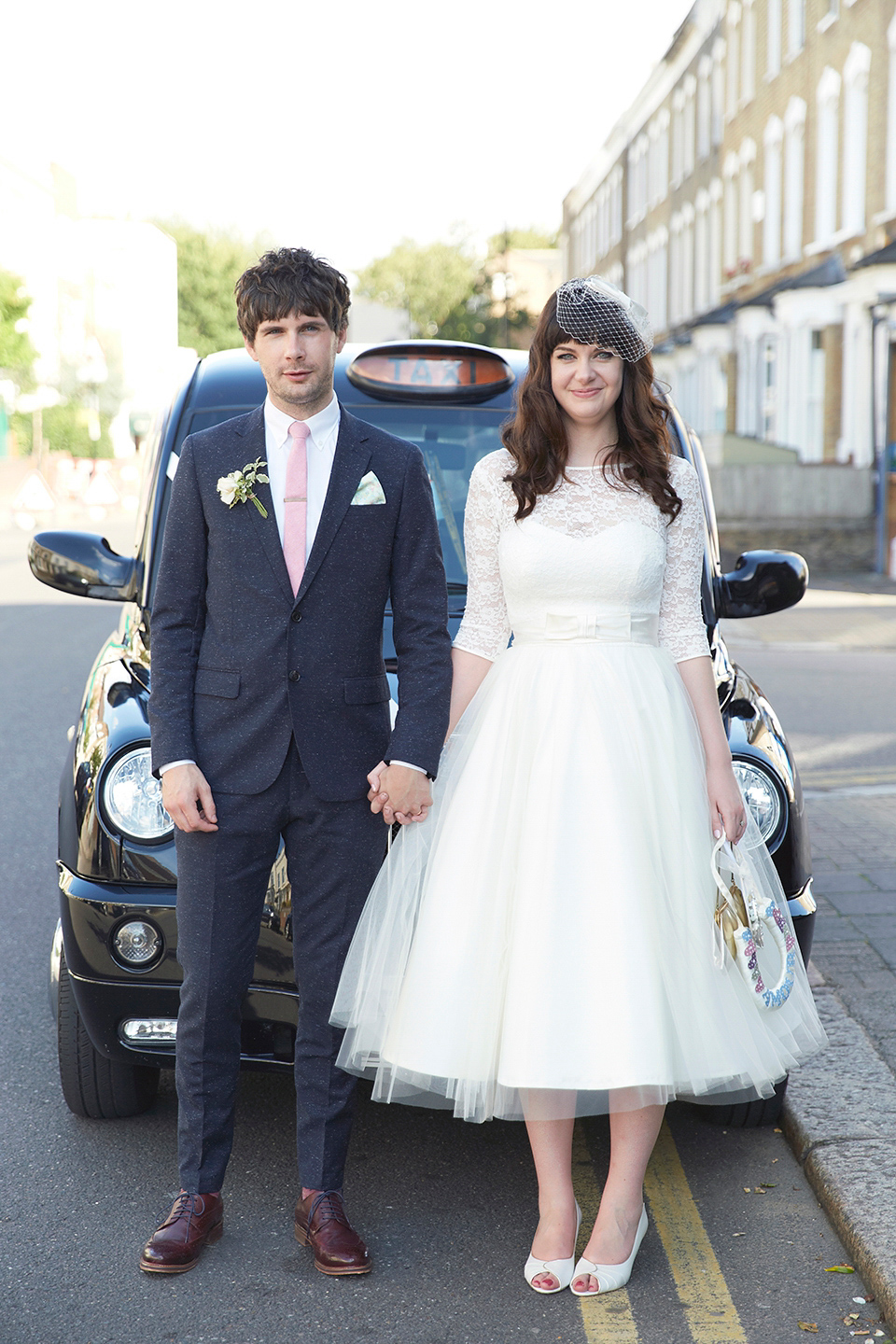 Catherine was keen for a wild 'just picked' look for the florals and their fabulous florist, The Flower Appreciation Society, delivered her request to a tee. The confetti was hand cut tissue paper hearts in custom colours from Dyanis Memory Box via Etsy, with the creative bride making the sweet little confetti envelopes.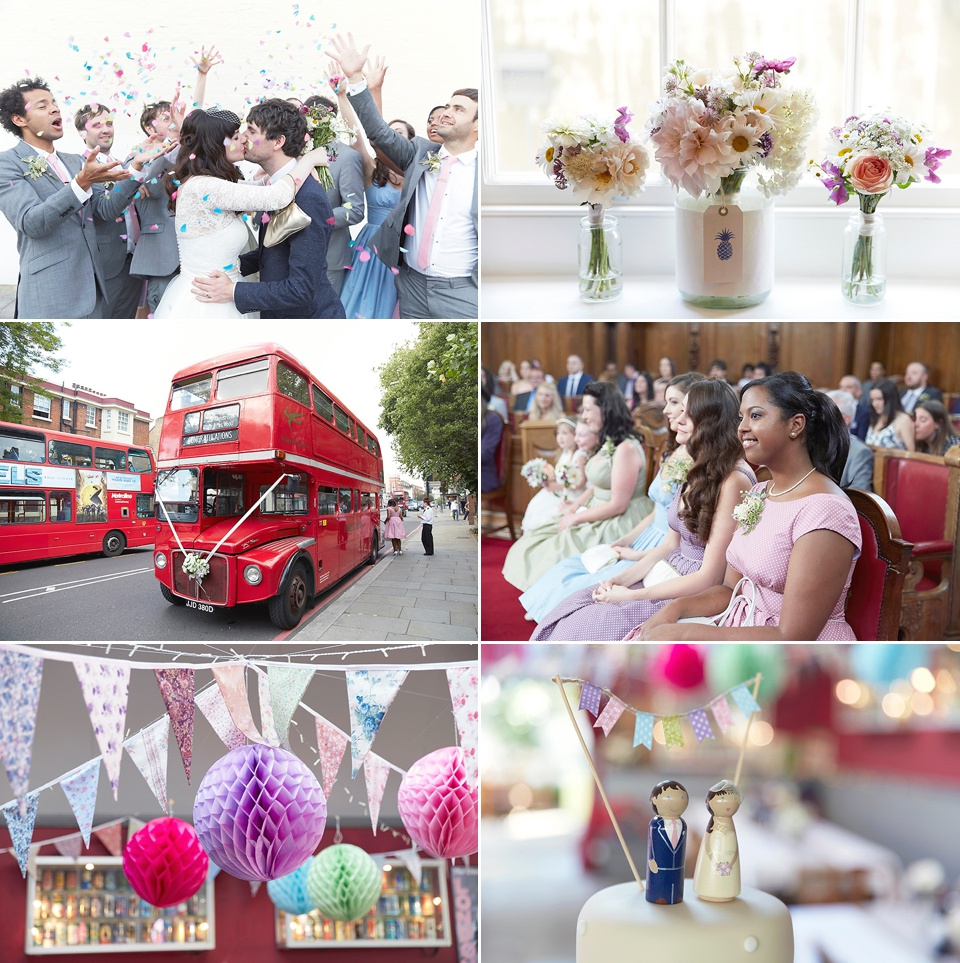 "Fur Coat No Knickers was the first bridal shop I visited with my mum and Sophia, my maid of honour. I tried on every tea-length dress they had and didn't know I had found 'the one', as I loved them all so much.
Hair styled by Lipstick & Curls
Find Lipstick & Curls in Little Book For Brides
Follow Lipstick & Curls on Instagram
"We agreed that we wanted our day to be very relaxed and informal with a happy, party atmosphere, and in no way stuffy. Naturally, we decided we would both be happiest with a pub wedding. The Londesborough is a lovely light gastro pub on a quiet backstreet in Stoke Newington, with gorgeous food and a pretty walled garden."
"It also has lots of quirky features such as beer can wall displays and framed band artwork. We fell in love with it instantly and didn't even bother looking at anywhere else. The service and organisation from Amber and the team was completely faultless and we can't recommend them enough."
The gorgeous bride added a custom birdcage veil, also from Fur Coat No Knickers and pretty peep-toe heels from Rachel Simpson Shoes. Catherine discovered a new scent for her special day, donned very special jewellery pieces, and managed to find a right bargain with her vintage handbag.
"I wore 'Coco Mademoiselle' by Chanel. It's a nice balance between sunny and sensual, and I wanted a scent I'd not worn before, so it would always bring me back to my wedding day.
I wore my grandma's pearl earrings as my 'something borrowed'. I also wore my other grandma's engagement ring, which my uncle handed down to me after she passed away some years ago. I wanted to have a piece of her memory with me on the day.
My handbag was my best wedding bargain – I got it for a tenner on Ebay. No 50's outfit is complete without a cute handbag, plus I am too much of a control freak to have had my maid of honour hold my things all day."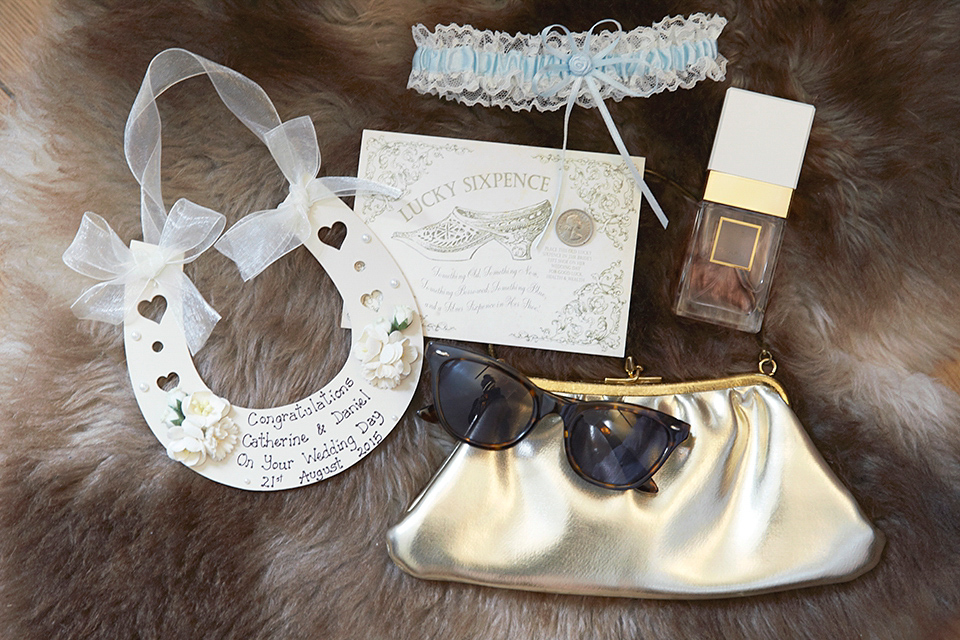 "Our florists were The Flower Appreciation Society. I don't like floral arrangements to look too structured or neat and the girls' wild and loose style really appealed to me. I collected jam jars, milk bottles and glass Coca Cola bottles and the girls filled them with their signature 'just picked from the garden' flowers.
I really love daisies so I wanted lots of those to feature; I guess some might not consider them luxurious enough for a wedding but I personally think their charm comes in how understated yet pretty they are. I also chose dahlias and garden roses, amongst others I couldn't tell you the names of."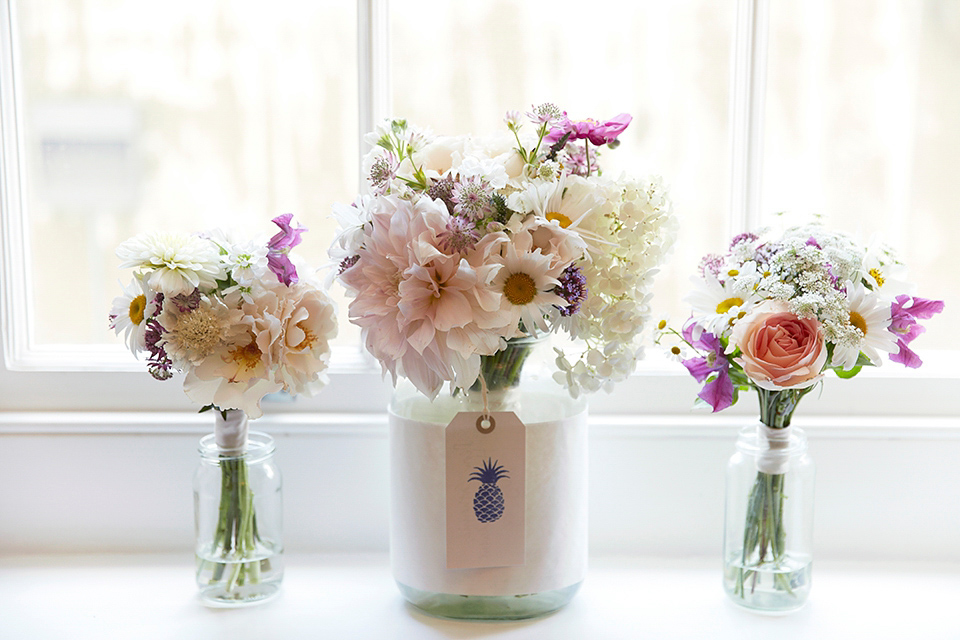 "I love fun and figure-flattering 50's fashion and own lots of dresses in this style from this era. The traditional long white wedding dress is not really me; I wanted to be able to dance in my wedding dress and really I just wanted to feel like me, but the best version of me.
I went back to Fur Coat No Knickers a second time and decided on the 'Gin Daisy' dress; a lace illusion bodice with three-quarter sleeves and a tulle skirt. I had the dress customised to add a deep ivory silk bow waistband and silk buttons. Seeing the dress come together was really special and fun, and is something I'll always remember. The girls at FCNK were all so lovely and gave me the best dress experience I could have wished for. It truly is my dream dress and I'm totally gutted I'll not have the opportunity to wear it again."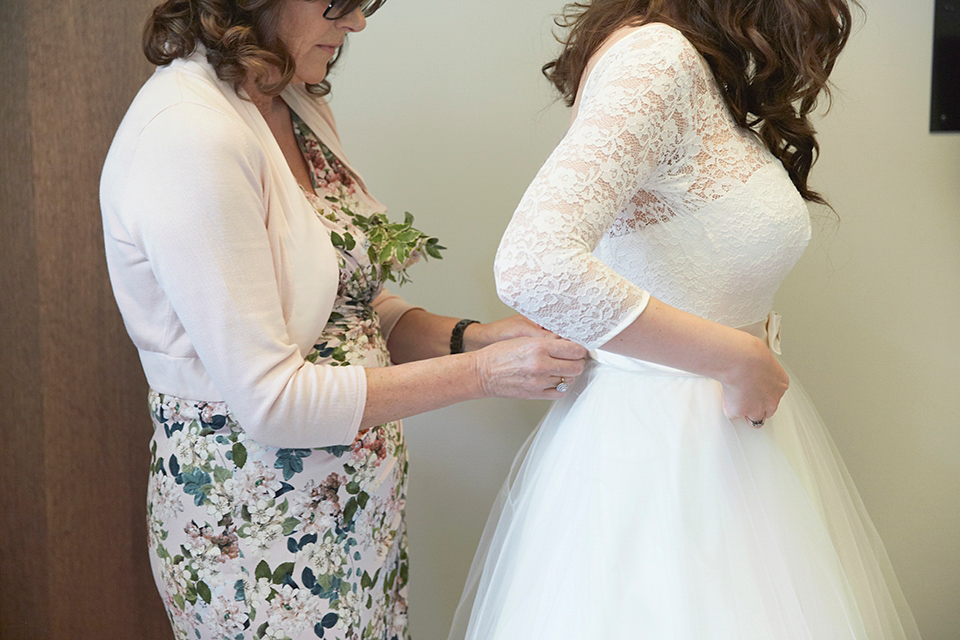 The bride and her maids all had fun getting ready together at Bethnal Green Town Hall Hotel; their hair was styled by the utterly talented Amanda of Lipstick & Curls (pictured below) with makeup by Riona O'Sullivan. You can find out more about Lipstick and Curls by visiting their page in our Little Book For Brides.
"I decided to wear my hair down and curly as usual so I still felt like me, but with a bit of pin curl detailing at the back.
 I asked my bridesmaids to each choose a vintage inspired hairstyle that they liked for themselves. I didn't want to dictate too much to them – I wanted them to feel confident with what they felt best suited them."
"We knew we wanted to have our wedding in London where we grew up, met and live together. I travelled to the ceremony in a traditional Routemaster bus (and we left together in an iconic black cab). We wanted to marry in a beautiful and historic venue and Islington Town Hall seemed the perfect choice for us. We married in the intimate Council Chamber – and a little known fact is that the room was also used as the court room in the video for 'Do You Really Want To Hurt Me' by Culture Club.
We'd left ordering our matching rose gold wedding bands until very last minute, so it was a huge relief when we found Hatton Jewels and they could make beautiful hand-crafted rings in under two weeks, at a very competitive price."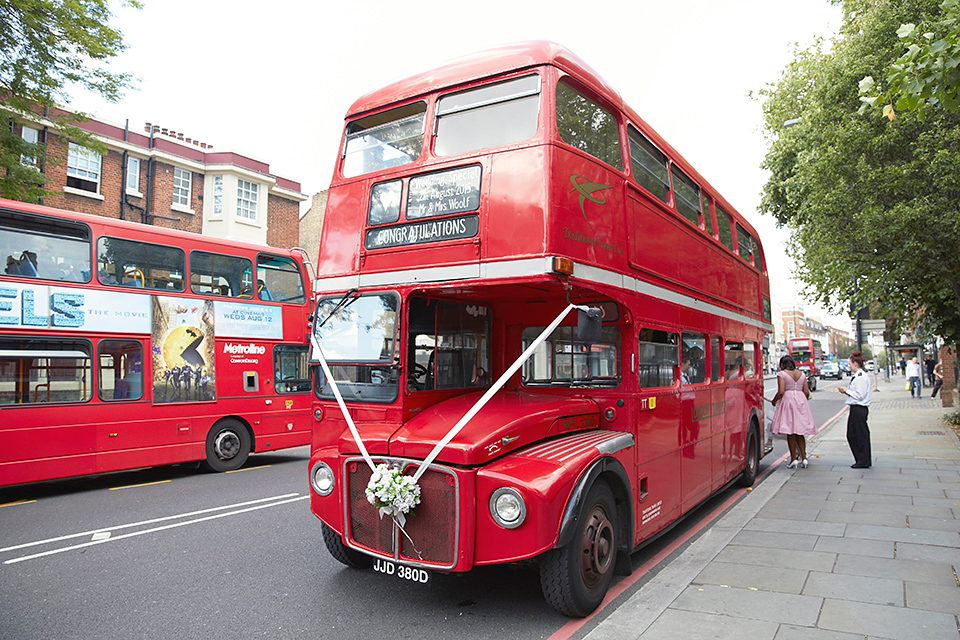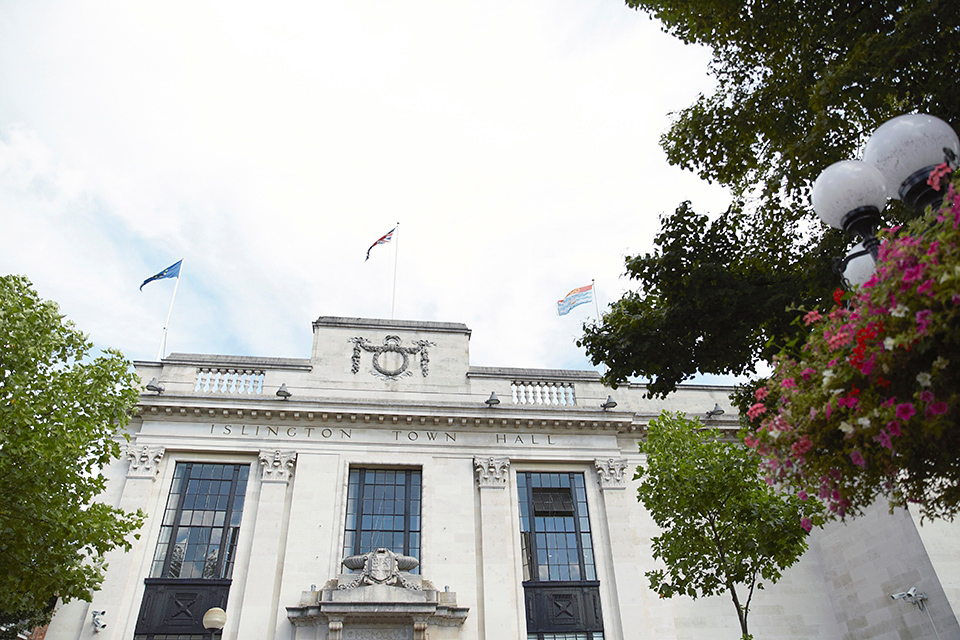 The little flowergirls donned sweet white frocks from BHS and clutched beautiful bouquets, whilst the pageboys wore very adorable tiny suits from Marks and Spencer.
Daniel sported a stylish nepped suit in French navy from Reiss, which he teamed with a pair of patent burgundy brogues from River Island. He also wore a green pocket square with a subtle print Mrs Bowtie and a pink skinny tie from Topman. The groom bought copper tiepins from Etsy, hand stamped with the wedding date, as gifts for his groomsmen and they all wore matching socks by Urban Outfitters.
"Although Daniel's groomsmen wore matching accessories to him, they were dressed in a mixture of grey skinny suits and brown or tan brogues, so Daniel would stand out as the groom. If I was going to wear a standout dress, he was going to wear a standout suit! We didn't want the boys to look too uniform either, so asked them to choose different suits and shoes."
"My dad walked me down the aisle, wearing a purple suit and a stetson, to Vitamin String Quartet's version of 'God Only Knows' by The Beach Boys. It's one of my favourite songs about love. I opted to walk to a string version so that it would sound a bit more wedding-ey. As we were getting married on a Friday we chose to walk out to 'Friday I'm In Love' by The Cure."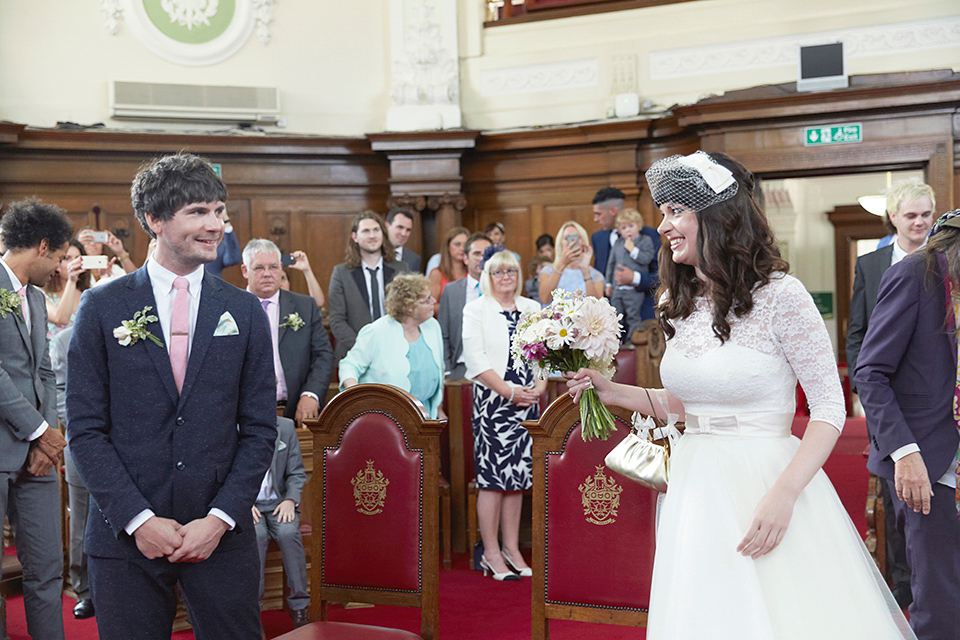 "We asked Lauren, Daniel's sister (and my now sister-in-law), to read an excerpt from 'The Velveteen Rabbit' by Margery Williams. It's a story about an overlooked stuffed toy rabbit that waits in the nursery for a child to call its own, and hopes that the child's love will make him become real. We just thought it was a really lovely and touching piece of writing about love."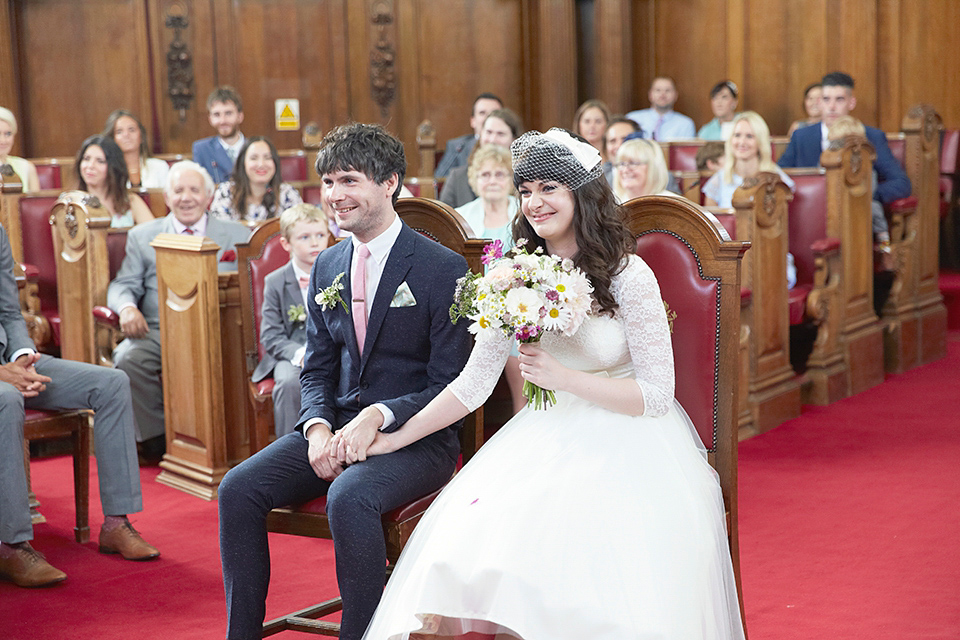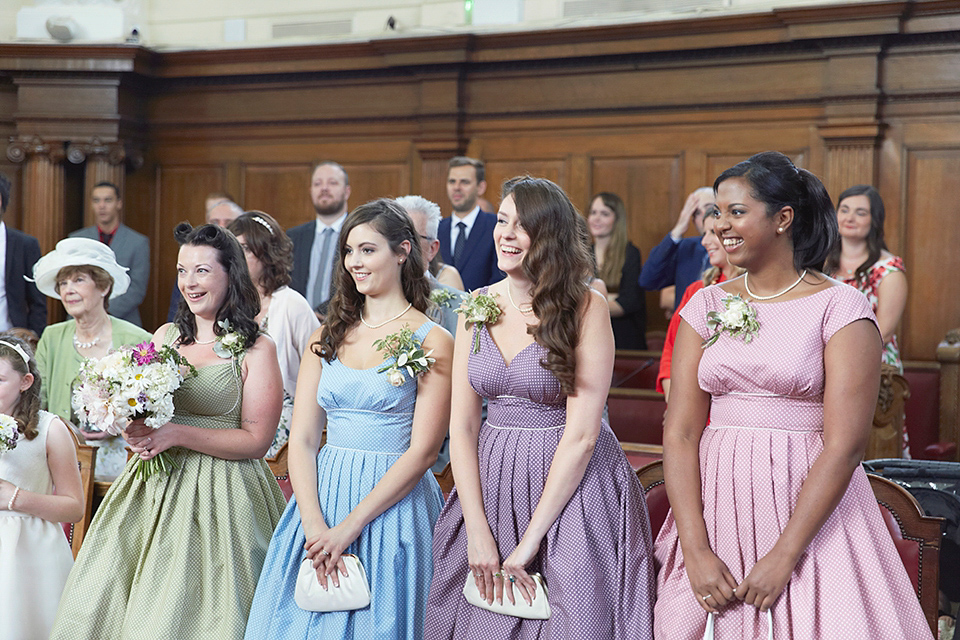 The romantic groom put so much thought into the ring he proposed with – what an utterly beautiful gesture.
"We met in a London indie club one Easter weekend. We had been living together for a couple of years when Daniel booked a surprise holiday in the Algarve for us with two of our good friends. He proposed to me on the Old Town beach one evening with a beautiful Victorian diamond cluster ring. Neither of us like anything too modern so Daniel had done lots of research into antique jewellery and is now a self-proclaimed expert on diamonds!
He decided to pick a ring with 'old cut' diamonds as he liked the idea of a man carving the diamonds with an old-fashioned tool so that each one was unique, rather than if they had all come out of a machine looking identical to one another. I love having a ring that has true character and has already been loved for generations, but the amount of time and thought Daniel put into choosing it is what has made it so precious to me."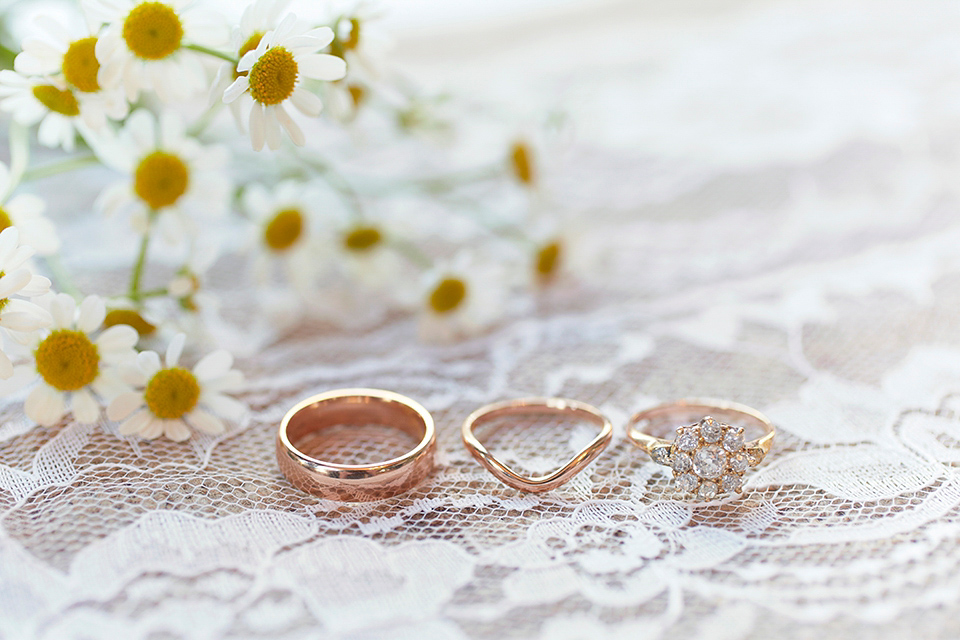 The heartfelt ceremony proved to be one of Catherine's favourite moments, producing many tears, and not just from the bride.
"My most favourite part of the day was, of course, actually getting married to Daniel. The feeling I'll never forget is of walking down the aisle and seeing him for the first time that day. I thought I was going to start bawling there and then but I managed to hold myself together, at least until we said our vows when I could no longer contain myself."
"Ben, our 20 month-old nephew (and tiny page boy), also burst into tears at this point, which in turn caused our guests to erupt into affectionate laughter. It really was a lovely ceremony full of laughter (and happy tears) and it will stay with us forever. I also cried during my maid of honour's speech – I am not usually a crier but nothing could prepare me for the high emotions I felt on the day."
"The best and most important investment we made was in our photographer, Natalie from Natalie J Weddings Photography. Back in 2012, I'd seen some of Natalie's wedding photographs on Facebook and had instantly fallen in love with her creative documentary style; I didn't know wedding photos could be so artistic."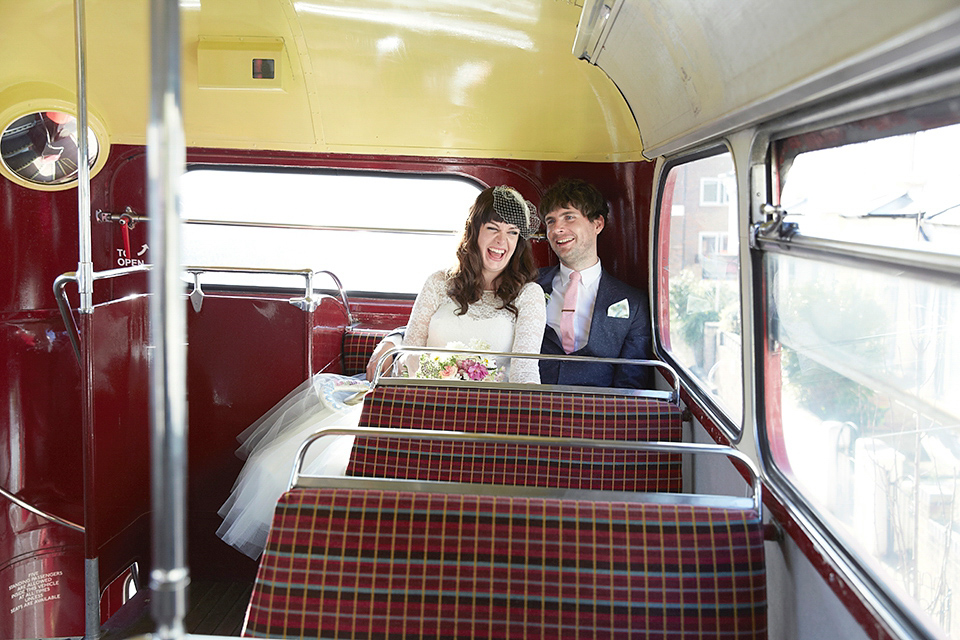 "We loved Natalie's natural storytelling approach and thought her creative and informal style would suit our retro, laid-back wedding day perfectly. Not only does she know exactly how to nail the right moments, but also her photos stand out – they're unique, memorable and full of character. Natalie is also an experienced fashion photographer, so she was able to direct us and draw the right expressions, postures and poses out of us for our couple's portraits (and we had so much fun doing these with her)."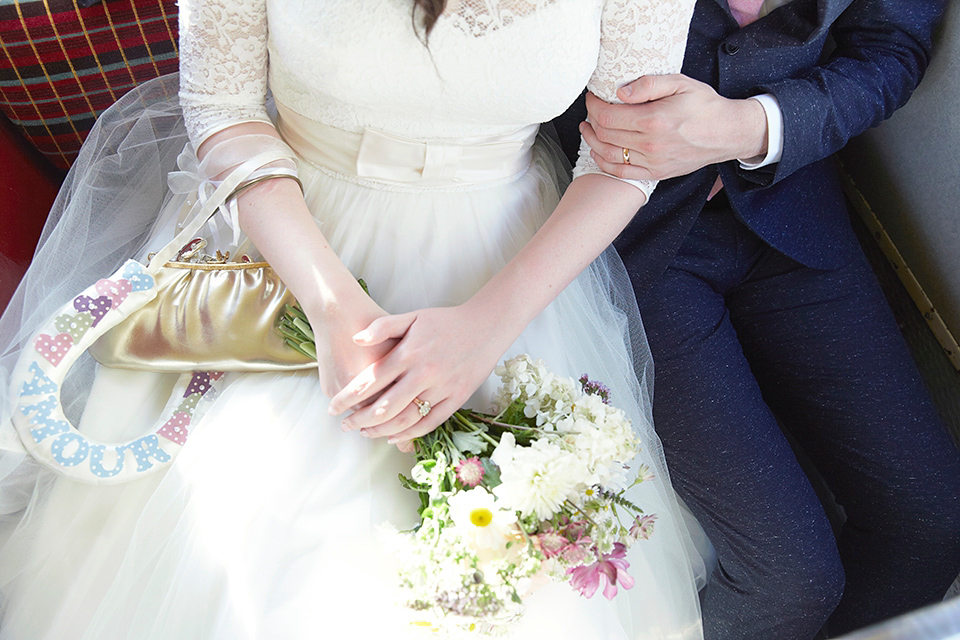 "Natalie is very warm and personable, so it's very easy to feel relaxed in front of a camera when she's behind it. Along with all the other glorious images that captured the mood of our day, we now have a gorgeous set of portraits that are just impossible to choose from. We honestly can't thank her enough."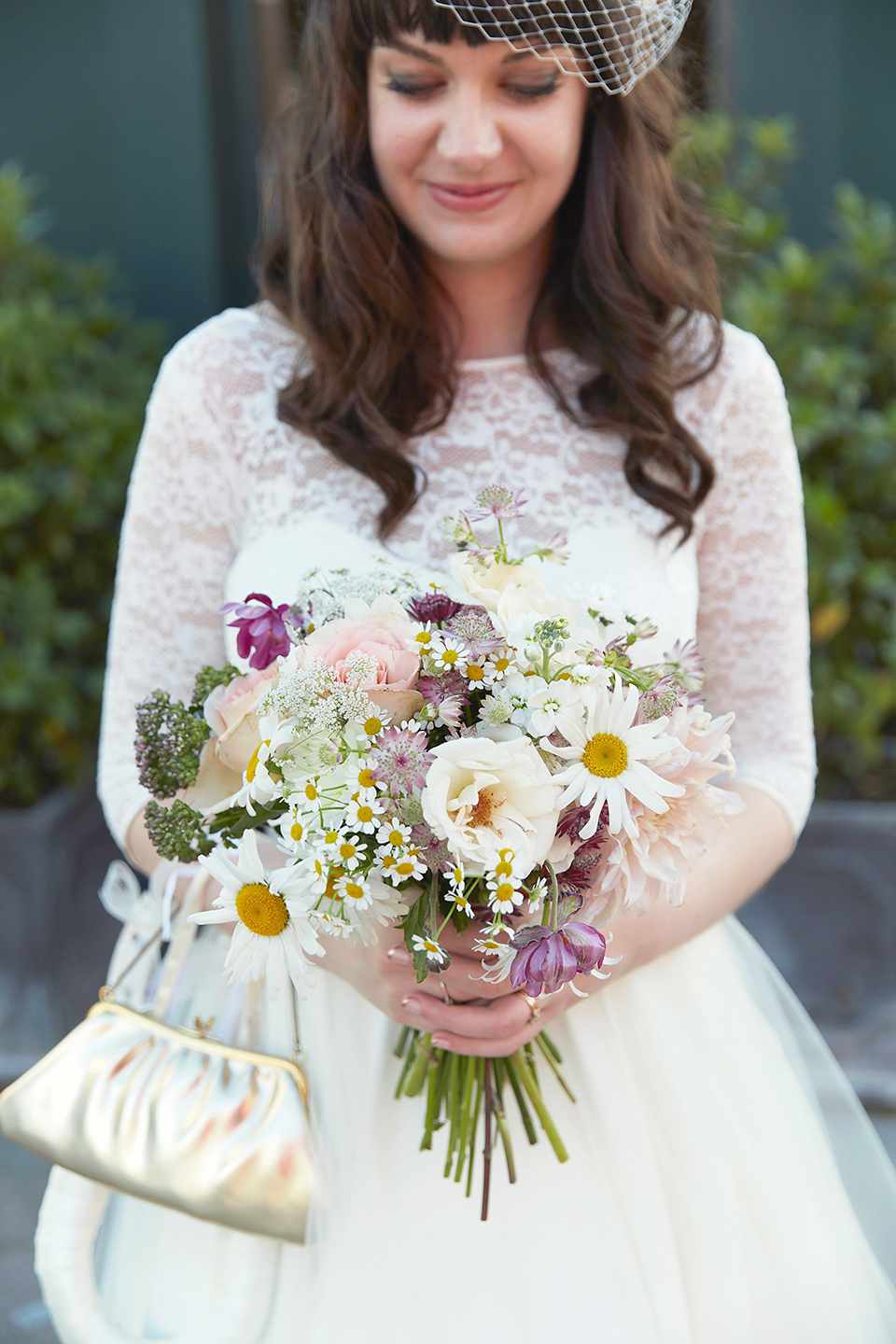 I am very much in lust with these divine polka dot dresses crafted for the four bridesmaids.
"I was thrilled when I came across Dig For Victory and saw that I could create my own set of mismatch custom-made vintage style dresses in my chosen fabrics. I found a Rose & Hubble micro polka dot cotton I liked on Ebay and bought that in four of my favourite colours: dusky pink, sage green, powder blue and plum. I then got the girls to each choose a different bodice they liked and paired them all with the same pleated skirt to create four different style 50's dresses. They wore them with full petticoats.
For their shoes, I didn't want my bridesmaids to look too uniform or matching. I think that tradition is pretty tired now, plus 'matchy matchy' just isn't my thing. I found different sets of ivory or white peep toe shoes in varying heel heights to suit the girls' individual preferences from ASOS and BHS."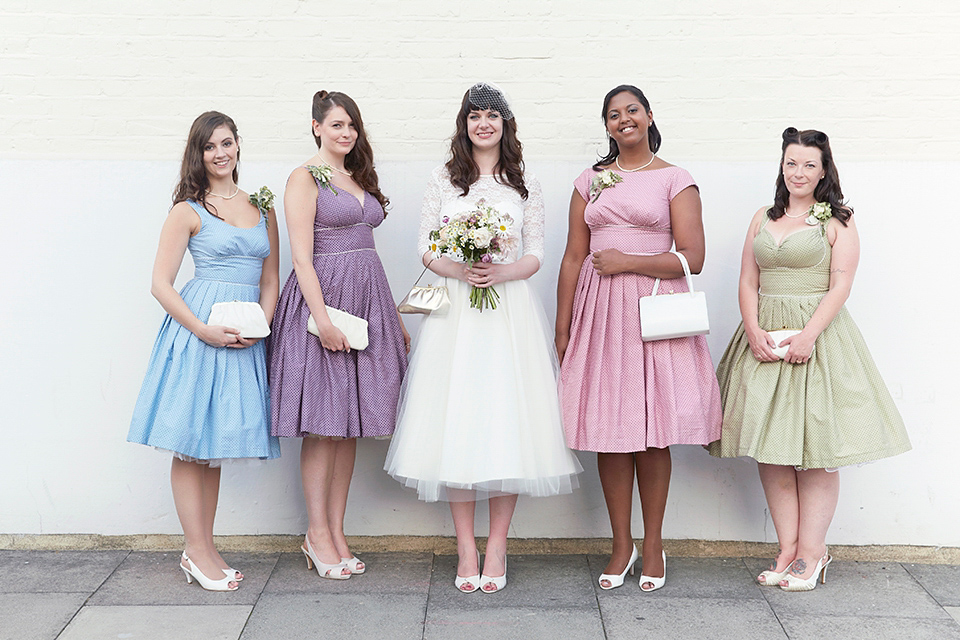 Now, I completely love this next idea; instead of bouquets, Catherine bought a selection of vintage ivory leather handbags for her maids to hold their bits and bobs in via Ebay. They still had a touch of floral, with pretty corsages pinned to their dresses. And the bride gifted each of them with a set of graduated pearls and matching pearl earrings from Lovett and Co.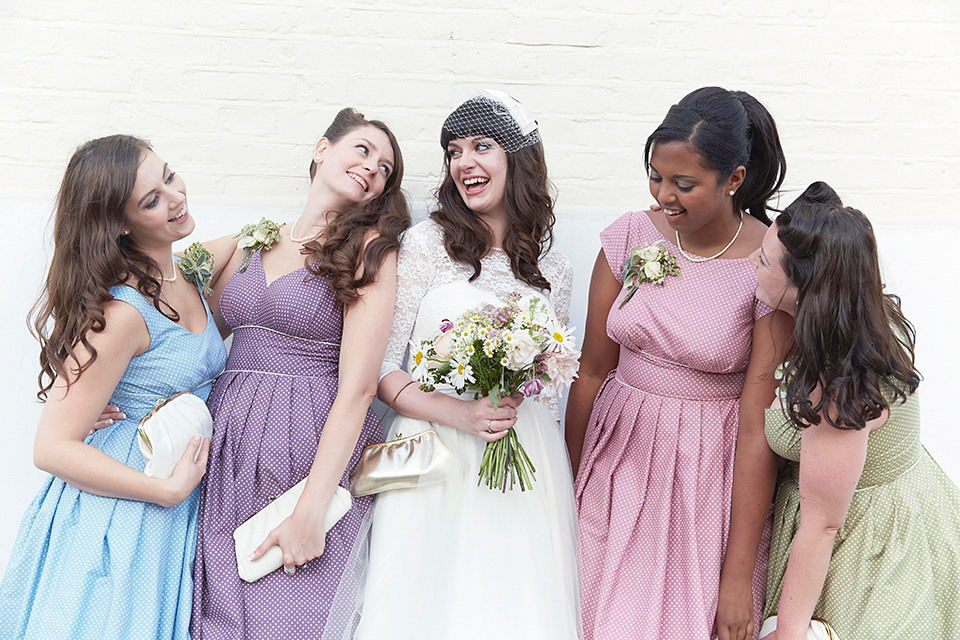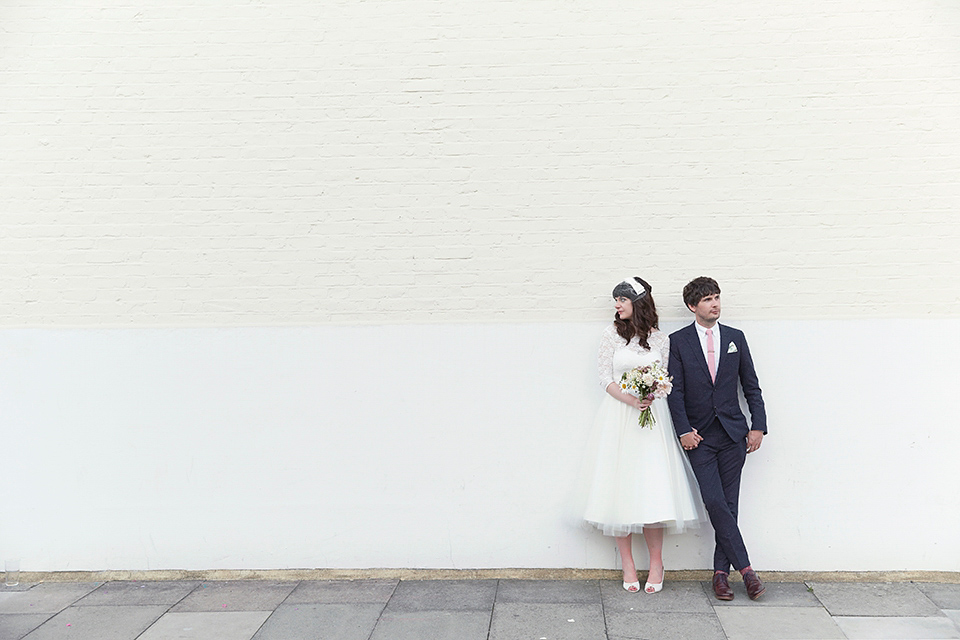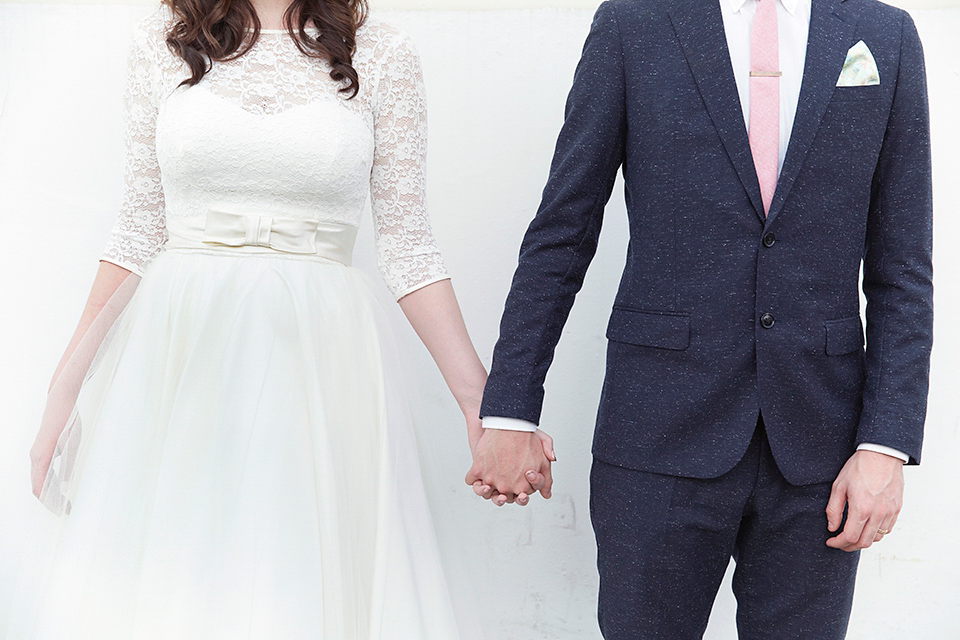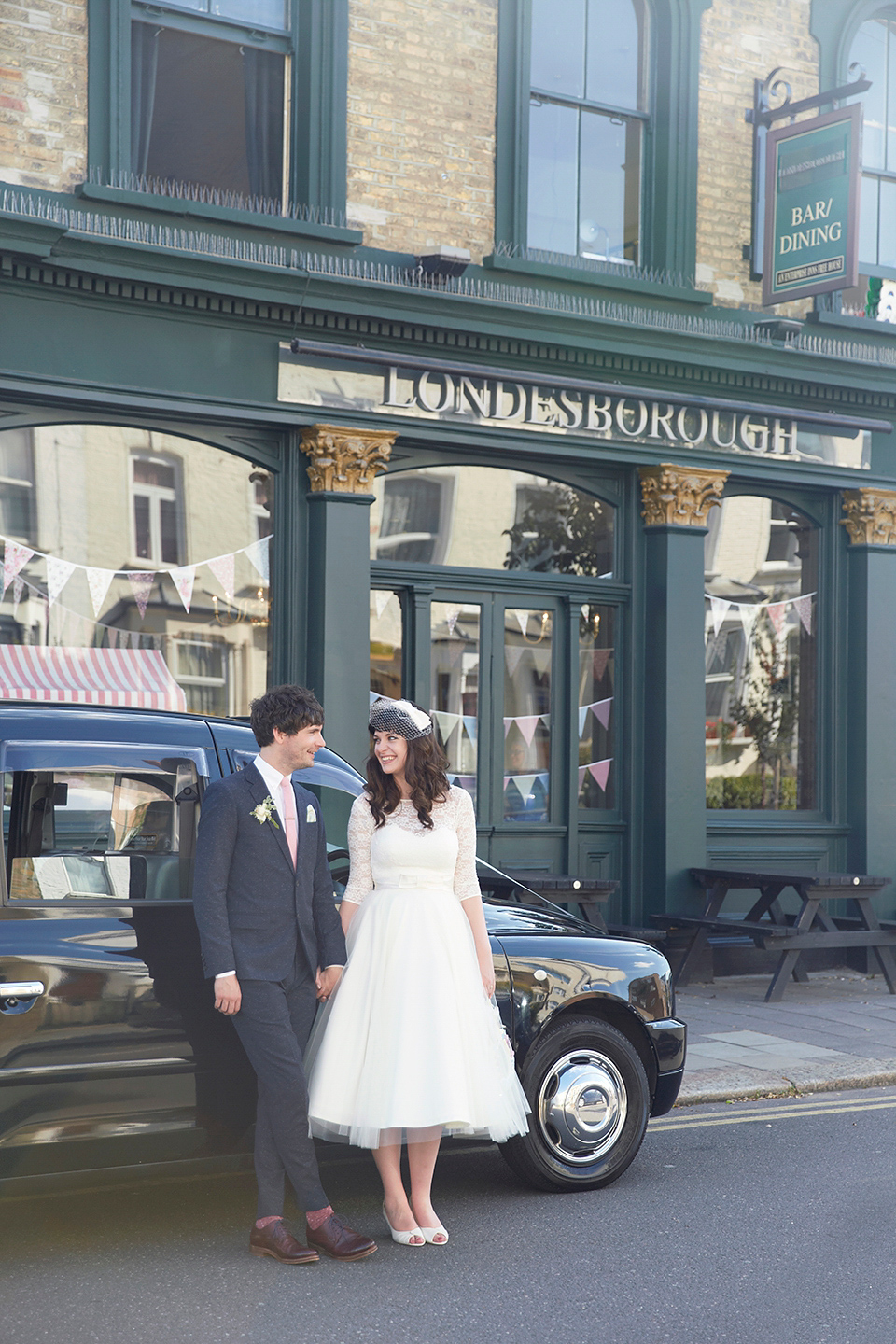 The pub was filled to the brim with charm and character, so Catherine and Daniel didn't really need to do a lot in the way of decor, but that wasn't going to stop them and their crafty bunting helper!
"Daniel's aunt Sue is a whizz on the sewing machine so it was music to my ears when she offered to make our bunting. We sourced lots of vintage inspired floral fabrics from charity shops, local markets and Ebay and Sue did an amazing job of turning them into reams of beautifully finished bunting. She even made a few runs of worded bunting in the same fabric I'd used for my bridesmaids' dresses."
"We kept the tables very simple with jam jar flowers and burlap and lace table runners over white tablecloths."
"We went for a simple ivory Marks and Spencer cake with assorted tiers of fruit cake, sponge and chocolate cake. It was delicious and moist and catered for everyone's taste. Our cake toppers were pegs that were hand painted in our image by SweetWeddingDay on Etsy. I made some cake bunting from a couple of wooden skewers, some washi tape and a piece of twine."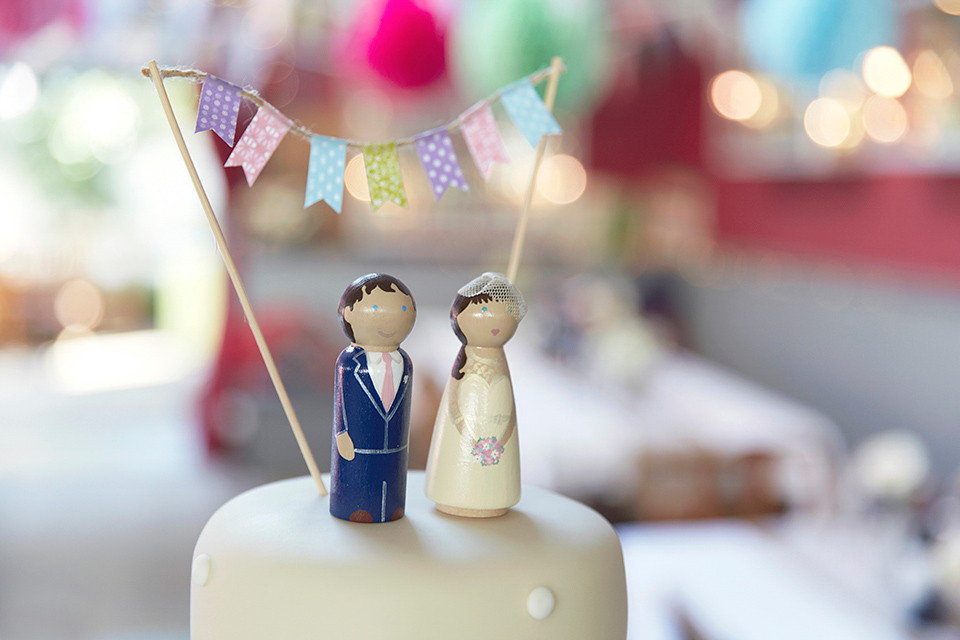 "We booked vintage ukulele duo, The Mersey Belles to sing their mixture of old hits and new songs, with a vintage twist, during our arrival drinks. They were brilliant and got everyone in the partying mood as they arrived to the pub.  
After dinner, our friend Dave DJ'ed a mixture of motown, indie and wedding party classics. Our first dance song was Arctic Monkeys' cover of 'Baby I'm Yours'. The lyrics are fitting, it has a sweet melody and it sounds like it was made in the 60s, so it just seemed to fit the bill. This was followed by Chas N' Dave's 'Ain't No Pleasing You', which got everyone on the dance floor.'
We finished the night with 'Bittersweet Symphony' by The Verve – the song that was always the last song of the night at the club where we first met."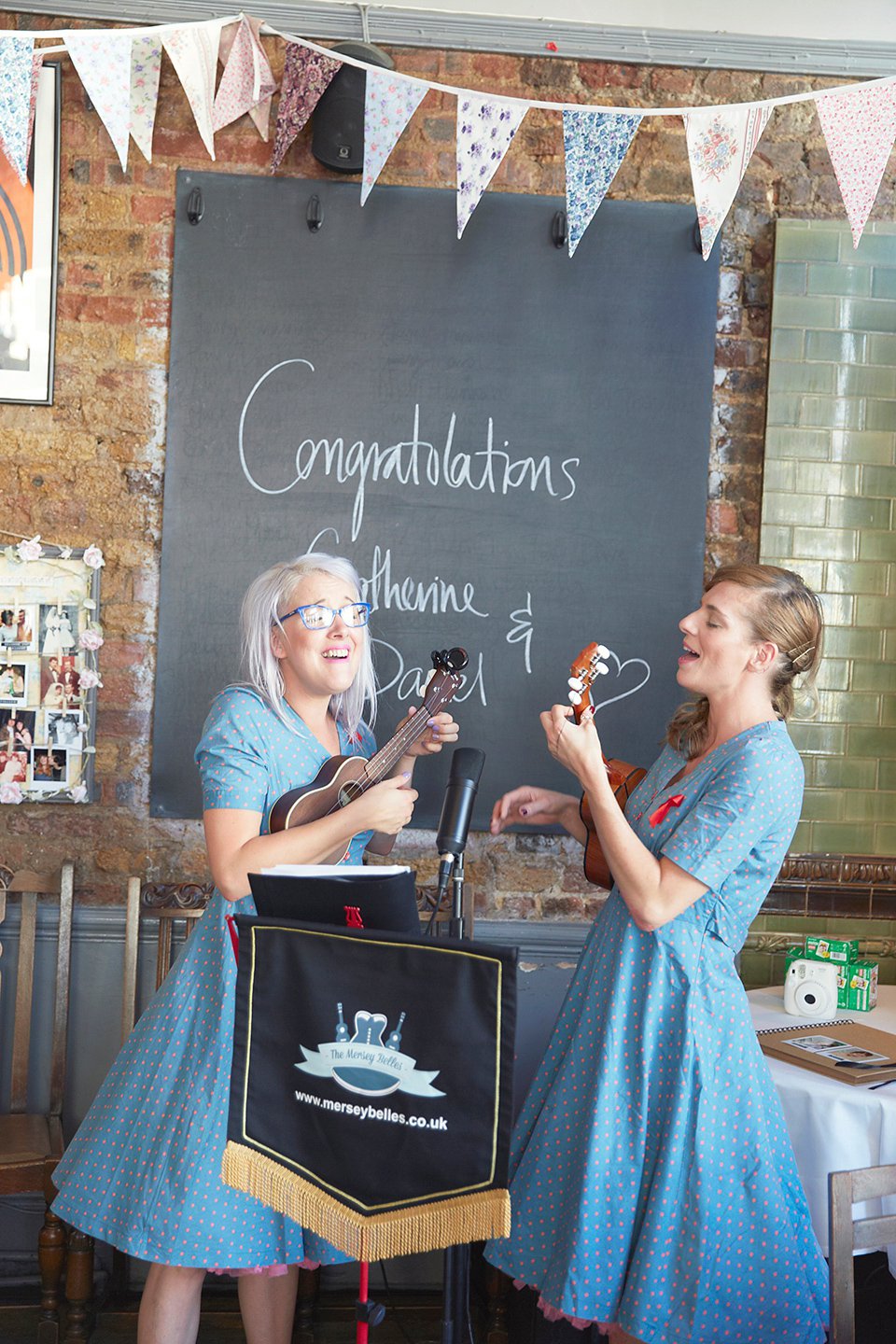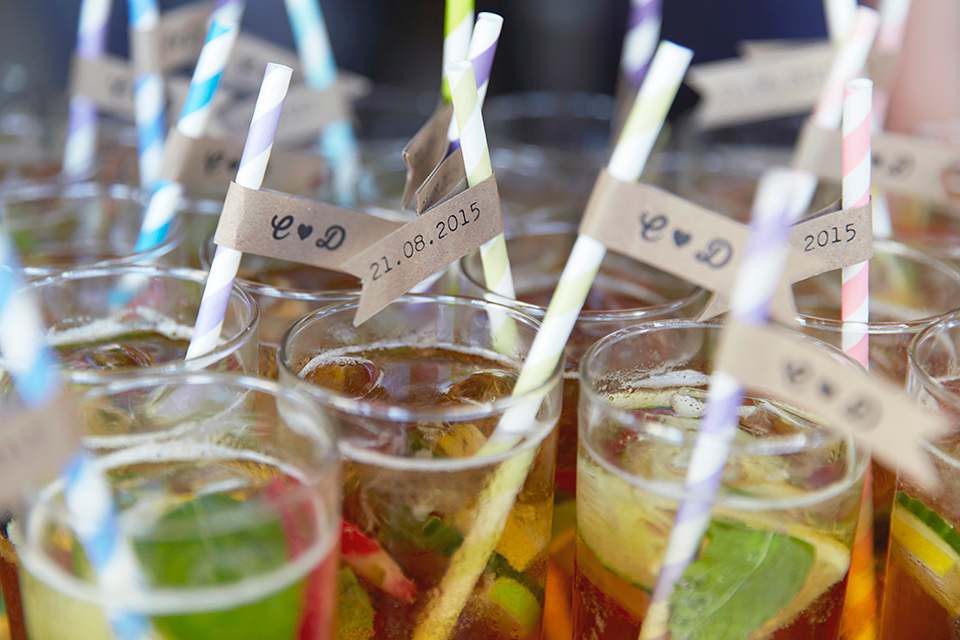 "I put together a memory board of pictures of myself and Daniel together interspersed with family wedding/couple's photos. We also had some polaroid-style bunting made with pictures from our respective childhoods and of grandparents no longer with us."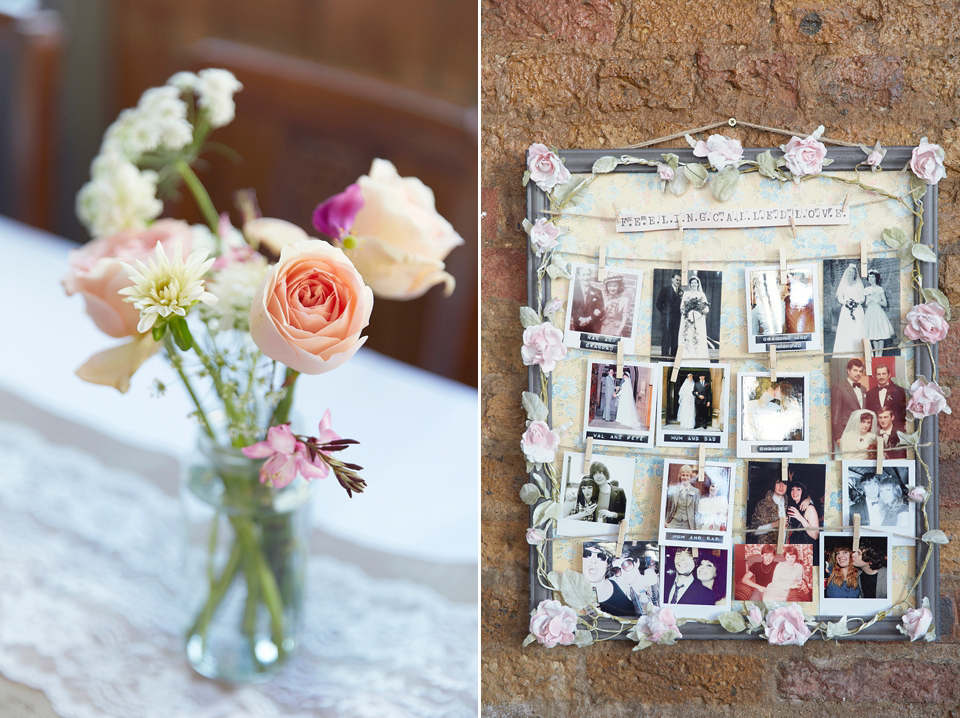 "We left an instant camera on the table with our guestbook, which was just a basic Kraft scrapbook I decorated with a picture of each of us as a child and some embossing tape. We adore the silly pictures and drunken messages that our guests left in the book for us. I definitely think they enjoyed having something to play with!"
"Daniel's parents used to run a vintage sweet cart hire business, so we were lucky enough to have their sweet cart feature at our wedding. It looked stunning and the sweets went down a treat with both young and old. I always think it's a shame when you see favours left on tables at weddings, but you can usually rely on your guests to clear out a sweet buffet."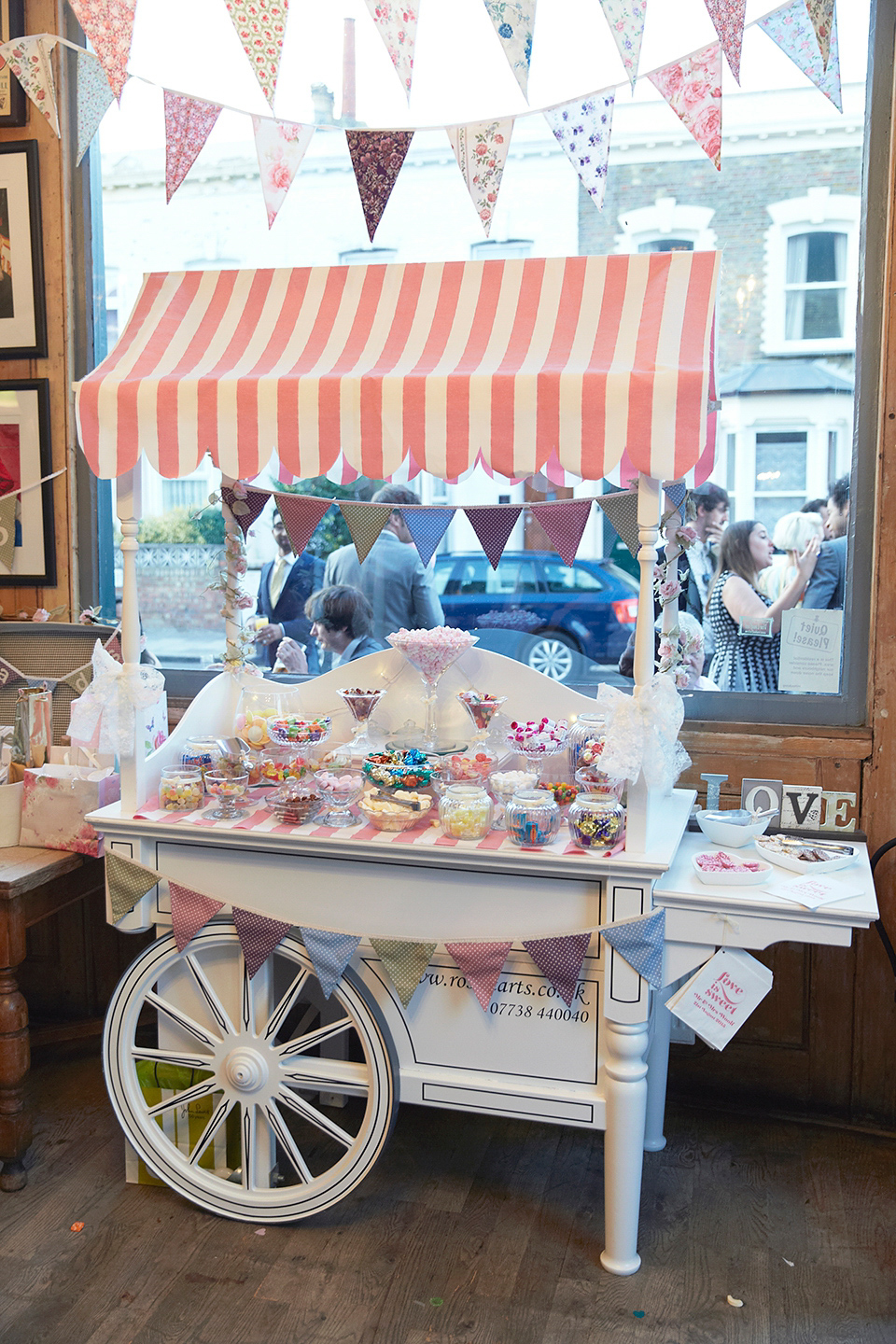 Words of Wedded Wisdom
"Don't worry about what tradition and the wedding industry tells you that you 'should do' or 'should have'. We didn't fancy a formal sit-down dinner with table plans and silver service. We have been to some lovely weddings that have had all of those elements, but it just wasn't us – we just wanted a party. Closer to the day, I did start to freak out about not having a seating plan and had horrifying visions of our dinner turning into some kind of cattle market. It didn't. In fact, many of our guests commented on how much they preferred being able to move around freely and mingle, instead of being stuck at a formal table.
 Also, just try to stick to your budget and don't let yourself go too mad; you will thank yourself later. Daniel had to rein me in a bit at times and convince me that we didn't need giant light up initials, a photo booth or a bespoke cake. You might have to do without a few things, but even if you don't have everything you want, you'll still be marrying your best friend, surrounded by the people you love the most. That's all you really need to have your best day ever and all the other details are really just icing on the cake."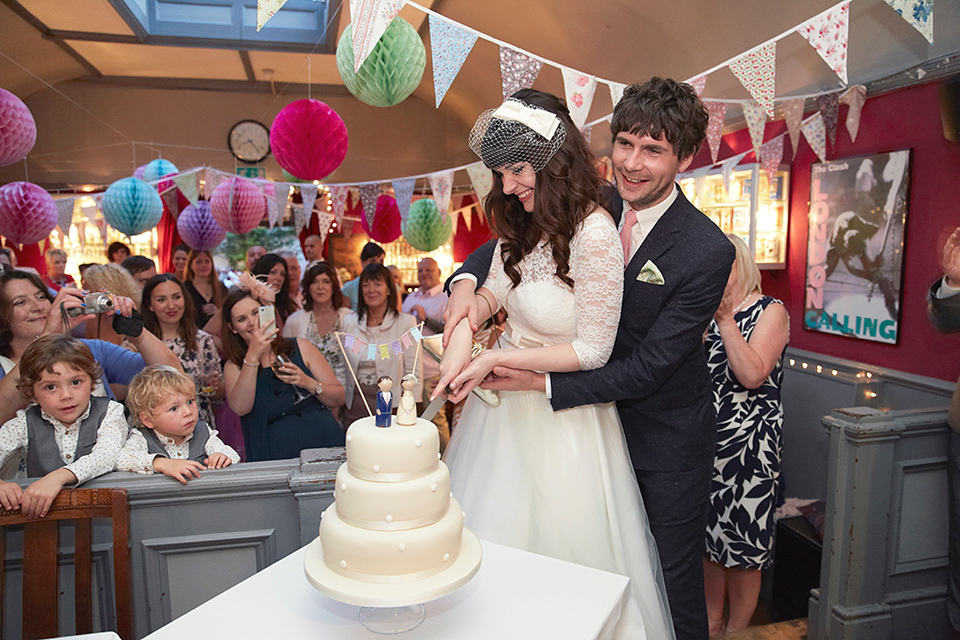 Incredibly wise words there – and I don't know about you lovely readers, but I'd quite like an invitation to a pub wedding to arrive in my mailbox; they always look like such fun celebrations. Congratulations to Catherine and Daniel and thanks so very much for allowing us to see all the pretty little details of your big day. And huge thanks to Natalie for capturing the party vibe so brilliantly and taking such beautiful photos that the happy couple will treasure forever.
Wishing everyone a wonderful week ahead!
Love Jo -x-
Photographer – Natalie J Weddings Photography
Ceremony – Islington Town Hall
Venue + Catering – The Londesborough, Stoke Newington, London
Wedding Dress + Veil – Fur Coat No Knickers
Shoes – Rachel Simpson Shoes
Accessories – Handbag via Ebay + grandma's pearl earrings + other grandma's engagement ring
Perfume – 'Coco Mademoiselle' by Chanel
Bridesmaid Dresses – Dig For Victory, created with Rose & Hubble micro polka dot cotton fabric via Ebay
Bridesmaid Shoes – ASOS + BHS
Bridesmaid Accessories – Vintage ivory leather handbags via Ebay + pearls and matching pearl earrings from Lovett and Co (gifts from the bride)
Groom – Reiss suit + brogues via River Island + pocket square from Mrs Bowtie + Topman tie
Groomsmen – Own mismatched suits and shoes + copper tie pins from Etsy + matching socks by Urban Outfitters
Flower girls – BHS
Pageboys –    Marks and Spencer
Florist – The Flower Appreciation Society
Rings – Hatton Jewels
Stationery – Inspirational Invites
Favours – Vintage sweet cart
Confetti – Etsy
Cake – Marks and Spencer + cake toppers via Etsy
Transport – Routemaster bus + black cab
Entertainment – The Mersey Belles
Hair Stylist – Lipstick & Curls
Makeup Artist – Riona O'Sullivan