Hello and happy Friday. We have a fabulous wedding to round off the working week which features no less than three ceremonies and three stunning bridal outfits. Yes it's a feast for the eyes! Bride Natasha is a Buyer for Superdrug and groom Lasitha is an LDI Structurer for BMO Global Asset Management. The couple got married at the spectacular Scampston Hall in Malton, North Yorkshire on the 30th of August 2015 and were lucky enough to have Little Book For Brides members Paul Joseph Photography on hand to capture the whole day.
The couple used an Indian summer theme as a basis for planning and with a job as a project manager, Natasha's sister became official wedding planner, helping them to plan the wedding in just seven months. Let's hand over to the beautiful bride…
"There were so many things that played a part in our day. My dad unfortunately passed away very suddenly the year before we got married. He was a great fan of dancing and music and loved to party, so I wanted the day to reflect his sense of fun. We also wanted the day to reflect both our cultures, I am Sikh and Lasitha is Buddhist so we had two ceremonies. Ultimately we wanted to have a big celebration and we just hoped that our guests had a great day."
Photography by Paul Joseph Photography
Find Paul Joseph Photography in Little Book For Brides
Follow Paul Joseph Photography on Instagram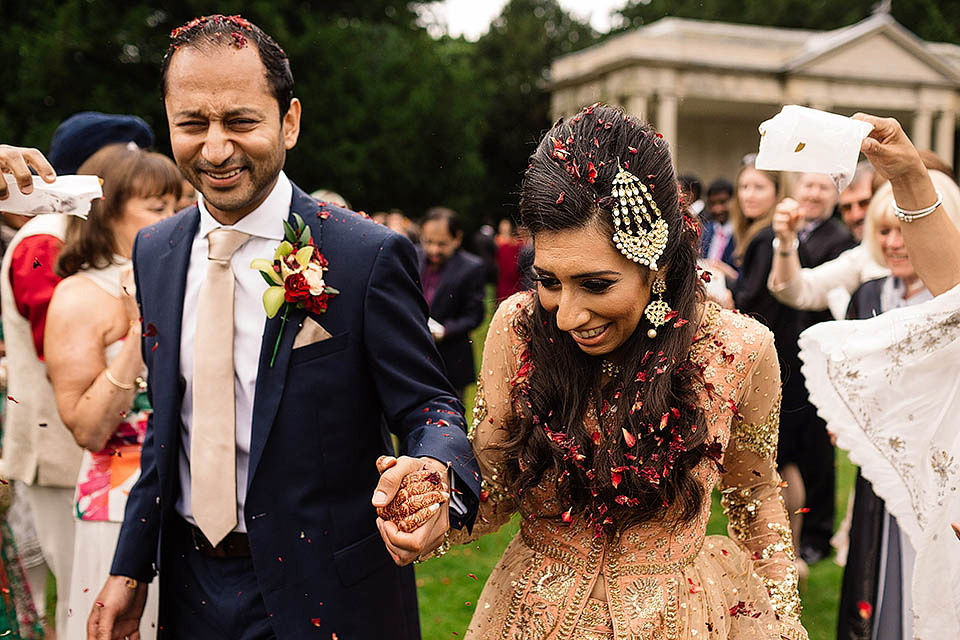 Natasha had three outfits for her wedding, two dresses by Sabyasachi and her evening outfit from Aashani and Co. all worn with her fabulous Jimmy Choos. The bride chose Jo Malone's Orange Blossom as her scent which she has always loved.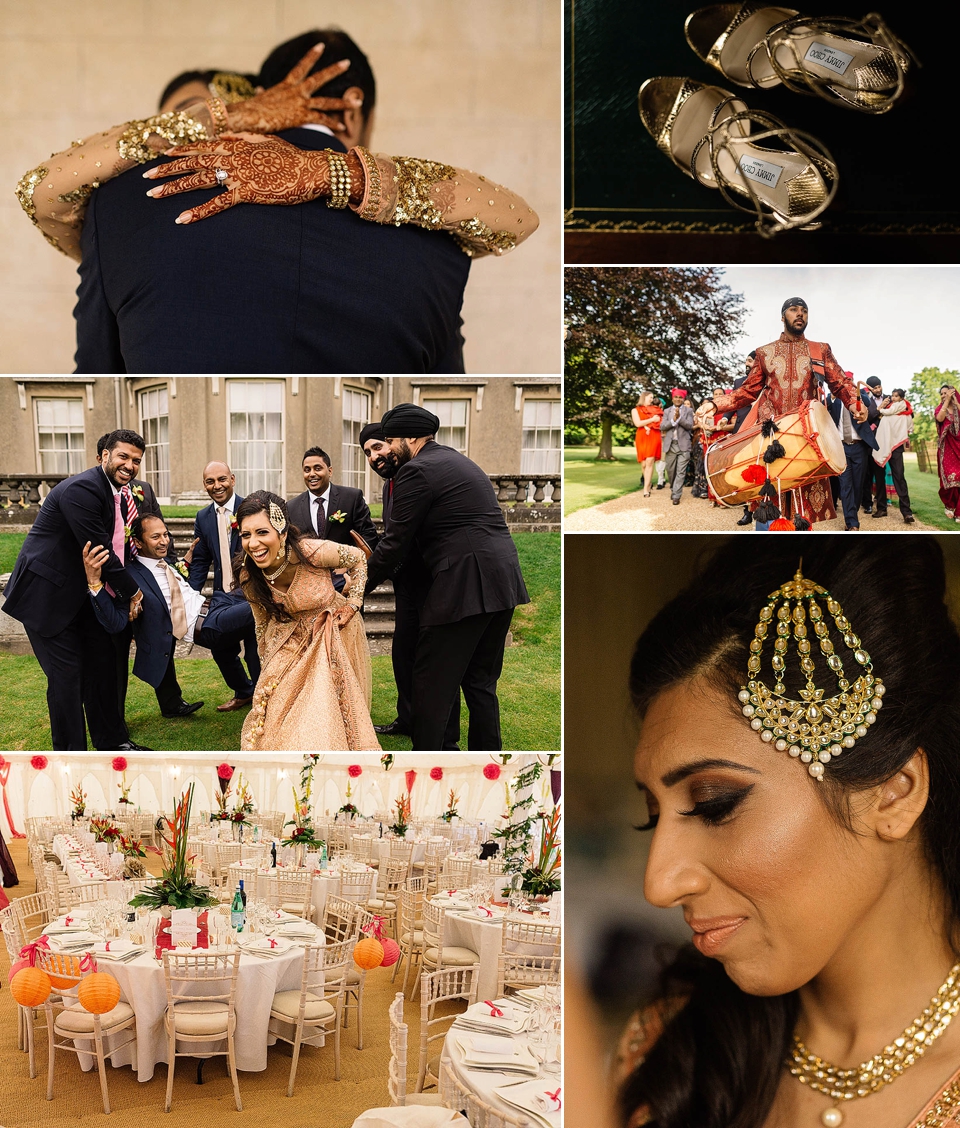 Natasha and Lasitha chose Little Book For Brides members Paul Joseph Photography to capture their special day, and didn't they just do it perfectly. Through every separate part of the wedding, the images have a fun, laid back feel about them without losing its individual significance.
"The most wonderful Paul Joseph Photography were our photographers. These guys are absolutely brilliant. Lasitha and I have wouldn't even hesitate before recommending them. Paul and Kelly are not only super lovely, but they are amazing at what they do. Our photos are fabulous and I can't stop looking at them!"
"I got the dresses when I had a week crazy week shopping in Delhi! I loved the Sabyasachi collection as it is so elegant and timeless."
"I had seen them on various websites so had them in mind already. When I saw the evening outfit I fell in love with it."
My Jimmy Choo shoes were my biggest extravagance but I have since worn them four times so I think that they are less extravagant now!"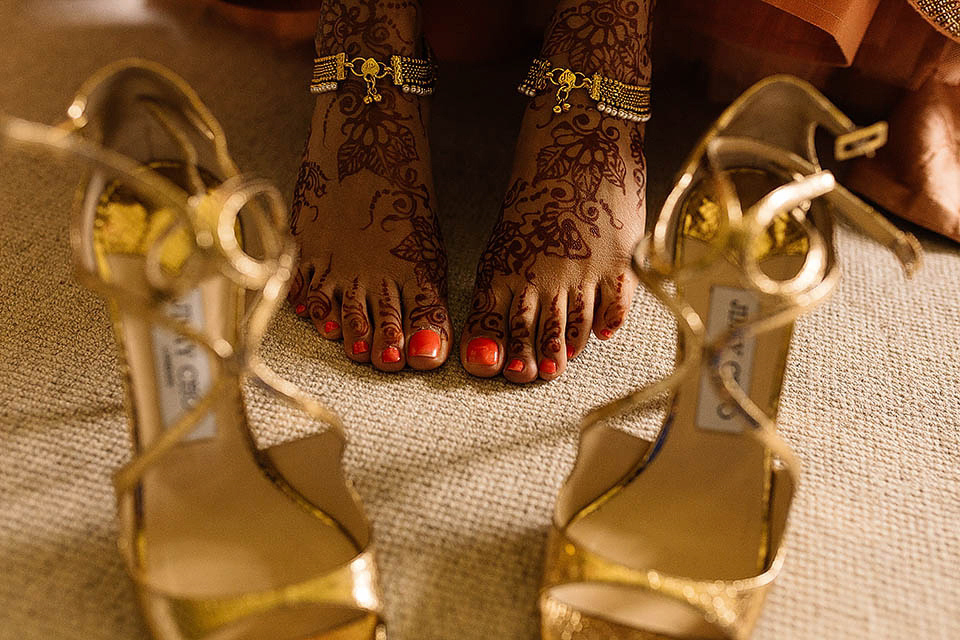 "My fabulous glam squad were made up of Kara Scott on hair and the wonderful Rooz did our makeup."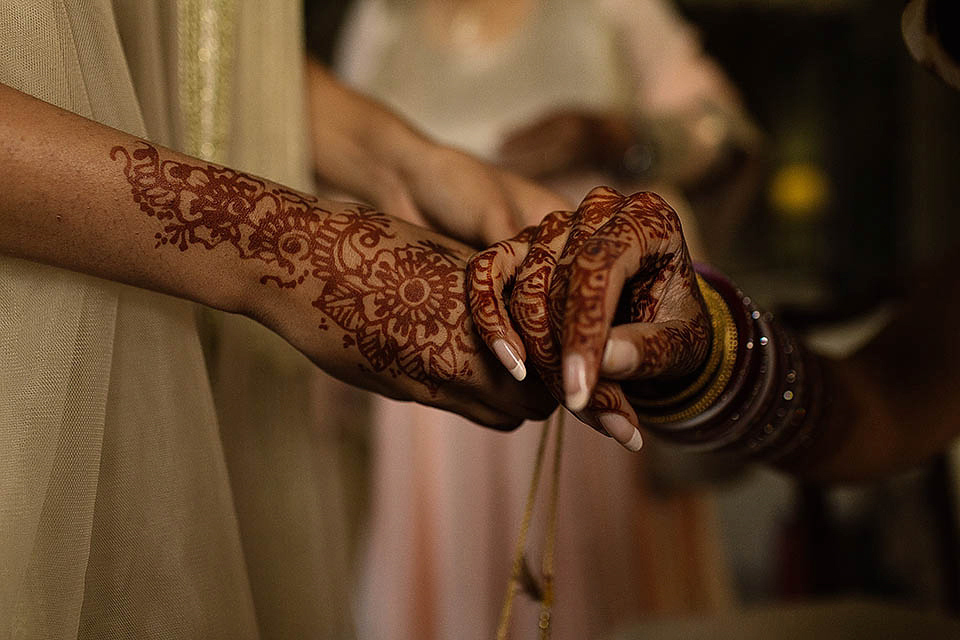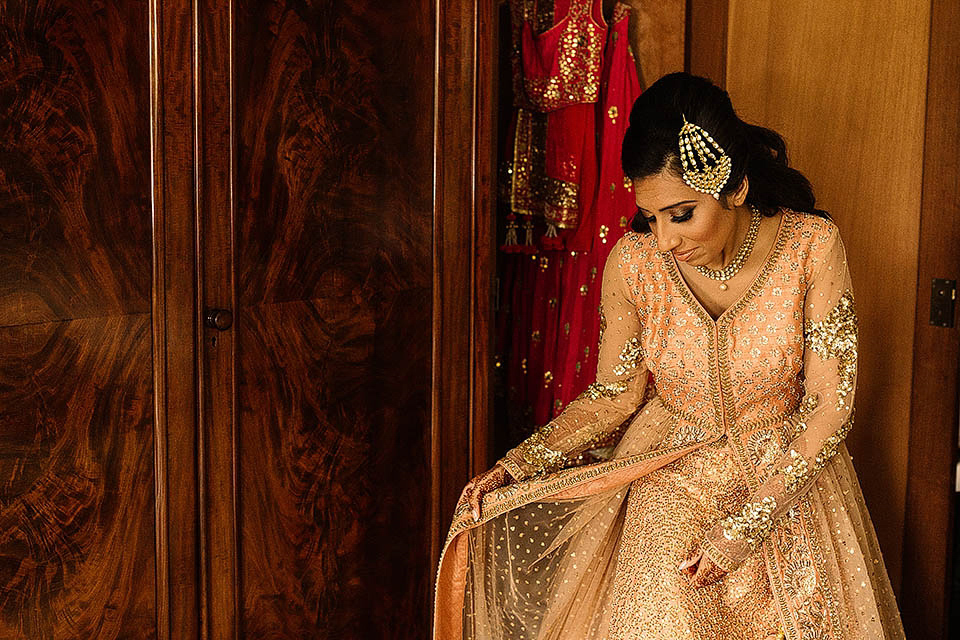 "We met two years before we got engaged. We were away for a long weekend in a Bali style hotel when Lasitha surprised me by popping the big question. We got engaged on the 13th October 2014 but didn't book our venue until February the next year for the 30th of August."
"I wanted to be near home in the north and Lasitha's family is from London so we had a lot of guests travelling quite a distance. We had looked at more than twenty venues over three months and we were beginning to lose the motivation to find a suitable venue."
"On the day we went to view Scampston Hall it was snowing and then we had a flat tyre on the motorway, which almost made us cancel the visit. However we finally got there and we were so glad we did. We were overwhelmed with the beautiful grounds and the rooms. We knew we were going to have a busy day and one of our criteria was that there needed to be sufficient room for guests to mill around between the various ceremonies and for us to be able to bring our own caterers.
Scampston also had the August bank holiday free so it seemed like fate! Louise and her team were so lovely and willing to accommodate all our requests making it a very easy choice."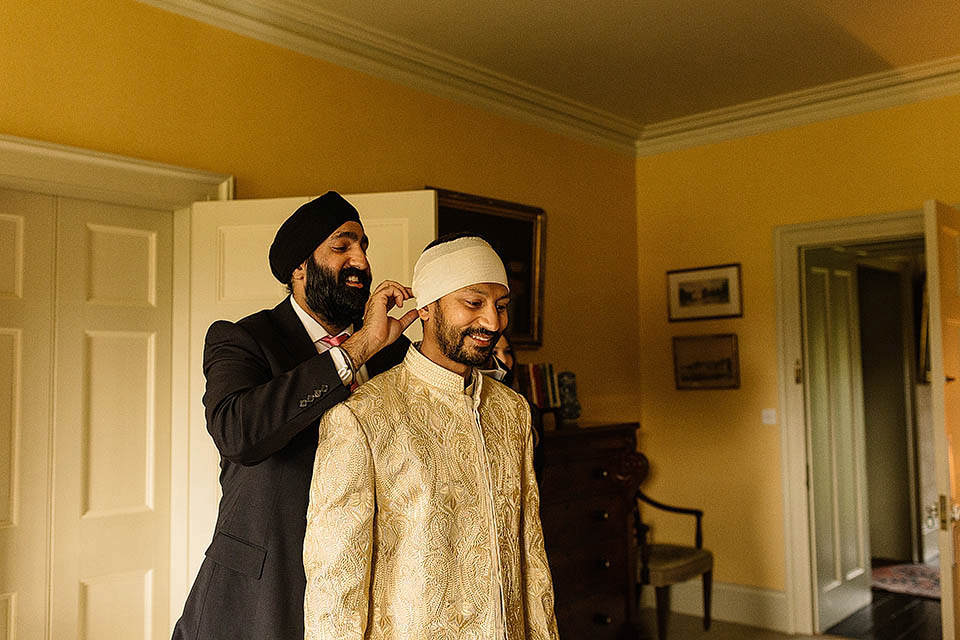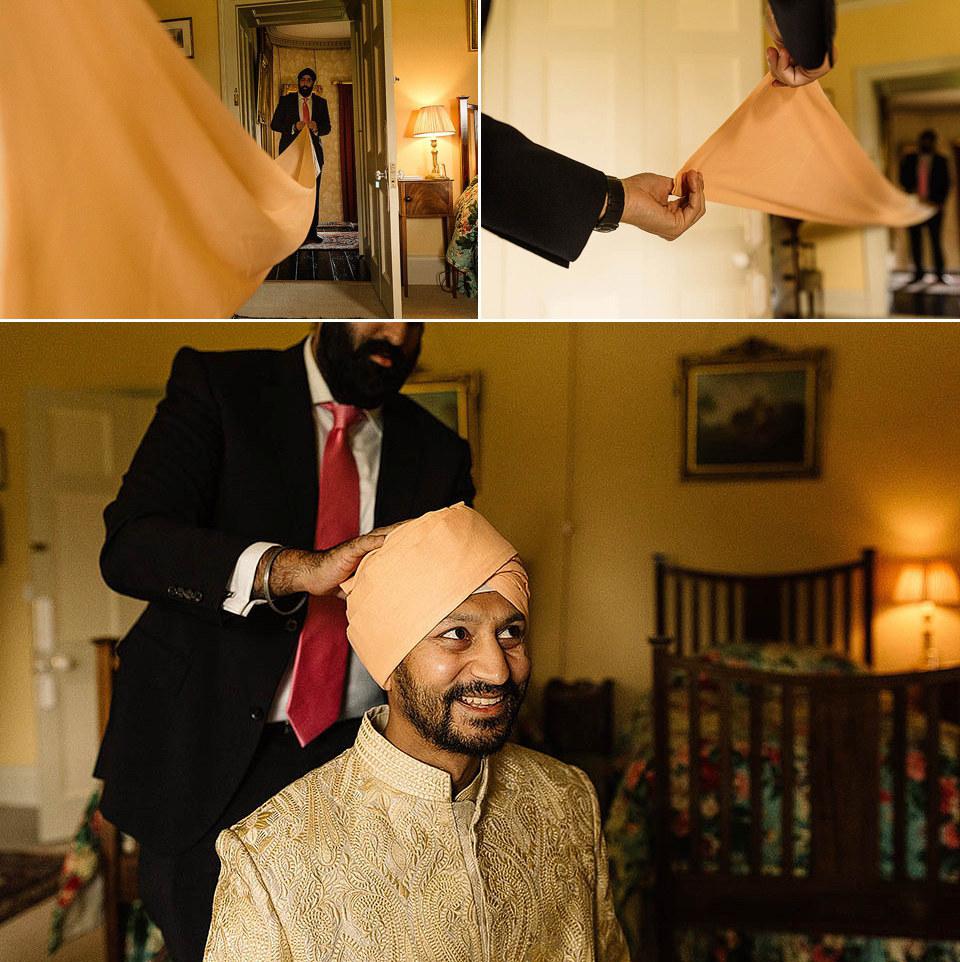 The beautiful bridesmaids dresses were bought from a family friend and the two ladies wore Lipsy shoes.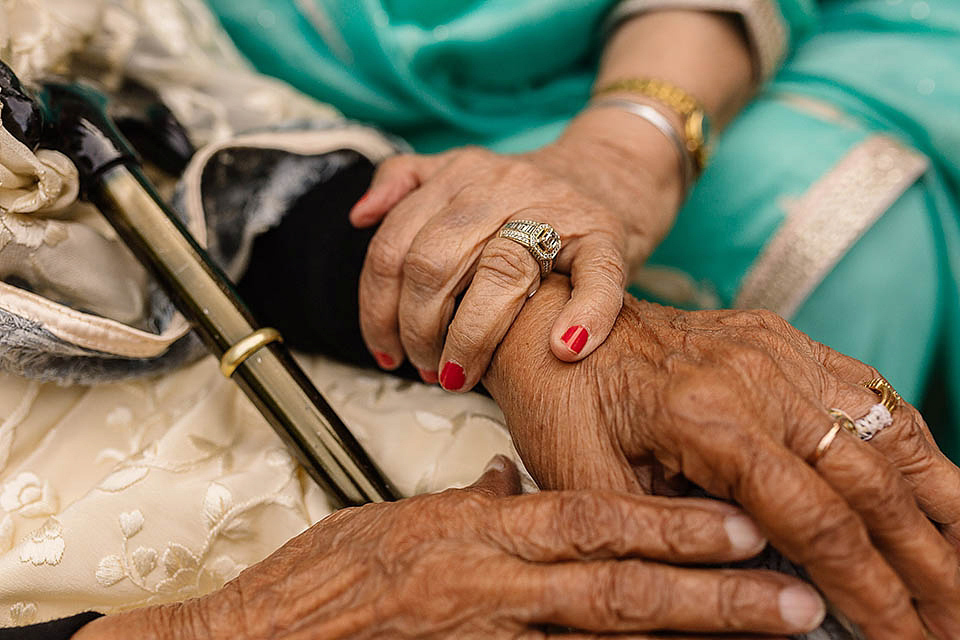 "We started with the Sikh Blessing, followed by lunch. We then had a little gap before our civil ceremony at 3pm with the Buddhist ceremony afterwards. Everyone had cocktails then with games on the lawn and a saxophonist playing before dinner."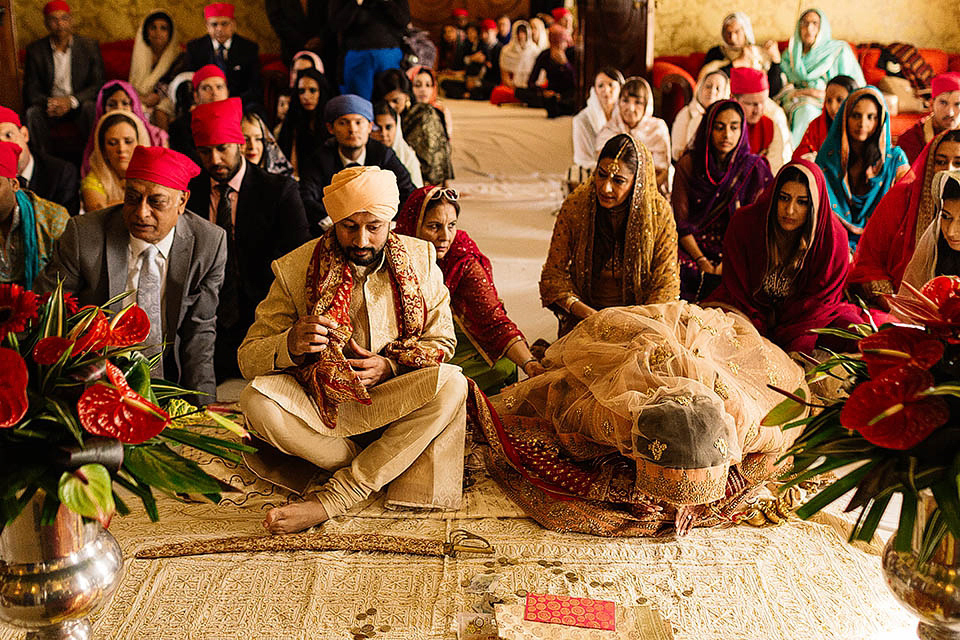 "We stumbled across Hyde Park Design on Instagram. We really liked how they didn't oversell and let us decide what we wanted before suggesting ideas. Sean and Paul are two brothers who are so down to earth and accommodating. Choosing rings can be over whelming but these guys were legends in the craziness that is Hatton Garden."
Lasitha changed from his traditional dress into a smart Hugo Boss suit and red tie to match his new wife for the civil wedding ceremony. His best man and father also wore the blue same suit.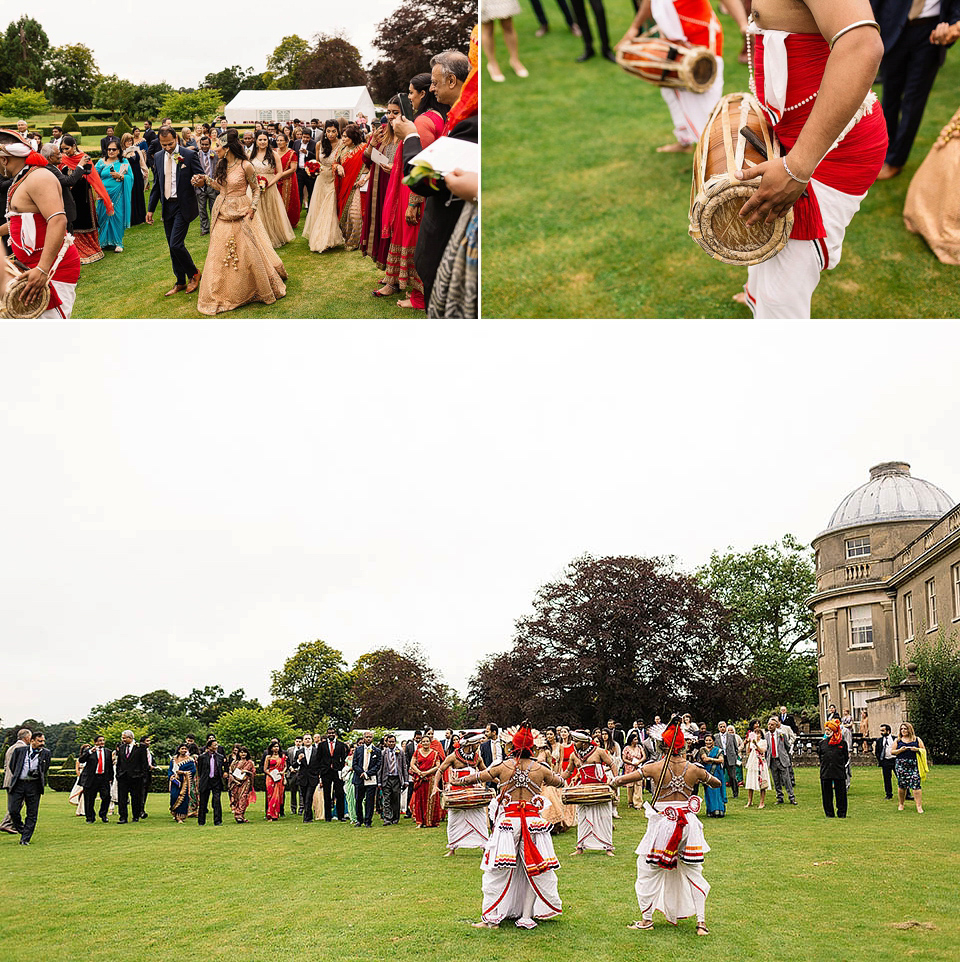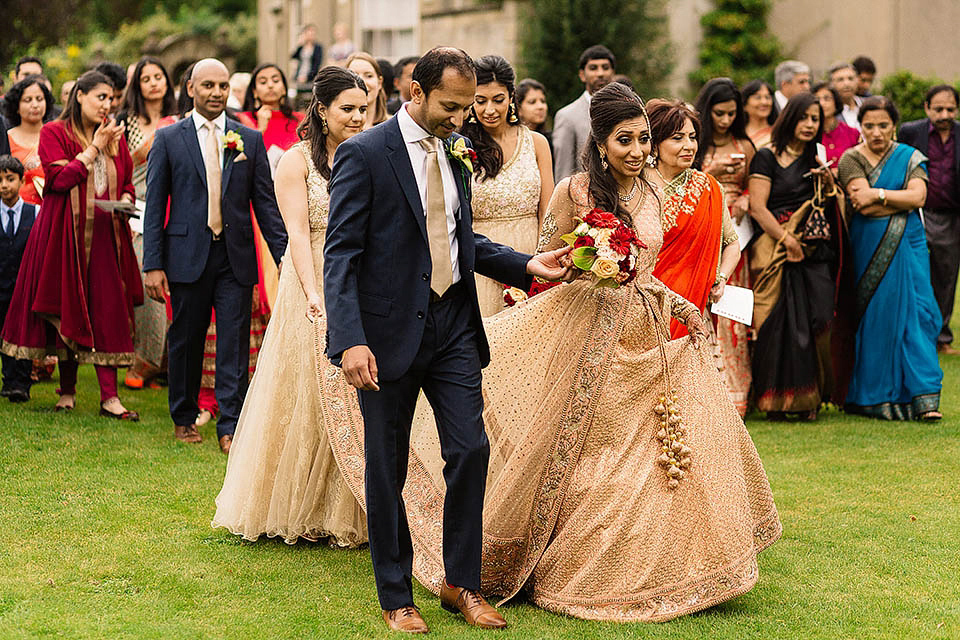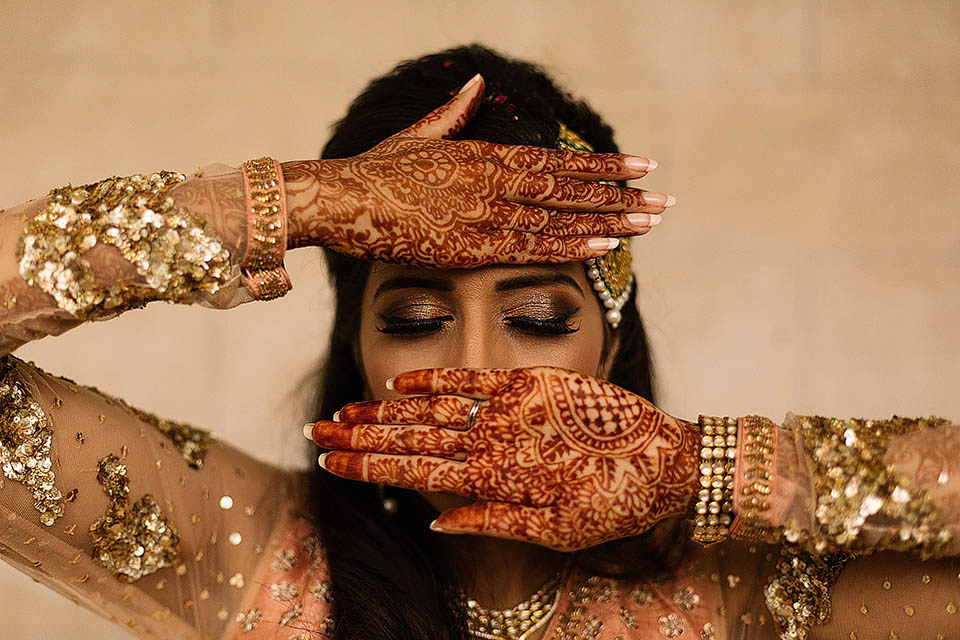 "Our super talented florist Joanna Keely was recommended by Scampston and I knew when I met her she was the one. She was so down to earth and practical, as well as being able to cope with my many phone calls in the run up to the big day. We looked at lots of idea to get a feel for what we wanted and also tried to work with seasonal flowers to get the maximum for my budget."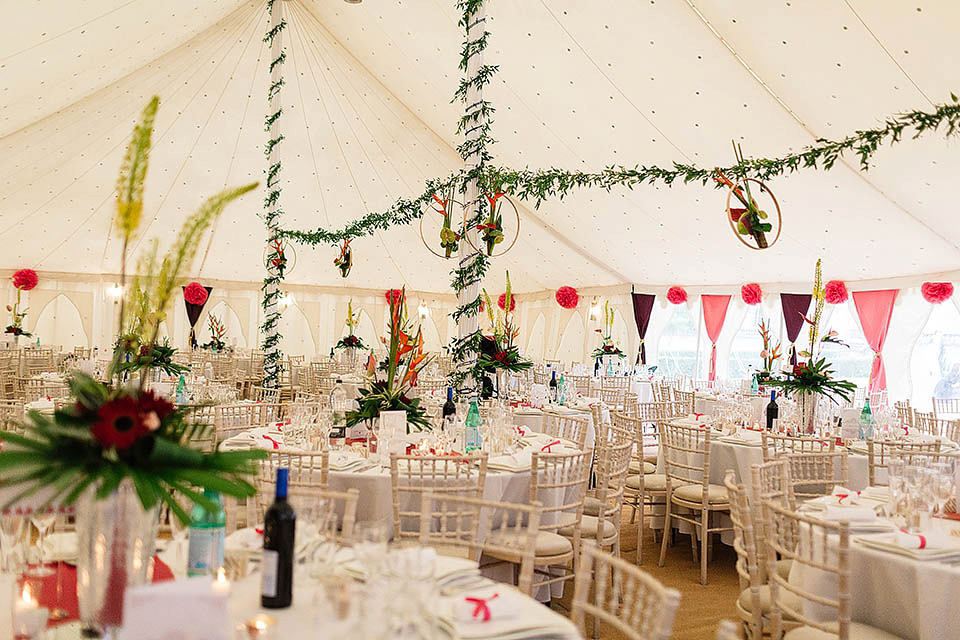 "Sandeep and Gaurav from Chai Events provided our DJ for the party on Friday as well as the wedding reception. They were absolutely awesome. We really wanted everyone to party hard and they ensured that everyone did with a mixture of Bollywood, English and some old skool garage featuring on the night.
We had our first dance to Stevie Wonder's 'For Once In My Life', chosen mainly because it was one of the few songs we could agree on."
"Lasitha's favourite parts of the day were saying our vows and the party, because after months of planning he could finally relax! I don't think I could pick one favourite part. Highlights included the Sikh blessing and seeing everyone together having a good time. The vows were special as that was what the whole day was about. The speeches made us all laugh and we had a girls vs boys dance off which I loved. Also, as my dad had passed away, my mum did the father of the bride speech, there was so much cheering, whooping and clapping that it took about five minutes before she could actual start."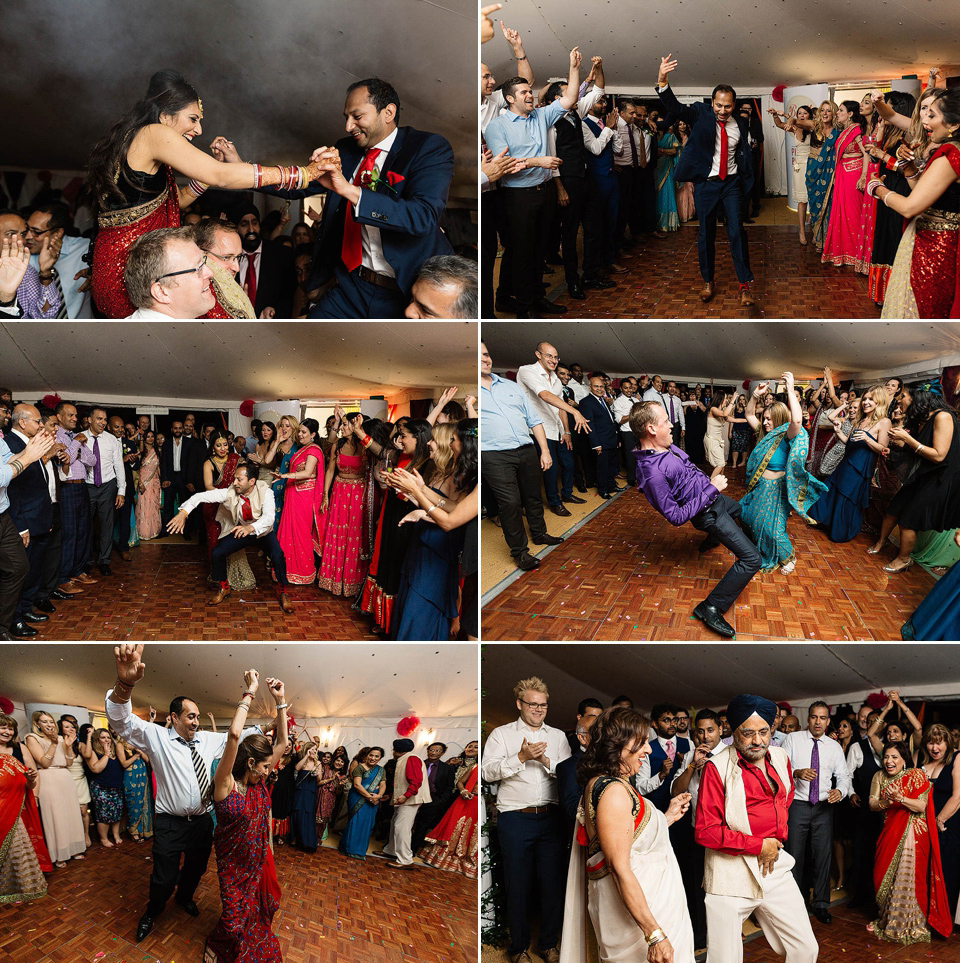 Words of Wedded Wisdom
"Enjoy every second of your day. Things will go wrong but in time they will be things that you laugh about the most.   One of my friends sent me a lovely message on the morning;
'A wedding is a party, not a performance. If at the end of the day you are married to the one you love, then everything went perfectly.' It summed up what the day is about.
Also on a practical note, nobody warns you that the bridal bouquet can be heavy. If you are small like me you might need to bear that in mind.
If we could change anything we probably would have had an event planner to manage the running of the day and had the marquee to be taken down later. We totally forgot that it was coming down the day after and there were still lots of decorations and bits that we wanted…cue a frantic dash to the venue the morning after!"
I'm so glad that we were able to share this wonderful wedding with you today. Thank you ever so much to Natasha and Lasitha. As always we are delighted to showcase the fabulous Paul Joseph Photography. Please check our archives for more of Paul and Kelly's work.
Are any of you planning to include separate ceremonies to accommodate yours and your partner's faith? We would love to hear how you are planning to include different aspects.
Love Caoimhe xx
Photographer – Paul Joseph Photography
Venue – Scampston Hall, Malton, North Yorkshire
Wedding Outfits – Sabyasachi + Aashani and Co.
Headpiece – Borrowed from Family
Shoes – Jimmy Choo
Bride's Scent/perfume – Jo Malone Orange Blossom
Groom – Hugo Boss Suit + TM Lewin Tie
Florist – Flowers by Joanna Keely
Cake – The Farmhouse Bakery
Entertainment – Chai Events + Alastair Plays Sax
Rings – Hyde Park Design
Catering – Karma Foods
Hair Stylist – Kara Scott
Makeup Artist – Rooz
Marquee – Shades of India
Pom Poms – The Hanging Lantern Company
Fireworks – The Fireworkers