Well hello lovely readers and how are you today? I hope that March has got off to a beautiful start for your and that the prospect of spring is making your world a more beautiful place. However, as you can never have enough 'beautiful', particularly in the middle of the working week, today I'm going to transport you to leafy Wimbledon Village in the south-west of London so that together we can visit Luella's Bridal and spend some time in this truly delightful boutique and view Luella's own collection of wedding dresses that sit alongside a fabulous selection of dress and accessories labels.
See Luella's Bridal in Little Book For Brides
Follow Luella's Bridal on Instagram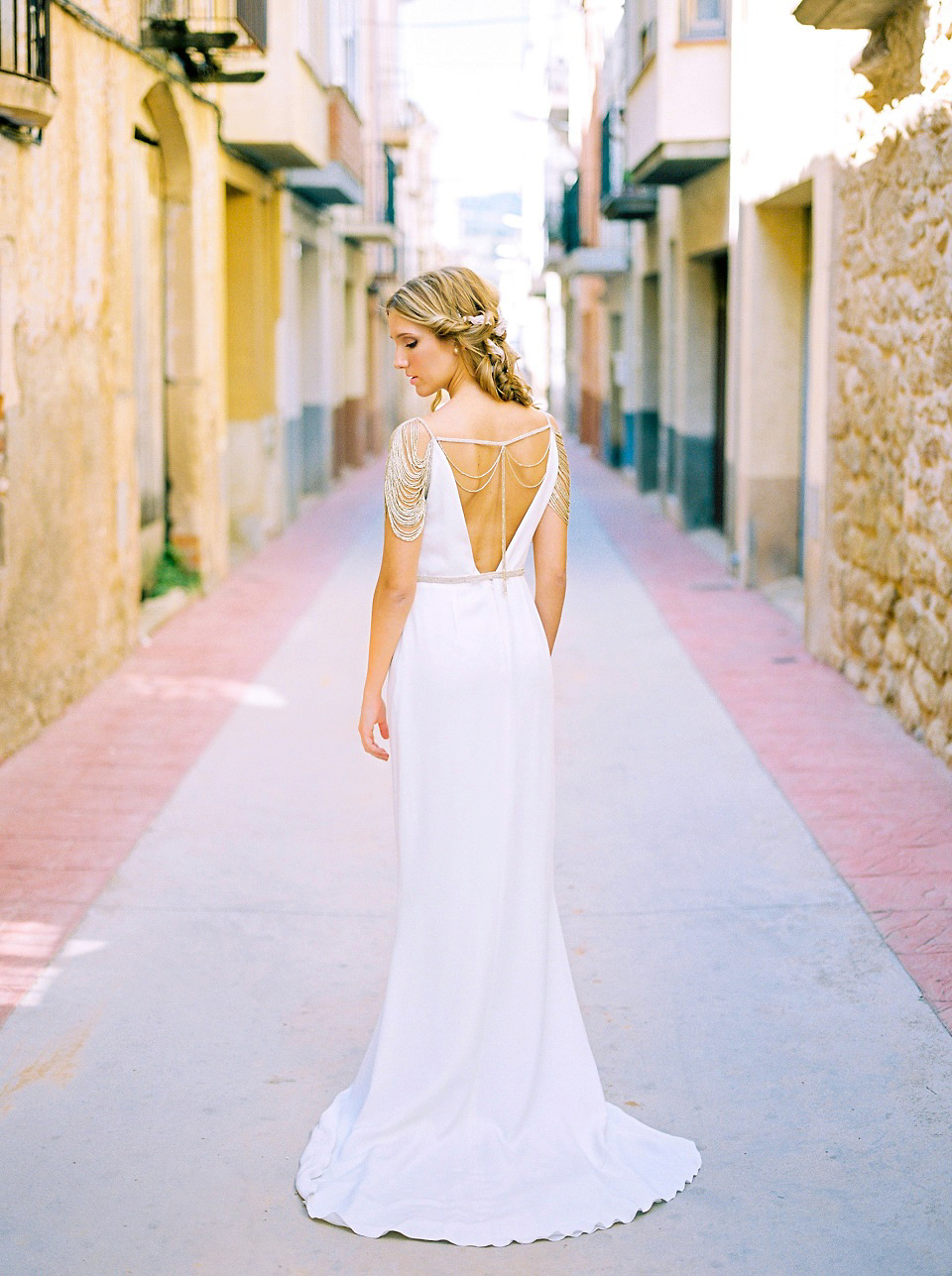 Luella's Bridal is unique. It was founded by the lovely Rachel Atwell back in 2005 after her own wedding as she felt there was room for something different in the world of bridal.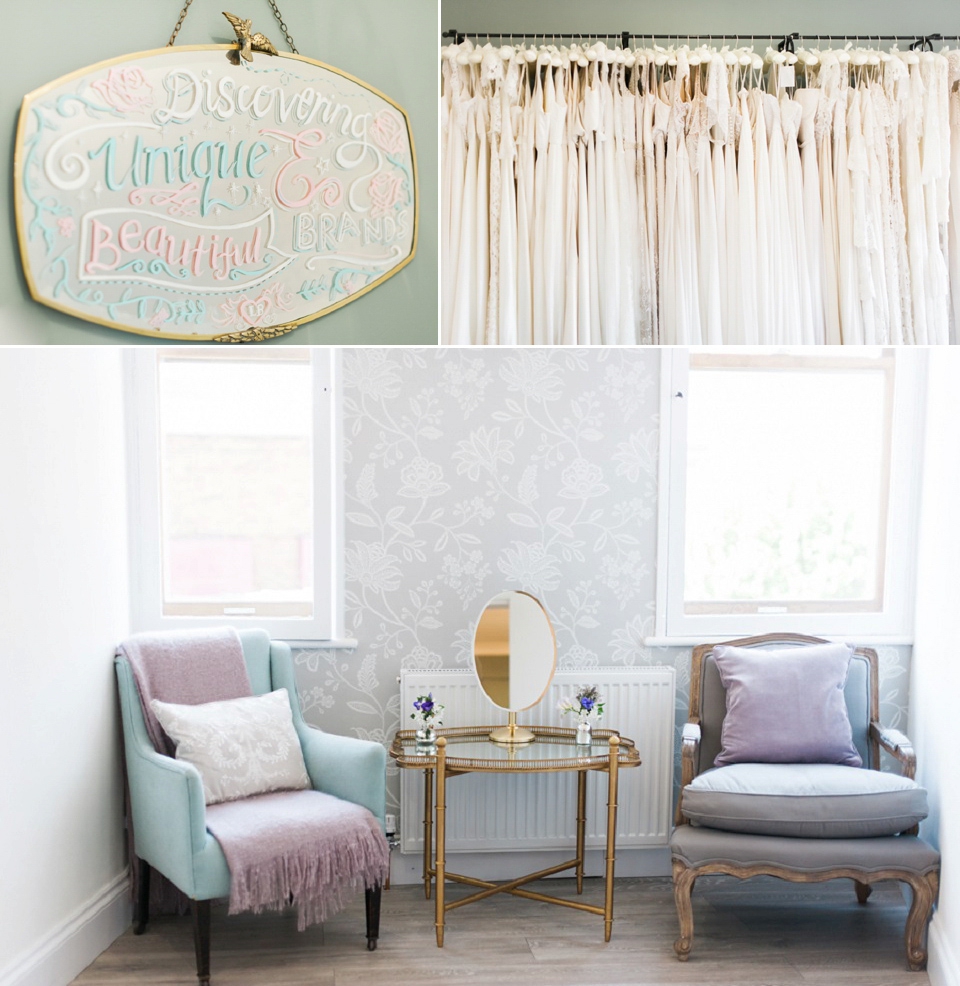 So, Rachel set out to create a relaxed and welcoming shopping environment for brides and maids that would showcase a brilliant selection of gorgeous wedding products with a vintage vibe. Luella's Bridal is, quite simply, the place you've been dreaming about.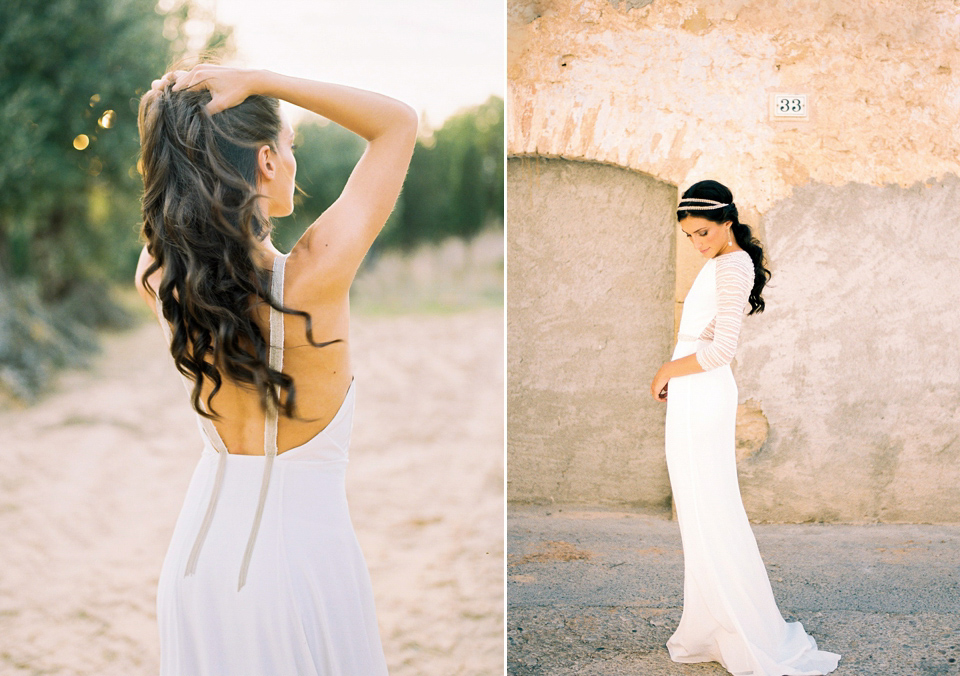 There's so much about Luella's Bridal that's special and worthy of note. Over the past few years, Luella's has grown to include high end brands from right around the globe and the style of the brand and boutique has become more contemporary – think modern bohemian sophistication and you've got a tantalising glimpse of what will await you.
"The majority of the products available in the boutique are exclusive to Luella's or are only available in a small range of other boutiques, mostly overseas," explains Rachel who carefully curates the superb selection of dresses and accessories. "We work with a range of small independent designers and try to support designers from the UK wherever possible."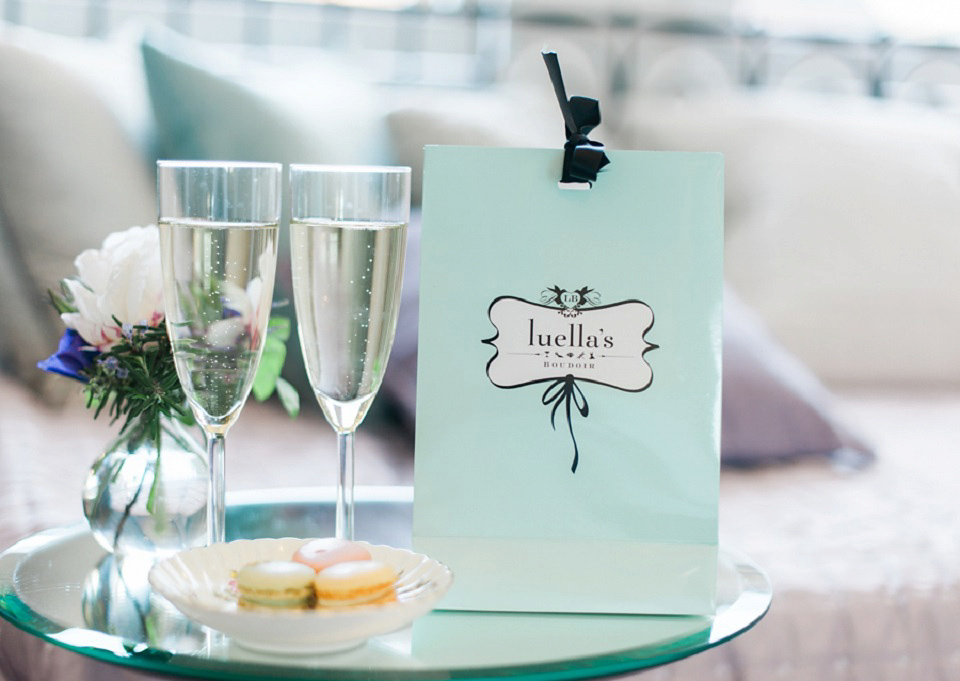 And this year, there's a new collection of wedding dress designs at Luella's Bridal that combines all of the elements that Rachel is so rightly passionate about. The Luella's Collection has been designed in partnership with British designer Charlotte Casadejus, known for her extraordinary ability to create heavenly designs that create the most appealing of silhouettes.
The Luella's Collection is perfection. It's wearable, elegant and flawless and mixes touches of British Victoriana with the glamorous Biba style of the late 1970s. The combination of long, loose and flowing skirts, intricate chain and fringe detailing and beaded floral motifs brings a nod to Bohemian design into the collection along with the high necked, long sleeved decorous elements that bring something very special to these designs.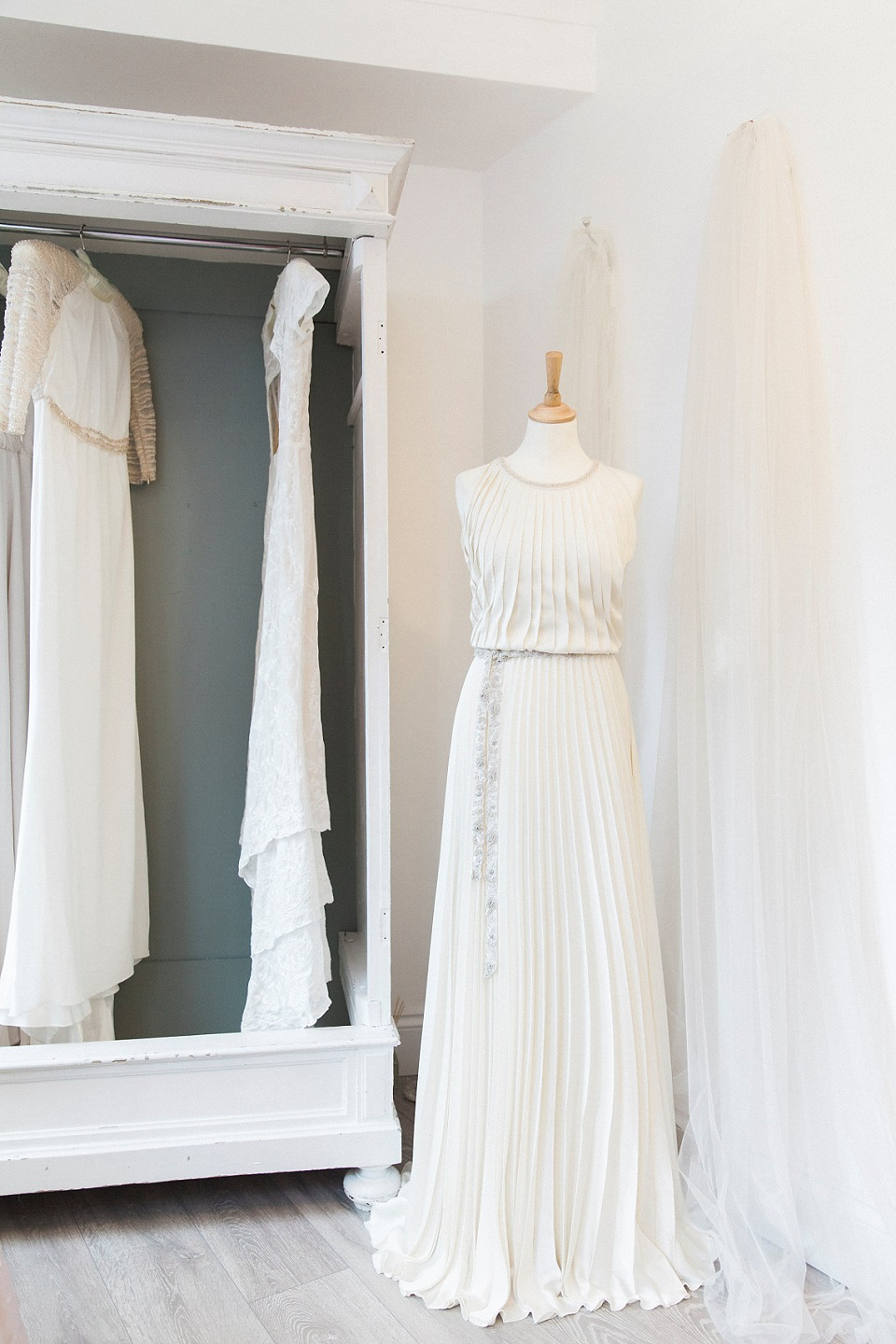 Let's also talk colour because the collection consists of seven unique styles in a mixture of warm Mediterranean colours and there are you can bring even more variation to your style with different beading and detachable elements. The design team have also produced a complimentary set of accessories, including a variety of belts created to work with several dresses and a stunning hand beaded cape. Bliss.
'Hope' Wedding Dress by Gwendolynne
"You'll find some intricate design techniques in our new Luella's Collection," says Rachel." We hand-painted gold lead onto the fabric, we've included a hand pleated gown and produced a unique Corneli lace not to mention a number of hand beaded details."
'Evelyn' Wedding Dress by Vicky Rowe
"All of the dresses are made in the UK and, as such, can be made with extremely short lead times. The collection has been specifically designed to be as versatile as possible – the options to have the dresses made in other colours with variations of the original styles for instance – and some of the designs will also be available in larger sizes."
Everything about Luella's Bridal just conveys a deep and truly genuine passion for stunning, glorious bridal design and this dedication brings something very special to the wedding world. Luella's has been one of the finest bridal boutiques in the UK for over a decade now and it's a thrill to celebrate this and their magnificent new collection with them.
You'll find Luella's Bridal in Wimbledon Village where you'll enjoy your private appointment in the boutique with a dedicated stylist. A limited number of evening and weekend appointments are available so please contact [email protected] or call 020 8879 7744 if you'd like to book your visit.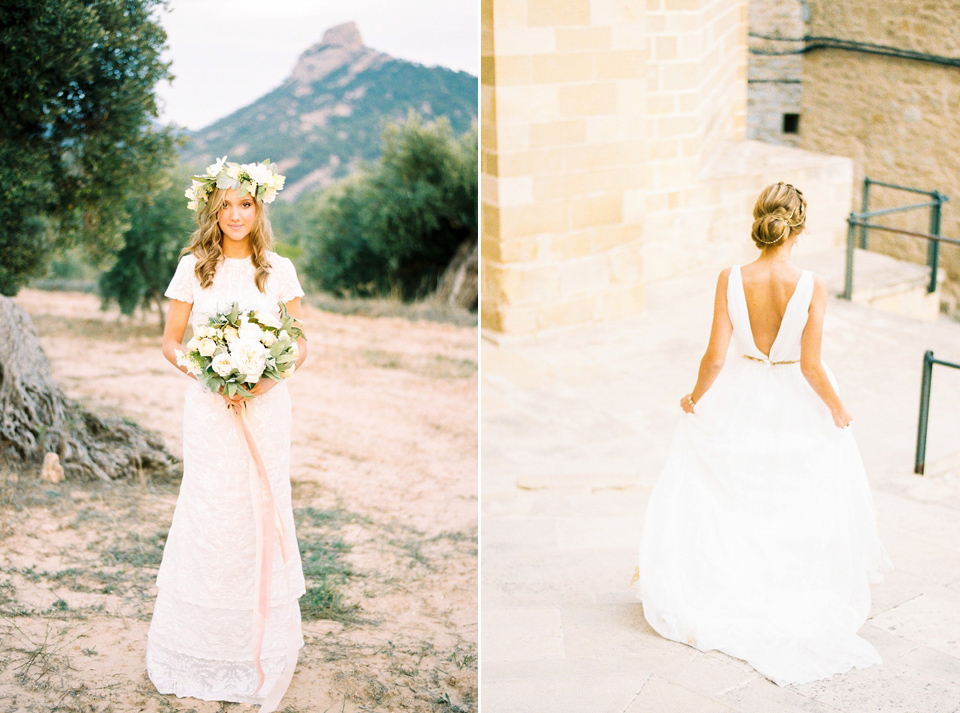 Wedding dresses from the Luella's Collection are priced from £1800 to £2900 and their gowns from other designers range from £2,000 to £4,800. Luella's is also proud to hosting two exciting events in the coming weeks starting with a Vicky Rowe designer day on 12th March where you'll have the opportunity to meet designer Vicky Rowe herself and view her entire collection. April is also exciting thanks to a Rose & Delilah trunk show 12th-19th April and you'll find more details of both events on the website.
To connect with Luella's Bridal, do get in touch via Facebook, Instagram, Twitter and Pinterest. The Luella's Bridal website will also give you all the details you need on the boutique itself and the designers stocked not to mention a gorgeous blog and delightful real brides showcase.
Love Tamryn x
This is a sponsored post
Photography kindly supplied by Ashlee Taylor, Maxeen Kim and Kate Nielen