Hello to you dear reader, wherever you are and whatever you're up to on this delightful April day. I hope your week has started well and that everything in your world is just fantastic. I've been looking forward to sharing this feature with you for a while now and, if you consider yourself a vintage bride, I know that you're just going to love it. Let's welcome to Love My Dress the heavenly vintage inspired rings from The London Victorian Ring Co…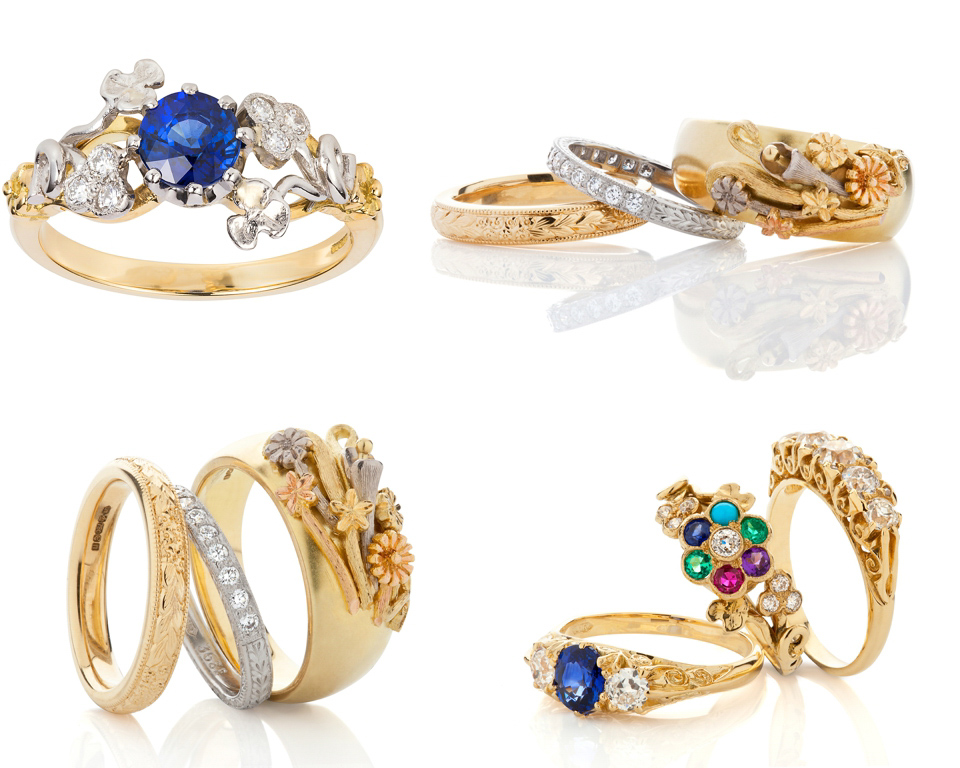 The London Victorian Ring Co is a genuinely brilliant, fourth generation, family run business that's been making vintage style rings since 1890 in the days of Queen Victoria. Designed and made in the UK, they focus on creating engagement rings and wedding rings that bring the beauty of the past to modern couples.
From their showroom and studios in London's famous jewellery district, Hatton Garden, The London Victorian Ring Co offers you the opportunity to wear a ring that's true to the original design of the era and, as the company has more than 125 years experience in making and dealing in fine jewellery, their knowledge of historic styles is unsurpassed.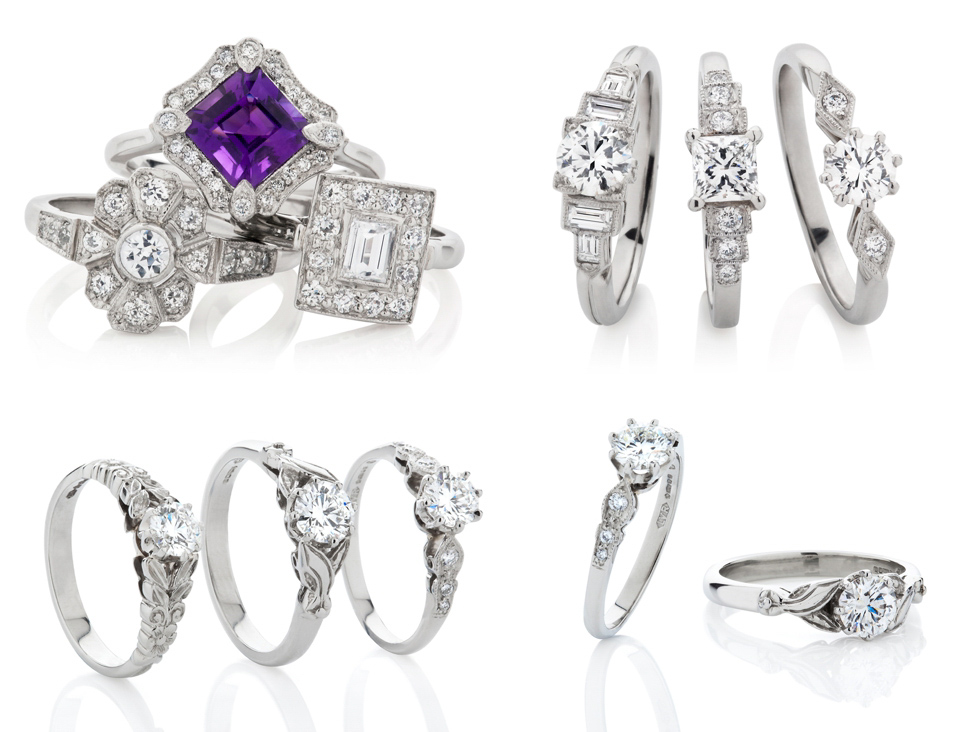 Drawing from their vast collection of original ring designs from the Victorian, Edwardian and Art Deco periods, The London Victorian Ring Co uses original designs and their knowledge of fine antique jewels together with the technical expertise of their super skilled modern jewelers to create exquisite engagement rings and wedding rings that will become your heirloom for your future. It's an exciting and altogether gorgeous prospect that couldn't be more fitting for a wedding.
There's no doubting the fact that everyone at The London Victorian Ring Co are avid jewellery fans and they're deeply in love with their work. They're constantly updating their collections and working on new designs, taking inspiration from the Victorian 'Language of Flowers', not to mention Art Deco architectural patterns and the natural world.
All of this means that each and every piece from The London Victorian Ring Co not only has the most fabulous vintage feel but you can be sure that you'll also be wearing a ring that's been created by truly expert craftspeople who lavish oodles of care and attention onto each piece.
Every diamond and gemstone is personally selected in house and you'll only ever be offered diamonds that the team would wear themselves. They specialise in GIA graded diamonds with the most exceptional characteristics and they also offer the highly sought after 'Triple Excellent' GIA graded diamonds with the highest grade possible for cut, polish and symmetry.
Engagement rings and wedding rings from The London Victorian Ring Co are just so incredibly special. The designs have a genuine historic feel, the materials used are superb and the craftsmanship is remarkable. Oh yes, these are most definitely rings you'll want to wear forever.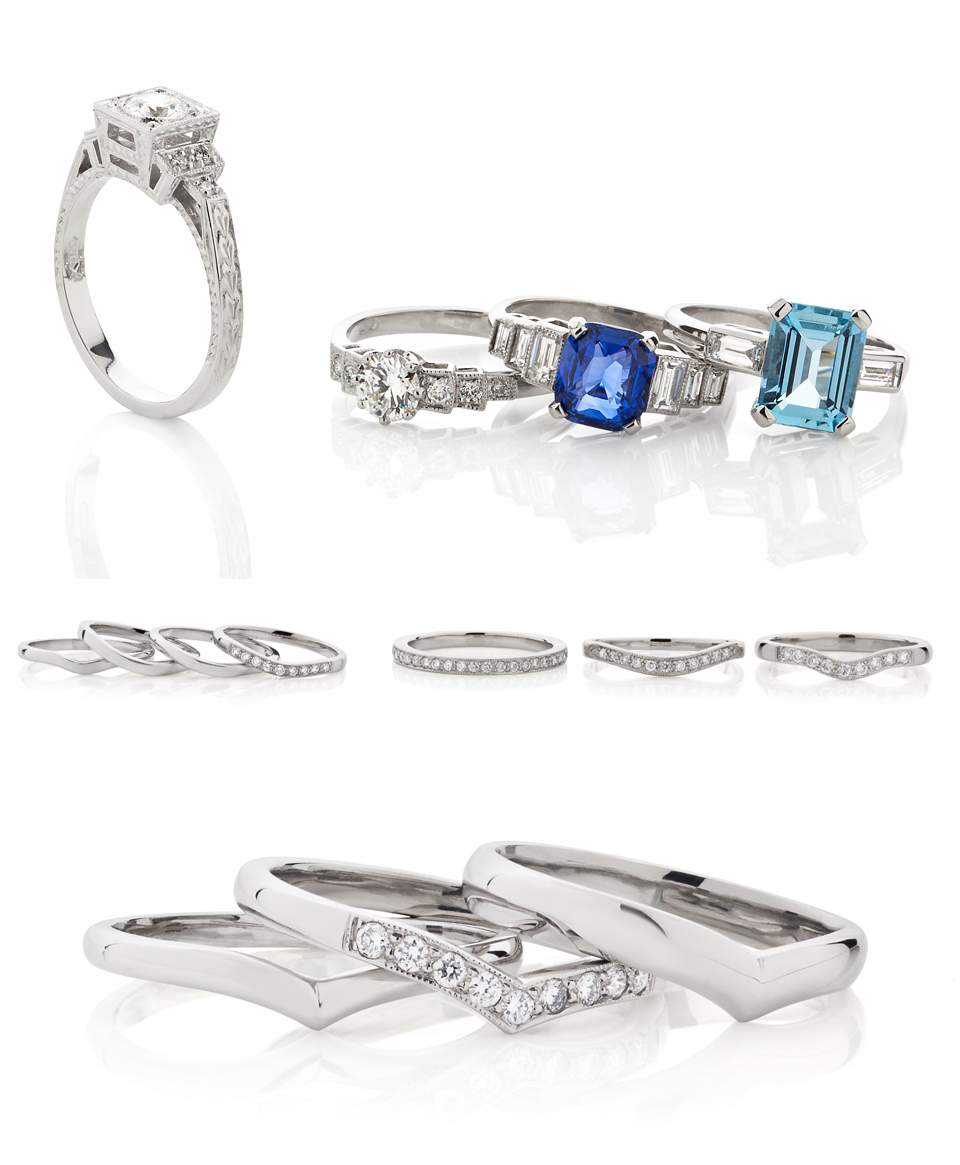 If you've fallen for the vintage inspired beauty of rings from The London Victorian Ring Co, pop Tuesday 12th April 2016 in your diary because we'll be publishing details of a rather special competition and I'm very sure you won't want to miss it!
Wedding rings from The London Victorian Ring Co range in price from £280 up to £1,400 with the price depending on the style of ring you choose. Engagement rings start from £1,200. You'll find The London Victorian Ring Co at 100 Hatton Garden, London, EC1N 8NX and visits are by appointment only. To arrange an appointment, even at short notice, simply contact the team on 020 7193 4412 or via [email protected].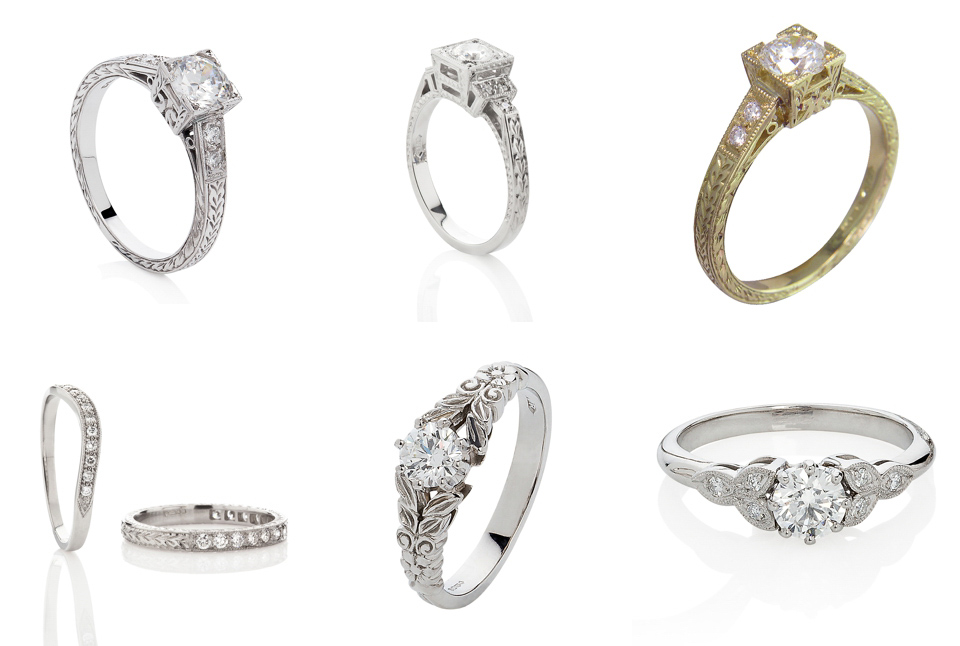 The London Victorian Ring Co also offers a bespoke jewellery service and they can offer expert advice in the custom design and making of bespoke engagement rings, earrings and pendants.
If you'd like to find out more about The London Victorian Ring Co and view more of their fabulous designs, do take a look at their website. You can also connect with them on Facebook, Instagram, Pinterest and Twitter. Also take a moment to look through these weddings – where each of the couples have chosen rings from The London Victorian Ring Co.
Love Tamryn x
This is a sponsored post