So I have a super important question for you lovely lot; do weddings make you cry? And I don't just mean pretty little tears; I mean great big gulping soggy sobs of emotion. As much as I love weddings (and I really really do) I've discovered an unfortunate side effect – I'm an extremely ugly crier. Please don't tell me I'm alone? Brace yourselves ladies and get your hankies (I mean loo roll, who is seriously sophisticated enough to own a hankie?) at the ready – the wedding film of Cate & Joe had me in floods of happy (ugly) tears.
The lovely Mr & Mrs Walsh, both Consultants wed on 5th September 2015 and wisely picked the incredibly brilliant Pen and Cam of McKinley-Rodgers Photography, one of our very favourite Little Book for Brides darlings, to both photograph and film their glorious rustic Cotswolds celebrations.
"McKinley-Rodgers took footage while they photographed to make a wonderful Story Catchers video. I watch it pretty much every day, and well up every time. It so beautifully captures the love and laughter of the day."
"I cannot recommend McKinley-Rodgers Photography enough. We were recommended them by a friend who had been a guest at a wedding they were shooting, and had originally thought they were friends of the bride and groom because they got on with everyone so well. They are a married couple who are so incredibly funny, friendly and loving."
"Sunflowers are my favourite flower and burgundy is my favourite colour. I also love the rustic look that is popular at the moment: jars, hessian, antique lace. Joe agreed he liked all of those too (or just knew it would make me very happy) and that became the style from the outset."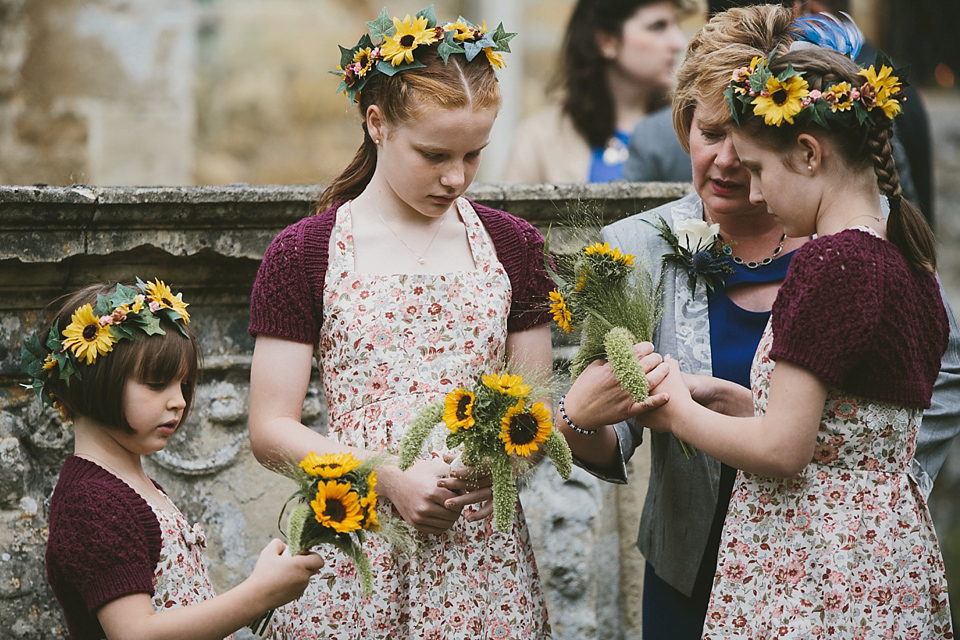 "They are not only a wonderful advertisement for a happy marriage, they also take absolutely beautiful photos in addition to making everyone feel at ease and happy. Almost all of the guests have commented since the wedding how lovely they were and that the photos they took are some of the best they've ever seen."
I think that has to be one of my favourite ever wedding films – how hilariously cheeky and sweet is Joe? When Cate started to cry during her vows I fully lost it – I dread to think what I'm going to be like on my own wedding day. Love, laughter, autumnal tones and bright blooms were some of our bride's major inspirations for their celebrations.
The lovely couple married at the very pretty St Mary's Church in Bibury before their gloriously handmade rustic reception at Bibury Court. Handmade beauties are a recurring theme in this wonderful wedding – the bride's uber talented mum made that stunning silk and lace wedding dress. Doesn't it look incredible with Cate's intricately entwined Nordstrom Rack headdress?
"I am so utterly proud of the fact that my Mum made my dress, it was exactly what I imagined. The silk was from Bennett Silks and the lace was from Truro Fabrics. I knew I wanted a slim line dress, partly inspired by Jenny Packham I suppose. The pattern of the dress Mum used is by Vogue Bridal. The original design has a solid fabric for the top but I knew I wanted lace, so Mum edited the design so there would be enough strength in the shoulder seam to support all the layers of silk and lining. I also loved the train – I want to wear a train every day!"
"I wore my mother's veil, three months before her 40th wedding anniversary. Amazingly the little scalloped lace edging perfectly matched and it meant so much to my Mum. My shoes were Betsey Johnson Blue; the bottoms of the shoes are a lovely sky blue – my 'something blue.' I changed into Dubarry boots for photos in the fields."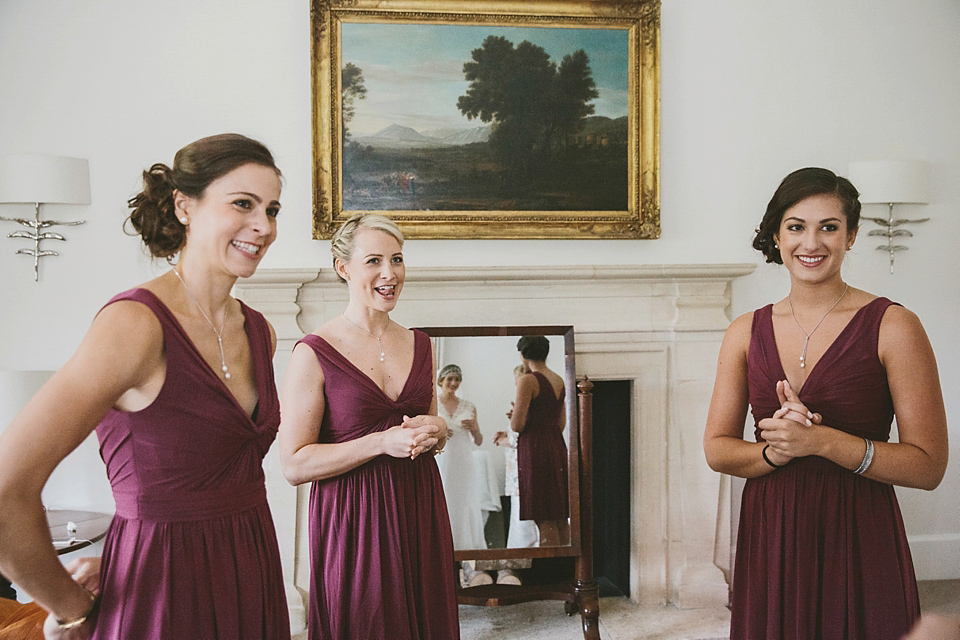 Beautiful Cate opted for her everyday scent, Miss Dior by Christian Dior, and accessorised with a pearl and white gold bangle, which her father gifted her mother on their 30th wedding anniversary, and diamond studs which Joe gave to her on their 5th anniversary. Her sophisticated up do was created by Kate at Gorgeous Hairdressing and Cate's dewy make-up was applied by Ruth Adamson from Vanilla Hair and Beauty Salon.
The pair didn't employ a wedding planner per se – was there really ever going to be any question who helped coordinate this fabulous day?
"My Mum! Mum and I planned everything over 1-2 hour-long Skype calls every Sunday over the year. My mum made the wedding cake and the groom's cake; an American tradition – the groom's choice, so Mum made a lemon and poppy seed naked cake. The fruitcake was four layers – two layers of traditional fruitcake and two layers of a 'Hawaiian light' fruit cake my mum has made before which I love, made with vodka and pineapple. We were given a cheese tower as part of our wedding present from my sister and our Mr & Mrs Walsh cake topper was from Not on the High Street."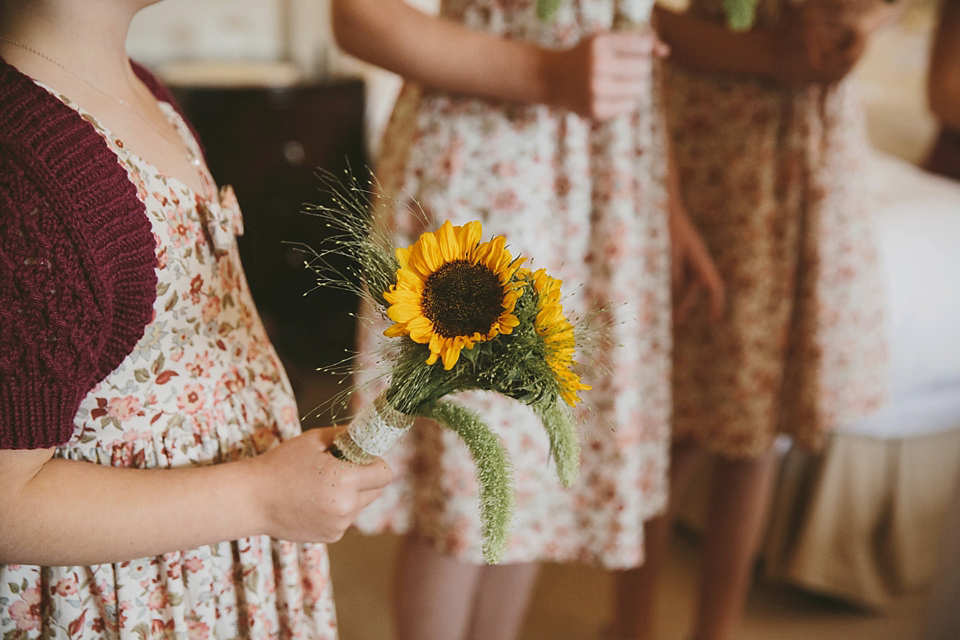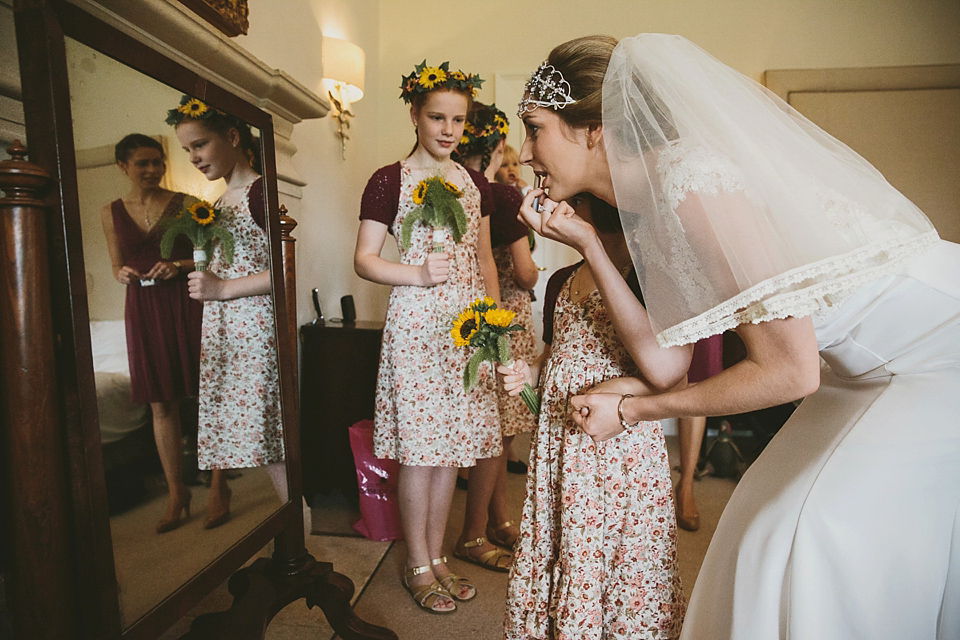 "My husband, all of his family and a lot of our friends are American, and we have just moved back to the UK after living in Washington D.C. for the past six years. When we got engaged I knew I wanted a beautiful, classic Cotswolds wedding so visiting Americans would be dropped in the middle of the most beautiful part of England."
Before I move on to the extremely dapper groom I have to share the lovebird's story with you, especially Joe's festive family proposal. Cate, I'm the 'Santa's little helper in my family too!
"I did a year abroad at Georgetown University in Washington D.C., and lived in dorms across the hall from Joe who was there full time and in his second year. We met, hung out a few days later, went on a few dates and were officially boyfriend and girlfriend within about two weeks."
"Joe proposed on Christmas Day. I always like to 'play Santa' and hand out presents to everyone and he said there was one I had missed.  As I unwrapped it and he got down on one knee – it was in front of my family, which was perfect for me. We were engaged  for around 20 months. I knew I wanted an Autumn wedding and there is a bank holiday in America the first week of September, which I thought would help those travelling so that was the weekend chosen."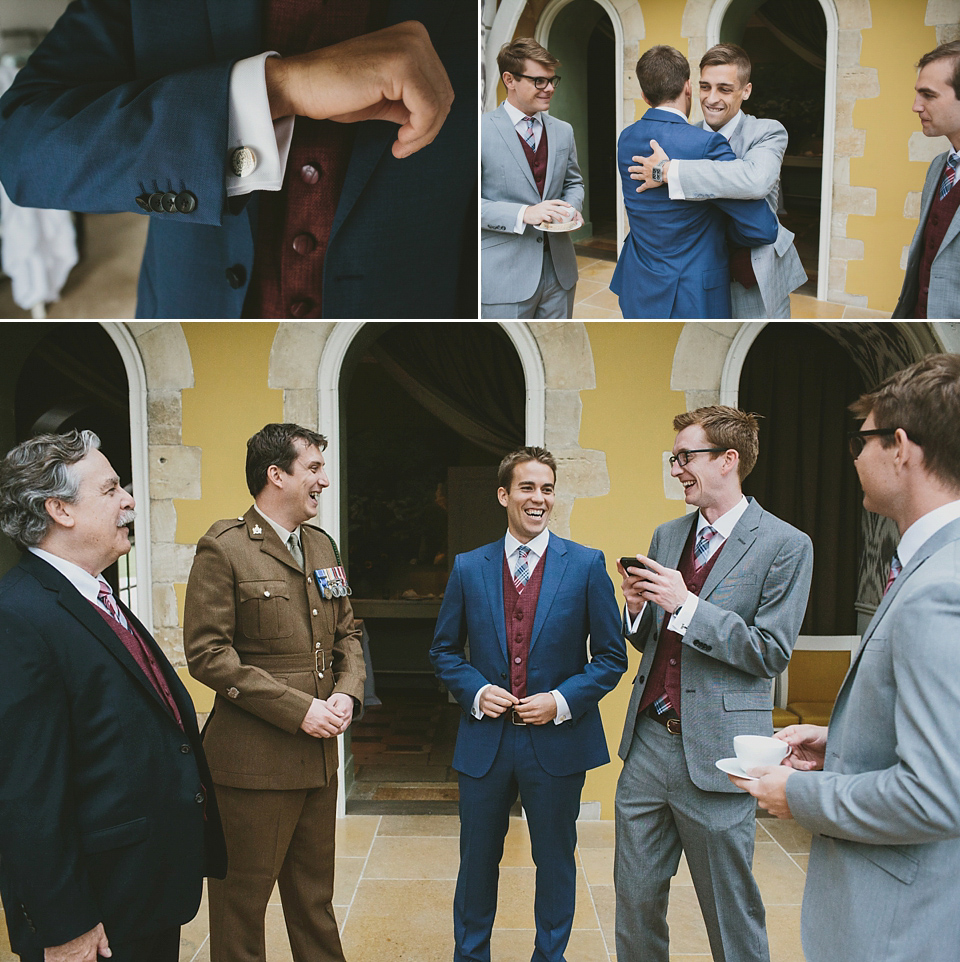 Joe is 100% a gentleman in his blue Hugo Boss suit and Nordstrom Rack tie and he added a pair of Georgetown University seal cufflinks gifted to him by his thoughtful wife. Now talking of cufflinks, Cate has a lovely little tale of rescued wardrobe malfunction for us.
"A note for future brides – we bought cuffed shirts for all the groomsmen, and told them all the bring cufflinks, but they all forgot. I'm still not sure who (I think my brother Hugh), but someone thought to bring ALL my dad's cufflinks, just in case. So all the groomsmen were wearing all my dad's novelty cufflinks, which I thought was amazing and hilarious, and thank goodness it had been thought of – I don't know what we would have done!"
"Growing up, we always took visitors to Bibury and when my Dad reminded me of how much I have loved Bibury Court, I knew that was the place I wanted to get married (Mum and I had joked about this when we took Joe's Mom there a few years earlier!). Seeing how beautiful St Mary's is was the clincher. We got engaged on Christmas Day, saw Bibury Court a few days later, and confirmed our booking by January."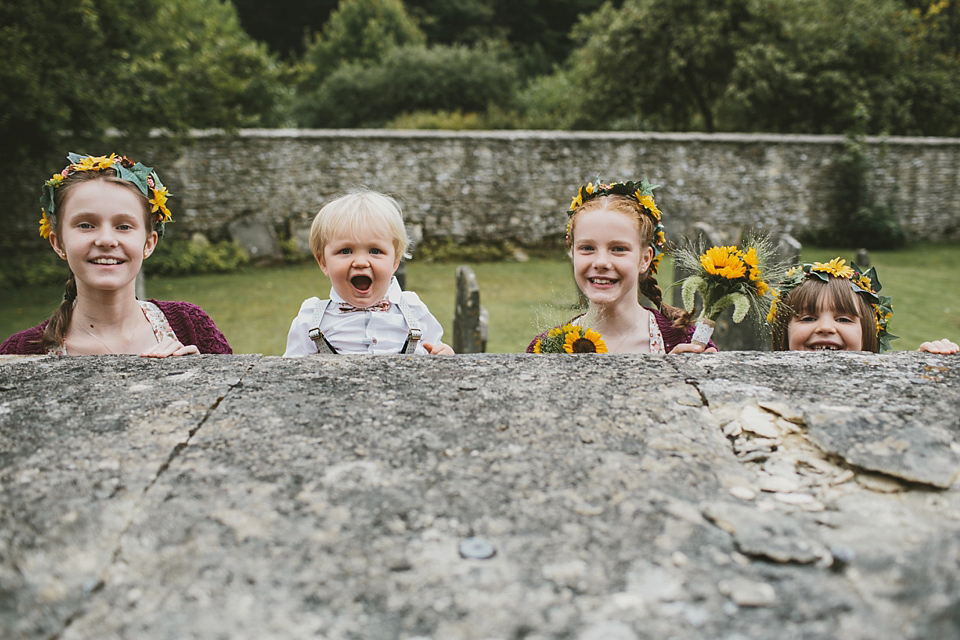 "The wedding programmes were designed and laid out by Joe's mum, printed by my mum, and I tied the string around them. The place cards were individually stamped by my wonderful friends and I printed and stamped the table plan and names and we put them in frames from around my parent's house. My mum made the table plan board out of wood pallets and together we made the menus from photo frame cards and baby photos of Joe and I.
My godmother had the fabulous idea to use beer hops for church alter, and created beautiful pew-end arrangements in hessian sacks she already had. We also put church candles surrounded by ivy on every window sill in the church. I gasped when I walked in for the rehearsal, it was so effective."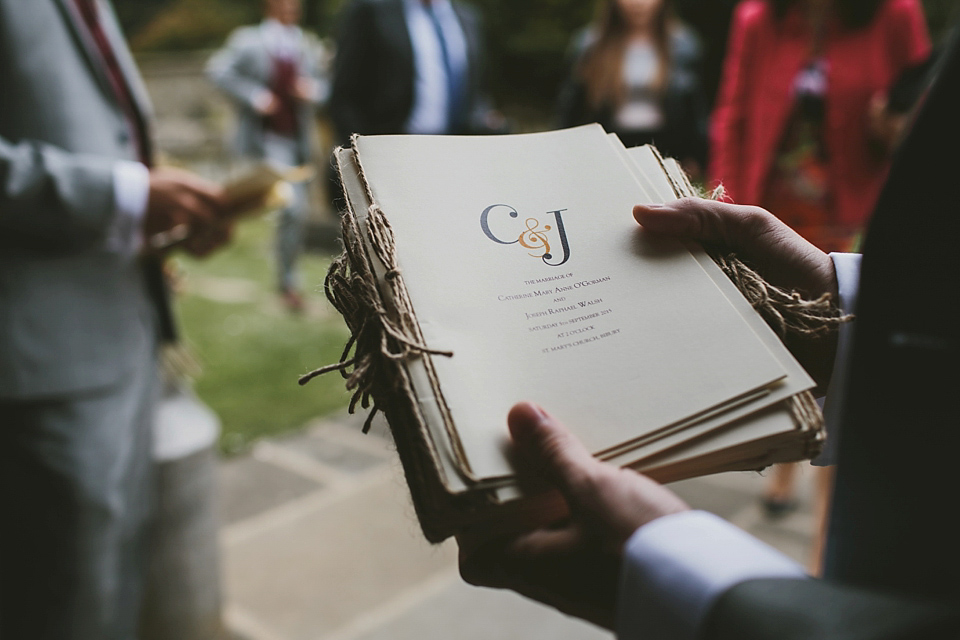 Cate's amazing mum created the men's waistcoats in burgundy silk and linen, backed in the same cotton as the flower girl's dresses and a cute matching bow tie for the little page boy and our thrifty Mrs bagged her bridesmaid's lovely burgundy J. Crew dresses in the January sales.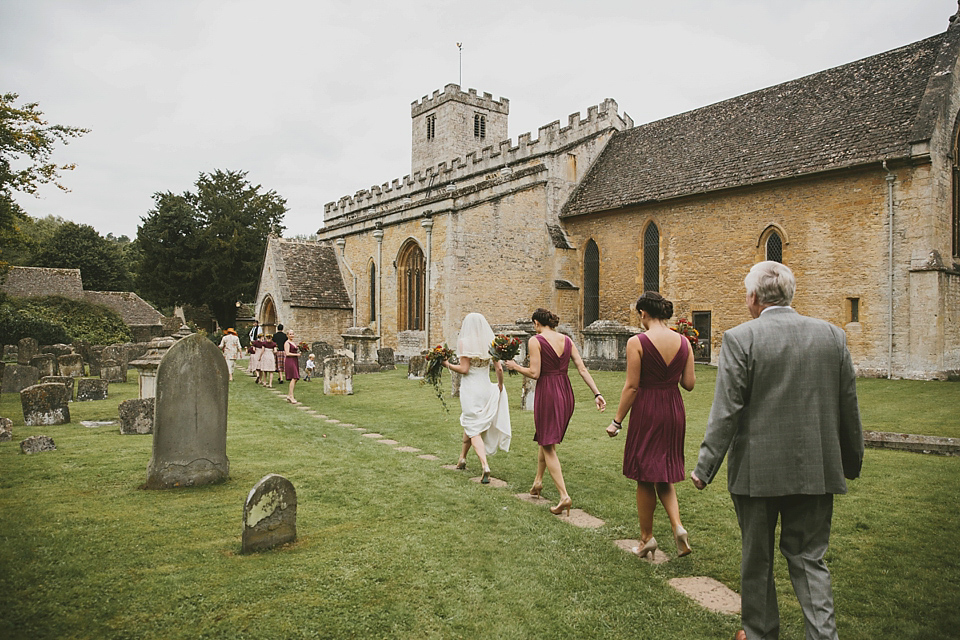 The adorable flower girls frocks were also made by the mother of the bride from floral cotton tracked down online by Cate's sister. Their flower crowns were sweet H&M purchases plumped up with the addition of more silk flowers.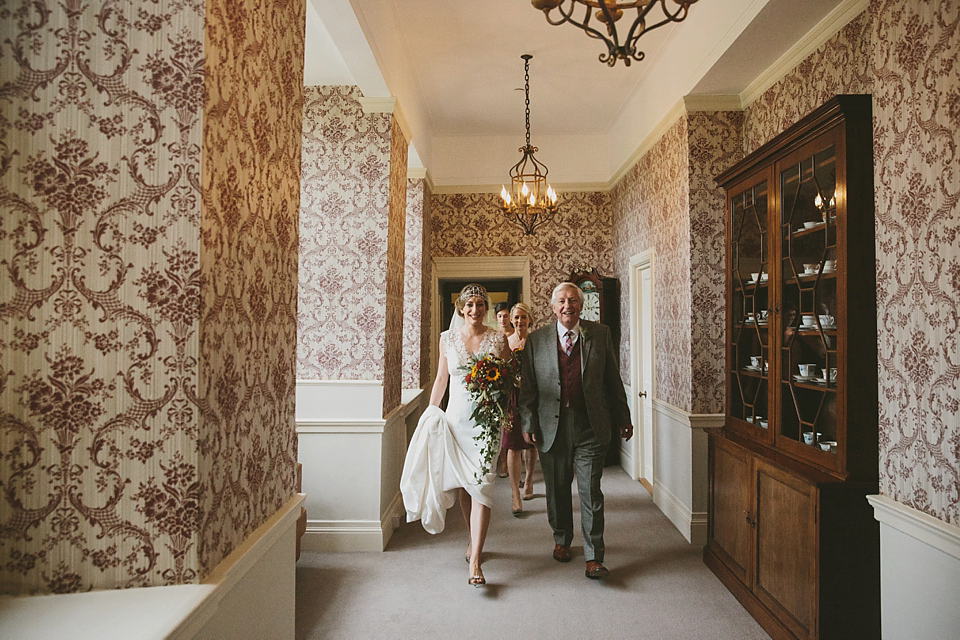 Donna Beaver at The Flower Studio is responsible for these beautiful sunny bouquets and Cate's fabulous mum (is there nothing she can't do?) contributed to the pretty reception blooms.
"Donna Beaver did our bouquets, boutonnieres and wrapped the pillars and pedestals in the church, which we shared with another couple who got married the day before us. My mum grew the flowers for the reception tables, my godmother did the pew-ends, altar garland and font flowers. A family friend did two pedestals for the marquee. 
Sunflowers and burgundy was the main theme, but I loved autumnal colours so the flowers included all the oranges, golds and reds in between. Mum and I knew that we would fill a lot of the marquee centrepieces with ivy, and I wanted a waterfall bouquet so ivy and greenery played a huge part. I loved my waterfall bouquet by Donna so much, and the bridesmaid's smaller bouquets used the same flowers. I also loved the flower girl's bouquets – so cute." 
Our bride's lovely dad gave her away and her father-in-law played a melody he composed on his guitar as they walked down the aisle. Their vows were traditional Church of England vows, which Cate had always imagined saying and the couple opted for two wonderful readings; 'Oh, Call it by Some Better Name' by Thomas Moore and 'For You' by Maureen McLane.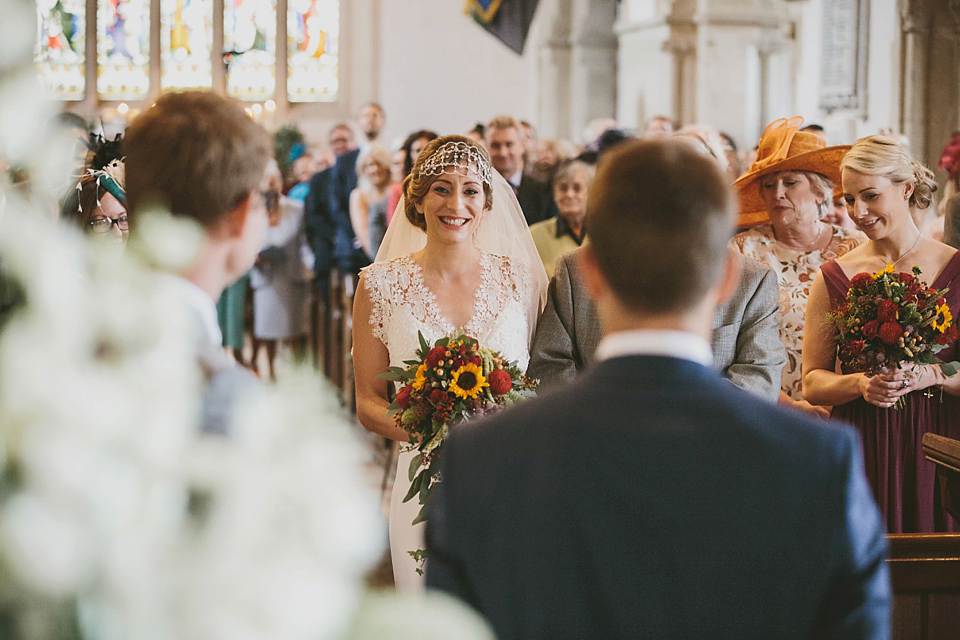 In a little American nod, Cate and Joe bought their rings at Boone & Sons in Washington D.C. – our bride opted for a diamond pave ring and the stylish groom chose a rose gold band. I absolutely love that full-0n girl power came together to create the stationary and church decorations.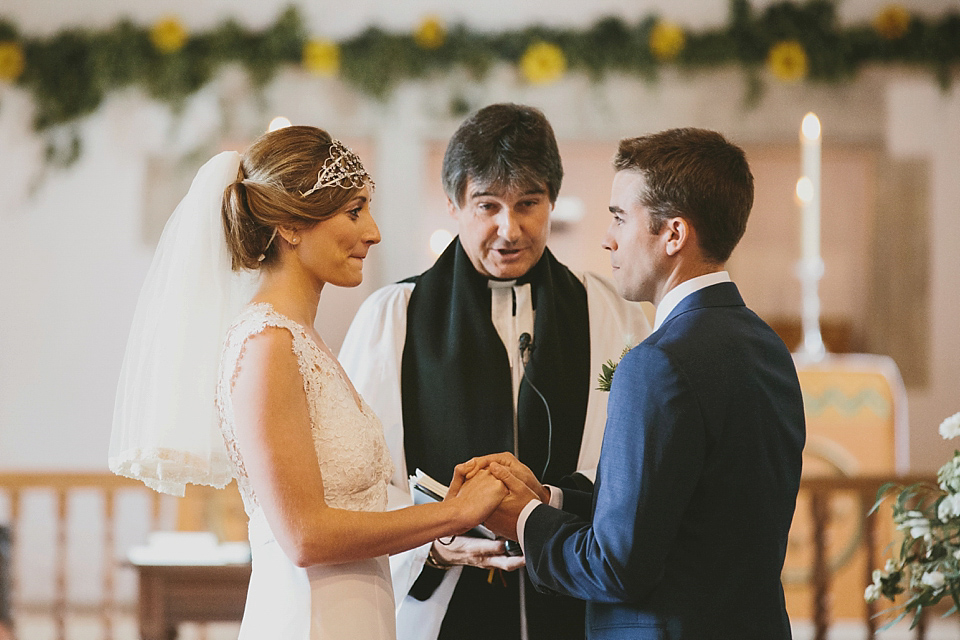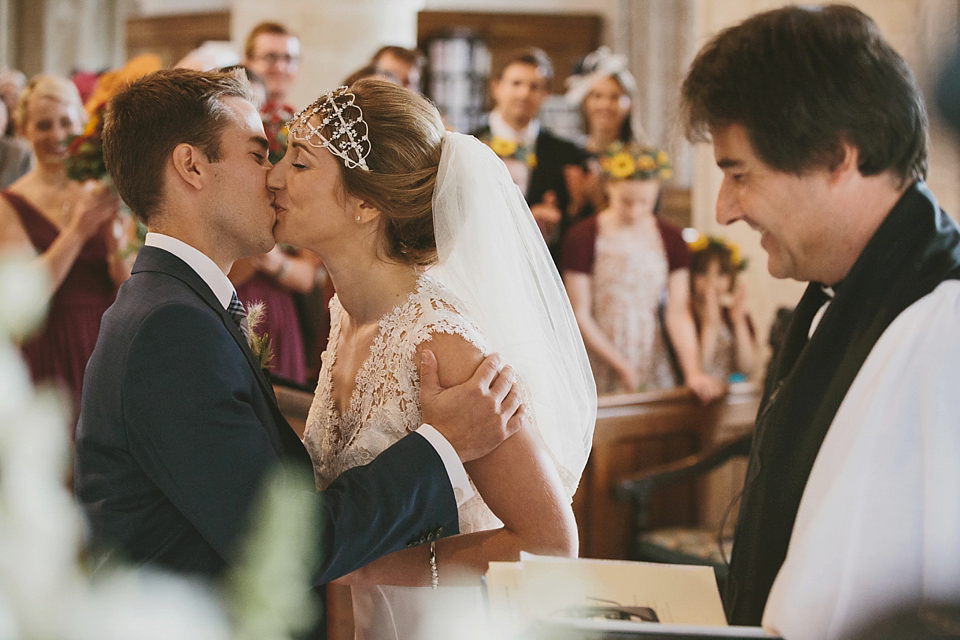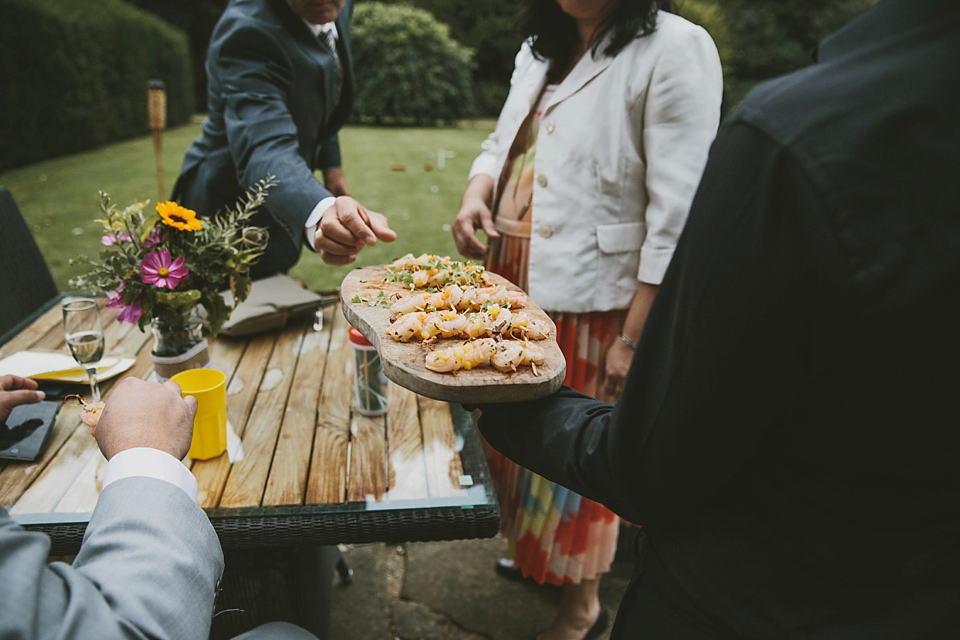 The bride and groom mentioned the portrait shoot they had with Pen and Cam as one of their very favourite moments from the day and I'm totally unsurprised – we describe the fabulous McKinley-Rodgers Photography duo as an all time *very* favourite photography team who create some of the most heartwarming, love-filled and authentic photography we have seen.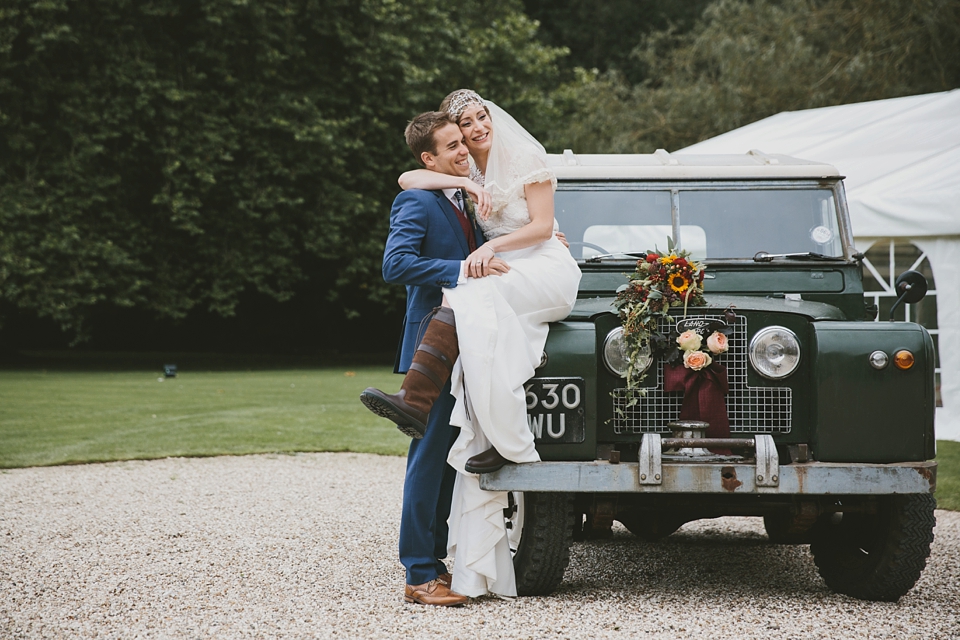 "Everyone says to make sure you have some time between just yourselves. Pen and Cam sent us off into the distance to practice our first dance – it was heavenly. I also loved the ceremony, I was so utterly overcome with emotion in a way I just didn't expect. The priest had to say 'I, Catherine' twice because I couldn't get anything out through the tears the first time. I was about to burst into tears walking down the aisle, just totally overcome with emotion, and the 18-month old page boy whipped around the vicar, ran down the aisle and proceeded to bang on the piano.
I burst out laughing, it made me so happy – why else do you have a toddler page boy, you let them loose and see what happens. I don't think there's anything we would have done differently."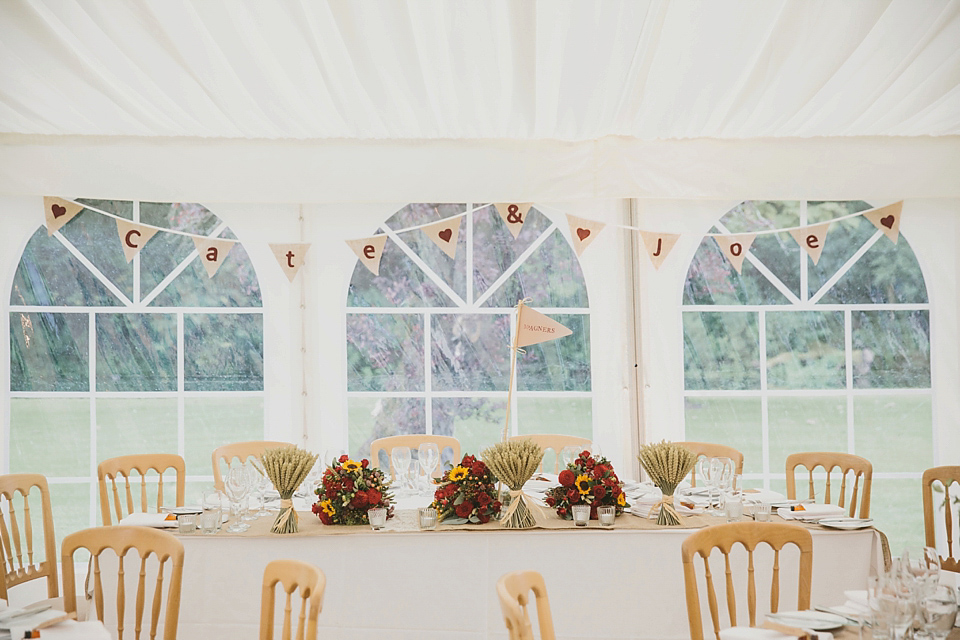 A scrumptious wedding breakfast was catered by Bibury Court and Mr and Mrs Wash provided a mixture of British and American mini liquor bottles as favours – most of which were drunk before the speeches, which they knew would happen and loved.
"My Mum sewed table runners from hessian and antique lace, made hessian bunting and wrapped used glass jars in rope, hessian ribbon and lace for the centrepieces. A friend, Jenny Prentice, who also did the marquee pedestals, created a hat stand for the marquee from a wrought iron screen she already had."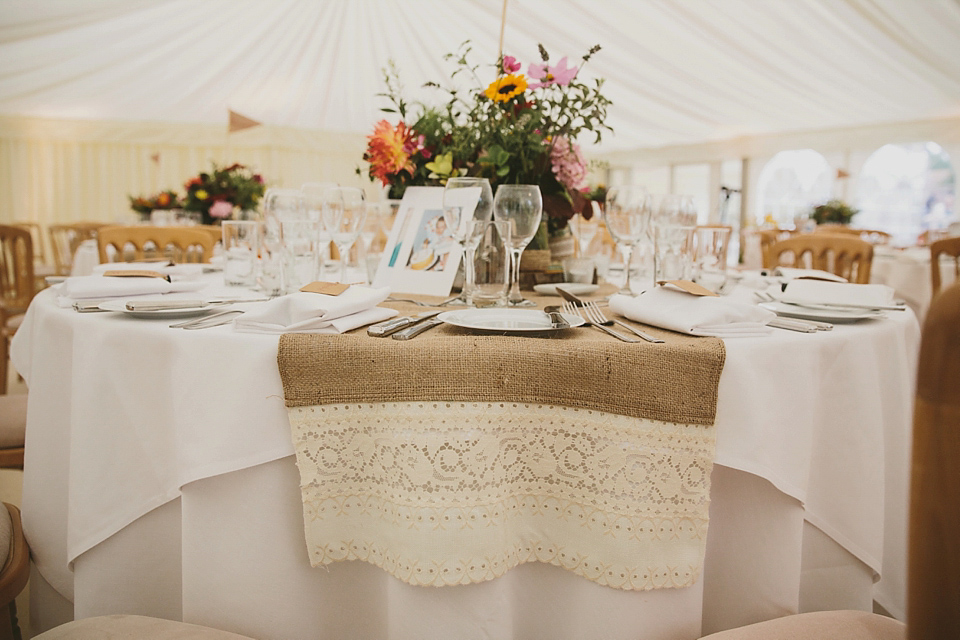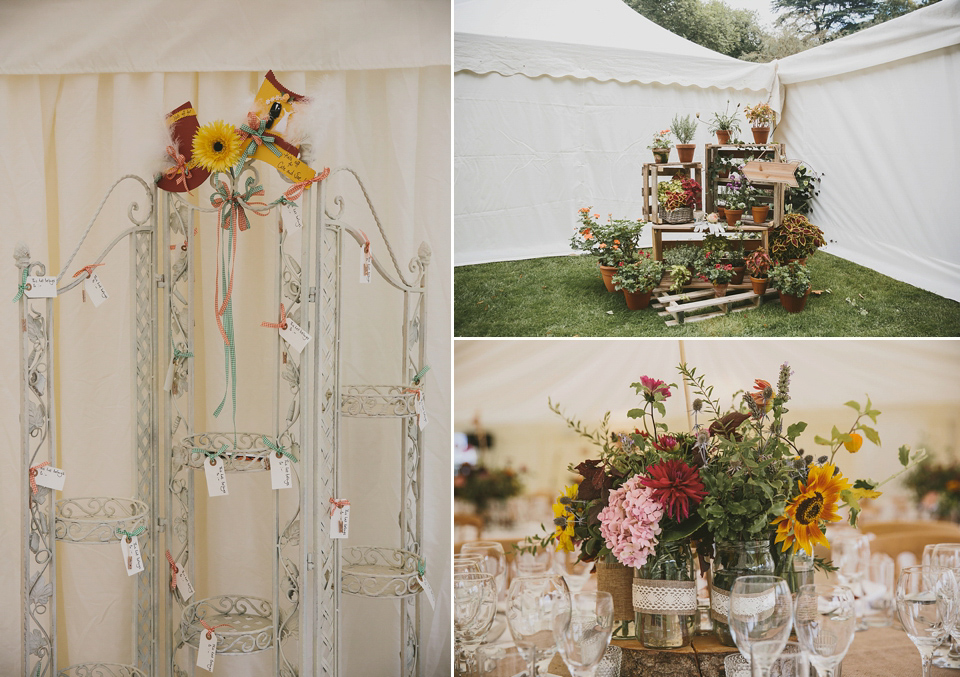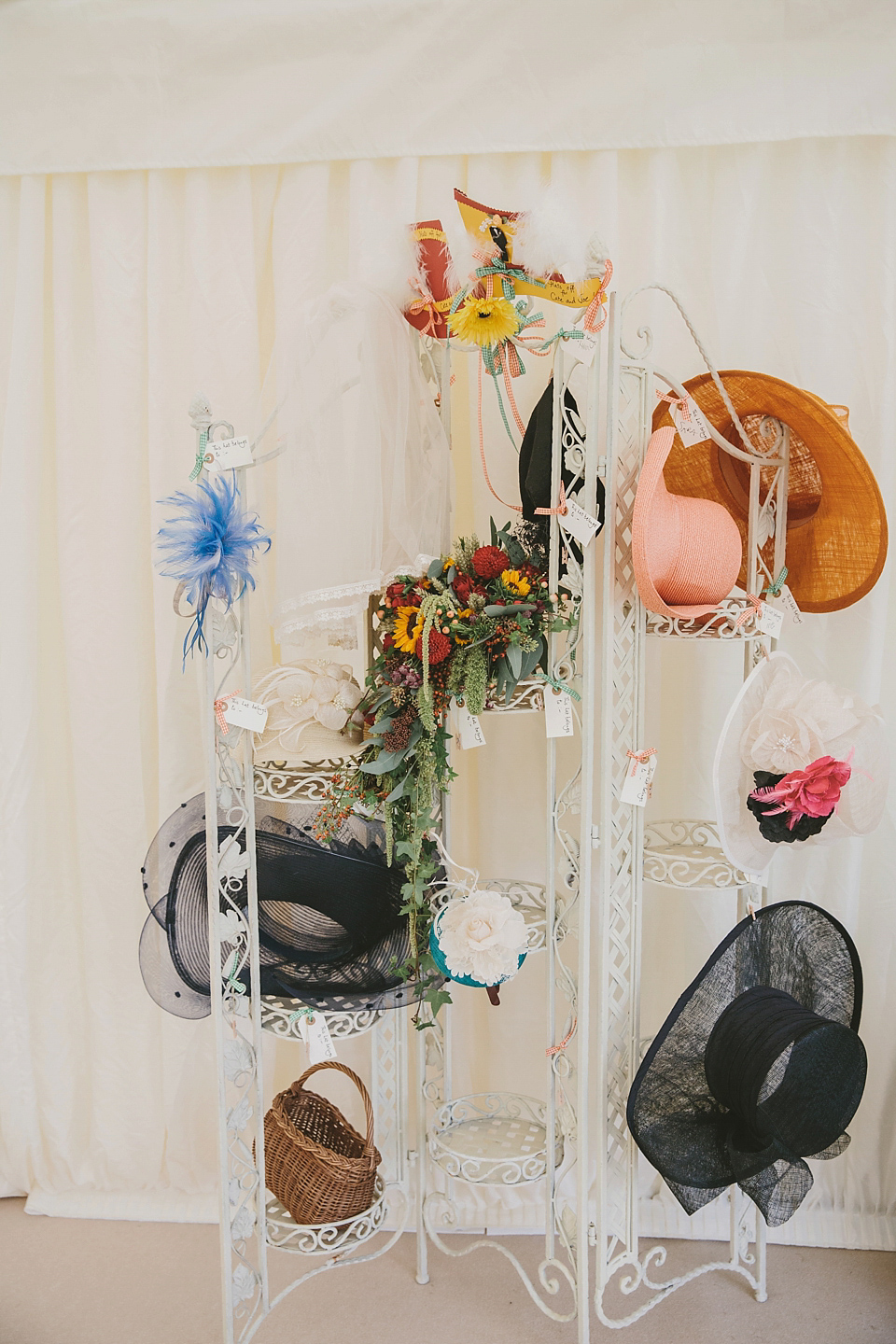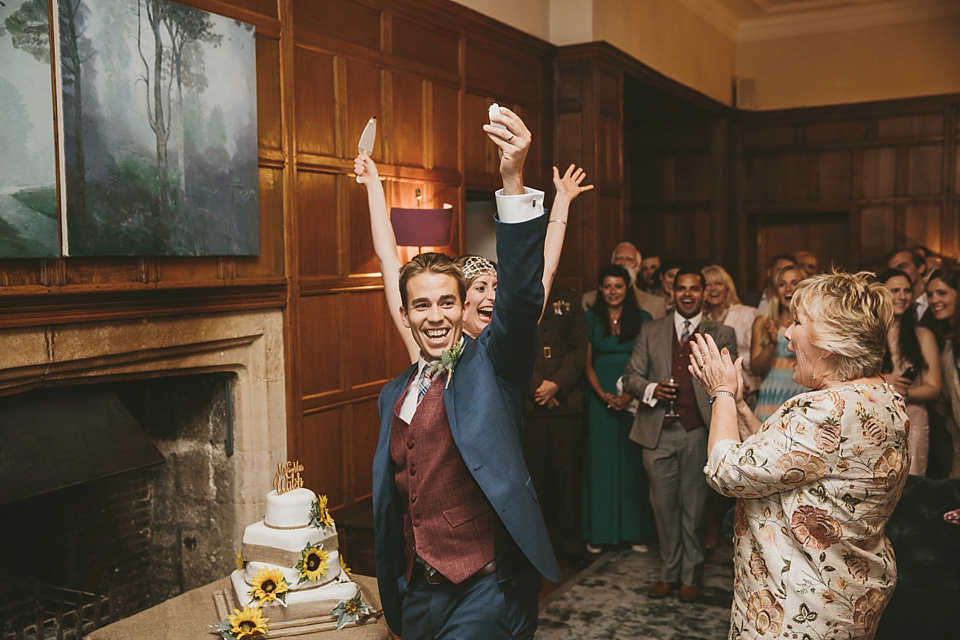 "Our band was Party On from Alive Network. They were great – I chose them because they could phenomenally play Fleetwood Mac but in the end I missed that song because I was in the house listening to my cousin sing Irish songs. Our first dance was to Louis Armstrong's What a Wonderful World. It was my maternal grandfather's favourite. He died before I was born but Mum says my siblings and I have his wicked sense of humour. It was a way to include him in the day."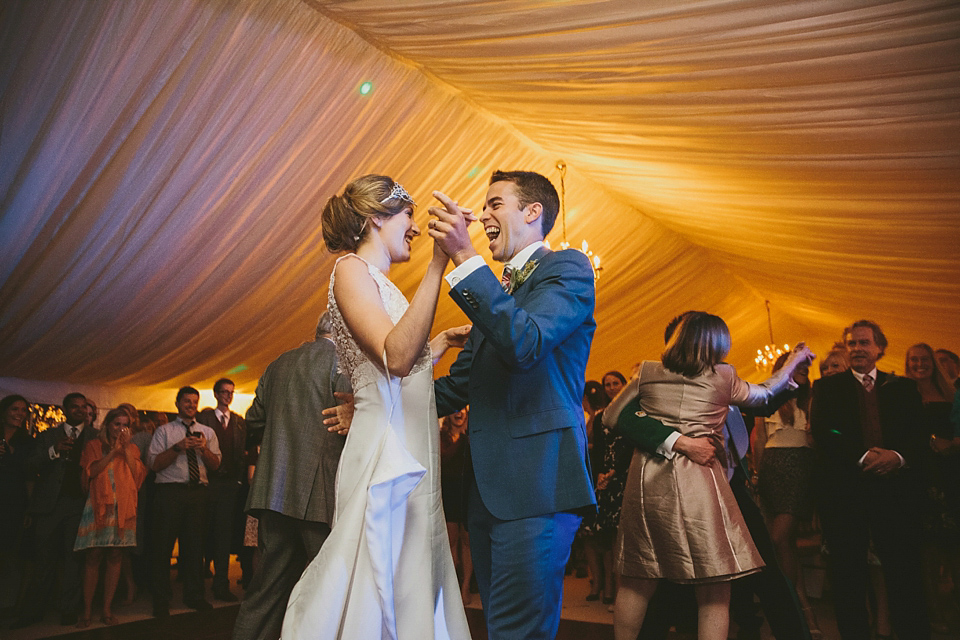 Words of Wedded Wisdom
Ladies I hope you're ready to copy and paste the following Words of Wedded Wisdom – this is advice money just can't buy.
We created little goodie bags for the children at the wedding reception. My mum sewed little hessian bags and we filled them with bubbles, stickers, little toys and a personalised activity book with crayons made by my sister. The bags probably cost no more than £3 per child and the parents commented that they were really touched at the thought that had gone into them.
Take time to think of your guests throughout the day: are there chairs at every stage of the wedding for older guests? Are there activities for children? If there aren't many seats during cocktail hour, are the canapés edible with one hand? Will there be a lull in activity at any point? We wanted to make sure the photos didn't take too long so we kept them short and put the emphasis on cocktail hour for the majority of the guests.
Have a family member or friend MC. My brother (in his military uniform) announced the wedding breakfast, the cutting of the cake and other moments during the day. Our good friend Marcel was MC during the speeches, it made the day very personal and added more hilarity to the proceedings!
Ask your friends. You might be surprised about what they'll offer to help with, or can offer to lend. Mum even flirted with a guy at Westonbirt Arboretum for spare wood slices!
Do video the day. You won't remember anything the next day, and it is wonderful re-watching the speeches in the days/months and years to come.
I Pinterested a lot, and got several ideas from there. But once you lock down an idea, stick with it. I could have changed my table plan display a million times but thankfully Mum created the board and we locked it in. Pinterest can drive you mad if you're not careful!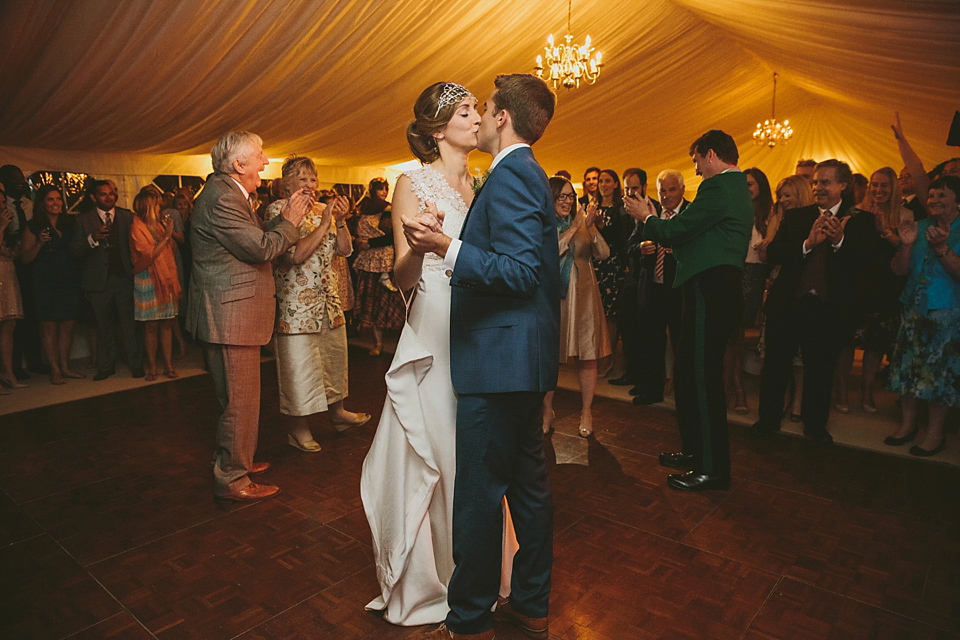 Cate and Joe, thank you so very much for sharing your beautiful wedding with us and as always a huge huge thanks to Pen and Cam of McKinley-Rodgers Photography for treating us to these gorgeous images – you've brightened up my Wednesday no end. Have a good one lovelies,
Em x
Photographer – McKinley-Rodgers Photography
Videographer – Story Catchers Films
Venue – St Mary's Church, Bibury + Bibury Court with a marquee via Mudway Workman
Wedding Dress – Homemade with silk via Bennett Silks + lace via Truro Fabrics
Accessories – Tasha "Juliette" Headdress by Nordstrom Rack
Shoes – Betsey Johnson Blue
Perfume – Miss Dior by Christian Dior
Groom – Hugo Boss suit + Nordstrom Rack tie
Bridesmaids – J. Crew + Nordstrom Rack necklaces
Flower Girls – H&M flower crowns + Etsy necklaces
Page Boy – H&M shirt and trousers + Etsy braces
Florist – Donna Beaver via The Flower Studio
Entertainment  – Party On via Alive Network
Rings – Boone & Sons
Catering – Bibury Court
Make-up Artist – Ruth Adamson via Vanilla Hair and Beauty Salon
Hair Stylist  – Kate via Gorgeous Hairdressing
Décor – Milk churns via Adorning Angels Ltd + wheat sheaves via Shropshire Petals