As I write to you dear readers, I'm several thousand feet above the clouds (desperately needing a wee but being too politely British to ask the person next to me if I can get up to use the loo) en route to a very warm and sunny Copenhagen. But when I settled into my seat and opened up the images of the insanely beautiful winter wedding I'm about to share with you, I had a really nostalgic pang for cold crisp days and oversized knitwear.
On 12th December 2015, two lovely folk; Laura, a stage manager, and, Robin, a lighting technician, got married in fabulously urban East London style at MC Motors in Dalston. Laura cites 'wintery but not Christmassy' as the vibe for their day and I have to say I think that just about sums up this beautiful celebration. They used their creative backgrounds and theatre contacts to create the most incredible atmosphere through lighting and props; totally transforming the spaces for their ceremony and reception.
"We wanted to get married somewhere that was fairly industrial and urban, somewhere that we could fill with candles and flowers, somewhere that was inside (it was December!) and somewhere where the whole day could take place without moving between venues. MC Motors is so full of character and interesting props, but also blank enough for us to put our own mark on, that we instantly fell in love with it. It was the right mix of relaxed and cosy – perfect for our winter wedding. We're both very hands on and we loved the DIY element of the wedding and getting our friends involved."
Photography by Emilie White Photography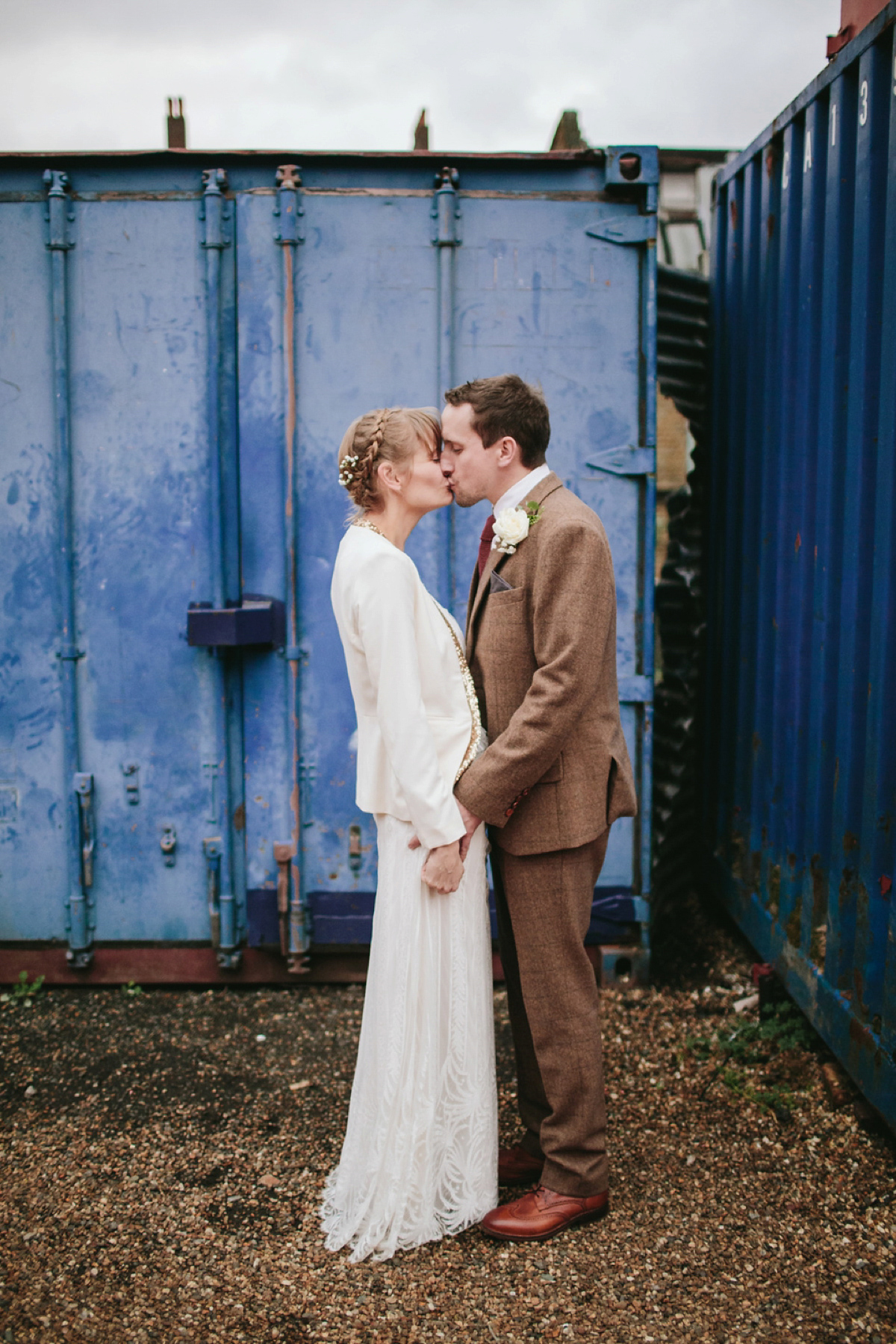 I think I may have fallen a tiny bit in love with Laura's open-backed Charlie Brear gown; she looks incredibly elegant and a little 1920s inspired with that gorgeous drop waist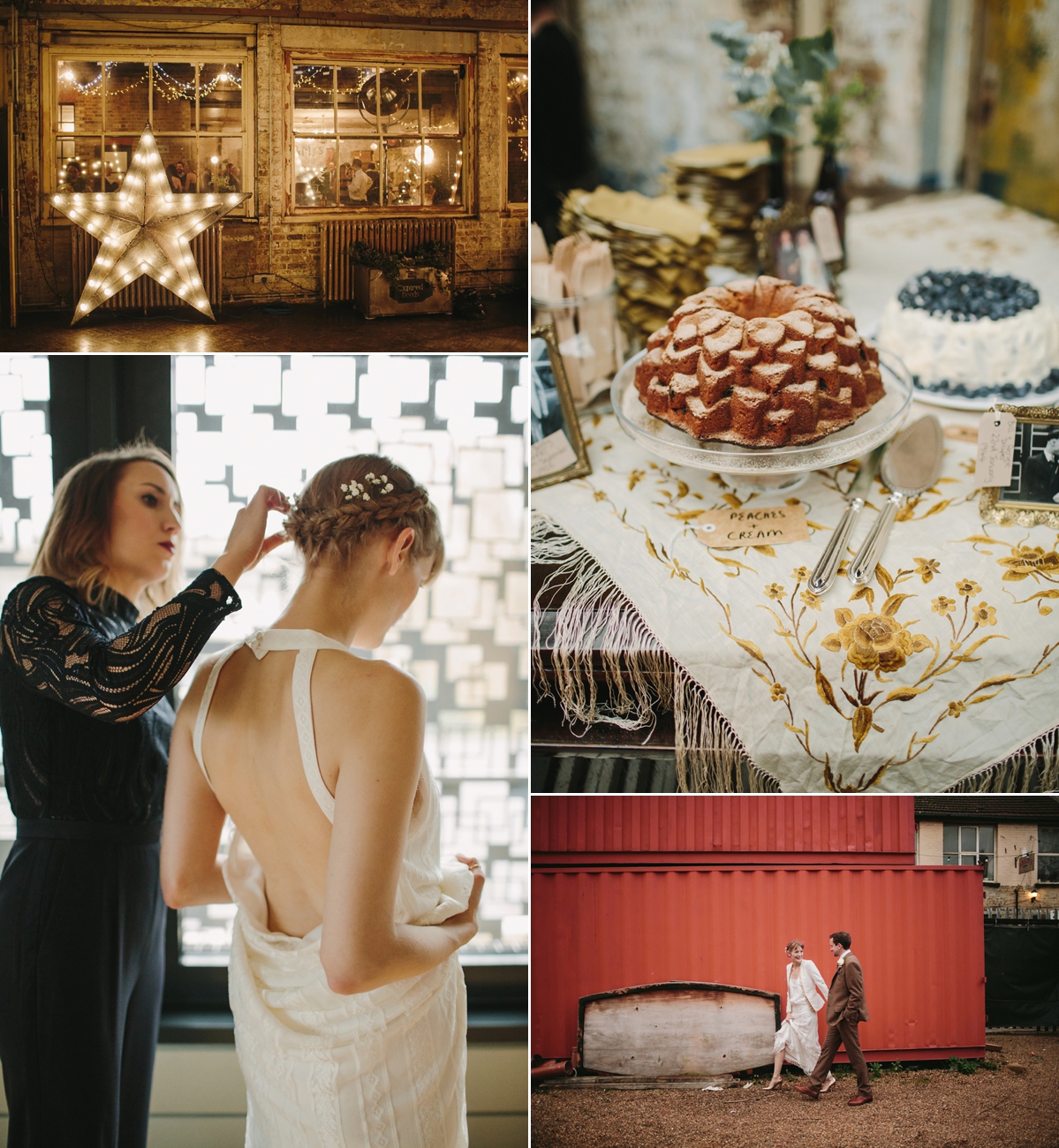 Her sweet milkmaid braids, woven with gypsophila, and natural make-up make everything so fresh and pretty. And then there's that metallic edged blazer, which gives Laura's whole look a cool, modern edge.
"My dress was from Charlie Brear. I had looked at it online for weeks and loved how different it was. I went into the shop and it was the second dress that I tried on – honestly, picking the dress was the easiest part of wedding planning for me. The people at Charlie Brear made me feel really looked after and special; they made the whole experience a total treat."
"Teresa at Base Cuts in Islington did my hair. I did my own make-up as I really wanted to look natural and like myself. I wore gold heels from Macy's in New York and gold flat trainers for dancing from Mango. My blazer was from H&M and a last minute impulse buy that I was very thankful for."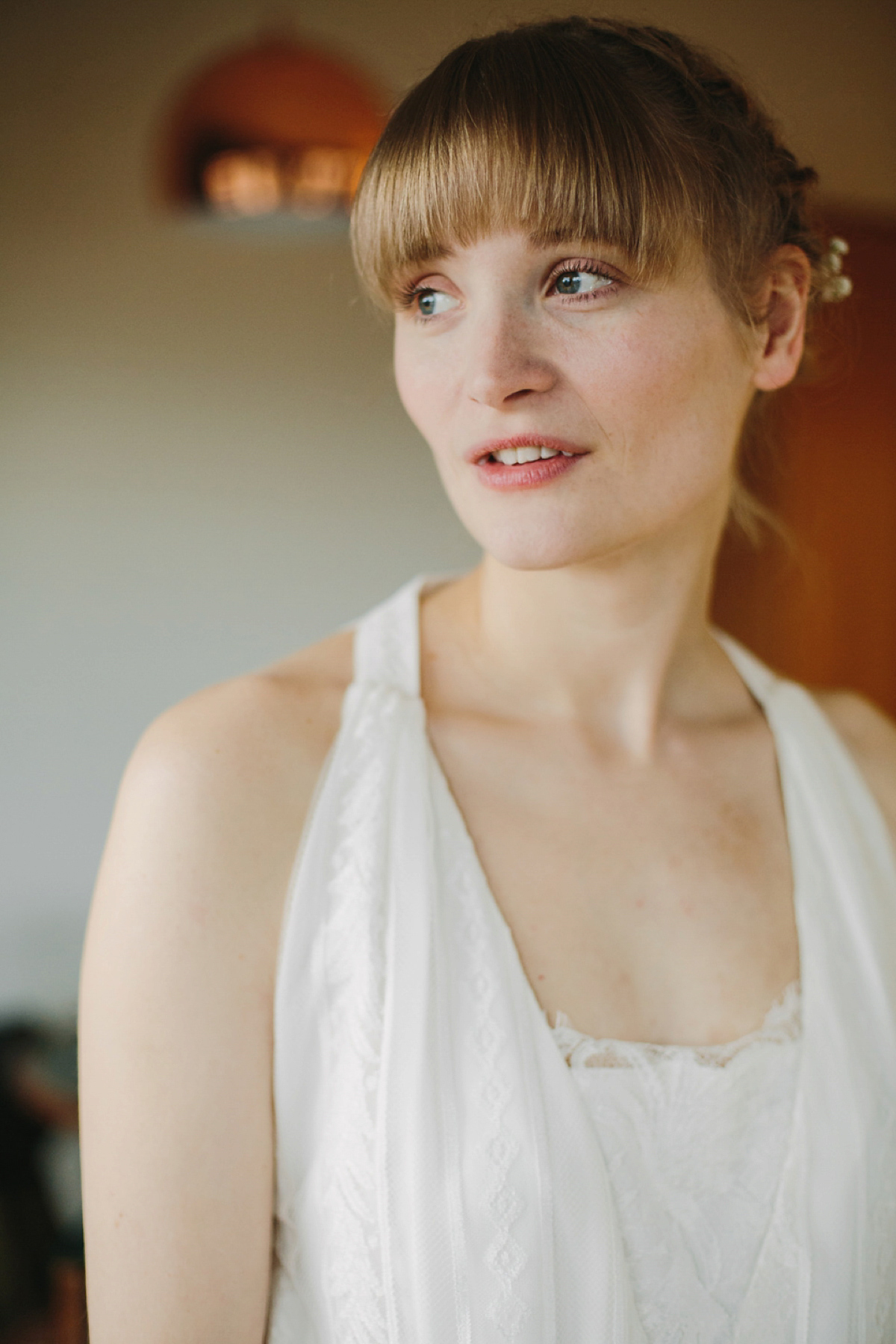 Laura really wanted to include her late grandparents in the wedding so wore both her nana's and her grandmother's wedding rings and wrapped vintage lace from her great-grandma's sewing box around her bouquet. Just like her fabulous blazer (which I'm hunting for online as soon as I can) Laura impulse bought her bouquet from Kings Cross Station the night before the wedding – I love the relaxed spontaneity of this purchase.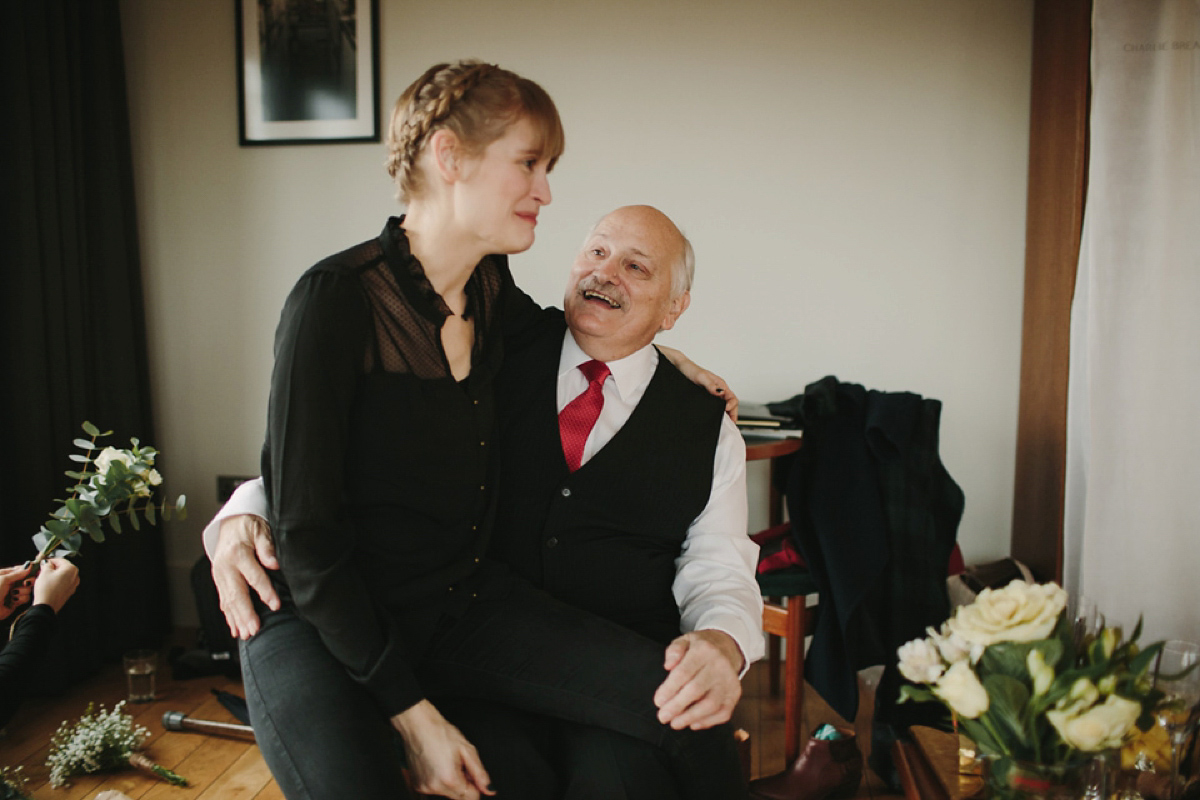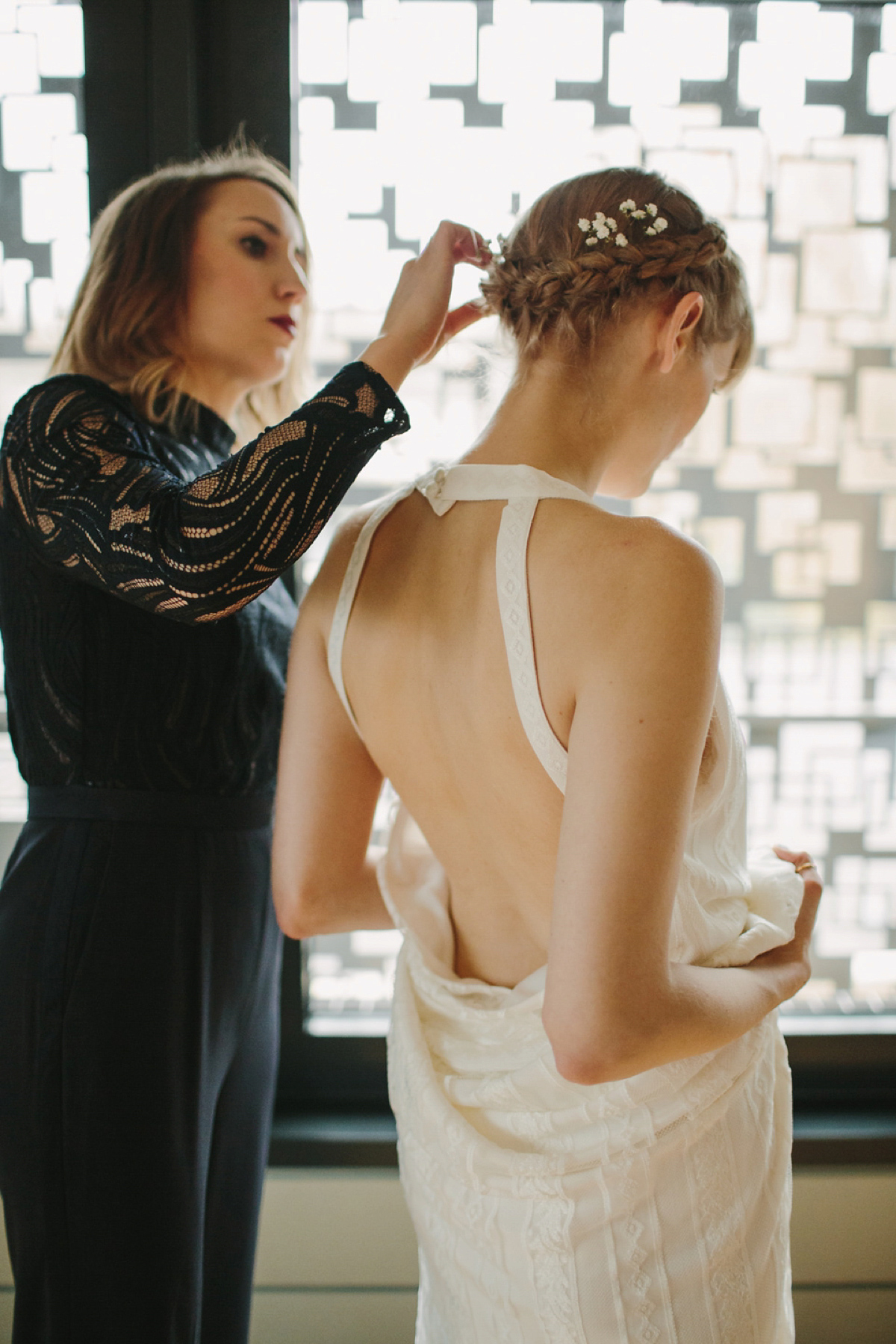 Laura and Robin called upon London Wedding Taxis for transportation, maintaining a relaxed feel and honouring their East London location. Keeping things local the couple chose creative London-based photographer Emilie White to capture their day. Emilie specialises in a cinematic wedding photography and fine art portraiture – what a perfect fit for Laura and Robin's theatrical and personal celebrations.
"Emilie was amazing from start to finish as the photographs prove. She was friendly, gave great advice and at all times fitted in with the wedding. We were genuinely astonished when we got the photos back as she had taken so many that we had no idea were being taken. Emilie is great at capturing the natural moments between people and has absolutely captured the essence of our day. We can't recommend her fiercely enough."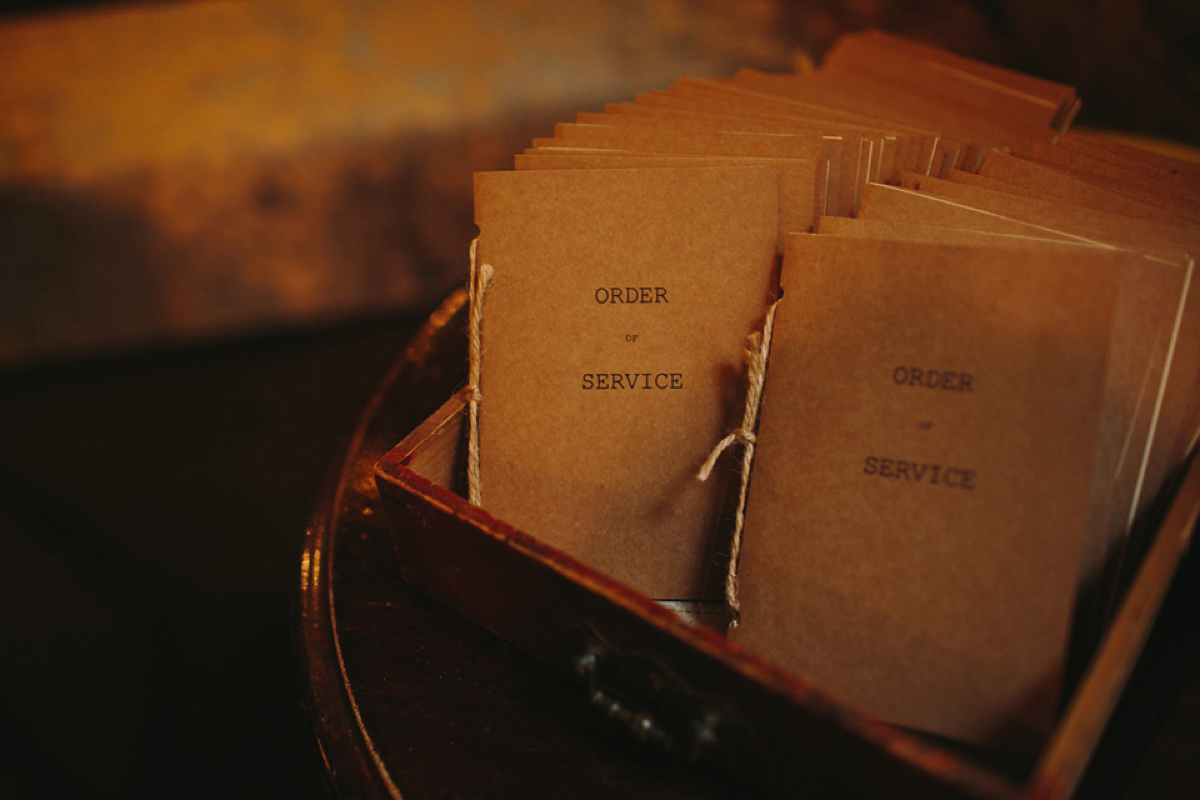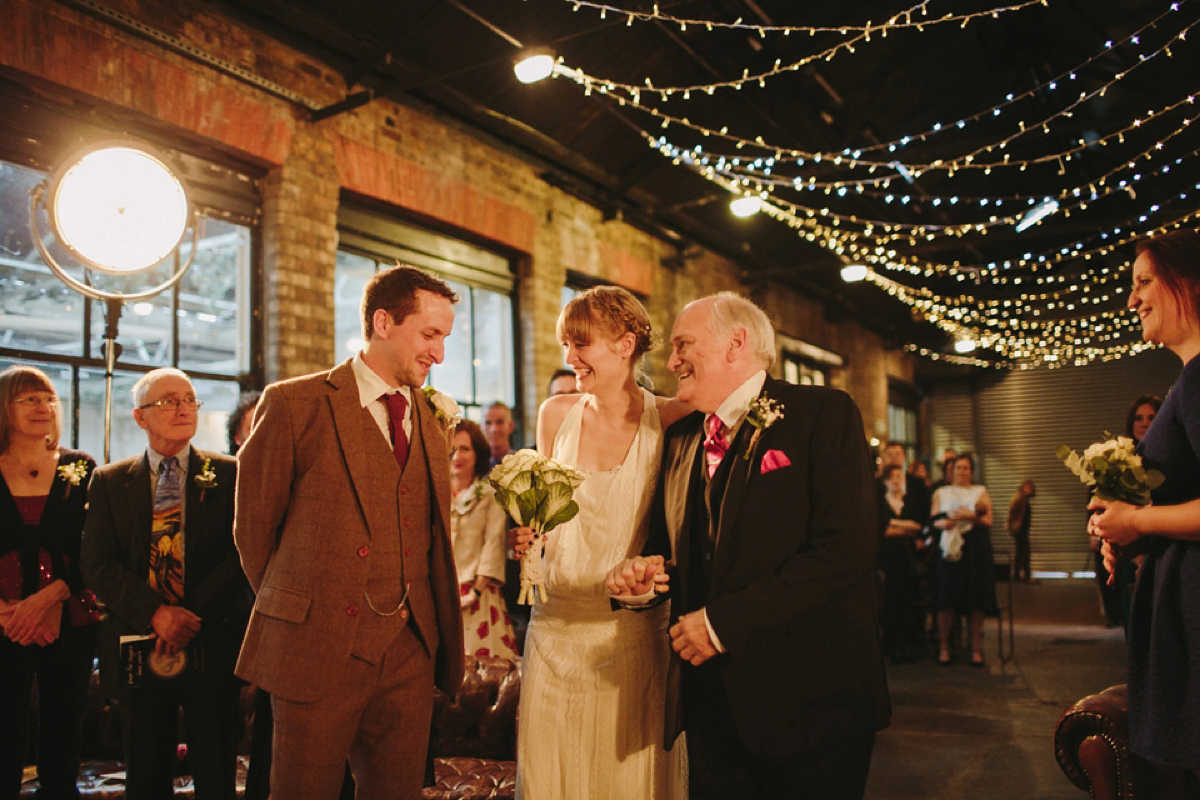 Laura and Robin chose some incredibly poignant and personal readings; Robin's dad read a poem he'd written about his son as little boy and Laura's mum recited prose about Laura as a child, written by Laura's nana. The bride's friend, Ella, played the guitar and sang the beautiful track 'Such Great Heights' by Iron and Wine and the couple were able to completely tailor their ceremony to suit them. They eschewed tradition and chose a best lady (I love this title, it sounds so regal); Robin's oldest friend.
"We got legally married the day before as the venue does not hold a wedding licence. This meant that we could be much more flexible and personal about what our ceremony included. The ceremony was conducted by Laura's cousin's husband who helpfully is a Baptist minister. We stuck to fairly traditional vows but wrote our own for the giving of the rings. It was wonderful to be married by family and made the whole thing feel very personal. My friend Nicola who lives in Hong Kong did a reading live via Skype. It was so special to have her included – she even got glammed up as if she was going to a wedding, despite sitting in her flat in Hong Kong."
"Our rings were designed by Kirstie Maclaren. After a chance meeting in a shop when we were looking at other rings to buy, Kirstie took us through the whole process of designing and making our own rings. She was fantastic and friendly throughout and made it feel very personal. We are absolutely thrilled with what she made for us."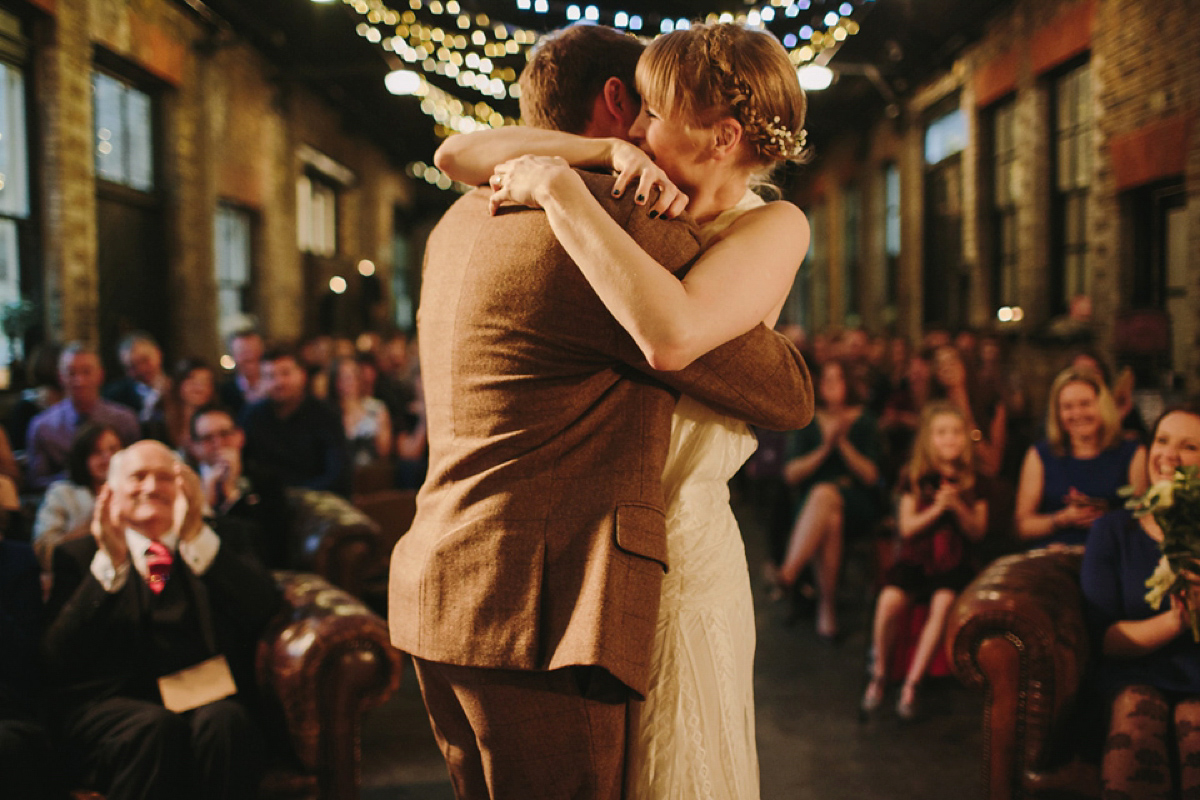 Laura and Robin exited their ceremony to 'Do You Realise?' by the Flaming Lips, grinning from ear to ear; the epitome of just married joy. How dapper does Robin look in his tweed Victor Valentine suit and his burgundy tie was knitted his talented wife.
As their ceremony slid seamlessly into the reception, the atmospheric lighting continued; the tables smattered liberally with fresh flowers and green foliage arranged by the bridal party.
"On advice from a friend, and after a floristry session on my hen do, we went to Covent Garden Flower Market and created the flowers ourselves. We didn't necessarily have a colour scheme, we just wanted wild looking flowers and lots of greenery. We got so much for our money by buying directly from the market and spread the flowers and greenery all over the venue. For vases we used brown beer bottles that had been heroically drunk by Robin in the lead up to the wedding."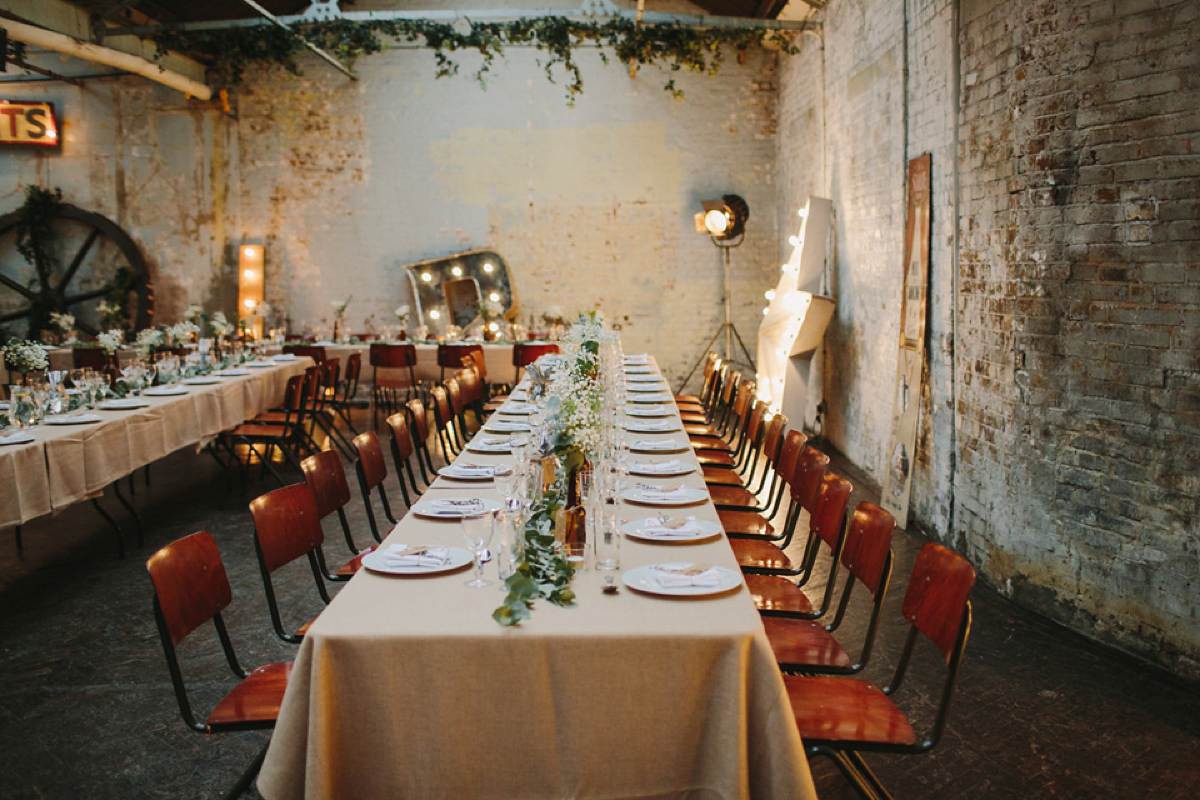 "We placed flowers on the windowsills, tucked into props, hanging from the ceiling and winding up the stairs. And lots of candles and fairy lights scattered around; we wanted the feeling of cosiness and winter. We made the most of the MC Motors props, furniture and lights and brought in a few of our own vintage theatre lights too. We wanted everything to feel very personal and so scattered around lots of photos – photo bunting of the two of us together, childhood photos and photos of our parents and grandparents' weddings."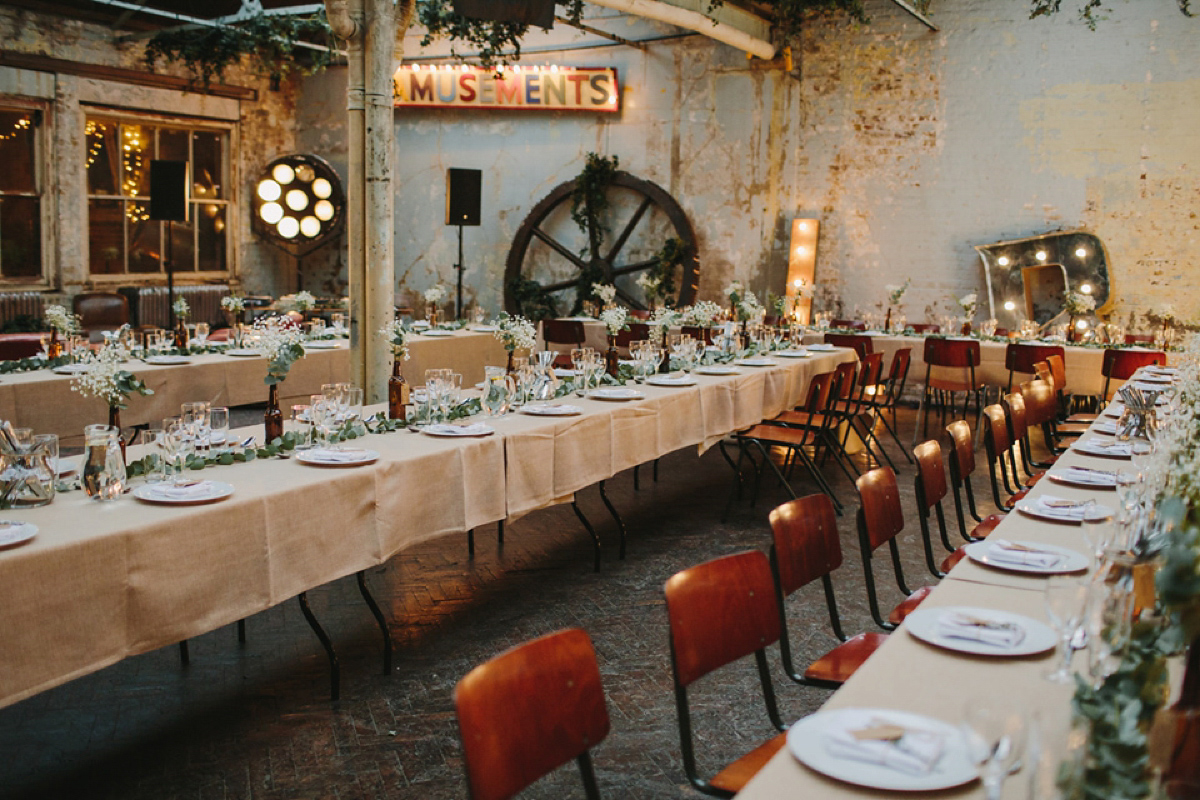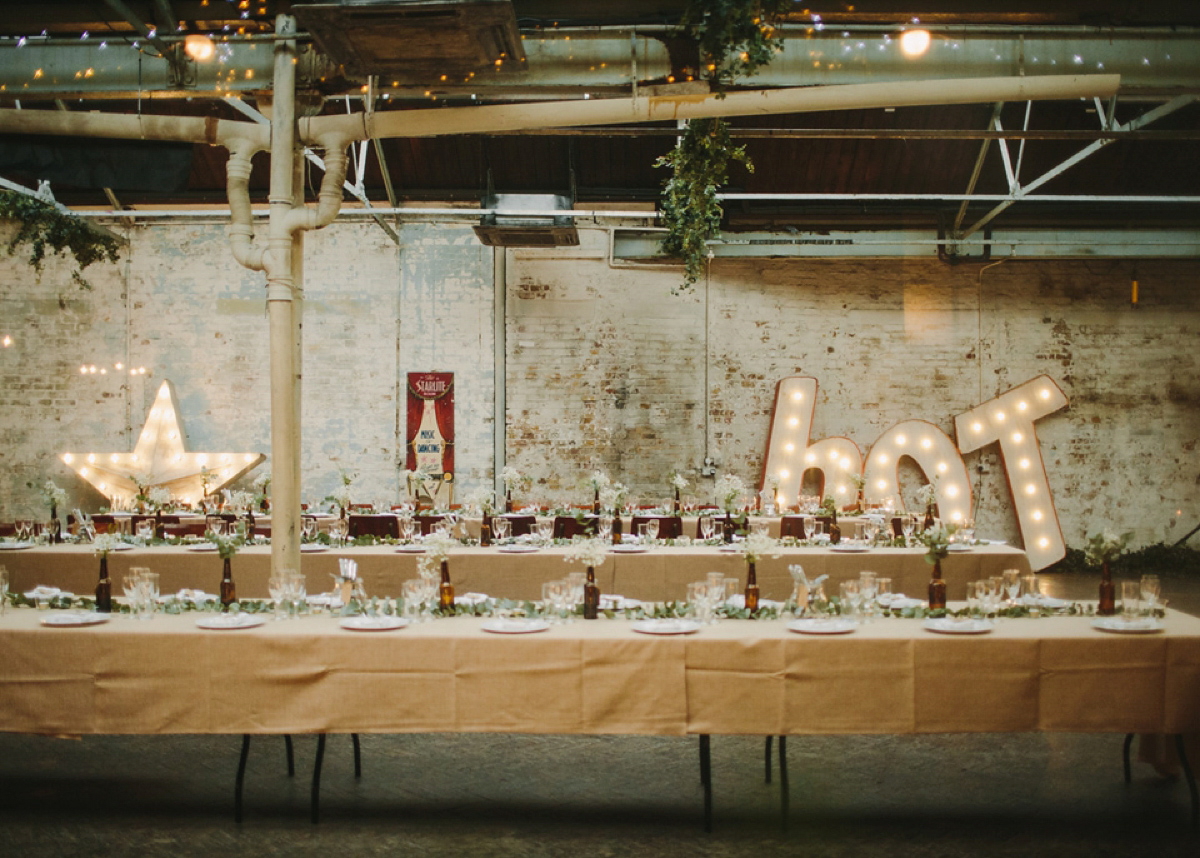 How much do you wish you'd been a guest at Laura and Robin's wedding? The theatrical props and lighting in that industrial setting are so striking and atmospheric. I can't believe that they brought all of this together in just nine months; kicking the planning into gear in the second half of their two year engagement. As well as their gorgeous handcrafted blooms, the couple sourced most the materials for their stationery from Paper Source in New York.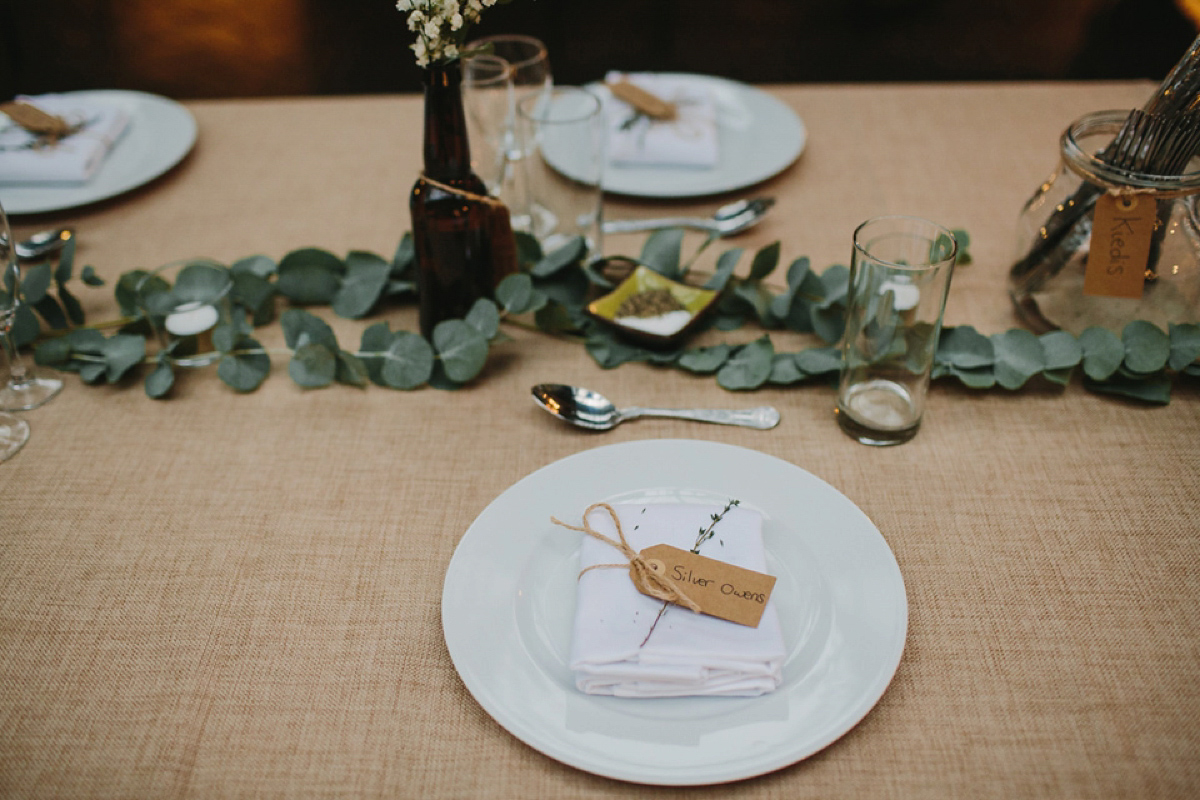 "We used brown paper and luggage tags; simple and relaxed and all designed and made by us and printed from our tiny home printer. The tables were named after our heroes – Frida Kahlo, Andy Warhol, Antony Kiedis and George Lucas – and each table had quotes about love from the person the table was named after tied around the flower bottles. The order of service had a personalised crossword in it; just in case Laura was late."
Easy Gourmet Catering started guests off with warming mulled wine and they then sat down to enjoy vegetarian nibbles, pie and mash and apple and blackberry crumble. Yum! Dinner was followed up with a cocktail reception set to a nineties indie soundtrack.
"We wanted comforting, hearty winter food and deliberately chose dishes that could be passed between people rather than being served in ready-made portions; we wanted the feeling of a shared family meal. Easy Gourmet were absolutely incredible. They were efficient, always one step ahead and completely ran the day without a hitch. From the very first meeting, they were happy to tailor their services to our requests and we couldn't have asked for more. Their advice was brilliant and they did so much more than just the food. Plus the food was delicious."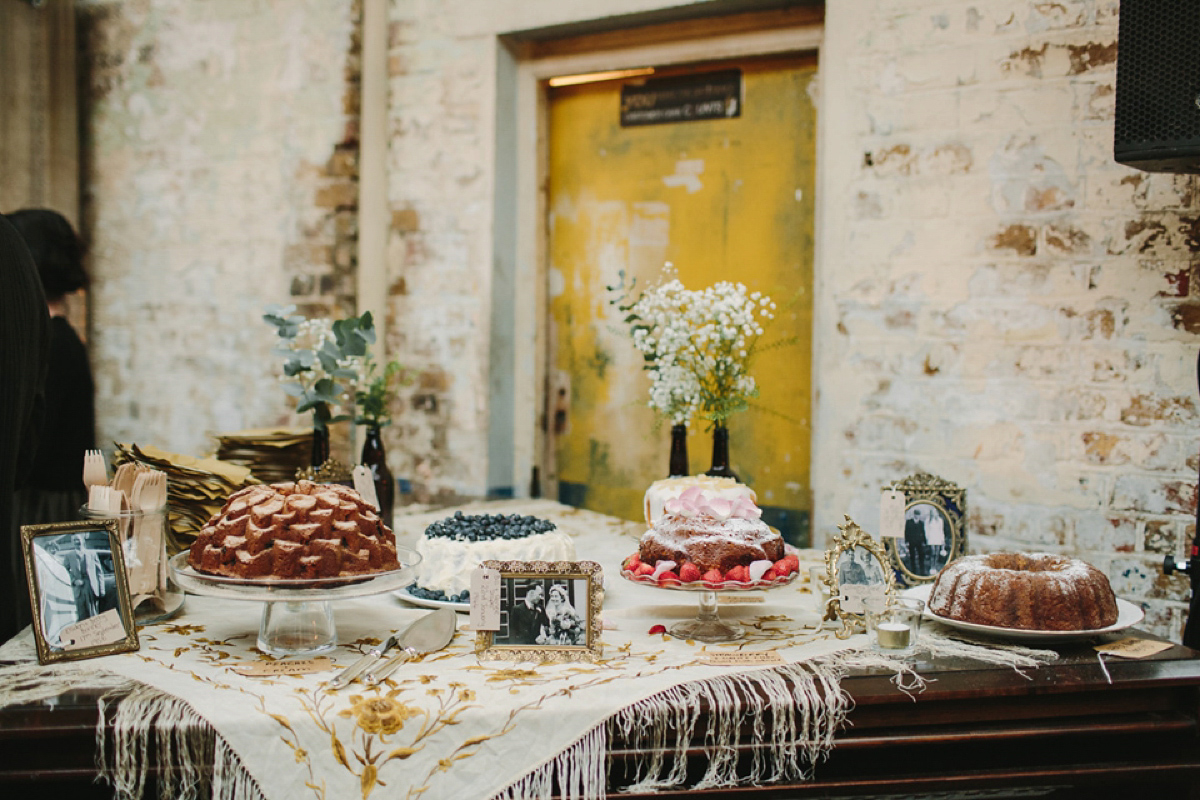 Speaking of delicious, check out that amazing array of cake-y goodness. Laura and Robin's friend Bridget is the Lumley in Lumley and Elms, and she baked up an absolute storm for their guests to enjoy, a beautiful selection of flavoured and decorated bundt cakes. Laura informs us that not a single crumb remained on any of the lovely mismatched cake stands at the end of the night.
I adore the couple shots of Laura and Robin, don't they look so blissfully happy? The way Emilie has captured them during the ceremony, totally unaware and so swept up in the moment, is so candidly beautiful. Bride Laura felt uncomfortable with the idea of being 'given away,' so while her dad walked her down the aisle to 'The Wedding Song' by Angus and Julia Stone, the ceremony made it clear that no-one was giving anyone to anyone!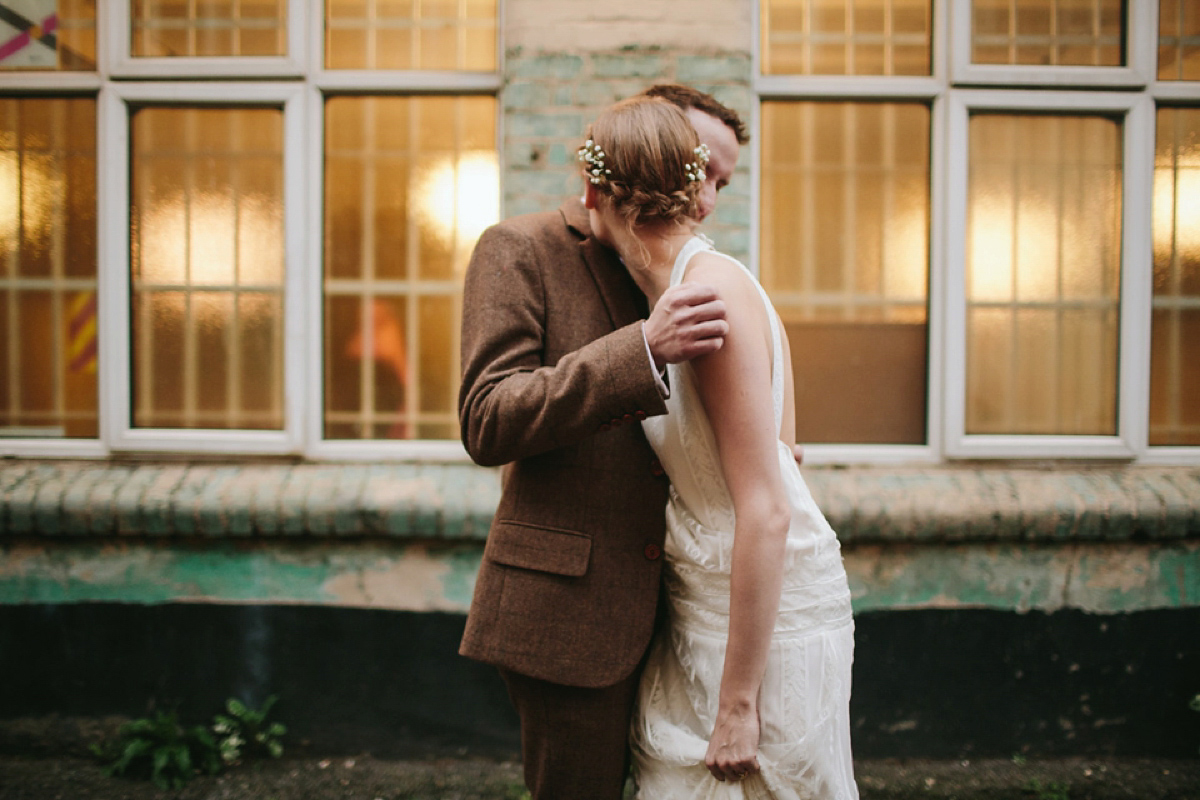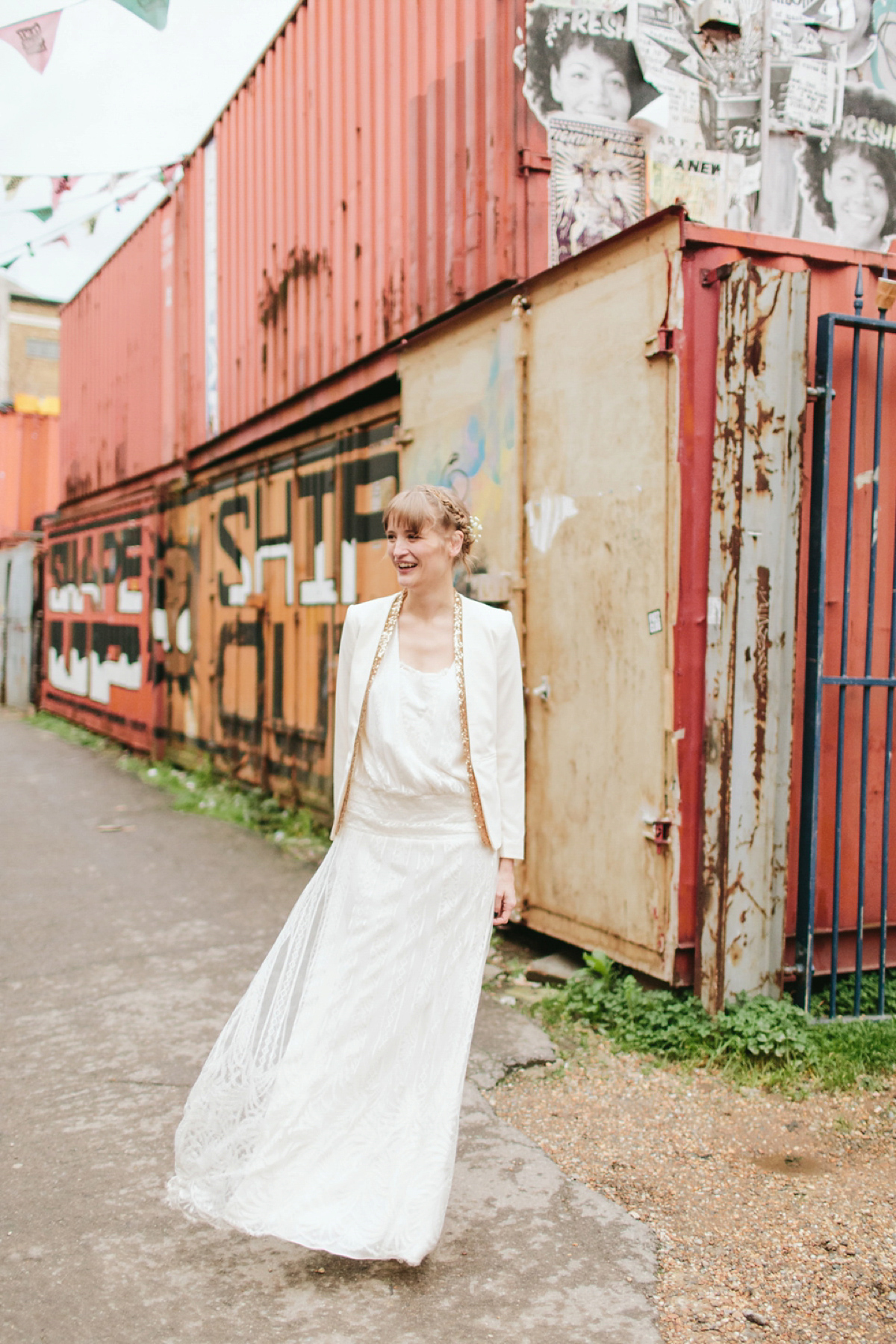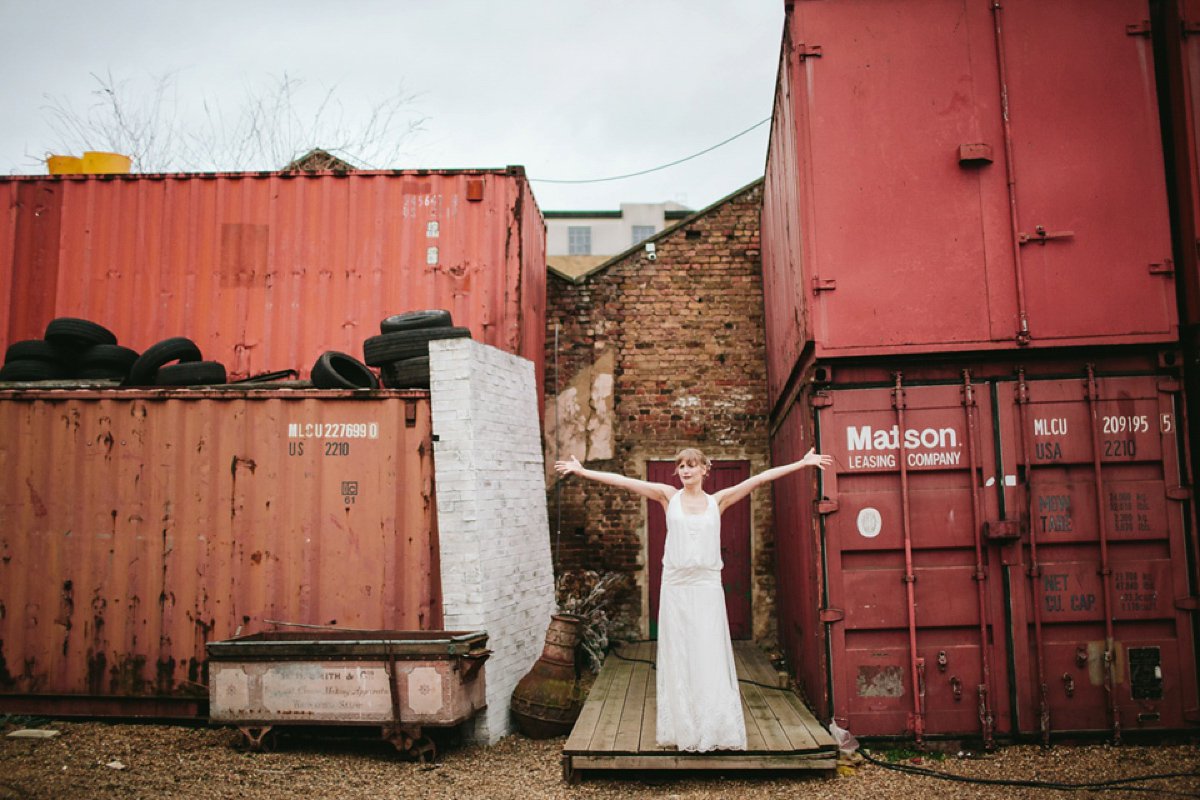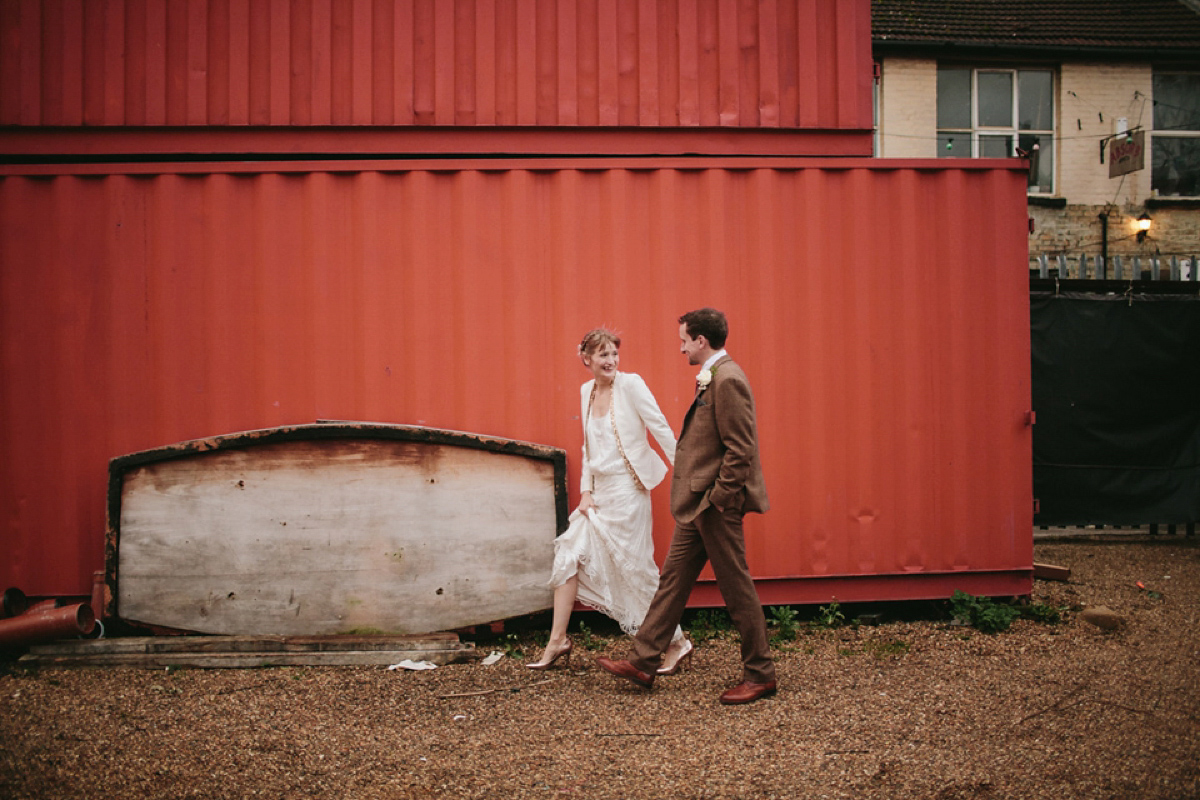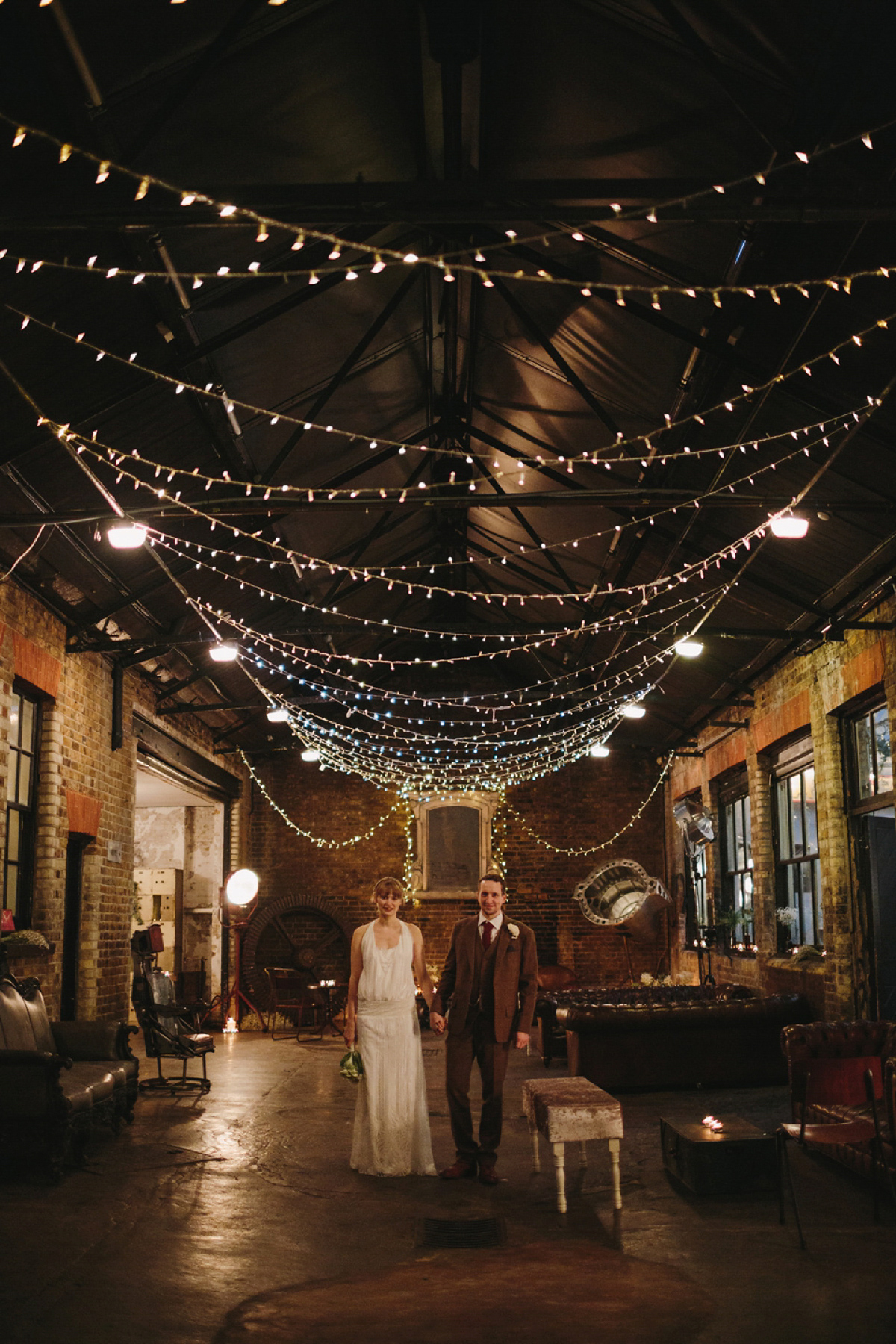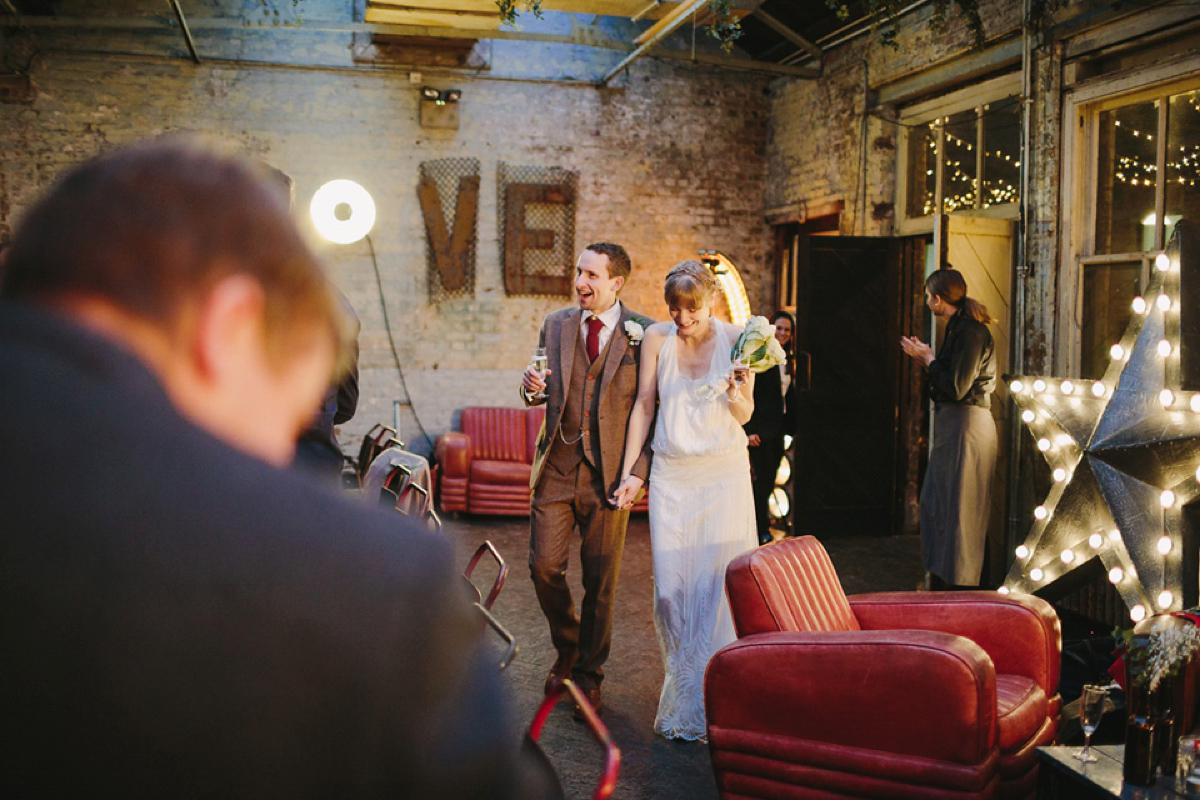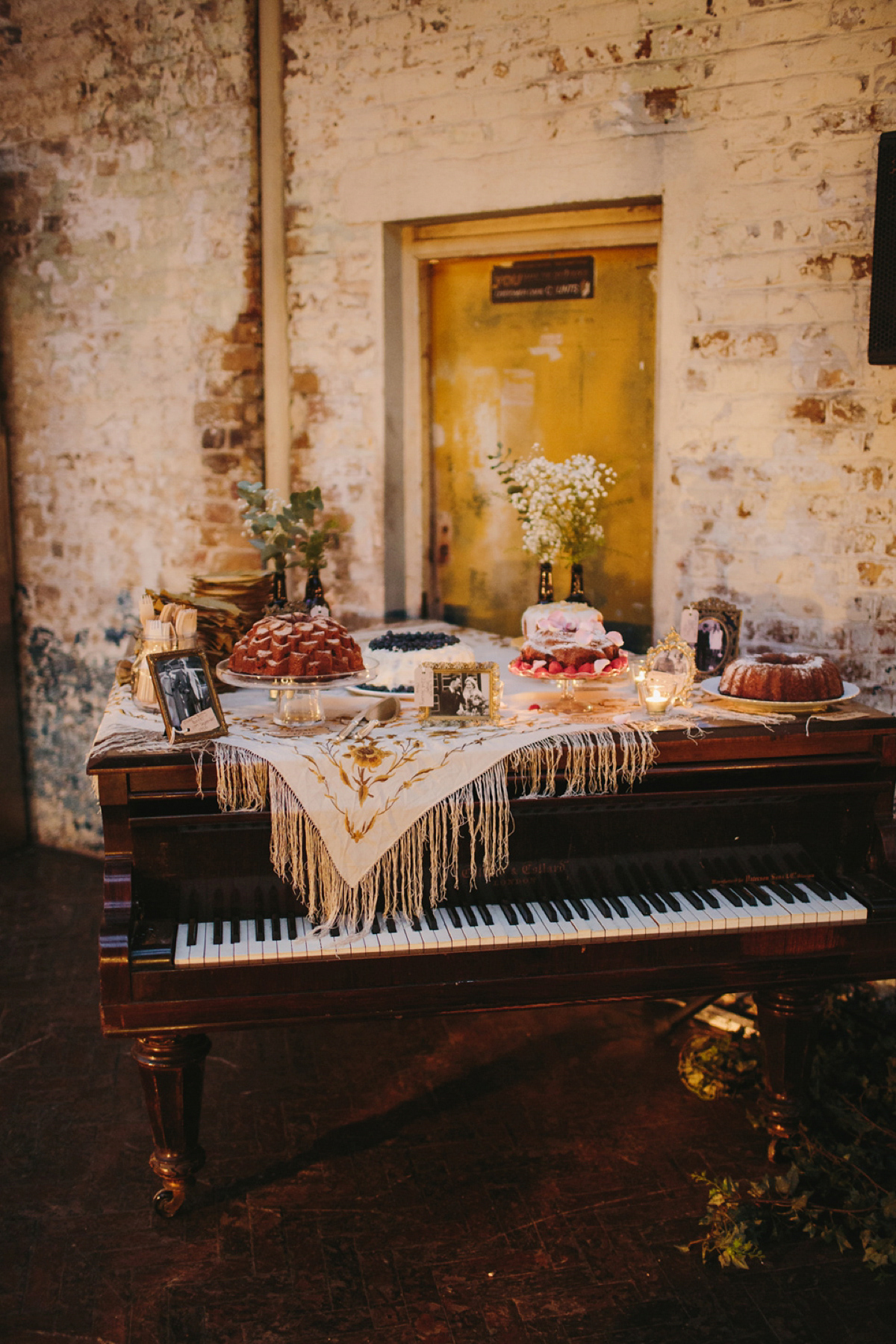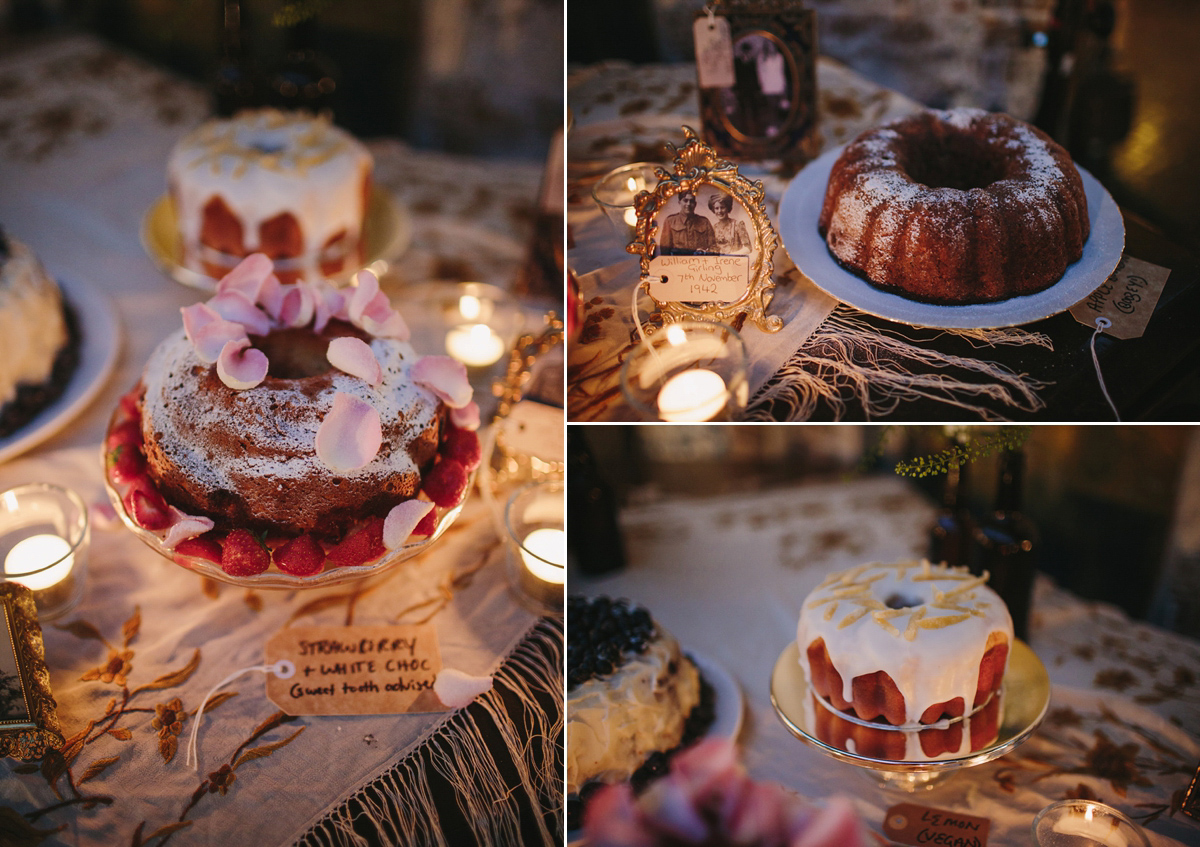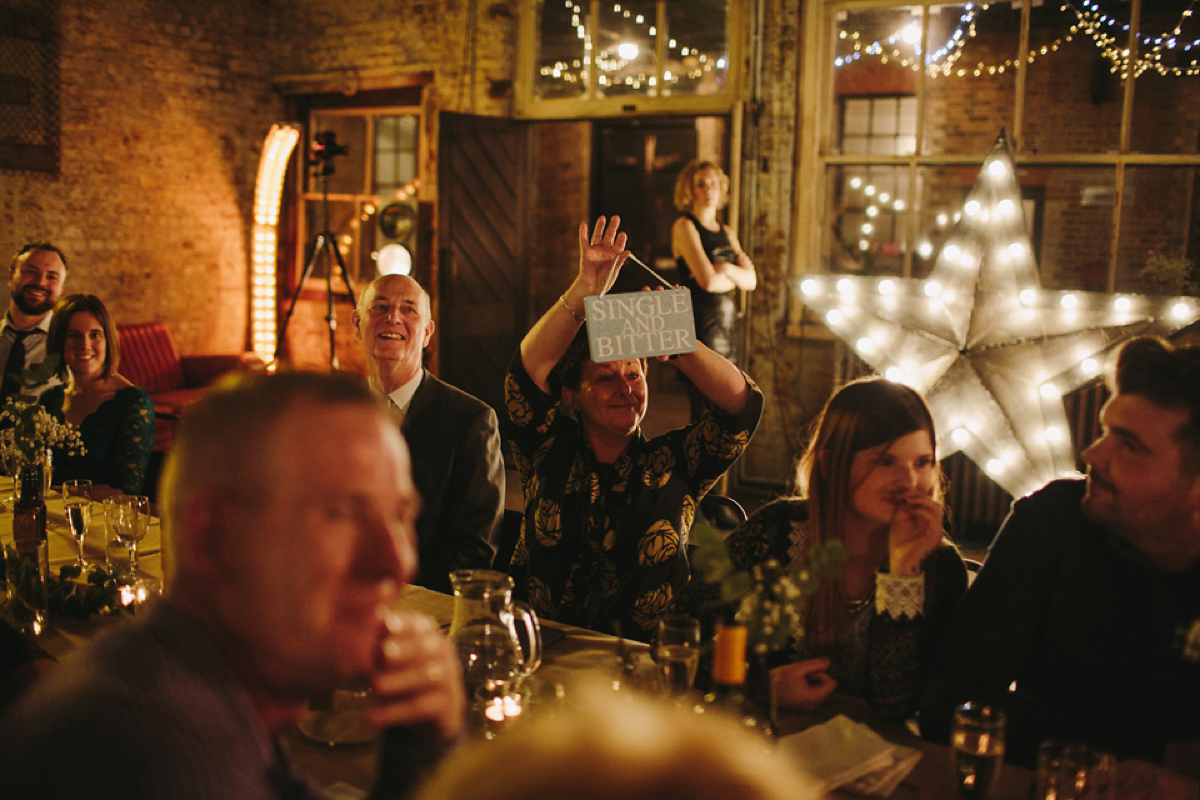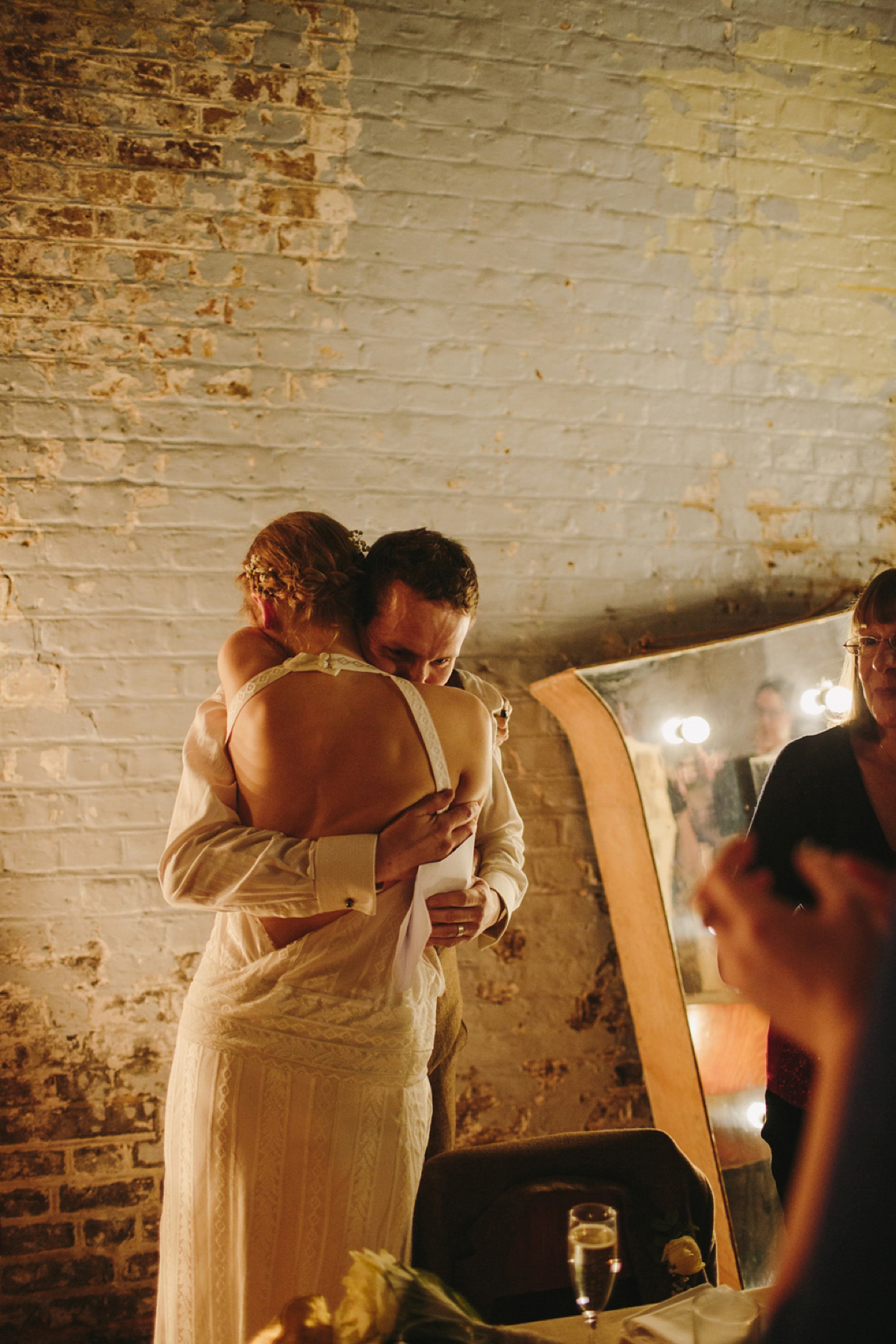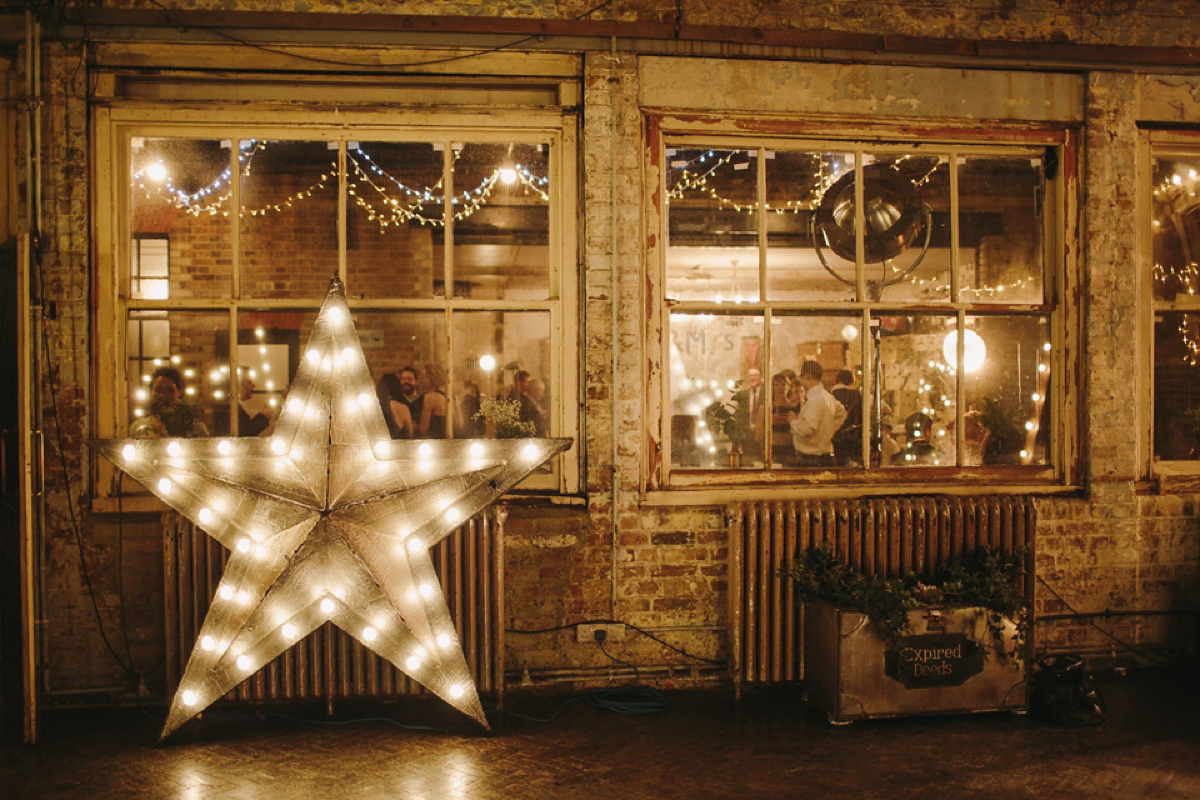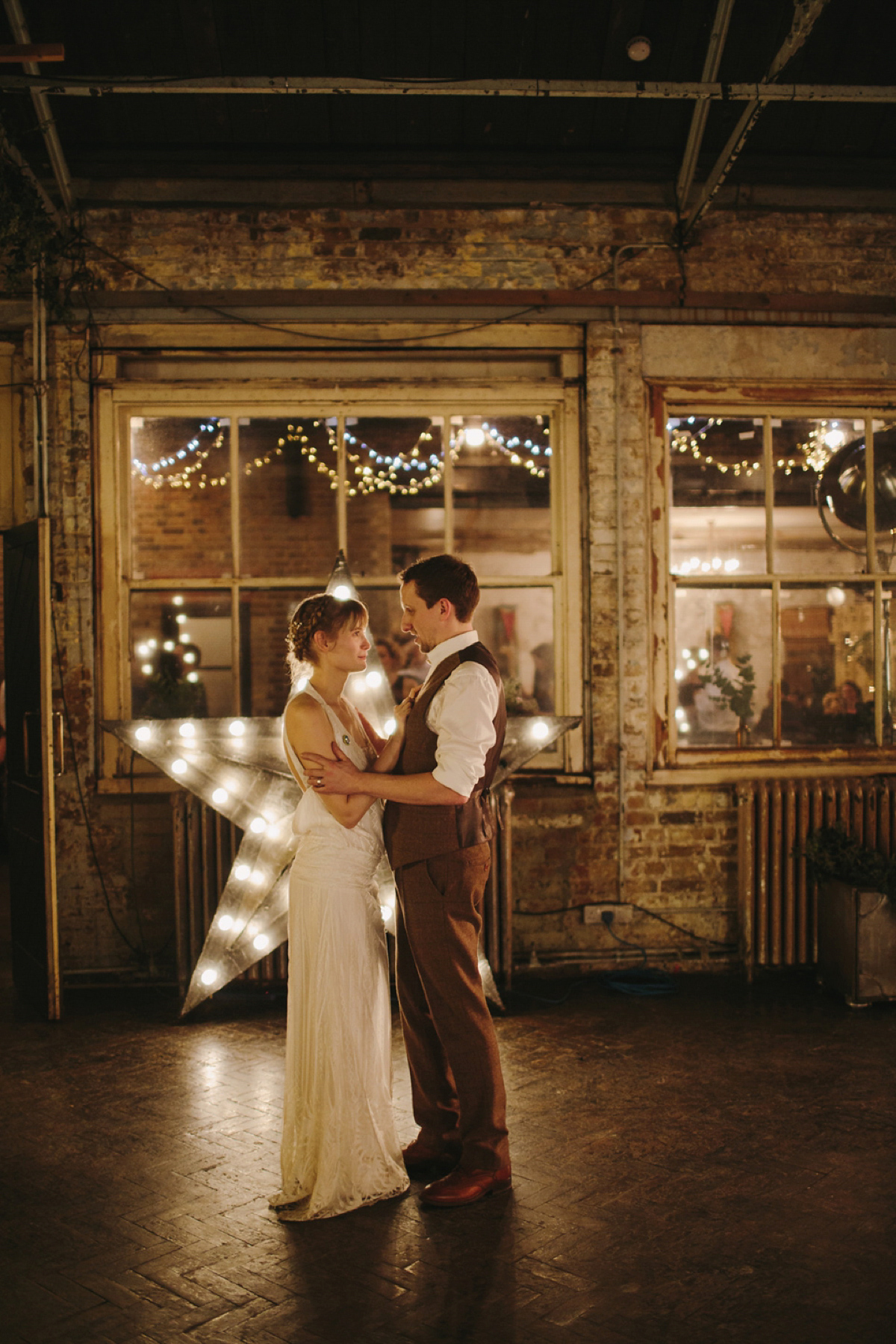 The newlyweds called on another friend, Jake Read, to entertain their gorgeous guests. Jake kicked off the party atmosphere with 'Going to the Chapel' and finished it with 'Buffalo Stance' by Neneh Cherry; no wonder the dance floor was so packed. Laura and Robin chose 'My Favourite Girl' by King Creosote for their first dance as husband and wife and look just blissful.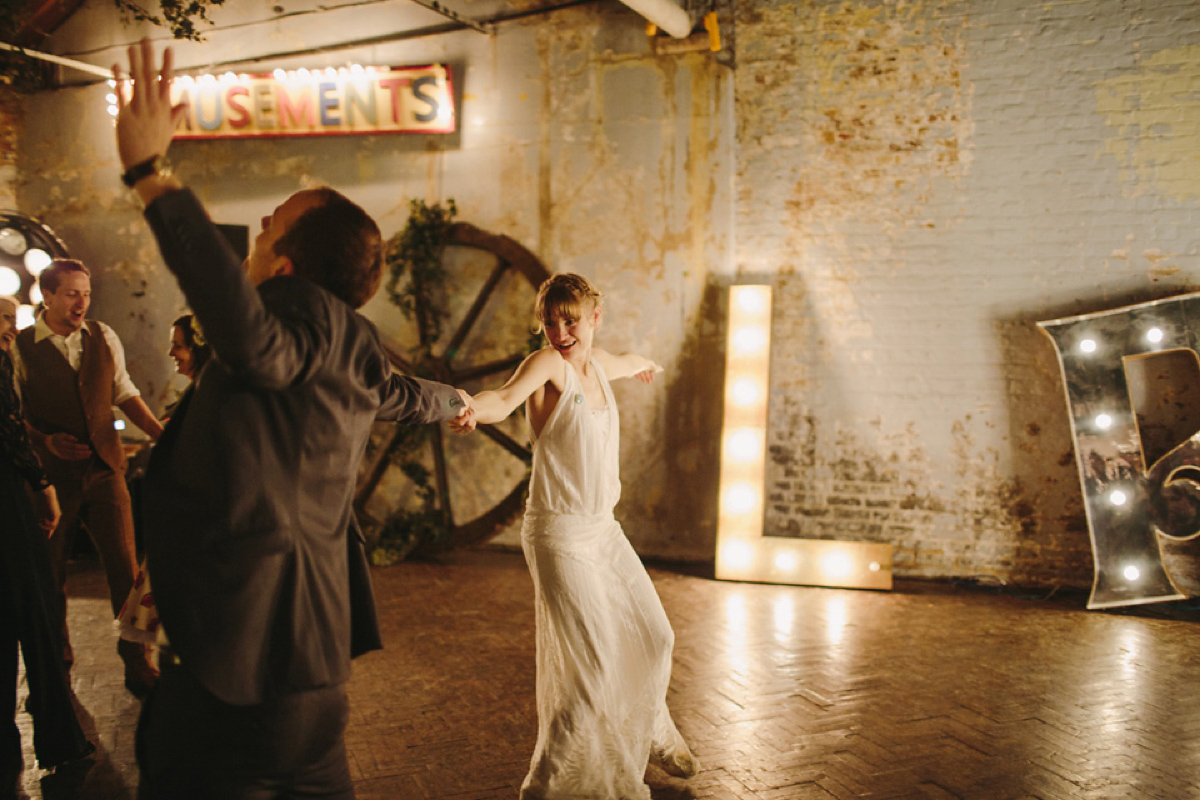 Words of Wedded Wisdom
The only thing Laura would have done differently is relax; a brilliant reminder for every bride to be reading this.
"I wish I hadn't panicked and stressed out so much – it all comes together and genuinely all that matters is having people there who love you both."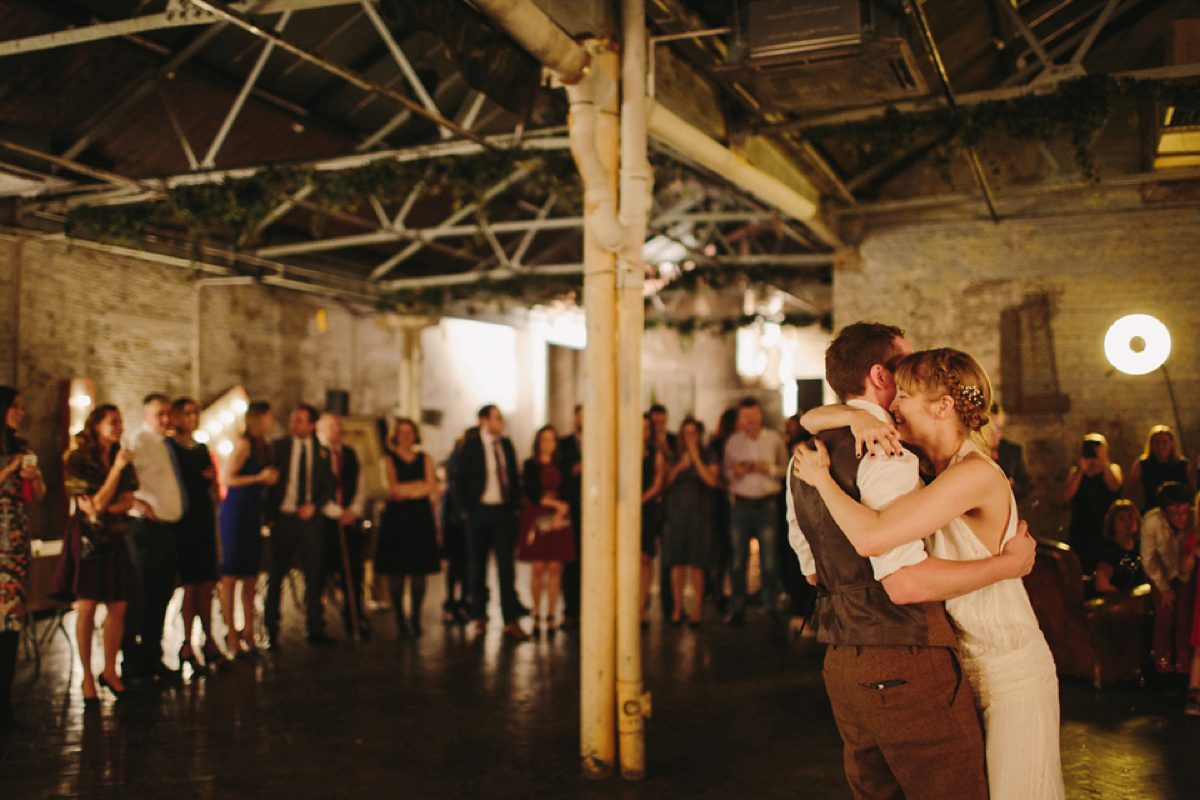 I've heard that somehow everything does work itself out on the day from so many brides, that there has to be a lot of truth behind those very reassuring words! Our hugest congratulations to Laura and Robin; thank you so much for allowing us to share your beautiful day. And our many grateful thanks also to the lovely Emilie White Photography for these amazingly atmospheric images.
Have a great week bridal beauties, I'm off to eat as many cinnamon buns as I can lay my greedy little hands on. If you two are fondly thinking of frosty mornings and endless mugs of soul-warming tea, I fully recommend you delve into our fabulous archives of winter weddings.
Em x