I love sharing overseas weddings, and it's lovely to be able to cast our eyes a little further afield for inspiration when planning our nuptials, especially when they are as delightful as this. This is the wedding of interior designer and stylist Jessie-Rae, who married her beau Daniel on 19th November last year with a ring ceremony and reception at The Woodshed and Nanga Bush Camp, Dwellingup, Australia.
I really adore the handmade, laid back nature of this celebration – the couple remained completely true to themselves, honouring their religious beliefs and commitment to eating super healthy foods (everything was paleo and vegan based). The bride and her sisters, who were also the bridesmaids, styled the entire wedding and as a result, have since gone on to establish their own event styling and planning business called Moon & Back.
"Our theme for the wedding was woodland inspired and bringing the outside in. We used native greens collected from the camp grounds to decorate our tables and festoon string lighting illuminated the space. We had bespoke hanging backdrop behind the bridal table that was suspended from the woodshed ceiling which was constructed of wax paper cones, individually threaded onto string."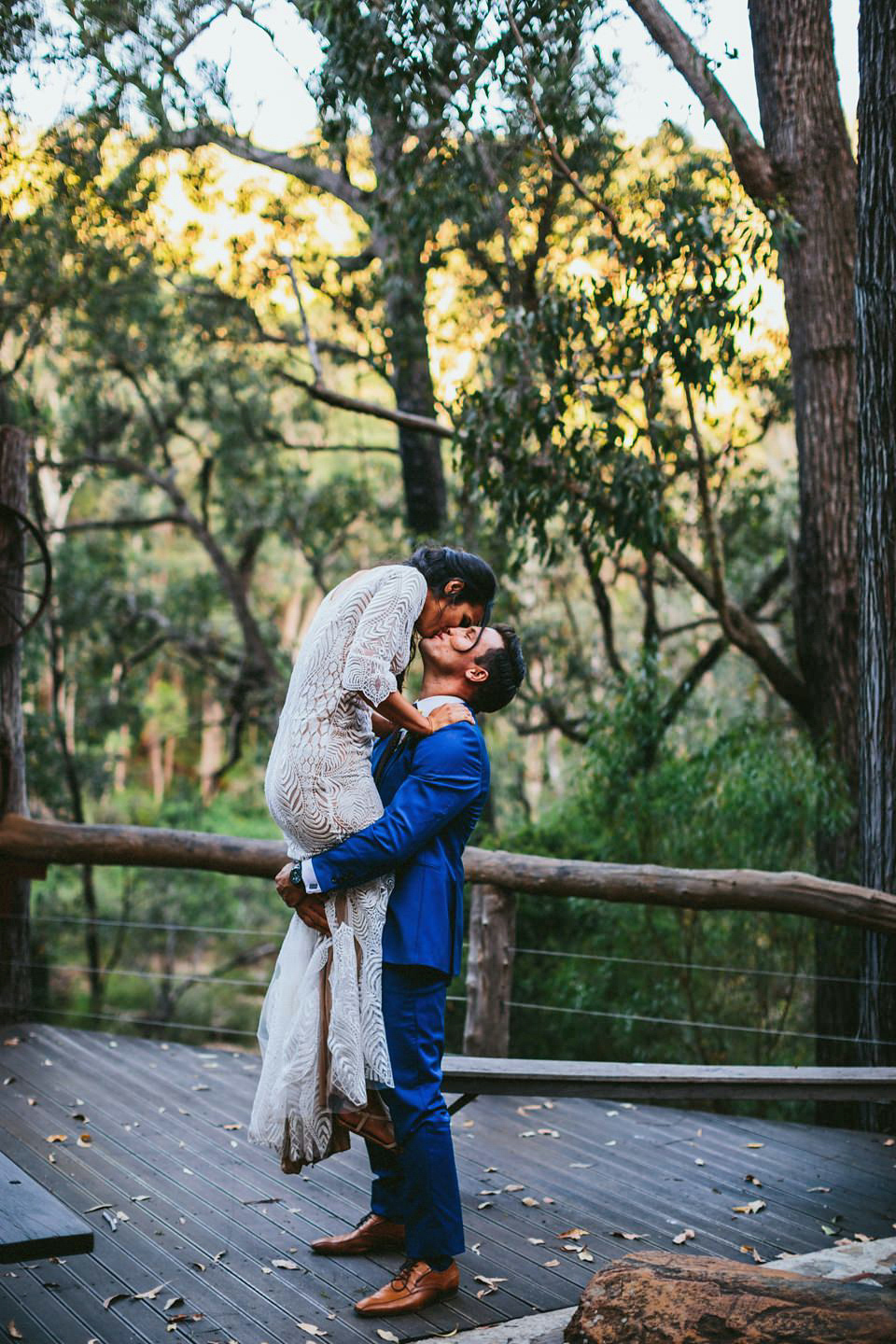 The couple commissioned our Little Book For Brides member, Through The Woods We Ran to photograph their wedding…
"We searched high and low for our photographer. We hate over the top posing photo's and wanted someone to capture 'us' – the way we are naturally. They were amazing – the time we spent with them on the day."
"My sister and bridesmaid, Tania, designed and made my dress – her business is called 'Made by Valerie Snow'.  Tania and I had selected the fabric together and used the designs in the fabric to shape and contour my body. My favourite part of the dress was the back."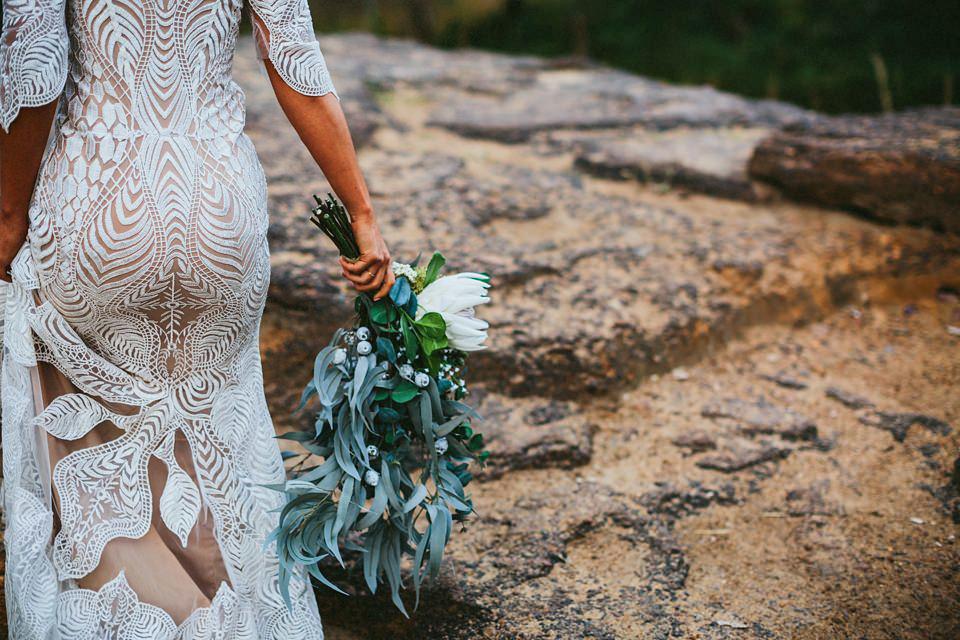 "We met for the first time at Daniels sister's birthday. It was a farm themed birthday backyard party. I was dressed as a sheep, Daniel a simple farm yard assistant. The rest is history! We dated for two years and were engaged for six months."
"Daniel and I both grew up in country towns in Western Australia. We wanted a wedding that was away from the hussle and bussle of the city. We both grew up camping, hiking, swimming, diving…anything outdoors. We wanted to have a day the reflected where we love to be most."
"We are both members of the Church of Jesus Christs of Latter Day Saints and we were married in the Perth LDS Temple. The ceremony is very sacred and special to us and only immediate family members attended (that's why there are no photos of our actual ceremony inside the temple). Because of this, we held a ring ceremony down in Dwellingup for friends and other family members that weren't able to come to the temple."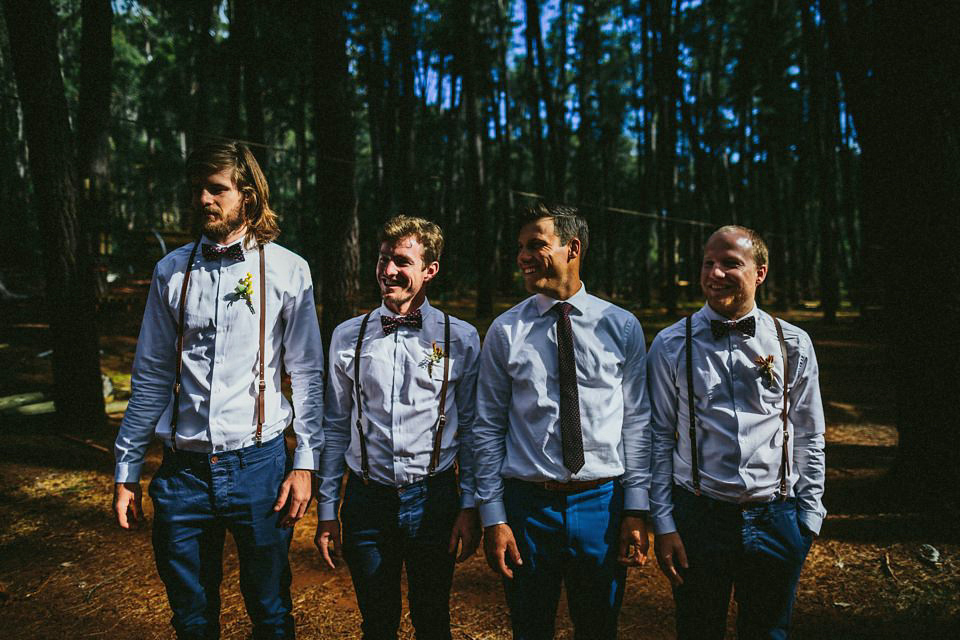 The bride chose not to wear a veil as she preferred to stay away from the traditional style wedding dress.
The bride and her bridesmaids styled all the florals.
"We selected Australian native flowers and proteas which suited the bush themed wedding."
The bride's father walked her down the aisle. Daniel's little sister, Esther, played the flute as they arrived at they walked down the ailse. She also played music before and after the ceremony.
"We did our official vows in our temple so the ring exchange we had down by the river was very relaxed and was an opportunity to exchange our rings. Jessie-Rae's uncle coordinated the service and put together some beautiful words. Our family was so involved in the wedding is felt so relaxed and fun."
"I don't wear a lot of jewellery and went very minimal on the day. Only wore my wedding band and a set of pearl earrings."
"Besides the actual ceremony in the temple, our favourite part of the day was when we got to hang out with just us – with our photographers stalking us in the bushes. It was the first time in the whole day to be by ourselves and just be together and enjoy the present."
"Floor tables with rugs and pillows were sprawled outside for our guests to relax while they waited for the bride and groom to arrive. A cold pressed juice bar and grazing table filled with homemade dips, fresh fruit, cheese and cold meats kept our guests happy while they waited for dinner. We installed a gold sequinned backed photobooth with props was put in there for a little fun throughout the night."
"We did the catering ourselves with the support of our family. Some called us crazy, but we pulled it off!"
"We are crazy about good healthy food, and both are full time paleo enthusiasts and know what it takes to make something yummy. One of the reasons we loved Nanga's facilities was that there was an industrial kitchen – our dinner and desserts for the wedding were all dairy, gluten, grain and refined sugar free and vegan friendly."
"We had a 'Raw' cheesecake created by our dear friend Tamara Brown of Raw Food Girl."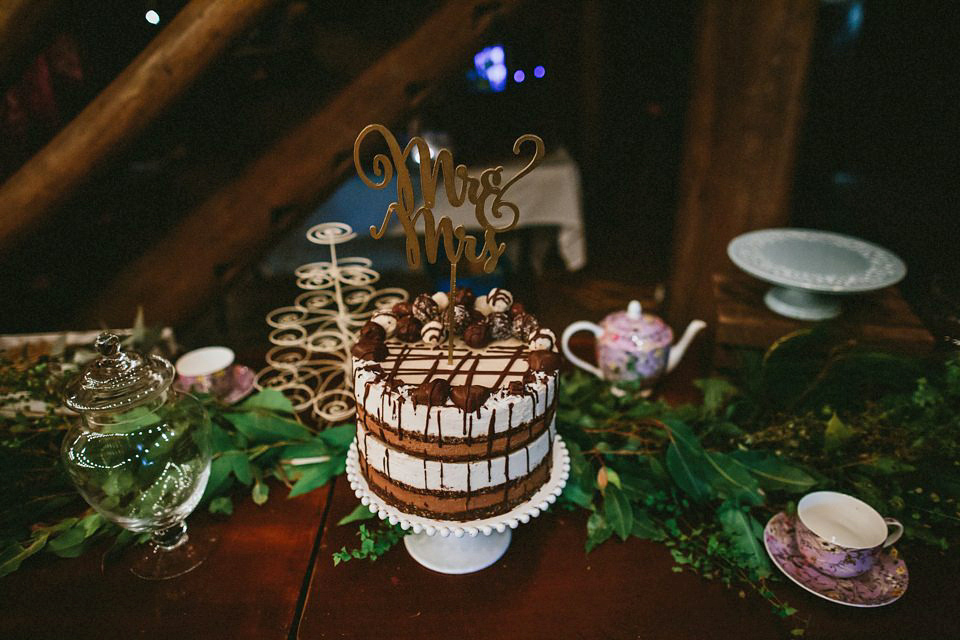 "We had honey pot wedding favours. We locally sourced a drum of red oak honey from a family friend. Each favour came with a wooden honey dipper and 'Meant to Bee' gift tag."
The couple had their first dance to a cover version of Sam Smith and Latch's 'Disclosure' song…
"We come from very talented families. Brothers, sisters, mum, dad, cousins and close friends put together individualised musical items for our special day."
Words of Wedded Wisdom
"If you can, try and let your family be apart of your day. Our wedding day was more than a wedding day is was a massive hang out sesh where we all got to share our talents and help each other create something beautiful. I've seen a lot of friends restrict their loved ones from getting involved as they think it will stress them out – my family might be the exception, but they loved it and we created memories together that will last forever. The highlight of the wedding was getting to spend a whole week down in nanga setting it up! It was so much fun!
We picked a venue that we could do what ever we wanted. We had no time restrictions for bump in and out. We had over 100 beds that could sleep our massive families (we had a lot of families that lived interstate and in nz, we wanted them not to worry about accommodation). We didn't want a traditional styled wedding and wanted more of a relaxed party in the bush. Nanga is located 1.5 hours inland from Perth, so it was a great excuse to escape the city and stay a night in the Woodshed."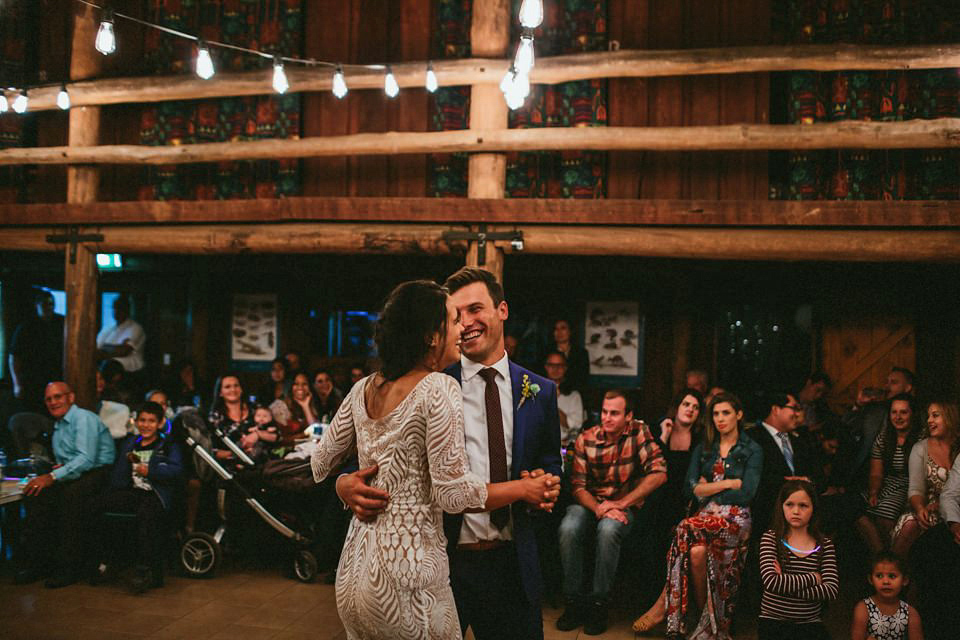 What a magical woodland celebration. My love and thanks to the wonderful Through The Woods We Ran for sharing their gorgeous images with us today. You can find out more about this photography duo over on our Little Book For Brides.
Love Annabel  xx
Photographer – Through The Woods We Ran
Planner/Stylist – Moon & Back
Venue – The Woodshed and Nanga Bush Camp, Dwellingup, Australia
Wedding Dress – Made by Valerie Snow
Bride's Shoes – Windsor Smith
Perfume – Viktor & Rolf, Flowerbomb
Grooms Suit – Callum Gill at Edward McCann
Bridesmaids – White Runway + Windsor Smith shoes
Floral design – Moon & Back
Transport – Stretch Kombi Van
Bride & Groom's wedding ring – Charles Campbell
Cake + Catering – The bride and groom's family (vegan/palleo based)
Stationery – Moon & Back
Hair and make-up Artist – Erana Paige Halls – Makeup Artist ( Sister & Bridemaid)