Happy Wednesday lovely readers.  I have decided that I must be rather contrary, as whenever it is winter I'm dreaming of fresh spring days and long warm evenings and whenever it is summer  I find myself nostalgic for crisp winter walks and the smoky scents of autumn. Luckily, today's atmospheric wedding has more than a touch of autumnal charm, so is just the thing for those of us missing the cooler months.
Meet Jen, a dancer, dance teacher and Pilates instructor, and Craig, an art teacher and illustrator, who married in creative splendour on the 3rd of October 2015 at the wonderful Errol Park Estate, Perthshire.
"As soon as we walked around Errol Park Estate we loved it. The converted stable block has a beautiful rustic charm and the gardens are stunning. It was so relaxed and welcoming that we really felt at home. We didn't have a theme as such, instead we created elements of the day around the things that we loved.  The colours of the bridesmaids dresses and Craig's kilt help decide the colour of the flowers, but this all seemed to happen quite seamlessly and it wasn't until a few weeks before the wedding that we realised we had a colour scheme of pinks, greys and golds."
Photography by The Hendrys
The beautiful bridesmaids wore infinity dresses from The DaintYard, Etsy and accessorised with necklaces by Hannah Zakari, Edinburgh, designed by DotPop.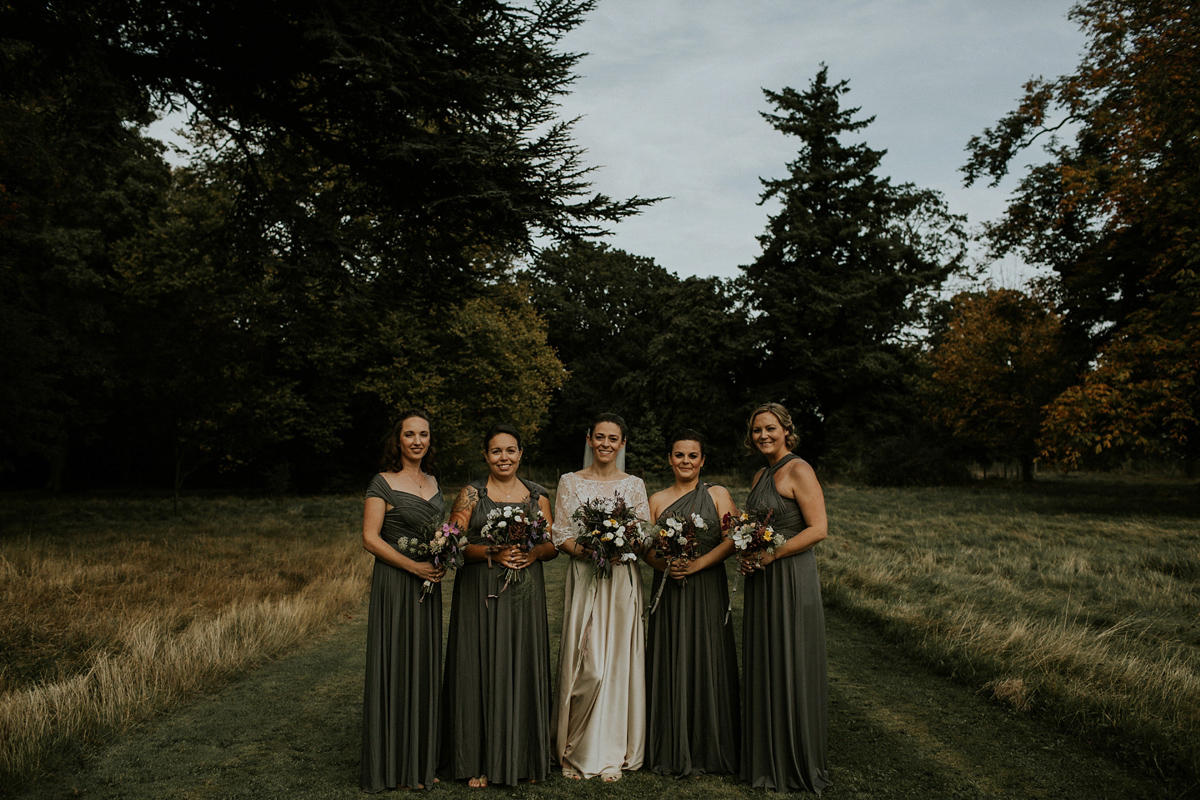 Jen's champagne silk gown was the work of Sophie Creed of E&W Couture, Cardiff.  I love the simple silhouette and the lace cover up, on which the designer used buttons which had belonged to Jen's Gran, thus making it her 'something old' as well as something very beautiful.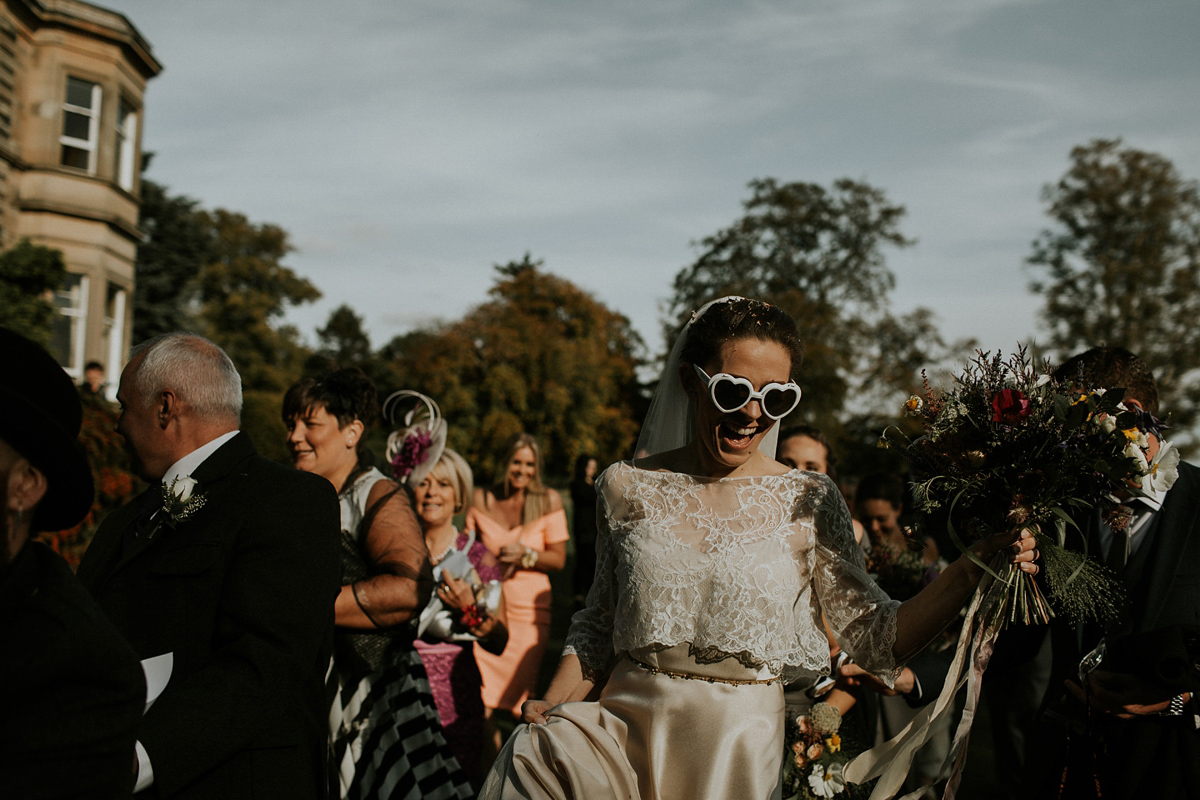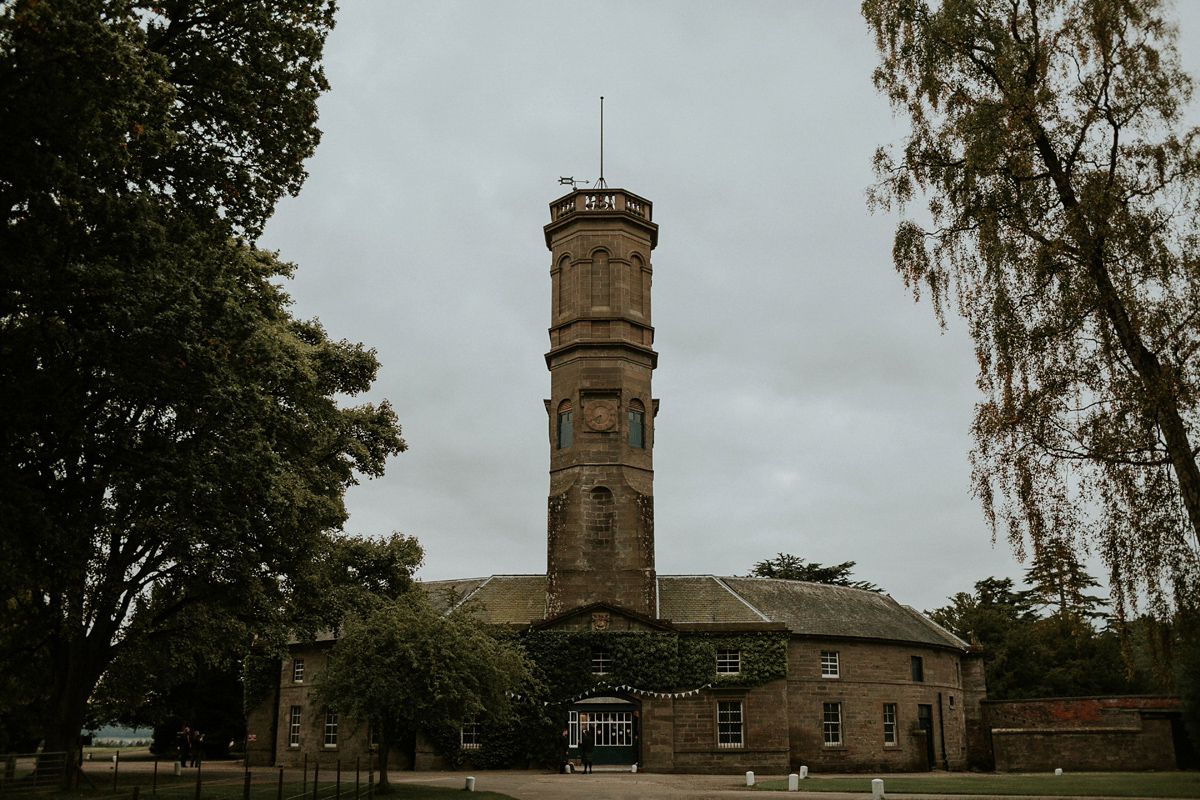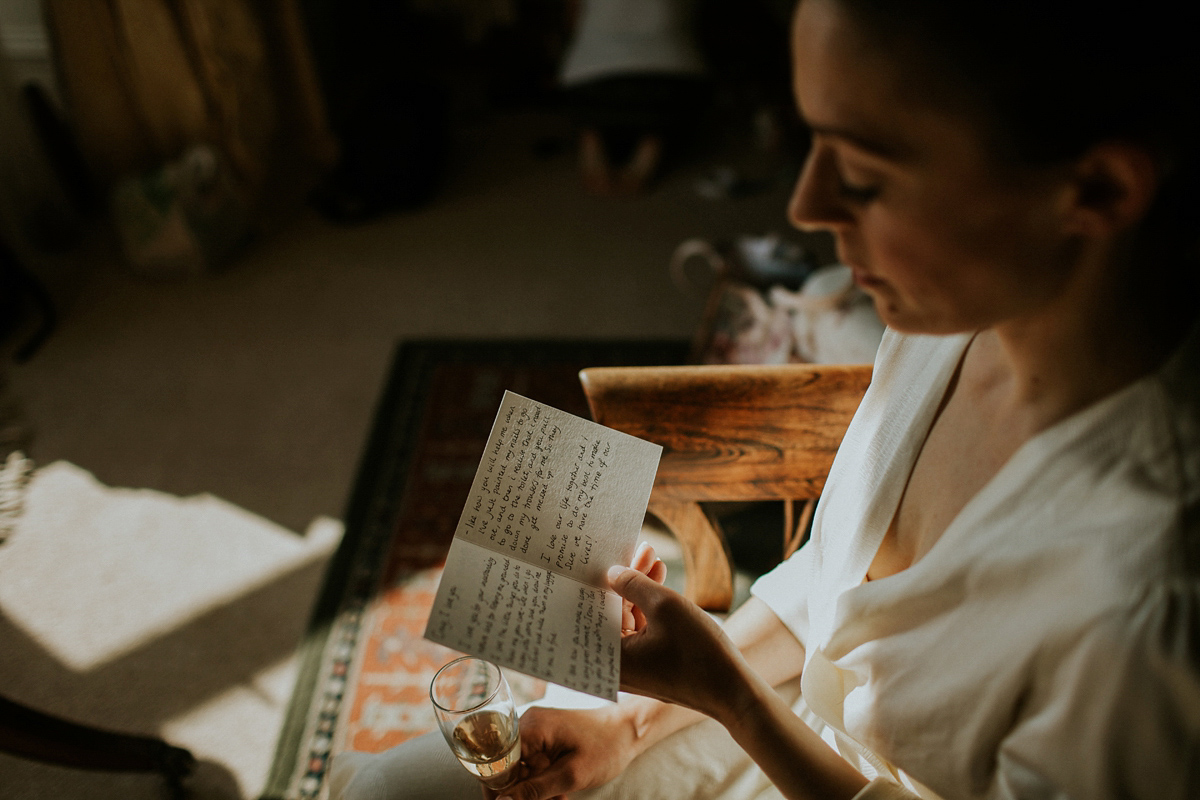 Jen accessorised with the most wonderful bespoke belt by Natalie at Exquisite Spark, which was designed using twine, vintage jewellery and a mix of beads and settings from her Gran's old jewellery.
"I loved wearing it knowing it held sentimental value as well as adding detail to my overall look.  Natalie was fantastic to work with and I was completely smitten with the end result."
In her hair Jen wore a brass and gold floral comb by Mignonne Handmade and a veil borrowed from a friend.  Her earrings were from Anthropologie and her fabulous gold heels (made from vegan leather) were by Roni Kantor Shoes.  Hair and make up were the work of Ruth Donaldson of Just Hair and Jen's sister Sarah respectively.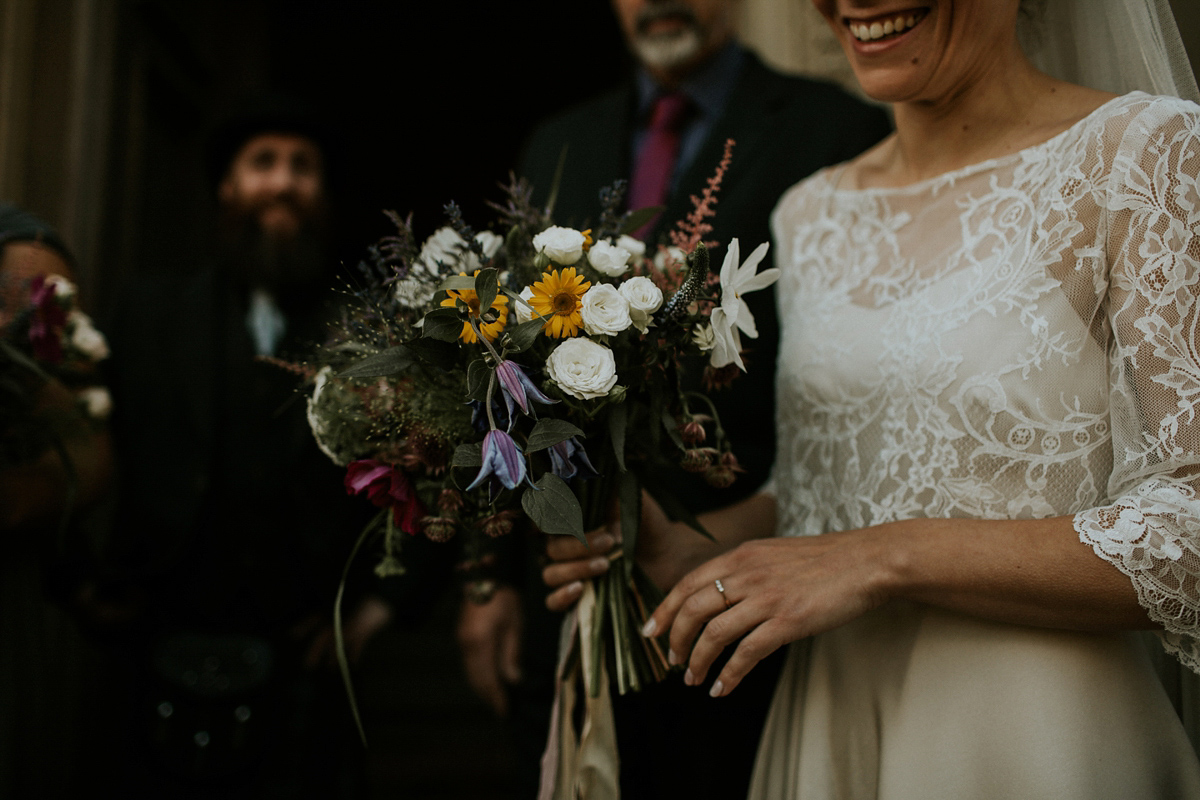 Craig looked handsome in Grey Stewart tartan, while his two best men wore Highland Granite, which were all hired from Top Kilts in Portabello, Edinburgh.  Jen's 'beardsman' wore the same kilt as the best men, but also chose to accessorise with a bowler hat.
"Craig does have his own kilt in the Cunningham tartan but he's worn it to every wedding since the age of eighteen so he wanted something different. The Grey Stewart caught his eye which was a lovely coincidence as his Gran's maiden name was Stewart."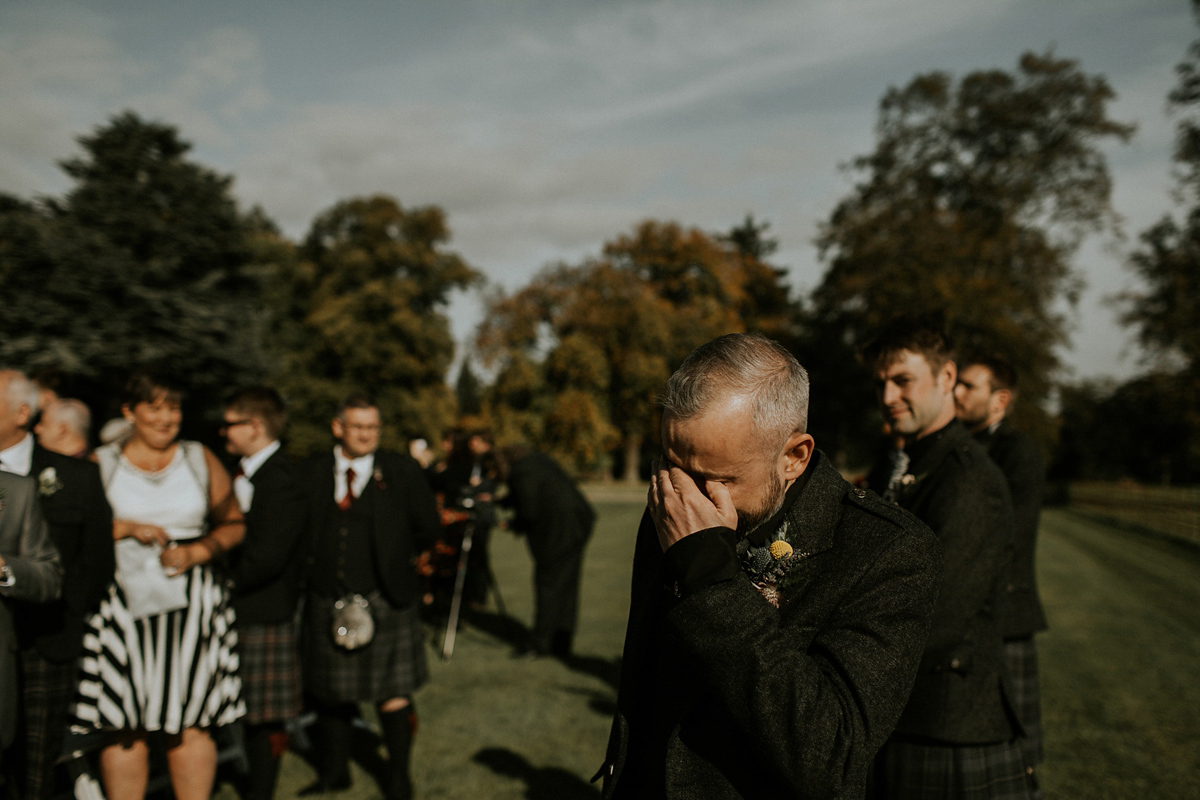 "We met after both attending a friend's Zine launch.  In 2012, six months after we had met, Craig was diagnosed with Hodgkins Lymphoma and went through six  months of intense chemotherapy and a further six months recovery. We owed it to ourselves to take a holiday and try and make up some of the time we felt we had lost and regain some normality, so in 2013 we travelled around Italy for three weeks and on our last night whilst in Ravello Craig proposed.
Craig had every chance to propose over a candle lit dinner looking over the med as the sun went down, but instead he chose to get down on one knee when we were walking back to our apartment down a poorly lit path that smelt of the goats that roamed freely there all day. He always said he would ask me to marry him when I least expected it!  It may not have been the most romantic setting but I wouldn't change it one bit."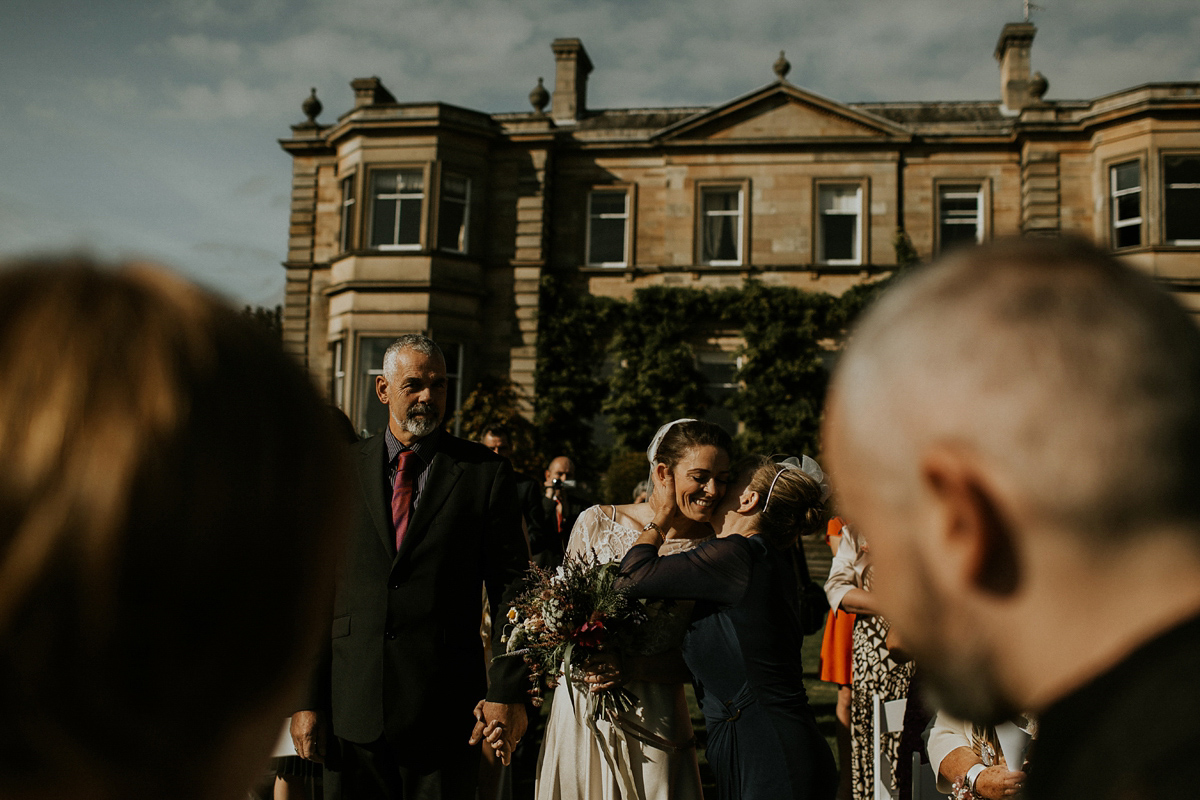 Jen was walked down the aisle by both her Mum and Dad, to Josh Ritter's 'Come and Find Me', sung by friend Fiona, who was accompanied on the guitar by her husband Mike.   The bride and groom then exchanged vows in a personalised Humanist ceremony.
"Our ceremony was beautiful- simple and relaxed and was filled with laughter. We also had the most perfect weather considering it was an October day in Scotland.  As I walked down the aisle and met Craig a butterfly flew between us and then again after we had said our vows. That was a really special moment and something I'll never forget."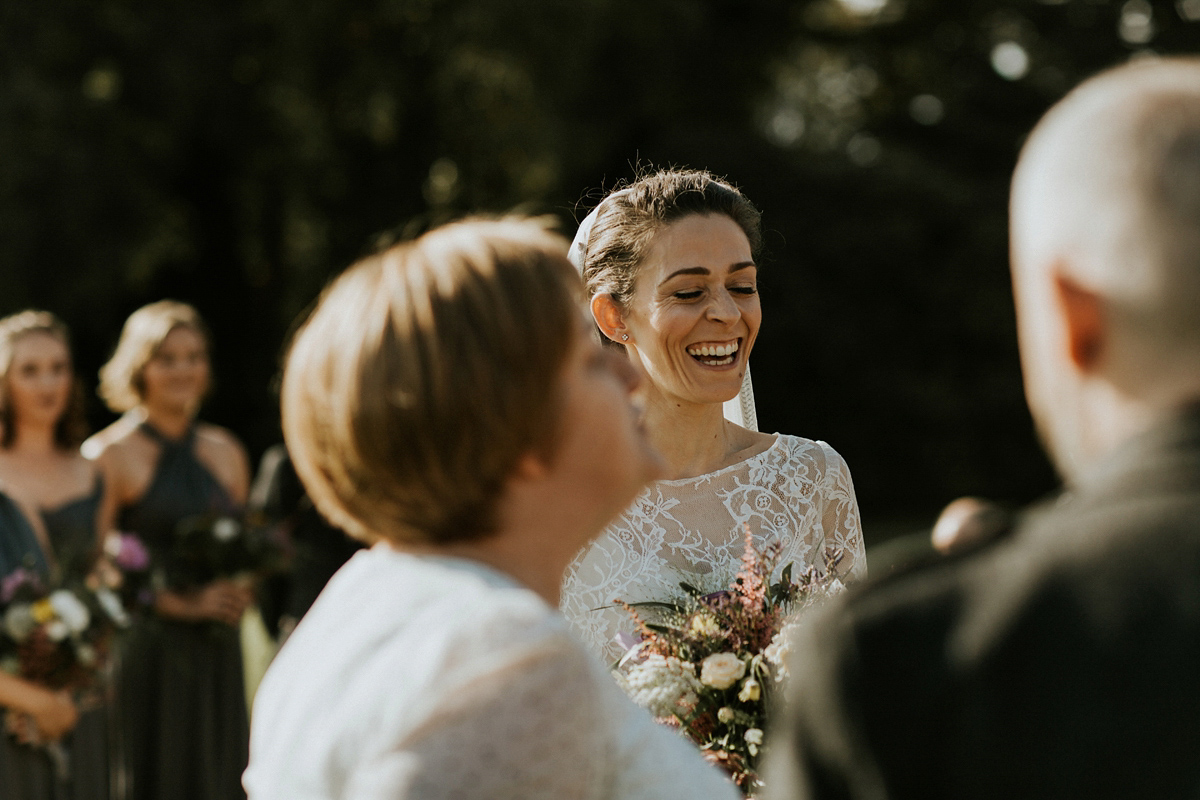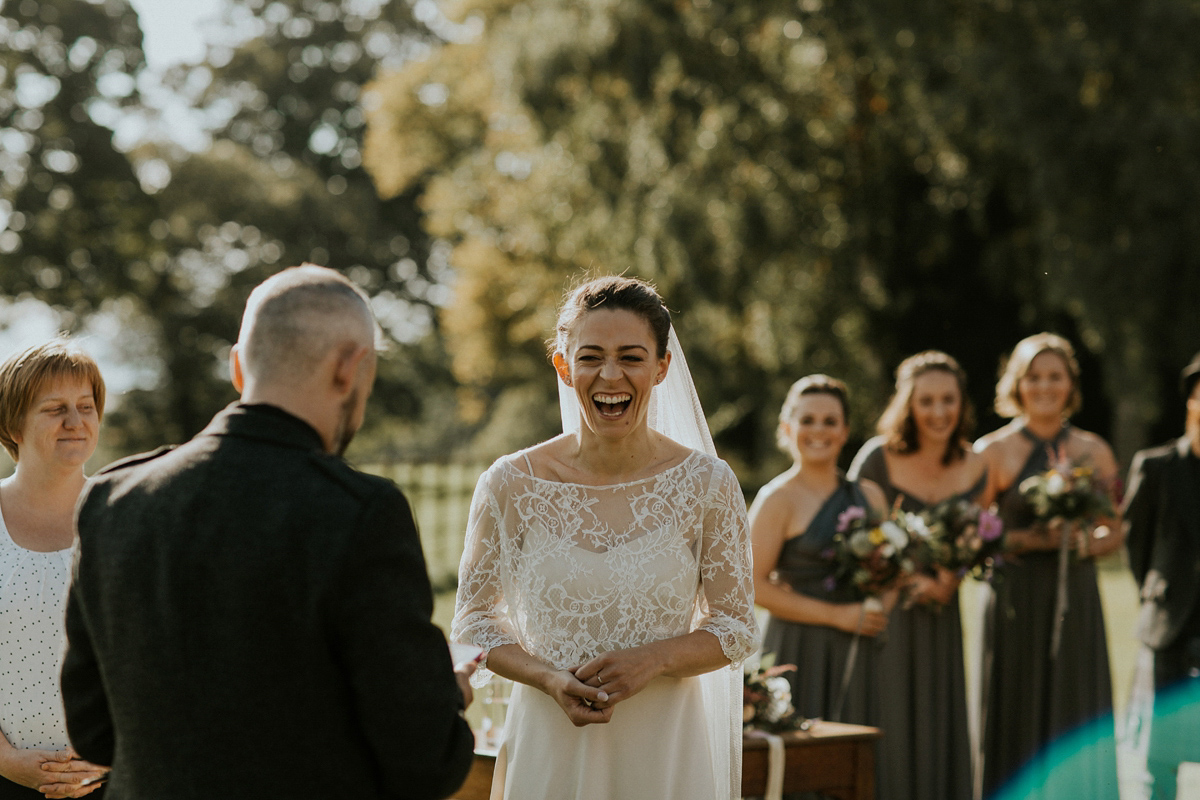 The much admired catering was the work of Delicious Catering and favours were jams and chutneys made by the parents of the Bride and Groom.
For entertainment Jen and Craig had a dress-up photobooth, hosted a game of bingo in memory of Craig's Grandad, and also booked Hot Scotch Ceilidh to keep the dance floor full all evening, so guests were certainly kept busy and happy.
The fabulous florals were the work of Rose and Ammi Flowers; the colours and textures are just incredible.
"Lydia  was a dream to work with and what she actually produced on the day of the wedding blew my mind and actually brought me to tears.  The flowers were a huge highlight of the day and I can't recommend Lydia highly enough."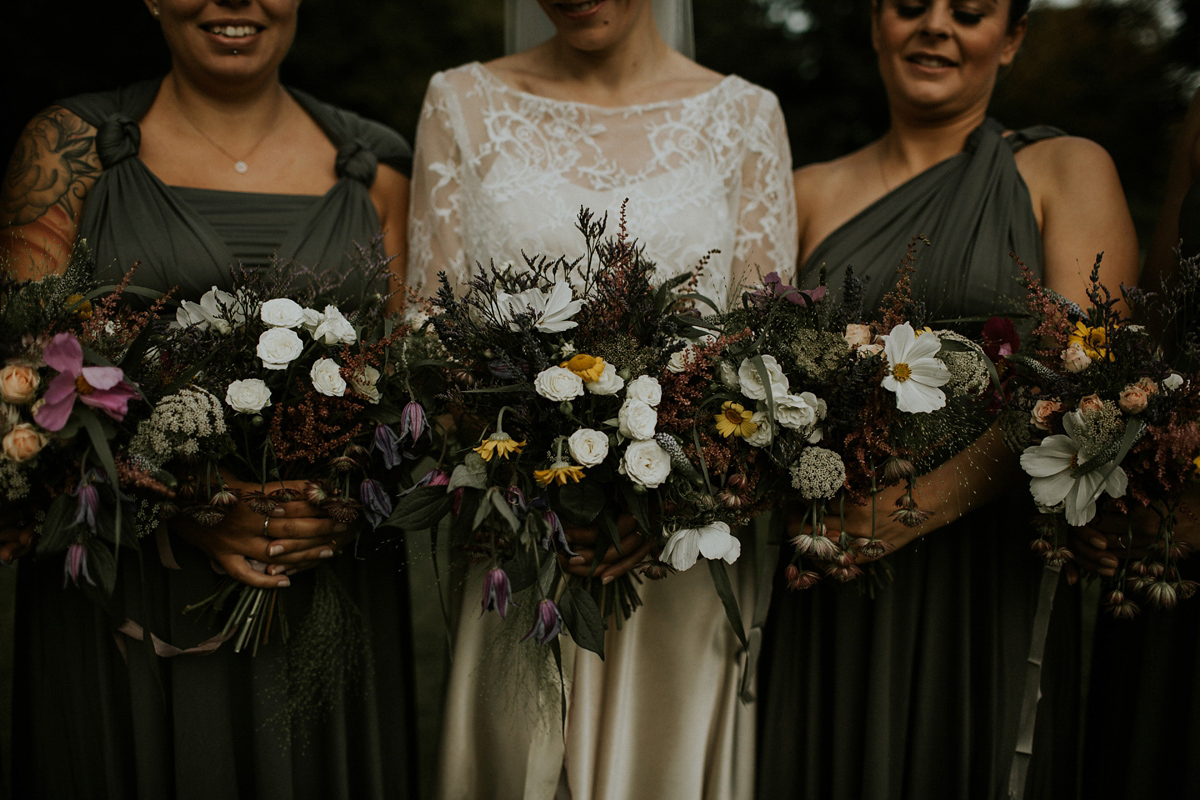 "During discussions with Lydia we both discovered each others slight obsession with bouquets wrapped in naturally dyed silk ribbon and Lydia sourced some for me from Lancaster and Cornish. The ribbon is beautiful quality and adds lots of movement to the bouquets."
The Hendrys, are the talented photographers behind these gorgeously atmospheric images.
"The Hendrys are a lovely couple who are simply amazing at what they do- they captured our day perfectly.  I (Jen) have never liked having my photo taken so finding a photographer who took beautiful, natural photos without being intrusive was really important and Sarah and Darren did just that. They captured the feeling of our day so perfectly and when we look back through the pictures now we can relive all the emotions of the day so easily."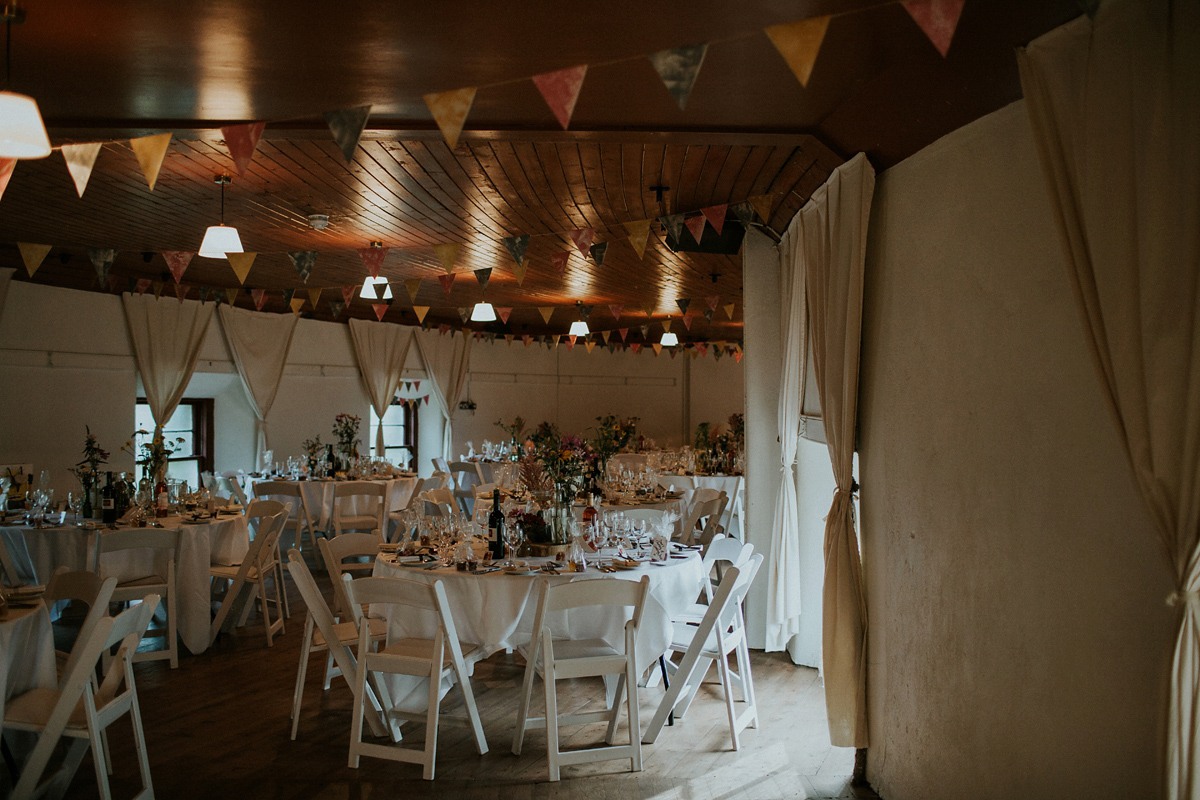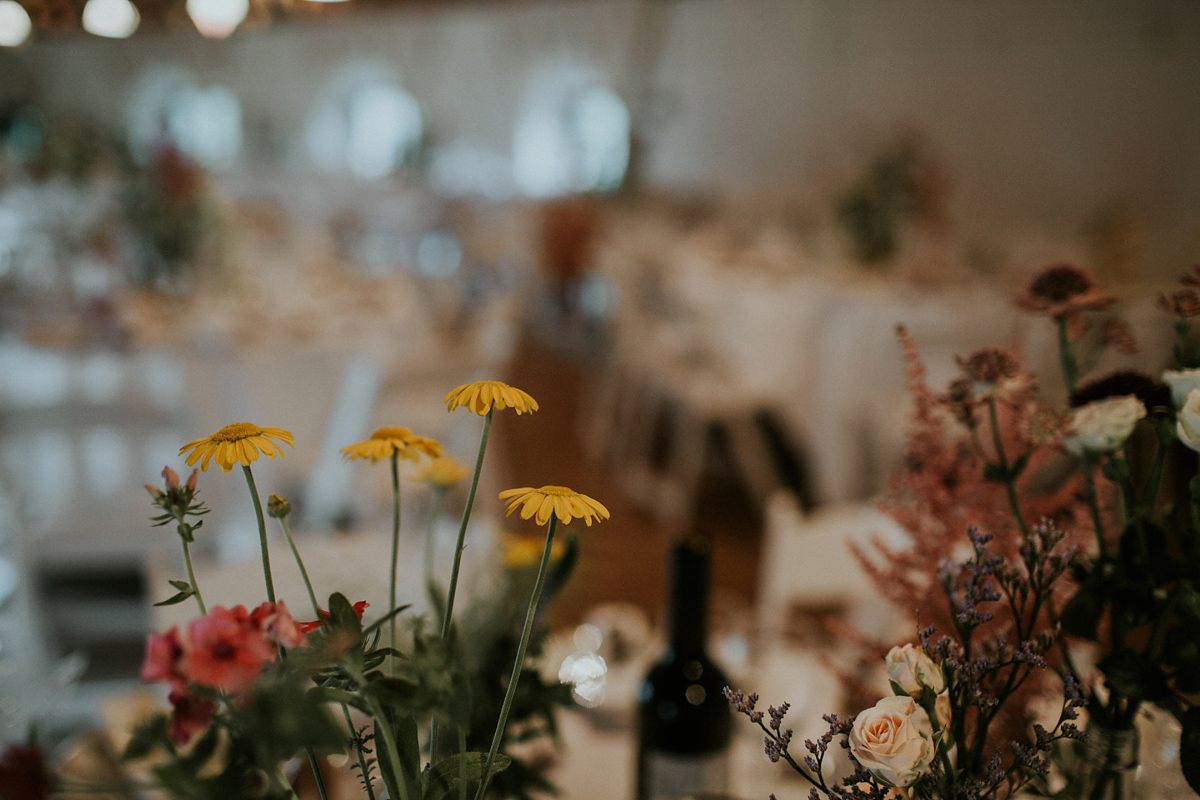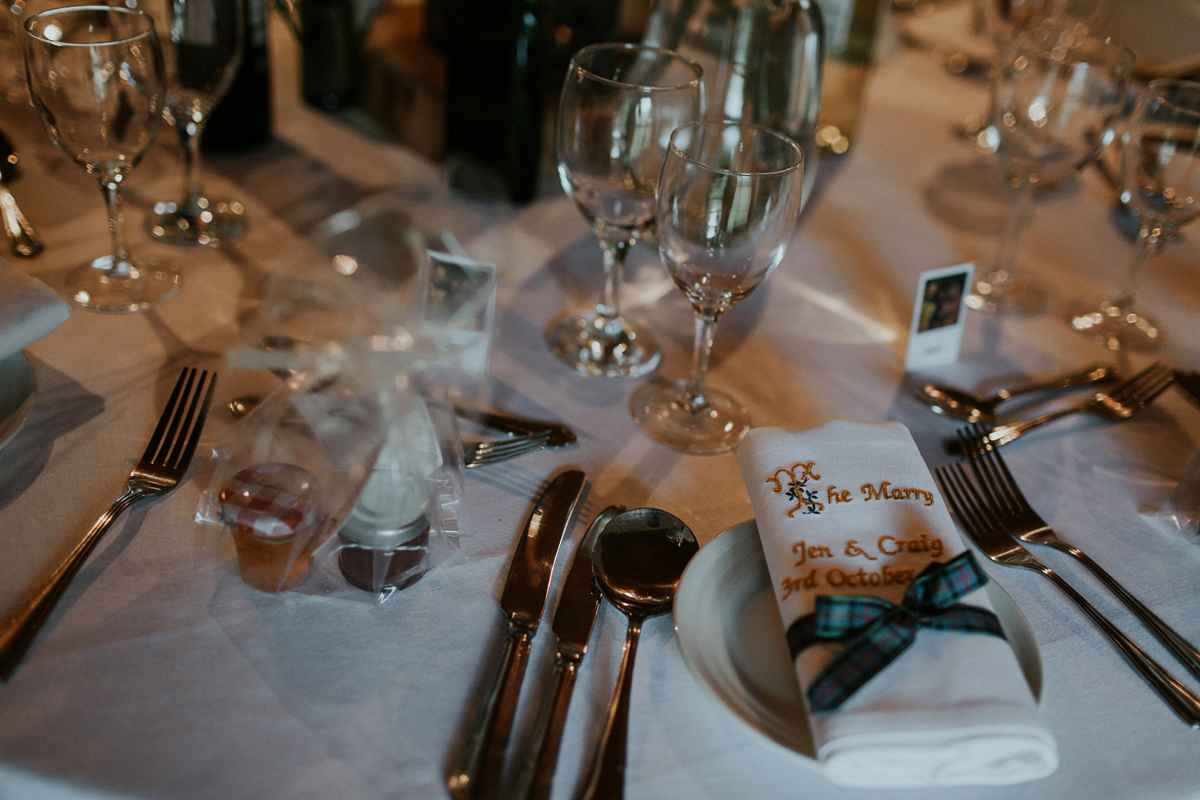 As fans of Wes Anderson, Craig and Jen chose a wedding cake based on 'The Grand Budapest Hotel', created by the very talented Lyndsey Lannie at Cakesbylyndsey.  I just adore this as its so original and clever.
"Lyndsey was so excited by the challenge and what she created just blew us away. Even people who hadn't seen the film were still in appreciation at the craftsmanship and creative ability. It was simply stunning and just so happened to fit in with the colour scheme too."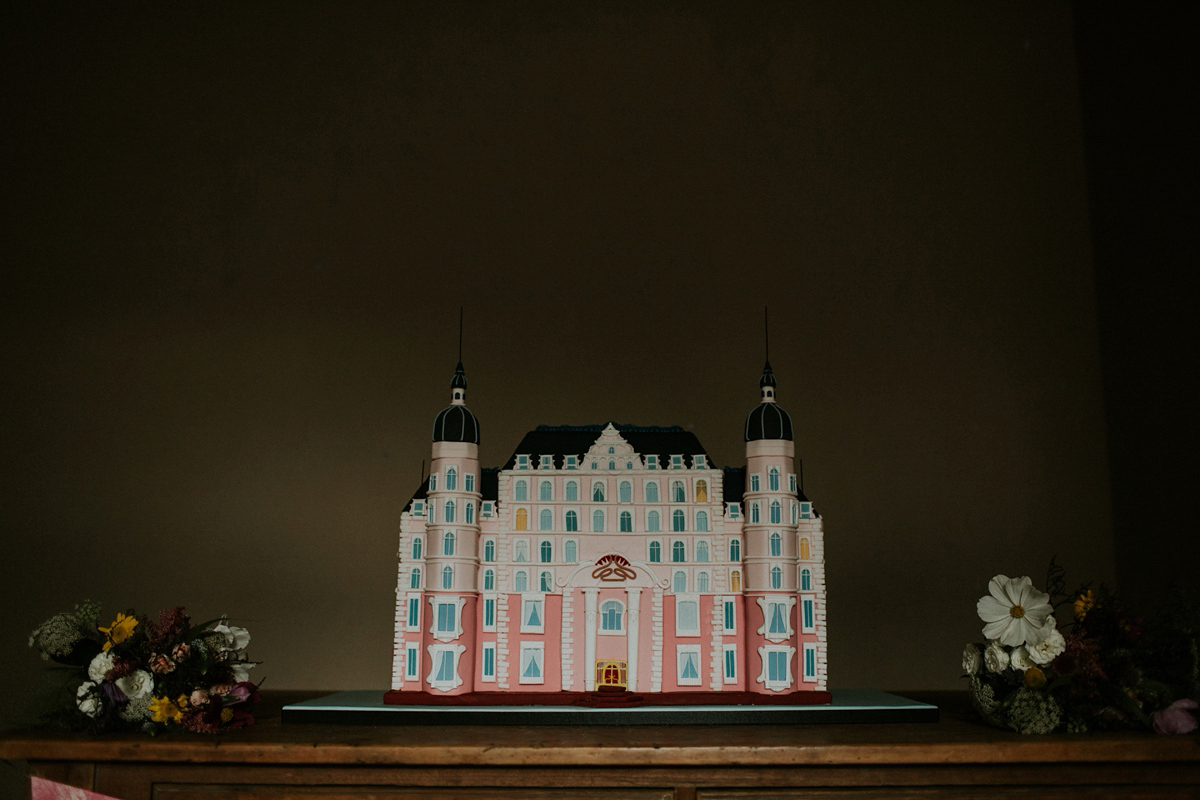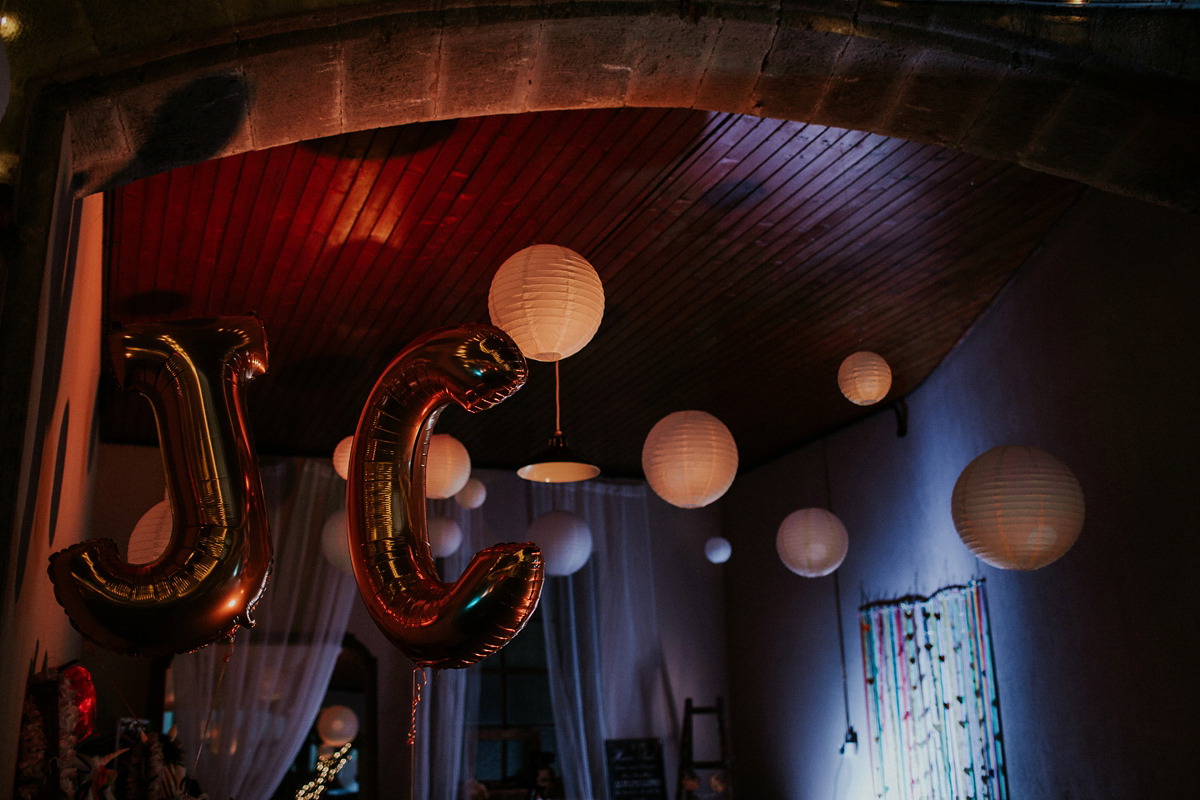 Words of Wedded Wisdom
"Have fun!  Include things that make you both happy, make it about the two of you and make it personal to you so that you can enjoy the day and not feel like you're at someone else's wedding.
Lots of our guests said it was the most fun wedding they'd been too, which was so lovely to hear as it's exactly what we wanted people to get from the day – not an overly formal event but somewhere they could relax, have fun and celebrate."
So many thanks to Jen and Craig, its been an absolute pleasure.  Thank you also of course to The Hendrys for sharing their pictures with us.  We must have lots of readers who are going to be autumnal brides in a few months- do get in touch and tell us your plans, either in the comments below or on our popular facebook group for brides.
Much love,
Shona x
Credits & Thanks
Photographer - The Hendrys
Film - Filmed by guests and put together by a friend
Venue - Errol Park Estate, Perthshire
Wedding Dress  - Sophie Creed of E&W Couture, Cardiff
Belt - Exquisite Spark
Veil - Borrowed from a friend
Hair comb - Mignonne Handmade on Etsy
Jewellery - Earrings by Anthopologie
Shoes - Roni Kantor Shoes, found on Etsy
Scent - Coco Mademoiselle by Chanel
Bridesmaids dresses - Infinity dresses from The DaintYard, Etsy
Bridesmaid's Necklaces - Hannah Zakari, Edinburgh, designed by DotPop
Hair Stylist - Ruth Donaldson, Just Hair
Make up - Jen's sister
Groom's Outfit - Top Kilts, Portabello, Edinburgh
Rings – Jen, Lucees Treasure Chest on Etsy; Craig, Warren James
Florist - Rose and Ammi Flowers,Tollcross, Edinburgh
Silk Ribbon - Lancaster and Cornish
Caterer - Delicious Catering
Cake - Lyndsey Lannie at Cakesbylyndsey, Dalgety Bay
Stationery - Home made by Craig
Entertainment - Hot Scotch Ceilidh