Hello lovely readers, it's Saturday and it's a particularly great one for me, after a mere 15 weeks of waiting, the hubby and I have finally moved into our very first home together (well excluding renting) and I am just overwhelmed with happiness. Along with having our puppy now, I feel like I have my own little family in our dream home. Here to spread more joy today, I have the lovely wedding of Danika and Colin, both scientists at Cambridge University.
Now when I receive a wedding from Annabel I always look through the pictures first before I know anything about the day and I was trying to guess the location of the wedding, the very cool picture of the guys walking across the crossroads had me guessing Barcelona, then something about the intimacy of the ceremony had me guessing Ibiza or France, then I see the red bus and fun fair and I'm totally thrown. So where in the world can you have everything? Turns out it's Adelaide in Australia, the pair married this March at the Tin Cat Café and held their pre-reception drinks and had some wonderful photos taken at The Garden of Unearthly Delights, a pop up fair-ground that was held as part of the Adelaide Fringe Festival.
"Planning a wedding in the middle of our first winter in the UK meant we were dreaming of the Australian summertime. Therefore we chose bright yellow and orange florals, and chose a venue with a beautiful courtyard to make the most of the balmy evenings in March."
Photography by Caveira Photography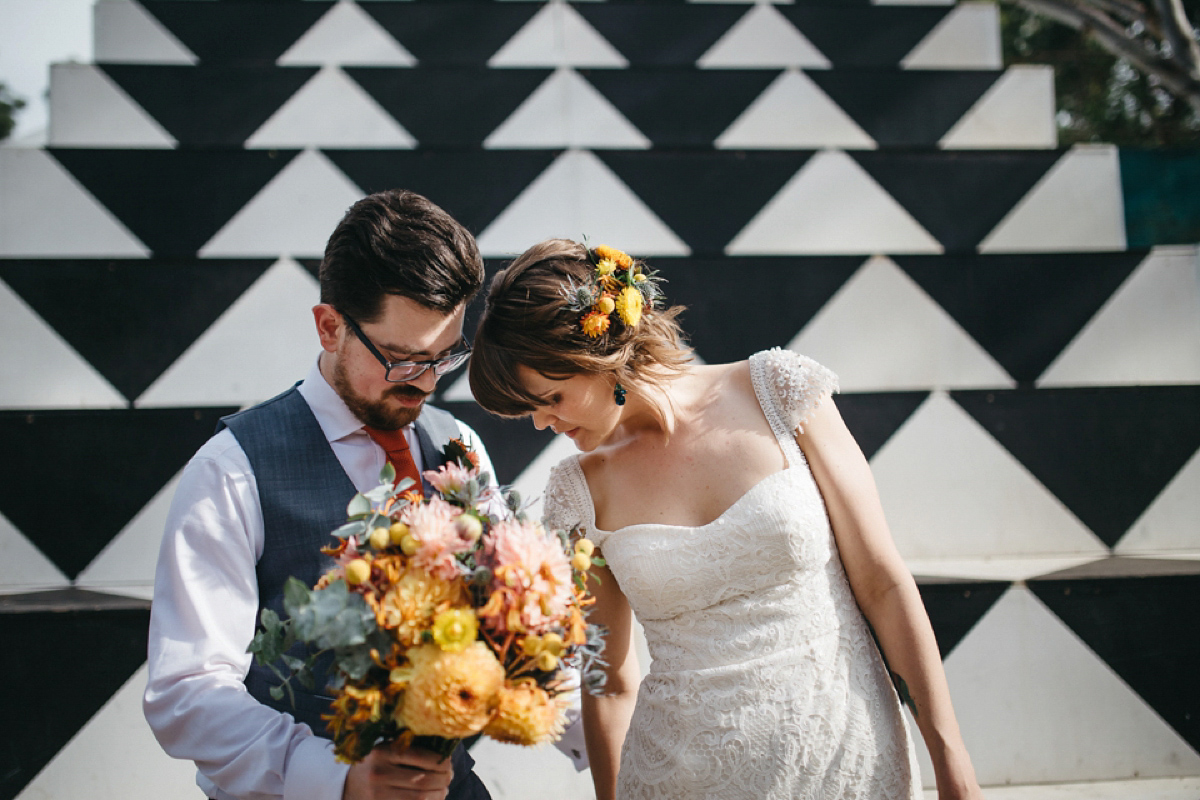 "As a shout out to our new life in the UK, and chose a red double-decker bus for transport, used blue thistle in the florals, and served Scottish whiskey with the wedding cake. Colin's favourite hobby is brewing his own beer, so we chose to decorate the venue with flowers in amber glass beer bottles. We are also both massive nerds, so with the help of the bridesmaids, we strung up glass test tubes as vases."
Danika and Colin used Fig and Olive Studio on Etsy to design their stationery and decided to do their own printing to keep costs down.
Danika not only chose flowers perfectly suited to her venue but also took in to consideration the climate.
"The bridal bouquet and bridesmaid flowers were through Adelaide Flower House, who also provided bunches of loose flowers that my bridesmaids and I used to decorate the venue the day before. I opted for Australian natives (billy buttons, paper daisys, kangaroo paw, blue gum eucalyptus), blue thistle, and orange dahlias – for vibrant colour but also because they would stand up to a hot summer day and an outdoor venue."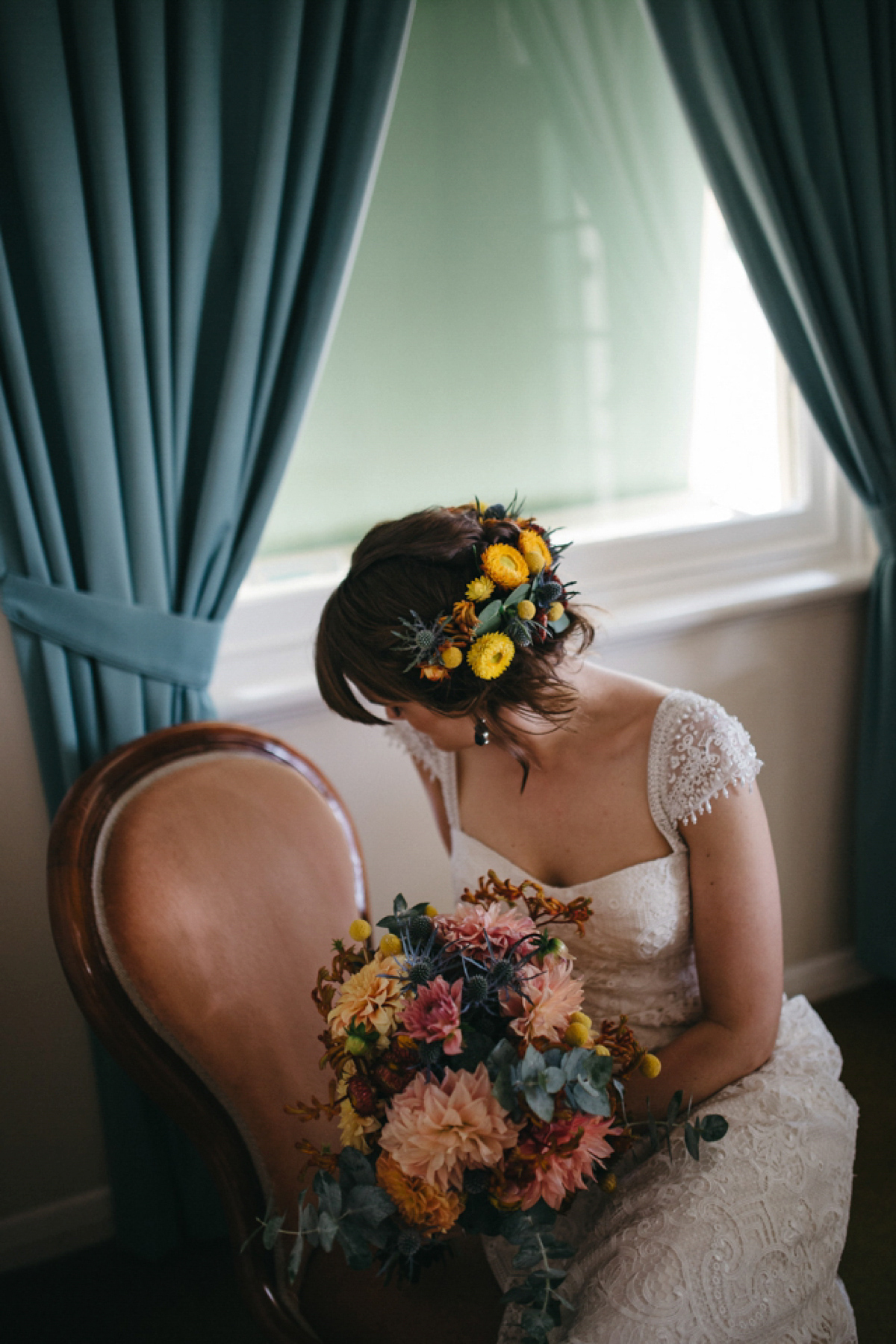 "We met doing our PhD's in Melbourne, and after living together for several years, Colin proposed at a beautiful look out during a hiking trip in Kakadu National Park in Australia.
Only a few months after getting engaged, a family illness prompted us to bring our wedding day forward. We only gave ourselves just under three months to plan everything. In some ways it was stressful to find vendors and arrange various things, however because we didn't have time to be indecisive a lot of the decisions were made quickly and easily. I don't envy brides who deliberate over every detail for months and years. At the end of the day, it was so special to have all our friends and family there, and we wouldn't have changed anything."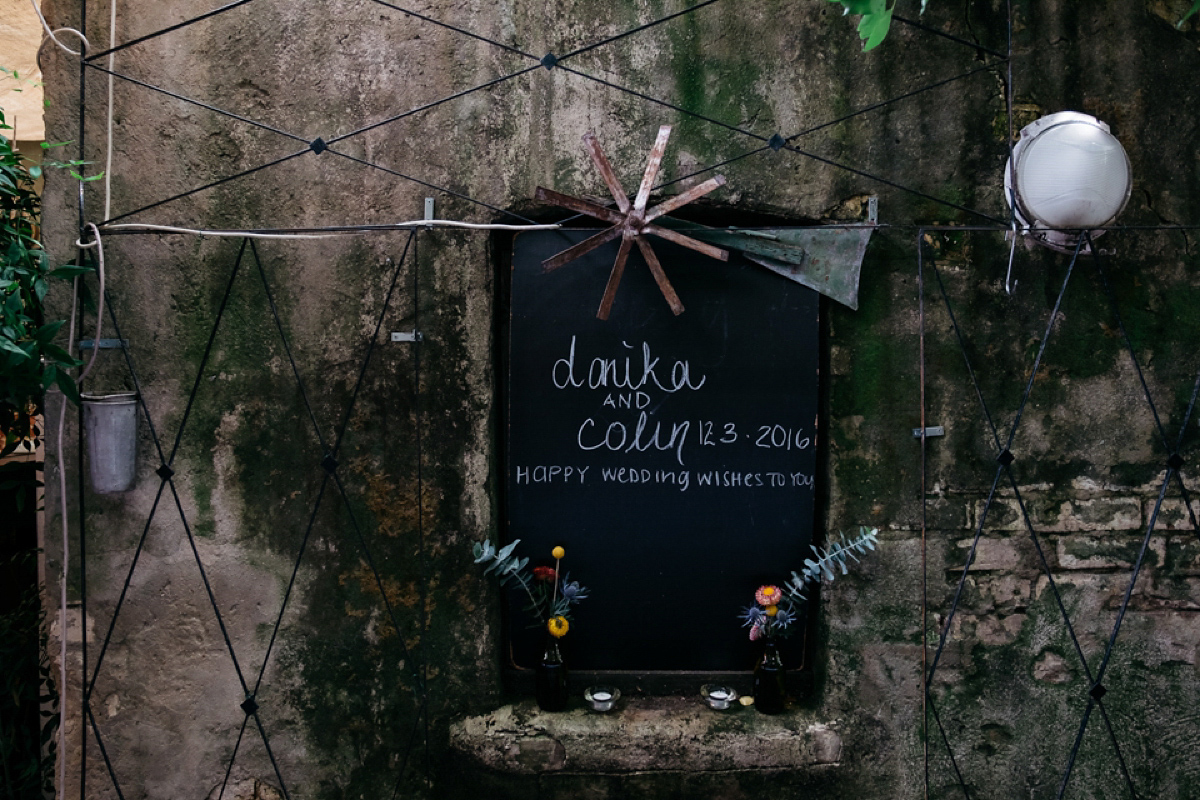 "I had my hair and make up done by the team at Pipsqueek in Saigon, a salon in Adelaide. I went in with loose flowers (billy buttons, paper daisies, kangaroo paw, blue thistles and blue gum) and Ida worked her magic. The moment I saw the back of my hair I knew it was going to be an epic day."
Danika found her elegant lace Melissa Sweet gown at David's Bridal, it has the prettiest of sleeves and back with those little drop pearls. For you brides that need a dress imminently, Danika highly recommends David's Bridal.
" I needed a dress within two months! It was a stressful few weeks of trips down to London and shopping around. David's Bridal was great though – I had my dress in just over one month, and had the alterations done within a fortnight. I was looking for a simple sheath gown that would be practical for a outdoor summer wedding. There were several that were great, but I felt most like myself in the Melissa Sweet gown, and the lace and beaded sleeves are just stunning."
"Trying to find shoes for summer during the UK winter was so tough. I turned to the internet, and in the end I wore simple gold sandals from Asos.  My earrings were borrowed and blue – but that wasn't intentional. They were made by Australian designer Lisa Ho."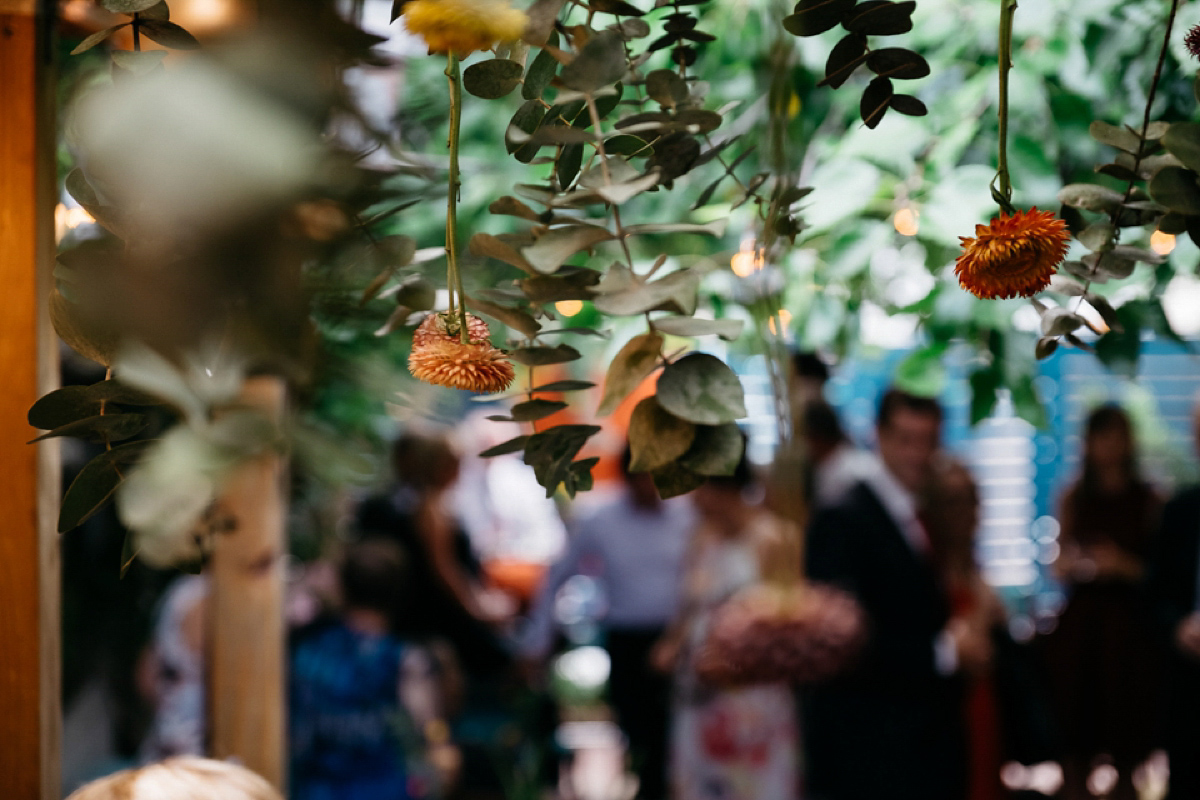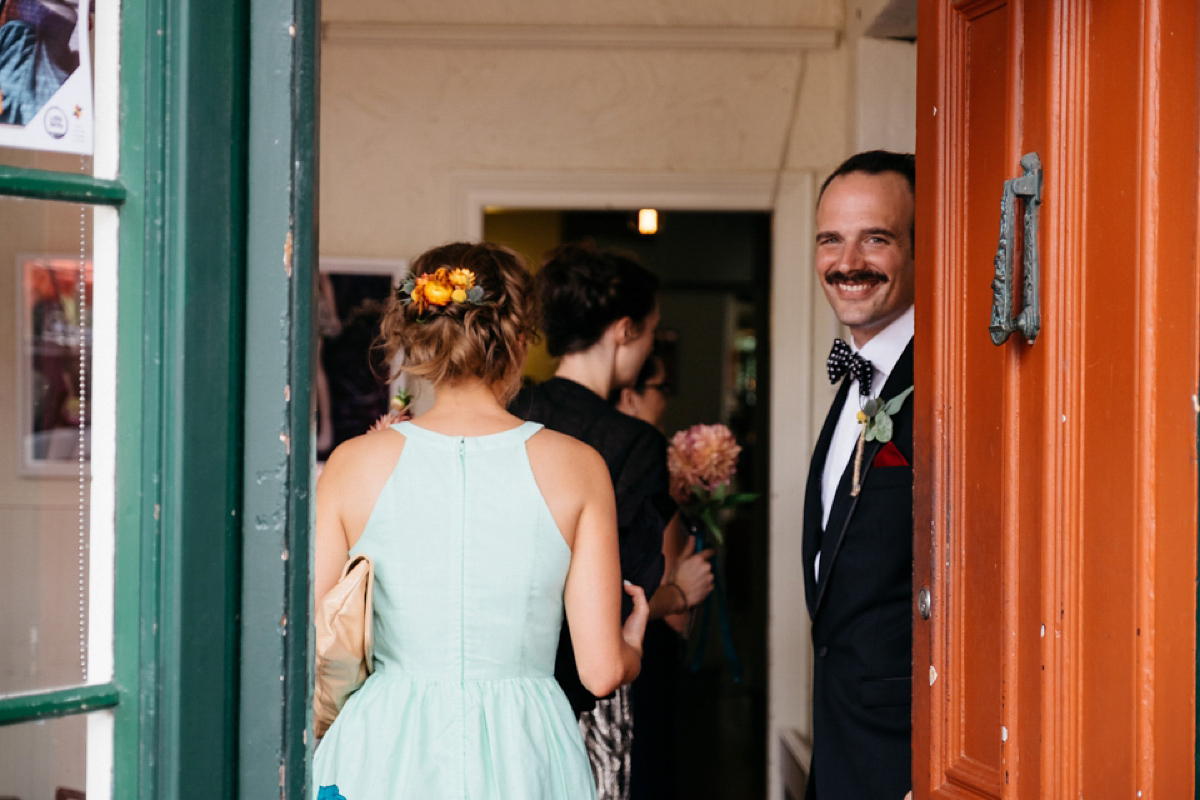 Colin wore a lovely slate blue three piece fitted suit by French Connection and shoes from Jones Bootmaker. Danika lovingly made a buttonhole for her groom on the morning of the wedding. I have nothing but praise for brides who have time to do anything other than get ready on their wedding morning.
Danika had both her mother and father walk down the aisle with her, my new favourite tradition that I'd love to see more of. They walked to the soulful voice of Nina Simone singing 'Real real'.
"We both wrote our vows. This was mostly because we didn't like any of the standard ones our celebrant suggested.
We wanted to include music in the ceremony, so the very talented bridesmaid and singer Margie Jean Lewis played 'Sea of Love' on the Zither, and an acoustic ukelele version of "I belong in your arms" by Chairlift. We love both of these songs."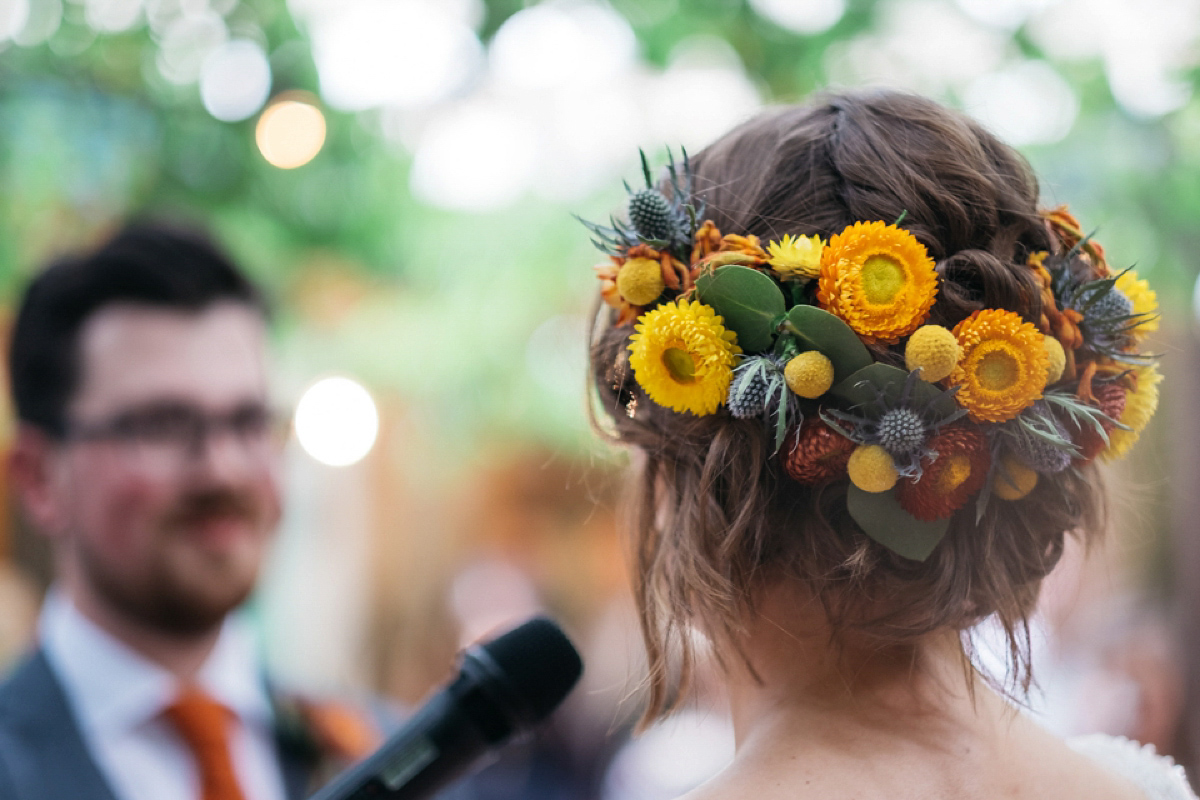 Wanting to include their new English home in their day, the couple hired a red double decker bus to transport guests between the ceremony, pre-reception drinks and then back to the venue.
"Finding my dress at short notice was difficult enough, I decided it would be too much hassle to try and arrange bridesmaid dresses from the UK for my bridesmaids who lived in four different Australian cities. I told them to wear whatever they liked, and I think it was great that they could all wear something they felt comfortable and beautiful in."
"Mathieu and Natalia at Caveira Photography did such a phenomenal job, and captured so many beautiful and candid shots. Both of us don't particularly enjoy having our photographs taken, but they managed to make the two of us feel completely at ease and this definitely comes across in the photos. They just allowed us to be ourselves, and have a bit of fun, but also beautifully capturing all the emotions of the day."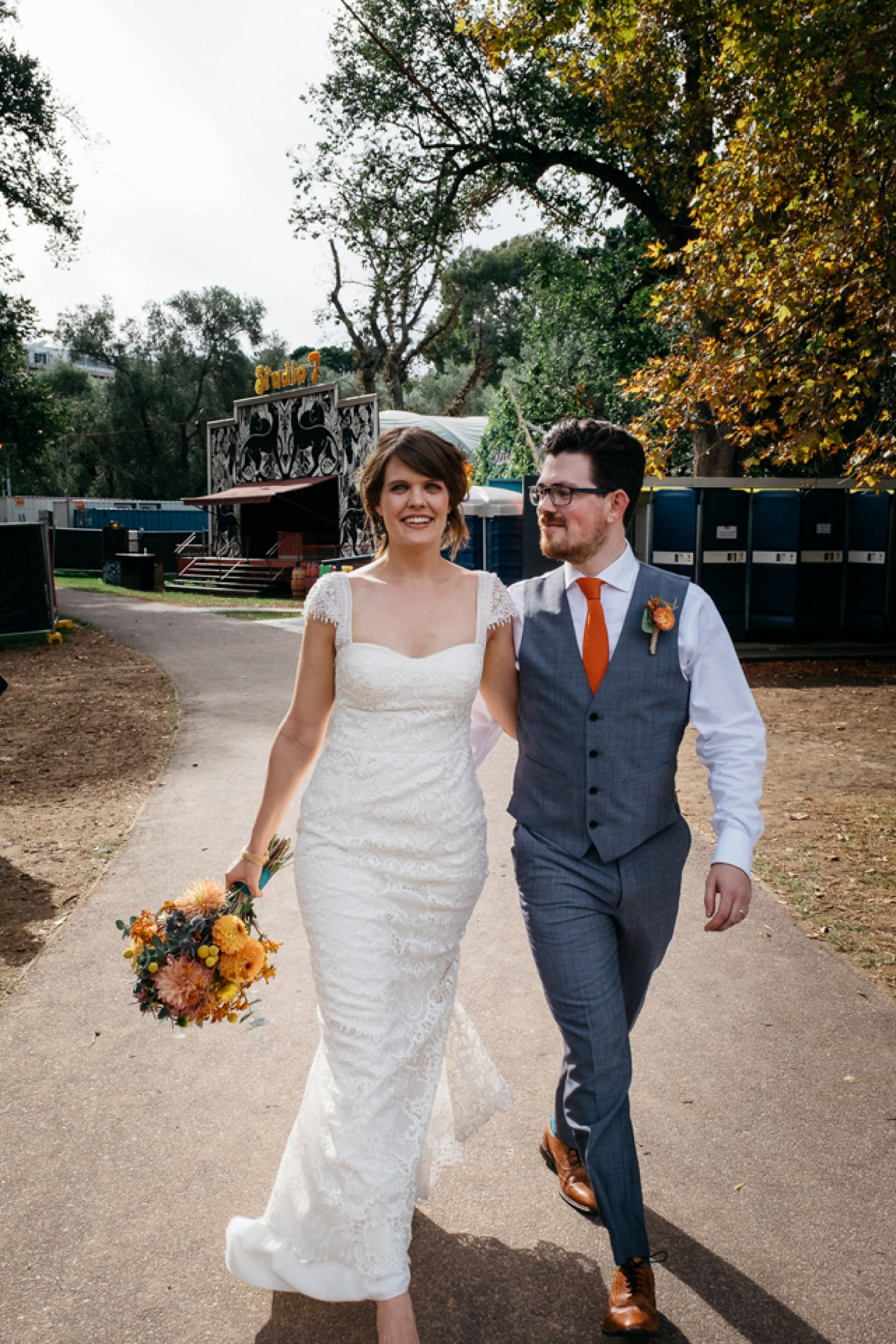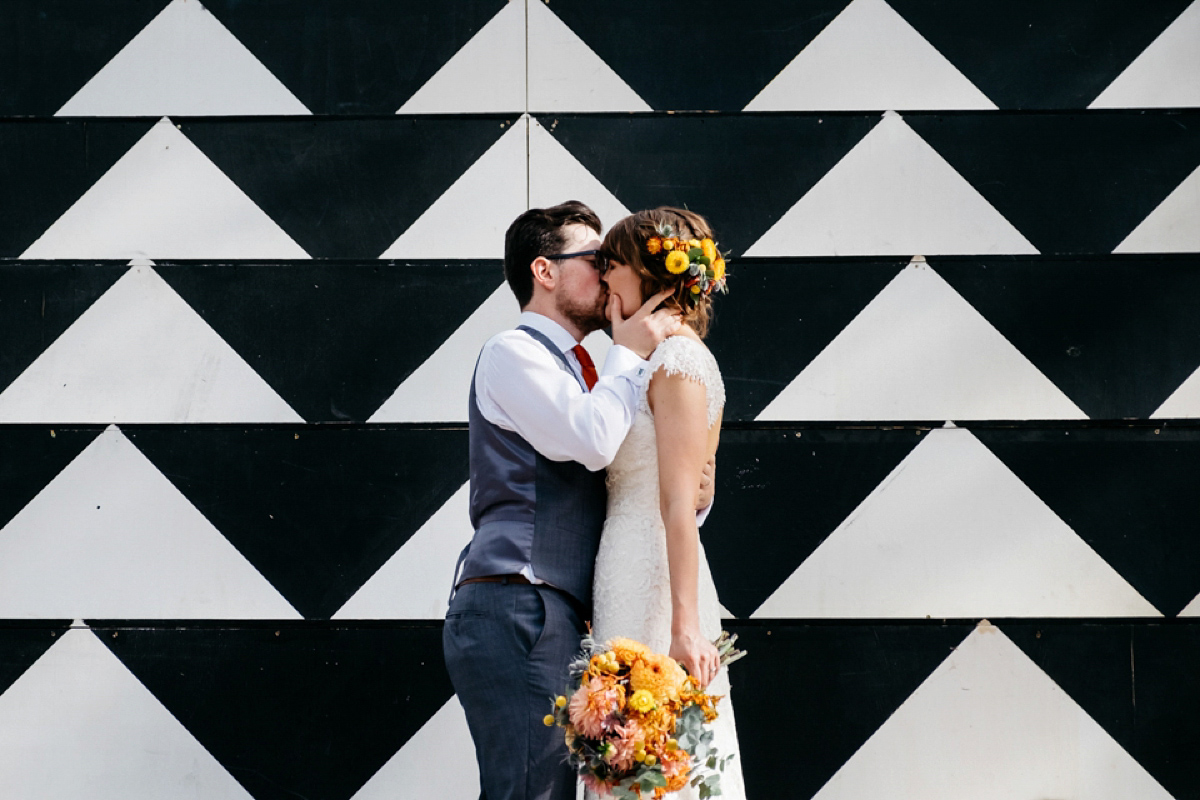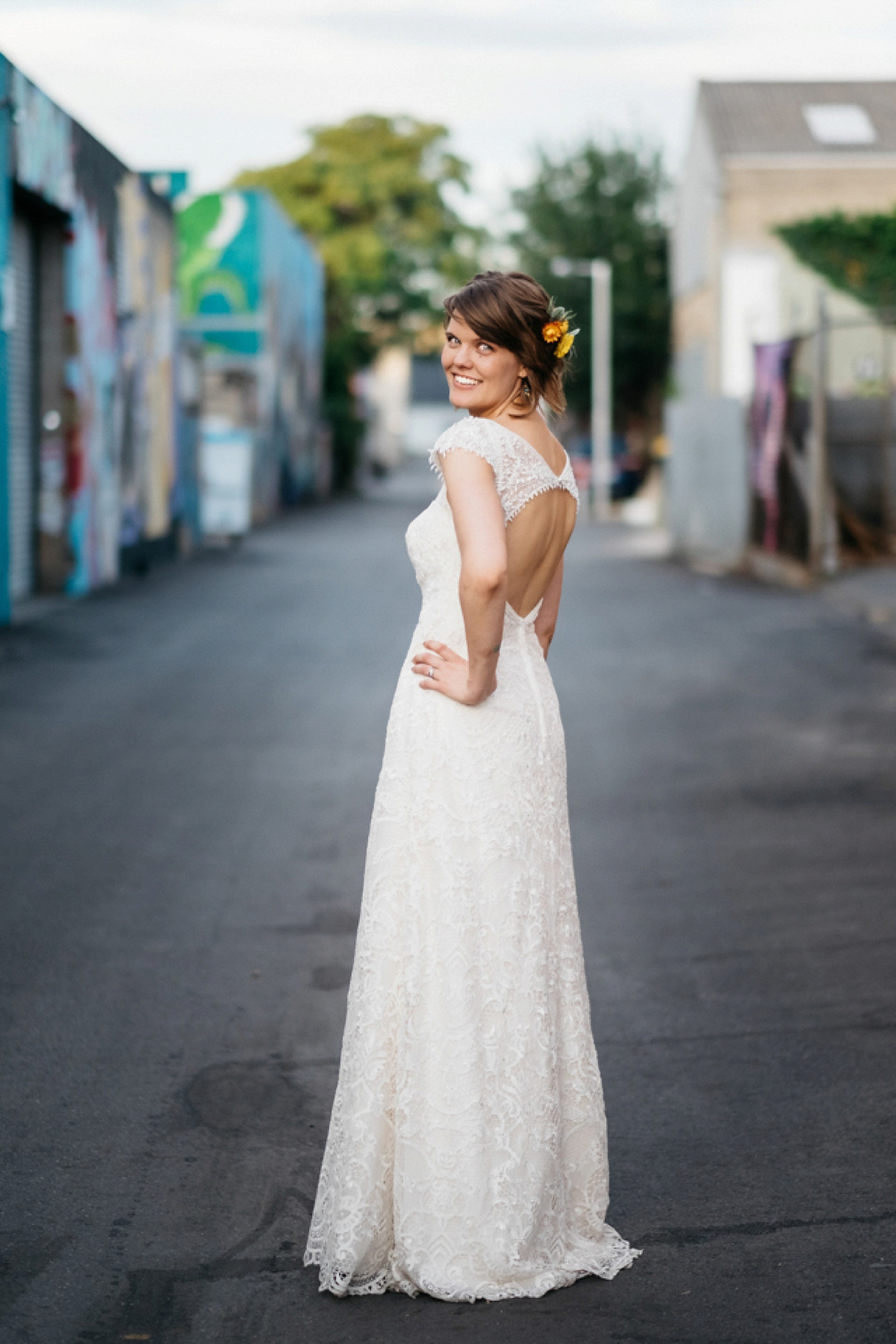 "Tin Cat Café has such a lot of character that very little styling was necessary. We hung festoon lighting in the courtyard which created a beautiful atmosphere as the evening wore on. To make it a bit more 'our own' we hung test-tubes as vases, displayed some black and white family photos, and used amber glass beer bottles as flower vases. My favourite aspect was the light-up sign hand-made by a bridesmaid and groomsmen that read 'Love you long time'."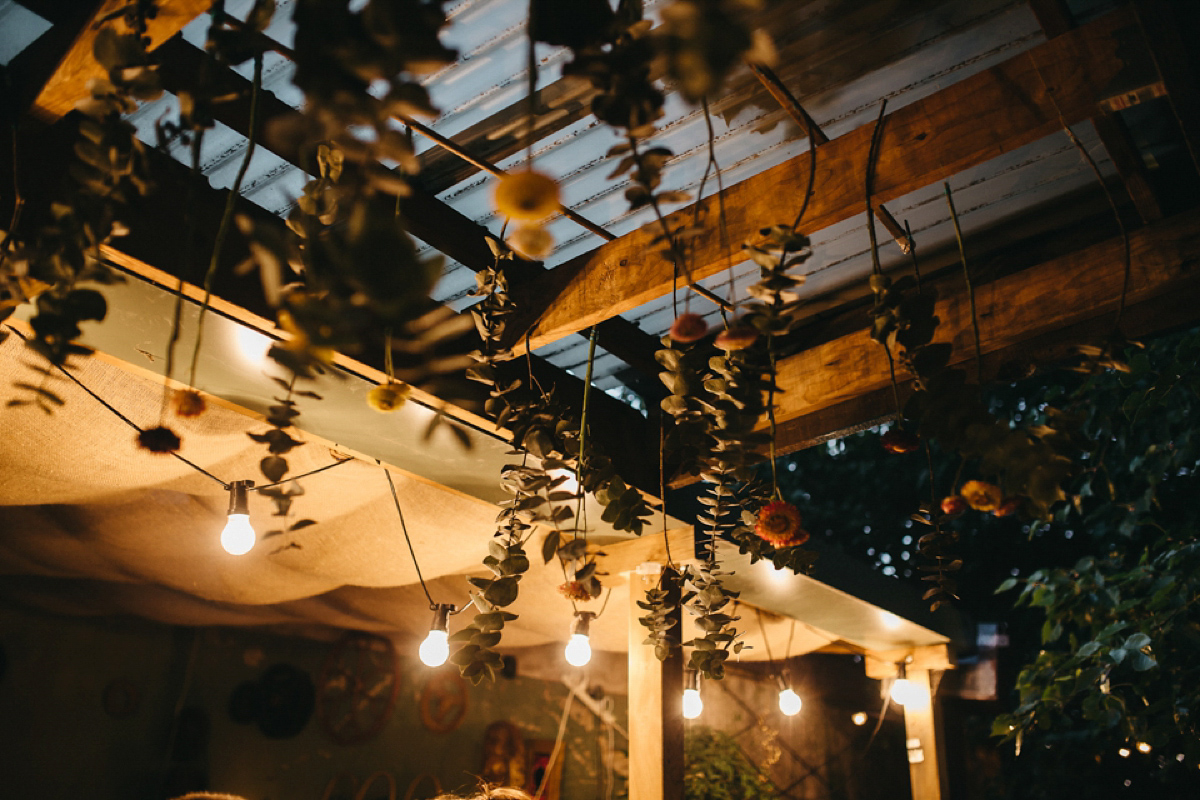 Danika's bridesmaid kindly made the wedding cake, which Danika informs us was delicious and she even managed to cater for the gluten free guests.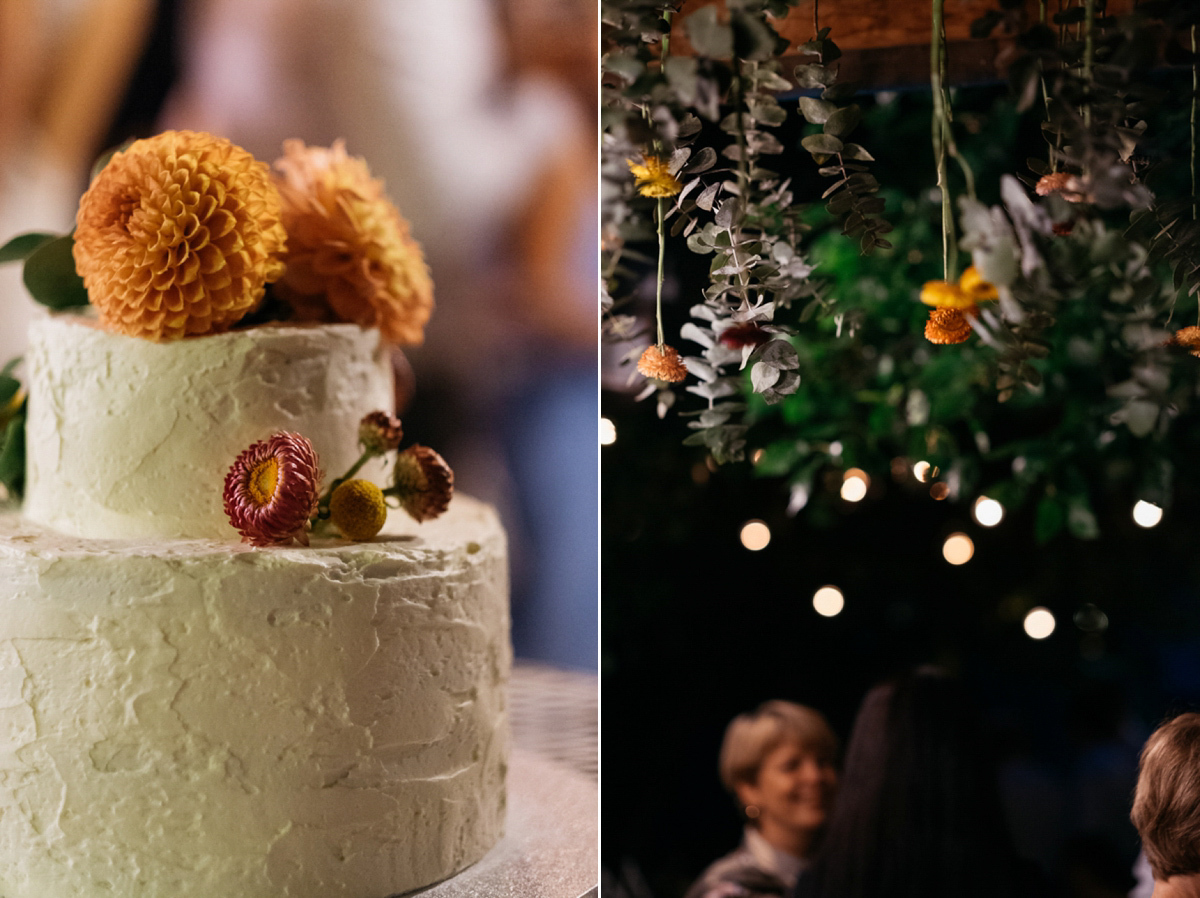 The newlyweds opted to have no first dance as it was such a laid back reception, they didn't feel it was necessary but still had a bit of a boogie with one another at the end of the night.
"The best part of the day was being able to have all the friends and family that we hadn't seen in 6 months in the one place. It was such a happy day. "
Words of Wedded Wisdom
"I would say don't listen to vendors that tell you 'there isn't enough time' or 'you've left it too late', there will be others that can make it happen. We planned this wedding from start to finish in three months. It is do-able. Don't stress the small details and focus on what's important – having a great day with friends and family.
The greatest stress was finding the dress. If circumstances were different, I would have given myself more than two weeks to find a dress!"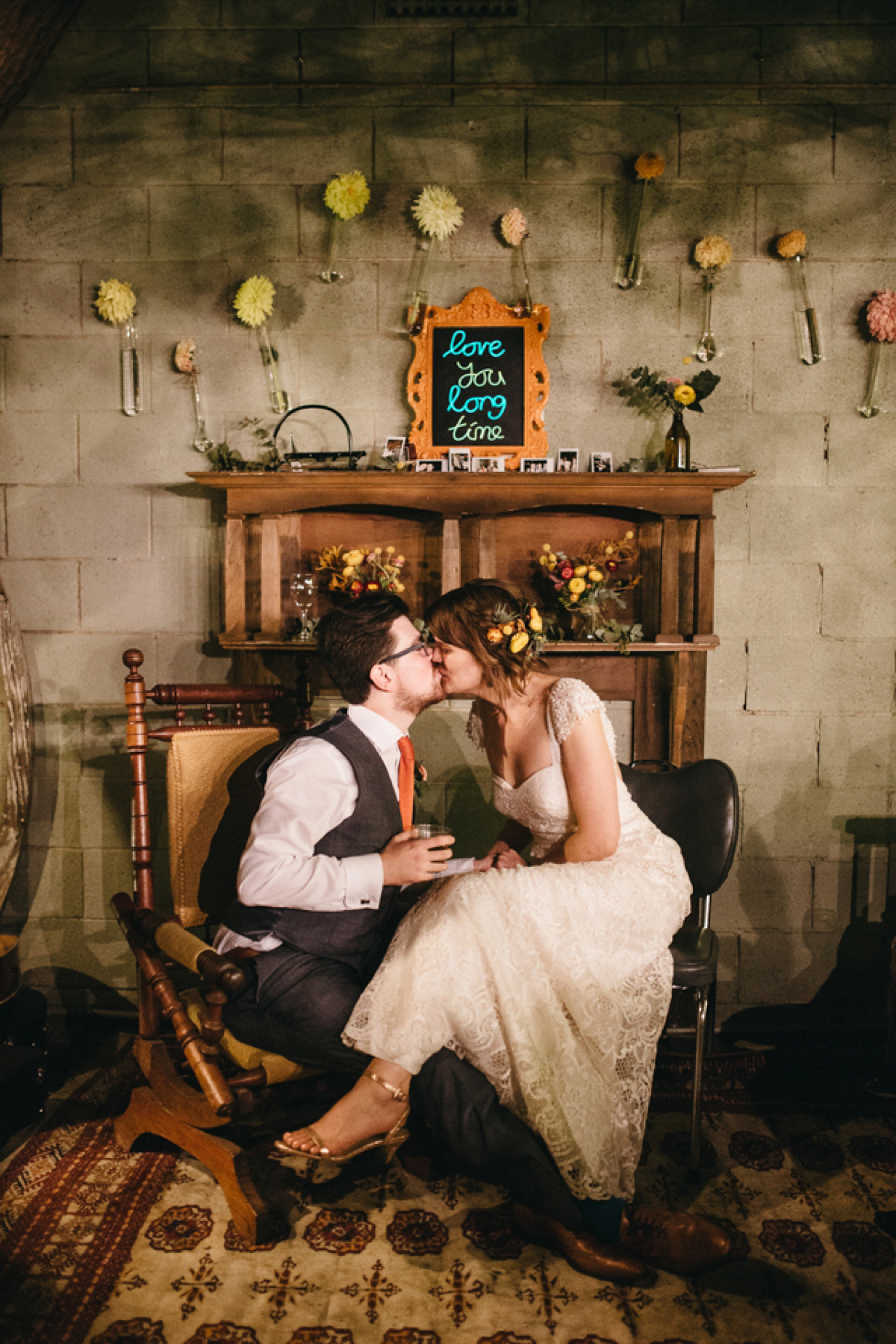 A true Love My Dress Bride, strong and won't take no for an answer, Danika we salute you. Thank you so much to Danika and Colin for sharing your special day with us and to Mathieu and Natalia for these beautiful images.
Have a lovely weekend brides, I hope the sun is shining for you wherever you are.
Bianca x