Sometimes I open a file of wedding photos and they make me want to jump into the pictures and be a part of that day, a la Mary Poppins.  Today's is most definitely one of those weddings, partially because it's so tremendously beautiful , but also because it's quirky, fun and wonderfully photographed by the talented Sarah Ann Wright;  I can't wait to share it with you. Meet our gorgeous couple – Victoria Percival, a wedding hair and makeup artist and Anthony, an IT Architect, who married on the 25th of July 2015 in the Cotswolds, with their reception at The Rectory Hotel.
I'd like to begin by sharing Victoria and Anthony's wedding film (by Adam Nicholas Films) with you all – it makes the loveliest of starts to Tuesday, I promise.
"I have very eclectic taste and I wanted the wedding to feel fun and playful, so a lot of the quirky details were there to put a smile on people's faces.  The colour inspiration stemmed from my engagement ring, which is rose gold with diamonds, so I wanted the wedding to be of similar colours – lots of soft warm metallics and sparkles. However, we both also wanted an English garden feel, so mixed in lots of wild flowers, ferns, lavender and trailing greenery and our colours became a palate of rose gold, gold, sage green and lavender blue."
"My Grandparents live in the Cotswolds and I spent many summer holidays here so it was always somewhere I wanted to get married. The Rectory Hotel had that perfect mix of secret walled garden feel and quirky country house and it allowed us to host a three day party where everyone could stay and relax for a weekend away."
Photography by Sarah Ann Wright
"Everyone's make-up was done by me.  As I am a professional make-up artist  I really felt excited about being able to do this for my own wedding day and I had a very exact look in mind so wanted to have full artistic control.  My make-up had a strong 1930's inspired vintage feel to match my dress and I wore a deep cherry red lipstick that made me feel like a movie star [and look like one too, don't you agree?] and is a bit of signature for me.  I was very nervous by the time I got to my make-up though so my mum had to help me add finishing touches as my hands were shaking so much.
For hair I asked my friend Lauren Mathias and she did an amazing job."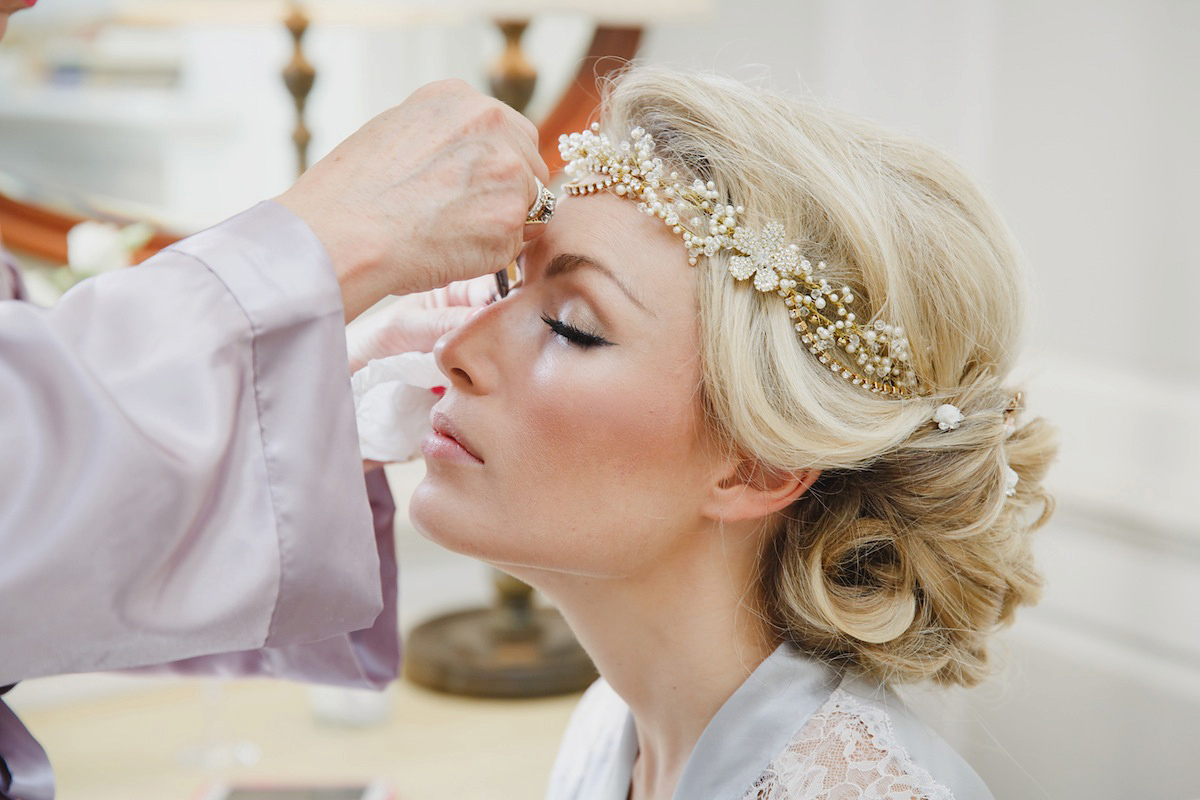 On her feet Victoria wore champagne sling-backs by Kurt Geiger, while for jewellery she chose earrings by Alex Monroe and a pearl and crystal 1920's bracelet from the John Lewis vintage collection (both wedding gifts from Anthony).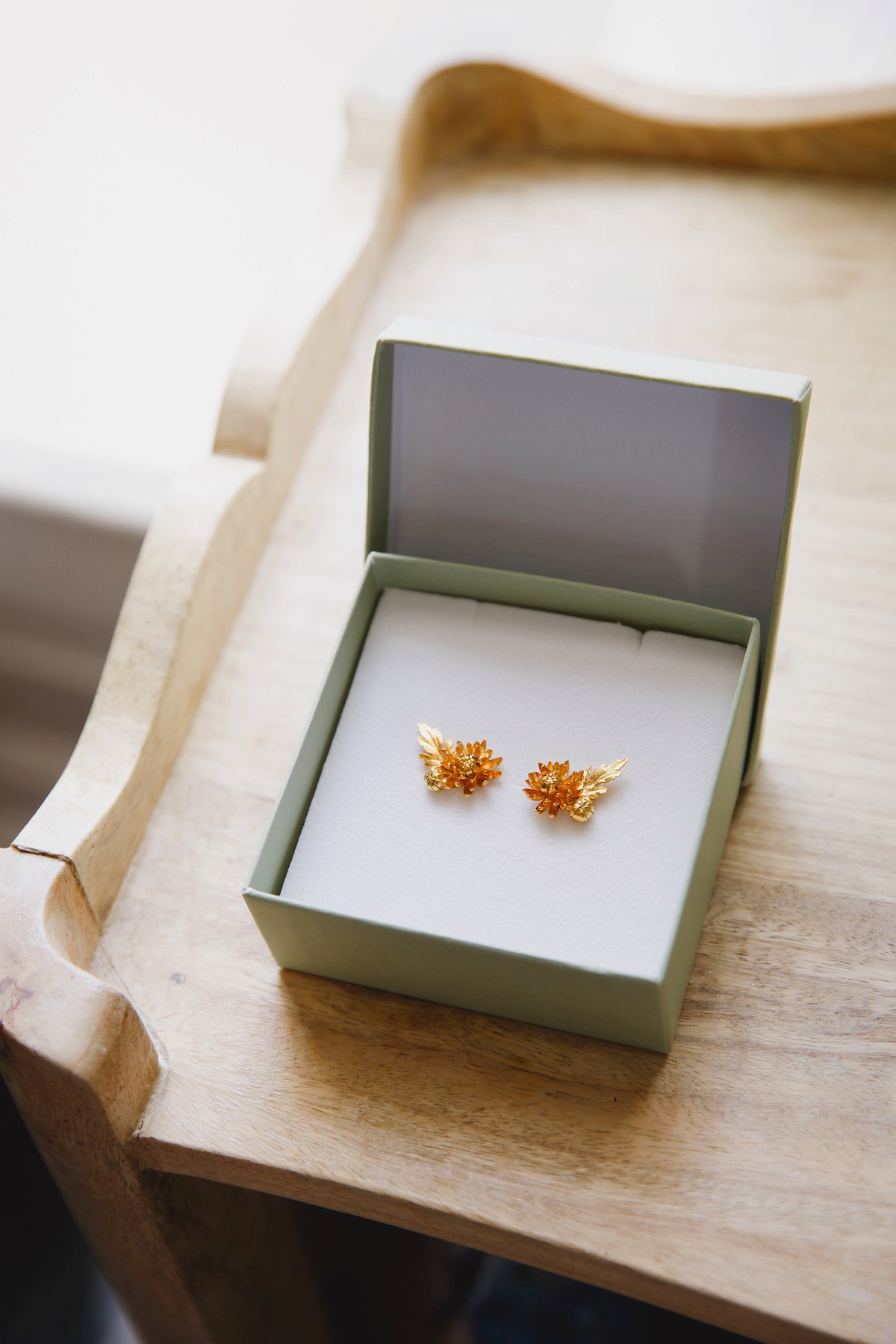 Her mum also gave her a gift of a gold 'V' pendant which was made from the gold from Victoria's parents' wedding bands melted together.
Victoria's Dad died when she was fifteen, so this is just so incredibly special.
The three beautiful bridesmaids wore three different gowns in various sequinned and beaded shades from Debenhams and Jenny Packham, while the little flowergirl looked adorable in a dress from Monsoon. The adults wore fresh flowers and butterfly clips from Flutter2Me on Etsy in their hair, with earrings and bracelets from Accessorize.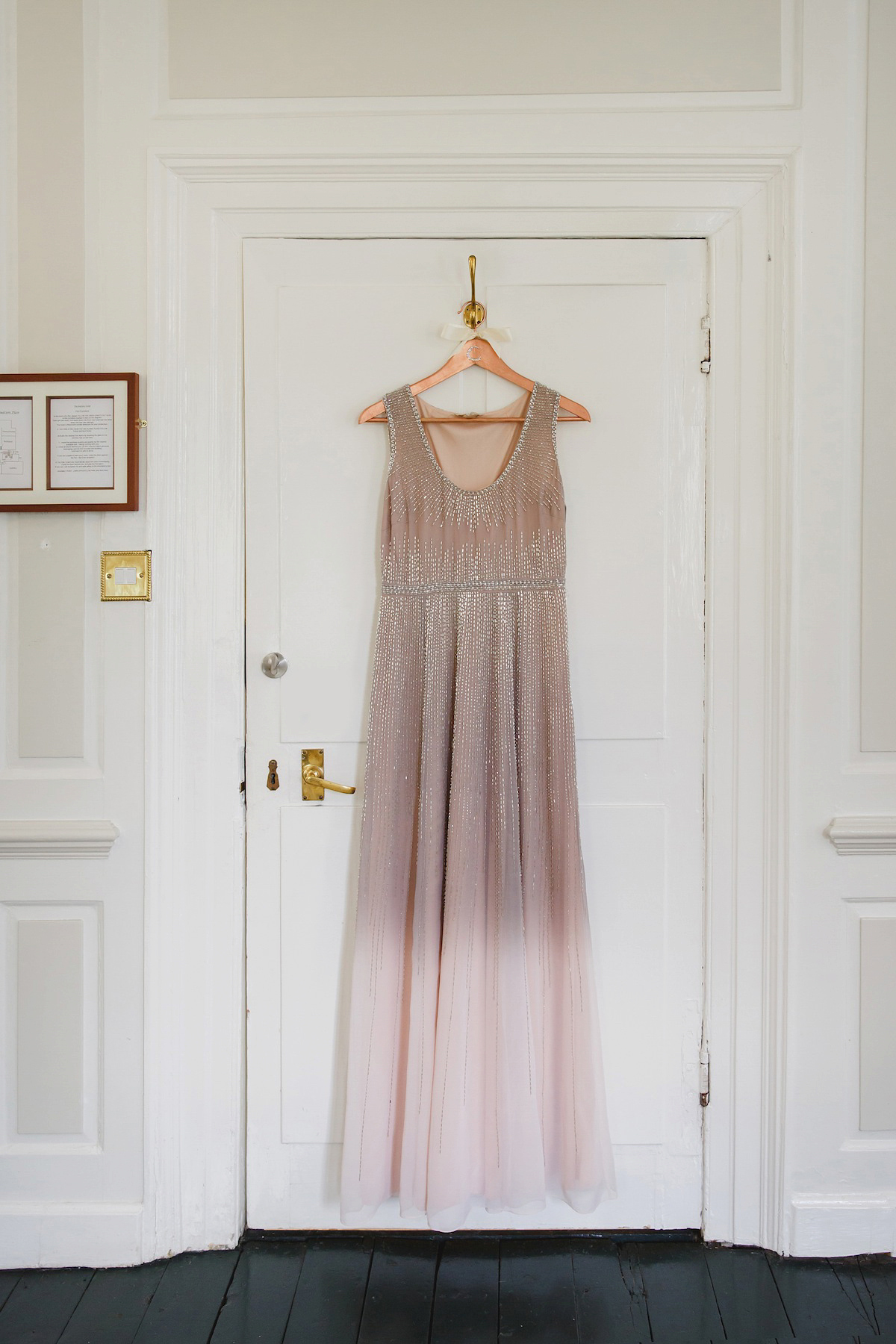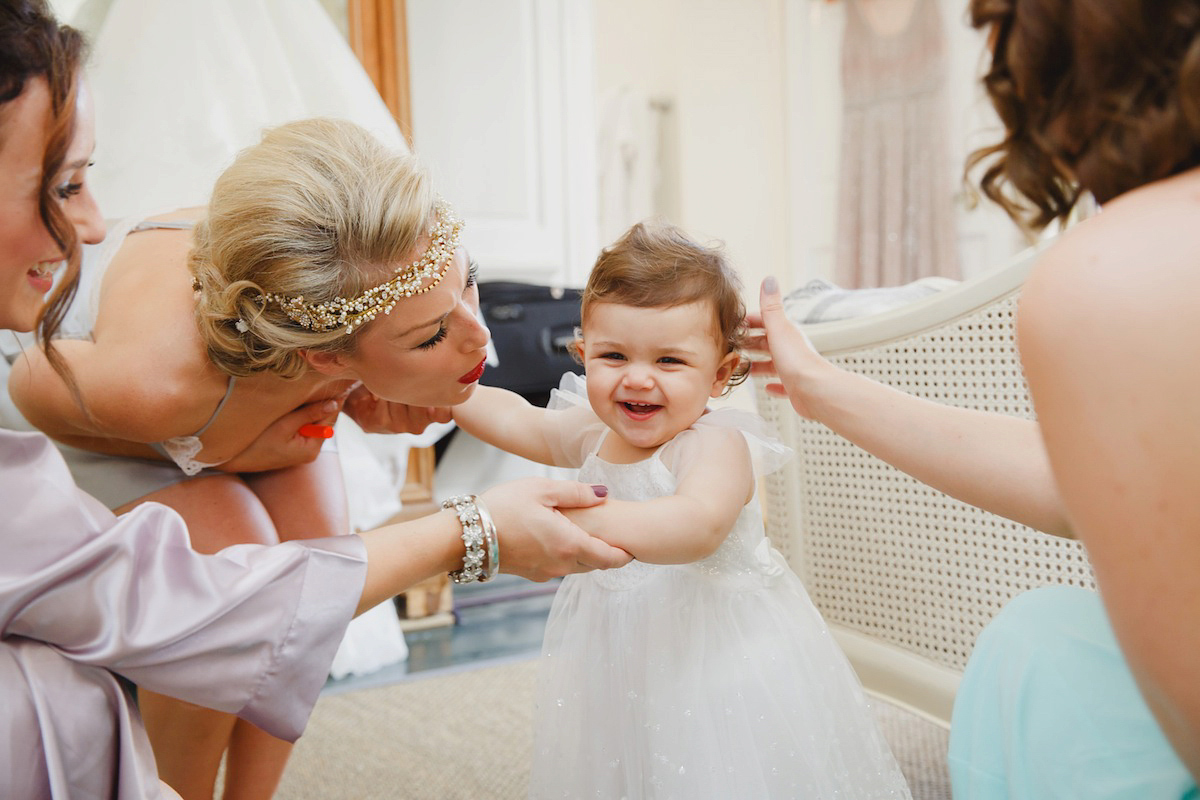 Victoria looked absolutely stunning in her Pronovias gown, purchased from Teokath in Wimbledon and worn with a beautiful tulle veil she made herself, topped with a handmade gold, pearl and crystal head dress by Lavender by Jurgita.
"I had a complete nightmare with dress shopping.  The first dress I bought (elsewhere) was delivered three months before the wedding and was faulty.  They couldn't replace it in time so I had to rush out and buy a new one but Teokath were absolutely amazing and helped me find a gown in one afternoon."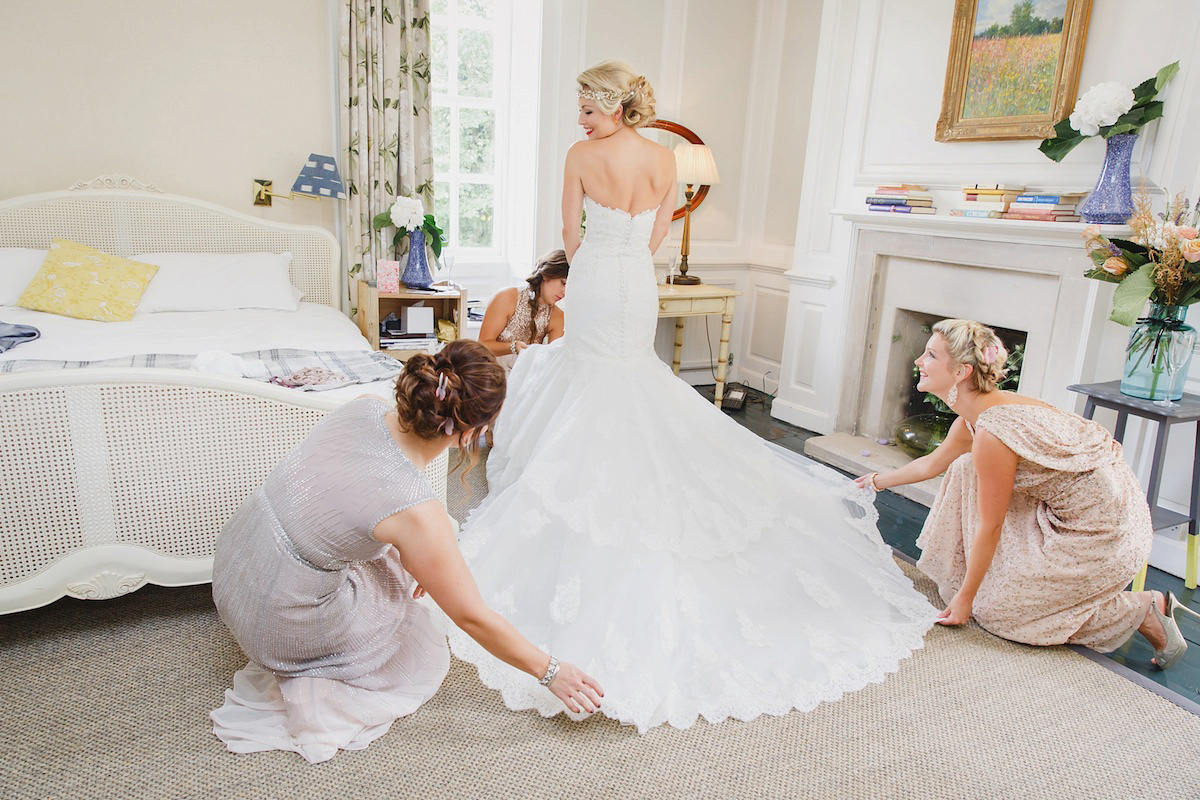 "I chose this dress because is had the perfect mix of elegant 1930's vintage glamour and modern-day wow factor.  I always wanted a dress with colour so I customised my gown with over 1000 Swarovski crystals across the bodice, in shades of rose gold, gold and soft pinks to pull in the colours of our wedding.  It was utterly beautiful in the summer sunshine."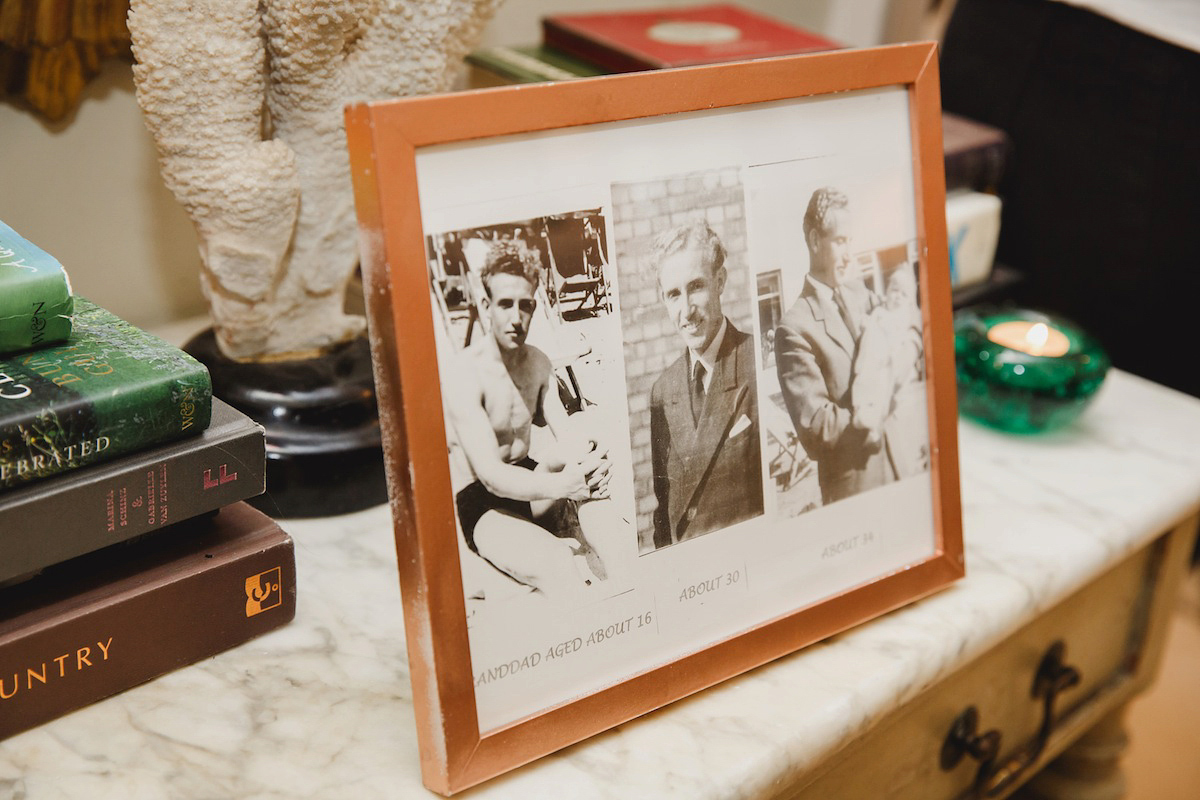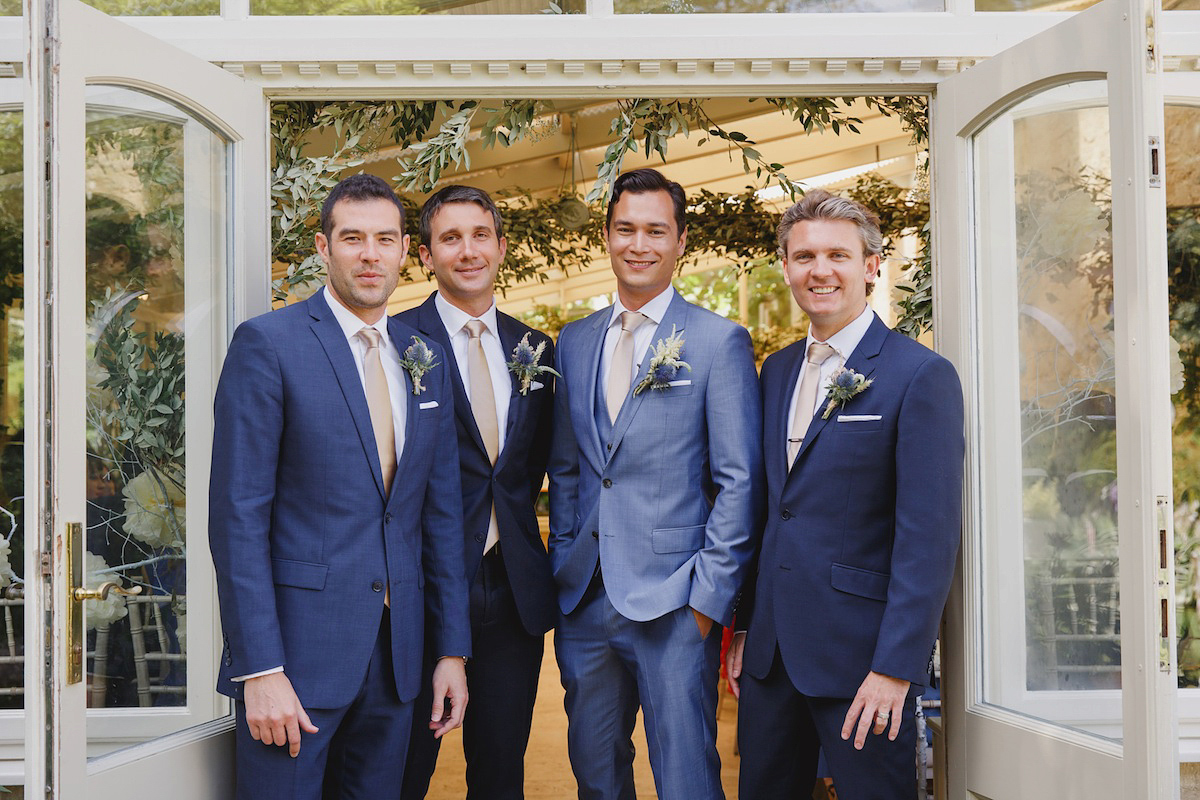 Anthony looked incredibly smart and summery in a pale blue suit by Hugo Boss, worn with shoes from Oliver Sweeney London, a champagne tie and pocket square from TM Lewin and shirt by Emmett London.
Victoria was walked down the aisle by her immensely proud 89 year old Grandfather, to an acoustic version of 'So Amazing' by Luther Van Dross, played by their day musicians, Body and Soul.
"Walking down the aisle with my Grandfather was such a treasured moment.  I lost my father when I was a teenager so he has always been a father figure to me.  I was so proud and honoured to have him by my side."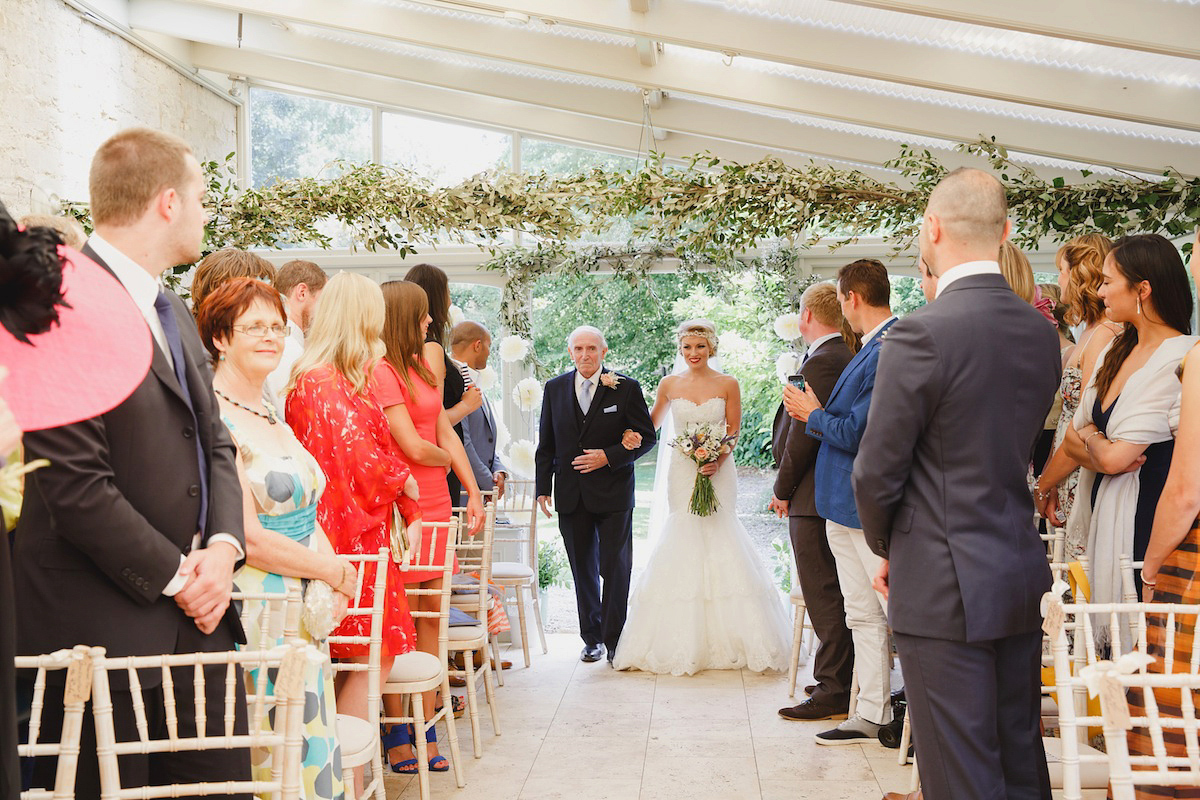 Victoria and Anthony wrote their own beautiful vows together;
I promise to live together and laugh together,
to work by your side and dream in your arms,
to nurture your heart and feed your soul,
to always seek out the best in you,
to cherish you as we grow old together,
always loving you with all my heart
until the end of our forever
The couple exchanged rings by Simon Wright.
"Anthony designed my engagement ring and I designed the wedding band to compliment it, which Simon helped make in to the perfect bespoke ring.  Anthony went for a simple elegant platinum band."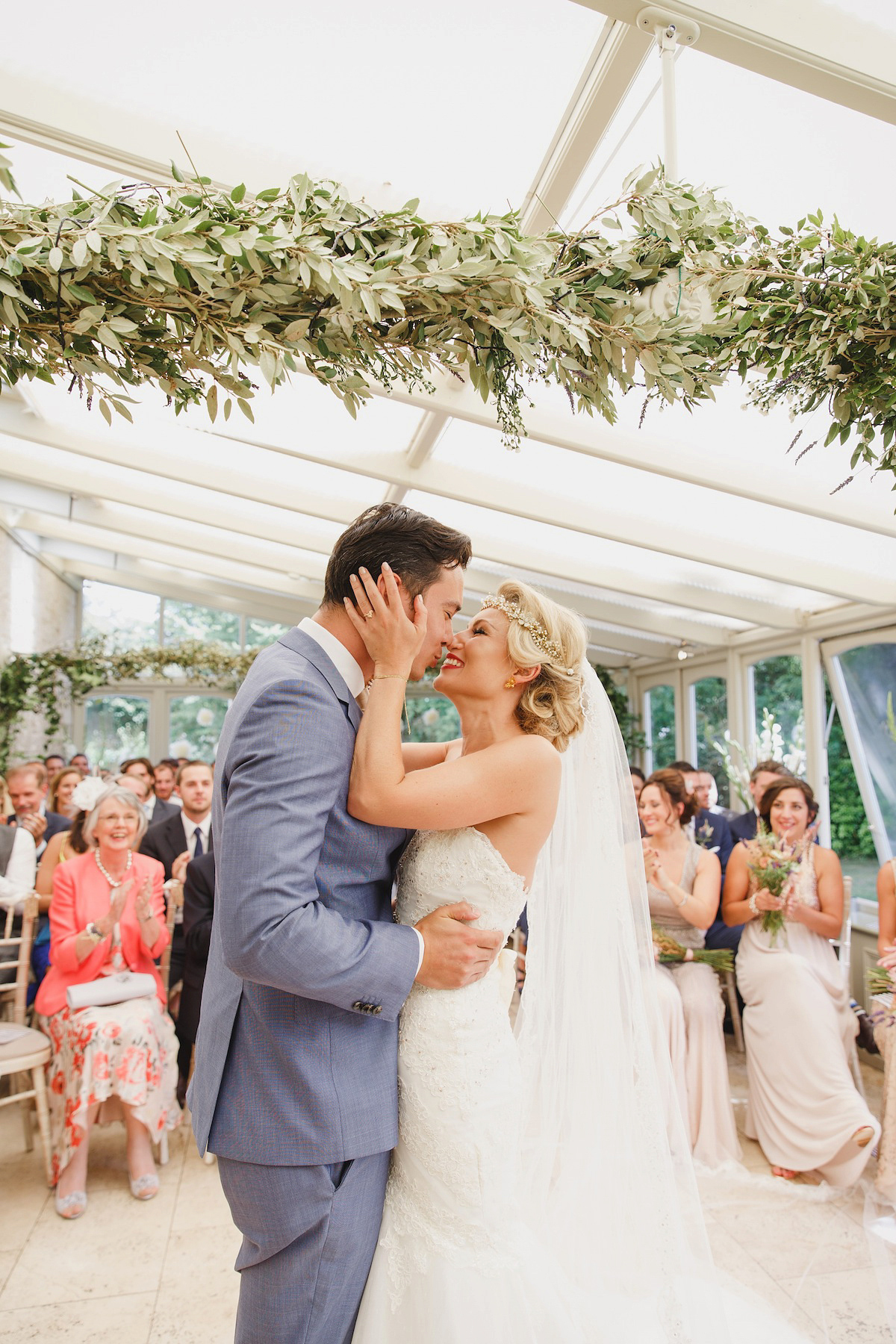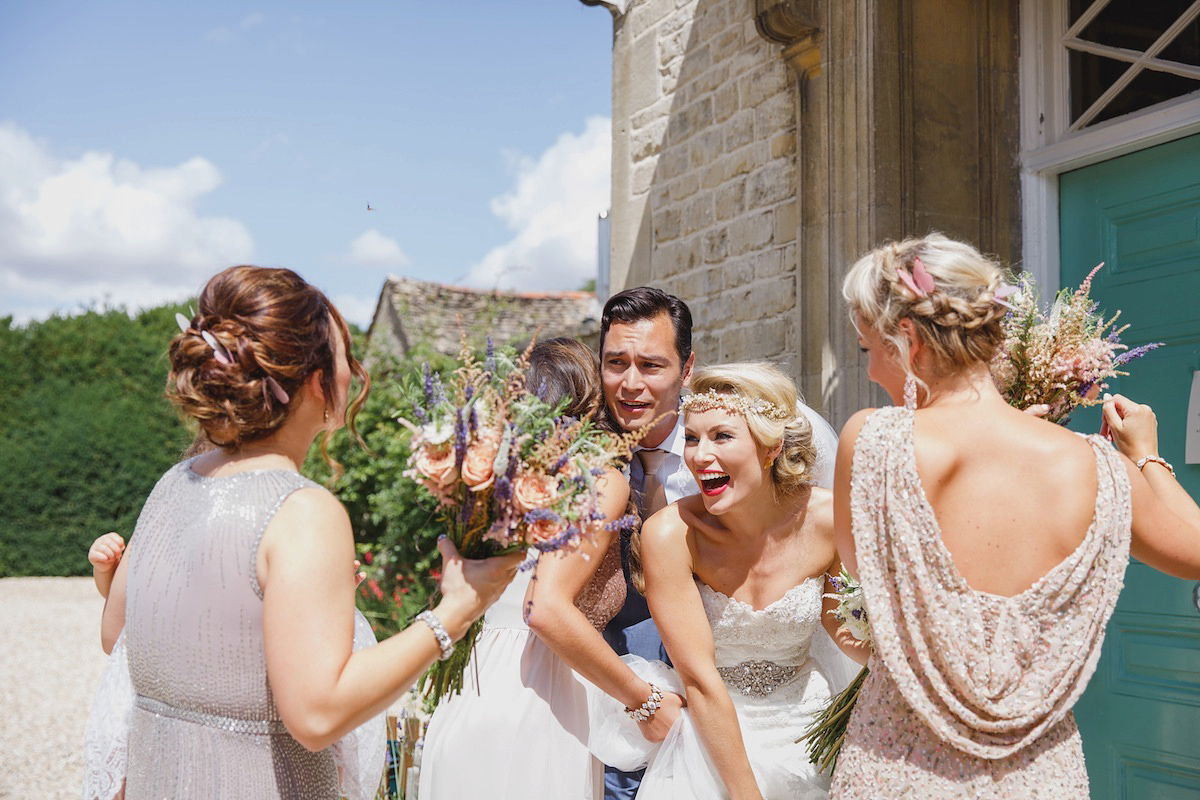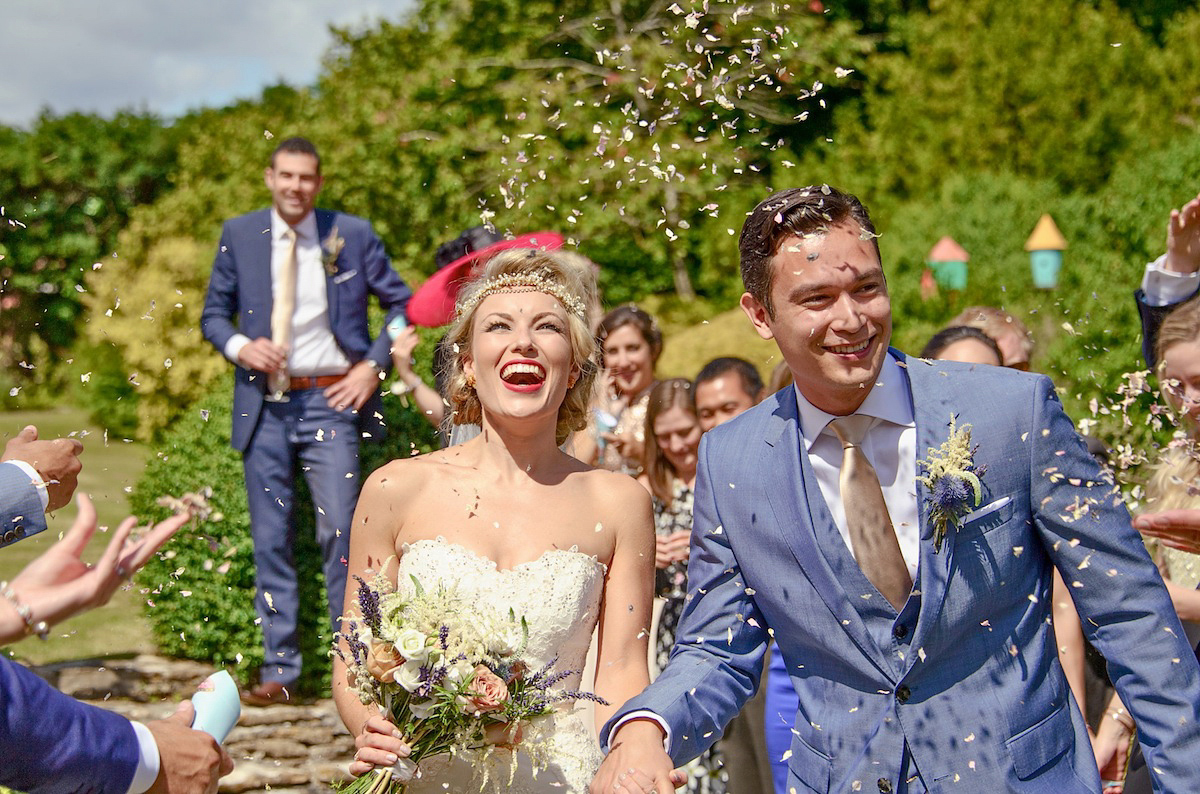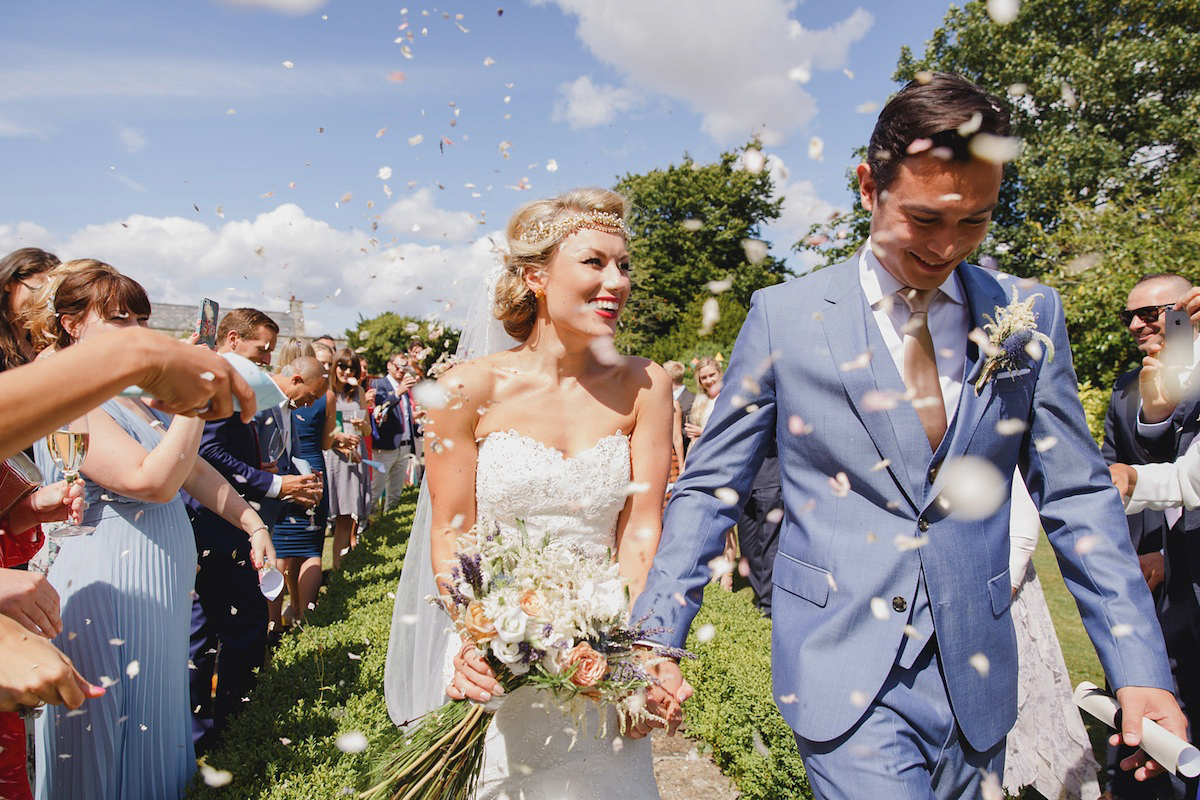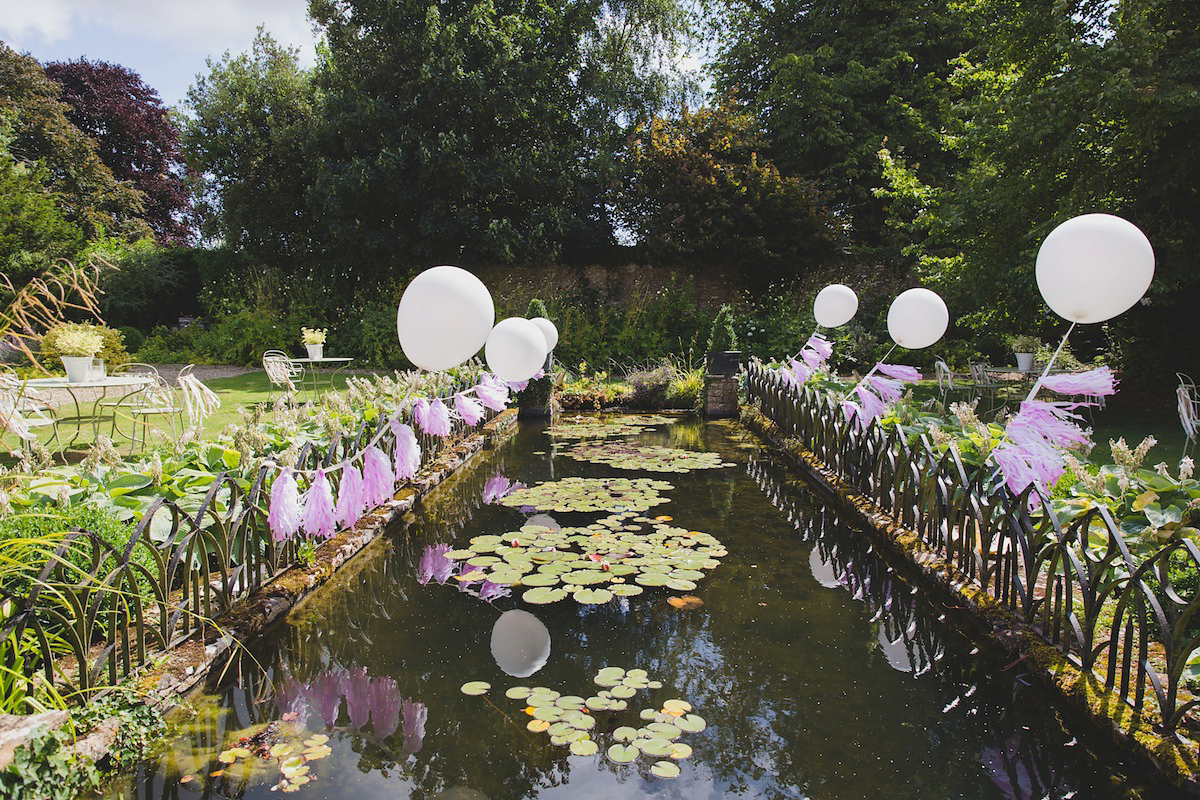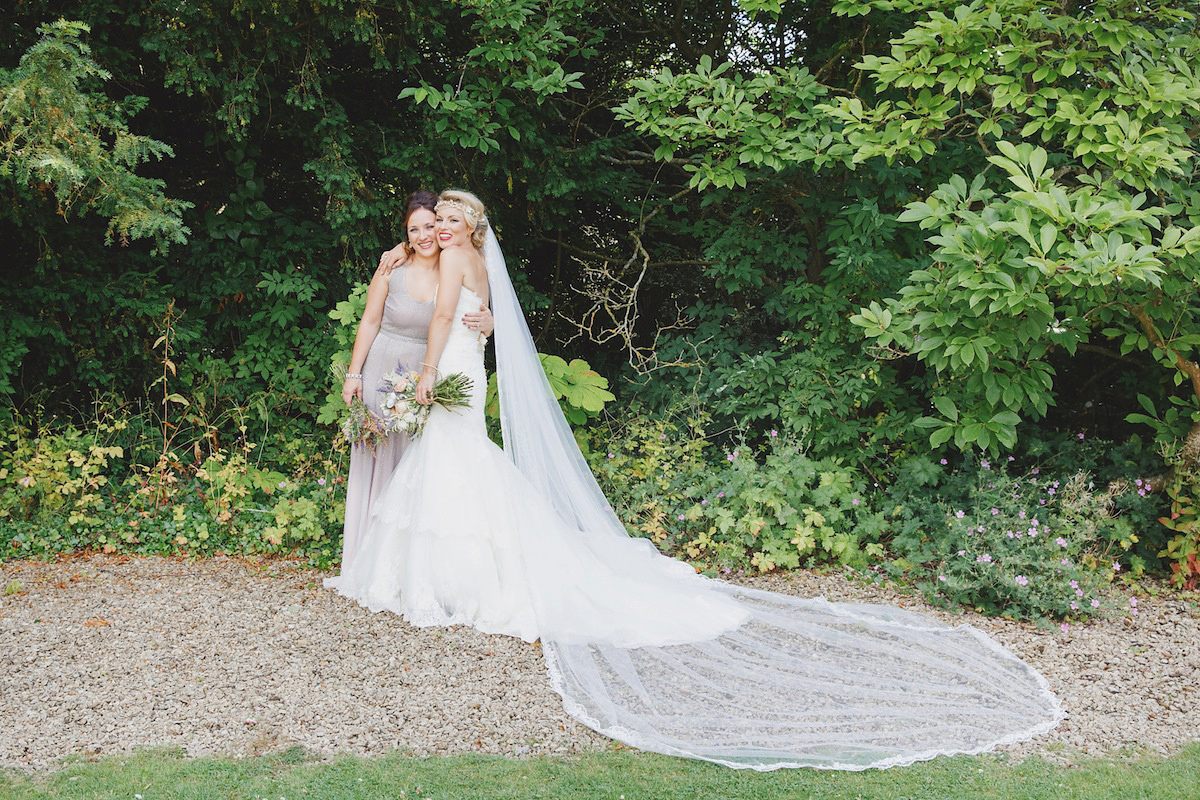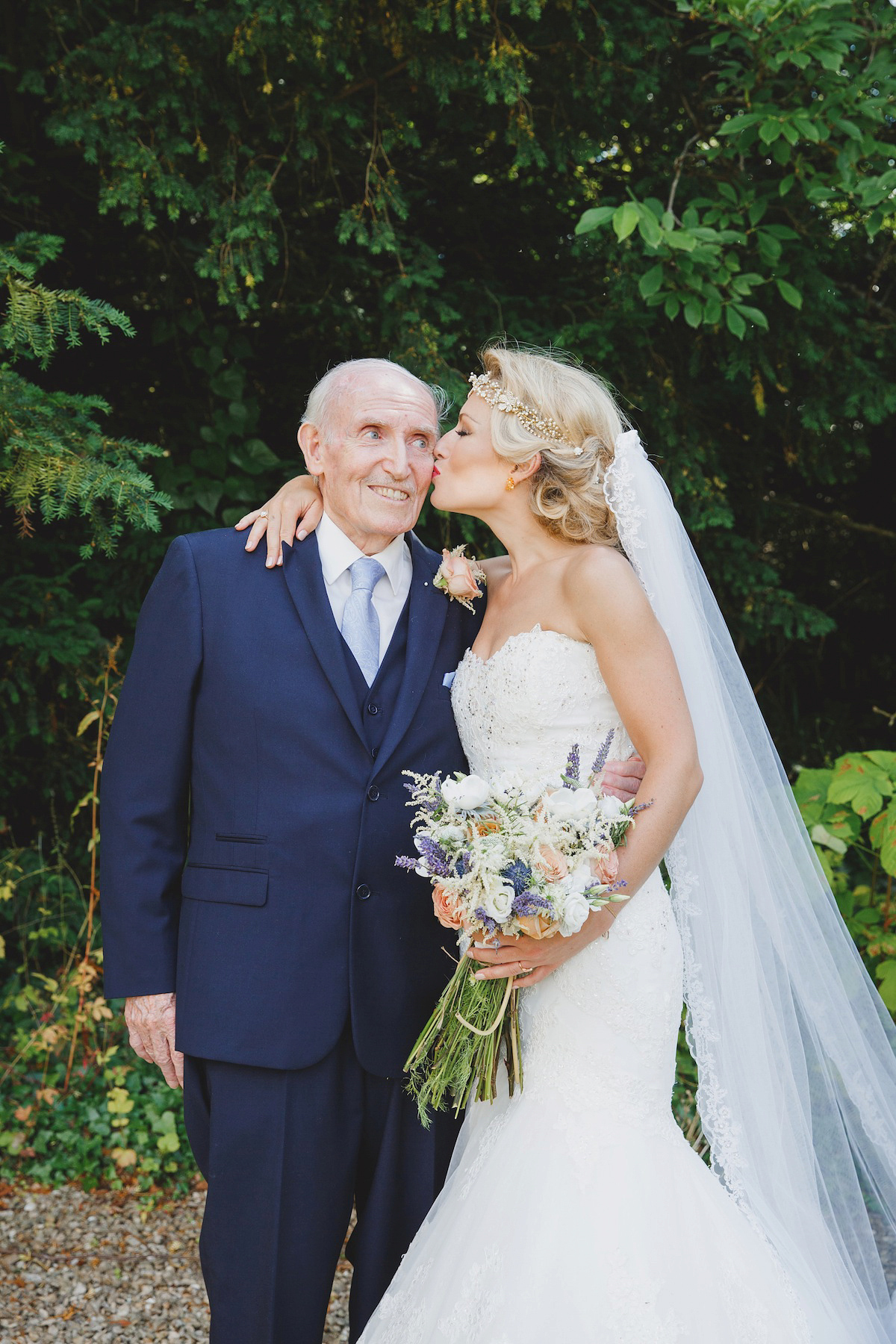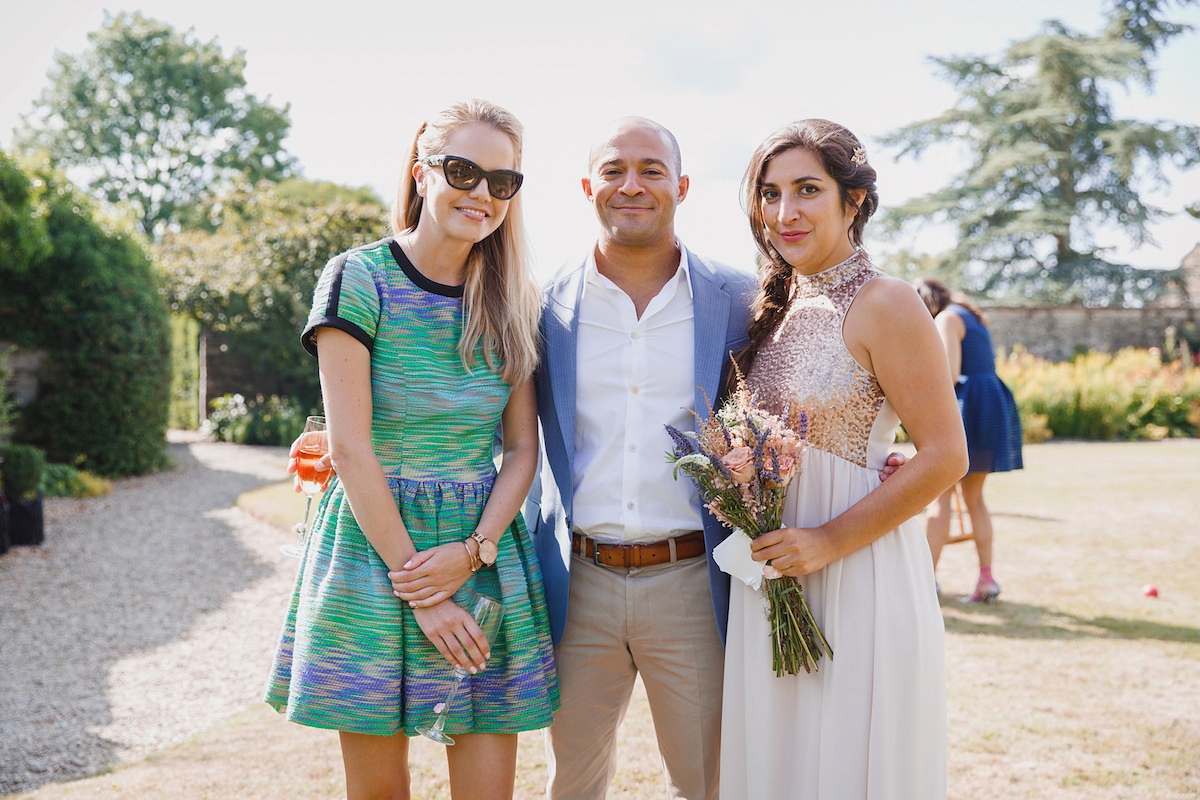 A woman of many talents, Victoria arranged the flowers for the day herself.
"We went to New Covent Garden Flower Market  two days before the wedding and sourced everything and then set it up in the venue the day before."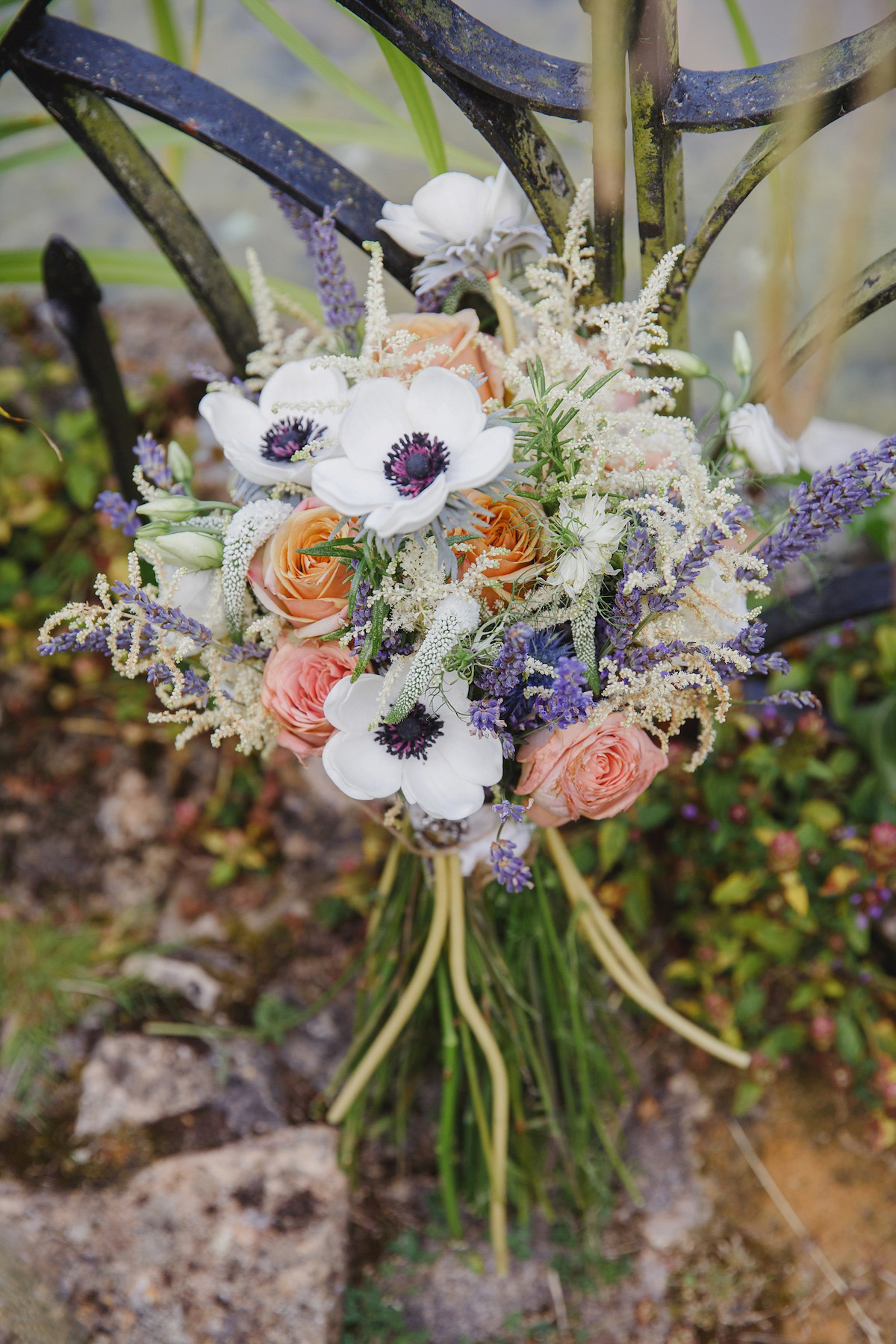 "I wanted a really natural and wild feel so used ferns, ivy and trailing green amaranthus for the ceilings and fireplaces, the tables had dried wheat, ferns, fresh rosemary and lots of wild flowers while the bouquets were built around fresh lavender and cappucino roses with white and pink astilble, white poppies and blue thistles."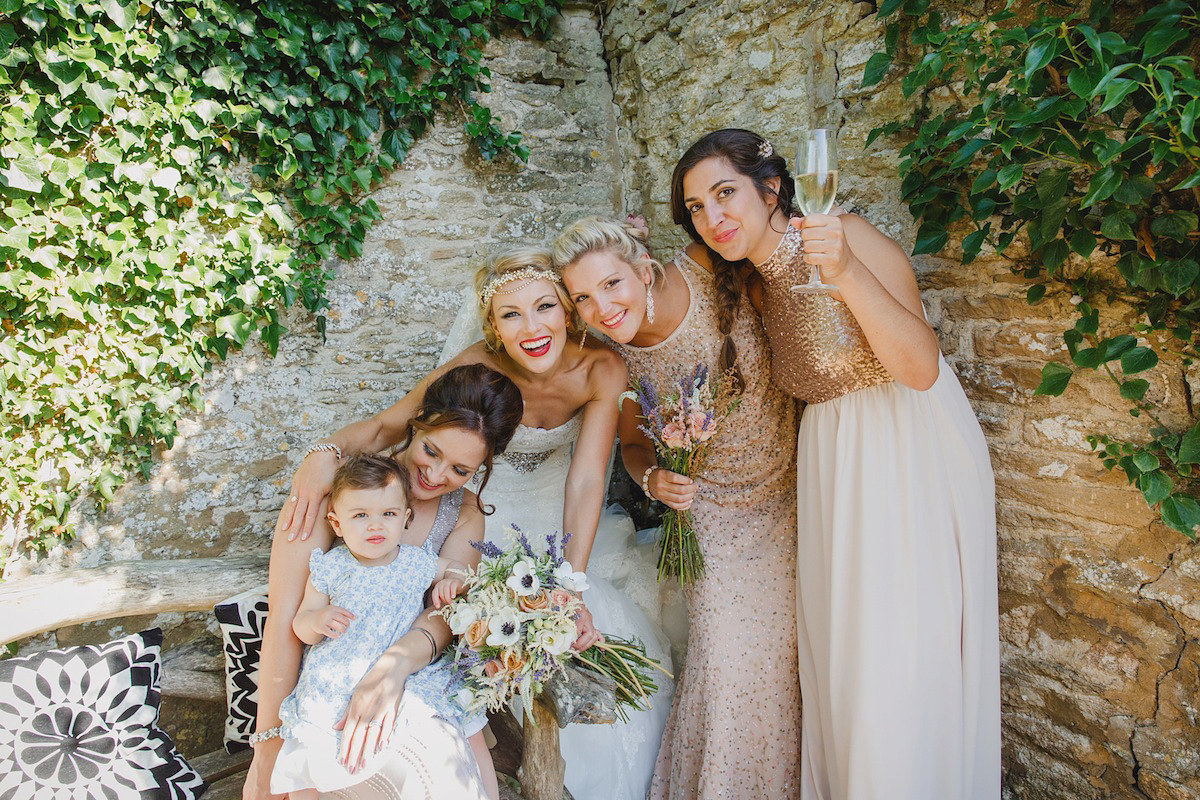 "I also had lots of fragrant mint, rosemary and sage."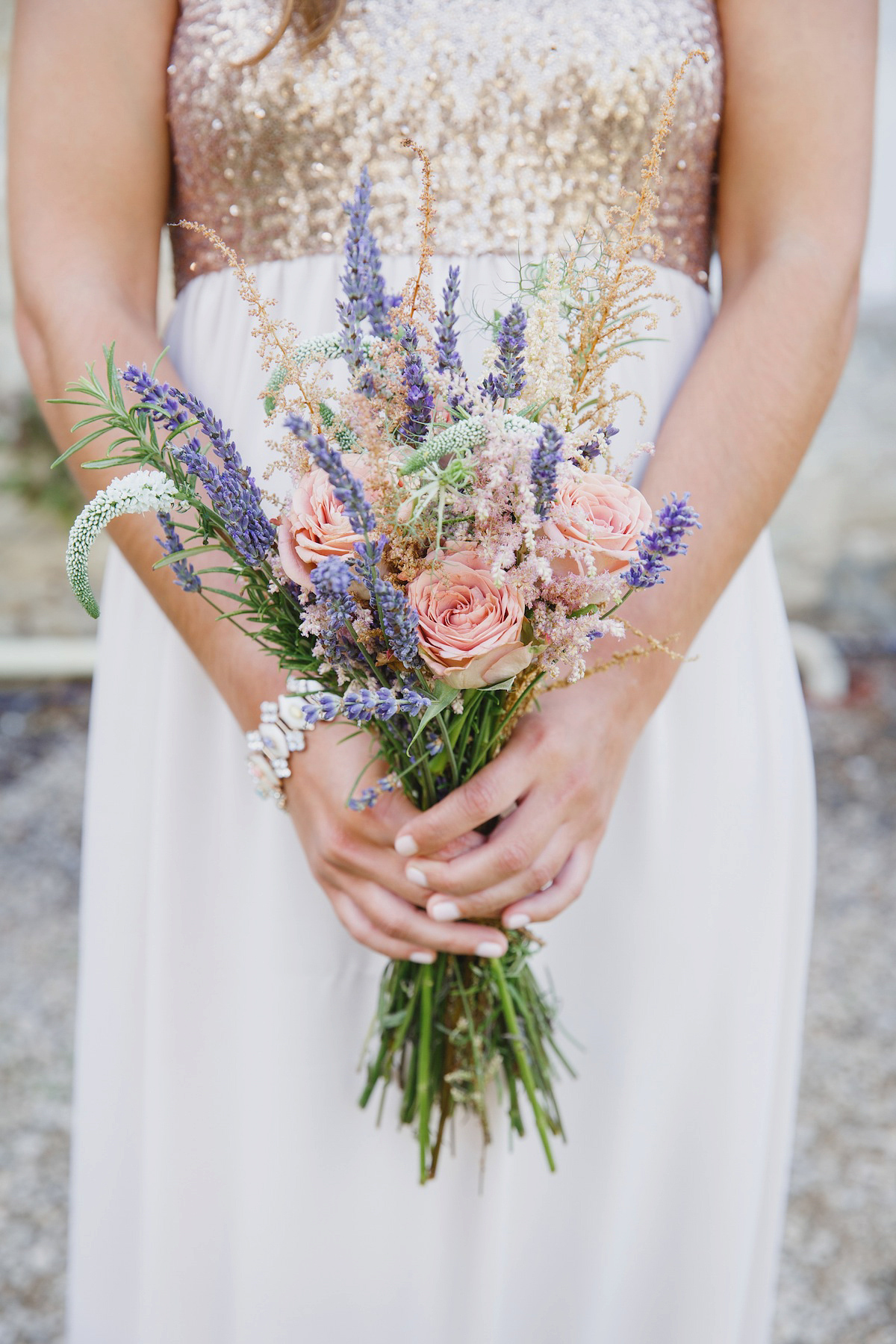 I adore the pretty butterfly flower clips in the bridesmaids hair – what a delightful touch!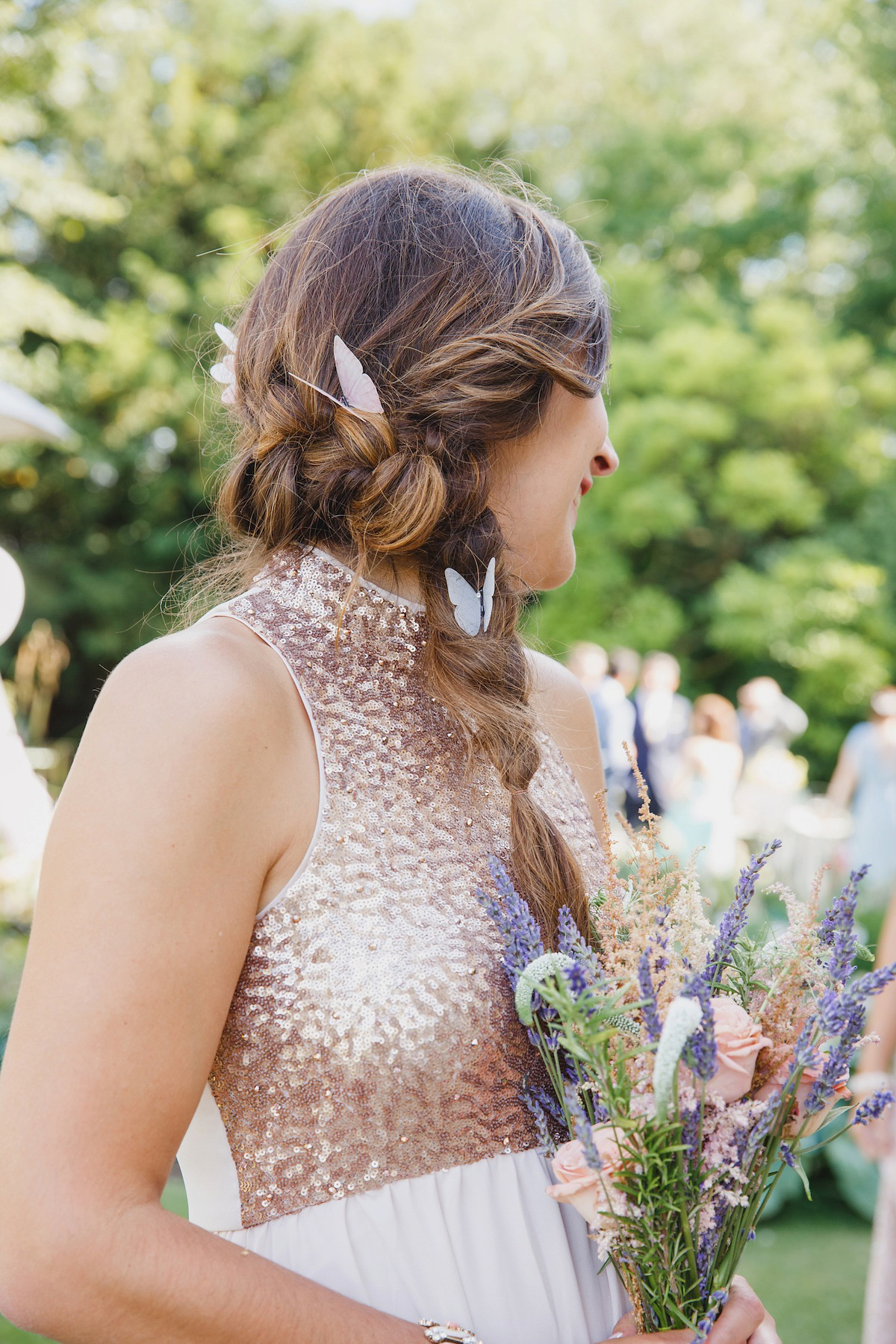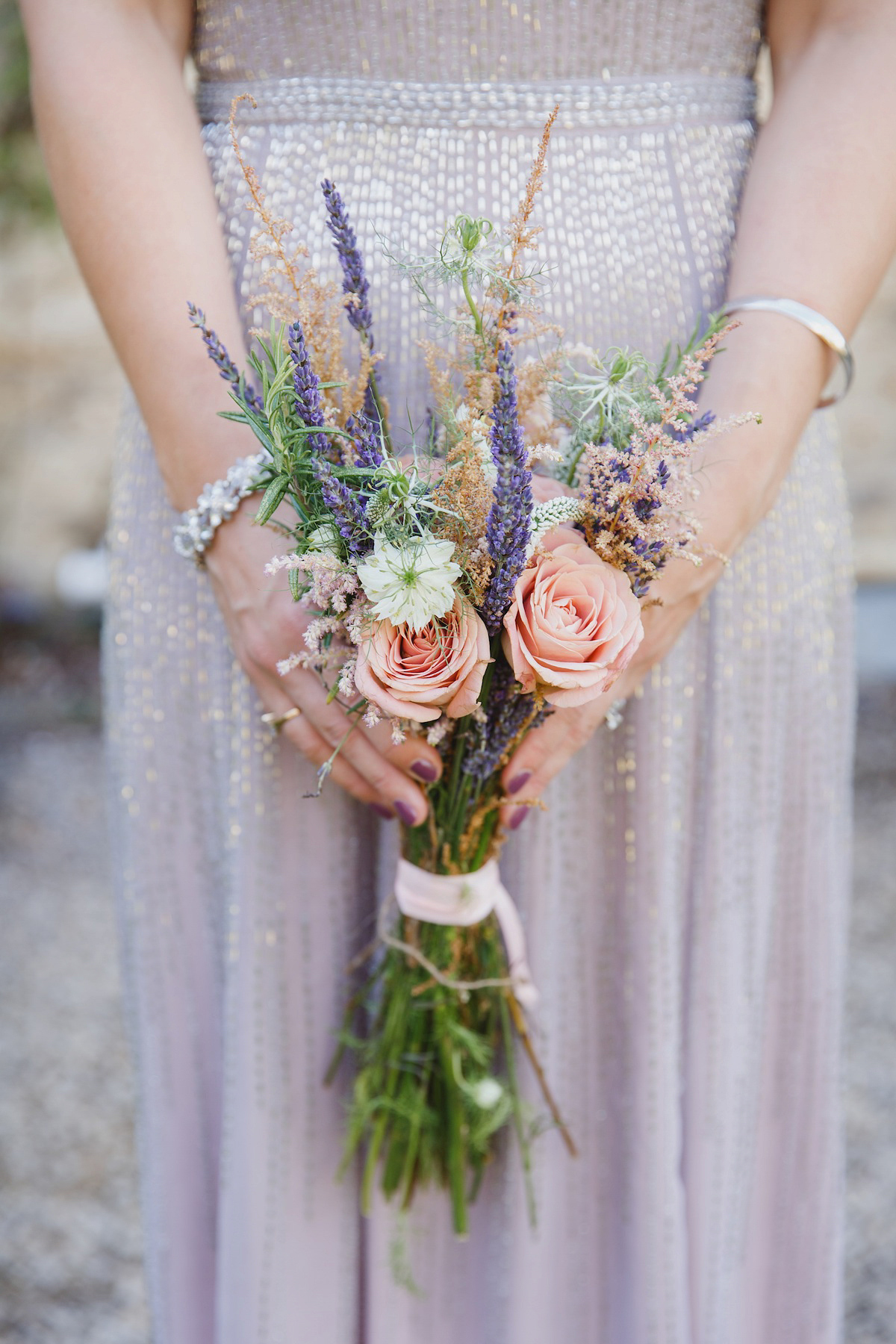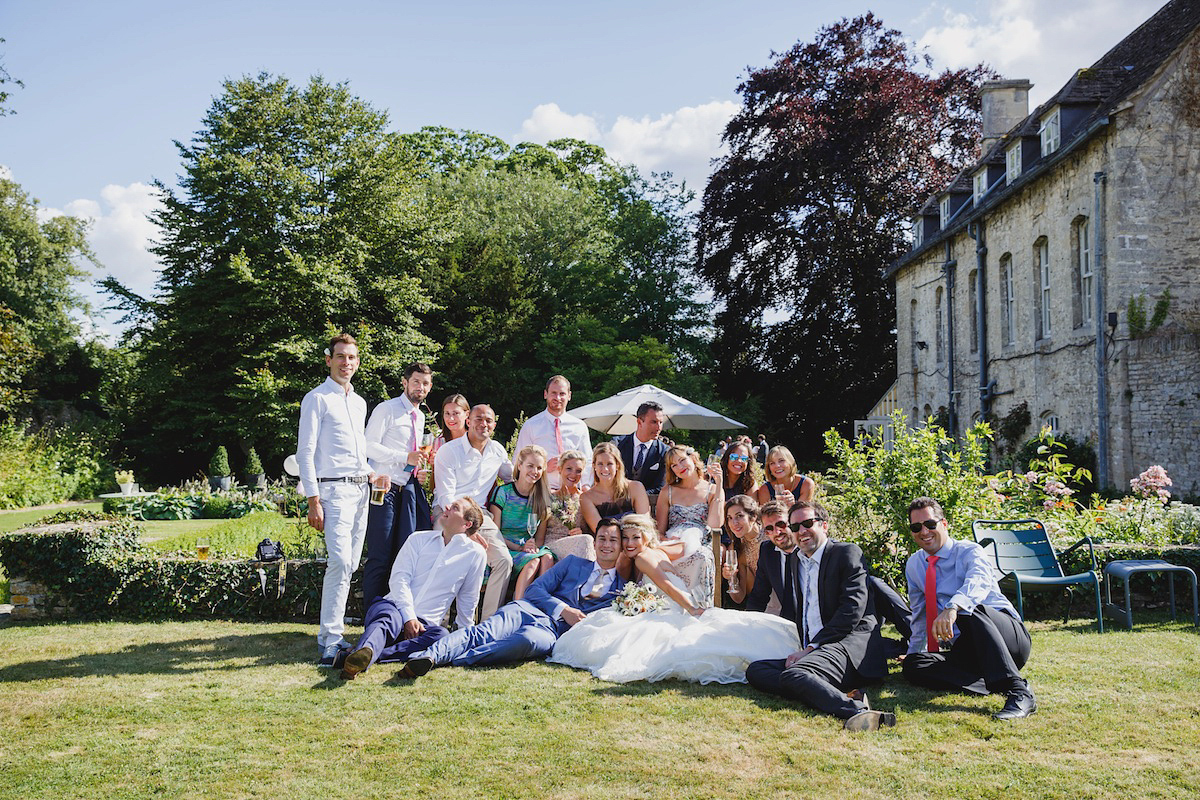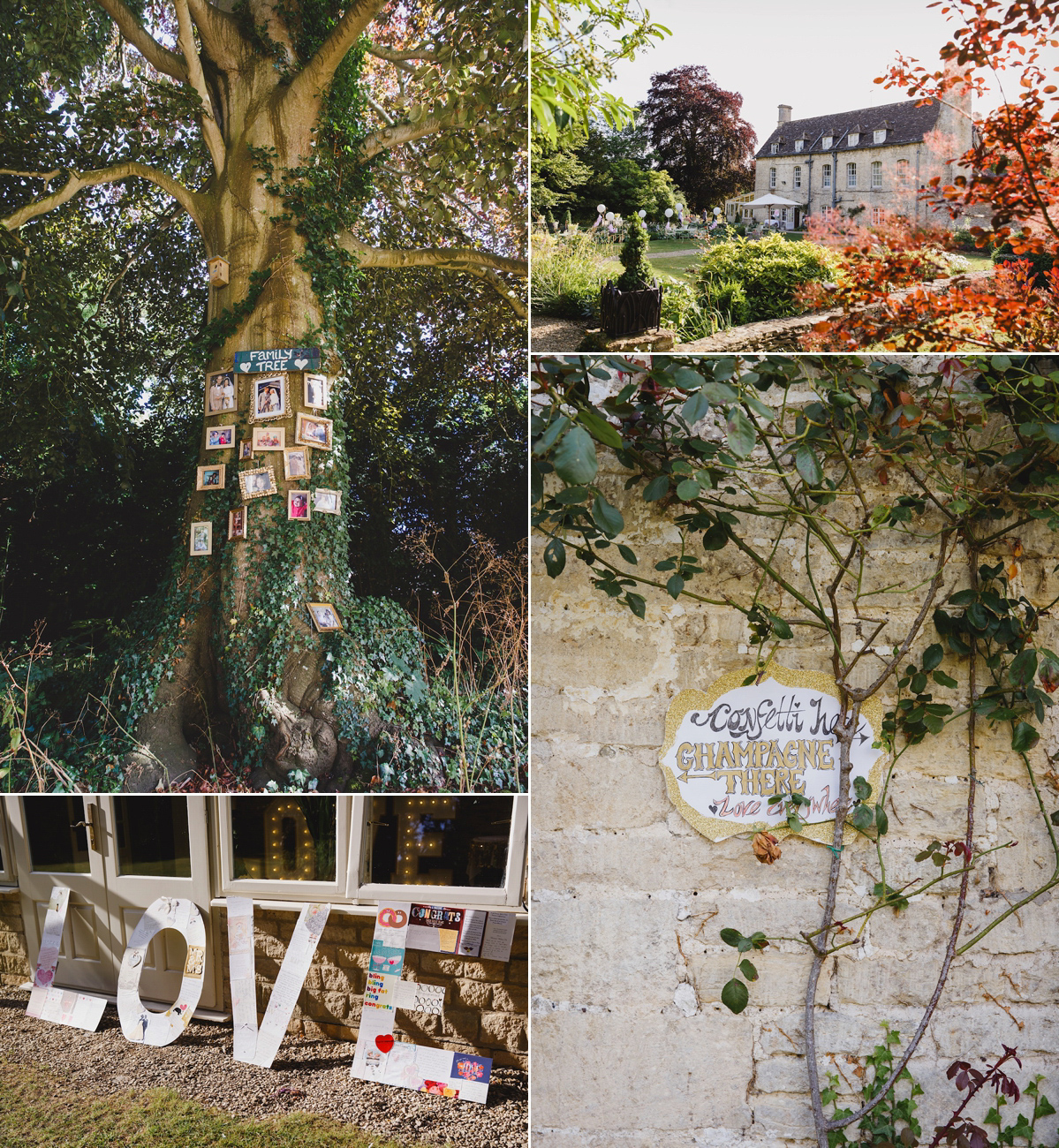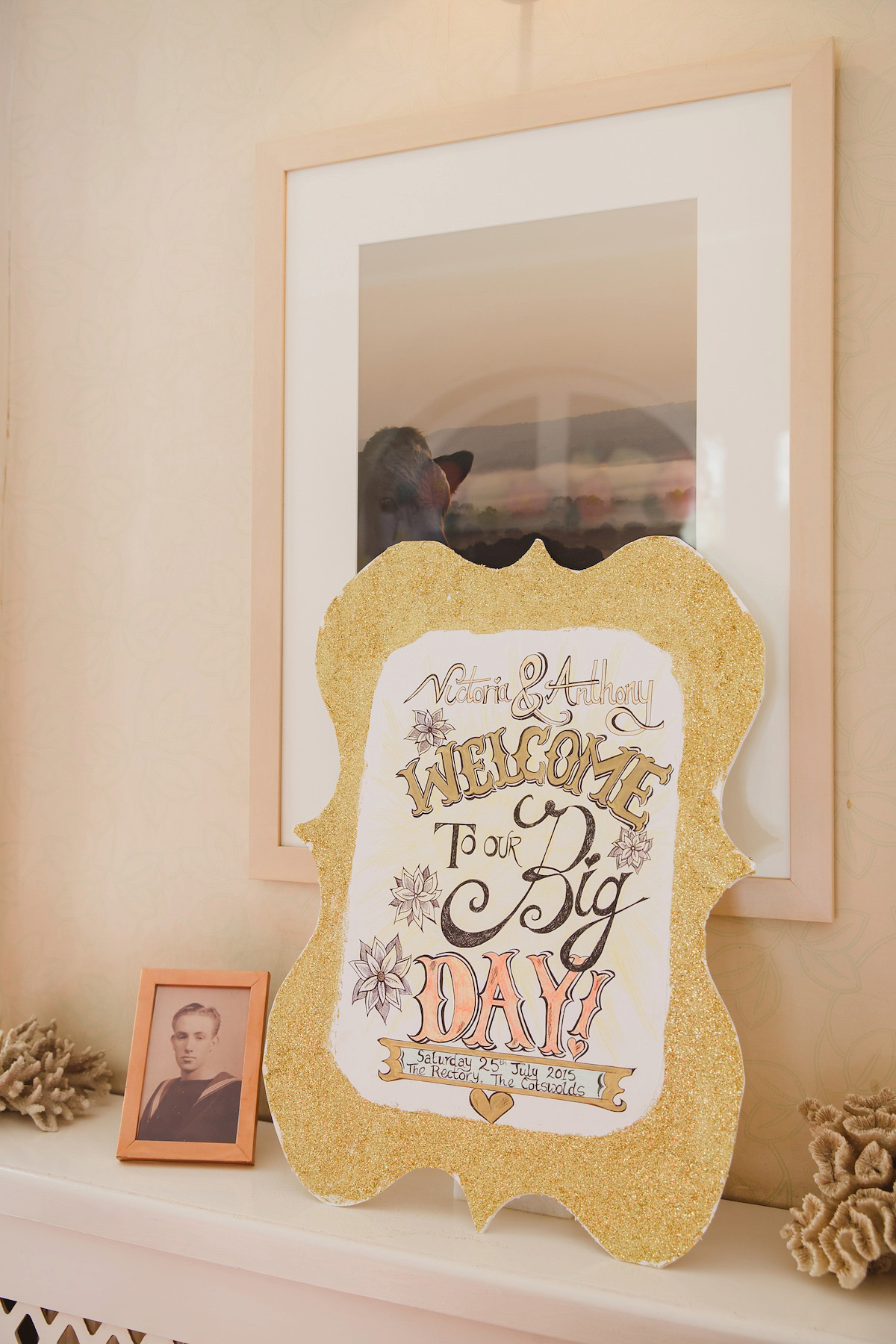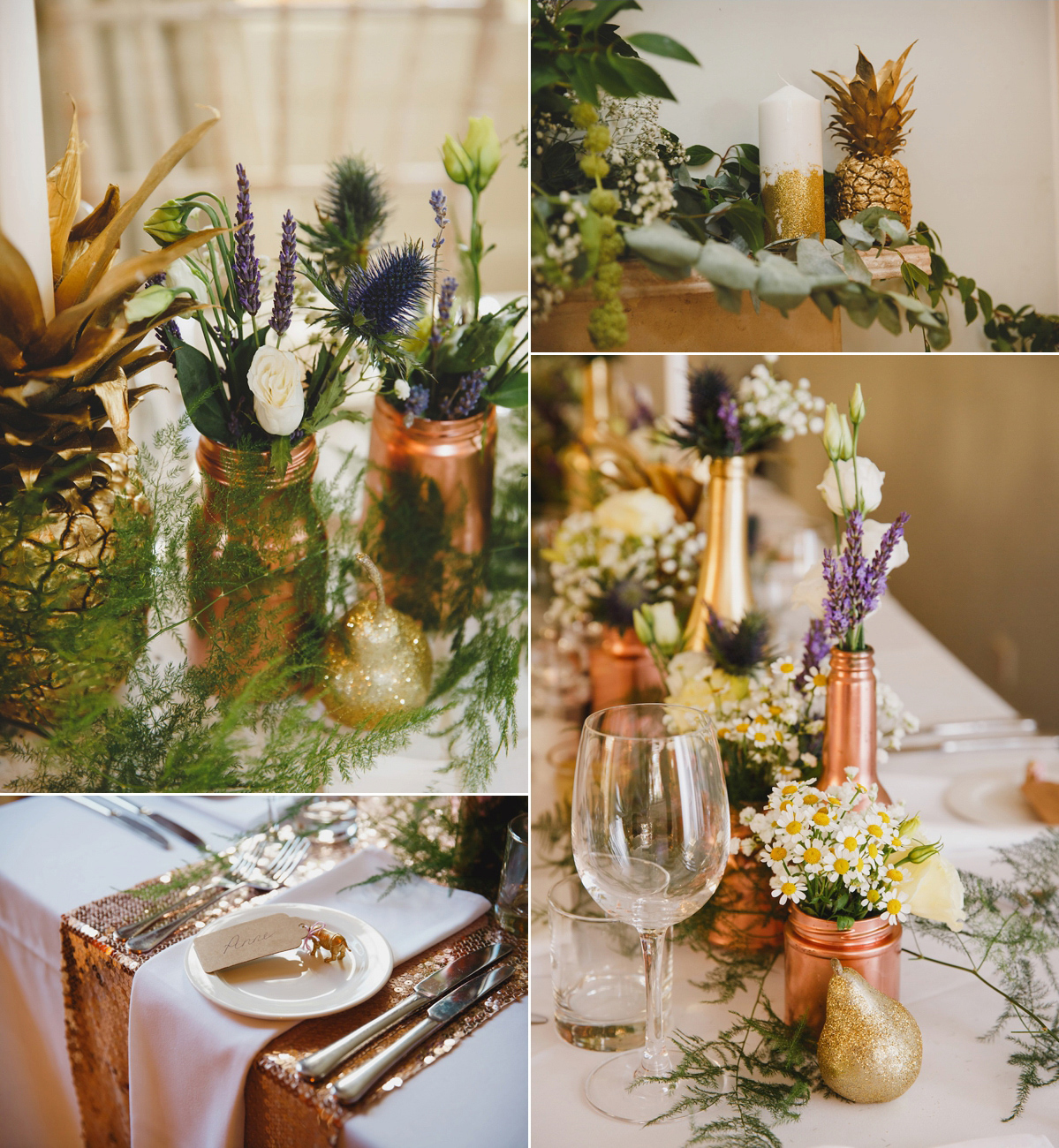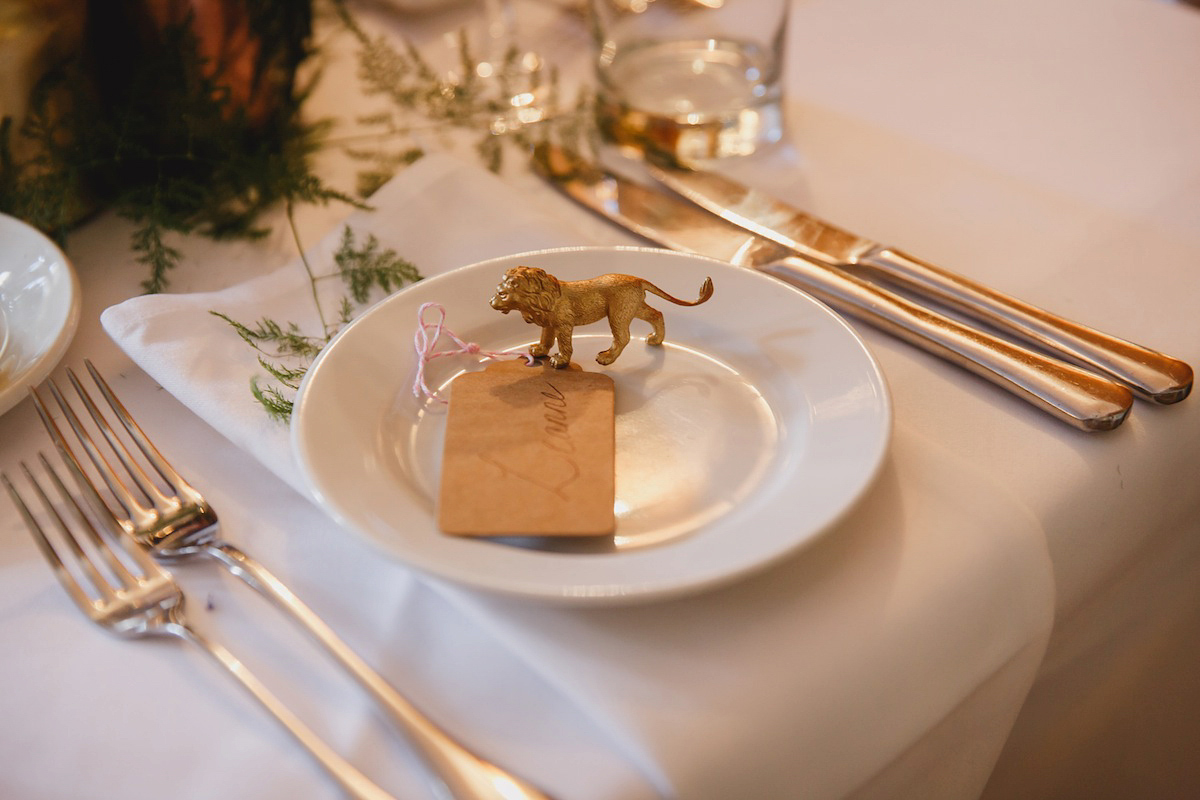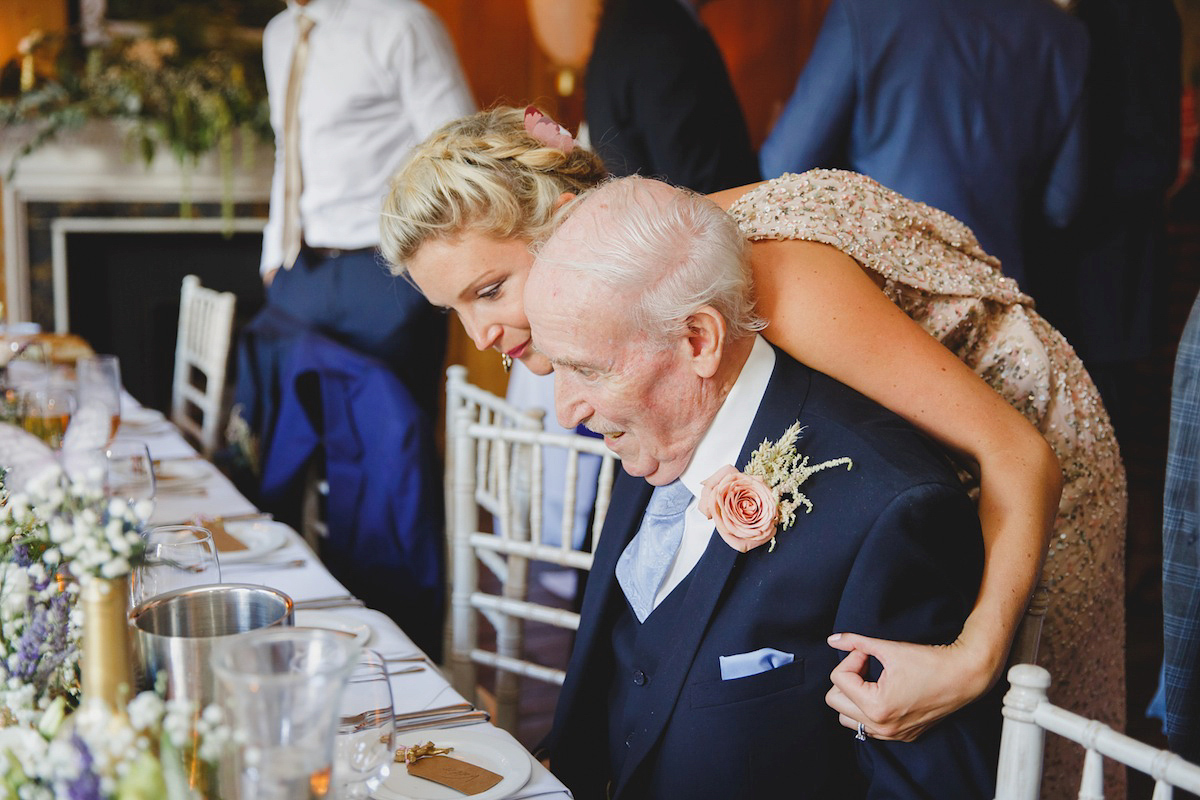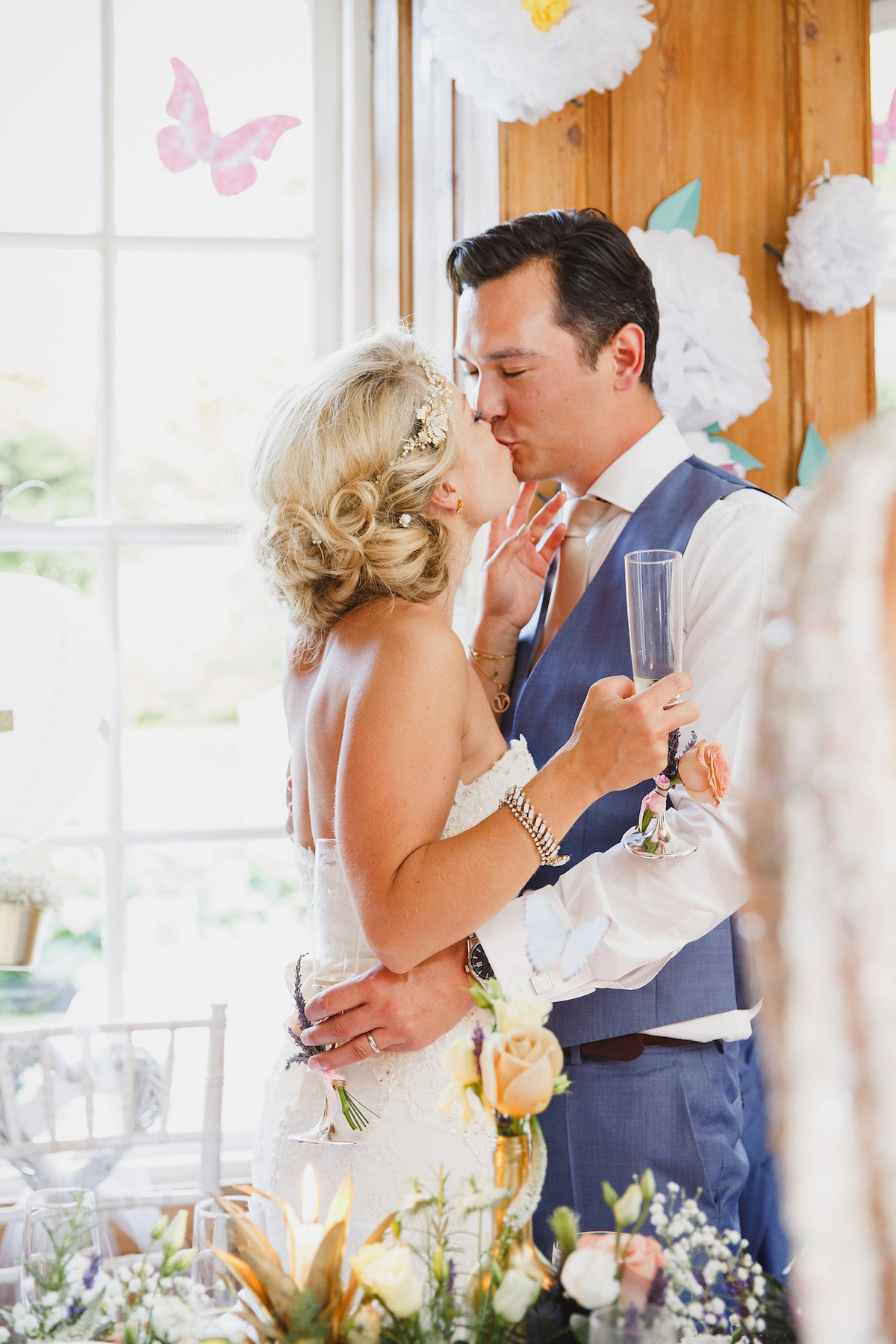 In lieu of a sweet cake, Victoria and Anthony chose a tower of cheese from The Cotswold Cheese Company which they put together and decorated with flowers on the morning of the big day.
The talent behind these glorious images is the wonderful Sarah Ann Wright.  I adore each and every photograph but am especially in love with the shot of the newlyweds kissing by the pool in the evening light.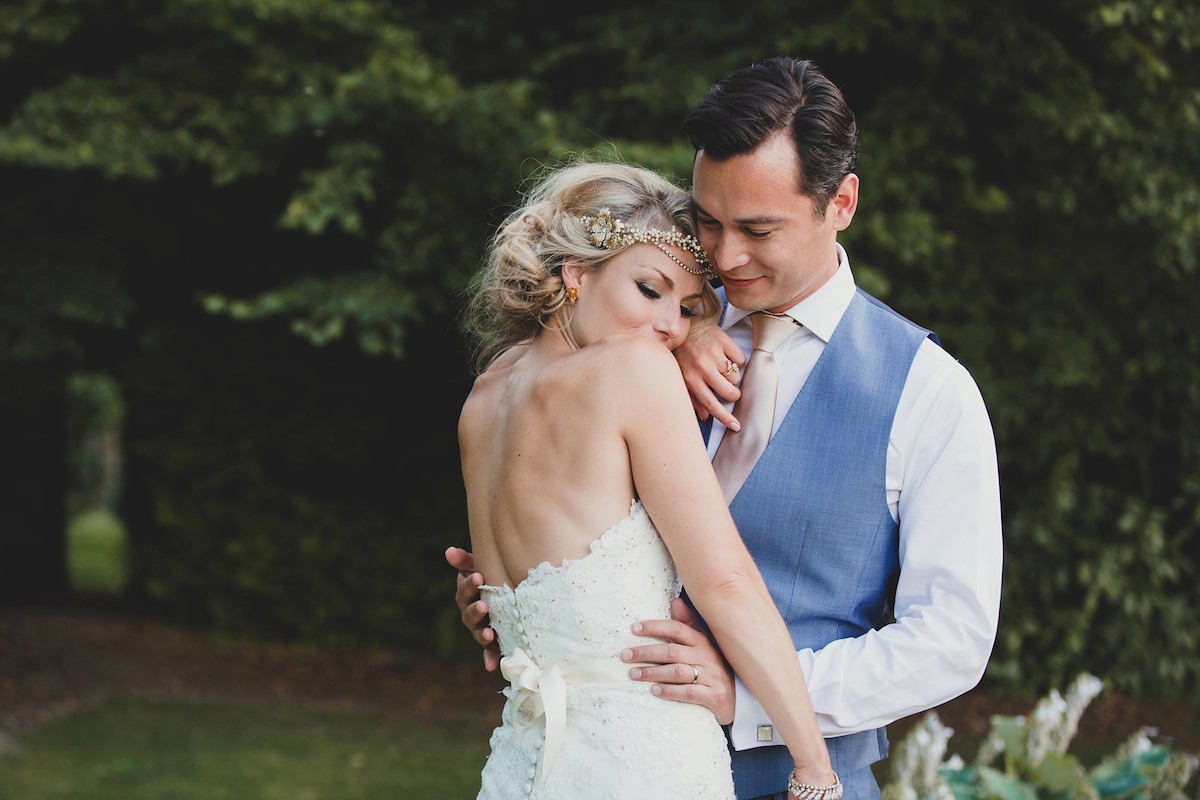 "I have worked with Sarah for a few years and she is a fantastically talented photographer.  She really captures the emotions of the day and has an eye for composition and colour."
"Sarah worked so hard to get all the little details and we were so happy with our photos.  She was also so lovely to have there on the day."
"I have never known someone to remain so in the background yet can produce results so stunning.  Every time we watch the video we still cry.  Adam is quite simply a genius."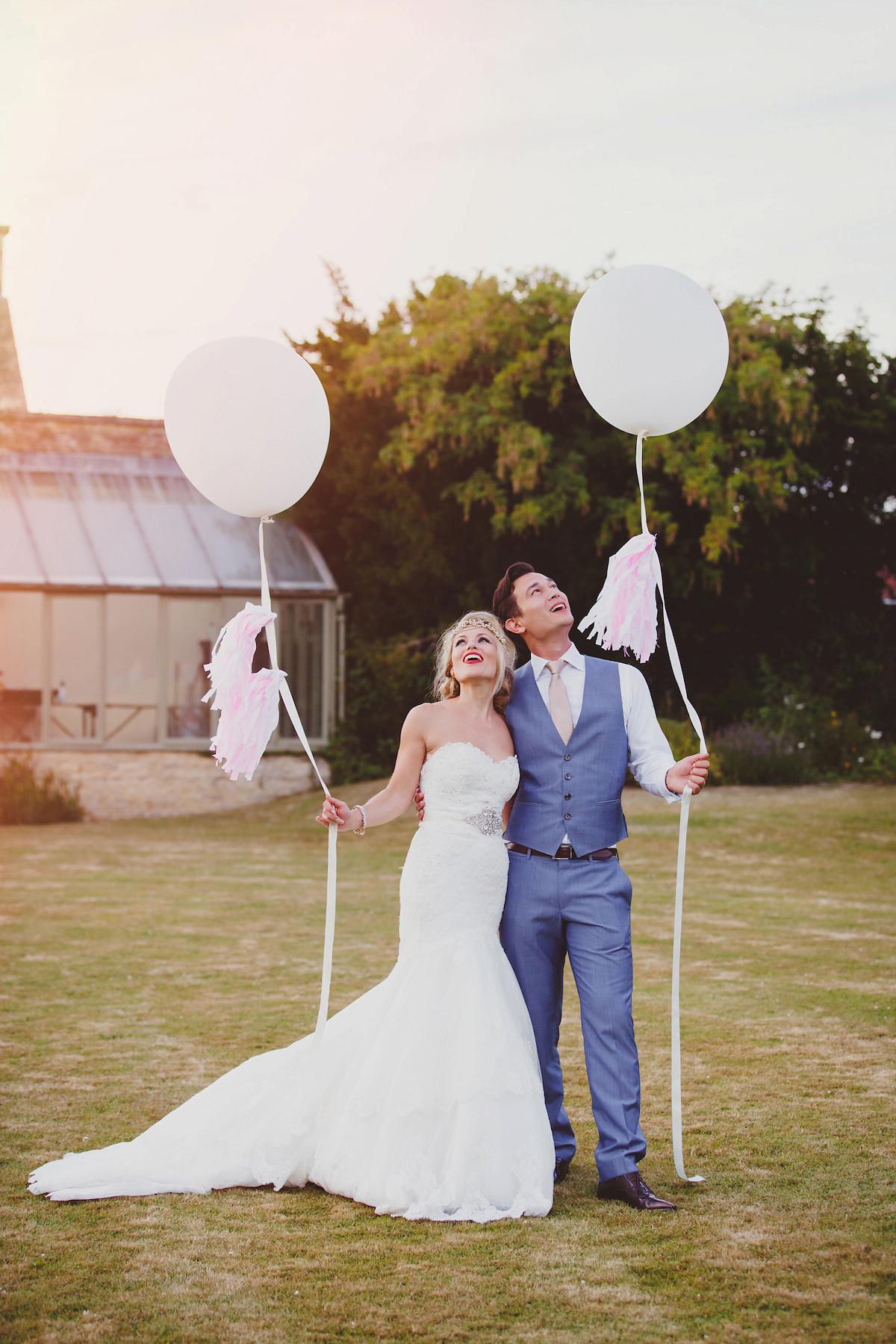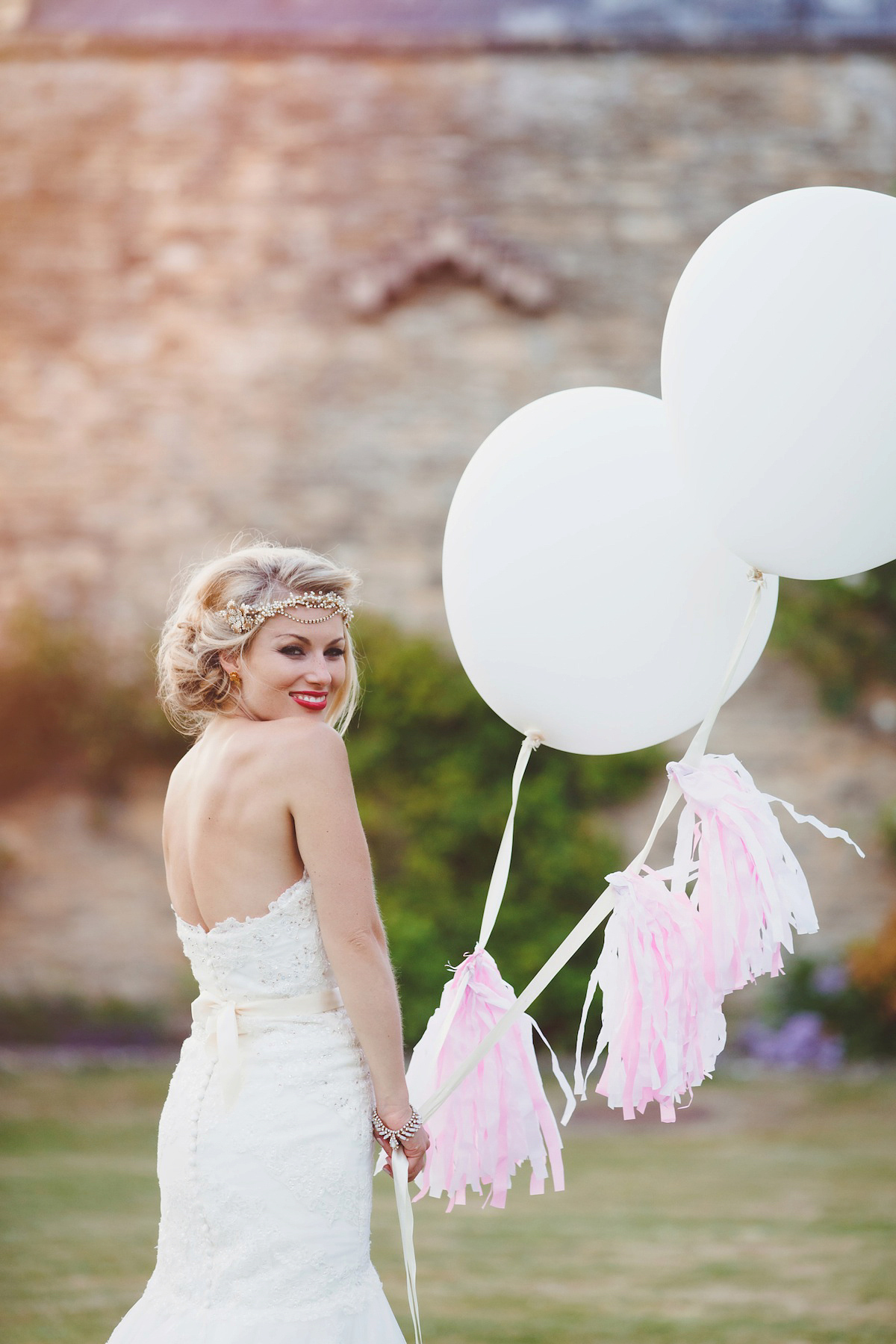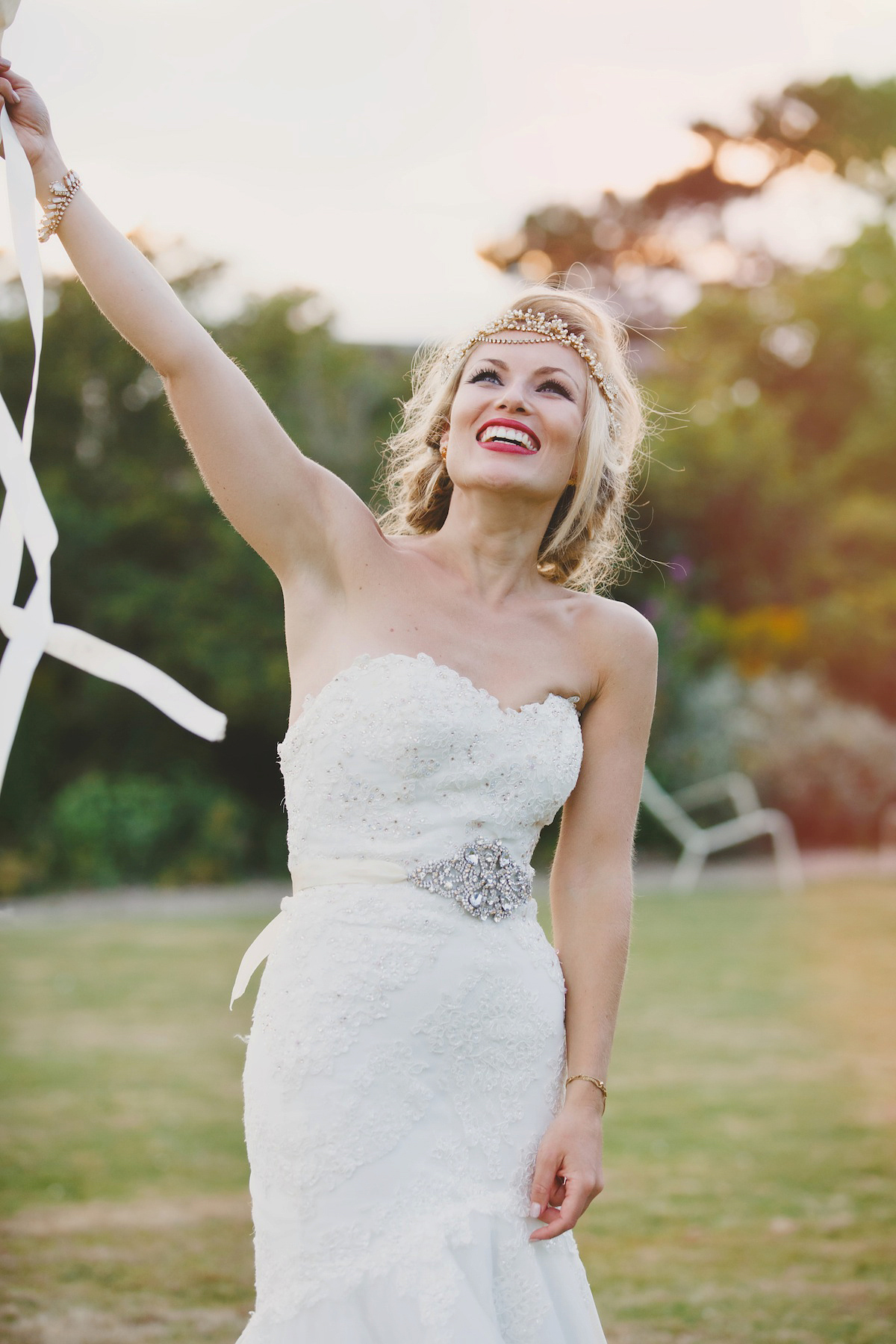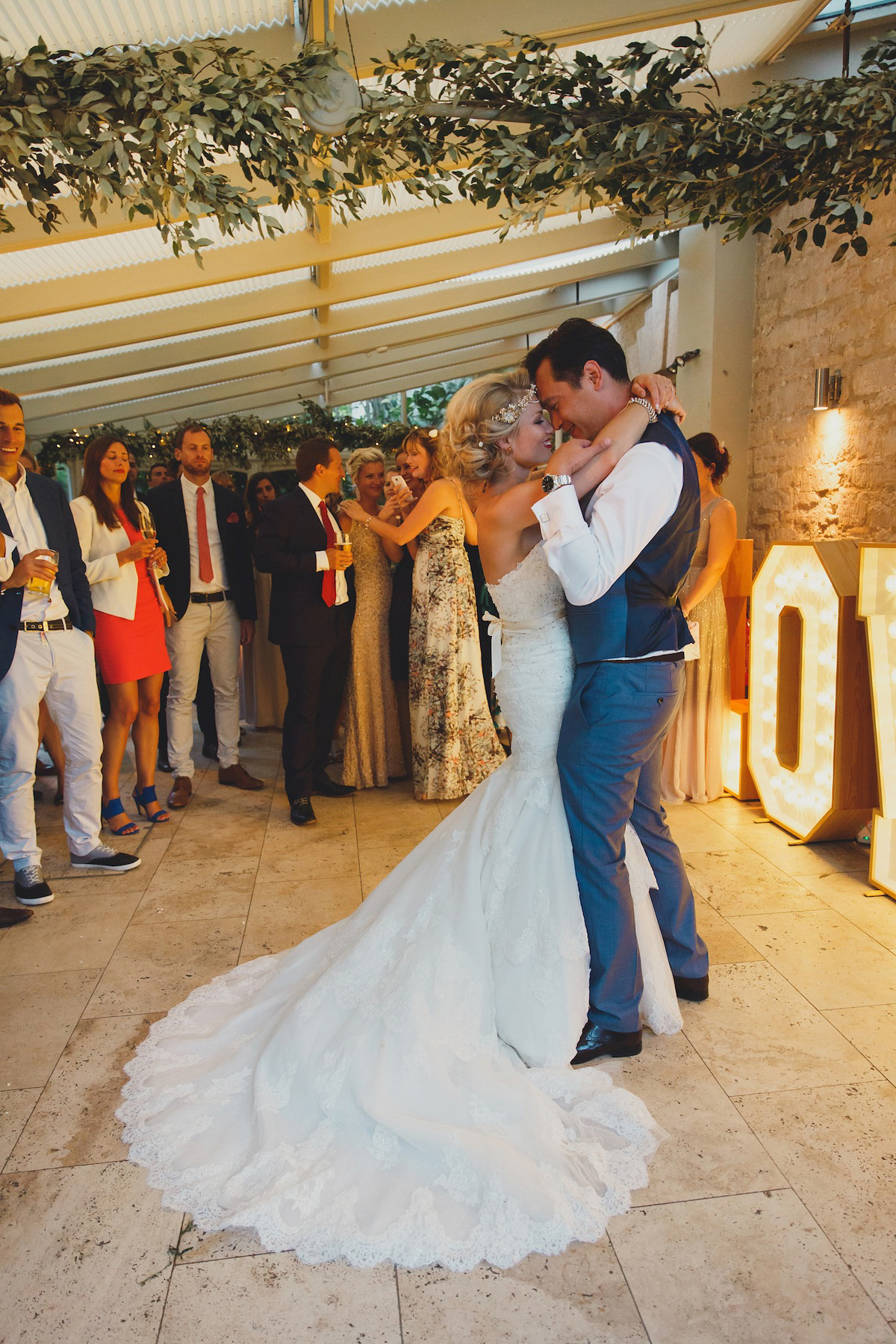 Guests danced the night away to funk band The Yo Yos.
"Anthony's favourite part of the day was waiting for me to come down the aisle as he said he was so excited.  My favourite was running off with him straight after the ceremony to have a secret glass of champagne together as husband and wife- it was such a special private moment."
Words of Wedded Wisdom
"As a creative person I really wanted my wedding to be unique and have lots of handmade touches. I started crafting about six months before the wedding and had a huge to do list which I worked through every week.  It was hard work and incredibly time consuming but so worth it, so don't give up, even if you are covered in glitter at 2am in the morning and wanting to cry!  On the day when I looked around and everything was all done by me, I was immensely proud and happy.
Also, let the style of the day evolve naturally.  Be open minded, do your research and be open to lots of new ideas- it's a roller coaster of emotion but so much fun to watch it all come together."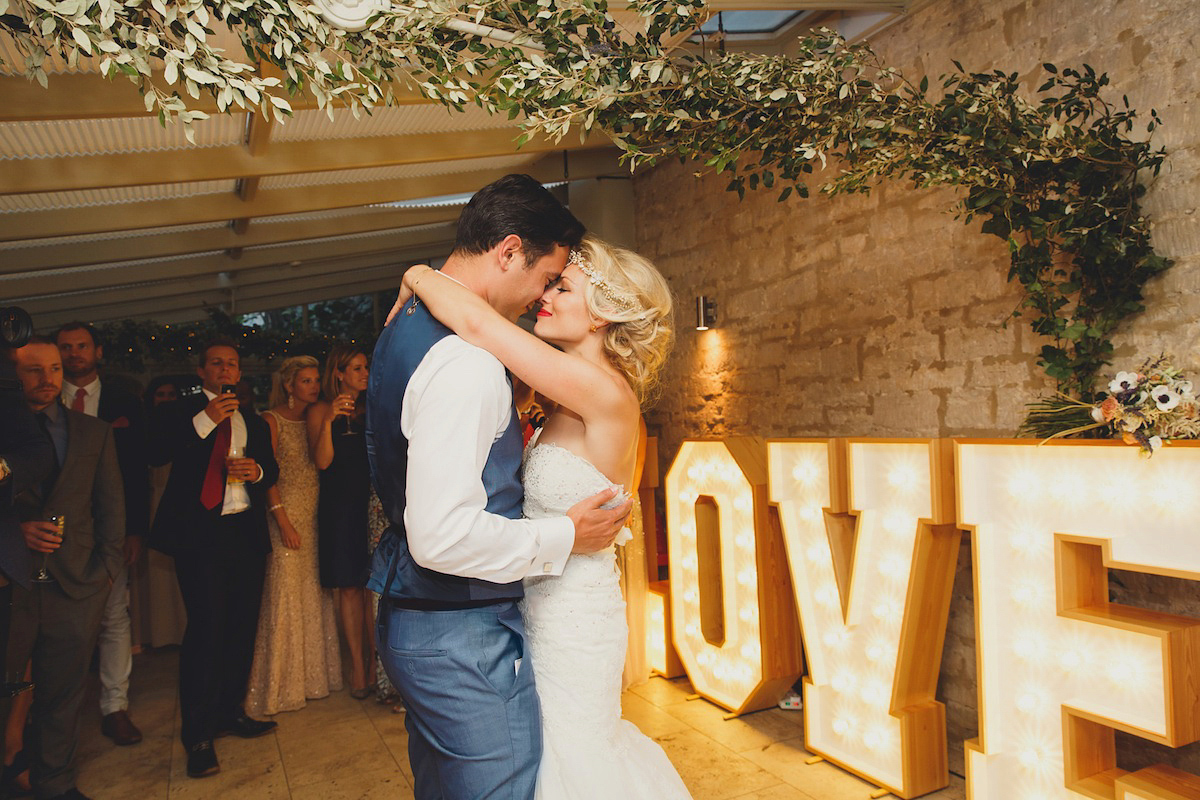 So many congratulations to Victoria and Anthony and millions of thanks to photographer Sarah for sharing this beautiful midsummer night's dream of a day with us.  I am utterly consumed with envy over how gorgeous it is and wondering how soon I can start planning a vow renewal… Is five years too soon?
Much love,
Shona x