Good morning and happy bank holiday Monday wedding blog lovers. I'm hoping you won't be up too early on this day of required rest, but for those who are watching the sunrise, like myself, this is for you. And this particular wedding is one for all of you working on something altogether more intimate in style. Fashion Designer Laura tied the knot with Engineer Michael on 28th May this year. Their wedding was a sweet yet very stylish affair – the couple tied the knot in a completely fuss free and intimate ceremony at West Sands beach, St Andrew, chosen for it being the same location the couple shared their first date.
Following the ceremony, an intimate reception was held at the Newport Hotel over looking the River Tay, where the couple both grew up. Sometimes, less is more – and on this occasion, I adore the relaxed and lovely vibe of this day. I particularly adore Laura's incredible Stone Cold Fox wedding dress (that slit at the front is sensational!). Enjoy all.
"We both wanted something laid back and organic, something that suited our personalities. I wouldn't really call it a 'theme' but we were going for a relaxed, boho, natural vibe that wasn't too overbearing. The focus was really on being able to enjoy the intimacy of the day whilst surrounded with our closest loved ones."
Photography by Tino & Pip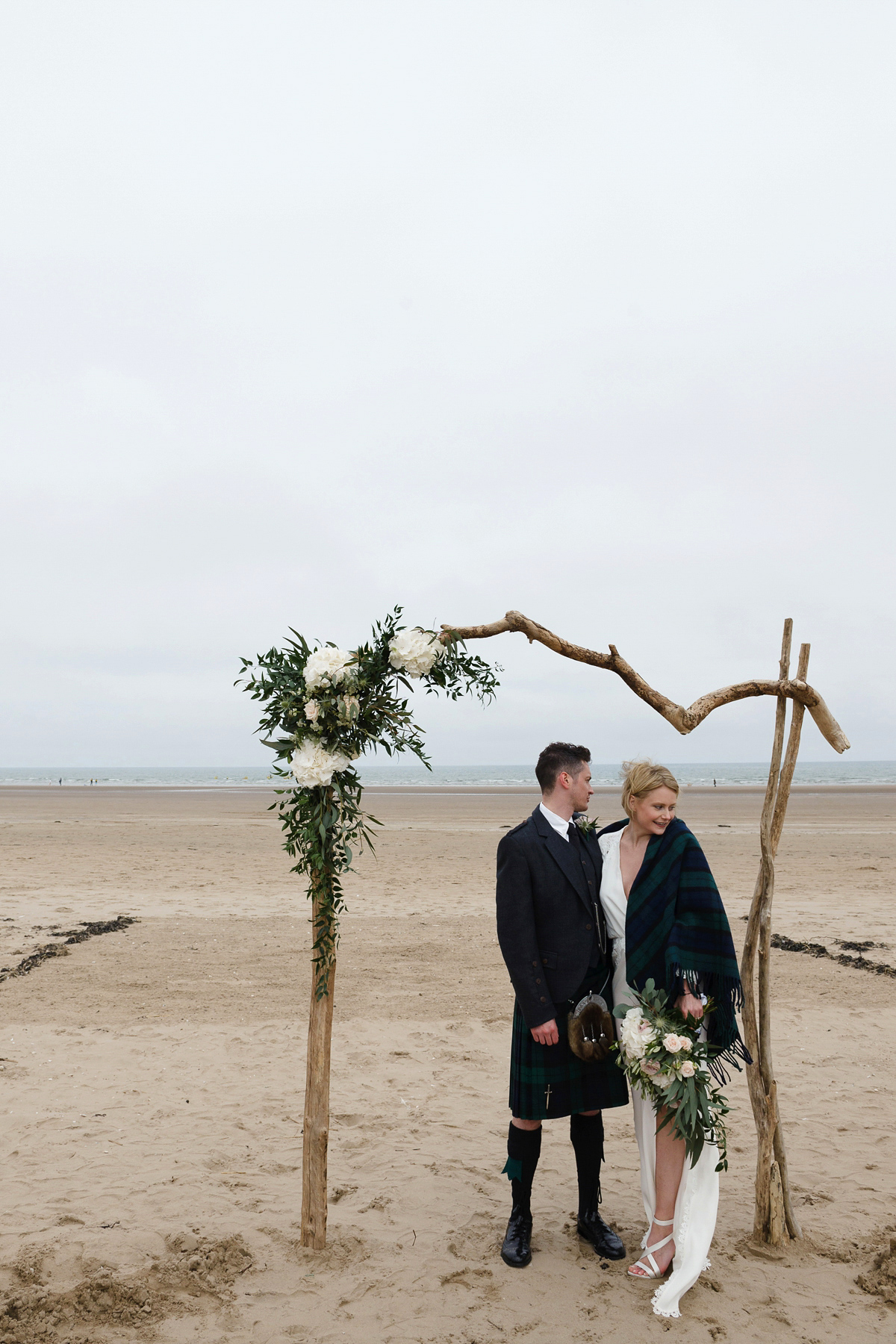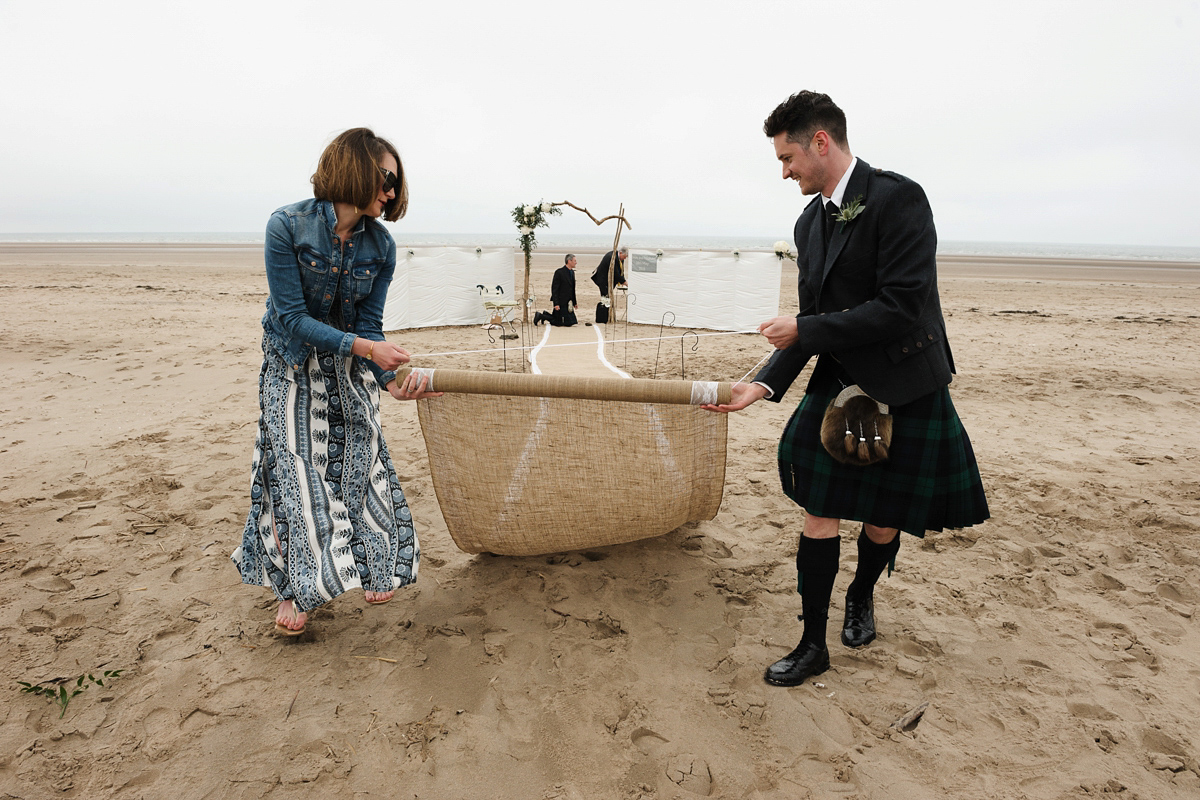 "Our ceremony took place at West Sands, St Andrew, as this is where we had our first date."
"It is a beautiful location in a town that we both know well – we are both from North East Fife and went to school in St Andrews."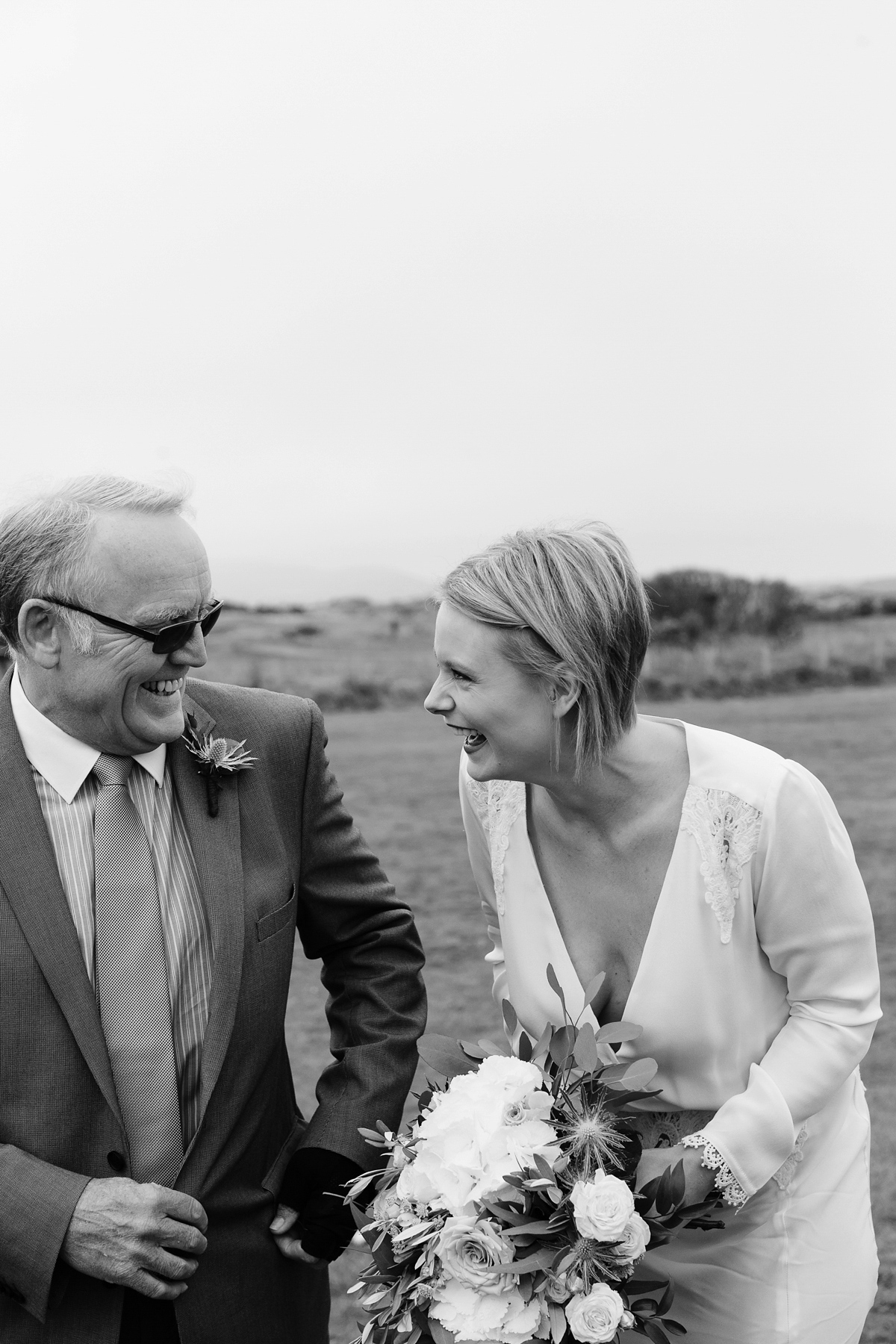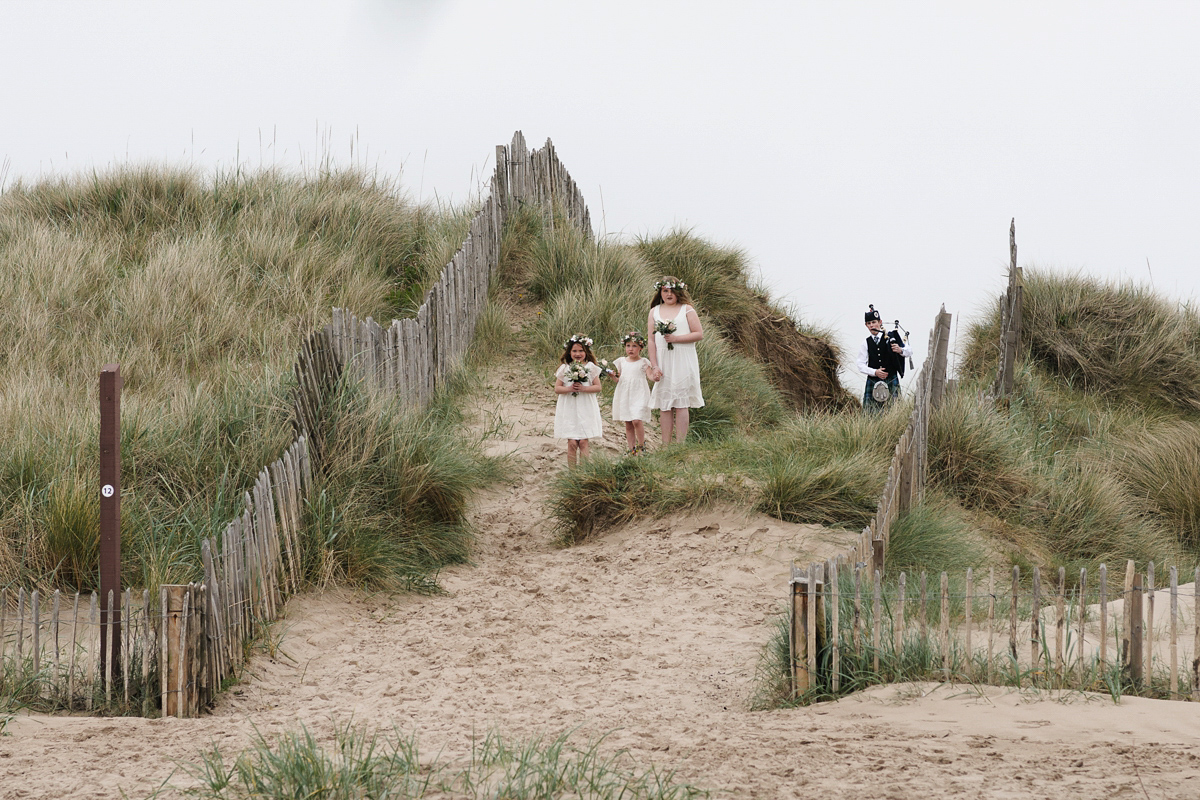 Laura's father walked her to the ceremony, they were accompanied by the sounds of a piper. Vows were tailored on the day but will remain private to the couple and those present at the ceremony.
"We had three readings. My sister read the lyrics to her favorite song, 'Southern Girl' by Incubus."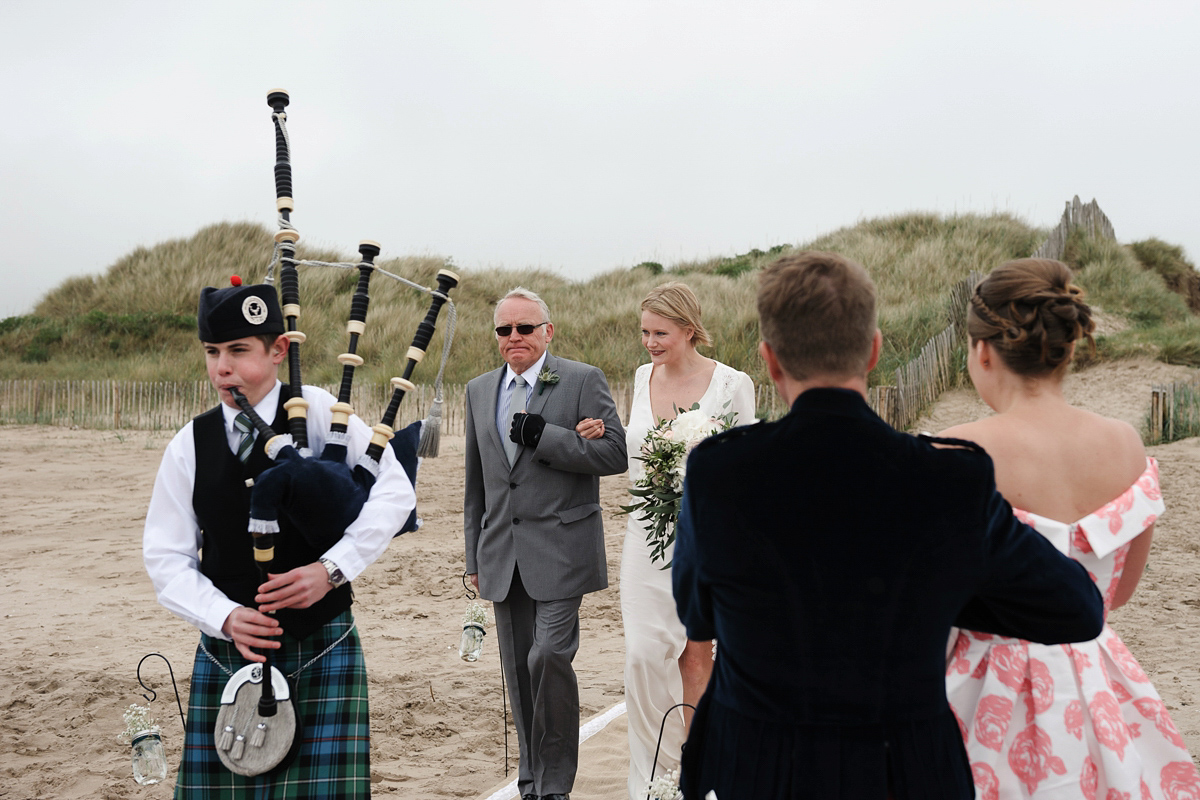 "My dad read an excerpt from The Velveteen Rabbit that neither of us were aware of until we started researching wedding readings but when we read it we loved it. Laura's mum read a poem called Love by Roy Croft, again this was not something that we were familiar with but we came across it whilst doing some research and we both loved it and thought it fitted perfectly."
"For the beach, my sister's partner John made a great drift wood arch from which Amy (florist) decorated with a beautiful trailing arrangement."
"My younger nieces were our flower girls, their dresses were from Zara kids. I made the girls their flower crowns."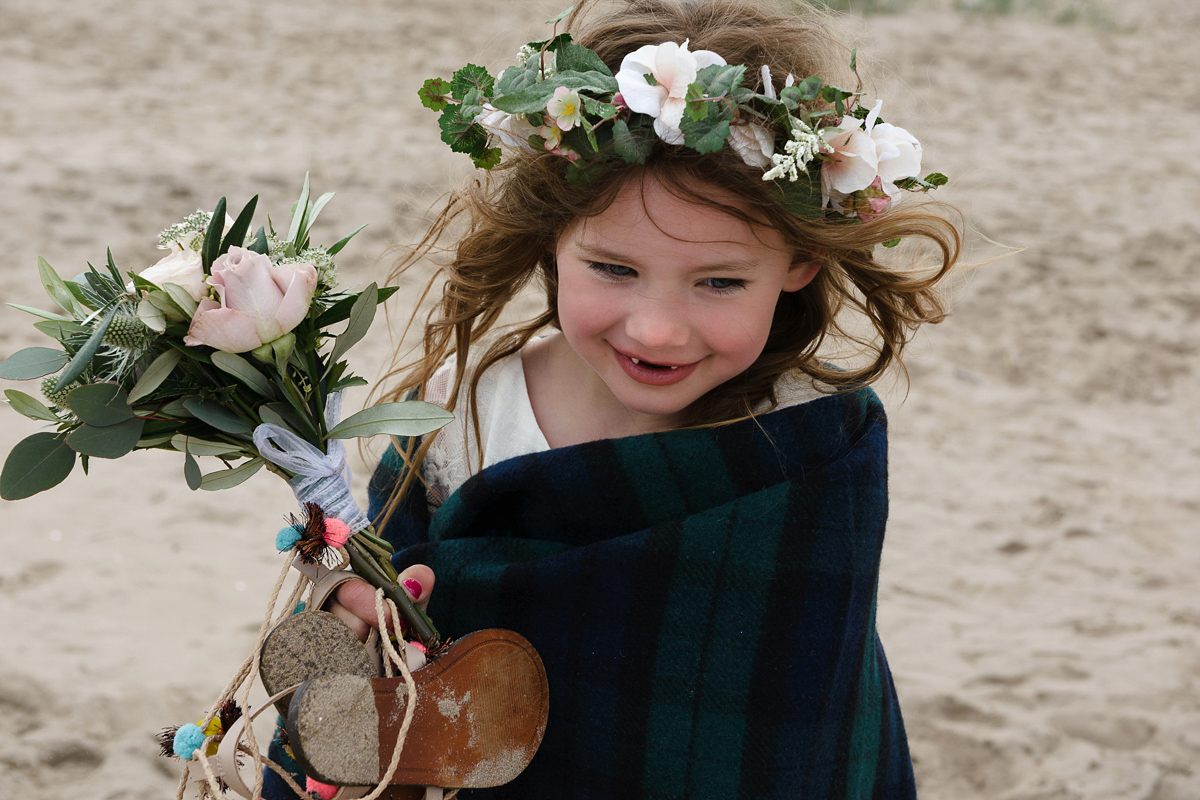 "My dress was the Bianca Gown from Stone Cold Fox. It's a small, beautiful brand based in Los Angeles, California and all of their pieces are made in the USA."
I generally love the Stone Cold Fox aesthetic and I loved everything about this dress. I liked that it was non-traditional; not a zipper, button or boning in sight. It flowed naturally, didn't cling or constrict anywhere. It felt elegant with the high split, low plunging neck and exposed back. It had just a touch of vintage inspired lace detailing that finished it beautifully without feeling fussy. Most importantly, I felt truly comfortable and like myself in this gown."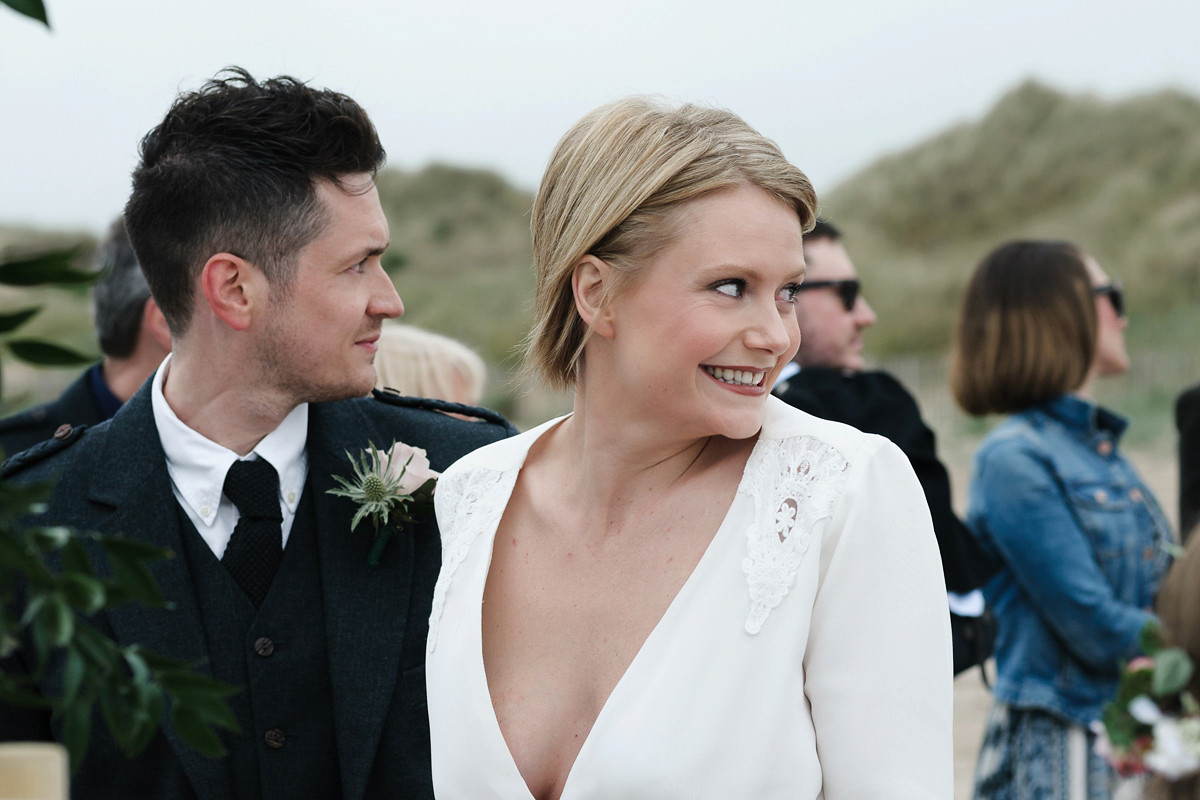 "I had actually forgotten to pack my perfume when I flew home for the wedding – nightmare! My mum dashed over to the local city on the morning of the wedding and returned with Clinique Happy, which has always been one of my staple fave's. My mum buys me it every year for Christmas and so it always reminds me of her and of being back at home."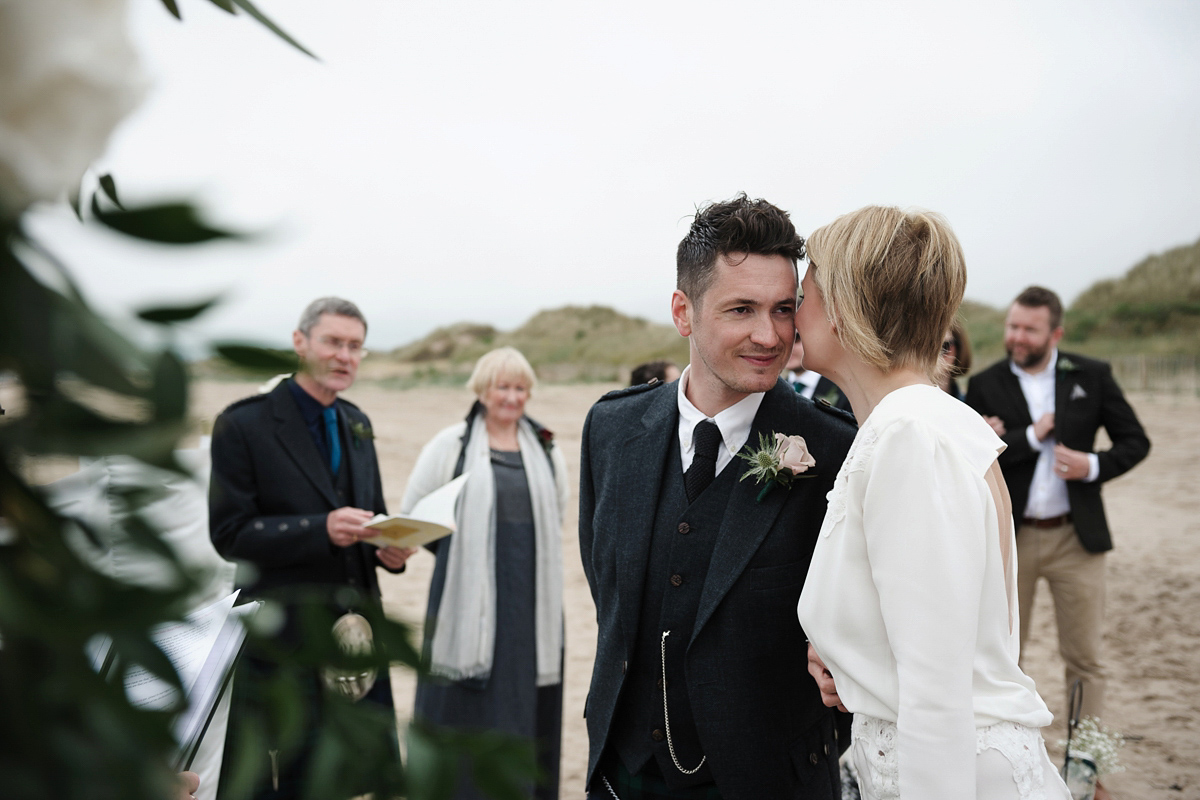 "My shoes were by Vince Camuto – and were unbelievably found in about 10 minutes when I ran over to Lord & Taylor in my lunch break one day."
"As it was on a beach in Scotland we decided that windbreaks may be required so my mum made two large cream wind breaks and upon one of them there was a hand stitching of our names and the date.
"For the aisle we bought a burlap runner with lace trim and down either side, Laura's mum had put together a row of shepherds crooks from which we hung mason jars with babies breath and black watch ribbon. As we had to remove all of this when we left the beach we made it so that many of the flowers could be re-used at the reception venue."
"We went to school together so knew each other from when we were teenagers although it wasn't until university that we became a couple. My work had taken me to New York, so we have been balancing a Transatlantic relationship for a while but that will change now we are married and I am in the process of arranging my move stateside.
We got engaged while I was visiting New York in spring 2016 so it wasn't a long engagement which makes the fact that our families managed to pull off such a beautiful day, in such a short time, all the more amazing!"
"Both of our families really pulled together, and a lot of group 'Facetiming' helped to make everything happen.  My sister, Lydia and her partner John were absolute troopers with organising, coordinating and delegating tasks."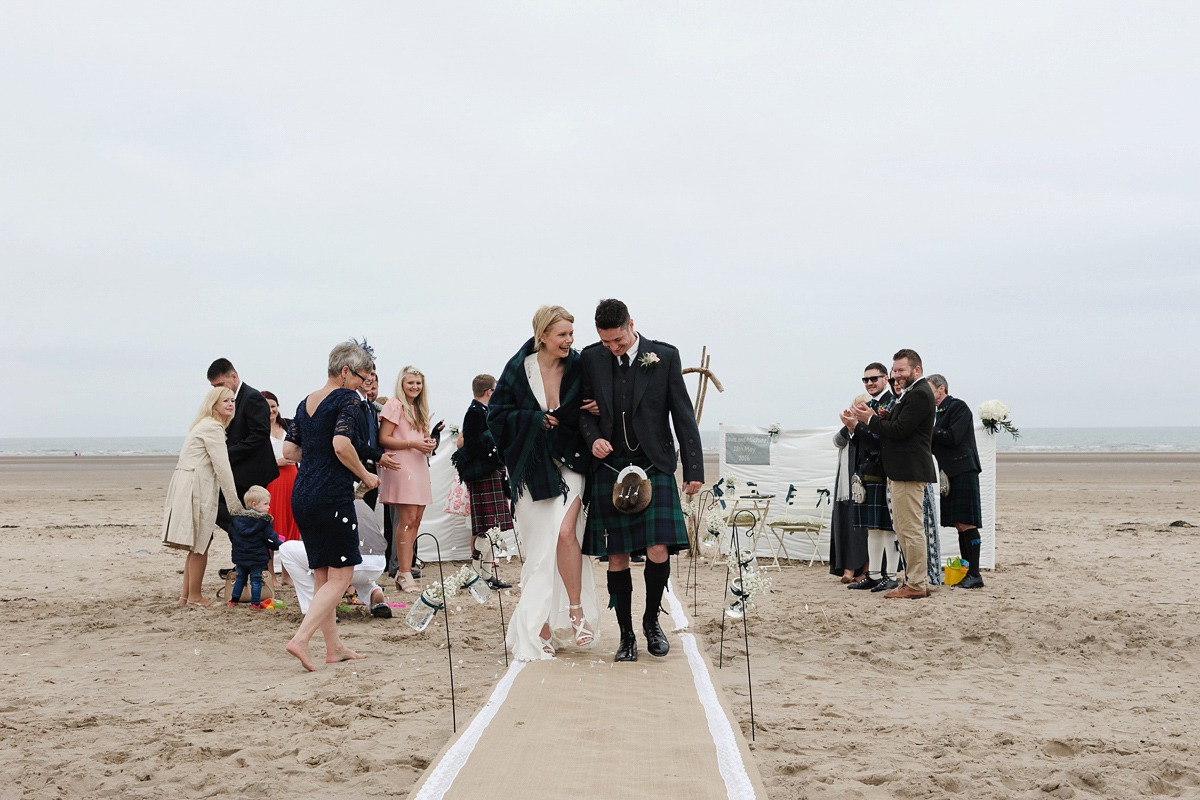 "Penny and Martin of Tino & Pip were absolutely wonderful. Because of our timing and the small issue of the entire uk/Atlantic ocean, we didn't have the opportunity to meet them before the day of the wedding. I was a little apprehensive about this, but I needn't have been."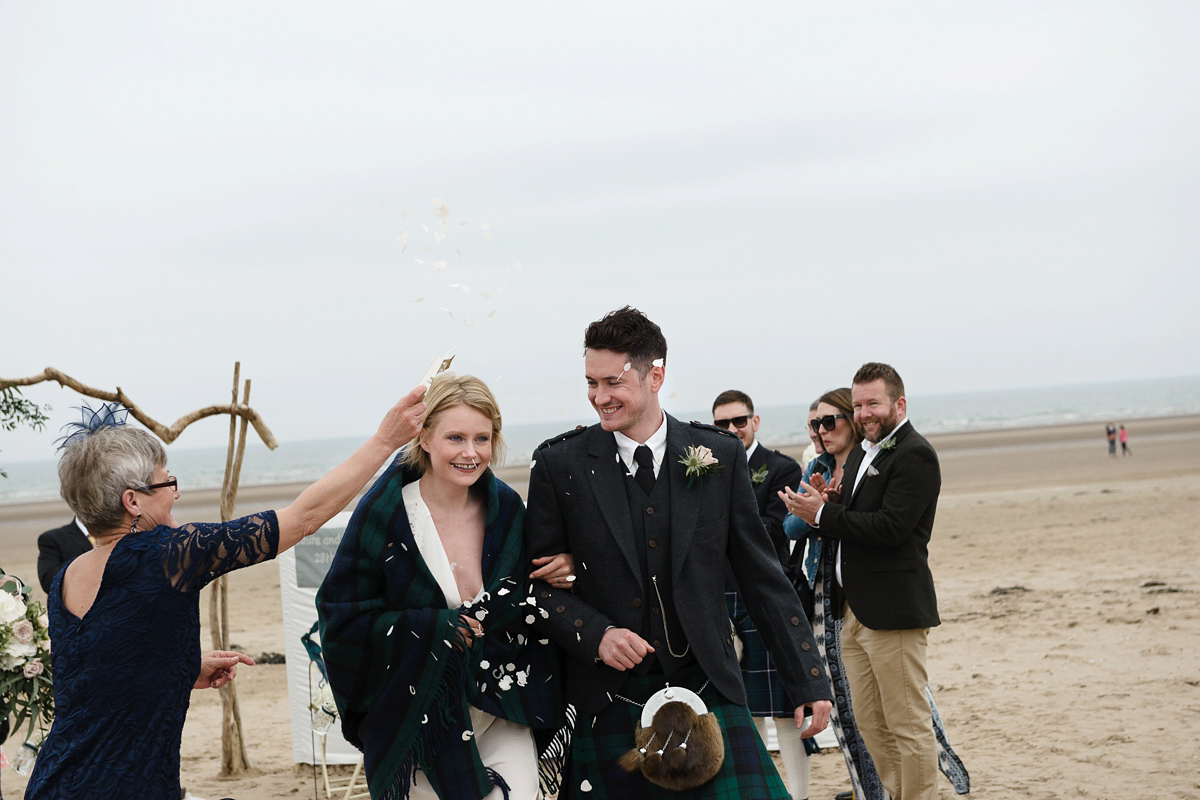 "They were professional, organised, flexible and fitted seamlessly into our day. They're so incredibly talented and creative, we loved that they have such a signature to their work. It's bold, completely unique and organic. They have an unbelievable talent for capturing the raw spirit of a location whilst incorporating the real, candid emotions of a moment."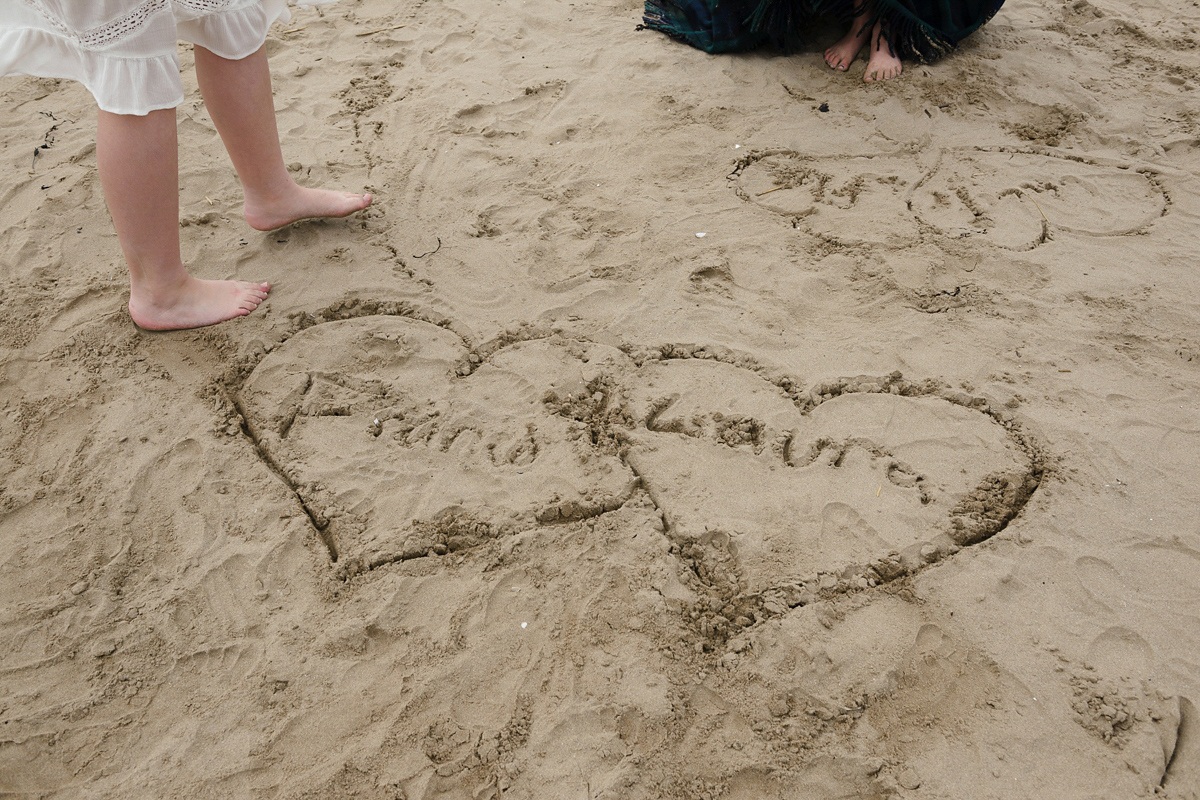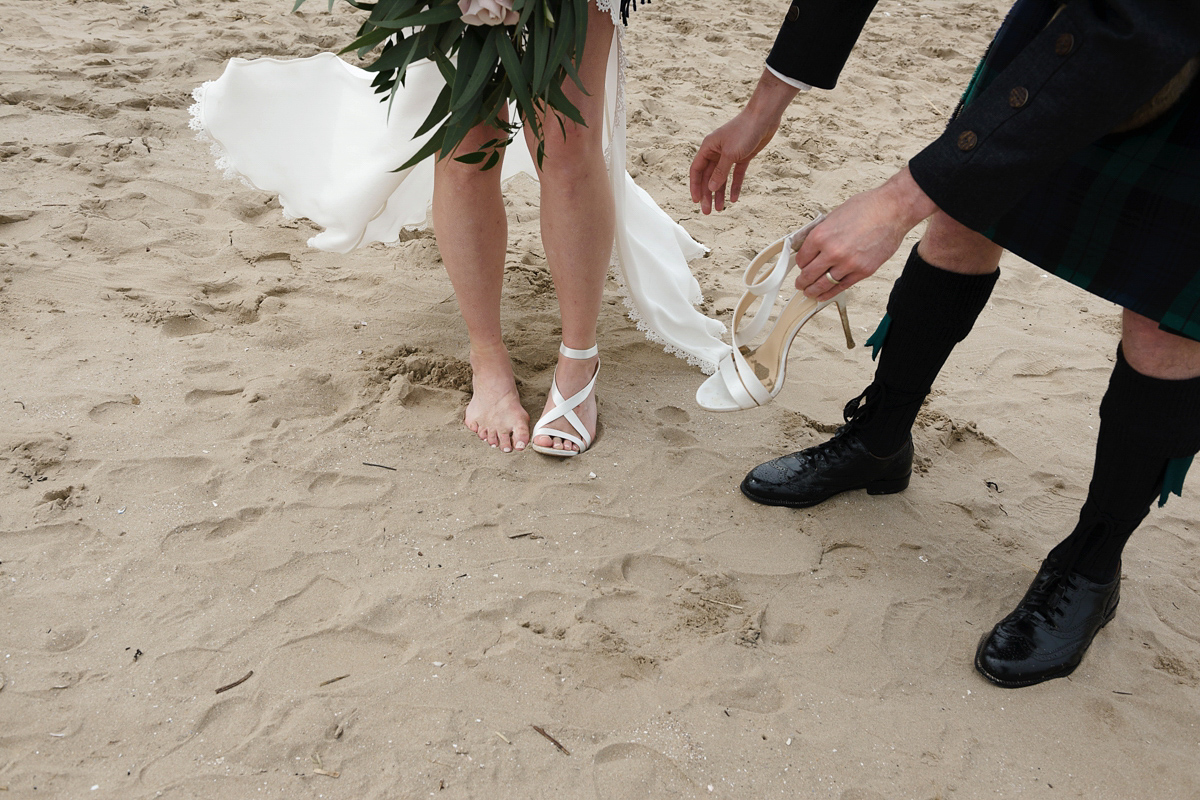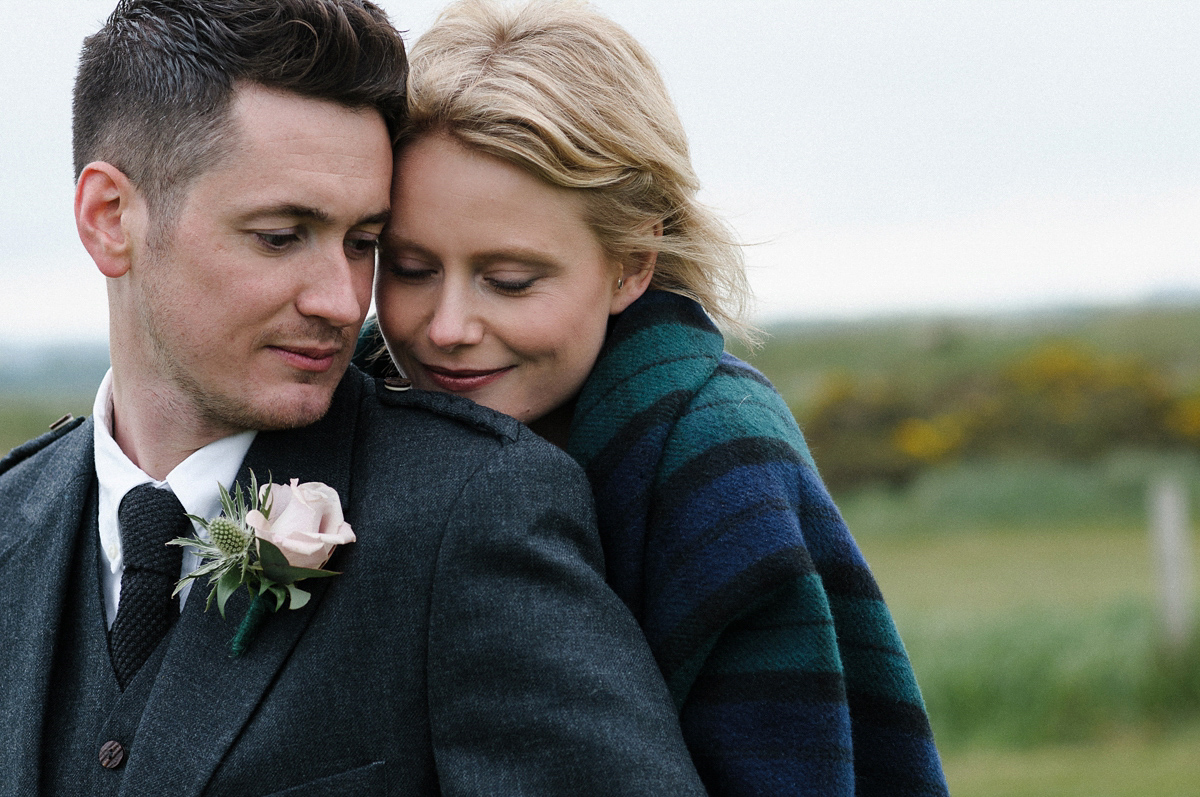 "Our florist was Amy Annand Flowers from Newport-on-Tay. Amy does beautiful arrangements and her style fitted with what we were looking for. On top of that she is based in the village where I grew up I was at school with Amy's brother, so there was a nice connection there."
"In spite of my dad's best efforts to tempt me into a vintage wedding car, I was pretty adamant that we went in our little convertible Smart car. It's the car I use whenever I'm home visiting from the states and it felt more familiar and personal."
"It was secretly adorned with decorations, signs and tin cans whilst Michael and I were having photographs taken on the beach. The drive back to The Newport was loud and hilarious."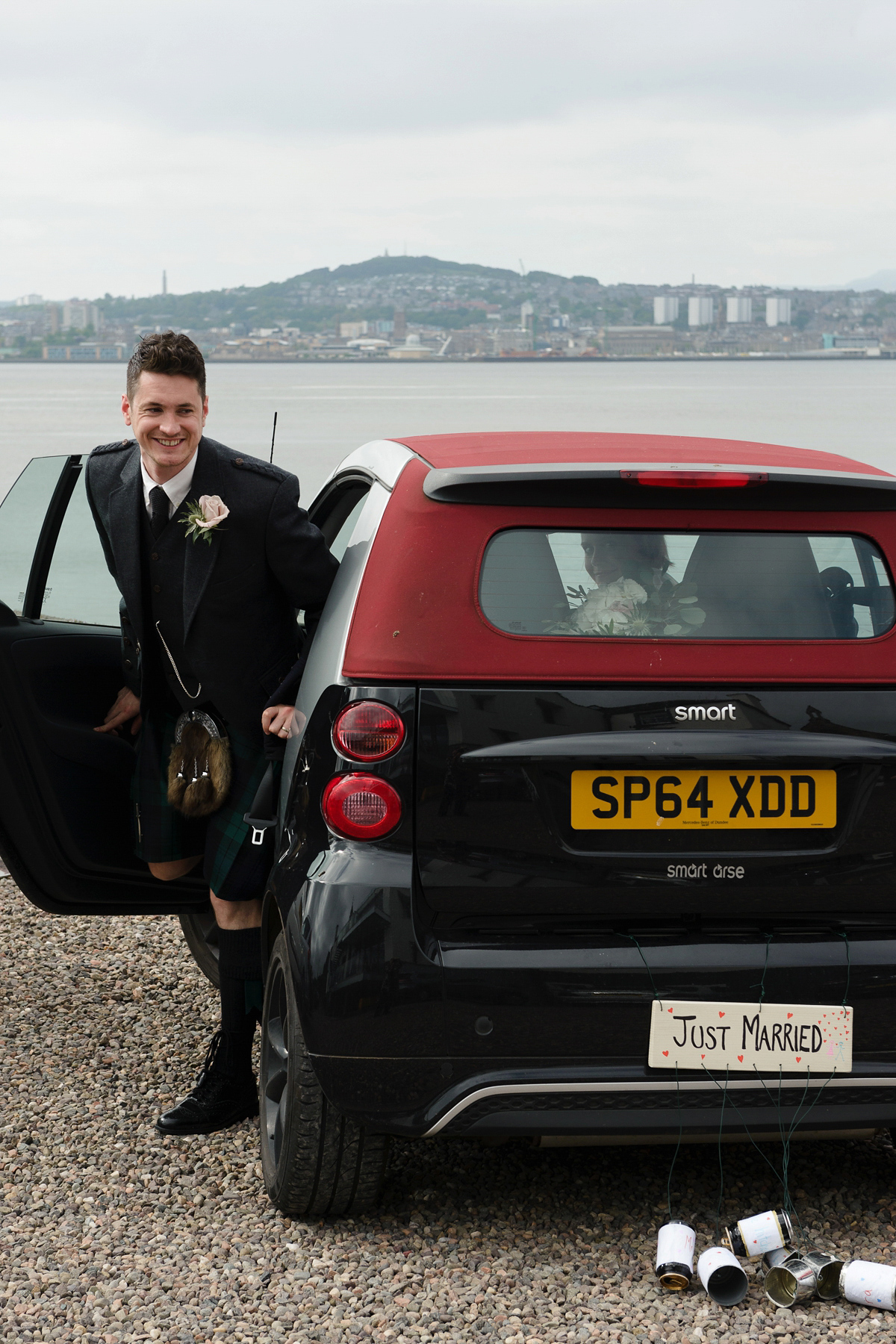 "Our rings came from Catbird in Brooklyn, New York. I have an antique engagement ring so went for a simple thin band to compliment that. Michael's wanted something simple and opted for a plain brushed silver band."
"We had the top floor of the restaurant at the Newport Hotel and, as it was a lovely day, were able to open up the bi-folding doors onto the balcony and enjoy what turned out to be one of the sunniest days of the year so far."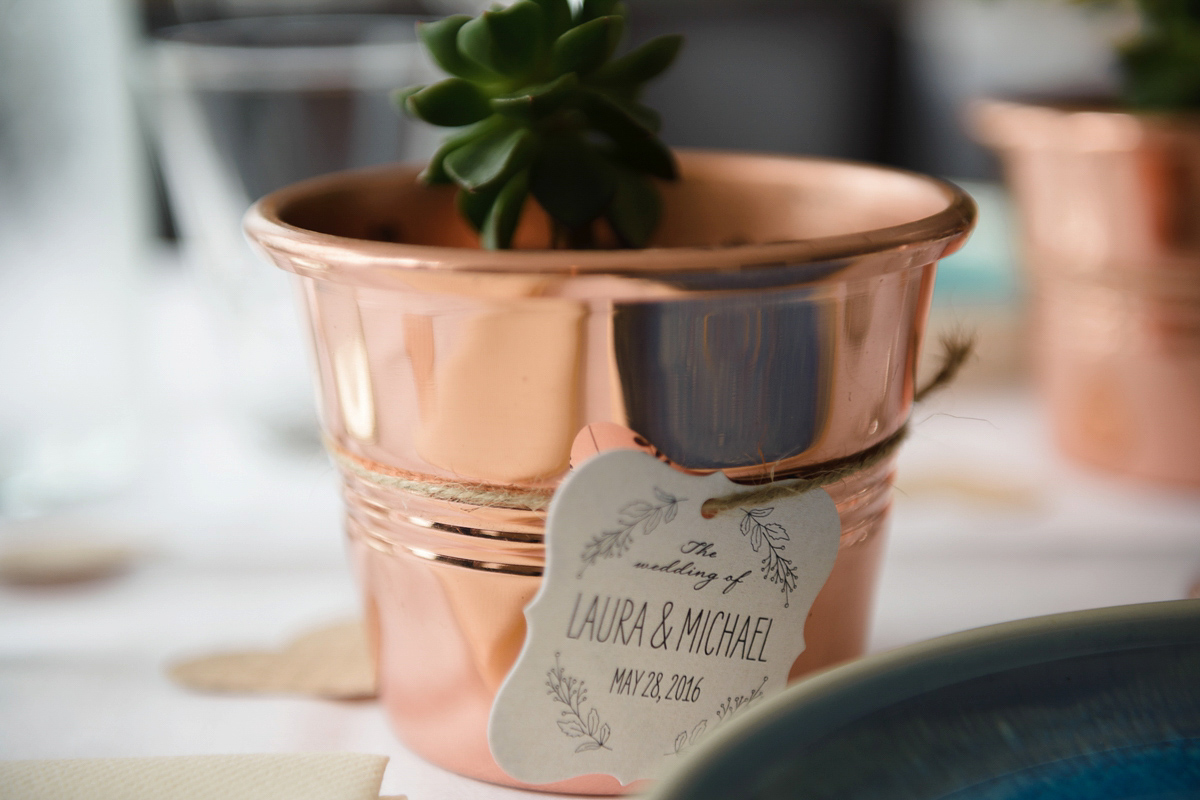 "Our favours were little succulents in mini copper pots. We bought the plants from our florist (Amy Annand) and the pots came from John Lewis. The day before the wedding we potted them up and used twine to attach little personalised cards Laura had made.
Aside from the cake, all the food was provided by the Newport. The current restaurant opened early in 2016 and is run by Master Chef the Professionals winner Jamie Scott and his wife Kelly. We opted for the five-course tasting menu and had cocktails and wine paired with each course. It worked really well. The food and drinks were delicious and Kelly couldn't have been more helpful both before and on the day."
"My favourite part of the day was when we sat down to supper, I took a moment and looked around the room. I held Michael's hand and watched as our parents, our siblings and their partners and all of our nieces and nephews were chatting and laughing with each other. I genuinely don't think I've ever felt so content or overwhelmingly happy in my life."
Words of Wedded Wisdom
"Savour every tiny moment. Savor being so ridiculously in love with your husband/ wife. Take time to acknowledge how connected you feel and the intimacy of what the two of you are taking part in."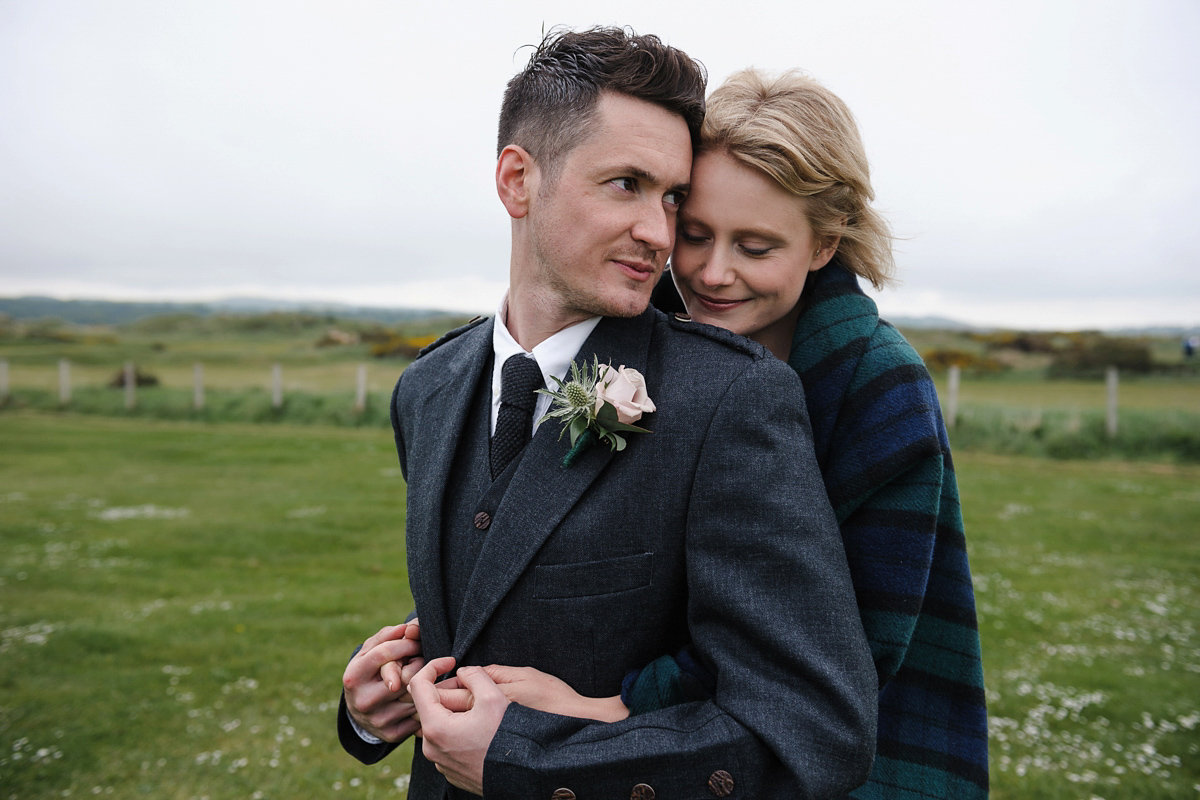 Have a most lovely bank holiday folks. Remember, if you have time on your hands to do a spot of wedding planning today, we have a beautiful wedding directory over at www.littlebookforbrides.com.
Much love,
Annabel x