Ciao tutti! I'm writing to you this fine Tuesday morning from the hills of Tuscany and I so wish I could share the beautiful view I'm looking out on with you all. I'm sure it's because I'm currently sitting in the beautiful environs of my impending Italian wedding (nine and a bit months to go) that I'm feeling especially loved up right now. Allow me to introduce you to the lovely Georgie, who works in retail, her husband David, an operations manager, and their gorgeous little girl, Winnie.
This beautiful little family celebrated Georgie and David's wedding on 1st August 2015 in laid-back, rustic style on  in Somerset. Their family-focussed day incorporated soft pastel shades and plenty of DIY.
"We're really not formal people, we enjoy simple pleasures and what makes us happy. The year before the wedding we had a baby, Winnie, and relocated from London to Bristol, as well as David changing jobs. Due to this we needed to keep costs low as well as making sure we were able to invite everyone who meant so much to us. We chose pastel colours, mainly focusing on blue as cornflower blue is my favourite colour, and as we wanted to create our own wedding, we made all of our decorations ourselves with help from family members."
Photography by Naomi Jane Photography
Georgie chose a pretty tea-length Essense of Australia dress to show off her gorgeous Rachel Simpson Mimosa shoes and studded her twined and braided up-do with delicate sprigs of sweet gypsophila. There's something of a ballerina-style elegance in the pretty detailed bodice and voluptuous full skirts of Georgie's gown, which looks incredibly romantic with her full fringe and soft make-up.
I so wish I could pull off a fringe; I've tried a few times but with my very round face I earned the nickname 'legohead' until it grew out. Georgie on the other hand looks like the subject of a dreamy Degas painting.
"My dress was Essence of Australia and I purchased it from a small bridal shop called Anne Harding. Originally I went in to try on a Justin Alexander dress, then I saw this massive tulle ball gown and tried it on simply because it was so extravagant compared to what I had been looking at. When I put it on it was the only dress I could envision myself in." 
"As I was extremely self-conscious about having put on a lot of weight after my baby, I asked the seamstress if there were any way to make it into a tea length dress. She looked horrified but said that it would be possible. We proceeded to cut a massive amount off the length of the dress and I wore it without the lace shoulder cover up which came with the dress."
"It was in the sale so with alterations it all came to £750 and I also purchased a massive petticoat from eBay for £10 to give the skirt more volume."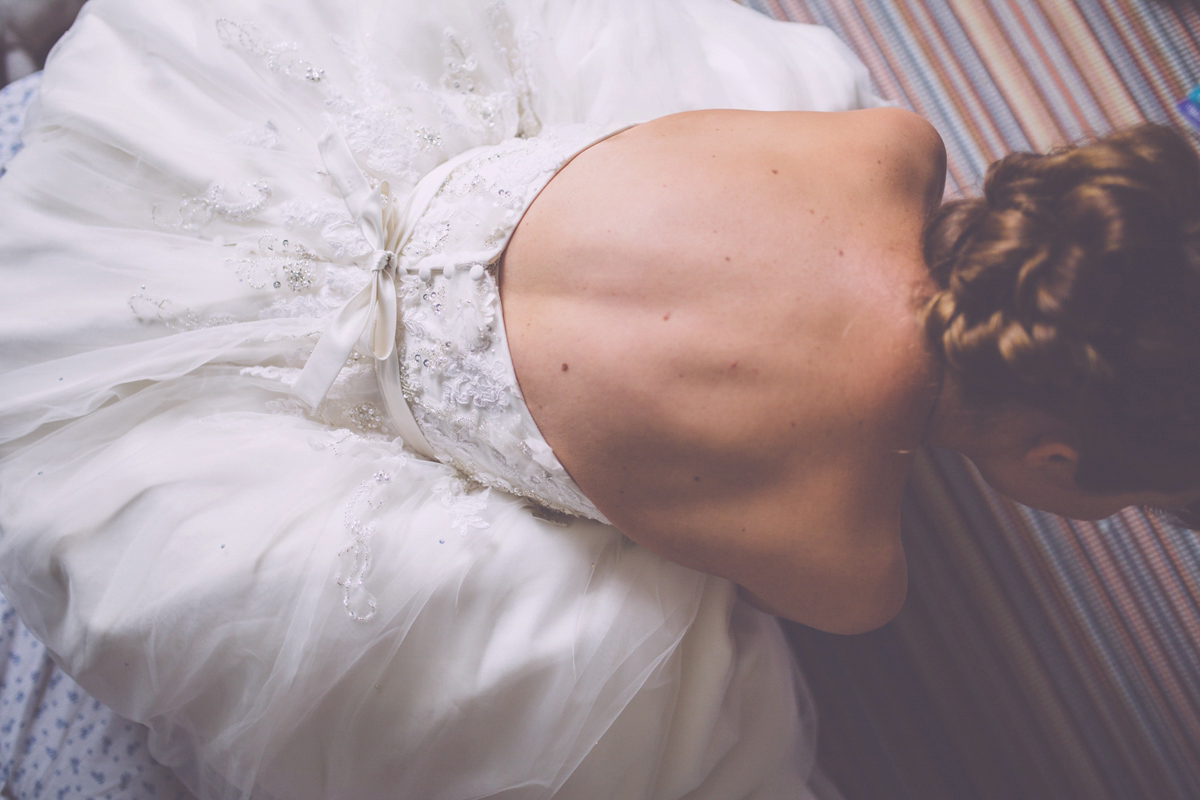 Now I know you're all dying to know where gorgeous Winnie's pleated little frock is from. Doesn't she look adorable? Baby Gap came up trumps with this £22 beauty and Winnie looks pretty happy with it too!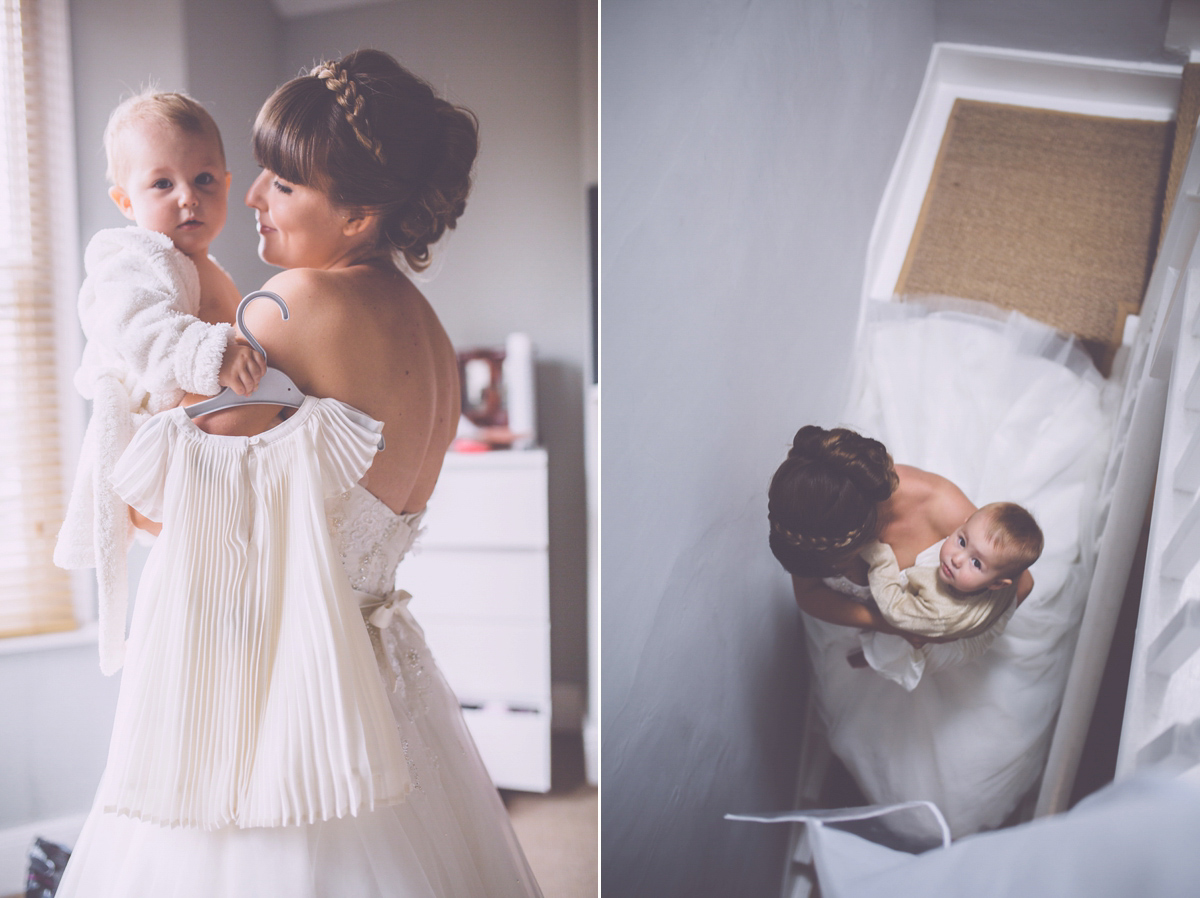 Georgie's bridesmaids wore cornflower blue dresses from Oasis, complemented perfectly by little blue drop earrings from Oliver Bonas, a gift from the sweet bride.
Georgie chose not to wear any accessories other than fresh flowers in her hair, allowing her gorgeous gown and colour-pop shoes to really sing. The couple chose their favourite bloom, gypsophila, as their sole wedding flower which not only kept the costs down, but created a cohesive, romantically rustic motif which ran throughout their day.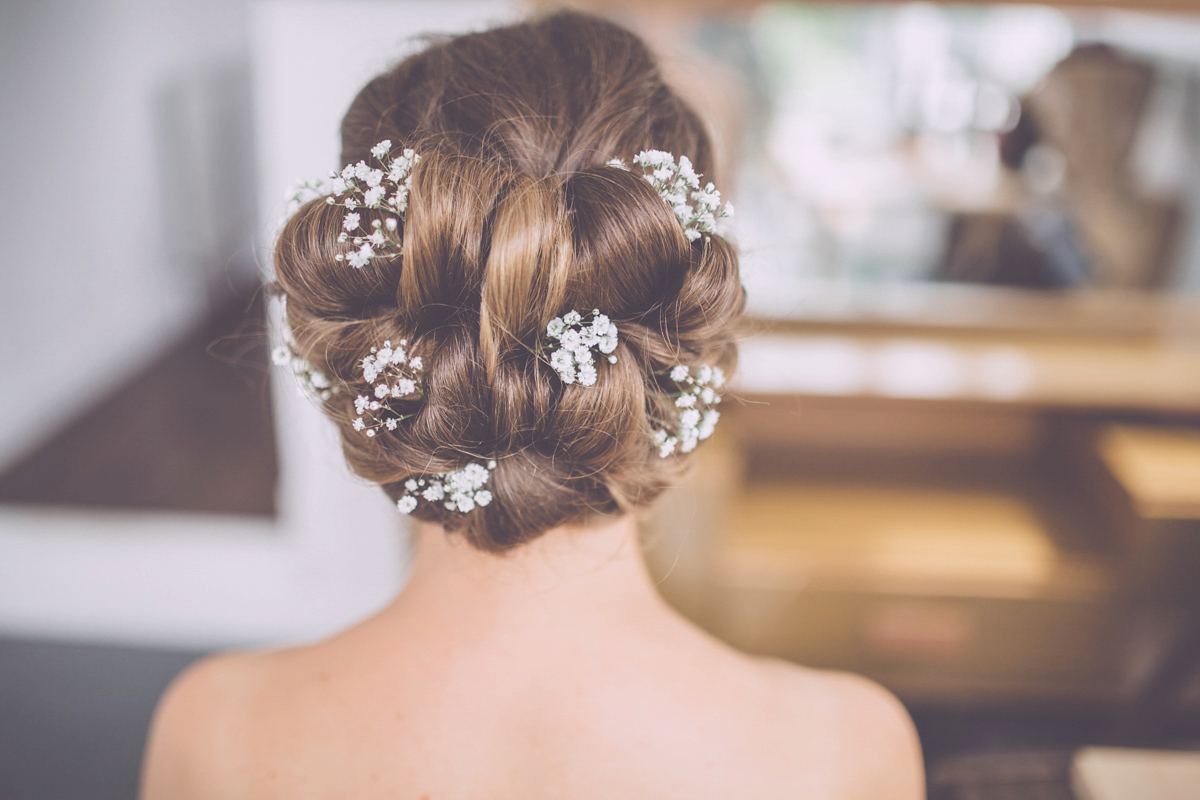 "I wore Jo Malone's Pomegranate Noir perfume because my sister wears it and always smells amazing. I then received it as a present from David as my first Christmas present as husband and wife. I did my own make-up and my friend Alice, a hairdresser, did my hair."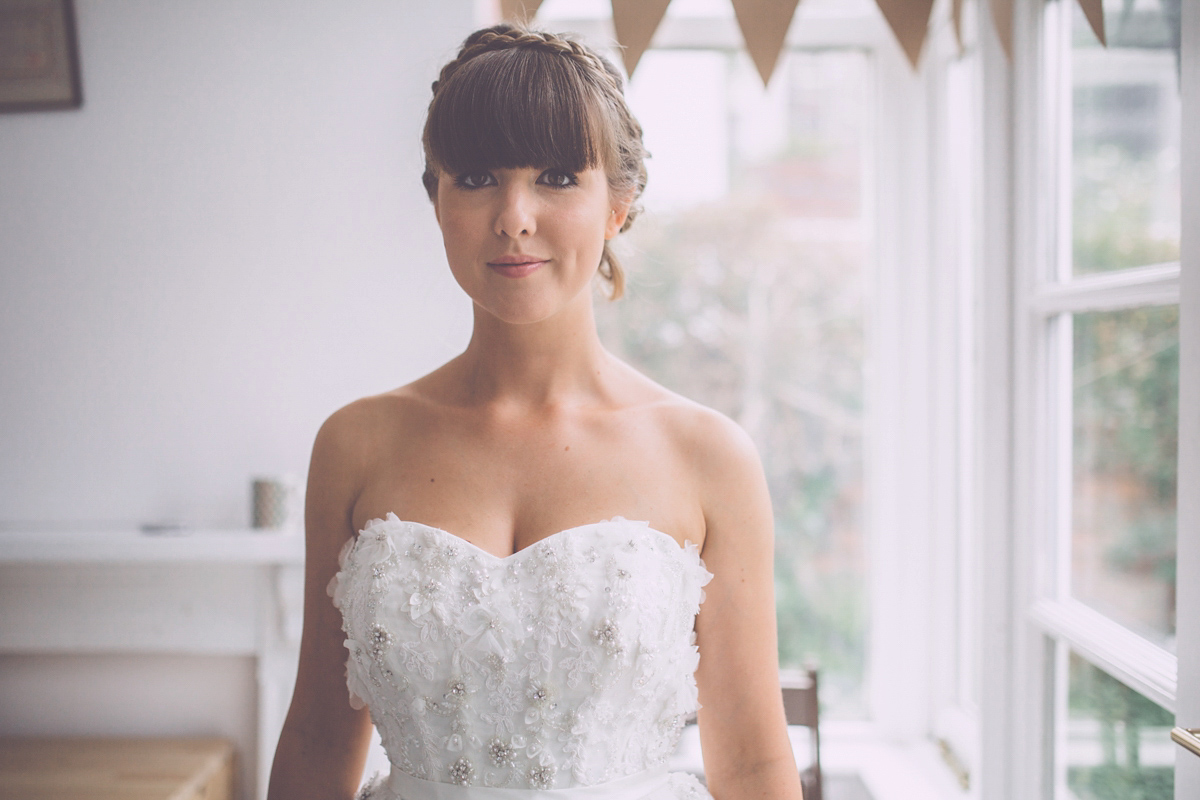 "My pale blue Mimosa shoes from Rachel Simpson are the most comfortable shoes I have ever owned. I really wanted comfy shoes and a pair that would be a huge part of my outfit as they would be on show."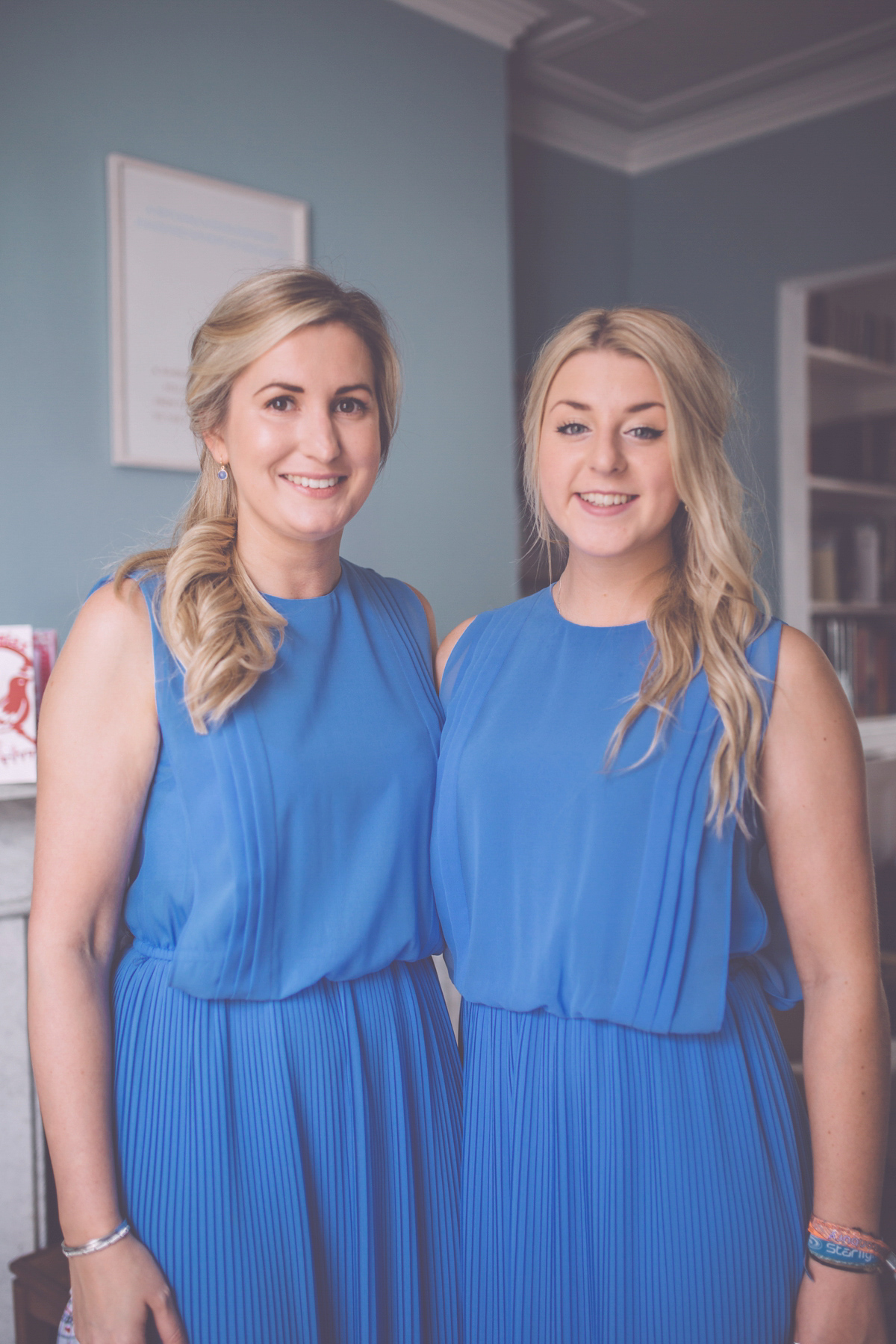 In keeping with their laid-back, no fuss style, Georgie and David used their own cars to drive to their ceremony at the rustic haven of West Croft Cider Farm in Somerset. I completed my degree in languages at the University of Bath and as you might imagine, I have been fairly well initiated into the world of cider-drinking and experienced first hand the friendly openness of the West Country.
"Our venue really meant something to us on a personal level; it's owned by friends who have a family business making cider. It also has loads of character and was a blank canvas for us to work with."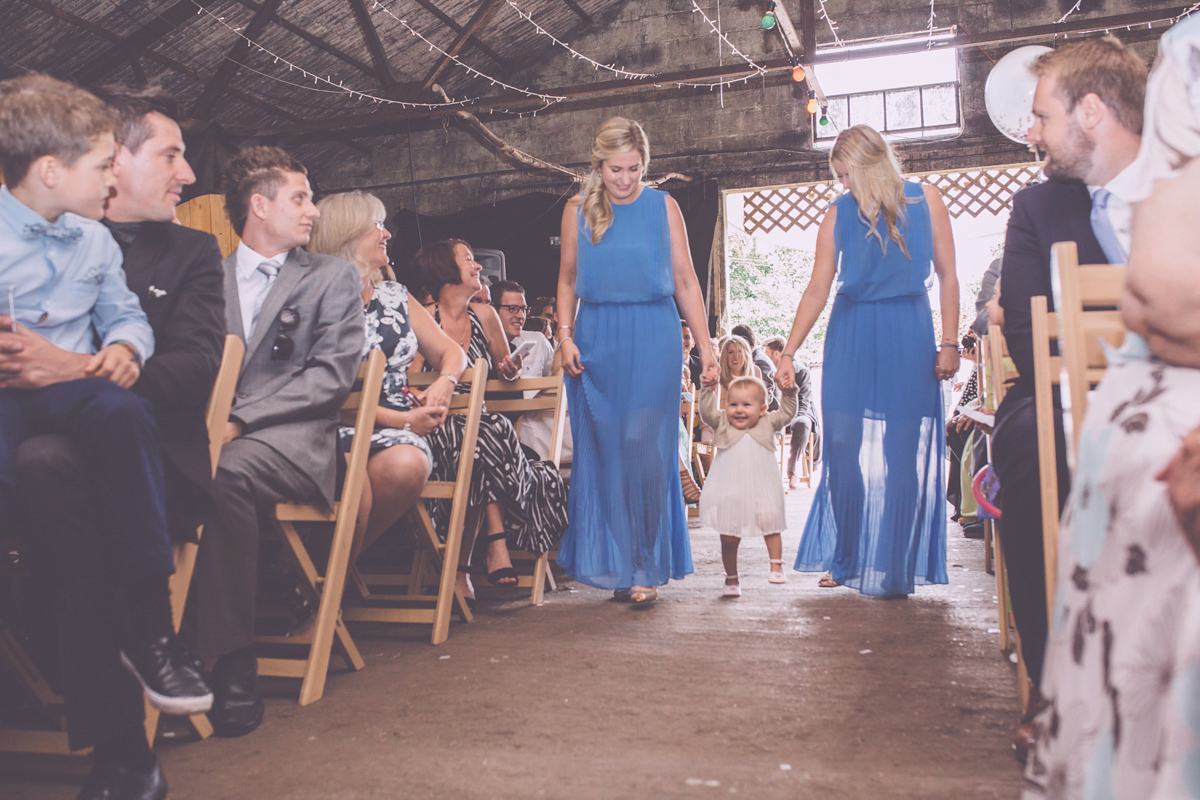 Georgie's step father walked her down the aisle to 1000 Years by Piano Guys and she and David walked out to Fleetwood Mac's Everywhere. What an absolutely brilliant song and so perfect on this truly celebratory, joy-filled occasion. David's rose gold ring came from Diana Porter, while Georgie's handmade unique design is the creation of Les Grimshaw, purchased in St Ives where the couple got engaged.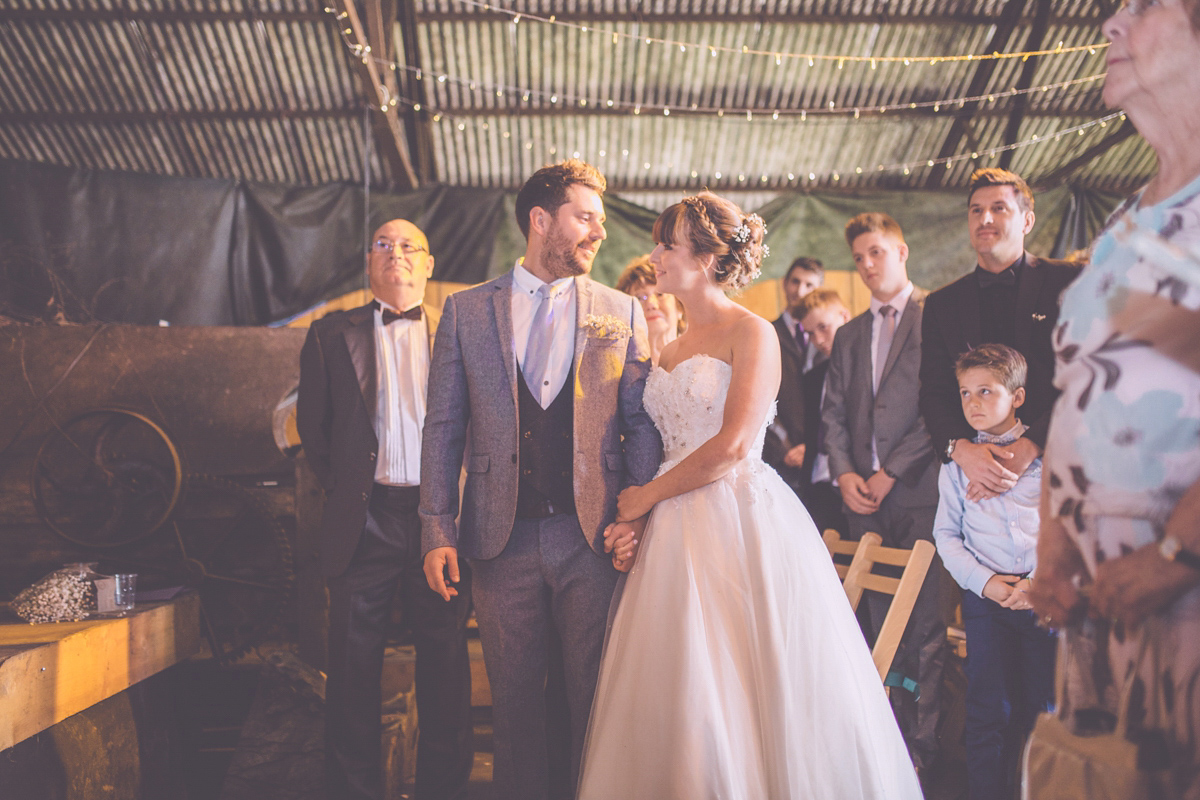 "We wrote our own vows and my sister and mum and David's brother and mum did readings. They were all chosen by them as something which is meaningful to them in relation to us. Walking out to Fleetwood Mac, being showered by confetti through a tunnel of people, and realising how lucky we are to have such close friends and family who mean so much to us was our favourite moment of the day. Everyone seemed so happy and joyous."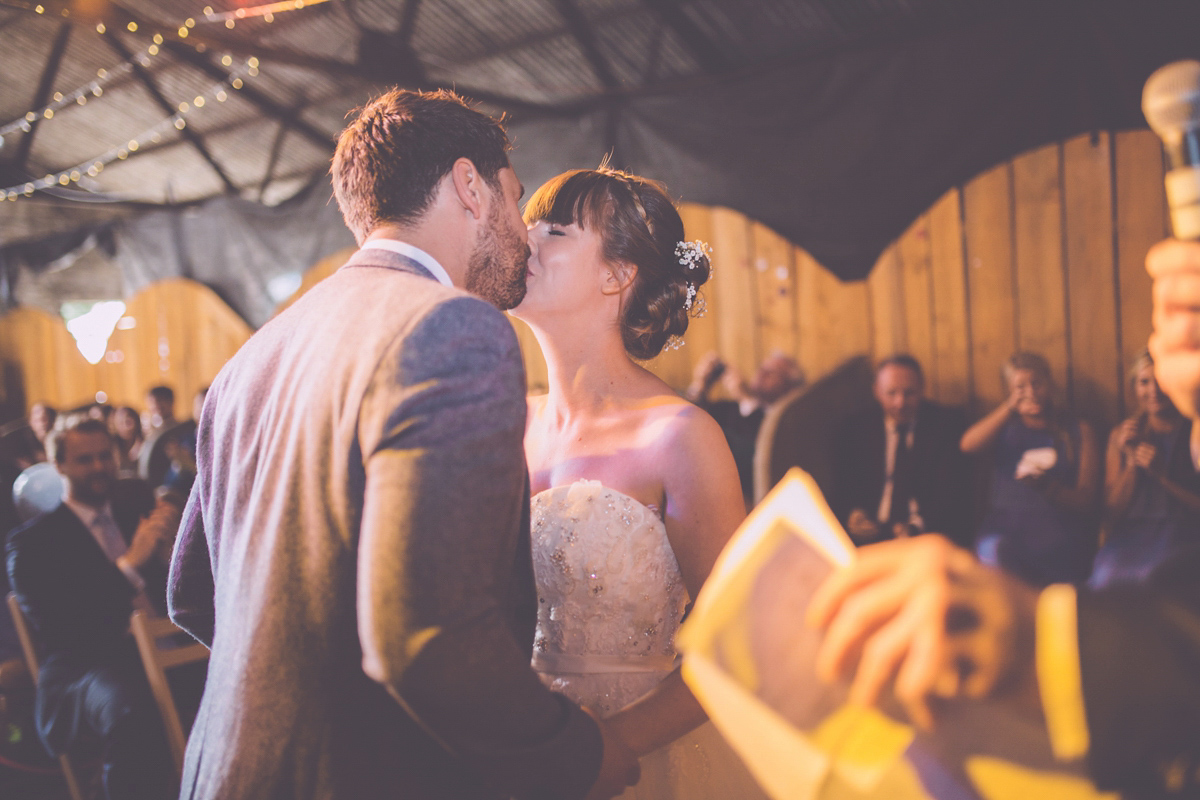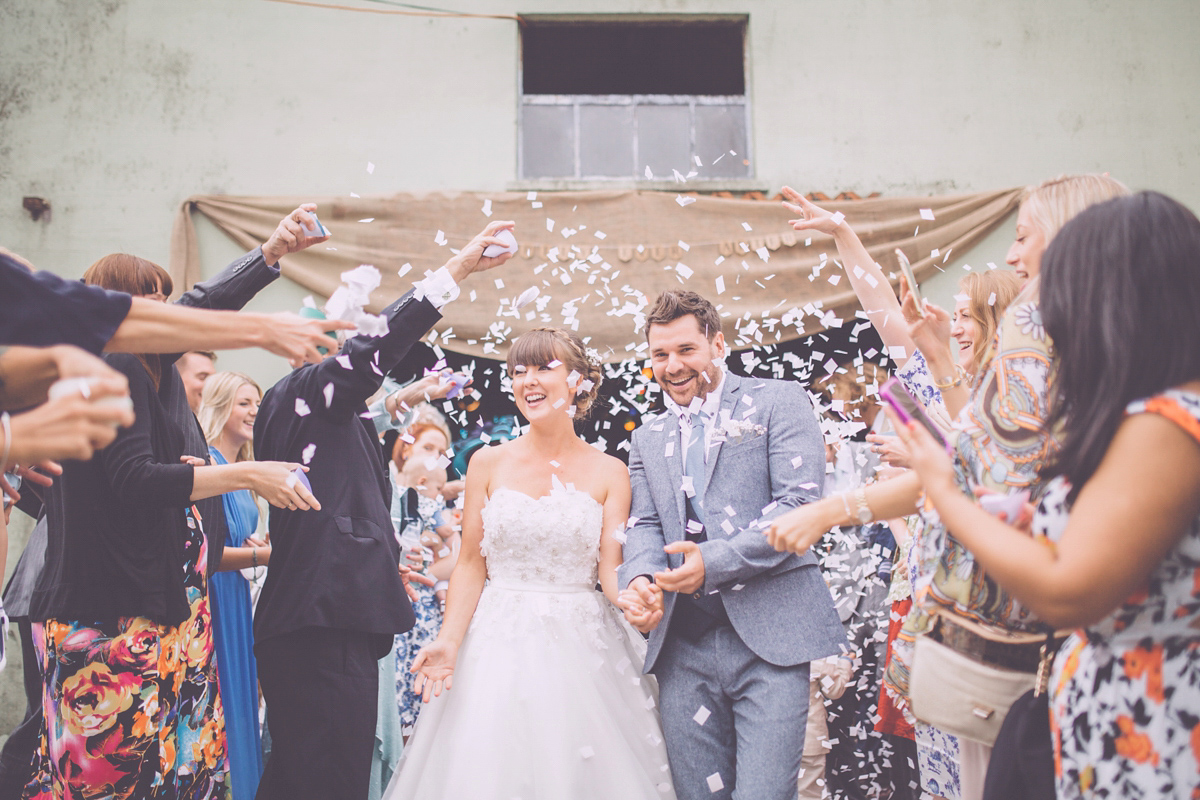 These two lovebirds first met through friends in Bristol and an unfortunate sequence of events on their eventual first date thankfully led to their happily ever after. I just had to share their story with you, I'm sure David's parting words will make you smile as much as I did when I first read them.
"We first met at a bar in Bristol called Mr Wolfs. Our friends struck up a liking for each other and we were the ones who would accompany them on various nights out."
"With our friends always hooking up, we would be left to enjoy our nights together on a platonic level. One night David had to leave early and I felt disappointed that he wasn't there. After a bit of match-making from our friends we went on a date, which was a total disaster."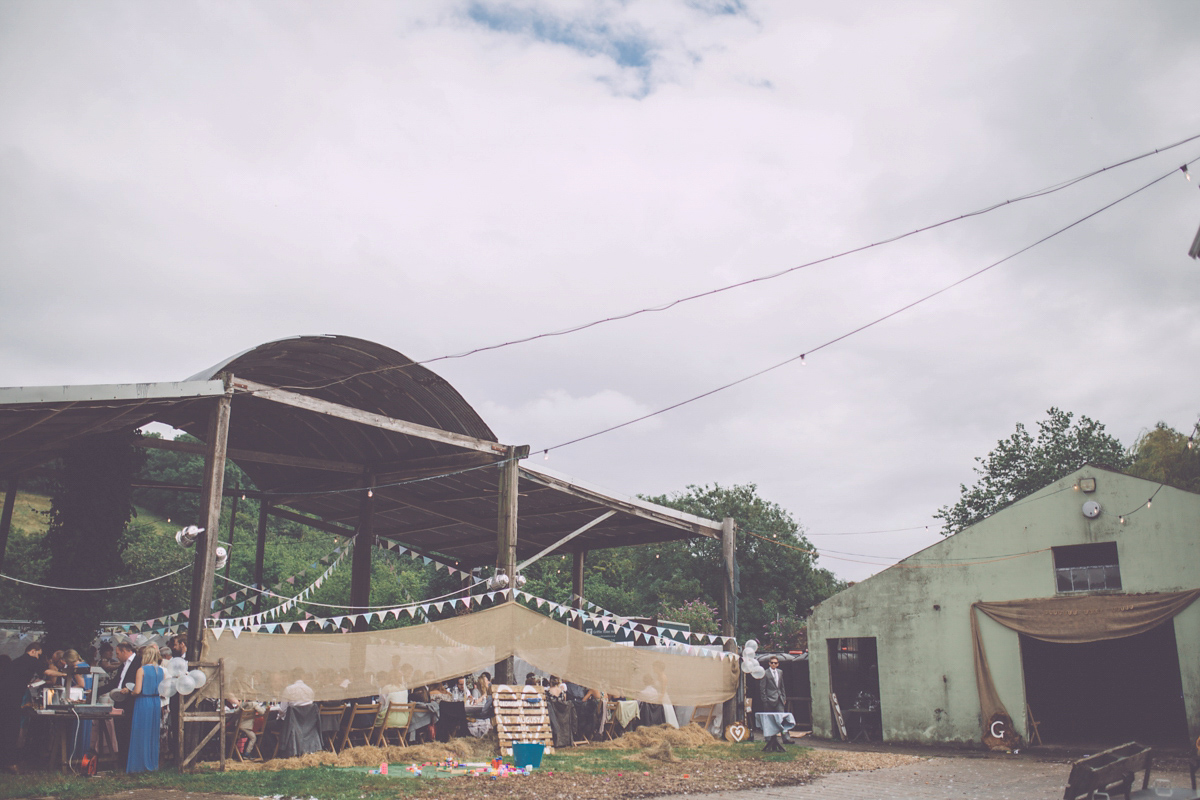 "We both went to totally different bars with very similar names; 'The Woods' and 'Into The Woods' (David chose the classier bar). After a delay we found each other and it was a relief to know we hadn't stood each other up."
"We talked for ages at ease and then moved onto another bar. It was my turn to buy the round, being a modern lady I insisted, and then realised my purse and phone had been stolen.
"David was amazing and helped cancel all my cards and stayed so I could have an alarm call in the morning so I wouldn't be late for work. He has always thought this was a great excuse to stay. David also always joked that on our wedding day he would give me my purse and phone back."
I adore weddings where generations of family members jump at the chance to get involved and craft completely unique and beautiful decorations and details. Georgie proudly told us that they didn't need an event planner, such are the incredible organisational skills of her husband.
"David is an amazingly organised man with a great eye and he's very practical. Everything was sourced from friends and friends of friends, our venue provided 500 pints of free cider, and we had a hog roast under a fantastic rainbow as our evening meal." 
"My mother made metres of bunting and we used wood found around the cider farm and painted it with captions and hearts. We also had candles in jars and wine bottles on the tables which were dressed with hessian and banquet roll."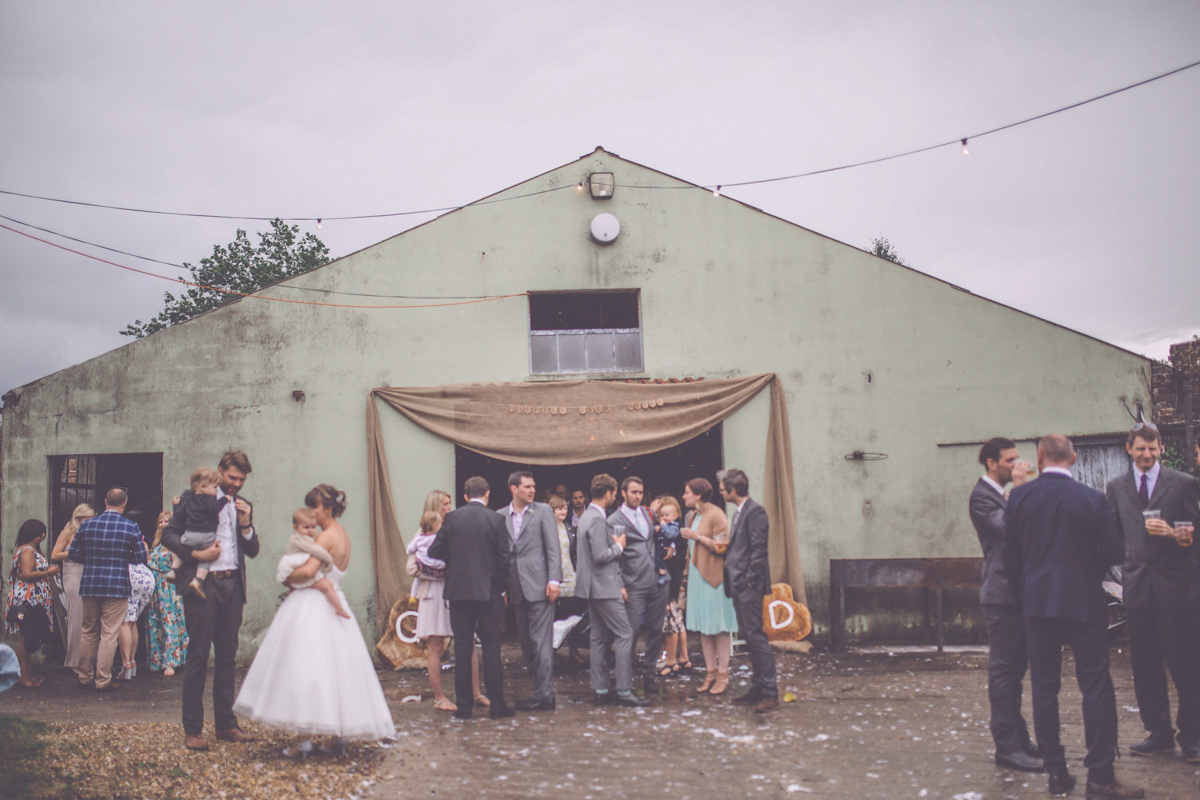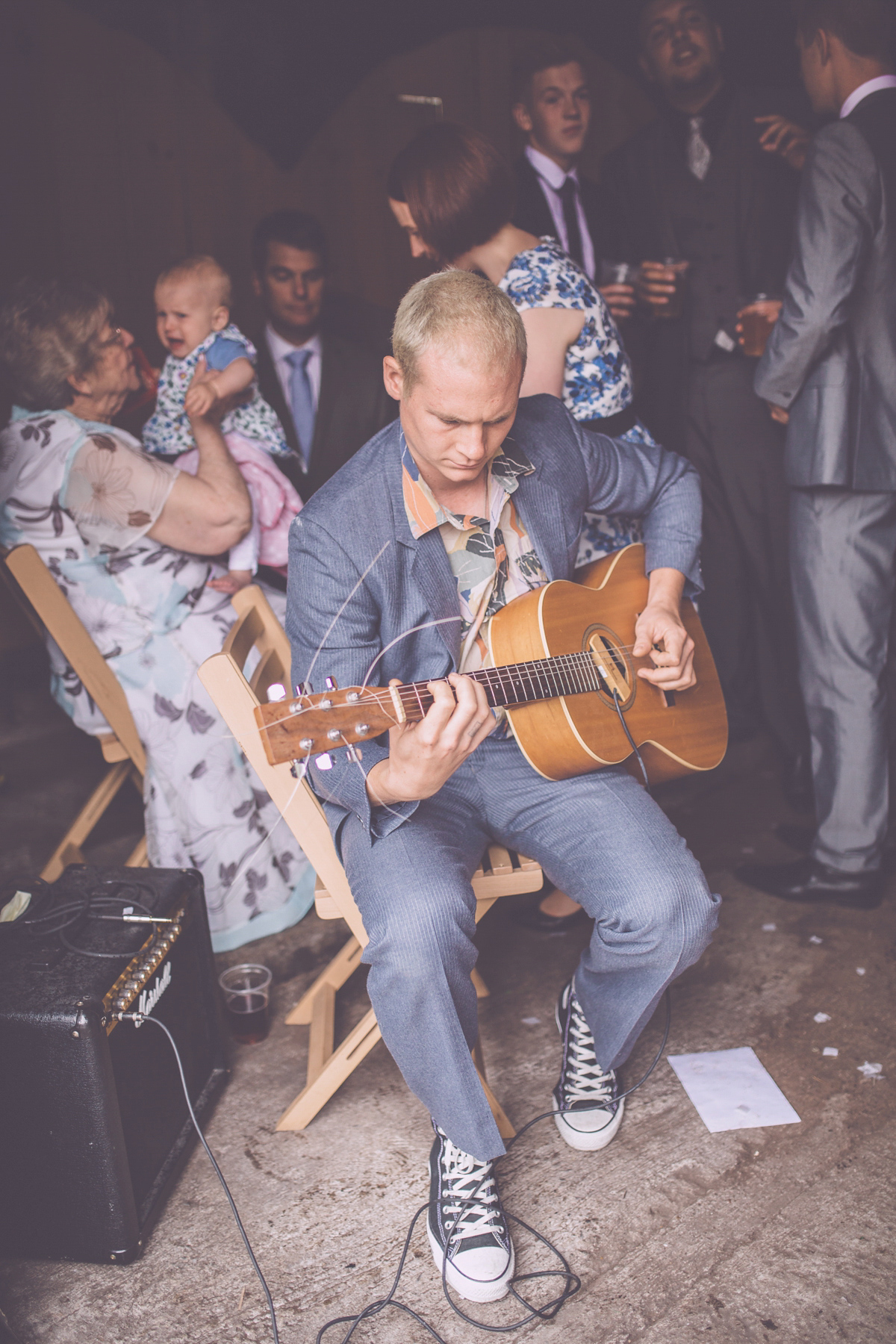 On hand to capture the happy, smiling faces was Naomi Jane. The journalistic style of these images really allows the love to flow through the screen doesn't it? I particularly love how beautifully Naomi has captured some of the littlest wedding guests; such cheeky faces expressing moments of pure excitement and joy.
"Naomi Jane Photography was recommended by a close friend. I couldn't have wished for more perfect pictures or a better photographer. We had an engagement shoot as well as Naomi taking our photos on the day. She was very good at making us feel relaxed (we both feel uncomfortable in front of the camera) and was very specific in asking exactly what we wanted."
"The resulting relaxed shots captured the feeling of the day, rather than statue-style portraits. Naomi was very good at almost not existing and blended into the crowd so guests were unaware they were being snapped. So many of my guests have commented on how lovely she was on a personable level. Since the wedding we have stayed in touch and plan on going for breakfast; she is so lovely. Our pictures were presented in a box, on a wooden USB stick, with a few extra special treats."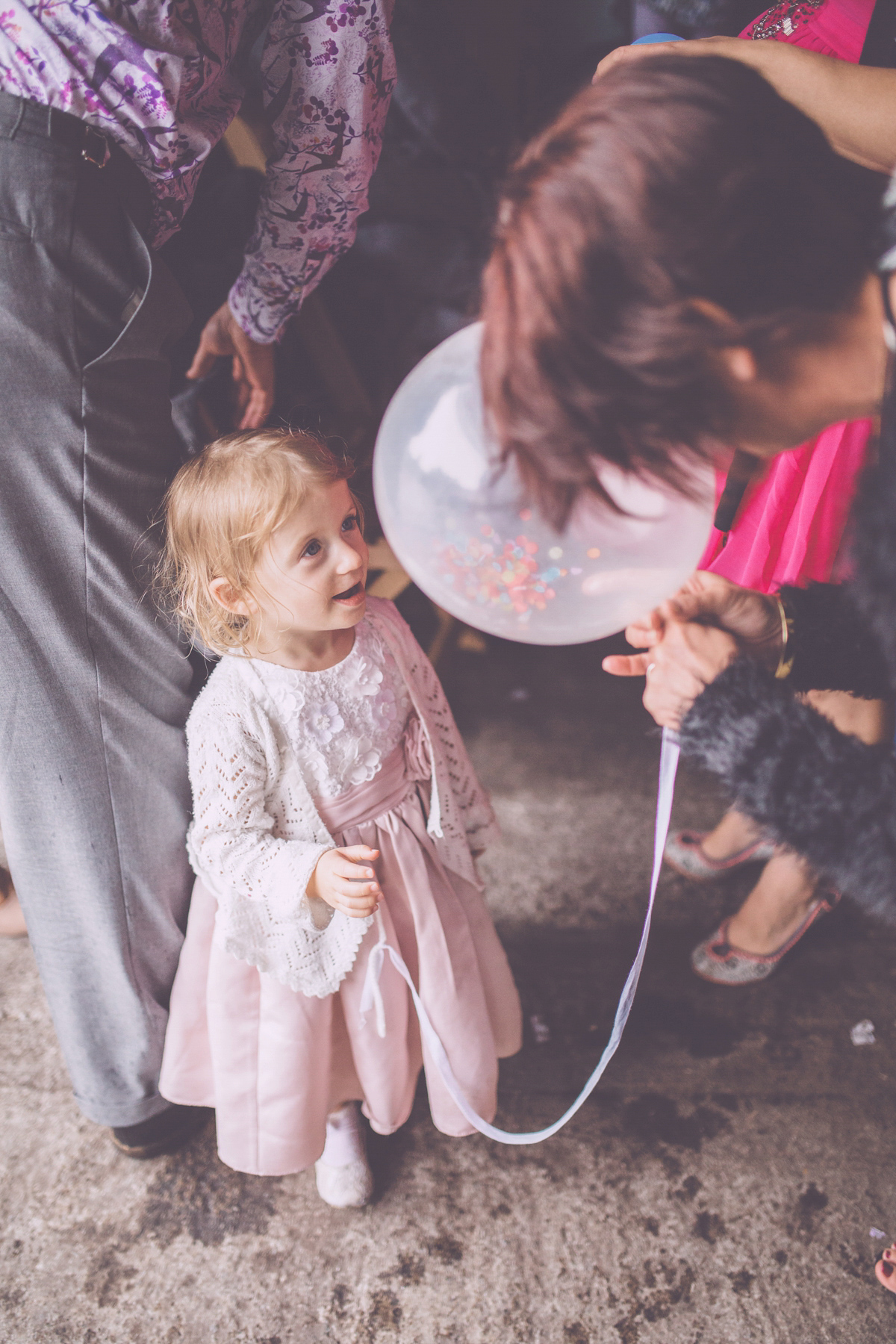 Further personalised touches were created by our lovely bride; little flags with names on adorned the Tunnocks tea cake favours, doubling up as place settings. Each guest also had an individual hessian bunting flag with their initial on which made great mementos of the day for the guests to keep.
"We chose to do speeches before the meal so David could relax and we did this with guests standing. This was a great choice for us and we felt it gave our guests on either side points to discuss and got the conversation started so to speak."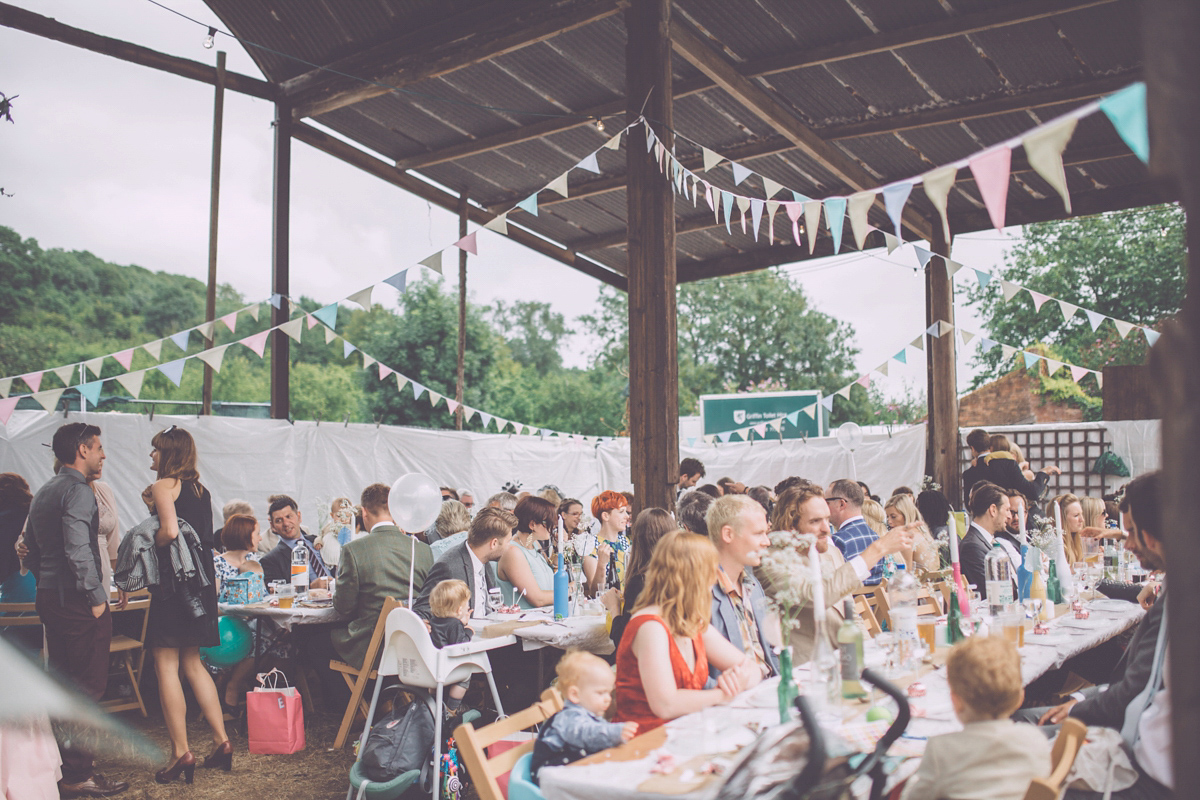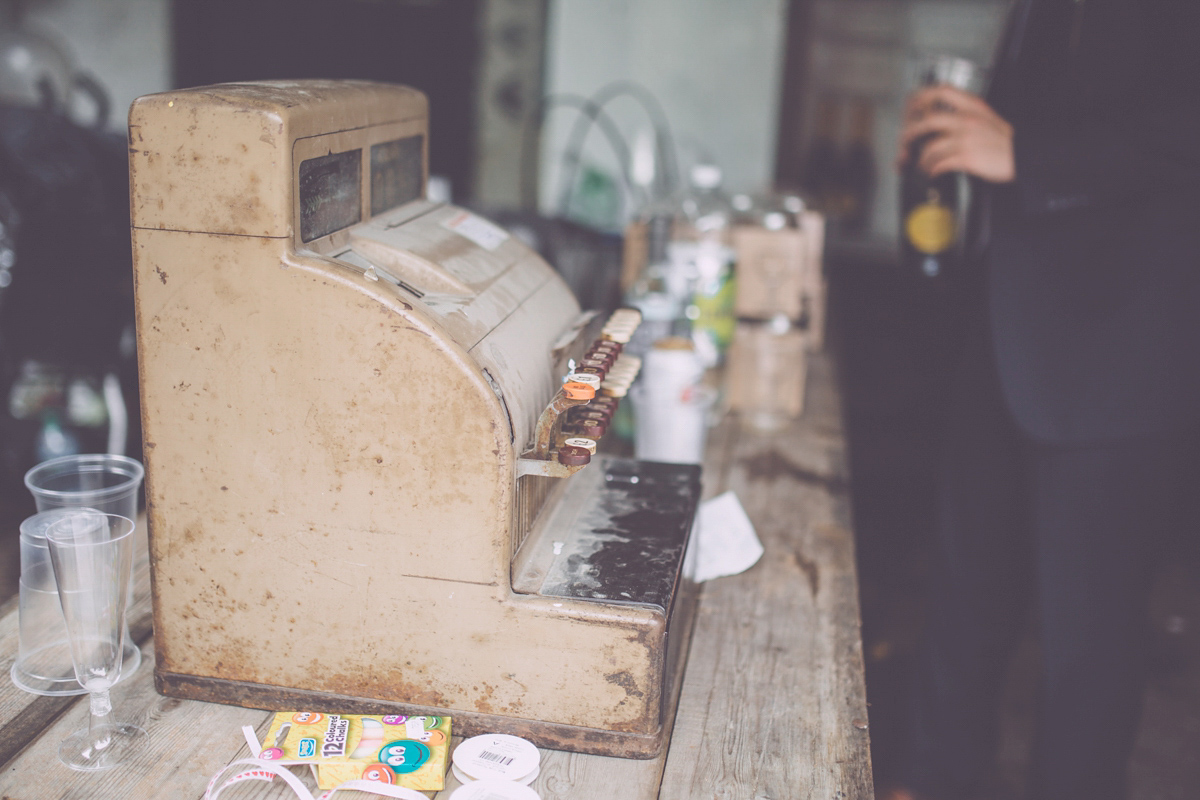 Georgie's wonderful grandparents made and decorated the wedding cake; two scrumptious tiers of fruitcake and one of sponge. They may have gone a bit rogue à la Great British Bake Off with the brief but the result was absolutely delicious and totally personal.
"The brief for the cake was simple polka dots, however as grandparents do, they added the butterflies to make it more 'special'. It made me smile a lot knowing how proud they were of their addition. The cake was absolutely delicious."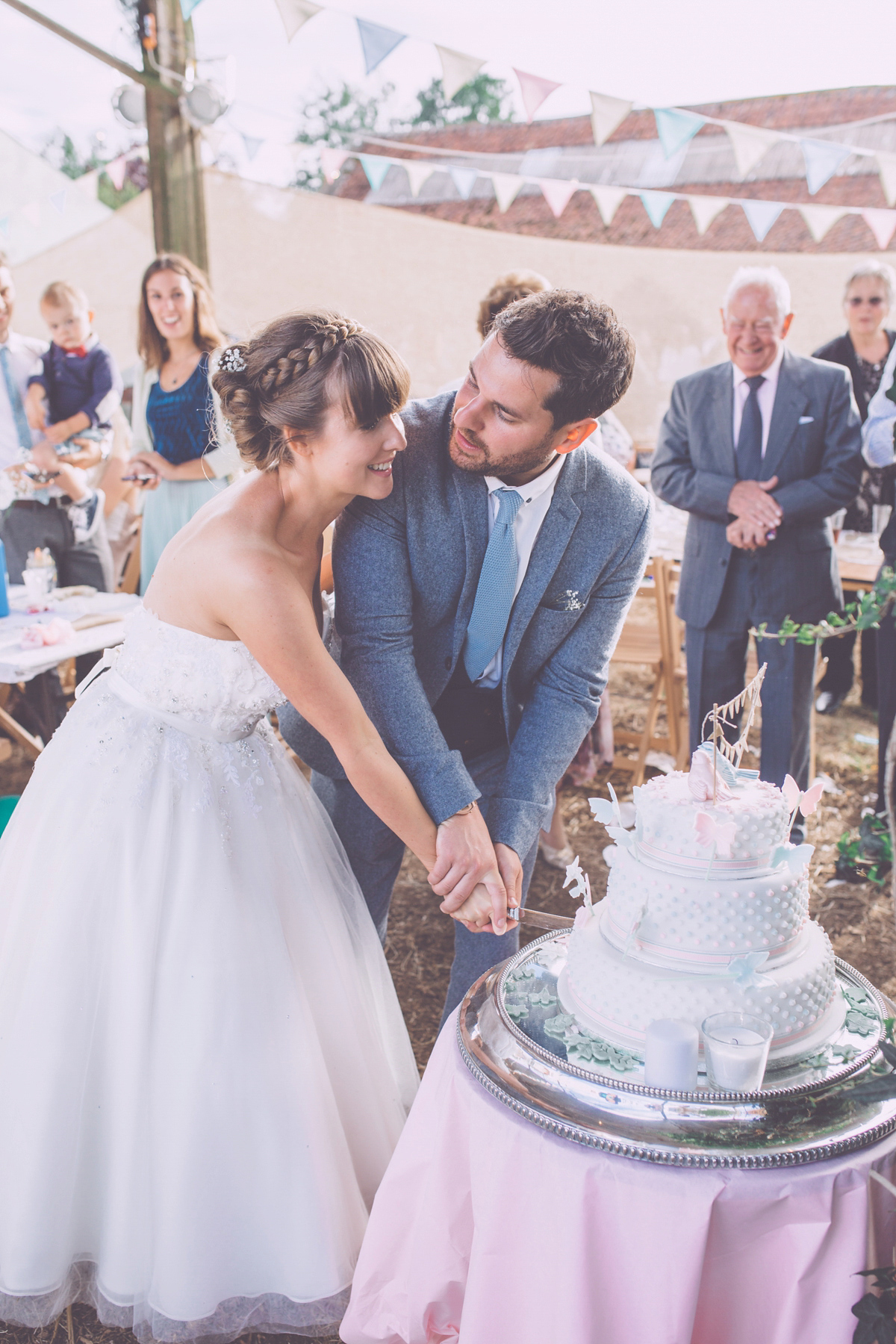 For their evening entertainment, Georgie and David created a playlist and saved oodles by borrowing a sound system and lighting from David's previous places of employment. All totally free, I love it!
"We chose Willow's Song by Paul Giovanni for our first dance. We would listen to this on repeat when Winnie was a small baby, just soaking in the moment and how lucky we were to have each other and her. We feel the same emotions every time we hear this song; that nothing in the world matters except for us."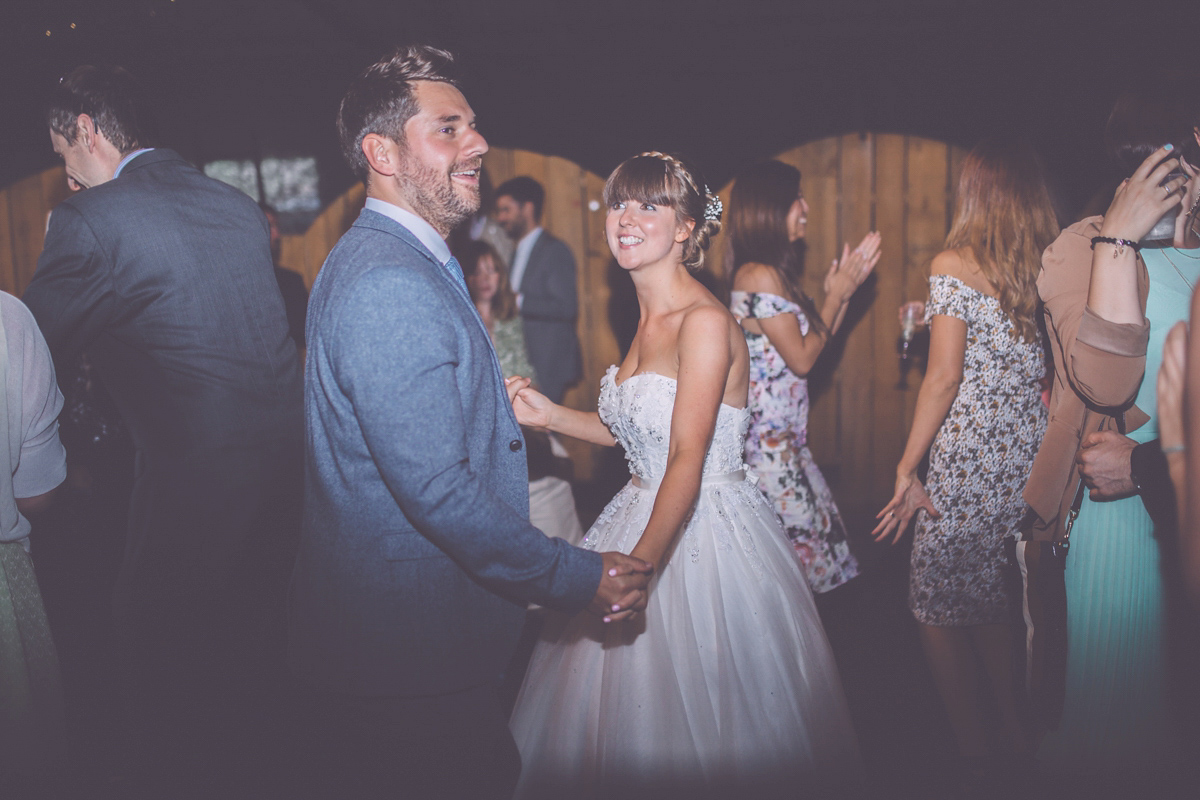 Extending the fun of the day just that little bit longer, the newlyweds invited their guests to camp in a nearby field while they enjoyed a moonlight stroll down country lanes to their hotel.
"If there's one thing we'd do differently, we'd maybe have water-tightened the venue better; we had a few leaks as we had to tarpaulin the cow shed to make it into the dining room. Everything that happened was our wedding day though, so we wouldn't change a thing."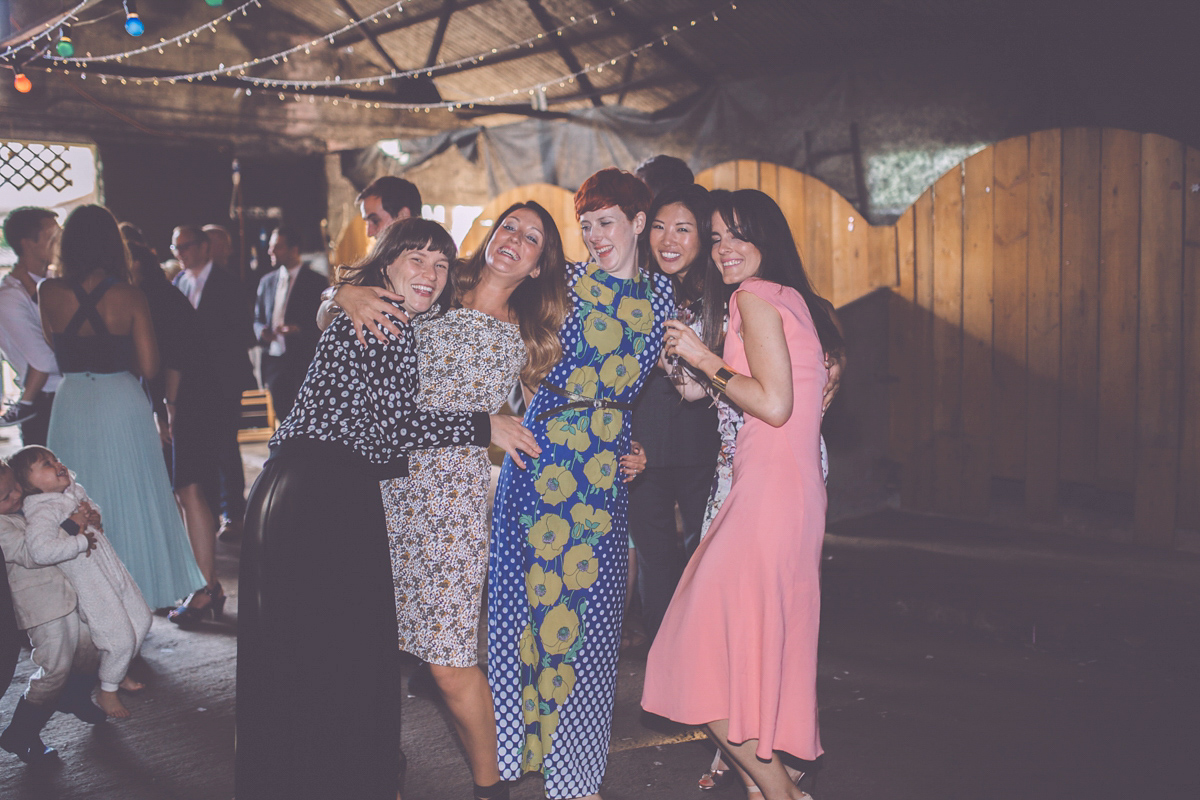 Words of Wedded Wisdom
"Relax, and enjoy the ride. 'Perfection' can never be achieved and your day will be what it is meant to be – the only thing that matters is the two of you."
Thank you so much Georgie for those very timely and sage words of advice, I'm going to try very hard to keep those in mind throughout my week of Italian wedding planning. A big thanks too to David and little Winnie for allowing us a gorgeous insight into your special day. And last but not least, our heartfelt good wishes to Naomi Jane for these incredibly joyful images.
If you just can't get enough of these relaxed rustic vibes, you can find more wedding loveliness over in Instagram using Georgie and David's hashtag: #ciderfarmwedding
I hope you have a lovely week lovlies, I'll try not to post too many Instagram snaps of our little slice of Tuscan paradise…
Love, Em x