Hello there. I hope you're having a good week so far. Summer may fast be becoming a distant memory for most of us but if you're still hankering for some warmth you will love this gorgeously sun kissed wedding in stunning Ibiza. Karen is a Hairdresser and Stuart is a Finance Assistant and they tied the knot on June 6th with a backdrop of white cliffs and a sparkling blue sea. The couple rented Casa Blanca in Es Canar, Ibiza and using dream catchers, feathers and painted pebbles to add to the beachy vibe, their wedding really is the ultimate laidback, boho glamour party.
Film maker Garry Lee McManus of Infin8 Images and photographer Samie Lee accompanied the couple and these beautiful images and film capture the party vibe of the day perfectly.
The gorgeous bridesmaids look fabulous in their grey Virgo's Lounge dresses which are reminiscent of the surrounding sea. The adorable flower girl wore a pretty beaded tulle dress from Tutu du Monde.
Photography by Samie Lee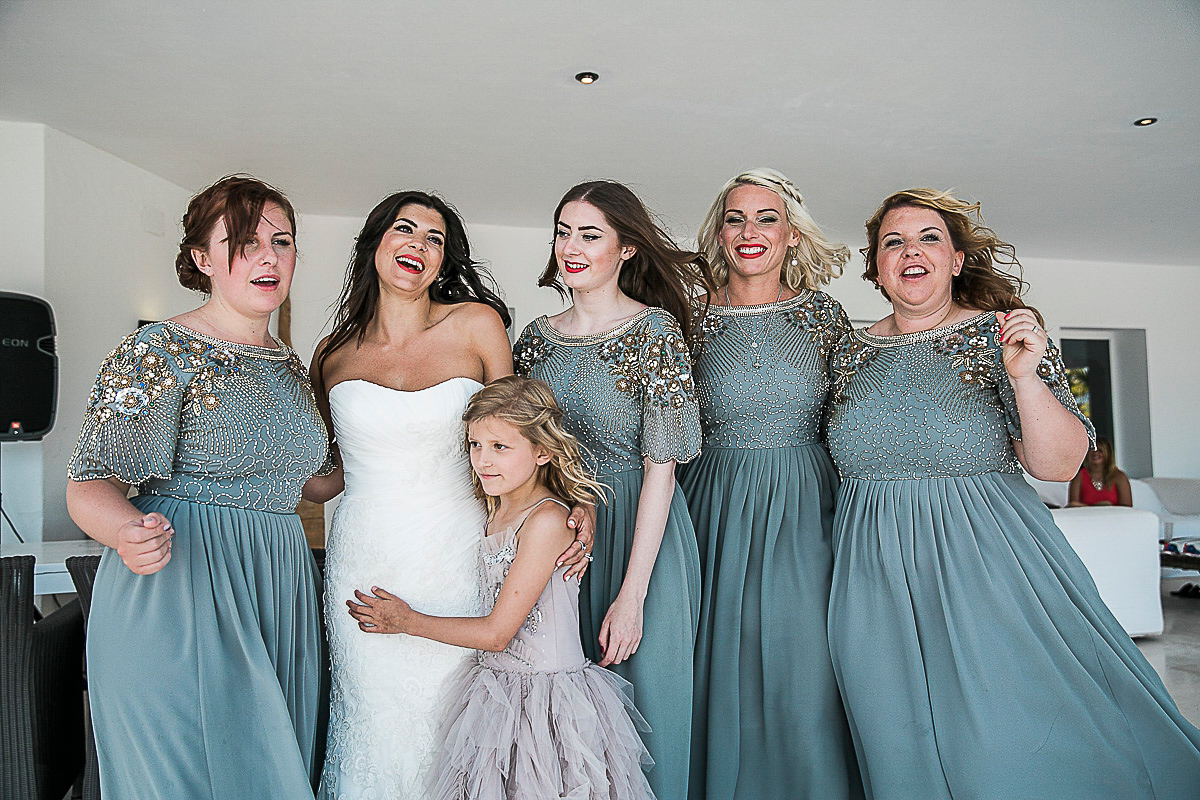 The amazing Samie Lee Photography took the trip to Ibiza to capture Karen and Stuart's gorgeous wedding day.
"We chose Samie because she is a friend, I love her style – totally relaxed but quirky. We did a 'first look' before the ceremony to take the nerves away and later on we had a sparkler arch which was fun and made for some great photos."
"We wanted a venue with wow factor, sea view, and where we could continue to party late into the night, not restricted by closing times. Going abroad also meant that we could spend more than just a day with our friends and family and Ibiza is the perfect place to party. Ibiza also fits my own style so everything flowed."
"I designed the artwork for the stationery and my friend/bridesmaid Louise drew them, with a friend printing them for us. My cousin Leeanne and Aunty Diane did the rest of the artwork on the pebbles and tambourines."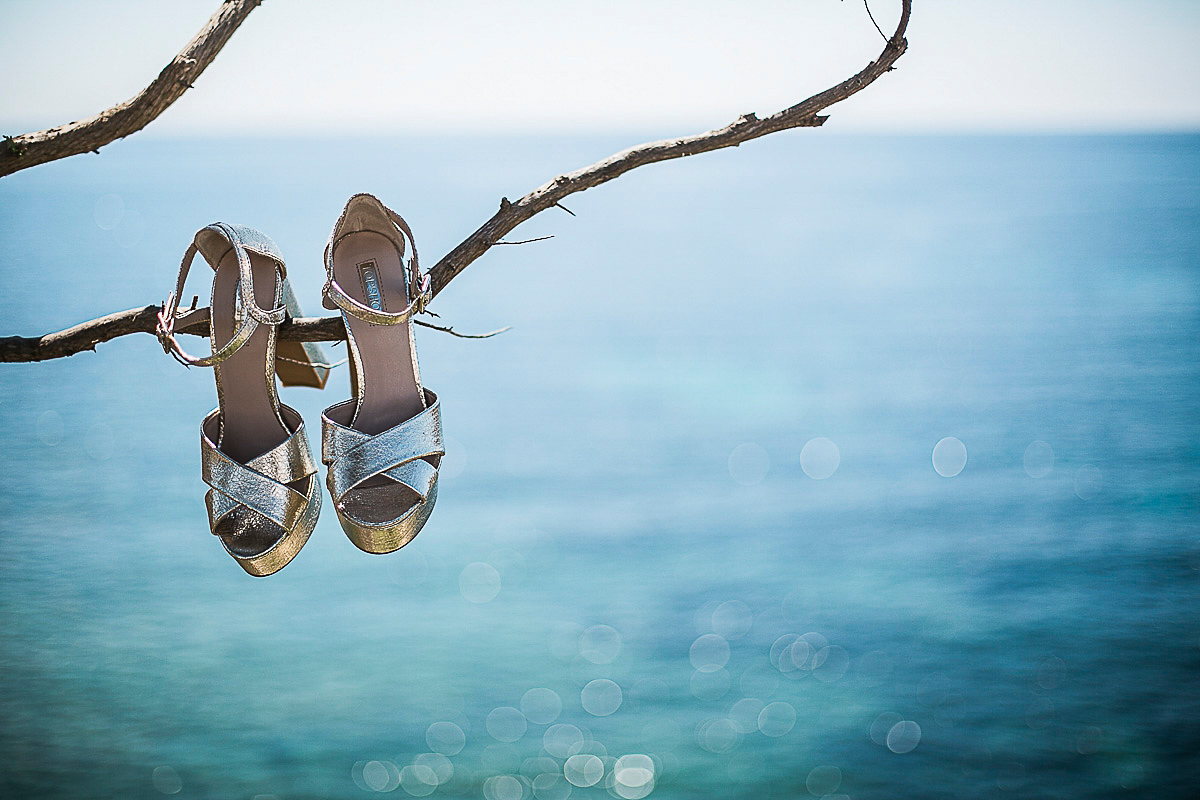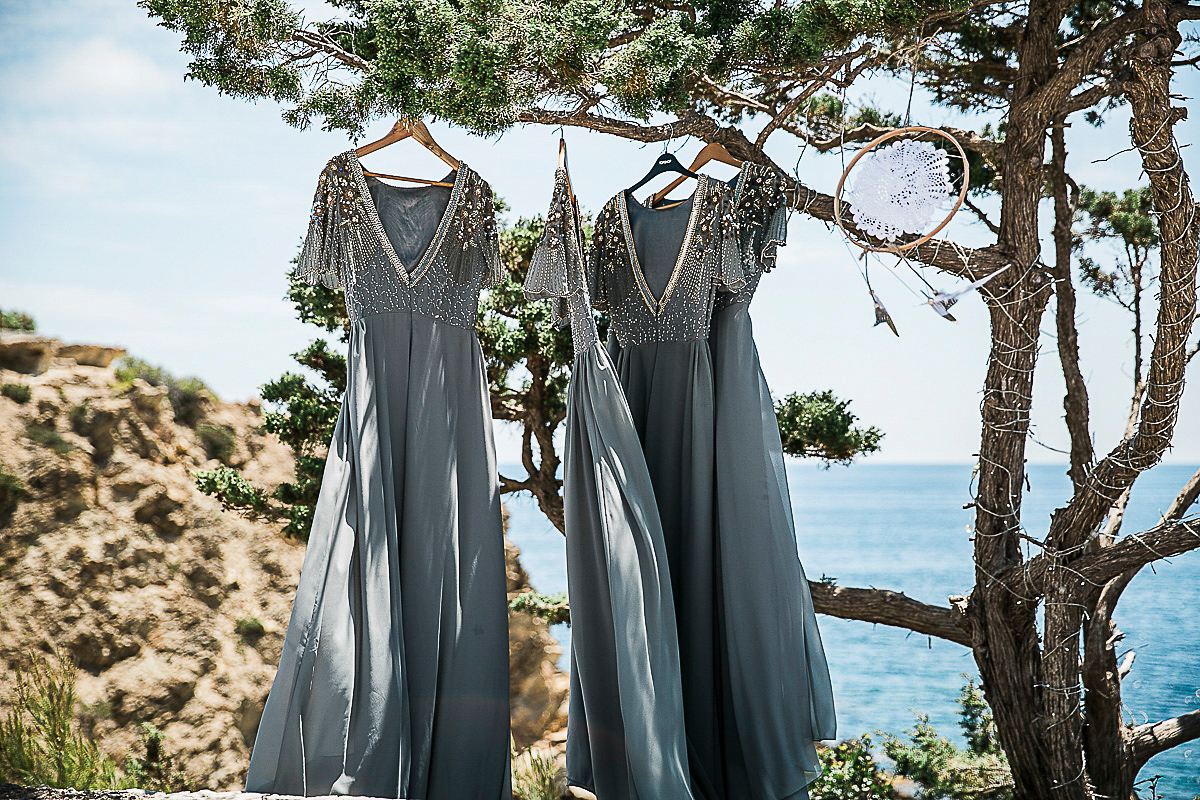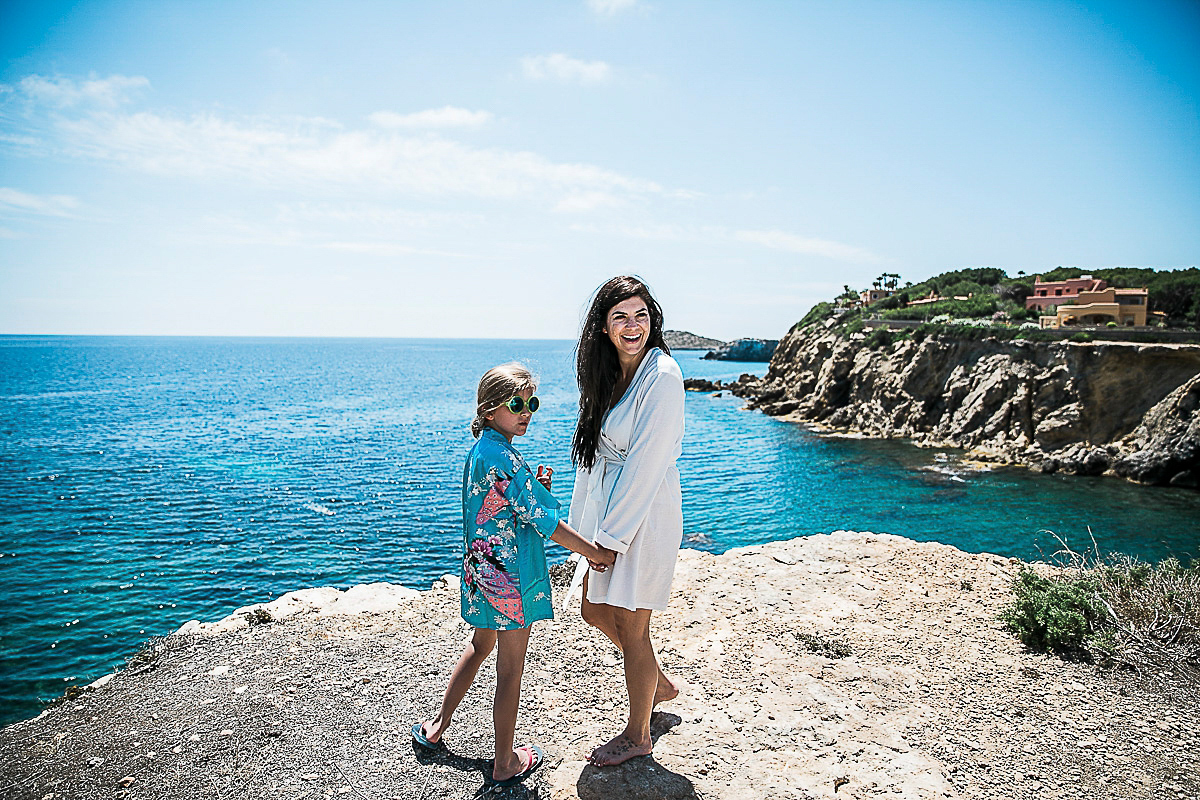 Karen struggled to find a dress she felt was right for her laid back, boho wedding so ended up going for something she knew she would feel comfortable in, despite not fitting her original vision.
The Casablanca dress by Enzoani is absolutely stunning on her and fits the vibe of the villa and seaside ceremony.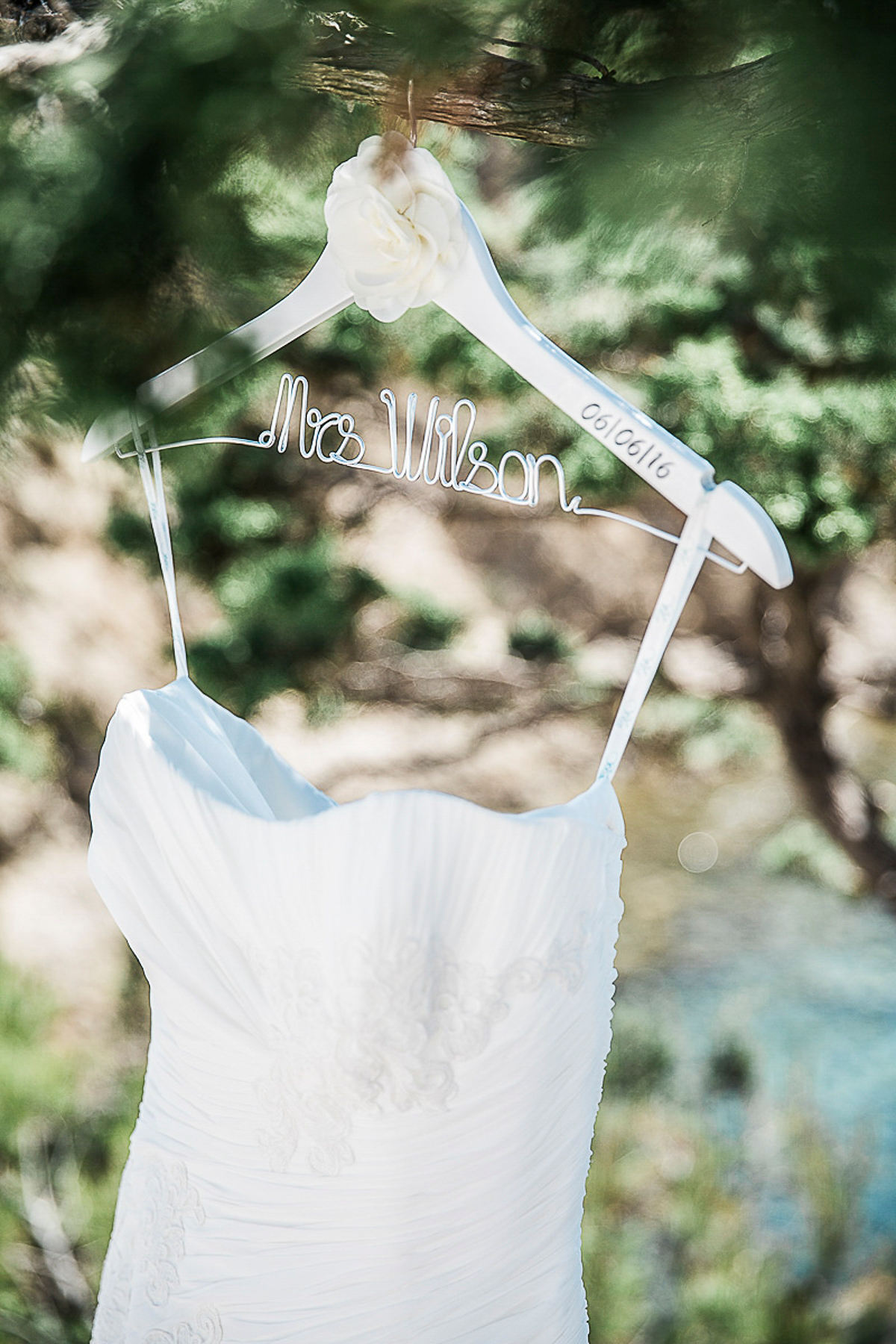 "I didn't particularly love the dress, but I loved the heavy lace and fitted bodice with train which shows off my shape (which the groom also likes)."
" I always wanted the heavy crochet look lace but couldn't find the style I wanted at all in the UK so this was the best fit and nicest dress I tried on. I felt like I was wearing it instead of feeling like I was dressing up."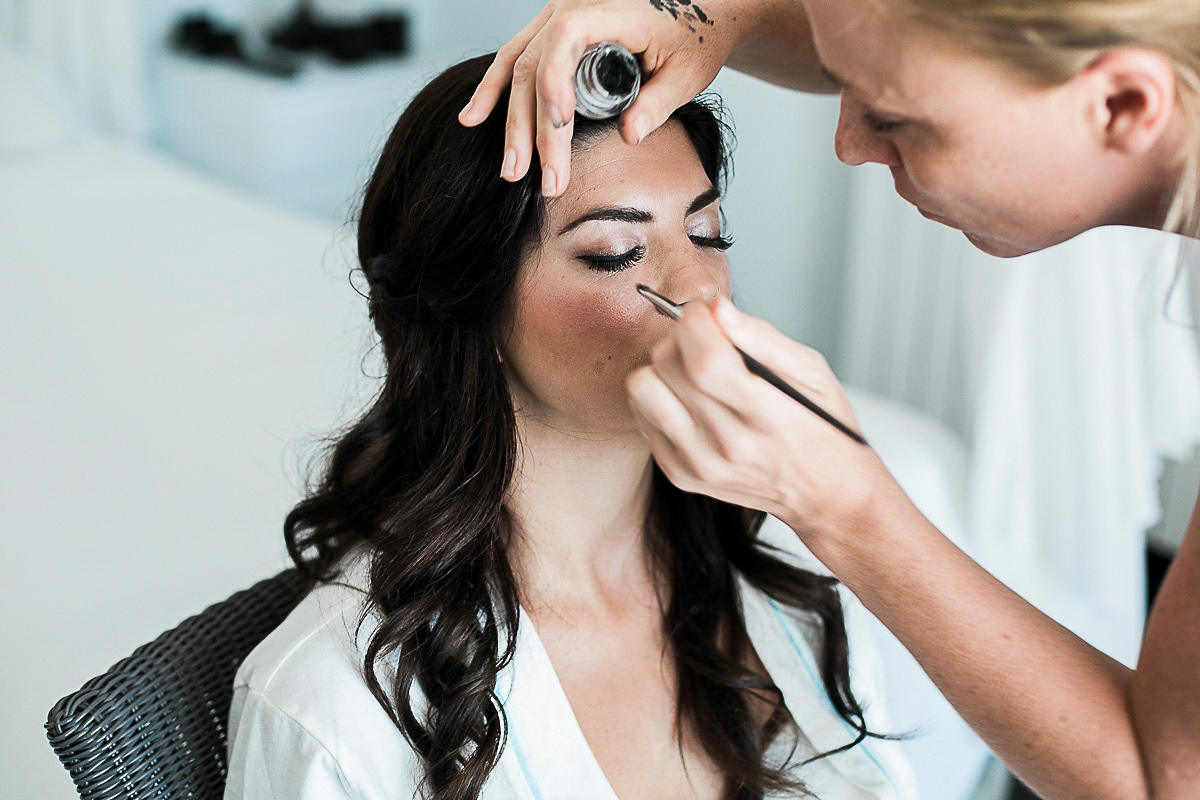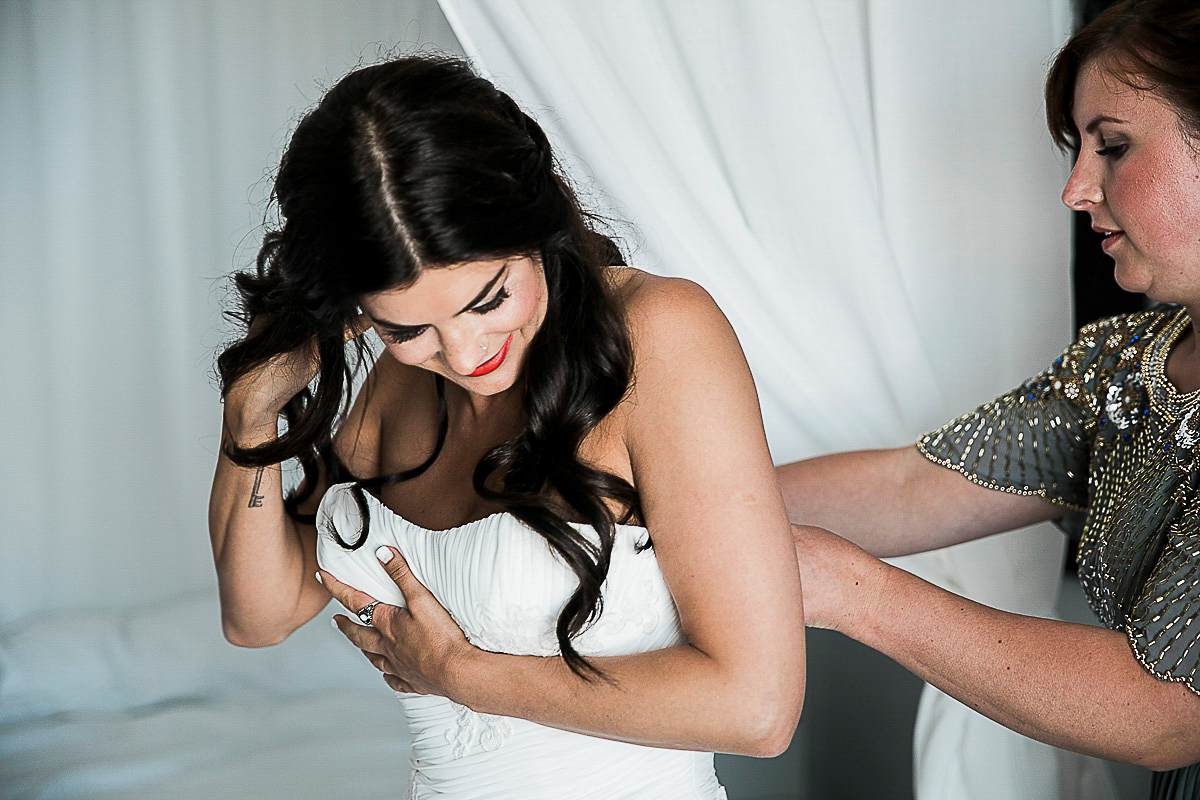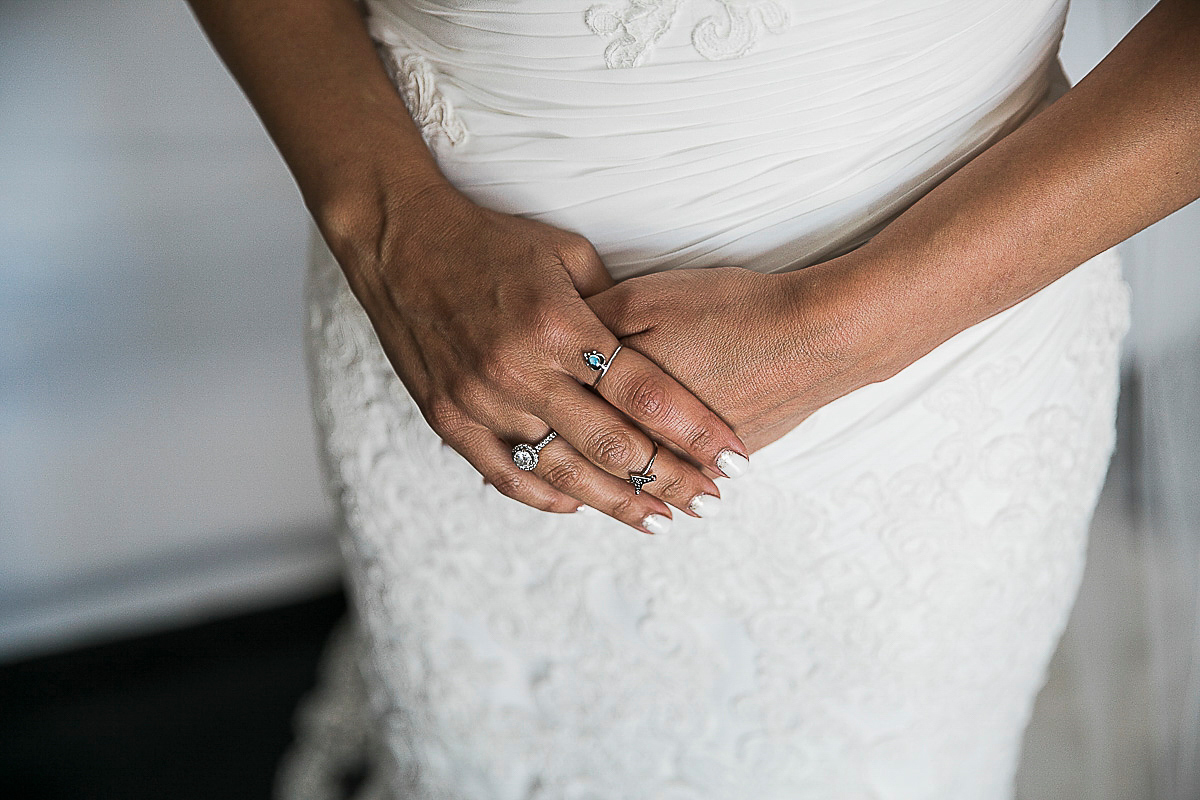 Karen teamed her dress with a pair of gorgeous gold platforms from Topshop, earrings from Accessorize and a selection of her own rings..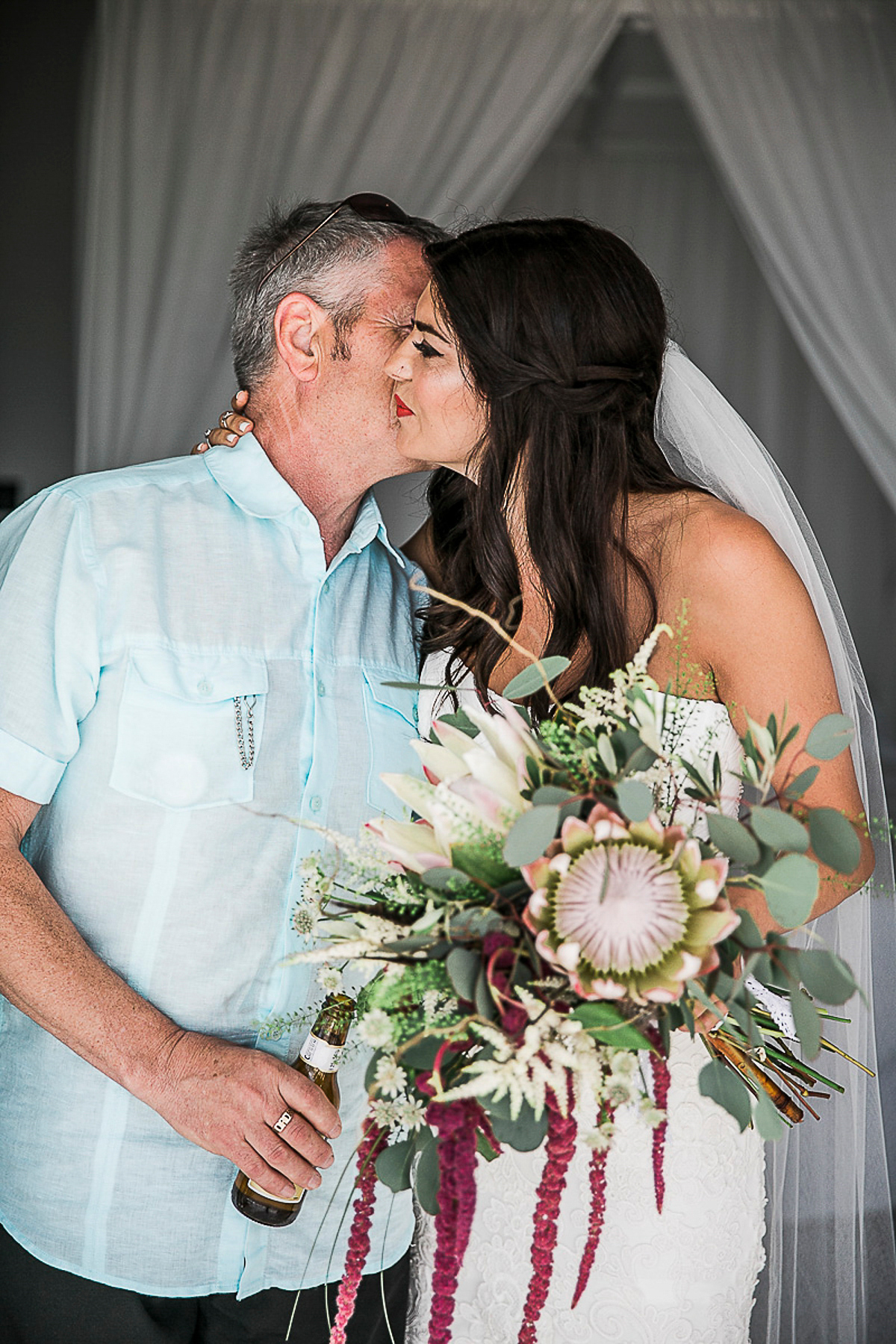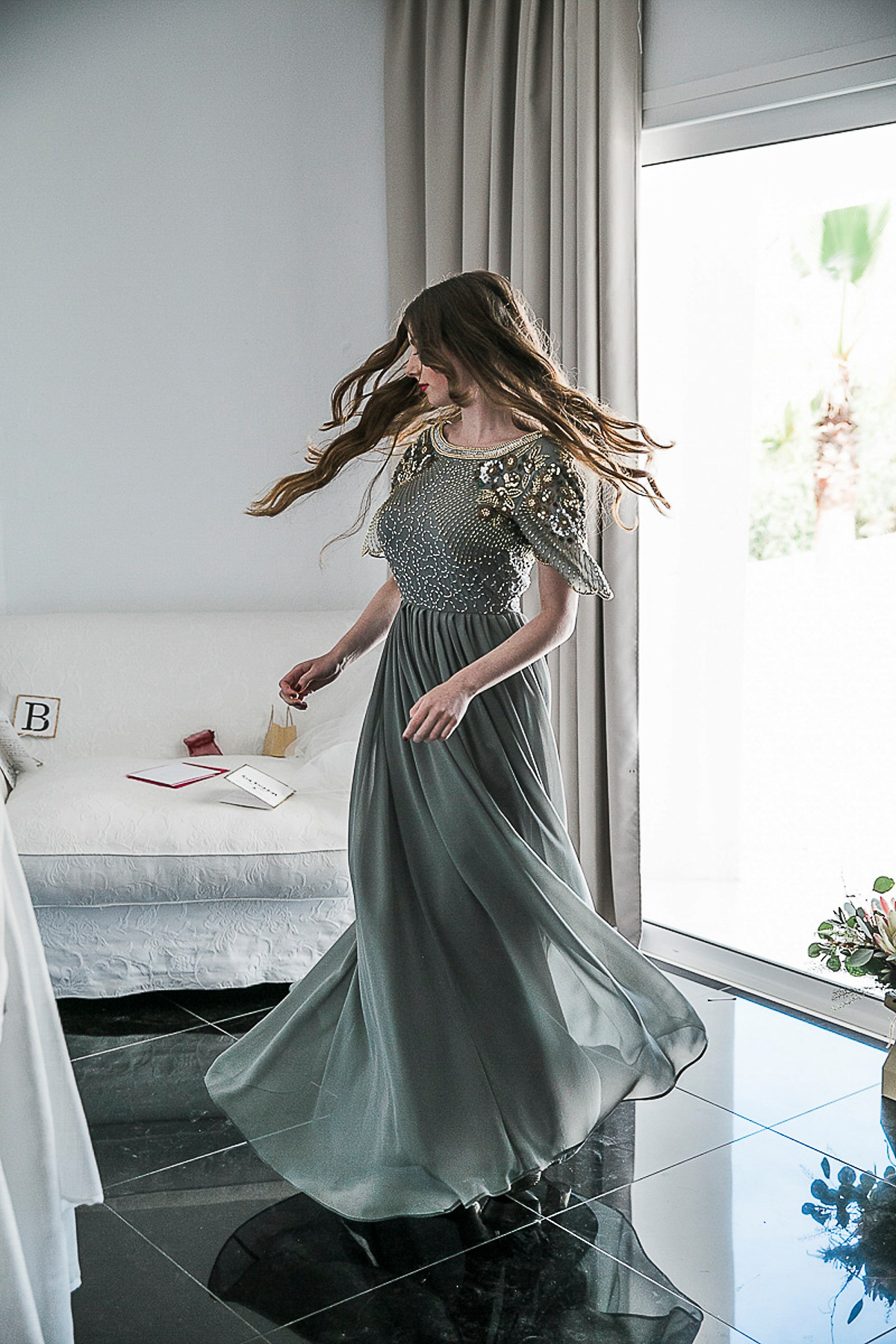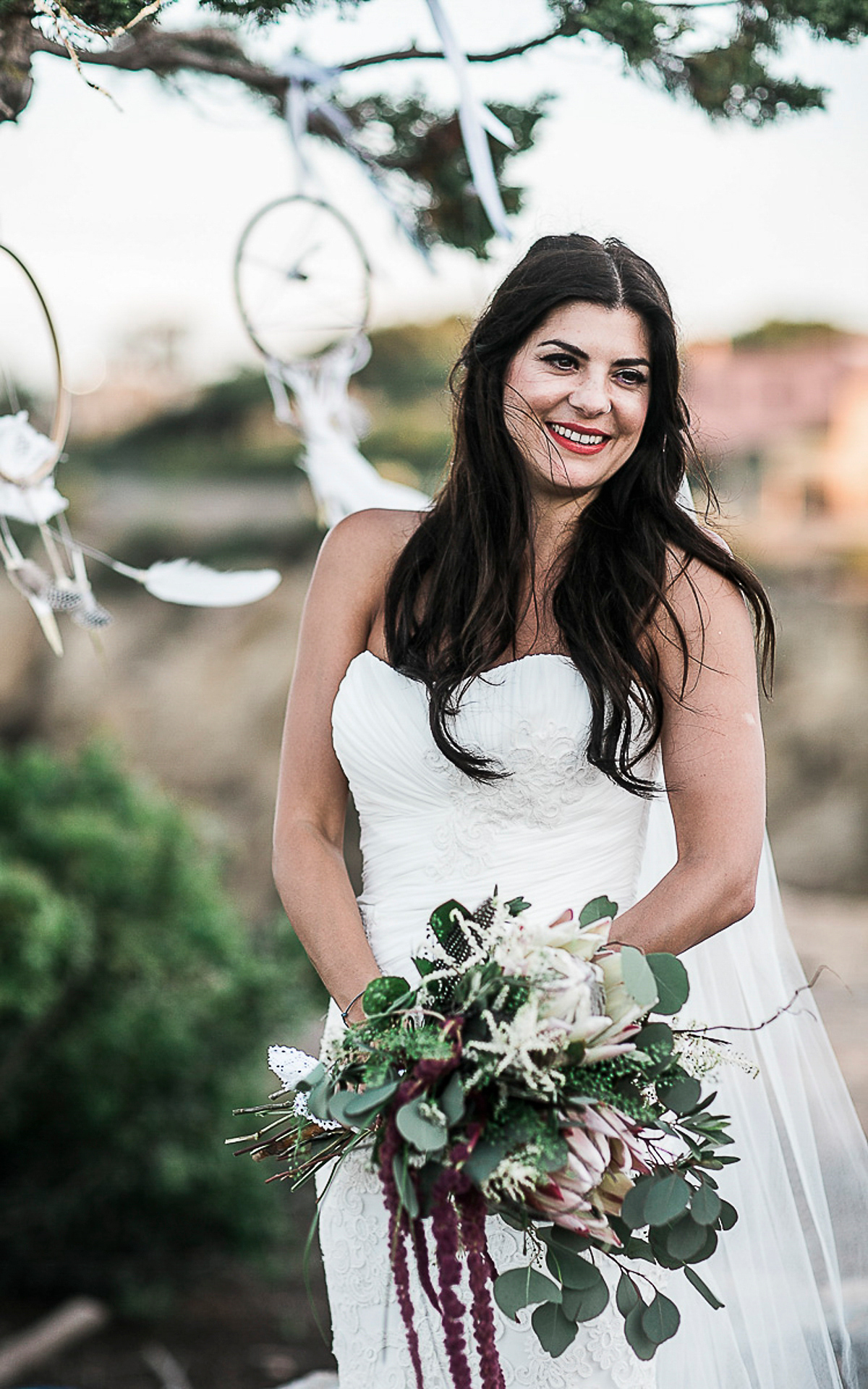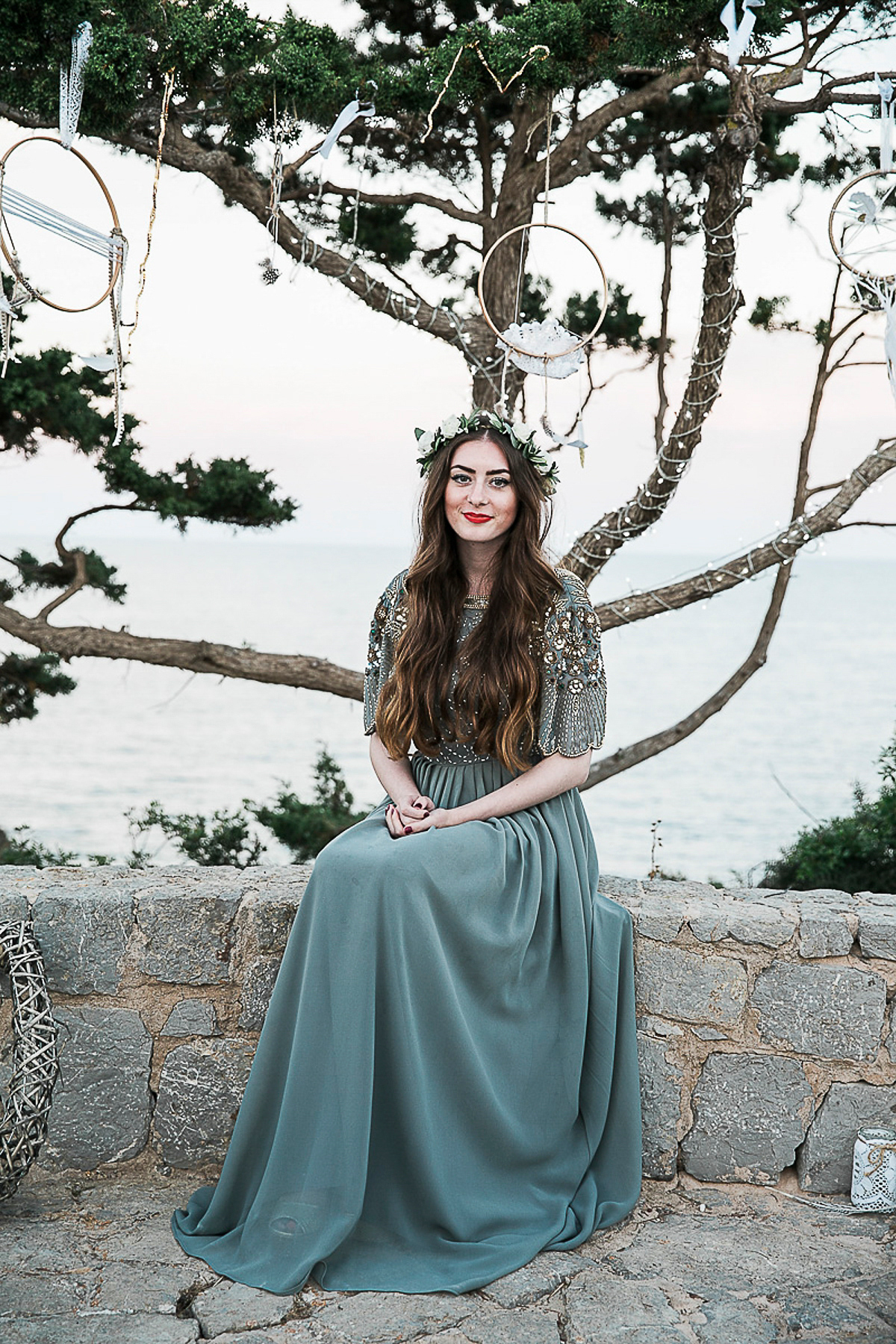 Karen's gorgeous bouquet by Floral Dreams Ibiza has a natural, beachy feel with colours chosen to match the groom, it has a gorgeous mix of native leaves and flowers which compliment the laid back feel of the wedding perfectly.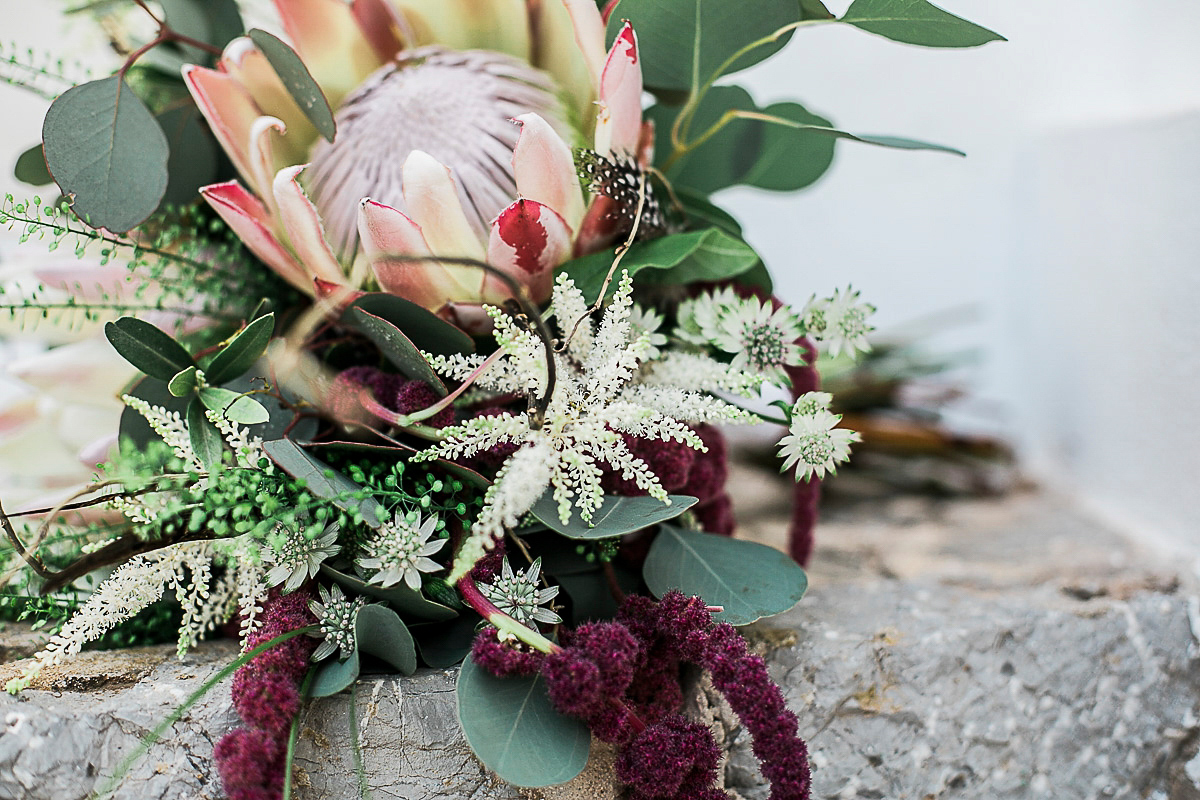 Groom Stuart made sure that he wouldn't be too hot in the Ibizan heat so chose a Heart and Dagger waistcoat and trousers combo with a short sleeved shirt, and finished it with a handmade Linden Flowers  button hole.
His scent on the day was the gorgeous Aventus by Creed.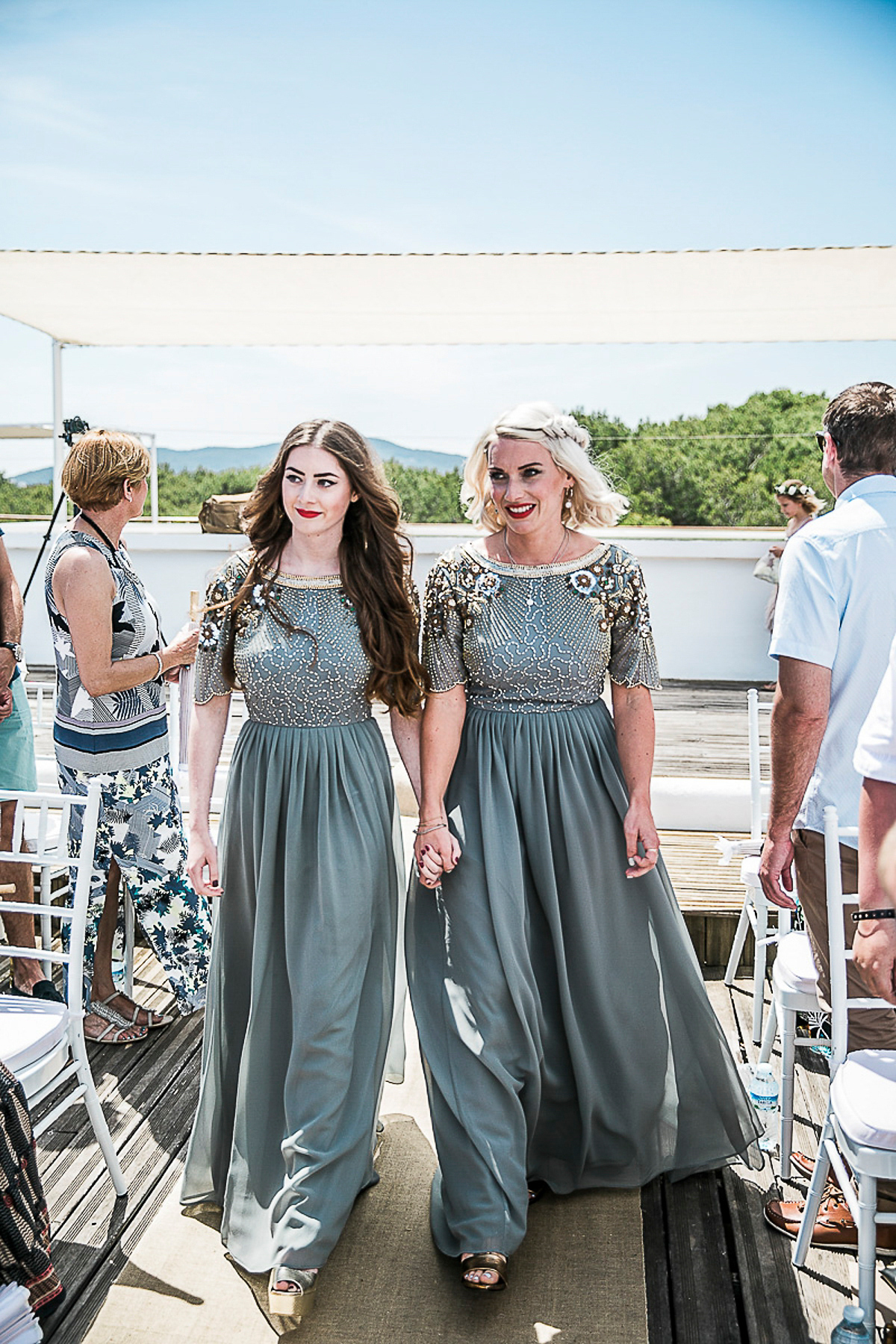 "My dad Stephen walked me down the aisle to 'Hoppipolla' by Sigur Rós. We had one reading during the ceremony, Lucy read 'A lovely love story' by Edward Monkton. Later on during the speeches, Louise read a poem she had written. We couldn't legally marry in Ibiza so had a small legal ceremony without vows or rings in the UK first."
During the Ibiza ceremony the celebrant performed a hand-fasting with a white ribbon which everybody loved as they hadn't ever seen it done before. We literally got to 'tie the knot' and we now keep the ribbon in our memory box. We also wrote our own vows."
"We chose Adorna Wedding Rings for our rings as they are our friends, so it was a very personal service. They also sourced, designed and made my engagement ring."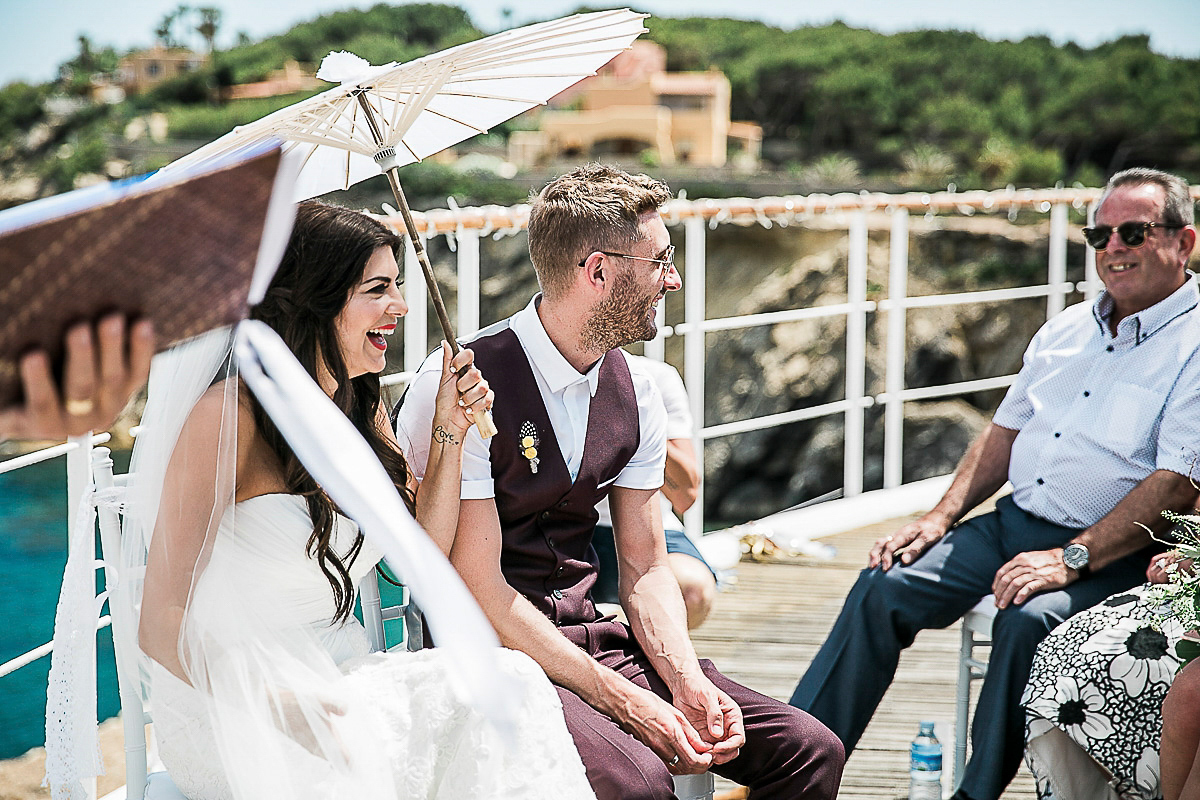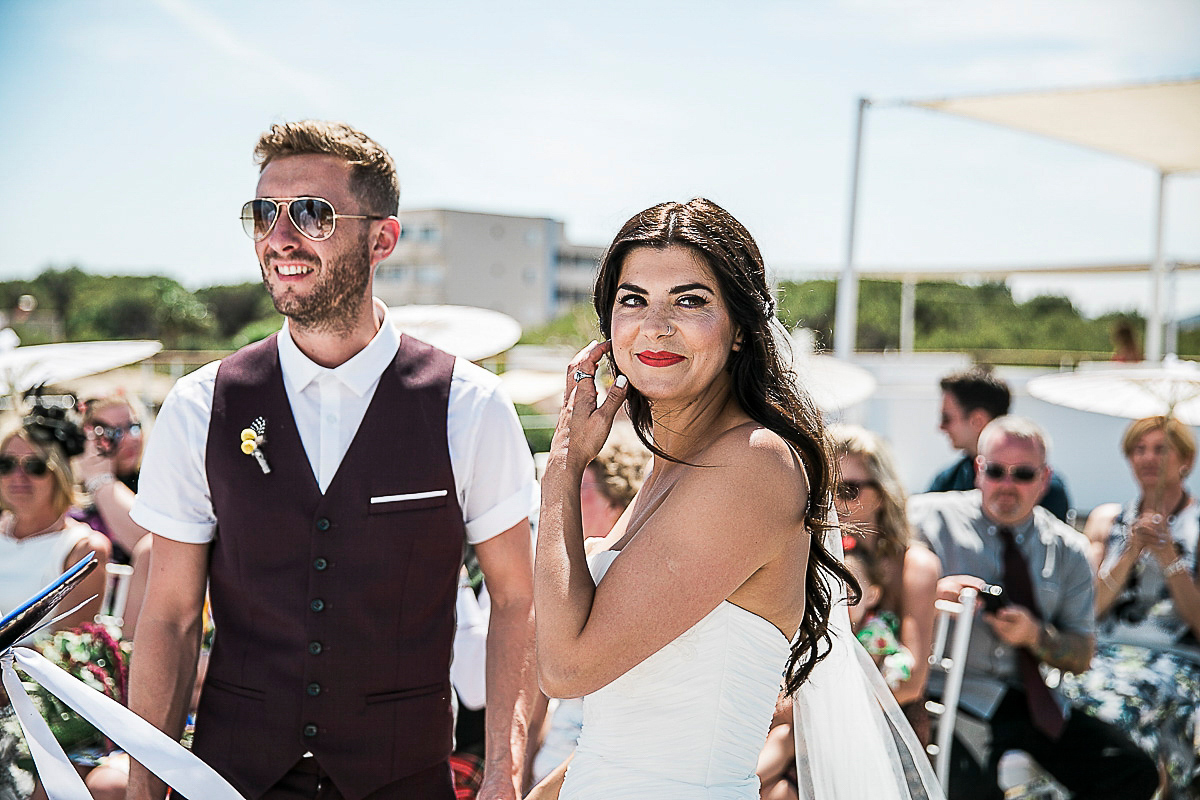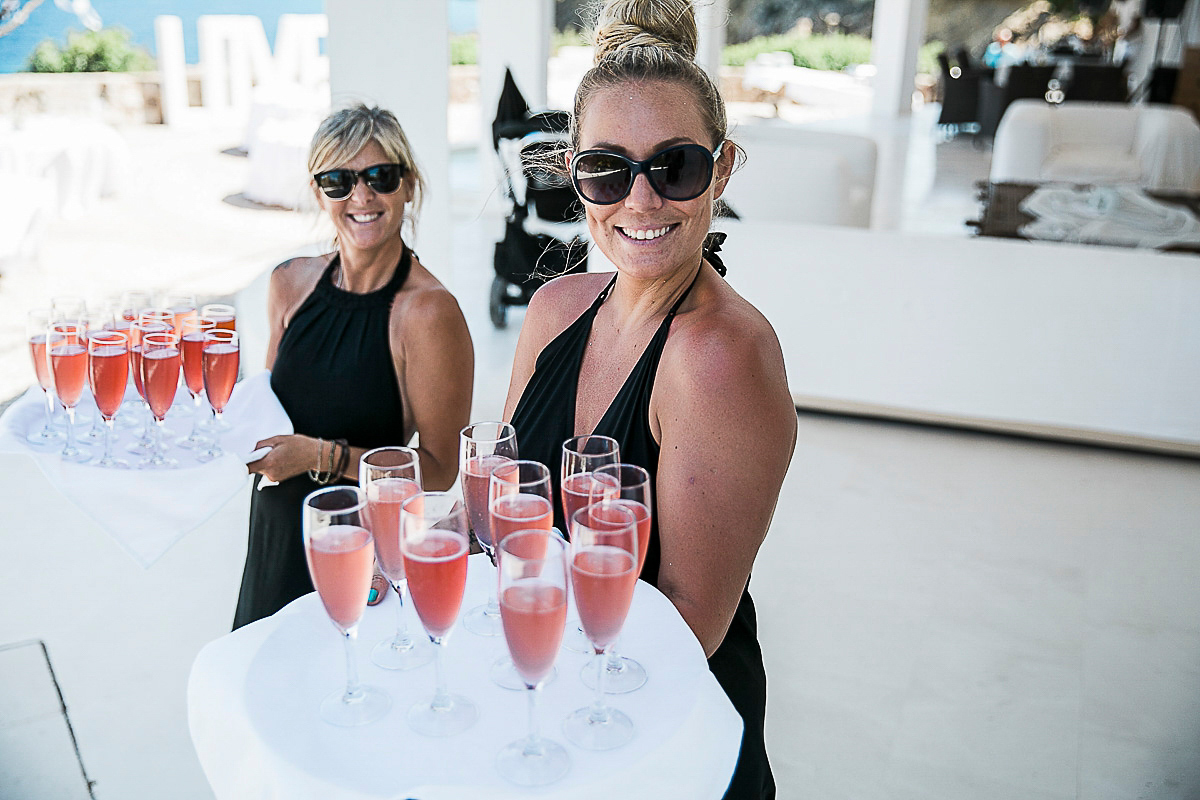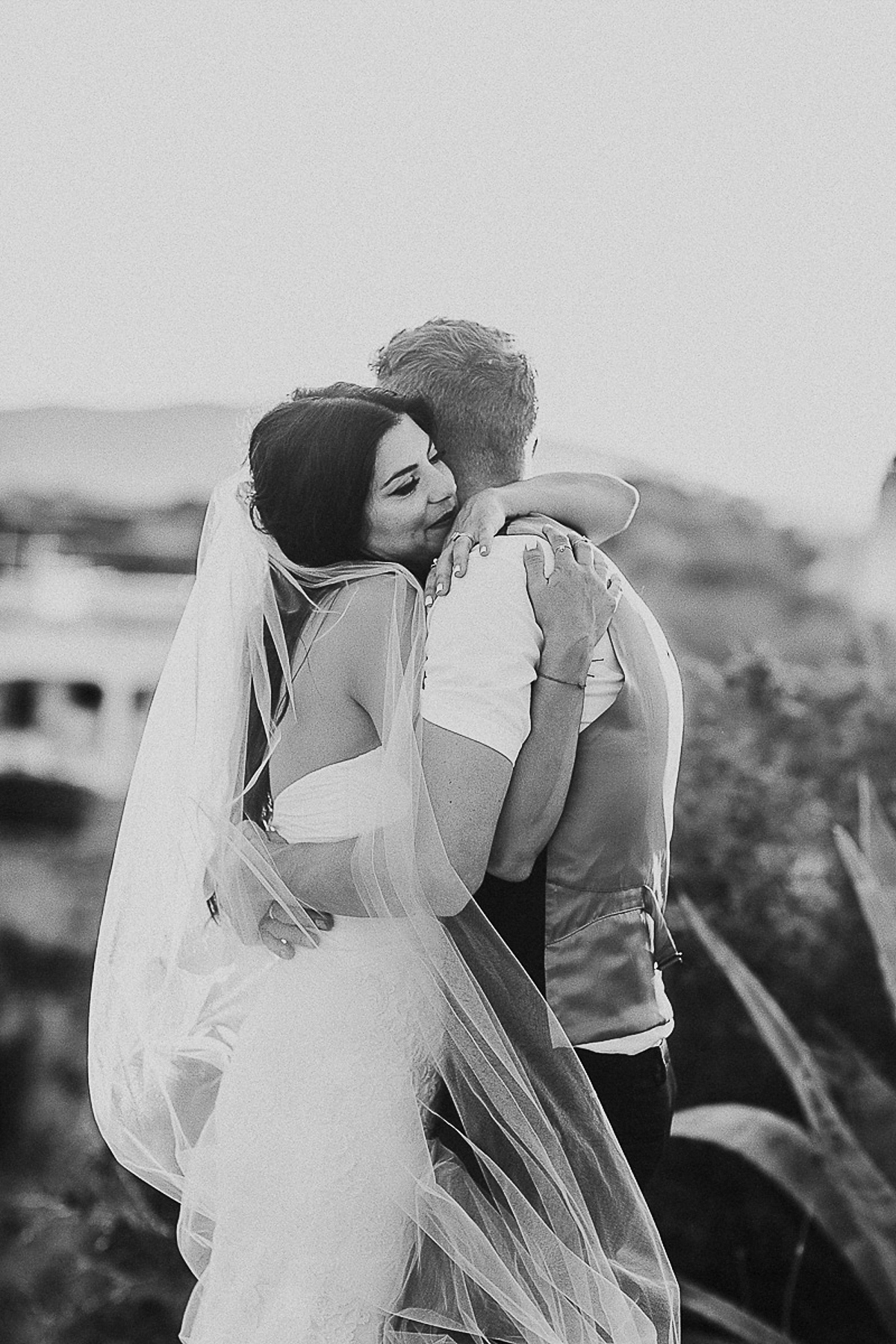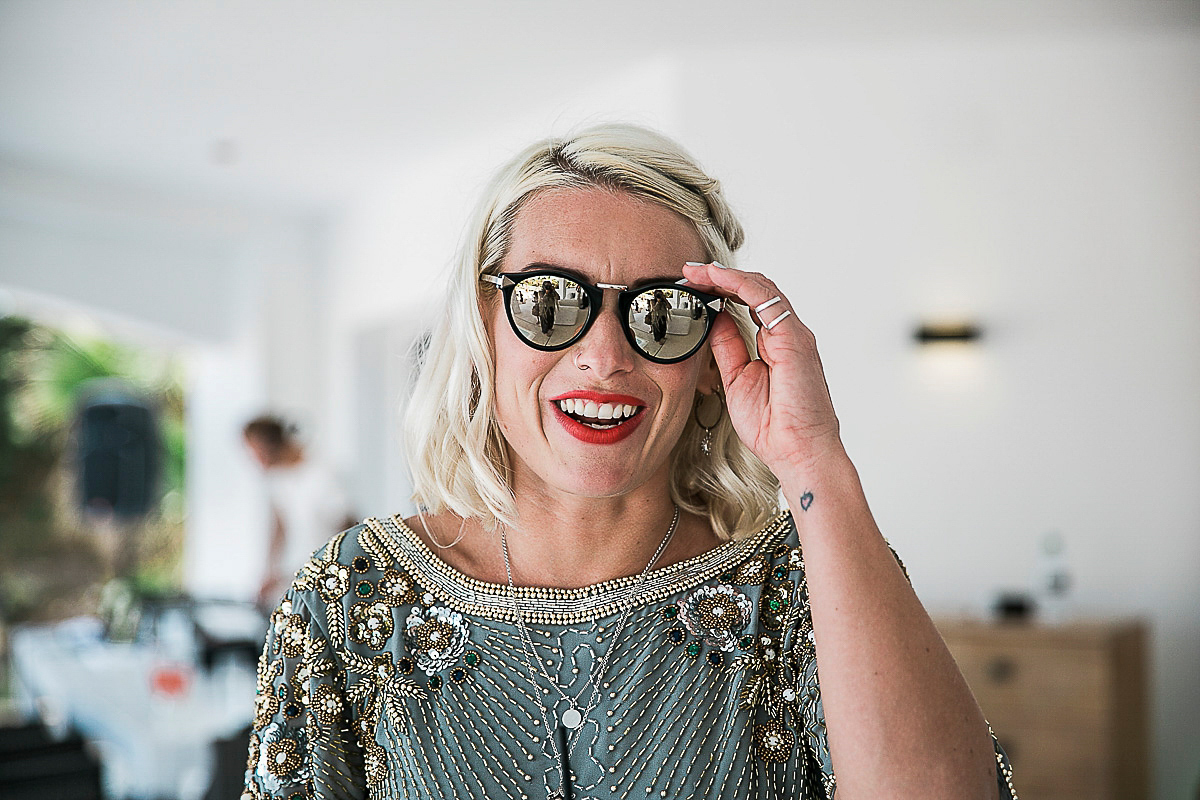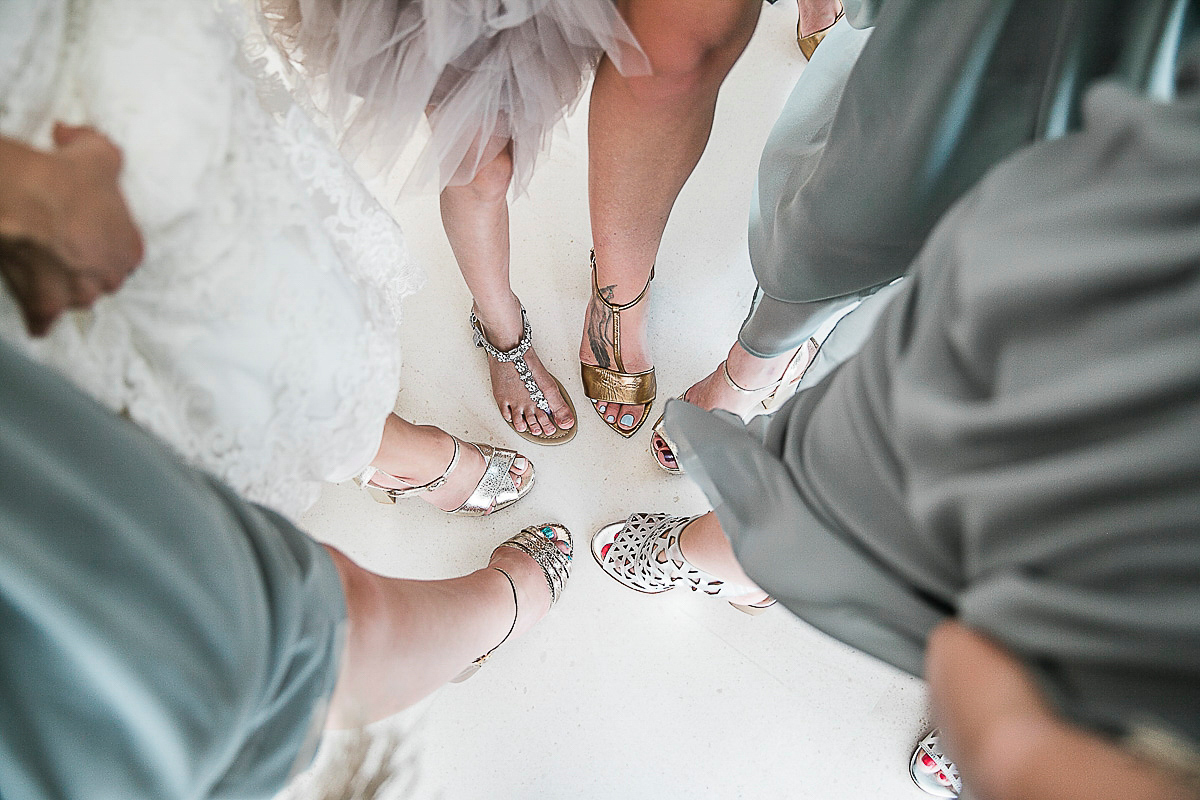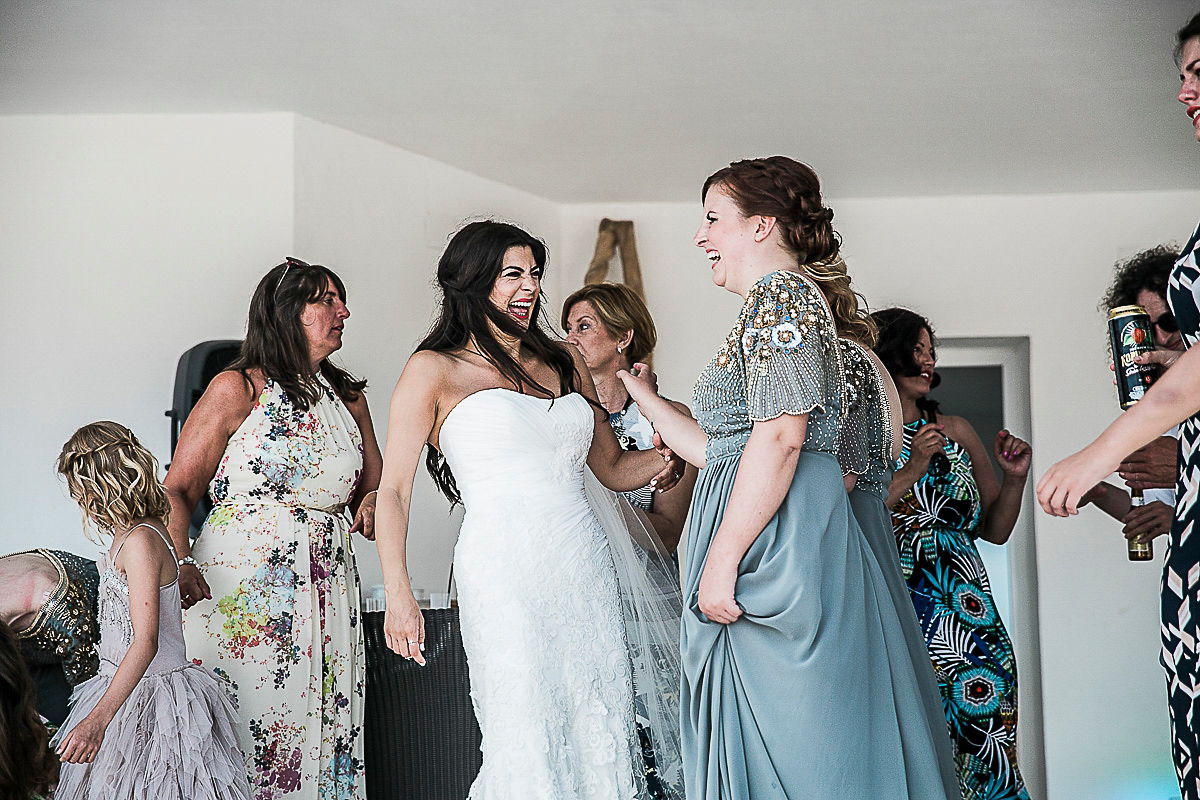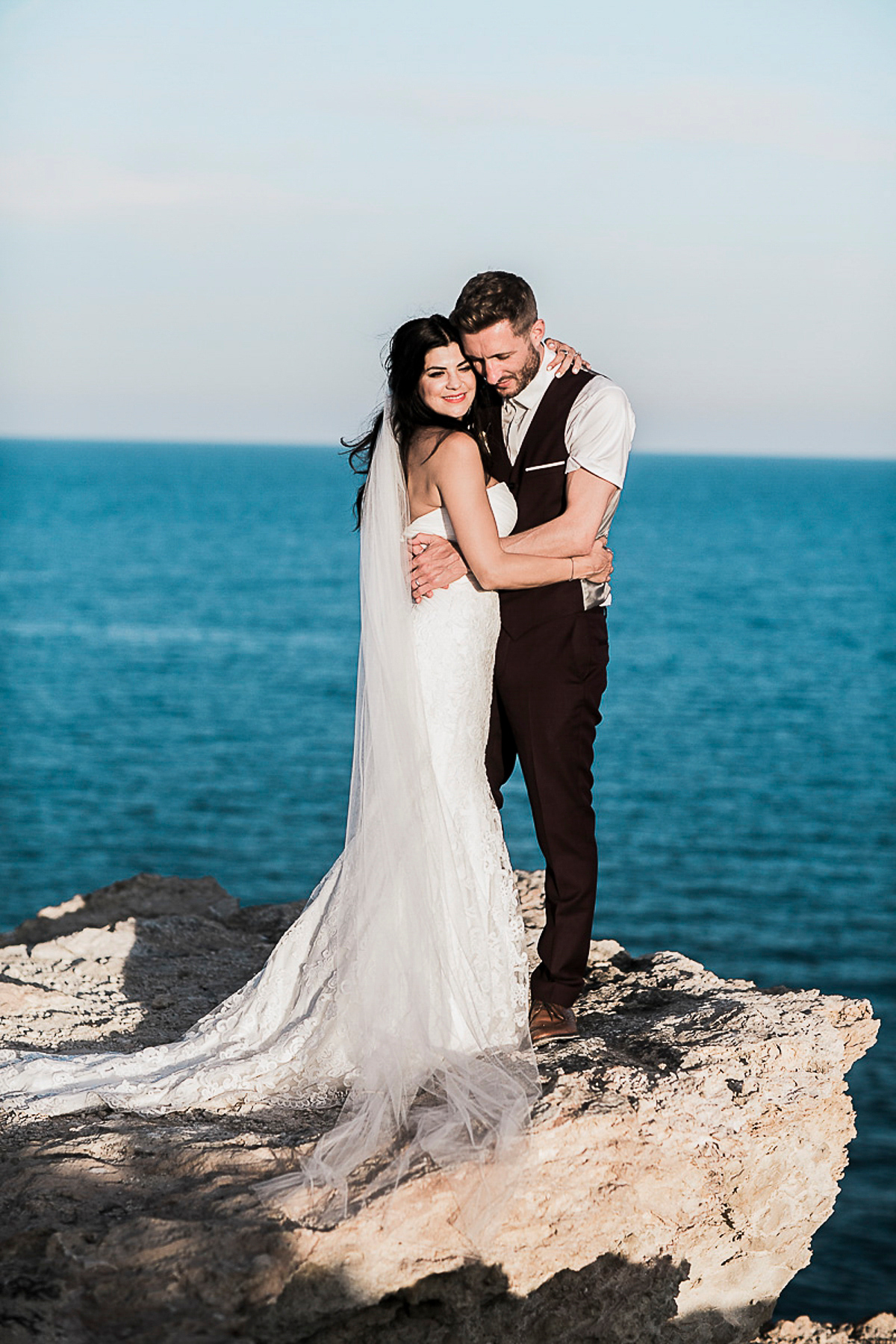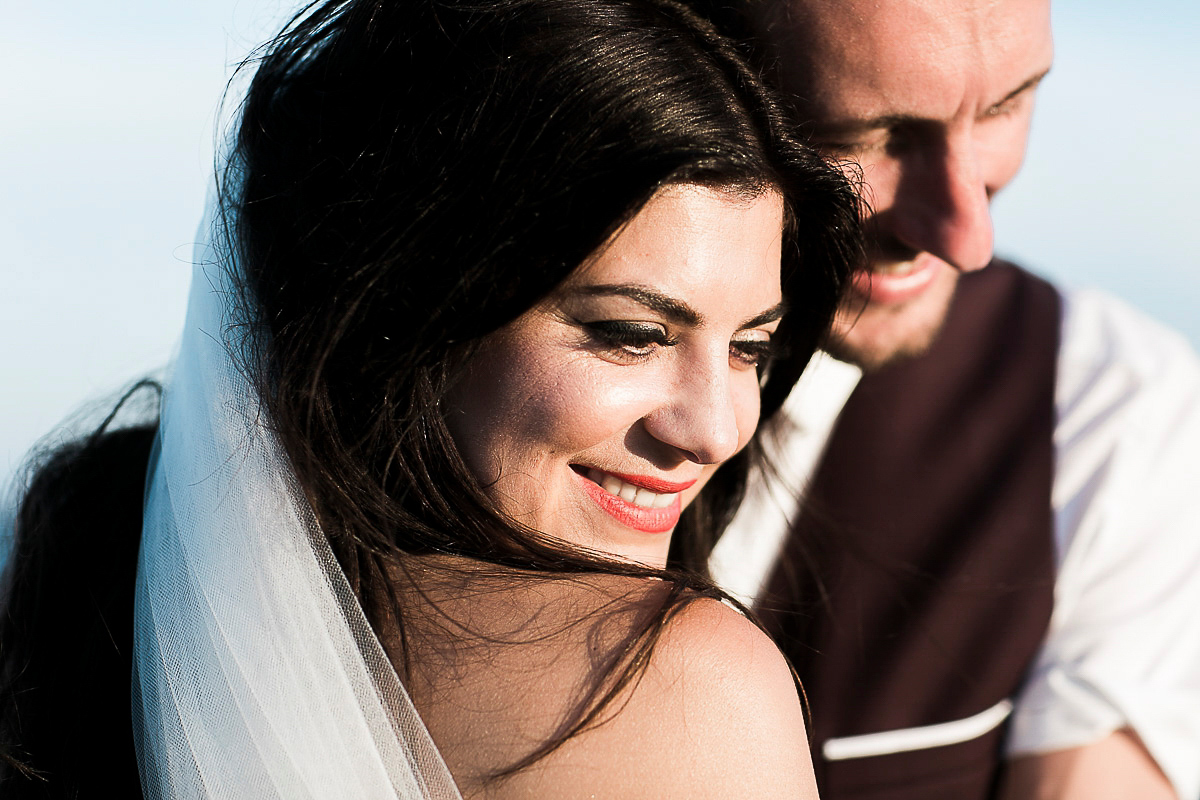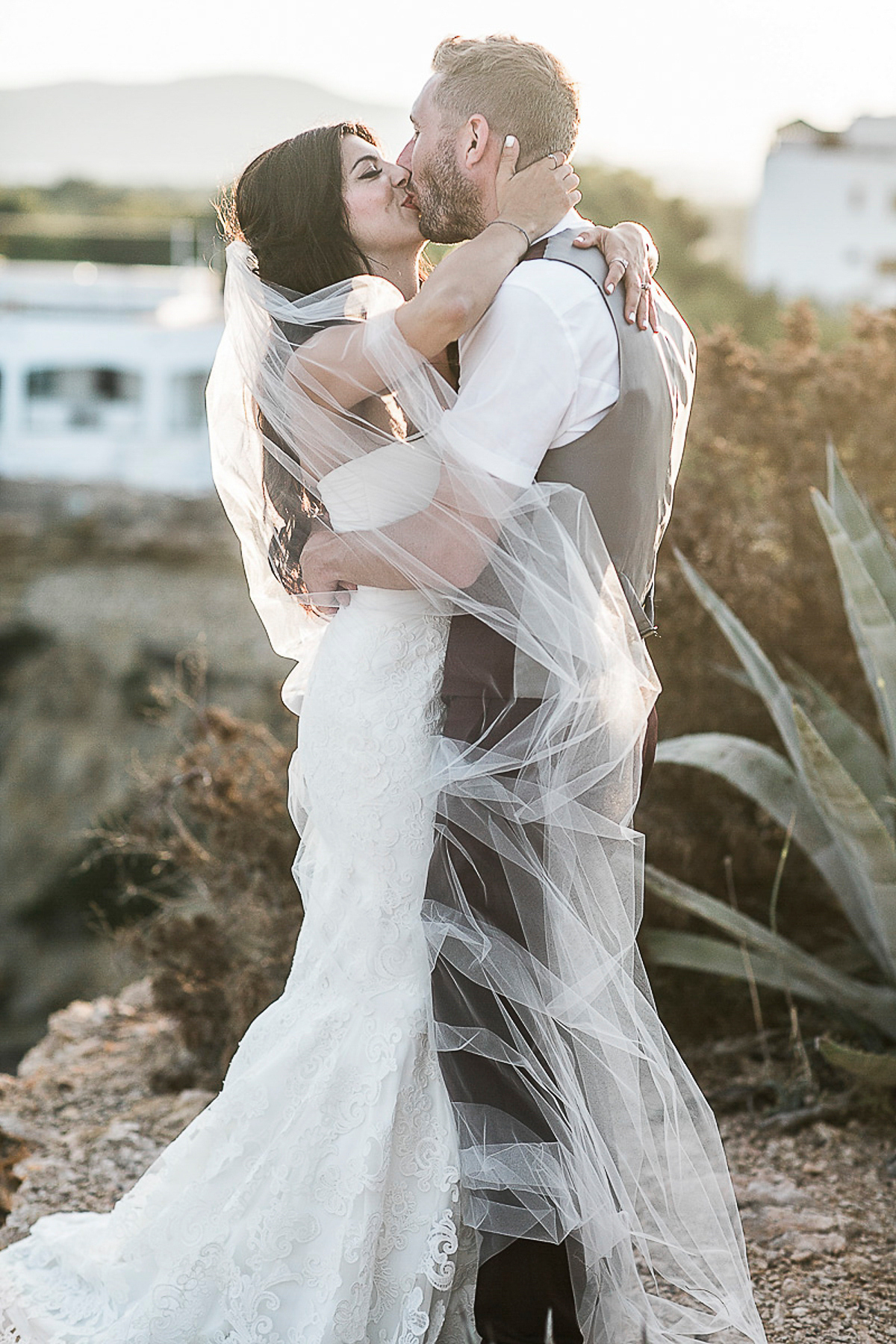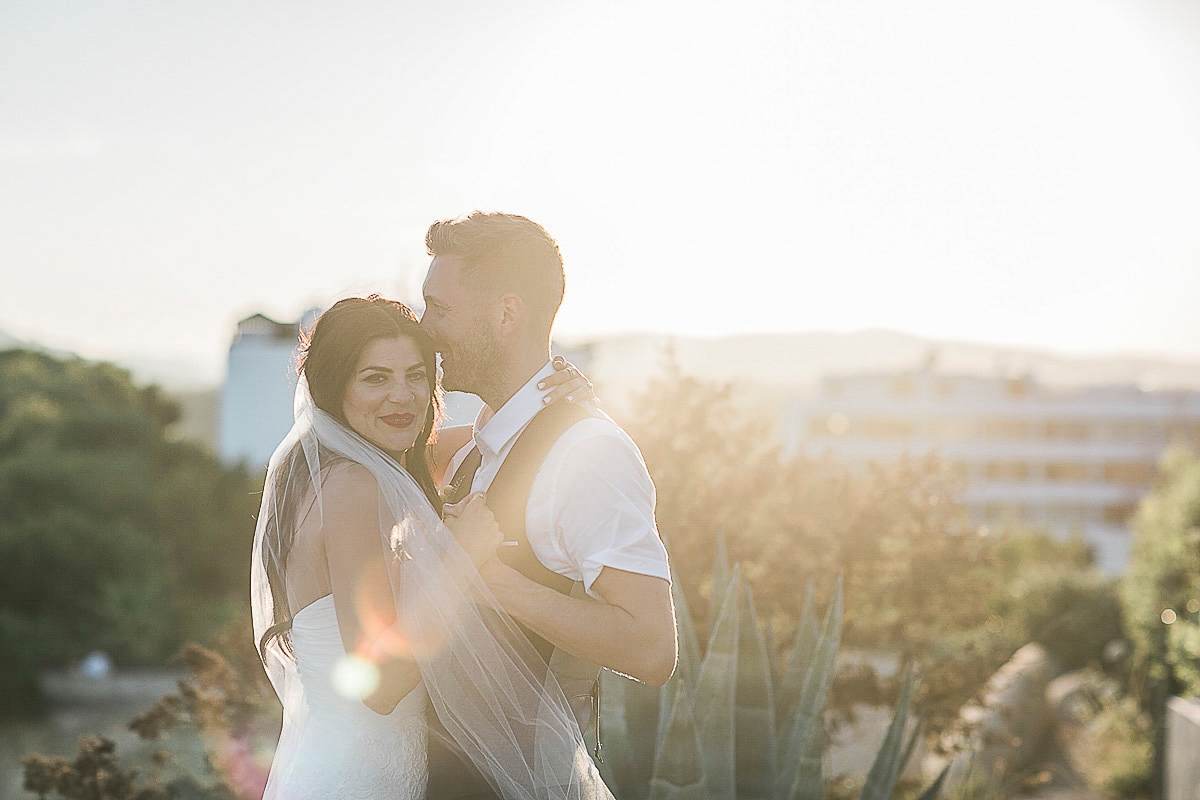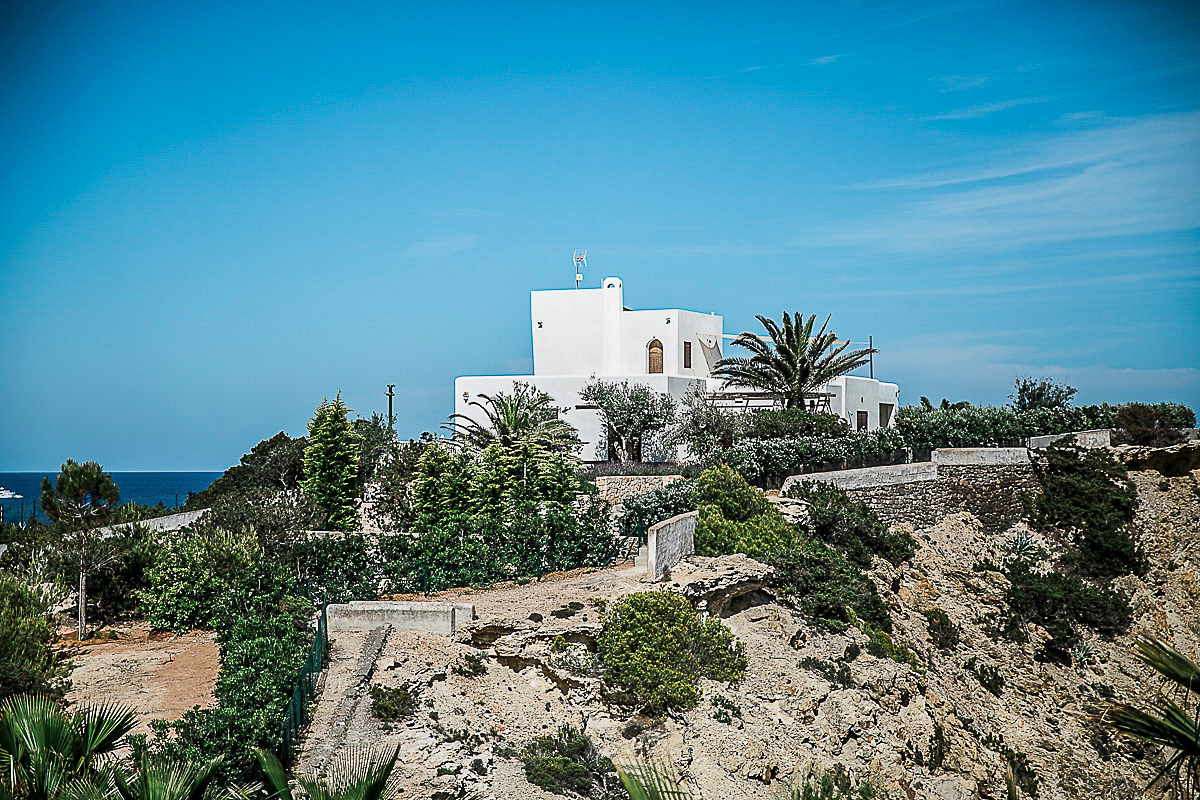 "Ibiza Hire supplied the food, crockery, tables and chairs, and all other furniture and supplies that we needed to host the wedding at the villa."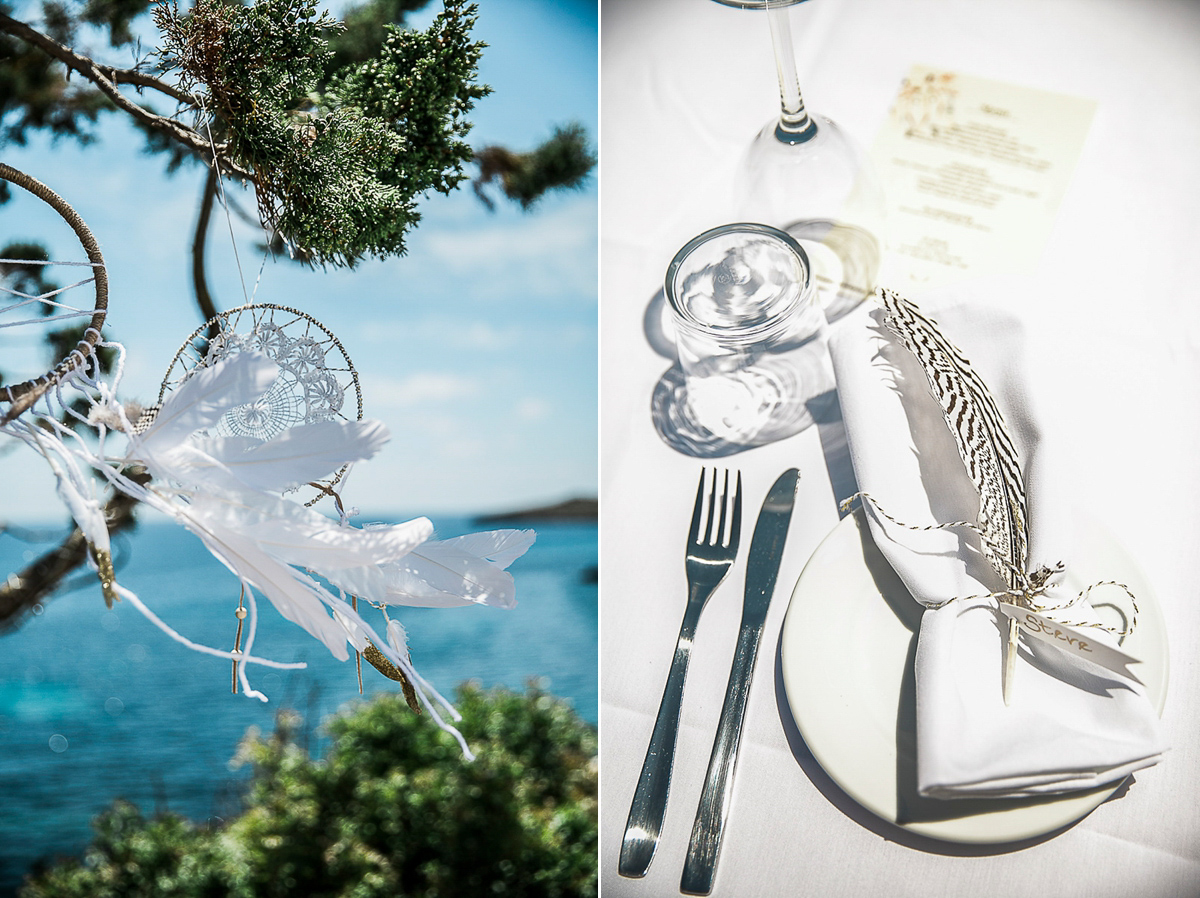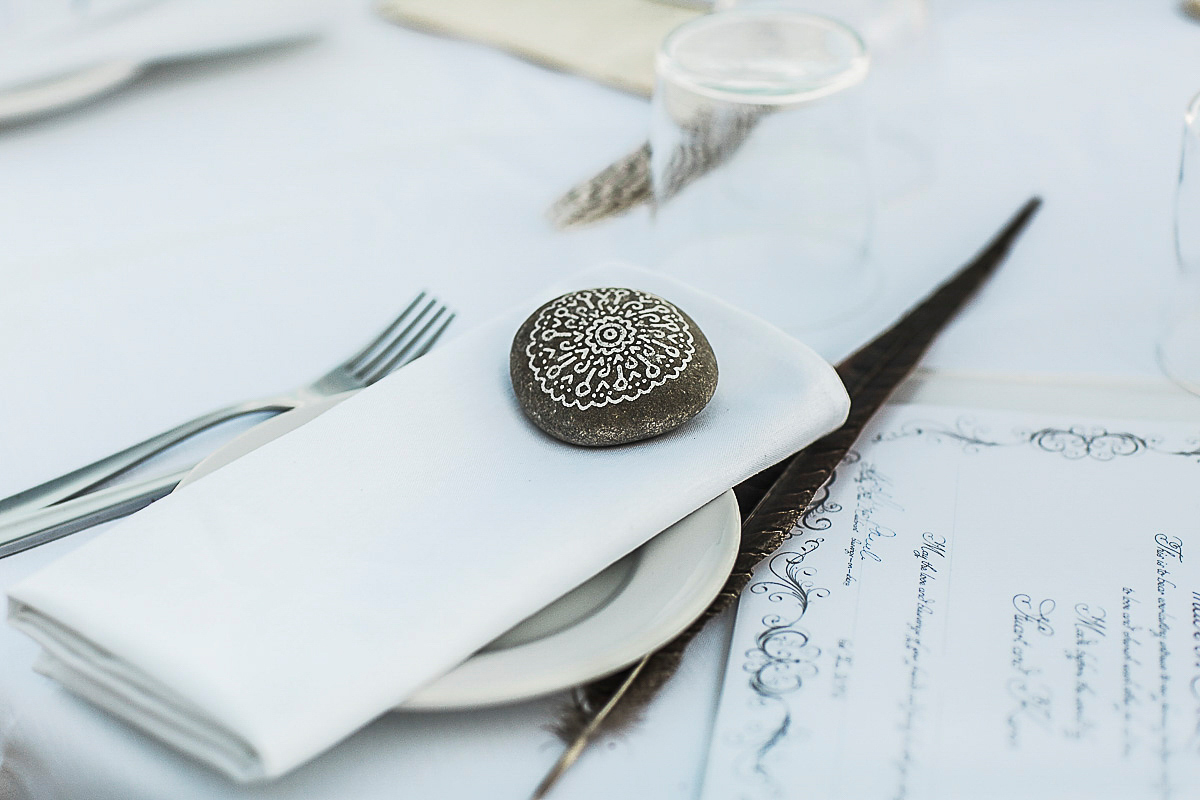 Karen and Stuart decided to go for something a little different, and frankly ingenious, with their wedding cake. Enlisting the help of their bridesmaid, she carved large watermelons into tiers and scattered fresh cherries, raspberries and blueberries around each tier.
After it had served its purpose, it was mashed up with Prosecco and vodka to make refreshing cocktails for a sunset bbq the following evening.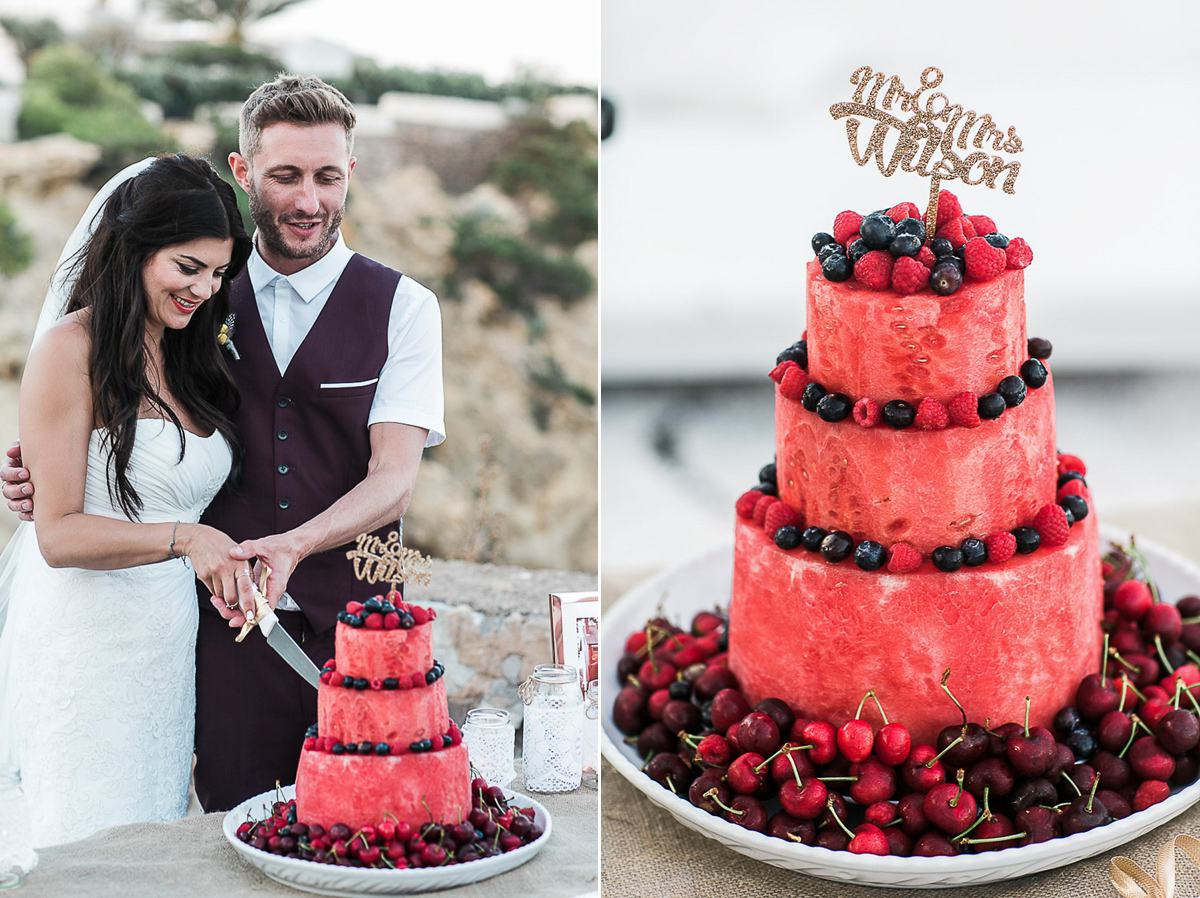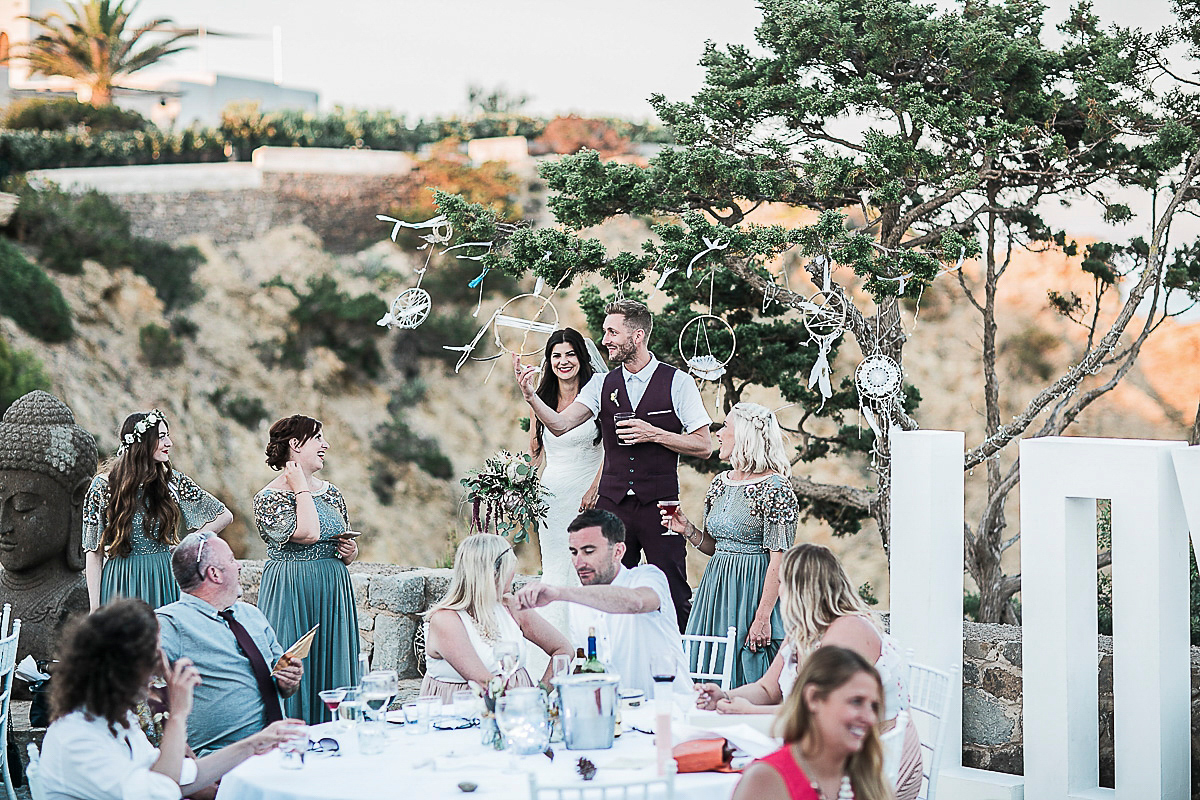 "We had our first dance to 'Zoom' by Fat Larry's Band. We have both liked this song for years and the lyrics are appropriate for a couple, then halfway through the song changed into 'I Got U' by Duke Dumont. We wanted a more upbeat song to get the party going and the lyrics are also wedding appropriate. To be honest, we just couldn't choose which to use."
Karen and Stuart made sure that their guest were well entertained and taken care of in their sumptuous surroundings. Anastasia McQueen played the sax beautifully and Firedancers put on an amazing show before DJ Tom Grimes got the party started in the basement of the villa.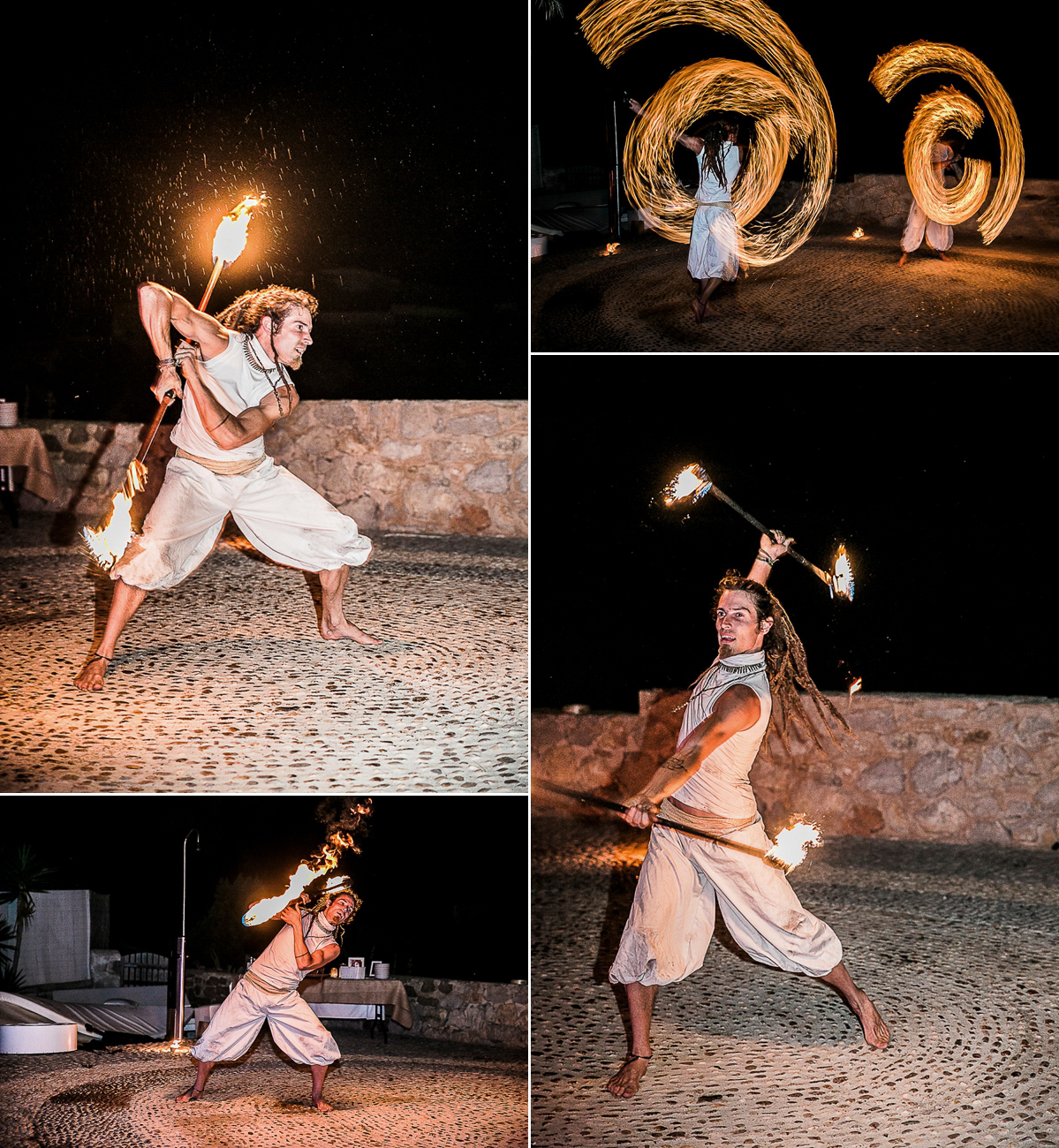 Words of Wedded Wisdom
"Build the wedding around the bride and groom (not family or tradition), it's your party – if you have fun, your guests will too. Also if you're trying to decide on going abroad or staying in the UK, go abroad! If the suns out everyone is happy. We also had a party in the UK the week when we got back to celebrate with family, friends and work colleagues who couldn't attend the main event abroad. We basically had a wedding month and loved every second.
We would only have changed little things like Stuart having more space and time to get ready. He was still doing things like shopping, taking the hire car back and giving people directions over the phone 30 mins before the ceremony. Overall the whole day was all truly magical and we couldn't pick a favourite part."
Our heartfelt thanks to Karen and Stuart for sharing your wonderful day with us. We are also hugely grateful to the lovely Samie Lee for the gorgeous images.
Are any of you lovely ladies (or gents) planning a wedding in Ibiza? If so, we have plenty more inspiration for beautiful celebrations on the island that you must have a nosy through.
Love Caoimhe xx