I should start this feature with a confession. I am rubbish at art. My painting skills haven't progressed beyond that of a ten year old and any drawing I attempt is very quickly consigned to the bin. I am therefore in awe of anyone with artistic skills and today, I am well and truly flabbergasted by the brilliant Elizabeth & Rose, a brand dedicated to creating unique hand-painted and personalised occasion shoes. Wearable art might just be my new favourite thing.
Photography + Styling by Annabel Beeforth
With a love of painting that reaches right back to her childhood and stacks of old wedding dress drawings in her collection, Elizabeth & Rose's founder Sophie Naylor has always been brimming over with creative ideas and dreams. After studying Fine Art and Textiles Print, Sophie has delicately refined her skills and now creates amazing occasion shoes that you'll adore for years."There are so many creative opportunities available to brides right now and I love that so much," says Sophie. "But there's still a lack of unique wedding shoes for brides, bridesmaids and mothers of brides too. I began designing personalised shoes, basing prints around the wearer's bouquet, favourite colours and personal shoes requirements so that the finished product is truly theirs."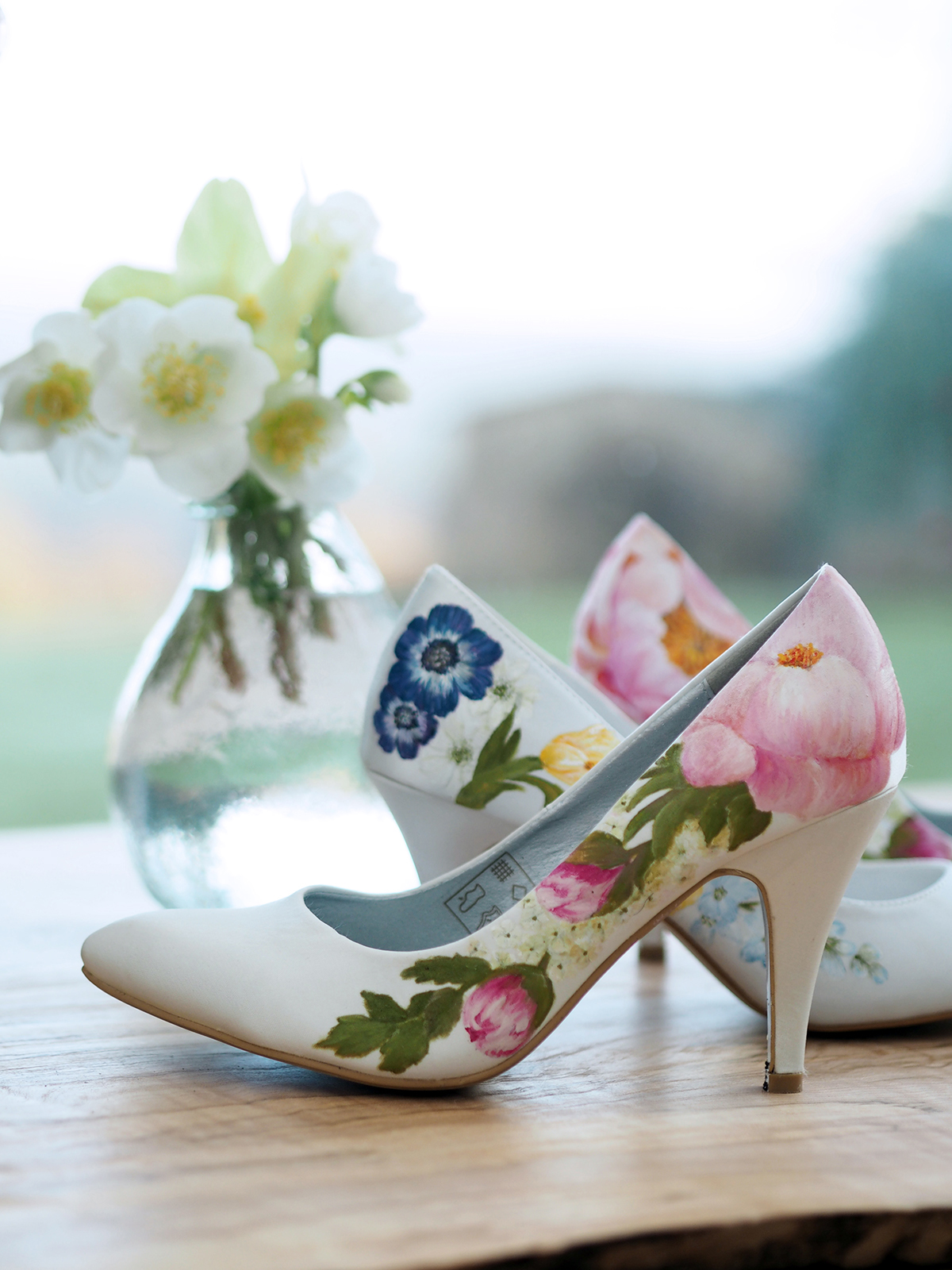 Sophie has built up a portfolio of individual designs and the most popular is a hand-painted print, based on the wearer's favourite flowers. Annabel, Founder and Editor of Love My Dress, was lucky enough to have Sophie design a pair of shoes just for her! Insert ALL the jealous emojis right here!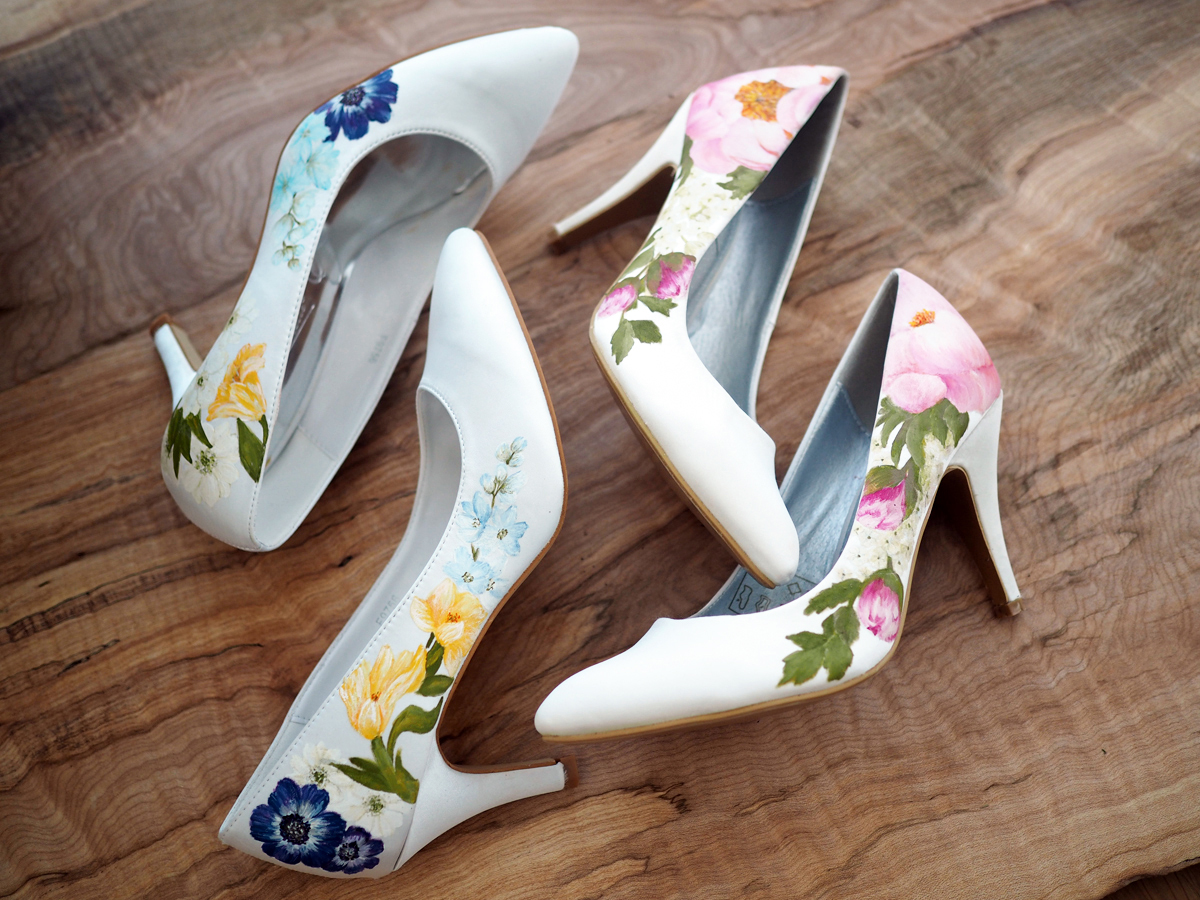 "I started the bespoke process with Annabel as I would with any Elizabeth & Rose client. We talked about favourite flowers and I learned that Annabel's husband grows a gorgeous rare rose in their garden. From here, I refined the ideas and worked on a subtle 'Rose & Blossom' design to highlight the delicate pink petals of the rose."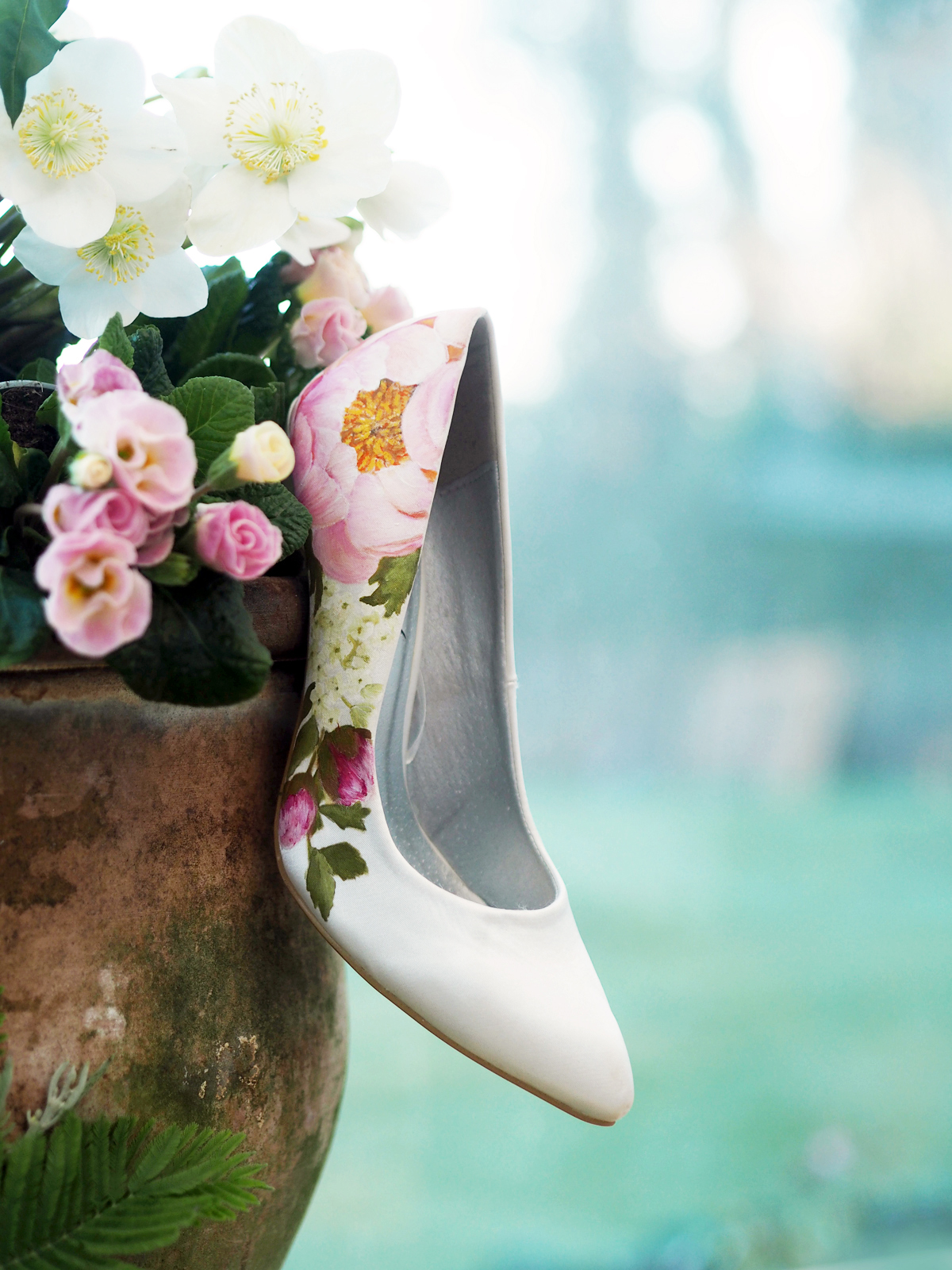 From here, Sophie sent the Elizabeth & Rose shoe style options to Annabel and from the choice of stiletto pumps, kitten heels and ballet flats; Annabel opted for the super comfortable ballet flats (pictured below). The design was then worked on and, over the course of three weeks, Sophie hand-painted the design onto the satin and then heat-sealed the paint so the shoes can be worn in all weathers.
"I loved creating Annabel's shoes because the featured rose holds such a special place in her life. Sentimental touches like these are what make an Elizabeth & Rose shoe so special. Every pair is one of a kind and whilst they look beautiful to everyone who sees them, only the owner knows the special meanings behind the design."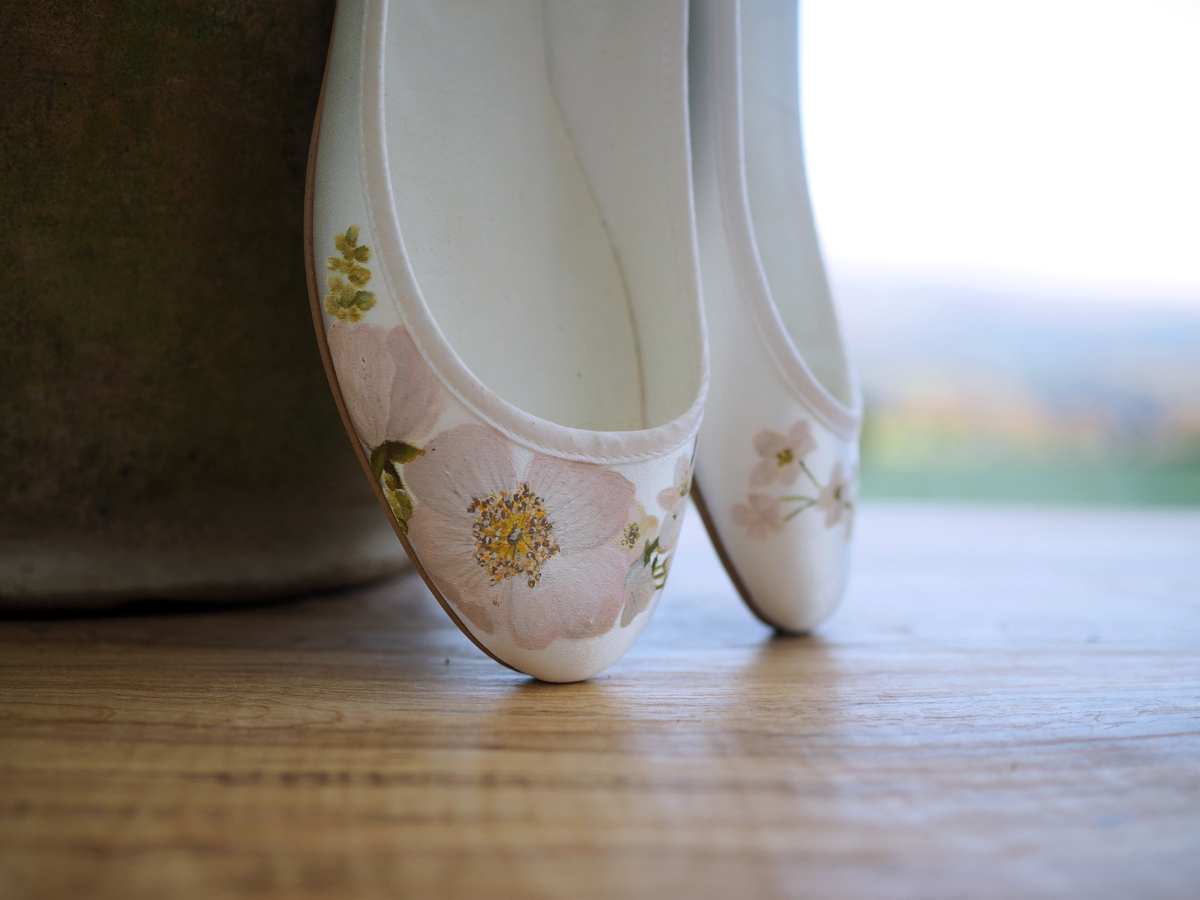 I absolutely love the thought of being so intimately involved with the design process of an incredible pair of shoes. Being able to choose a design that will replicate your wedding bouquet, link to someone important in your life or just let your own creative side run wild is a fabulous opportunity.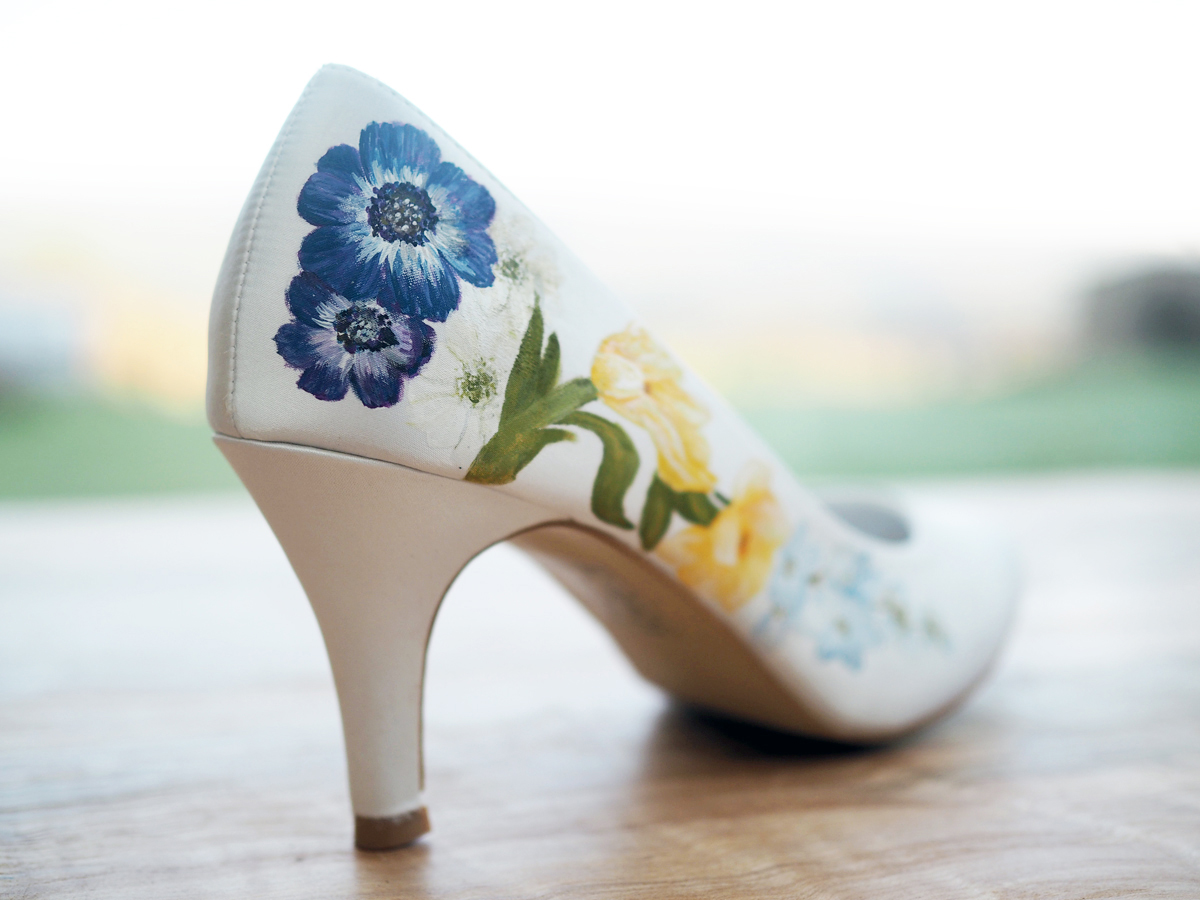 Not only that but the shoes themselves are a superb wedding keepsake and being able to work on your own one-of-a-kind design with a fabulous designer is obviously an unforgettable experience!
There are no photos with those IDs or post 681497 does not have any attached images!
Hand-painted bridal shoes from Elizabeth & Rose start at £95 for flat and £199 for high heels. To find out more, do get in touch with Sophie directly via the website or email [email protected].
The Elizabeth & Rose website is a must-visit and here you can browse the galleries, check out the shop and find out more about Sophie and the bespoke process. Elizabeth & Rose are also on Pinterest and Instagram if you'd like more inspiration and don't forget to 'like' the Elizabeth & Rose Facebook page for all the latest news.
Love,
Tamryn x
This is a sponsored post