Good morning lovelies! I hope the dawn of a new day and tentative beginnings of a new month find you feeling happy and, hopefully, in pyjamas. Today, we get to share in Jon and Hannah's celebration of Christian values and rustic prettiness, all beautifully captured by Hayley Fraser Photography. Very sweetly, the couple became husband and wife in the church where they met, The Junction Church, Aberdeen, and continued the party at The Cowshed Restaurant, Aberdeen. Let's rewind to 5th August 2016 and re-live this lavender-scented love-fest all over again.
"We had a very rustic vibe throughout all of our handmade decorations. As we decorated the church the day before the wedding 'rustic' became a kind of catch phrase if anyone asked me if things looked okay, we aren't perfectionists and the rustic feel suited us very well."
Photography by Hayley Fraser
Hannah chose an gown by Maggie Sottero, that managed to be traditional and modern all at the same time. The unusual lace and keyhole back suited our bride perfectly and a fateful twist at Brides Delight in Aberdeen landed Hannah with the Pinterest dress of dreams at a sample price. Of course, Hannah needed to sweep her locks up to show of that sensational back, and actually did all of her own hair and make up (I'm so impressed). You can find more brides ensconced in the delights of Maggie Sottero here. 
"Having dreamt of wedding dresses since I was a little girl, I had an idea of what I wanted so I researched dress designers that were stocked by local wedding dress stores and found one that I loved. I pinned it (pinterest was an amazing tool in planning our wedding) to show in the shops just for an idea of what sort of dress I wanted and the first shop I went to try on dresses actually had it in store.""It was the first dress I tried on out of about 15 dresses, but I was so overwhelmed to be wearing a wedding dress I could barely take it in. I knew I liked it, so once I had tried all the dresses on I tried it on again when I was less emotional and because the sample fitted me so well I ended buying that dress there and then, only 2 weeks after we had gotten engaged!
It was an easy process as soon as I fell in love with the dress, the bodice was well fitted to my body with beaded lace detailing, I had always dreamt of having some form of lace on it, and the a-line skirt glided out and made me feel like a princess while wearing it!"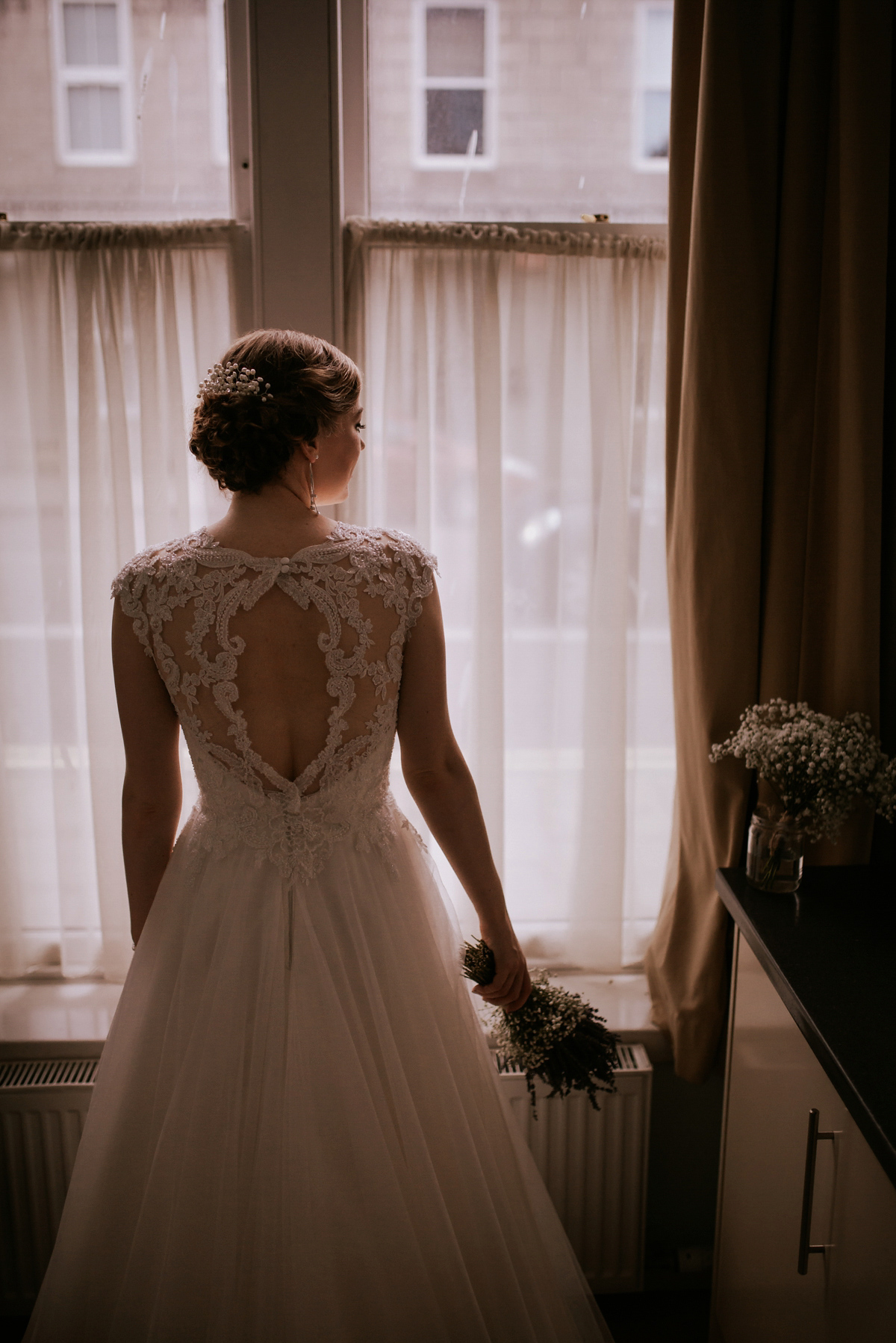 Hannah added some amazing high street finds to her designer gown and chose shoes from New Look, earrings from Marks & Spencer and a bracelet from Accessorize. The icing on the cake was a mini halo of pearls headpiece from Ebay, spritzed with Chanel's Chance Eau Tender.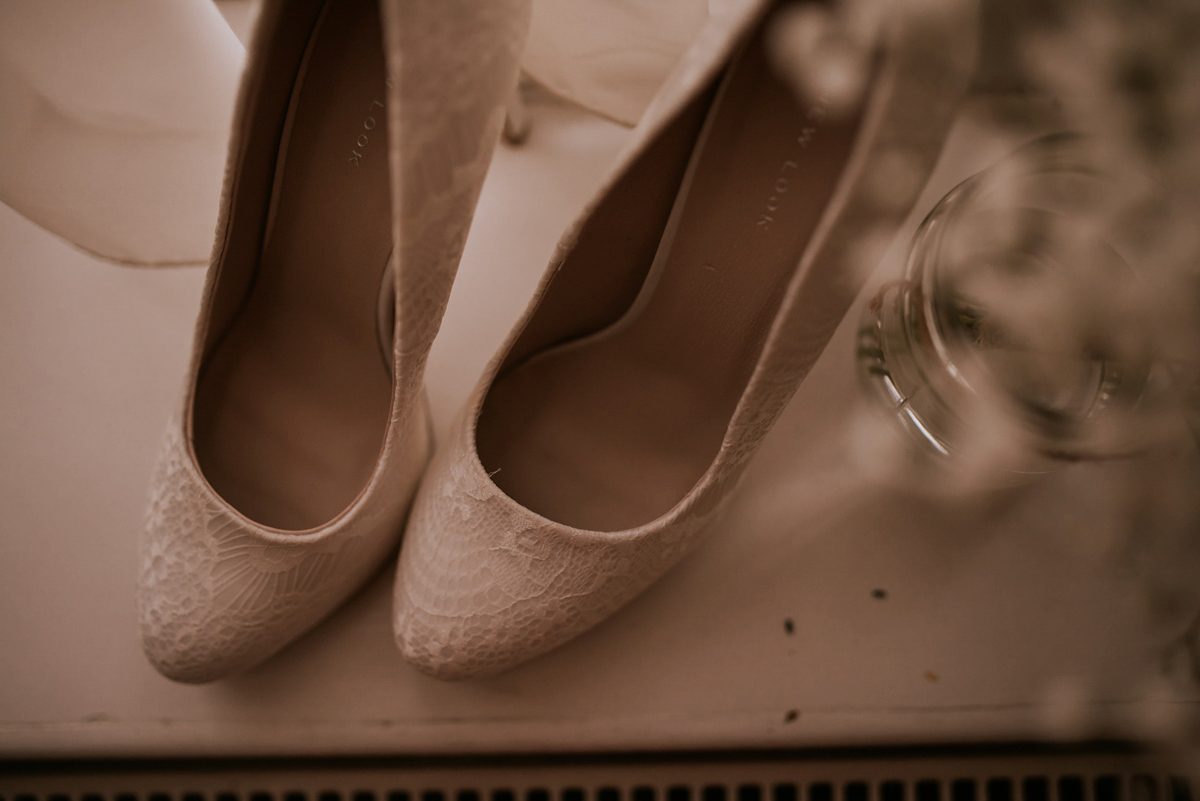 Jon looked husband-ready in his River Island suit and Next waistcoat and tie, adding shoes from Burton and a Hugo Boss watch to complete his very dapper look. Bestmen wore matching waistcoats and suits from Next and added buttonholes of gypsophila to match the rustic vibe of the day.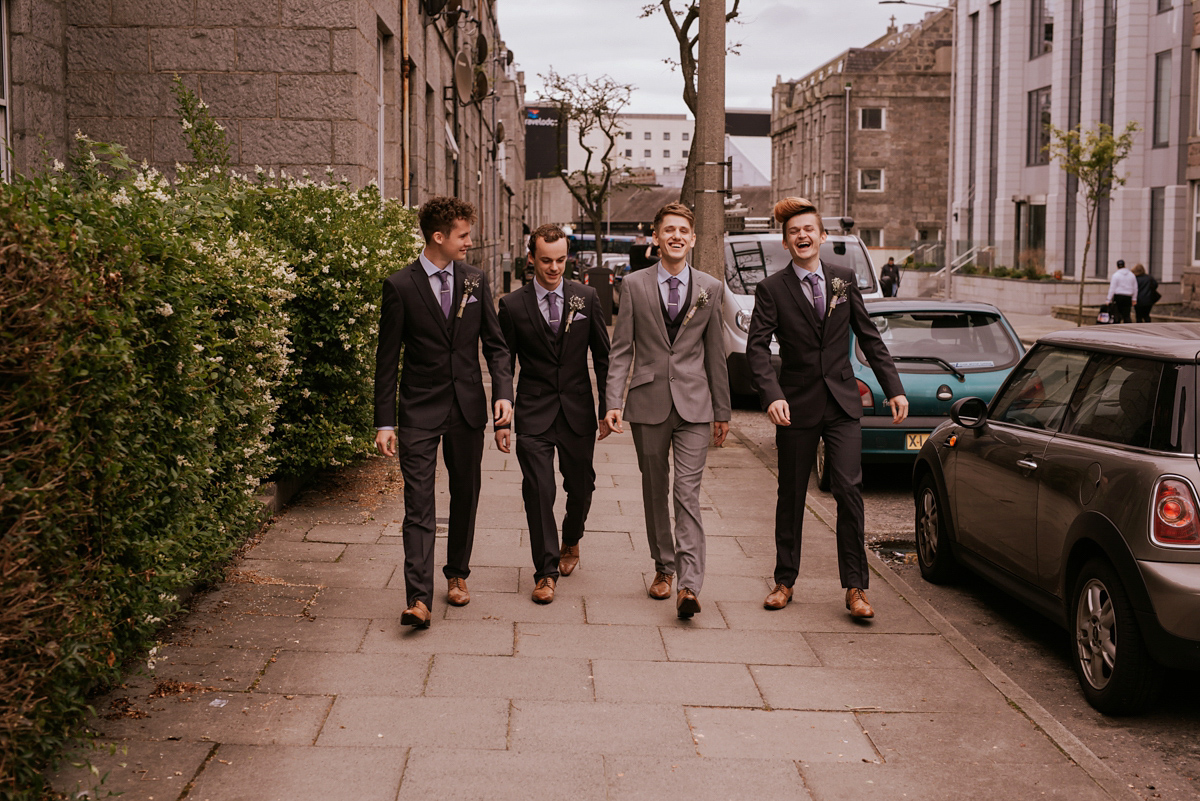 "Jon and I met through our church in 2014 when Jon was visiting family, then when he moved up to Aberdeen officially in January 2015 we began dating a few months later. In January 2016 we decided we wanted to get married that summer."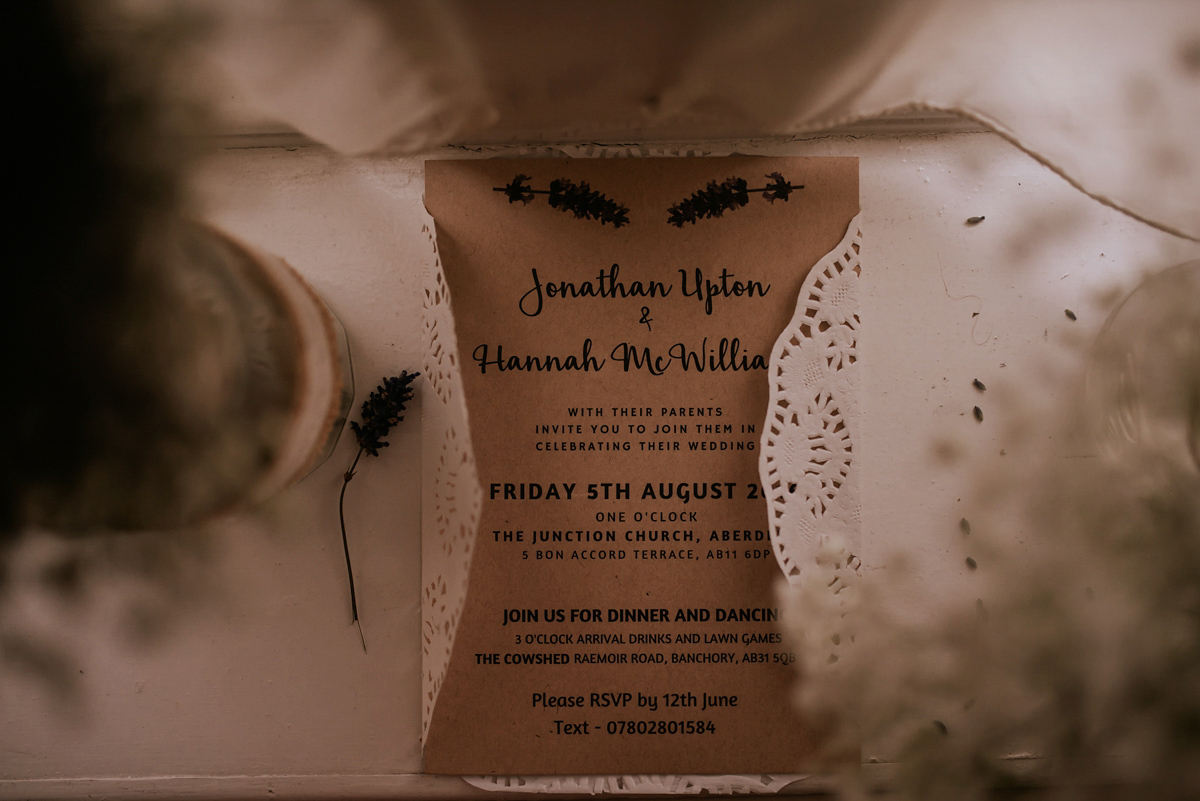 "Jon had planned to propose in Venice but the timing didn't work out, instead he took me to a local beach which was special to us, he drew out a map of Venice in the sand and walked us around on a 'gondola tour' to the place he originally wanted to propose and that's when he got down on one knee, there was lots of tears from both of us! We were engaged and married fairly quickly, being engaged for just under 6 months before our big day but the timing was perfect for us!"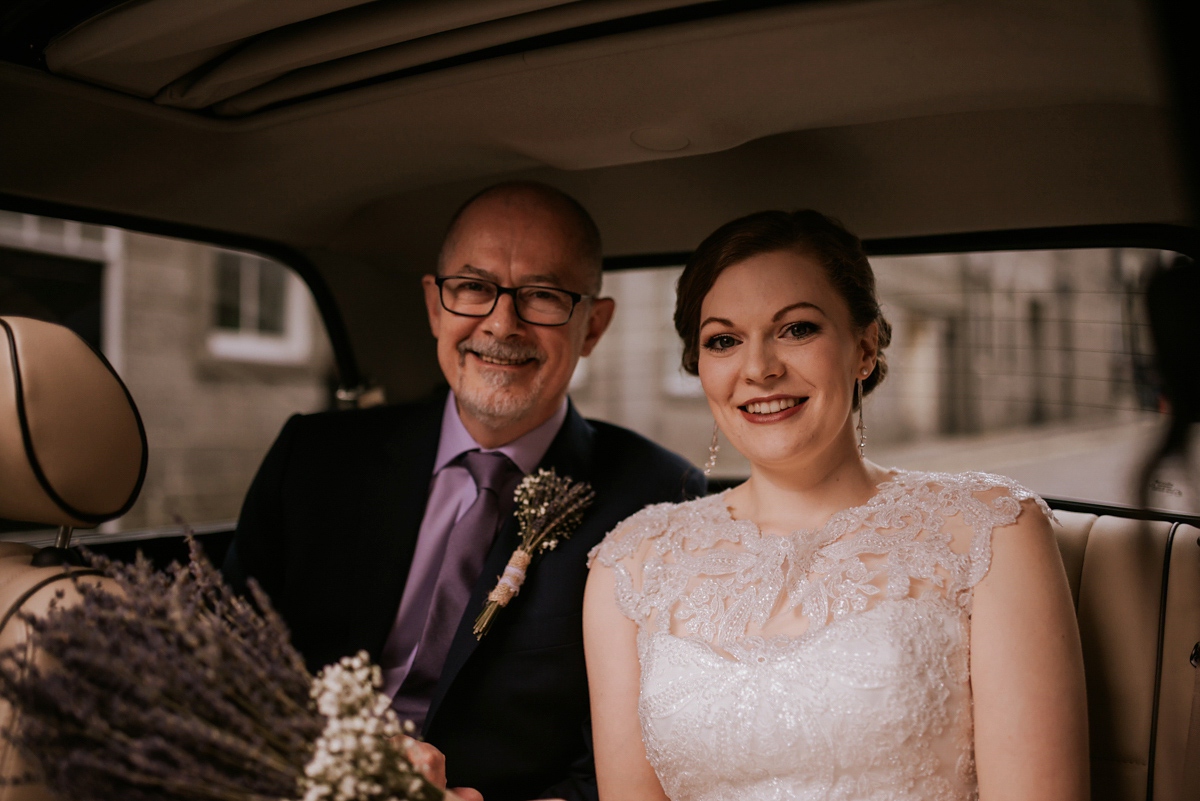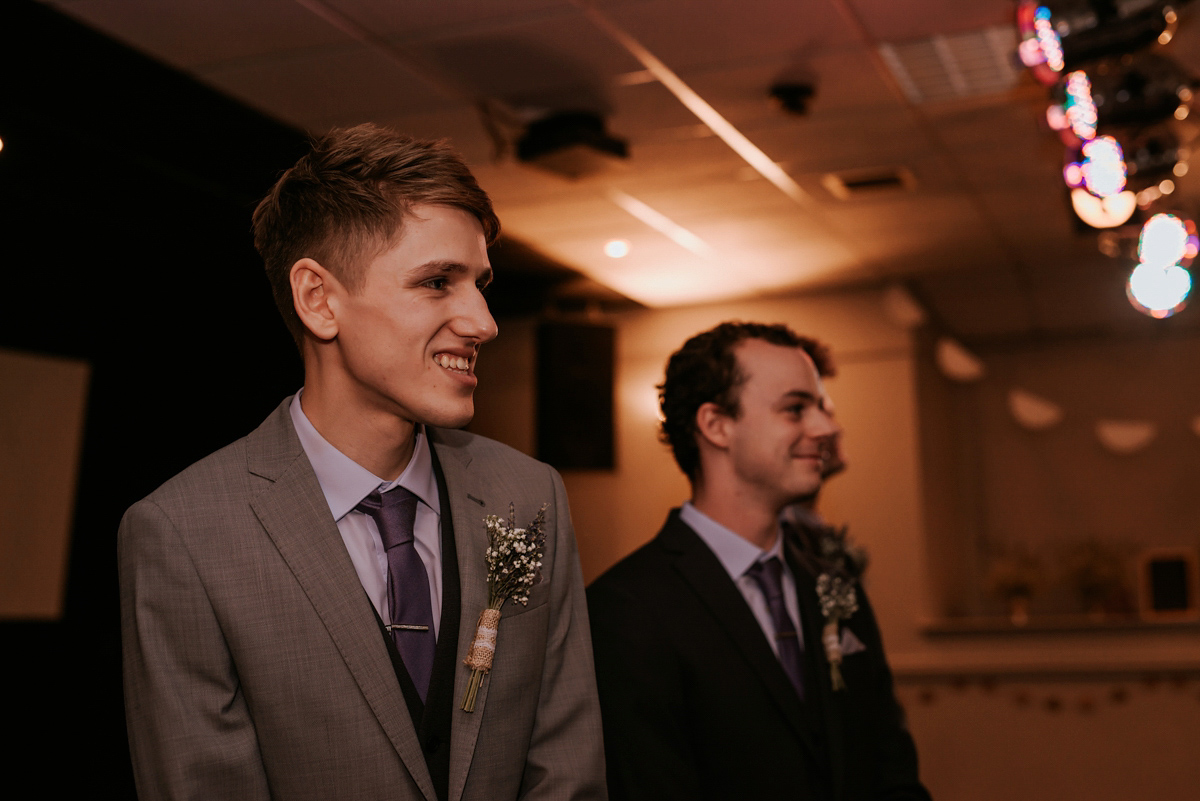 Jon's uncle runs the church and so actually married the happy couple, something that I'm sure meant a lot to everyone involved. Vows were kept traditional and an extract of Captain Corelli's Mandolin mentioned by Jon's father felt like a throughly befitting reading to personalise the service.
"Being Christians, we wanted to honour God throughout our wedding day, we held a modern Christian ceremony in our church centring God at the heart of our marriage as we became husband and wife."
"Jon's Dad had read this poem to us a few months before the wedding as he felt it summed up what love truly was, it really stuck in our minds as something we wanted to remember as we began married life and it was so lovely to include a poem that was special to Jon's Dad."
Those that truly love have roots that grow towards each other underground, and, when all the pretty blossoms have fallen from their branches, they find that they are one tree and not two.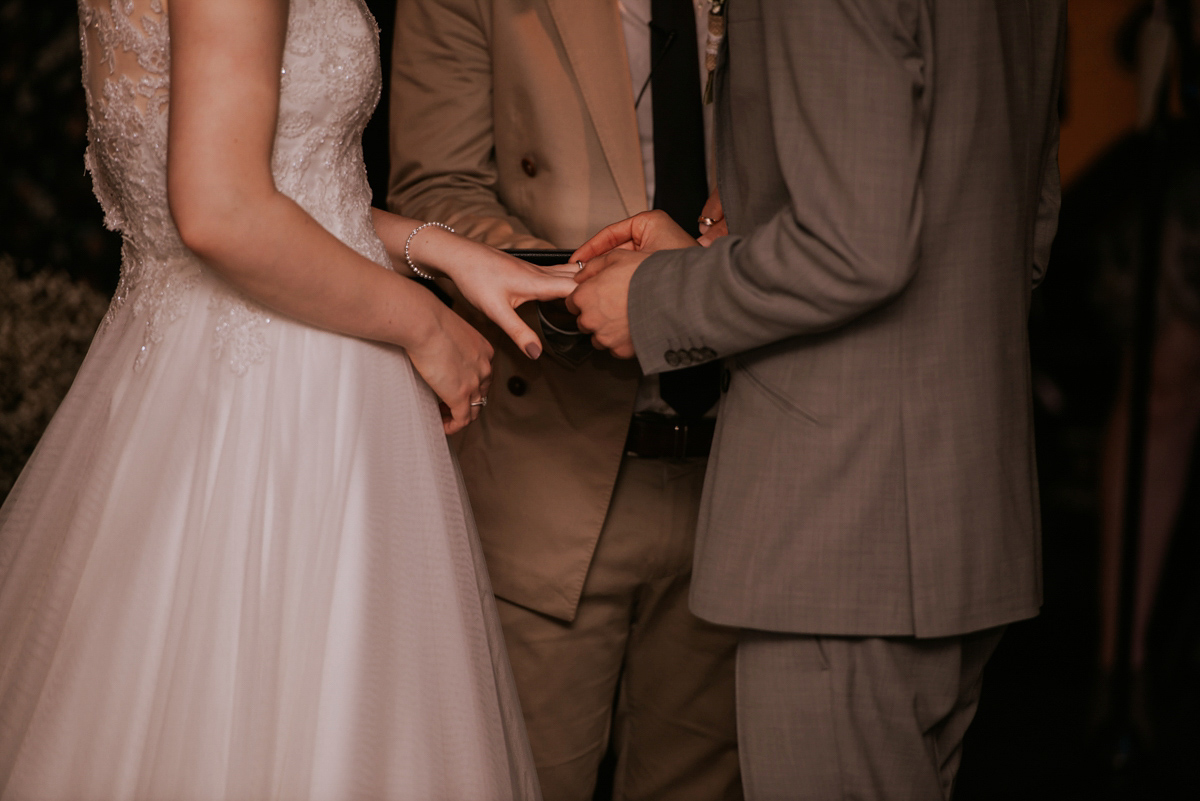 Hannah and Jon exited the church in a flurry of confetti and smiles and headed to The Cowshed Restaurant to celebrate in style with homespun, rustic decor and mouth-watering food. The rugged Scottish countryside was the perfect backdrop to this celebration of natural prettiness and earthy tones.
"Our theme of the wedding was lavender, with that colour running throughout as ties, bridesmaid dress, bridal bouquet and wedding favours. We ordered dried wholesale  flowers and I made all of the bouquets and boutonnieres myself, with friends and family helping us make arrangements in tin cans for the venue."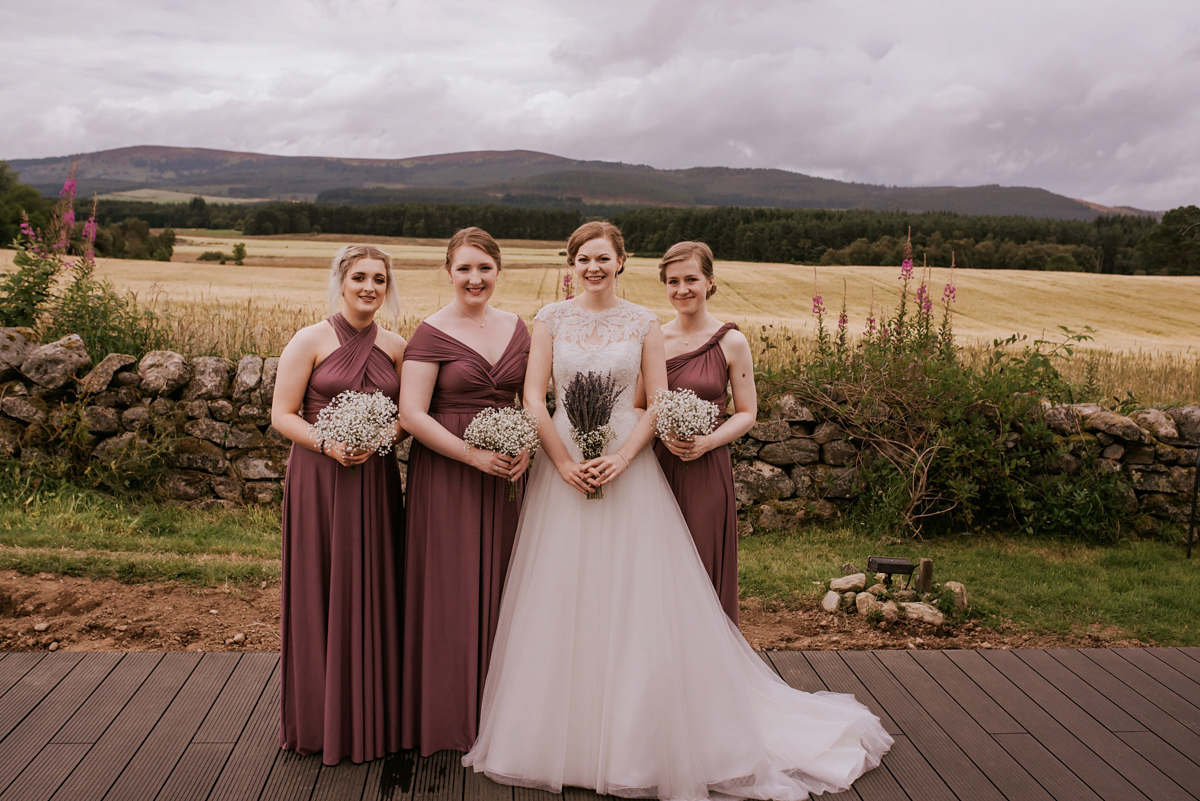 Bridesmaids wore graceful gowns from Elegantlovers on Etsy that looked next-level rustic-chic behind bouquets of dainty gypsophila and shiny Accessorize jewellery. Like any wise rural bride worth her salt, Hannah then donned a glorious pair of Hunter wellies to ensure she could take full of advantage of every picturesque shot and sweeping Scottish vista.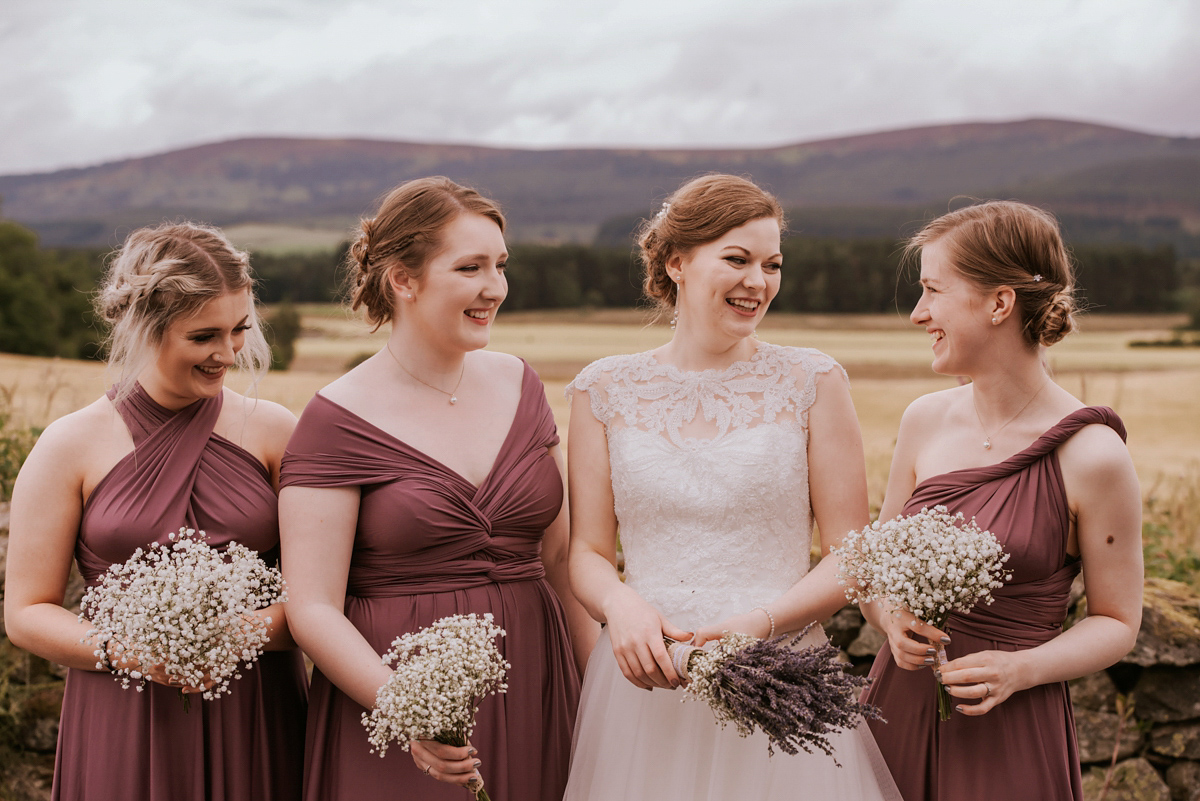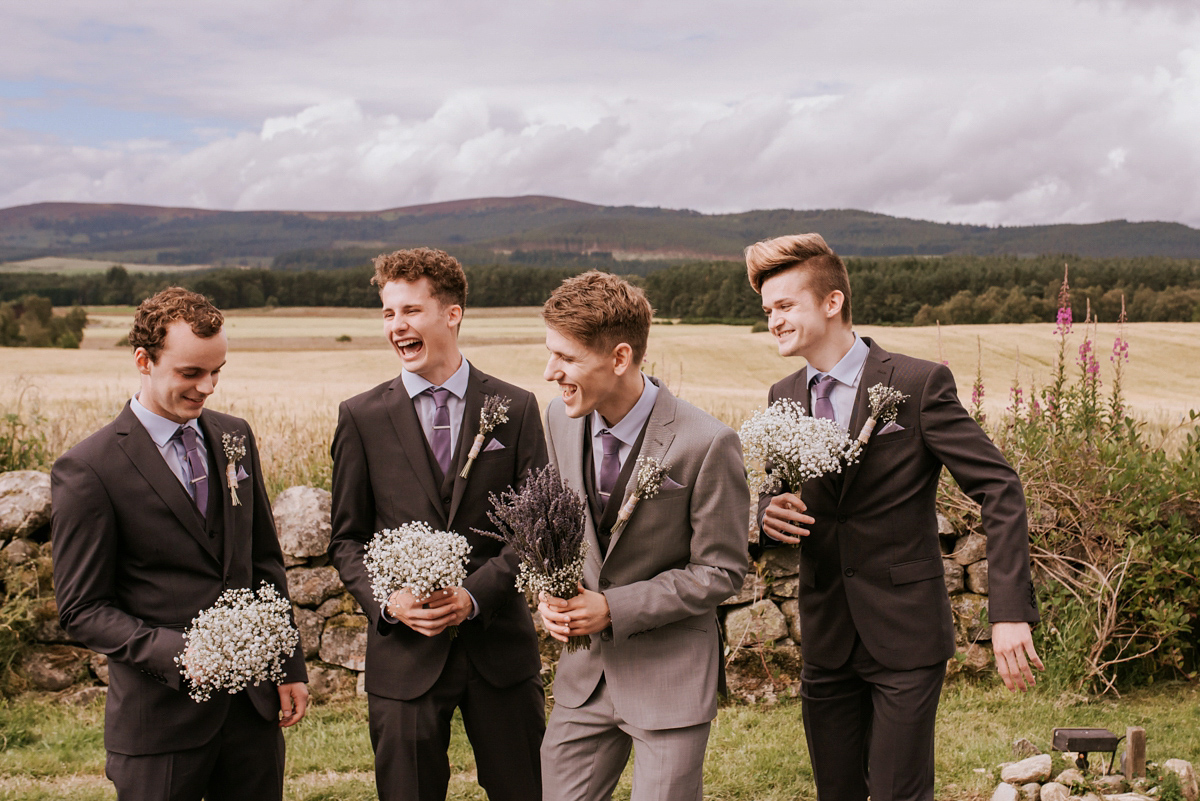 Lovely photography by Hayley Fraser enhanced the moody Scottish summer atmosphere and captured the little details that made this day so charming. I adore these getting ready shots, and Jon's last go on the X-box as an un-married man!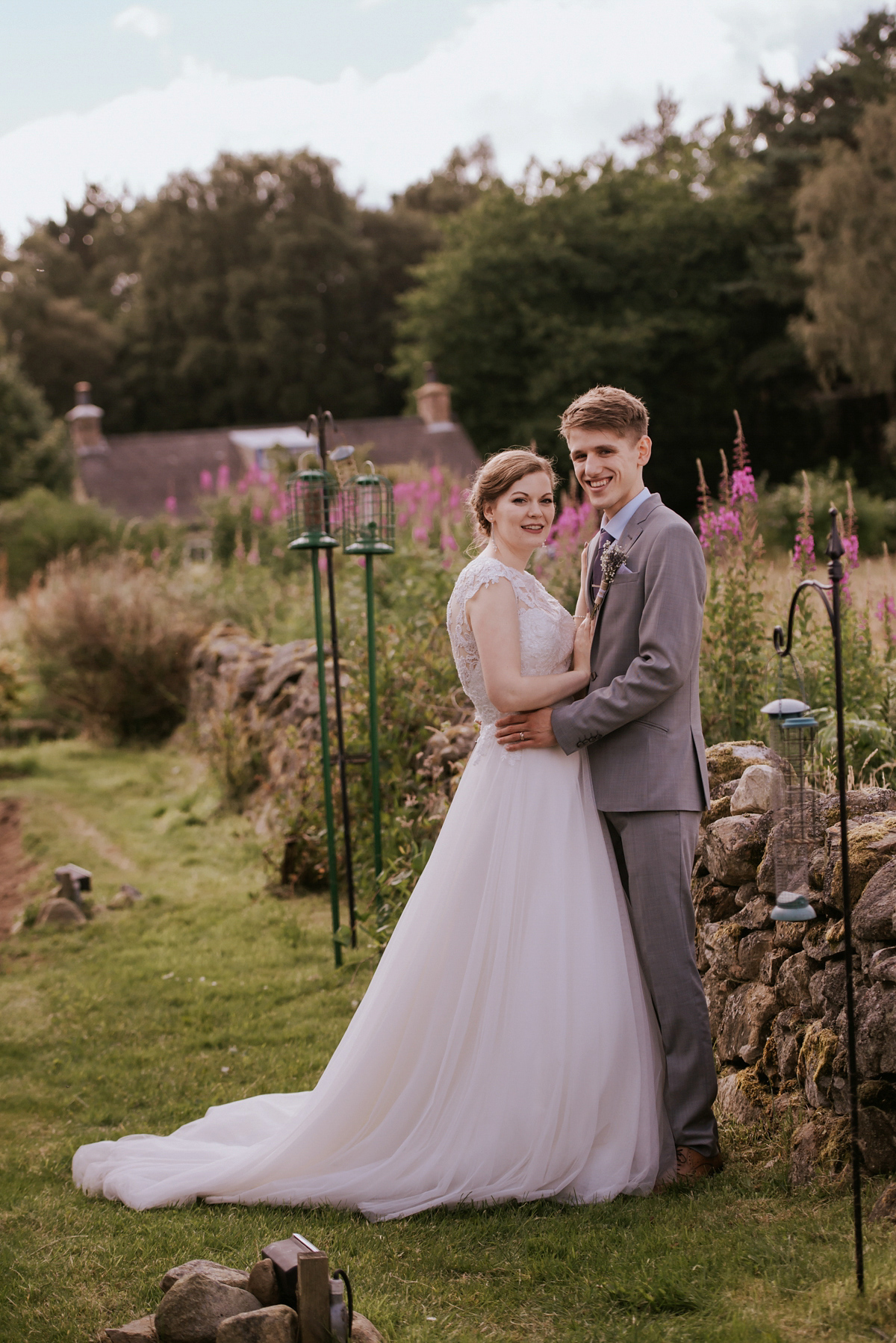 "We absolutely loved our photographer and her husband who was the second shooter for our wedding. Not only were they a pleasure to have around us on our wedding day but our wedding photos look amazing and we are so happy with them."
"From our engagement shoot we knew we had picked the right photographer; Hayley was so lovely, put us at ease and was very professional. She has been super time efficient, we had an online Facebook wedding photo sneak peek 1 week after the wedding and have received our full set of wedding photos 3 weeks after the wedding."
"Hayley was fantastic, allowing us to be natural together as a couple but advising as needed, the photos felt natural and fun when taking them and this truly comes across in the pictures. We would highly recommend her to any couple getting married, she made the whole process so easy and fun!"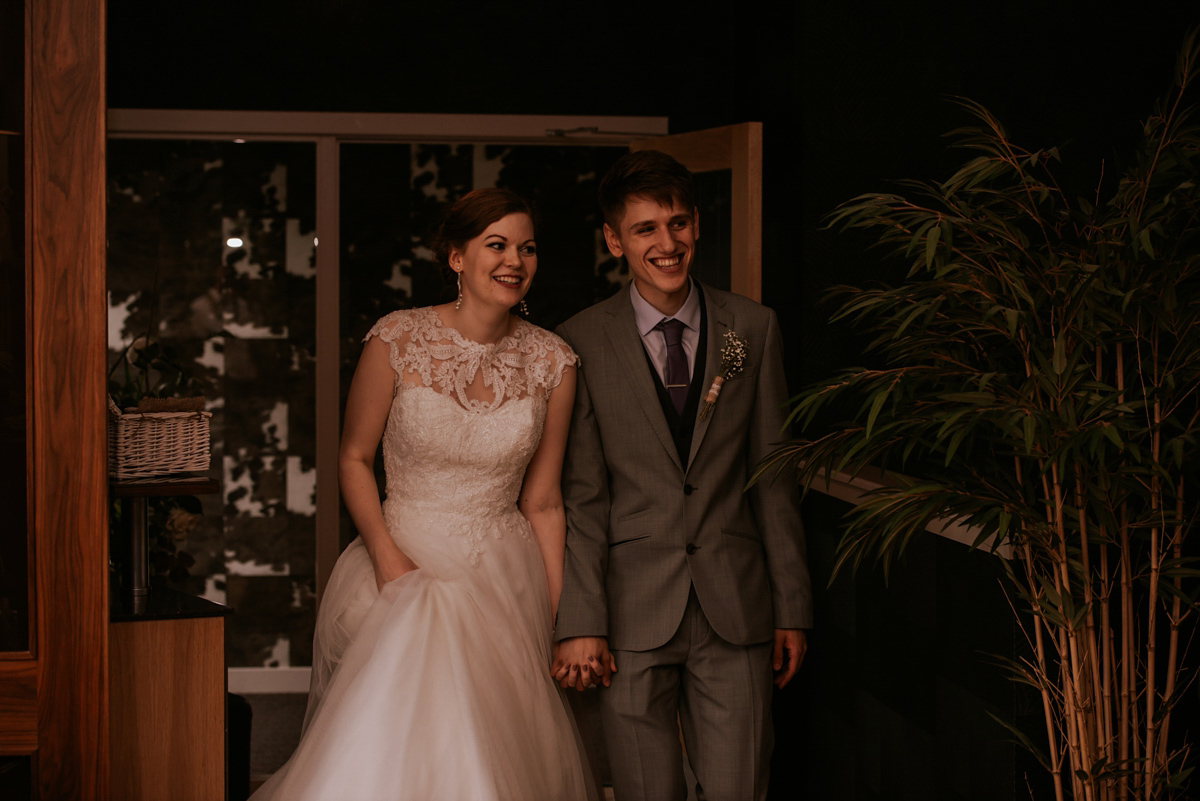 "Our first dance was to 'Happy as the Sun' by Tyrone Wells, we felt the song suited us as it was an upbeat love song about how happy we are together. When actually dancing to the song the sound system wasn't working quite properly which was quite sad as we felt the moment wasn't as special as it could have been. However once the sound system was working again the song 'Shut up and Dance' by Walk the Moon came on, which is what we consider to be 'our' song, we ran to the middle of the dancefloor to dance and our guest spontaneously started to Ceilidh (a Scottish dance) around us in a circle, it was such a fun moment of the day and stands out to us much more than our official first dance."
Words of Wedded Wisdom
"Our words of wisdom would be to have the wedding YOU want, we loved creating something that summed up our love and our relationship and guests said they loved that the wedding was so 'us'. Put your own stamp on it and create a day you will love and cherish for all of your marriage, your guests will love the day and enjoy it if you are loving it and enjoying it yourself!
Also most importantly do it as a team, listen to each other and help each other every step of the way, this is the beginning of your marriage so start as you mean to go on, as a team and united."
Owning your wedding, and hearing comments of things being 'so you' truly is the greatest feeling, it means the celebration isn't only about tying the knot, its about your lives and loves. We've yet to conclude our investigation as to why Scottish weddings are always *so* amazeballs, but you can do your bit and take a look at some previous examples here, answers on a (preferably mountaintop) postcard please.
Thank you to Hannah, Jon and Hayley Fraser Photography for bringing a burst of happiness into my morning, the happy couple have since started a business together and I know we all wish them all of the luck in their new venture.
Until next time my darlings,
Emily C xxxxx