If you're a bride-to-be with short hair it's easy to feel a little bit left out when it comes to styling your hair. Pinterest is full of images of loose tumbling boho waves, soft up-dos and romantic braided half-up hairstyles, along with lots of options for hair accessories. Sadly there's not so much short hair wedding inspiration out there – which can make it seem like brides with crops have very little choice when it comes to styling their locks.
But this is so far from the truth – pixie cuts and bobs look absolutely amazing with all sorts of hair accessories, from simple combs and pins to statement headdresses – and even the shortest crop can take a variety of headpieces if you know the right tricks!
Photography by Jess Petrie, hair accessories by Debbie Carlisle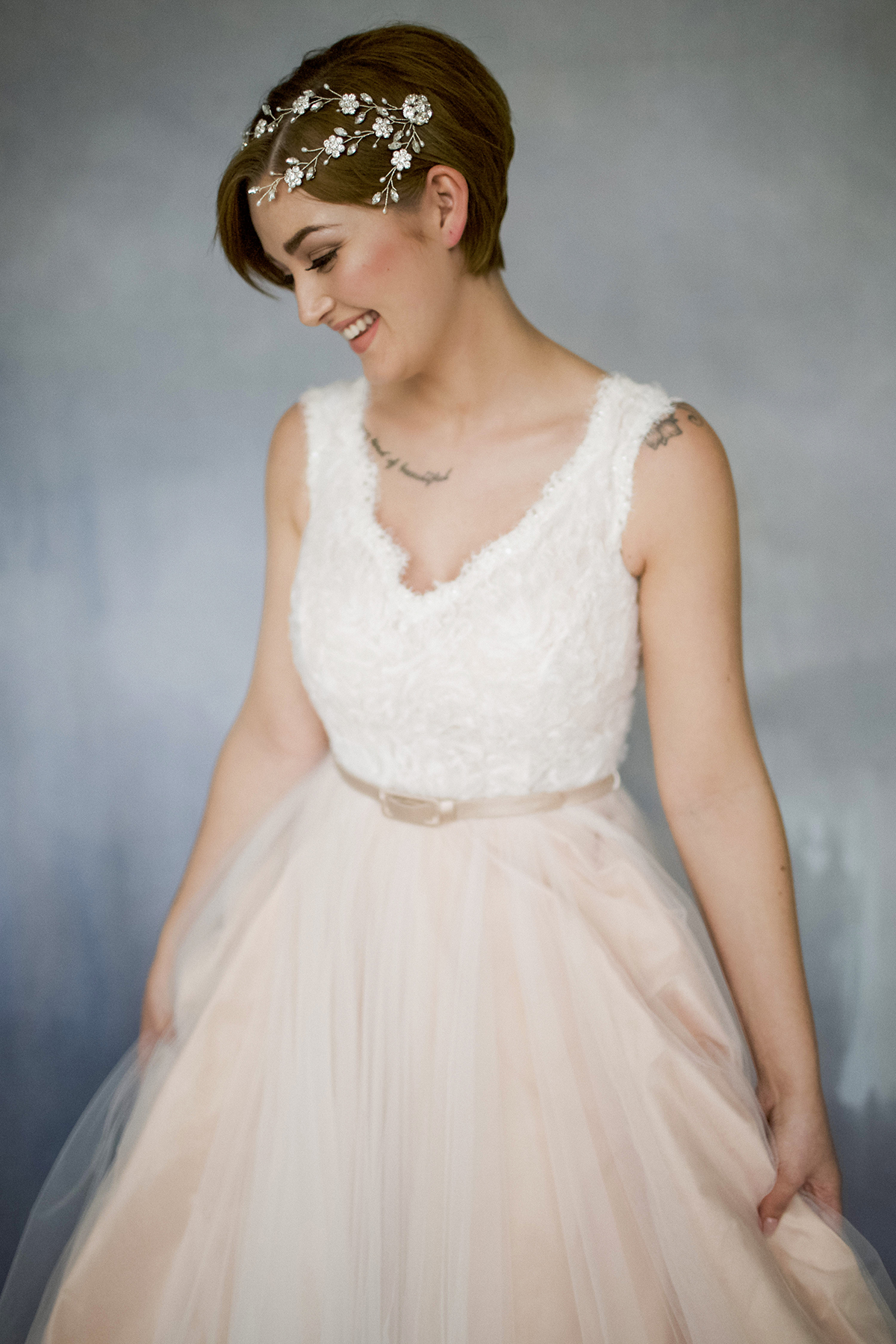 If your hair is fine and you're worried about a comb or hairpin staying in place there are a number of tricks you or your hairstylist can use. I use metal combs which can all be gripped into place by kirby grips or bobby pins which either push through the looped teeth of my larger combs or grip on top of my smaller combs. Bobby pins will also hold hairpins in place so they are more secure.
Bridal hair and make-up artist Alison Jenner, who created most of the looks you see here, used Osis texturising dust to create a thicker stronger base in which to fix combs and hairpins in our model's short hair. It magically turns fine hair into thick hair that will virtually stick to a comb or pin and is great for grease-prone hair. If you find texturizing dusts can be too sticky for your hair the VO5 and Schwarzkopf texturising dusts are another good choice, says Alison.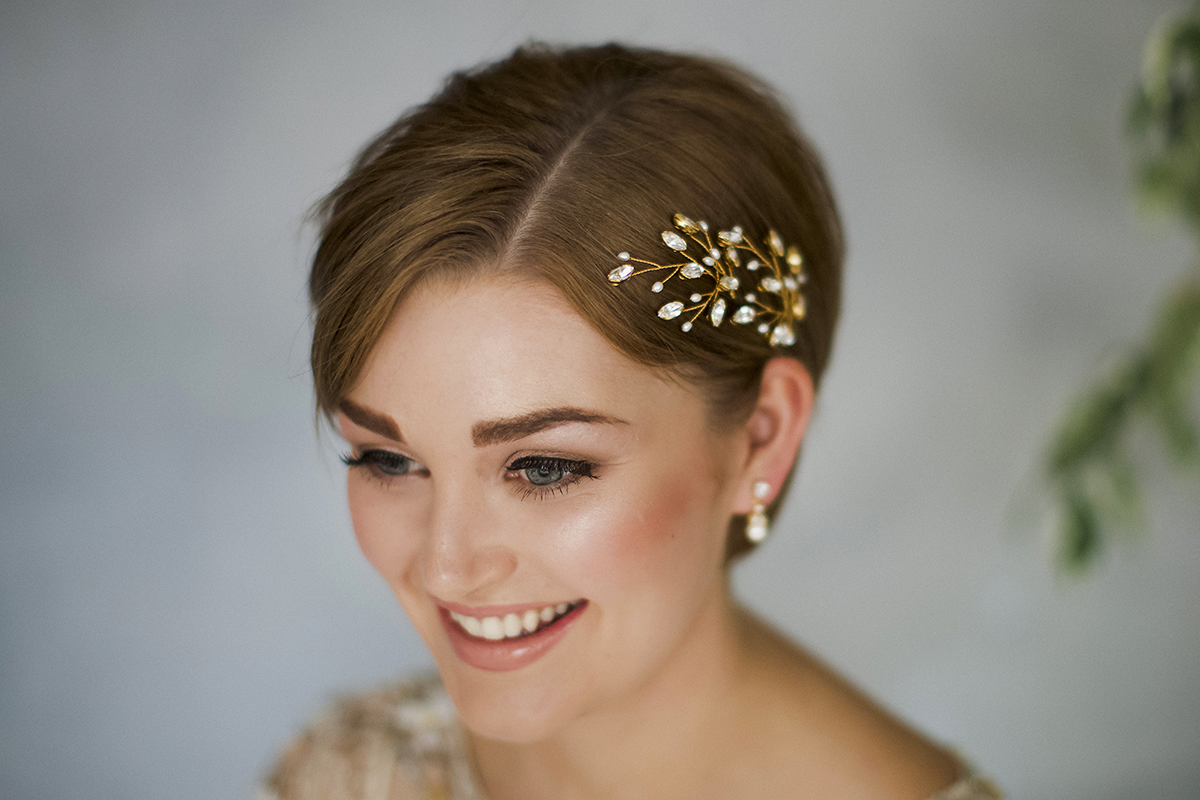 Two Maisie hairpins styled together
Another hairstylists' trick is to place tiny braiding elastic bands where you want your comb or pin to sit – which will give the teeth or pins something really secure to slide into and they won't slip out of place.
All of these tricks mean there really is no limit to the pieces you can wear and the looks you can create, ranging from soft and romantic bohemian ethereal looks to full-on Hollywood glamour, vintage or classic styles – meaning no bridal style is out of bounds just because you have short hair!
Classic bridal looks
A delicate sparkling comb will add a touch of glamour to a soft romantic bridal look – wear a comb with a veil during the day for a touch of traditional sparkle and then wear it alone just above the ear for an elegantly glamorous look at your evening reception.
Bohemian/ethereal
If you want to create a romantic ethereal bohemian look then a delicate hairvine will soften your look. Hairvines usually attach with a comb or Kirby grips – if you cross two Kirby grips over each other as you pin the vines into place the small dimples in them create a 'lock' which will keep your vine in place even in short hair.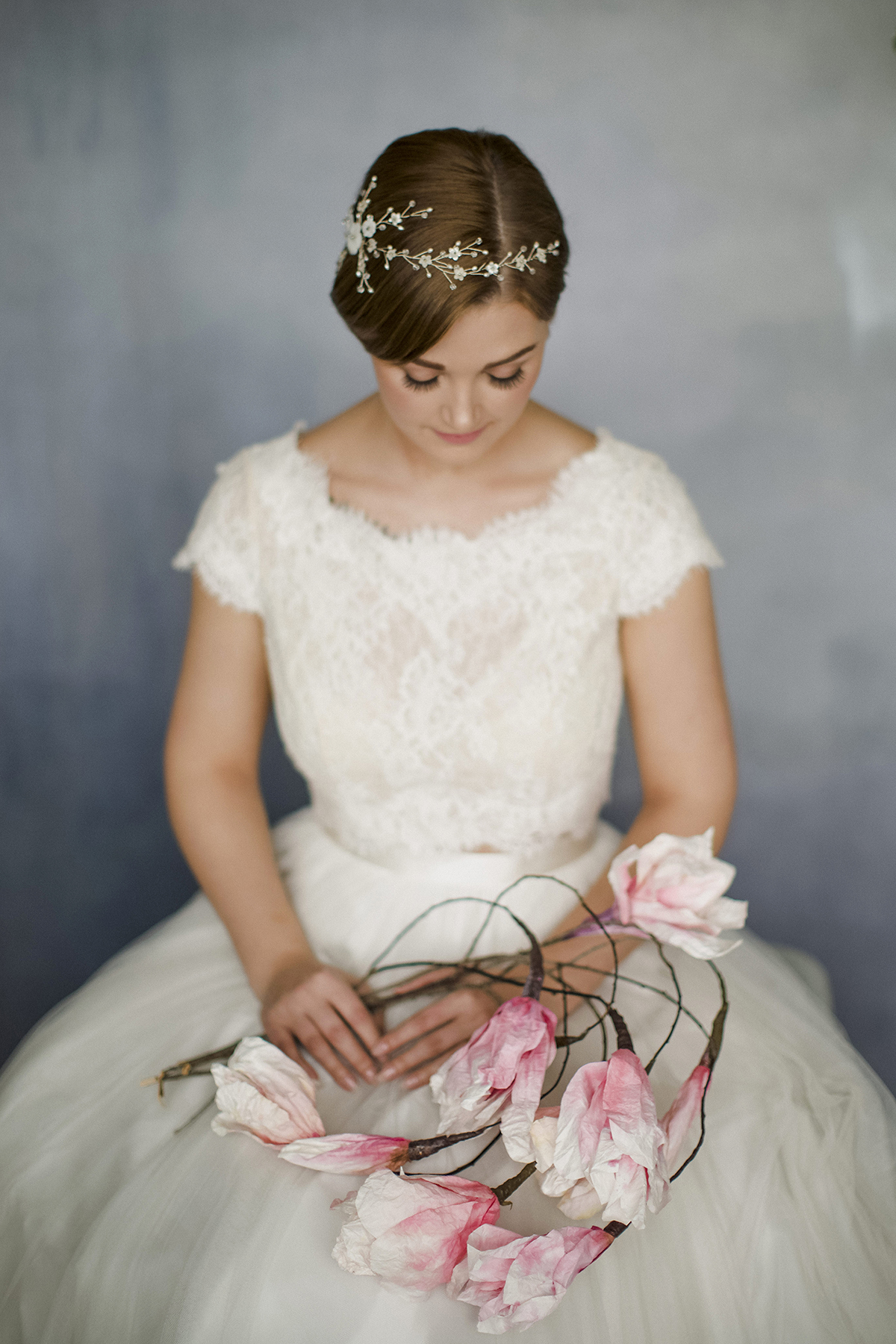 Short hair looks absolutely amazing with a Juliet cap veil and can create a strong vintage style or soft bohemian ethereal look, depending on how you accessorise it. I love to pair these veils with symmetrical pieces like my Coralie hairvine or a simple headband which creates a beautifully romantic look.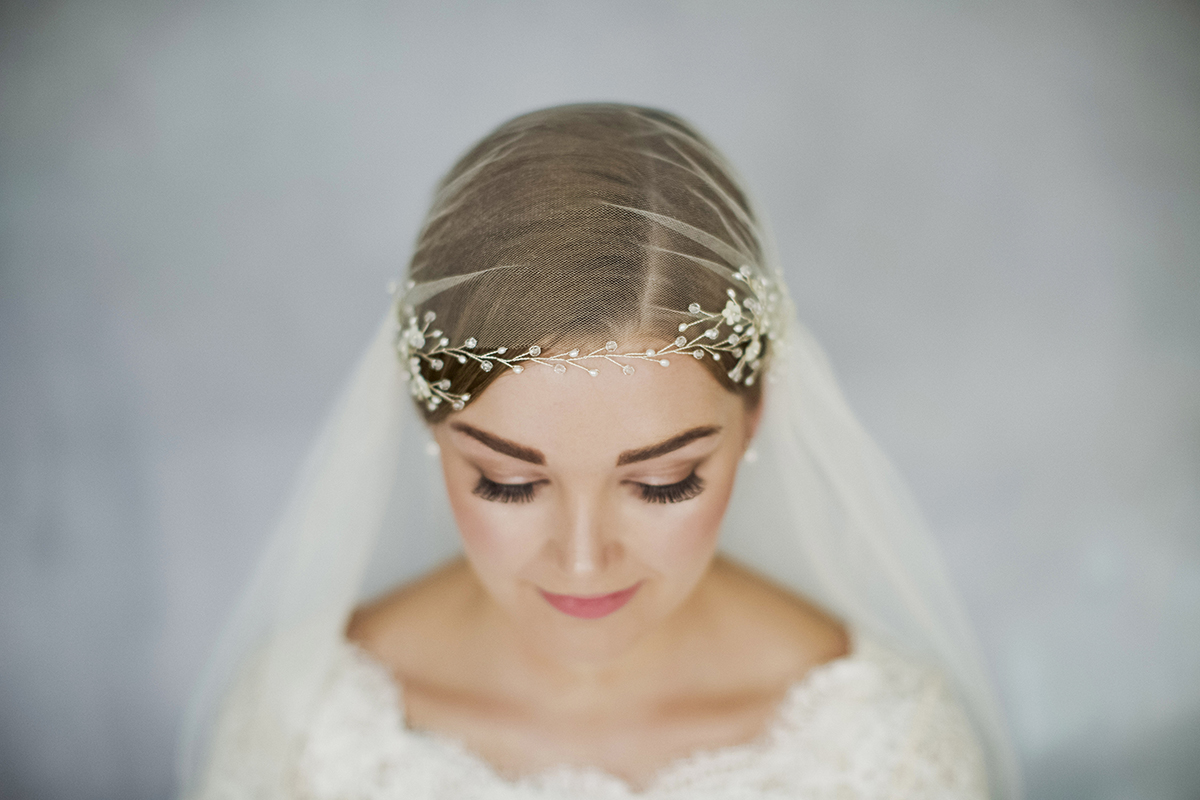 Coralie hair vine and Juliet cap veil
Rustic/botanical
If you're planning an outdoors-inspired, rustic or botanical wedding then a simple foliage-themed hairvine or circlet will help finish off your look. My Rosie and Rosemary vines are inspired by the Rosemary herb and come in pearl, gold or rose gold crystal options. The antique gold crystal versions look particularly rustic and a little bit twig-like – perfect for a woodland wedding! A circlet is the perfect way to add a touch of flower crown chic to your look – without overwhelming your short hair with real flowers. There's also the added bonus that a jewelled flower crown won't wilt when the evening comes!
There are no photos with those IDs or post 681484 does not have any attached images!
Floral
A fresh flower crown can overwhelm a short hairstyle – but there are lots of ways to wear florals that will complement shorter cuts. One of my favourite designs to wear with short or bobbed hair is my Cherry vine which looks incredible with the fronds just edging onto the face. It's inspired by Japanese cherry blossom and has the same fresh, romantic delicate style as these gorgeous natural blooms.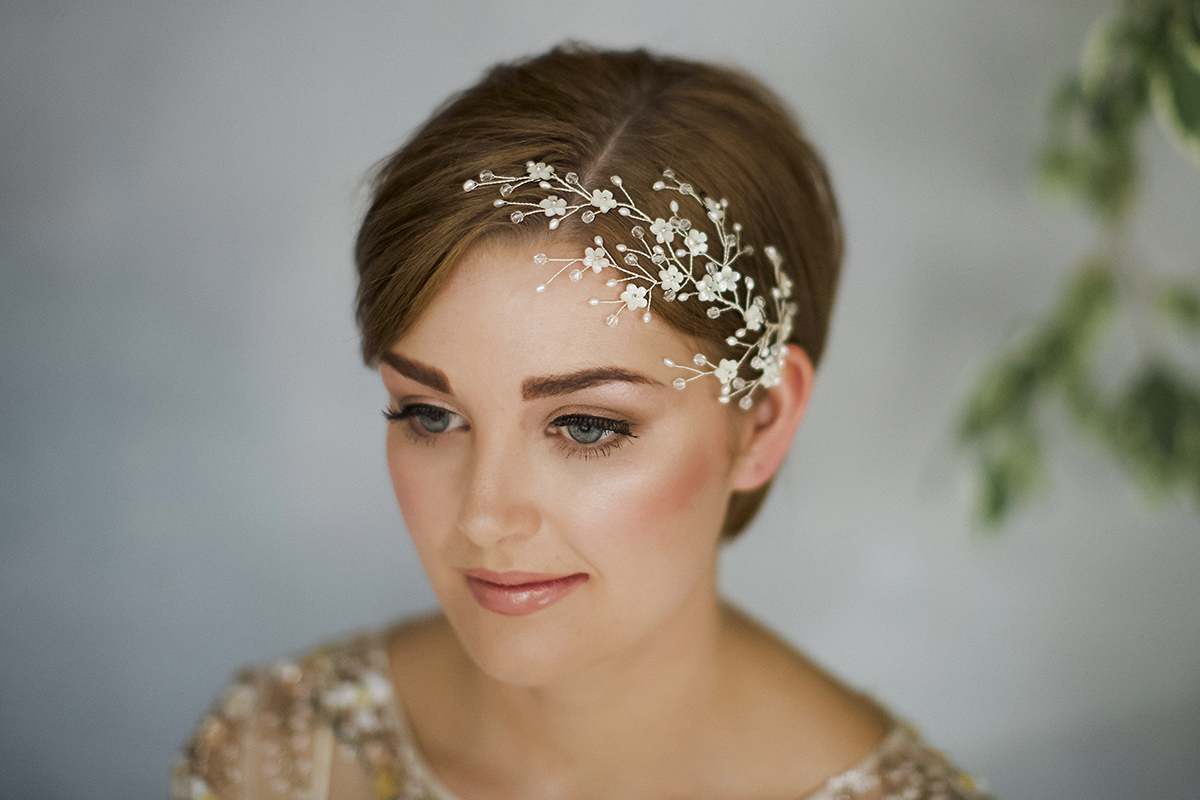 My Aurora headband features a central silver beaded flower with two leaf designs on either side. The embellished areas sit on a black headband which disappears easily into your hair and is a very simple way to accessorise short hair as a headband can simply be lowered into position and the hair styled around the embellishments. You can also choose any colour ribbon wrap for your headband so it tones with your hair colour and the jewelled areas appear to float on your hair.
There are no photos with those IDs or post 681484 does not have any attached images!
Vintage
A vintage crystal side tiara is a great way to accessorise a prom style tea-length gown and can be worn with a traditional long veil or a birdcage veil for a more quirky look. It's also super-easy to wear in short hair and is perfect if you don't plan to have a hairstylist on hand – you can just pop it on your head and go!
Medium Bijoux side tiara headband
If you're going for a vintage look with more of a 1920s or 30s vibe then a sparkling comb or headband worn on the side of the head creates a suitably glamorous vibe – and a birdcage veil can be a great addition as it looks fabulous with shorter hairstyles.
There are no photos with those IDs or post 681484 does not have any attached images!
Romantic glamour
A delicate sparkling comb or headband in an open design will add a soft touch of romantic glamour to your bridal look.
There are no photos with those IDs or post 681484 does not have any attached images!
Hollywood glamour
To add high shine Hollywood style glamour to your look you can't beat a statement sparkling comb or hairpins set worn above the ear. This classic look is a screen siren staple and is the perfect way to accessorise a red carpet-style gown.
There are no photos with those IDs or post 681484 does not have any attached images!
1920s
A short crop or bob is the perfect style to wear with 1920s inspired accessories – whether your personal style is to go for a statement headdress or a simple flapper style forehead band.
Greta (above) and Hattie (below)
Hopefully these styling suggestions and photographs have given you lots of inspiration for styling shorter hair for a wedding – I absolutely love to see a short haired bride rocking a hair accessory and I hope this has shown that you don't need to grow out your short hair to look absolutely amazing on your wedding day!
Simple style
If you have a simple bridal style, a slim and delicate headband will set the bridal tone without overwhelming your look.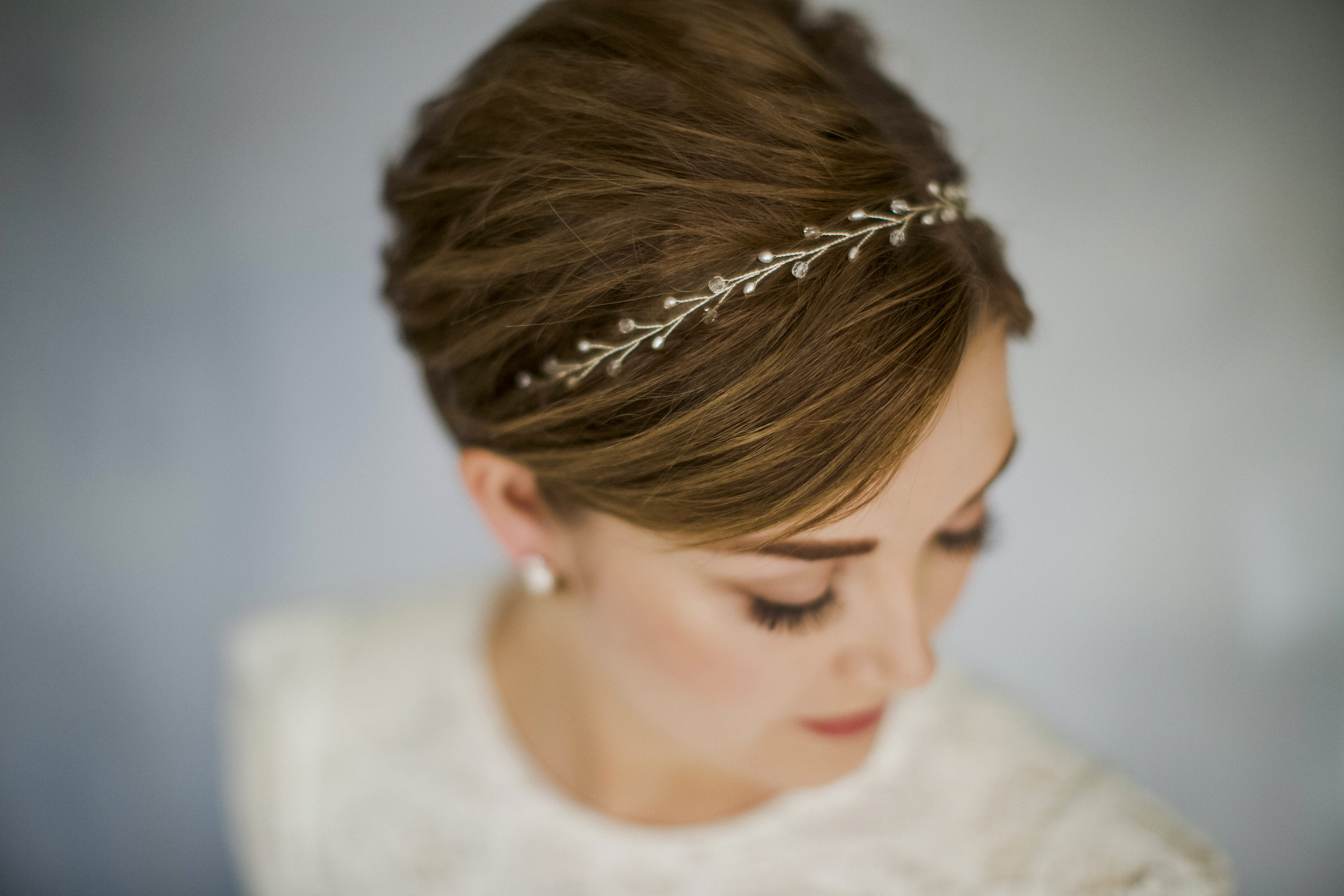 Amy headband
Statement style
Short hair works so well with a statement headpiece so if you're an accessories kind of girl with a love of sparkle this is a great opportunity to go all out. A headdress on a headband is the easiest way to do this but you could try a hair vine which trails around the head if you're confident in your hairdresser's skills!
There are no photos with those IDs or post 681484 does not have any attached images!
I hope you found this feature helpful – but should you have any further queries at all, please don't hesitate to get in touch – I'd love to hear from you. You can find me on email at [email protected], or Instagram at @debbiecarlisle_.
Love Debbie x