One of my all-time favourite things to do when I had the lights of London on my doorstop was to check out a spot of Shakespeare or the latest musical on the West End with a last-minute ticket. When I was growing up I performed with my local musical theatre company and completely understand the allure of the stage, the friendships formed, and the sheer joy of being involved in pulling together a production. It was fitting then that bride Jessica, who works for the Royal Shakespeare Company, (providing the footwear for actors in the shows) and groom Crispin, a production manager at Rainbow Productions (a costume character company), chose the Cecil Hepworth Playhouse in Walton on Thames, Surrey, as their wedding venue.
The couple held their legal civil ceremony on the 25th of October 2016 at Islington Town Hall in the intimate setting of The Mayors Parlour, then a humanist ceremony and celebration with their guests on the 29th of October at the playhouse. Their day was beautifully captured by Siobhan H Photography and peppered some of their favourite things like stars and space throughout their decor and attire.
"The Walton wedding was always going to be fun, non-traditional and very 'us'. It was a combination of things we like but it ended up being quite space themed! The playhouse is local to where we live and had such history and character and in terms of suppliers and decorations we could pretty much do what we wanted."
Images by Siobhan H Photography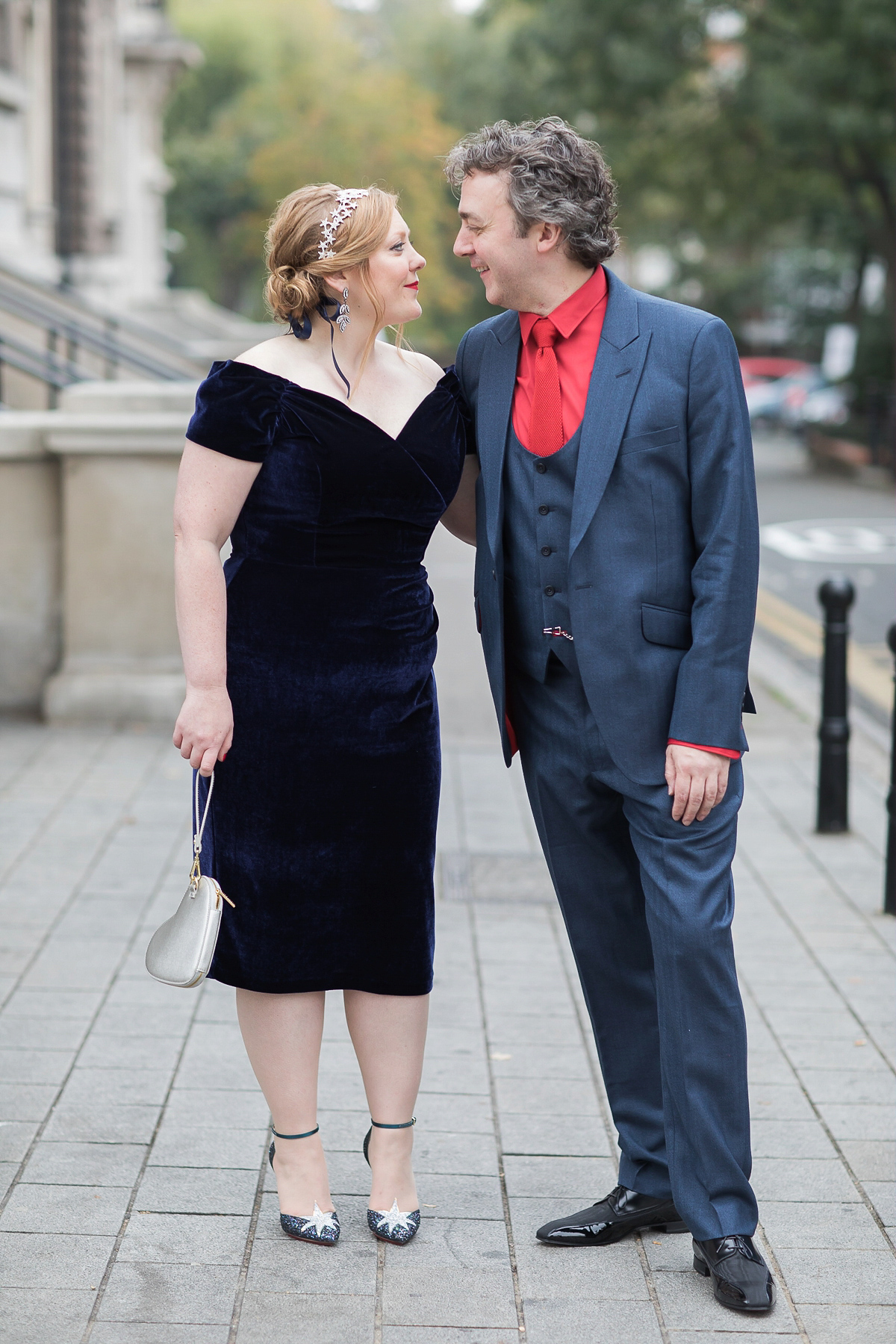 Jessica's dress for the Islington ceremony was a last minute buy (the day before!) from The Pretty Dress Company. She added the most fabulous pair of Charlotte Olympia heels featuring stars, the 'Hedy's halo crown' from The Pink Collar Life to her hair, a pair of her own old faithful earrings, a spritz of 'Decadence' by Marc Jacobs – and a very stylish Katie Loxton silver heart handbag. The stunning bride's pretty hairstyle and make-up was by Emily Mickelburgh.
"Crispin and I  met at Rainbow Productions and have been together for 10 years. In 2015 we went on holiday to Toronto and Niagara, where Crispin proposed to me next to the Rapids. Although we've talked about getting married for years it was still a surprise and hugely romantic."
"I loved my make-up and hair – what a treat to have somebody to do it for you!"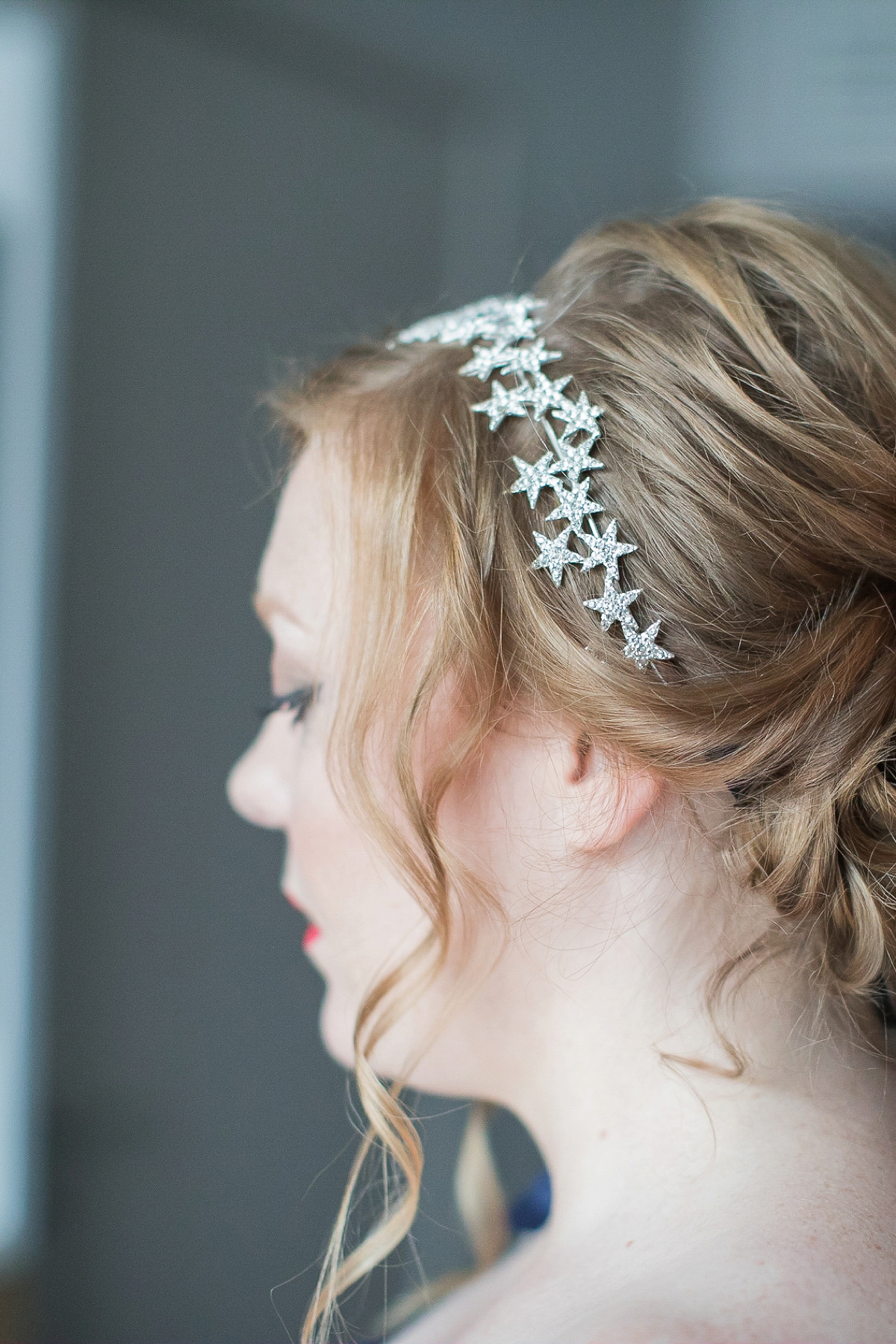 Jessica's bridesmaid wore gorgeous gowns for both occasions from Frock and Frill, shoes from Debenhams, her own jewellery and a groovy Katie Loxton 'One in a Million' clutch.
"What a fabulous person  and photographer Siobhan is – she's passionate about her craft and storytelling through photography."
"We loved that she was able to be there on both days; because of this you see the story of our wedding flow from one place to the other through her photos. She captured all the emotions and we will never tire of looking at them."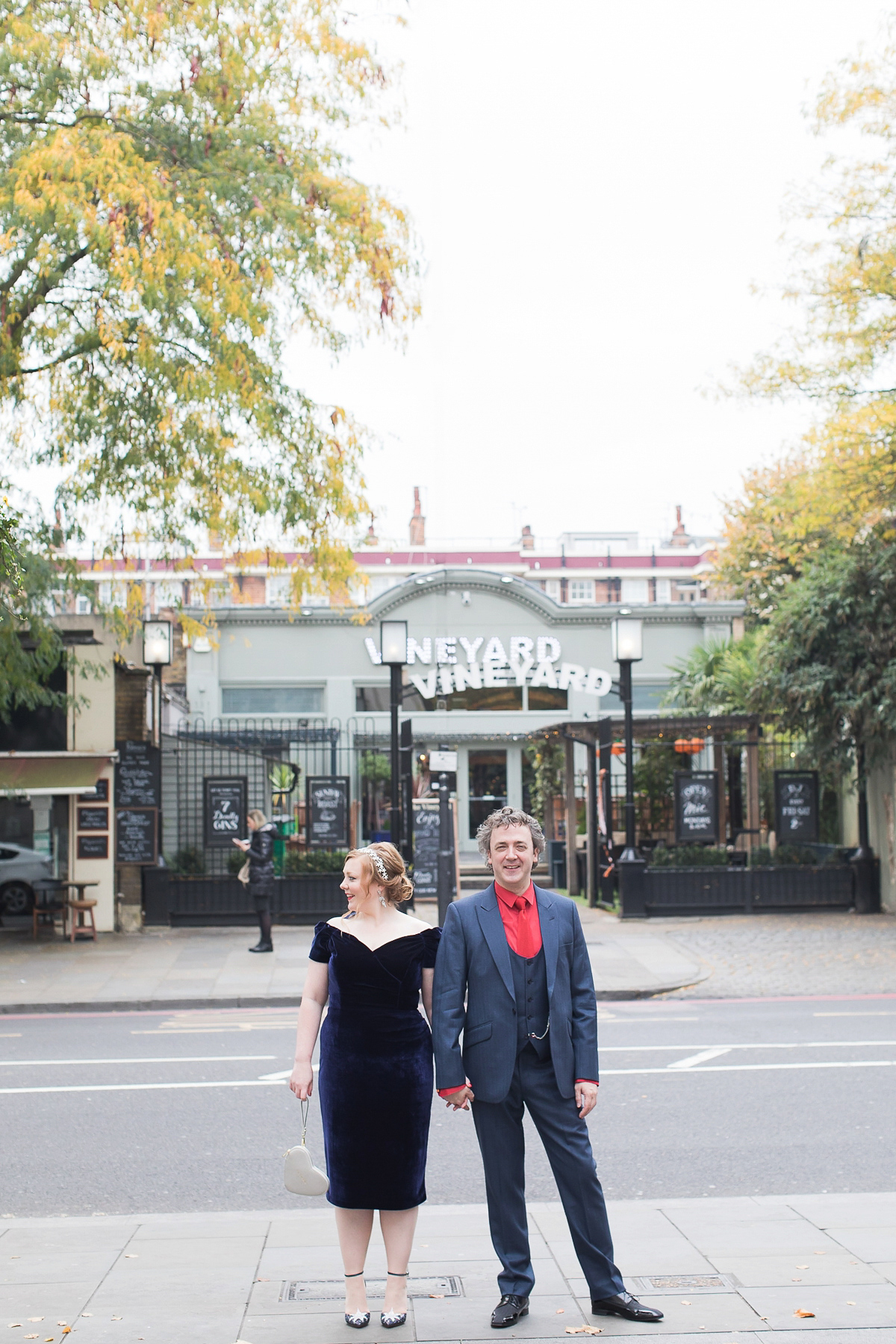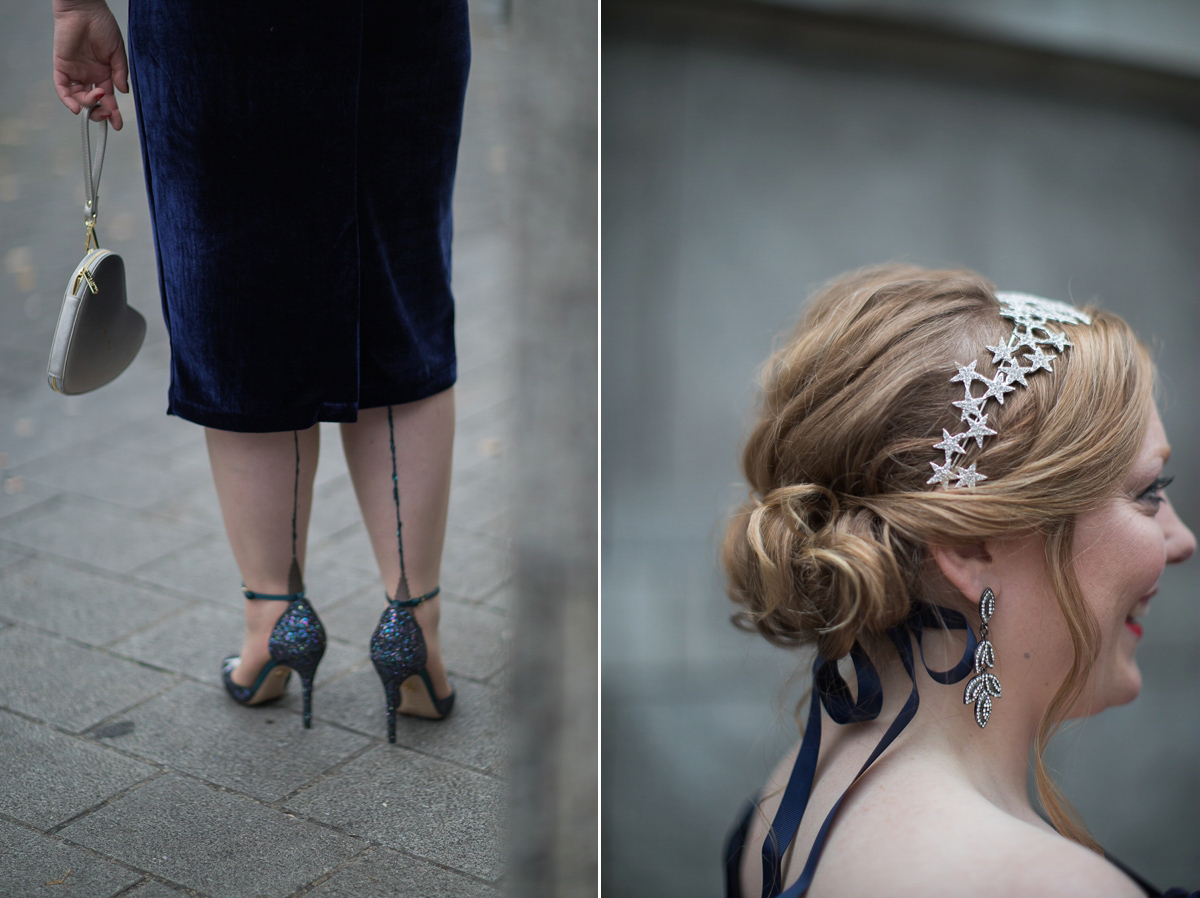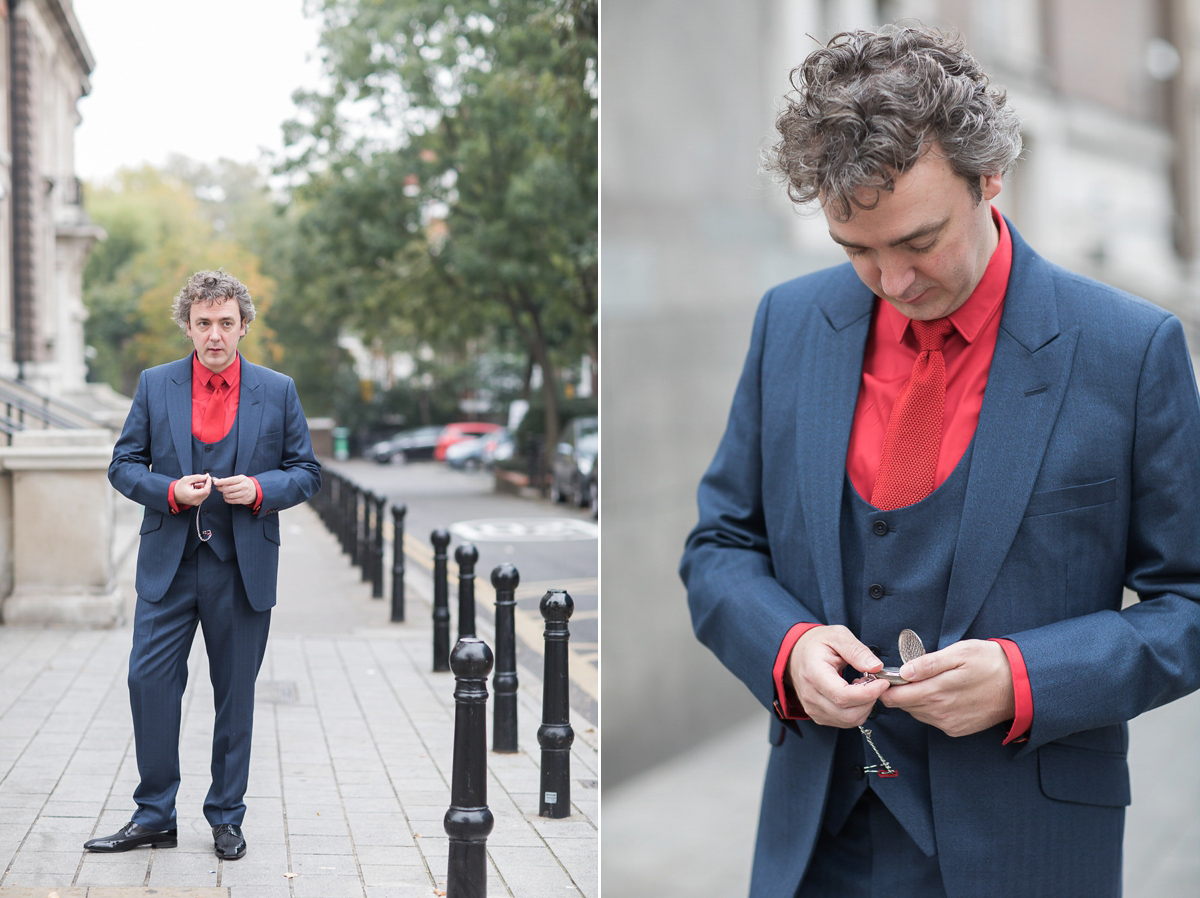 Crispin made for a very suave groom, donning a bespoke suit from Dress 2 Kill, Christian Louboutin shoes, an old pocket watch and Superman 'S' cuff links and pocket square.
His 'best woman' was Joolz who also wore a brilliant bespoke suit from Dress 2 Kill, with shoes by Russell & Bromley.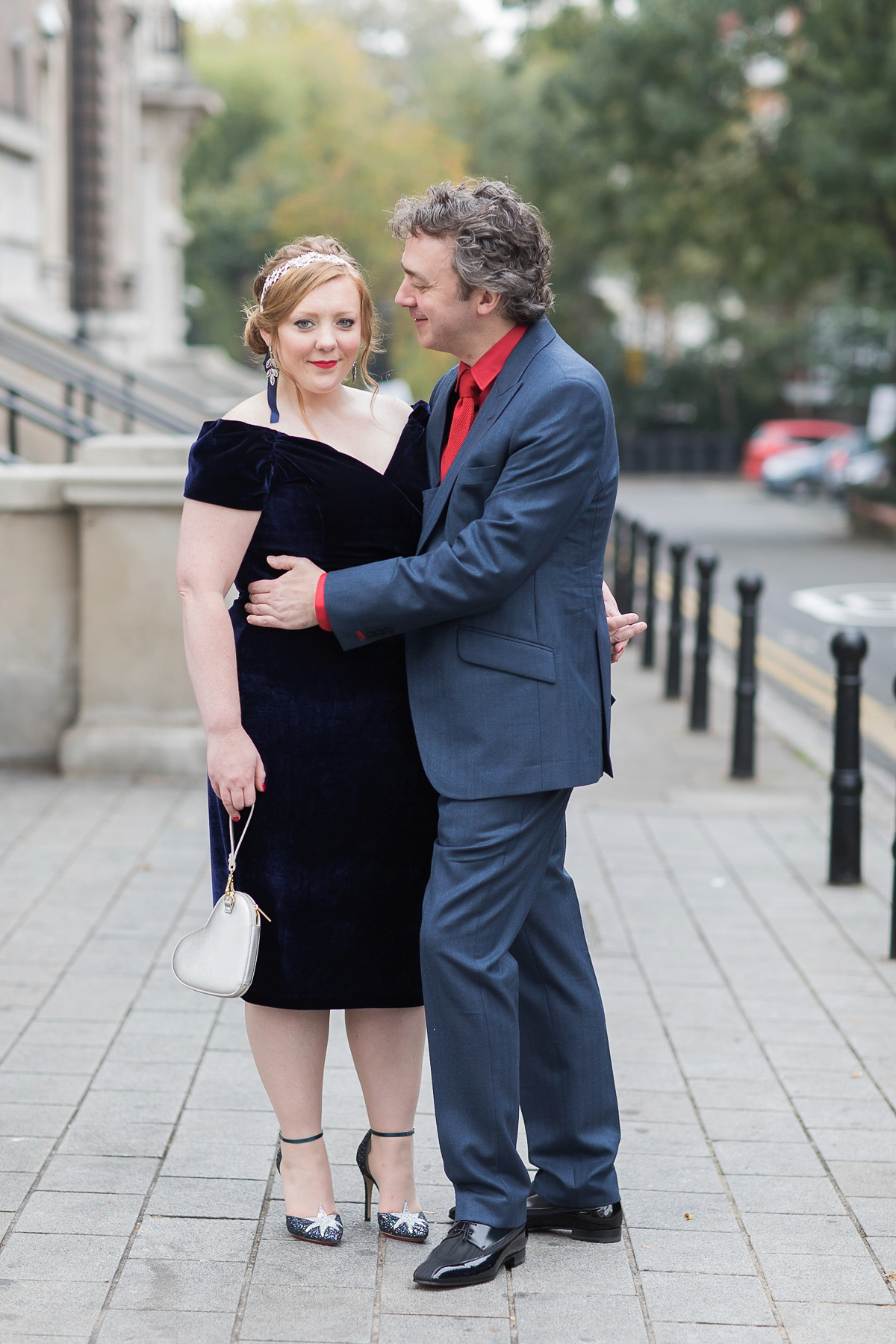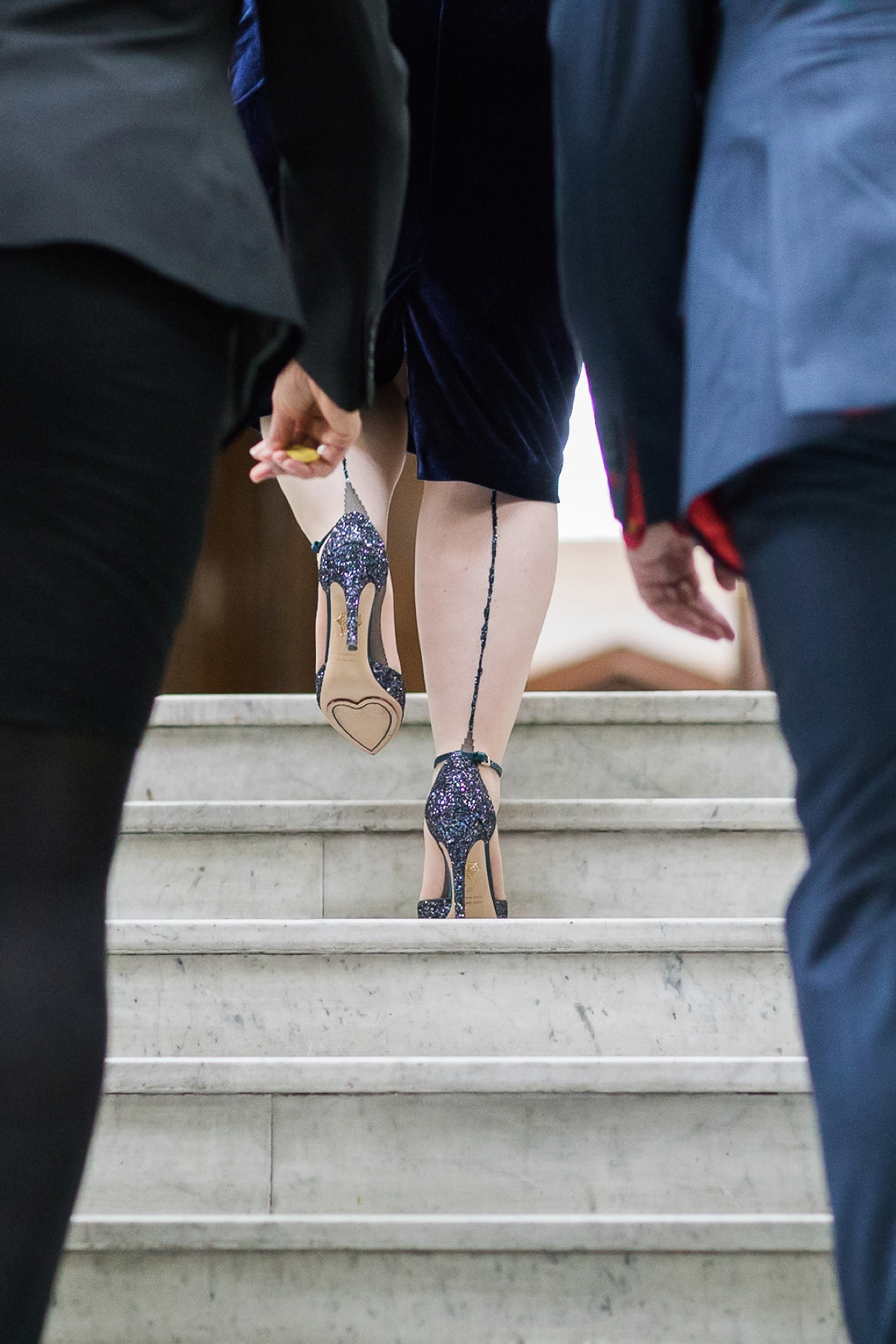 "At Islington, both our parents read something – my parents wrote their own poem, and Crispin's parents read William Shakespeare's 'Sonnet 116'. In Walton, our friend Zoe read the lyrics of 'Birdhouse in your Soul' by They Might Be Giants, which is Crispin's favourite band – it's a great song plus it's funny hearing lyrics read.
We asked Helen and Joolz if they'd like to say a little something about us, how we met, when they first met their friend's partner etc. What they said about us was beyond beautiful and very personal. There wasn't a dry eye in the theatre after our ceremony!"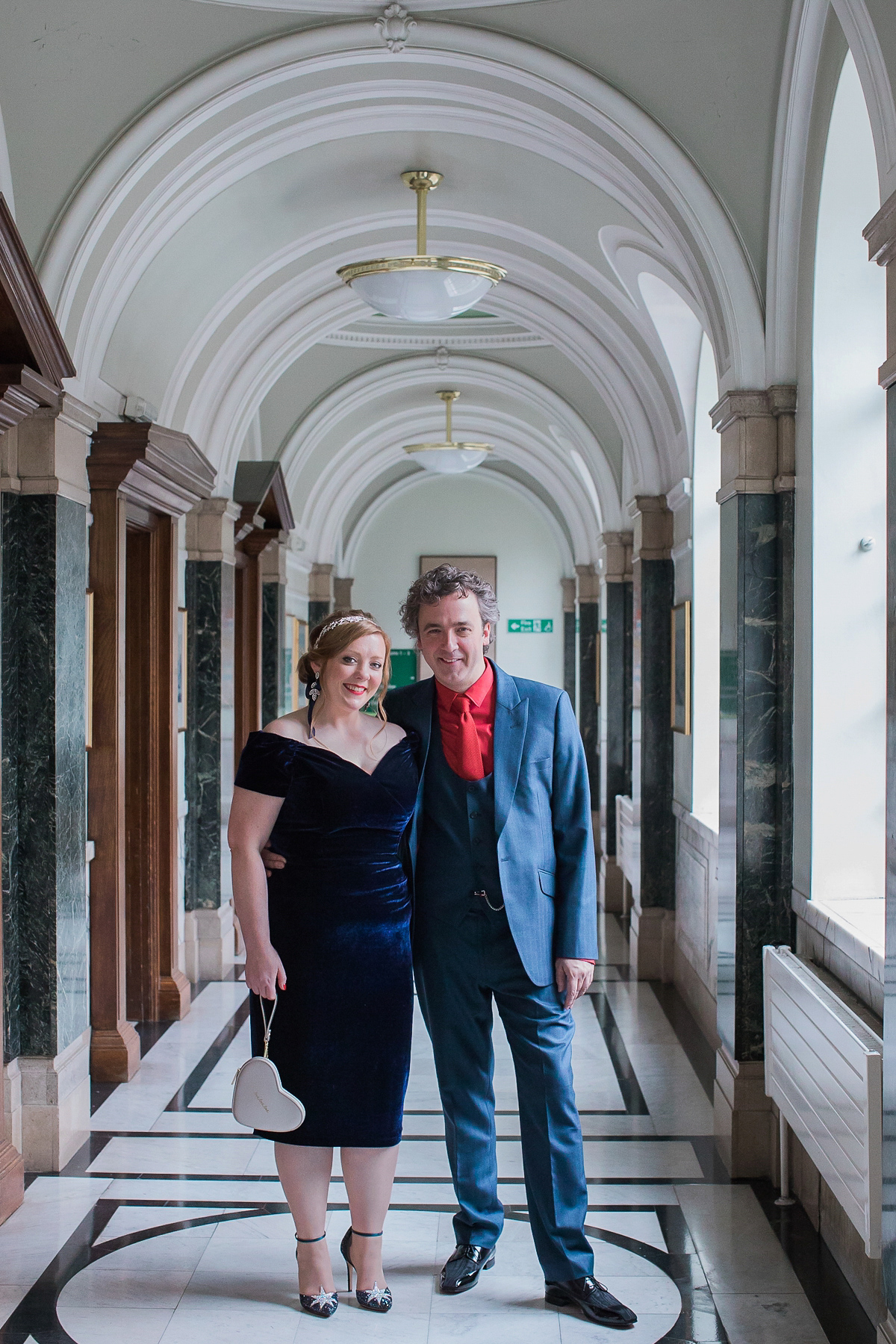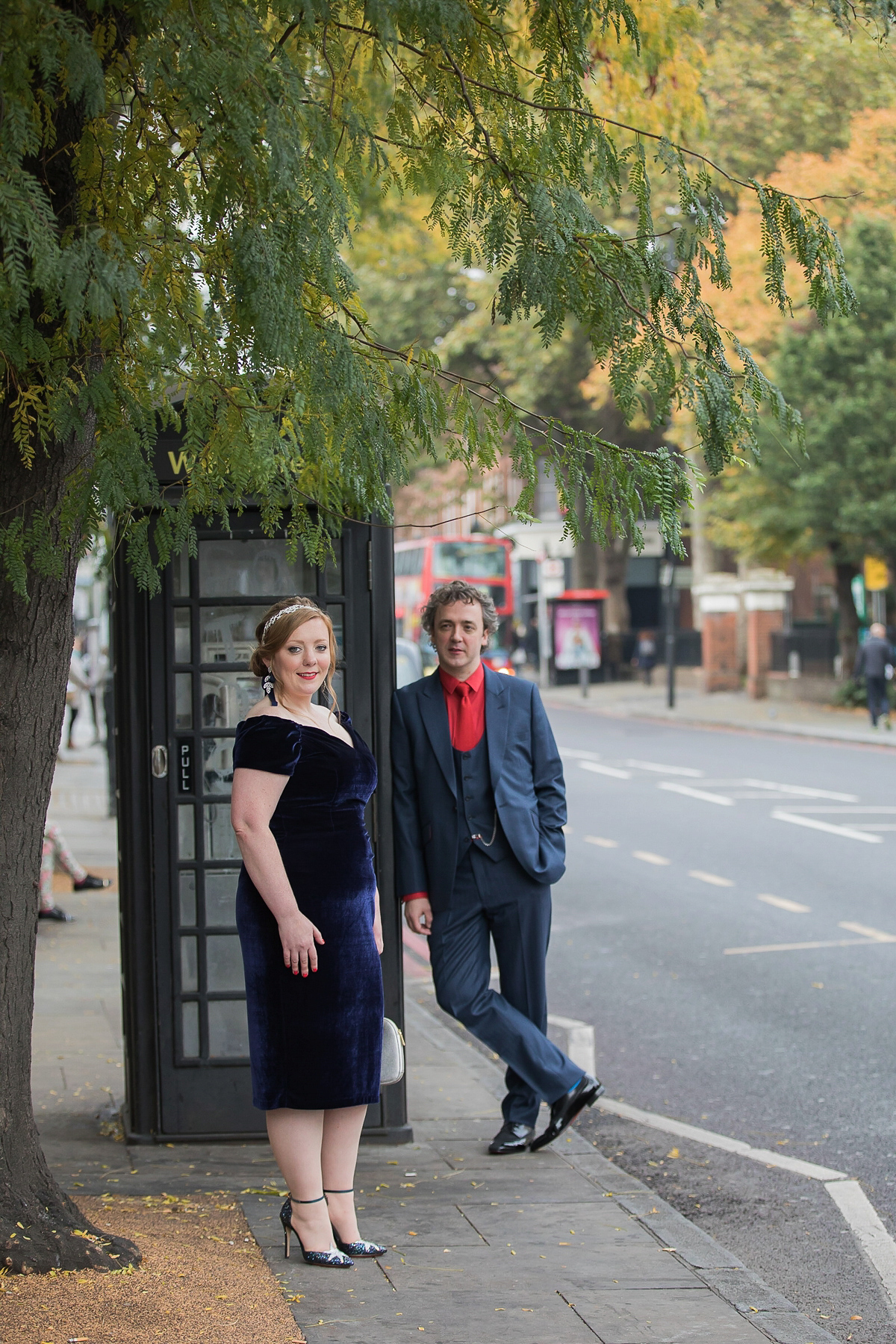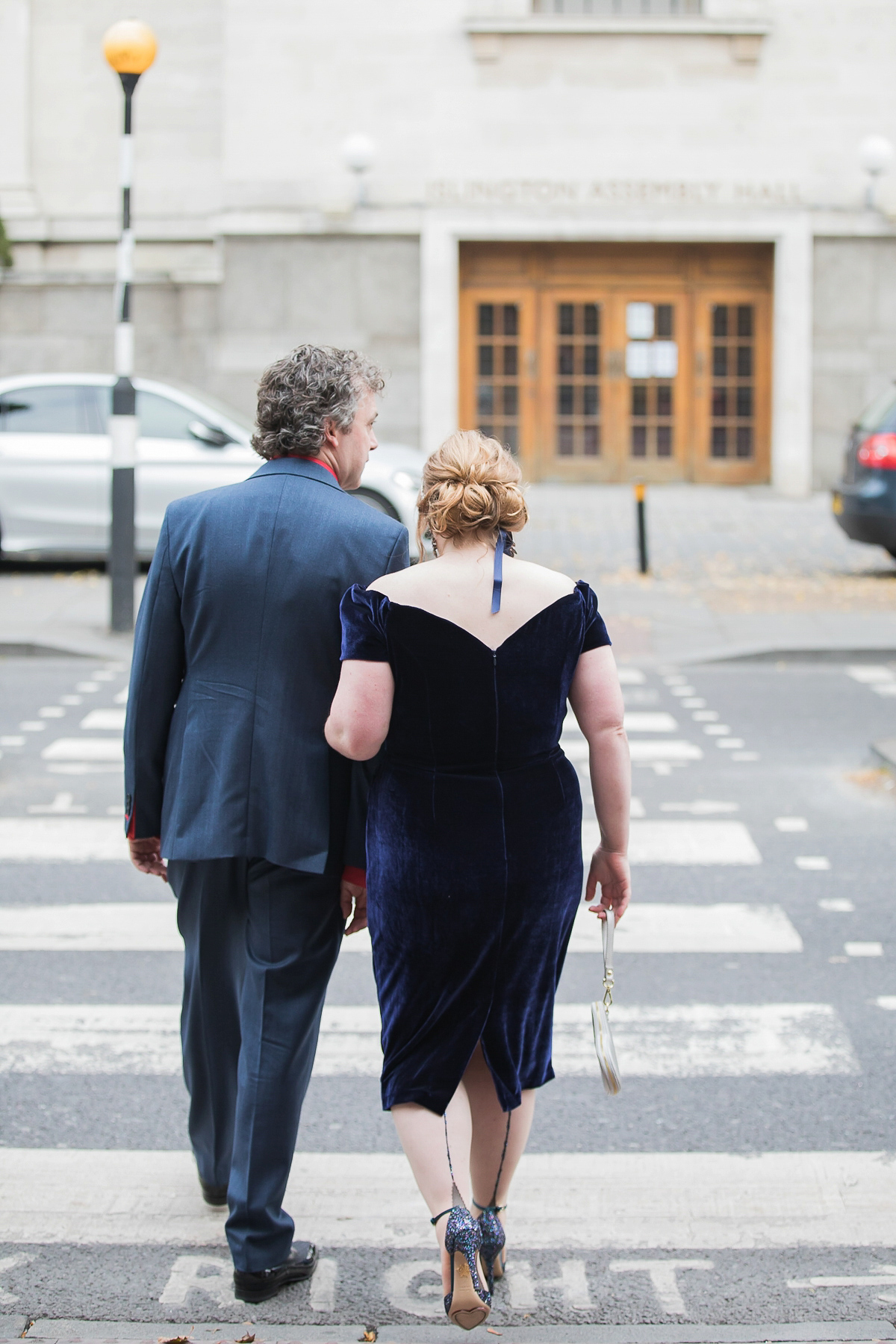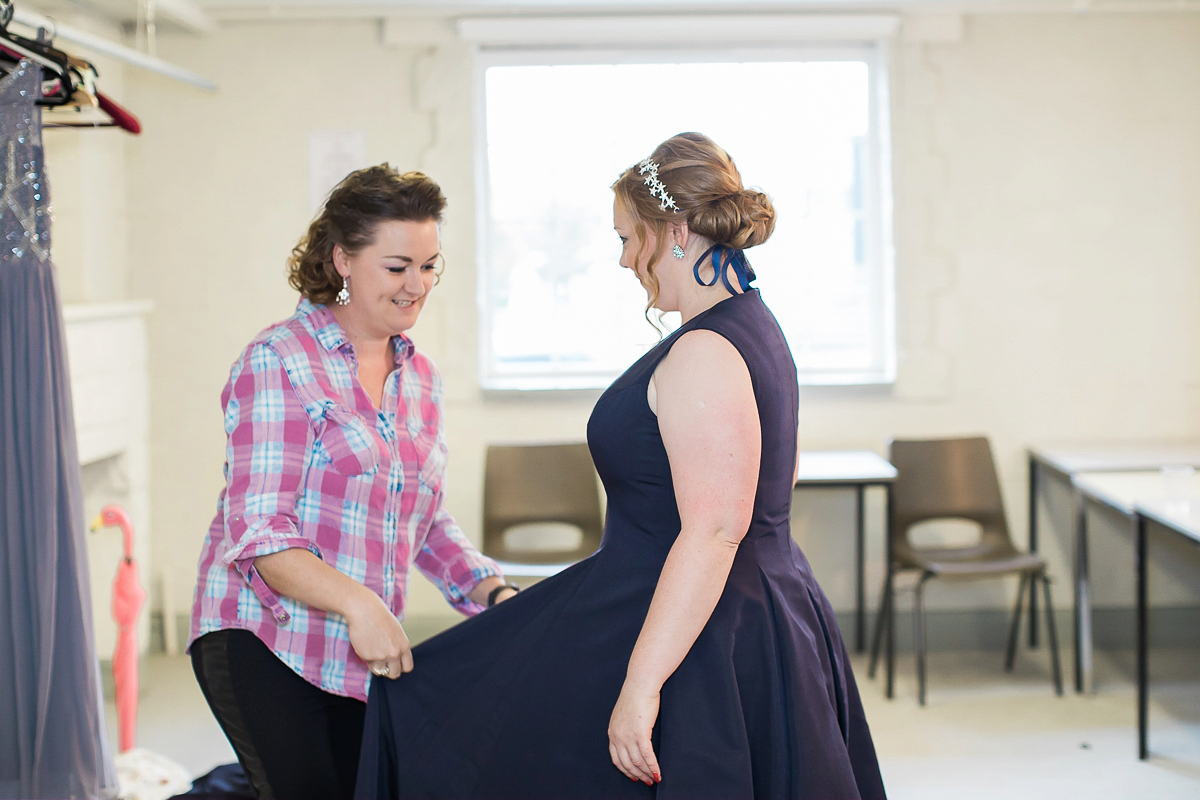 "My wonderful friend Georgina Smith of Alice of Arundel designed and made my Walton dress. I never wanted to go wedding dress shopping (sorry Mum!) or wear a traditional colour. I had hopes of finding one on the high street but after still not finding one a few months before the wedding I asked George."
"Thankfully she agreed to make me one from a navy silk ottoman (one of my favourite colours and fabrics). I loved the long lines of the dress, the pleats, the fullness, the fact it was long (which is a length I never wear), the perfect fit and it had pockets! It is elegant and classic and I felt like a million dollars in it. And on the day, I carried my old Charlotte Olympia taco clutch."
Crispin and Jessica organised everything themselves, but for the Walton wedding felt the need for help on the day, so they could enjoy the celebrations.
"I was recommended Heart Shaped Weddings and Rebecca was just who we needed to ensure the day would run smoothly."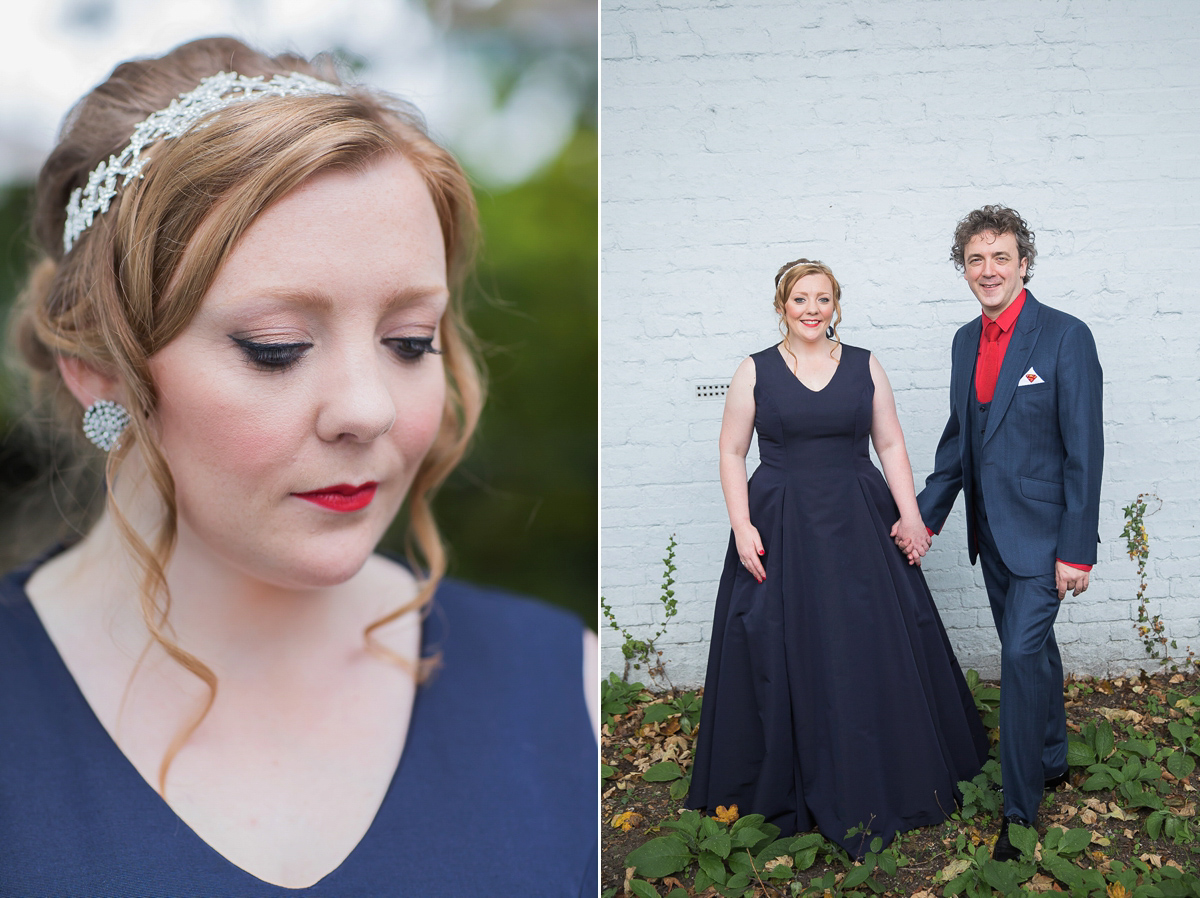 "My ring was from Tiffany & Co. in New York because that's where my engagement ring is from. Crispin's ring was a white gold band with my ring finger engraved on the inside."
"For the humanist ceremony, we met with Vivienne Donnithorne our celebrant and after an afternoon together she tailored an amazing ceremony for us to which we added our own vows. It was very emotional saying (normally privately) personal words on how you feel about each other."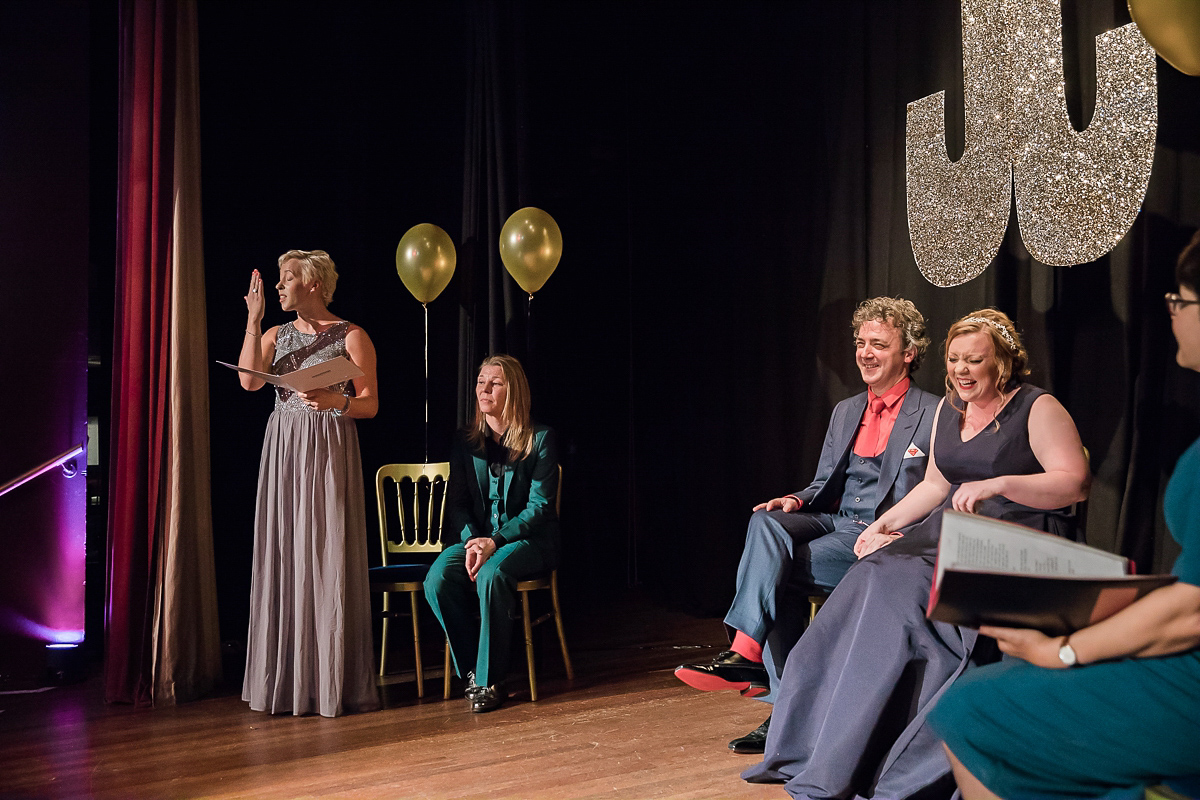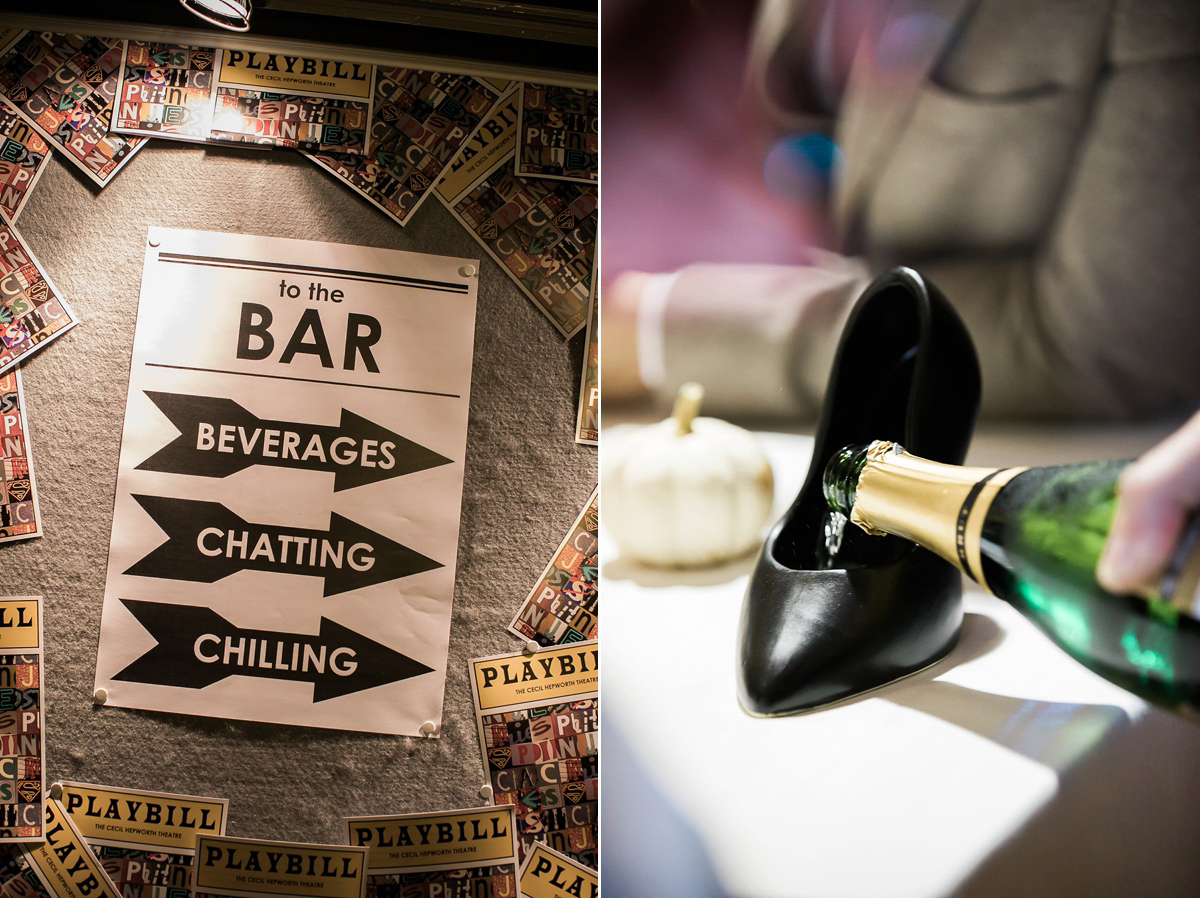 A very creative Crispin designed the order of the day, table plans, table names, posters, signs and Walton invitations and he did a brilliant job. The invitations were printed by Merivale Press Limited, with place names by VM Bespoke. The fun black ceramic shoe 'glasses' were by Bespoke Bar Ware and given to the guests as favours and the playhouse theatre was decorated with an eclectic range of crafty and unique pieces. Look at the amazing moon and star seat!
"The table centrepieces were globe artichokes and baby boo gourds. We had 1500 balloons to decorate the space, which were very kindly installed by our amazing friends and family! The moon and star seat was made by Crispin and was by far my favourite decoration and the giant glittery 'JC' was made by our gorgeous friend Ivan. We also had a day of the dead piñata as a card post box."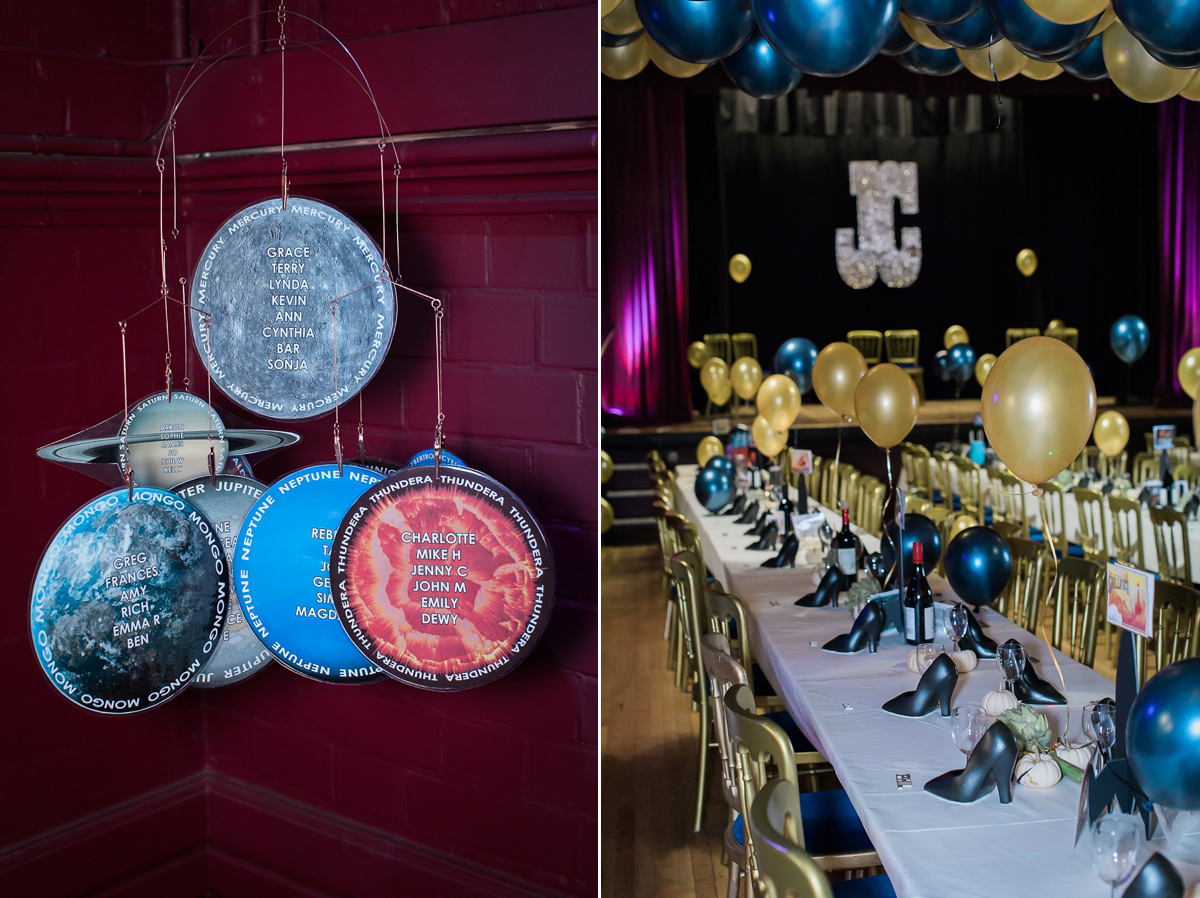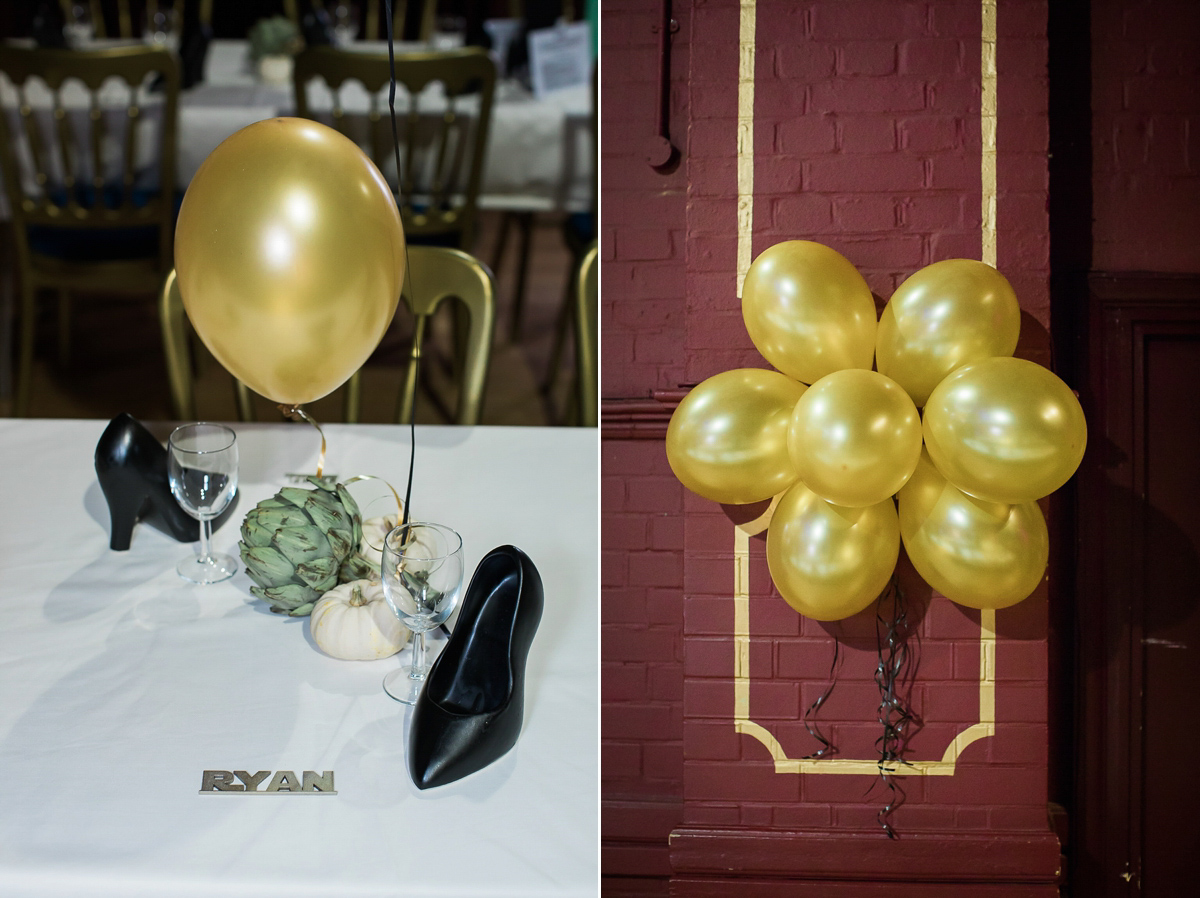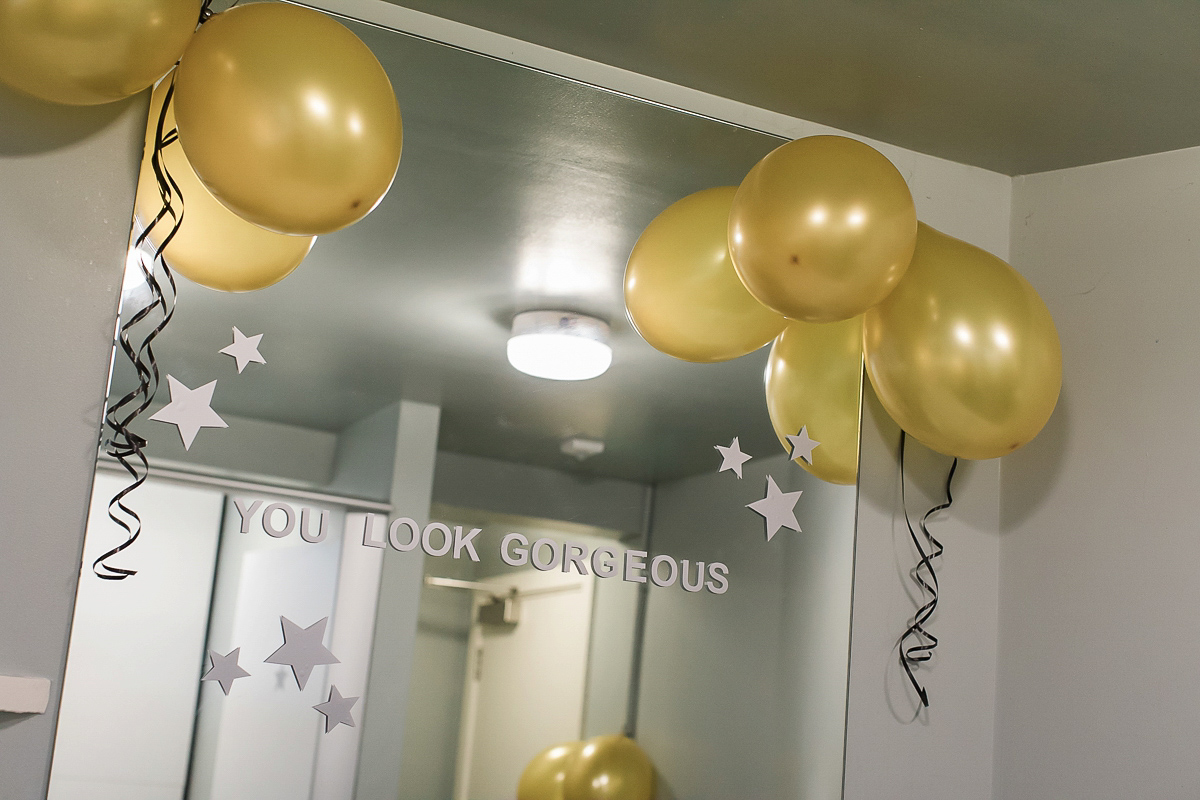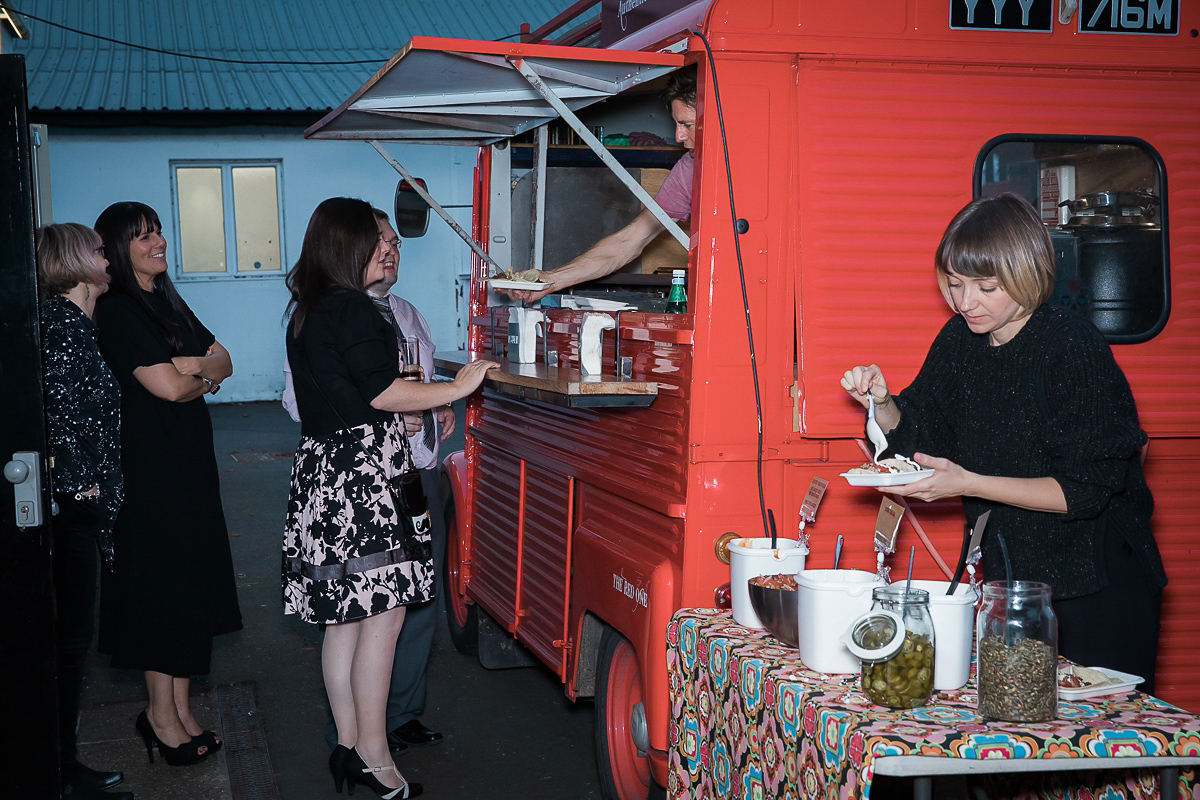 Taco Truck provided tantalisingly tasty tacos for the guests and later on in the evening The Ginger Bread Man Bakery served cuisine to keep the guests going into the night.
And in the place of a cake, the couple chose delicious Krispy Kreme doughnuts for a sweet treat.
Words of Wedded Wisdom
"Be considerate of your parent/s. Generally, their wedding day will have been a different affair. Today you can pretty much do what you want, which is amazing, but I'd say where possible and if they are interested explain or include them in your decisions. It might be difficult for them to see your vision but all decisions will be understood on the day.
Be happy, talk to your partner and keep the communications flowing. Remember why you are getting married and how much you love them.
Everybody says 'it's your day' – it's not. This may sound negative, but it is realistic. There are so many people involved with free flowing opinions, it's never going to just be about the couple and that's fine, it's life. Our solution to this was to try to be polite, stay calm and to do what you needed to do to have a day to remember for all the right reasons.
The other solution of course is to elope (!) but we really, really wanted our friends and family to witness our marriage. It obviously meant a lot to us, but I think that those feelings were reciprocated.
Weddings can also show peoples' true colours bad or good. Stick with the positive ones and cherish those people."
You took me right back to my magical theatre days Jessica and Crispin! Thank you for letting us take a sneak peek into your most delightful celebrations and I wish you both well for the future. And Crispin, can I please borrow you to design invites for my next party? Thank you also to Siobhan for these joy-filled images – and see here for more theatre weddings from the archives for even further inspiration if you're currently seeking a unique venue.
Enjoy the rest of the weekend lovely ones.
Love Jo -xo-