Morning lovelies.  We have another gorgeous wedding to share with you today, set in the most beautiful gardens and with most of the day held outdoors.  Meet Tasha, a hairdresser and Mike, a broadcasting recruitment consultant, who married on Saturday 2nd July 2016 at Larmer Tree Gardens in Wiltshire.
"Mike and I have very similar tastes.  We aren't the most glamorous of couples and very laid back so we didn't want the day to be too over the top and stuffy.  As our planning progressed, we discovered that our wedding was starting to become like A Midsummer Night's Dream – which explains our table names.  We didn't want a colour theme, just lots of colour and we didn't want one particular flower type, but hundreds of different flowers.  Most of all though we love our friends and family more than anything and they were our main thought throughout the planning; we just wanted everyone to have fun."
Photography by Mylo Photography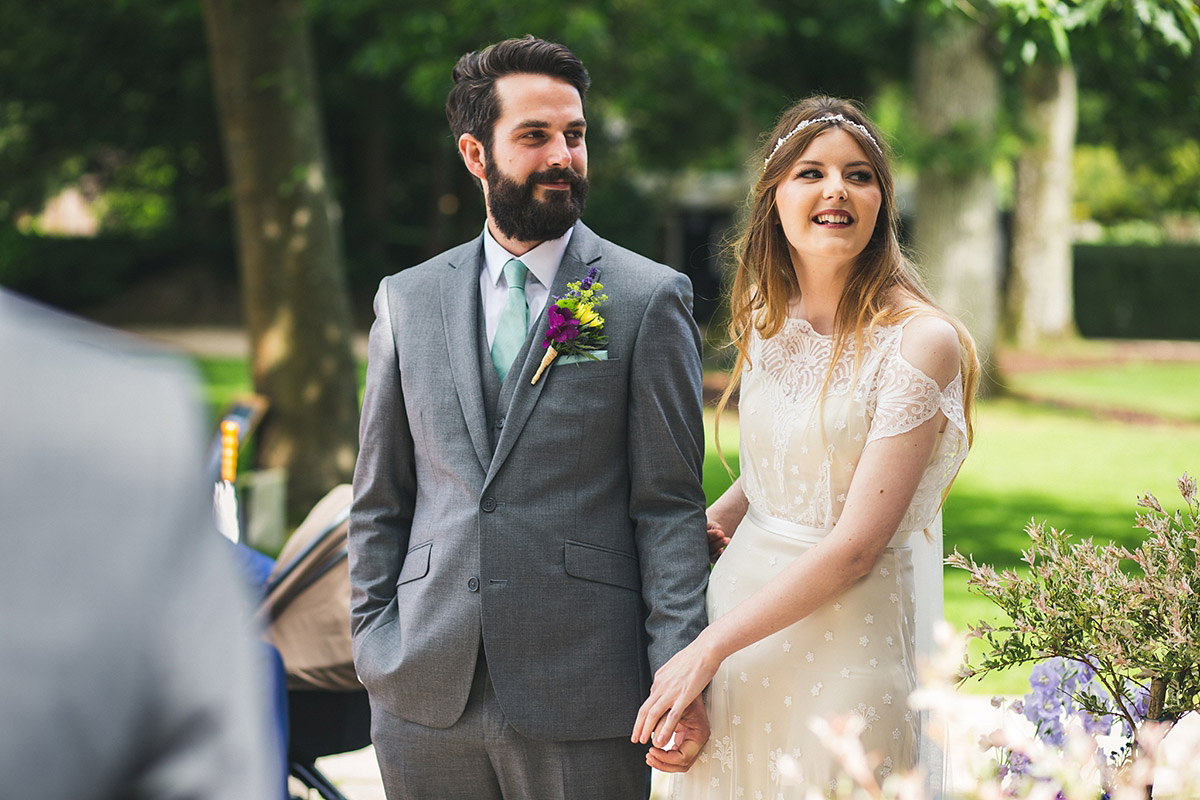 Tasha wore the beautiful Charlotte by Catherine Deane, which she purchased from Exquisite brides in Winchester.
"I really wanted to be comfortable on the day and I'm not the dressiest girl in the world so I just wanted something simple.  My dress was the third dress I tried on.  I didn't get emotional, but I knew it was the one as I just didn't want to take it off.  I love the detail, especially the 1920's style pattern near the bottom.""Our day invitations were made a company called Nessa Noelle and they were perfect- beautifully handmade with bunting and a rustic feel in-keeping with the laid back theme.  She also did the table plan in the same design.  The evening invites were by Norma and Dorothy and the table names were made by the Gail, the coordinator at Larmer Tree."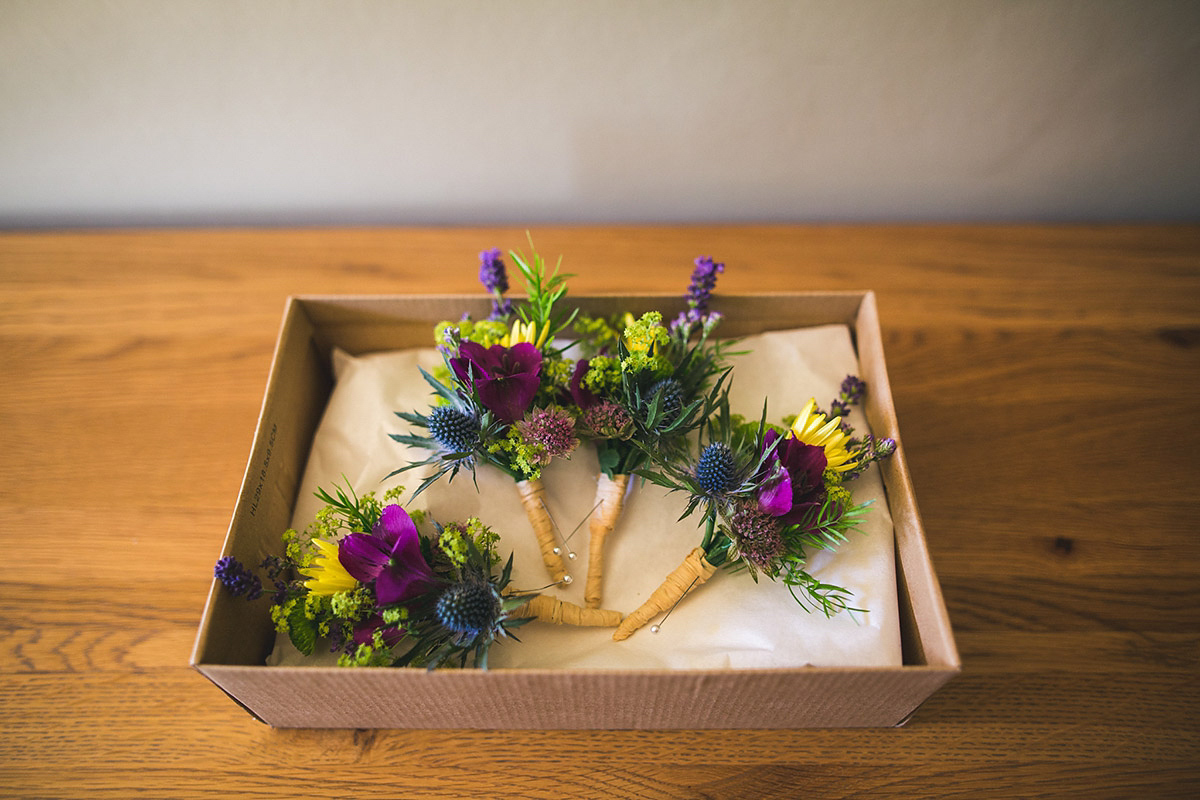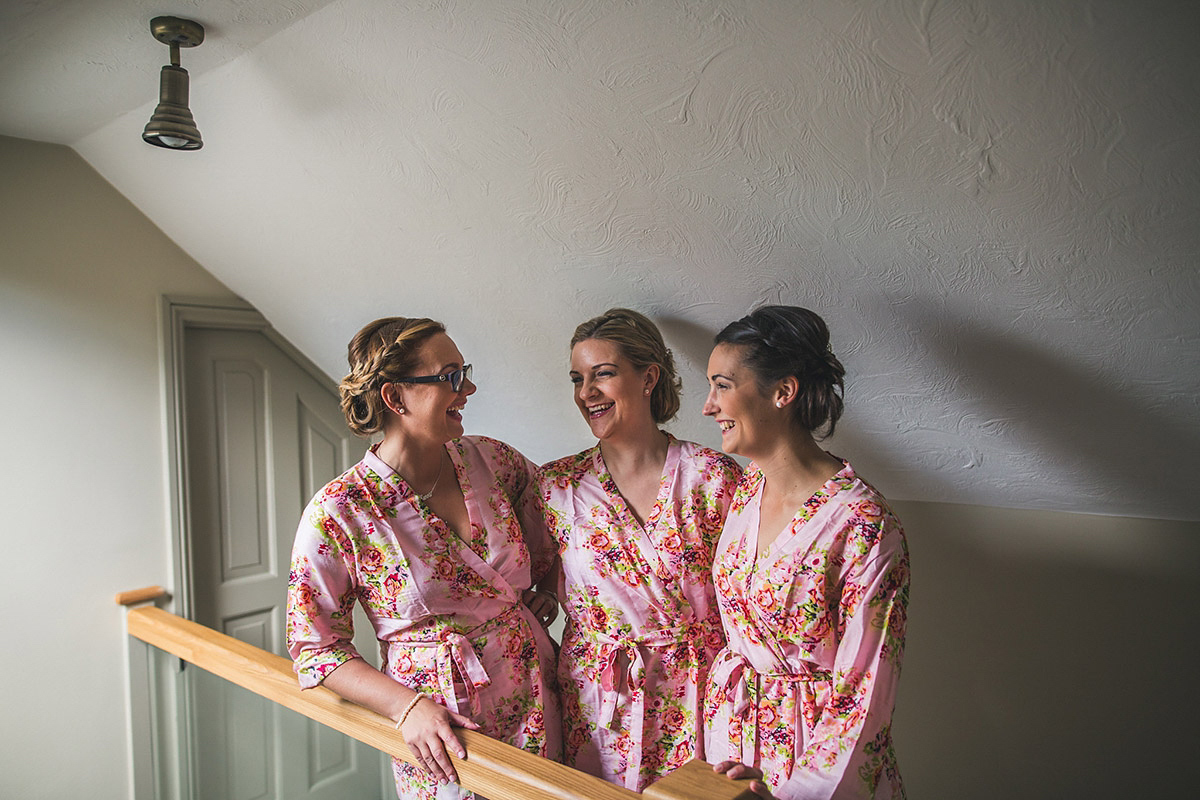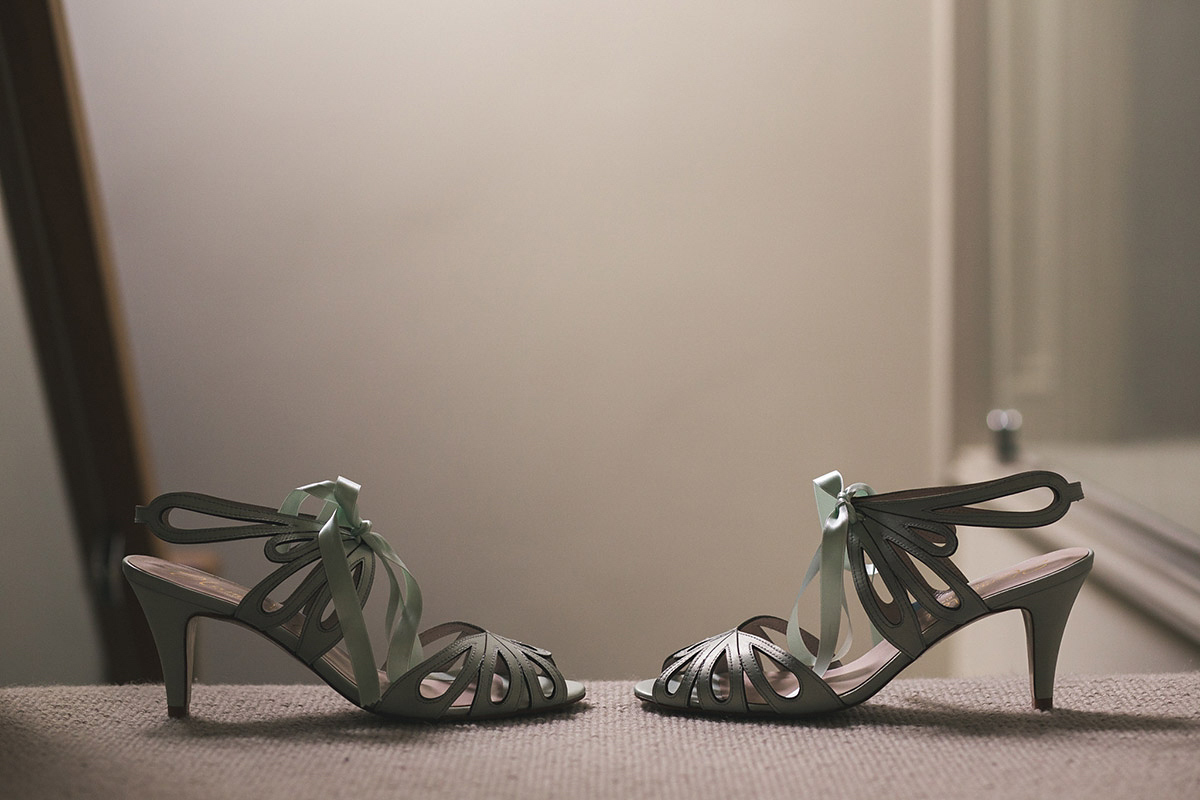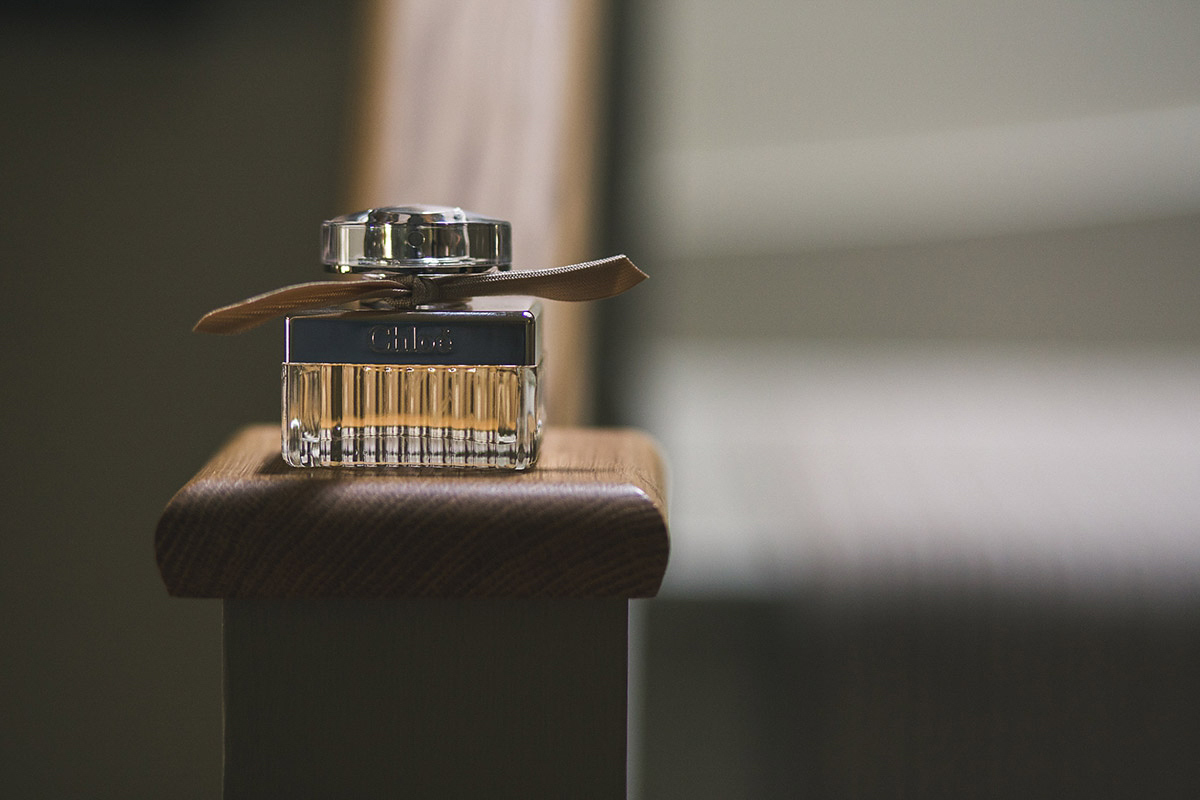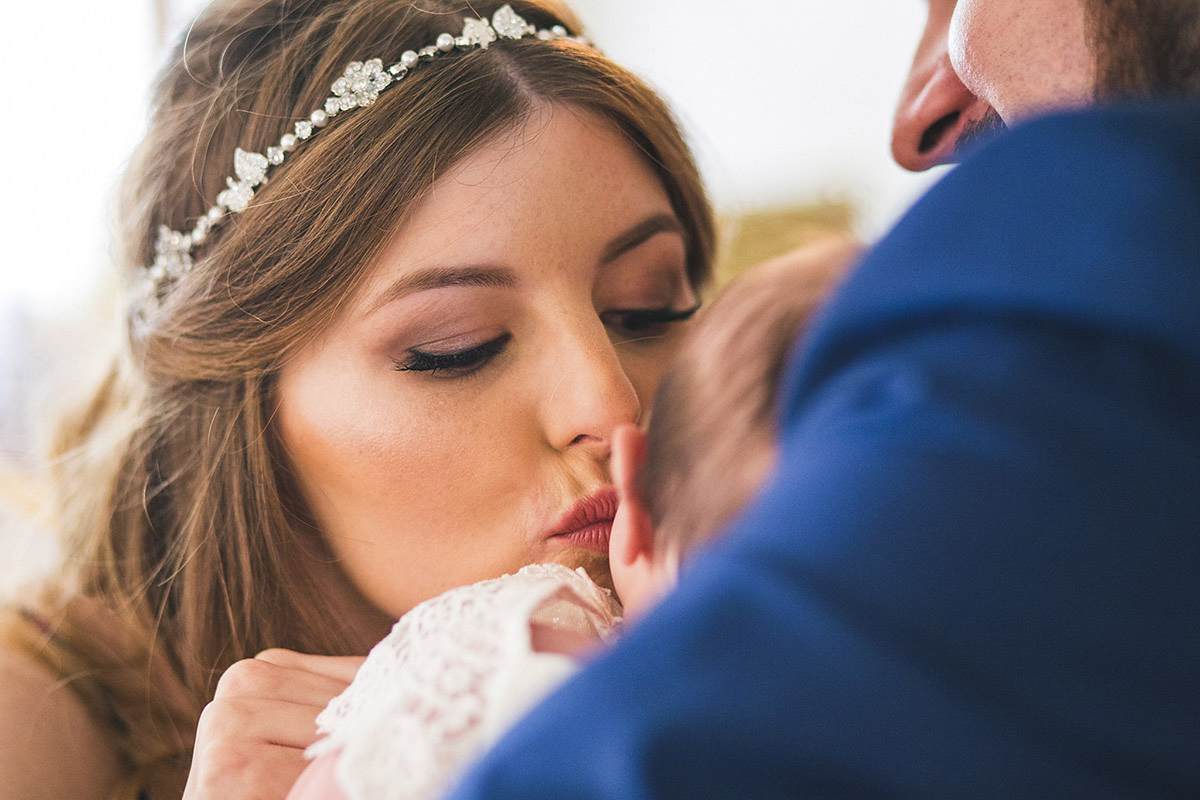 How does a hairdresser chose a hair stylist for her wedding day?
"My wonderful boss and much loved friend Diane (Twilo Hairdressing) did my hair plus the three grownup bridesmaids, my mum and sister.  She worked so hard and created beautiful styles for all of us.  My make up was by Farida Ghwedar.  I've never had my make up done before and I was so worried about not looking like me but she did such a wonderful job."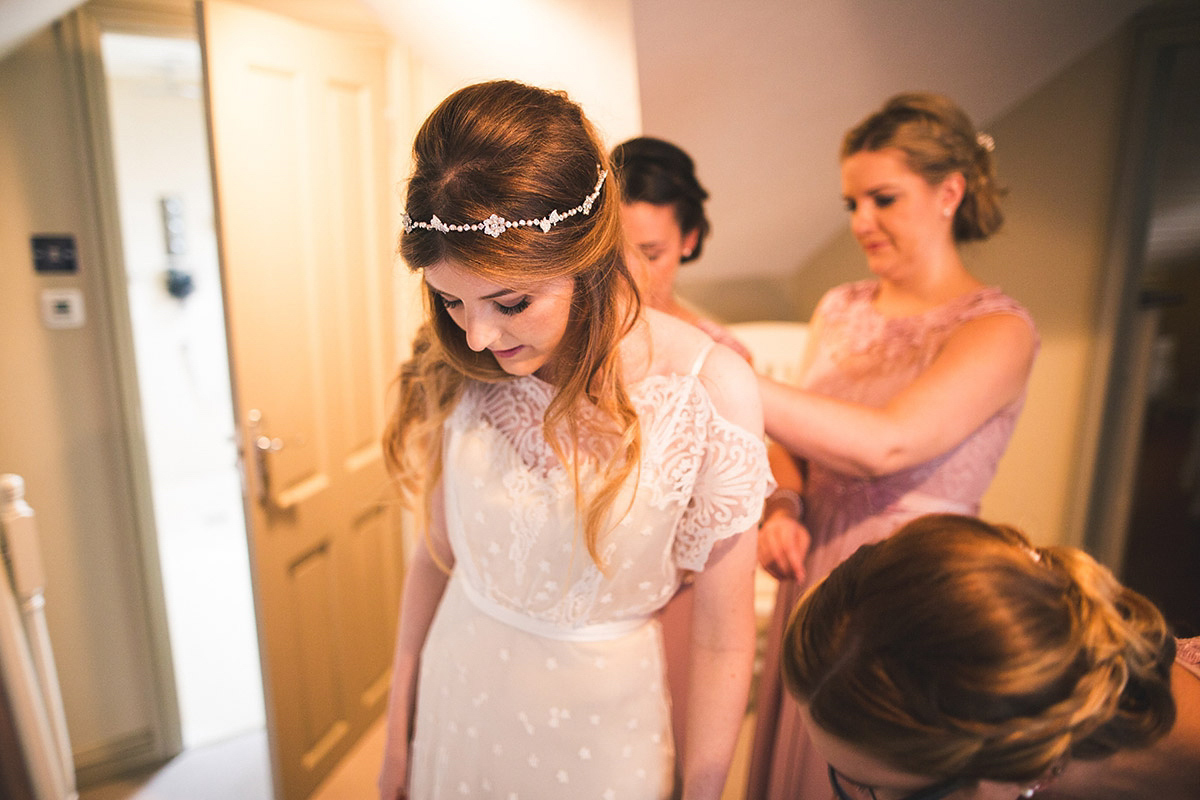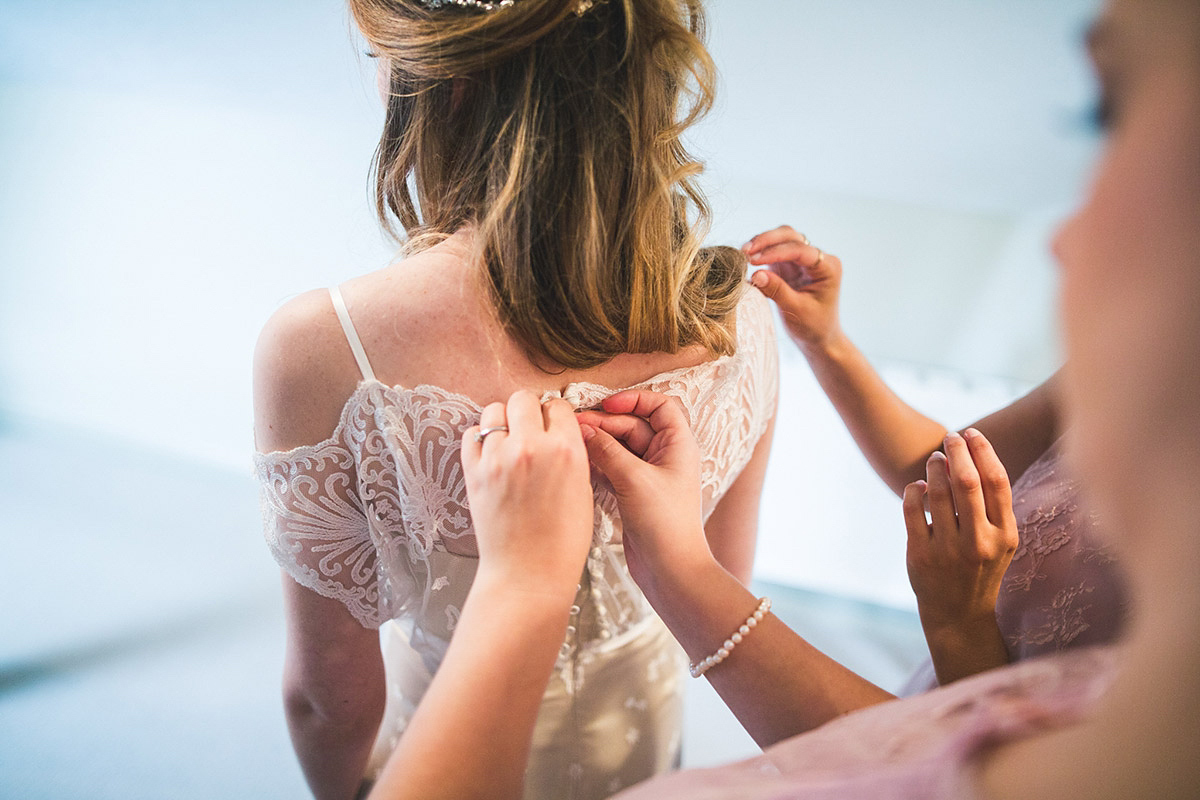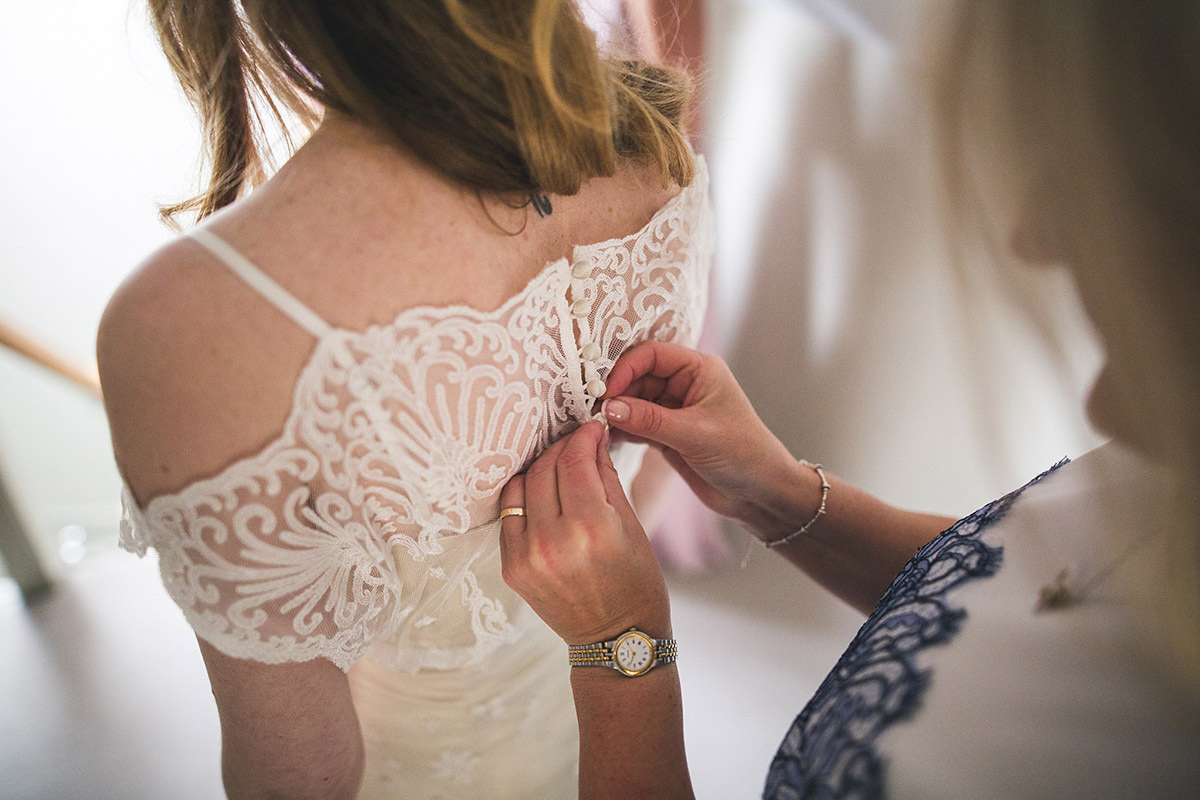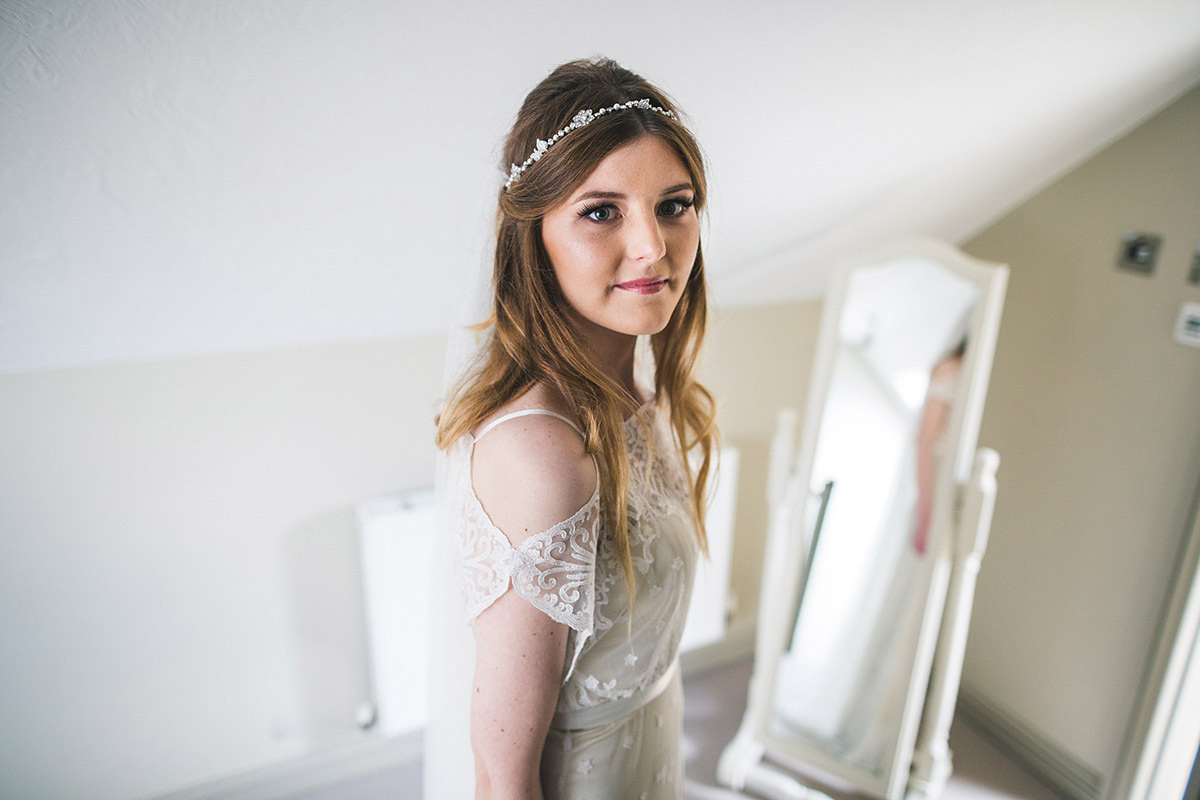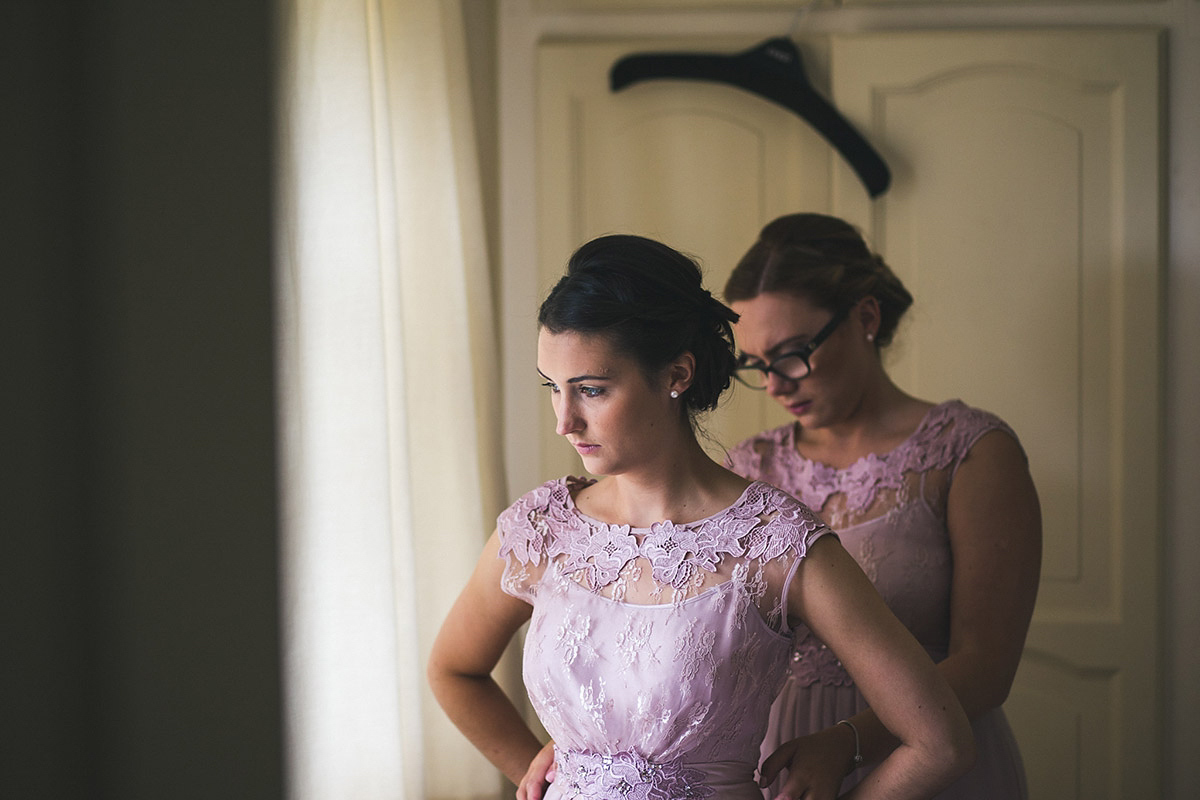 The bridesmaids looked lovely in full length gowns from Coast, worn with their own choice of shoes and a pearl bracelet, which was a gift to them from Tasha that morning.  The flower girls looked adorable in dresses from Monsoon.
"I love the crochet pattern on the top and they loved how pretty they were.   There was lots of twirling."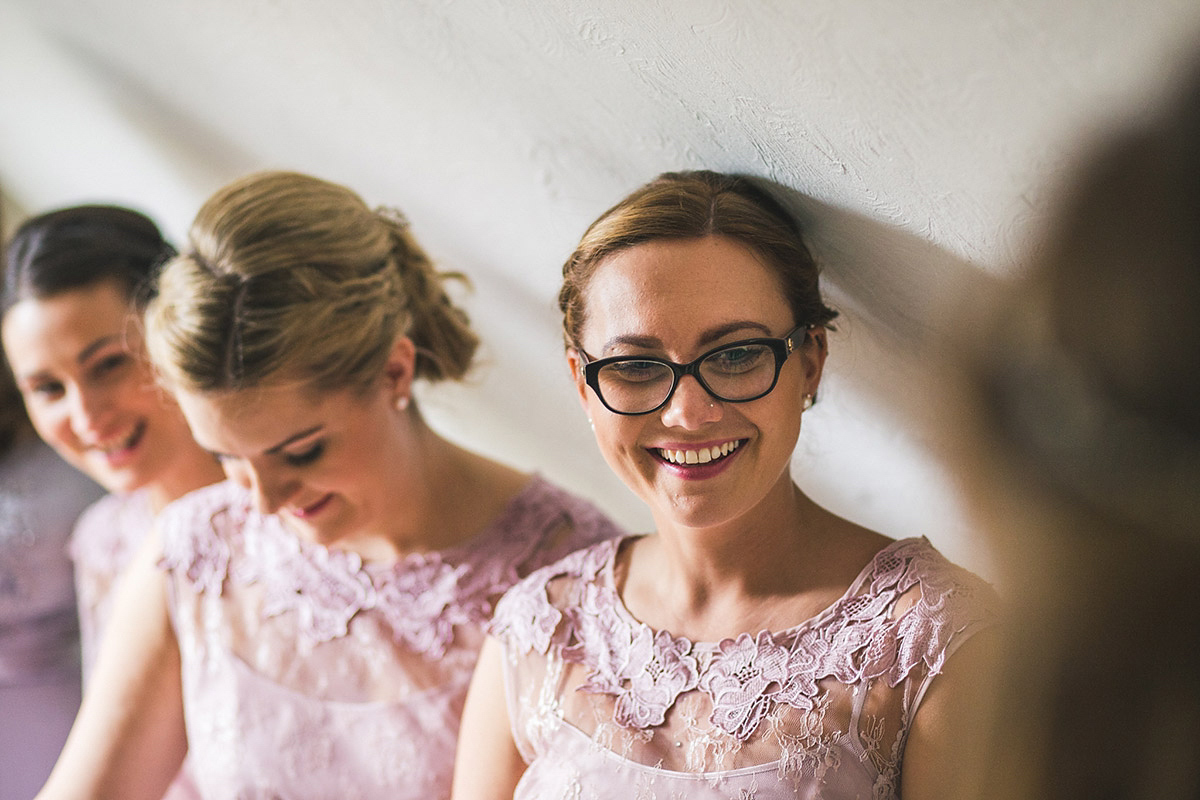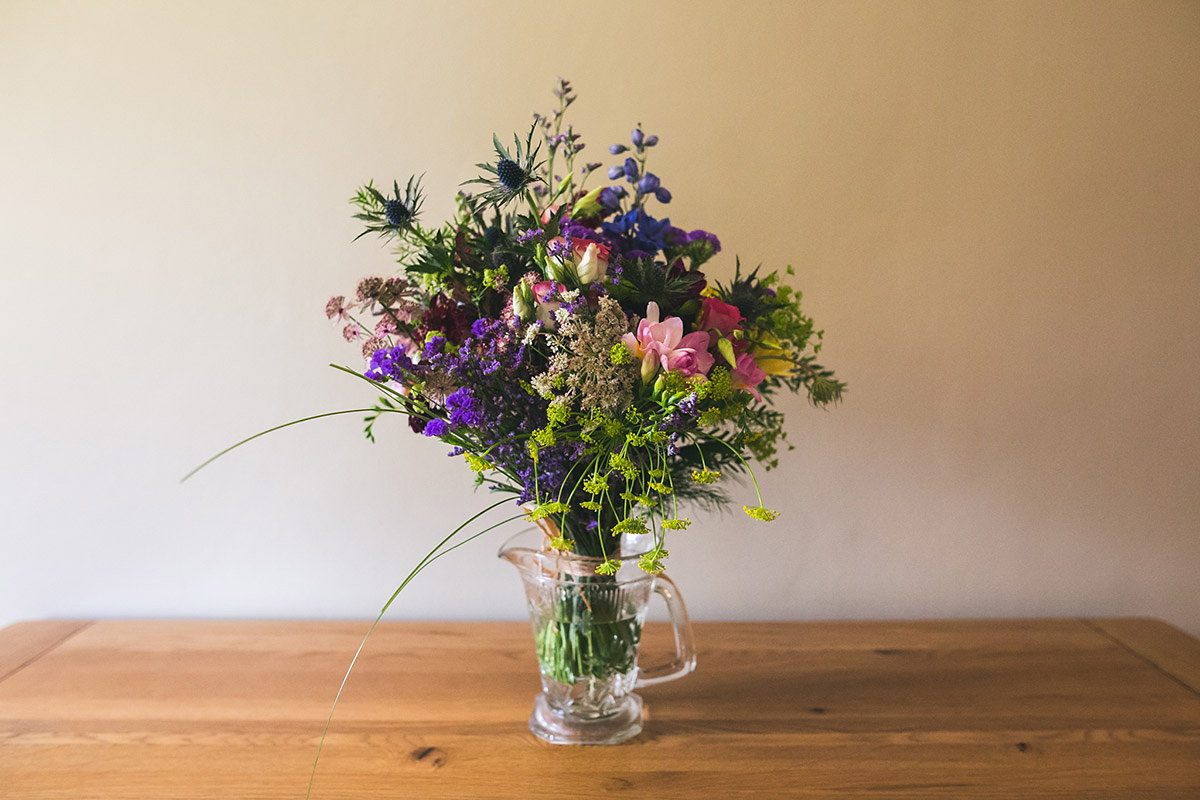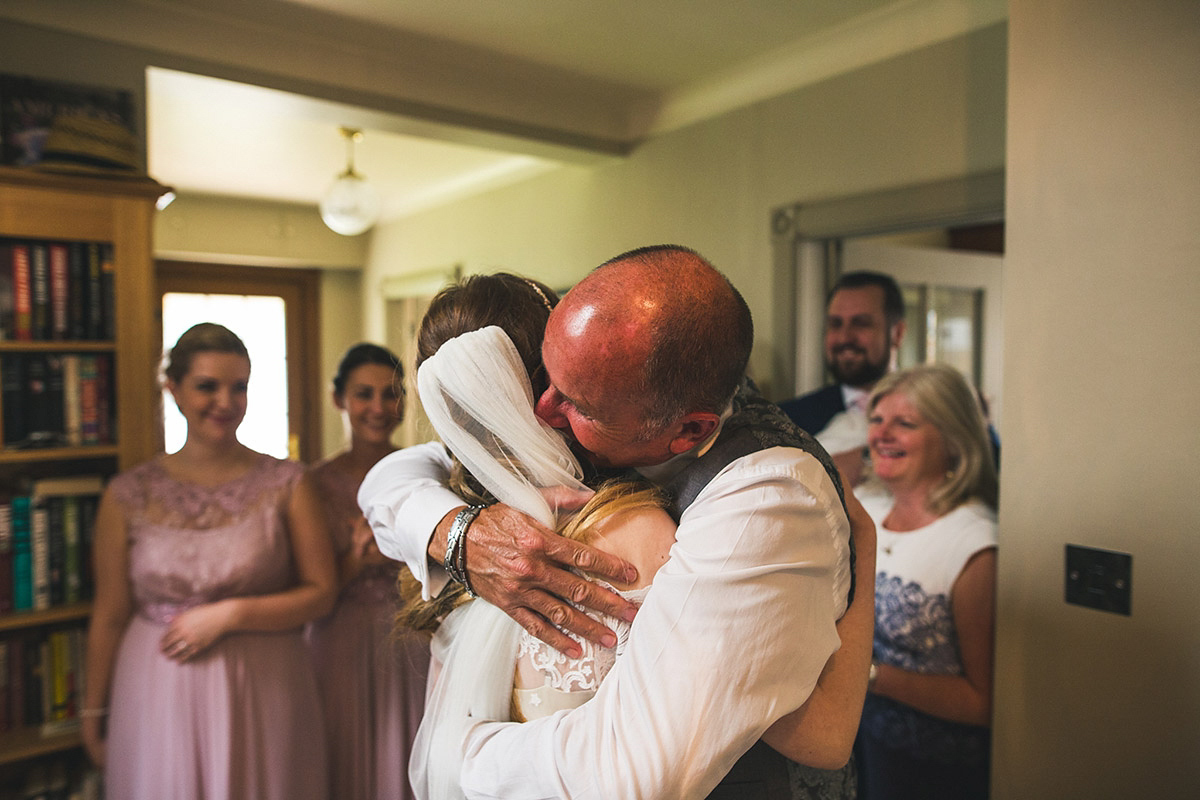 Tasha's veil was also from Exquisite brides, while her shoes were from Harriet Wilde.  In her hair she wore a delicate headpiece from TiarasByBecky and for jewellery, a St Christopher necklace, which was a gift from Mike a couple of years previously.
"I never thought in a million years that I would want a veil but when my Auntie Katie saw the dress she made me put one on and said I wasn't leaving the shop until I bought it.   I knew she was right so the girlie girl in me came out that day."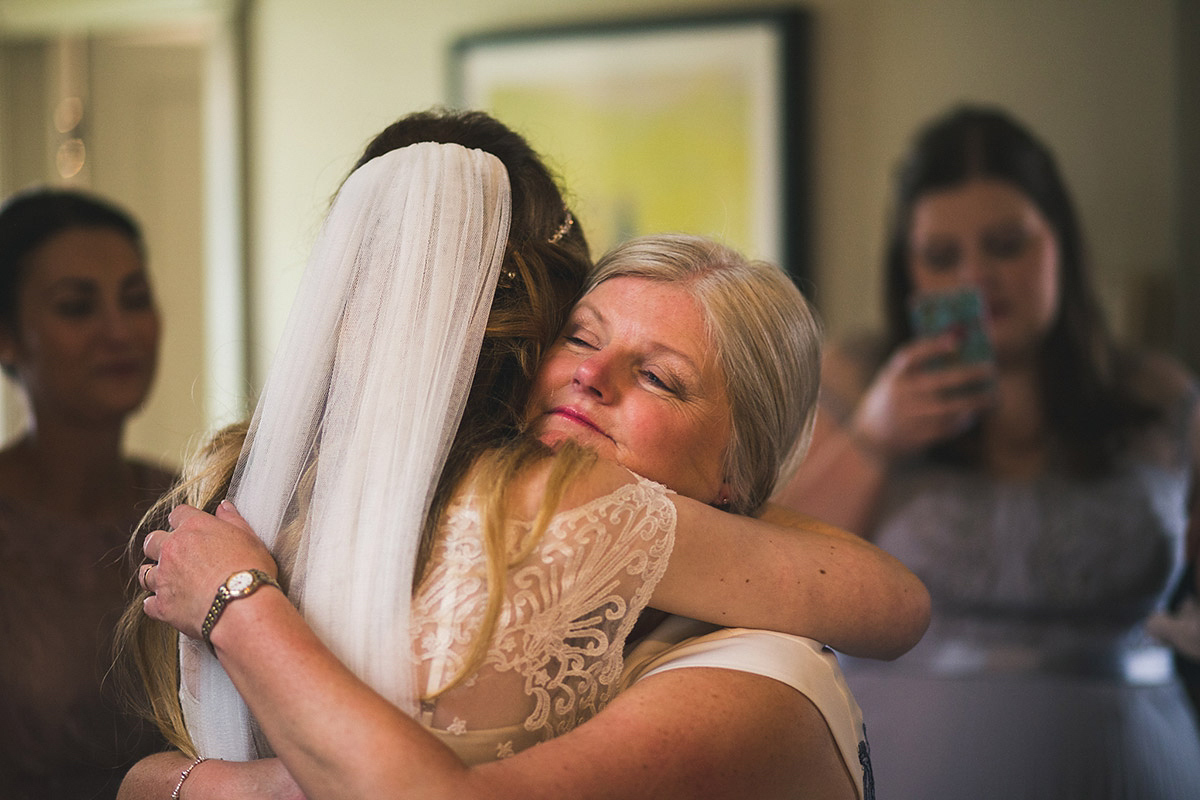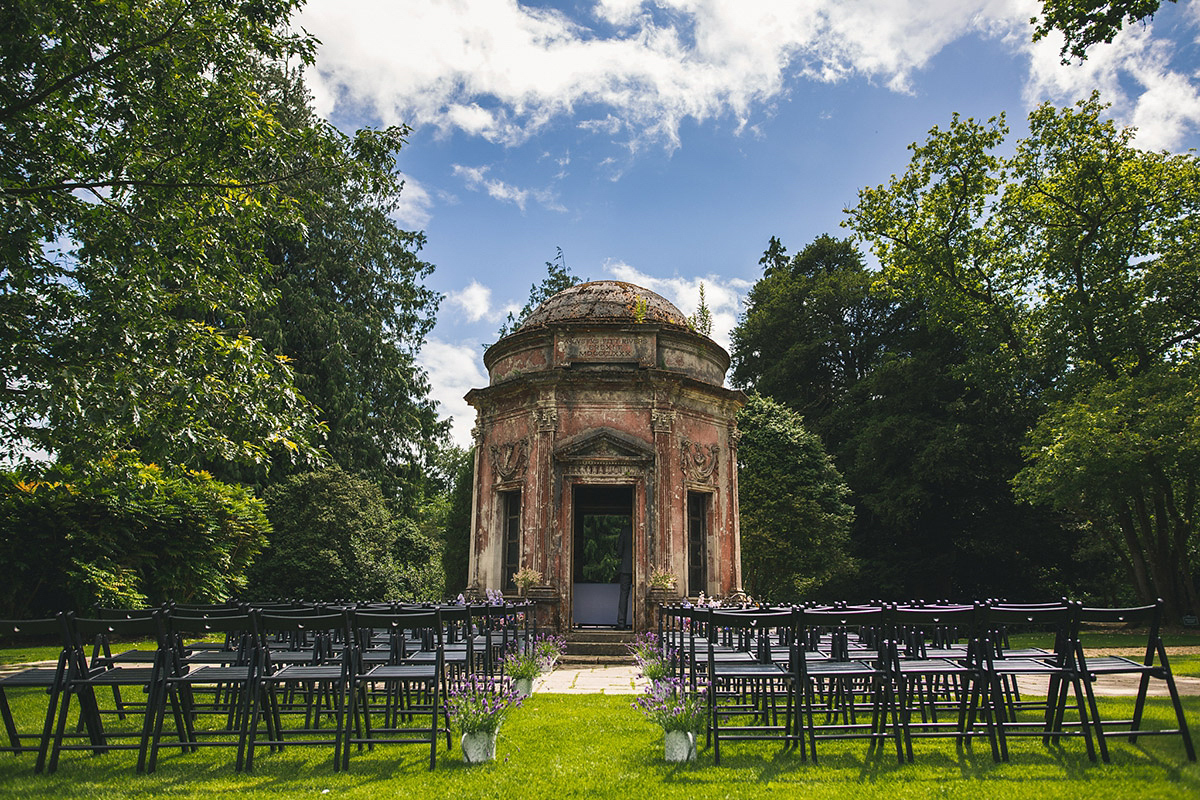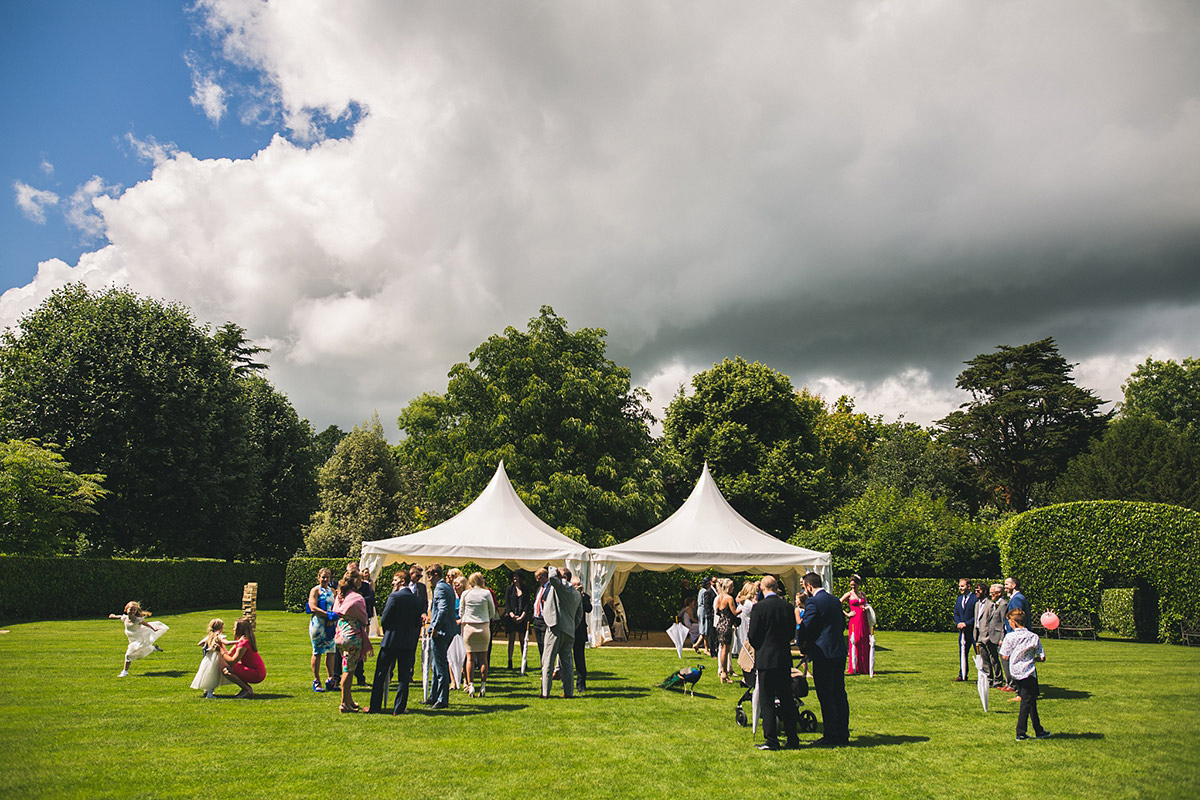 Mike looked very smart indeed in a grey three-piece suit from Debenhams.
"Our Florist was Debra, a close family friend.  Not only did she do our flowers, but also my sister's the year before and my parent's flowers thirty years ago!  She is so talented and created exactly what we wanted- wild flowers tonnes of colour."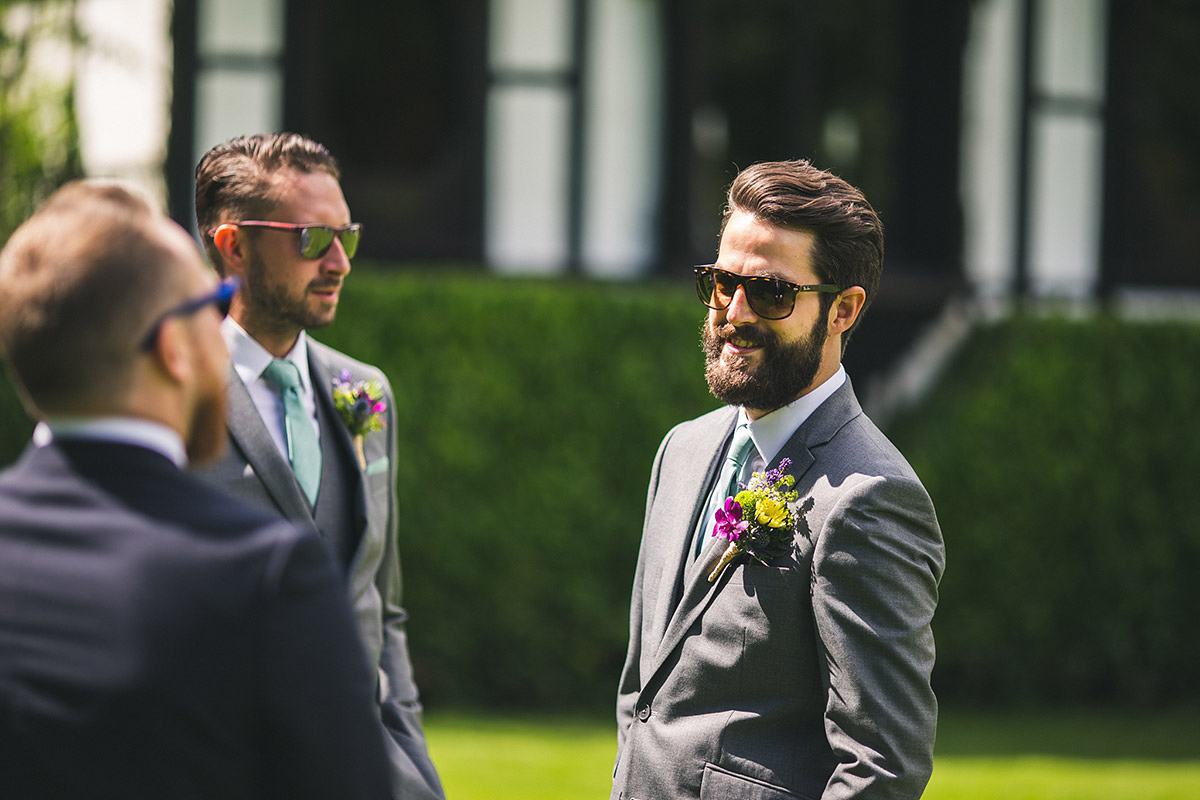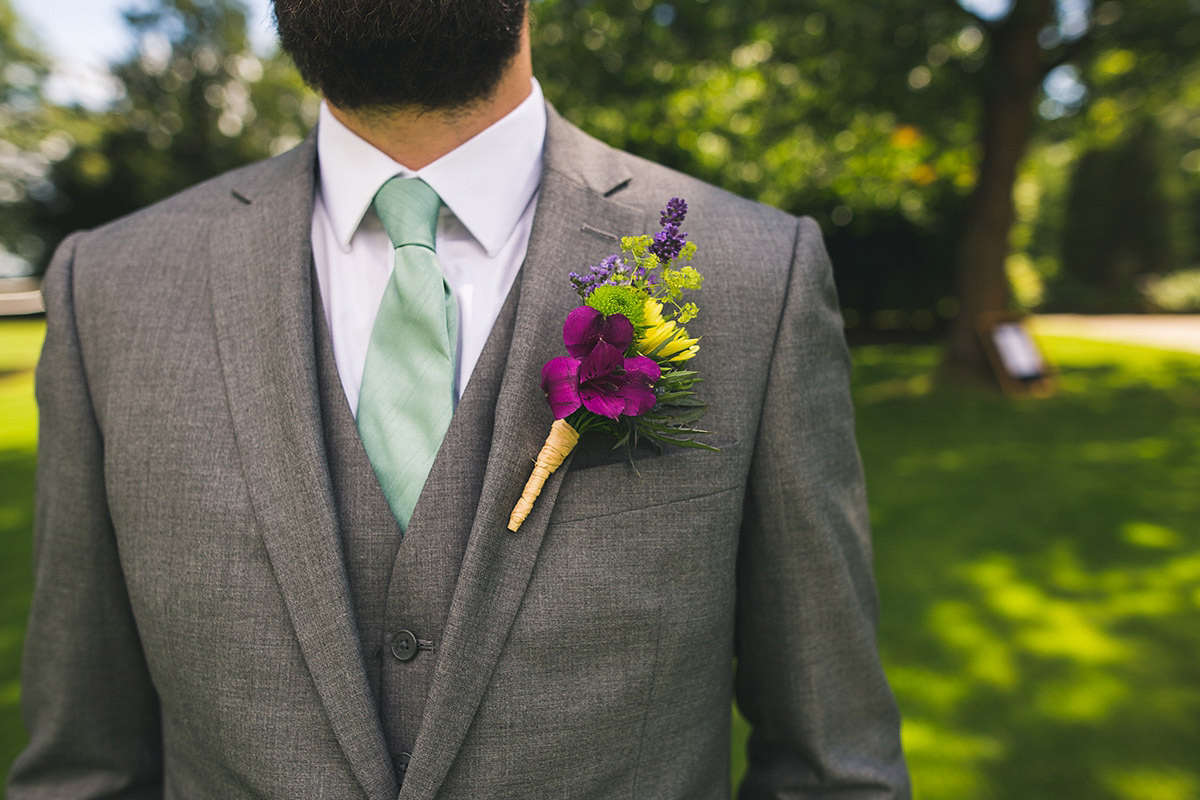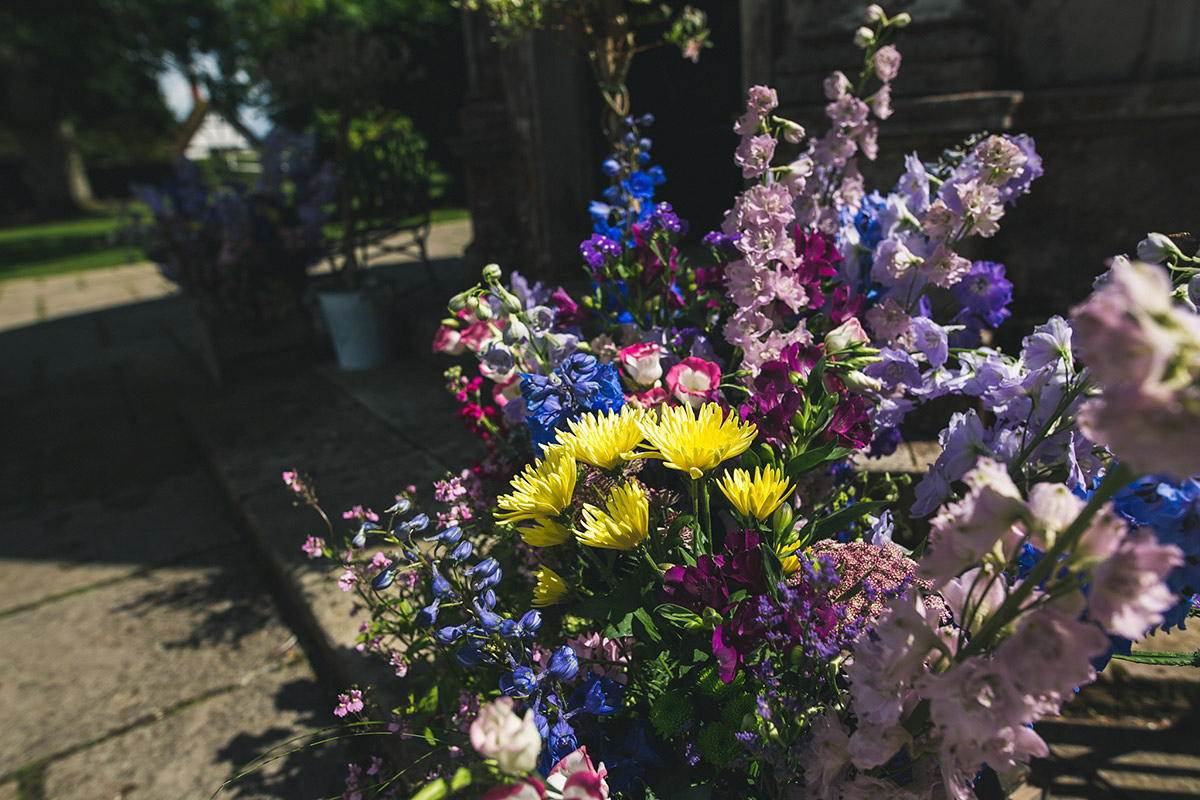 Tasha arrived in style in a pillarbox red Jaguar from Super Wed Cars.  She then walked through the garden and down the aisle with her Dad, to an edited version of the music from Baz Luhrmann's 'Romeo and Juliet'.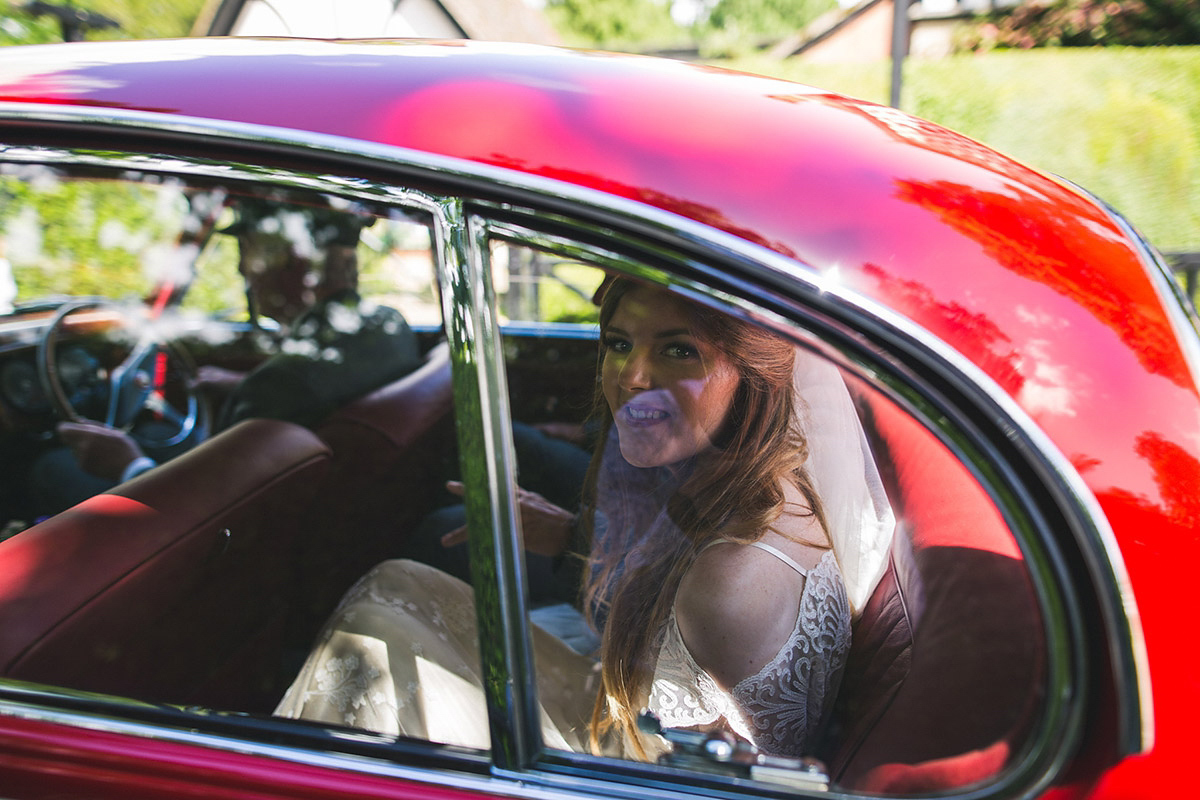 For gifts, the flower girls got a scooter each to keep themselves entertained in the garden during the day- such a good idea and, as Tasha says, way more fun than a bracelet!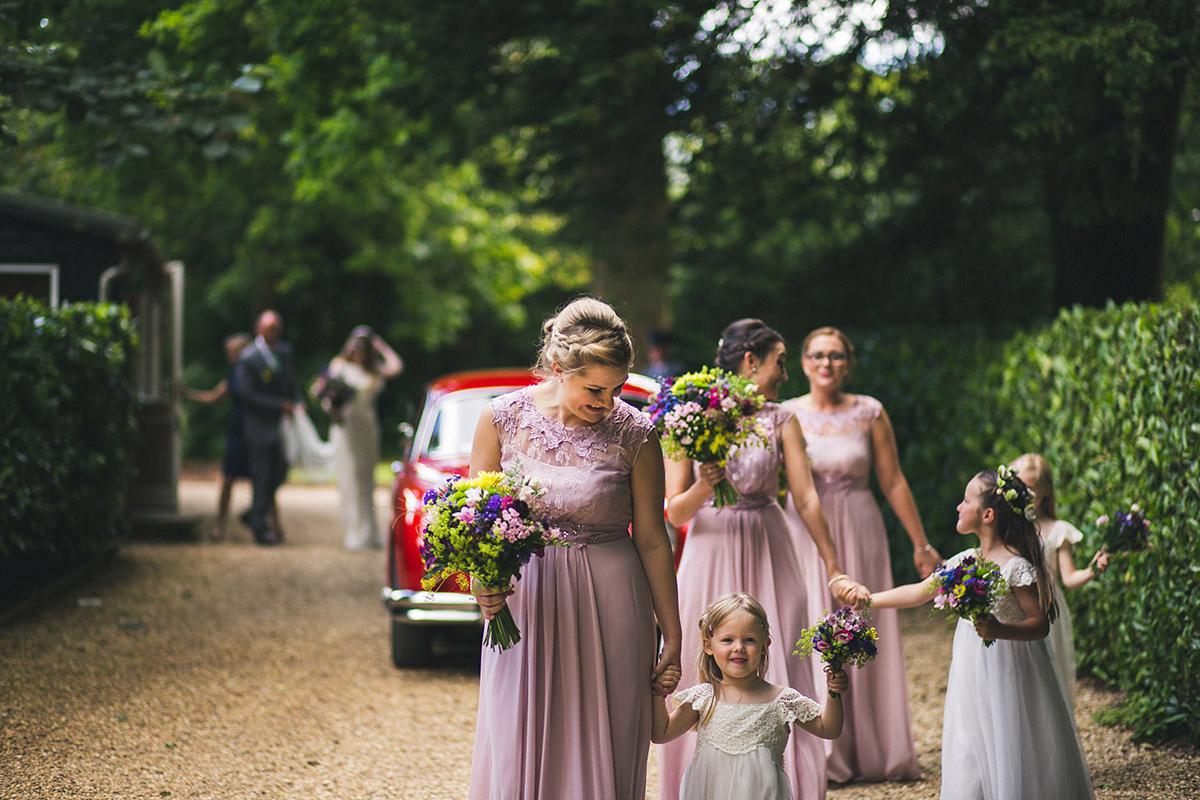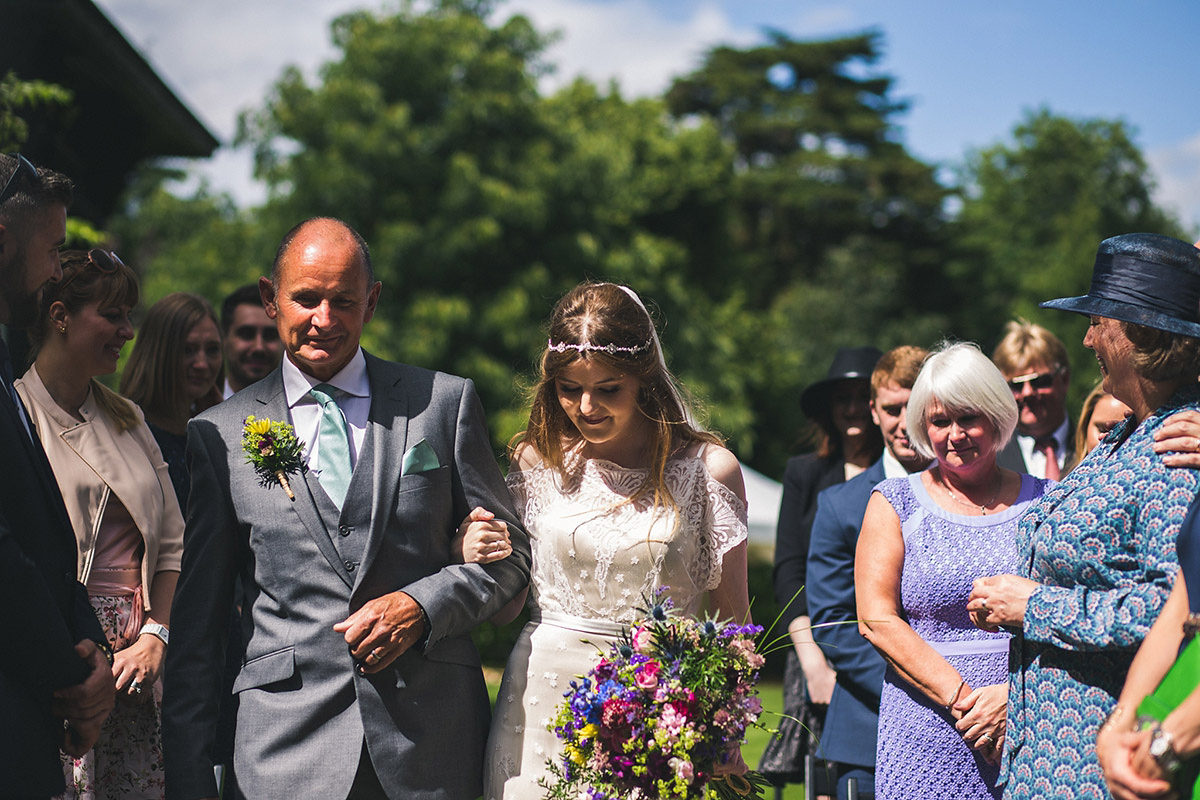 "We fell in love with Larmer Tree instantly.  It is a beautiful venue with lots of gardens, a huge amount of character and a real laid back vintage style to it.  We loved everything from the manicured gardens and spectacular buildings to the roaming peacocks and their chicks (who made an incredible appearance at the ceremony)."
"Although there was so many choices where to have the ceremony, we fell in love with the Roman temple."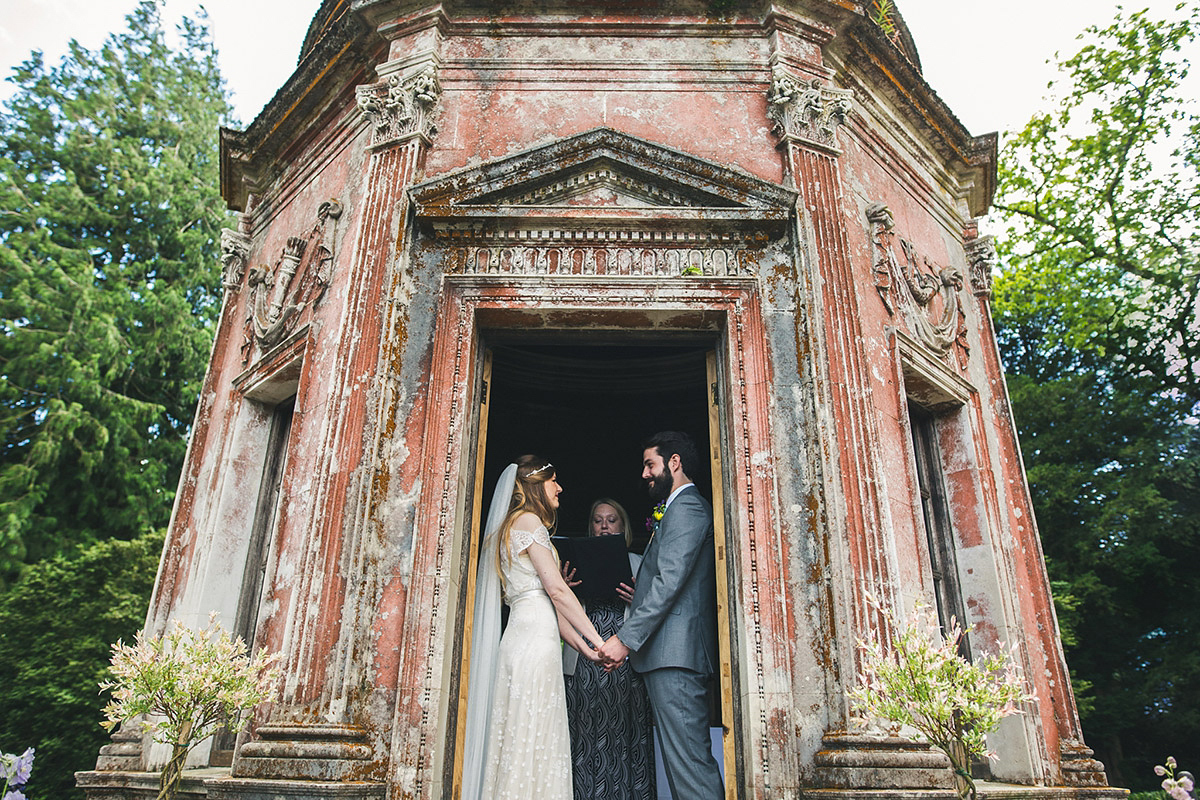 Mike and Tasha asked Tasha's sister to chose a reading which reminded her of the couple.  Her choice was 'A Lovely Love Story' by Edward Monkton, one of my personal favourites.
The newlyweds exchanged rings from Franses Jewellers, a local family-run company where Mike also bought Tasha's engagement ring, before the umbrellas went up and everyone moved indoors to wait out the rain.
Today's gorgeous pictures are the work of Mylo Photography, a talented husband and wife team.
"Joanne and Kieran were the photographers at my sisters wedding and after seeing the wonderful job they did, it was an easy choice.  They had just had a baby, so Joanne stepped back and let Kieran take charge of the big day, but still gave us lots of help and support."
"Kieran was amazing from start to finish.  As a couple we really aren't fans of having our photos taken, but with Kieran we felt totally at ease and never once felt embarrassed which was really important to us.  His organisation of our huge congregation of family and friends was remarkable and we never felt rushed or pressured into a huge list of family photos.  I knew there was no one else better for the job."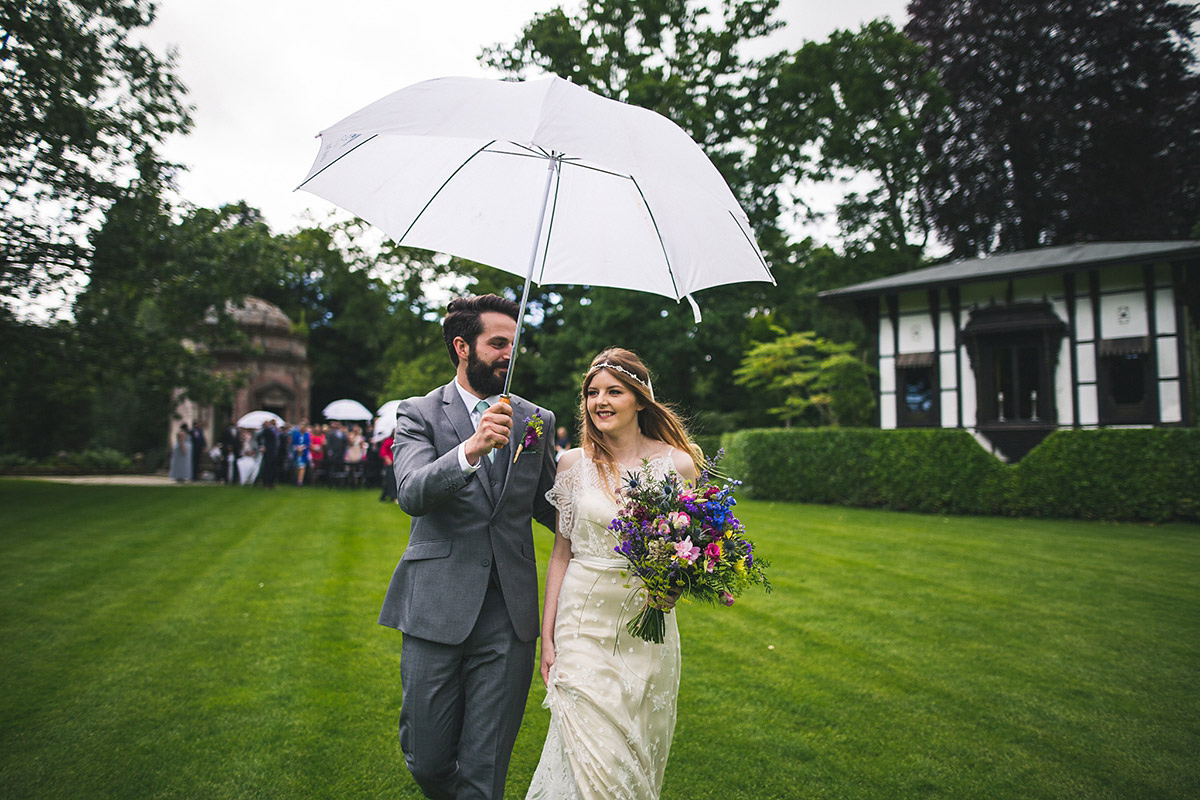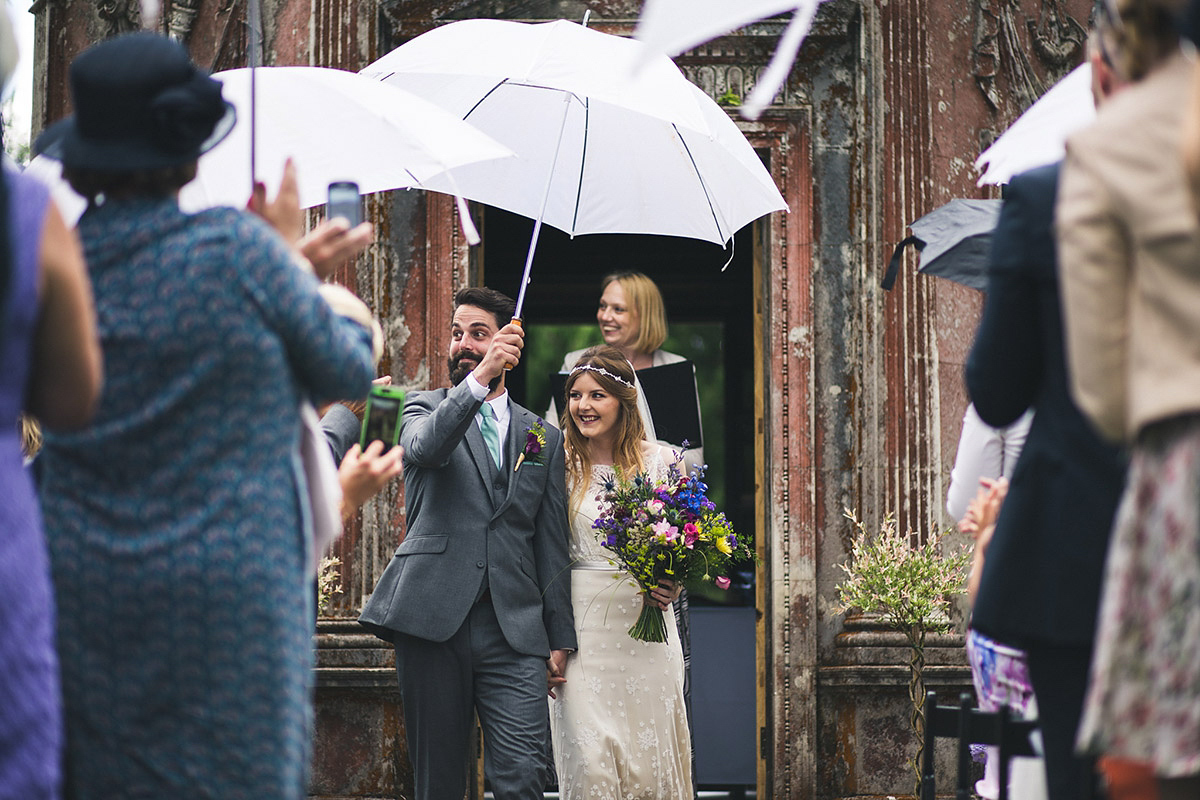 I absolutely adore the cake, which was made by Tasha's Auntie Sarah.
"She knew my love for flowers so she created a simple three tier cake (almond and raspberry sponge, passionfruit and lime sponge and angel cake) and made exquisite hand crafted flowers scattered all over."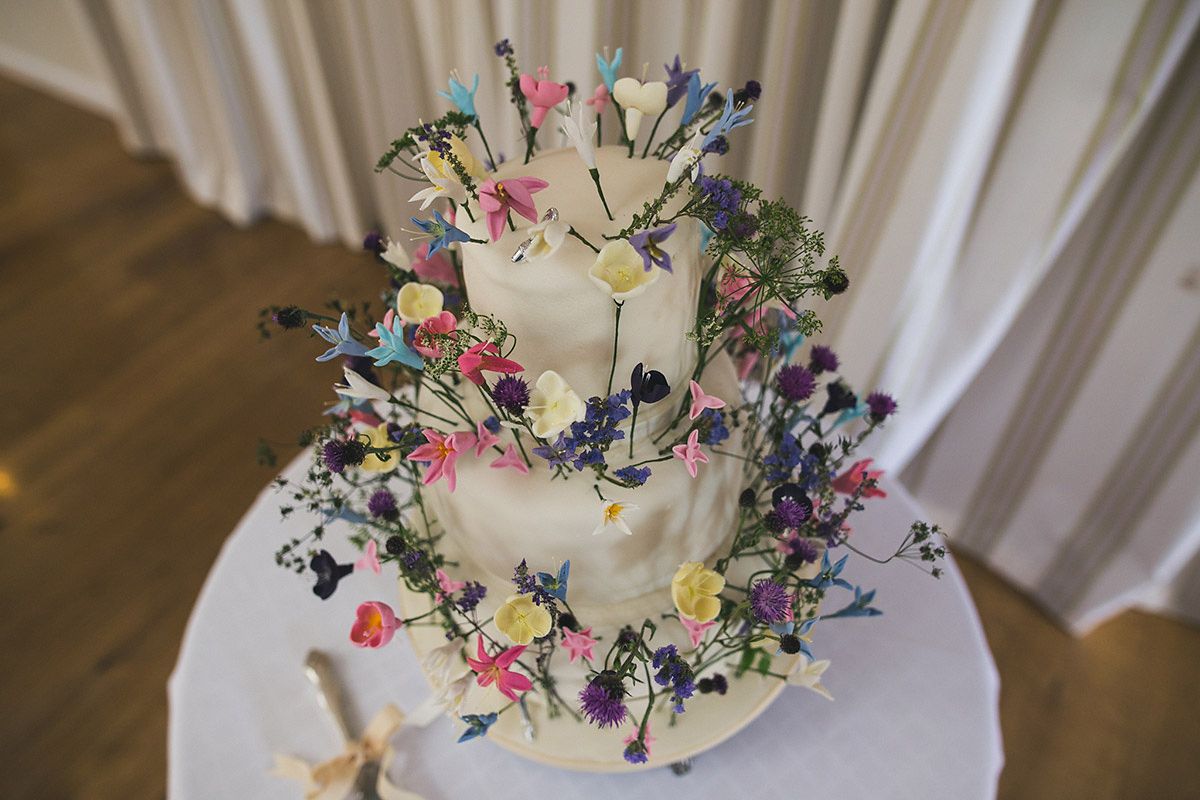 "Myself, my three bridesmaids, my mum and my good friend Nicky worked so hard to create the handmade bunting.  It was such a fun day spent together and I love that us girls got together and created something really special that we were all proud of."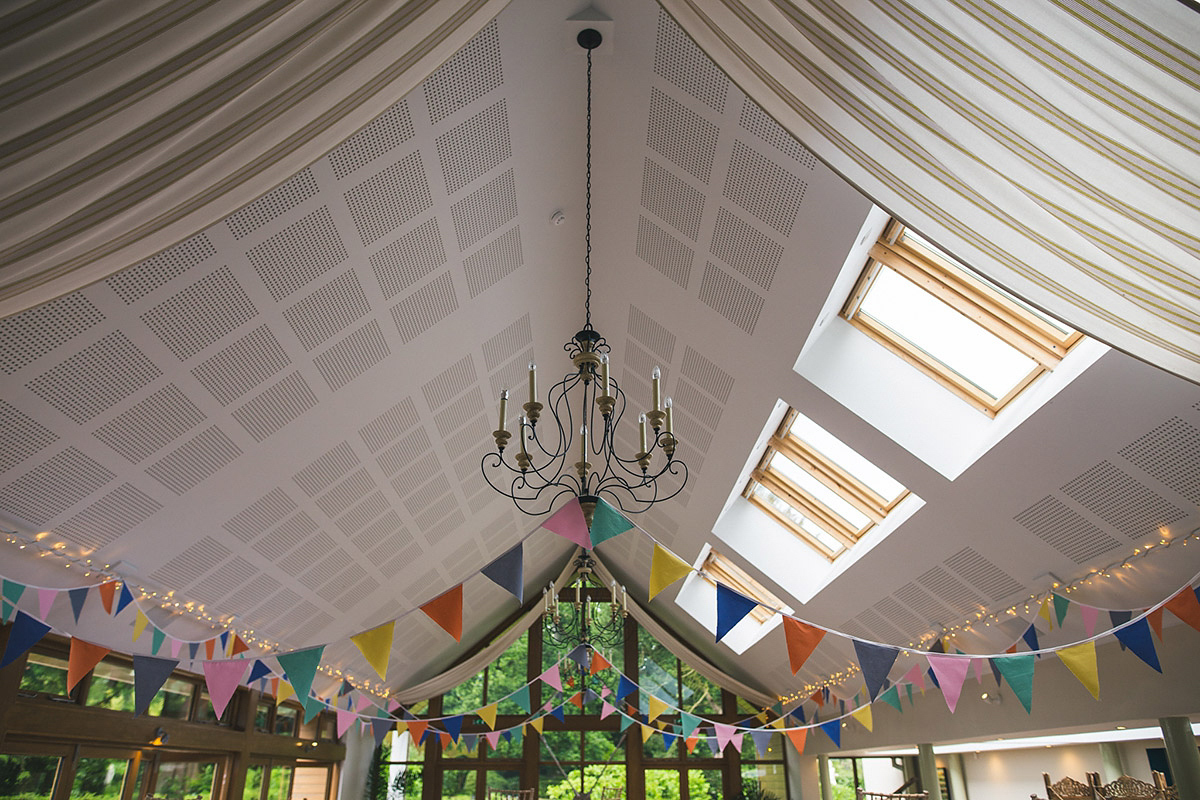 "It was really important to us that everyone enjoyed the favours so we decided on popcorn.  We used a company called Zaramama who specialise in gourmet popcorn kernels, bought Kilner jars and Mike and I spent two evenings putting them all together.  My mum also set each table with cards for the adults to draw pictures of myself and Mike as a surprise.  It was so much fun seeing everyone's drawings and comments the day after."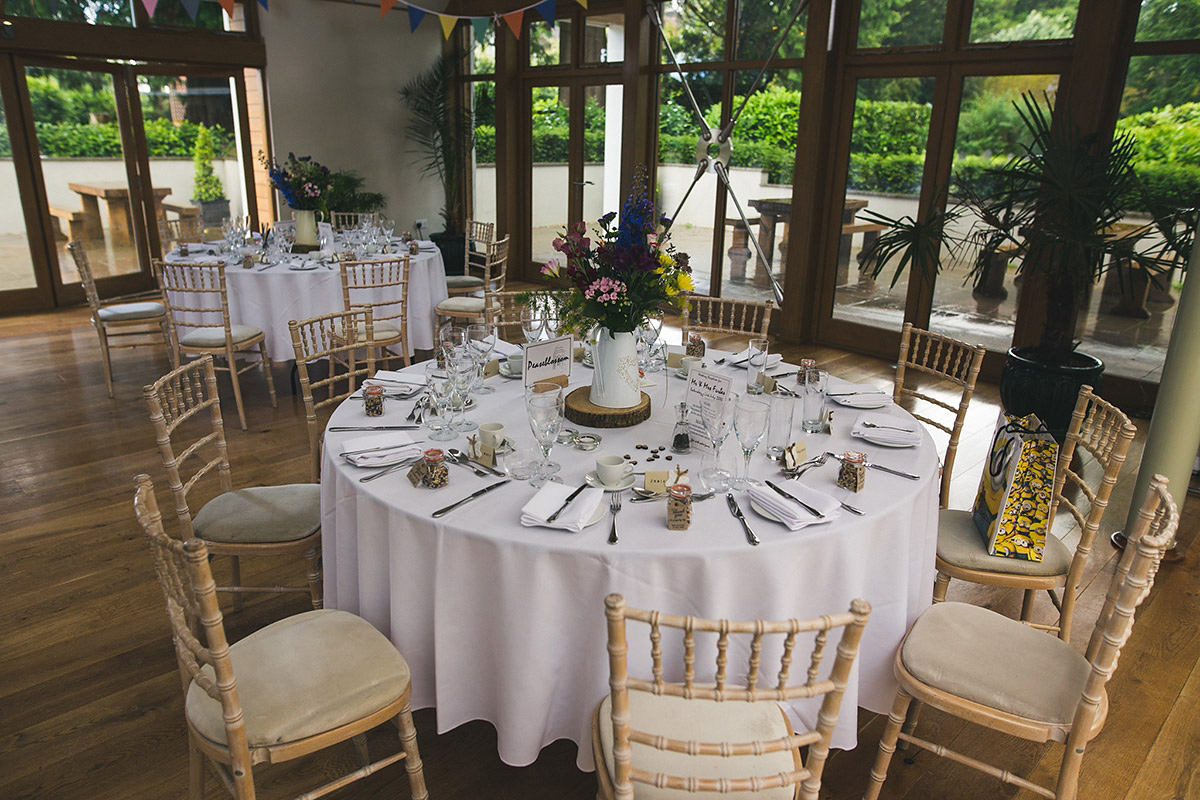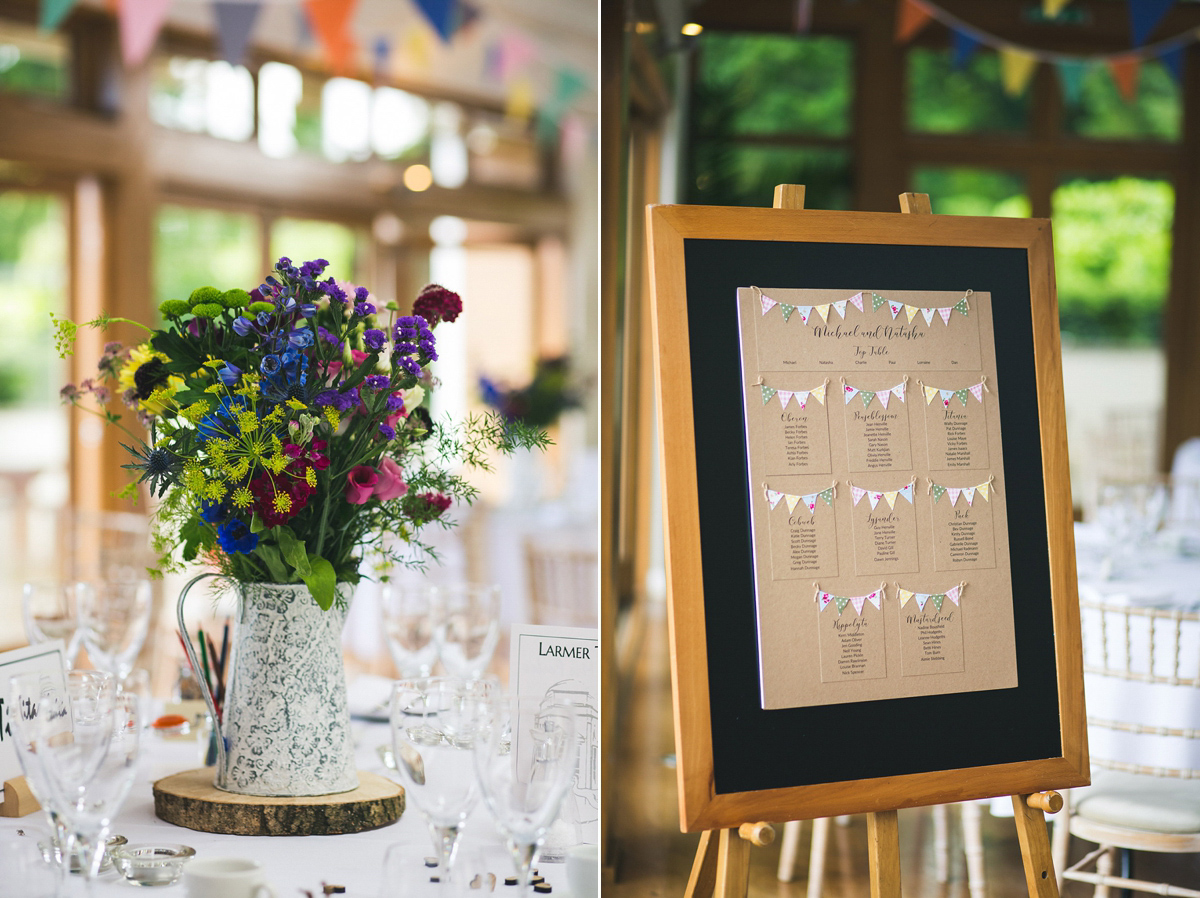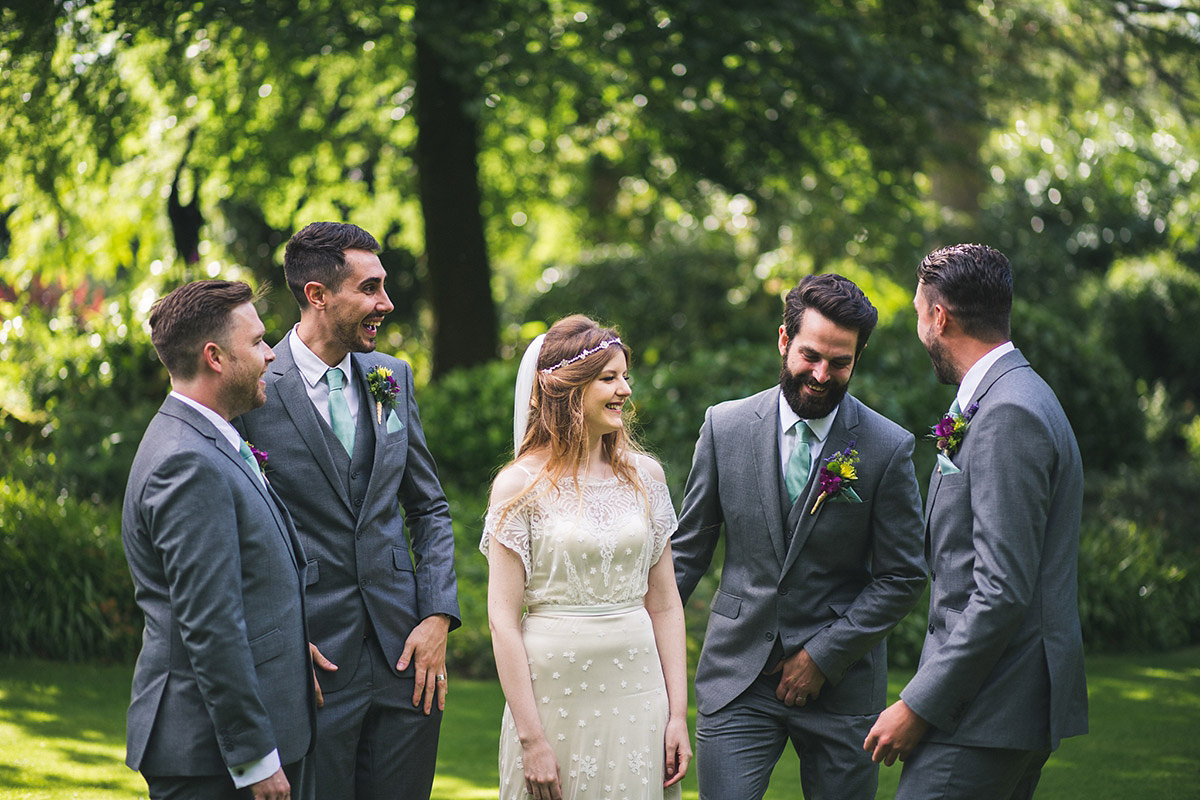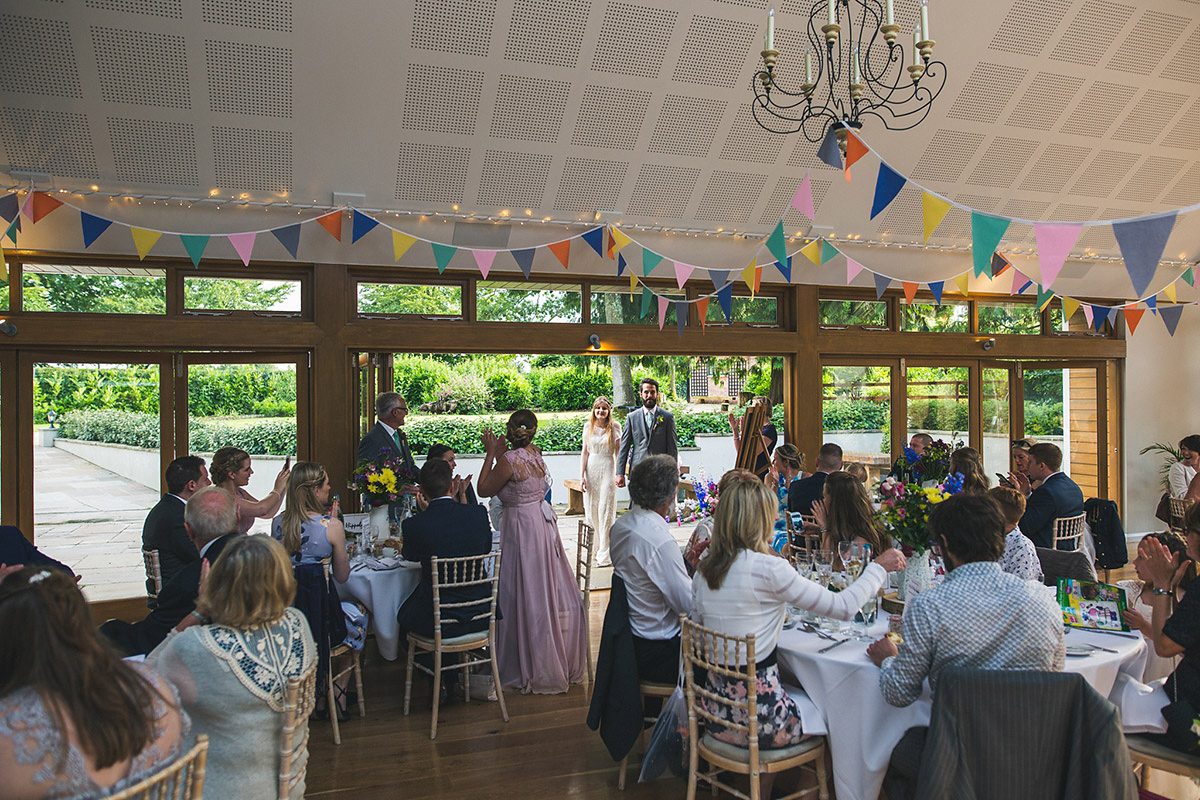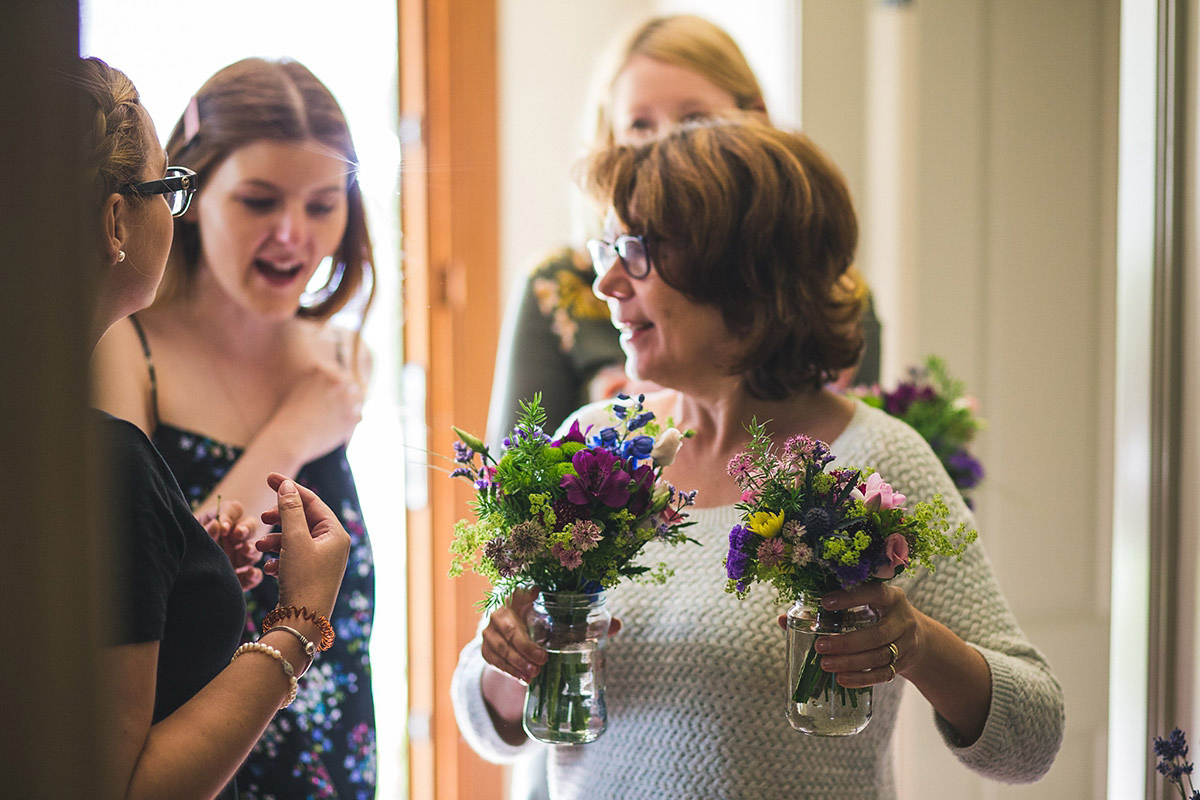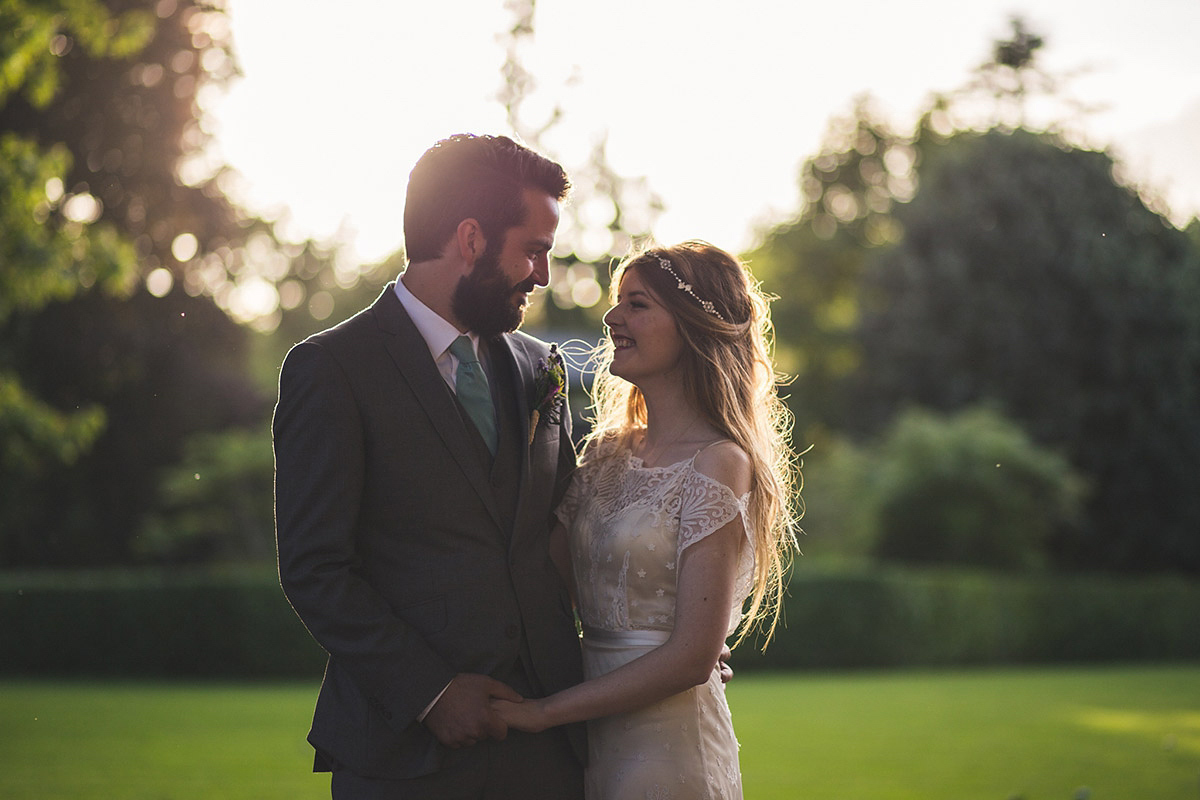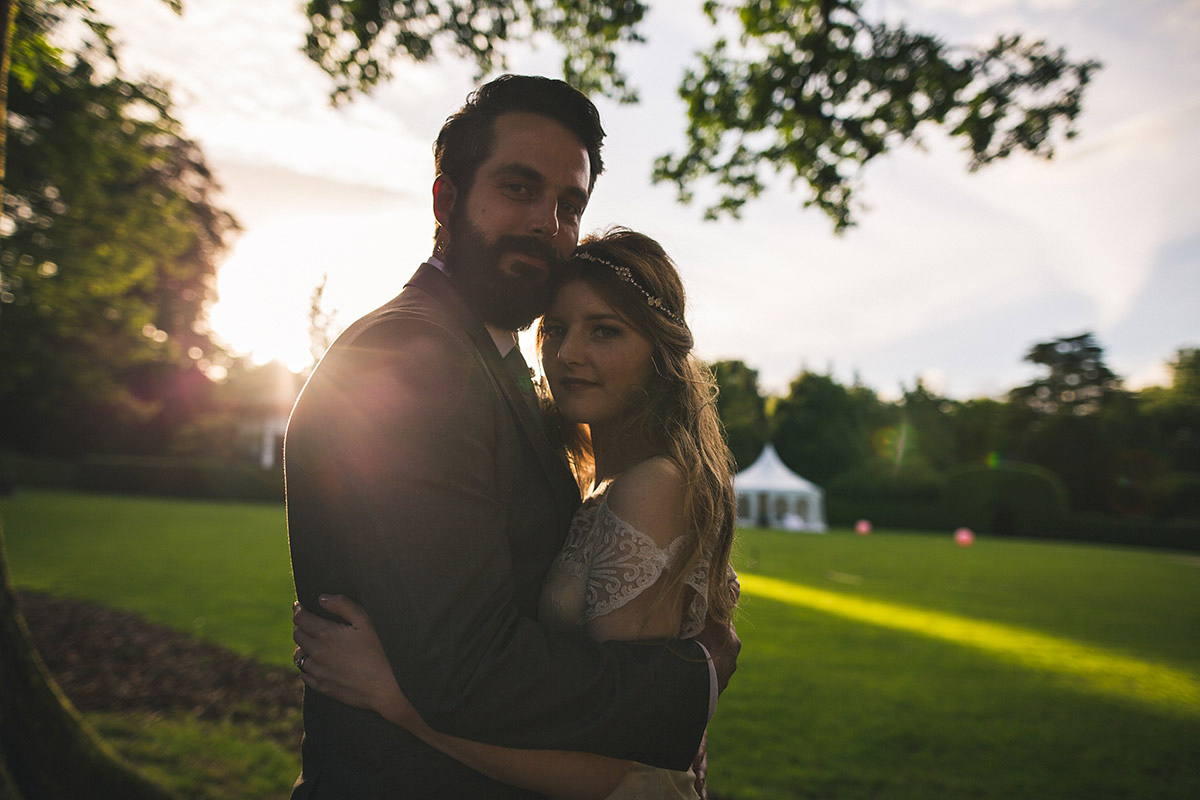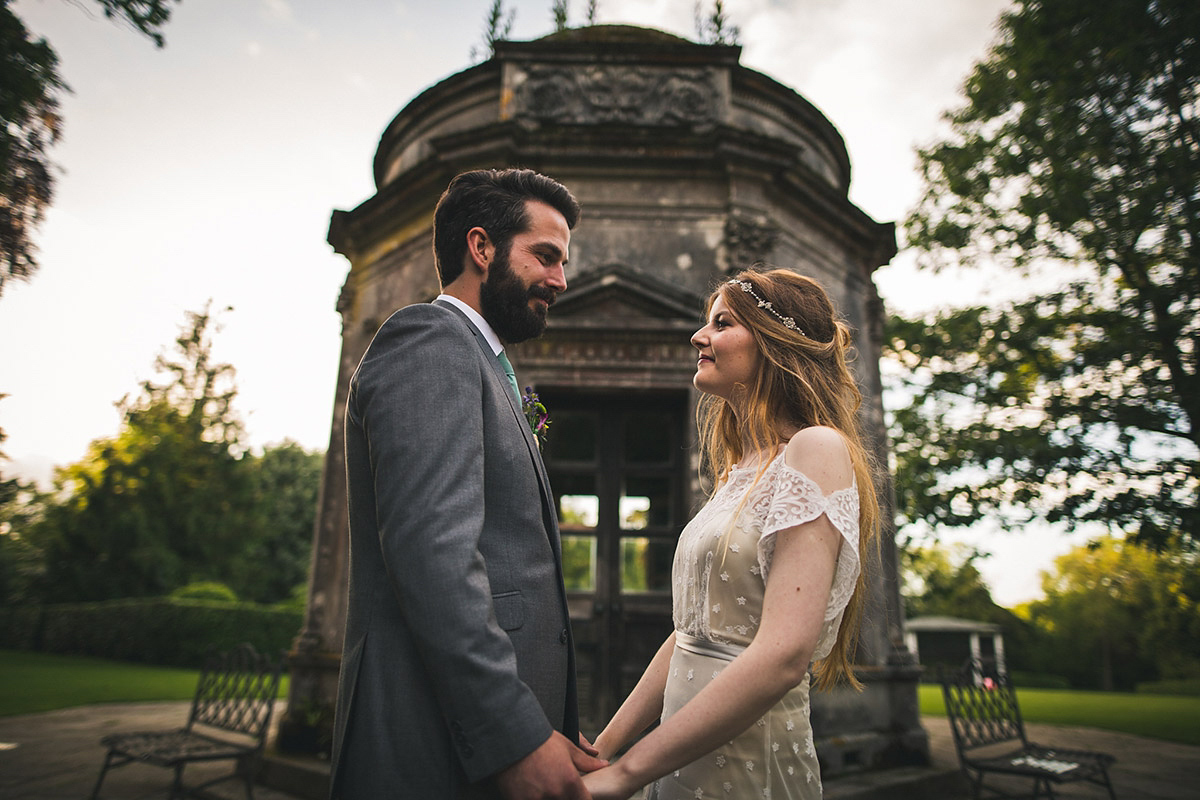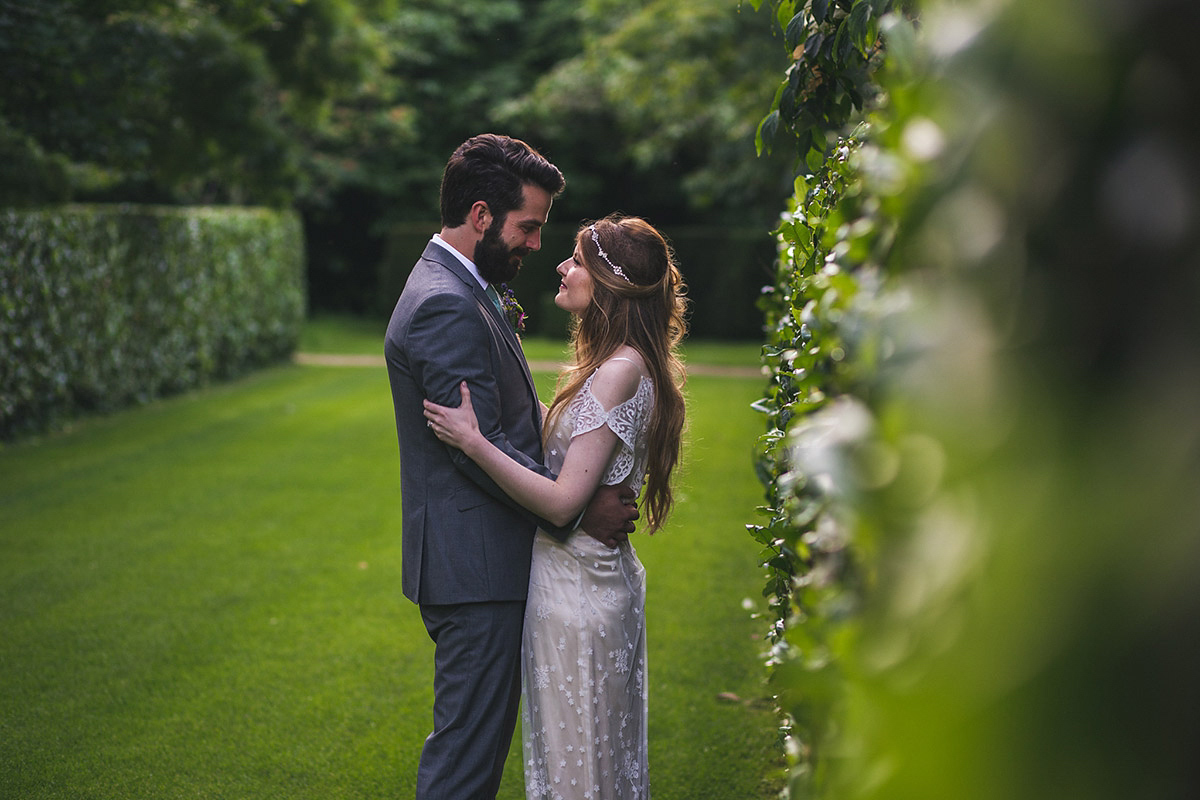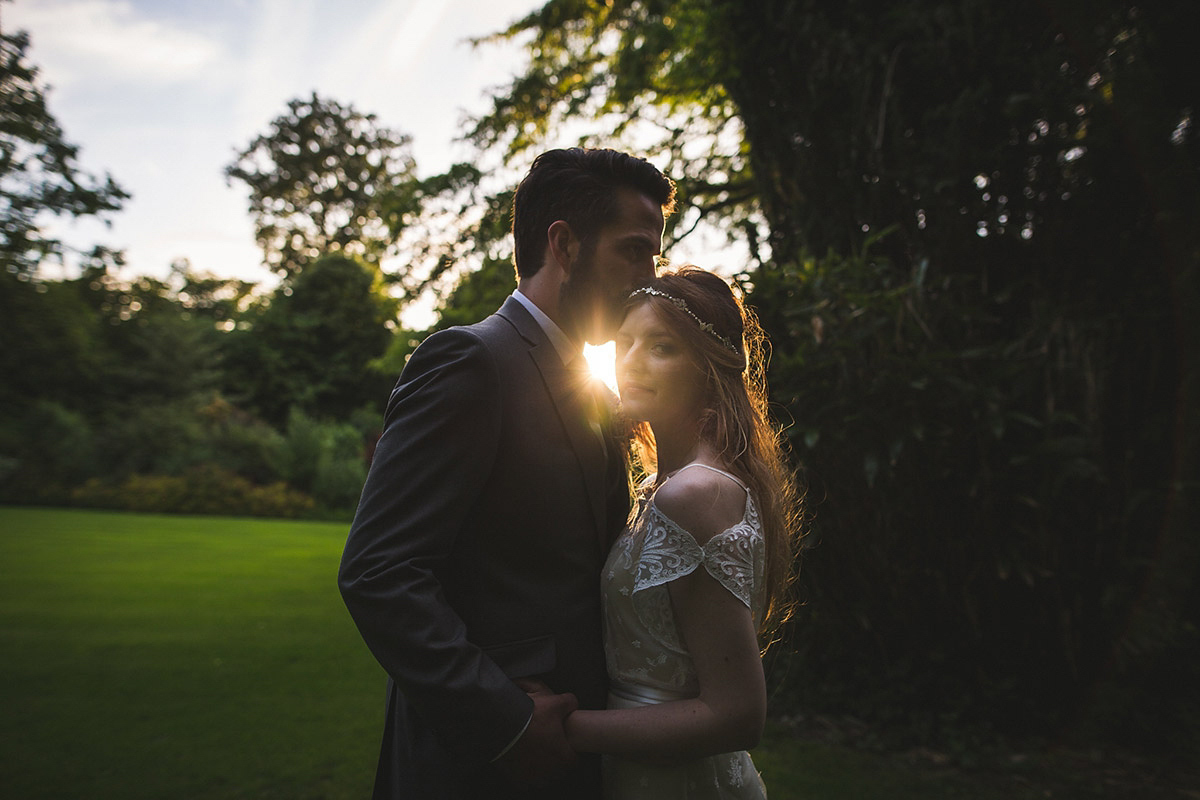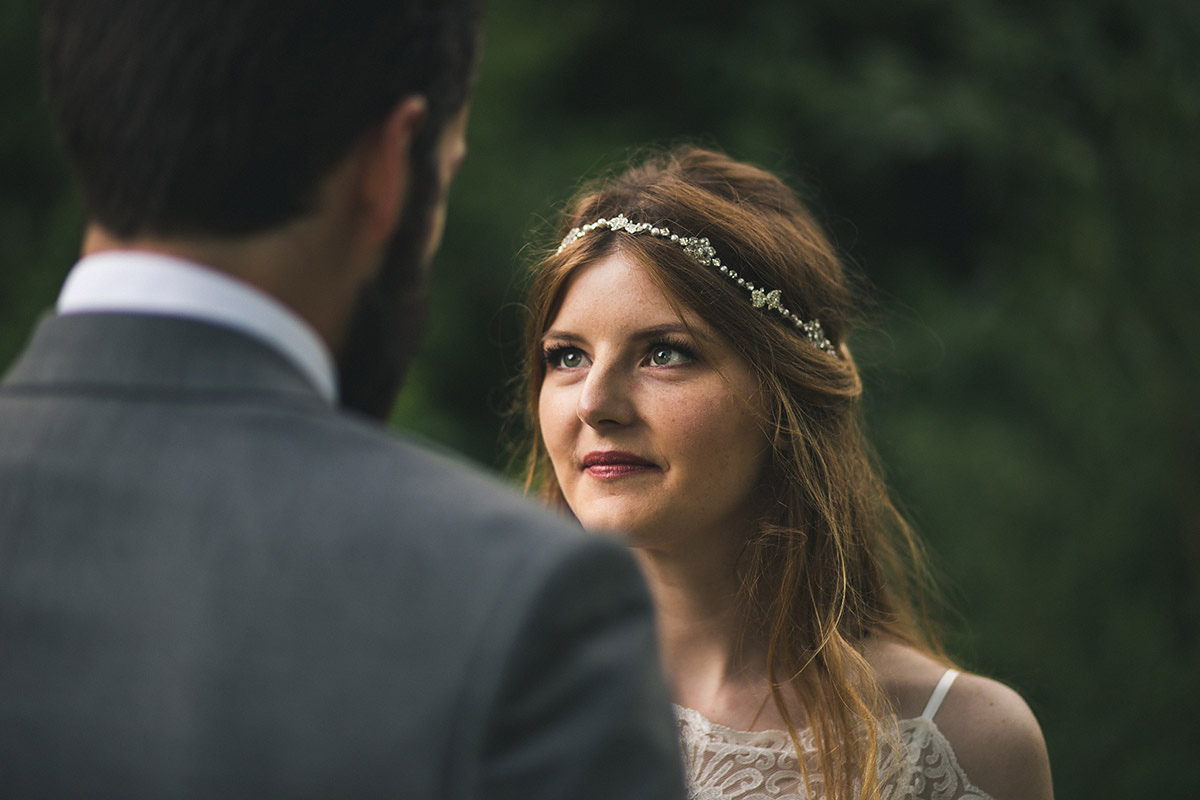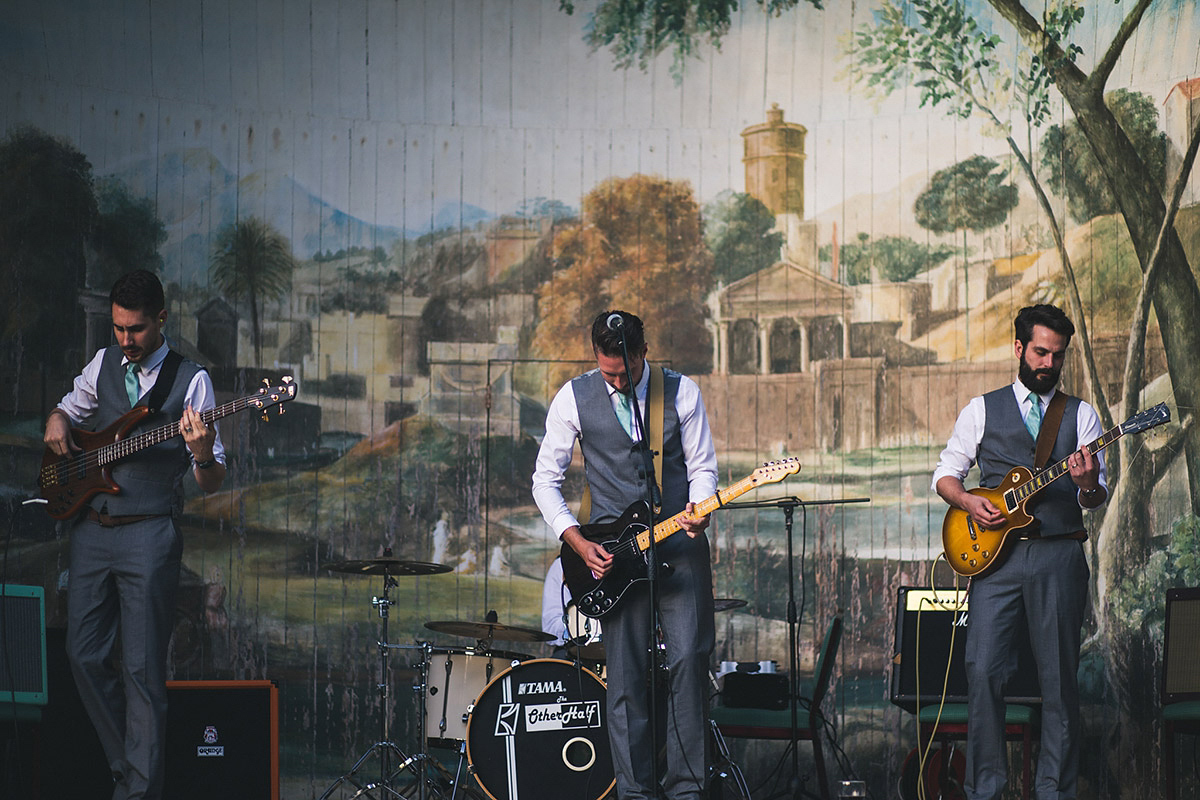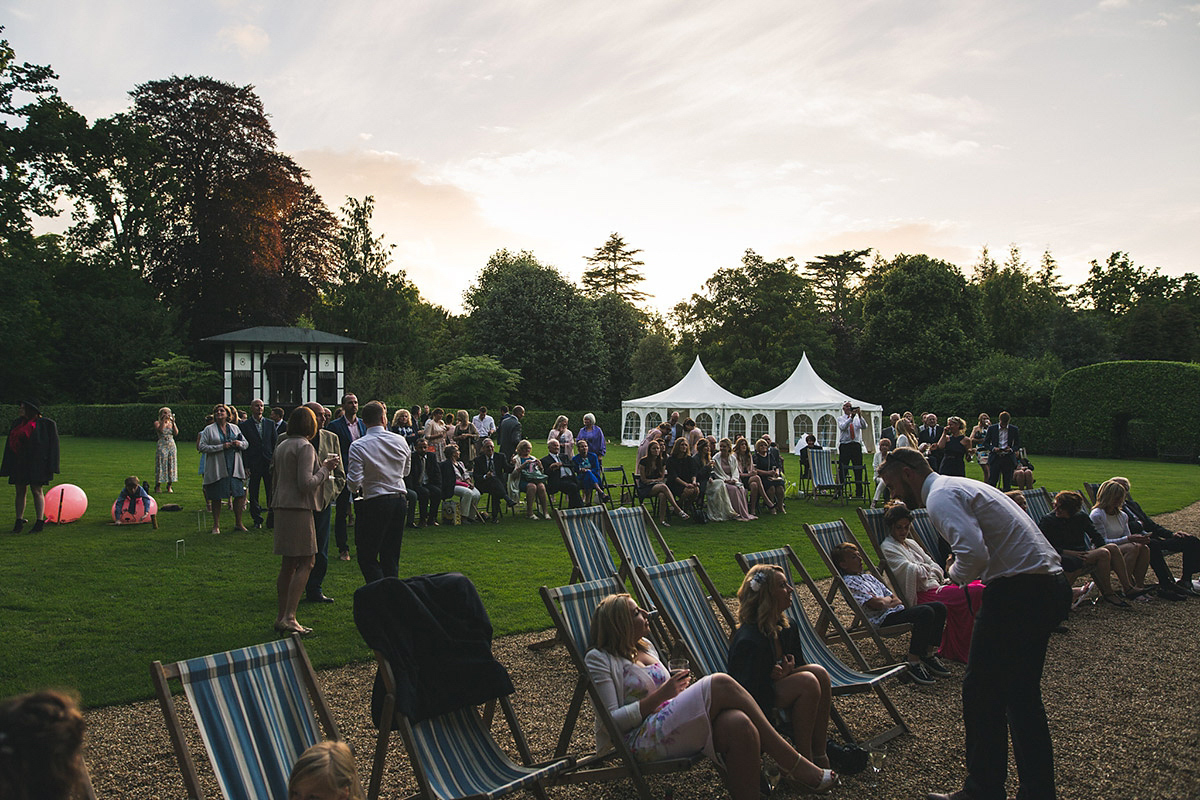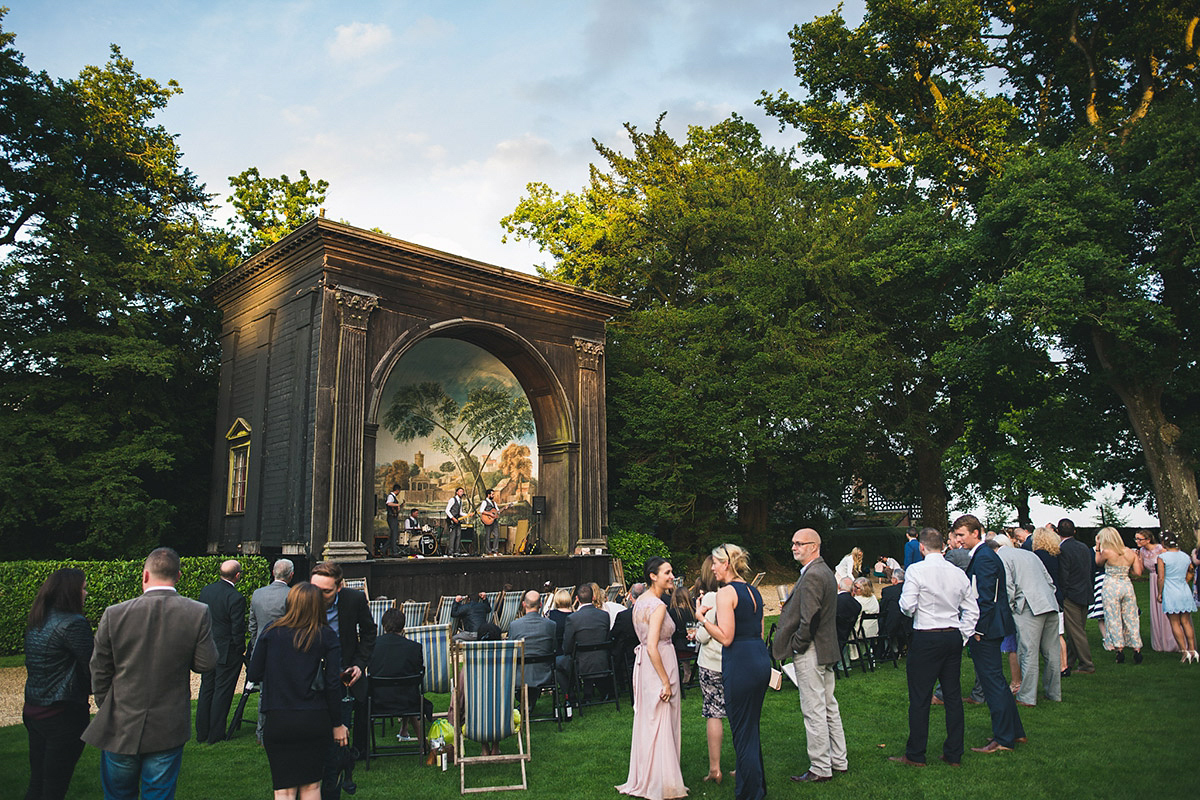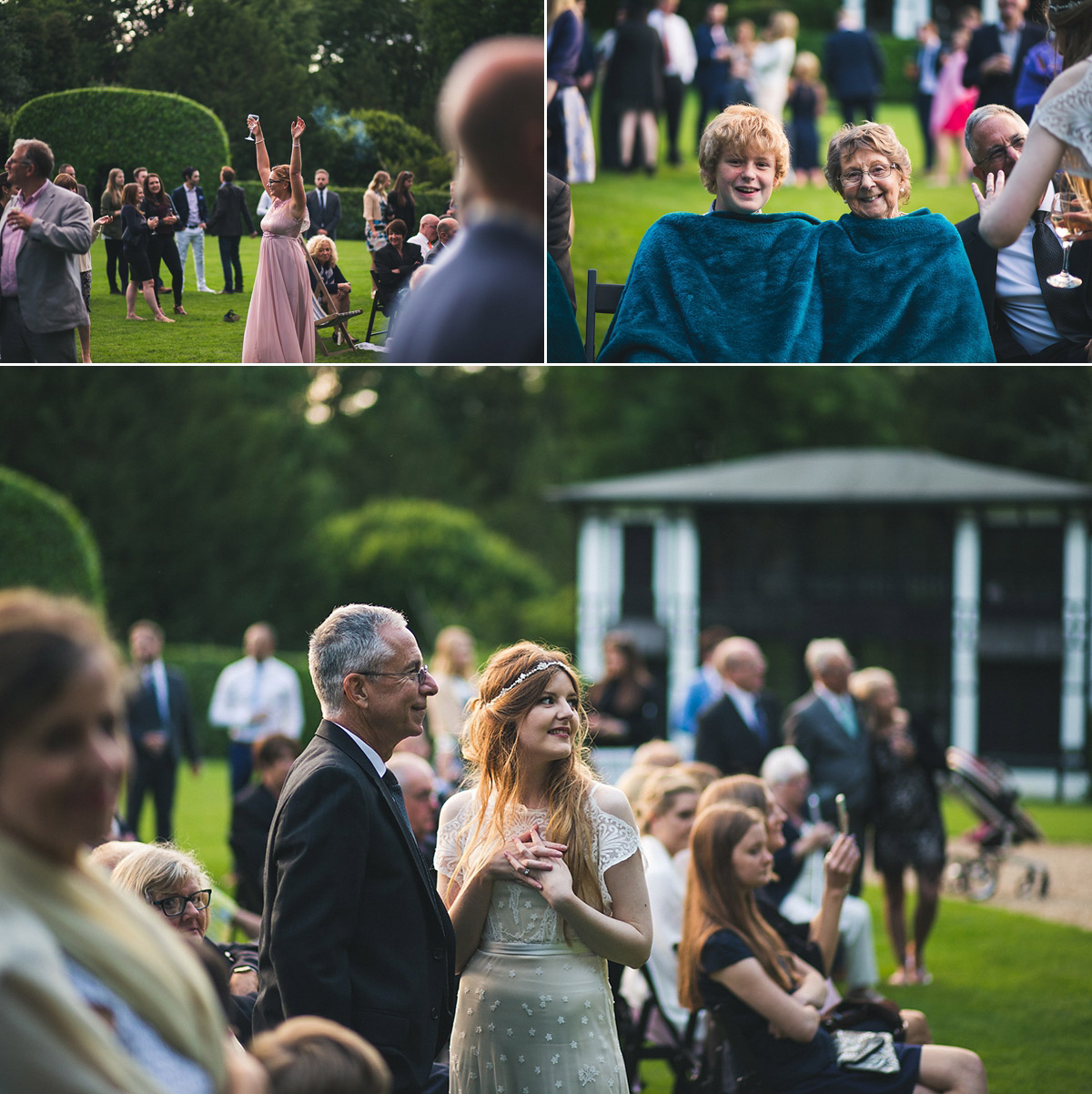 How many venues offer the opportunity for the groom to play with his band on the bandstand in the garden?
"Mike's band played a set on the outside bandstand which the guests enjoyed after the wedding breakfast.  Everyone then went back inside for more dancing to DJ Party Dexx who made us a playlist for us of every song that was played- an amazing keepsake.  We also had a photo booth from Picture That Booth which everyone loved."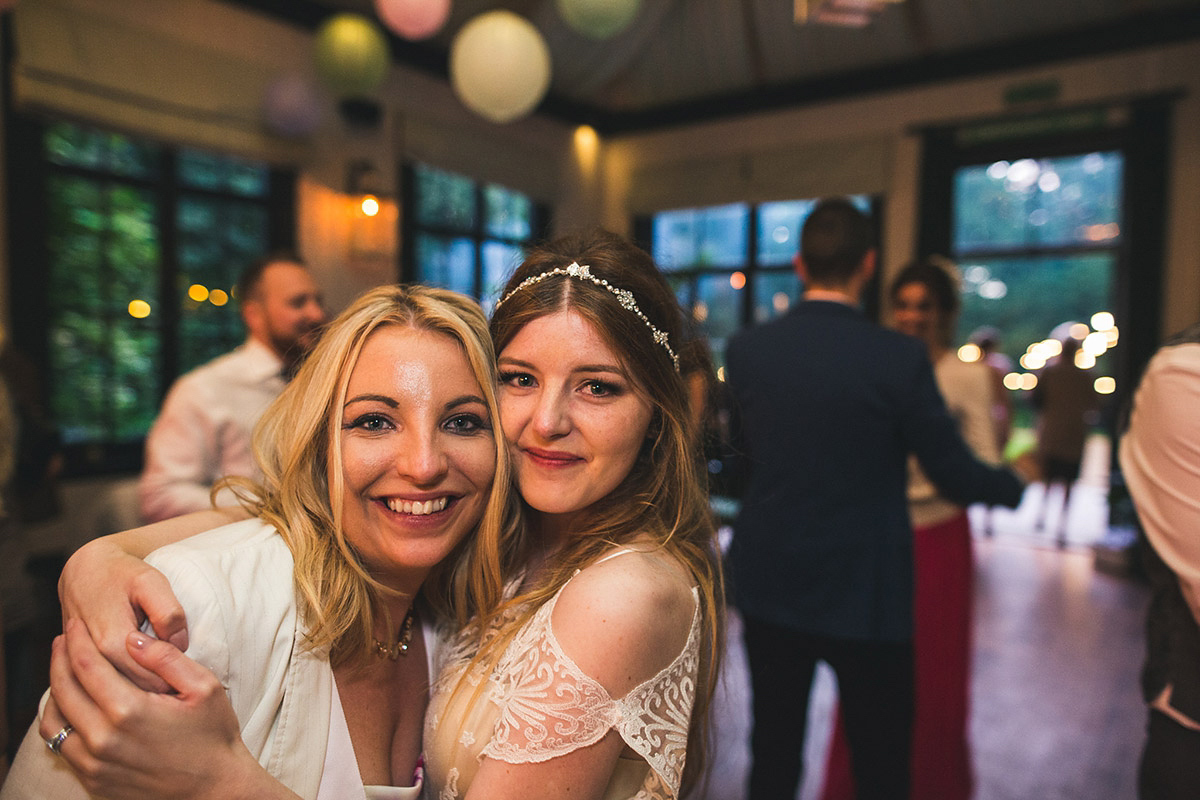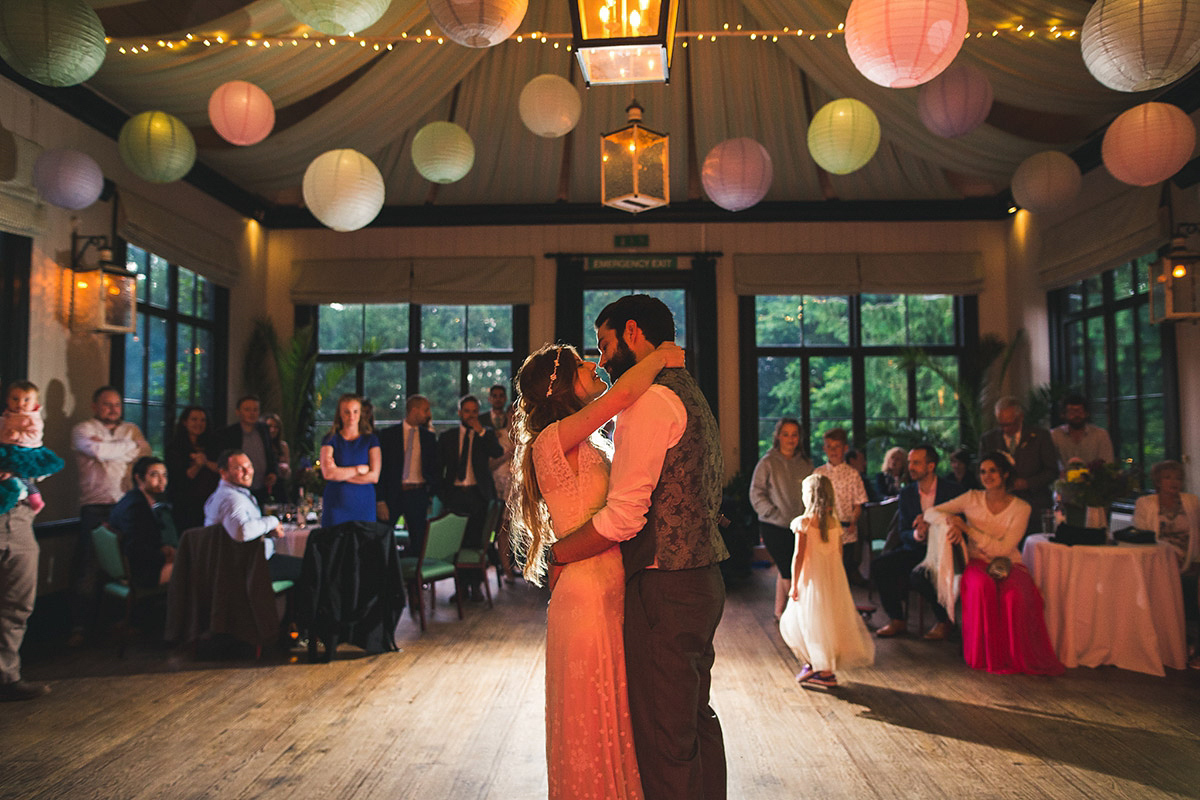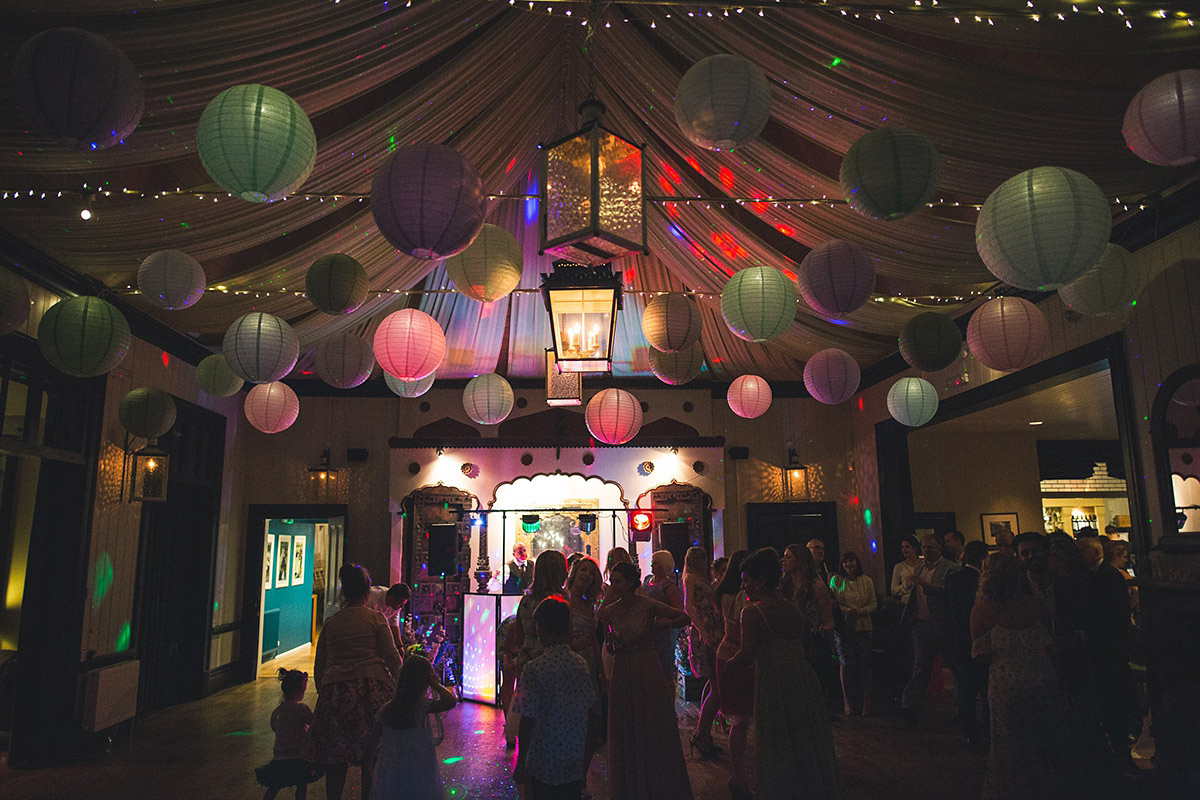 Words of Wedded Wisdom
"If you have a budget be prepared as you will go over it. Take loads of help and advice from friends and family. Just enjoy it- if anything is getting too stressful it's not worth it. We didn't really set a budget.  Our parents helped out a LOT and we just spent what we had to as we went along.  We wouldn't have dreamt of spending as much as we did at the start, but as we went along our priorities changed and we just wanted to have the best day we could have for all our family and friends.  Having all of our favourite people there really made the day for us."
Huge thanks to Tasha, Mike and Mylo Photography for sharing this most gorgeous day.  For more Love My Dress brides wearing Catherine Deane gowns take a peek here– there are some absolute beauties!
S x