Hello again lovelies and how was your Bank Holiday? I hope you enjoyed yourselves and now it's only a few days until the weekend so there's much to smile about today!  In fact, there's way more to smile about than the proximity of Friday because today, we're giving you the chance to win a beautiful gemstone ring from EidelPrecious. Gorgeous, unique and also ethical, I'm sure you're going to fall in love!
Eidel is a wonderfully talented jewellery designer based in Toronto, Canada. She creates the most exquisite engagement rings with sapphires, diamonds and tanzanites and the combination of coloured stones and fantastic settings makes these rings brilliantly individual.
"I like to hand pick unique gemstones for my jewellery that makes it stand out," says Eidel. "I love to work with peach, champagne, jasmine and peacock sapphires, lavender mint tanzanites and rose gold. The stones I use in my jewellery are virtually impossible to find in regular pieces from jewellery stores."
View all pear shaped engagement rings here

Eidel has always loved coloured stones, thanks to a childhood spent collecting sea glass and semi-precious stones on the beach. Her dream of making jewellery came true 10 years ago when she took a year out from her work in cancer research and went back to college to study jewellery design.
"I spent my youth in France and that definitely affected my perception of beauty. Once I made my first necklace, I knew there was no way back. Designing and making jewellery, my childhood passion, has become my profession."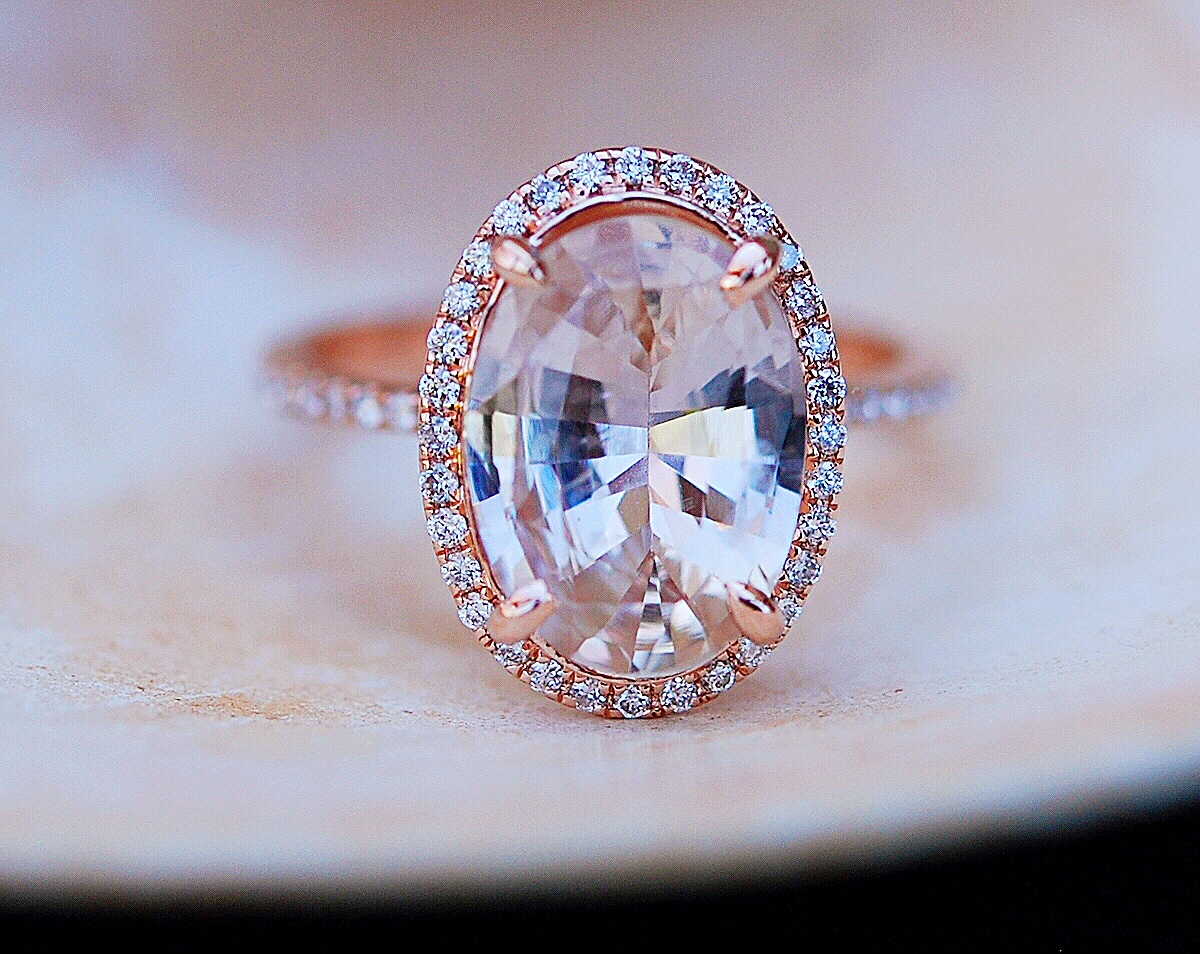 View all oval shaped engagement rings here
Engagement rings from EidelPrecious are just so feminine and delicate. Eidel uses a micropave diamond setting technique so that tiny prongs hold the stones so you see all the sparkles and only a small amount of metal.
"I like to achieve a 'floating look' so there's an illusion of the centre stone hanging in the air; it's a great way to showcase larger stones in all their beauty without making a ring gaudy or mug-like."
"I'm very inspired by the colours of nature. When I see the ocean in the Bahamas or magnolia blossom or tropical birds, I just can't get over the colours. I get very excited when I find a sapphire that looks like Caribbean water or a sunset. This is why I love working with sapphires, they can display any colour imaginable!"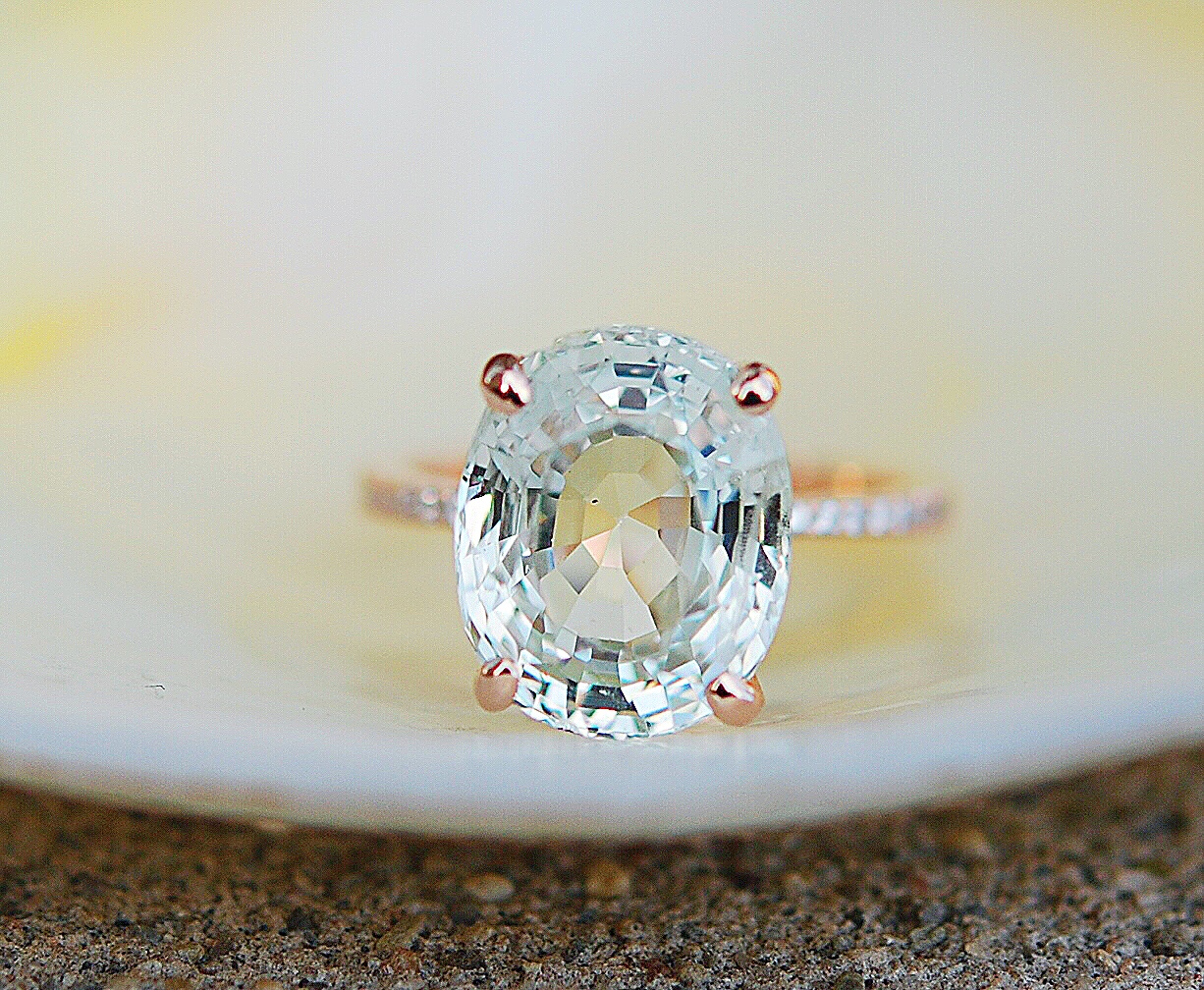 The stones that Eidel uses in her jewellery are incredibly special. Some of the colours are so rare that she's only worked with them once or twice in the decade that she's been designing. Another point to note is that all her designs are absolutely original.
There are no photos with those IDs or post 681465 does not have any attached images!
The Fleur de Lys design, a nod to her French childhood, is an EidelPrecious signature design and is an all-time best seller. The latest addition to the collection is a setting made of marquise cut or round brilliant diamonds on the band set as beads with gold 'beads' in between. It's a novel idea for sure and I'm already smitten and, if you've fallen for EidelPrecious, you'll want to read on…
EidelPrecious is offering one lucky Love My Dress reader the chance to win one gorgeous ring from the following selection of six fabulous designs. You can choose your favourite and it will be resized and then shipped to you from Canada, for free.
We know that many of you enjoying our blog may already have your engagement ring, but you might also have a temporary ring, or ring you're looking to upgrade, or you could be looking for an additional dress ring to add to your jewellery collection. If that's the case, this competition is for you!
There are no photos with those IDs or post 681465 does not have any attached images!
All you need to do to enter is follow EidelPrecious on Instagram and Pinterest. We also need your details below so that we know how to notify you if you have won:-
That's really it! You're now in with a chance to win one of these heavenly rings from a designer that just loves to do things a little differently.
To find out more about EidelPrecious, just take a look at the website and have a little swoon at all the sparkle!
Love,
Tamryn
Terms & Conditions
This competition will run from Tuesday 30th  May until midnight on Tuesday 13th June.
Only one entry per person allowed.
You will be asked to confirm your choice of ring by image selection, on being notified that you are winner.
Emails submitted as part of the entry process will be maintained by both EidelPrecious and Love My Dress for mailing list purposes (you will be able to opt out of the mailing list if you prefer the next time you receive contact from either party).
No refunds or exchanges can be provided.
A trackable postage service will be used, enabling you to trace the progress of your parcel from Canada to your chosen delivery point.
This competition is open to anyone in the world regardless of location.