In September my husband and I are spending a week driving through Tuscany and I absolutely can't wait to explore some more of this most beautiful country.  We have such a treat of an Italian wedding for you today to get you excited about Italy too.
Meet Simone and Ilaria, who married on the 12th July 2016 at Villa Bossi, near the lake of Varese, Northern Italy, in the most gorgeously romantic outdoor ceremony.
"It was easy for us to choose the location.  Our wedding planner suggested Villa Bossi, a classical sixteenth century villa, with beautiful gardens, courtyards and interiors and we fell immediately in love with the place; even though it's a magnificent villa, you feel at home.  The villa is also a museum of ancient musical instruments and a harpsichord factory and during my preparation in the afternoon, the musicians played the harpsichord.  It was the best playlist ever."
Photography by  Gianluca Adovasio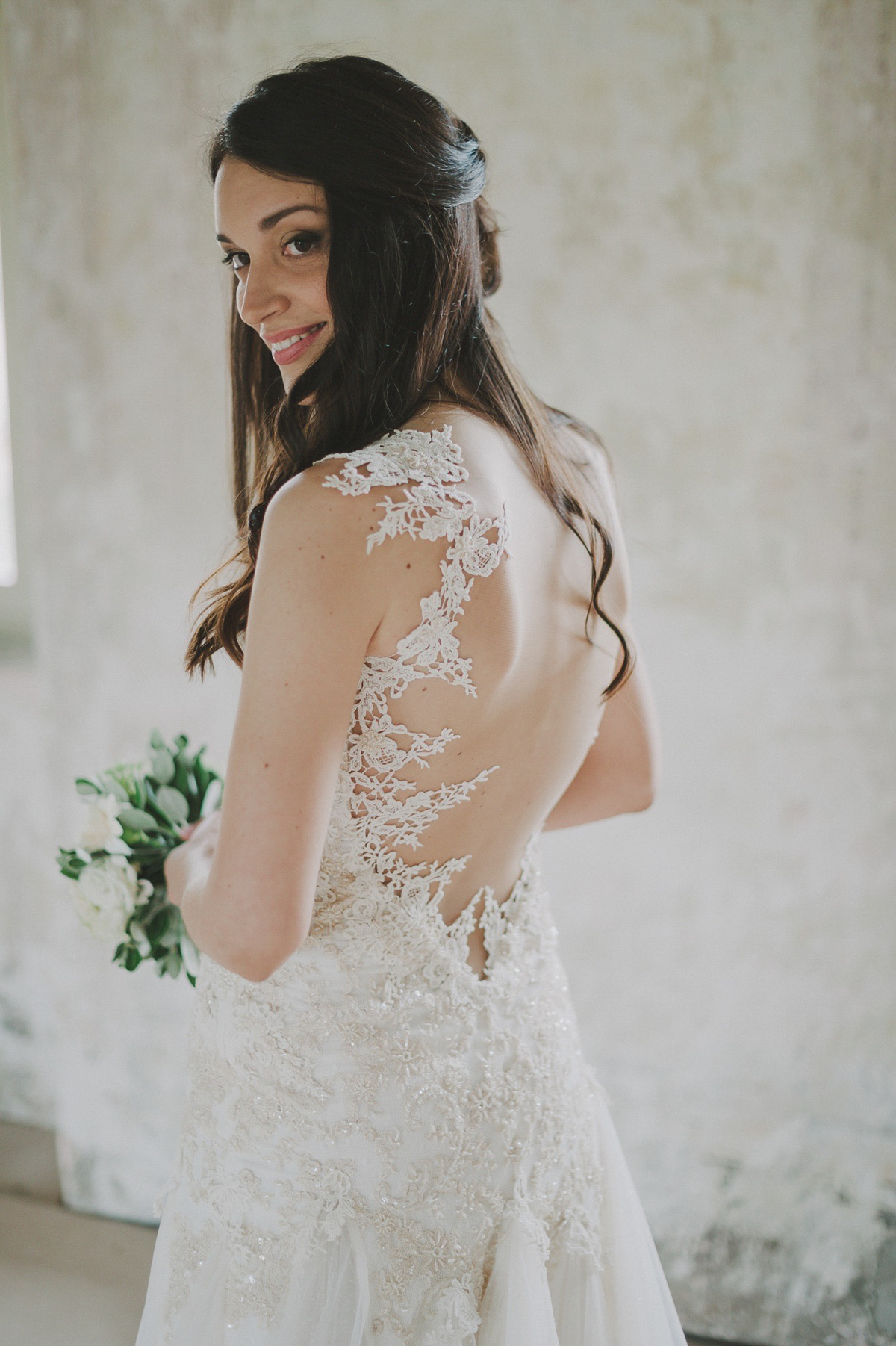 Ilaria wore the most stunning gown by Galia Lahav Couture, which she purchased from Rebecca la Sposa Piacenza.  The embellished bodice is just exquisite.
"I fell in love with my dress at first sight.  I tried several designs and they all seemed perfect for me, but I was sure that the Galia Lahav gown was the right one.  It has a chic allure, with a fluffy skirt and an embroidered bustier and I felt like a dancer, light and dreamy.  I looked into my father's eyes and I understood that was the one.  The back was nude and the lace seemed to be sewed on my figure."
Ilaria wore heels by Jimmy Choo and over her hair she wore a simple tulle veil to set off the complex detailing of the dress.  Her perfume, rather perfectly, was 'SI' by Giorgio Armani.  She wore no accessories other than her veil, which allowed the dress to speak for itself.
"I wanted my veil to cover my face. The wedding day was a little bit windy, so the veil's movements were perfect."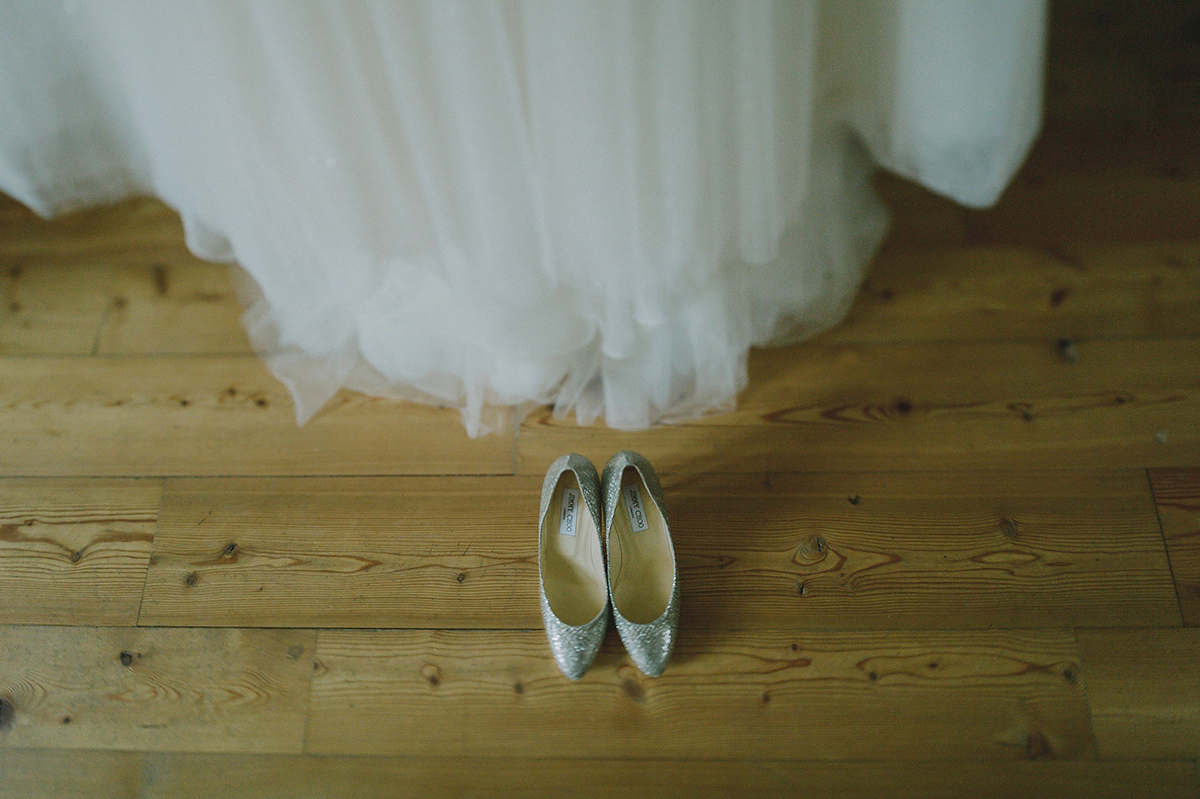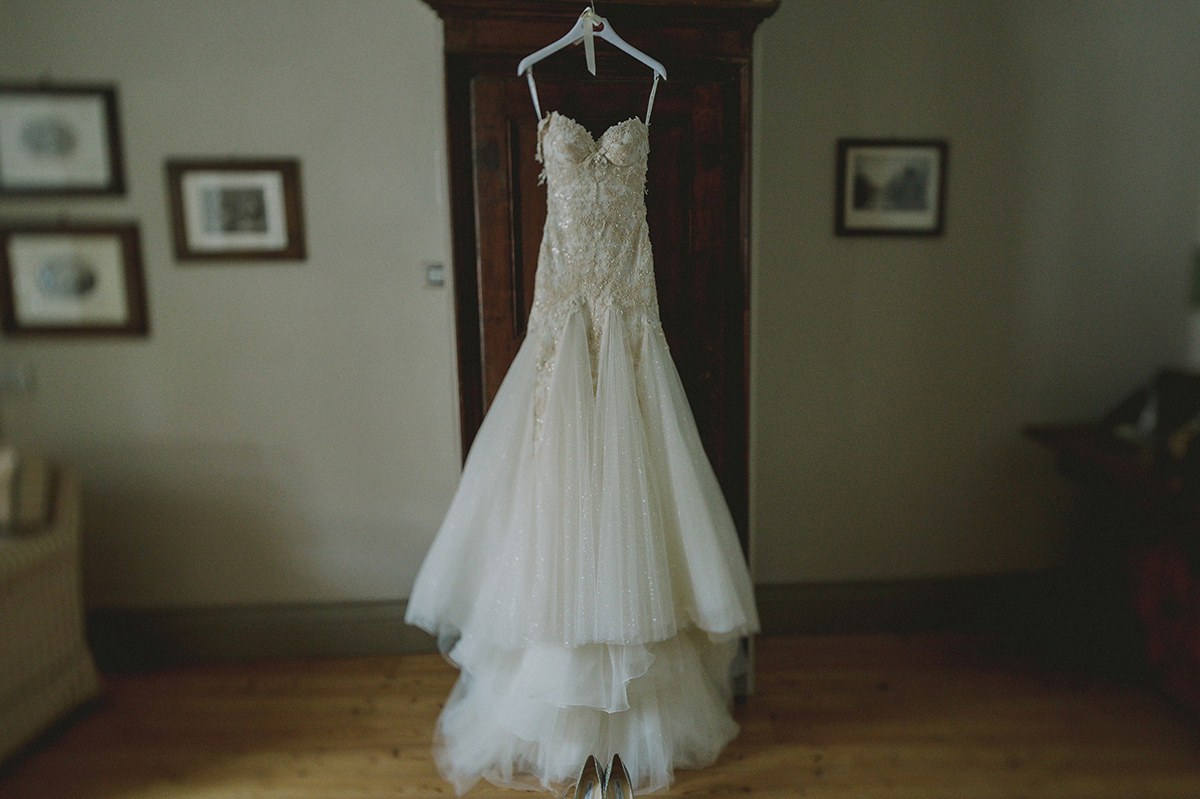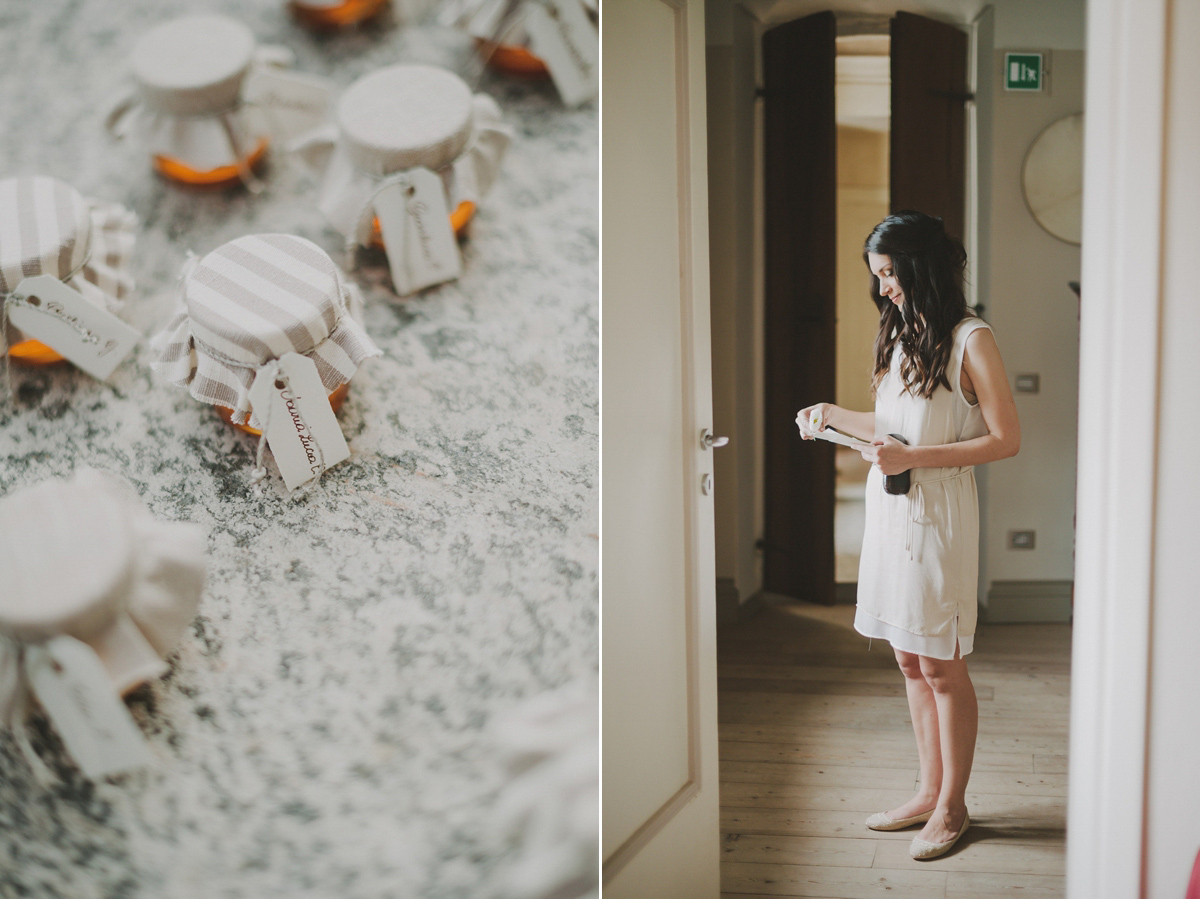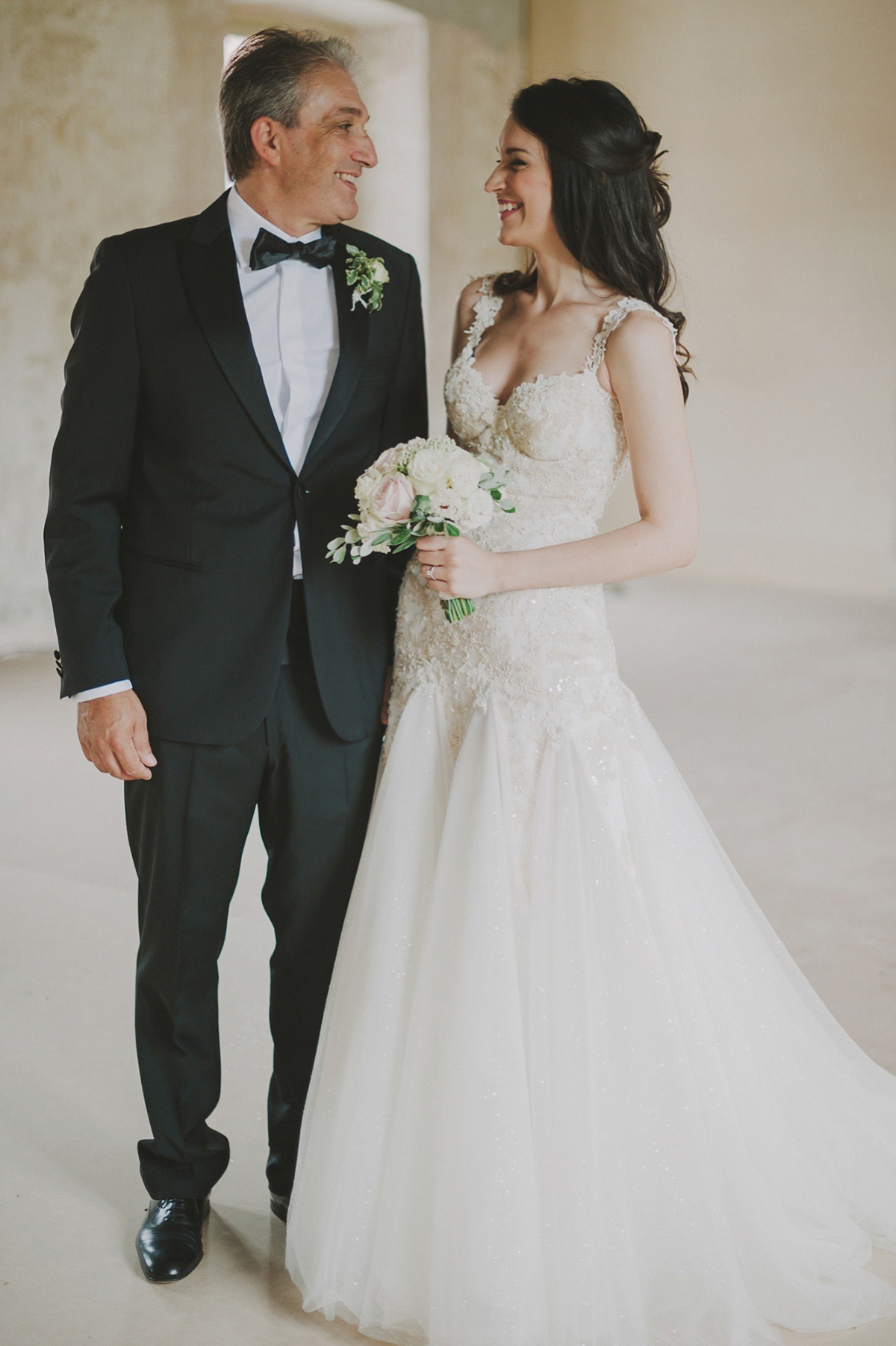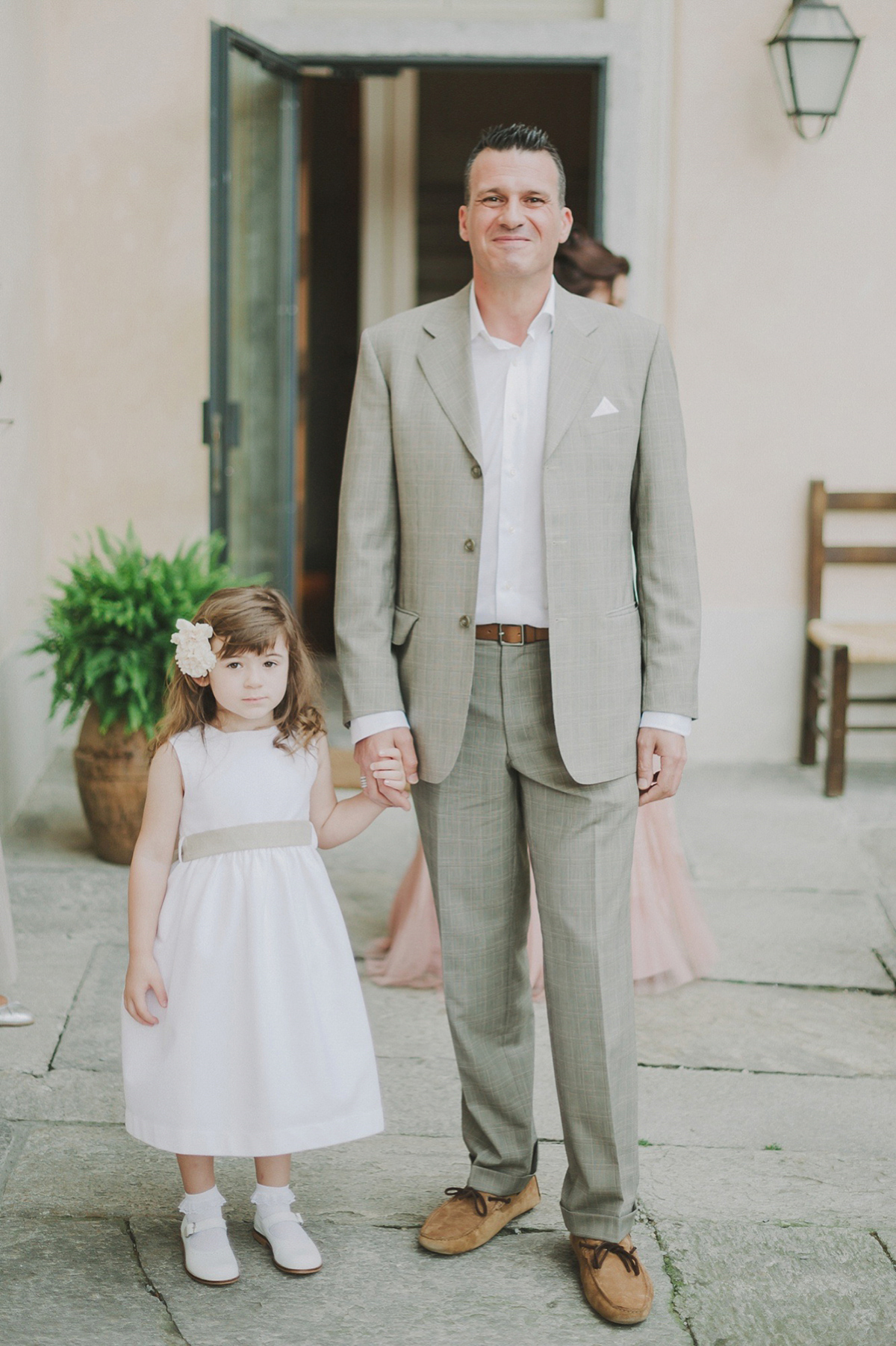 The day was planned and styled by Daniela and Paola of Centorose e un tulipano.
"Daniela and Paola instantly understood what we were looking for and were able to translate our vision into a real project.  On the day, we didn't have anything to worry about, as they ran the day flawlessly.  I didn't have to think about the time or worry about my guests because everything was managed."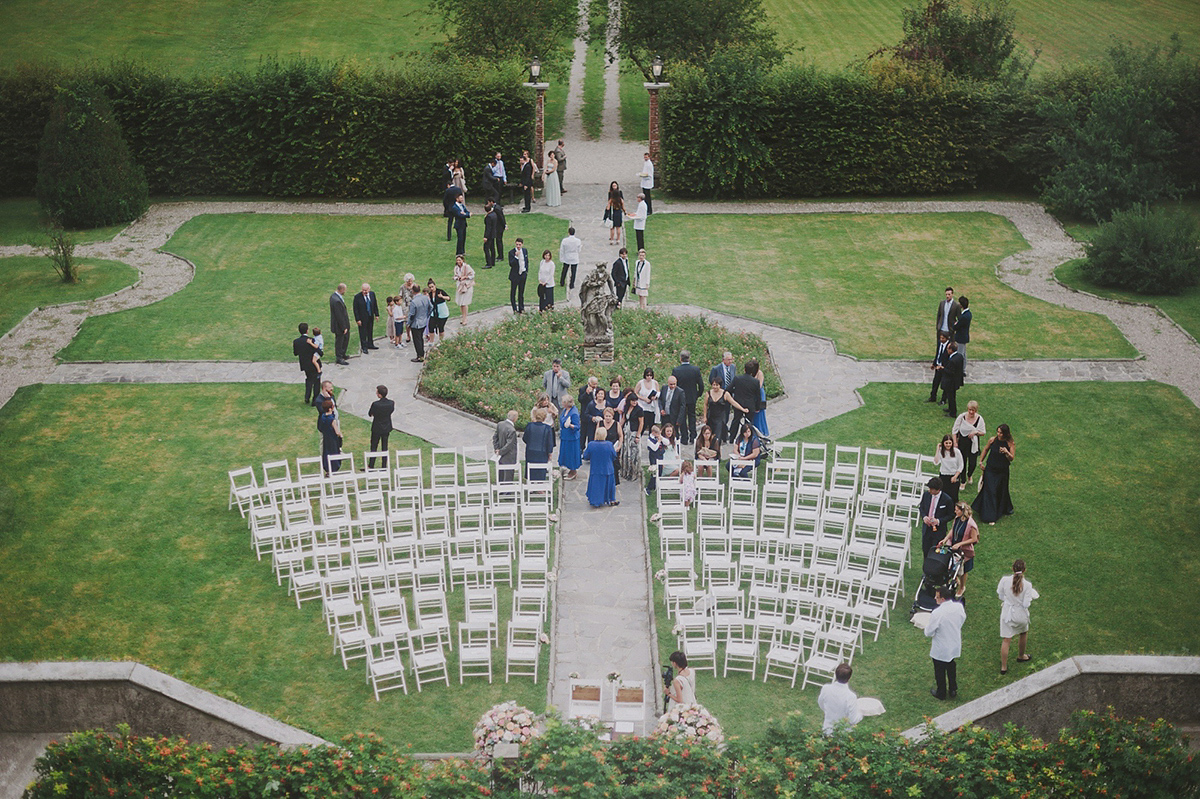 Ilaria walked down the aisle with her father to Kamakawiwo's version of 'Somewhere over the Rainbow'.
"I arrived at the ceremony on foot with my father after a long romantic walk in the wood.  My heart was beating but I couldn't stop smiling and when I saw Simone down the aisle, I understood what was really happening.  This remains the best moment of the entire wedding"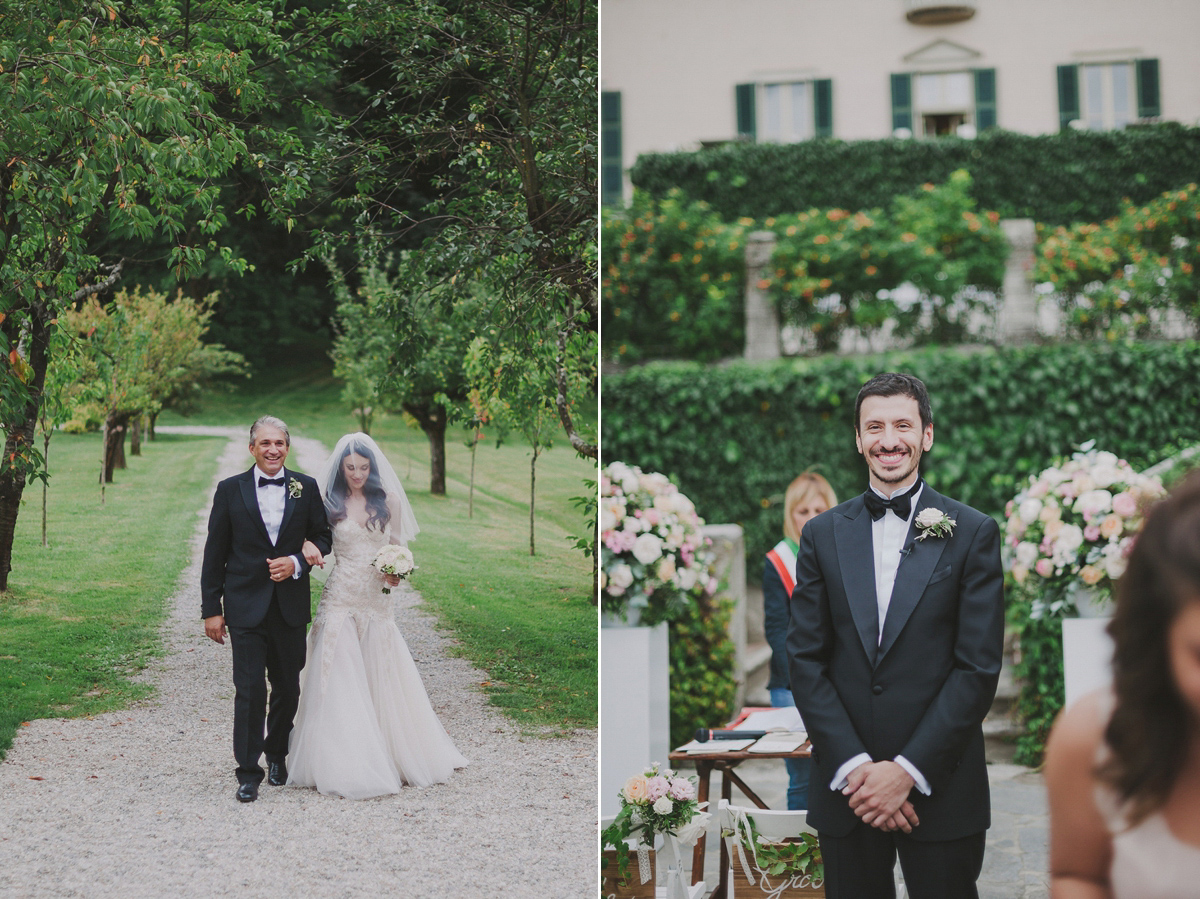 "We are both Catholic, but we chose a civil marriage. It was very intimate and getting married in the garden made it all less formal."
"I really think that the ceremony was a spread of joy and love from everybody and despite the weather, the atmosphere was perfect. We both wrote our vows. This was a very emotional and intimate moment that we shared with our families and closest friends.  Our best friends reading was an emotional speech about friendship and love."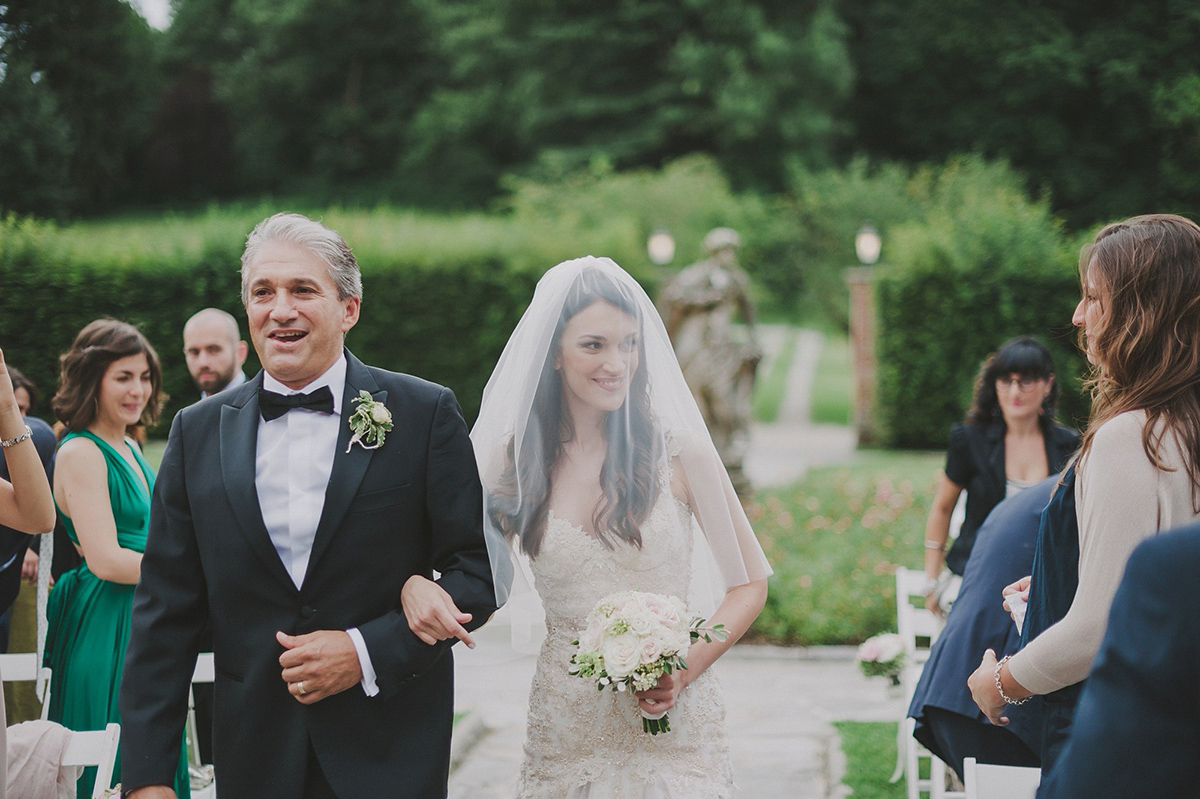 "We first met at high school, and immediately understood there was something special between us, but although it was not the right time for us to start a love story, we did not want to waste what was special between us.  We met again some years later at the gym and quite soon moved in together."
"When we got engaged it was a spring afternoon and we were walking with our two golden retrievers at the park.  Simone suggested that we play hide and seek and when I found him, he was on his knee with the ring and the dogs were wearing our initials I and S on the collars.  I took the two letters and composed my answer- SI (which in Italian means I do)."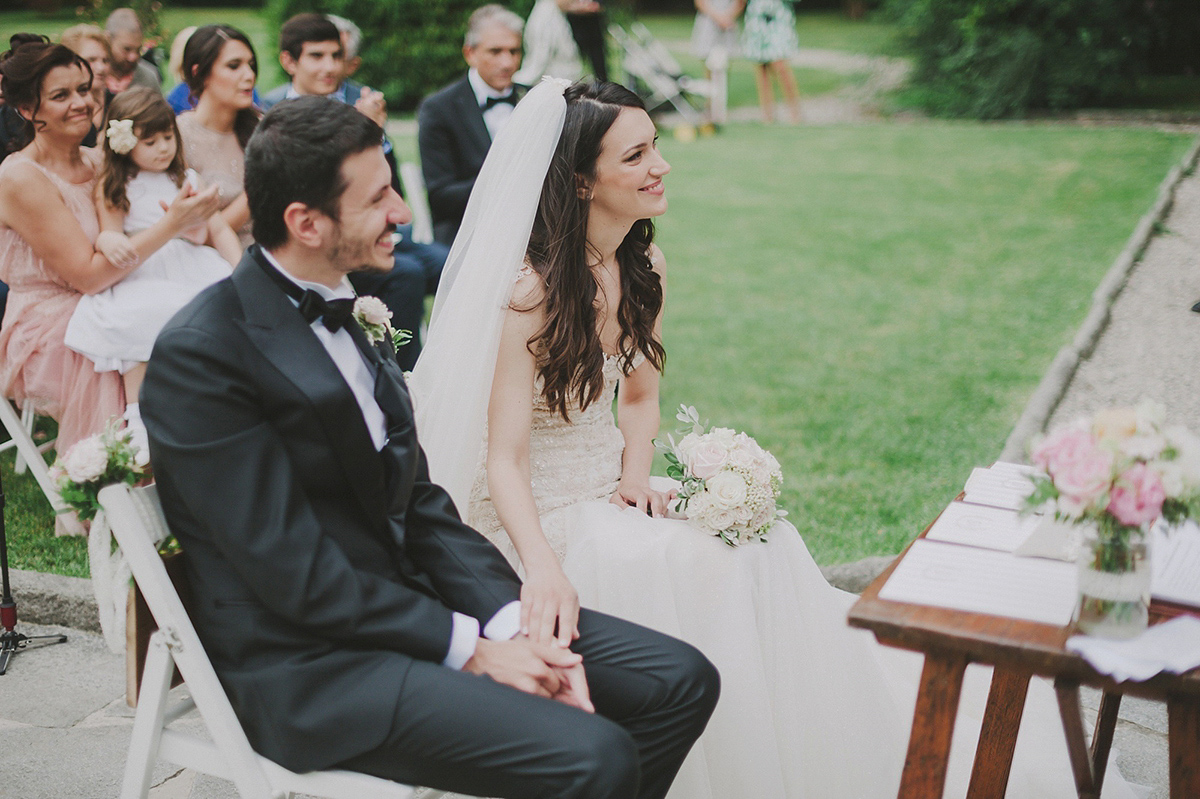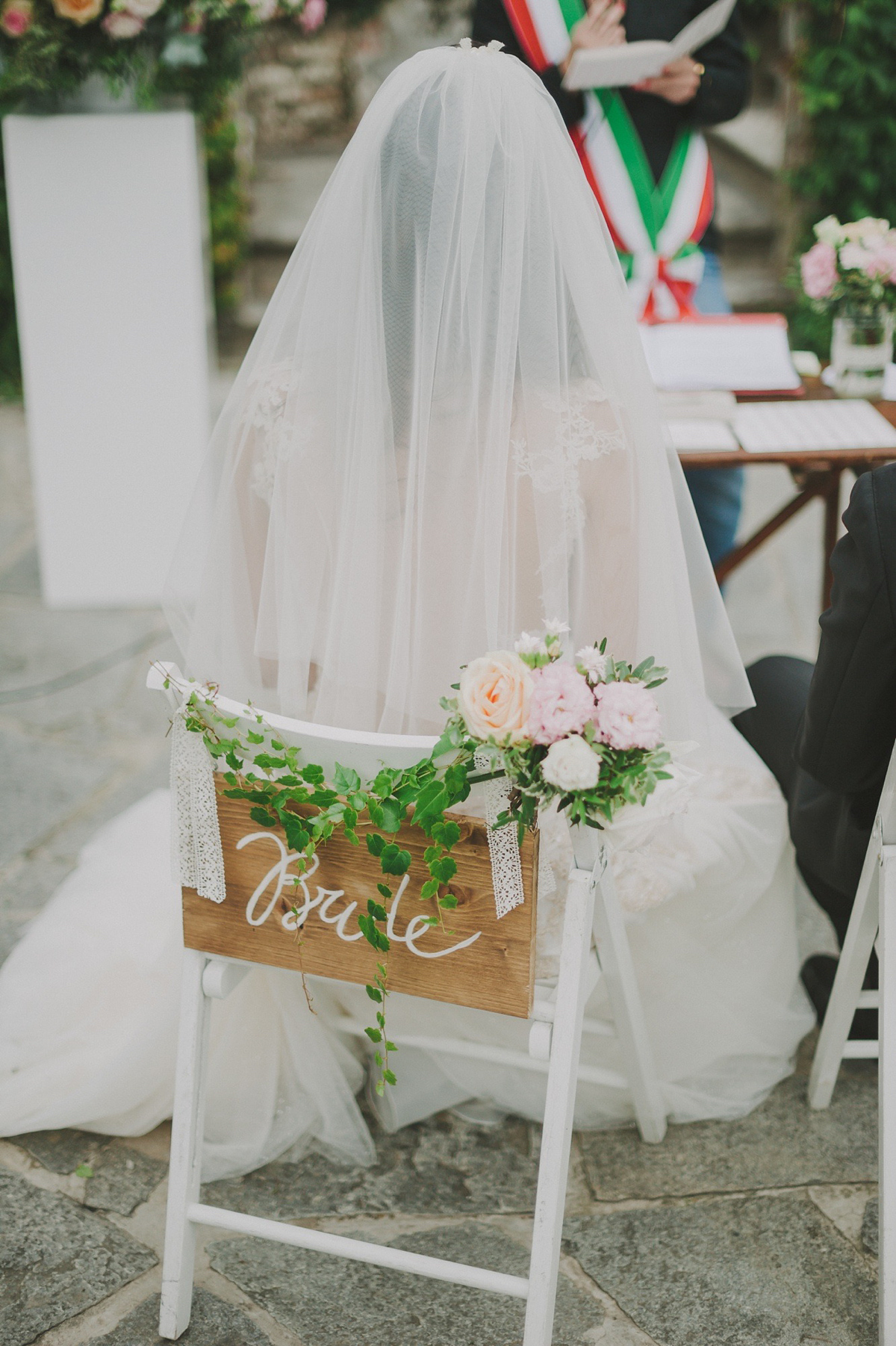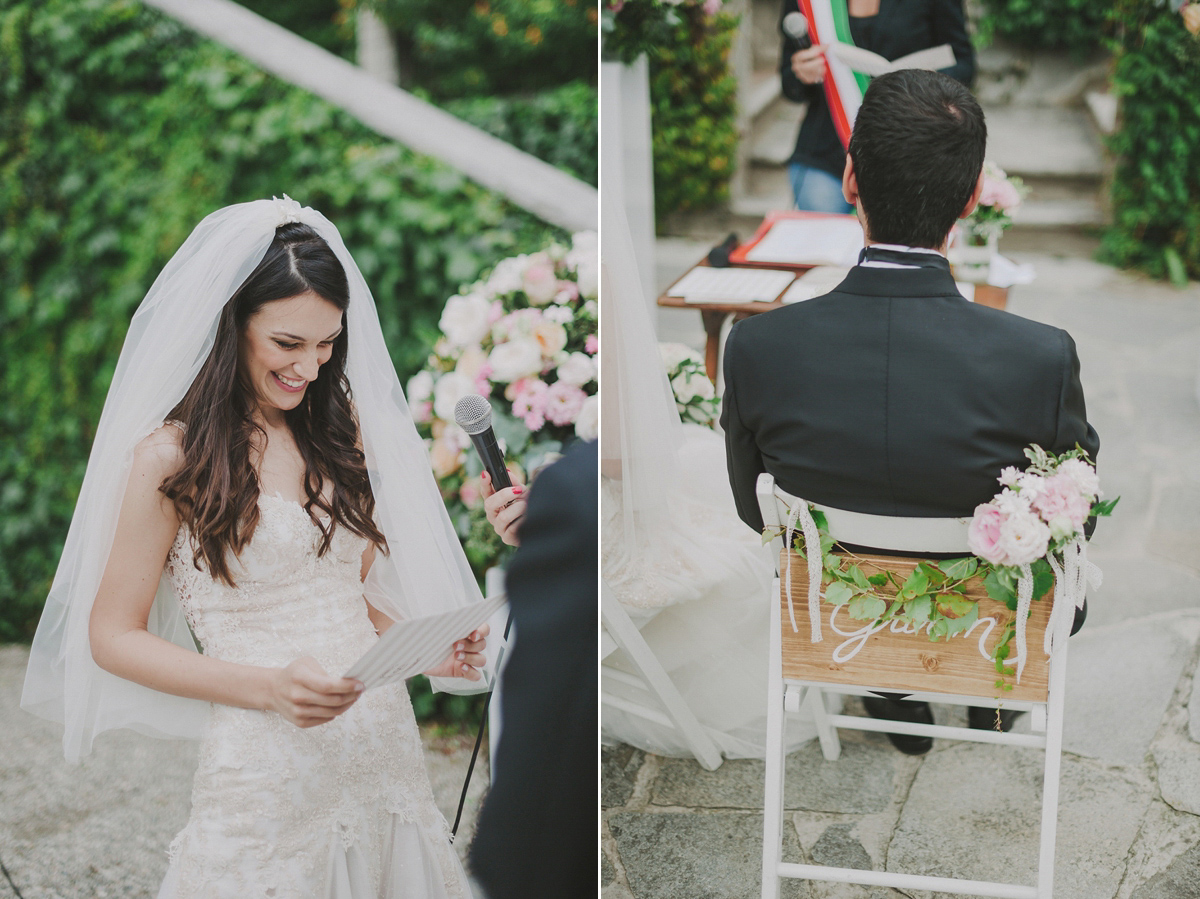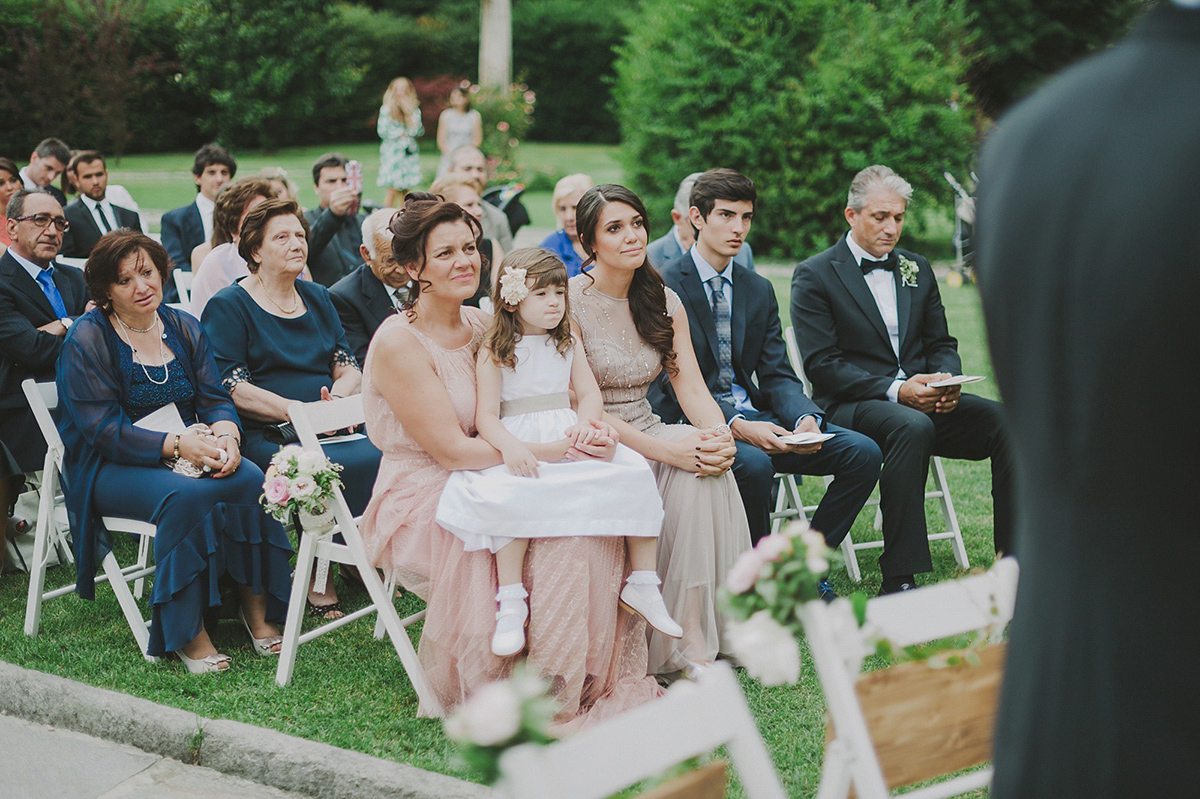 The bridesmaids looked beautiful in pastel gowns by Pronovias, with shoes by Valentino, while the little flower girl looked very sweet in a dress from Pupi Solari.  Simone looked very handsome in a suit by Giorgio Armani.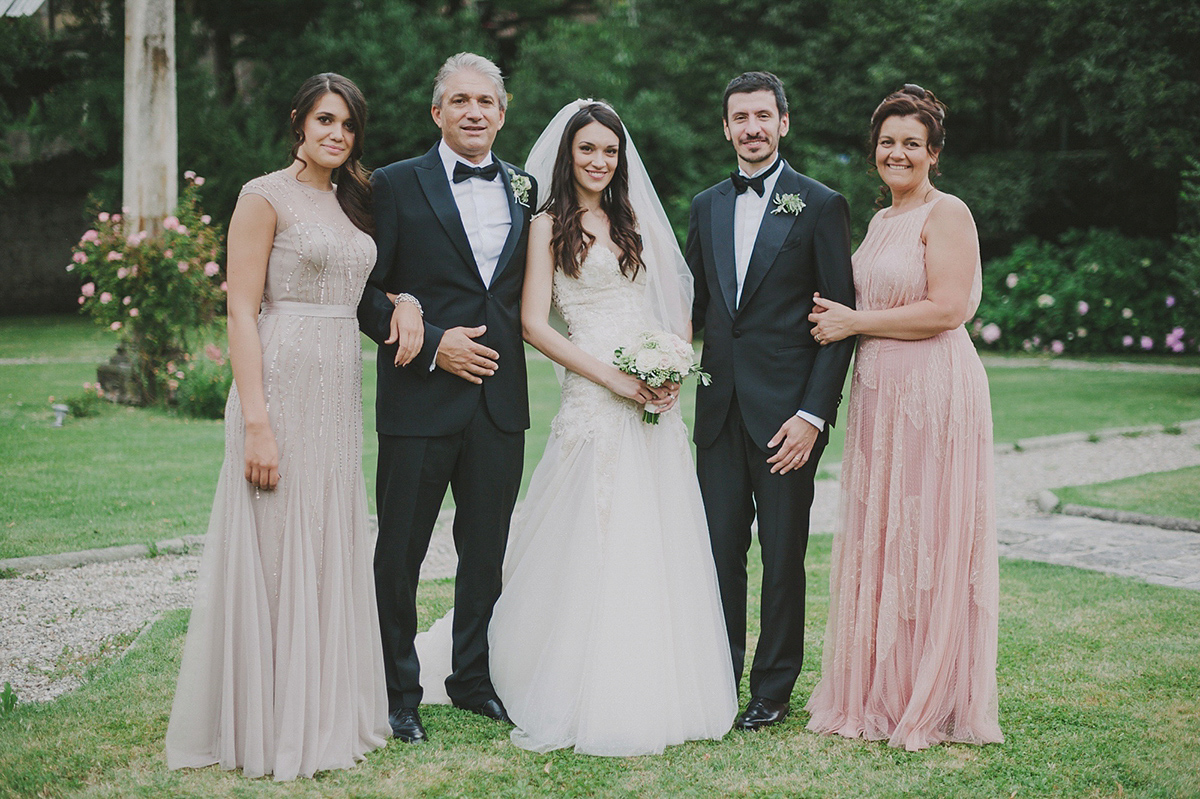 Today's gorgeous photographs are the work of Gianluca Adovasio, whose fine art style suits this romantic wedding perfectly.
"When Paola and Daniela told us about the work of Gianluca Adovasio we knew that he would be our photographer. He has an ethereal style and he captures the beauty of the day in clean and refined images.  He has a laid back approach to wedding portraits and made us feel comfortable and beautiful.  The part that we enjoyed most was when he took us in the wood. The intimacy between us was so high and we were so happy that the pictures are perfectly representative of us in that moment."
"We chose Matteo Castelluccia to film our day for the same reason as we chose Gianluca.   He has a clean aesthetic and a way to tell a story in a simple but incisive way."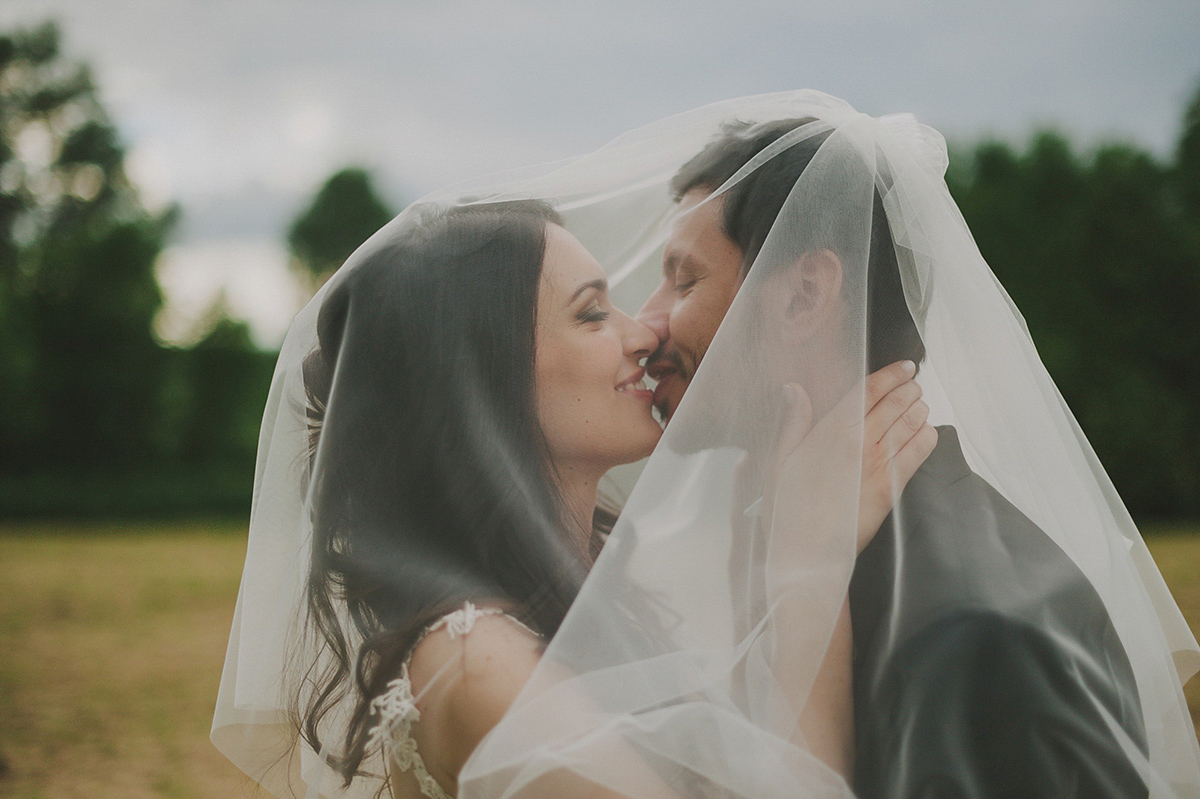 "The flowers were garden roses in pastel tones with seasonal greenery.  The ceremony was in a garden full of roses, so it was natural to choose the same colours and essence."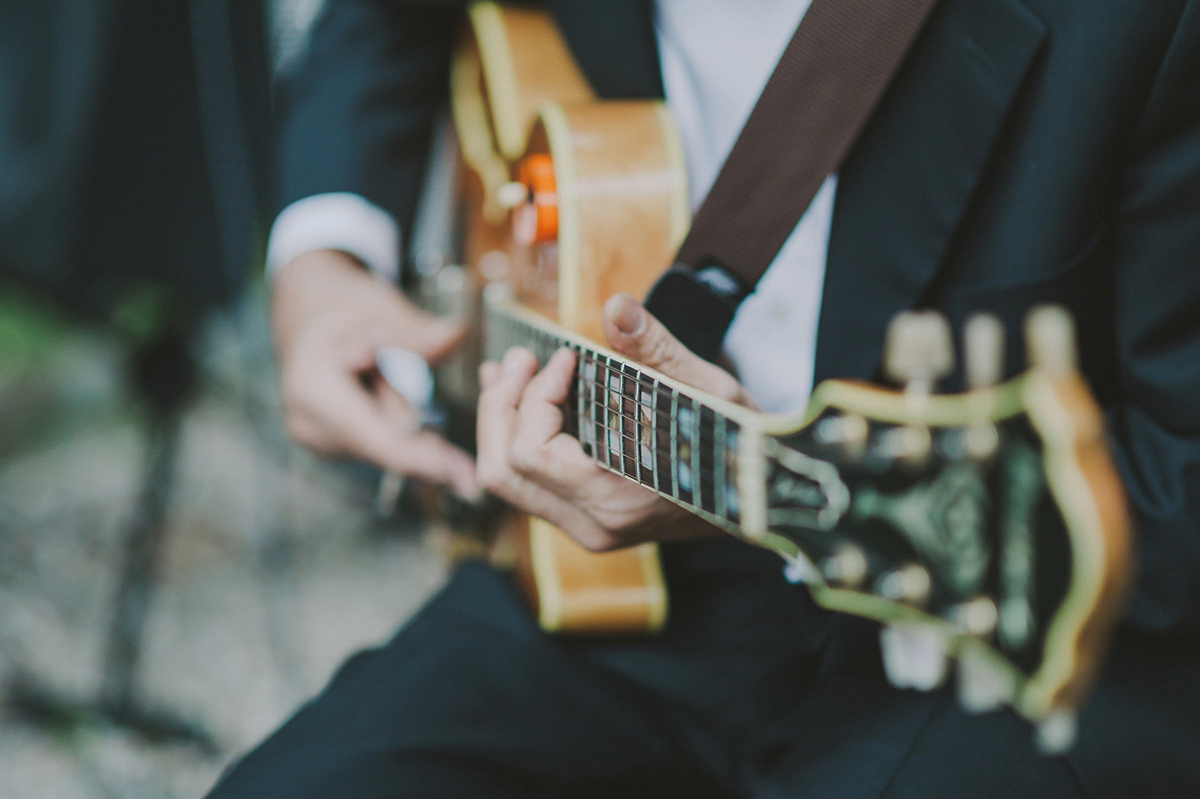 Catering was the work of Caffè Scala di Milano, who also provided the incredible cake, filled with chantilly cream and decorated with real roses.  As escort cards the couple chose tiny jars of honey, while the favours were the classic Italian confetti (sugared almonds), to keep with tradition.
Musical entertainment came in the form of a jazz quartet for the ceremony and drinks reception, while for the evening party Simone and Ilaria chose DJ Homeless to play for their guests and danced all night long.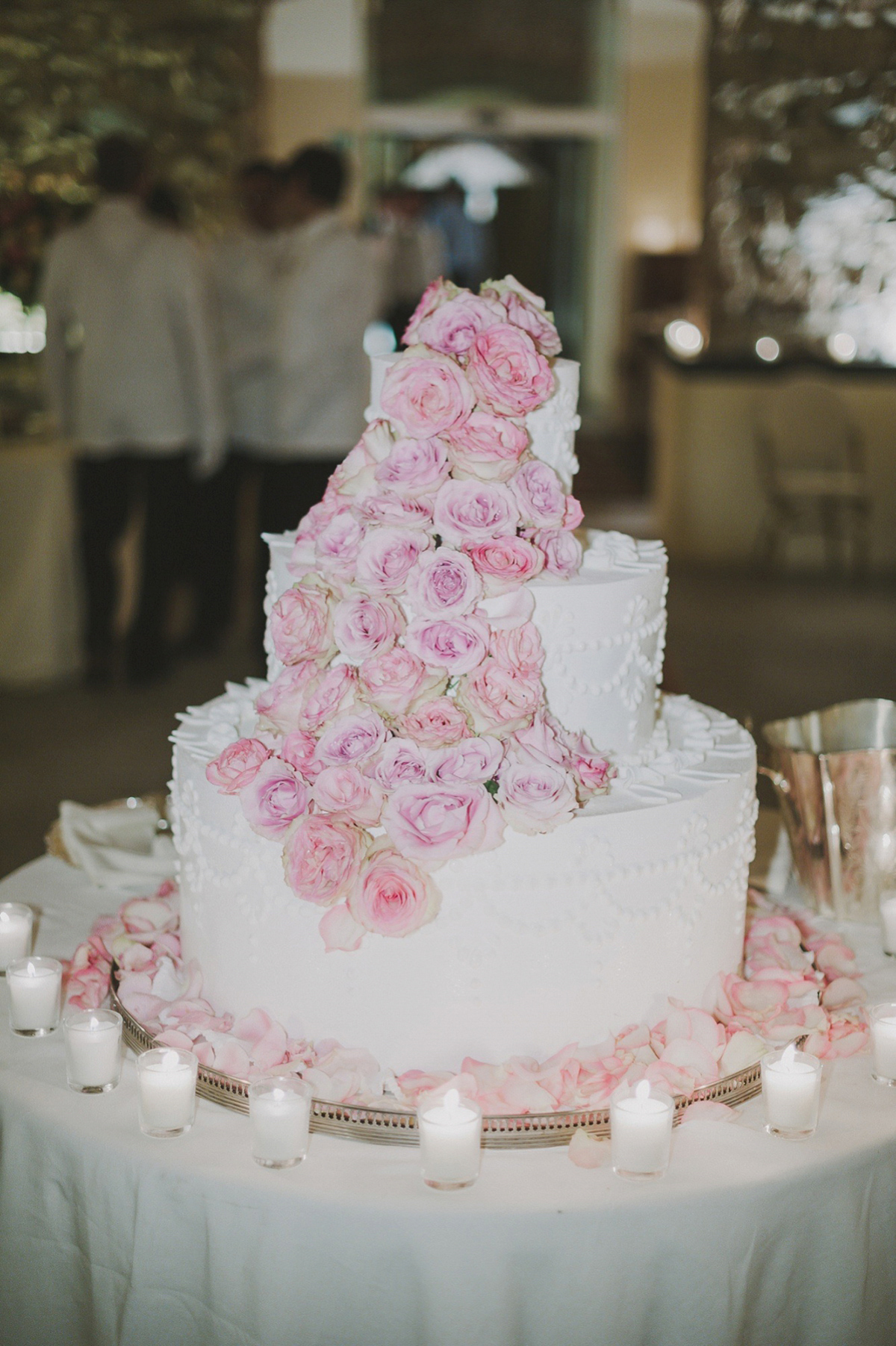 The venue was already highly decorated with frescoes on the ceiling and walls, so little additional decor was required.  Wedding planners and stylists Paola and Daniela simply set the tables with subtle lanterns and floral decor.
"We choose green lanterns as centrepieces because our dinner was originally set in the garden on a long table and we wanted plenty of candles and string lights.  Unfortunately we dined inside because we had a storm, but the atmosphere was perfect anyway."
Words of Wedded Wisdom
"Hiring a professional wedding planner was the best decision we could ever have made.  We had eight months of the planning process and were involved only in the best parts and they choose a fantastic team of suppliers, so we had the best food, music and entertainment.  
There is absolutely nothing we would change about the day, except the rain we had after the aperitif, so we could not dine and cut the cake in the amazing garden."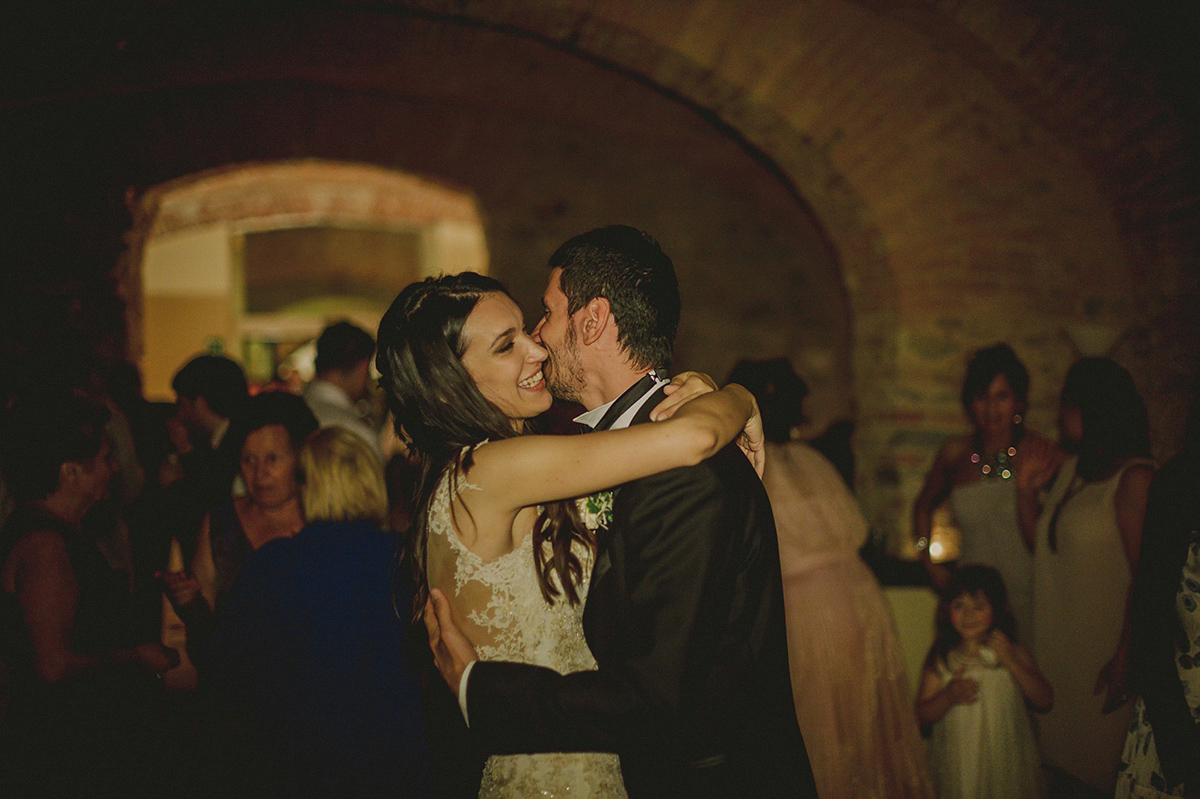 Thankyou Simone and Ilaria for sharing your beautiful day with us today.  Are you inspired to marry in Italy?  We have a whole range of wonderful Italian weddings for you to pore over with a cup of coffee and maybe a biscotti or two- why not take half an hour to yourself and have a browse?
Much love,
S x