Lovelies, there's a few moments that happen every year which completely take my breathe away. And I mean literally. Over here in Oz, winter has hit us with full force, and the first step I took outside last weekend made me head straight back indoors for my trusty layers from Gap that kept me going winter after winter in the UK. Another moment is when my family and I are just about to get stuck into Christmas dinner; every year I look around the table at their smiling faces and get all of the tingly, happy feels.
This Christmas will be very different, as my mum, dad, brother and sister-in-law will be in England, whilst hubby and I stay in Oz. Thanks to no spare money from a number of life goals we're heading towards, we're bracing ourselves for a quiet Christmas (with hopes of being adopted by friends to join them for lunch, otherwise it's beans on toast). But don't despair lovelies, in July my amazing family will be throwing hubby and I a very early Christmas dinner, so I will get to experience that warm and fuzzy feeling, bless them.
As you can probably tell by now, I *love* Christmas time, just like the gorgeous couple featured here. Zac and Rachel tied the knot on the 11th of December 2016 at St Lawrence's Church, before having their reception at Cooling Castle Barn in Cooling, Kent. They were keen to get married in the church of the village where Rachel grew up and Zac had also spent the year living in when he was at law school, and marrying at this magical time of year gave them an instant theme.
"Christmas was definitely the theme of the wedding – we tried to keep it as sleek and minimalist as possible with an overarching grey and silver theme, however sometimes I would get a bit too excited and a few elements were very sparkly! We never thought we would have a December wedding but we *loved* the venue and we love Christmas, so we said yes."
Photography by Alex Tenters
Naomi Neoh is a treasured member of our Little Book for Brides bridal directory (see the listing here) and creates utterly exquisite dresses from a bygone era. Rachel chose the effortlessly elegant 'Fleur' style with a fitted bodice, full skirt, and a long-sleeved removable lace jacket, giving two looks in one. She also added a Naomi Neoh belt and flowing veil.
"I had screen-shot my Naomi Neoh dress four years ago and was completely obsessed with it. I didn't realise until my first time trying it on that the lace top was a jacket. The possibility of having a different look for the day and night was very cool."
"I tried it on at the Naomi Neoh store in London and then purchased it at Isabella Grace Bridal. I went back into her main store to order the veil and Marlene belt. Isabella Grace recommended Miss Kay Seamstress for all alterations. Martine and her team were amazing – I had 4 fittings and nothing was too much effort for them!"
"I absolutely loved having Kirsty McCall do my hair and make up. I had been following her Instagram for a while before I got engaged so as soon as we had a date for the wedding she was one of the first things I booked, along with photography, as I know she's in demand like Alex is!"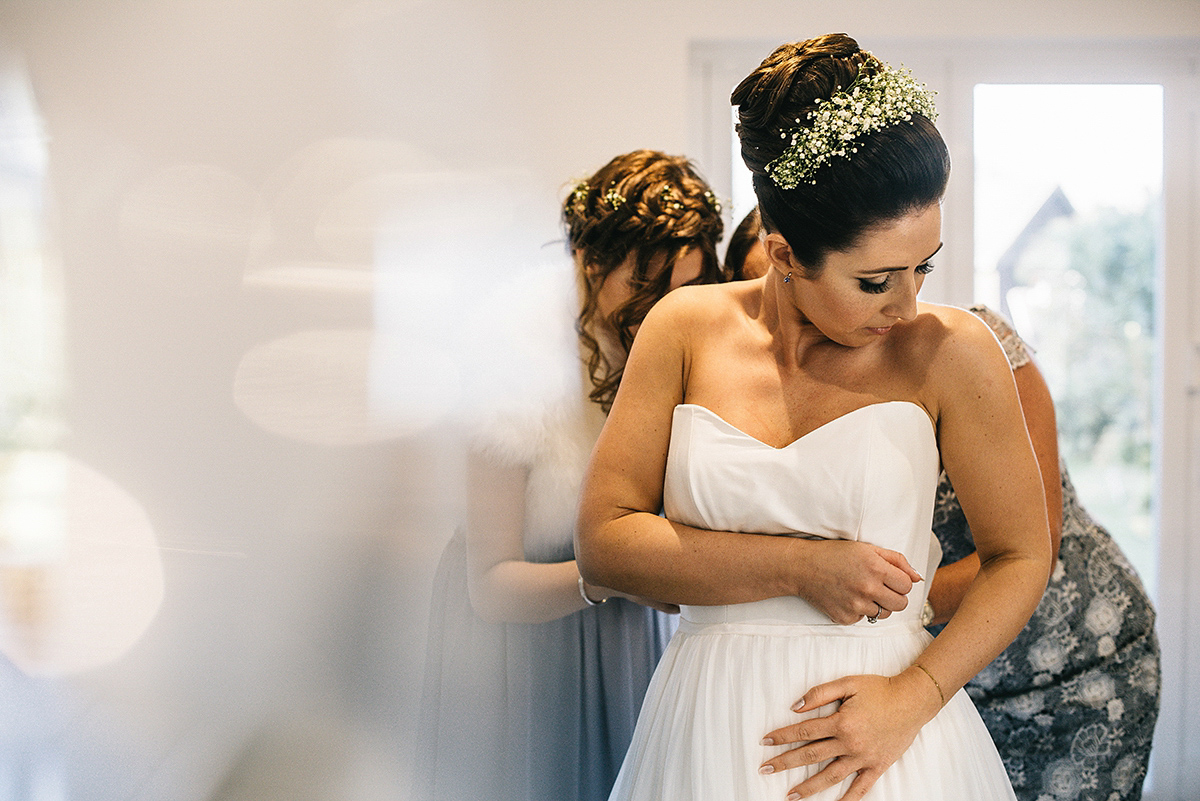 The floral displays were by Linda Barton from Flowers by Linda, with Rachel keen for simplicity.
"We wanted to keep flowers as simple as possible. I've always loved gypsophila and thought it would look great for a winter wedding. As it was advent, we couldn't leave flowers in the church, so we needed to have something that we could move in and out quite quickly. I had seen another Love my Dress weddings with wreaths and thought it would be great to have gypsophila wreaths down the aisle."
"I added a pair of sparkly Jimmy Choo heels, fresh gypsophila to my hair, and a spritz of J'adore by Dior, as I wore this on my first date with Zac. My mum gave me a bell necklace as my something old (it has sentimental value as she was given it by her godmother and she was going to ring the bells in the church) and I wore it as a bracelet – and Zac bought me diamond and tanzanite earrings as my something new and blue (from Browns Jewellers)."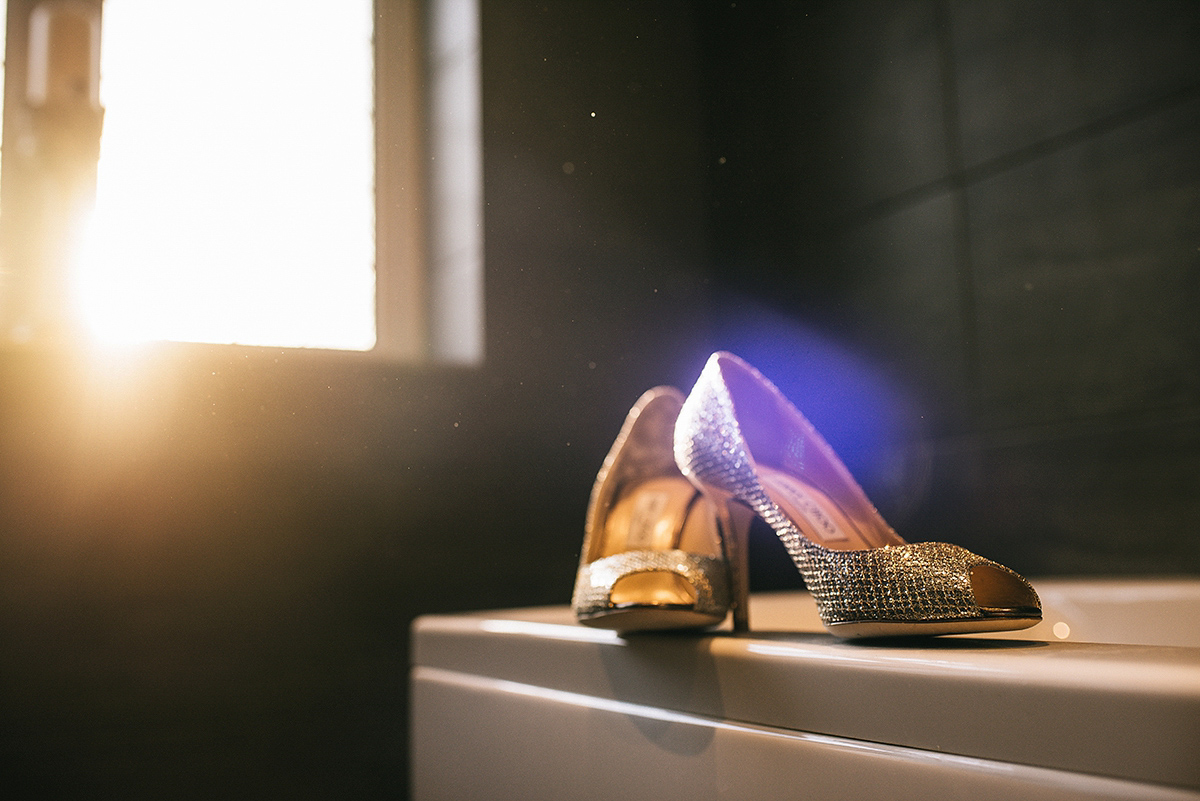 "Zac and I met at Manchester University, as my Dad fondly recounted in his wedding speech. The one thing he said to me when he dropped me off in the first year was "Don't bring back a Northerner", but I did exactly that! We had been dating for 6-and-a-half years before we got engaged. As I'd been working for a wedding magazine (Brides) I was obsessed with weddings, so I think I really peaked with wedding planning even before we were engaged. When we went for a viewing, Cooling Castle Barn is so popular they only had two available dates for the following year – one of which was December."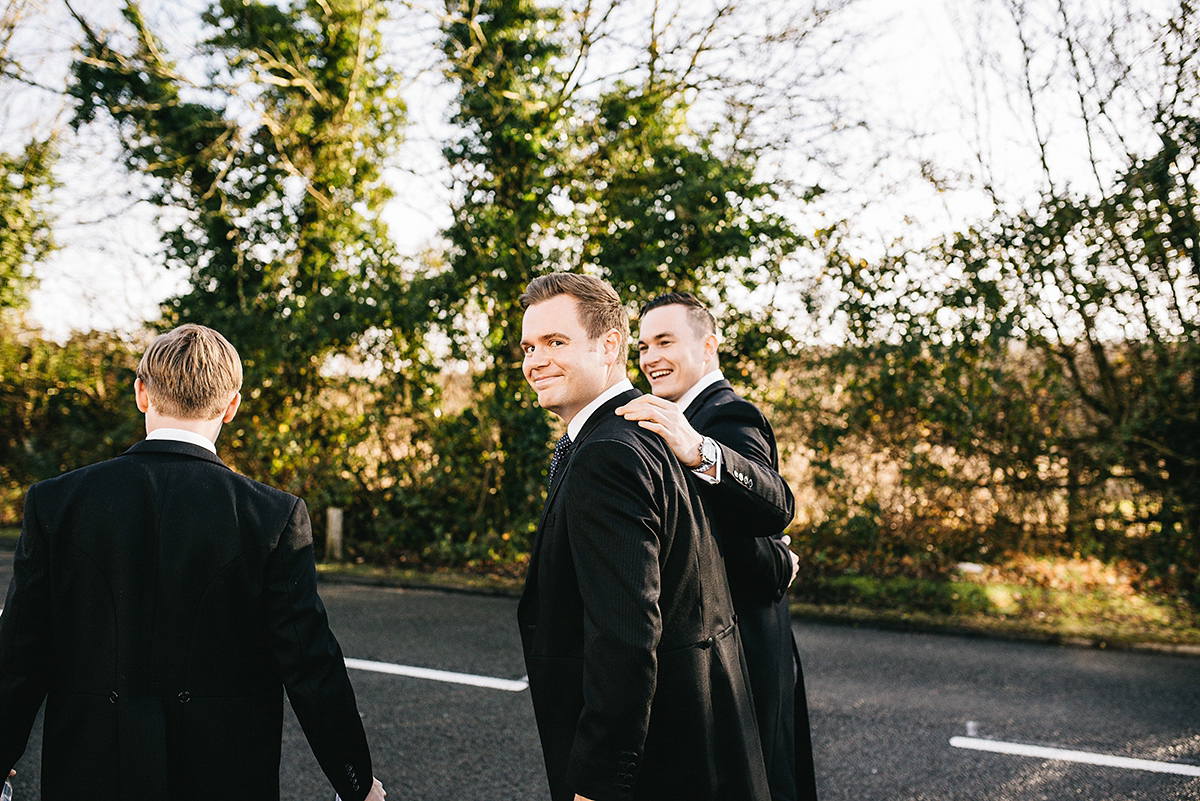 Rachel's beautiful bridesmaids donned floor-length 'Little Mistress' gowns in grey from House of Fraser with embroidered tops; worn with their own shoes and a silver bracelet from notonthehighstreet.com that Rachel gifted to each of them. They also added cute and cosy shrugs to stave off any wintery chills.
The winter sunshine streaked through the church windows during the couple's ceremony, as you'll see in these stunning shots by Alex. Aren't they utterly beautiful? And I just love these images of the emotional groom as he awaits his bride.
"My daddy walked down the aisle to 'Canon in D' by Johann Pachelbel. Walking down the aisle and looking at Zac who was crying (I have literally never seen him cry). It was an incredibly intimate moment – despite the fact we were standing in front of 150 people."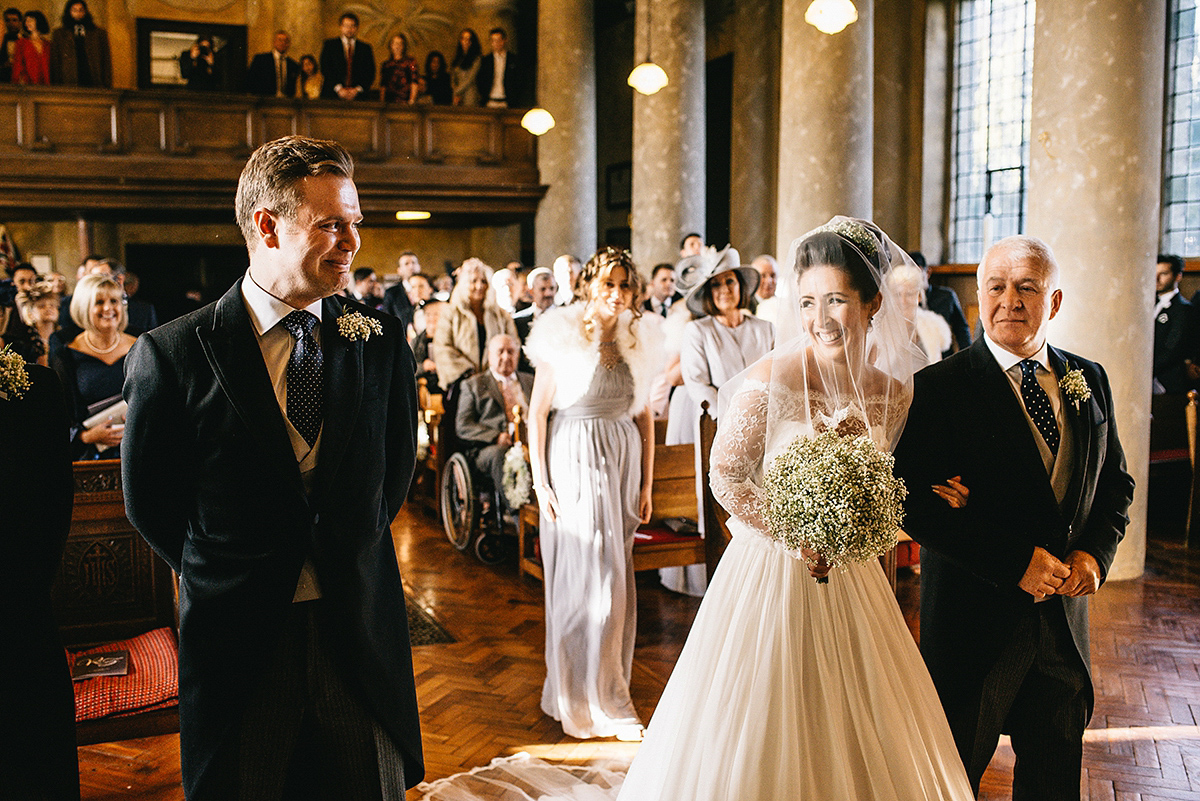 "I have grown up with my maid of honour/best friend's family – her two younger sisters are incredible musicians – and it meant a lot to me that they offered to organise the music at the church. Sarah had also created a bespoke arrangement of John Legend's 'All of Me', Des'ree's 'Kissing You' and Christina Perri's 'A Thousand Years' while we signed the register, which was incredibly beautiful! We left the church with the traditional wedding march played by Sarah on the organ.
We wanted to keep our vows very traditional and had two readings: 'I love you', by Roy Croft (I had seen a quote from this before we got engaged and loved it) and 'Song of Solomon 2.10-13; 8.6,7' – we knew we wanted one religious reading and we really loved the words."
"My ring was from Browns Jewellers in Westfield White City (the same as my engagement ring) – I have always loved their jewellery and loved how the wedding ring fitted nicely into the engagement ring. Zac's ring was from De Beers – he wanted a gold ring with a very contemporary shape and De Beers had a slim line gold band which was perfect."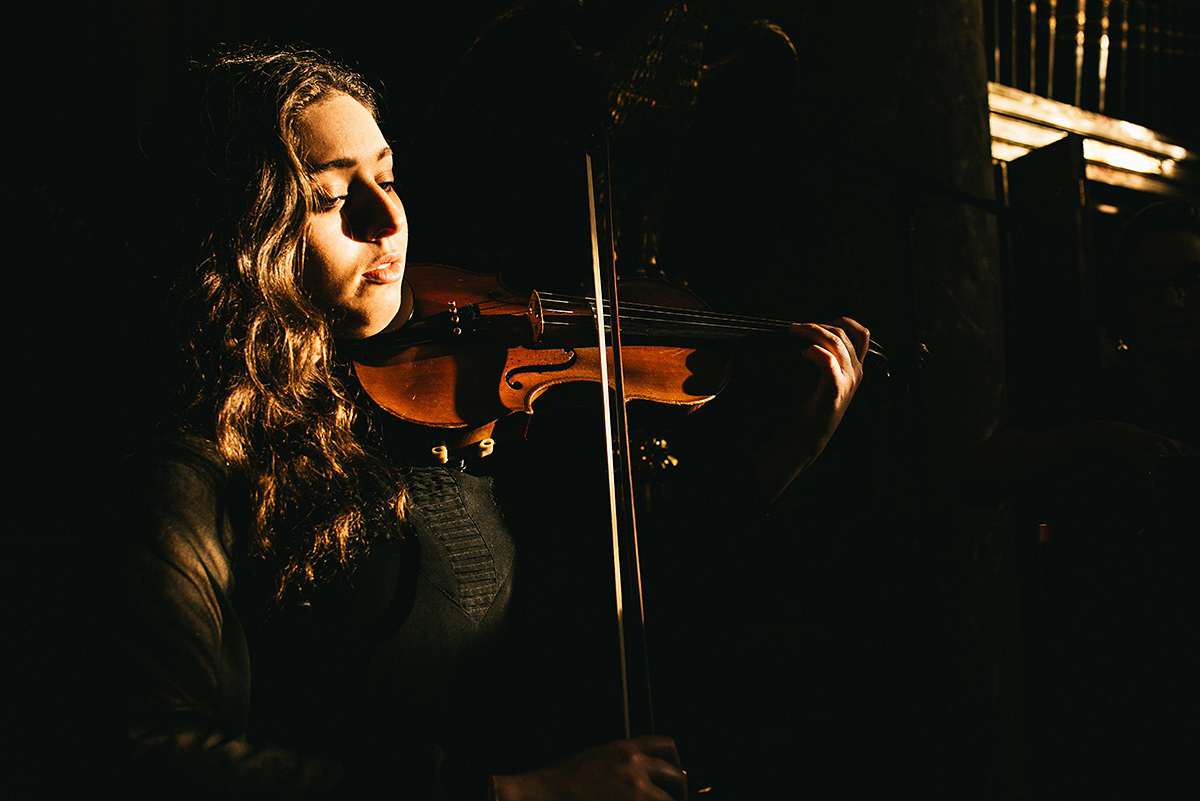 The best men, usher and father of the bride wore suits rented from Neal & Palmer. Zac wore a three-piece morning suit from Favourbrook, with Montblanc cufflinks, a Hackett tie, Crockett & Jones shoes, and a Thomas Pink shirt. Such a stylish bunch!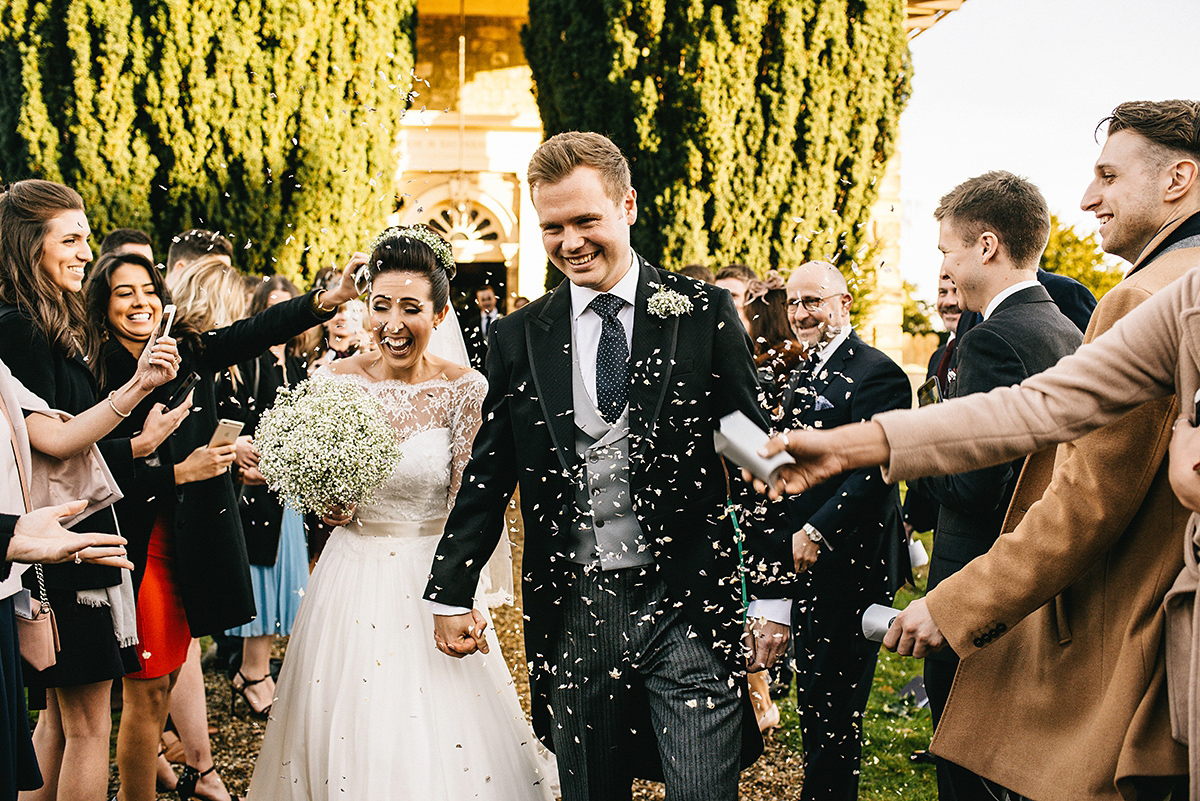 The couple hired double decker buses from The London Bus Company and joined in the frivolities on the trip from the church to the reception.
"Zac and I decided we didn't want to miss out on any of the fun of our day and hated the idea of being away from our guests for the 40 minutes from the church to the venue, so we thought it would be great to get 2 London buses. It also meant we could have a little bit of London at our very countrified wedding. The London Bus Company was great."
 Rachel found Love My Dress very helpful with winter wedding inspiration, and as a project manager, took to the task with total aplomb.
"During the planning, I loved the real wedding features of Love My Dress and trawled the winter wedding section for inspo. I am a project manager so *loved* every minute of planning. I even made a call sheet for the wedding day as I would a shoot, which Alex our photographer and Zac thought was hilarious!"
"We absolutely loved having Alex of Alex Tenters Photography as our photographer. Zac and I are always incredibly awkward around cameras, but as soon as we met Alex at our engagement shoot we felt instantly at ease. He felt very much a part of the wedding party and we didn't stop laughing the whole day. I've already recommended him to all of my friends getting married – he is amazing!"
"We loved the idea of having our reception in a barn; having been to other barn weddings they always create such a wonderful warm party atmosphere and this is something we really loved! We also *loved* the castle front so we felt it gave us a bit more drama than a normal barn wedding. Size was also a huge factor, as we knew we had a rather larger wedding party (up to 180 in the evening) and Cooling could cater for this, which was great!"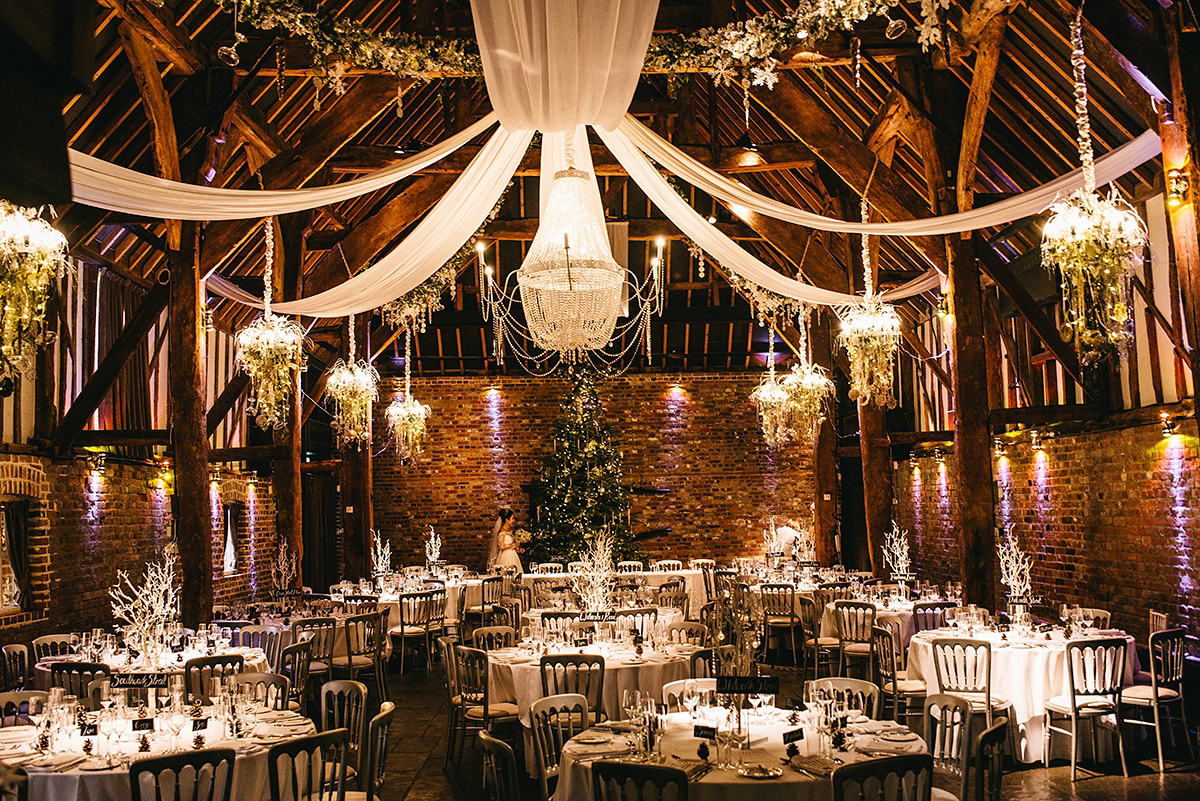 Rachel and Zac, I hope you don't mind if I steal your awesome little white trees idea for my little Christmas-in-July celebration?? I just adore all of these very Christmassy styling ideas for the tables.
"For the centrepieces we bought white trees from Hobbycraft and decorated them with Christmas decorations, such as handmade Swarovski crystals and baubles to continue the Christmas theme. For the individual name cards, we collected pinecones over a couple of months – and left them to dry – then we drilled a hole in them and added provision pins (to secure the name card). I watched a YouTube video on calligraphy and hand wrote everyone's names. For the table names, these were originally candleholders that we cut up and added a wooden panel. We used blackboard paint and then sprayed the bases silver."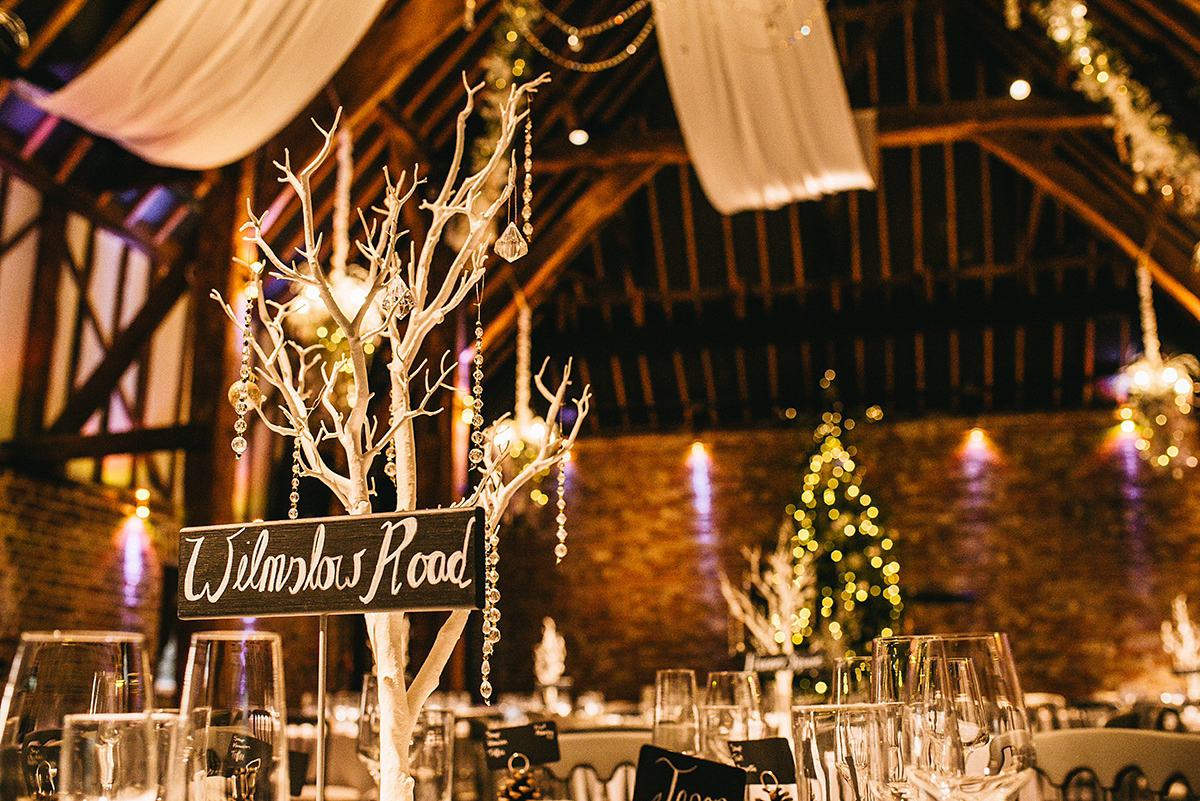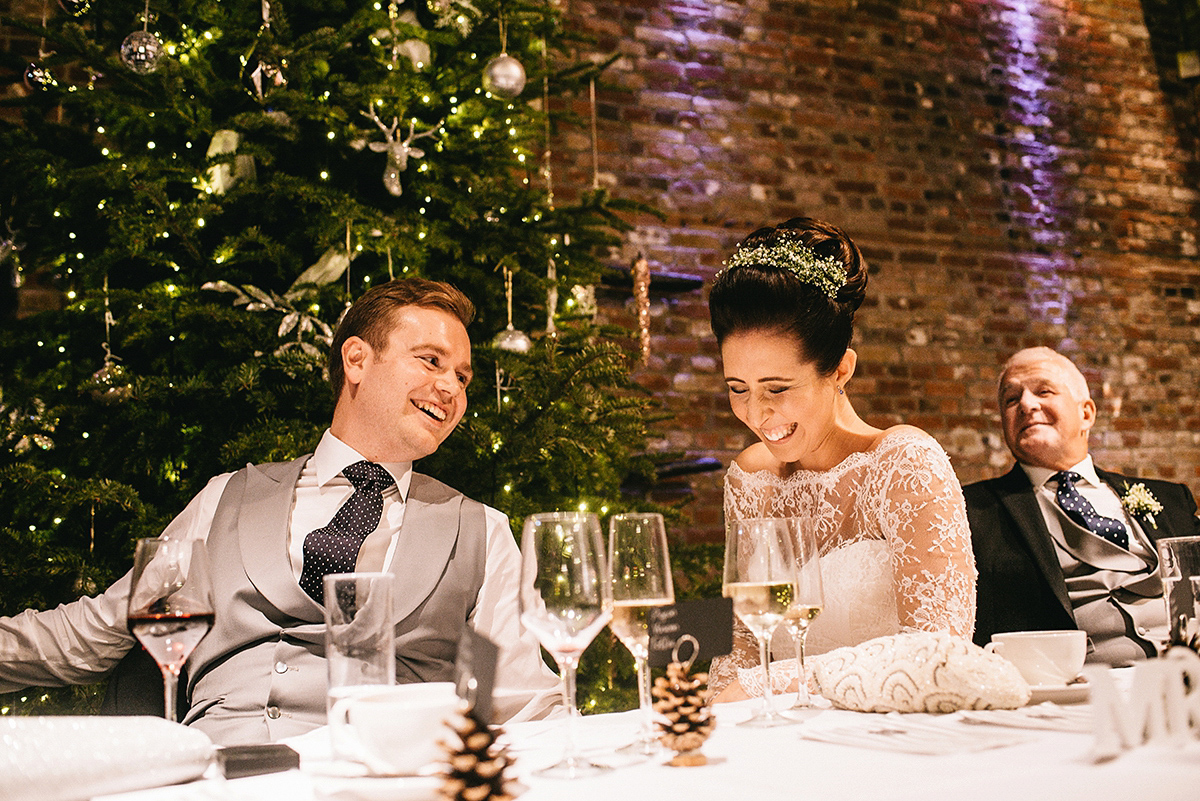 "My mum made our cake. We were keen for it to be as minimal as possible as we knew the venue decoration would be very out there. We had seen a cake in the Peggy Porschen book with a large white sugar craft rose on the top and we loved it! Equally we knew we wanted it to sit on a rustic base – so my dad went to a local timber yard and he sterilised and sanded it for us."
"Music was really important to us and one of the first things we booked. I found The White Keys crawling through YouTube one Sunday and became obsessed with how cool they were. We definitely blew our budget on them, but it was worth it!"
"Our first dance was to Jamie Callum's 'I Think, I Love' – we've always been huge fans of Jamie and this song reflected the feelings that Zac and I have toward each other."
It's not a winter wedding without the best thing about this time of year – snow! – so the couple organised the most brilliant surprise for everyone. I wish I'd been in the room the moment this happened!
"One of the things that I loved the most about our wedding is that we had a surprise snow machine at the end. We didn't tell anyone about it – but it was *so* much fun. It came on alongside Mariah Carey's 'All I want for Christmas' and I don't think we will ever listen to that song without thinking about how fun that moment was!"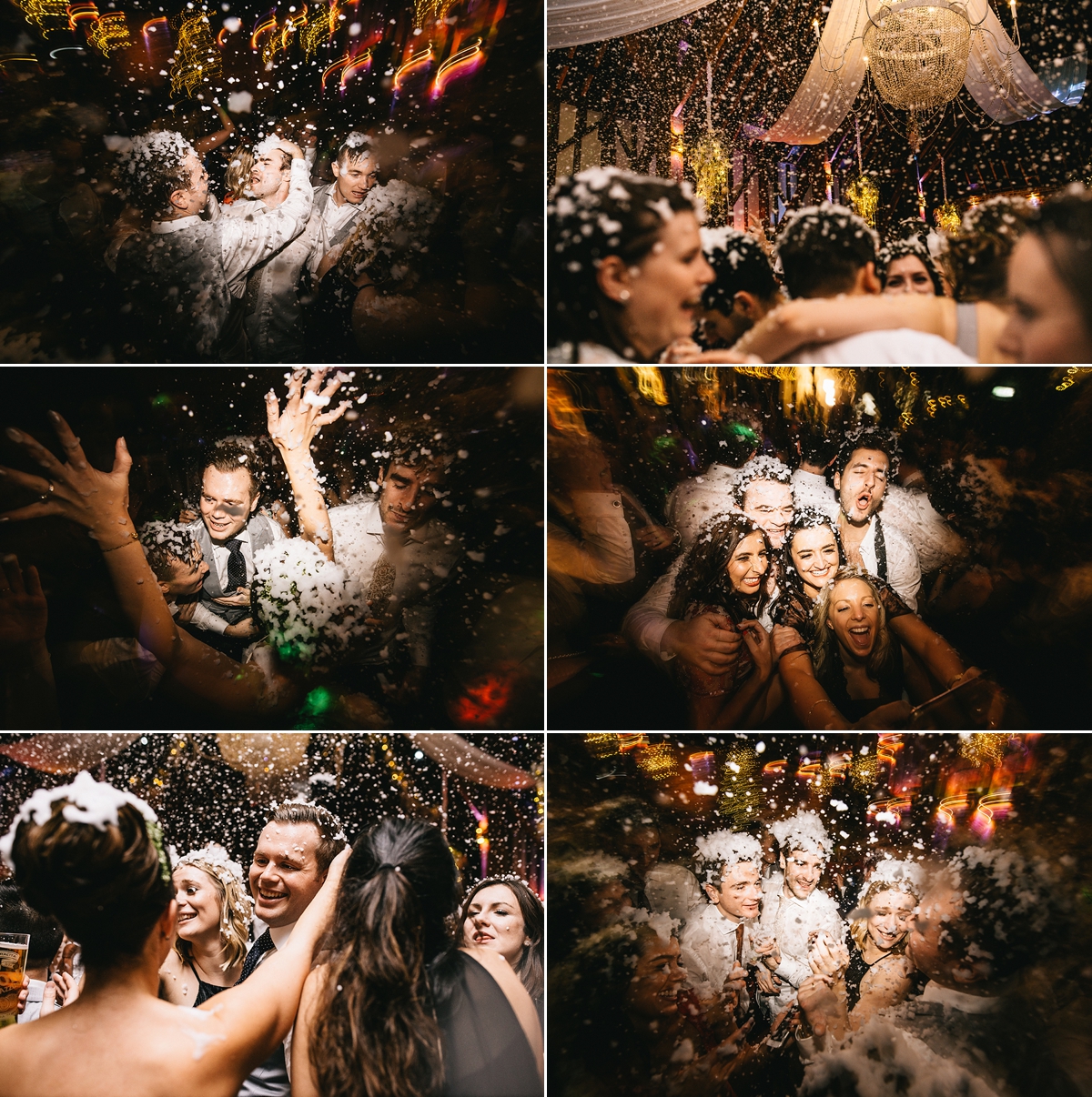 Words of Wedded Wisdom
"Savour every moment of your wedding day, as it flies by so, so quickly. Spend time identifying a wedding photographer who you feel comfortable around and whose portfolio you love.
One of the hardest parts of wedding planning is deciding on your guest list and often there will be people who you would like to invite but cannot accommodate e.g. your friend's boyfriends/girlfriends. If you can accommodate them then great, but if not, don't worry too much about it. Just let your friends know. People seem to understand that numbers are limited and are generally very good about it!"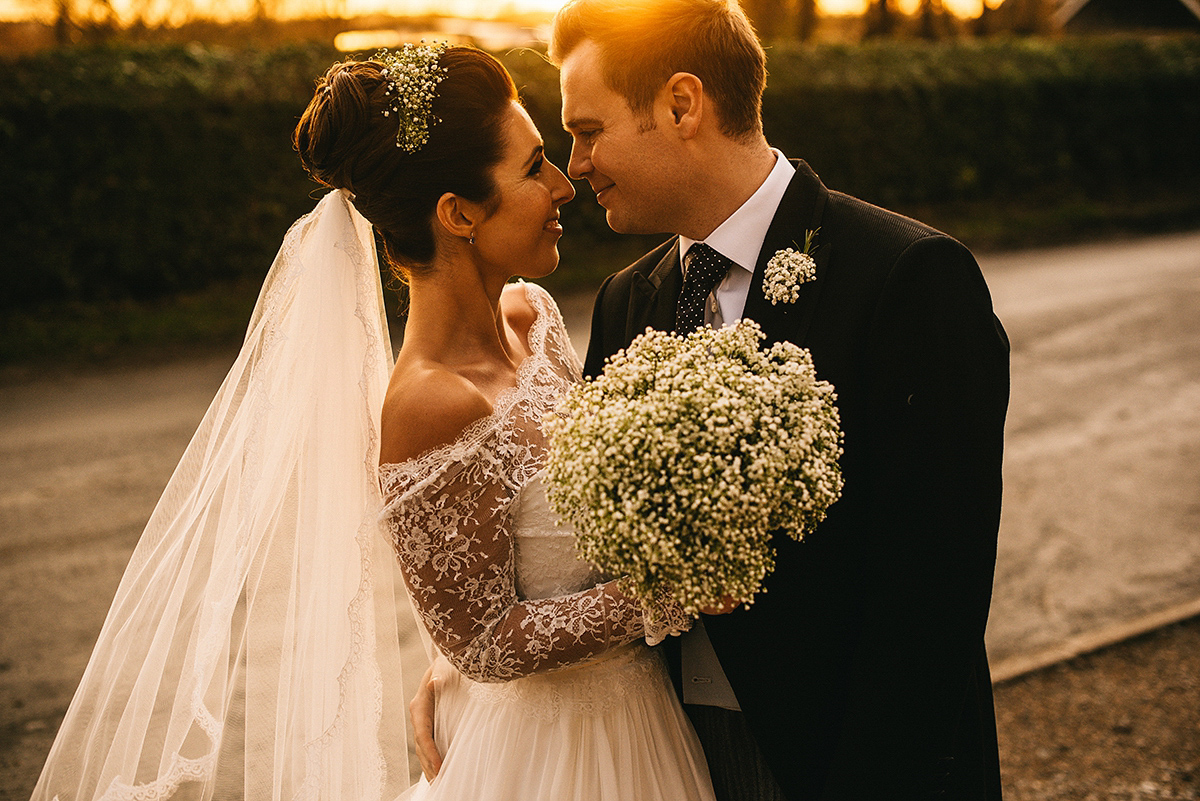 Thank you Rachel and Zac for transporting me to your snow-filled, cosy, and utterly divine celebrations – the shots by Alex are incredible and I feel very chuffed to have been able to share your big day with our readers.
Are you thinking of a winter wedding? Take a peek here to see more delightful days from our extensive archives. I'm off to pop on some festive tunes to truly get in the mood for the upcoming Failes family feast!
Love Jo -xo-