Hello! I can't believe we're in August already, the summer is whizzing by, I hope you've all had a chance to enjoy some downtime. Now, the stunning wedding of Mr & Mrs Hopkins-Parkinson is sure to provide inspiration for those of you in the planning stages.
Lucy, who works for a charity married Budge (Brian), who works in sales on September 17th 2016, at St. John the Evangelist Church in Elkstone, next door to her mum and dad's house, and conducted by the groom's dad. They celebrated their wedding at the gorgeous Cripps Barn in Bibury.
"It felt very personal to have our wedding at the local church, and getting ready in my old bedroom, with my family around me. Brian's father is a minister so it was important for us that he could be involved in the ceremony. The local parish were very supportive, the minister and Budge's dad conducted the ceremony together, which was lovely. For the reception, we only looked at two venues before we both fell in love with Cripps Barn. It's simple and really spoke for itself."
Images by O&C Photography
Mrs Hopkins-Parkinson's stunning dress is by the inimitable Alan Hannah. With just a delicate veil and gypsophila in her hair, it looks absolutely amazing on her.
"They do say you often don't choose the dress you imagine yourself in, and that was definitely the case with me. I had this idea I'd go for a sleek, boho, ethereal lacy number – something very cool, that made me look like I'd thrown it on and spent the last three hours bounding through a wood with faeries. I tried on about three of these dresses, but I just didn't look like me, and I wanted to walk down the aisle looking like me. When I explained what I wanted to Lauren ('simple, not fussy, pretty, but not girly, classic but not glamorous), she picked out my dress in about two minutes.""Budge and I met in our first year at Loughborough university, and have been dating for eight years. We moved south to work in London five years ago and live in St Albans together. On May 2nd 2015, Brian re-created our first date, then proposed at midnight, in the rain outside the flat we had bought together."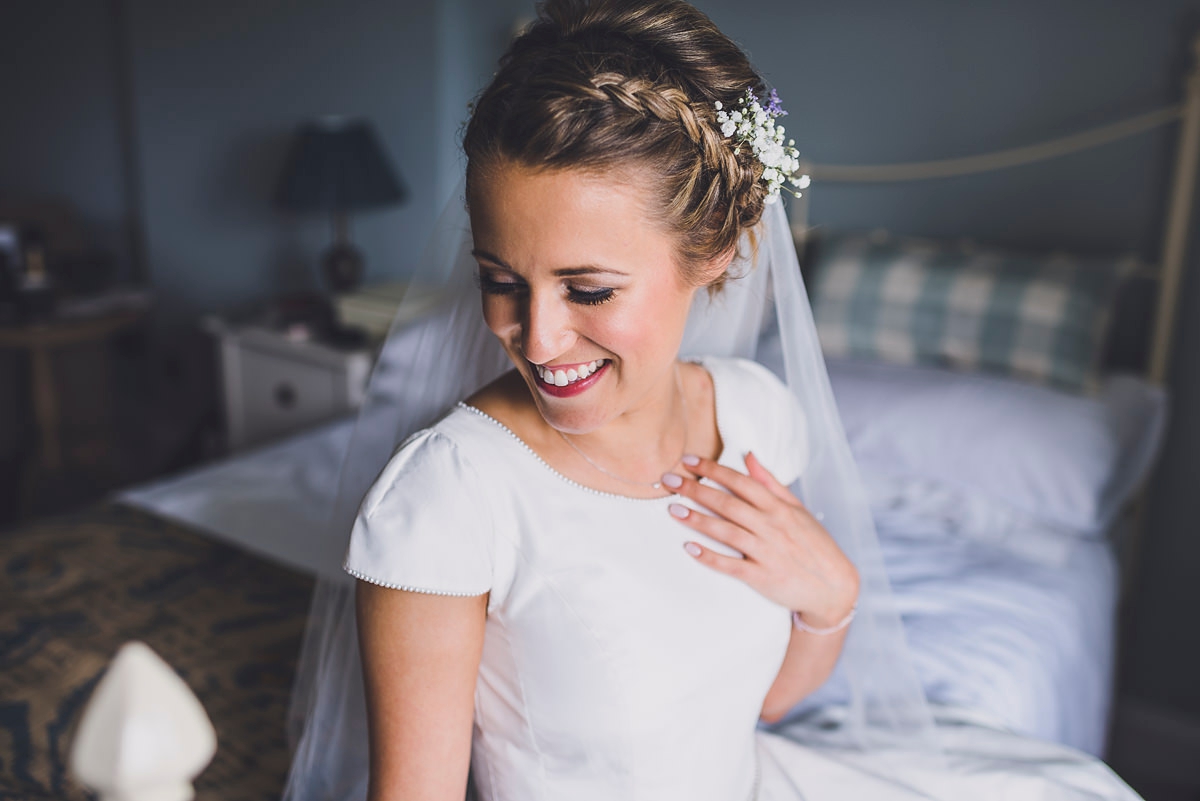 "I don't think I am naturally a girly-girl but I surprised myself by how much I enjoyed the planning and I can safely say that enjoyment came down to Budge. We organised the entire thing as a team, but made sure it didn't take over our lives either. The only thing we really wanted for the day was for it to feel very personal – for our guests to walk in and, regardless of the pomp, know that it was 'Budge and Lucy's wedding' straight away."
"That started with Budge's dad doing the ceremony, getting ready in my family home, hosting brunch at my mum and dad's house the next day, and the small details to make our guests, rather than ourselves, feel special."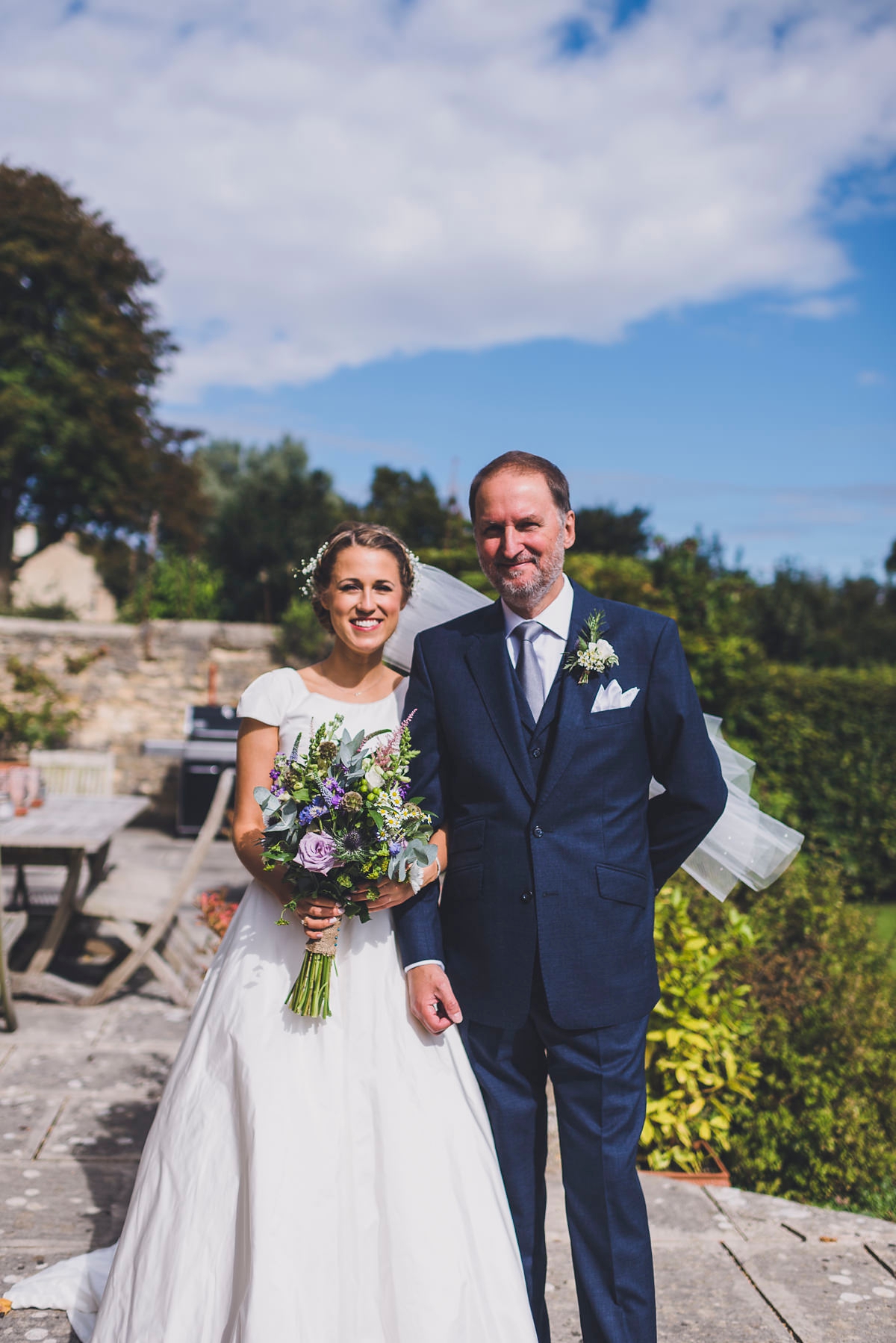 Lucy's lovely grey shoes were a great ASOS find. Her Tiffany & Co. necklace was a gift from Budge early in their relationship, and she wore a Links of London bracelet, also worn by the bridesmaids.
The bridesmaids look gorgeous in their nude coloured ASOS dresses. All of the ladies wore fresh flowers in their hair, and the same Links of London bracelet as the bride.
Lucy's dad accompanied her down the aisle to an instrumental version, on the organ, of 'Grow Old With Me' by Tom Odell.
"We had two readings during the ceremony, Corinthians 1 and 'Love' by Roy Croft.
"We went to Alistair Stewart in Hatton Garden for our wedding bands. Budge had bought my engagement ring there because the lady was nice and reminded him of his mum!"
As Lucy's feedback shows, the couple were absolutely delighted with their choice of O&C Photography.
"The photographs were very important to us. We wanted a photographer who could capture moments – the fun and happiness of the day, rather than stilted group shots. Owen and Charis are easily one of our favourite parts of our wedding day – their style of photography is exactly what we wanted."
"They were professional, quick, confident and brilliant at moving guests along so the whole process doesn't eat into too much of the day. I was not looking forward to the couple shots, but they were so chatty, confident, and knew exactly what to say to put us at ease that it made the whole process enjoyable. Plus, they had put a lot of effort into getting to know us in the lead up to the day, so they knew how to make Budge and I relax and also capture the photos that looked like 'us' – hence, a few ridiculous ones."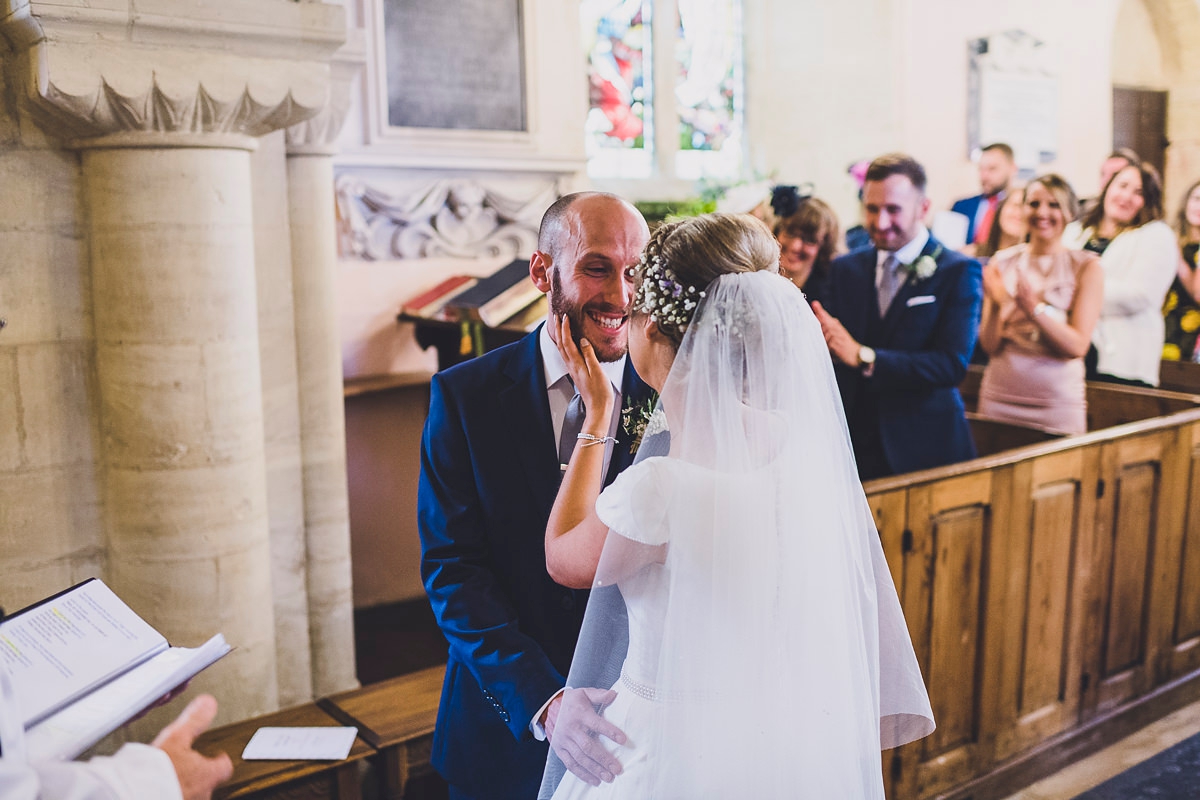 "It was honestly like having two extra friends there – which is why I think the photos have come out so well. Their extra effort means every photo looks completely natural, none of our friends or family were thinking about them being there. I will also never be able to thank Charis enough for how she was the morning of our wedding."
"She was such a calming presence; it was like having a fourth bridesmaid. When one of the bridesmaid dresses broke, she swiftly sewed it up with no fuss, when my mum was struggling to do the buttons up on my dress, she quietly took over (much to my mum's relief)."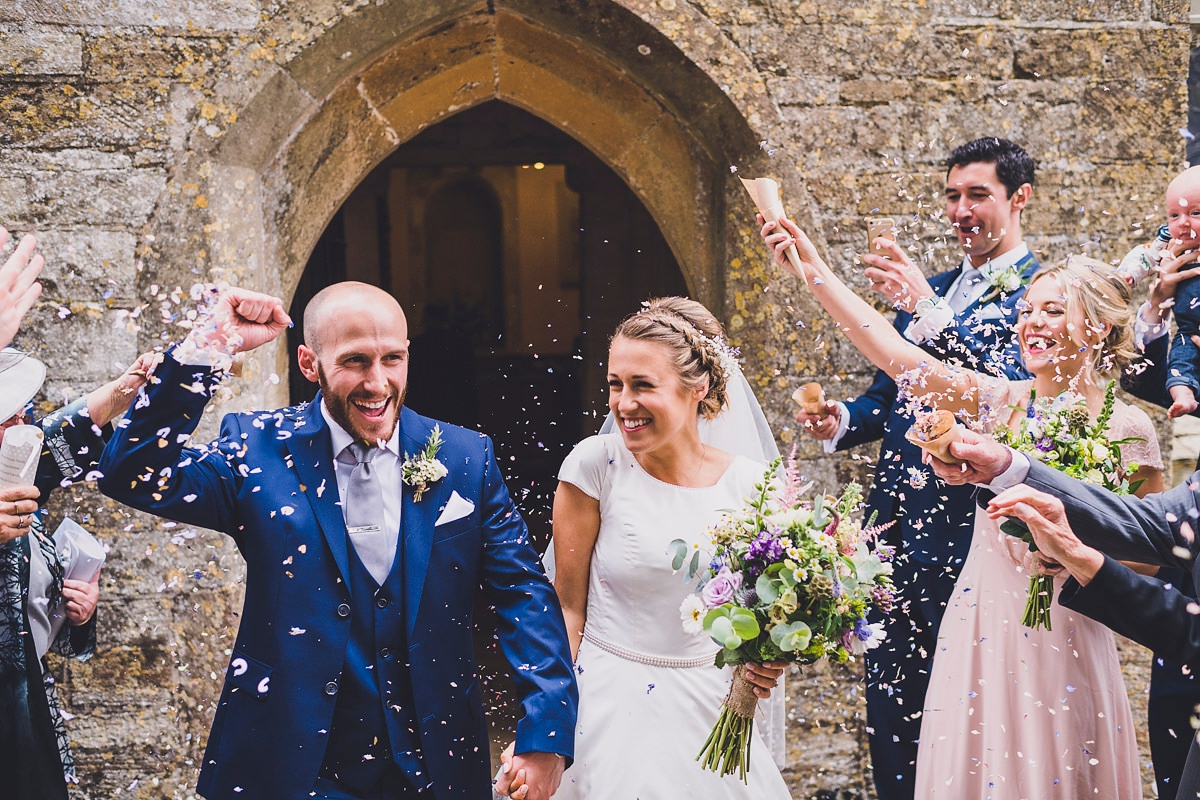 "It's also the little things they did – like checking in on us every couple of months in the lead up to the wedding, or sending our photos in the most beautiful box after the wedding, with postcards of their favourite ones. Every single photo from our wedding day is a moment captured. I couldn't recommend them enough."
The couple went to Beth at Go Wild Flowers to realise their vision for an un-done and non-fussy look.
"I wanted the flowers to be the main decoration, Beth just got it straight away and she is an absolute diamond to work with."
"I designed the stationery myself and then my friend Daisy Watson, basically ripped them up and made them a million times better."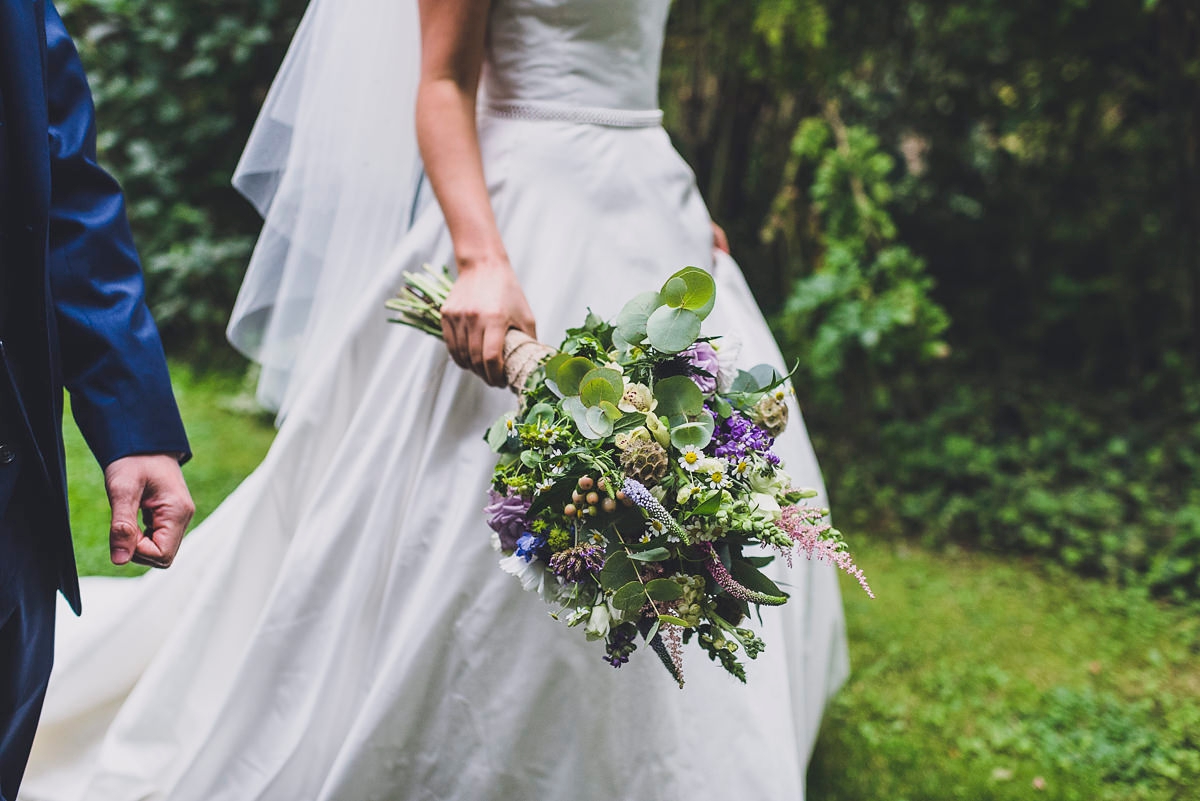 "When I visit my mum and dad we always go to Jack's in Cirencester for coffee and cake. The owner, Anne Rainy-Brown, not only made our beautiful wedding cake but did all the catering for brunch at mum and dad's the next day as well."
"My mum made home-made marshmallows for people eat around the fire. Instead of table names, everyone had a Polaroid picture of themselves. Wherever possible, the photos chosen were from moments where the guest had been with one of us – a memory to share at the wedding. This took hours of Facebook stalking but was a great talking point."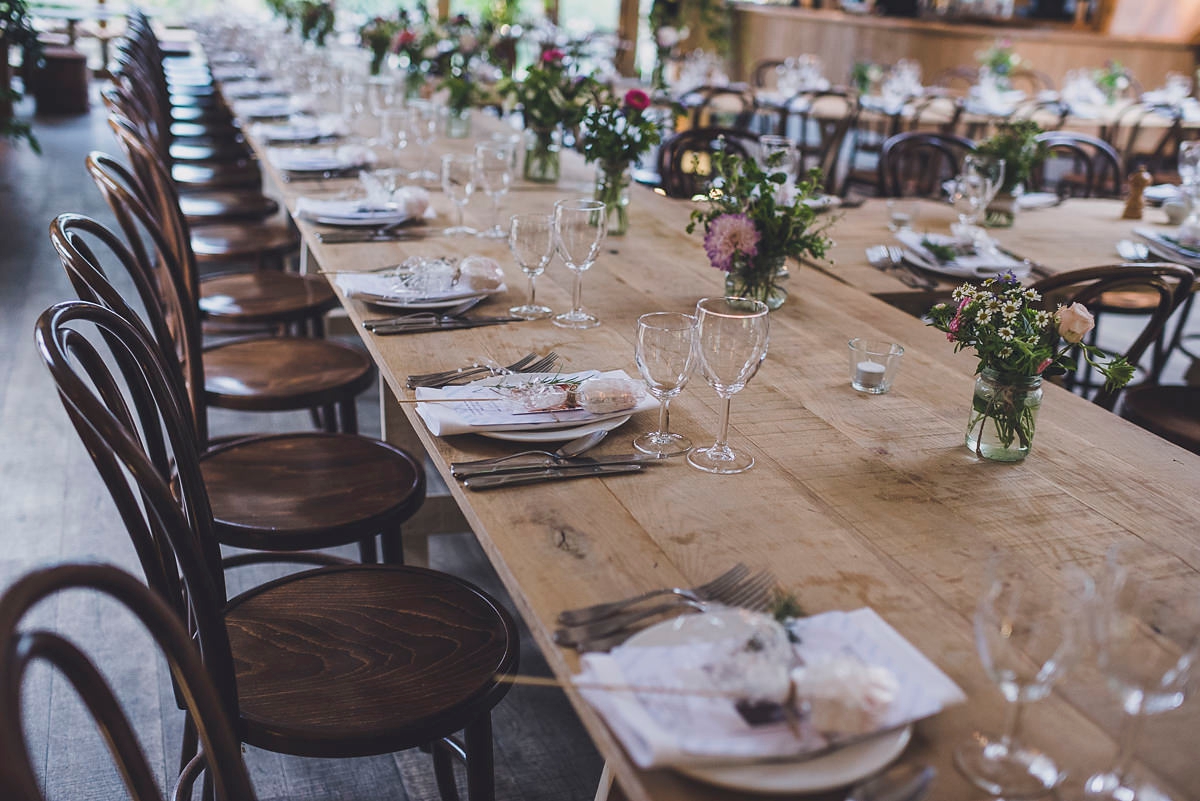 "We had our first dance to 'Only You' by Yazoo. It's the song playing at the Christmas party when Tim and Dawn finally kiss in 'The Office'. I bloody love that scene!"
"Taking ten minutes with Budge to sit outside and reflect on how great the day had been, and seeing all of our friends and family inside enjoying themselves was my favourite moment of the day. It was lovely to steal a moment for ourselves and take it all in."
WORDS OF WEDDED WISDOM
"It's very easy to get carried away with all the things you are 'supposed' to do. Overall, I think we were good at cutting corners on bits and pieces we felt weren't necessary for us (like a wedding car and expensive favours). Once it's all over you realise how easy it is to spend money on things that feel so important but actually mean very little. So I think, on reflection, I wouldn't have bothered sending Save the Dates, as well as invitations."
"Don't let it take over your life. It's just a big party after all. Make it feel that way as much as possible for yourself, your husband-to-be, and everyone else involved."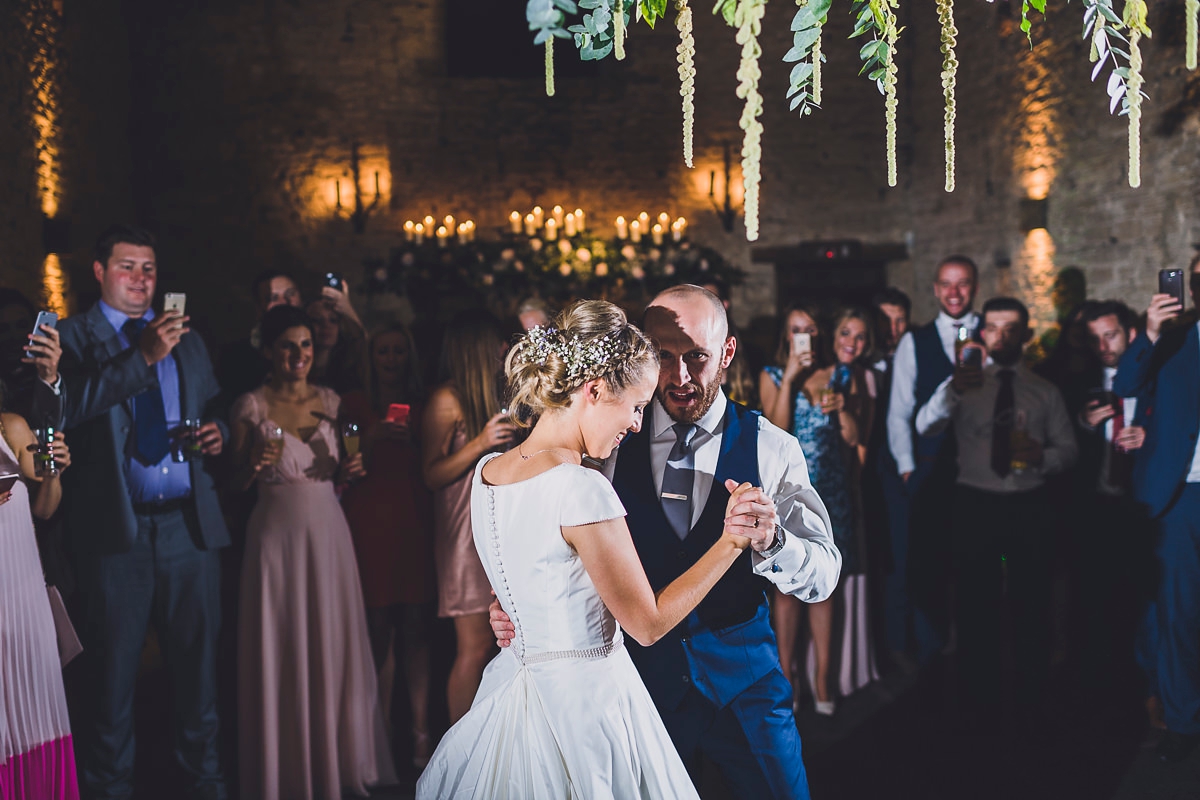 Very wise words indeed. Congratulations Mr and Mrs Hopkins-Parkinson. Huge thanks to Owen and Charis of O&C Photography for the stunning images of this wedding.
Love Caoimhe xx