There are a number of photographers whose work I adore, and who I've been lucky enough to have been sharing for a number of years now through these hallowed wedding blog pages.
One of these photographers is Christopher Currie, husband to Gillian, who collectively are better known as The Curries. They are also founders of The Wedding Collective – an event we love to support through Love My Dress. The Curries were appointed by former childhood sweethearts Laura and Chris to capture their gorgeous, colourful Errol Park Estate wedding on 2nd July last year. And what a joy to be able to share this wedding – it's just the kind of beautiful, joy-filled day I adore.
The couple were assisted by Roni of All Wrapped Up Edinburgh with on-the-day planning.
"We wanted a big but informal day with food, drink and dancing a' plenty – we ended up with a good old mish mash of bright colours, lego, dogs, gold, tweed and tartan. Neither of us are religious and so we opted for a traditional Scottish hand fasting ceremony."
Photography by The Curries
Laura's beautiful, fitted, sleeveless gown was by Edinburgh based designer  Liliana Dabic of La Novia.
"After a lot of hunting, I came across my dress by accident. From seeing another dress in a bridal magazine and locating it in Edinburgh's La Novia, I picked a few random dresses to try on along with it. My dress was amongst these. It had almost everything I was looking for…it wasn't strapless, it had a gold coloured underlay, it had floral lace, there wasn't a diamante in sight and most importantly, I could actually walk in it."
"Our florist was Linzi of Jack Fleuriste. We met a couple of times and came up with the idea of bright colours with hints of gold in a messy style, with some added colourful and gold ribbon. That was the brief and the rest was left up in Linzi's talented hands and so the way they turned out was a surprise in the morning. They were beyond perfect and I think Linzi enjoyed having free reign and getting the gold spray paint out." 
"The girls and I had Lego figures attached to our bouquets. I had a little blonde bride and I had made up individual figures in the Lego shop for each of the bridesmaids – little mini-me figures that looked like them and had a little prop that related to them."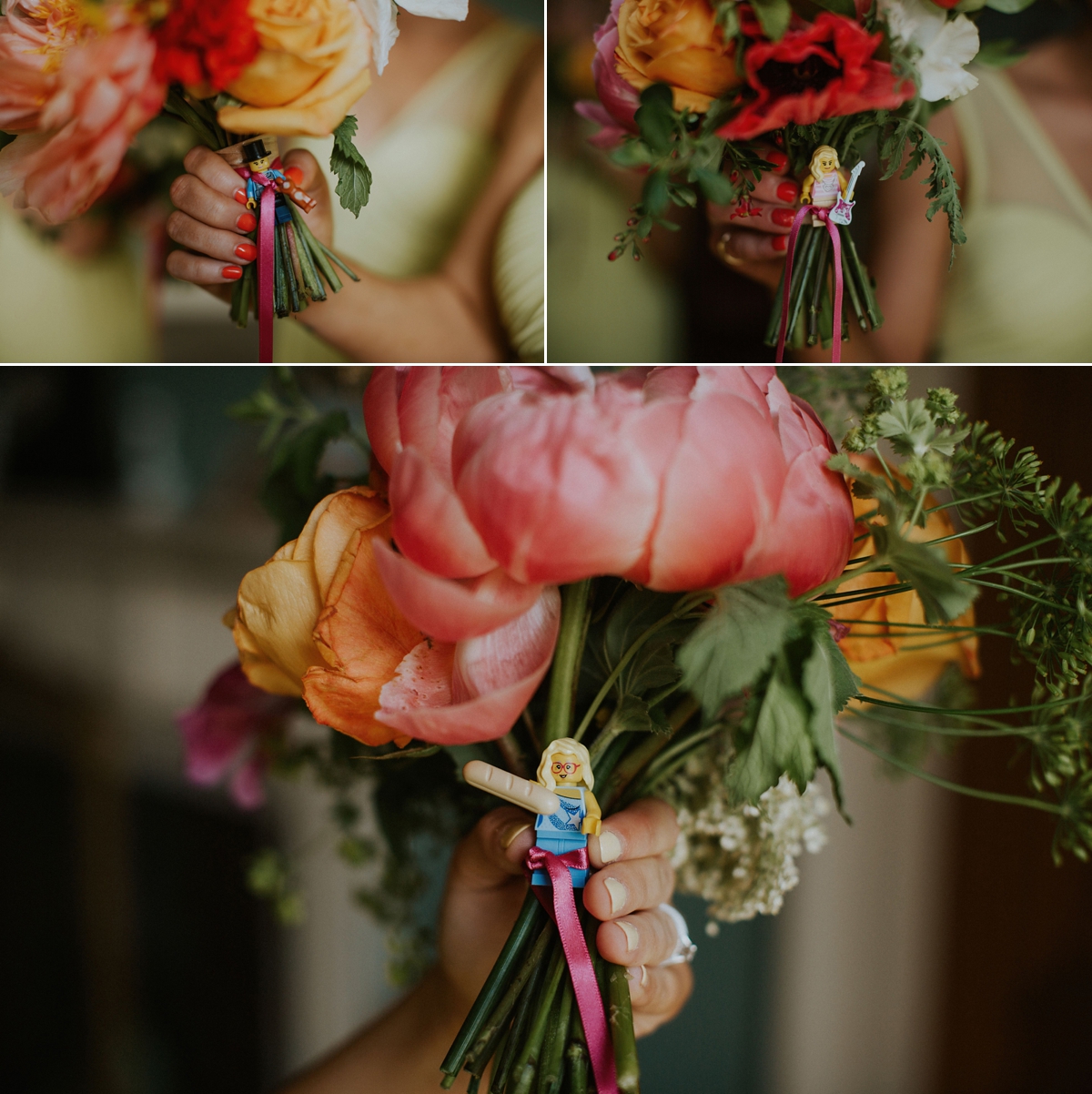 "I wore a fresh asymmetrical flower crown, created by the wonderful florist Linzi of Jack Fleuriste."
"Anne Marie McElroy who did my makeup and Julie Diplacitwho did my hair were the best duo! They listened to what each of us wanted and made it happen! To get 7 girls ready before 2pm is quite an art and very impressive!"
"We both went for Jo Malone colognes that we hadn't worn before. Chris went for the Dark Amber & Ginger Lily and I picked Earl Grey & Cucumber. We both prefer to wear watches over jewellery. I chose to wear an Olivia Burton watch with an ivory strap and gold face to match my dress. And Chris settled on a brown leather Daniel Wellington watched which was one of the first wedding purchases. I then picked up a simple pair of earrings in Accessorize and Chris surprised me on the morning of the wedding with a Tiffany & Co 'return to sender' bracelet."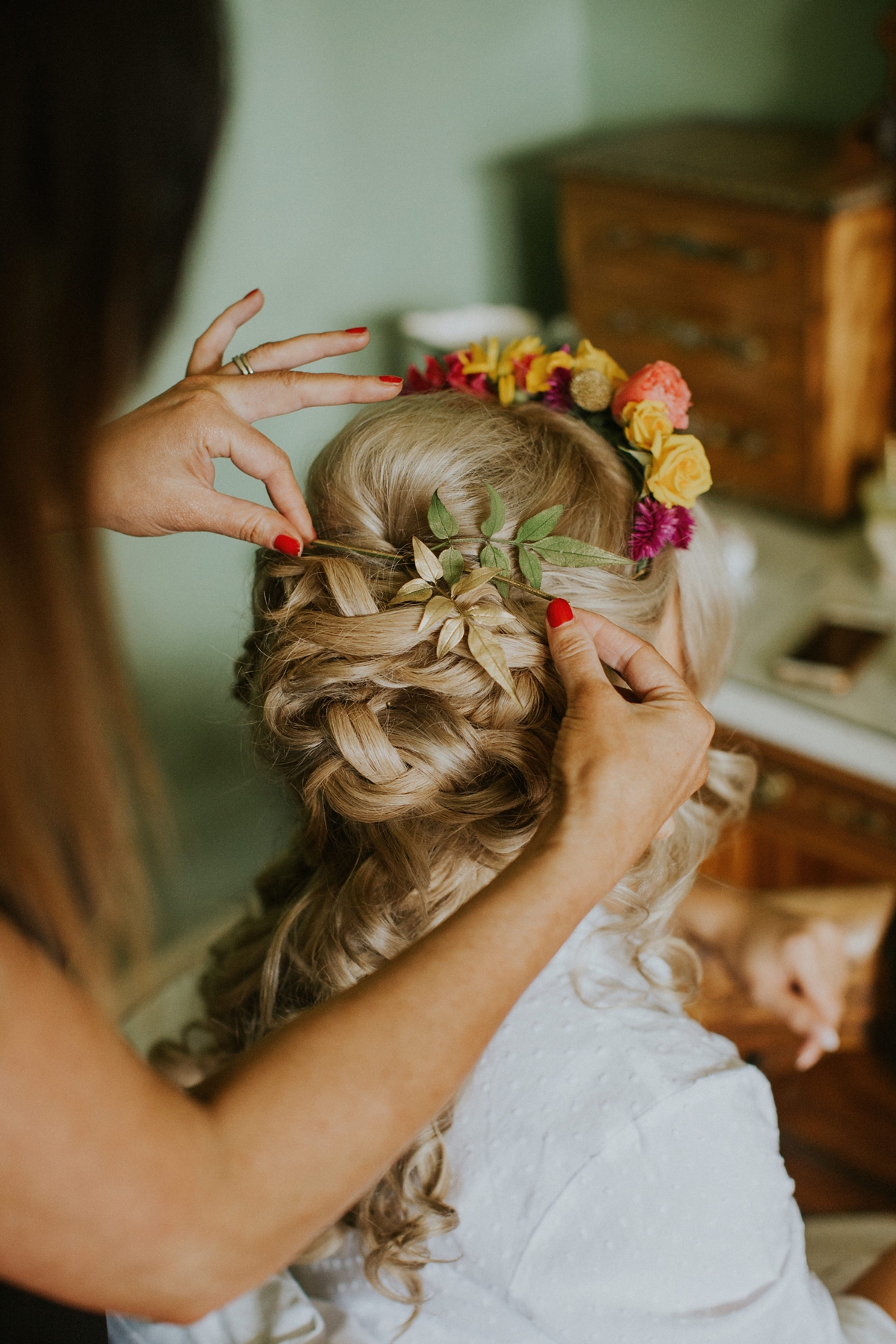 "We decided to go for high street and do our research online first due to everyone's busy schedules, deciding on a Jane Norman dress which was a bright lemon/lime coloured pleated maxi dress and mesh straps. The girls wore Faith shoes – we all laughed at how we had Faith shoes as teenagers!"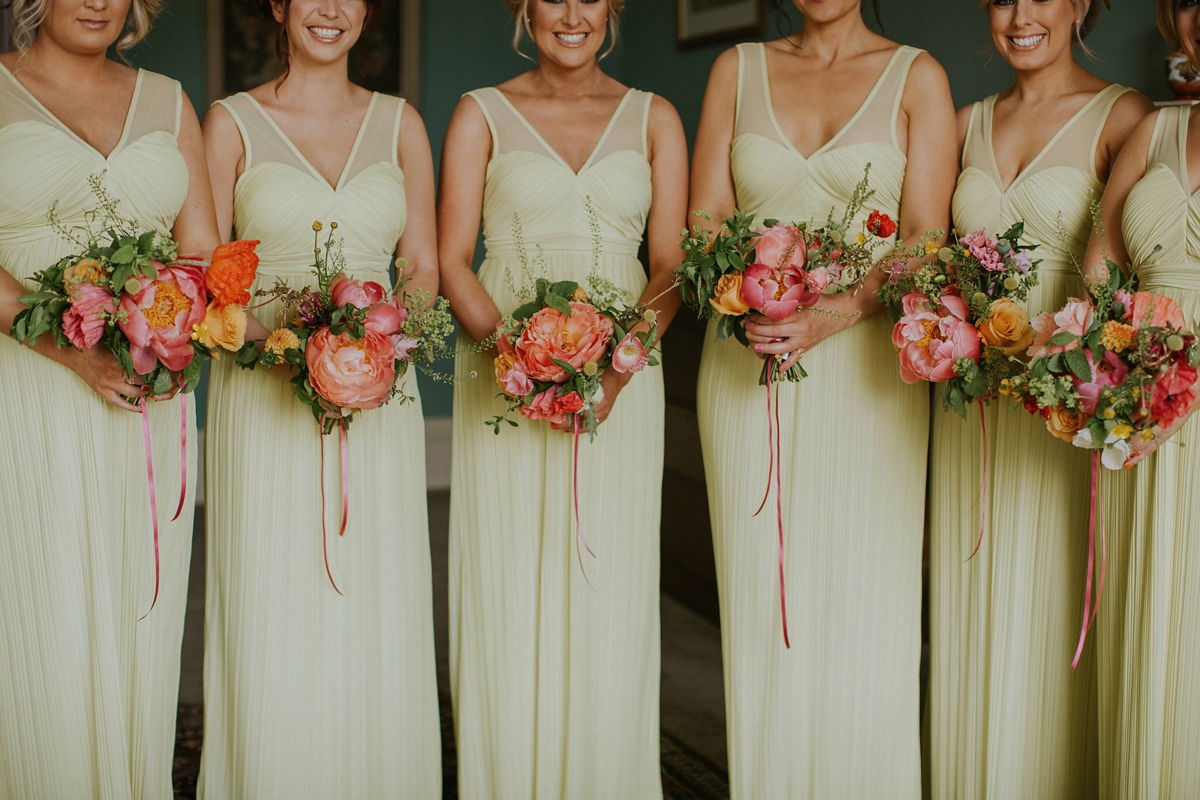 "Linzi of Jack Fleuriste created some amazing floral circlets which had a mix of fresh green and gold sprayed foliage with a bright yellow flower. The girls didn't know what I had arranged for them to wear in their hair, and I think they were chuffed with the surprise."
"I got the girls a dainty little antlers ring and metallic gold temporary tattoos that they could plaster on themselves on the morning. They went for a lovely gold floral design down their back."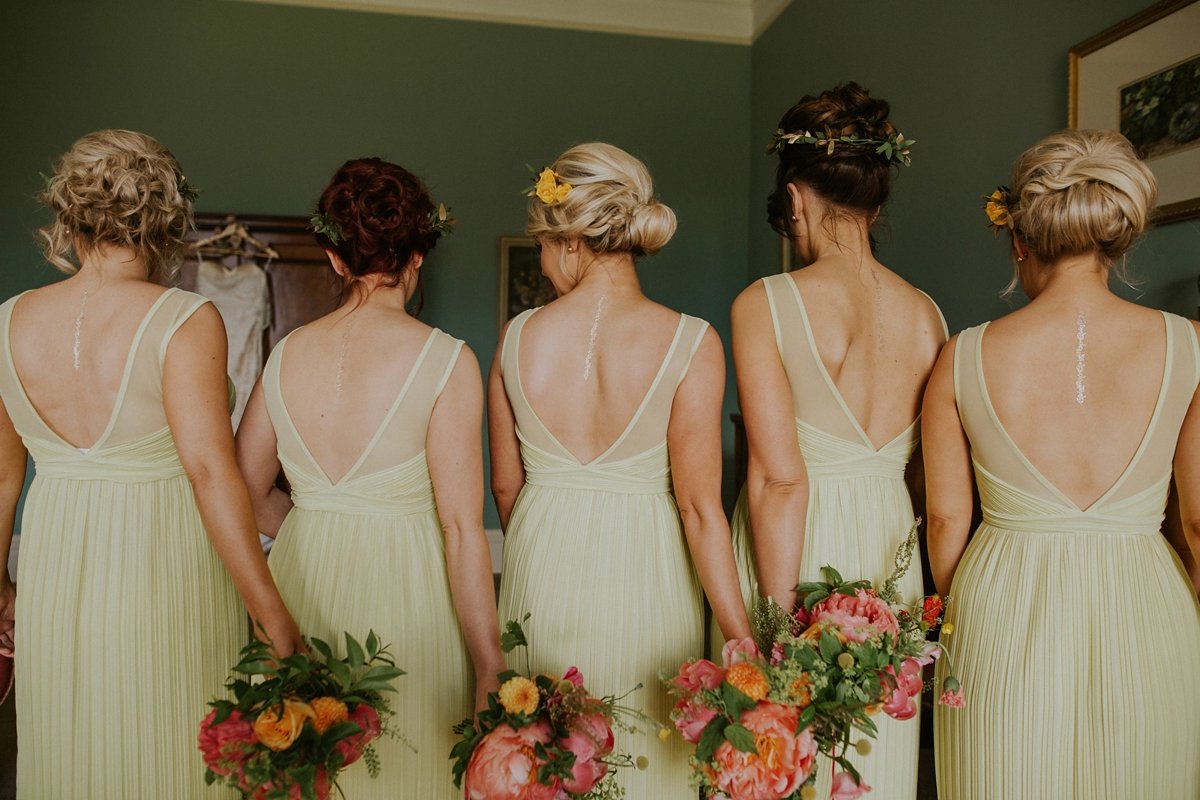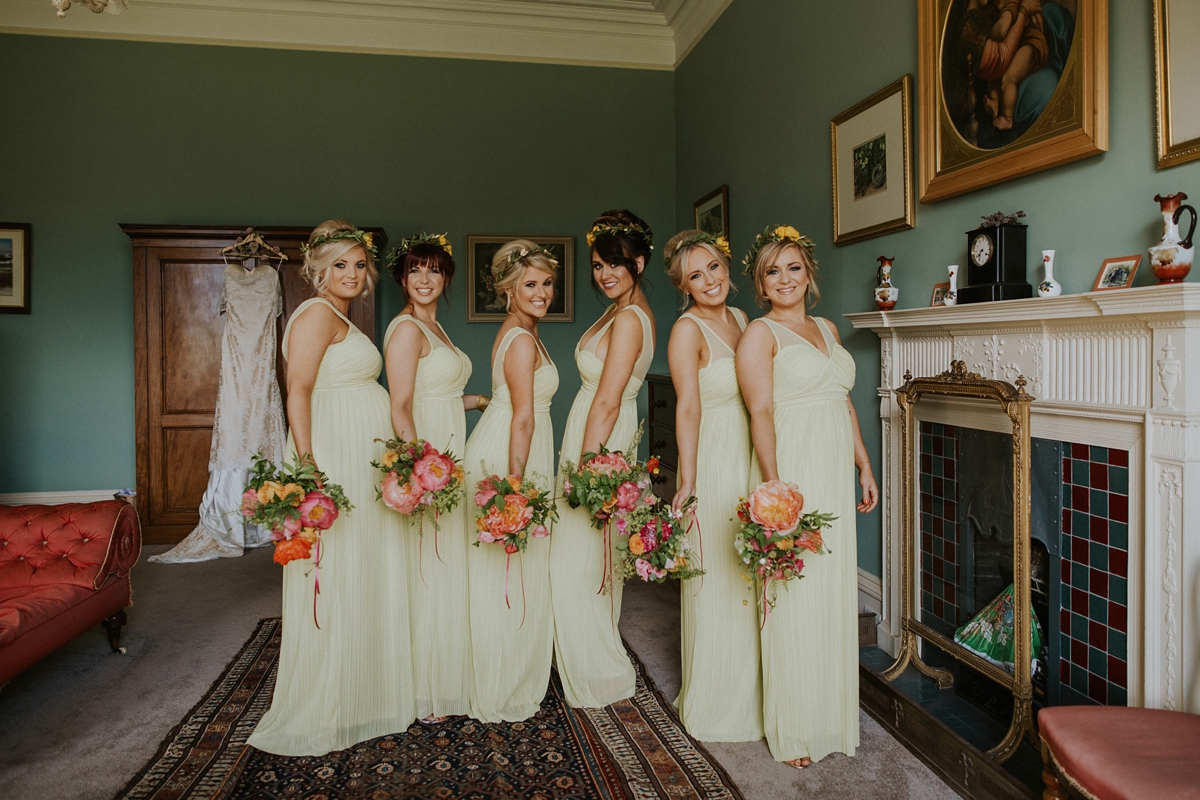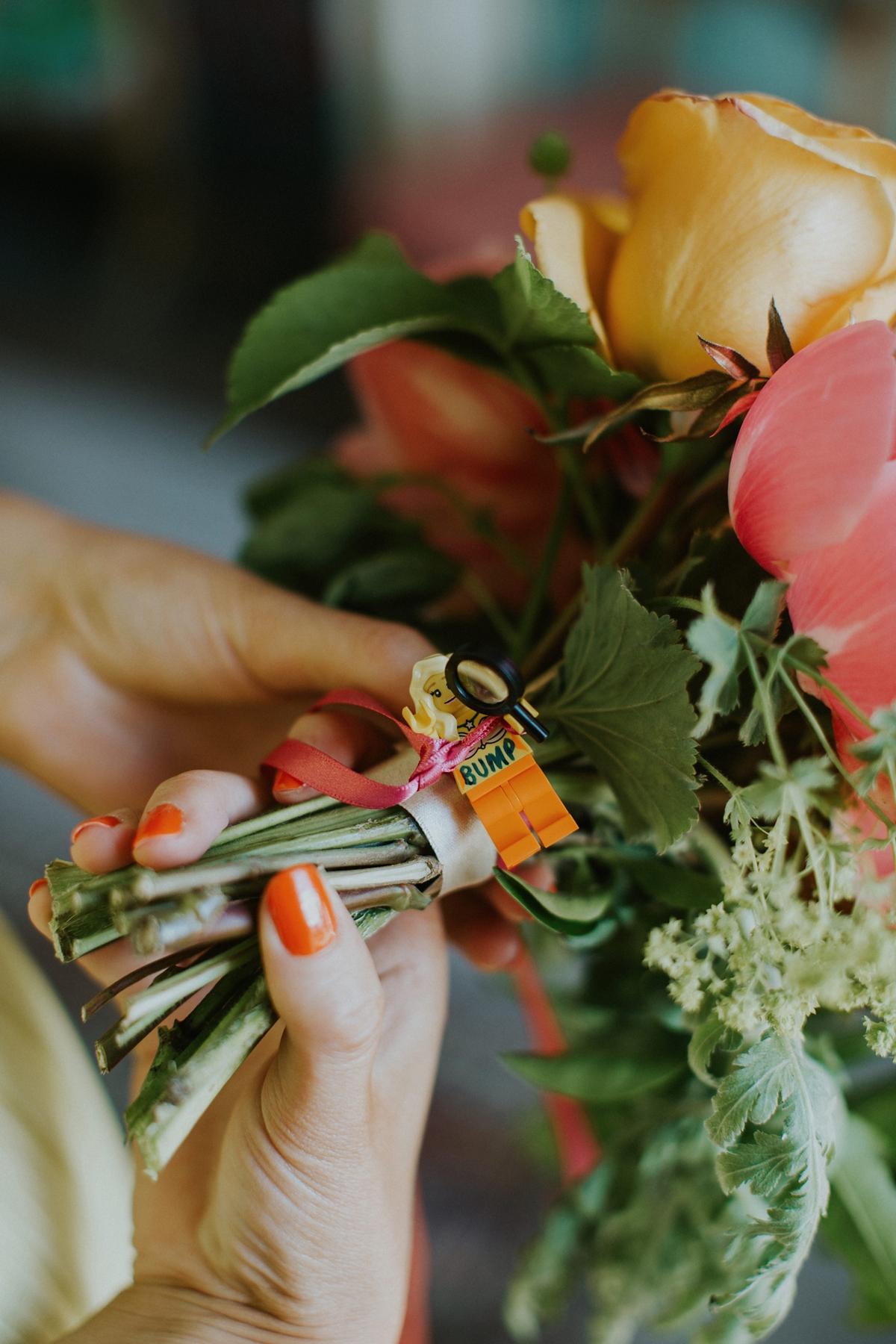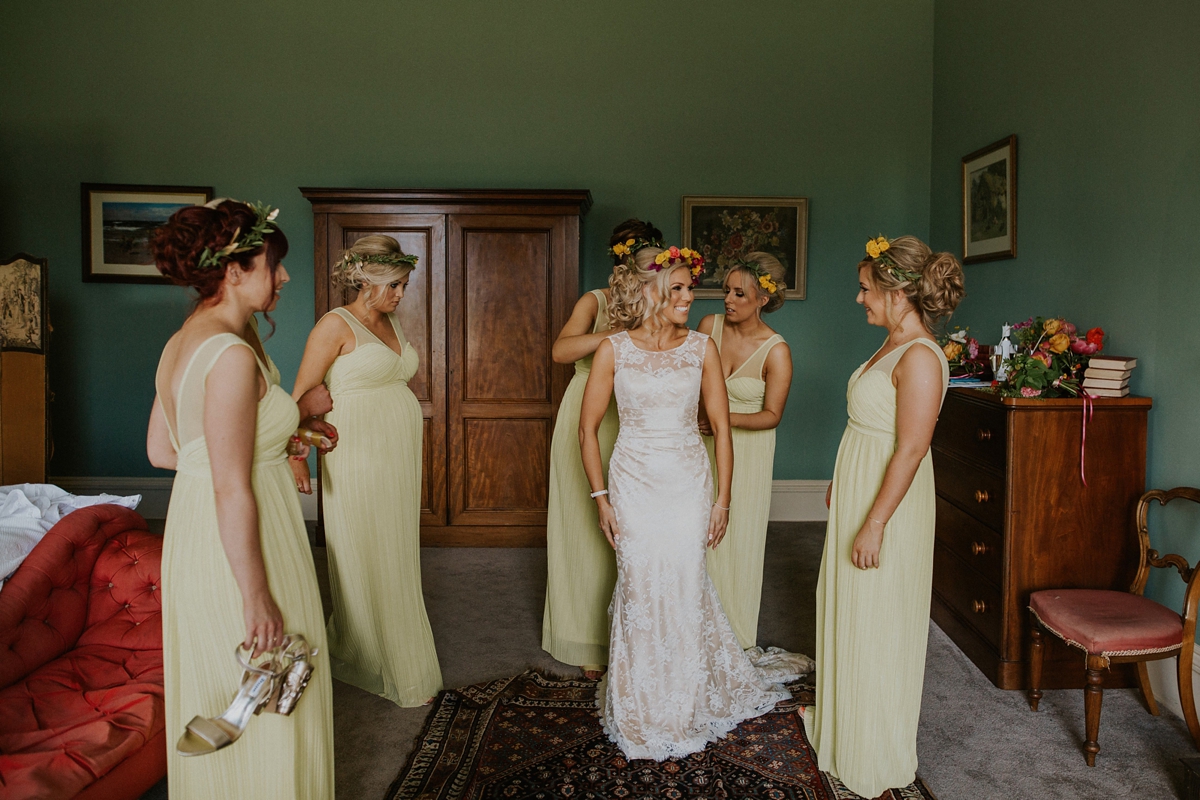 "My only initial apprehension was that the dress originally had a 'V' shaped open back. However, after discovering it was an in-house designer's bespoke made dress, conversations were had and I was delighted to be told that the back could be filled in with floral lace and button detailing. That sealed the deal and the search was over. And as if it were fate, the name of the dress was 'Vintage Fiona' – the name of one of my bridesmaids!"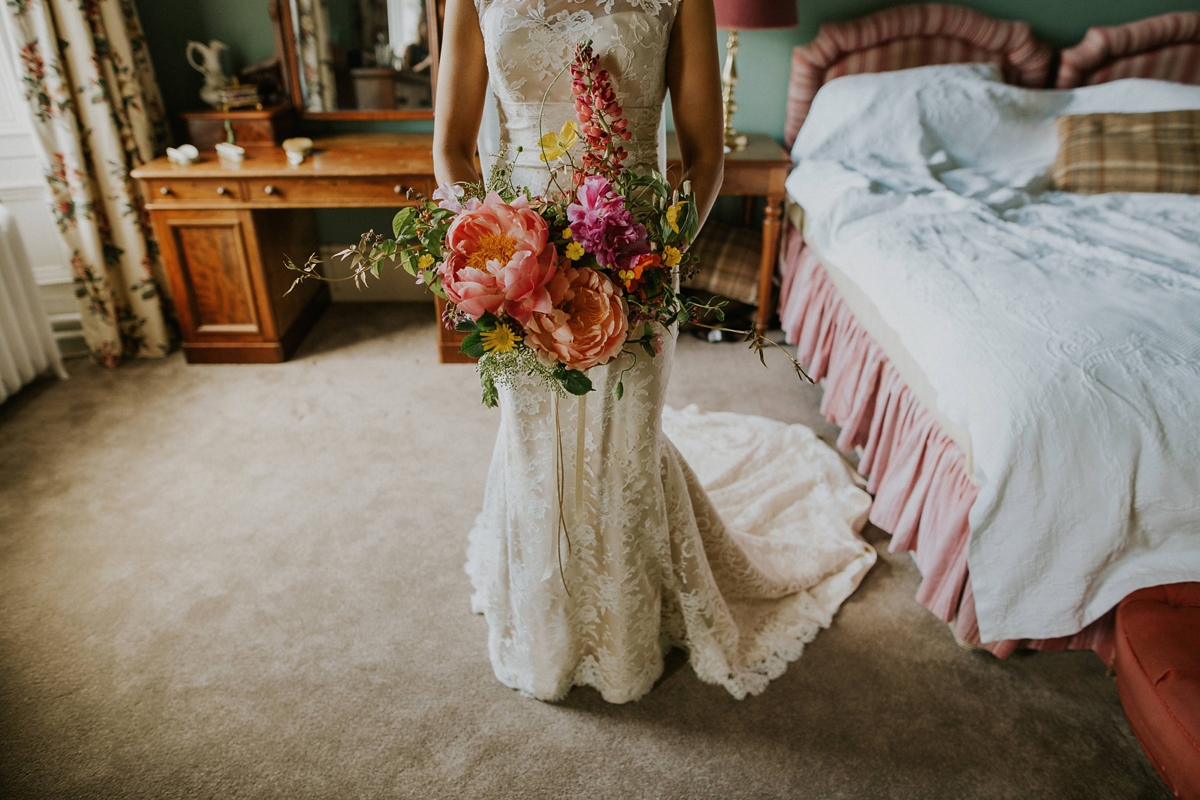 "It was lucky I had already bought the dress as when I returned to the shop with prosecco fuelled bridesmaids to show them my dress, let's just say a manikin ended up being knocked out of the window display with its arms being amputated. Luckily we weren't barred and they still made my dress as planned!"
"I wore a very simple single tier fingertip length veil, once again, made by bridal designer Liliana Dabic."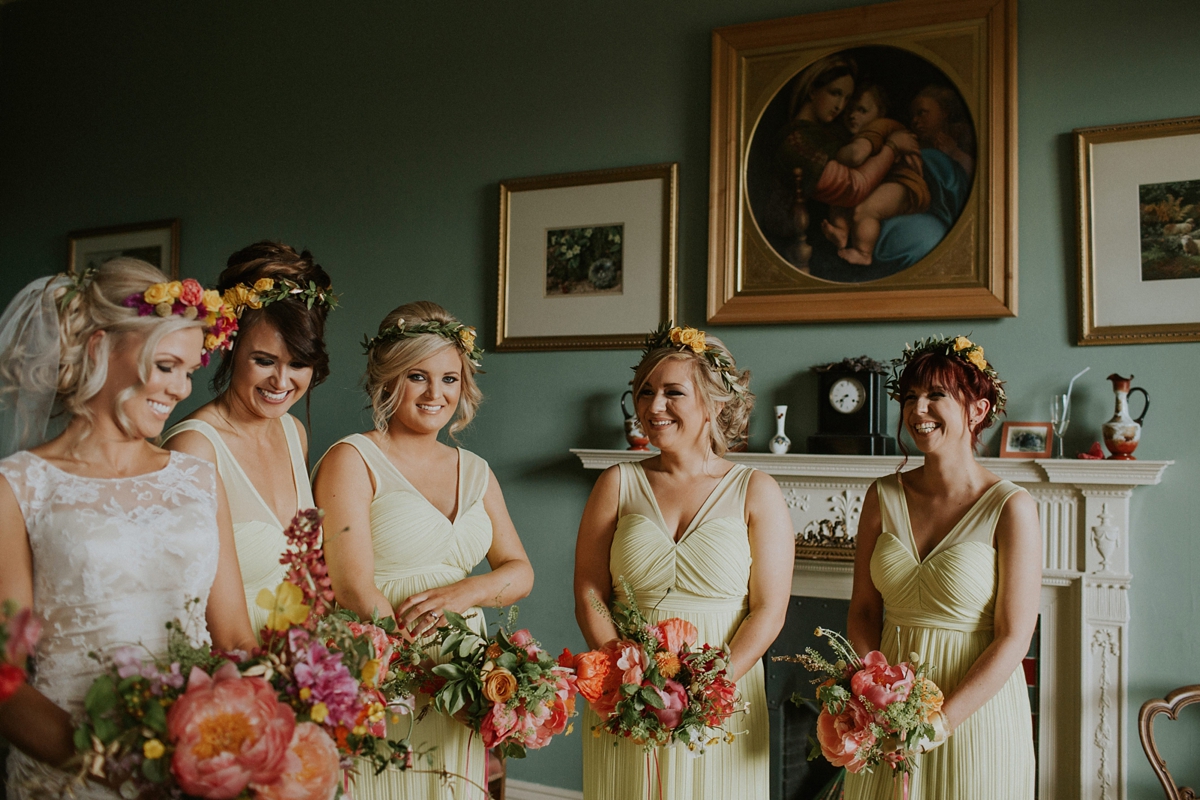 "Chris and I went to school together but we didn't get together until after we had left school. And Chris was actually my friend's older brother which led to a lot of laughs over the years. Our first date was at Blair Drummond Safari Park and it went from there. For anyone who knows us, we aren't the most romantic pair and after ten years this theme continued into the proposal in 2014."
"Long story short, the ring was deposited into a pair of new Nike trainers and the phrase used was 'If you say no, the trainers are going back'. I'm not sure I even replied, I just popped the ring on.With the wedding being booked for July 2016, we were engaged for just under two years."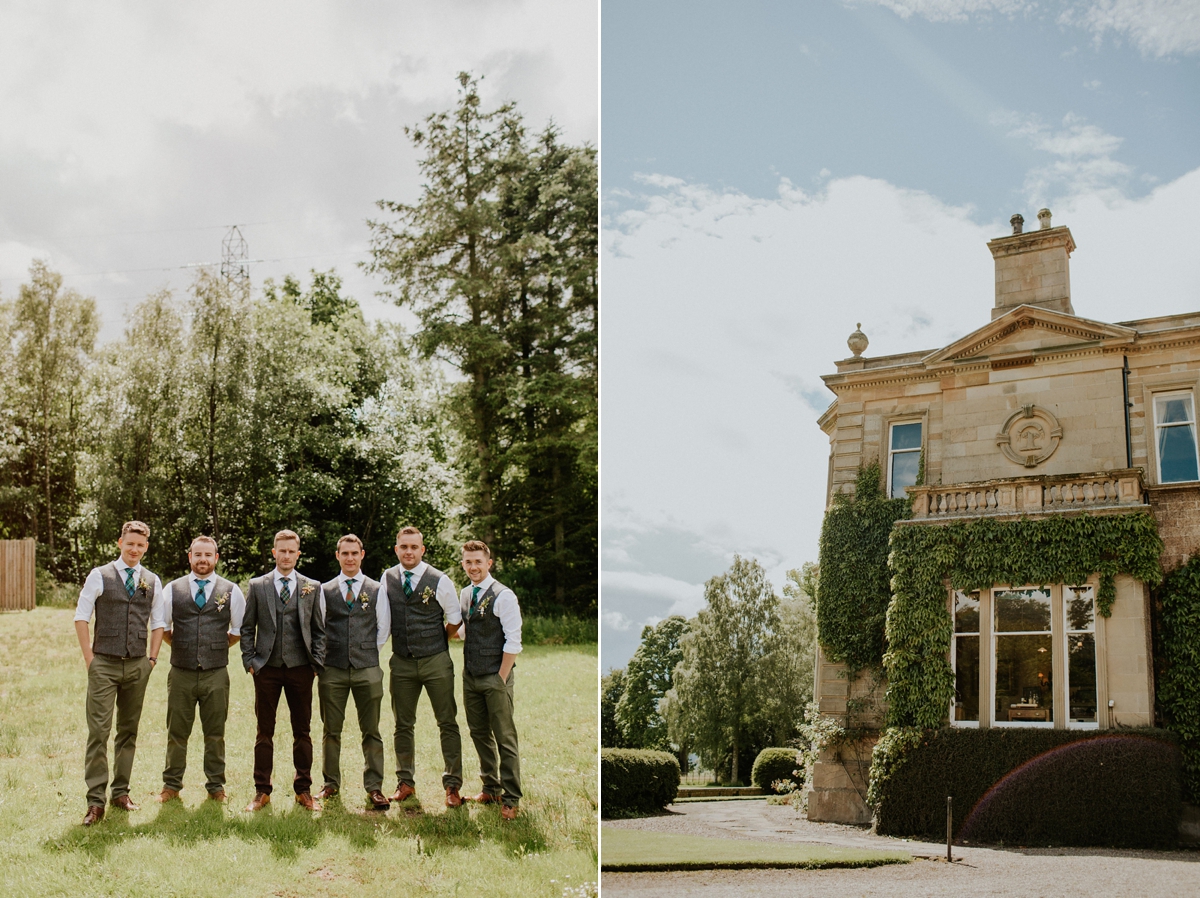 Chris wore a Next tweed jacket and waistcoat with Next burgundy chinos and his favourite brown brogues. He wore a McClelland clan tartan tie.
"The button holes were brilliant, they had some green and gold sprayed foliage, with a yellow flower and a Star Wars Lego figure attached."
"The best man and groomsmen all wore Next tweed waistcoats, khaki green chinos and brown brogues. Chris picked out a clan tartan tie specific to each of their surnames."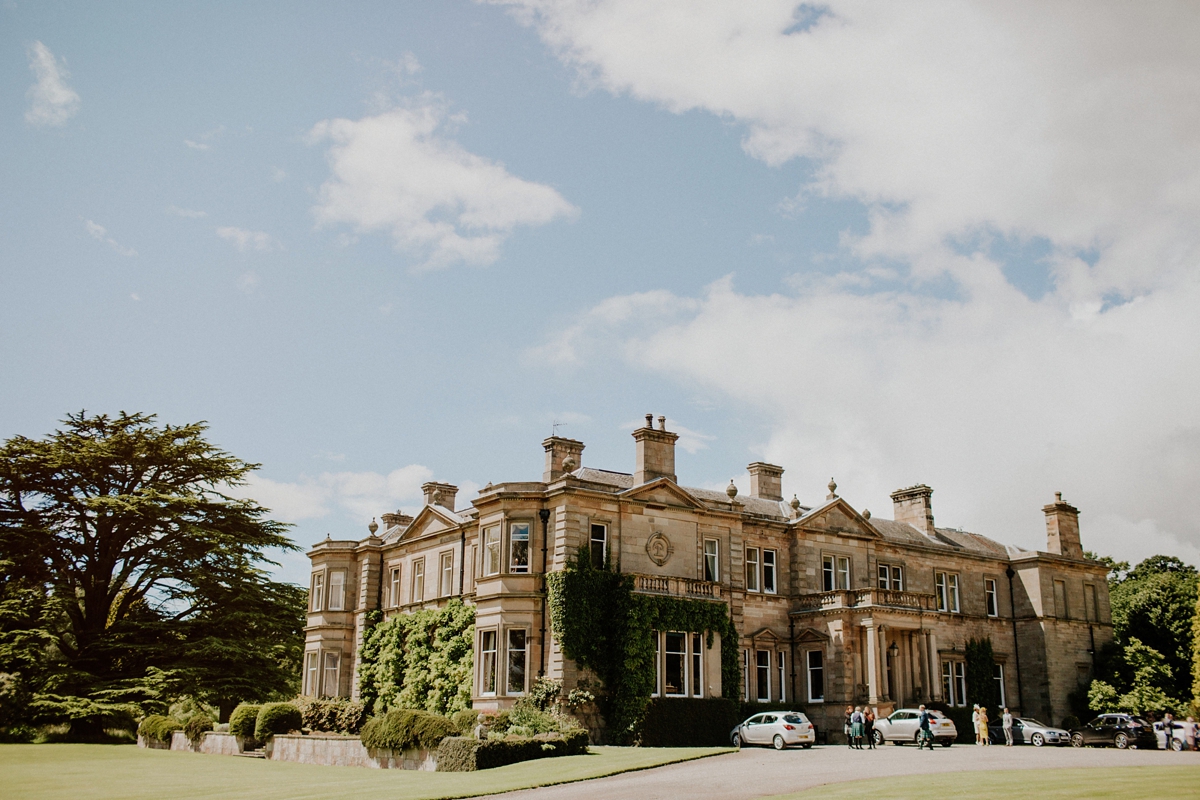 "My flowergirl wore a little glittery gold and cream Monsoon dress. They also had matching gold trainers so they could run around mad on the day."
"My page boy had navy chinos and a tweed waistcoat to match the boys. These were from Next and we managed to find him brogue-style tan coloured trainers to match the groomsmen."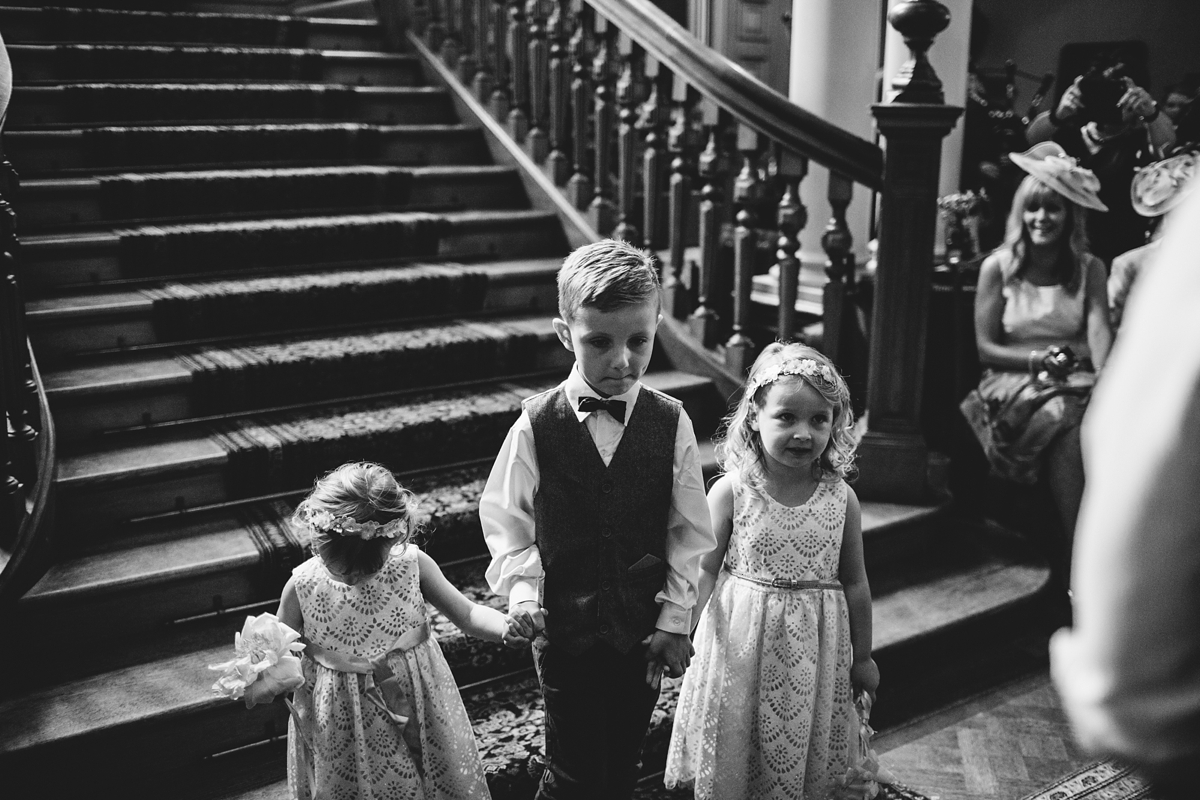 "My dad and I took a shaky walk down the big staircase, an unplanned and unpractised venture but we made it unscathed. We did so to some traditional Scottish bagpipes, belting out 'Highland Cathedral'.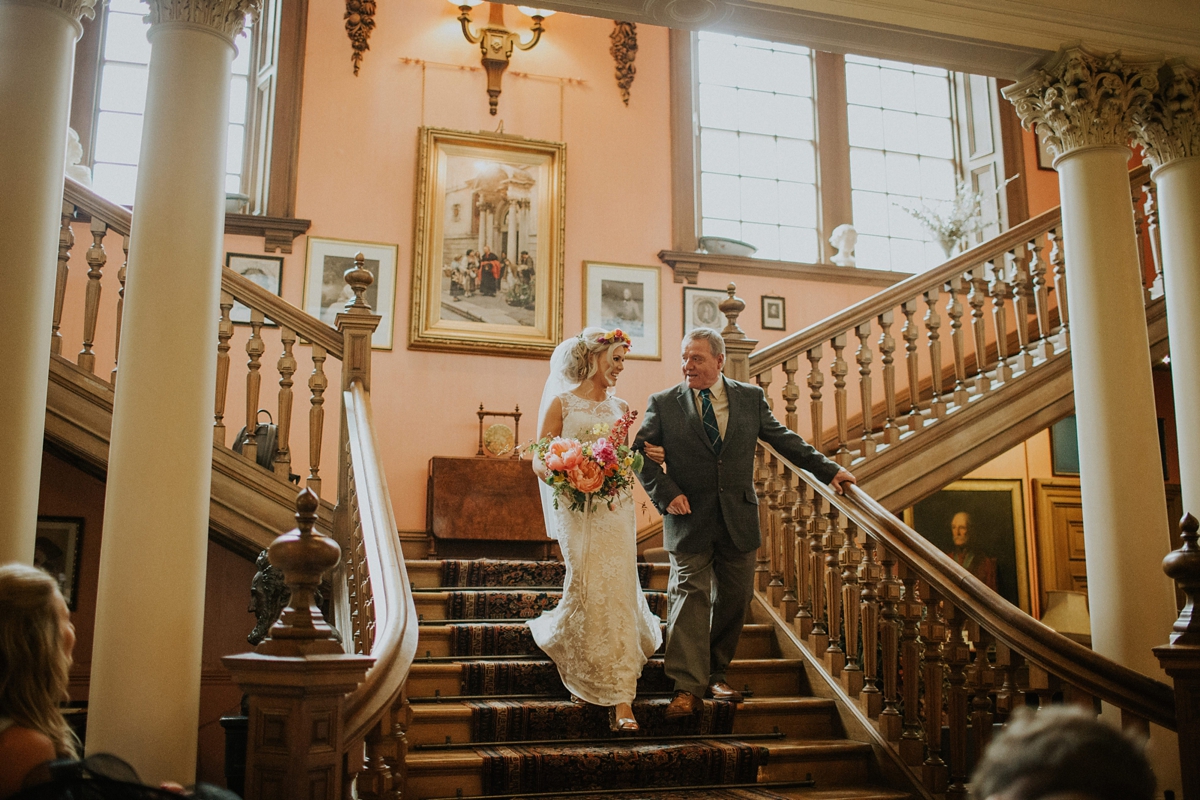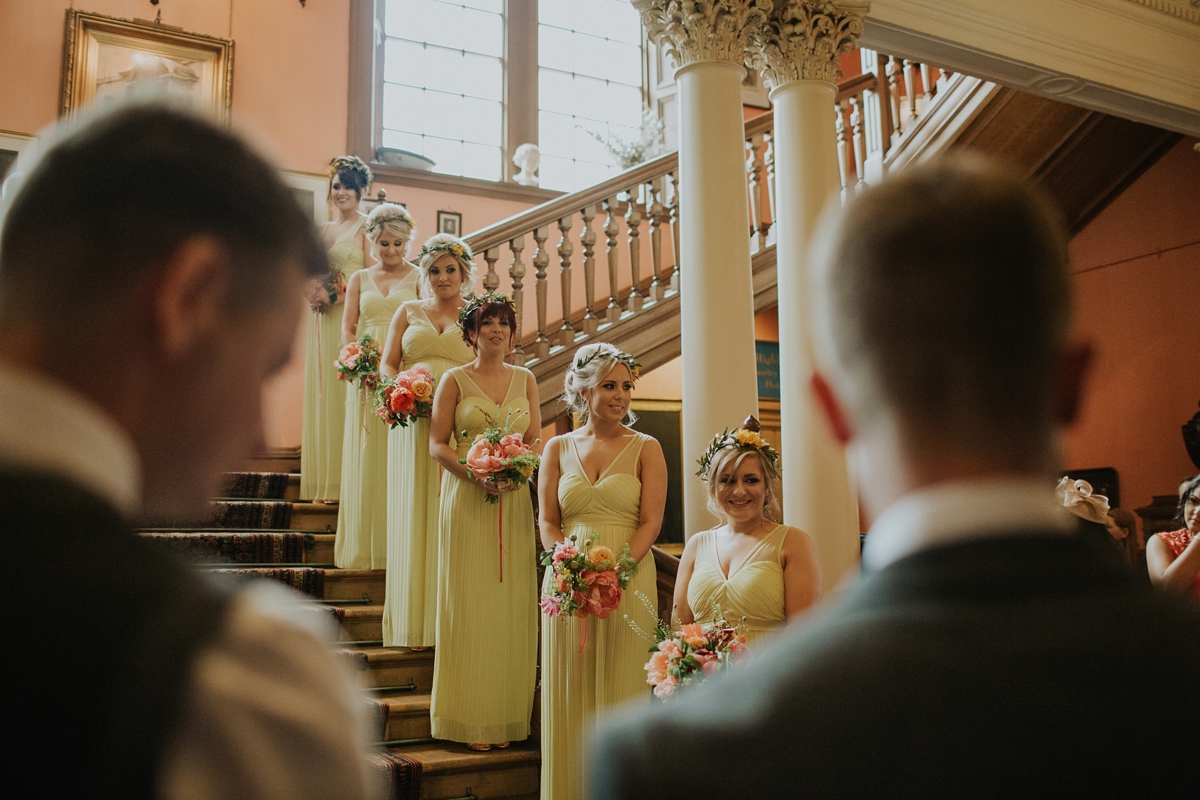 "We tailored our own vows and injected some humour into the ceremony as we aren't very romantic. Both sister-in-laws Katie and Jennifer done a fabulous job of reading out – Pam Ayres 'Yes, I'll Marry You'. It was very appropriate for us."
Yes, I'll marry you, my dear, and here's the reason why;
So I can push you out of bed when the baby starts to cry,
And if we hear a knocking and it's creepy and it's late,
I hand you the torch you see, and you investigate.
Yes I'll marry you, my dear, you may not apprehend it,
But when the tumble-drier goes it's you that has to mend it,
You have to face the neighbour should our labrador attack him,
And if a drunkard fondles me it's you that has to whack him.
Yes, I'll marry you, You're virile and you're lean,
My house is like a pigsty you can help to keep it clean.
That sexy little dinner which you served by candlelight,
As I do chipolatas, you can cook it every night!
It's you who has to work the drill and put up curtain track,
And when I've got PMT it's you who gets the flak,
I do see great advantages,
But none of them for you, and so before you see the light,
I do, I do, I do!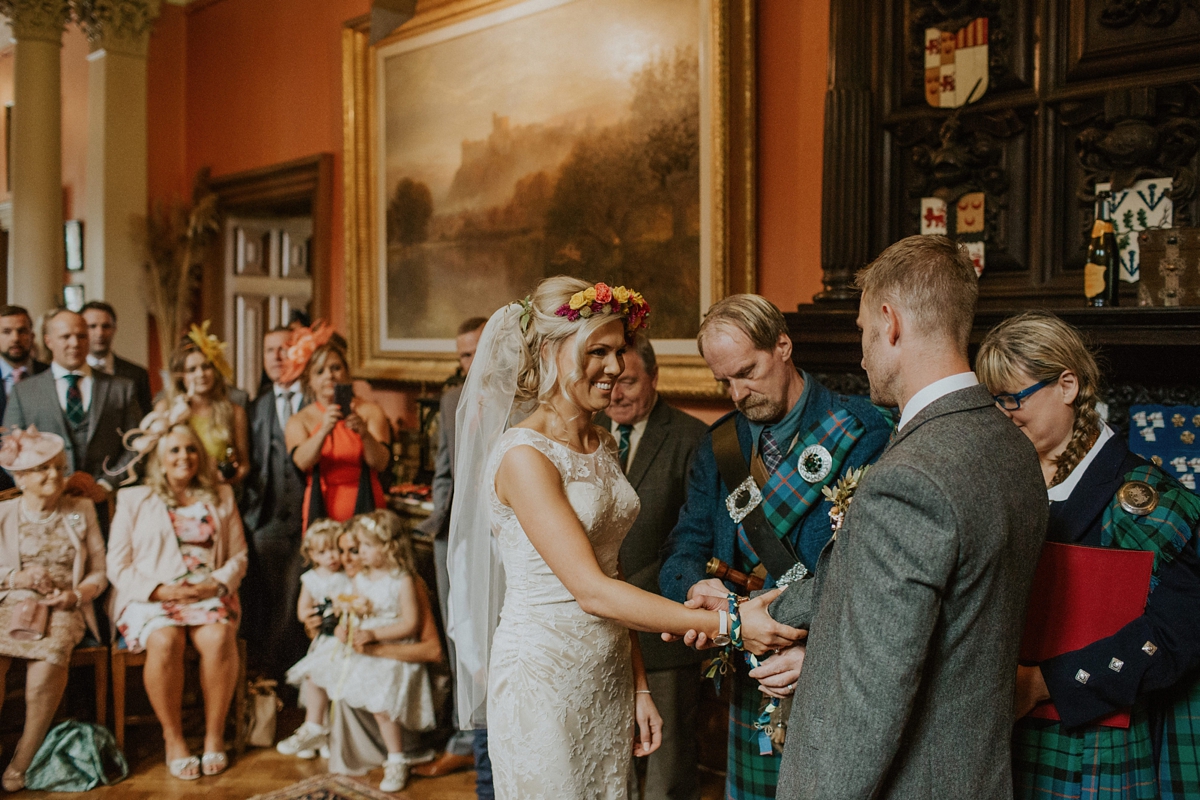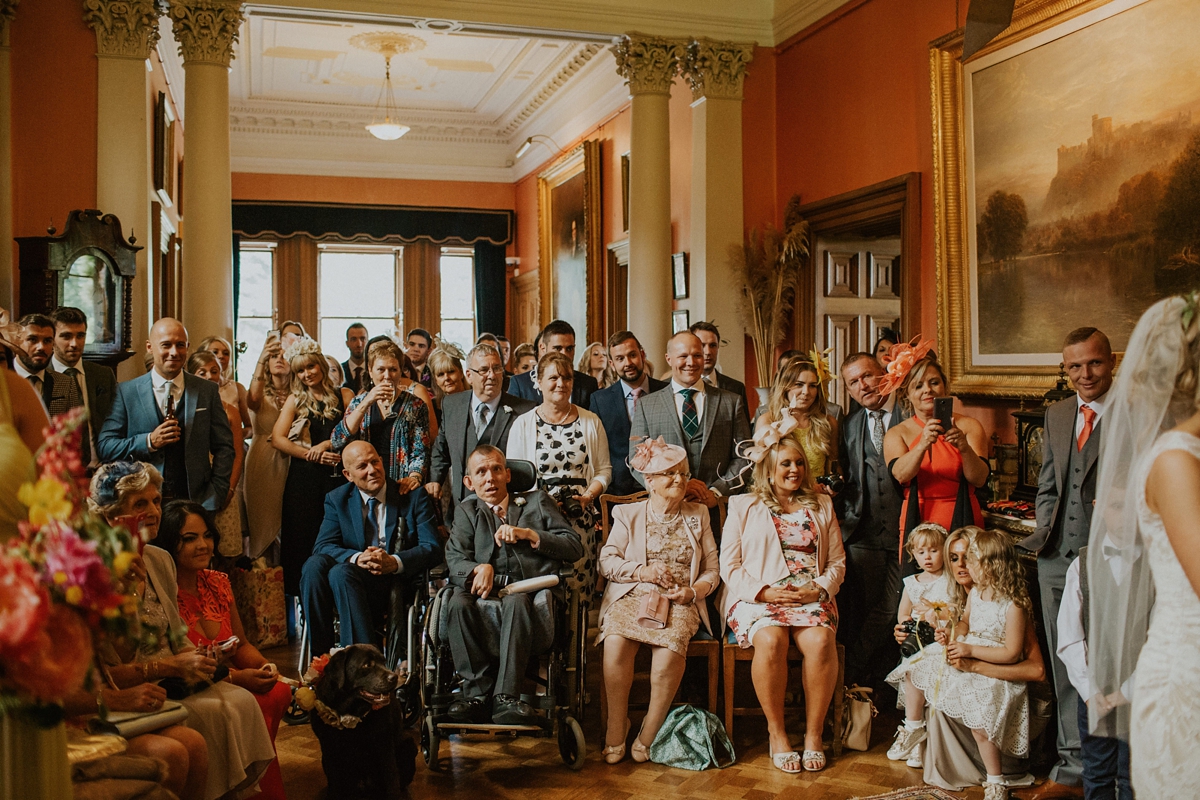 Rooney Goldsmiths and Jewellers who are based in Glasgow's Argyll Arcade made our rings. I went for a thin rose gold ring with diamonds to align up with my platinum engagement ring. I fancied a contrast in colour. Chris got a plain rose gold ring made.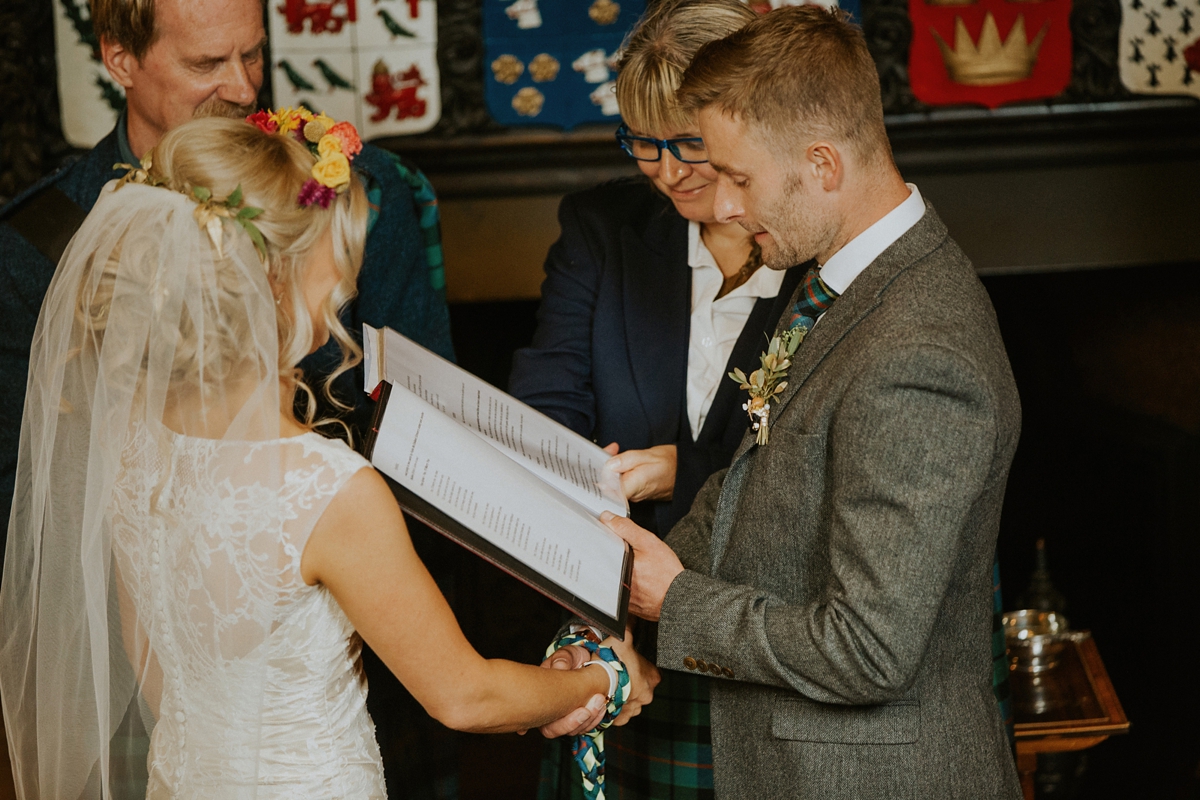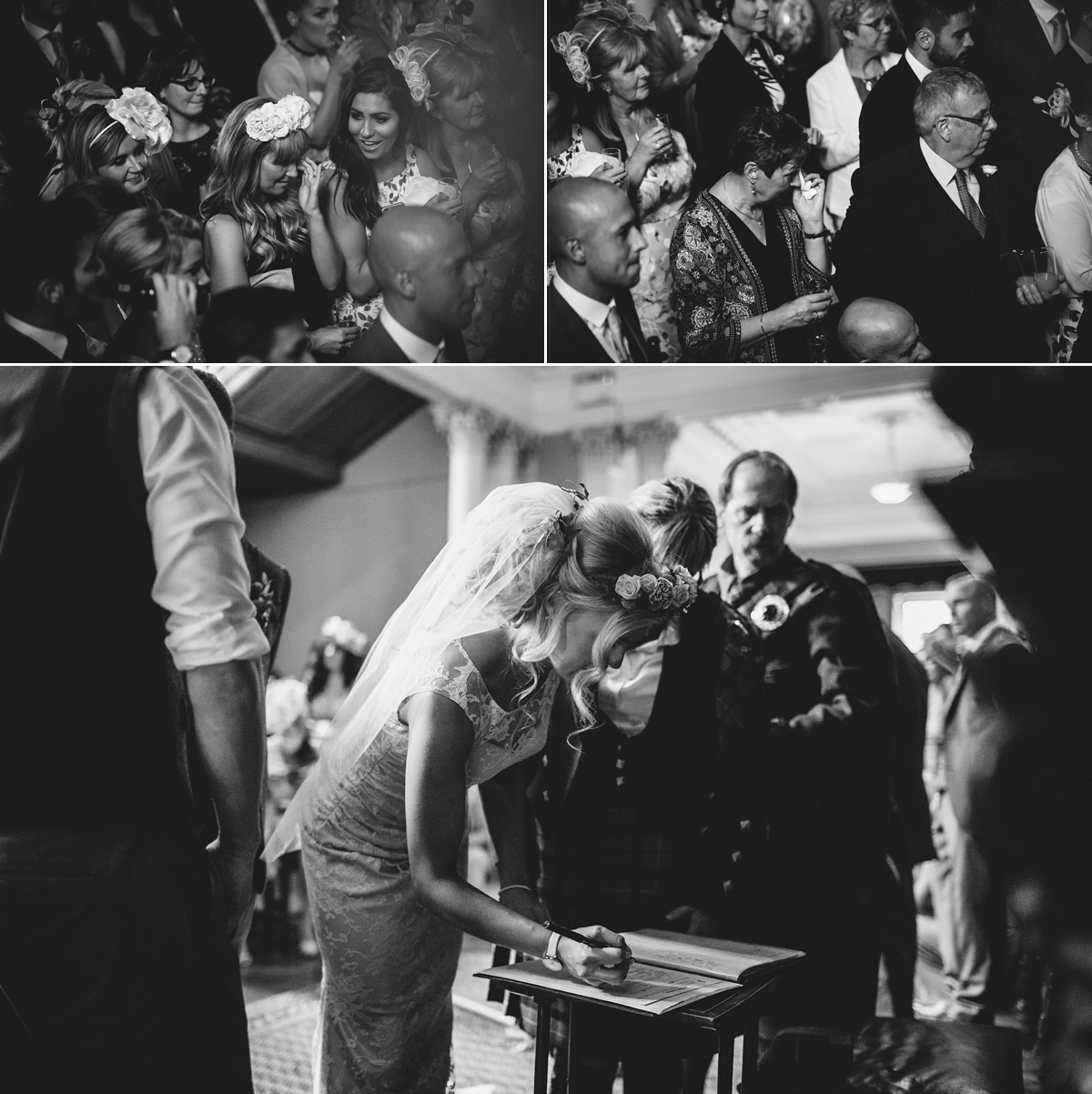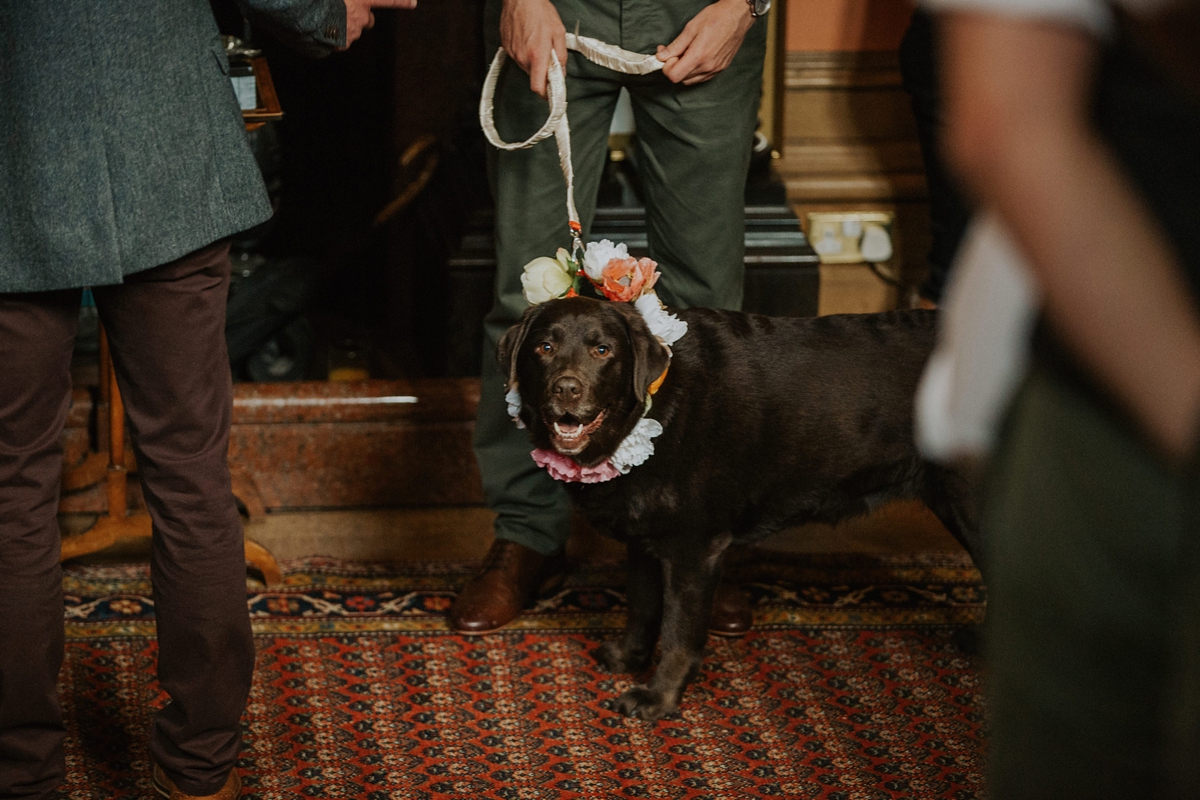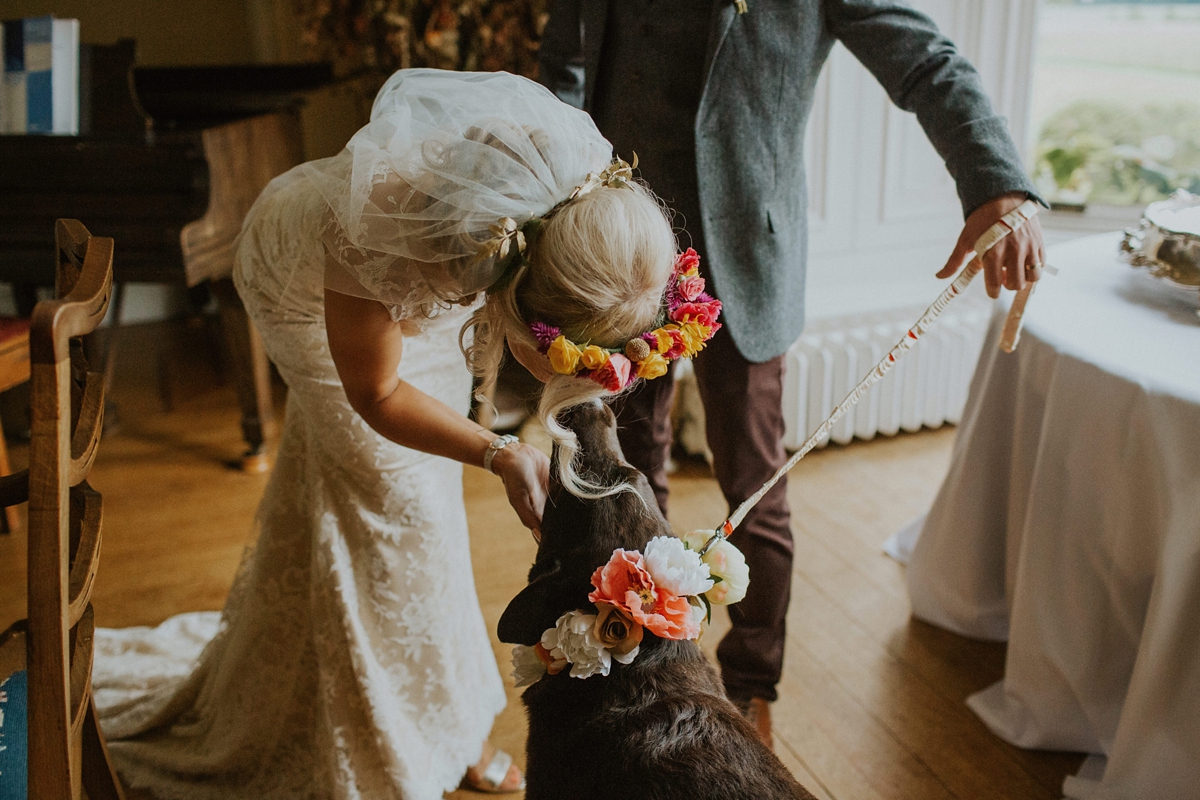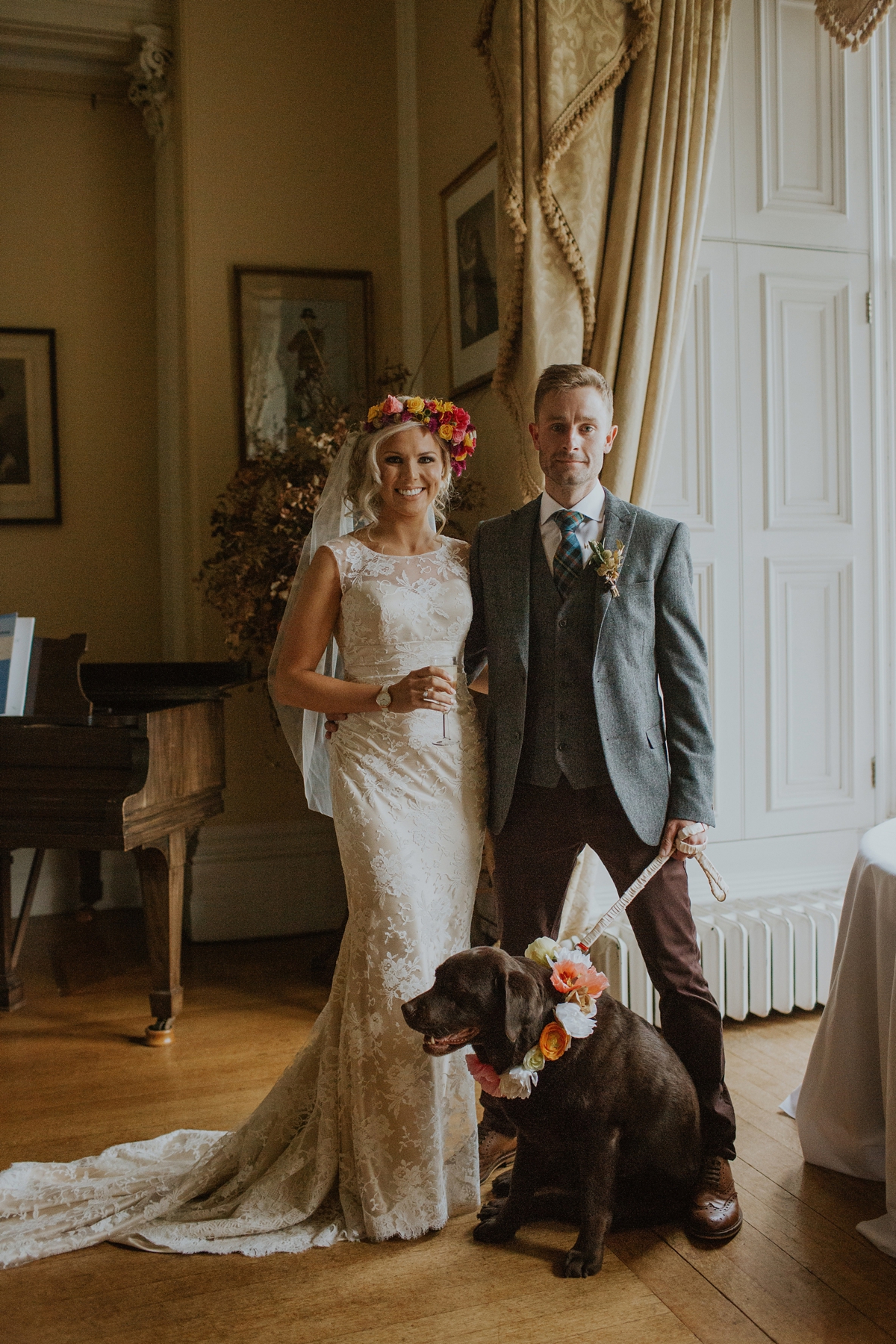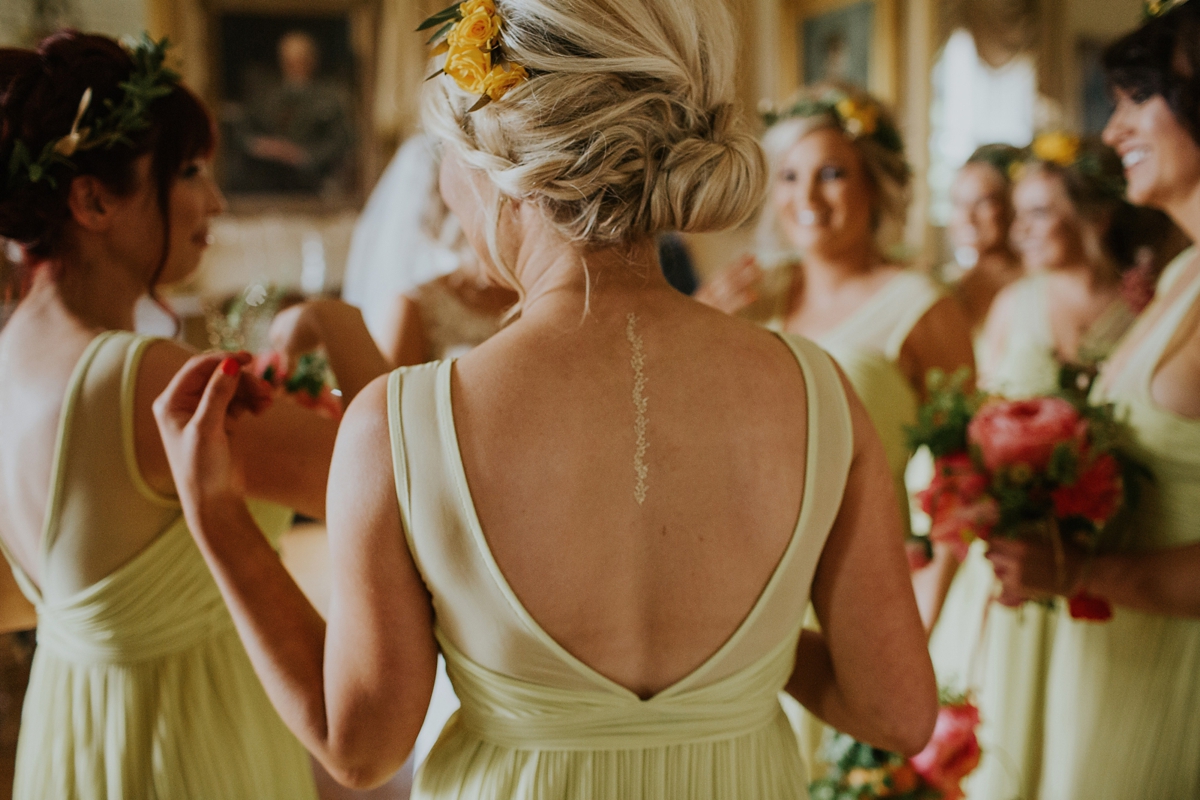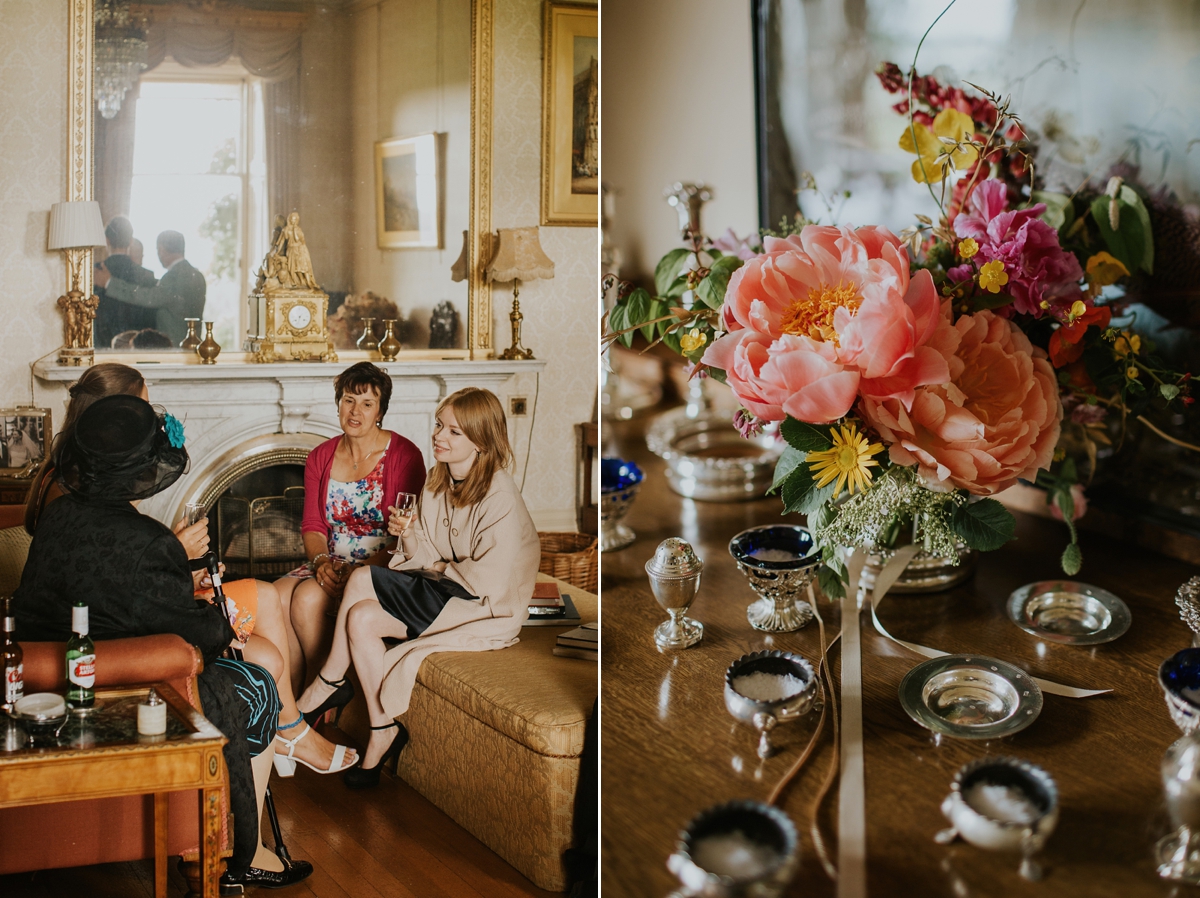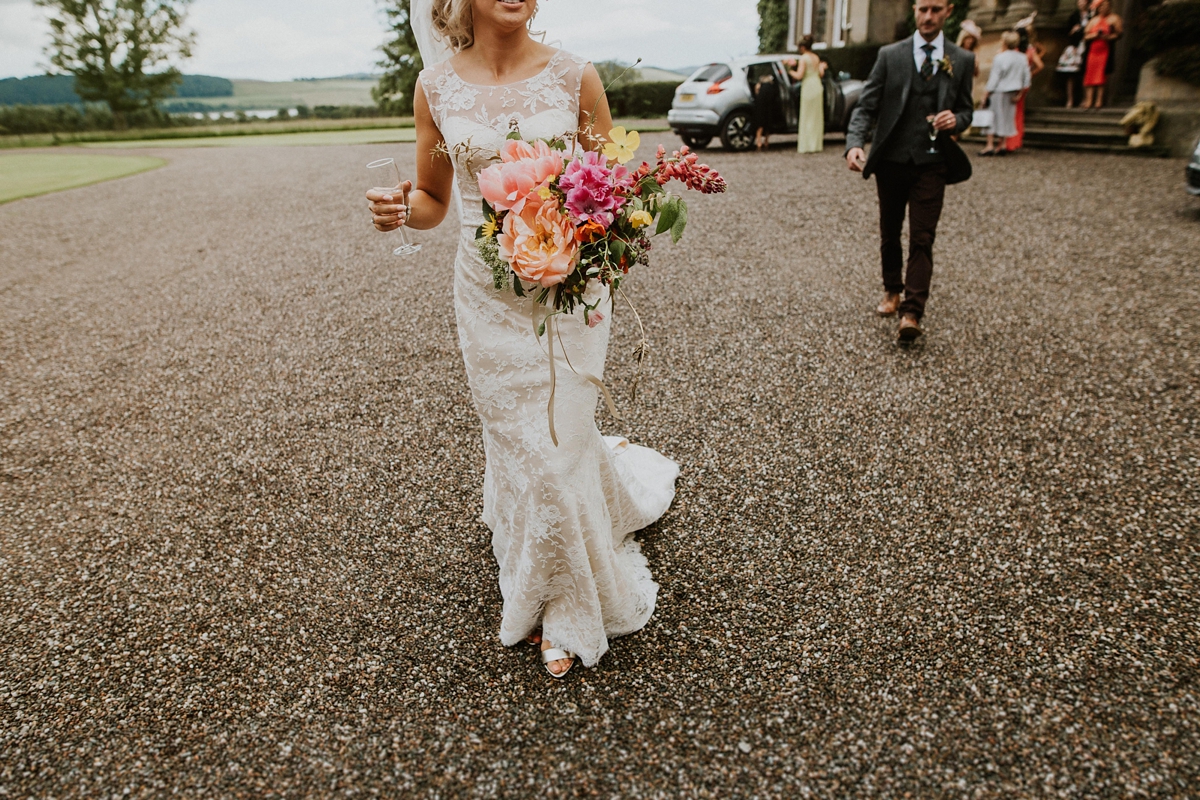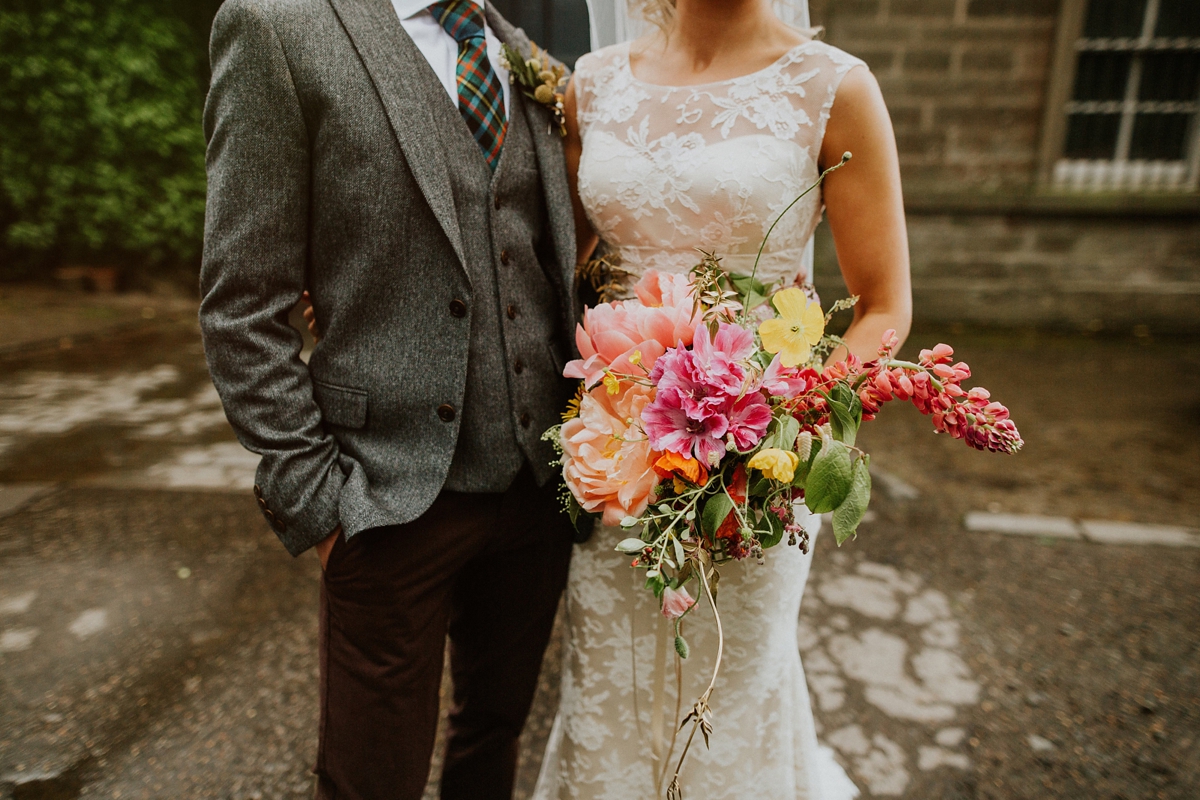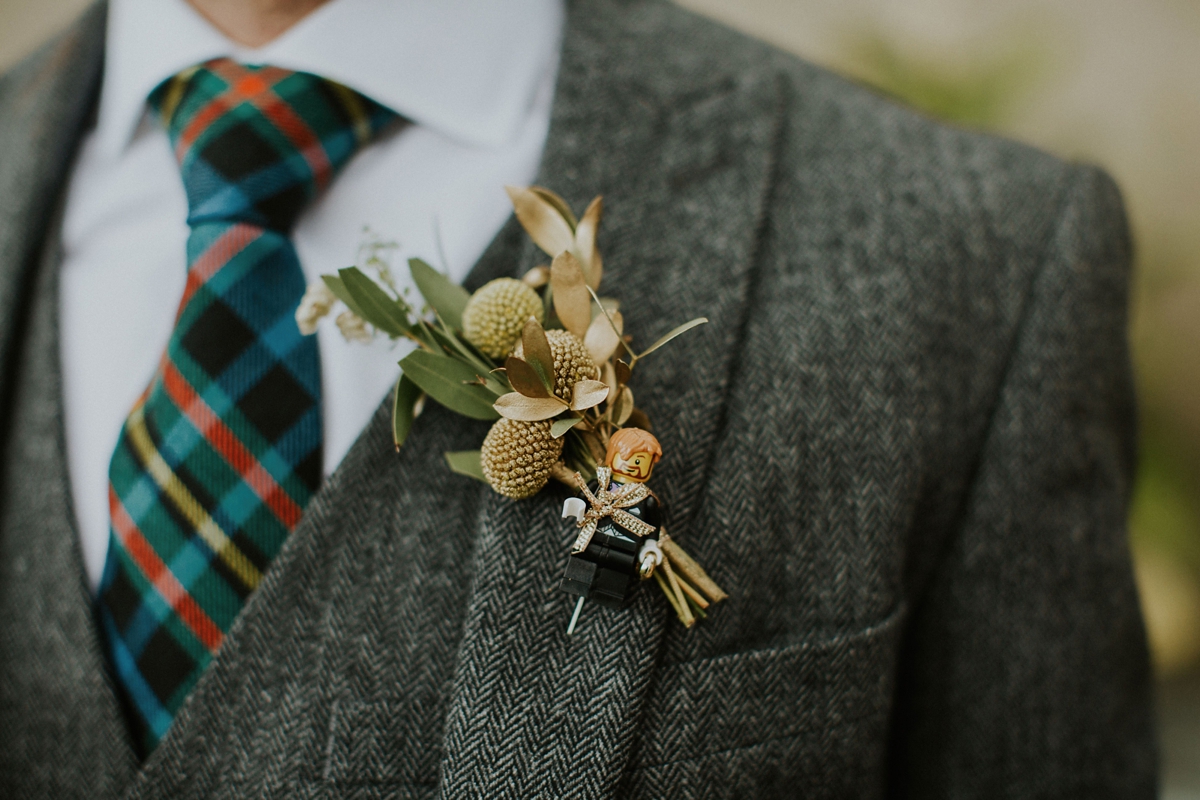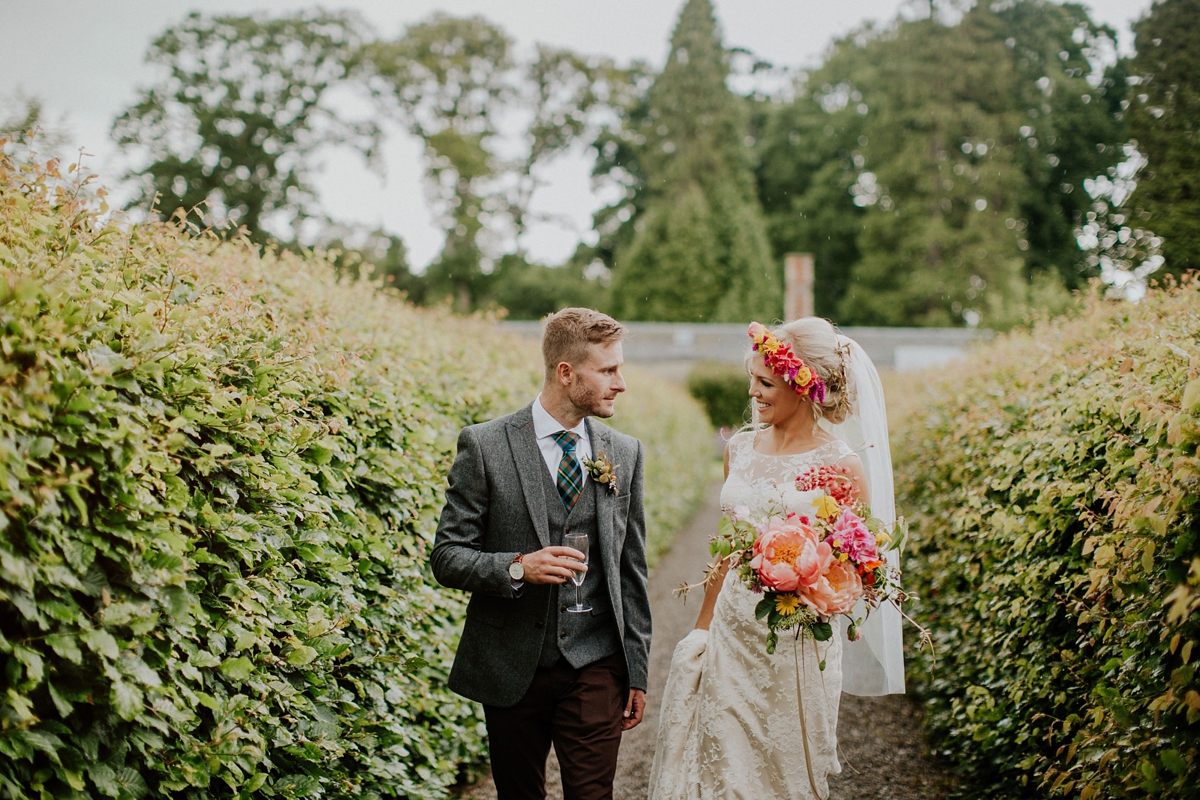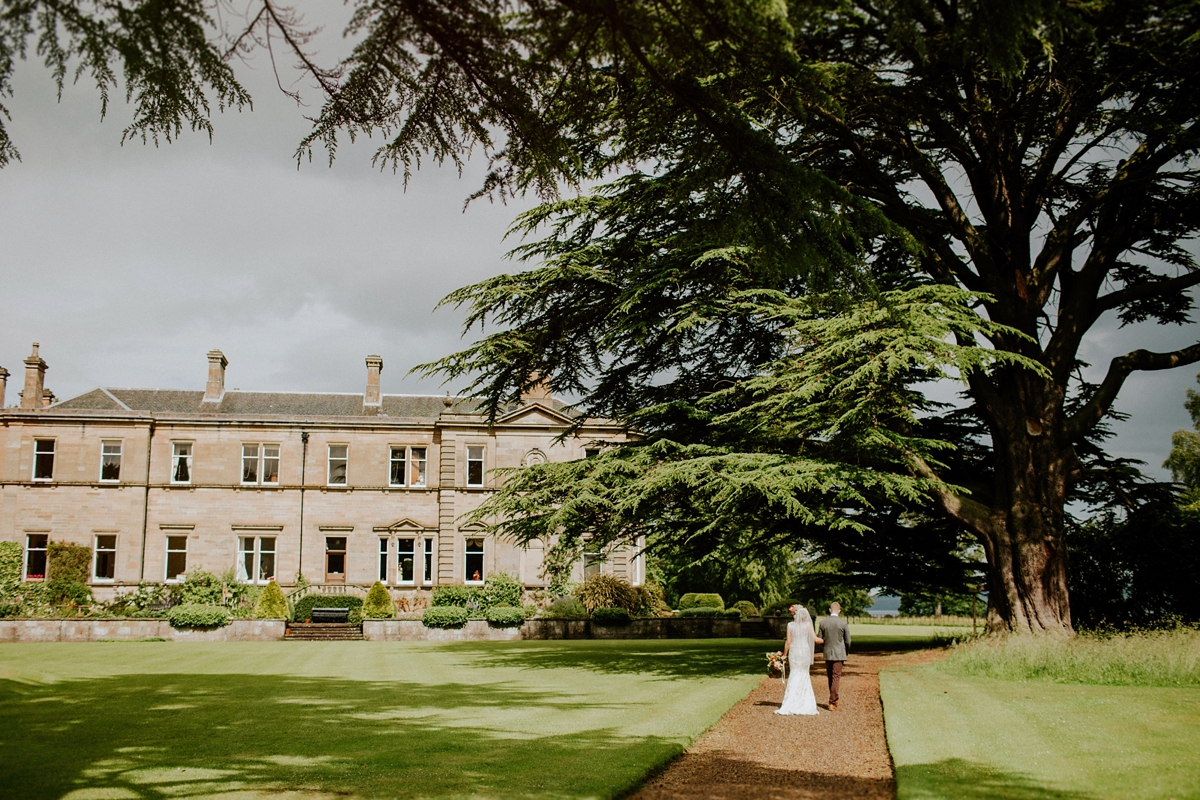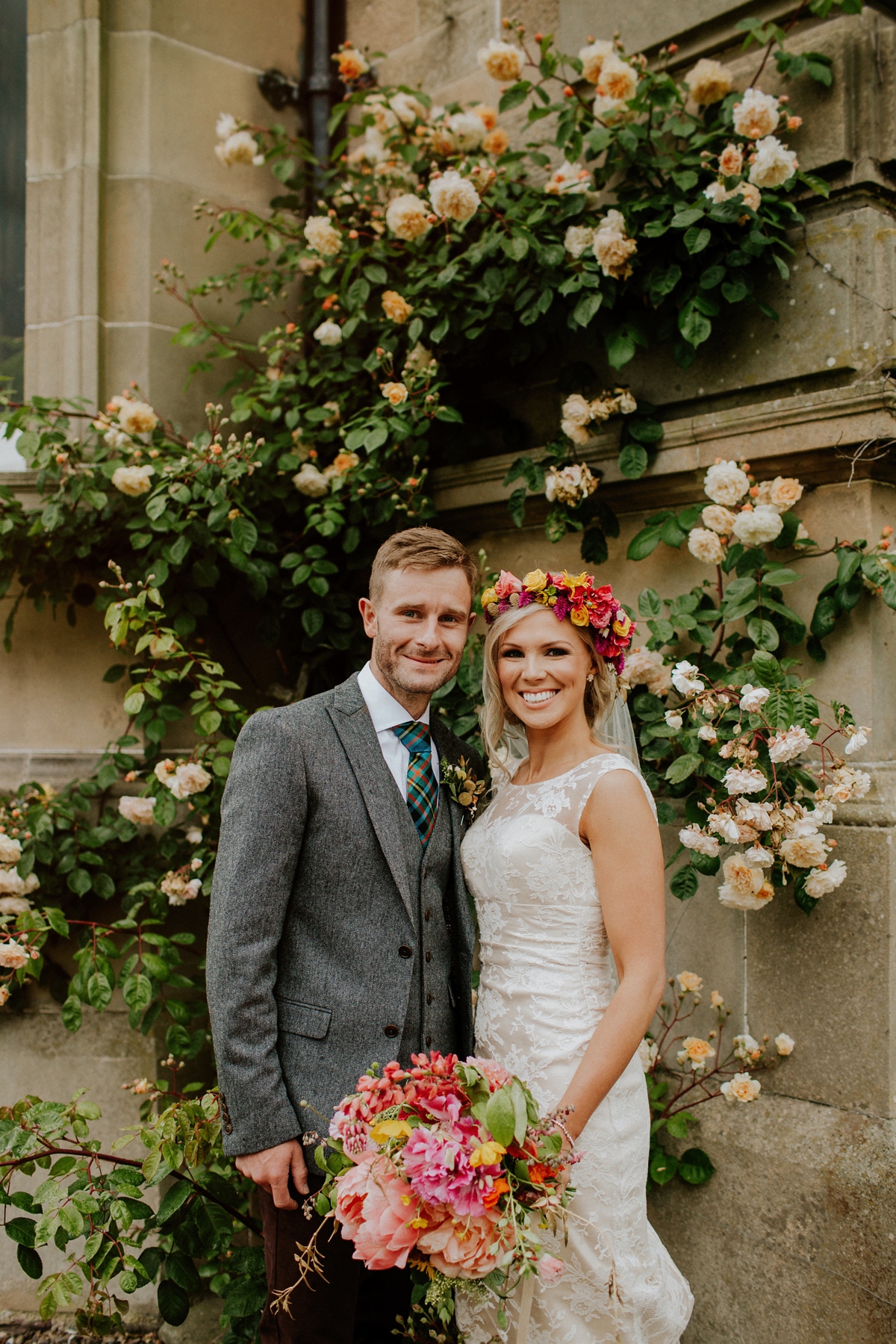 "I could not recommend our photographers, The Curries, enough! They were so chilled and nothing was a hassle. They totally got the style we hoped for and melted into the background. Gillian even doubled up as a bit of a wedding co-ordinator in the morning, instructing folk to get the chairs outside when the sun decided to appear, and get them all back in again when it disappeared just as quick."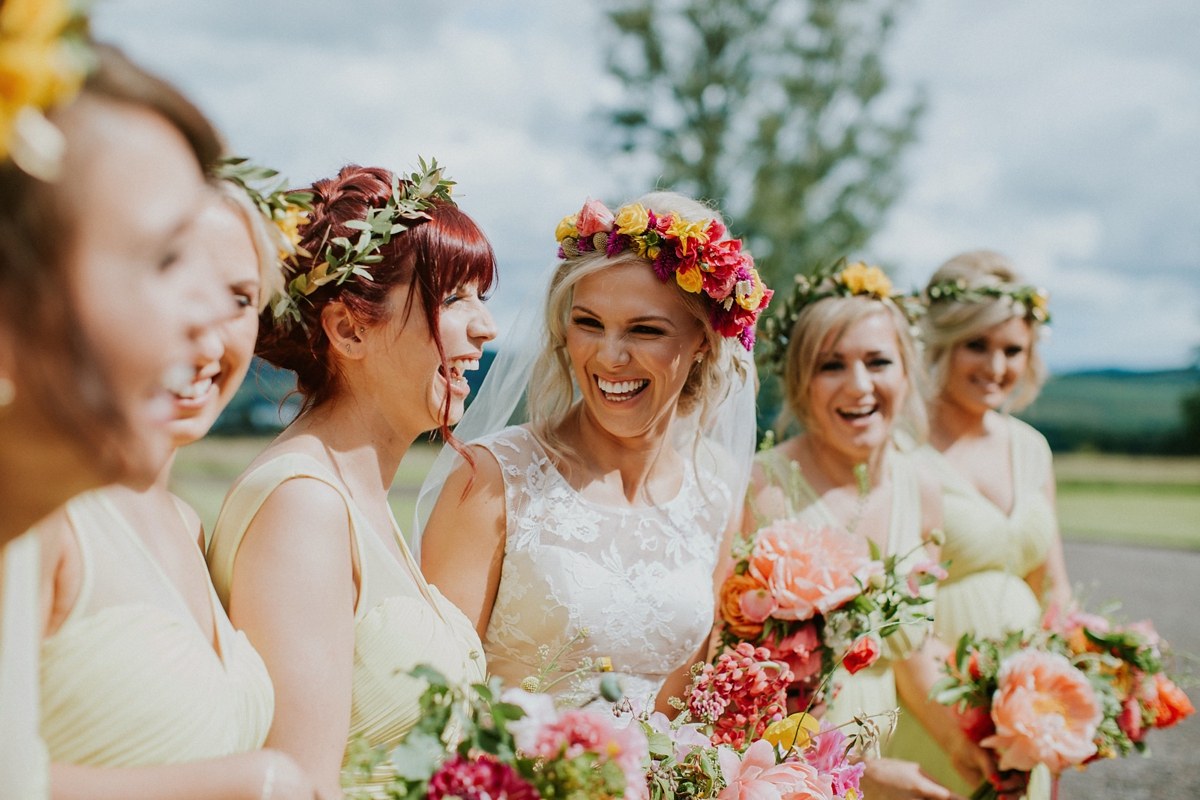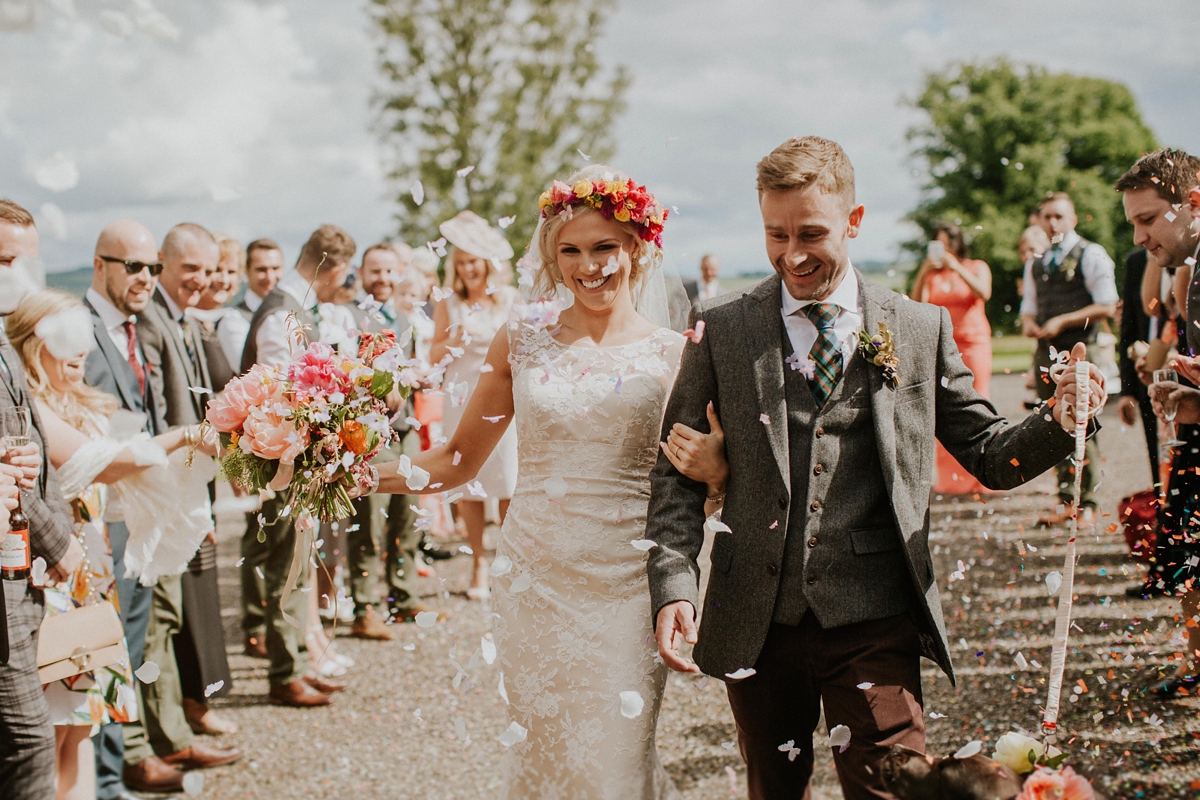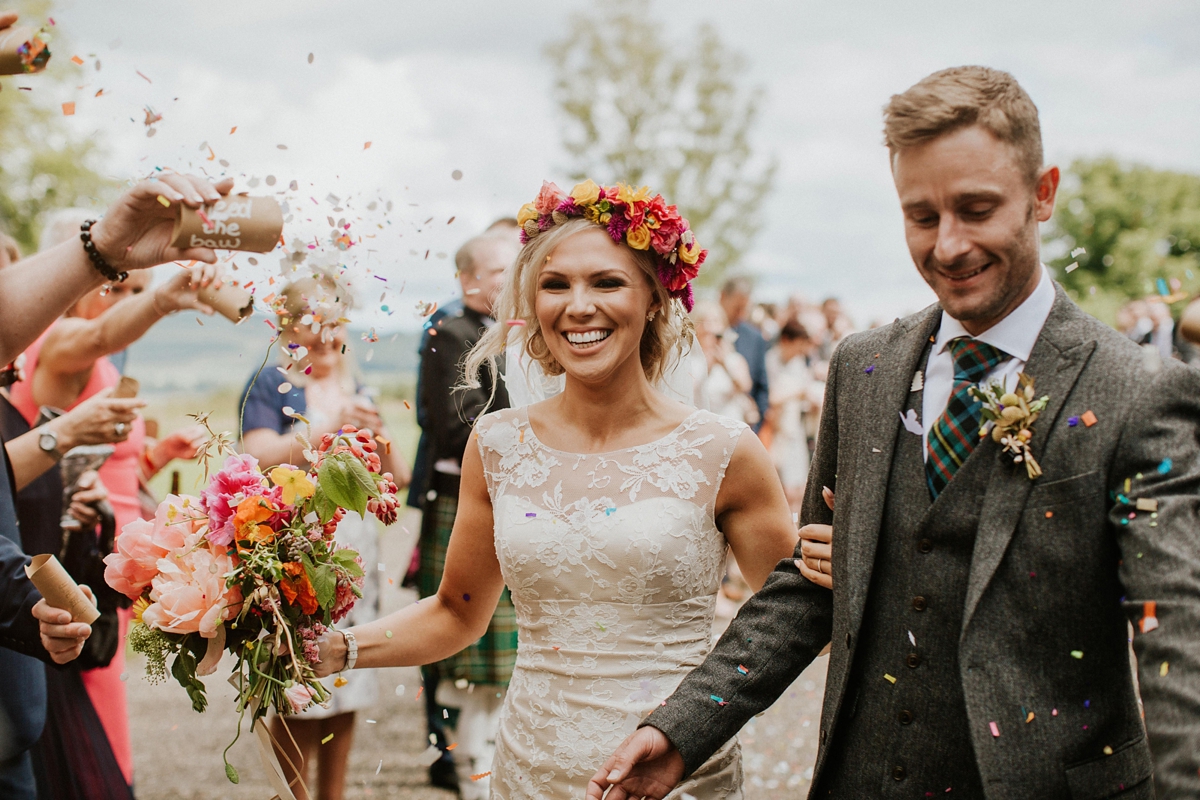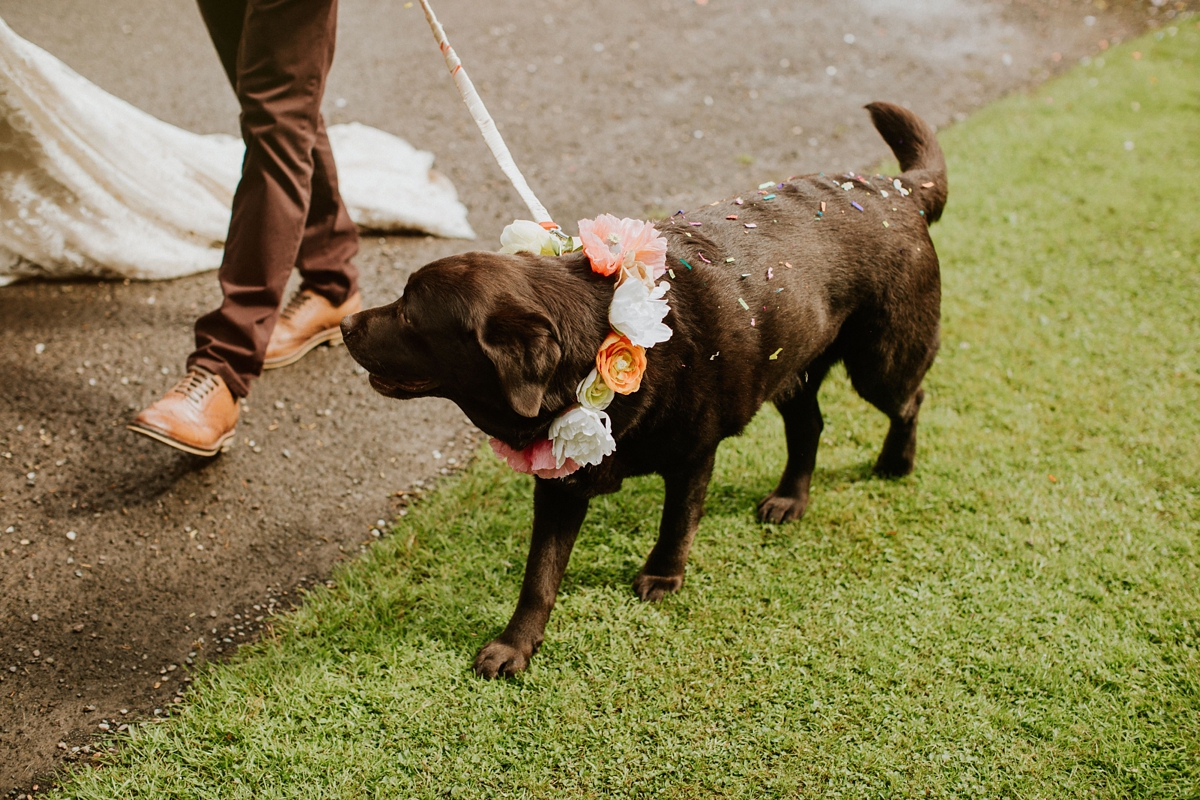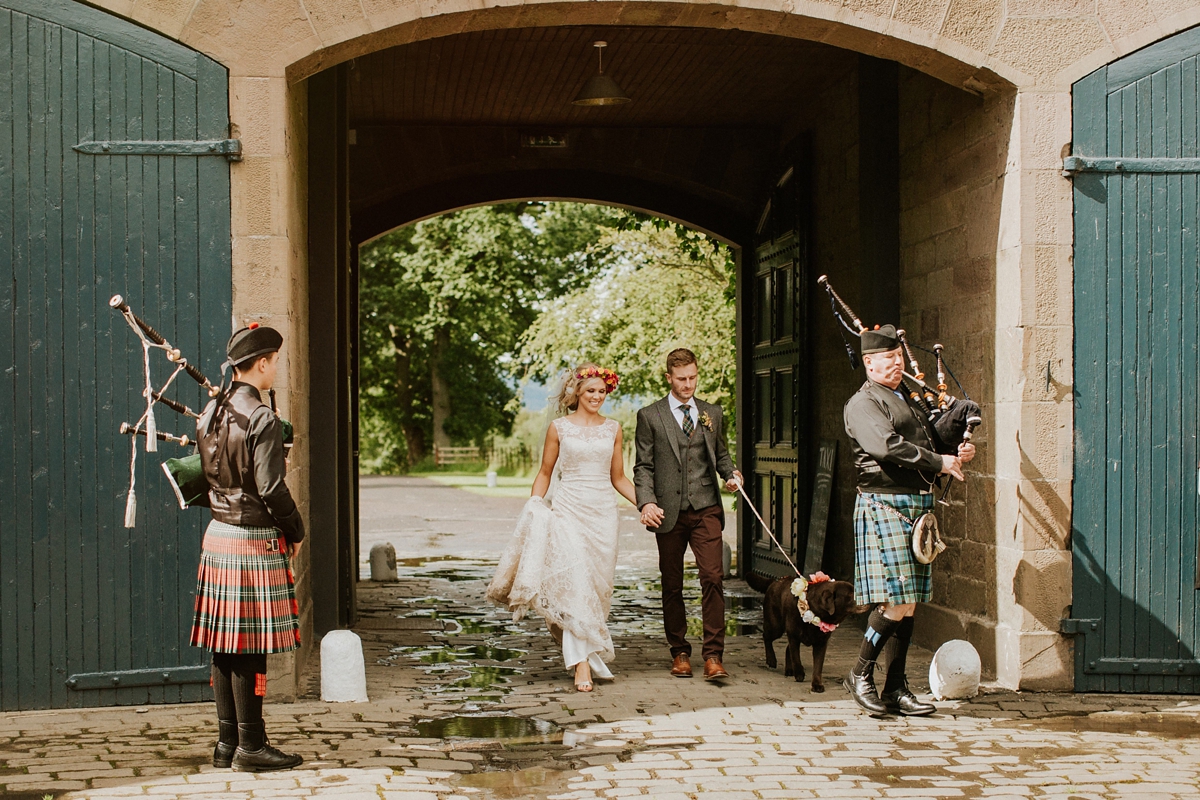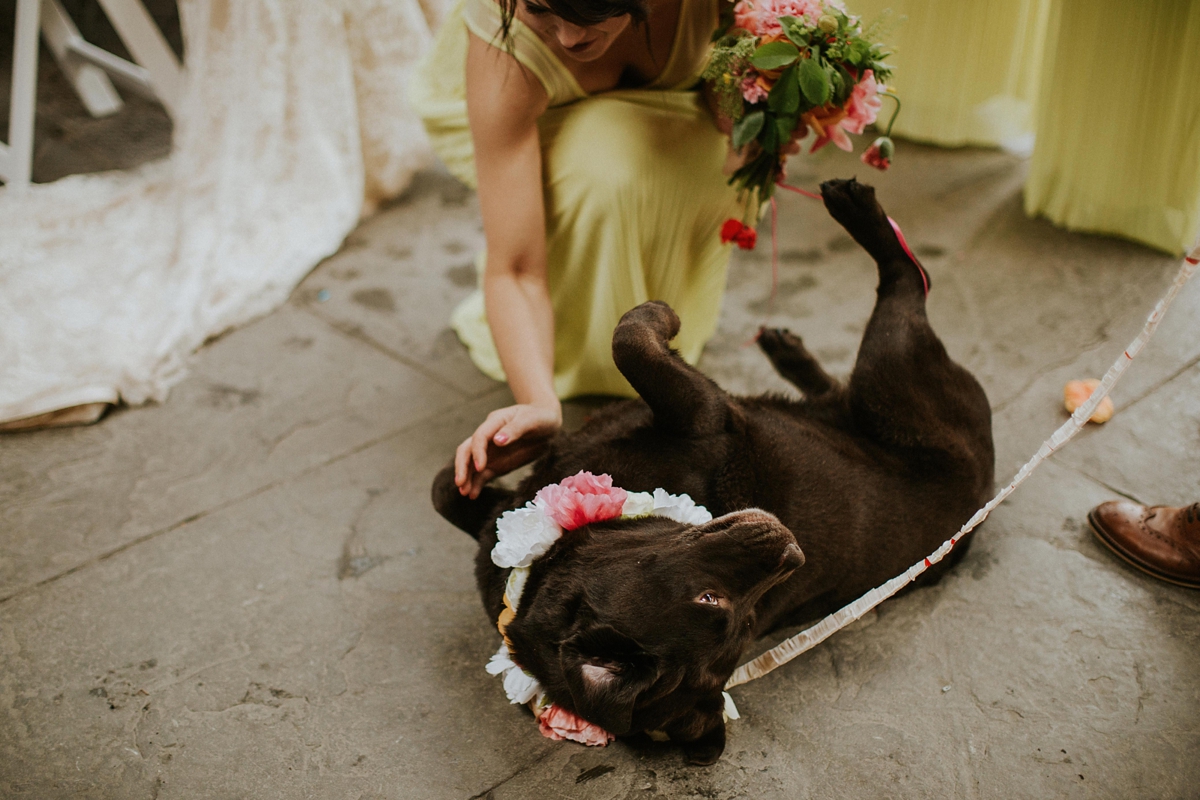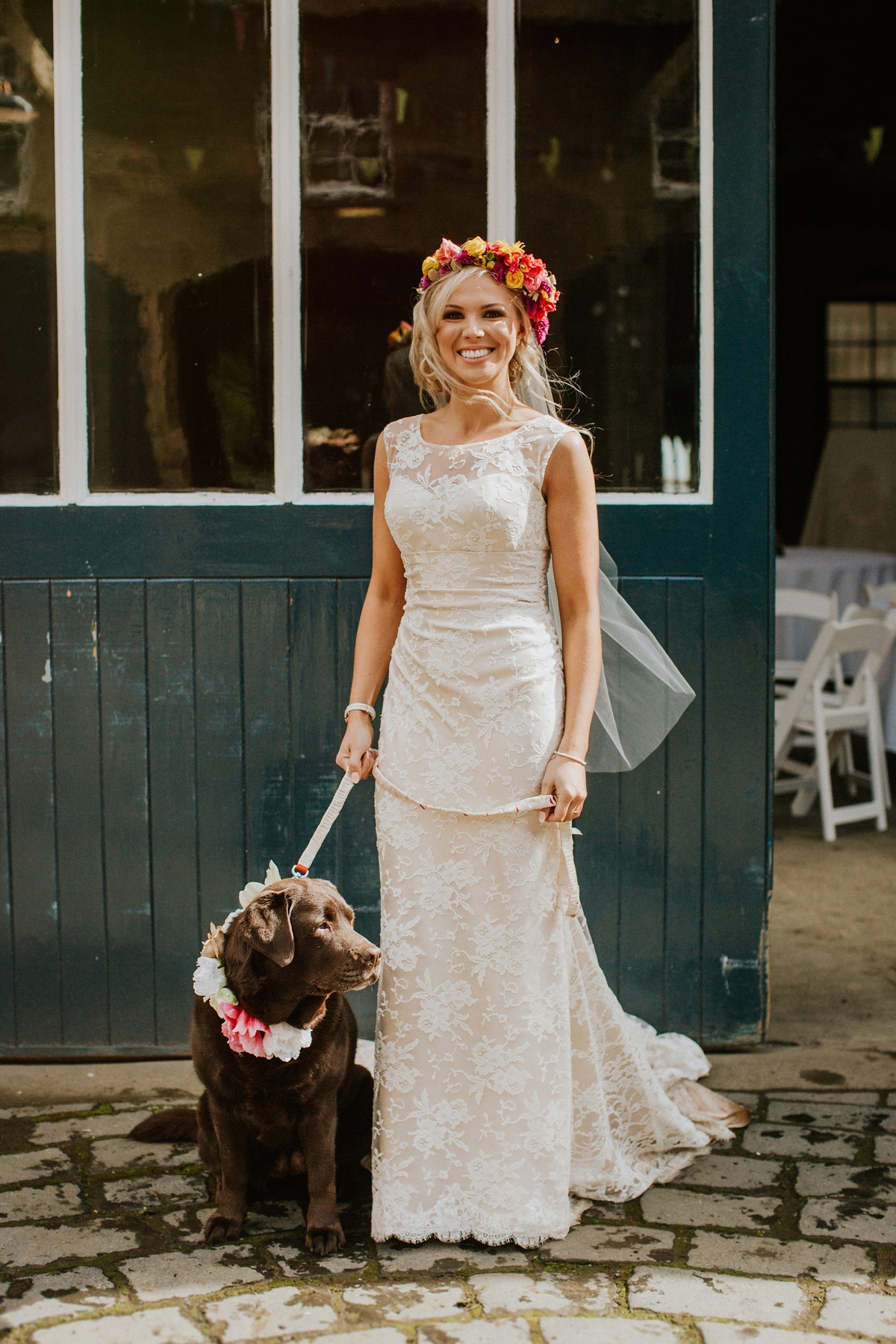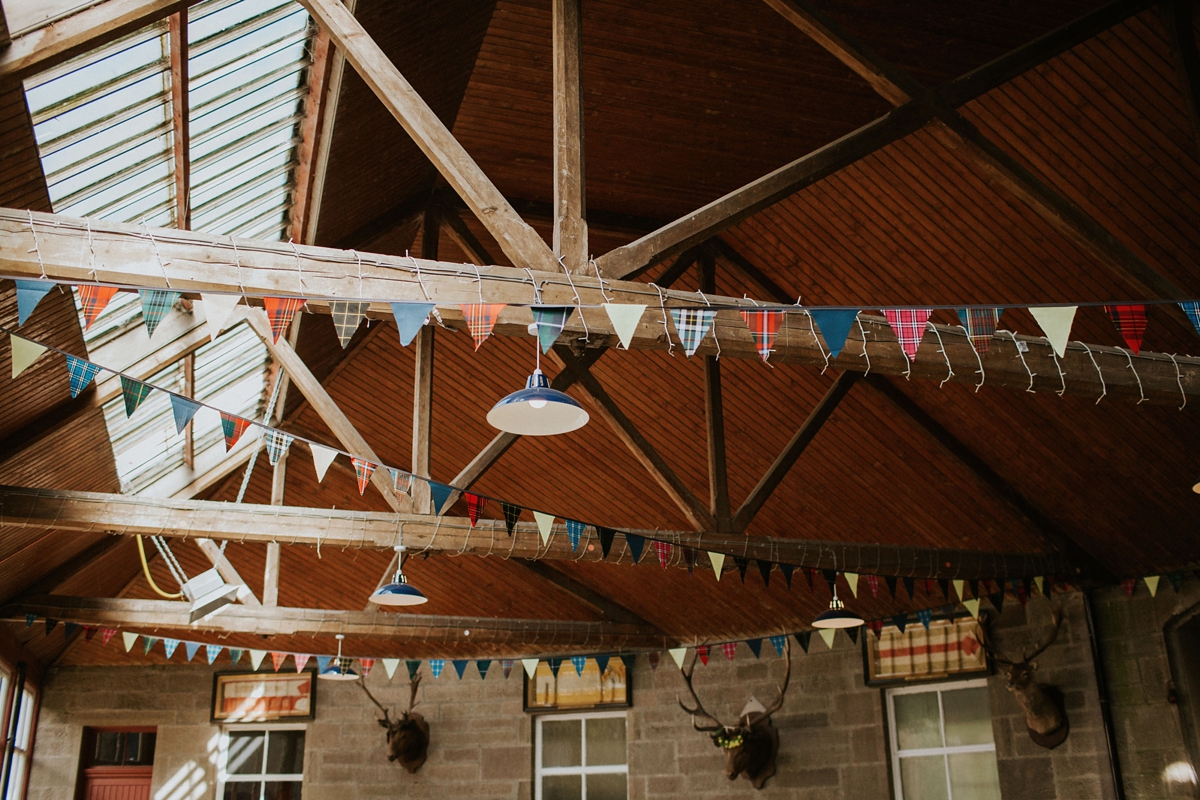 "We hired Regis Banqueting for the meal and staffing. They were brilliant from start to finish, from helping us create our own menu to running the day seamlessly. We had a Scottish inspired sharing platter with oatcakes and chutneys to start. The main dish wasn't your typical fine dining wedding style."
"We chose to have individual pies with double fried chips, sweet potato mash and veg. The pies were such a big hit and we had people asking us where they were from.  Everyone had picked from a choice of six fillings on their 'Say aye tae a pie' RSVP before the wedding. They were sourced from David Bennett and Son butchers in Dunblane. I had previously worked in Stirling and used to go there and buy them in bulk to take home, the favourites being steak chilli and tomato and chicken and orange."
"Chris designed and created all of our stationery himself, a hidden talent of his that we discovered. The invitations were grey envelopes with lots of bits and bobs inside, which were sealed ourselves with a paw print wax seal, games of thrones style. Also, a lot of DIY'ing went on! I sprayed many a glass jar gold and dripped a box-load of wax down mixed alcohol bottles."
"These were used on the tables day and night. My mum made the most amazing tartan bunting – a whole 100m of it, ribbon backdrops for behind the top table and along the bar."
"Chris's mum and dad made lots of lovely gold and bright colour tissue pom poms."
"We made our own Skittles vodka as favours for our guests. It brought a lot of colour to the tables and it got everyone on their merry way after shot'ing it at the tables. They also doubled up as place cards with little labels with the guest's name tied around the neck."
"Me, my mum and the bridesmaids sat and decanted all the different coloured vodka into over 130 wee' glass bottles with even more wee' funnels on a sunny day in the back garden."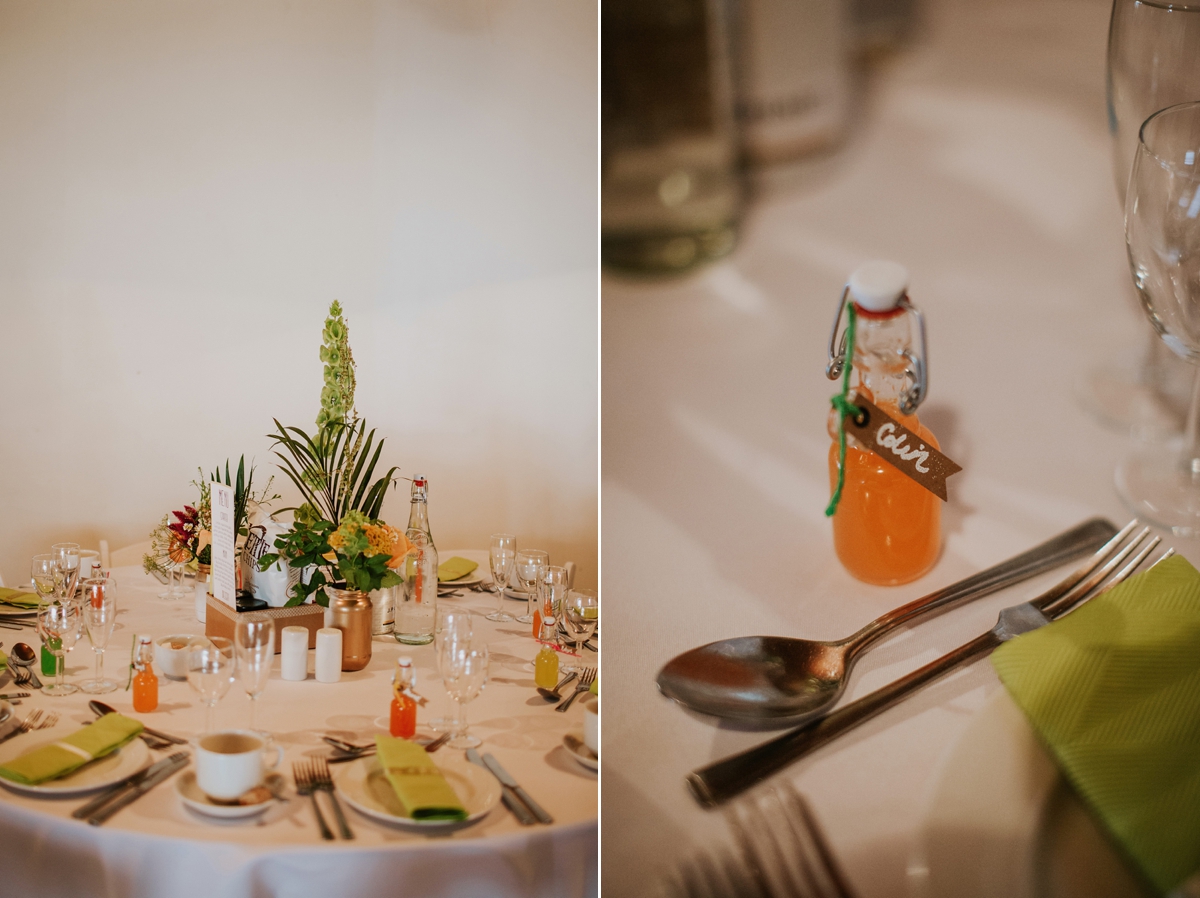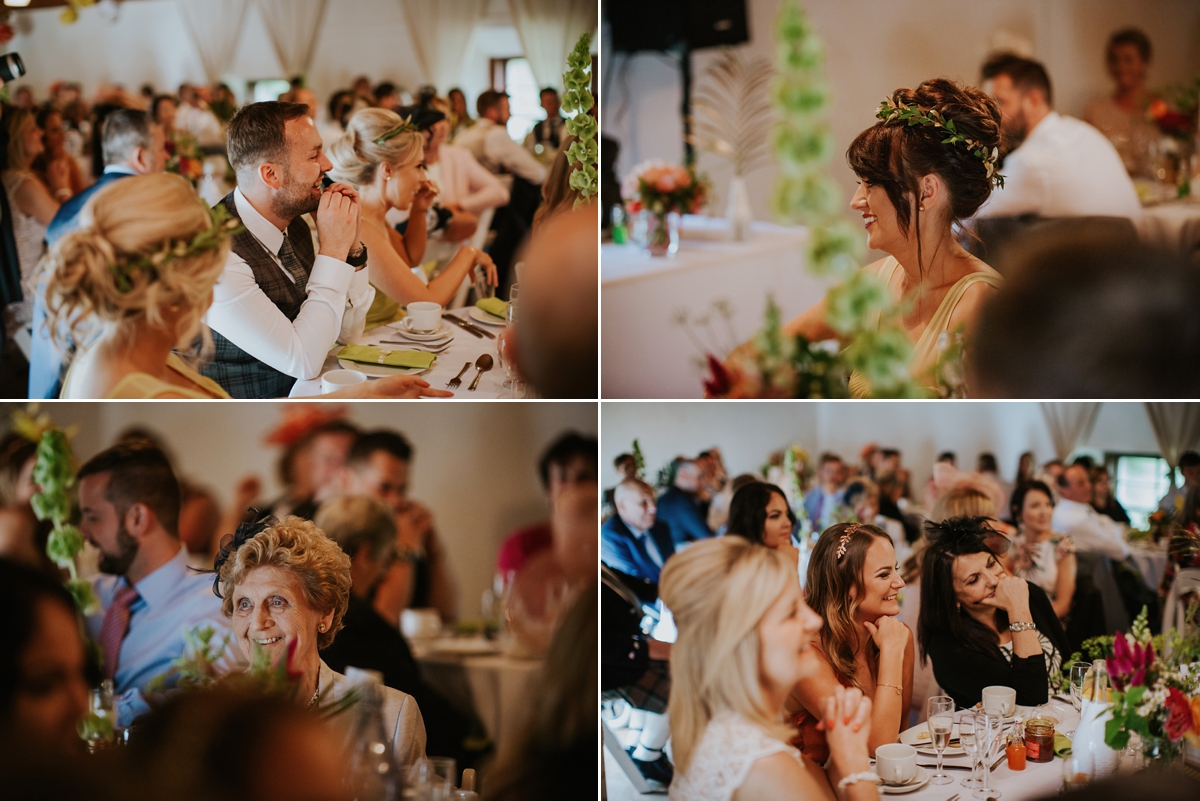 "We decided to have a cheese tier instead of a cake as, although Laura loves to bake, it wasn't really a priority of the day as there was a full cake table for dessert, that some guests had contributed to with some brilliant home baking. We actually forgot to cut the cheese tier cake, remembering later on in the night when everyone was too busy dancing to notice!"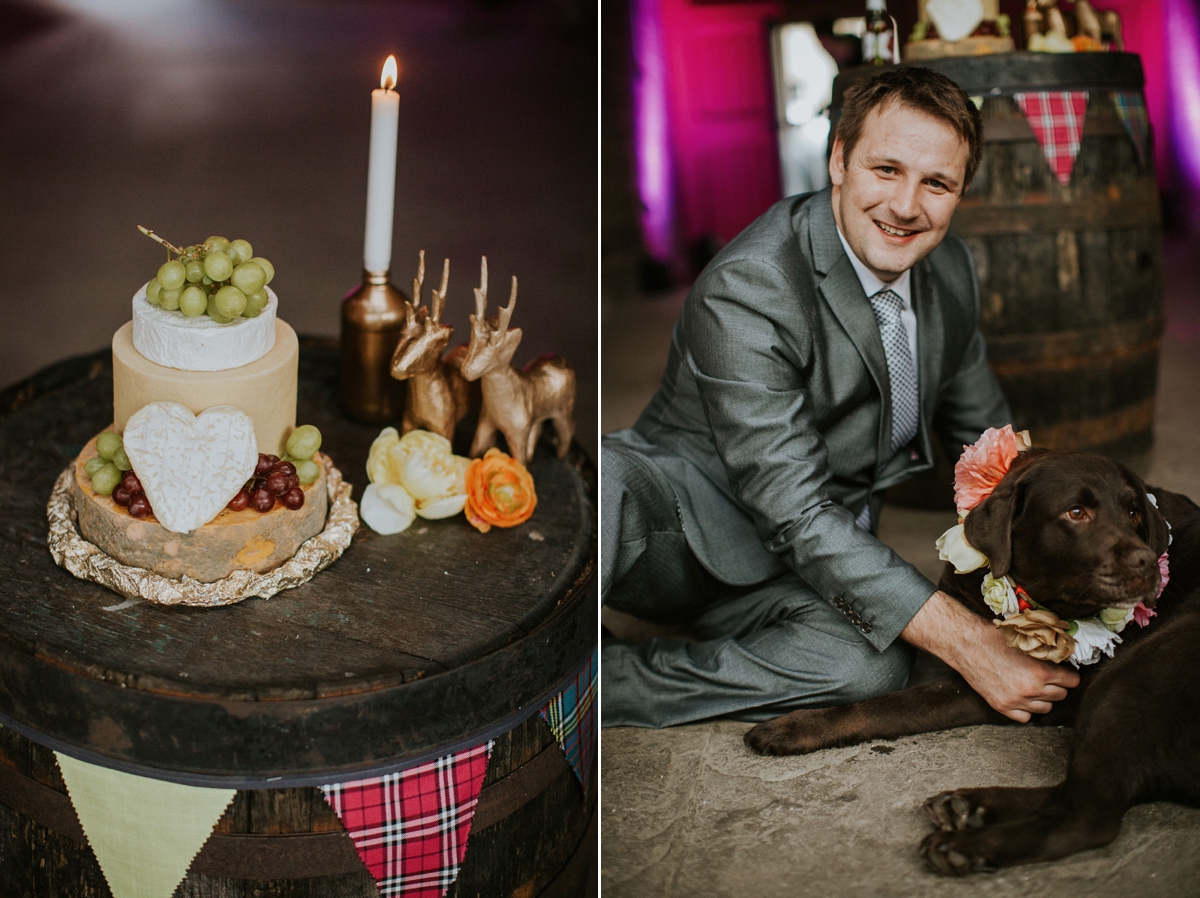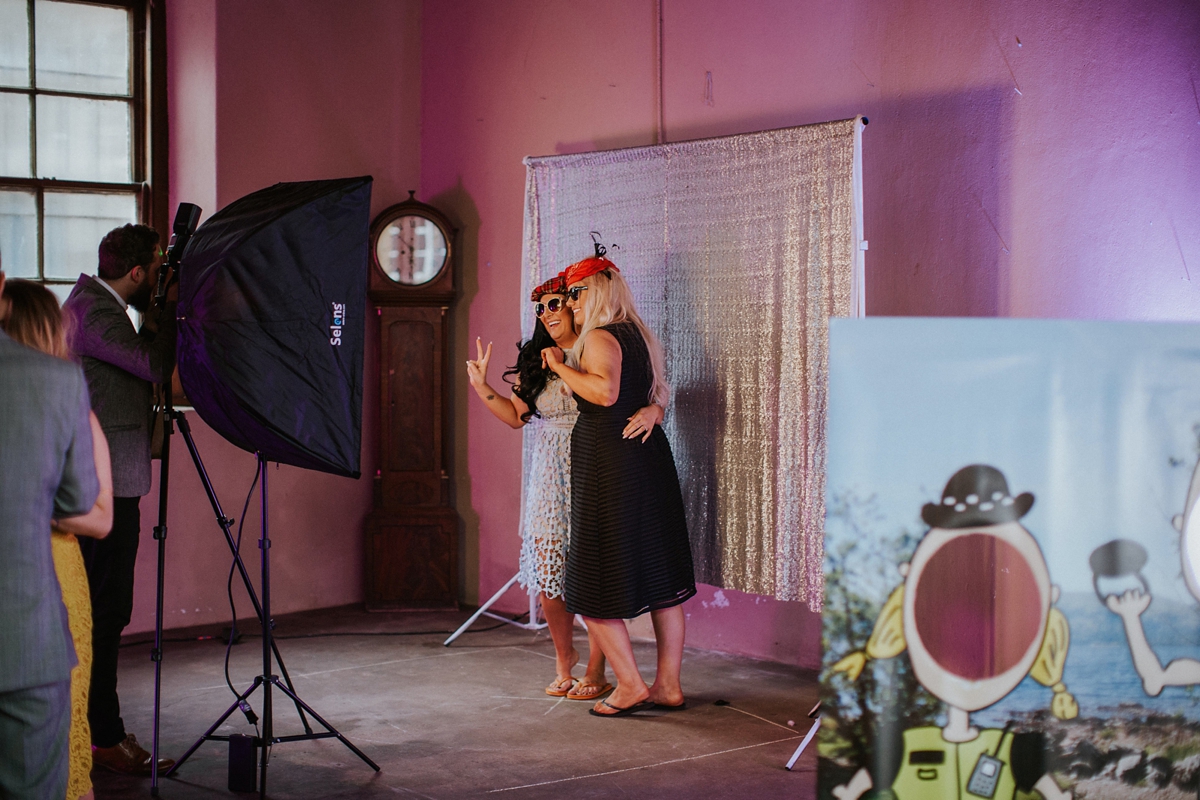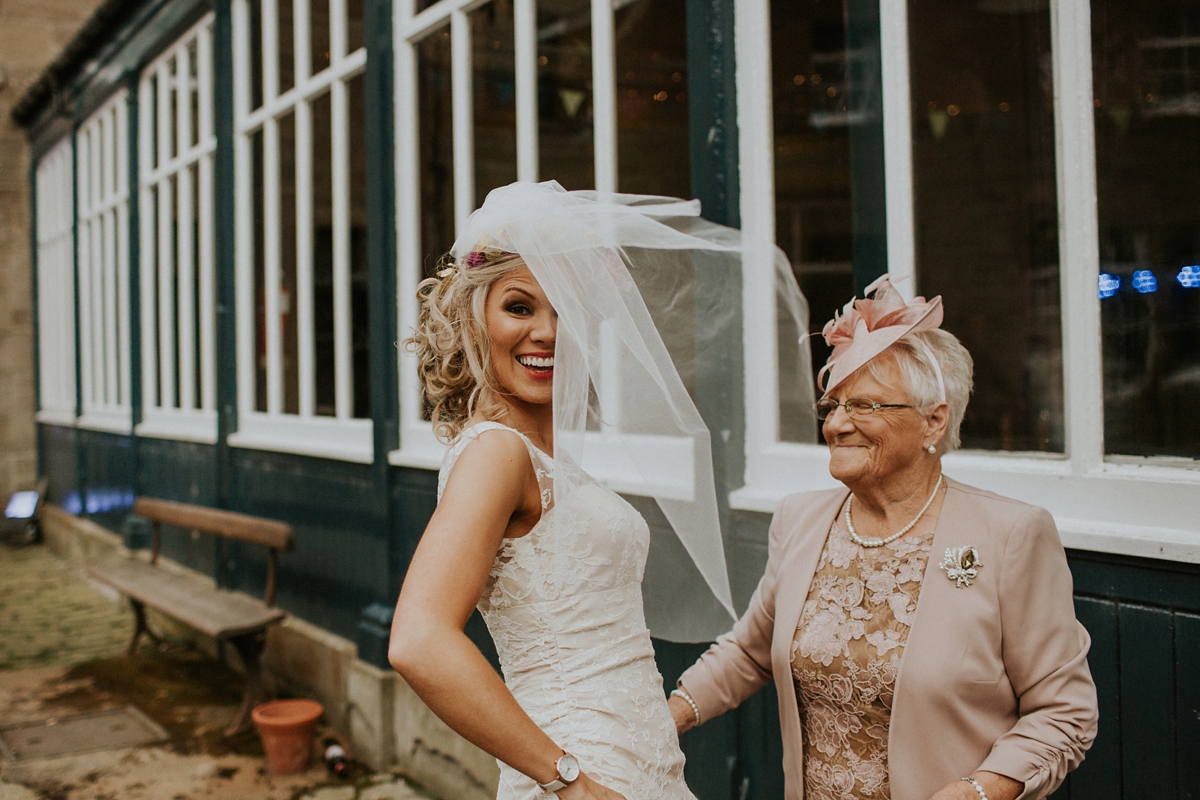 "We hired The Cartel for entertainment – they were such an easy choice. They are a great band and have the added talent of being able to instruct a ceilidh which if anyone has been to one; they will know how quickly it can descend into chaos."
"We had two first dance songs as we couldn't decide on one and we don't have 'a song' as a couple. Chirs picked Hall & Oates 'You make my dreams come true' and Laura picked Jess Glynne 'Hold my Hand' – the old and the new – and both were deliberate choices in the avoidance of slow dancing. Even our dog joined in!"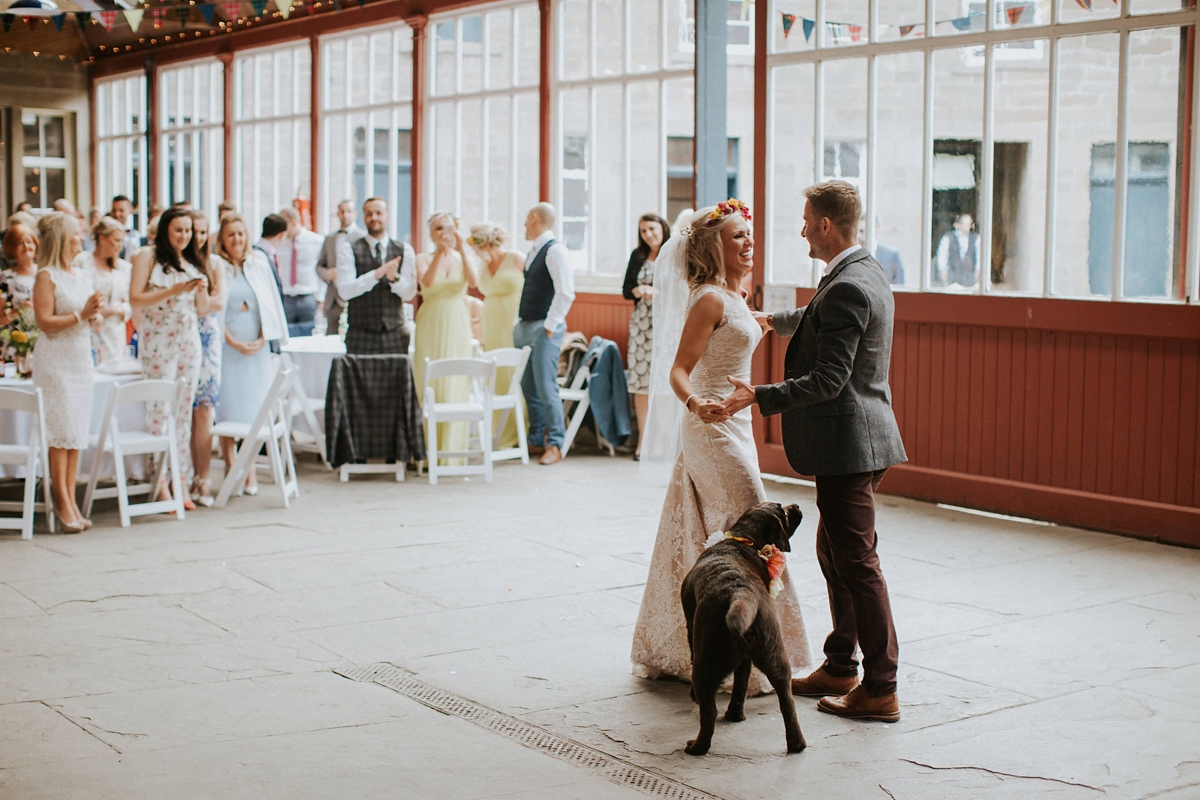 "There were too many favourite bits to list! From hearing each other's personal vows, to the 'SHAME' chants during the confetti throw that only a Game of Thrones fan would get, to the speeches and crazy ceilidh and the antics of the lodge after-party."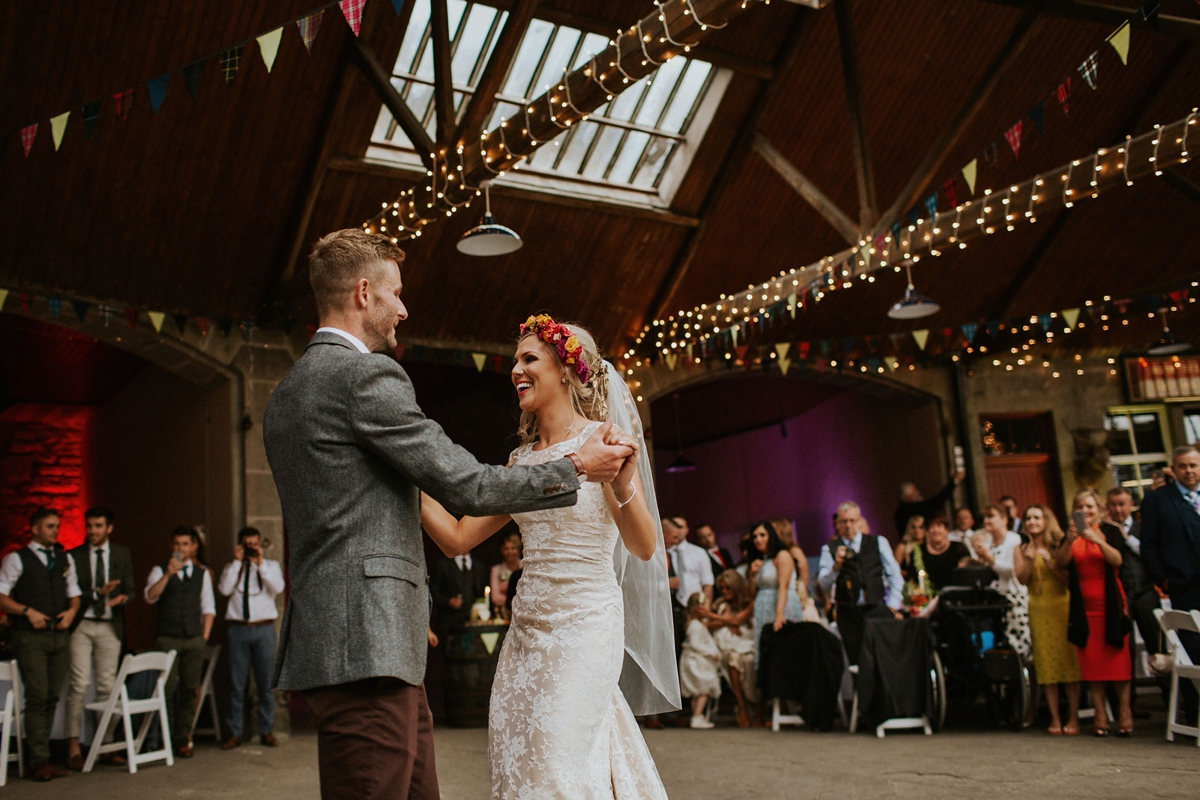 Words of Wedded Wisdom
"I would of had the ceremony a little earlier as the day passes far too quickly."
"We had our chocolate Labrador Pacha at the full day. She was the 'best dog' with her very own flower crown collar and lead as the ring bearer by Laura's cousin Amy. She had a ball and even had a food hangover the next day from all the bits of food the guests were giving throughout the day."
"We also had a pop up beauty bar at night which the guests loved. Sophie Alexis make up came along with a hair stylist and freshened all the guests up for the night time shenanigans."
Beautiful – as everything ever photographed by The Curries always is. Enjoy pinning these images lovelies!
Annabel x