I don't know about you but this time of year always sees me hibernating a little- I love certain aspects of winter but often find that the dark evenings and colder weather makes me settle into the house for longer periods and my usually voracious wanderlust takes some time off.
Today's beautiful Italian wedding has set it all off again though.  Meet Andreas and Danneka, who married on Tuesday 4 July 2017 by Lake Como in Italy. The couple turned to Blessings from Italy for support planning their wedding and to officiate their ceremony.
"We didn't have an official wedding planner (many called us crazy, trying to organise an Italian wedding from Australia), but we had help from Blessings from Italy (our celebrants) for parts of the wedding including official translations, legal documentation, organising the ceremony venue and recommending and putting us in touch with musicians."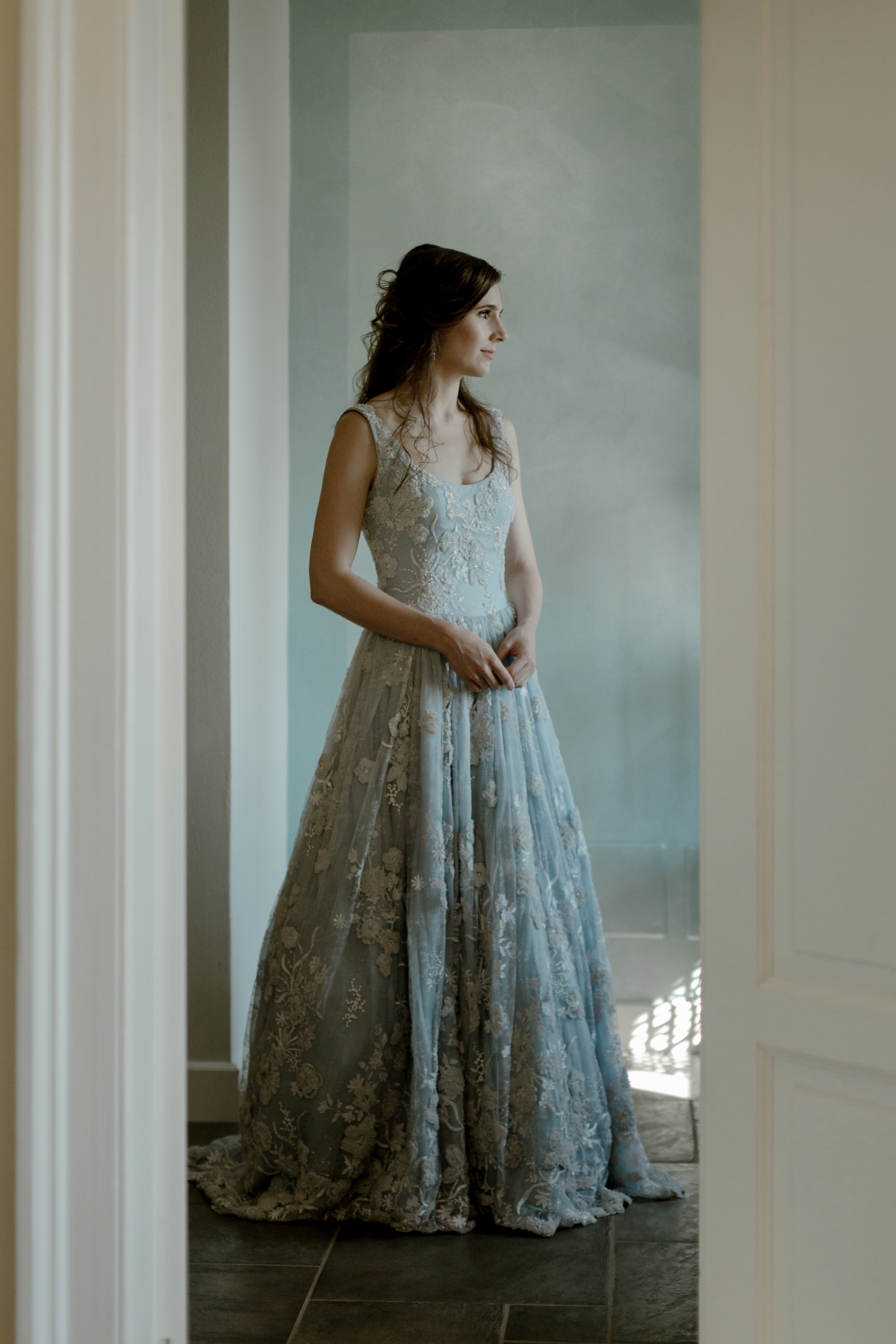 "We would like to make special mention of Giuseppe and Diane from Blessings from Italy.  Not only were they invaluable support by helping us to plan parts of the wedding, they also created a very special ceremony for us.  Like many couples these days we wanted a simple ceremony but something that was not void of meaning or dismissive of the importance of the occasion.  They understood this and created a balanced ceremony where everyone felt like they were part of something special."
"We had never been to Lake Como before our wedding but we thought it would be an amazing location for a family holiday and magical for a wedding.  Lake Como offers many beautiful villas as wedding venues, but Villa Monastero won us over.  It is less manicured than many other villas; the gardens a little wilder, the cracks in the masonry and it has a sense of history and provenance unlike anything in Australia (where we are from)."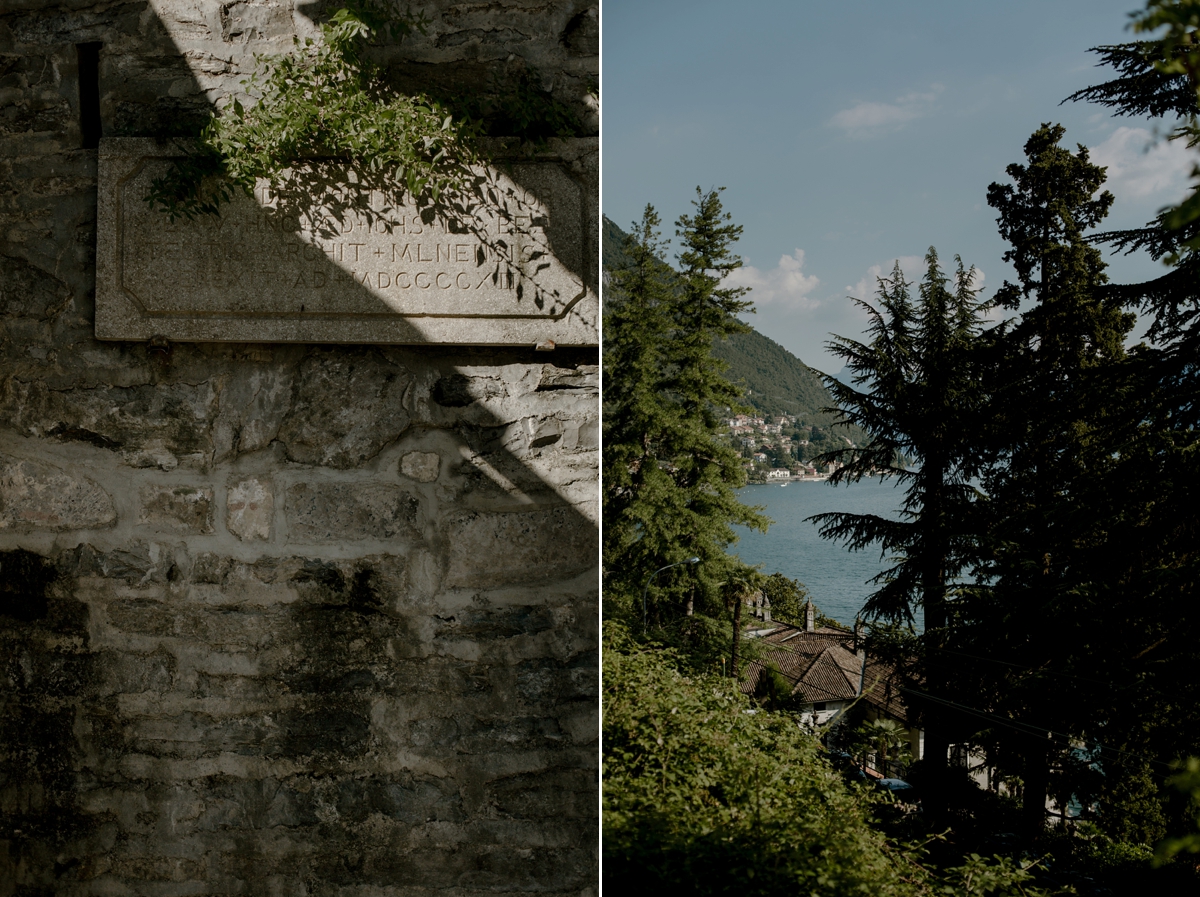 The couple met through work and became engaged in Queenstown, New Zealand over a scenic breakfast and continued the scenic theme through for their wedding day- what amazing views.
"All of the styling (including my dress) was chosen to compliment the natural beauty of the venue.  After we had chosen the ceremony venue we started to look at styles of wedding dresses that would be at home in the location. Villa Monastero's Loggia, where we had the ceremony, had a beautiful mosaic floor, which was the inspiration for the colour of my dress (we even photo-shopped different styles and colours of dresses onto the floor to help us decide).  Once we had decided on a blue dress the rest of the styling we kept simple, elegant and timeless: white flowers and white candles."
Danneka's amazing gown was a bespoke piece by De Challie, which she, the designer and Andreas worked on together.  I'm completely in love with it- the delicate shade of blue reminds me of antique china and the lace is so delicate.
"What I love most is that Andreas, De Challie and I designed the dress together.  For six months we met with De Challie weekly collaborating on colour, fabrics, style down to every detail.'
'Some people thought that it was strange that Andreas had seen the dress before anyone else but it didn't take away from the moment that I walked down the aisle and the process of creating it together with De Challie was special for us."
Hair and makeup were the work of Kamilla Danchenko, for whom Dannekka was full of praise.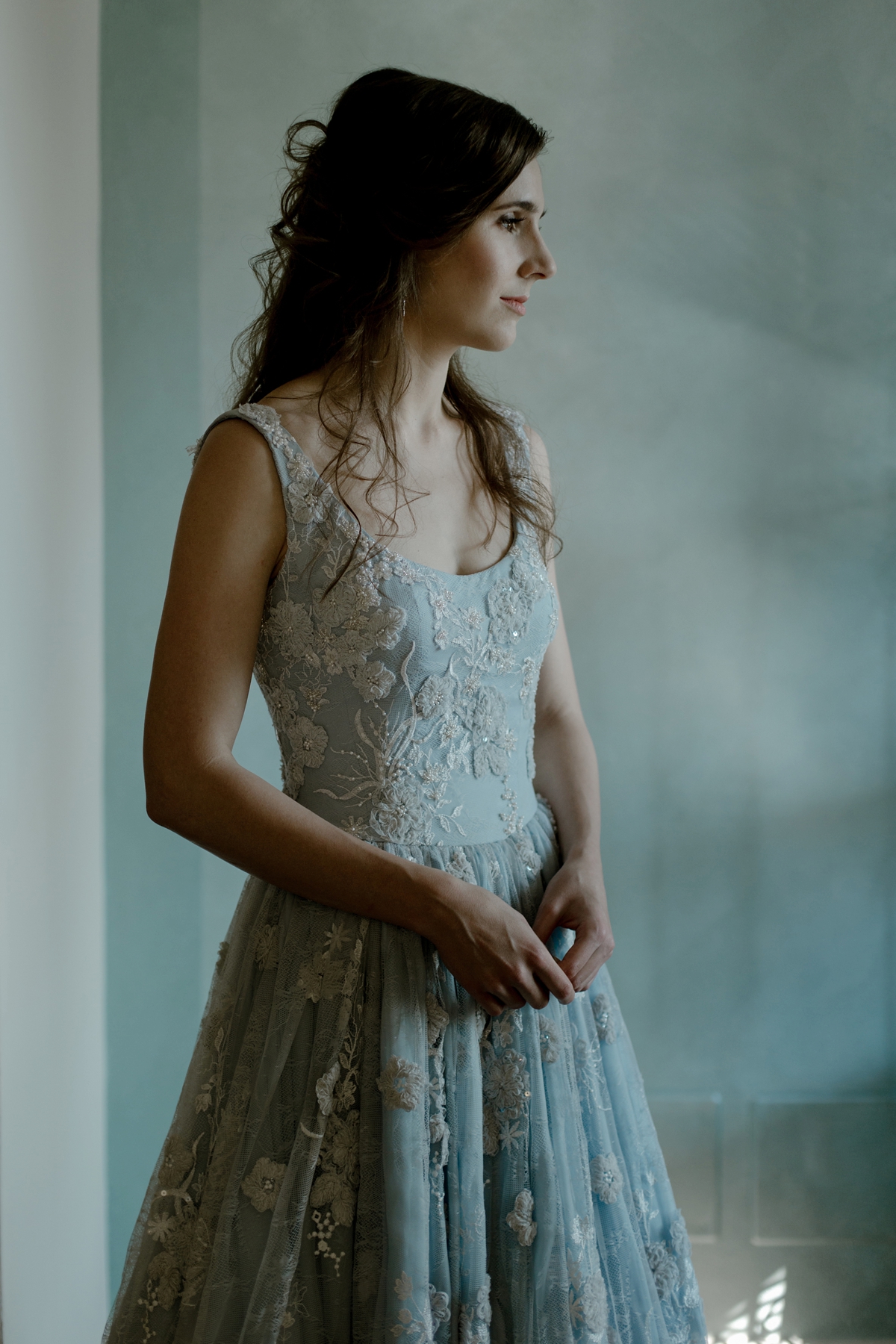 On her feet Danneka wore flats by Hispanitas, while for jewellery she kept things simple, choosing only a pair of earrings by Swarovski, in order not to take away from the intricacies of the dress.
The beautiful florals were the work of Haute Couture Flower.
"We decided on white flowers with greenery because white flowers are timeless and classic which reflects our style.  For the reception venue we were hoping for dense flowers running the length of the table and to achieve this (without breaking the bank) we used a combination of lisianthus, carnations, ornithogalum, eryngium, dahlia and roses."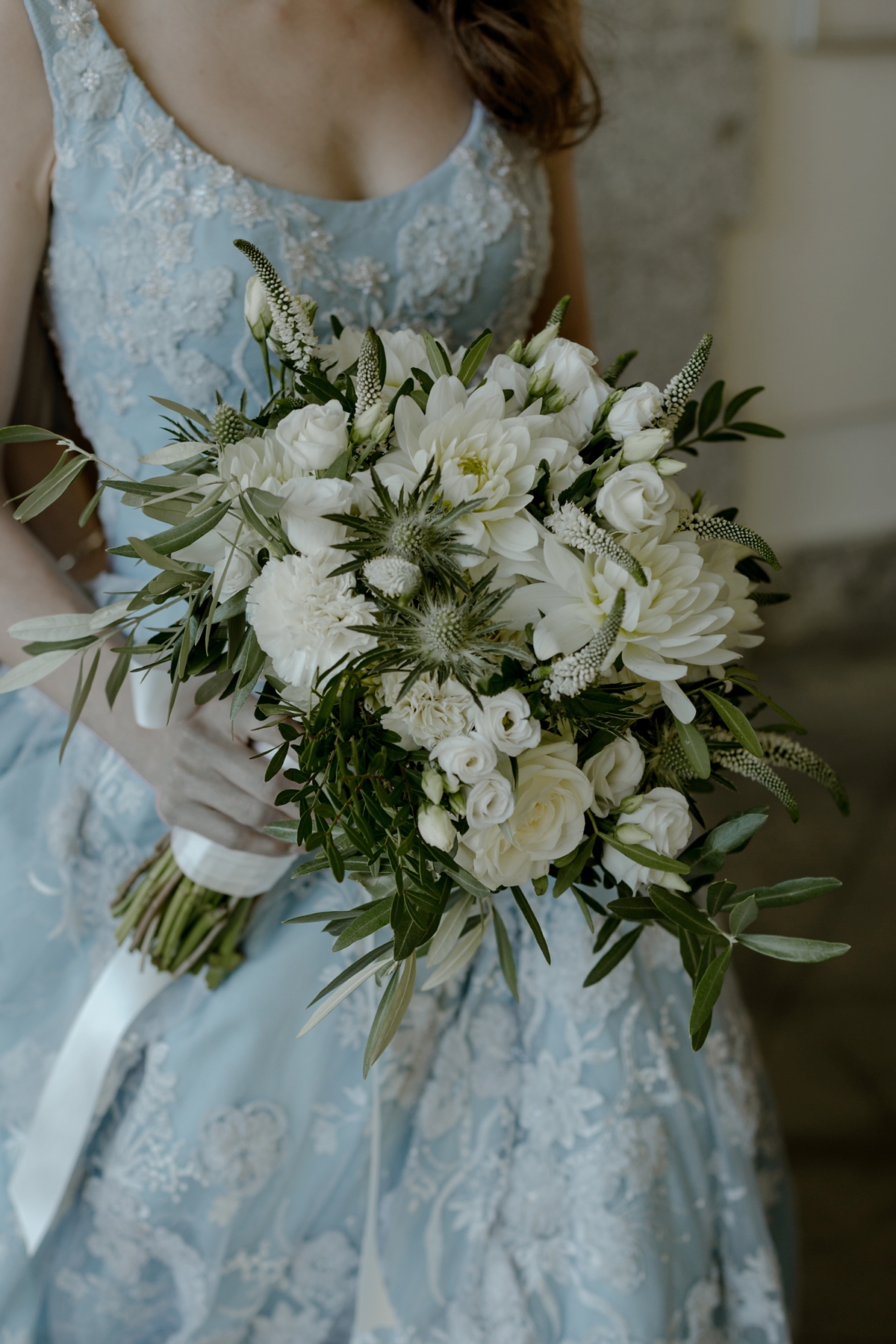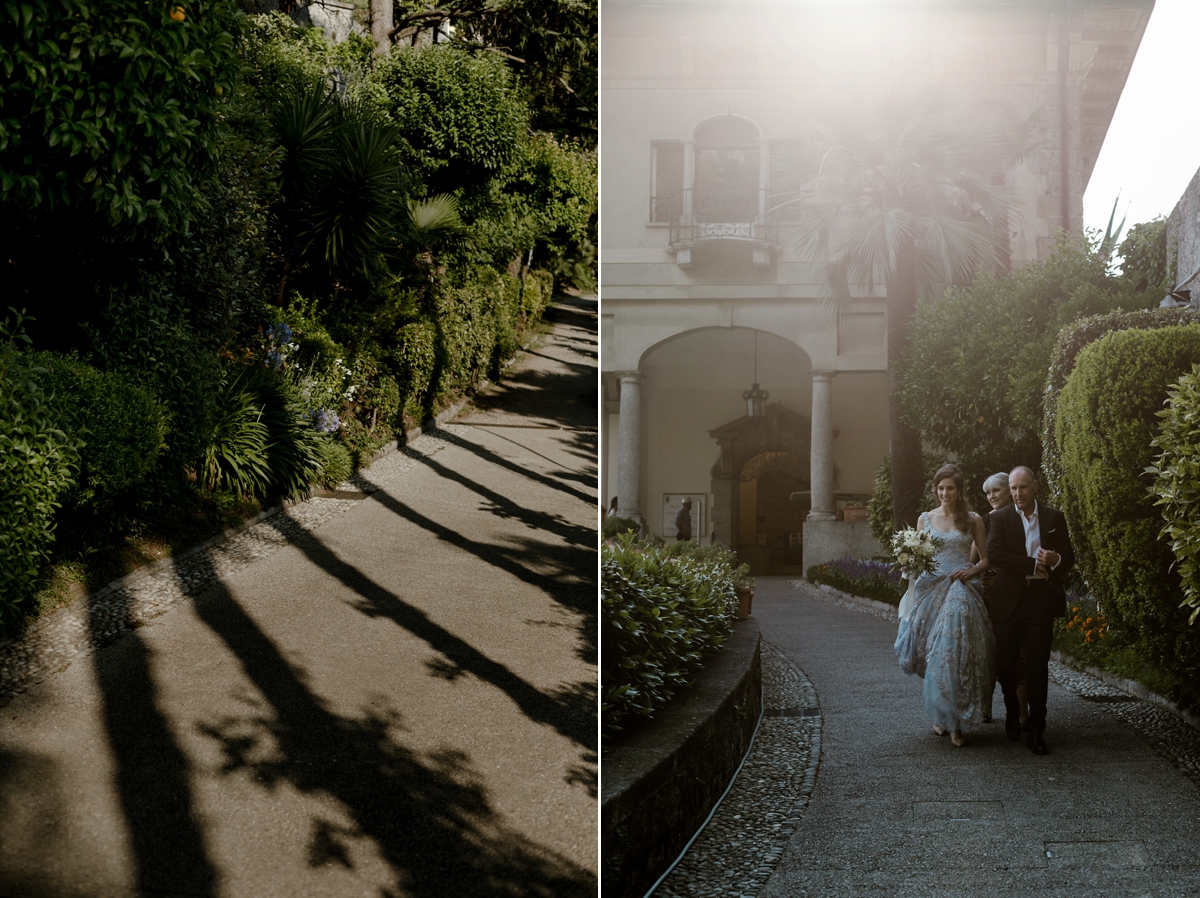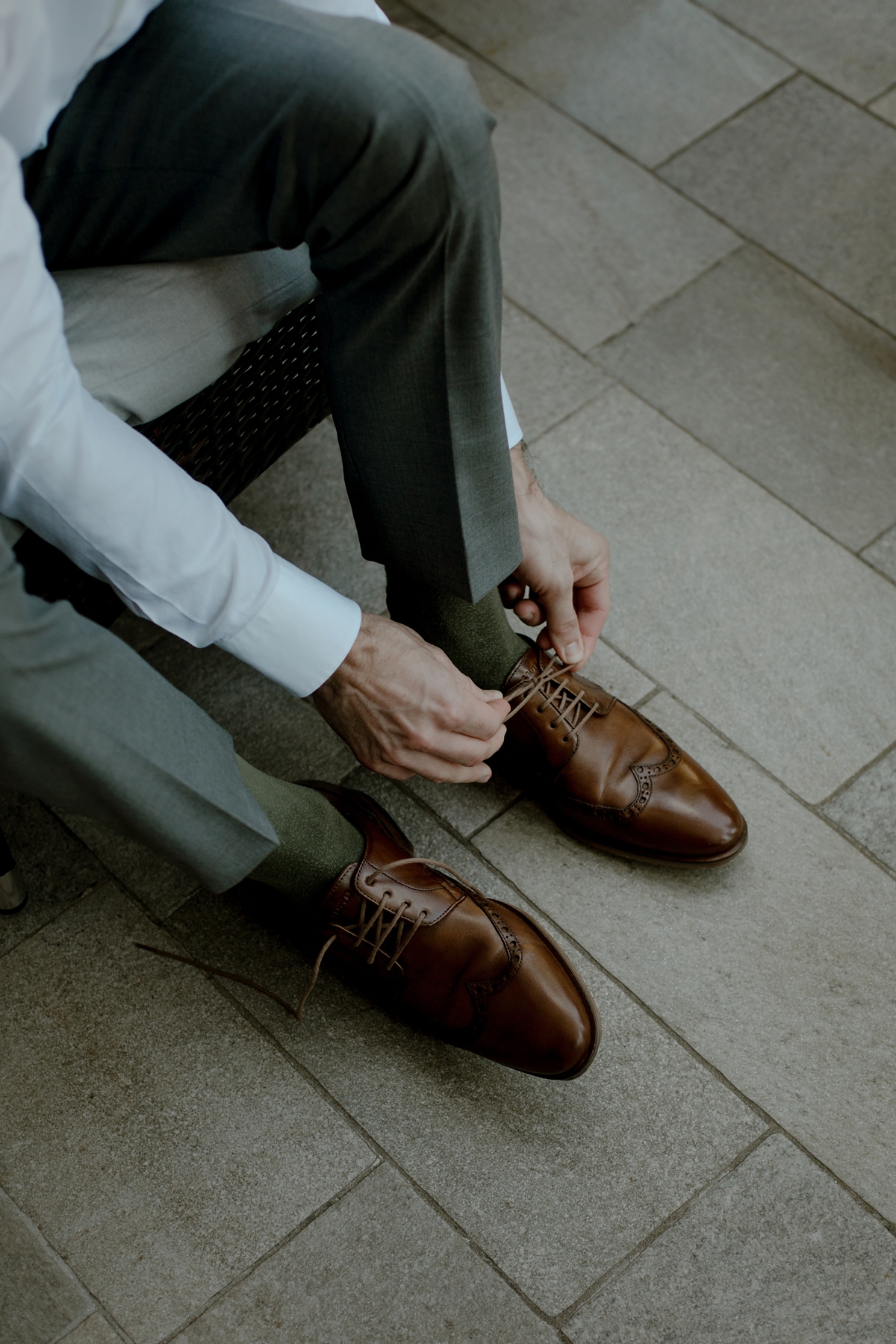 Danneka walked through the villa gardens and down the aisle with both her mum and dad, to 'Primavera' by Ludovico Einaudi.
"We chose this song because of our love of compositions with strings and the piano.  The music also had a lightness and sense of hope about it that we connected emotionally with."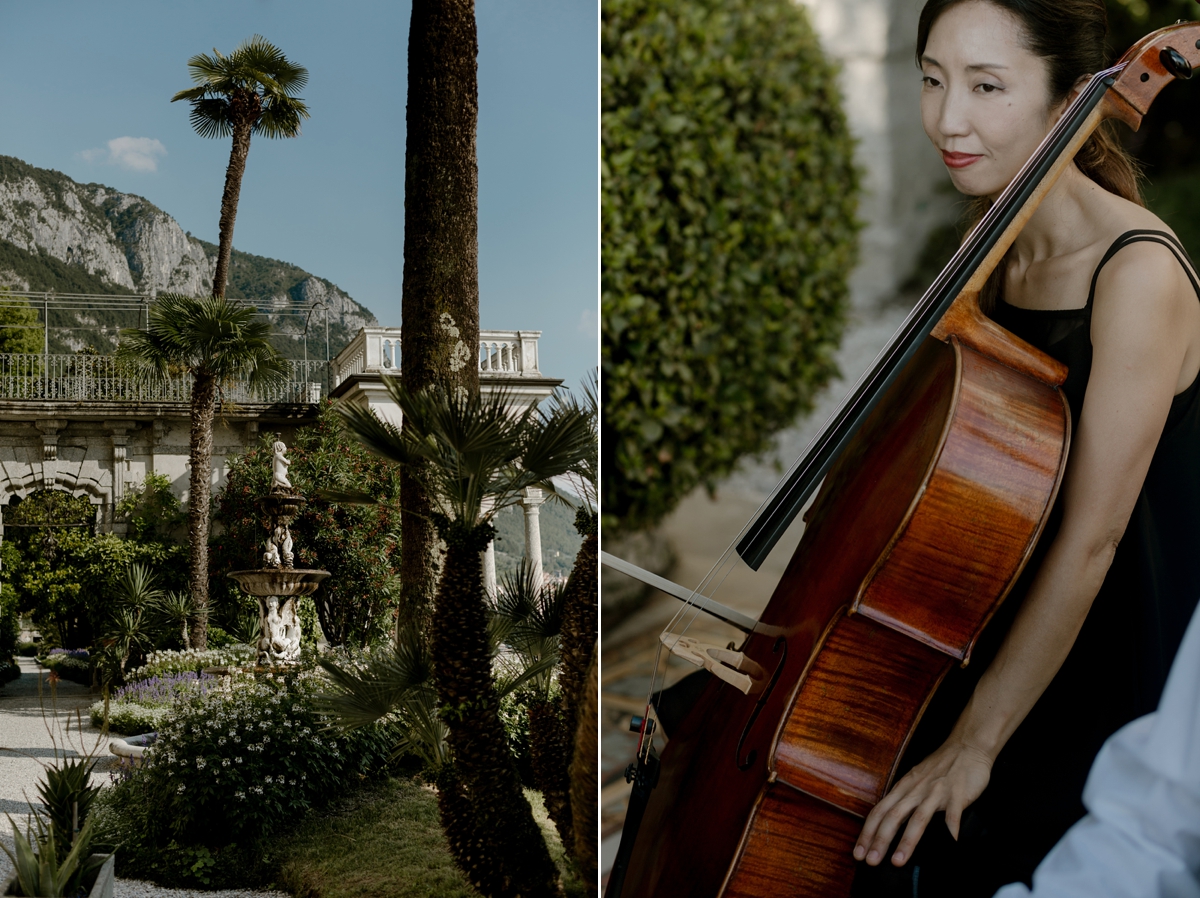 "We both wanted to tailor our vows, although we did leave this until the very last minute – we were texting our celebrants the morning of our wedding!  We wanted our vows to be simple yet powerful and we found that in the following lines – there is "strength in our differences and comfort where we overlap",  from the poem 'Overlap' by Ani Difranco."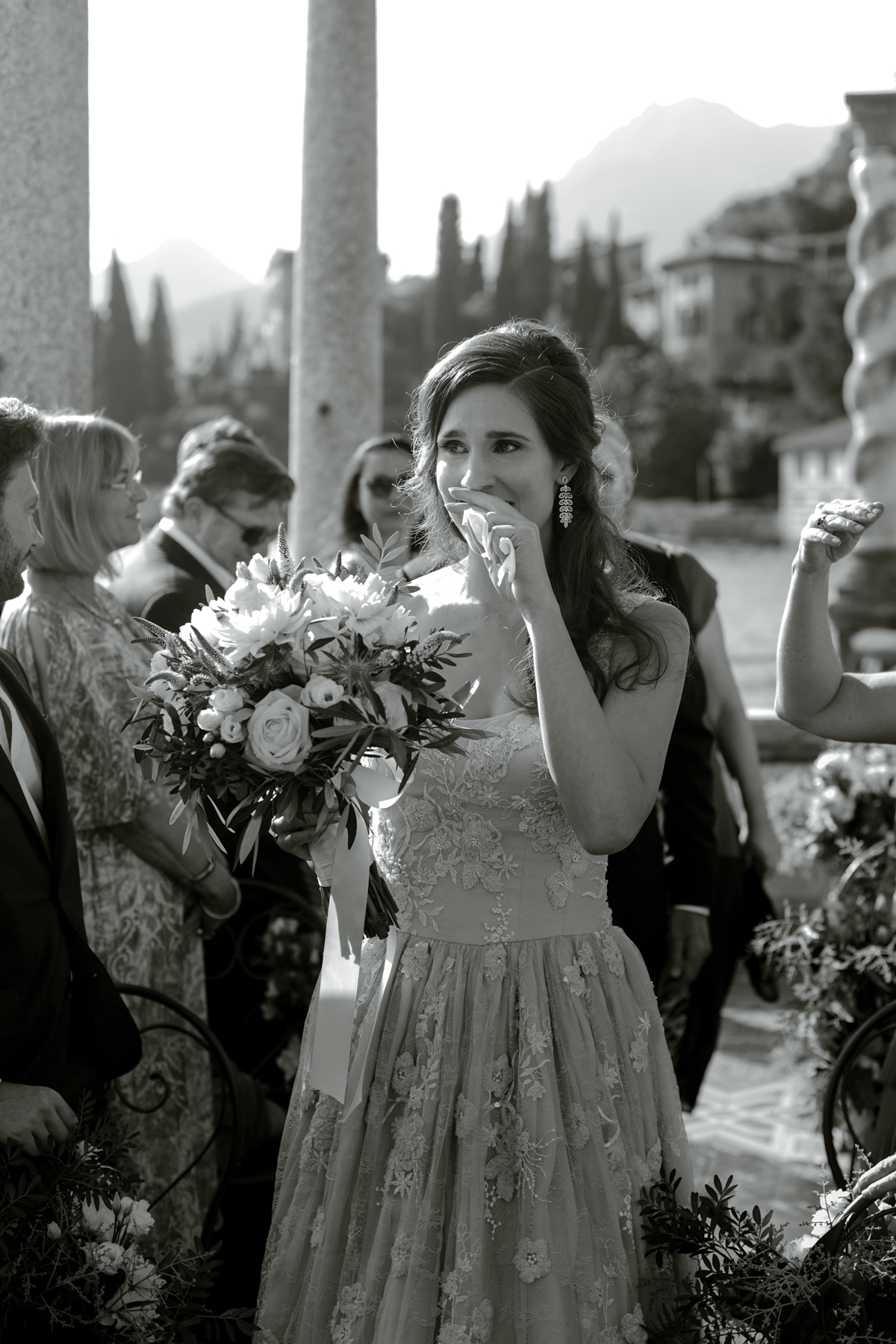 For readings, Andreas and Danneka chose 'Union' by Robert Fulghum, which was suggested by Daneka's mum and chosen because the couple felt reflected their own relationship well.
Rings were tailor-made at Mondial by Australian jeweller Nadia Neuman.
"After the ceremony we had boat transfers across the lake to another beautiful lakeside town called Lenno where we held our reception.  Lido di Lenno met all of our key criteria for a reception venue as we were very particular about venue size, not wanting the venue to dwarf our party of twenty.  We also wanted something alfresco (Italy in summer, need I say more?) and also live music.  Lido di Lenno was very flexible with musicians and was not limited by noise curfews."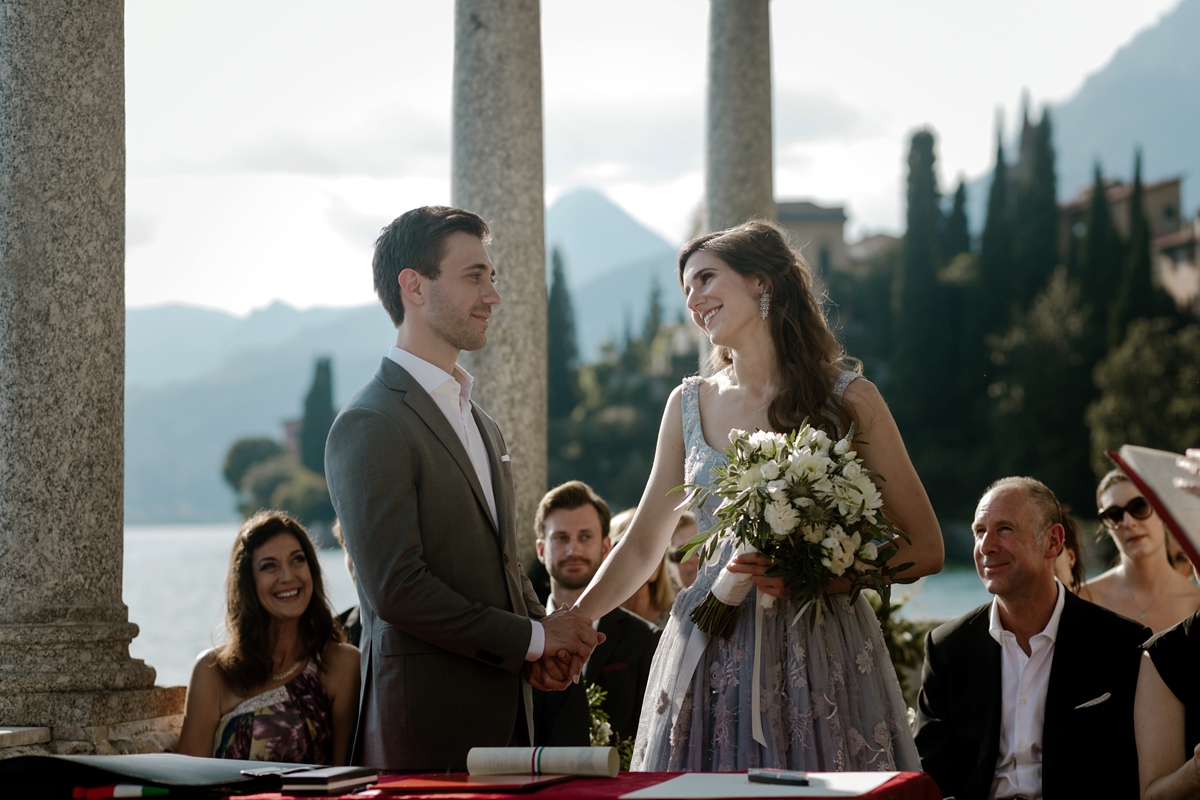 Andreas looked very smart and perfectly summery in a custom made suit by Institchu, worn with a white Hugo Boss shirt (without a tie), brogues by Lloyd and a crisp white pocket square.
"For Andreas' suit we were looking for something that, like my dress, would compliment the setting of Villa Monastero with its backdrop of mountains and lake.  A slim fitting, light grey suit fit the classic, Italian summer look we were hoping for."
Photographer Paola Colleoni is the talent behind today's beautiful images.  Some of these have the feel of film stills to me, really telling a story.
"We could not have chosen a more incredible photographer than Paola.  We felt a connection with her style of photography from the first time we saw her portfolio of work.  It was so natural and masterful in the way it captures the emotion of a single moment.  Paolo herself was a delight to have at our wedding and she was able to make something that could be quite uncomfortable for some (having photos taken) seem effortless."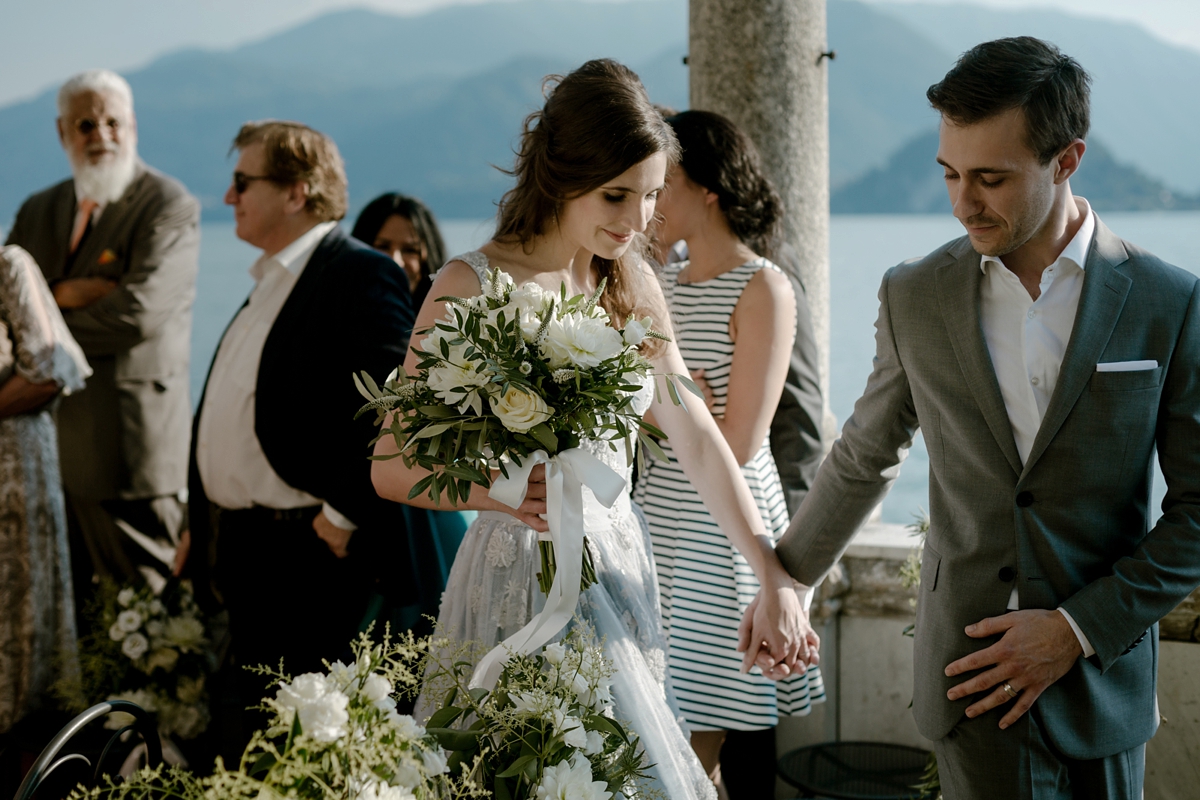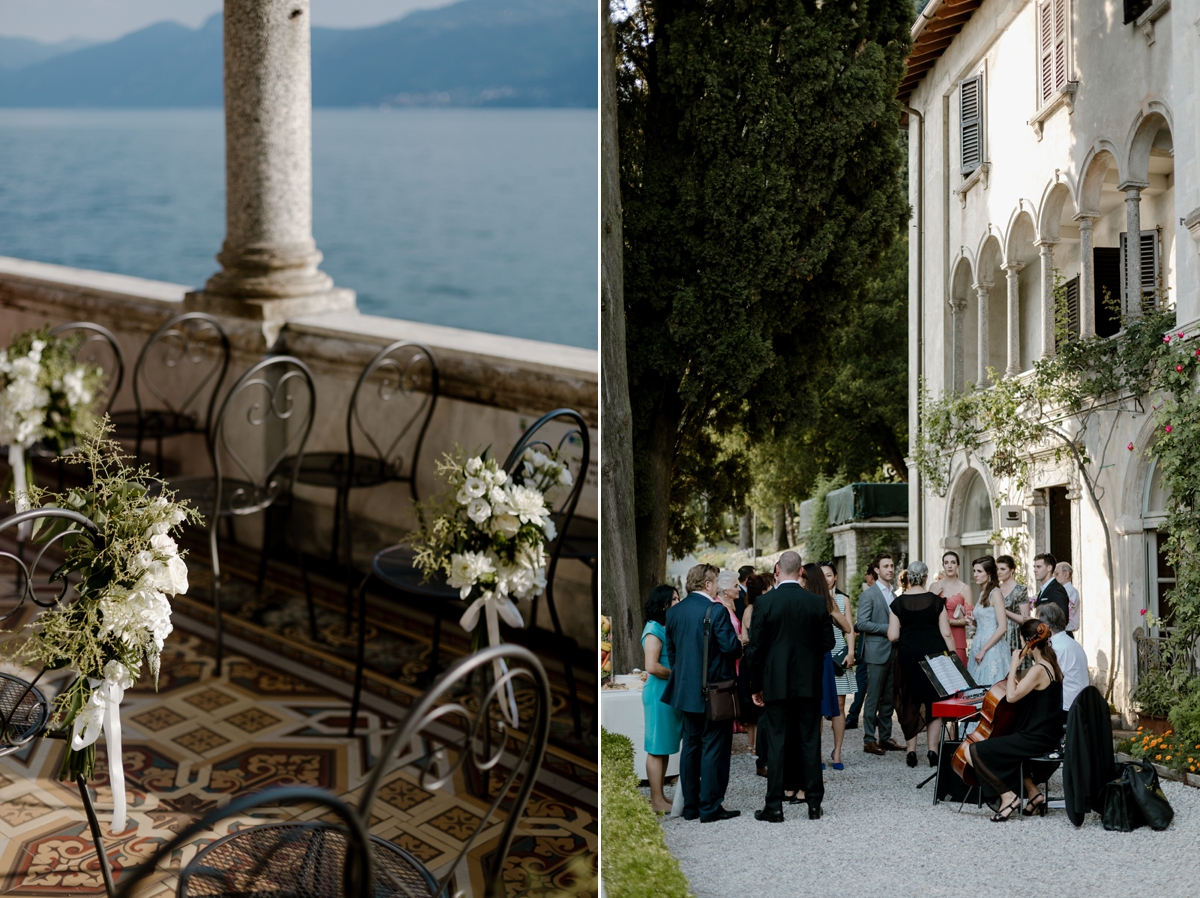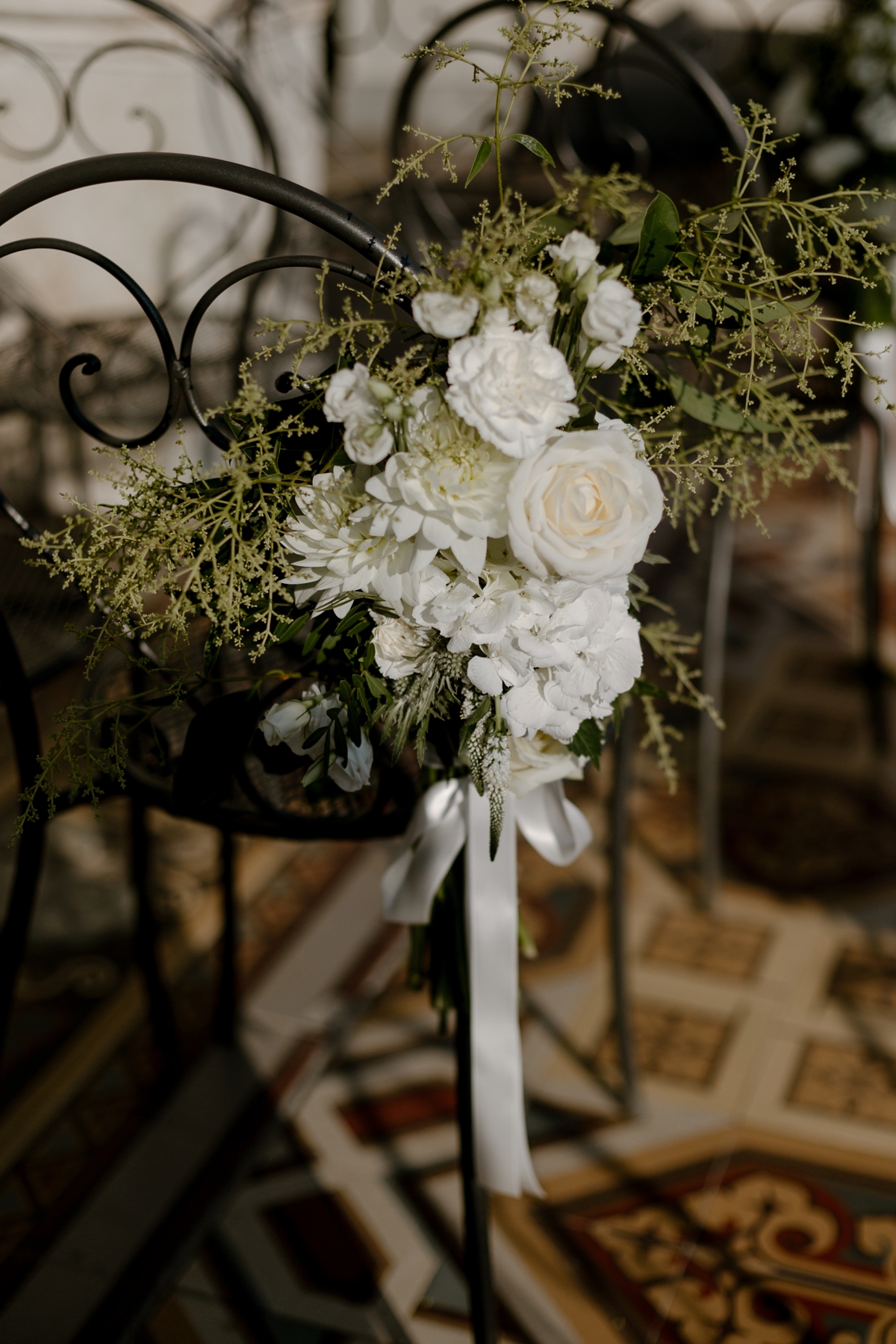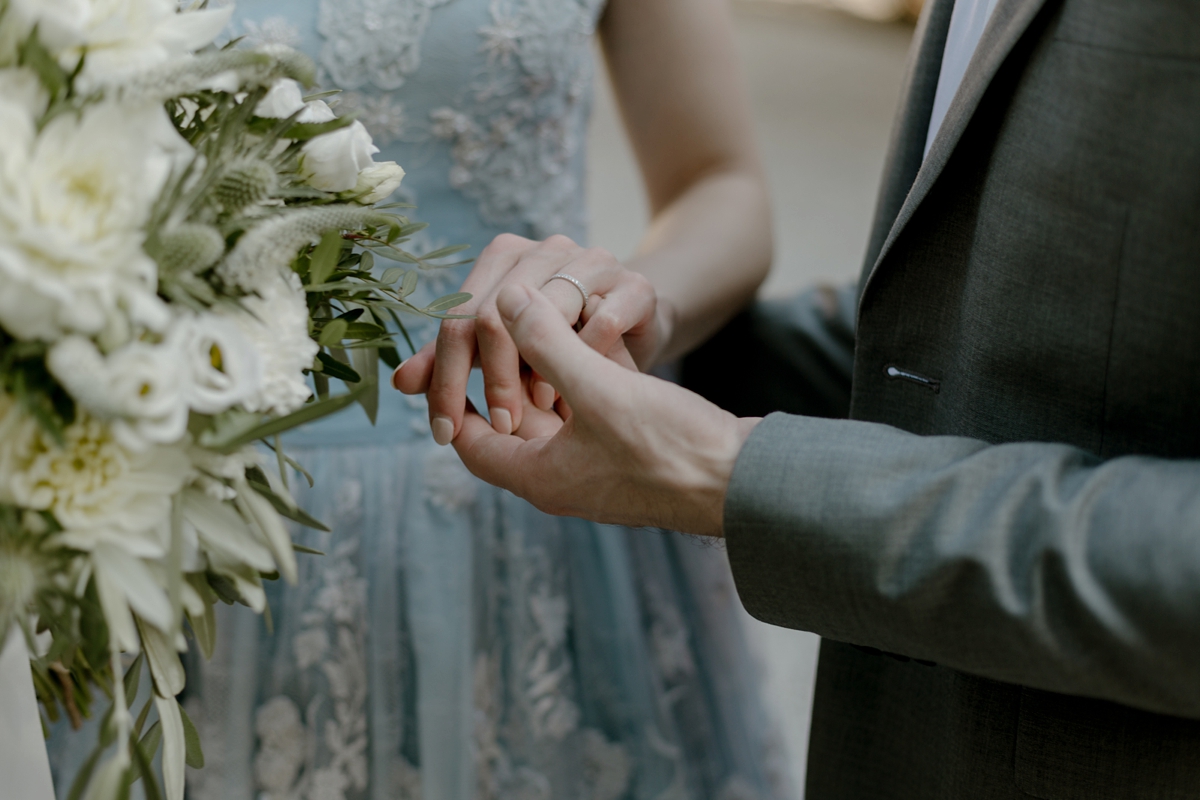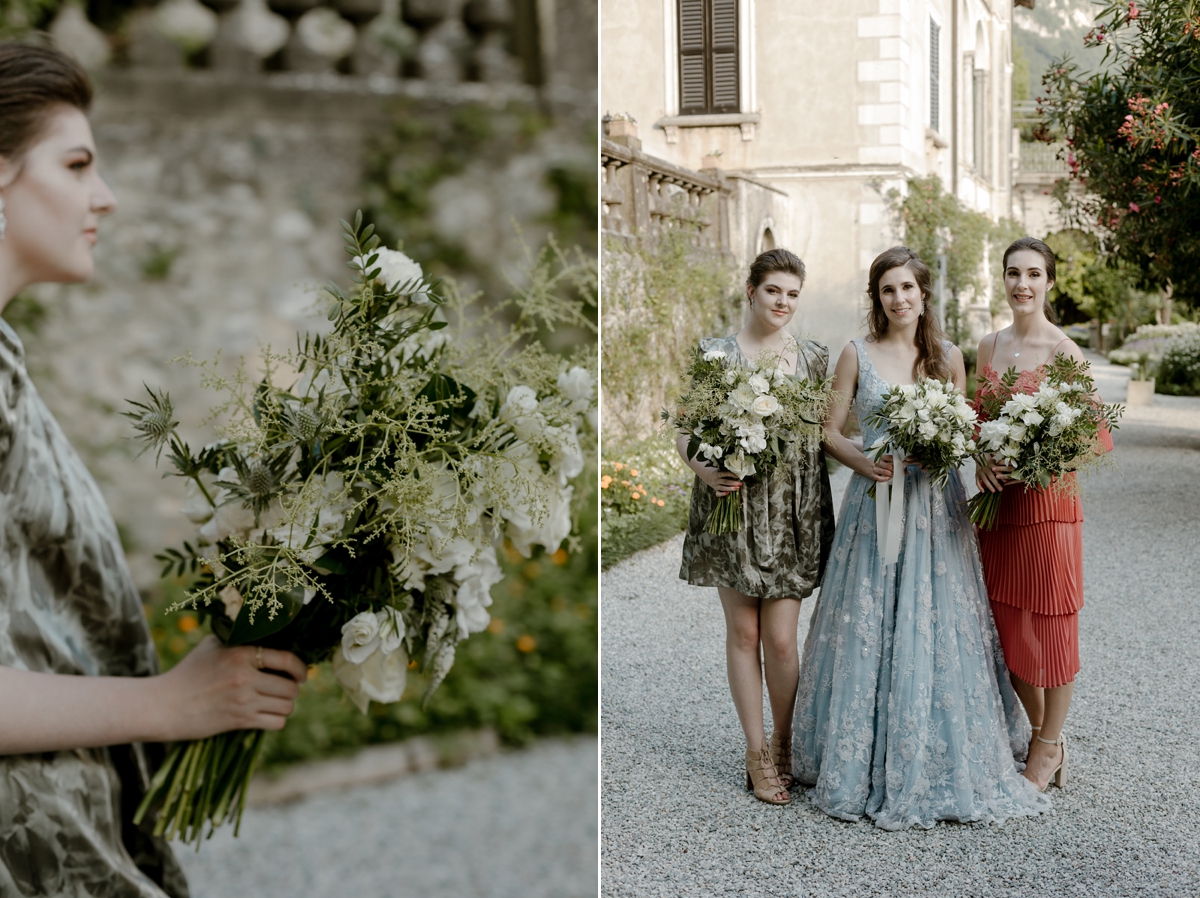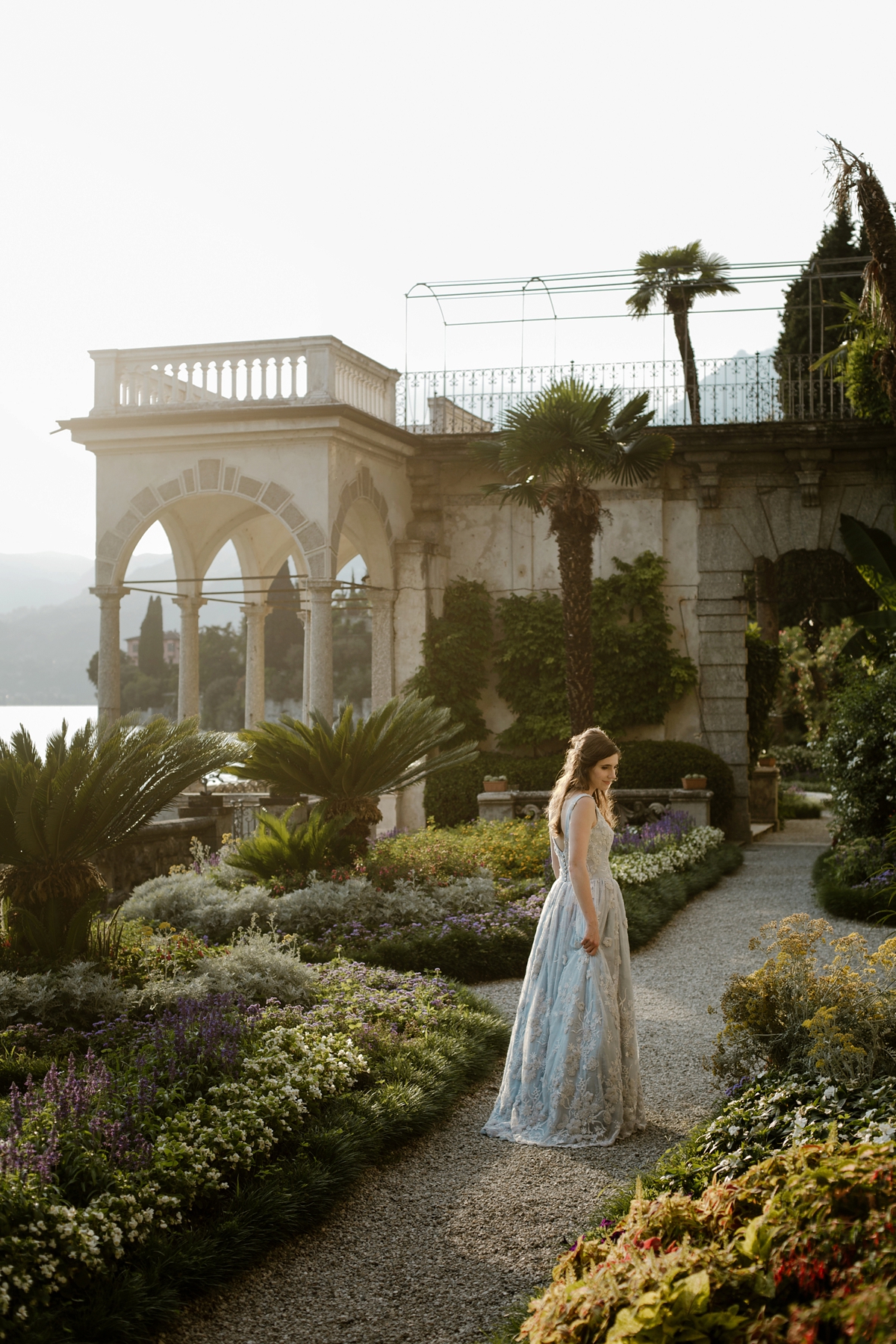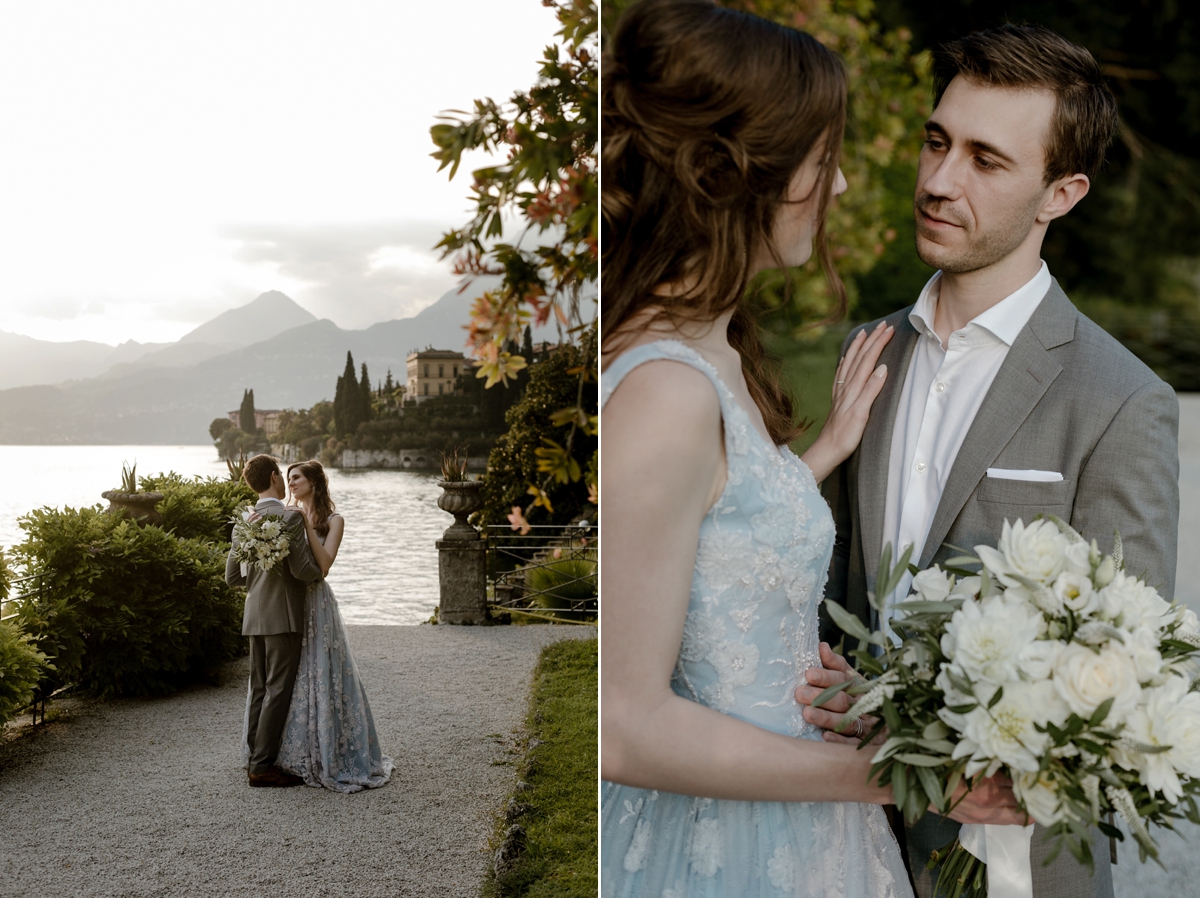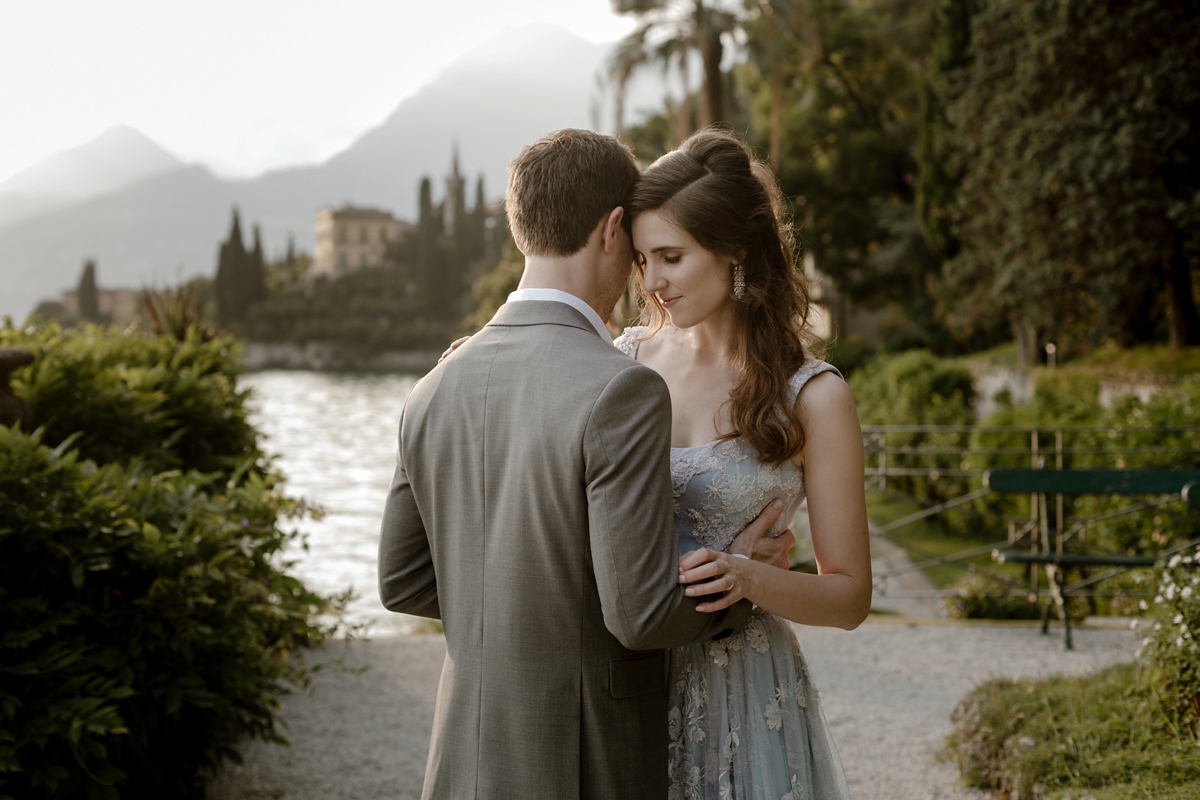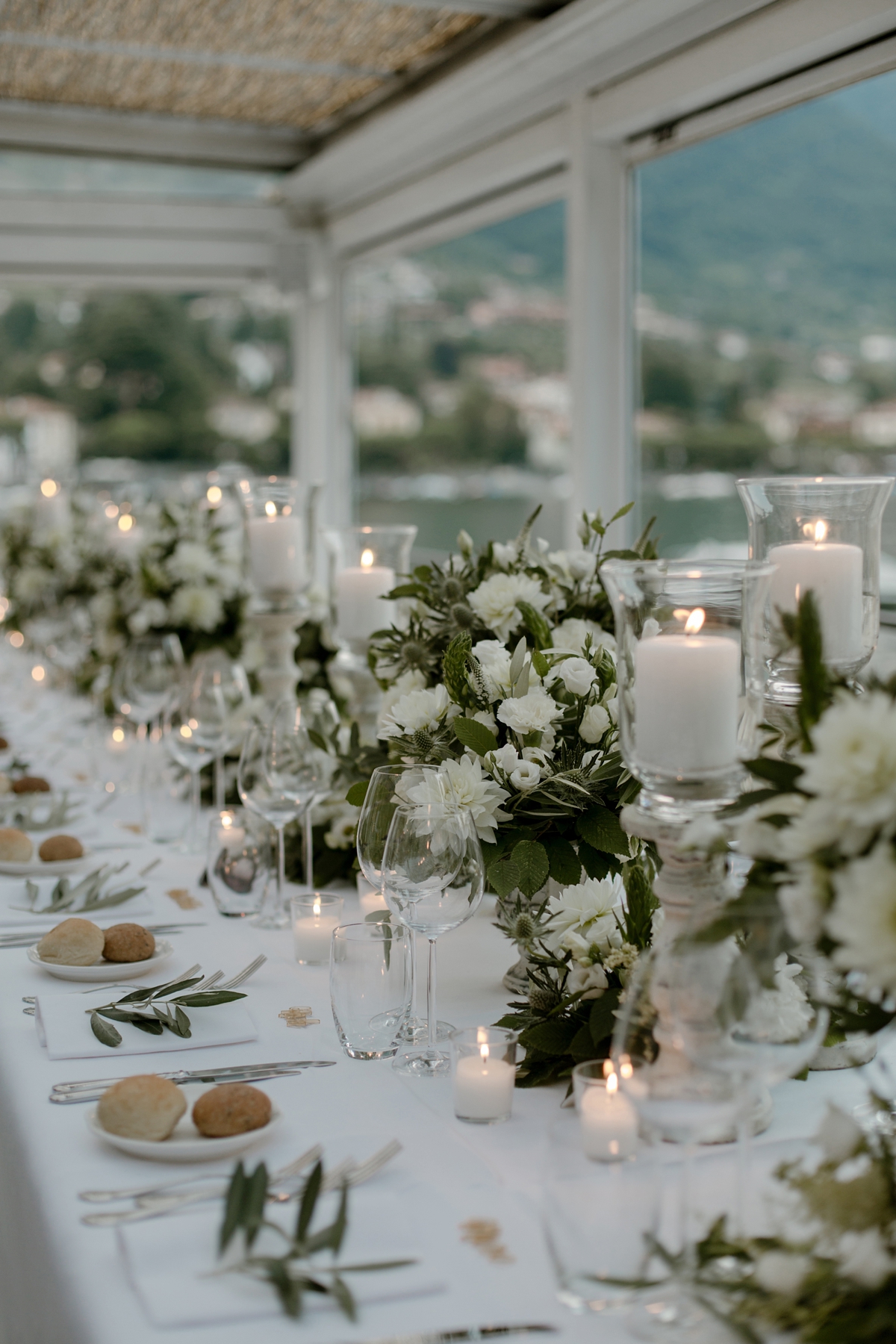 For favours guests received either a silk scarf or pocket square from Azalea Bellagio.
"Lake Como's silk industry dates back to the 1400's and is known around the world for its quality and elegance. We thought silk was the perfect memento of the incredible Lake Como region."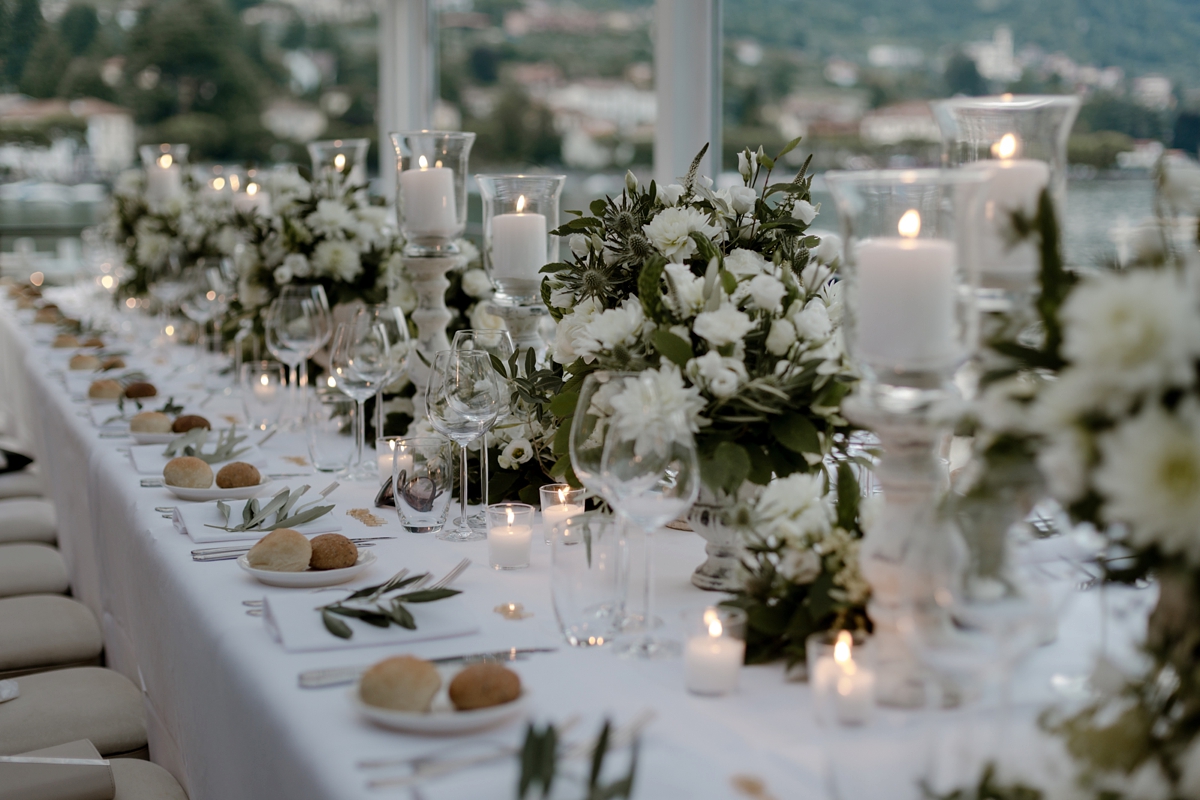 The couple had their first dance as newlyweds to 'Lullabye of Birdland' by Ella Fitzgerald (Danneka's grandfather's favourite singer) for which they danced a combination of the Charleston and Lindy Hop as they had been having secret dance lessons to surprise their guests- I'm hugely impressed.
"Our first dance was our favourite part of the day because it was so much fun!  By the time that the first dance came around we were getting towards the end of the evening and everything that we had so meticulously planned had been playing out as we imagined. We felt light at this point of the night; a combination of the weight of planning lifting off our shoulders as well as a couple of glasses of prosecco."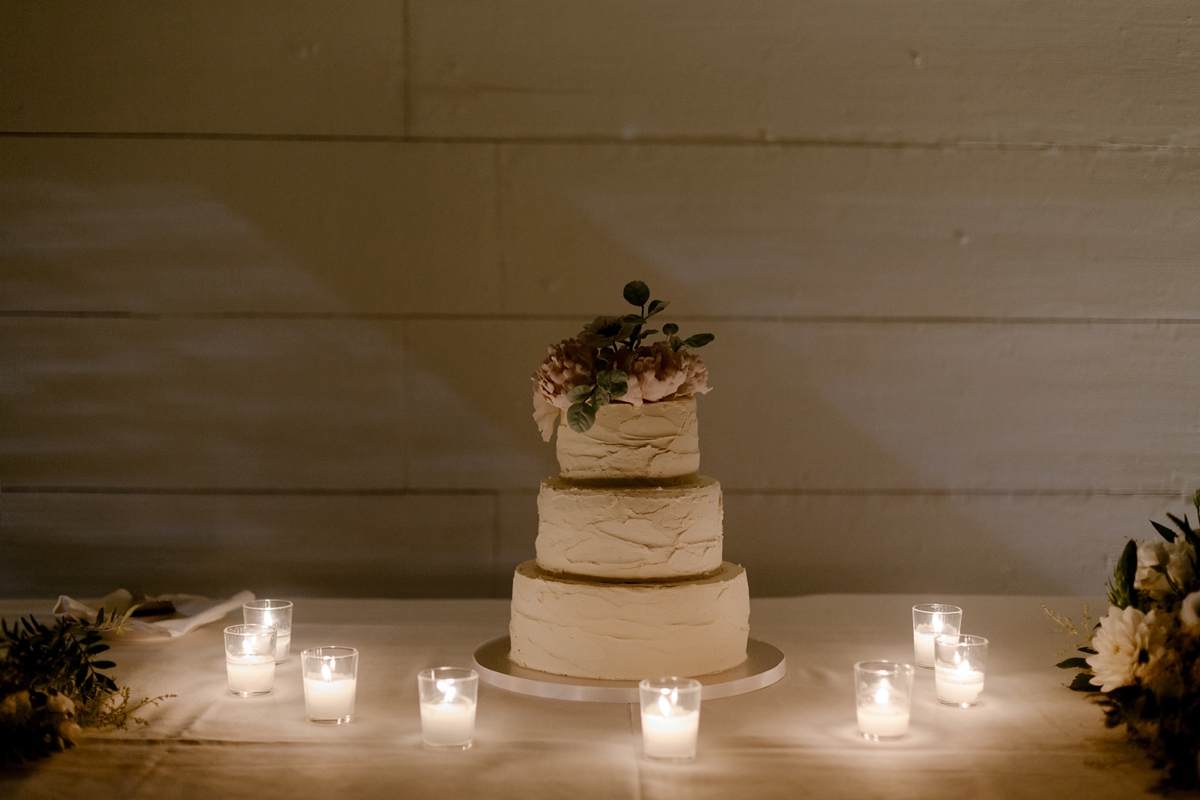 The cake was a three-tired beauty from Qualcosa di Dolce, decorated with sugar flowers.
"The cake not only looked amazing, it tasted amazing (Andreas and I aren't generally cake people either). We had so much cake left over that all of the guests and amazing waiters took home slices and my whole family had enough for afternoon tea every day for the next week."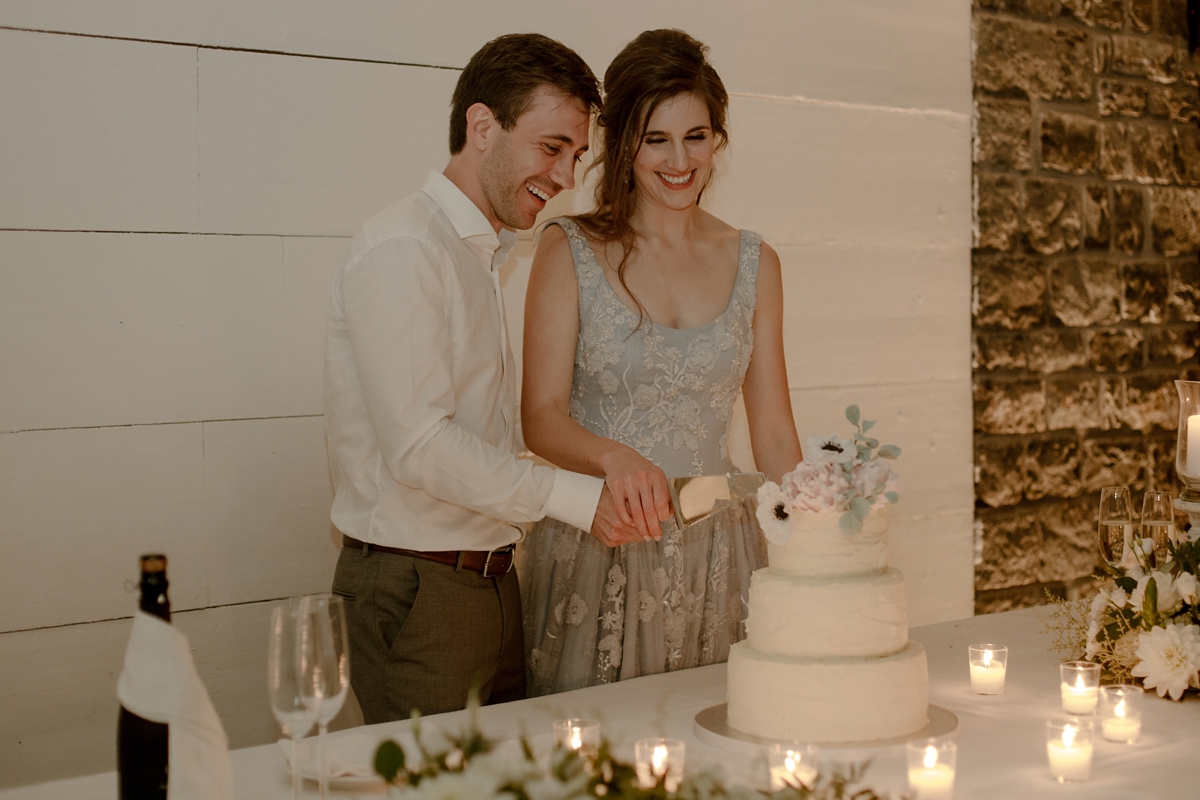 Words of Wedded Wisdom
"Often I think one side of the partnership has more of an interest in planning and as a result ends up taking on a lot of the burden that comes with planning.  Andreas and I did every single aspect of the wedding together, which relieved the pressure and also made the planning process and wedding much more special and a reflection of both of us."
Huge thanks to Danneka and Andreas for sharing their picture-postcard day with us all- it really does look like something from a film.  If an Italian wedding floats your boat, take a peek here for some of the other bellissimo weddings we've featured in past posts.
Shona x