I am so in awe of the incredible effort that went into preparing the simply delightful and colorful handmade decor for the wedding of Mr and Mrs Waldron, or Tom and Laura, who celebrated their marriage over a whole weekend, including their reception at Hargate Hall in Buxton, Derbyshire on the 12th of August 2017.
Tom works as a primary school teacher and Laura is a urology registrar. Both grew up in Stockport and chose The Peak District as their location for its beauty and as a place they've both been many times – and they loved the connection of Laura's maiden name of Derbyshire too. The sun shone on a lovely summer's day that all began from the couple meeting online. The bride and groom found our Love My Dress Instagram highly inspirational and it helped give them the confidence to mix and match styles and be creative with colours. We just love to hear this feedback, thank you lovely Laura and Tom. 1000 multi-coloured paper cranes (to bring good luck!), oodles of bunting handmade by Tom's mum, and the ribbons tied to chairs all worked so well together and added so much colour and style to the reception.
"I wore a Ghost dress that was then altered by Corinne Sambridge at Cupid's Treasure in Stockport, who added in lace from an old wedding dress which I had always loved, and a belt she stocked that matched really well. I loved that it was unique – I'd tried on endless dresses but never felt right until I put a slinky one on, which I then jazzed up. I'm a huge Austen fan so think I always wanted to be in a classical shape."
Photography by Betti Confetti
I too am part of a married couple who met online and a success story of this method of dating! Let's begin with their incredible story and romantic proposal – look out for mention of the adorable bicycle connection you'll see peppered throughout their day.
"We met through an internet dating website. We started messaging in the summer of 2014, and met up on the 9th of September. Tom was riding from Lands End to John O'Groats by himself to raise money for a Lymphoma and Leukaemia charity, as his aunty had recently received treatment. I was working at the time at Blackburn hospital and was staying over that night as I was on call and it was too far to drive home. Tom was staying nearby and so we decided to meet for dinner. Tom was tired and I was panicking at the lack of phone signal in the tiny pub he was staying in, but we had a lovely evening. This date was quickly followed by another and we've really been together ever since.""We got engaged on the 22nd of January 2016. I thought we were going to the cinema with his sister and brother-in-law. We did but instead of a film, the trailer was followed by a video Tom had made about us, ending with a proposal. He'd snuck my parents and his family in, and booked for us to go to Paris the next day. All very romantic!"
Laura donned an exquisite cathedral-length veil with lace added by Corinne, then in the evening she wore an Agnes Hart hair slide.
Her shoes were plain satin courts by Rainbow and she added a spray of Chanel No.5, a necklace from her mum and earrings bought from Jenny Jones Jewellery to match her engagement ring. Hair was by Anna Maude with make-up by Sara Waldron, Tom's sister.
The groom looked very dapper in a jacket and waistcoat from Boundary Mill, with trousers from ASOS and a tie from John Lewis. Tom had two best men Jonny and Farrell, and his brothers Patrick and Olly were his ushers and wore their own clothes.
"My bridesmaids walked the aisle to 'Songbird' by Fleetwood Mac (the Vitamin String Quartet version), whilst my dad Chris accompanied me to the tune of 'Please let me get what I want by The Smiths (the Vitamin String Quartet version and a favourite of Tom's). We then walked out together to 'Kiss Me' by Sixpence None the Richer (a favourite song of mine)."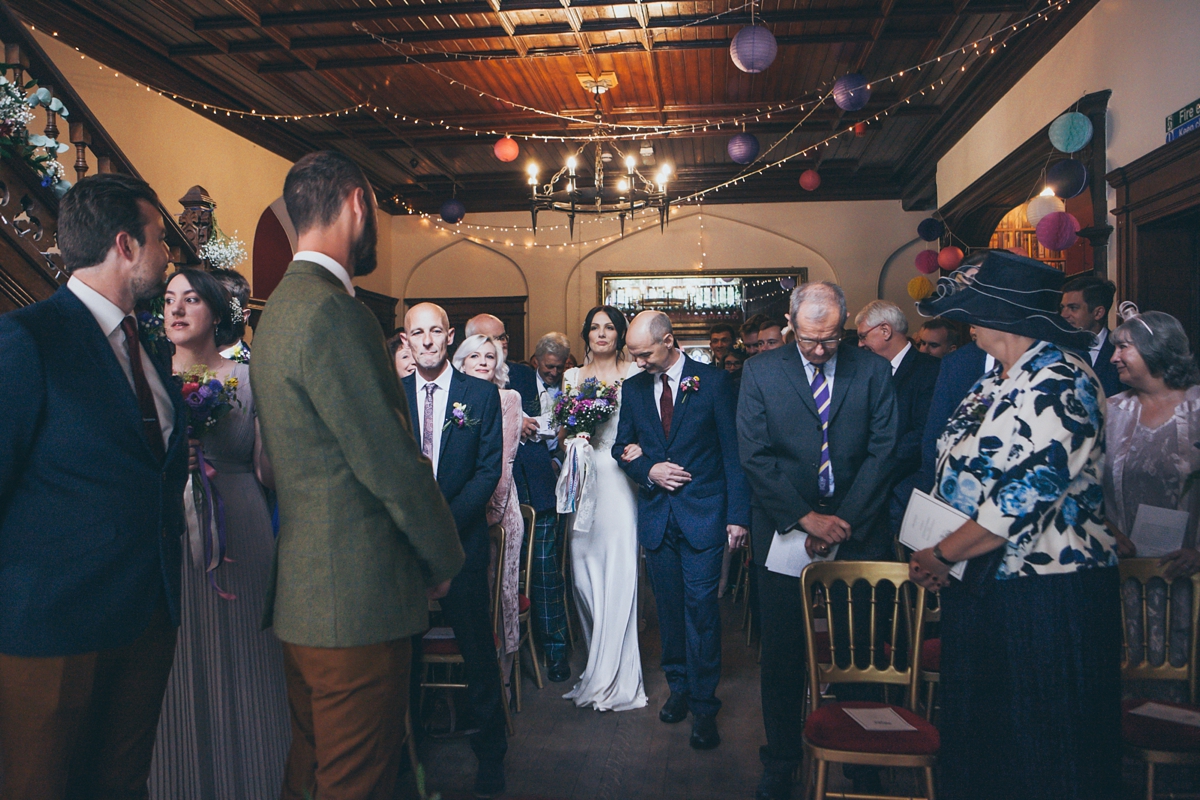 "We wrote our own vows to each other to fit into the registrar ceremony. I went first or I wouldn't have got through them! I quoted The Dark Materials trilogy, one of his favourites, and he quoted Austen:
Jane Austen said there is 'no county as lovely as Derbyshire'. I couldn't agree more. Standing in the middle of Derbyshire in front of my Derbyshire, ready to join as one. I can't promise that life will always be easy. But I can promise that I will always be by your side. So take my hand and let's head off on this adventure together. I love you.
"We had three readings in the ceremony. Tom has always liked the first reading, it is actually a ruling about same sex marriages but we took those words out – it describes the social institution of marriage very eloquently. The other two are more about love. 'Maybe' was particularly poignant because it is about finding each other after other relationships, and getting through good and bad times. The last reading was made up by us, using quotes from Tom's class about love."
Bescopy Jewellers supplied the couple's wedding rings and were recommended by the best man.
"My bridesmaid Roz Bunter is very creative – we got Tom's little sister to take a picture of us on a tandem bike (one decent picture after two hours of trying, it's not as easy as you'd think!), then Roz made a cut out design which we got laser cut for a good price via Drawn by the Light who we went to school with. We then printed the information sheets and attached them together with ribbon by hand."
As soon as I spotted the pops of colour in the stunning floral arrangements, I went out and bought myself a big bunch to brighten up my home office.
"We wanted a local florist and found The Green Pavilion on one of our trips over to the town. Claire (Ford) was really friendly and followed our ideas so we'd have lovely bright, multi-coloured wild flowers. She did the bouquets and buttonholes."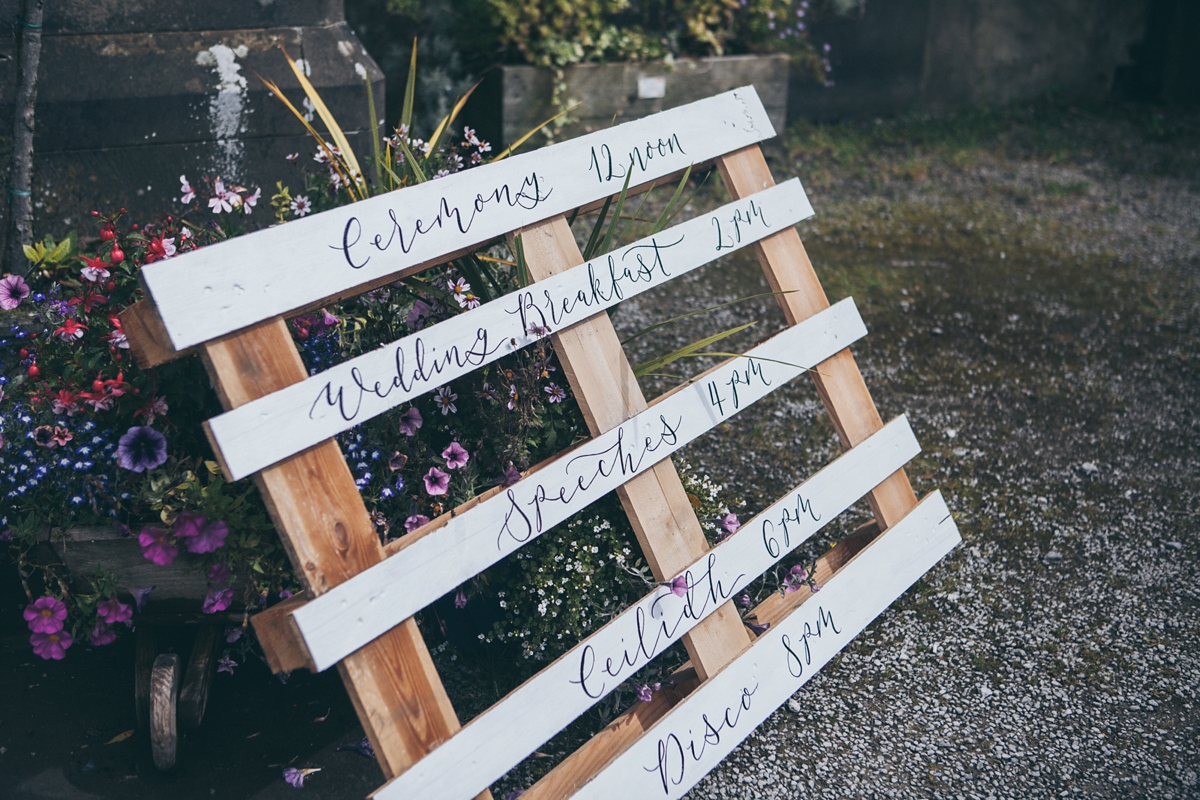 "For decoration we bought wholesale flowers from North West Flowers in Ashton, and my bridesmaid (Roz Bunter, a very talented craft lady) decorated the pagoda and made up bouquets for the mothers, and we used the rest to decorate the tables, stairs and any other surface we could find!"
"For the table plan, the table names were LP's of our favourite bands throughout our lives."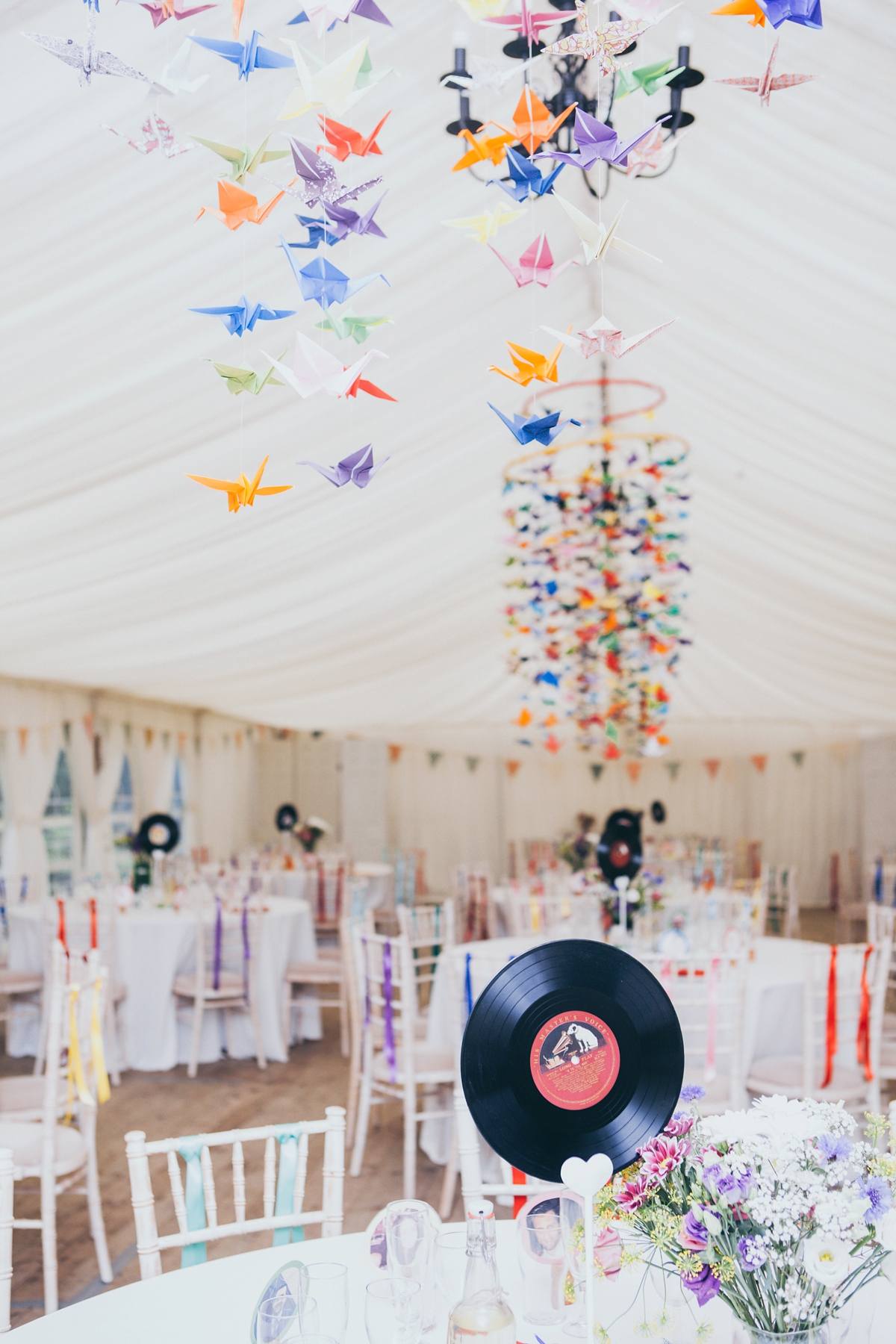 "Our favours were shot glasses that were engraved and we put bottles of homemade Limoncello on the tables to drink with them."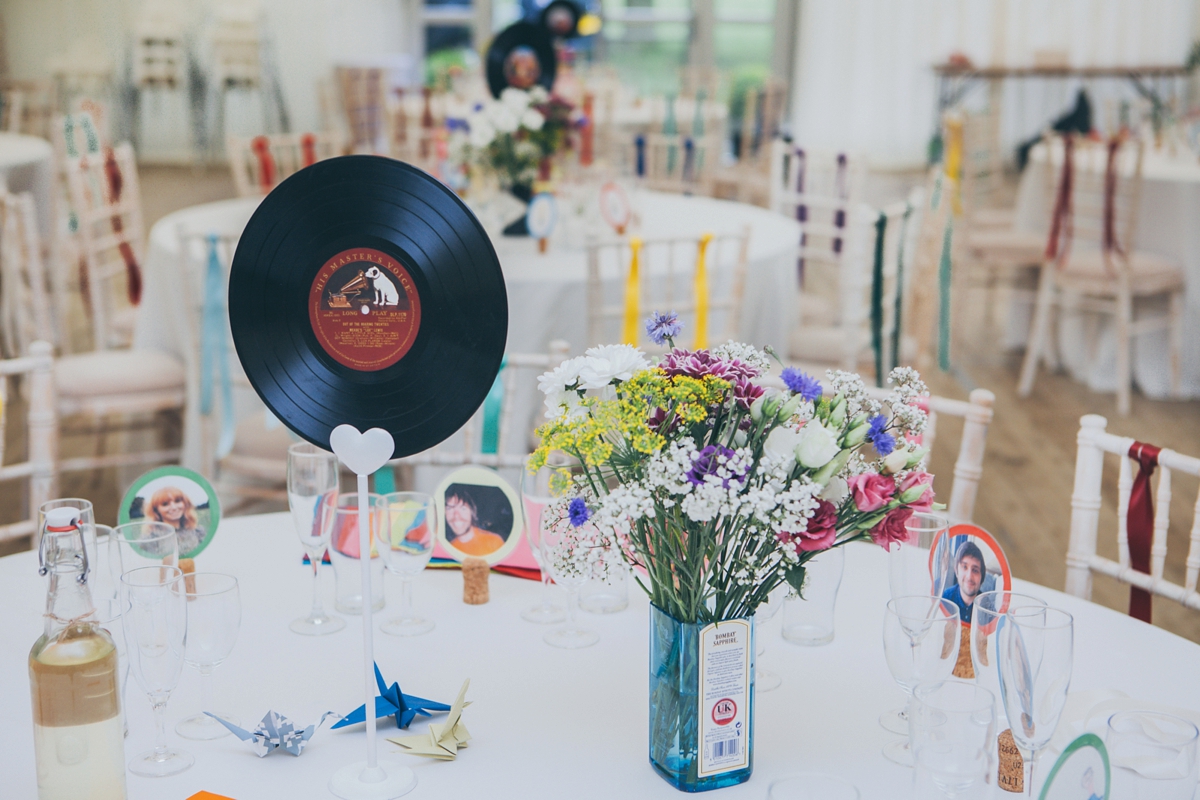 Delectable sharing platters during the day were by Mode for … Events, whilst dessert was brought by the guests. The divine cake was by Marc Hall of New Mills Cottage Cakery – a baker friend of Laura's from primary school.
And in the evening, just the thing to ensure loads of ceilidh dancing fronted by The Mouse's Nest Ceilidh Band, all were treated to pizza from the Pizza Party People.
How brilliant are the place cards on the tables? I may be stealing this idea for my next event!
"They were made up of a picture of the guest, then on the back a drawing by one of Tom's year 5 class of the picture. Some very funny results! Roz wrote the names in calligraphy and then we laminated them and popped them in corks to stand up."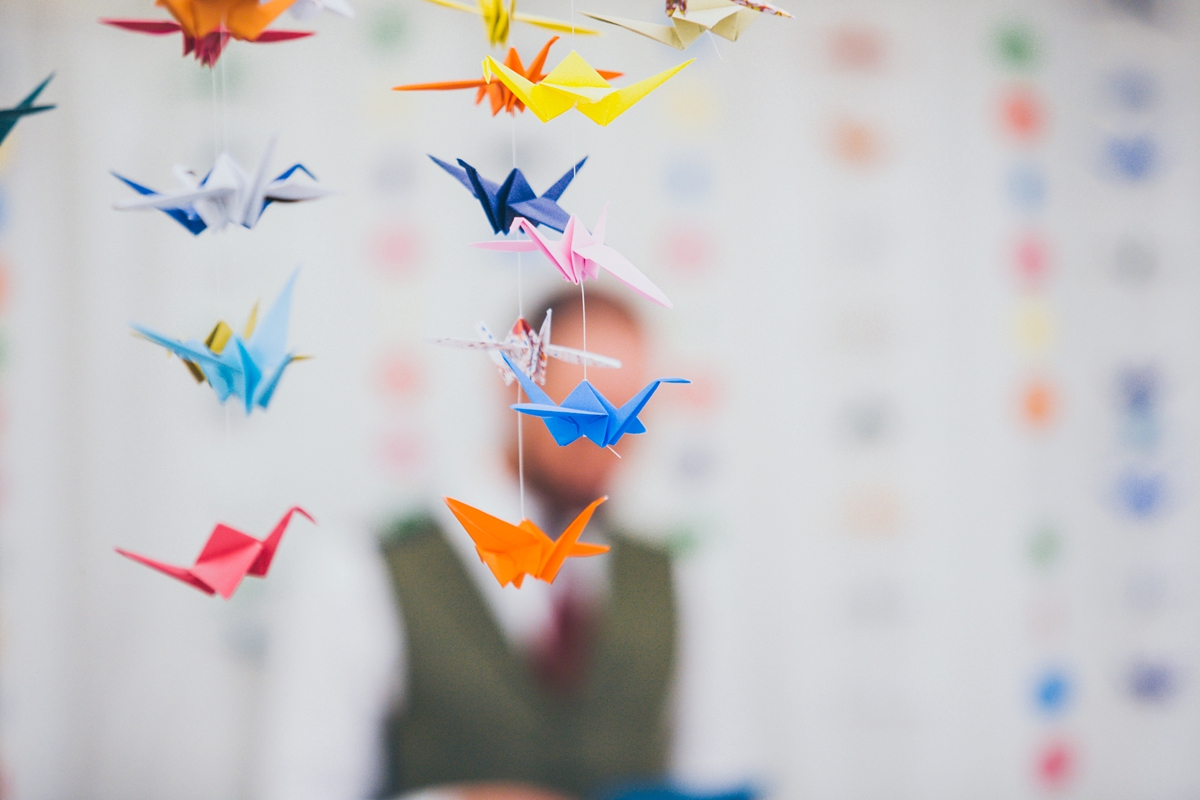 The couple were very impressed with their photographer, Gemma from Betti Confetti Photography. They first met for an engagement shoot – a great way to ease any nerves before the big day.
"Gemma was a wonderful photographer and fortunately she is actually from Buxton so knew the area well. We went down to meet her in Brighton where she's based and do an engagement shoot, and she was so friendly and laid back it really put us at ease. She was then a friendly face at the wedding and has captured so many great photos so we can remember our day and the bits we did and didn't see."
"Tom loves his reggae, so we had Toots and the Maytals, ' I Need Your Love' for our first dance song. I'm pretty sure everyone expected a choreographed routine from us, but we just enjoyed the moment!"
"There are so many things we loved about our day; Everyone being together for so long, the Friday night having vege chilli for 70 on long tables in the hall followed by a quiz, and seeing people who had never met talking and being merry. The ceremony and our lovely guests who sorted out the chairs at the last minute because we decided to do the ceremony inside instead of out and the Ceilidh."
"Having Tom's family from South Africa there – uncle, aunty and cousin, seeing the short video made for us by the videographer on the evening. And finally walking across the countryside on Sunday followed by a big roast dinner at the Inn at Tideswell."
Words of Wedded Wisdom
"Start to plan well in advance. If you don't want to worry about anything on the day ensure you have a wedding planner/ coordinator.Remember things don't tidy themselves – if it's a do-it-yourself wedding either pay others or ask your nearest and dearest to muck in (even with a hangover)."
"I think we spent about £18-20,000 – we had significant help from the bride's parent's then our savings. We didn't want it to cost that much and we were pretty thrifty but it all adds up and it was a whole weekend. We asked guests who stayed to pay towards their accommodation."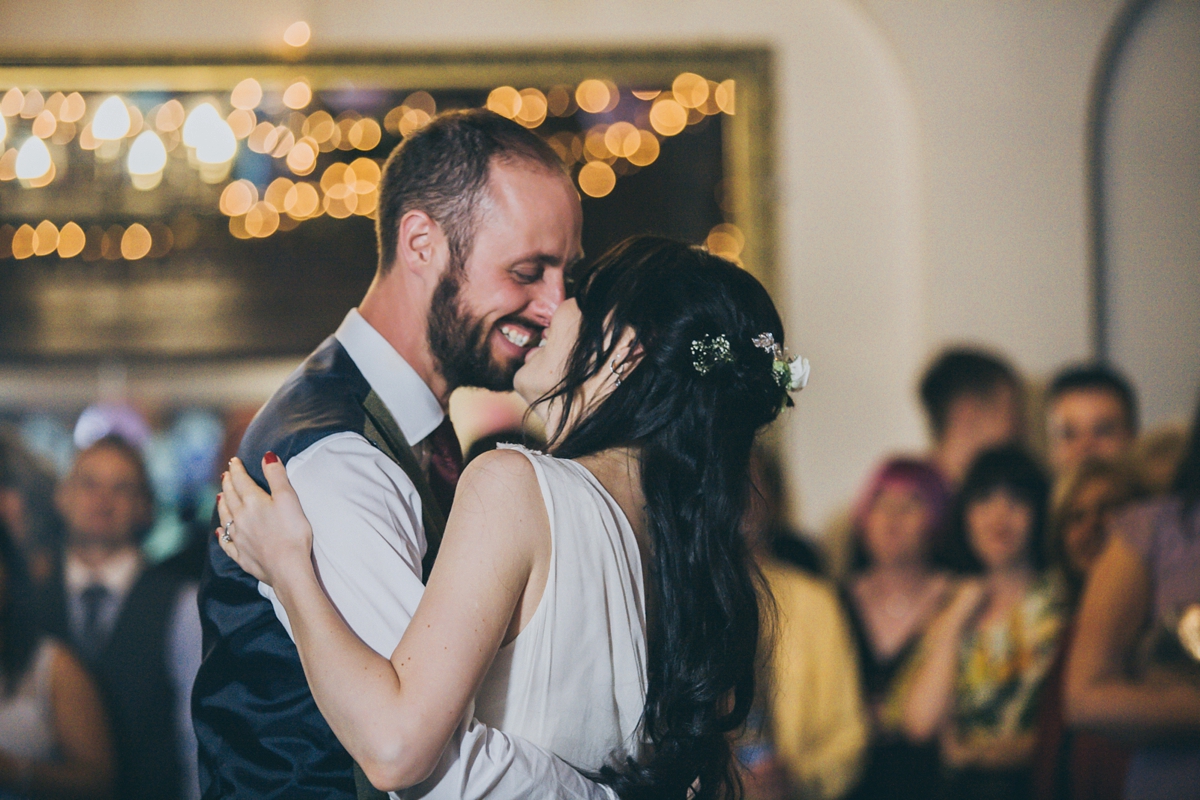 Golly gosh I'm a lucky lady to have been tasked with bringing you Laura and Tom's utterly stylish, colourful, and beautiful day. A very big thanks to Betti Confetti for sharing their sunshine-filled shots of the lovely couple and their happy guests.
Take a peek here at these other weddings we've previously highlighted who have also incorporated paper cranes as decoration.
Here's to a relaxing weekend!
Love Jo -xo-