Oh February. If, like me, these short, rainy days have got you yearning for a splash of warmth and sunshine then you are in the right place today.
It's an absolute joy to be sharing Sonia and Laurent's wedding with you; it really is the perfect antidote to a case of February blues and is a lesson in how to create a relaxed, outdoor celebration with a serious dose of chic. Today we're travelling to the south of France, to Mas des Violettes, Hameau de Gourdou, Valflaunès, a former farm in the typical Languedoc style. Sonia, a theatre producer and dance performer and Laurent, a graphic designer and art director, fell in love with its acres of glorious farmland and orchards with breath-taking mountain views and married here on 10 June 2017.
They wanted to create an intimate day that reflected themselves and their life together – simple, friendly and warm. Inspired by their venue they chose an artsy, countryside theme with chic touches and musical influences, and a loose dress code of 'hats and a touch of red' for a day full of relaxation, gourmet food and music.
Photography Coralie Monnet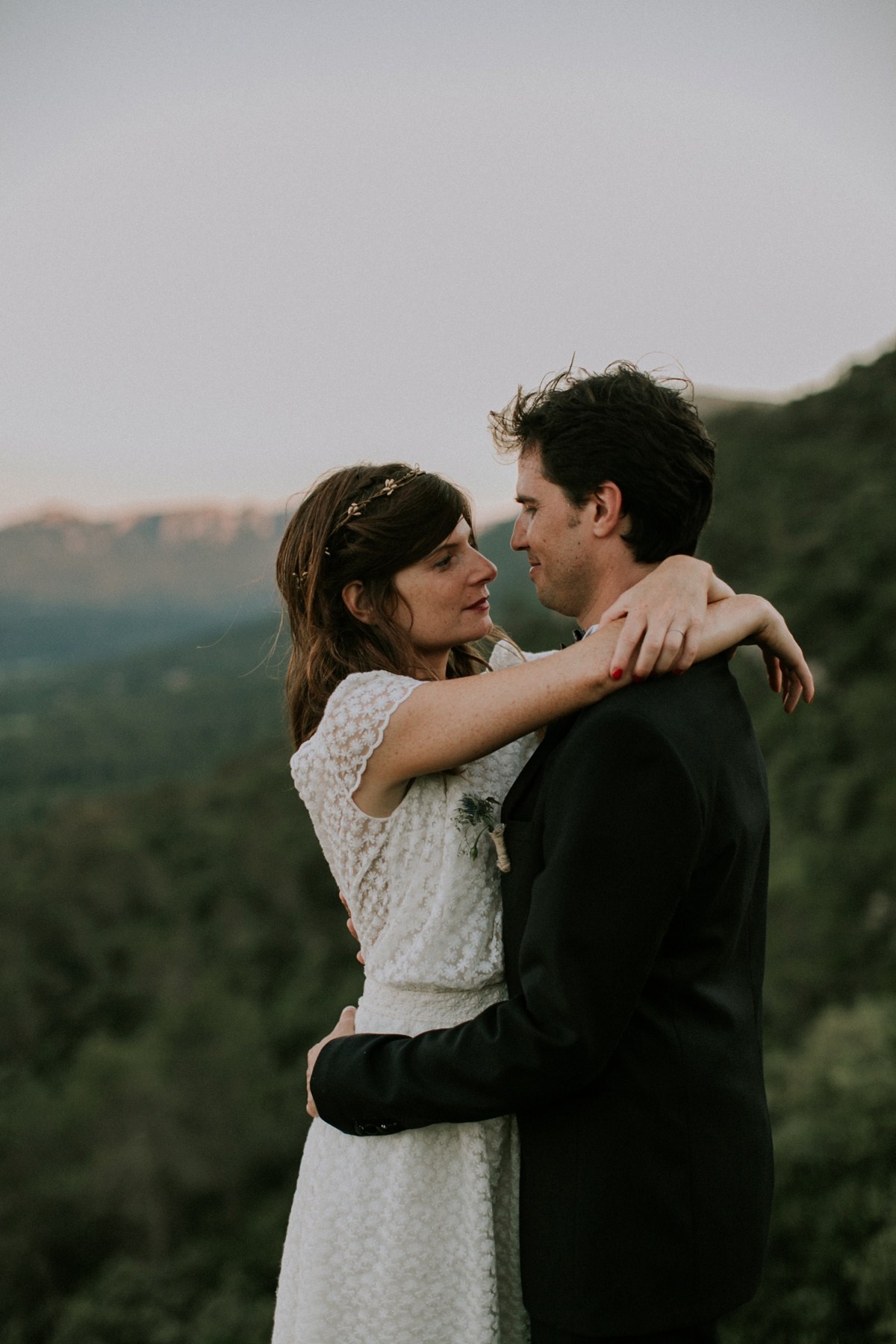 Photographer Coralie Monnet spent the entire celebration with the couple and their guests, capturing the magical outdoor feast enjoyed by the party the night before the wedding.
"Coralie has an eye for capturing rich, emotional and moving moments, spontaneity and real emotions. She and her assistant Tom were a close but discreet presence for the three days of the wedding, capturing all the story, from the smallest details to the crazy, spontaneous group photos. We will keep a particularly fond memory of our small nature session overlooking the majestic panorama of the Pic St-Loup. This little escapade in a bubble of nature, light, scents and sweetness will leave us a particularly poetic and timeless memory."Sonia and Laurent met at a shared friend's housewarming party in Lyon, whilst Sonia was living in Montpellier and Laurent in Antibes . After a year of long-distance relationship, Laurent moved to Montpellier.
"We've been living together for ten years, and had two lovely three and six year old boys when we decided to get married. We got engaged one year before our wedding."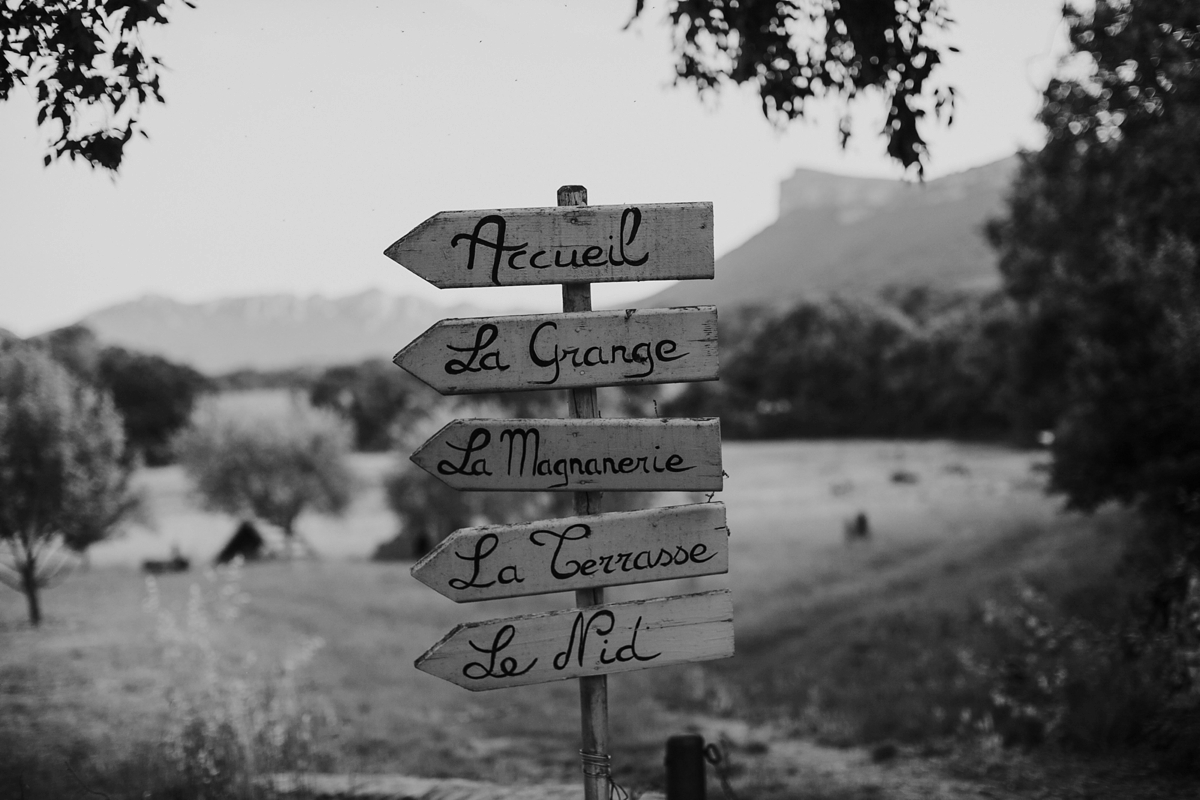 The couple planned and styled the day themselves, calling on friends and family to help them decorate the venue and carry out final preparations. Their eye for detail is plain to see in the beautiful styling of the venue and its grounds.
"All the family was involved in the decoration the eve of the wedding. Although it was a little challenging, it was a really fun, convivial and informal moment to share with our family and friends before the actual wedding day."
"We chose Mas des Violettes because of the location with a beautiful view on the Pic Saint-Loup. It's an artsy place, surrounded by nature, and there are a lot of rooms and independent houses for the guests to stay in."
"It was a perfect match for us, with charming stone houses for the guest, a pretty and romantic pink and red gypsy caravan for us, surrounded by nature and with a wide field with a playground for the kids and donkeys in the background."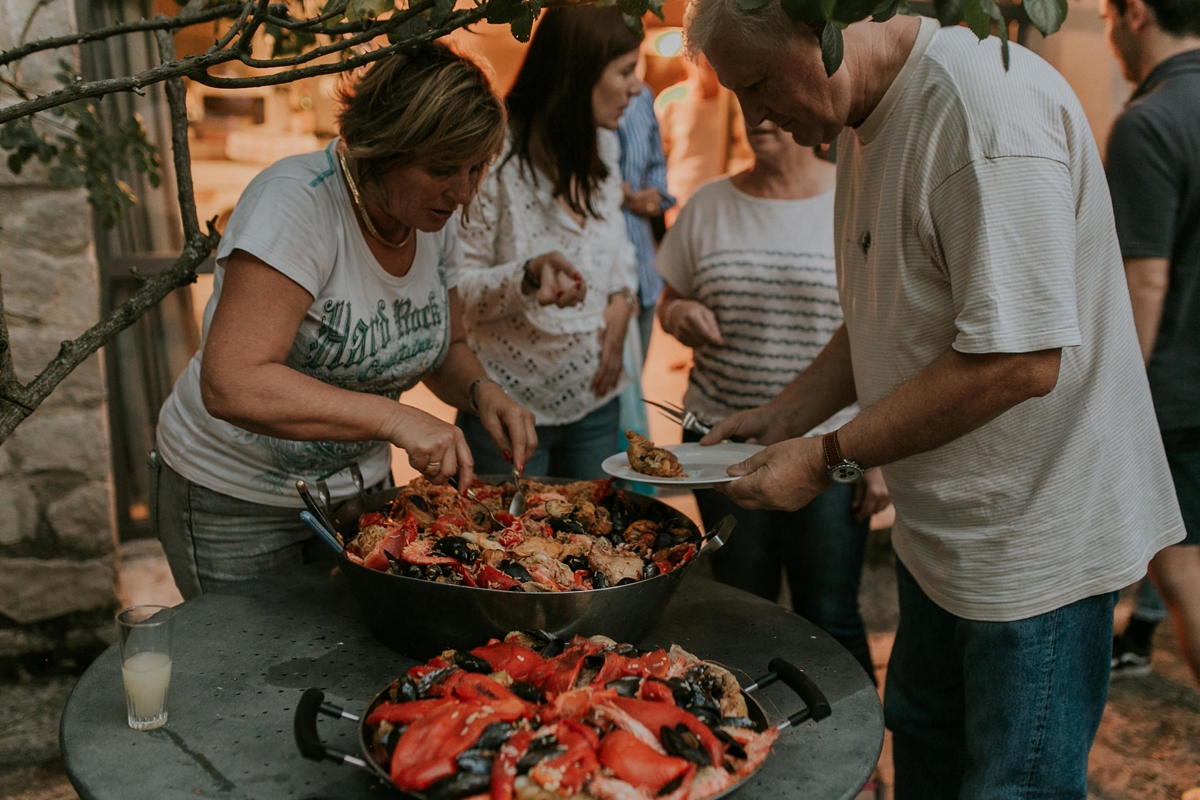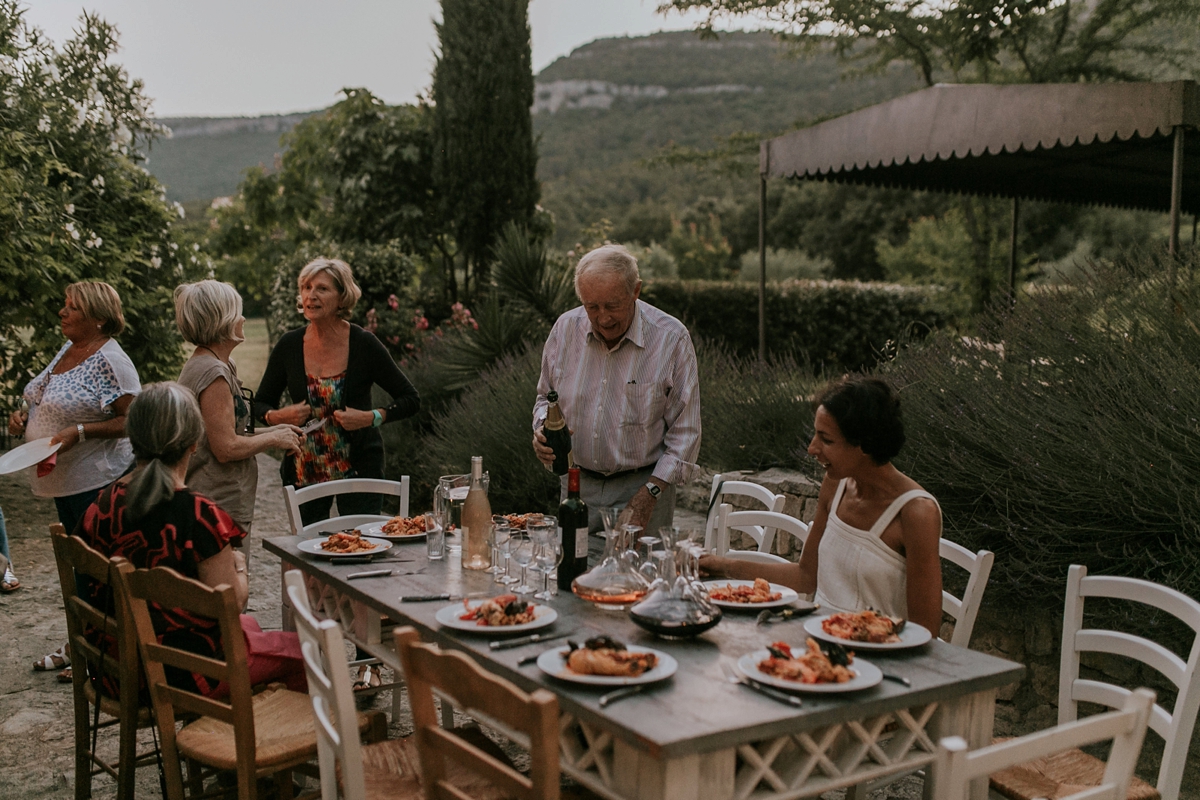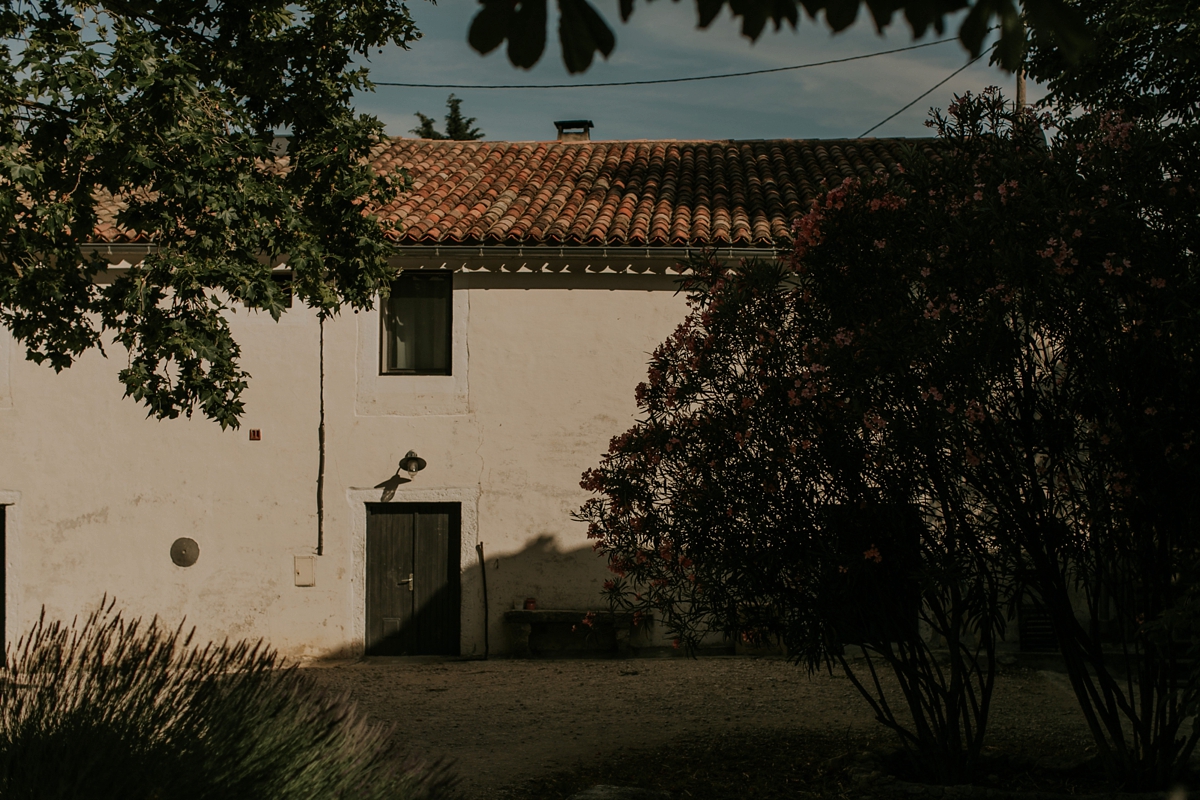 The couple delved into Mas des Violettes' collection of props and accessories to create the relaxed look. I really like the addition of hanging lights and picnic blankets in the orchard to create an oasis for guests to chill out during the afternoon.
"Mas des Violettes has an Ali Baba's cave of various objects, decorative knick-knacks, and other accessories or piece of furniture you can find usually on flea-markets that you can use to decorate the venue."
Sonia opted for two gowns for her wedding day. The first, worn for the ceremony, is the chic, short, fitted Laclos dress by Laure De Sagazan – just lovely for a hot summer's day.
"I loved the style, the simplicity, the naked back and the gorgeous Calais lacework."
Her elegant vintage-inspired Sessun shoes saw her throughout the entire day and the evening's festivities.
Ida Degliame created her delicate headpiece which looks both bridal and festival-inspired, and she carried a pretty bouquet of roses and gypsophila, created by a friend of the family. The day before the wedding, the florist was helped with the rest of the floral decorations by the couple's friends and family.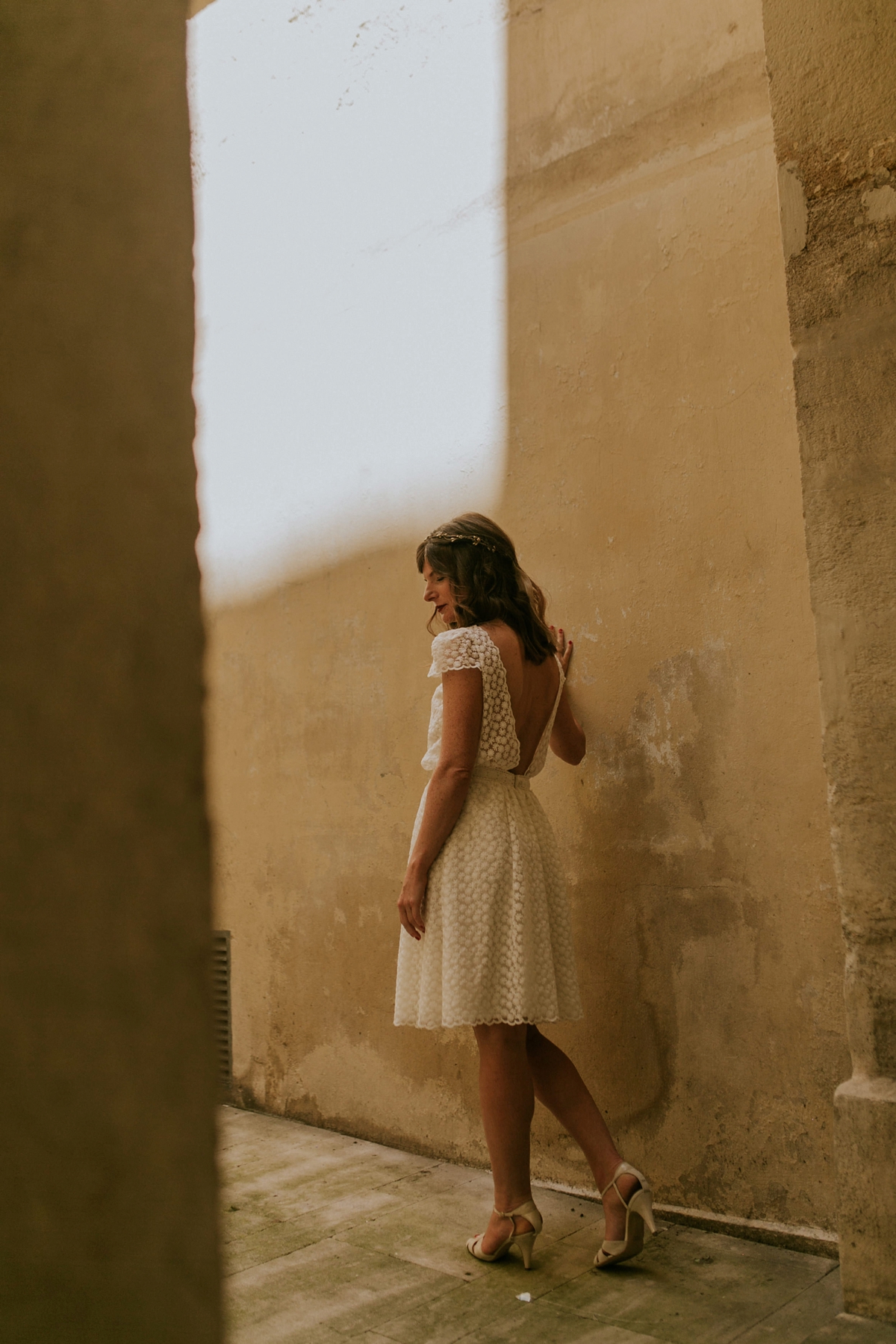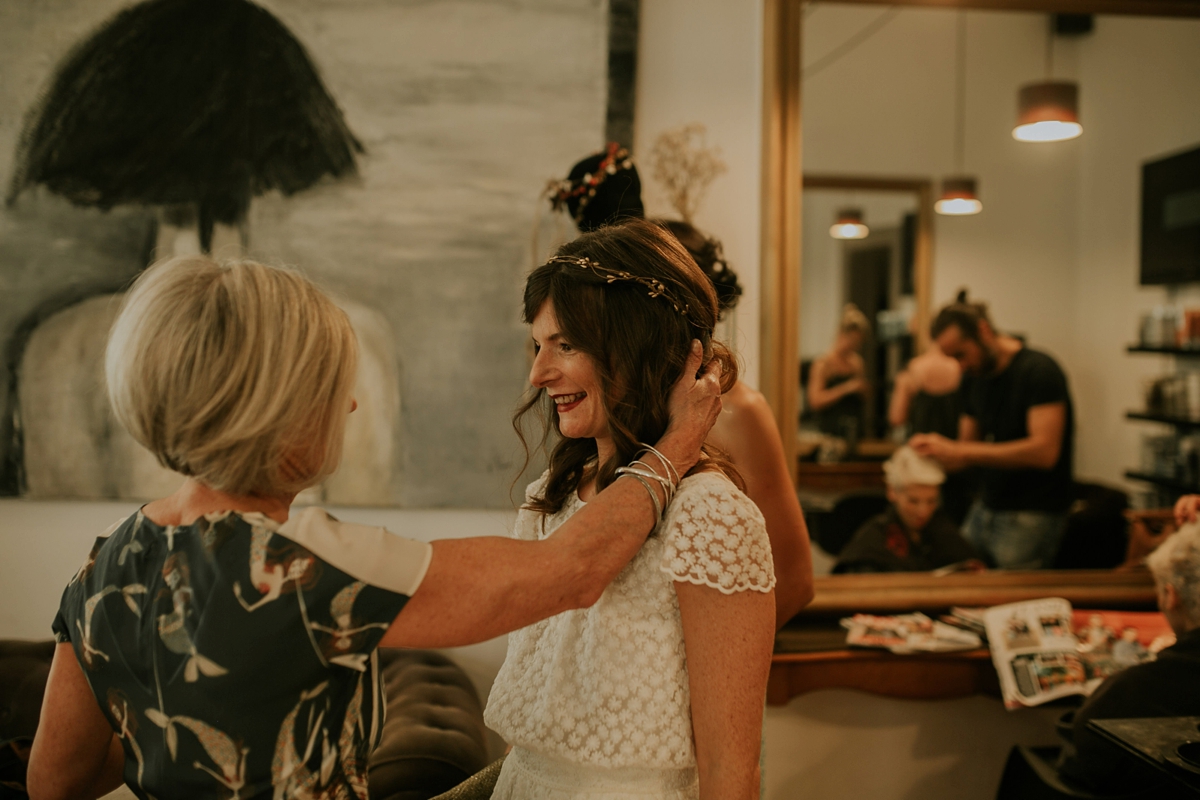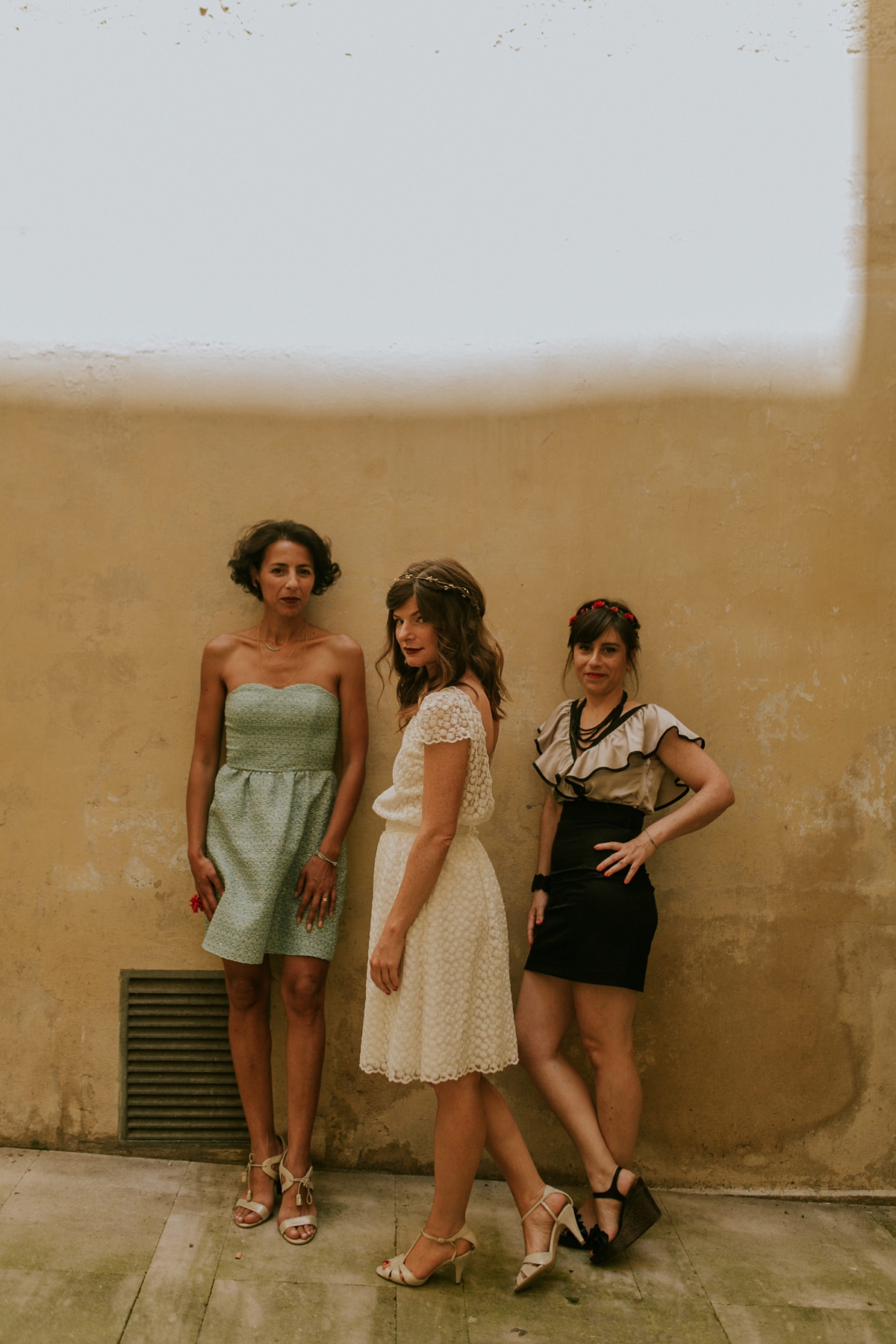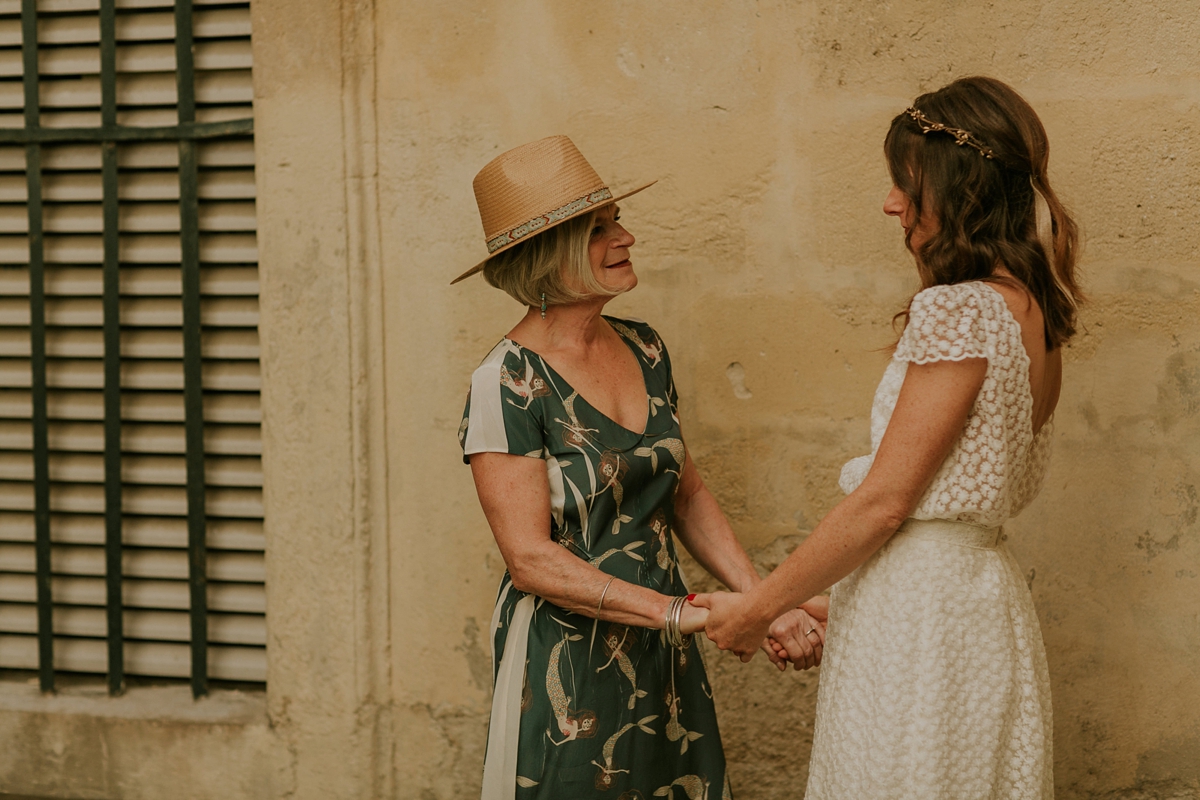 Laurent wore a casual and summery Sandro suit, adding a stylish bow-tie in blue Liberty fabric, with red flowers from Le Colonel Moutarde.
If you love his look then we invite you to visit their Little Book for Brides listing for more charming designs and a special discount.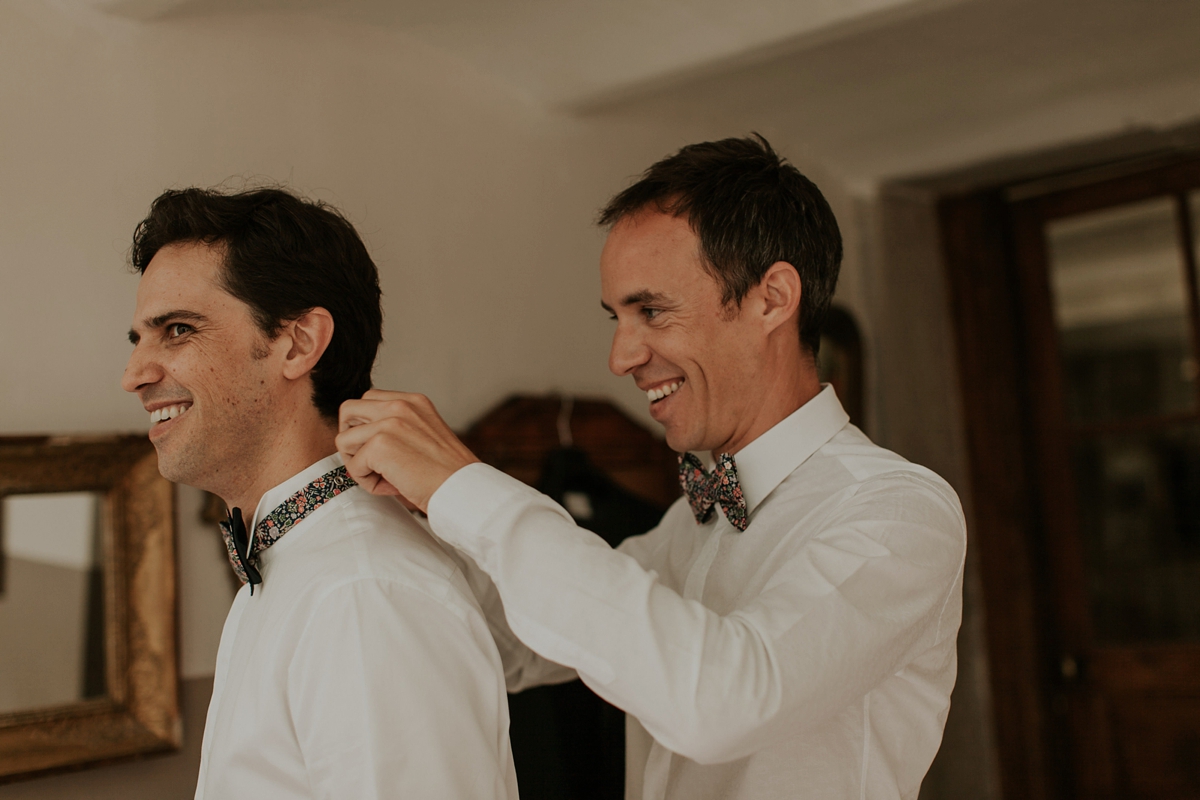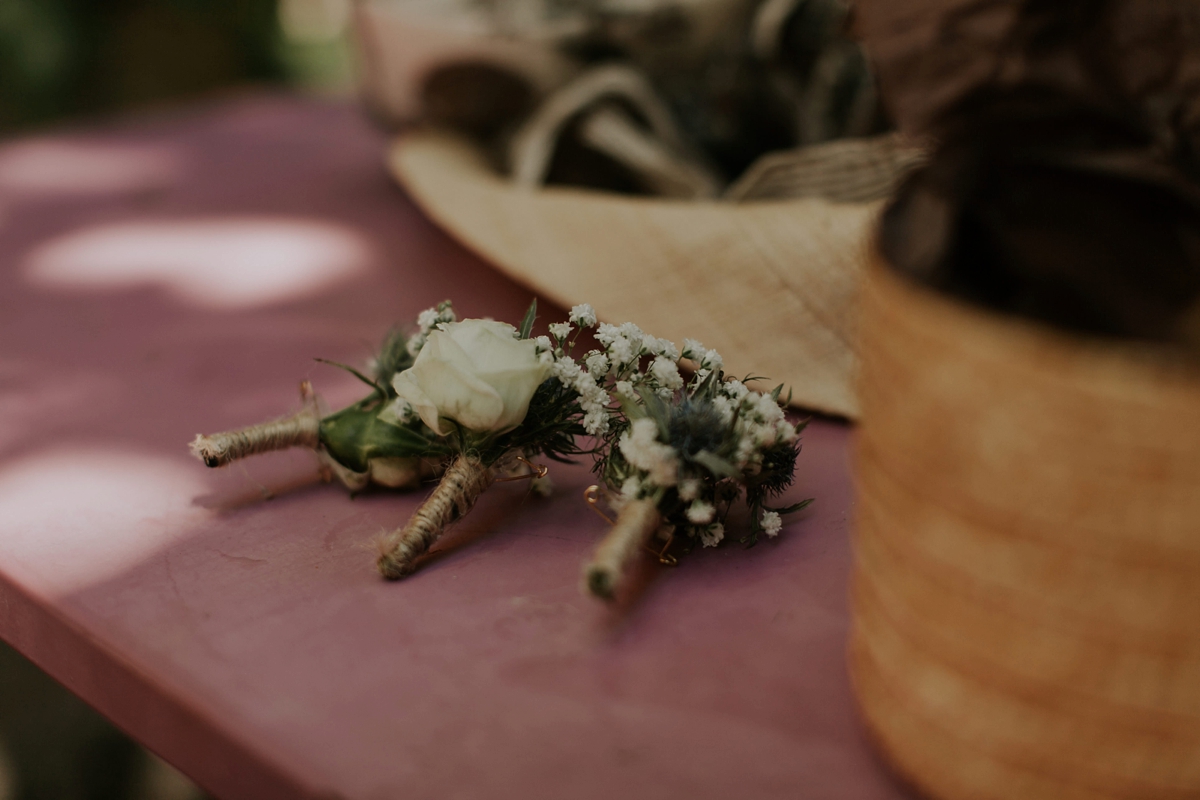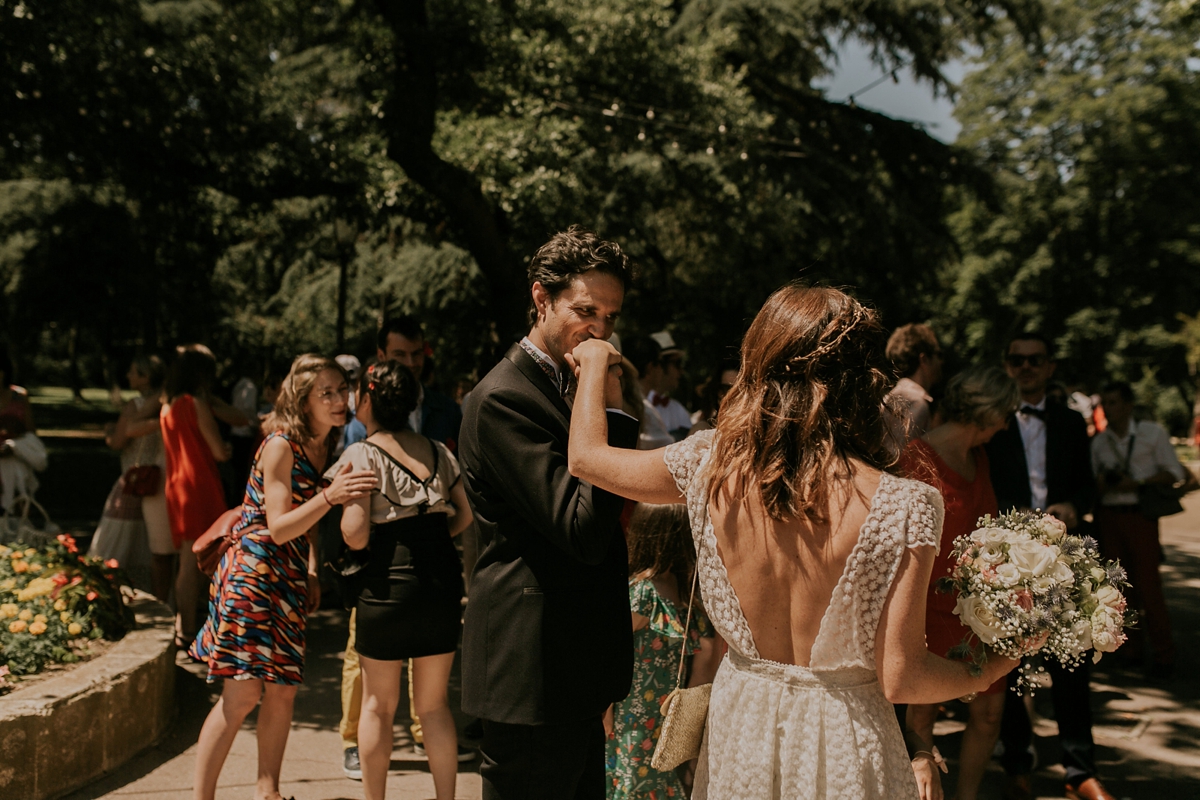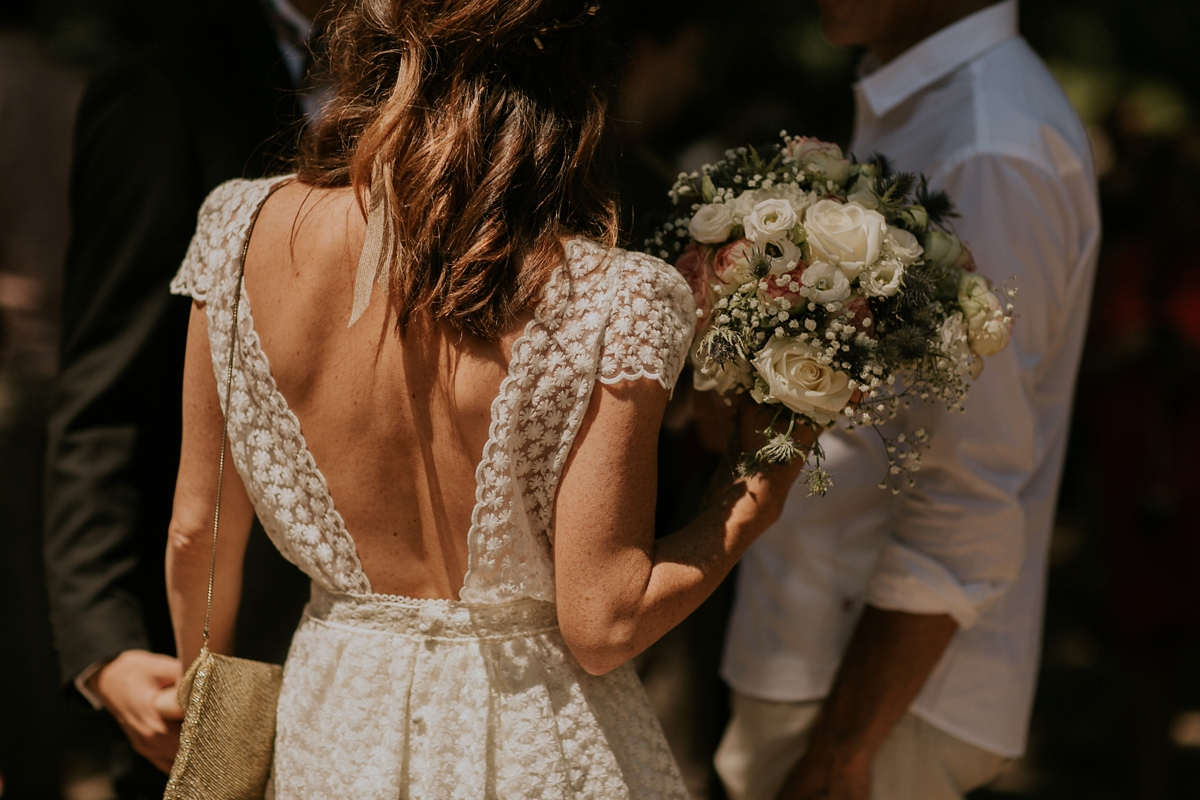 The couple entered the vaulted ceremony room hand in hand to the unforgettable sound of Jeff Buckley's 'Hallelujah', looking so happy and relaxed.
Laurent chose an oxidised, textured ring from Precious Lace Jewelry and the bride's was a delicate Polamai eternity ring of white gold and diamonds. Once married, they sped back to Mas des Violettes in a very, very cool white PGO speedster.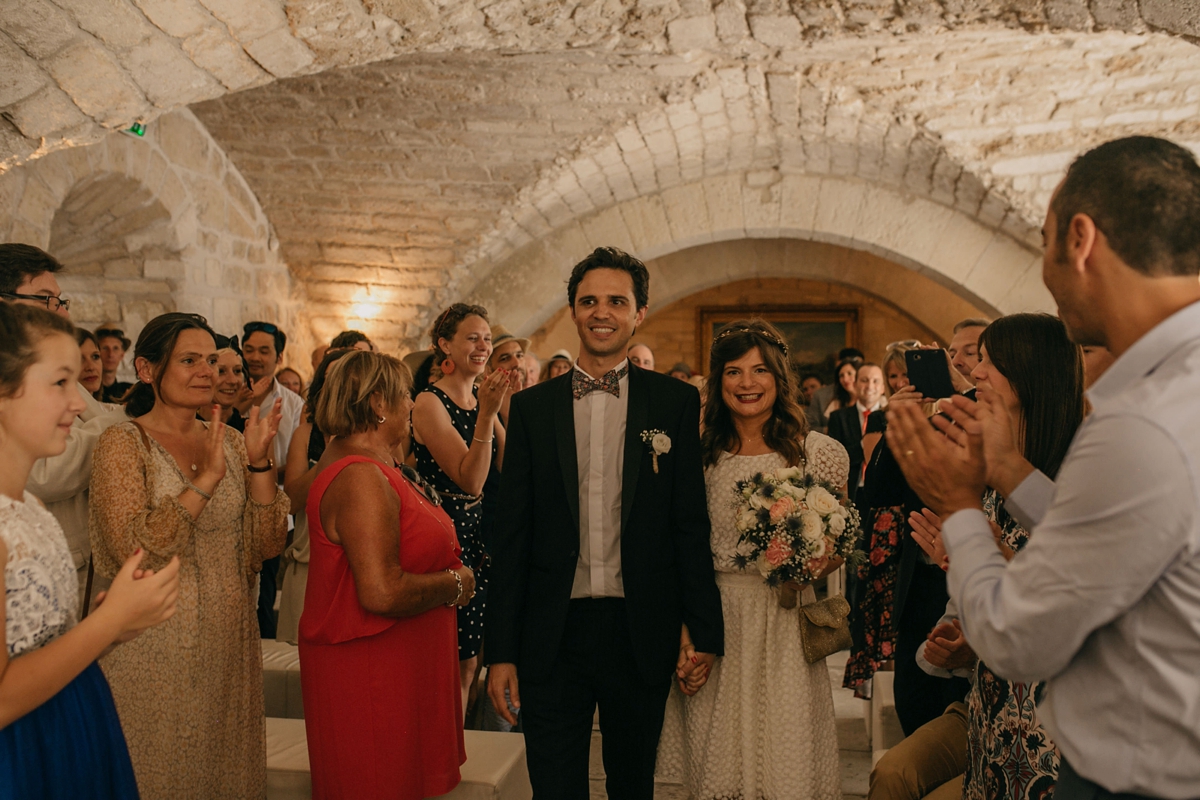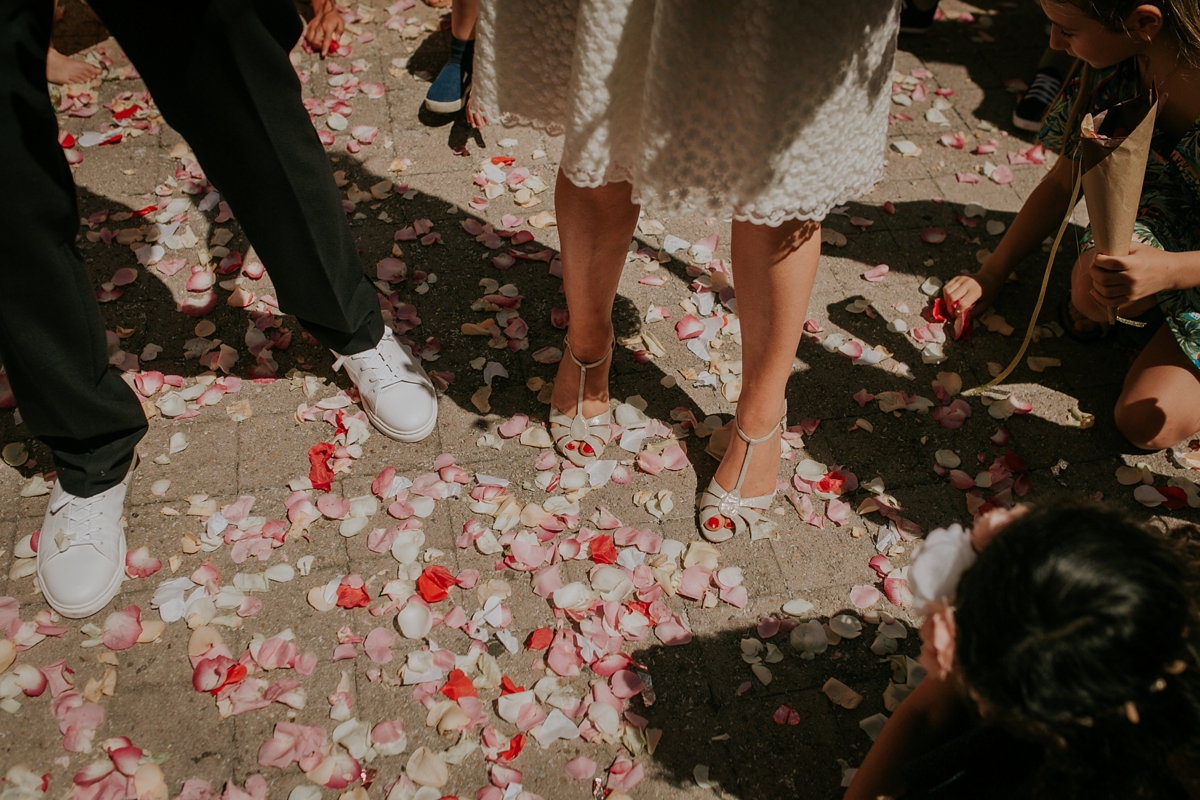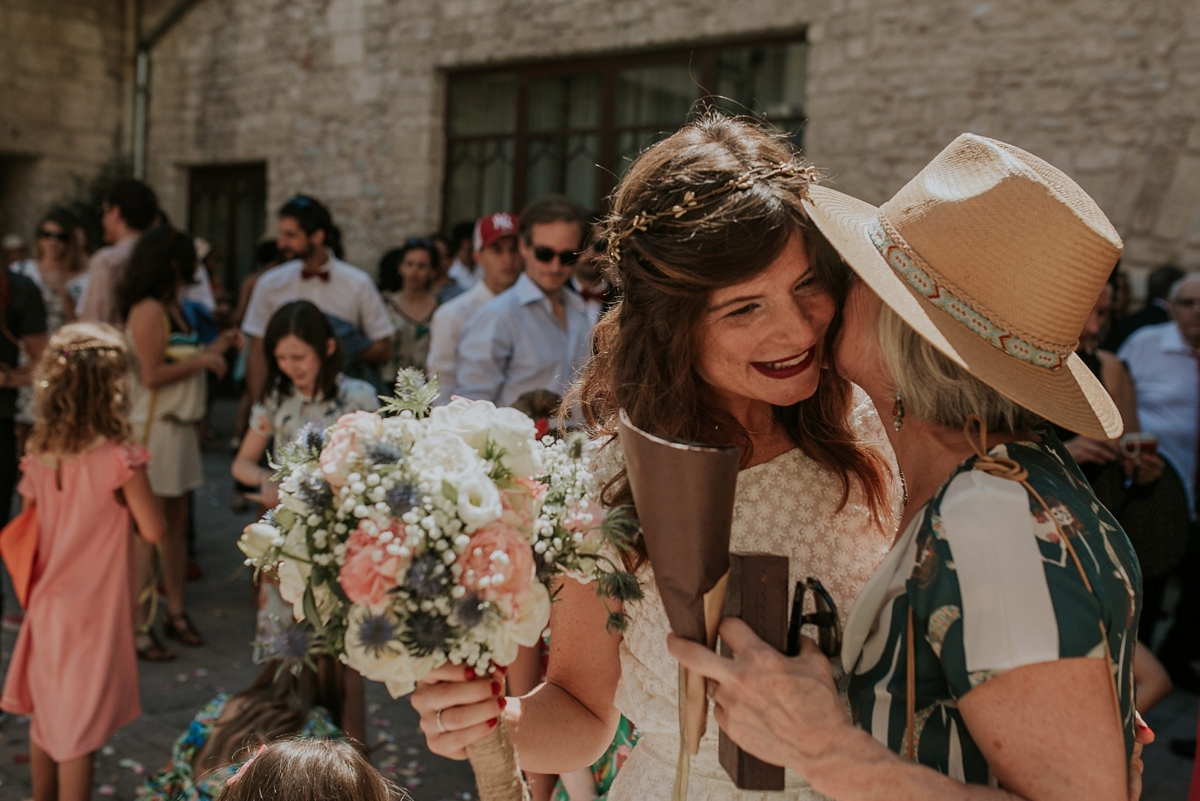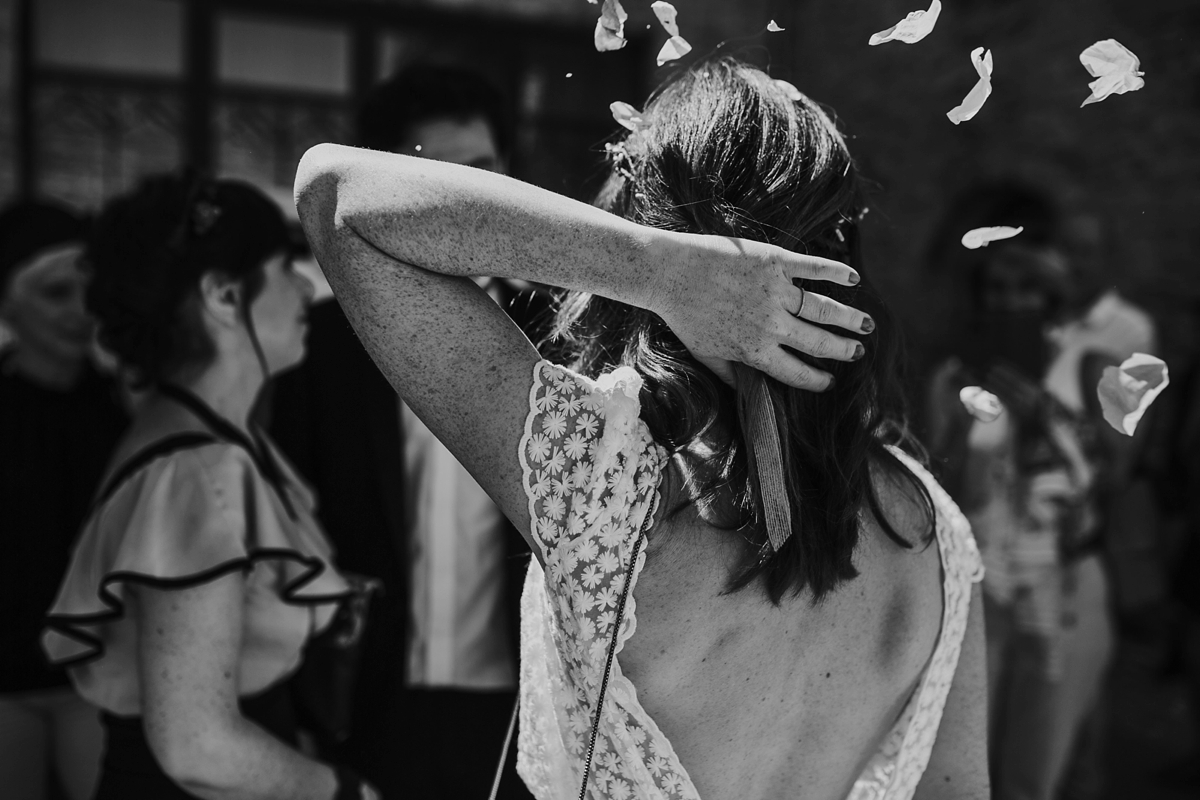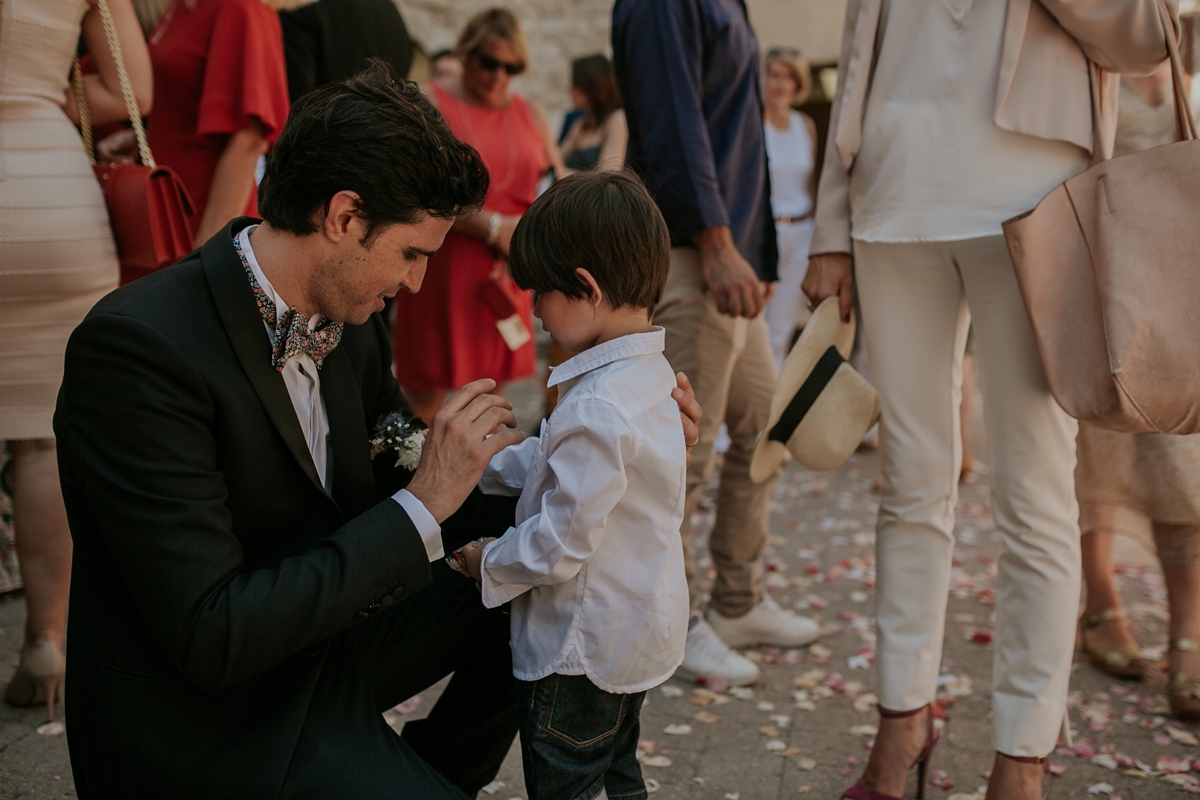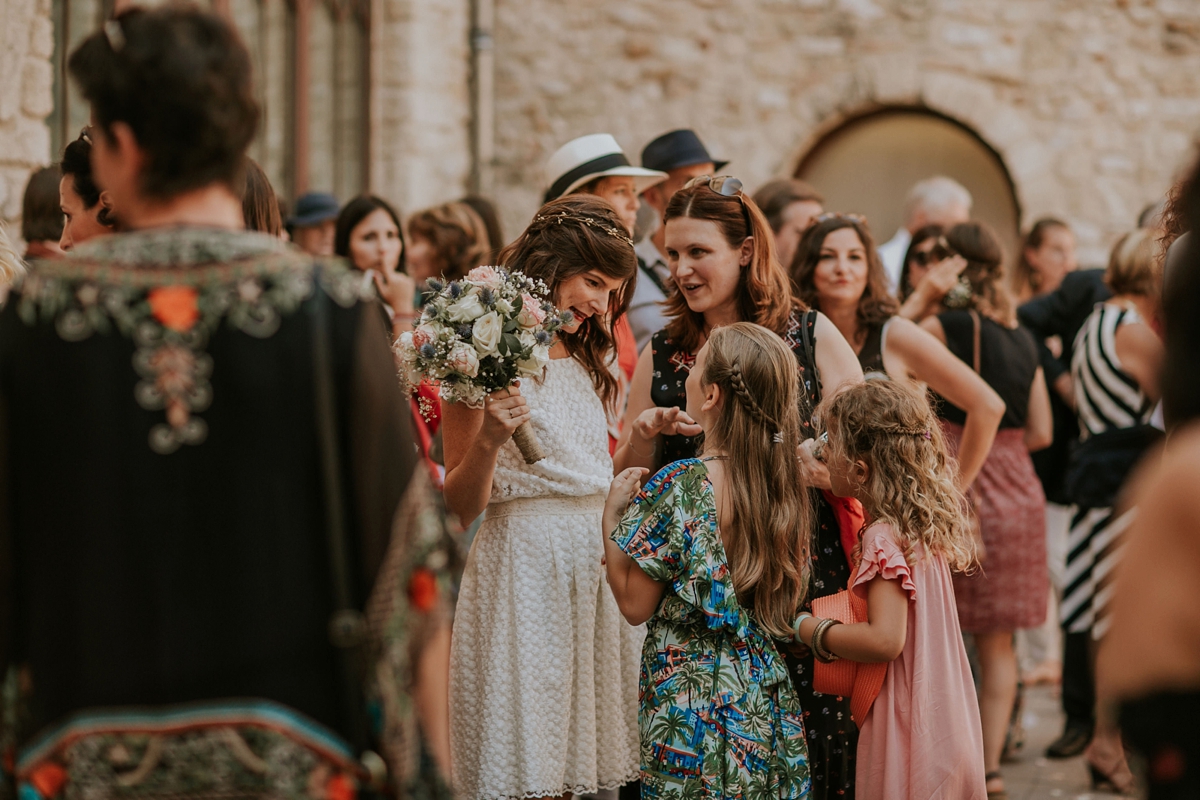 Back at the Mas des Violettes, Traiteur Grand had put on a gourmet buffet for the guests, which looks truly delicious. The vin d'honneur (the French phrase for wedding reception) was accompanied by music from jazz quartet Collectif Koa.
"We wanted people to meet, talk and share some great moments without being too formal, so we opted for a gourmet buffet dinner with unassigned seating so people could feel free to move, and without too many chairs to ensure a fully-loaded dance-floor."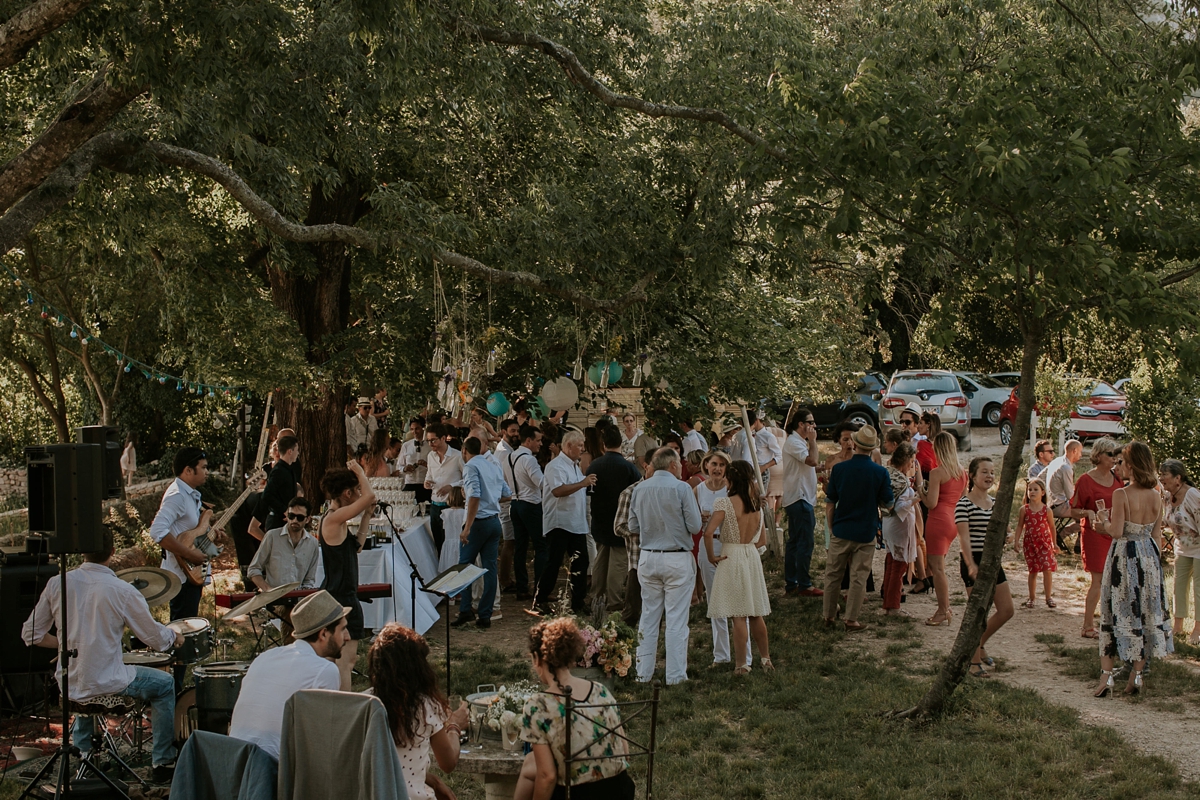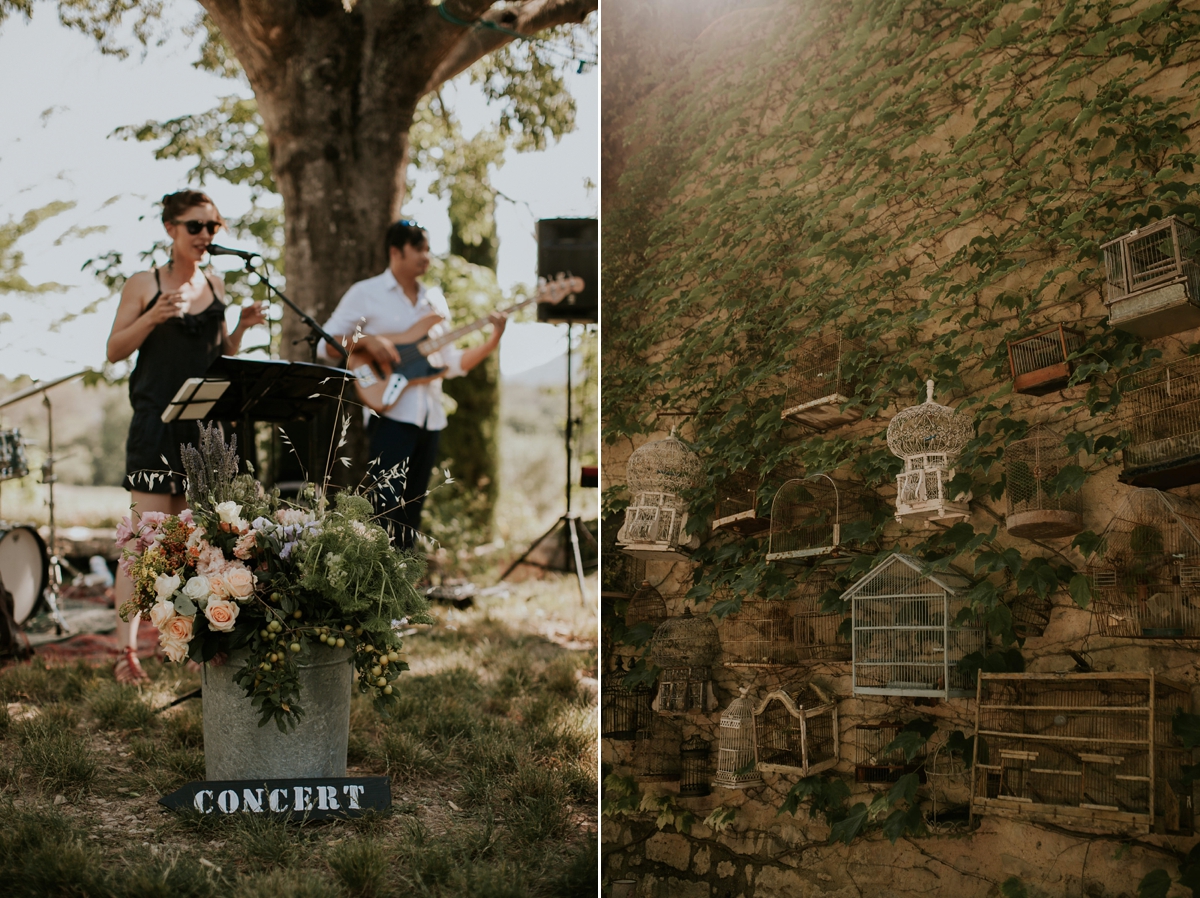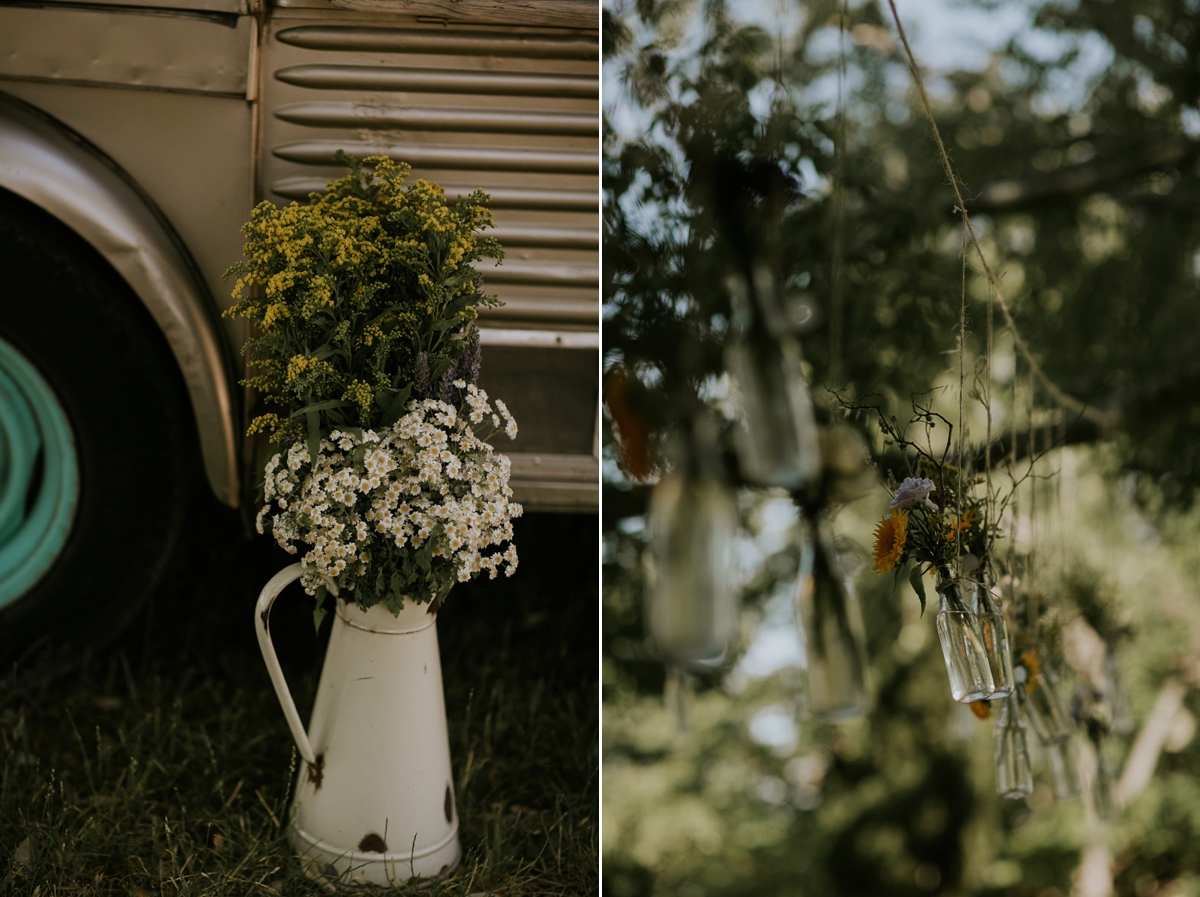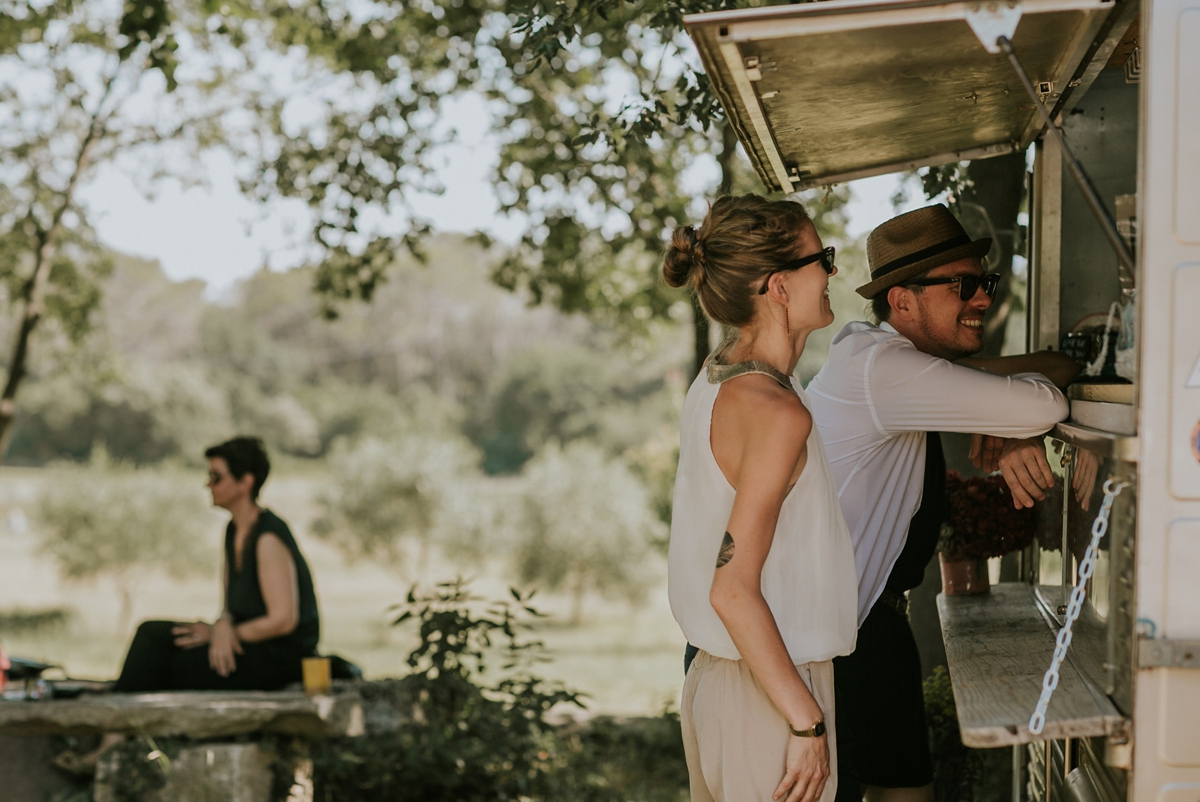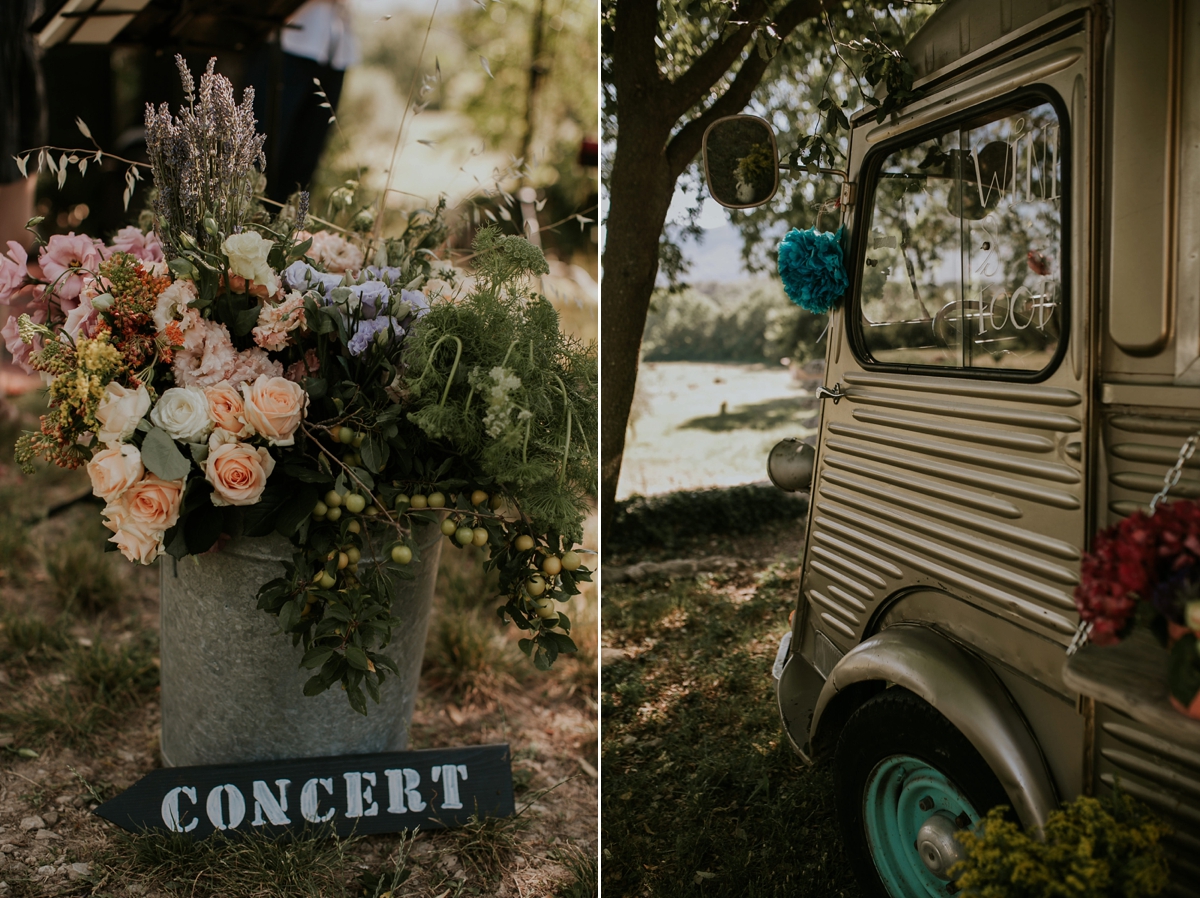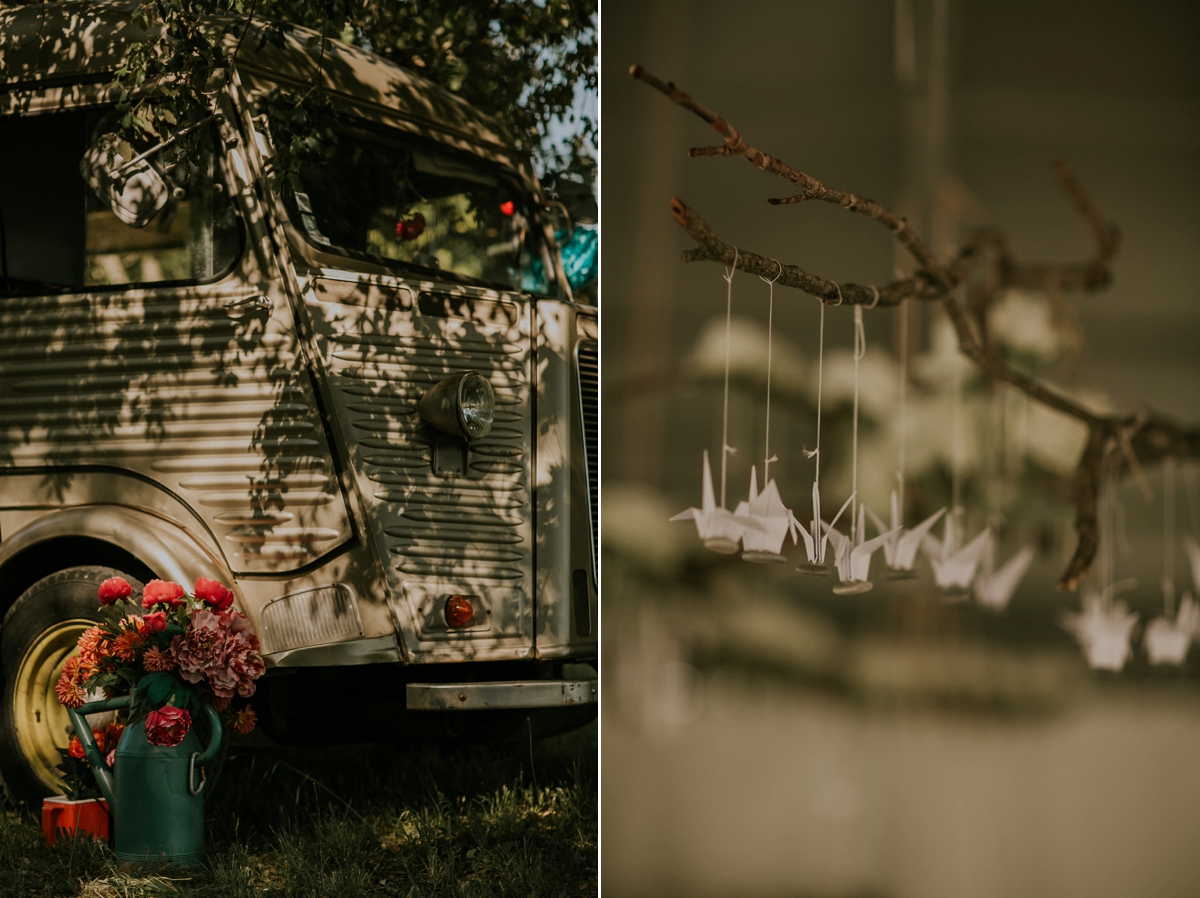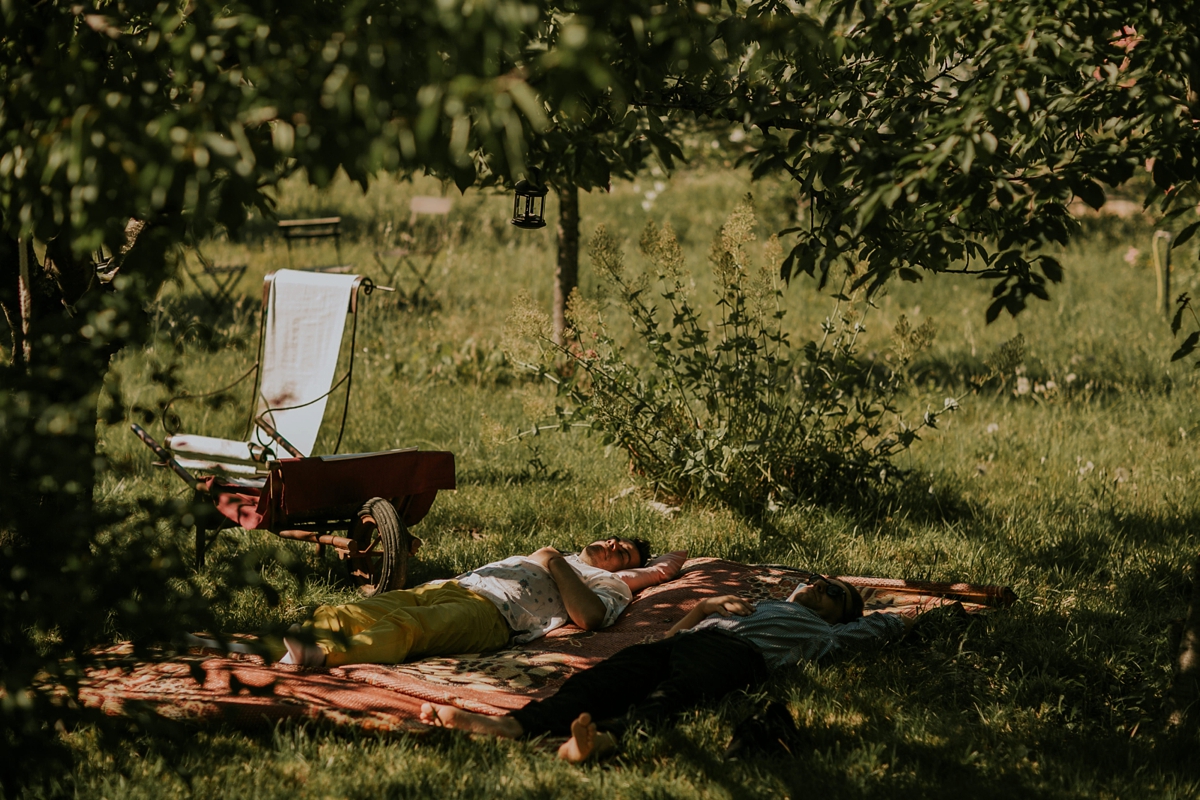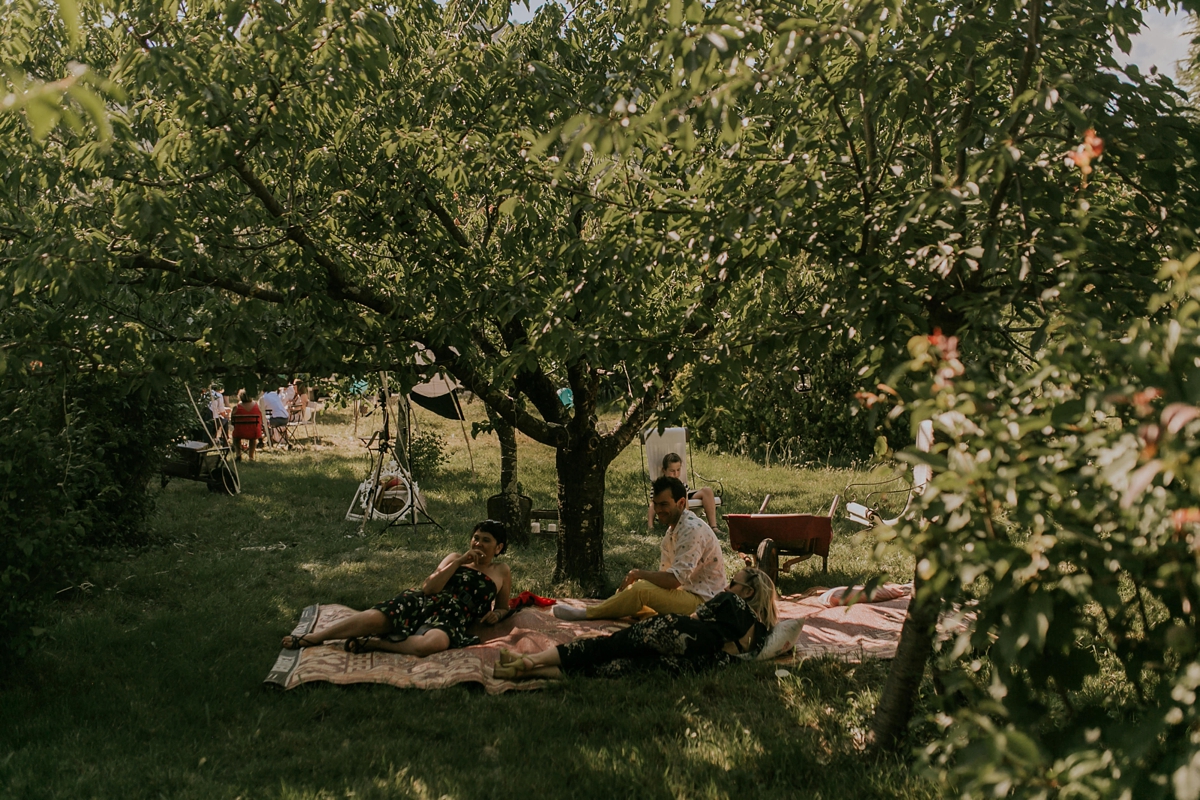 More entertainment came in the shape of a fun photo-booth and the creation of chill-out areas for guests to relax and mingle.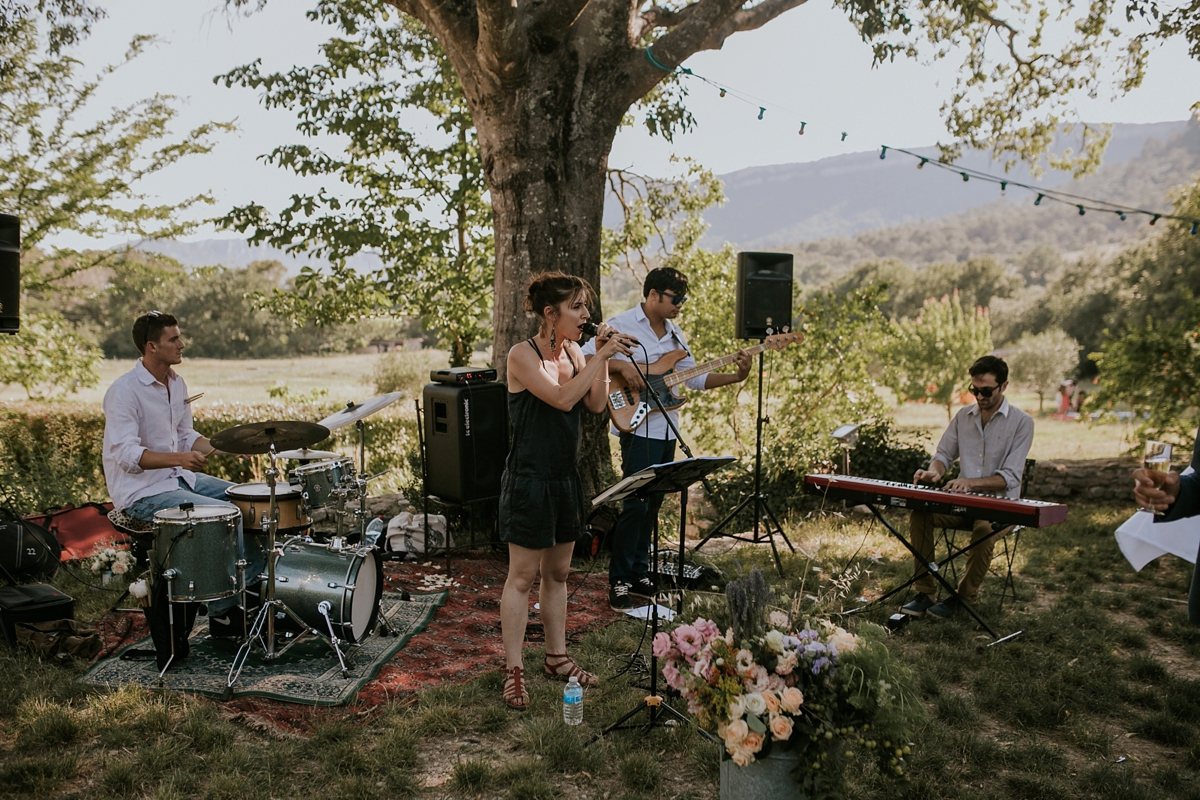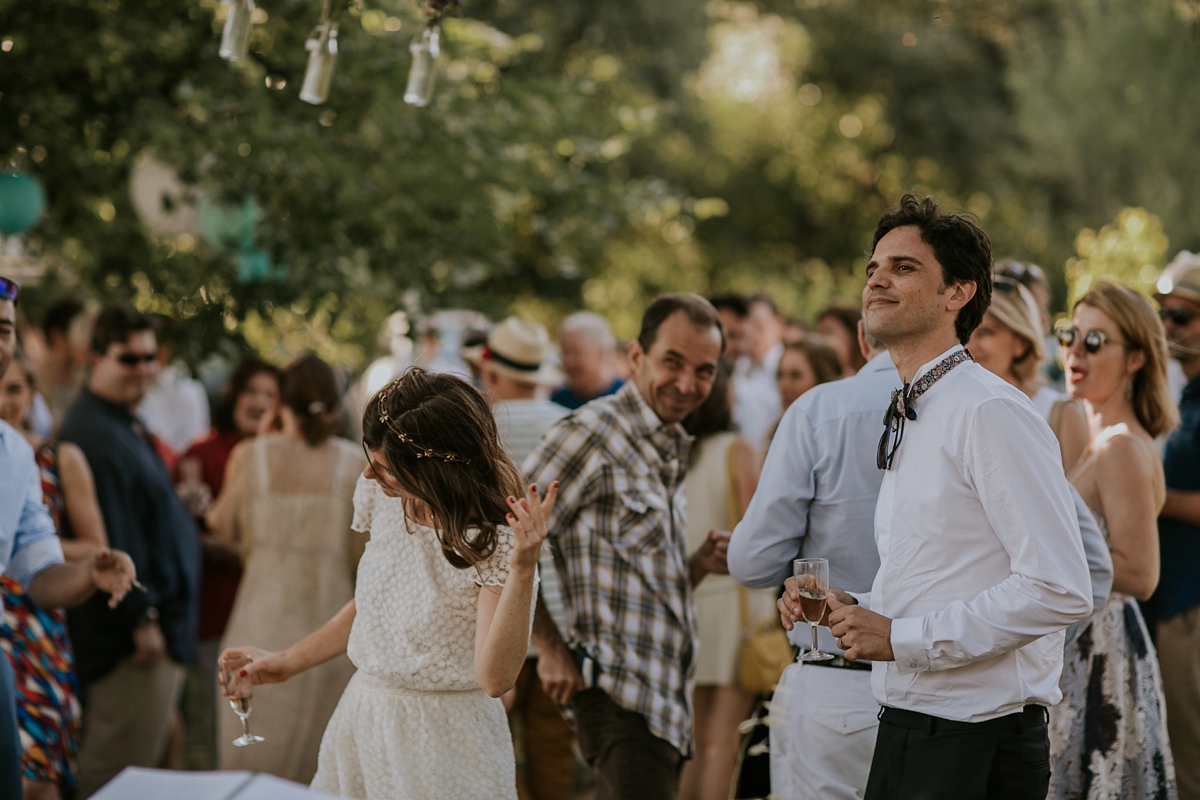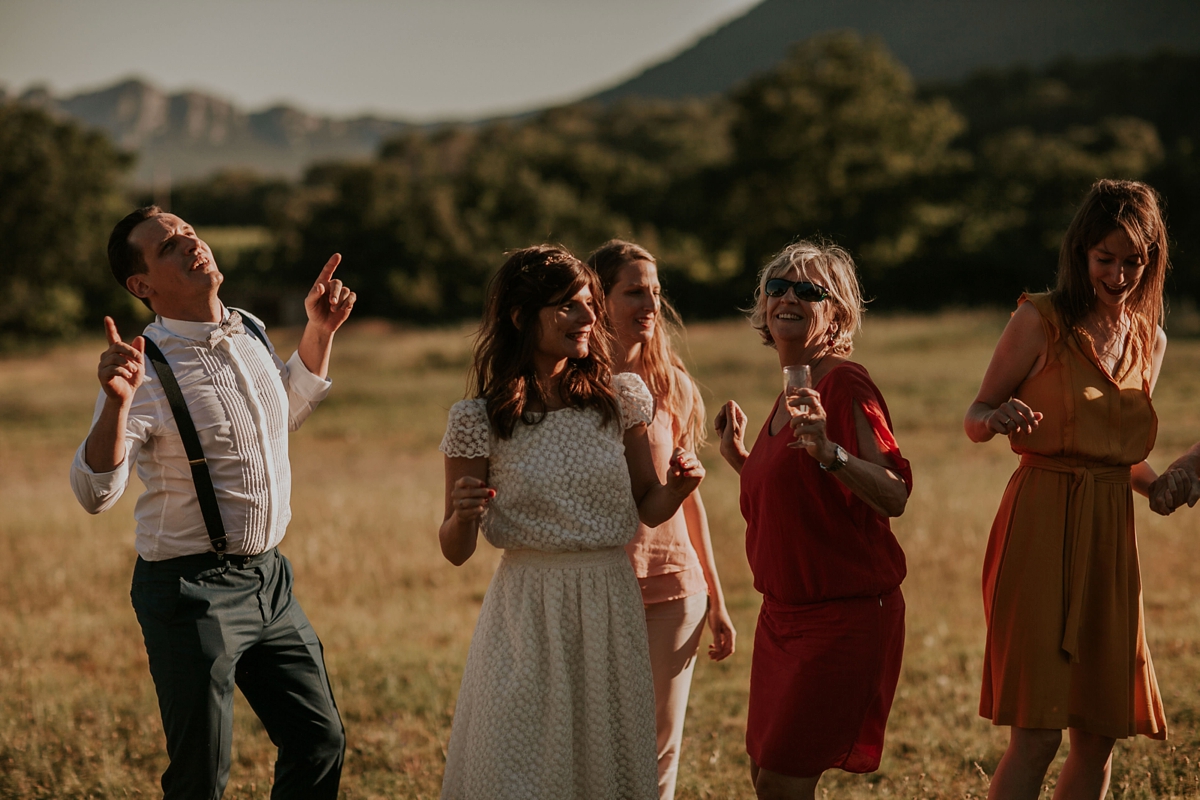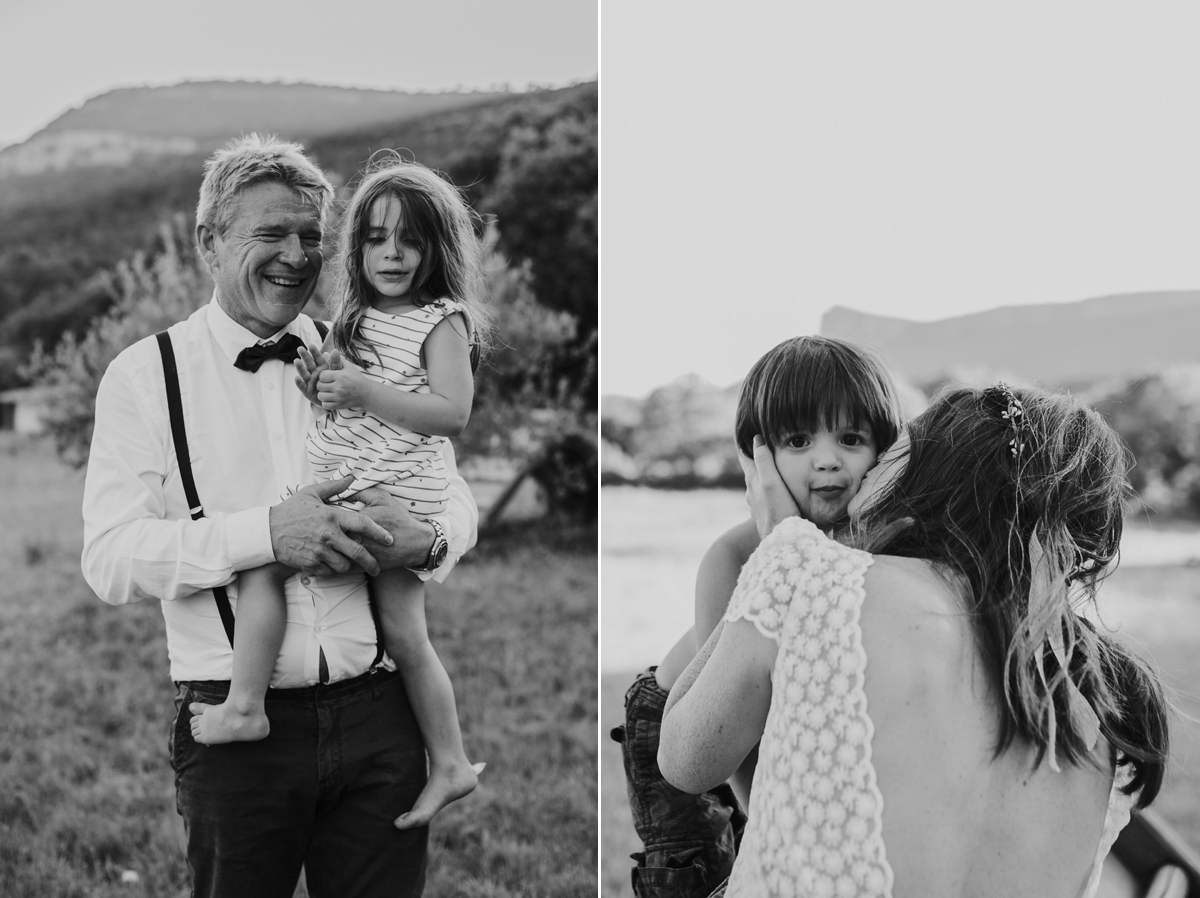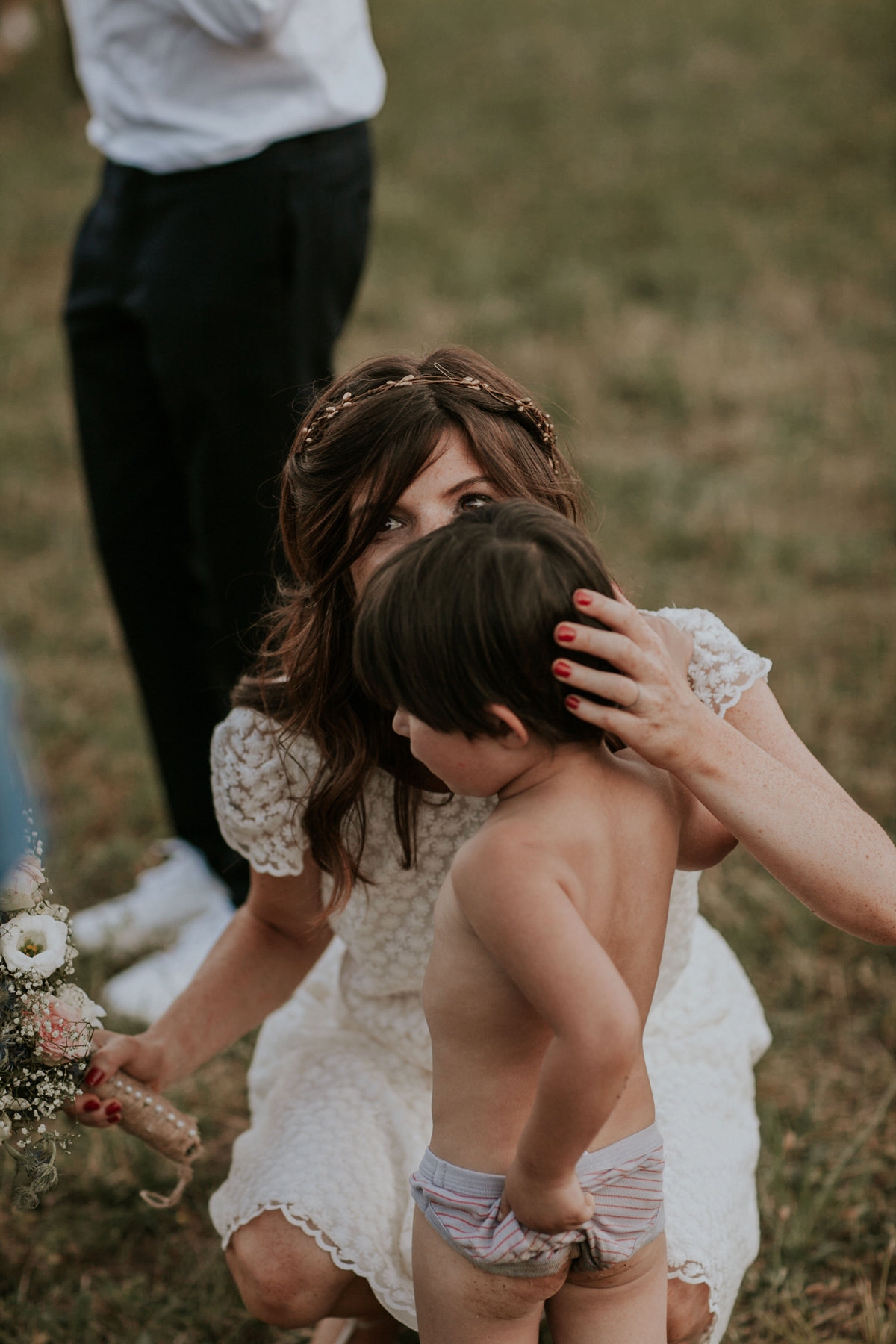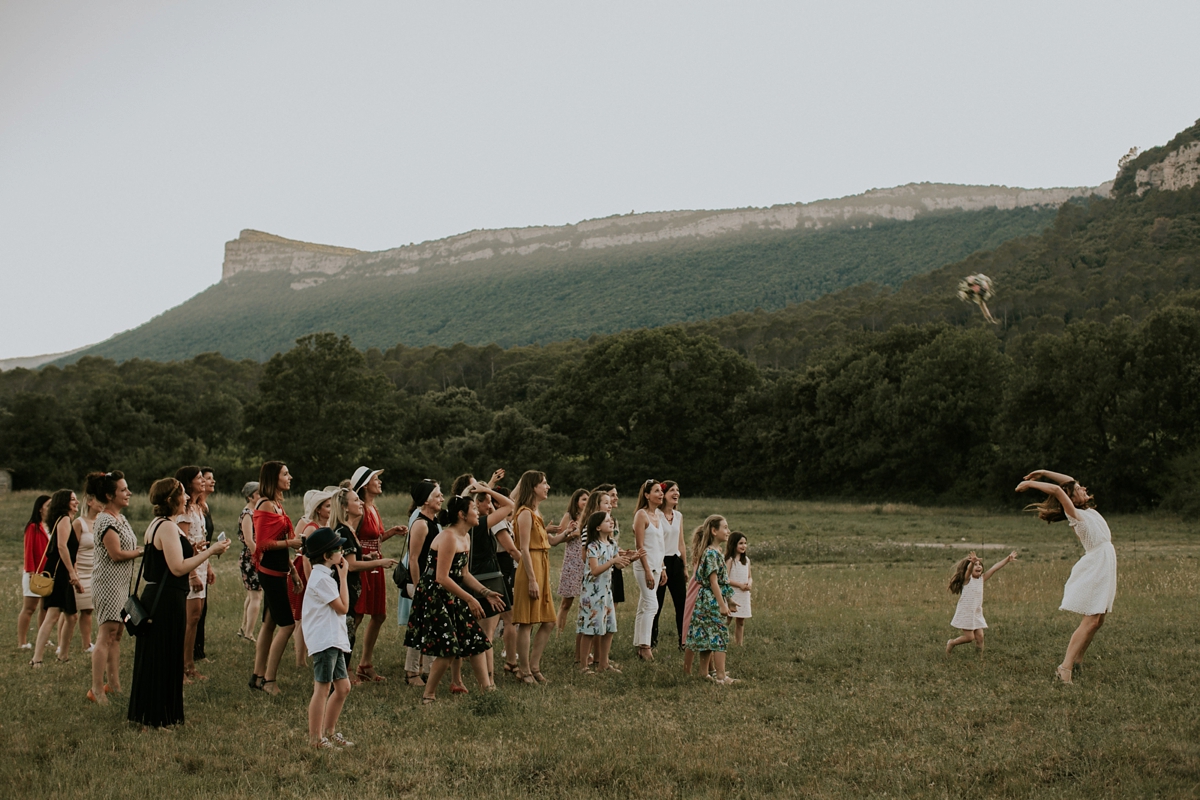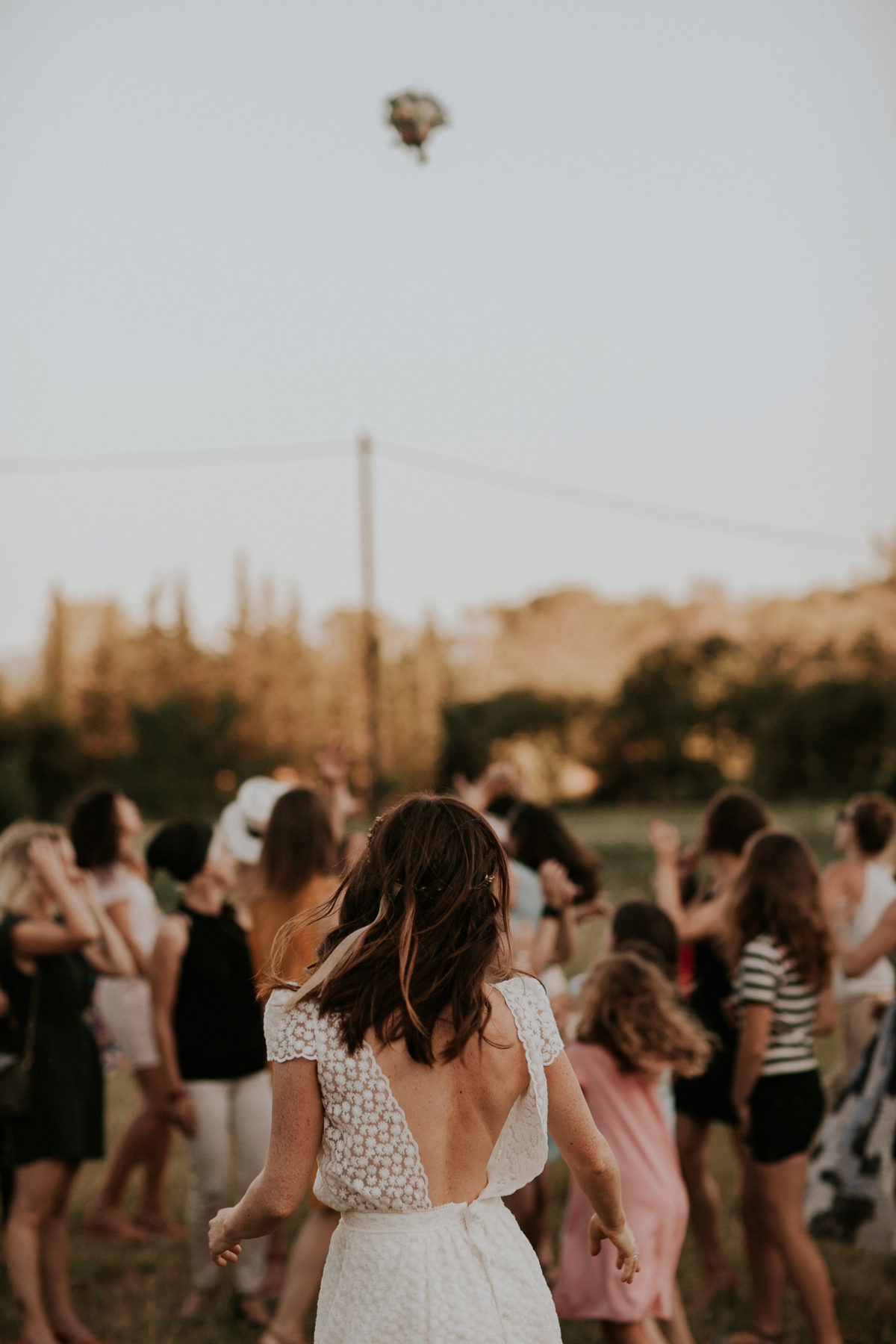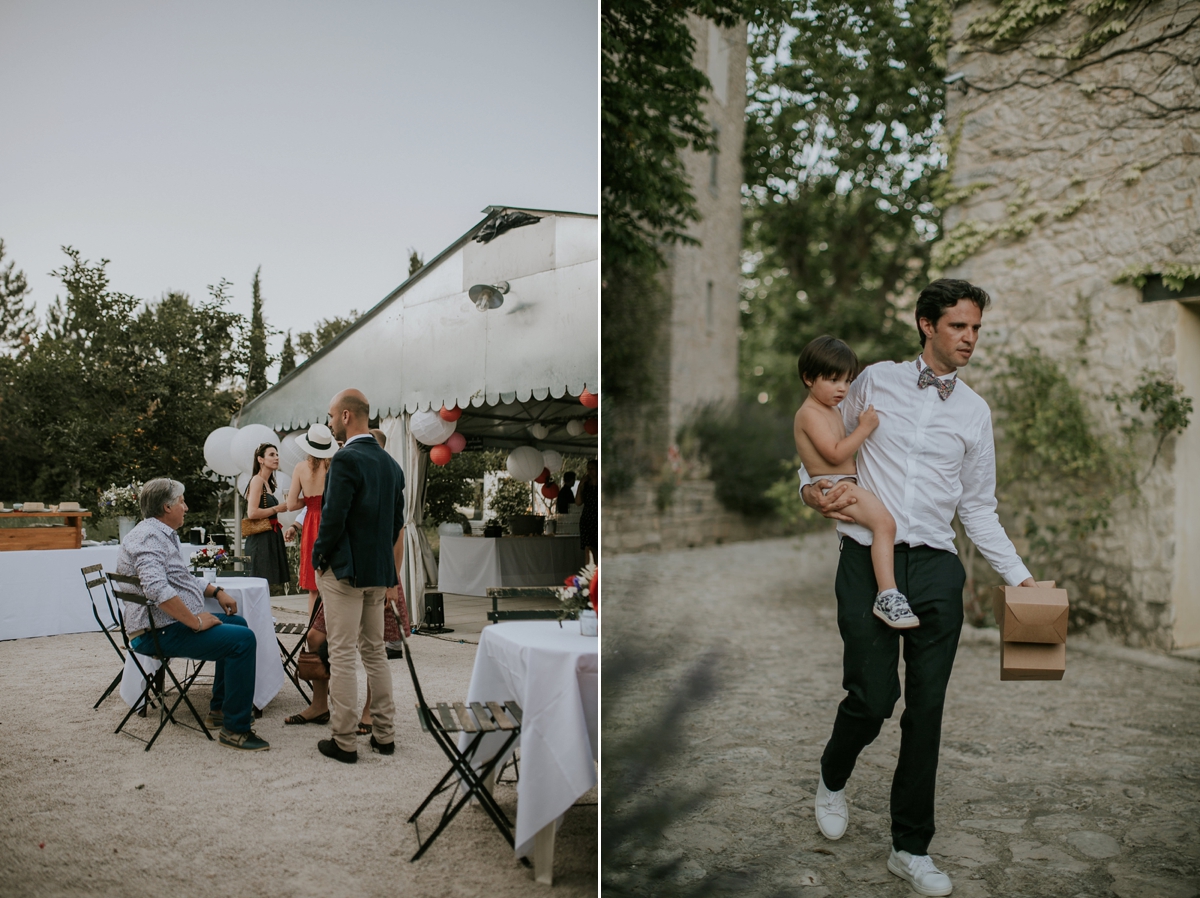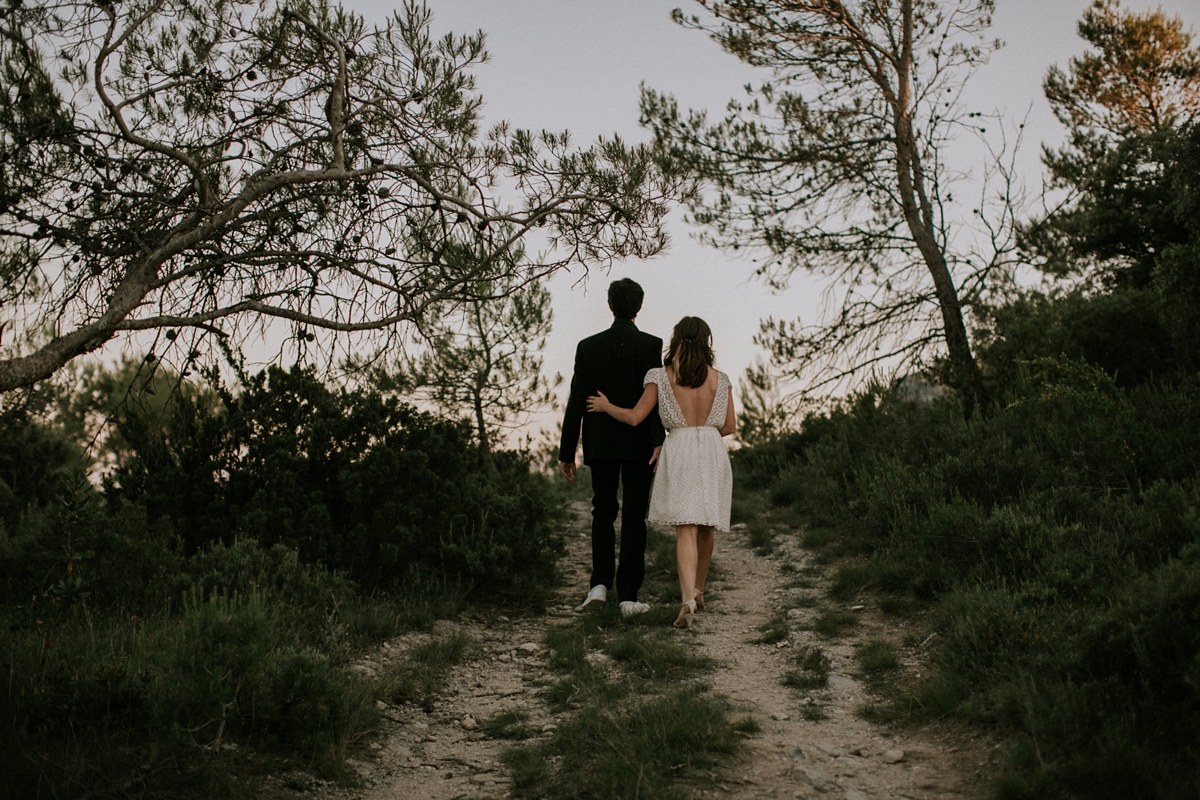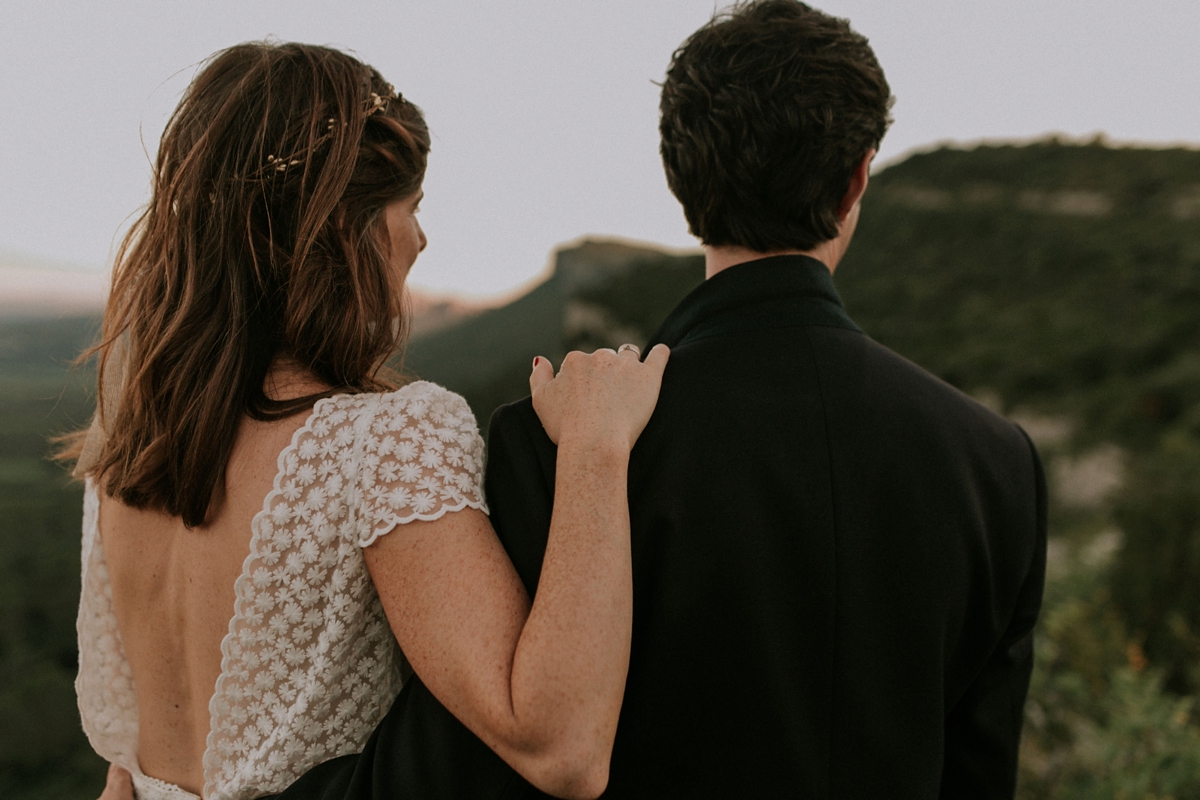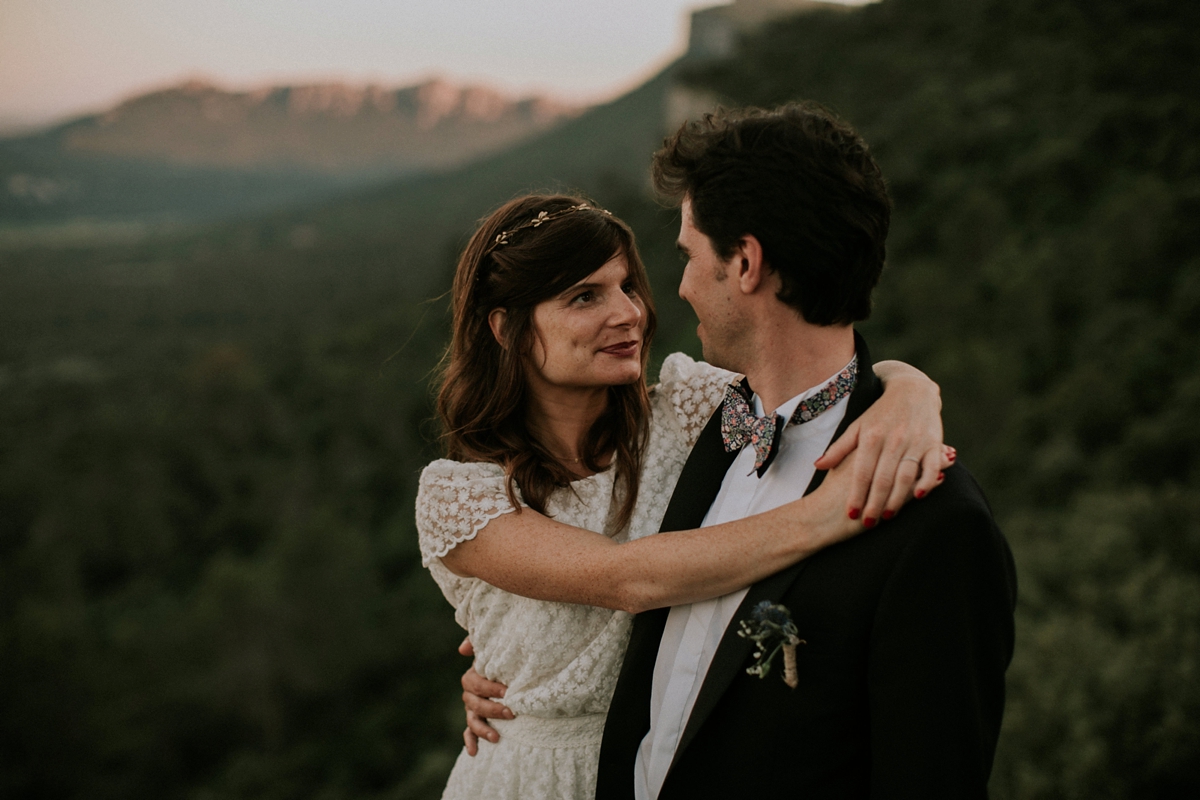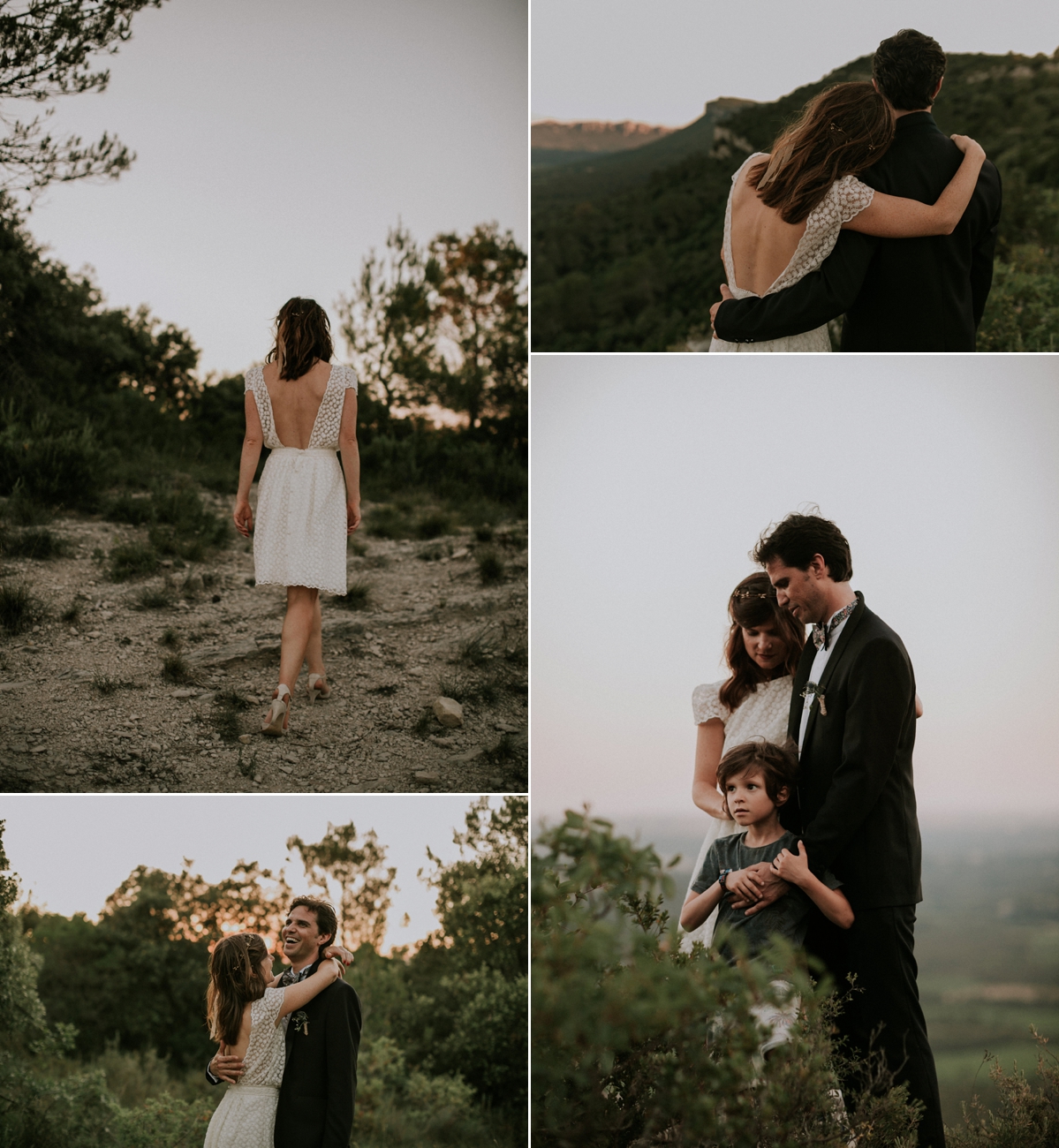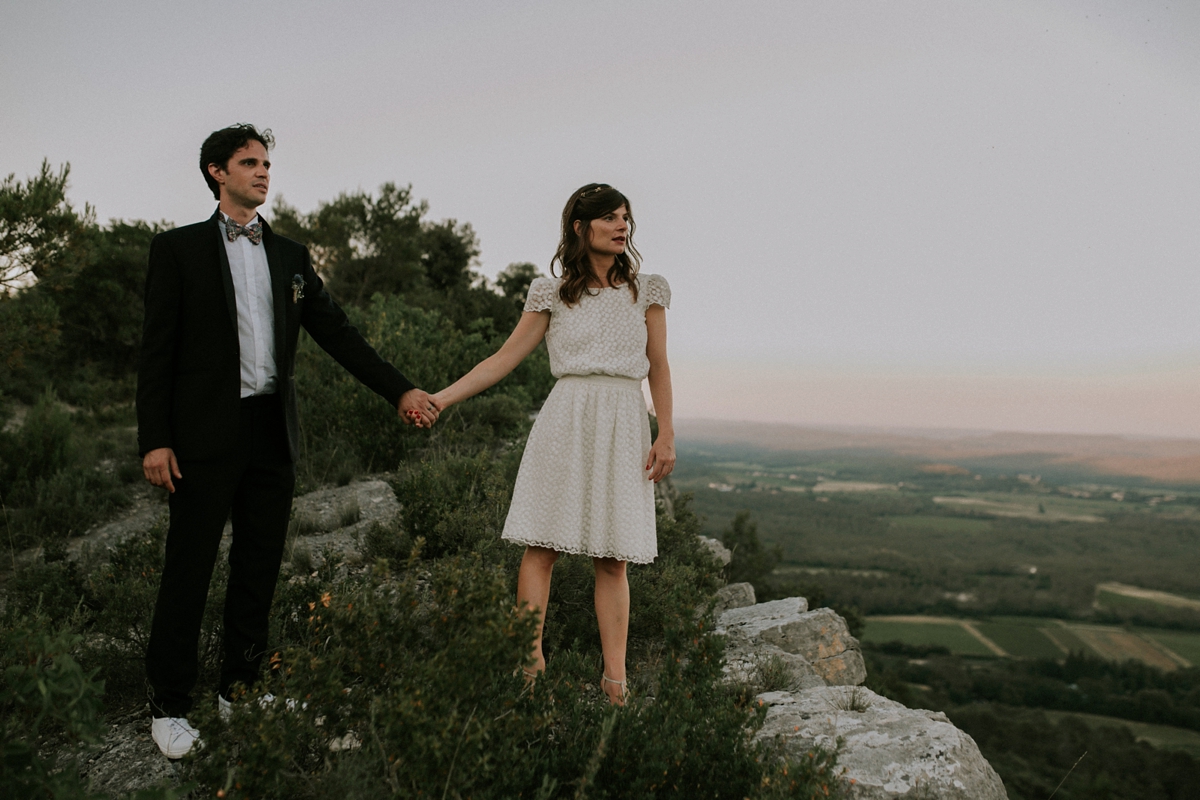 In the evening, the bride switched into a sexy, slinky dress with a pleated skirt from French designer Sessun.
"I loved the the silk and 'le plissé Jersey', and also the little feathers on the shoulders that made me feel like an angel."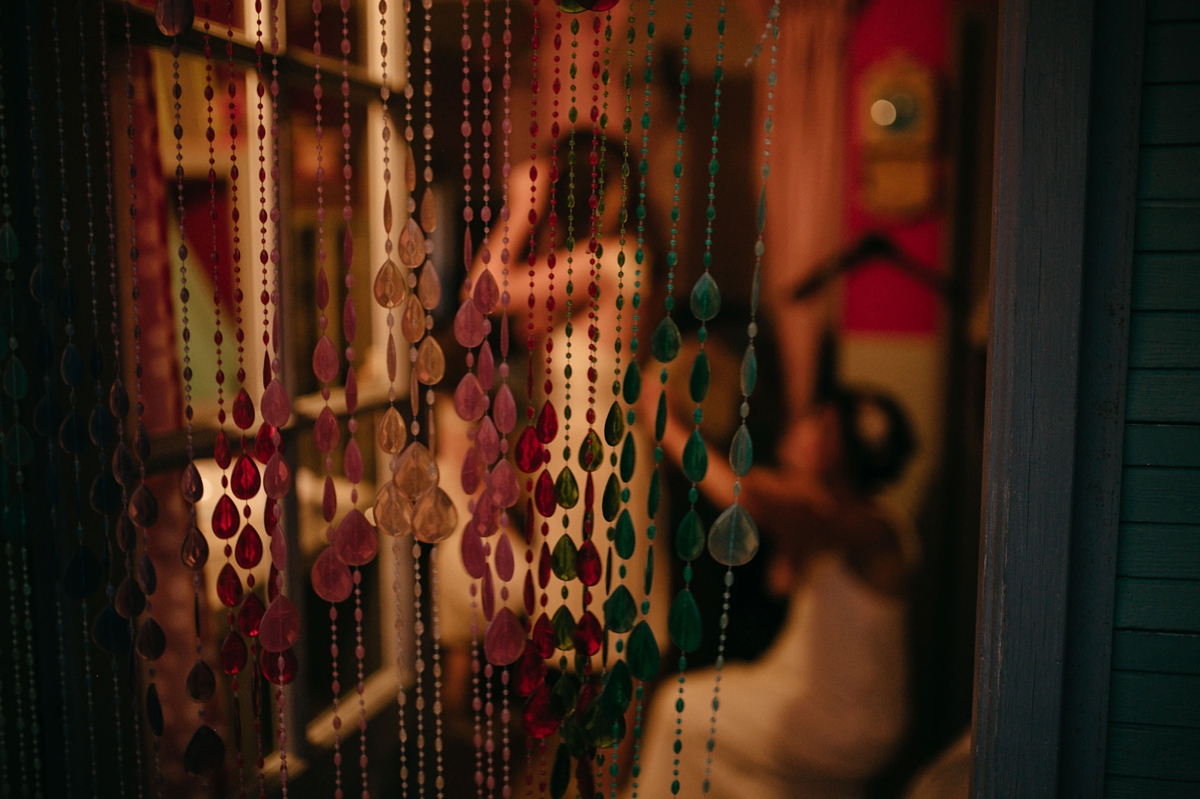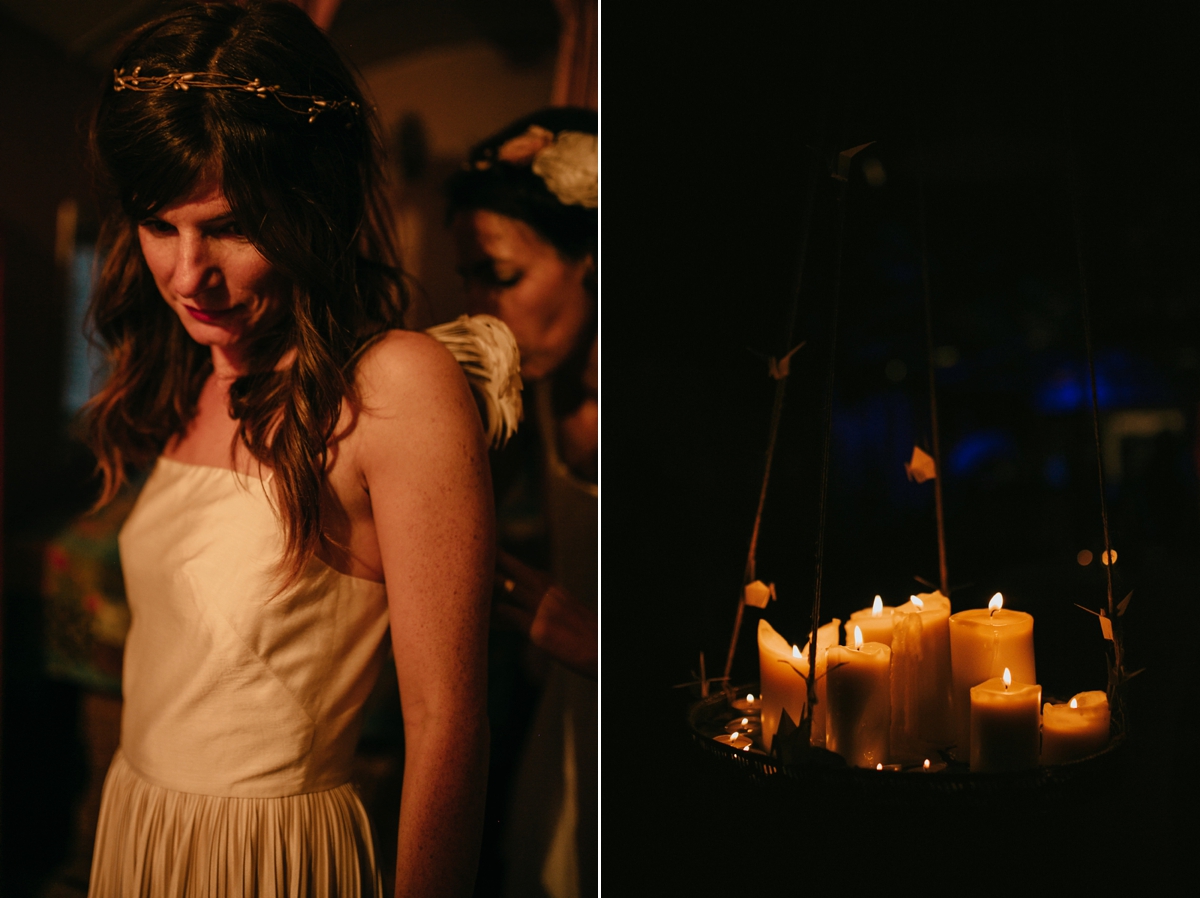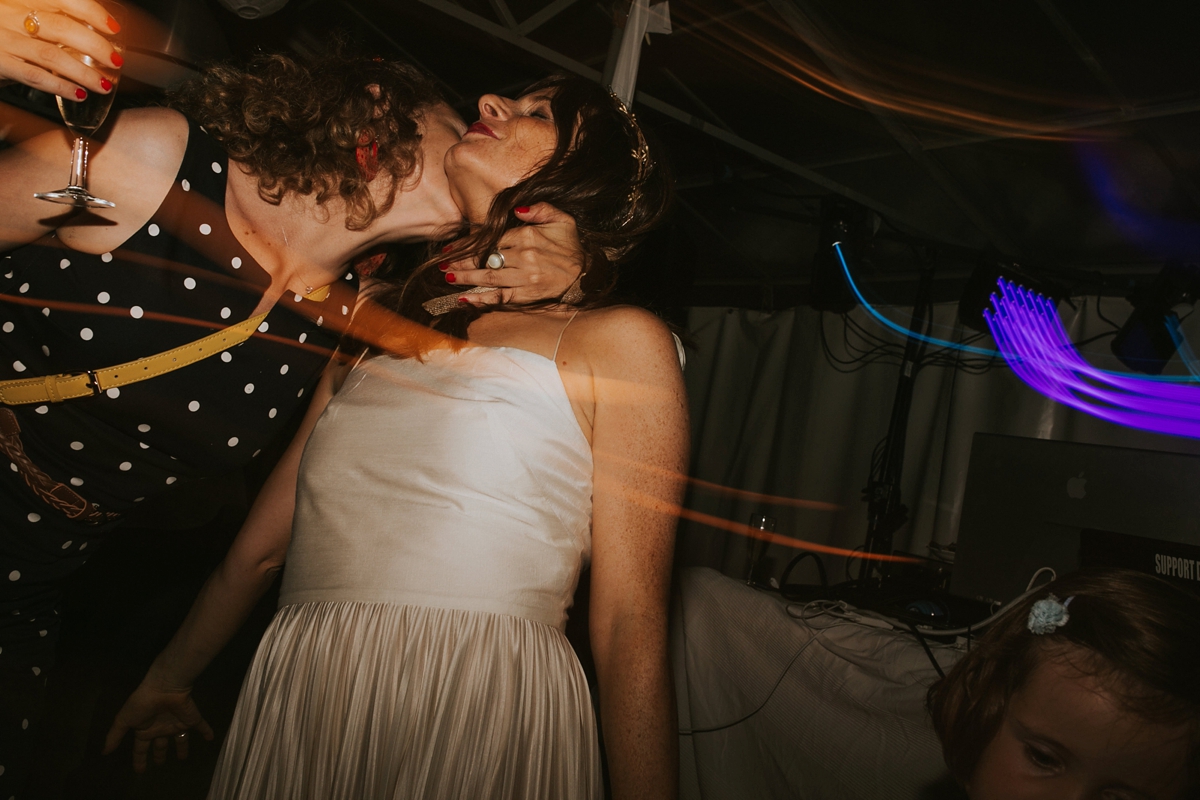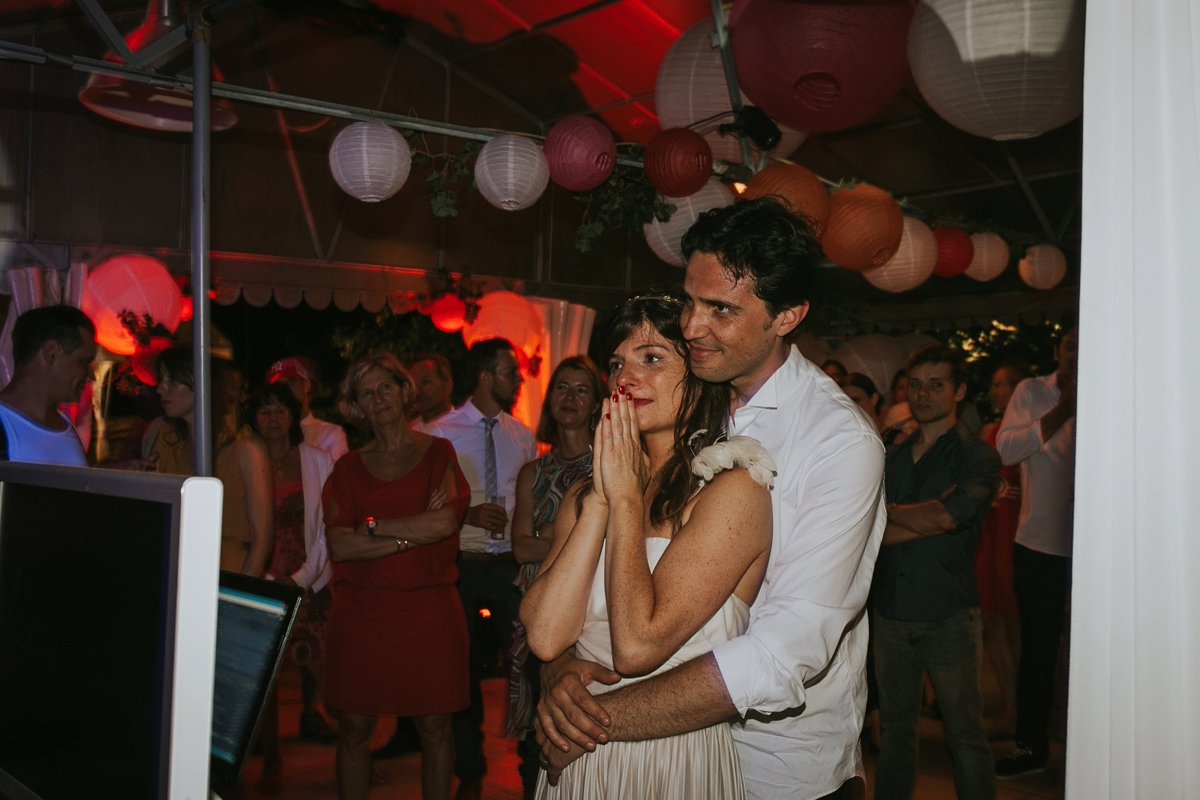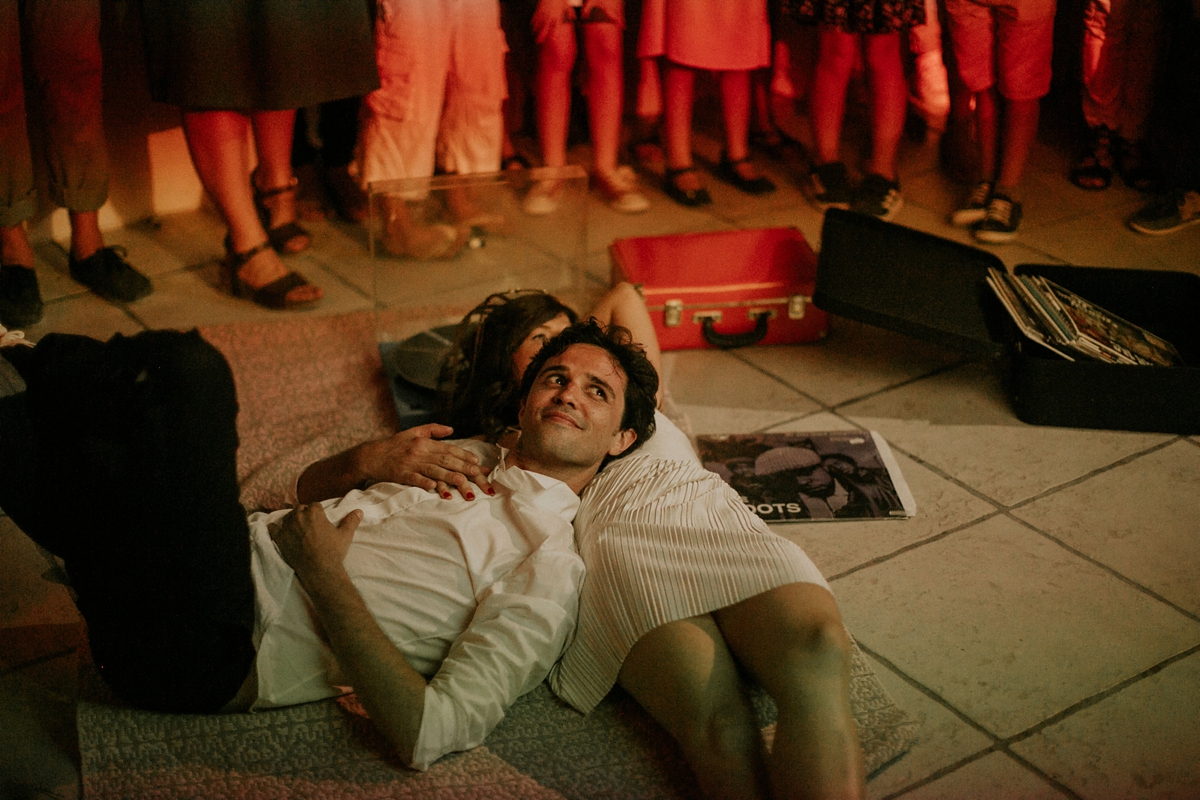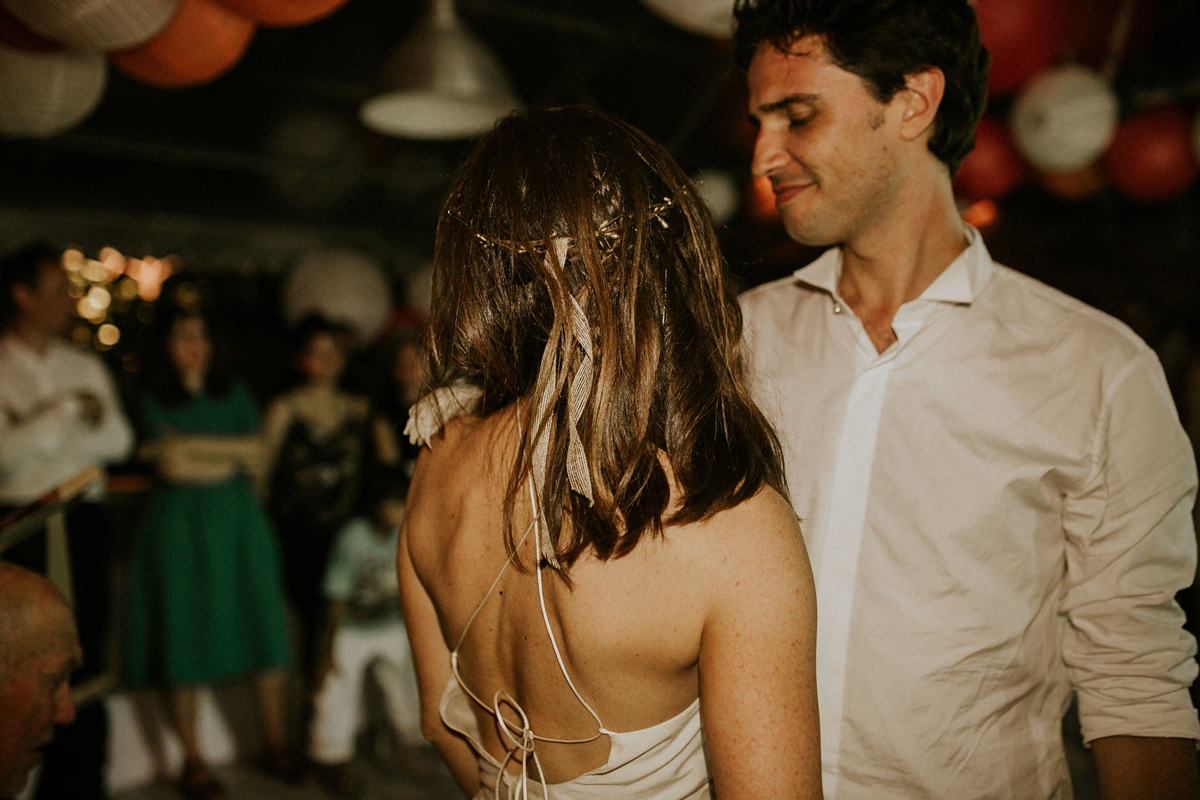 In the evening, Sonia and Laurent took to the floor with their own theatre show to kick off proceedings as Michelle Gurevich's moody 'I'll Be Your Woman' played.
"We didn't have a first dance – more of a little show of our own. We wanted to do something to light up the dancefloor without being too corny. It was a dance/theatre creation with music and video running in the background that had images of our encounter and our first ten years together, while we acted on scene. We received the help of a choreographer/stage director friend and colleague of mine named Florence Berna."
And afterwards, they created their own disco set, DJing themselves and asking their DJ friends to perform. What a way to start too, with House of Pain's 'Jump Around' as the first record.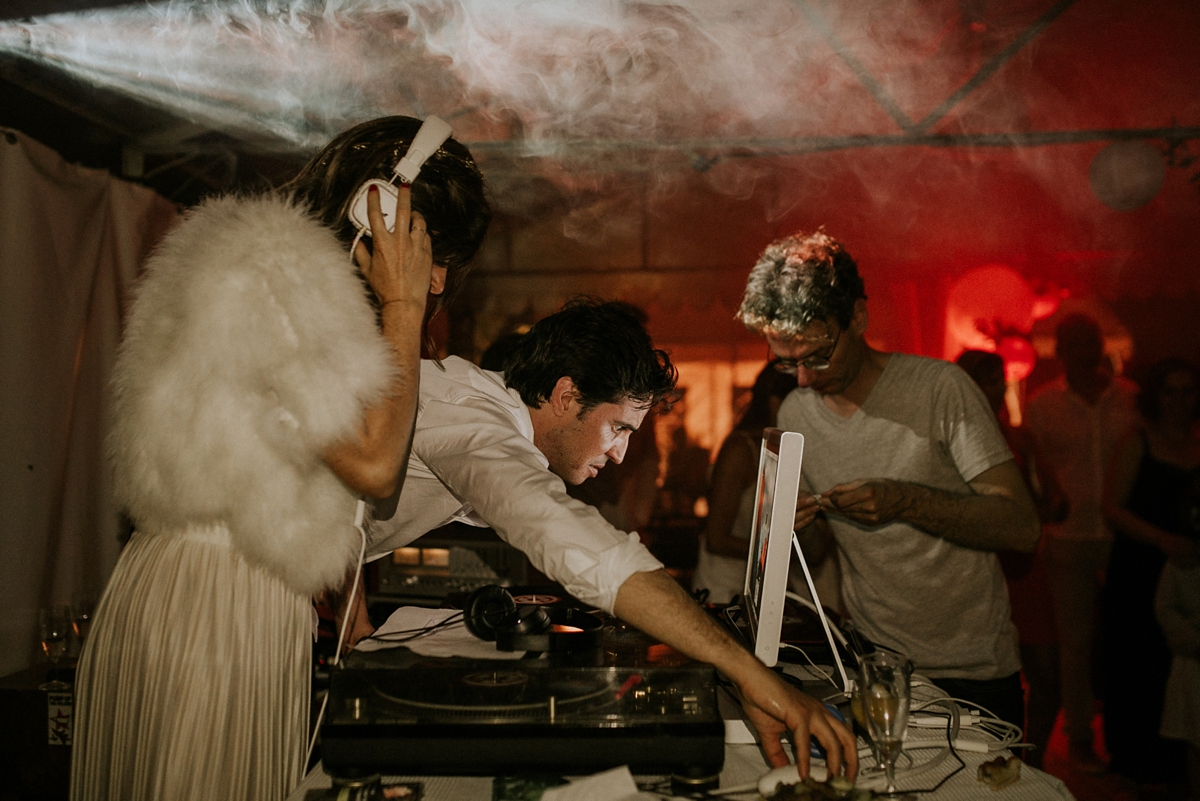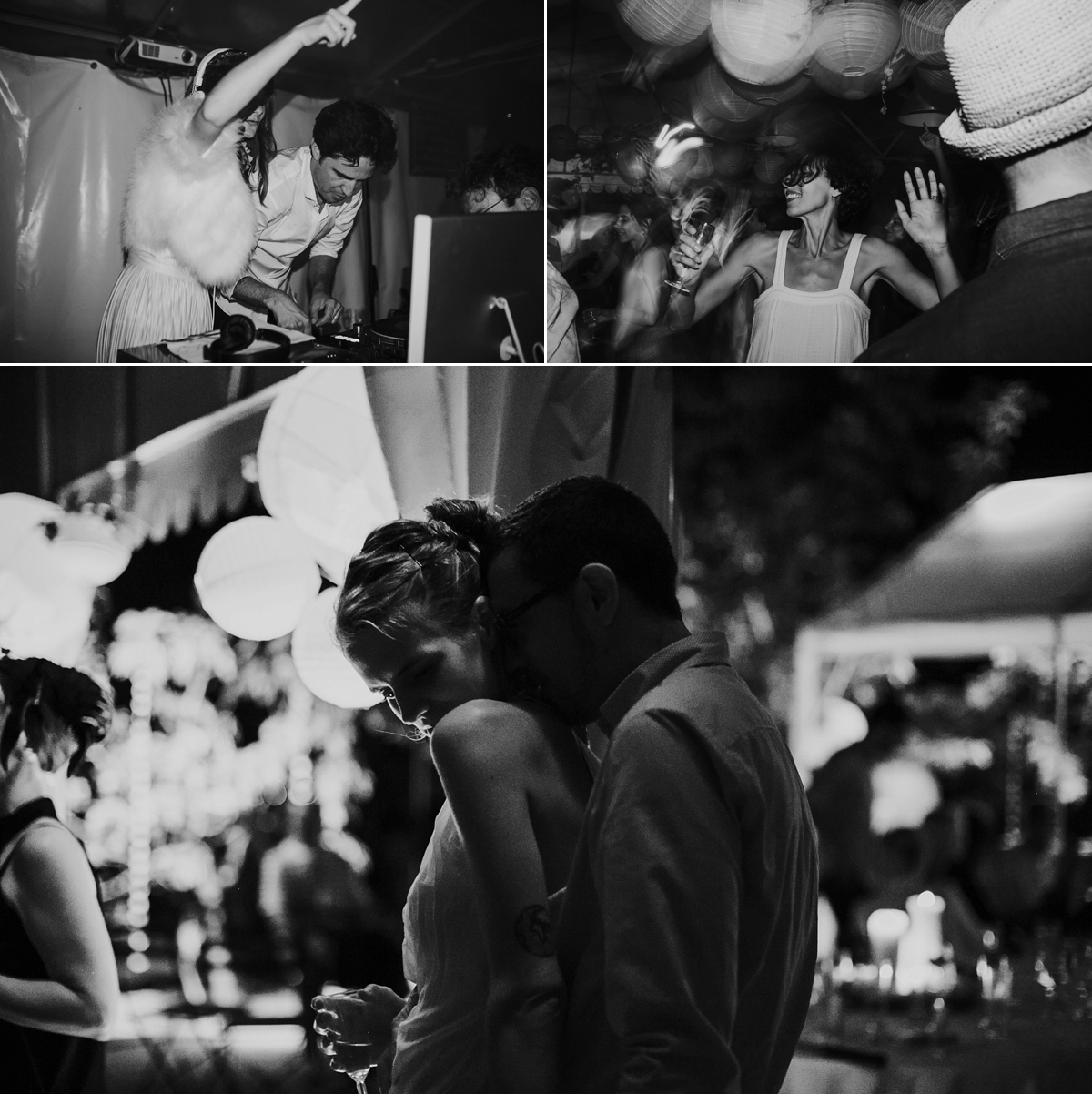 Words of Wedded Wisdom
"The first thing that comes to my mind is 'be yourself' and choose your wedding the way you dream it to be, without any boundaries or constraints, and build from that. You don't want to stay sitting for hours eating; have a buffet and put out only a few tables. You want to dance to good music, build a playlist and ask friends with tastes that match yours to also prepare a playlist."
"The best day of your life should only be about doing what you feel."
Thank you so much Sonia and Laurent for this insight in to your wedding celebration – what a beautiful and truly personal day, and the views over the countryside are breath-taking. Sending many congratulations, and thanks also to Coralie Monnet for these raw, natural images. If you've been inspired by this French country wedding then please take a look at Love My Dress here for more destination weddings.
Ele x