Lovelies, do I have something utterly gorgeous to share with you all today – featuring the most divine couture gown and wonderful city setting.
Meet groom Jack, a chef, and bride  Lois, who is a communications director at a publishing house. They married on the 15th of July 2017 in their local church, then held their celebrations at Swan for their stylish London wedding. Lois was the absolute epitome of bridal elegance in her exquisite 'Tertia' gown, a design by Caroline Castigliano, which she purchased from Carina Baverstock Couture in Bradford on Avon.
"My dress was an unexpected choice. I thought I'd end up with something bohemian and floaty and I was determined to find a dress I could dance in. But I tried on a couple of Caroline's dresses at Carina's suggestion and had a bit of a princess moment in the 'Tertia'. I fell in love with the guipure lace on the bodice and the tiny, delicate straps. It also had pockets!"
Images by Matt Penberthy Photography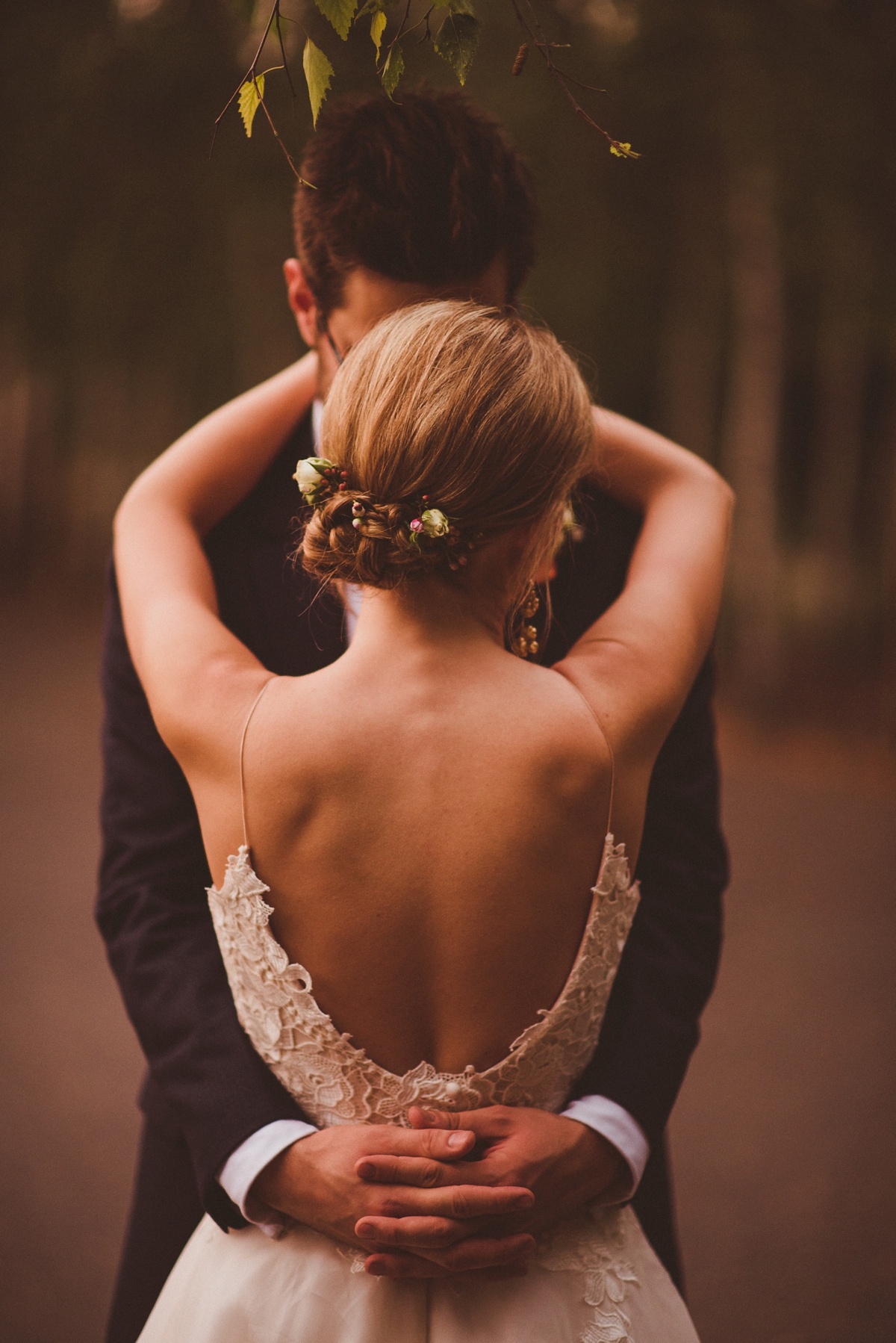 The bride and groom found this very blog a huge help during their venue search – and Lois loved the help from the private Facebook group too during her planning.
"Love My Dress was brilliant for venue research. When you're narrowing down a list, it can be really difficult to get a sense of what a venue is like from its brochure or website. When a venue is featured as part of a real wedding it brings it to life and you get a much better sense of the possibilities. I loved the photography, the emphasis on the dress and the way the couples' personalities always shines through. I really enjoyed being part of the Love My Dress Facebook group, too. It's such an open, kind and supportive environment and became indispensable in the lead up to the wedding.""Vicki from Victoria Ralph Hair is brilliant at that natural 'undone' look. She created a Dolce & Gabbana inspired braided bun for me and slightly different braided styles for each of the bridesmaids and a classic, pretty chignon for my mum. She's so calm – she was a great influence on the morning itself. We didn't have a make-up artist. I don't wear very much make-up day-to-day and didn't want to risk feeling too done up. My bridesmaid Charlotte did my makeup for me."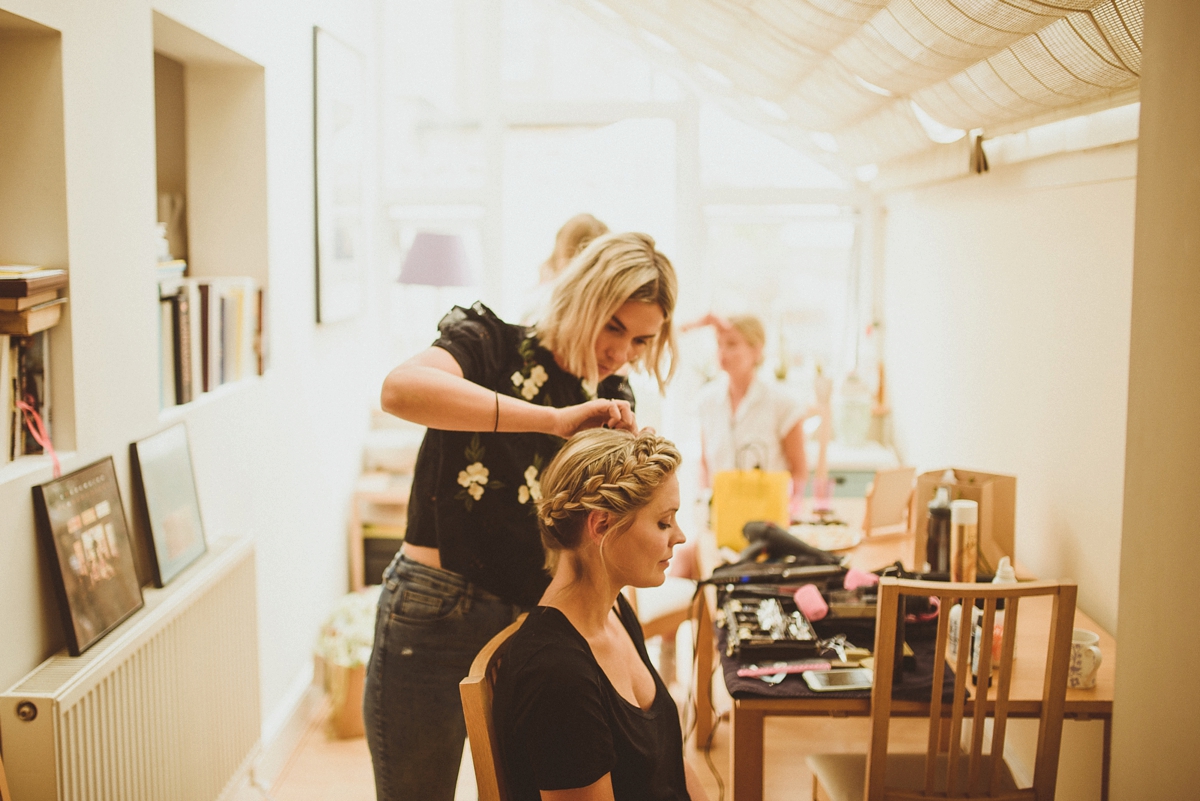 Lois opted for a pair of Manolo Blahnik pumps, a spritz of 'Sole di Positano' by Tom Ford and her florist, Scarlet & Violet, made a hairpin with fresh flowers.
And she finished off her stylish look with a pair of statement earrings, as well as a special jewellery piece.
"My dress was more traditional than I'd imagined, so I liked the idea of adding statement earrings. My mum kindly offered to buy me a pair and I chose 'Hesperides' by Aurelie Bidermann. I also carried my Nanna's locket in my pocket as my 'something old'."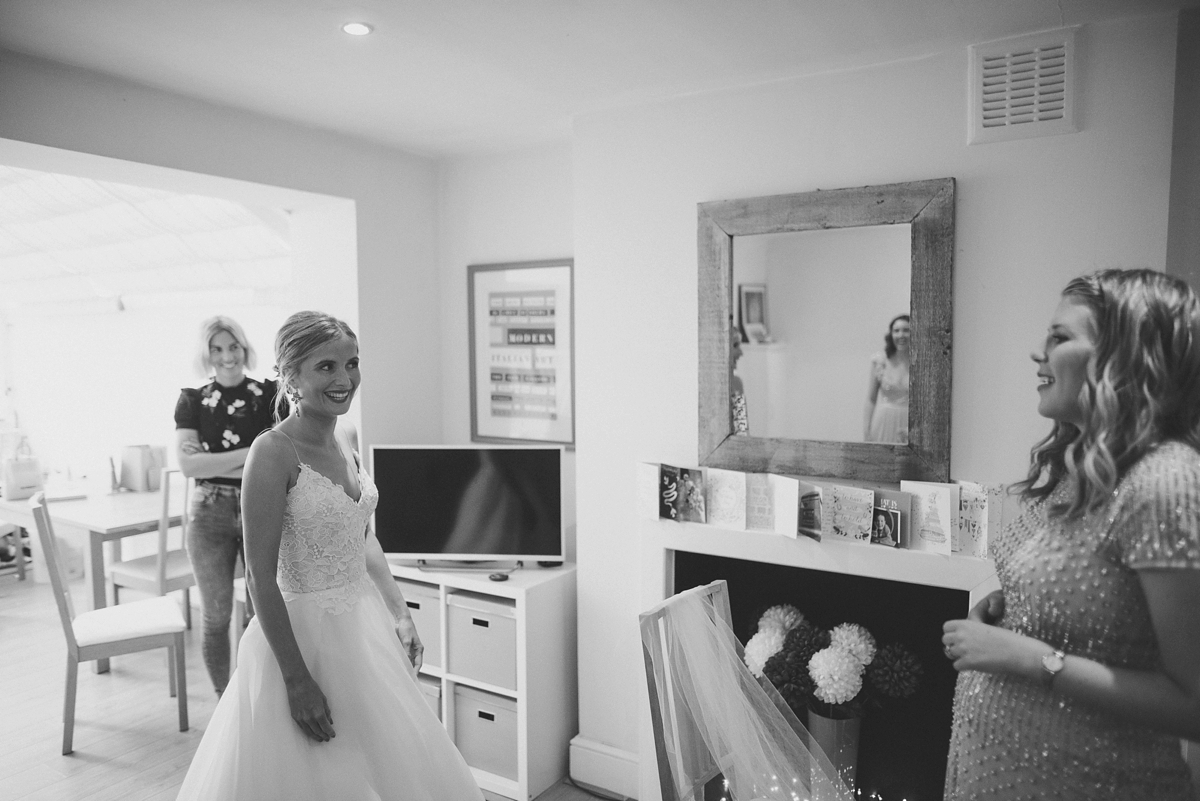 They bridesmaid's wore mismatched floor-length beaded dresses in different shades of pink and blush from Adrianna Pappell and Needle & Thread. How stunning do they look!
"I wanted them each to have a dress they felt confident in and suited their personality. I only saw one of the dresses on before the wedding, but I was so happy with how they came together on the day … I couldn't stop looking at them!"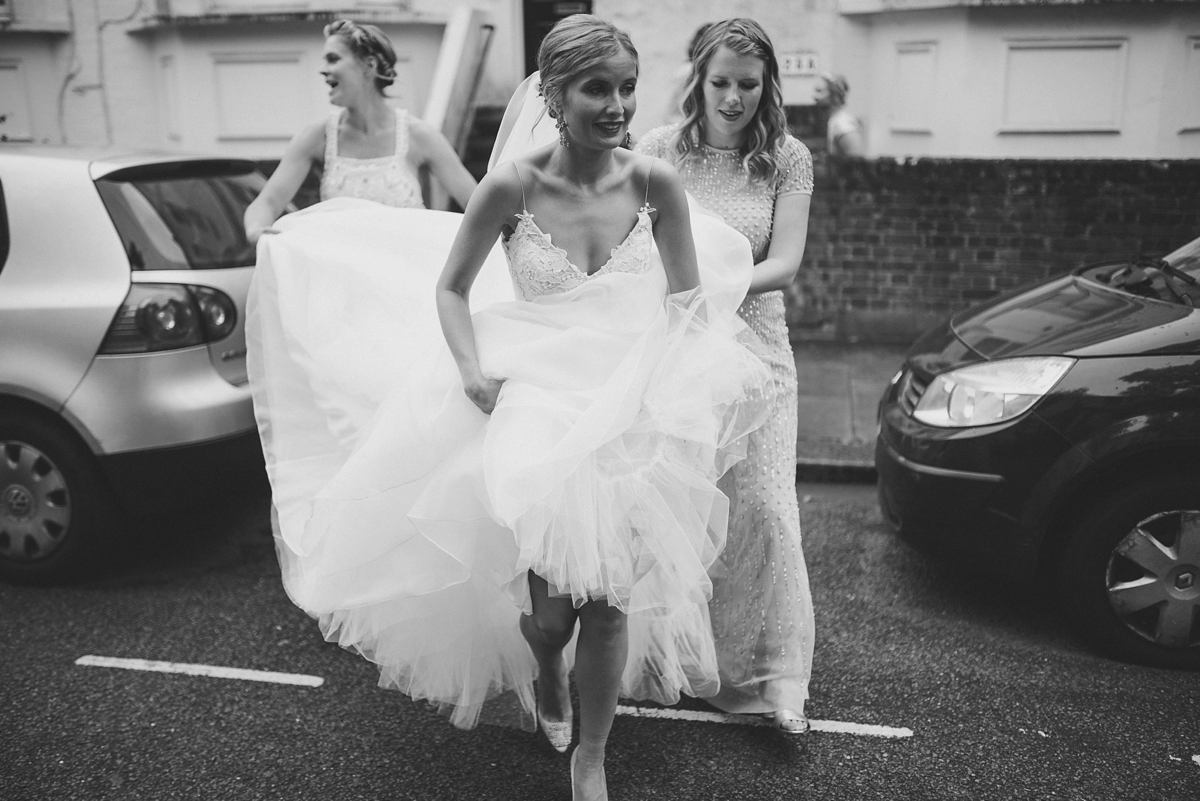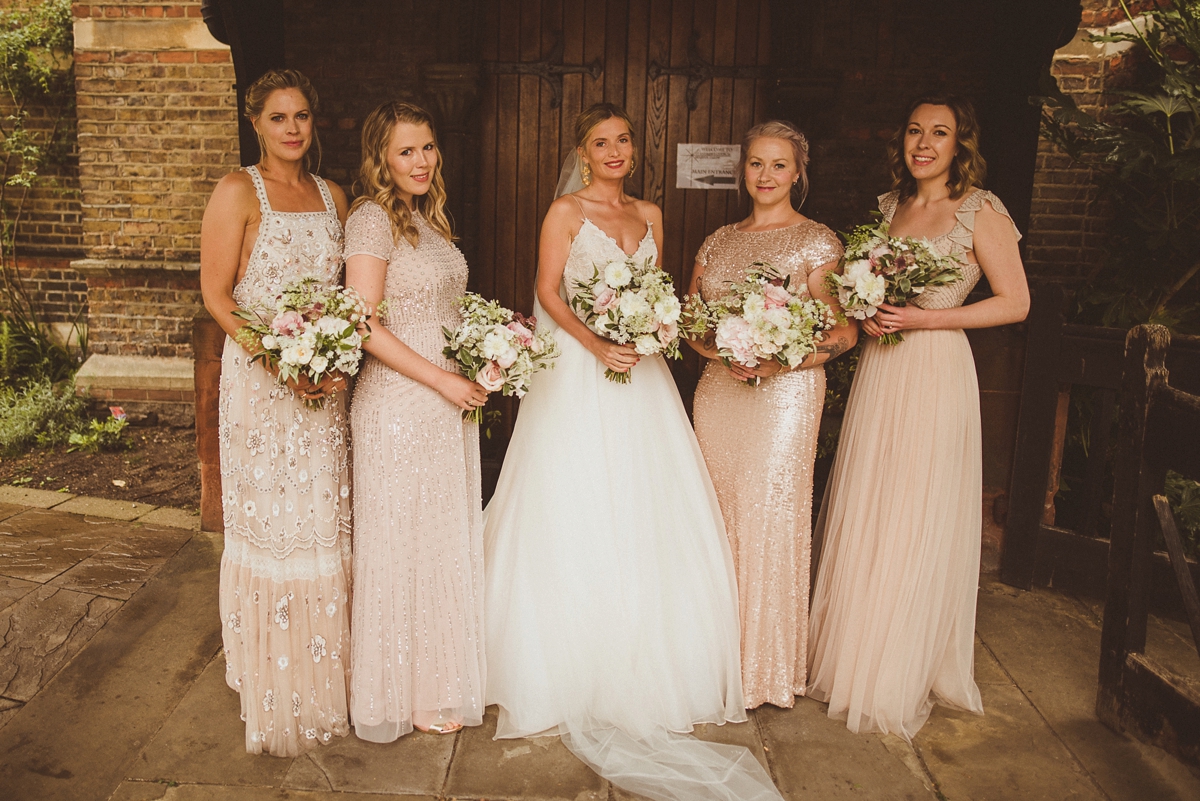 The beautiful bride discovered Britten via our most handy Little Book for Brides and hence her divine 'Niacae' ivory chapel-length veil, which suited her dress to a tee.
We absolutely adore Britten and cannot recommend them more highly – you absolutely need to be making them your first port of call if you're looking for a beautiful wedding veil.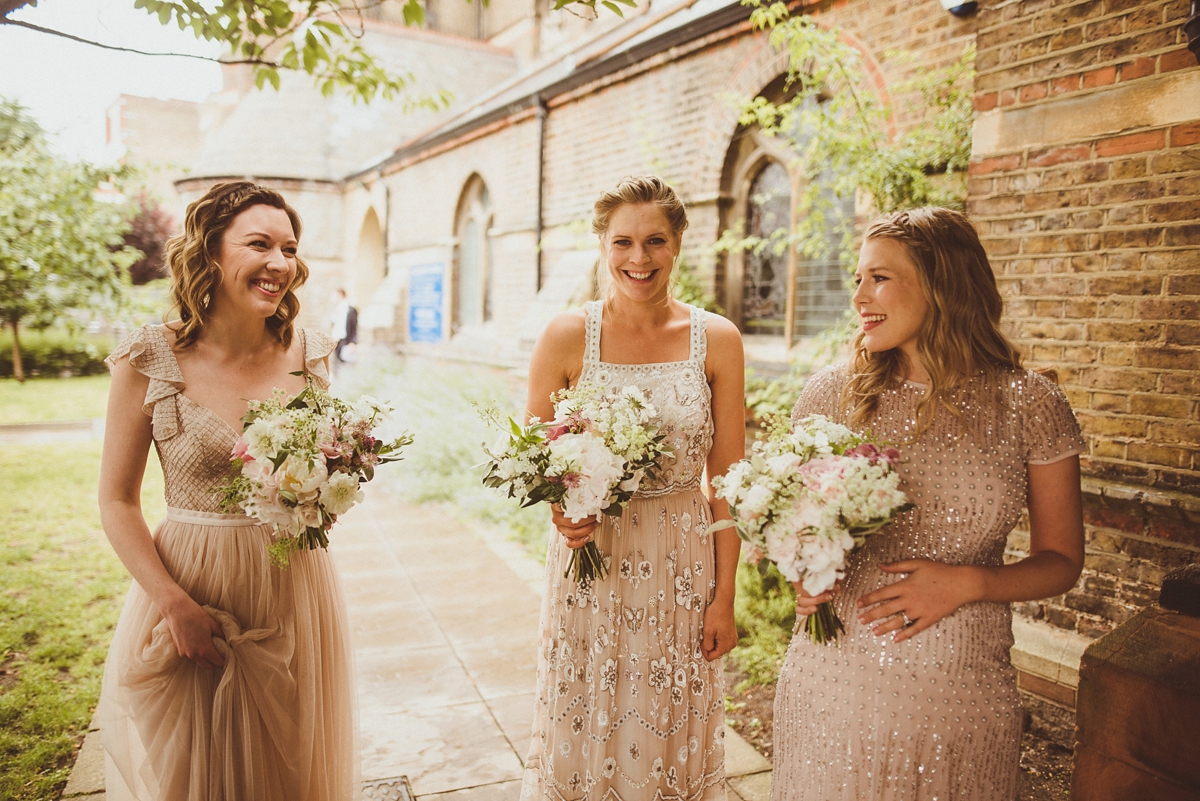 "We met in a pub in Brixton quite randomly and were together for four years before we became engaged. Jack proposed while we were travelling around India."
"He carried the ring in his money belt for most of the trip! We thought we'd be engaged for a while, but we're both really impatient and ended up setting date for the following summer. We had eight months to plan."
"We've built our life together in London so instinctively that's where we wanted to get married. The ceremony was at our local parish church, St. Andrew's Church in Fulham (London), which is just around the corner from our flat. I always imagined getting married in a church."
"My dad accompanied me for the walk down the aisle to Mendelssohn's Bridal March. It's a beautiful piece of music, but it was also composed for Shakespeare's Midsummer Night's Dream so it appropriate, too. The recessional was 'Home' by Edward Sharpe & the Magnetic Zeroes, played by Jack's sister Flo on the church's grand piano."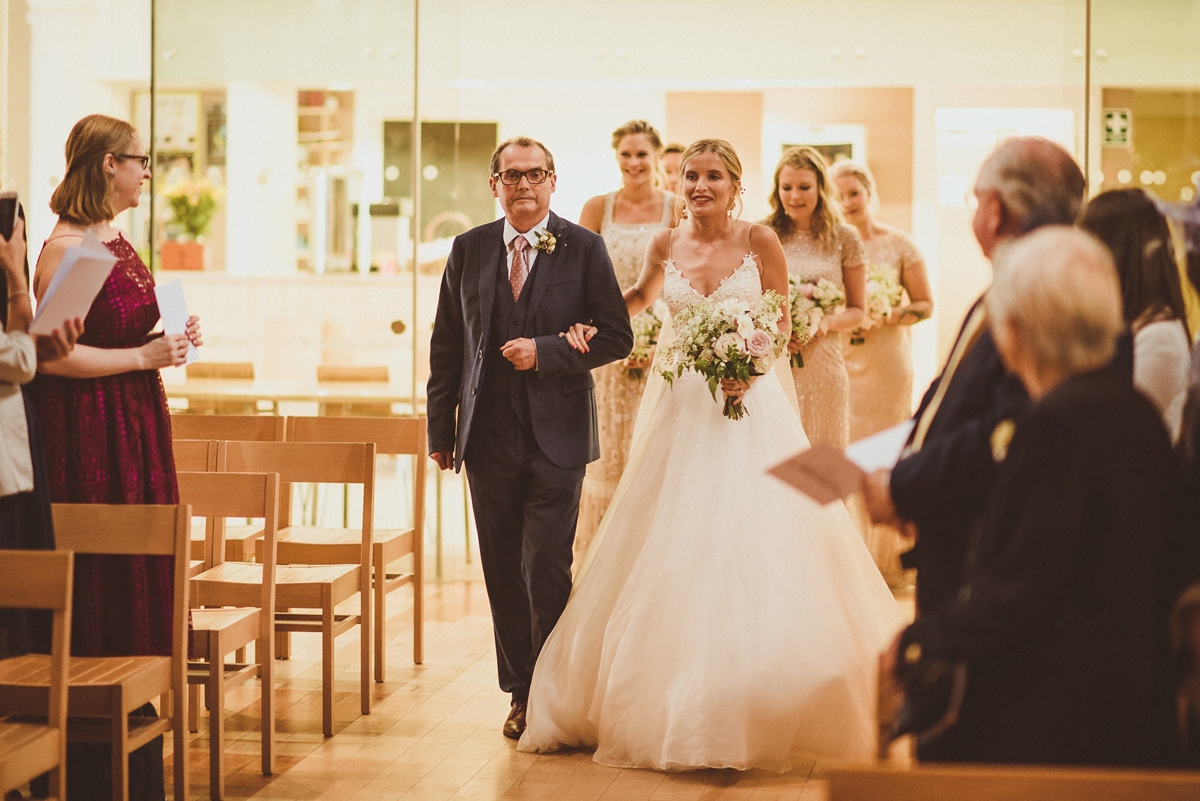 "We had the traditional Church of England vows. My mum is a vicar so wrote a prayer for us. It was lovely to have her involved in the service, and she was happy because she could still be mother of the bride and wear a posh hat."
"Our readings were 'Shakespeare's Sonnet 116', read by my bridesmaid, Charlotte, and 'Philippians 4:4-9', read by Jack's dad. We thought they balanced each other well. Sonnet 116 is about ideal love, whereas Philippians 4:4 is more down-to-earth and humbling."
"We're lucky that our friend Jasmine is a very talented musician. While we signed the register she sang 'Bright Eyes', 'First day of my life' and an acoustic version of 'You're the one that I want'."
My engagement ring was purchased from 77 Diamonds and so we went back there for our wedding rings. They have a solid reputation, could do exactly what I wanted and the service is great. My engagement ring is a canary yellow cushion diamond in platinum and for my wedding ring, I chose an eternity band in platinum, whilst Jack  went for a plain gold band."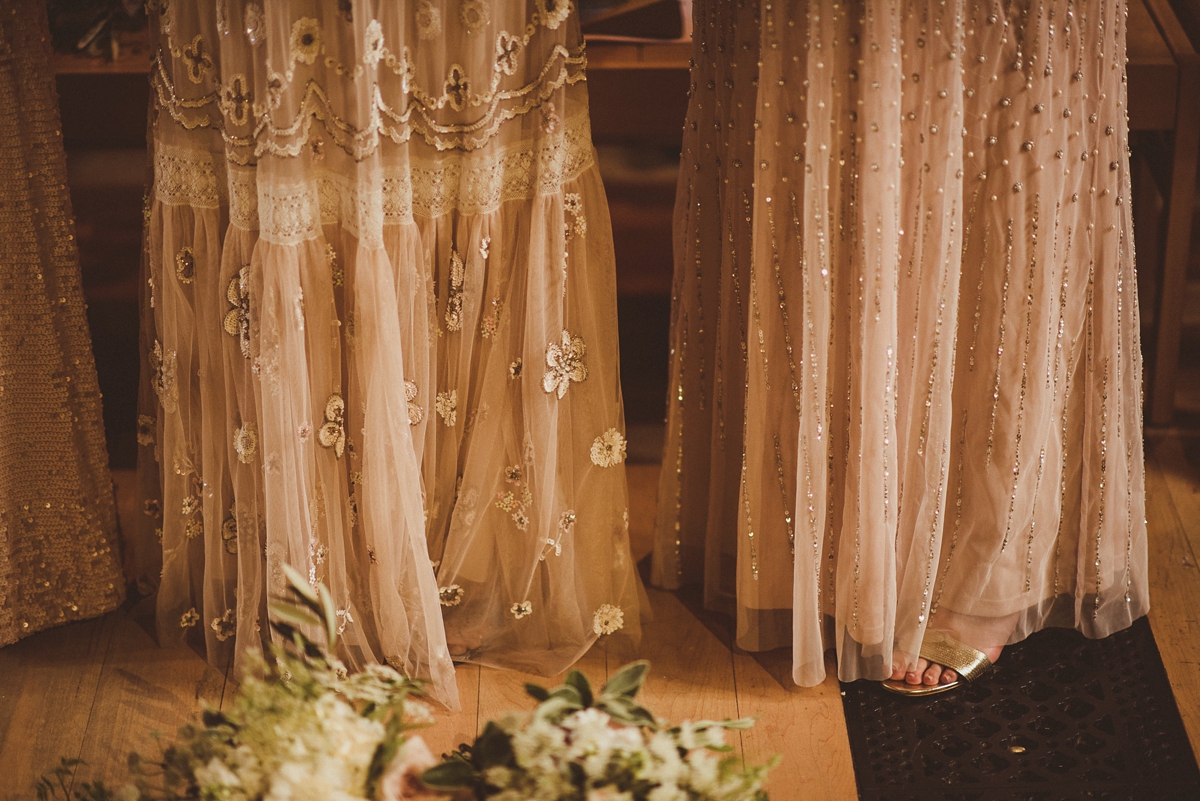 "I was already following Scarlet & Violet on Instagram because I loved their beautiful and natural arrangements. Vic, the owner, was so helpful and really listened to us. Our brief was seasonal, natural flowers in white and green with touches of blush parchment pink. Scarlet & Violet put together table arrangements of garden roses and foliage."
"The church is beautiful inside, so we kept things simple with two large urns of delphinium and foliage. I had a bouquet of garden roses and foliage and my bridesmaids' carried bouquets that were similar, but with different leading flowers. Jack wanted the boutonnières to be more masculine, so they were bay and rosemary."
Jack designed all of the stationery himself and arranged for it to be printed online, whilst Jack's sister, Flo, wrote the calligraphy for the place cards.
Jack sported a dark blue bespoke cut suit from Beggars Run and a bow tie from Mrs Bow Tie.
"Beggars Run were a pleasure to deal with and I think what you get for your money is quite special. I also made a pin from a tiny copper saucepan to wear next to my boutonnière."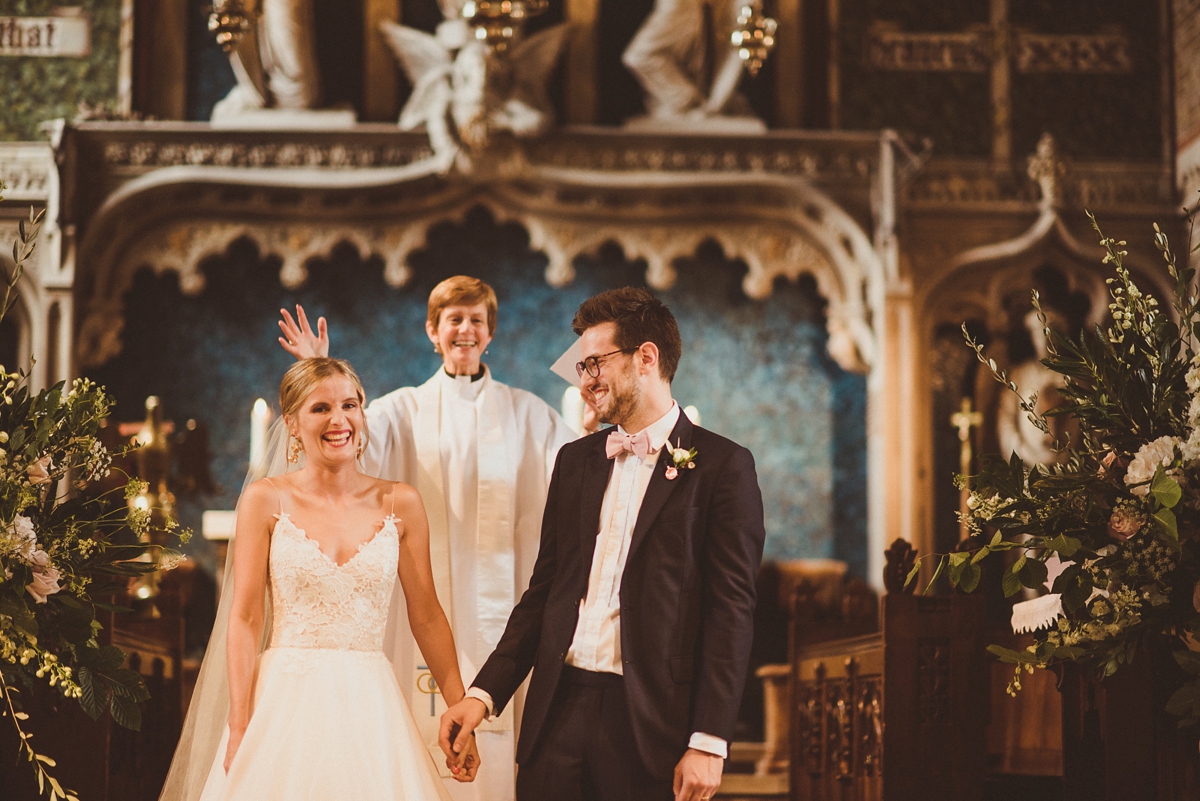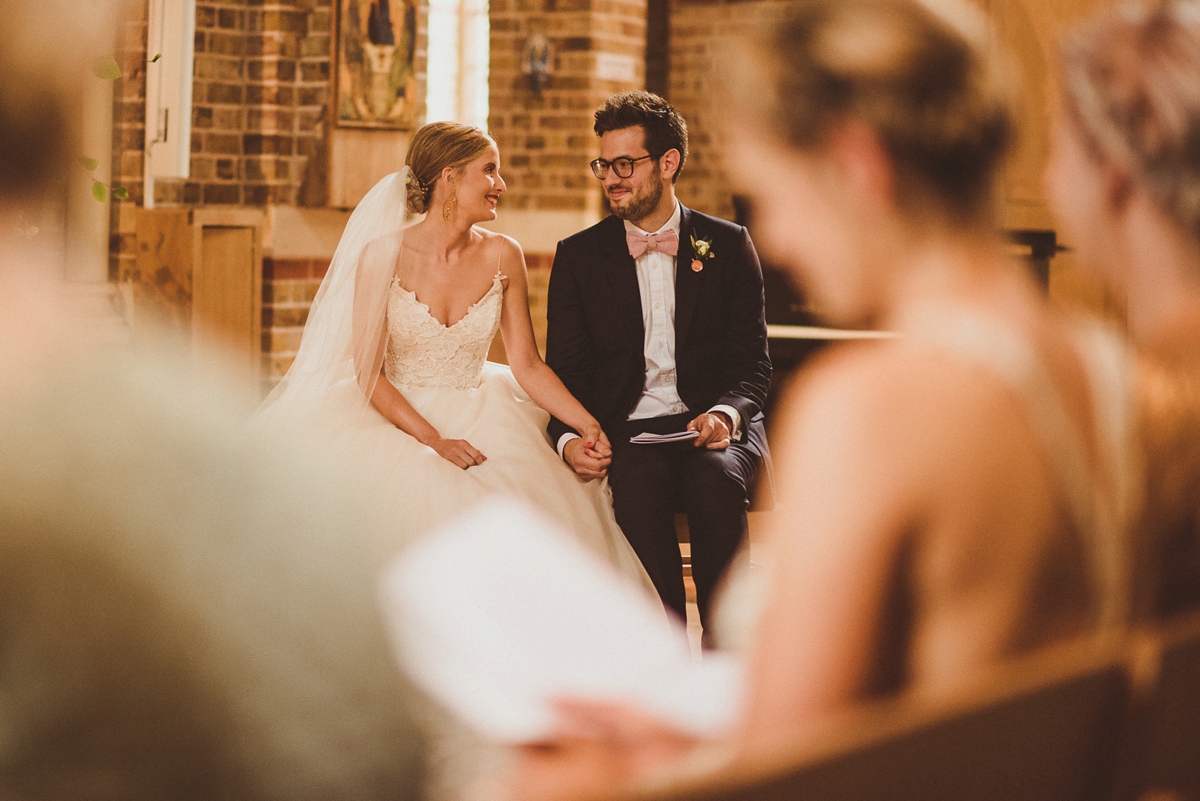 The couple hired a vintage Routemaster bus via Ensign Bus Company to transport guests from the church to the reception. All were served champagne and snacks by Billy and Jack – tasty salted chilli nuts and raspberry marshmallows.
"We found Matt of Matt Penberthy Photography serendipitously – I can't express how happy we are with the photographs. On the day Matt was professional but relaxed too. He mingled effortlessly with our guests and made everybody feel instantly at ease."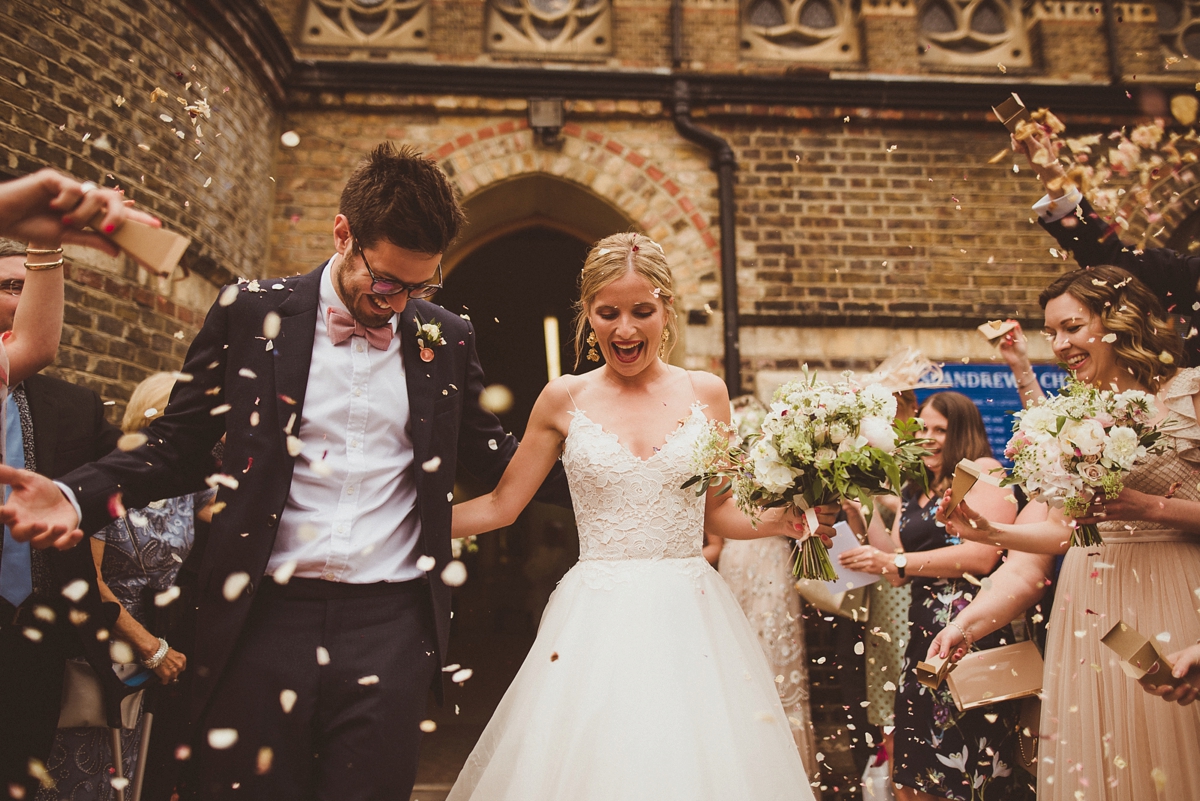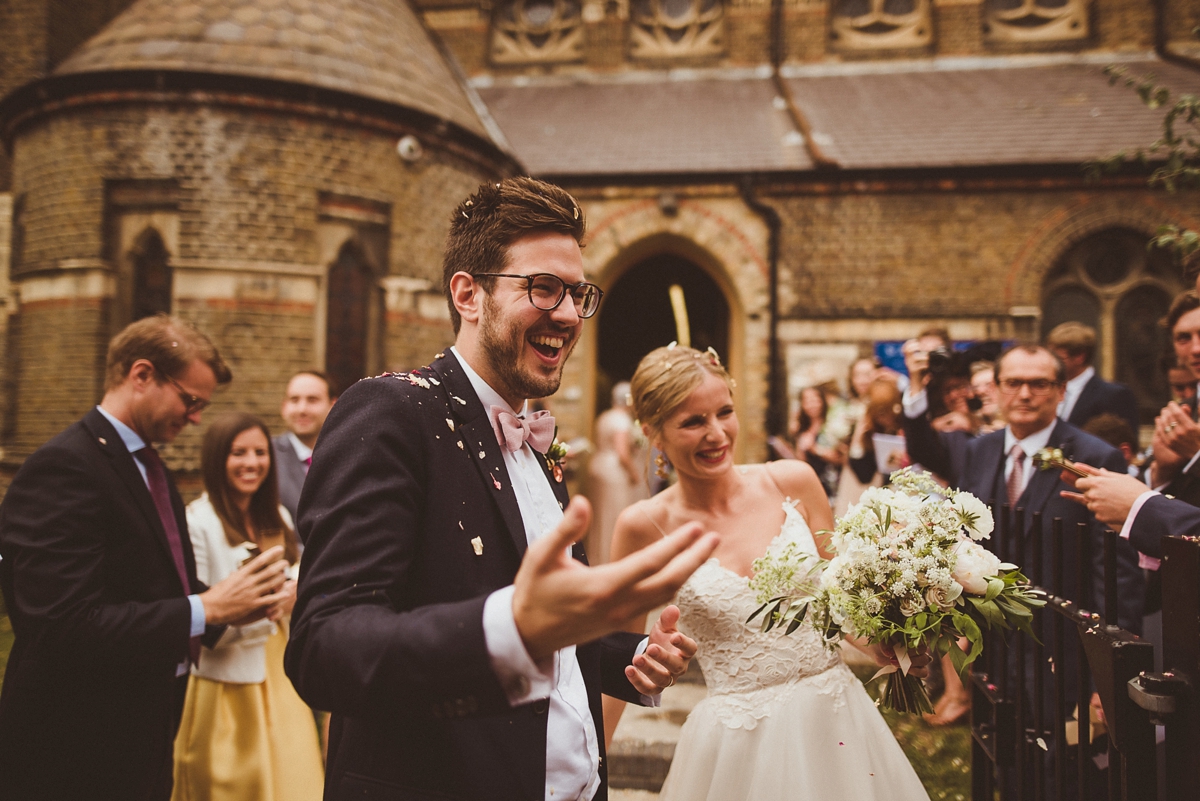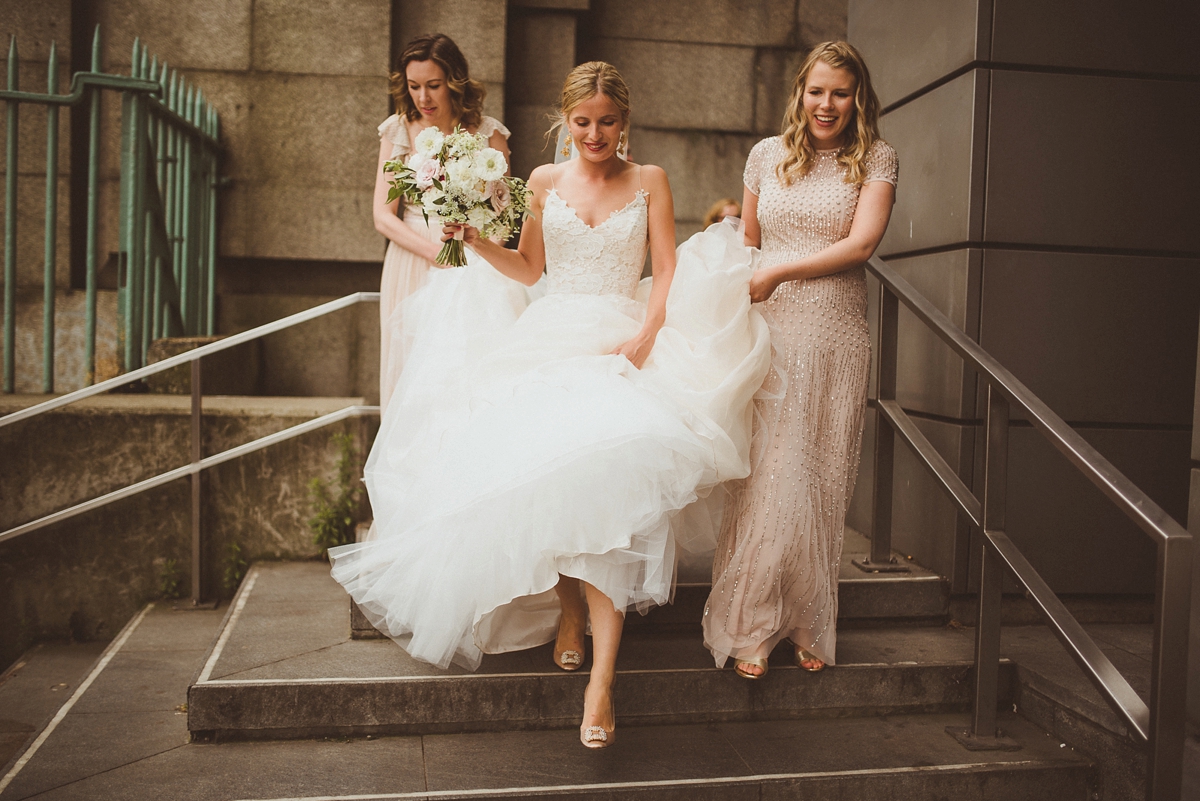 The reception was at Swan on the Southbank. Jack suggested we take a look at Swan because I love Shakespeare and we had our first date on the Southbank. The view from The Balcony Room is spectacular and we thought it would be great location for our out-of-town guests."
"Our favours were small bottles of Olmeca Altos Tequila. After my speech I wanted to toast my new wife with tequila instead of champagne. We love tequila and we thought it would be fun and a bit different."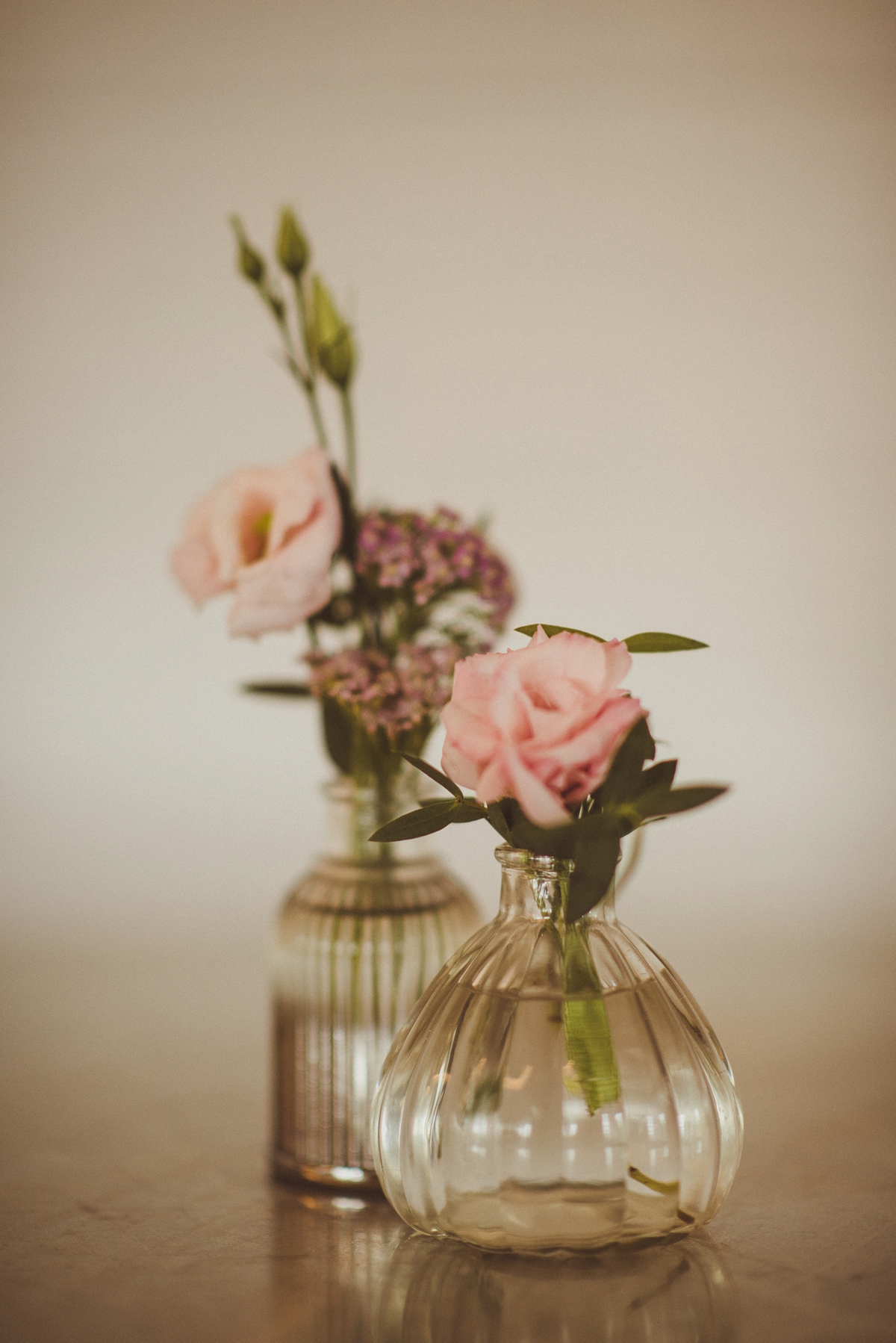 With Jack being a chef, the food was naturally going to be a top priority! The tempting cuisine was all prepared in-house at Swan and the couple was very impressed.
"On arrival we were served gin and elderflower cocktails, followed by a three-course menu (ham hock and piccalilli; lamb with an Italian bean stew and clotted cream panna cotta with Pimms macerated strawberries for pudding). As a late night snack we had fish finger sandwiches and Portobello mushroom burgers."
"Neither of us was bothered about having a traditional wedding cake and a few of our guests were coeliac, so we ordered the Rhapsody Cake from West Country Cheese instead. We also ordered a batch of doughnuts from Crosstown."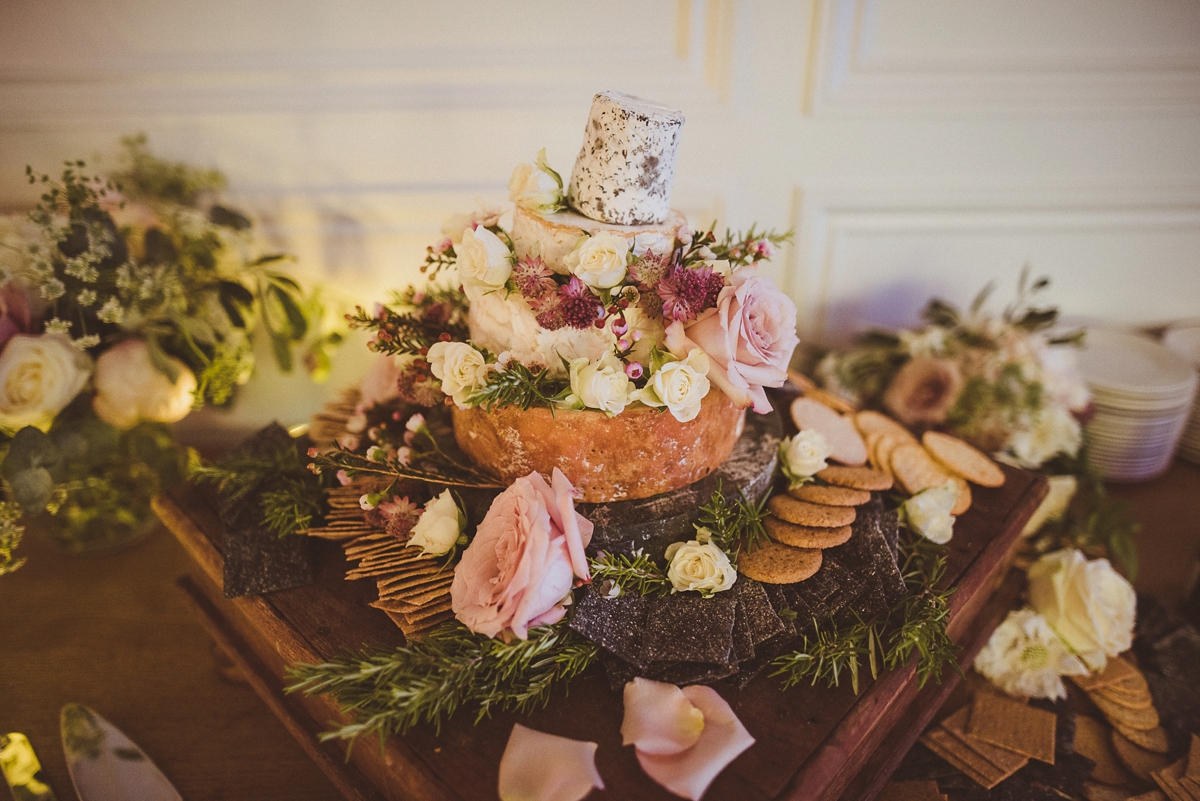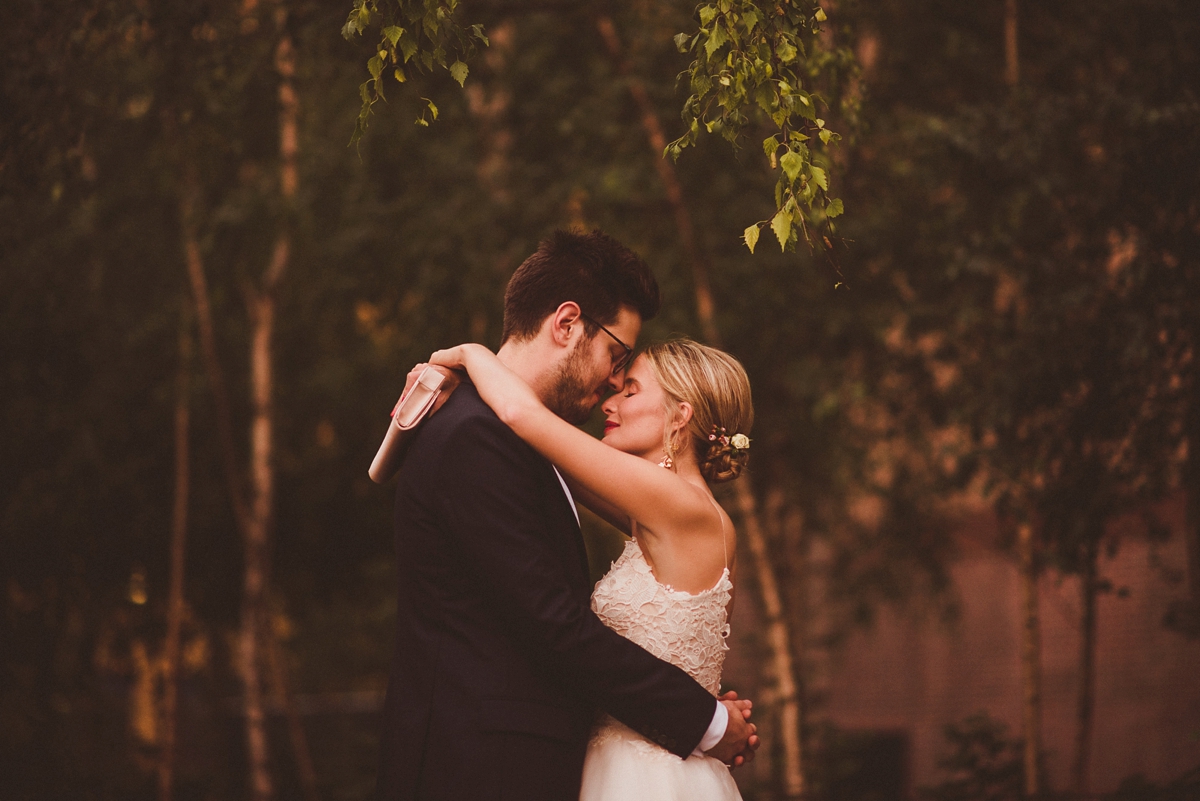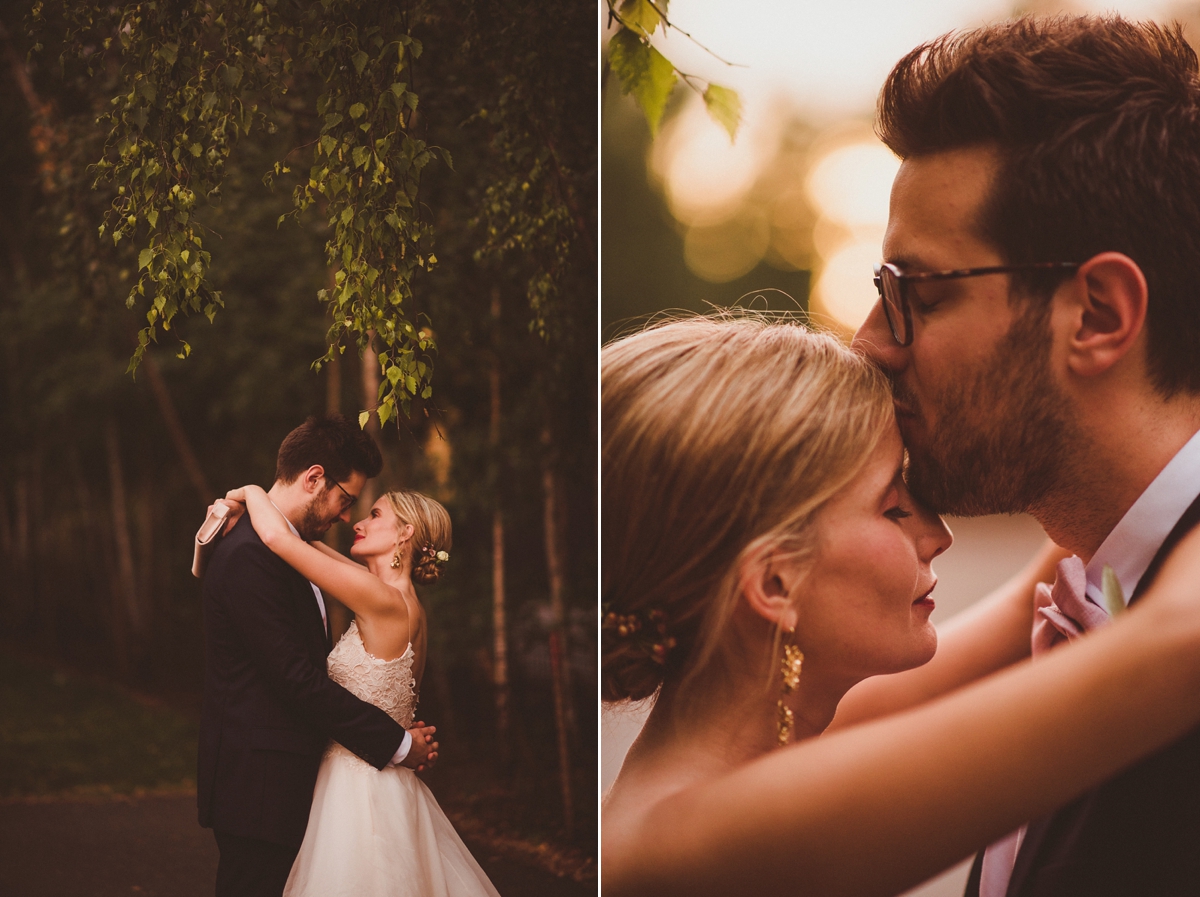 "After dinner, we had a DJ from Matt Maurice. Everybody loved him, he danced all night and played hit after hit."
"The first dance was probably our most feared wedding tradition! Neither of us can dance, so we asked everybody to join us to the tune of the Blue's Brothers, 'Everybody needs somebody to love.' They obliged, but only after an awkward shuffle between us that seemed to go on forever!"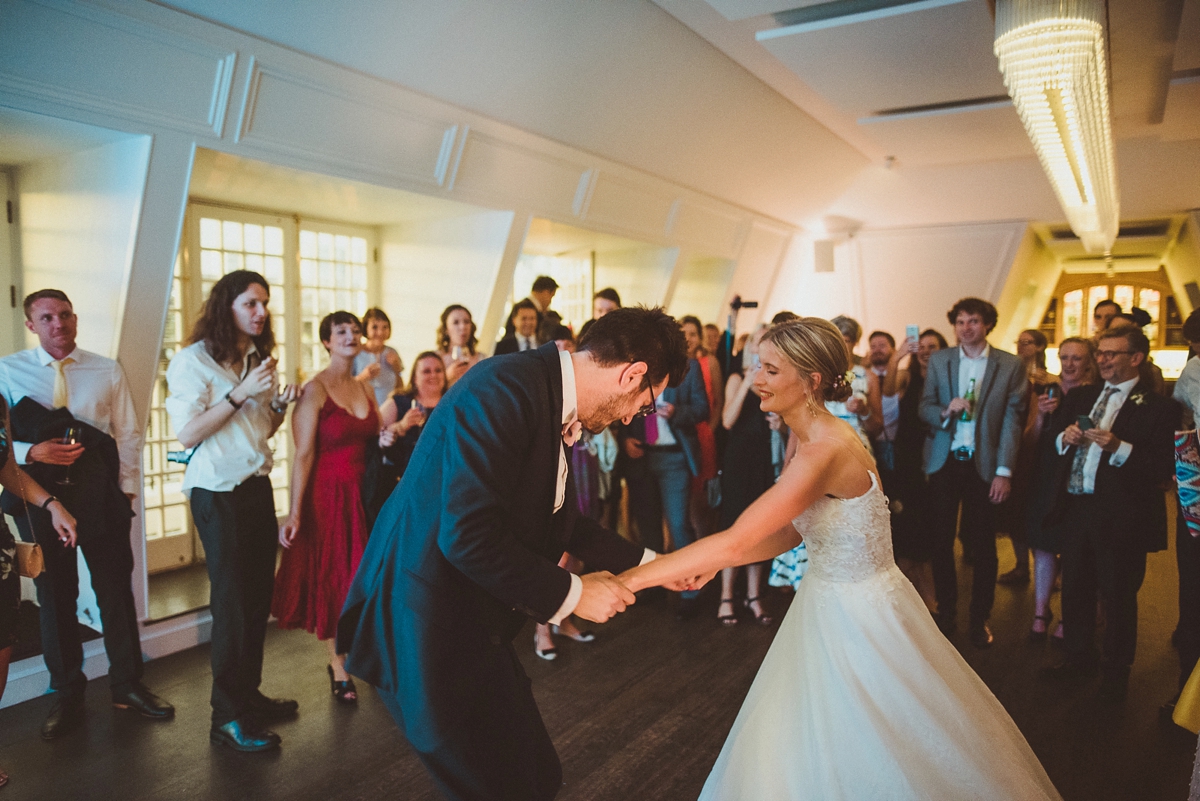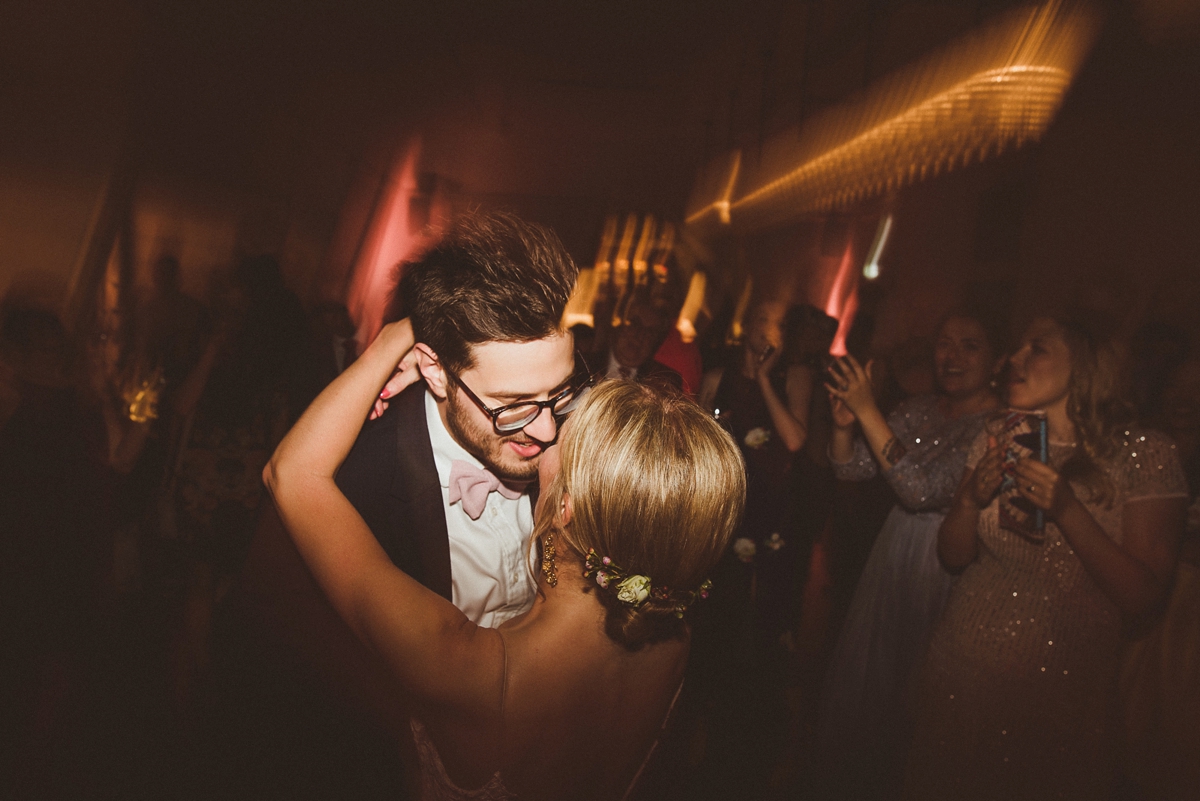 Lois's favourite part of the day was sitting on the Routemaster on the way to the reception, reflecting on the ceremony and watching everybody laugh and spill champagne during the very bumpy ride. For the groom, seeing his beautiful bride for the first time in her dress was his favourite moment. And for both, they wouldn't have changed a thing.
"We wouldn't have done anything differently with foresight. To us, it was perfect."
Words of Wedded Wisdom
"Don't invite guests because you feel obligated. We only invited people we really, really wanted to be there. You could drive yourself mad worrying about etiquette, so trust your instincts. With the budget, early on we prioritised what was important to us and what wasn't. That really helped us to keep perspective throughout. Also try not to panic buy in the last few weeks, you won't need half the things you might think you do."
I have just adored sharing Lois and Jack's simply stunning wedding. The fabulous photos captured beautifully by Matt at famous London landmarks takes me right back to my travels and Jack and Lois, I so understand why you love this city!
For even more stunning designs by Caroline Castigliano, browse through our extensive archives here.
Love Jo -xo-