I feel that we've been rather spoilt this month with delicious editorial photoshoots, but this one really is something super special.
Featuring the bridal fashion of some of the coolest, hippest brands out there, supplied by two forward thinking British bridal boutiques (Rock the Frock Bridal and The Bottom Drawer Bridal), this set of images will inspire the free spirited bride seeking a modern and minimalist look on their wedding day. Dare to be different ladies, you don't have to wear a big dress or go traditional. You can wear high heel gold boots, daring lace, jumpsuits or silk slip dresses if you want to. The choice is 100% absolutely yours.
"The aim of this shoot was to showcase a modern take on minimalist bridal style. With five beautiful outfits at our disposal, all featuring clean, uncomplicated lines and simple but stunning fabrics, we wanted to highlight how bridal can be as slick and fierce in real-life as it is in magazines and online!"
Images by Camilla Andrea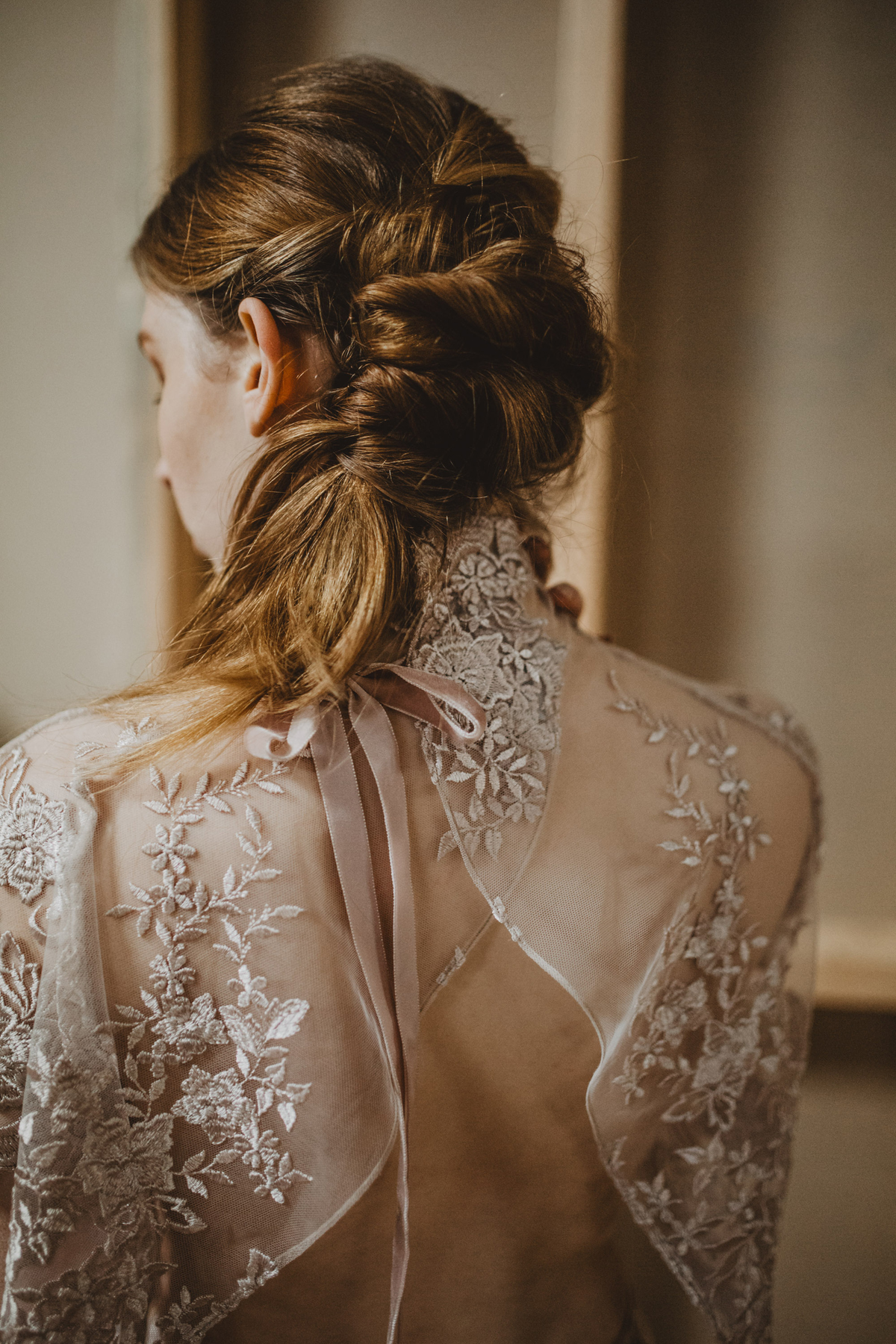 "To do so, we needed a jaw-dropping backdrop to really bring the considered, editorial feel to life. The Fire Pit Camp in Norfolk certainly delivered, giving us the perfect modern warehouse vibes with its corrugated metal walls."
"The Little Lending Company decorated the space with hanging cube structures and suspended stems, washed soft pink linens and oversized fan-like tone-on-tone florals from Swaffham and Fakenham Florist. The colour palette was muted but made an impact, with softer lilacs and dried Norfolk reeds mixed with too-good-to-be-true orchids and copper sprayed foliages."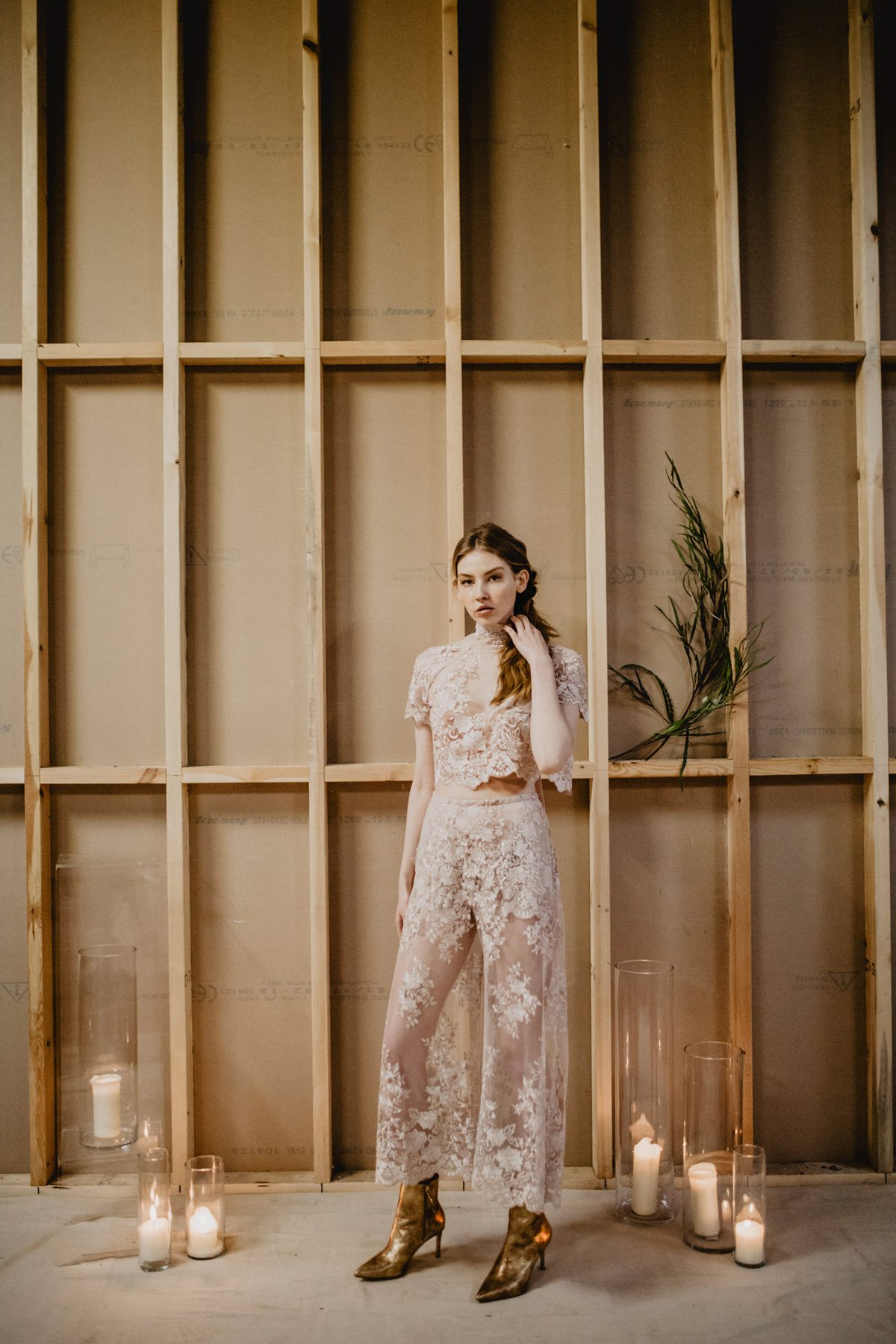 "We continued this subtle colour palette into the tablescape. Printed menus in gold font from Nats Paper Studio sat in modern pale wood holders alongside off-white crockery, hand-dyed linen napkins and copper cutlery, whilst mixed square candles and copper tea light holders finished the pared-back feel. To add height, we used Ester and Erik tapered candles – every wedding stylist's go-to candles right now!"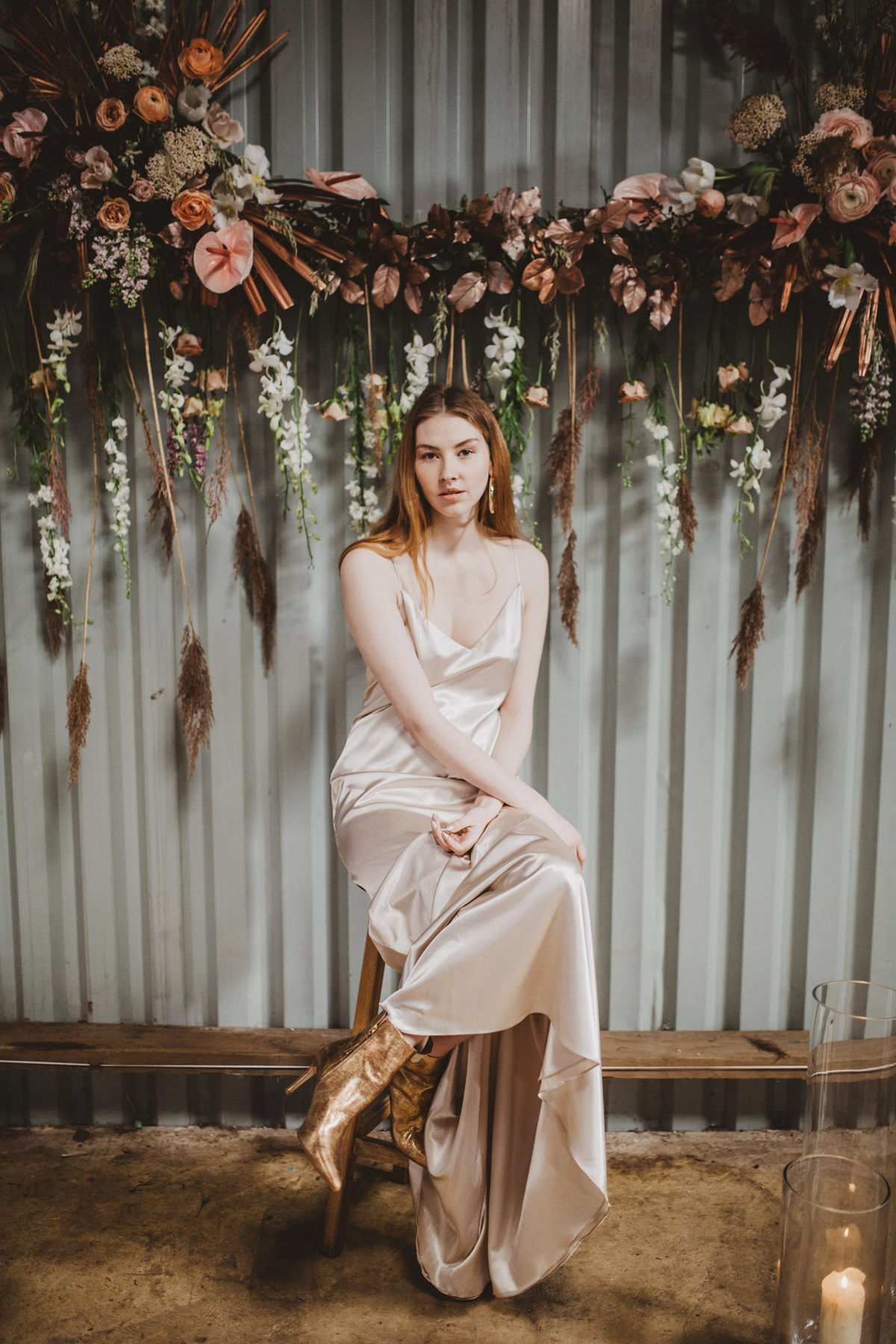 "Our second set-up against a pre-fabricated timber wall also featured this super textured floral mix, where giant sylvan bundles of peach tones, whites and golds sprung from the floor amongst white pillar candles and from the wooden shelf. A bouquet made of only a couple of orchid stems and some reeds emphasised the slightly surreal minimalist editorial look, so as not to detract from the outfits, and single stems were also used to add some height to the hand-brushed and dappled copper tiered cakes by Sugar Buttons Cakes."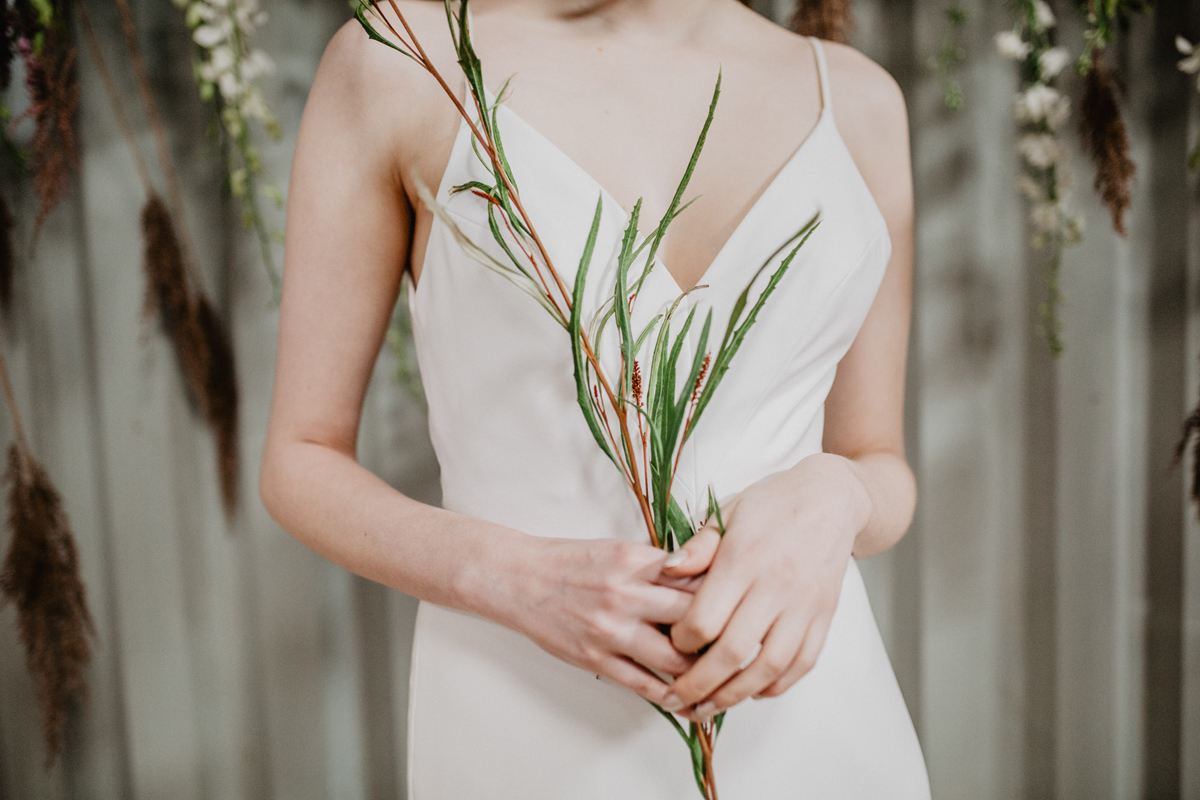 "We styled liquid silk Sassi Holford slip dresses with bold organic-shaped gold earrings and loose, laidback hair, whereas Velvet Johnstone's sumptuous wide-legged jumpsuit was paired with playful bubble plaits and Ritual Unions' cutting edge lace designs were given effortless updos. Shimmery warm tones on the eyes and lips for the make-up worked for each style, which we kept building and adding to for a more dramatic almost day-to-night feel, finishing in a striking oxblood lip."
"Hammered gold kitten heel boots finished off each look – perfect for the fashion-hearted, not the faint-hearted."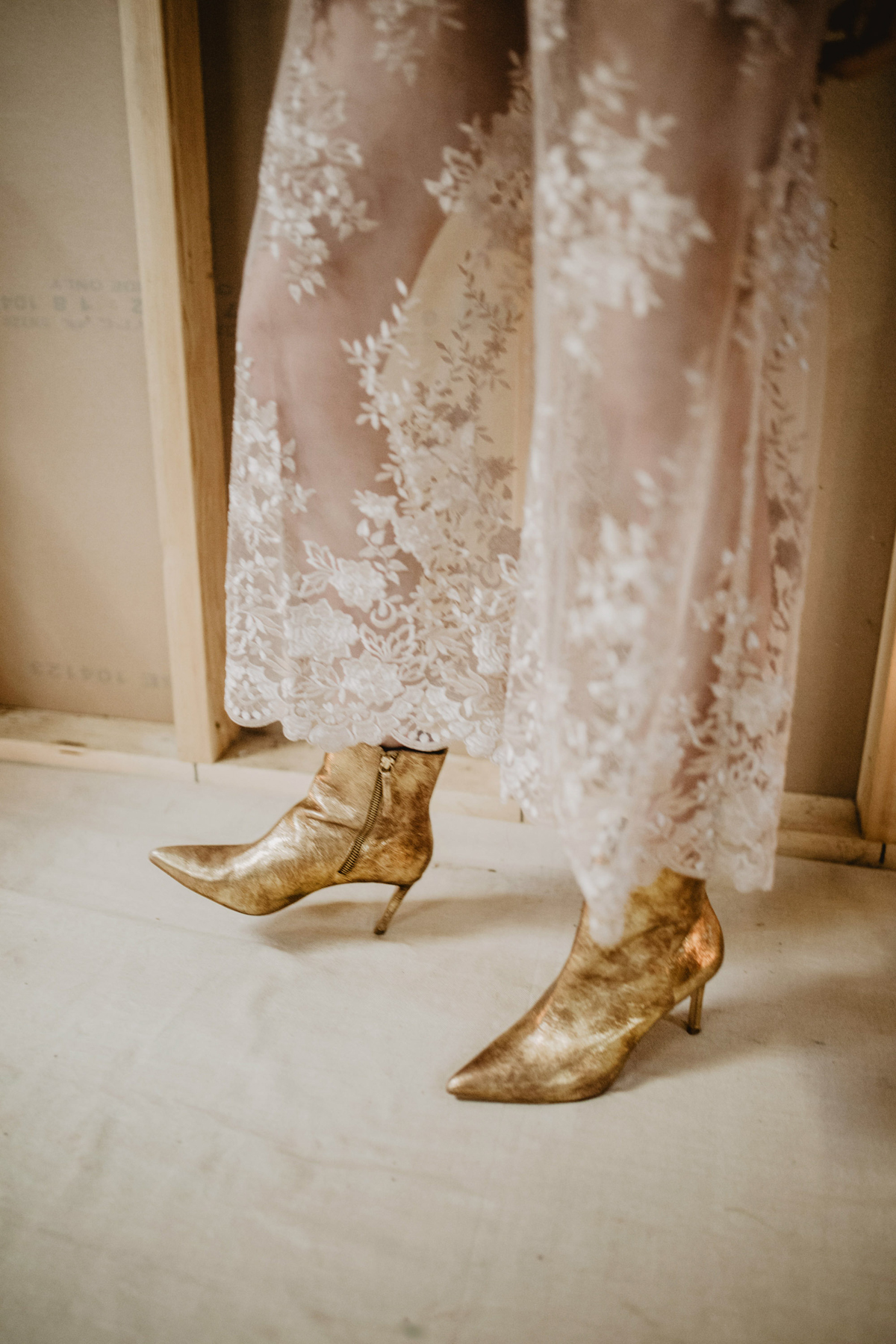 Enormous thanks to the wonderful creative team who brought together these gorgeous images.
Gowns were supplied by both  Rock the Frock Bridal boutique, based in Essex, and The Bottom Drawer Bridal, based in King's Lynn.