Bridal retailers know their clients intimately. This unique knowledge informs their buying inspiration for their shop; they will have channelled, funnelled, edited and curated the bewildering choice available to what they know 'their' brides love.
Buyers for small, but perfectly formed, regional shops like Sally from White Bride in Pembrokeshire or Rhiannon and Bethan from Courtyard Bride in Kettering will have instinctive knowledge of the local wedding venues, traditions and faiths, and will often live locally to their business. This gives them a brilliant understanding of regional preferences and budgets as well as the ability to edit key directional fashion looks to fit within that aesthetic. Essex may have a traditional association with sparkly glam of TOWIE but Lauren, owner of Mili Mili Bridal in Colchester,  knows that their brides love a clean modern look.
Lydia wears Halfpenny London from Leonie Claire Bridal
Alex-Carlyle Photography

City centre boutiques in busy metropolitan areas tend to have an affluent, denser population, so can be braver with their choices, and are incredibly adept at providing a wealth of choice and diversity.  Mirror Mirror, showcases incredible ground breaking designs. Founder's Maria and Jane's dressmaking family heritage is reflected in their love of unique fabrics and the adoration of the craft of couture dress creation.
Eleganza Sposa style choices in the heart of Glasgow reflect owner Anna's Italian Scots heritage – sheer glamour and a commitment to 'the art of dressing' is hugely evident.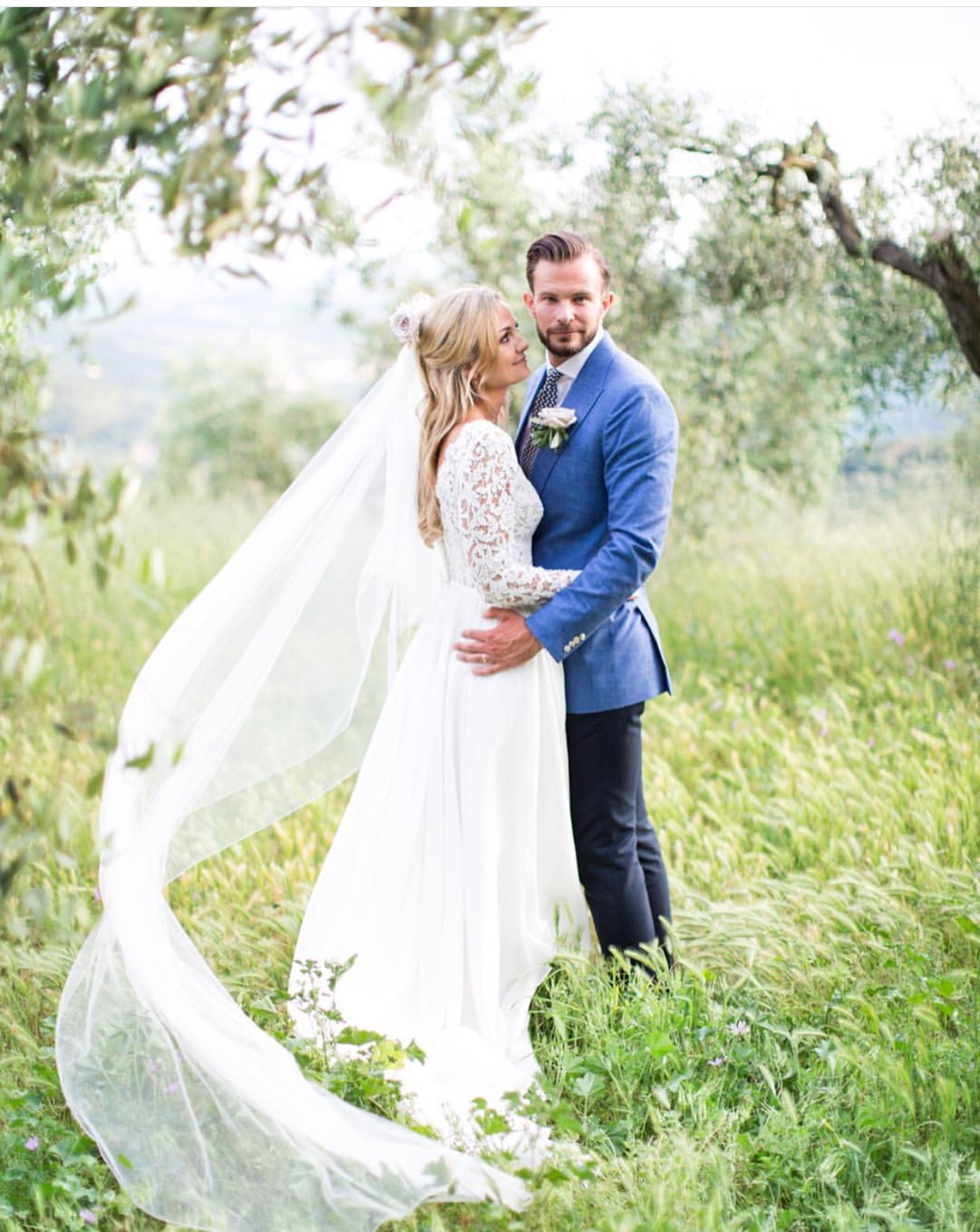 A bespoke dress from Mirror Mirror
Cecelina Photography
Tiny chocolate box villages, whether in Hampshire or  Huddersfield,  go their own way channelling their own style. Bridal Indulgence is a young shop with a young owner Kerri  featuring, you guessed it, very youthful styles! Emma, owner of Perfect Daze in the tiny village of Scissett is all about the warm northern unintimidating welcome but her styles are far from rural Badgeley Mischka and Suzanne Neville are some of the star designers loved by Emma's brides.
Bridal boutiques are run with passion by experts. In the same way a chef will wax lyrical about sourcing the best ingredients, a boutique owner will scour the globe to bring the best apparel to their emporiums. Owners and sisters Lynsey and Natalie of The Bride in St Albans are proud supporters of purely British design, sourcing only UK design and make  in their picture perfect store. New and up and coming British design is supported by boutiques like Miss Bush, offering showcases and pop-up stores to start up brands. Giant global brands like Pronovias sit in The Pantiles Bride in Tunbridge Wells alongside niche brands like Savannah Miller (Sienna's designer sister).
Lisa found her dress at Miss Bush Bridal
Carey Sheffield Photography
New World and US brands that are the darlings of Instagram popularity have been researched and sourced by buyers with the utmost care and love. Made With Love, one of the new too-cool-for-school Australian brands has just arrived at Ellie Sanderson in Beaconsfield.
Not all brides are the same and neither are all boutiques. It is easy to write off bridal boutiques if you walk past the same one every day. For example, if a window dresser on your commute to work has a princess fixation, you may think all boutiques are the same. Not so. Specialist emporiums exist to make the bride feel absolutely at her home in her own skin, and not as though she has just walked into a dressing up shop.
Laura wears a dress from The Bride
Image by Andy Hudson Photography
Hunt out hippy hideaways like Wild Heart Bridal in Rochester or Leonie Claire in Hove. Classicists should seek out Carina Baverstock in Bradford on Avon for cut glass taste, Brides of Winchester in Hampshire for timeless styles from the bridal big hitters or Helena Fortley in Surrey for well-cut classics with expert service. Modernists will love Coco & Kate Sophie's choice Anna Campbell and Daughters of Simone among her stellar labels are all about new glamour and laid back luxury.
Exquisite Bridal Couture's Natalie stocks Jenny Packham and  Hayley Paige – serious modern head turners. Legendary boutique duo Lisa and Victoria of Cicily Bridal have got an incredible edit of modern European choices including Rembo Styling and Jesus Peiro.
Don't be nervous
Reputable boutique stylists know you might be nervous; they know you need inspiration and hand holding in equal measure. One of the absolute unsung but most important benefits of boutique shopping means you have a dresser, ladies maid, stylist, confidante and personal shopper in one. The very best boutique experiences should start before you arrive for your first appointment and continue long beyond your honeymoon.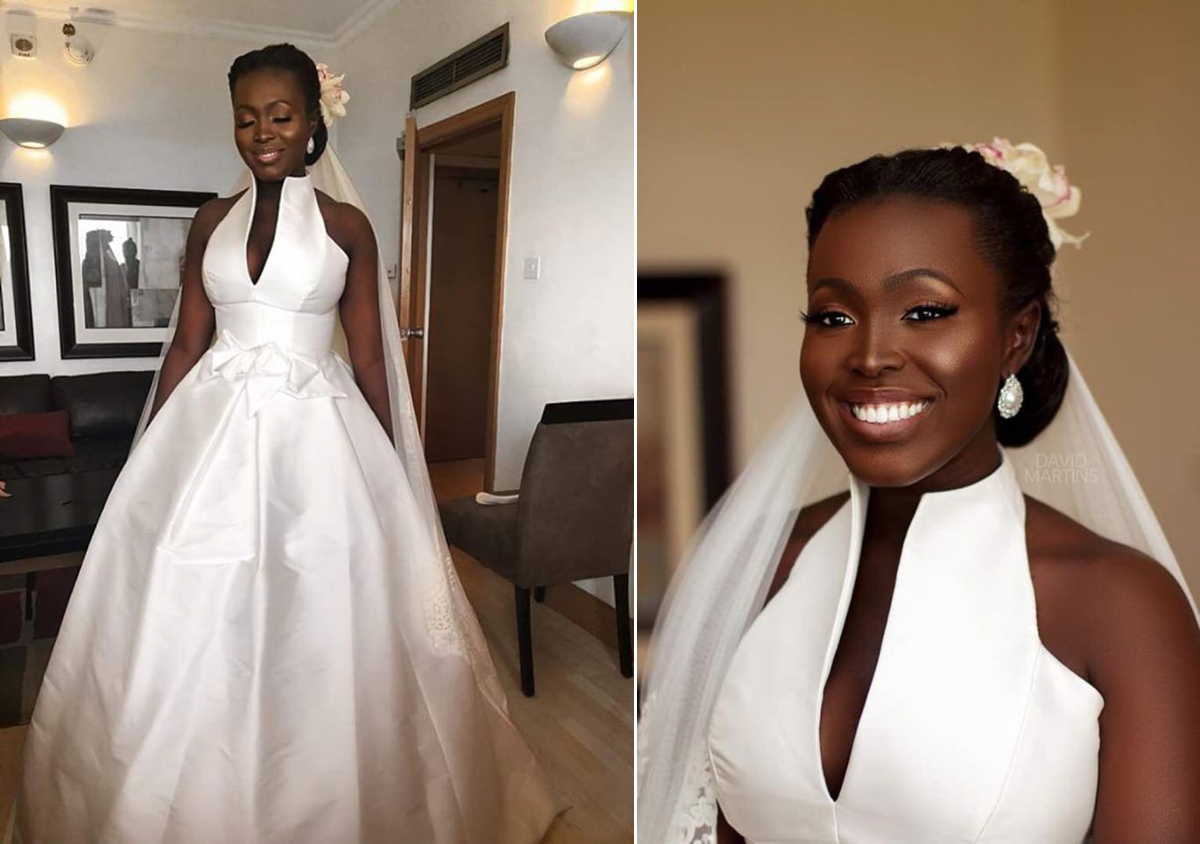 Feyi discovered her dress at Miss Bush Bridal
David Martins Photography
Think of a bridal boutique less of a shop of products, and more like an interior designer's studio, full of swatches and match pots. Yes, there are dresses to try on, but these are examples of what might be, not what has to be. Made-to-order is such a luxury; no need to stress about your size being in stock! Ivory doesn't suit you- choose blush! Always fancied showing off some killer heels? Then choose hi-low or ankle length. Hate shiny? Go matt with your fabric choice.
In a click-and-collect world, buying your dress from an independent bridal boutique means not having to compromise. To use the restaurant comparison again- a great boutique means not having to settle for a takeaway when you really want the best table.
A wedding dress boutique is not interested in your size; they are interested in the fit…
Much has been written about wedding dress sizing; is it really smaller than the High Street? Is there a conspiracy to confuse? There's no doubt about it- it IS confusing. A boutique may carry labels from the UK and US, both of whom work in inches, but require completely different size charts. Italy, Spain, France and Germany all run in centimetres, and all have completely different size charts. Then add in a smattering of Israeli and Australian brands, and you have an absolute maelstrom of measurements!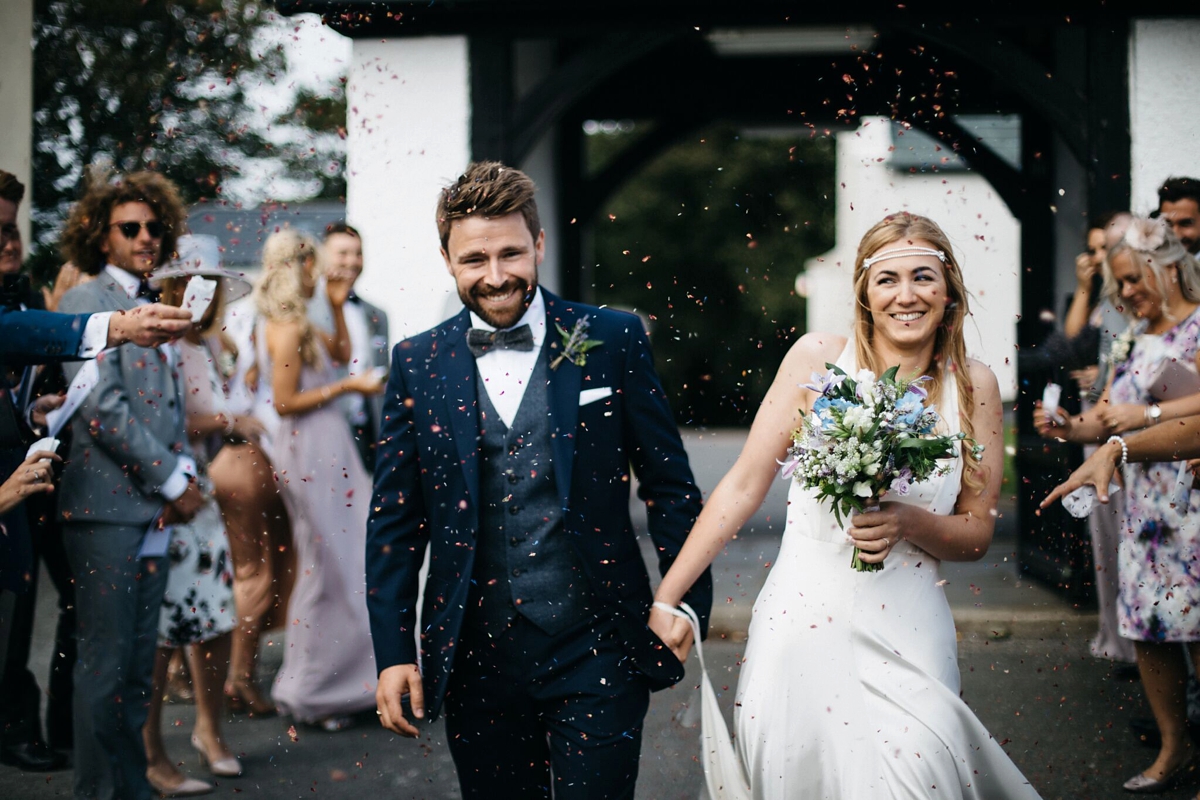 Charlotte in her beautiful dress from Wild Heart Bridal in Rochester
A wedding dress boutique is not interested in your size; they are interested in the fit, and the bride's lasting happiness with their dress. Hayley Hoyle, the powerhouse behind The Bridal Collection Harrogate even has her own business as a personal and brand stylist and a curvy style revolution in progress.
Sometimes boutique buyers will buy tiny sizes of a particular dress because they know that the dress will suit that particular size bride. Sometimes the reverse happens. The important aspect of boutique shopping means that a really expert stylist will be able to talk you through the best choices for you. For example, would you never consider going without a bra? Then do not buy backless. There isn't a self-adhesive product in the world that is going to work better than a bra. Not only does a boutique have an expert opinion, it has to physically deliver on it.
The YOU Factor
Alternative methods of wedding dress shopping are as basic and transactional as buying a pair of jeans. Whether online, High Street or factory-direct, one adds to a cart or bag, and home you go. This of course represents absolute simplicity in a post-Amazon world.
The magical mystery dress, the thrilling head turner or traffic stopper, the barefoot luxe or the outright couture creation fitted within a millimetre of its life does not exist in this sphere. Not only do modern bridal boutiques edit the fashion and perfect the fit there are hidden benefits that are designed with you, the bride, in mind.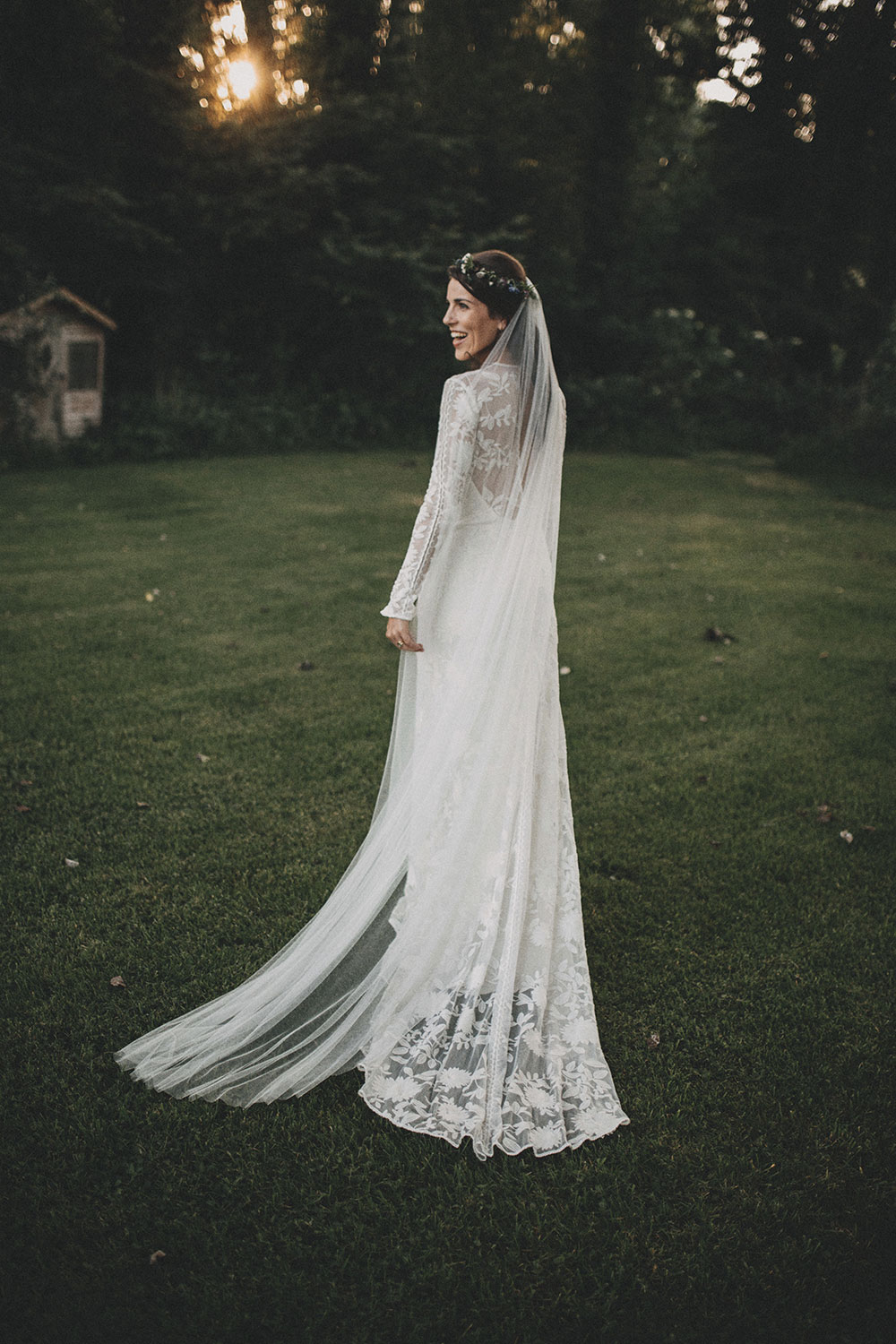 Katy wears Rue de Seine from Leonie Claire
Ali Paul Photography
Ten 'All About You' Services
1. Don't decide today
Impatience is not a virtue and heaven can wait. Unhelpful urban myths still exist about just how long it takes to get a wedding dress produced – but it is nowhere near as long as scaremongers would have you think. Whirlwind romances will exist, and wedding dress designers can produce custom dresses within weeks depending on fabric availability. Other bigger brands may take up to 16 weeks to deliver more complex dresses. There is no need to feel pressured into buying off the peg, no need to panic buy, and no need to accept an internet service for one of life's most important dresses.
2. Late measures
The wedding diet, however unnecessary, however unintentional, however much discouraged by boutiques, is still a phenomena. Brilliant boutiques have the ability to let you choose your dress and hit the HIIT classes giving you a deadline for measurements that has you feeling comfortable that you can achieve your goals, and not have a dress that is in the 'before' size range.
3. Bespoke sizing
When you buy from a boutique, there is no such thing as one size fits all. Even dresses that are only offered in standard sizes usually run from Size 2 to Size 32. Add in the choice of length, and even very reasonably priced dresses have lots of options. Move to mid-priced dresses and made to measure is available. This is invaluable to brides that are tall, petite, fuller busted, wheelchair users, have disabilities, are pregnant, or are breastfeeding. Top end designers and brands will also offer a calico intermediate fit (sometimes called a toile) to double check bespoke designs and give a sublime fit to a bespoke pattern.
4. Custom creations
You love the dress but you dreamt of scarlet? It's almost perfect but it needs more sparkle? You had always imagined sleeves? You kind of regret your gap year tattoo and it is on show- can we change the back? You love your ink and you want it shown fully – can we amend the neckline? The absolute joy of dream fulfilment is the reason boutique owners love their job.
Contrary to the popular TV notion of there being one perfect dress, which a bride needs to scour the racks of a thousand shops to find – ask a boutique a few key questions, and finding 'the one' may be far easier than you think.
5. Personalised fitting plans
Most excellent boutiques offer a full expert fitting programme. Again, brides are sometimes surprised when their made-to-order dress doesn't fit perfectly. Made-to-order is different from made-to-measure, and while some basic measurements are taken, there will be adjustments needed to turn 'a dress' into 'your dress.' Made-to-measure dresses will inevitably fit better and will have been proportionately scaled, but hem adjustments, any nipping in where an inch or two has been lost, and custom options like train bustling still need to happen.
Couture means at least one extra fitting. Boutiques can tailor these plans round your lifestyle- do you live abroad? Are you actively changing shape? Can you only be fitted on a certain day at a certain time? Let your boutique into your plans, and the best advice is on hand.
6. In-House tailoring
This is the last word in boutique luxury. The incredible skill possessed by some brilliant seamstresses tends to get overlooked by brides-to-be. Indeed, sometimes the word 'fitter' conjures up images of apple-cheeked Grandmas, or stern precision engineers. The highly specialised art of dressmaking is preserved in bridal boutiques, and the technical knowhow is passed on to the stylists, who know the danger of promising a technical fit that can't be delivered, or a hem that can't be altered.
The relationship between workroom and sales floor is sometimes notoriously fiery, but in the best traditions of couture houses, perfect fit for the client is the ultimate goal.
7. Expert advice
A brilliant boutique stylist is like the perfect combo of fashion expert, wedding planner, hairdresser, counsellor, barman, BFF and fairy godmother. A stylist takes confessions, builds self-esteem, diffuses tension, listens, and has boundless patience. It's hard to pin-point how a stylist learns their craft, as there isn't a handbook or a training course. An encyclopaedic knowledge of venues, styling tips, photographers, traditions and customs can't be taught, but instead is acquired over years.
The "what if's?", the "when do I's…?", the "where would you recommend…?", and the "who is good…?" are met with immediate and current answers borne from a passion for their field. These are not walking billboards, or paid for preferred supplier lists; they are a lifetime of invaluable contacts and opinions – at your service.
8. Wedding planning is not stress free
Life continues at a pace, and increasingly with a widening demographic, a bride can be managing a burgeoning career, small children, elderly relatives, blending a family, or the remote organisation of a major life event from a different continent. Sometimes a bride needs to unload. Sometimes it's handy to have a neutral party to email at three in the morning. Sometimes when a bride is losing all sense of balance about a tiny technical detail on a dress, it helps to have someone ask "is everything ok?". A stylist can tell the difference between a problem with a dress and a problem that is manifesting and externalising around the dress.
They are clever like that; professional Mums that you can't get quite as tetchy with (but almost!). Stylists know that small problems that are brushed away by friends and relatives are real. They know the pain of Pinterest addiction. They know the cold sweats of budgeting. They know you are going to fall out permanently with at least one bridesmaid, and that you will always get those guests who won't RSVP's – despite being given a stamped addressed envelope and a wedding website.
They know they pressure to act laid back when you want to micromanage every detail and person. They are there answering questions before your first visit, connecting on Instagram, during the planning, and in their longing for the photos afterwards. It is the digital evolution of shopping in the most female, human sense.
9. In the digital age, shopping has all sorts of benefits
With parcels being delivered almost before you click BU, it's a first world problem, but almost everything arrives screwed up, in need of steaming, varying in quality from surprisingly good to shockingly bad, with only a passing resemblance to what you thought you ordered. Similarly, some of the most reactive and design led high street retailers have merchandise on display with more fake tan than the entire cast of Love Island. In bridal, where virtuous pale colours are still the first choice in western designed dresses, where delicate fabrics that require carefully handling are still the most sought after, a silent, painstaking process goes on behind the scenes.
Apparel is bagged, tissued, steamed, pressed, handled with kid gloves, and hung from great heights in cavernous bags. The process of simple delivery and handling, from first fitting, to the bride's car or hand luggage, is one formulated to protect a dress which has been designed to become a future heirloom. So what if the dress doesn't survive the first steps of the ceilidh, the mosh pit, or the slut-drop? This is part of its journey, its story- and your boutique will be on hand with cleaning and boxing advice and to marvel how one small train could pick up that much mud!
10. The future of retail looks very different
Analysts predict that clients want experience over product, and a seamless transition between online and bricks-and-mortar shops. Nowhere does retail fulfil this better than in a bridal boutique. This is not to say all bridal boutiques are future-proofed palaces of bridal empathy. It is essential to pick your boutique as you would your hairdresser or therapist. Somewhere away from the Badlands of social media are spaces online where brides and their boutiques tell their joint stories.
Every bride is a micro-influencer on Instagram, yet these glamorous images only tell half the story; the other half is about the true boundary-breaking, female-first experiences which only dedicated wedding dress geeks in their own craft-dress world can provide.
Emma x