Hello lovelies! I've got a gorgeous present for you all today, in the form of the cool London wedding of Jacqui and Adrian, captured on camera by the oh-so-talented Hearts on Fire.
The Asylum in Peckham, London and Hoxton Arches in East London were the venues for the marriage of Jacqui, who works as an assistant merchandiser for a clothing brand and Adrian, a reinsurance broker. They chose 8 September 2017 for their wedding day and opted to have a 'first look', a moment that we really do adore sharing on these pages. The couple fell in love with the unique atmosphere of the Asylum, and created an effortless and timeless urban aesthetic to complement the venue and reflect their own personalities, using touches of copper and festoon lighting alongside a colour palette of nudes, pinks and plenty of greenery.
Videography Winnington + Coe
It's brilliant to hear that Jacqui found Love My Dress a source of inspiration in the planning of her day. Have you joined our private Facebook group like the bride did? If not, head here to meet a wonderful group of supportive women.
"I regularly read Love My Dress and love the real weddings features. We found lots of inspiration and tips for our own wedding on the blog and found the Facebook group invaluable during the planning process."
Photography Hearts on Fire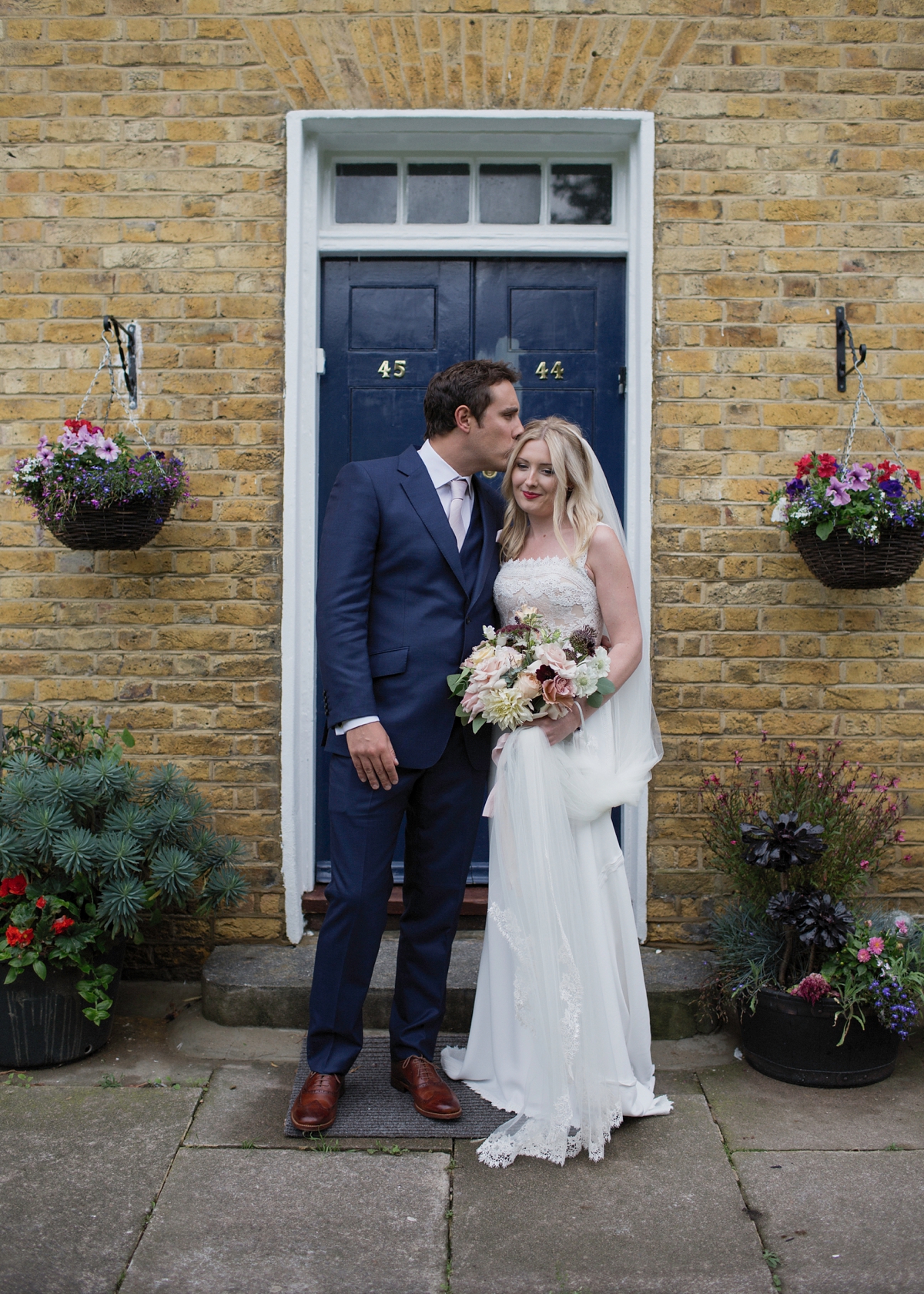 I love how these photographs have captured the faded decor and timeless atmosphere of the Asylum, as well as the utter joy and liveliness of the party at the Hoxton Arches. Karolina of Hearts on Fire is the lady behind the lens and we've had the pleasure of sharing her gorgeous work before on Love My Dress.
"We found our photographer Karolina after seeing some other weddings she shot featured on the blog. Neither of us like posing for photos so we were instantly drawn to her documentary style of photography. She captured so many amazing, candid moments; we were absolutely thrilled when we received the photos."
"We ended up booking a videographer duo at the last minute. We also came across Winnington + Coe after a recommendation on the the Love My Dress Facebook group. They are the most lovely couple who at the time were just starting out in the wedding industry. They were super easy-going and so lovely on the day – they even mucked in breaking down tables and chairs! We absolutely love how our video turned out."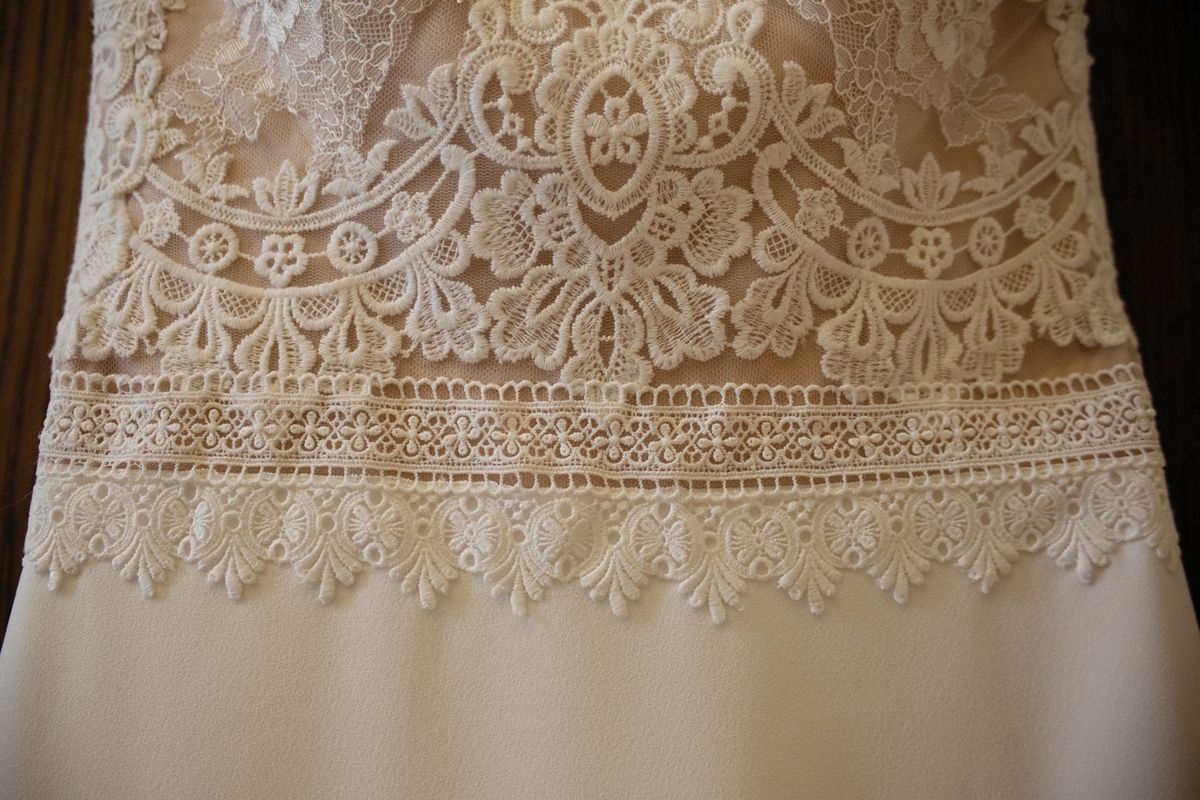 Her shoes were Office, and she completed the laid-back but still bridal look with a pair of Thomas Sabo earrings, gifted to her by her mum.
"My hair was done by my good friend Nicky Murphy and my makeup was done by another friend Rebecca Durrant. It was lovely having friends helping me to get ready."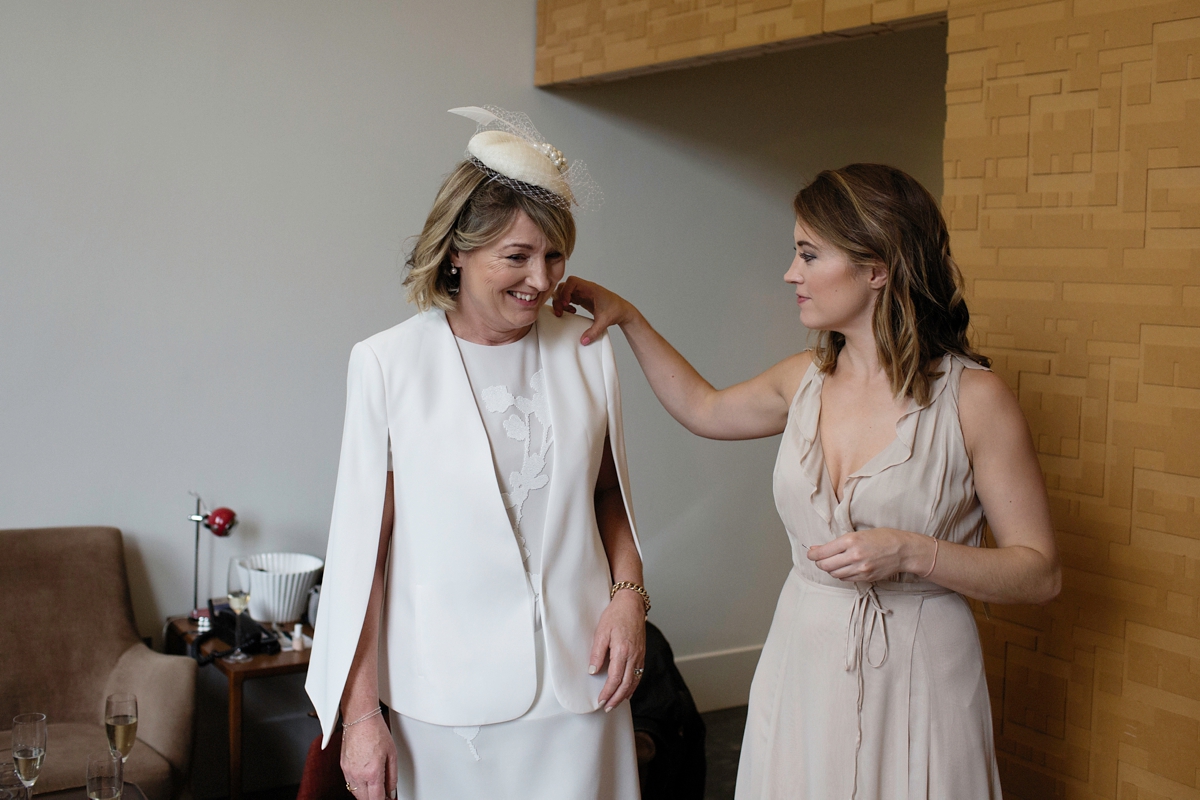 In keeping with the natural, cool vibe of the day, Jacqui's choice of gown is sublime. Light and flowing, it's a St. Patrick design featuring exquisite crochet detailing. London boutique Mirror Mirror stepped in after the Dublin boutique where she originally bought it closed down.
"Unfortunately the store went into liquidation before I received my dress. Thankfully the lovely team at Mirror Mirror came to the rescue and agreed for me to get my dress sent to them instead.  I loved the fact that my dress was light and simple and that it didn't swamp my petite frame. I had actually purchased a different dress in a sample sale but when I went for my first fitting I realised it just wasn't right. Thankfully the owner of the store, Susan, was willing to let me exchange the dress. As soon as I tried on my gown I knew I had made the right choice."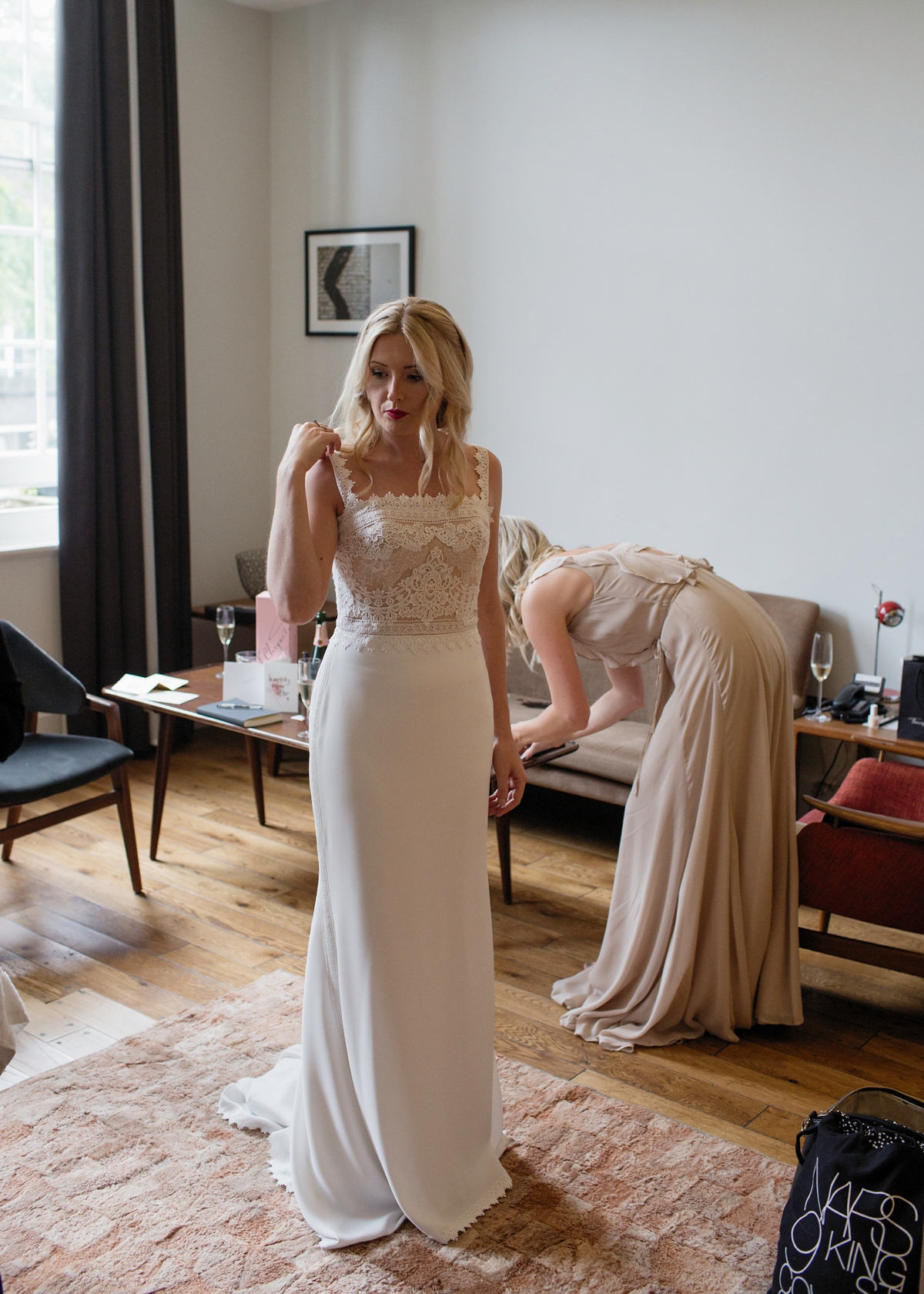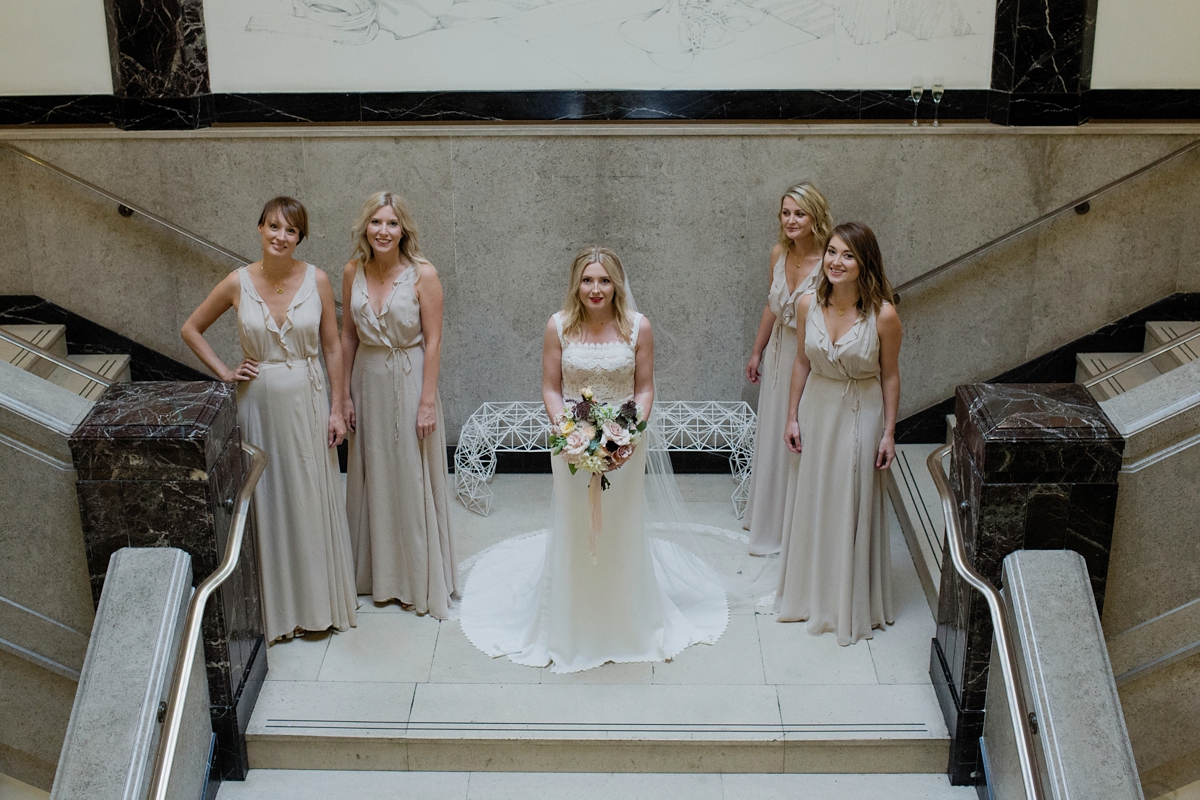 As you can see from this images, Jacqui and Adrian opted for a pre-ceremony first look, a moment that they both savoured.]
"We decided to do a first look at the Asylum. We didn't actually tell many people as often those we did thought that we were crazy. I'm very glad that we did as it gave us some time together pre ceremony to really take in the importance of the day, it made me feel a lot calmer and it also enabled us to spend more time with our friends and family after the ceremony as we had already taken some couple shots."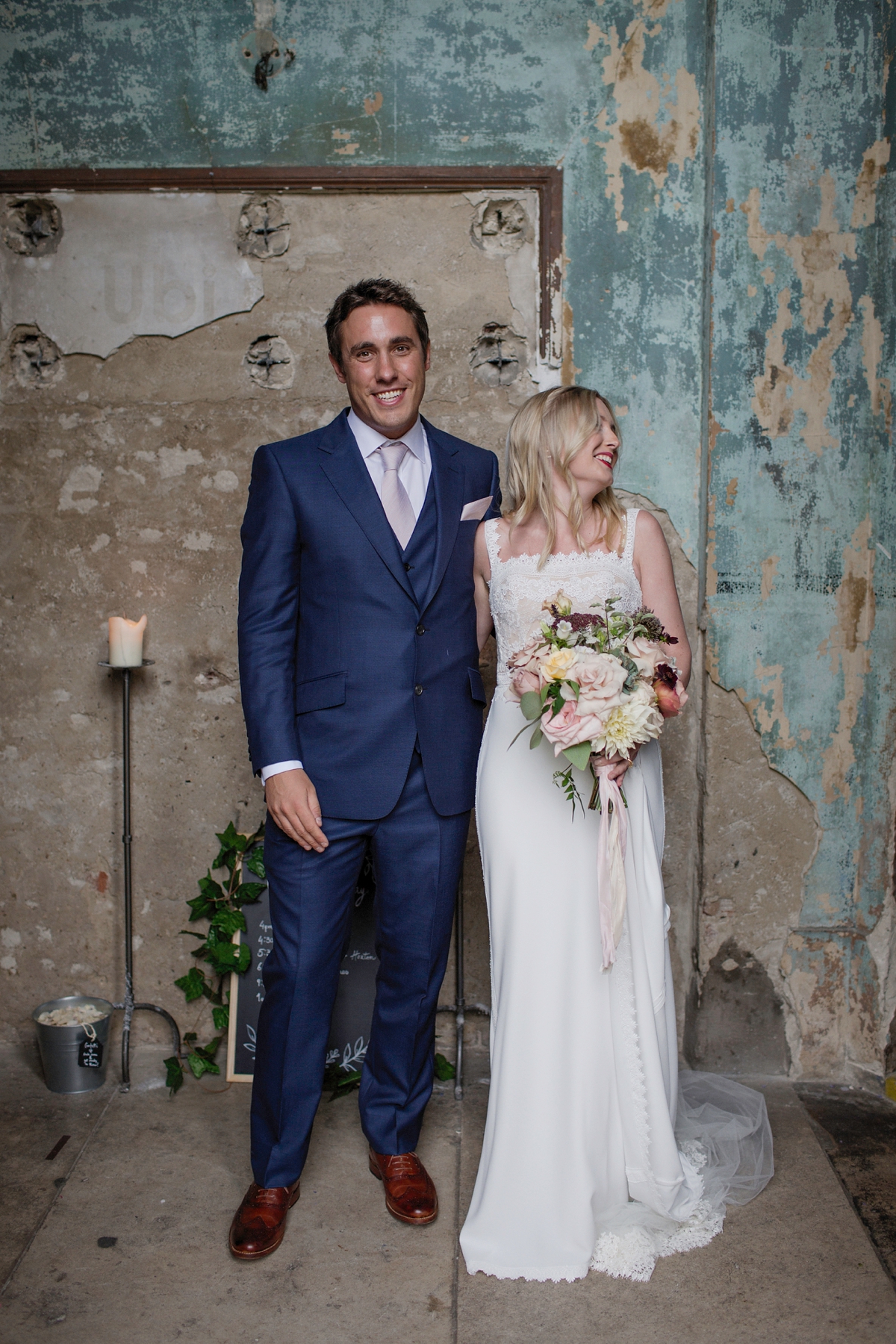 The abundance of flowers really brings the Asylum to life. They were styled by Lara of Wild Renata Flowers.
"Lara was incredible and such a sweetheart. I met her when she set up a pop-up shop in Brixton. I bought a beautiful bouquet from her and made a mental note of her name. When we started thinking of flowers I immediately remembered her and got in contact. We opted for a palette of nudes, pinks, cream, dark purple and plenty of greenery. Lara made the most amazing bouquets and large urns filled with dahlias, quicksand roses, jasmine, cafe latte roses, scabia and allium. The smell was divine. We opted for a simple runner of asparagus fern down the tables at Hoxton Arches and she created an amazing floral installation/backdrop that really pulled the room together."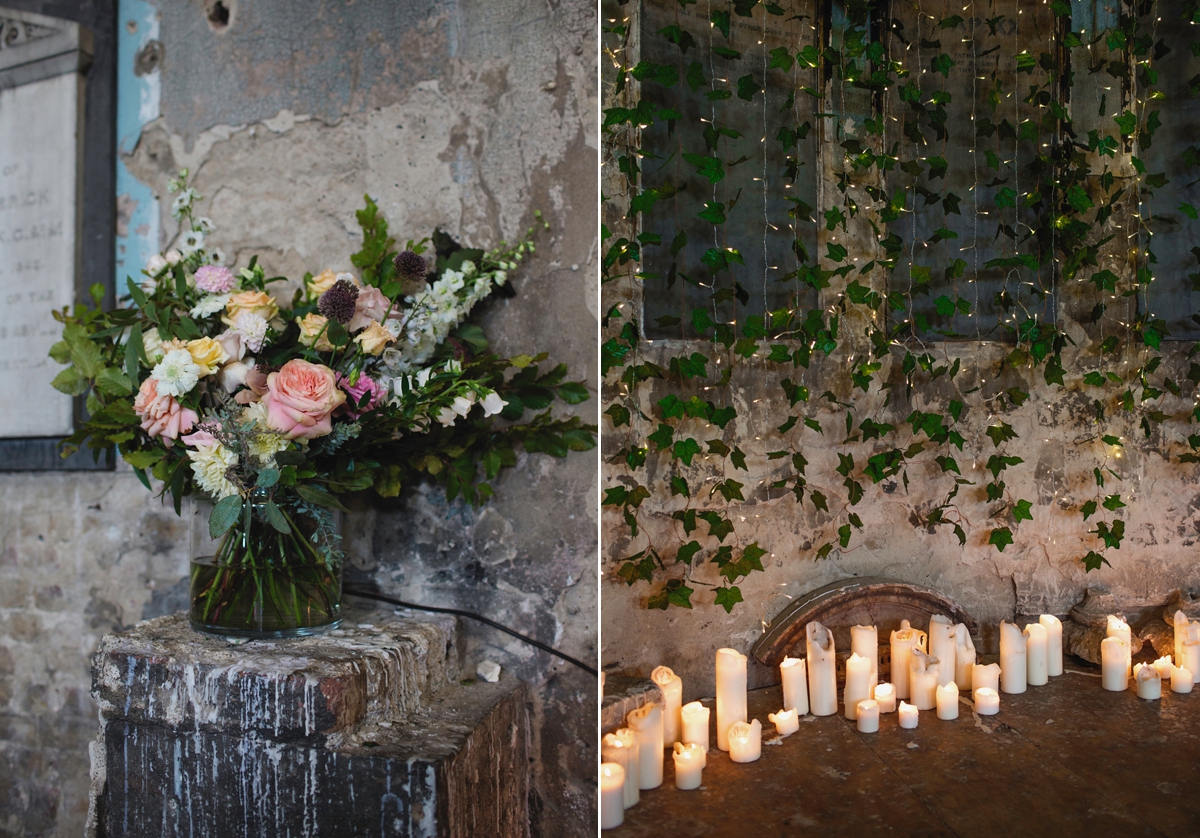 The elegant stationery was handmade by Jacqui and her friend Leanne, and I love their alternative guestbook.
"My good friend Leanne helped me with all the stationary creating them with InDesign. I painstakingly gold foiled all the menus and name tags using a laminator. We created a guest book sticking various coloured and metallic envelopes to the wall, asking our guests to leave us a message to open on our first wedding anniversary. I'm slightly worried we're going to end up with just a load of rude drawings!"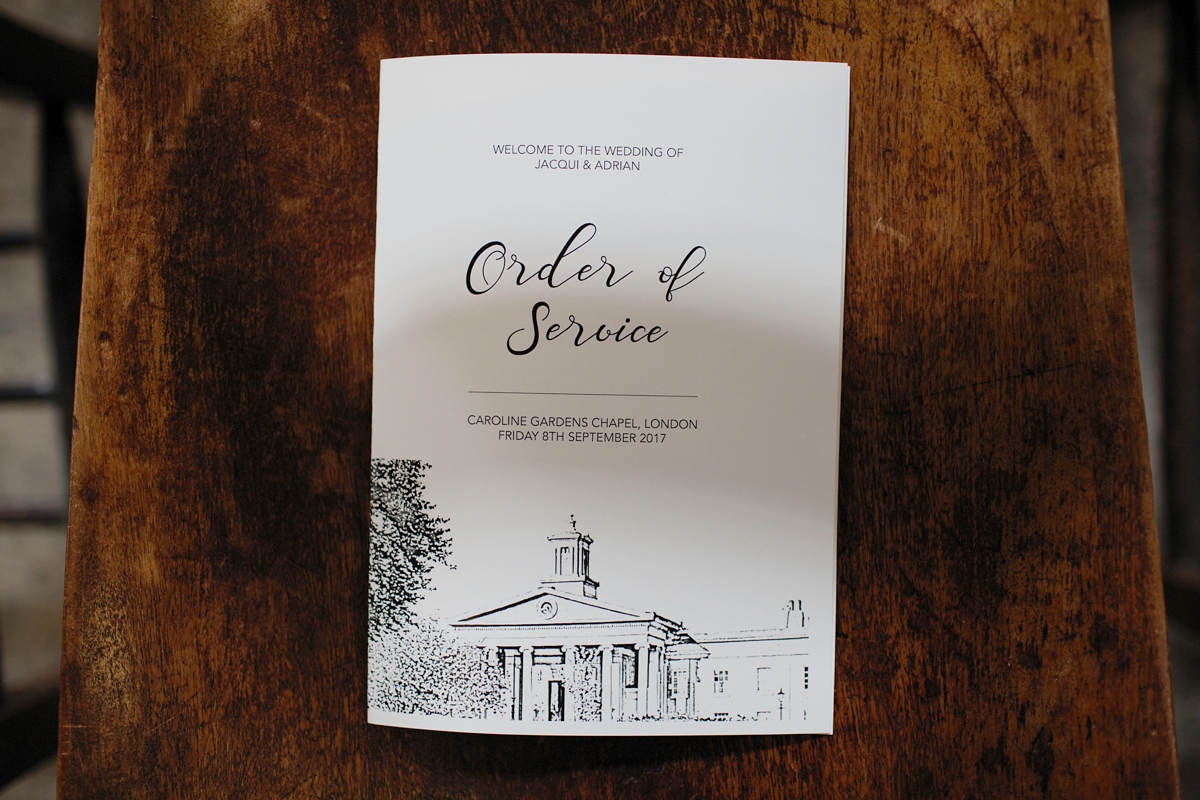 Adrian's style was cool and urban in a  tailored three-piece navy blue suit from Gieves and Hawkes, a wedding gift from his parents, worn with Grenson shoes, a shirt from Thomas Pink and a silver tie pin engraved with the wedding date, given to him by Jacqui.
"I loved that he got something special to wear on the day, plus he'll get far more use out of it than I'll get out of my wedding dress."
The couple got together after meeting during a mutual friend's birthday celebrations at the Arts Theatre Club in Soho and Adrian proposed in such a romantic way that included their close family.
"Back in 2016 Adrian convinced me to quit my job and go backpacking around the world for six months. We started with nine weeks in South America before making our way to San Francisco. Little did I know he had a ring stashed in his bag the whole time! When we got to San Francisco we took a bike ride from the city across the golden gate bridge."
"Once on the other side Adrian nervously plucked up the courage to ask me to marry him. Once I had stopped shaking and caught my breath we made our way back into the city to celebrate. We arrived at a restaurant where Adrian had arranged for some of my family to be waiting to celebrate with us. It was just such an incredible day, one that I will never forget."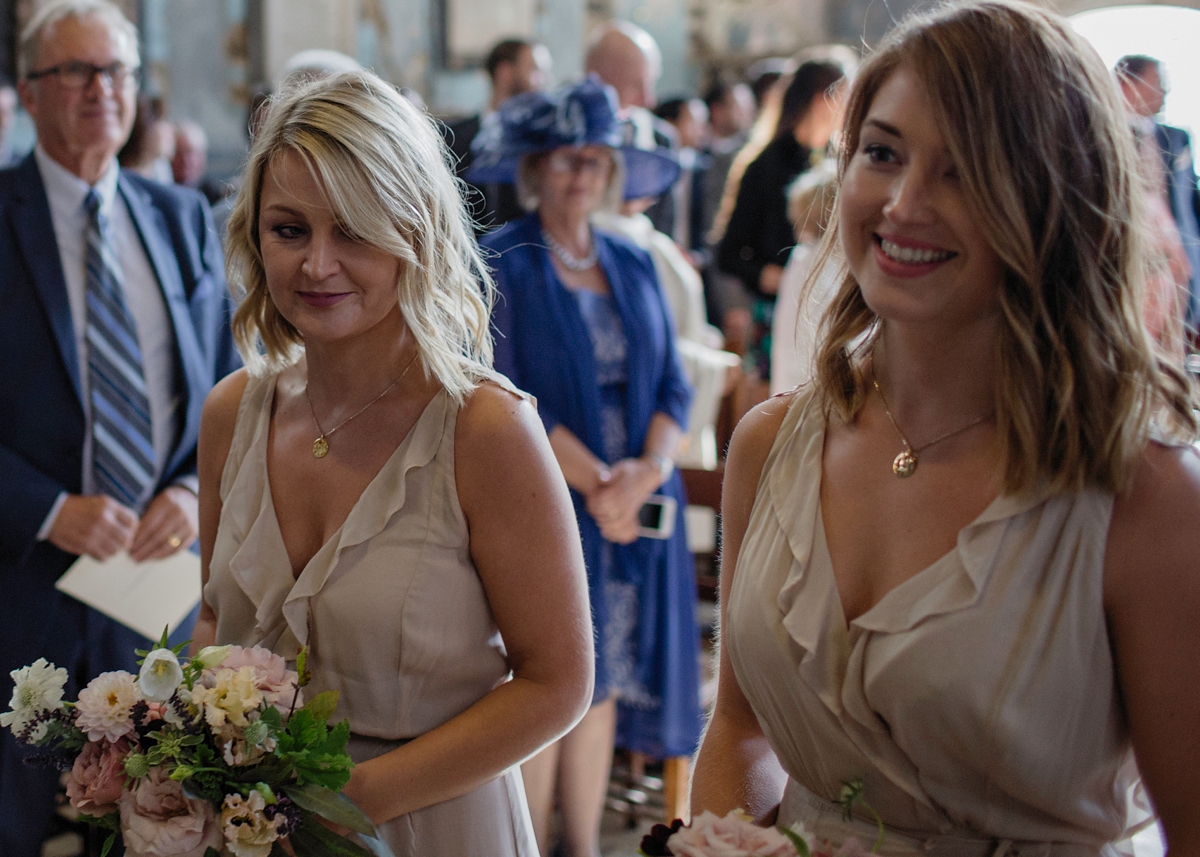 After the bridesmaids walked down the aisle, Jacqui then entered the Asylum on the arm of her dad, to 'Higher Love'. Ricardo Jackson from Southwark Council was waiting to lead the marriage service, using vows written by the couple.
"Ricardo was hilariously funny and kept all of our guest entertained during the ceremony; he really set the tone for the rest of the day. It was important to us both to write our own vows as we felt that we wanted to make our civil ceremony feel as personal and true to us as possible. We sat down and wrote our own vows separately then came together and tweaked them so that they were a similar length and tone."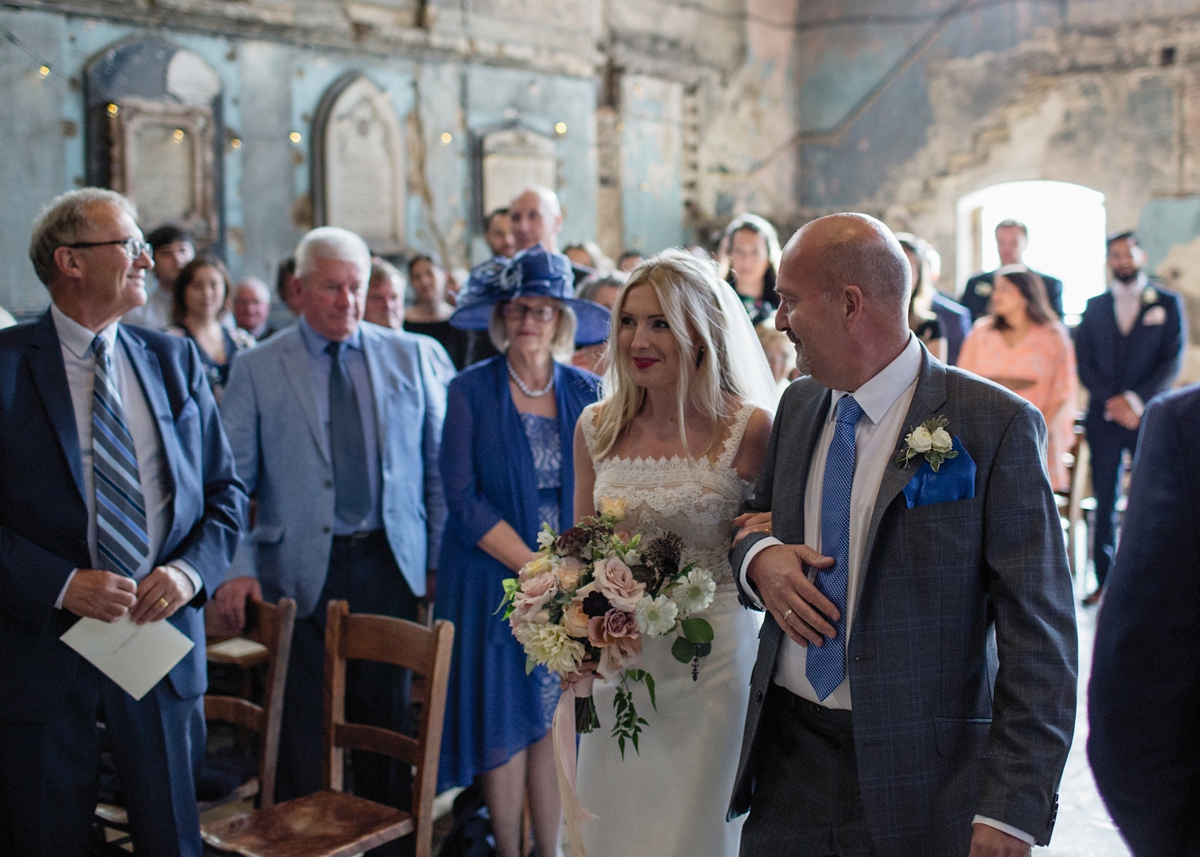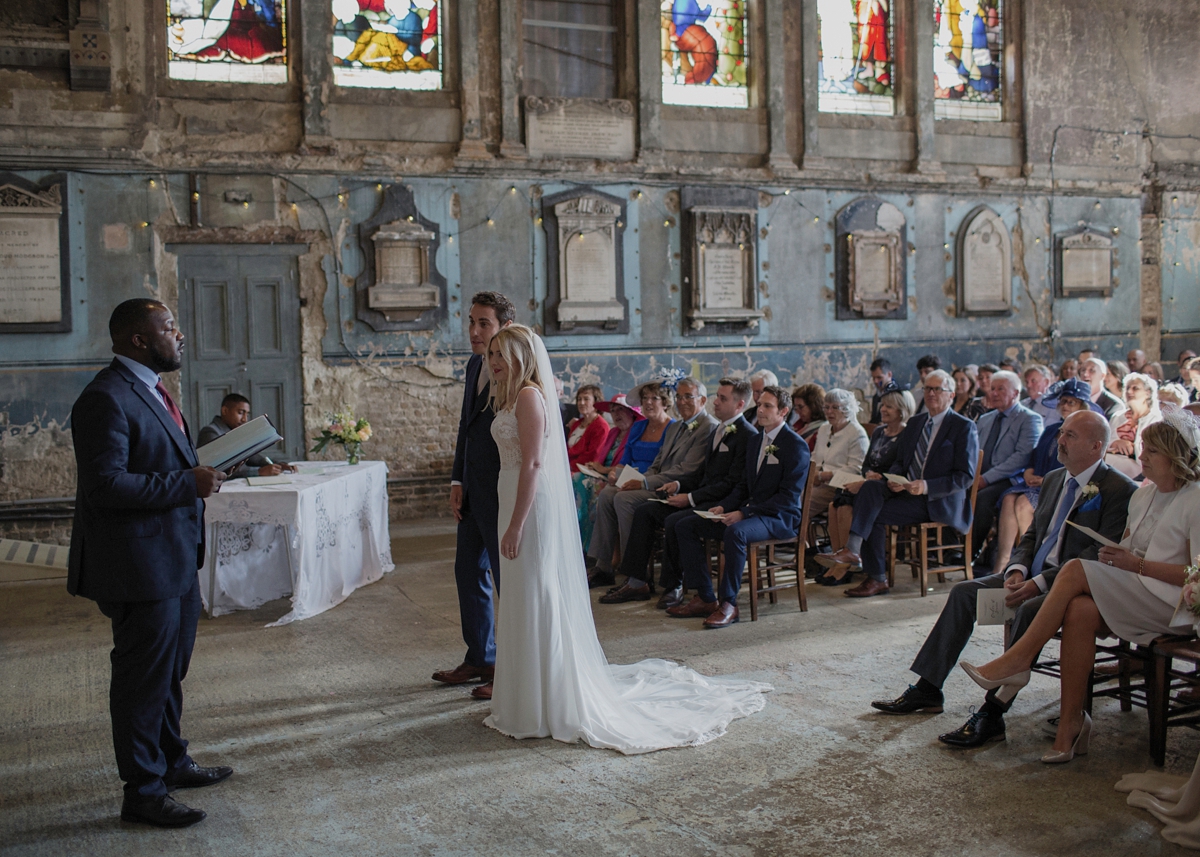 I've fallen in love with the bridesmaids' polished look of nude silk gowns from The Reformation; just so effortlessly elegant.
"Each of my bridesmaids wore a gold pendant necklace from Monica Vinader that I gave them on the morning of the wedding."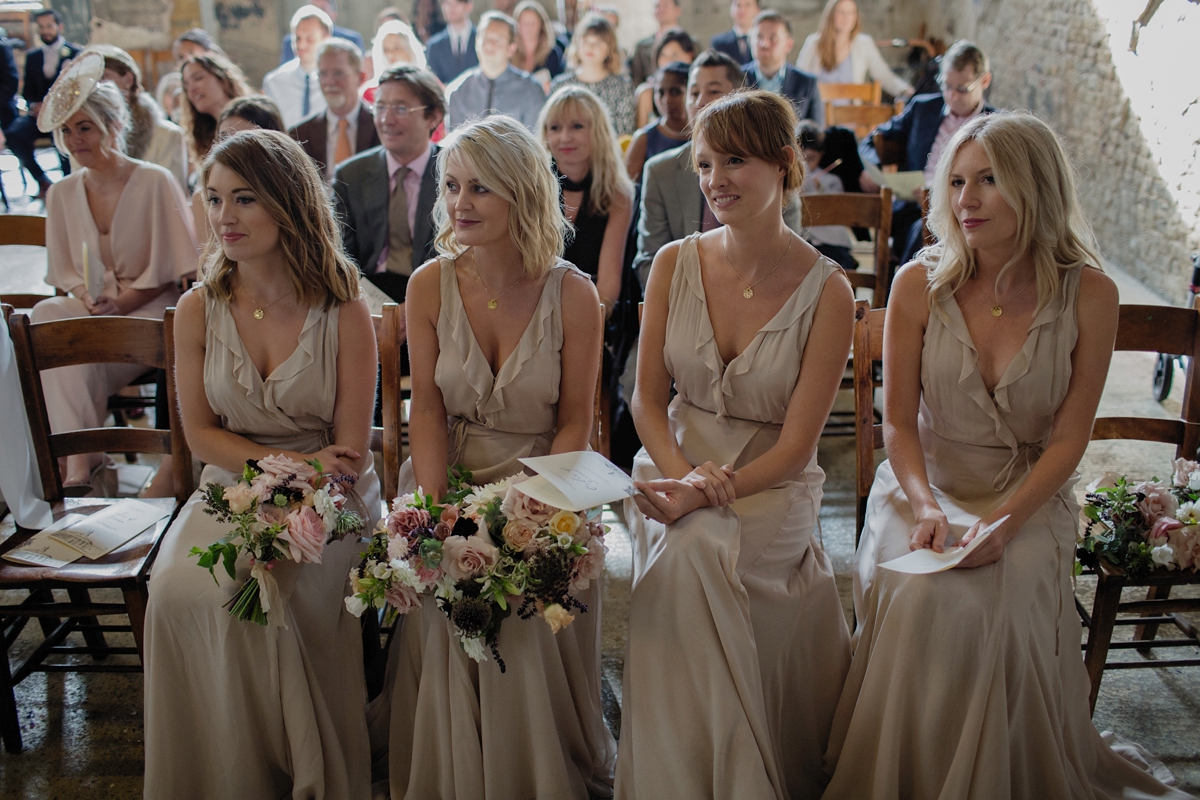 Its simple design was set off by her dramatic veil. Doesn't it look incredible as she walks down the aisle?
"I actually won my veil in a competition on Instagram, from Myrtle Ivory in Dublin. I was originally against having a veil yet somehow ended up with a Cathedral-length one with lace edging. In the end I loved my veil and didn't want to take it off."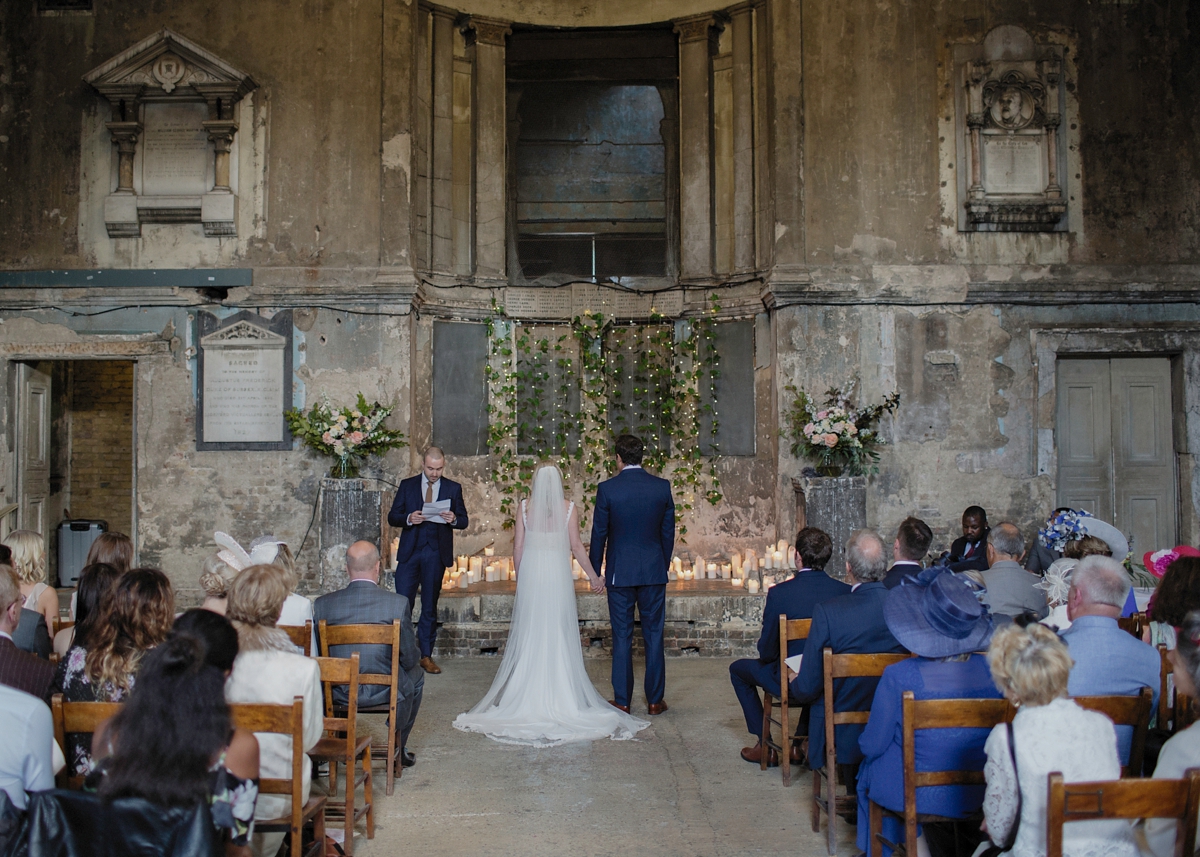 "We had three readings. The first was 'Where Would I Be' (author unknown), read by my brother Robert. The second was 'I Love You Because' by Johnny Cash, read by Adrian's godmother Maggie. The final reading was an extract from the 'The Amber Spyglass' by Philip Pullman, read by my good friend Nicky. We chose the readings as we felt that they perfectly reflected the love that we have for one another. I particularly like the last line of my brother's reading; 'When today is over and the excitement is done 'I'll love you more than ever and I've only just begun'."
"We were very fortunate to have a friend that helped us design and create our rings. I got the most beautiful bespoke three stone yellow diamond ring, with a white diamond wedding band. I feel so lucky to own such a beautiful, special and unique piece."
"I think the ceremony was my favourite part of the day. We put a lot of thought into the readings, music and our vows. It was really important to us that the moment we said our I do's was actually when we were officially married. It felt very special to us to have our friends and family there to witness it with us."
"We also opted for an unplugged ceremony asking our family and friends to turn off all their devices. This ensured that our friends were fully present with us and it also meant that in all of our photos were get to see everyone smiling with us rather than a sea of camera phones."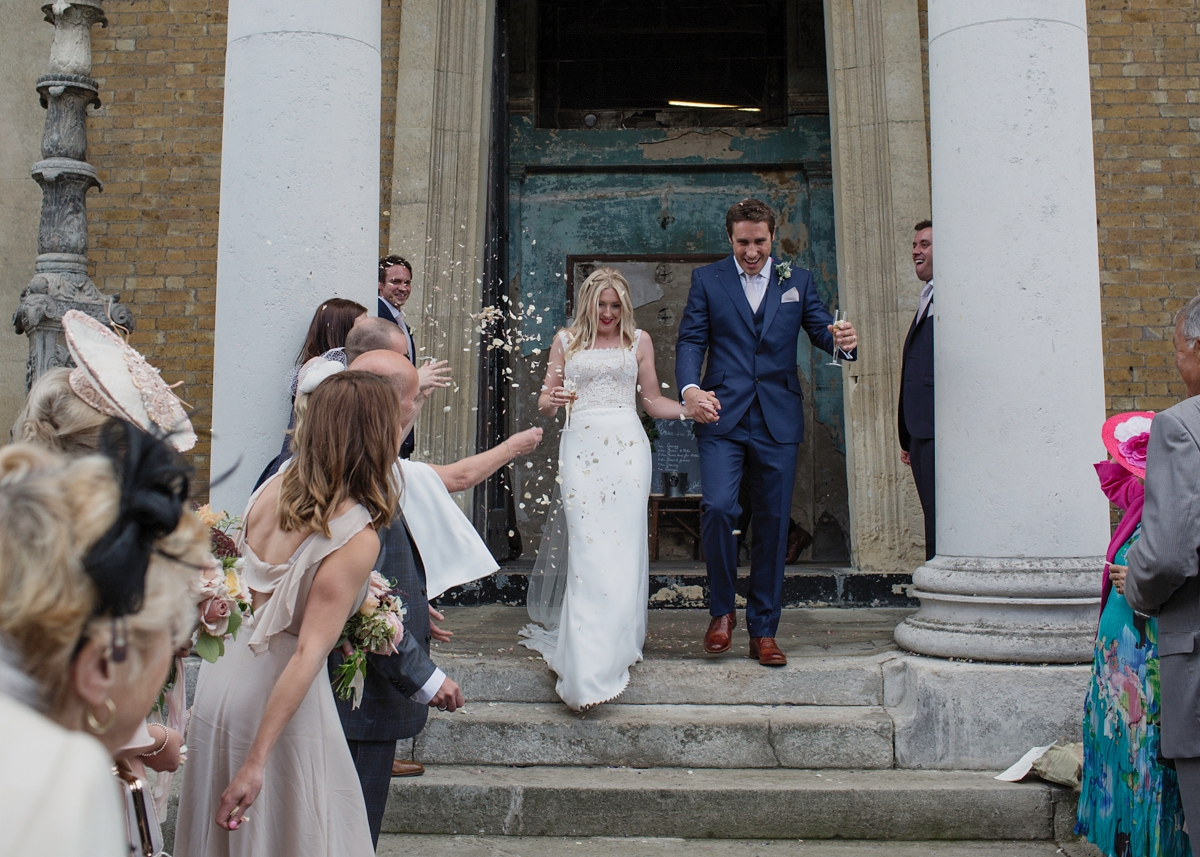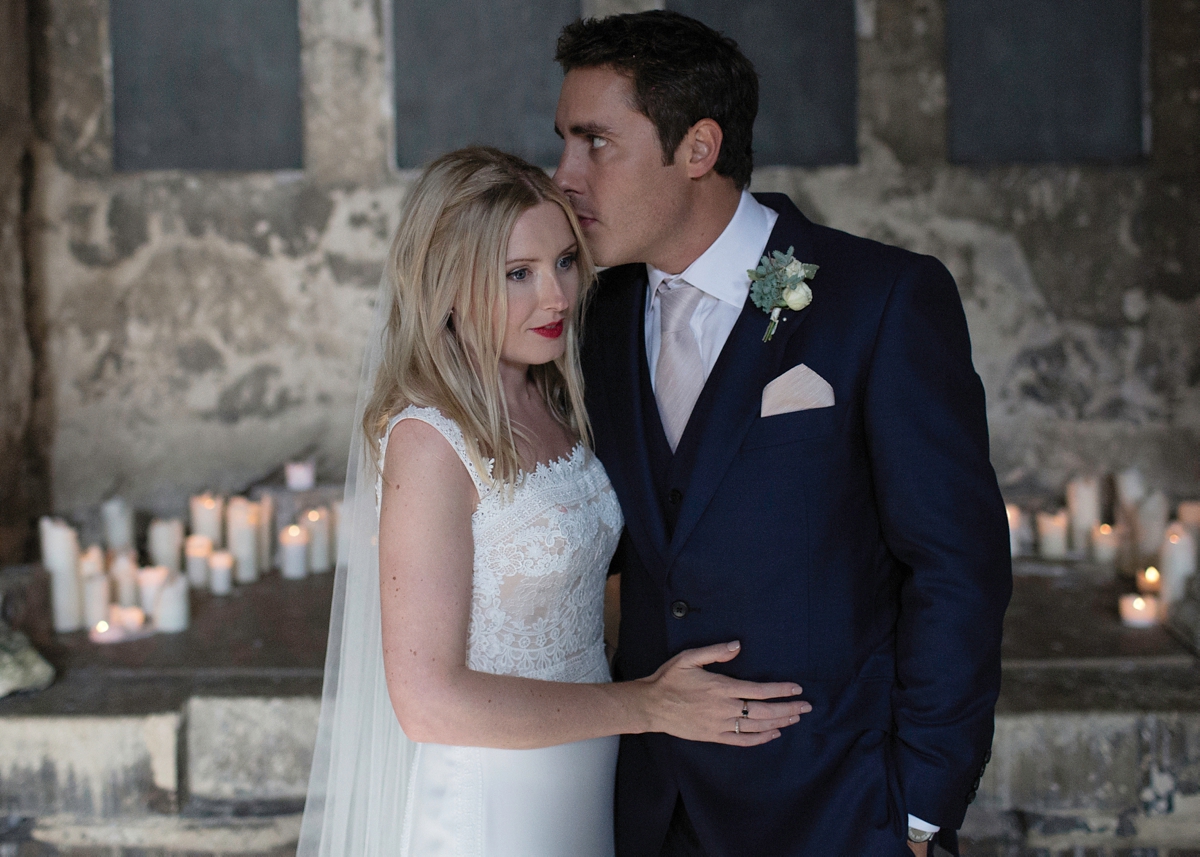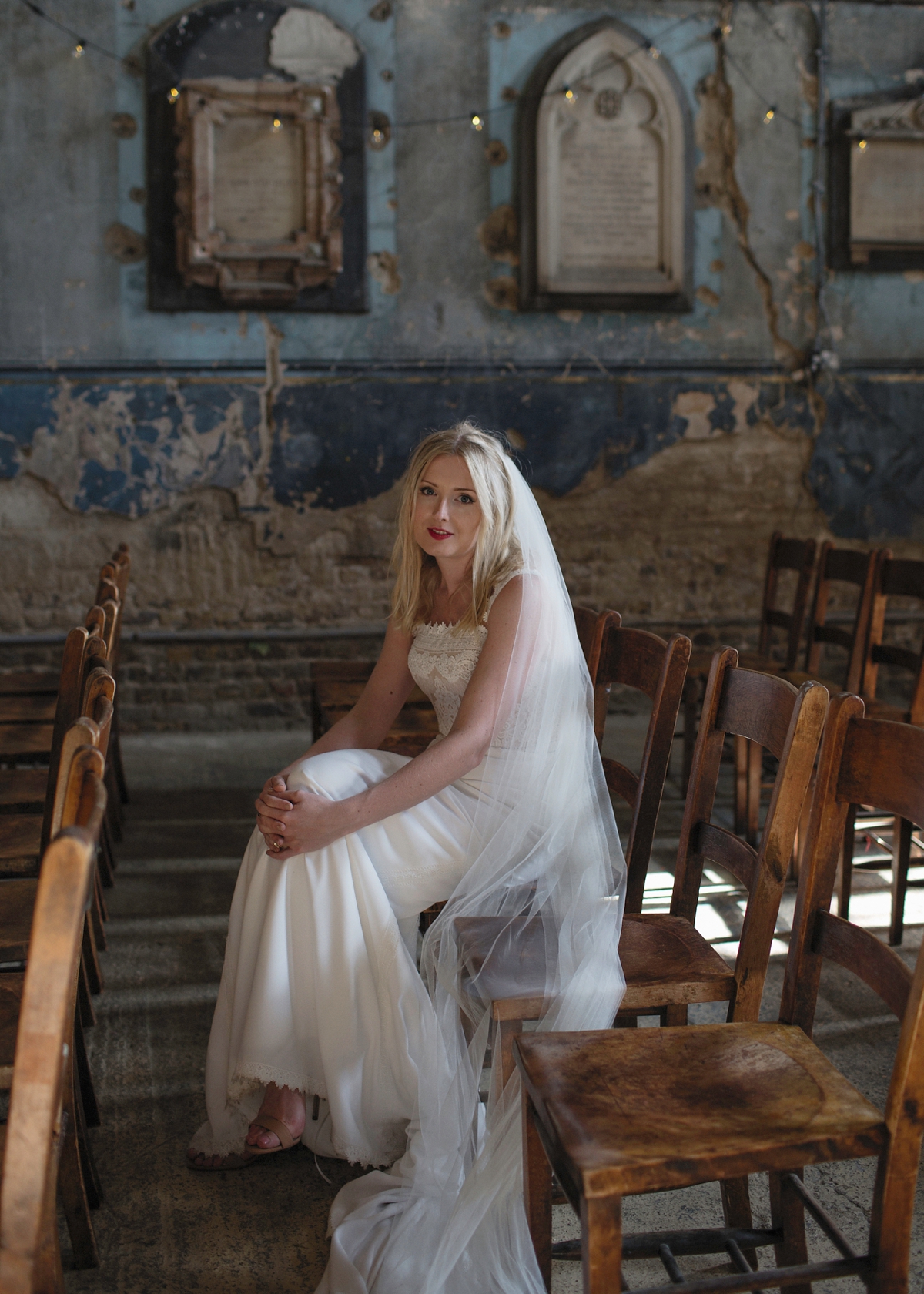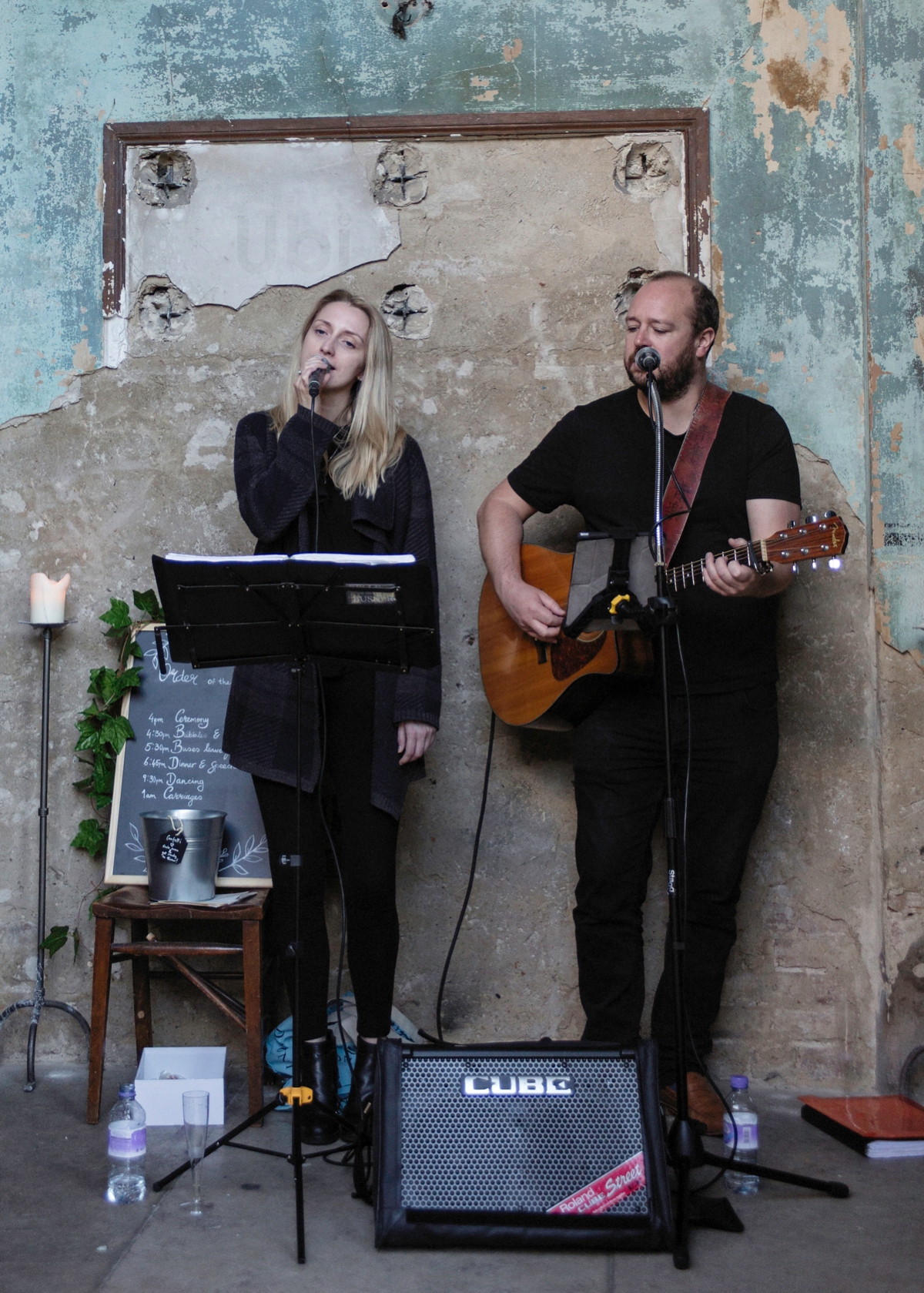 After the couple were officially husband and wife, the guests gathered on the steps of the Asylum for photos and Prosecco from Poppped Truck's Prosecco Van – doesn't this look like such a special part of the day?  Then classic red London buses from Routemaster Hire rolled up to transport everyone to Hoxton Arches. I love the idea of a bus playlist to keep everyone entertained and in the party spirit.
"They're a tad cliché in London but it was a practical and fun way of keeping all of our guests together. My bridesmaid Hollie made an epic playlist to keep everyone entertained on the long journey."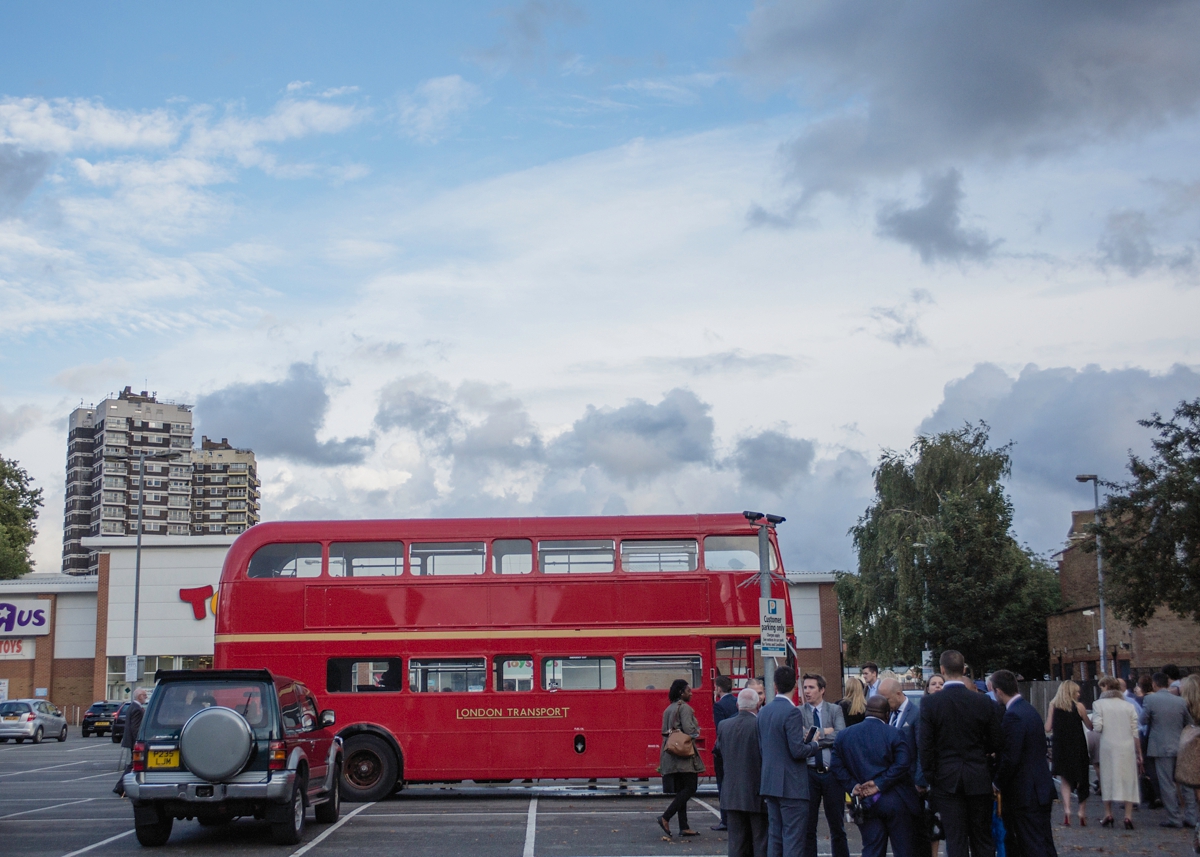 The guests sat down on the long trestle tables for a decadent sharing feast, accompanied by wine from the groom's uncle's french vineyard.
"We were limited with catering options as our venue didn't have a proper kitchen. We started looking at food truck options when we came across Donostia Social Club. Myself and Adrian regularly eat in Donostia in Pop Brixton, so as soon as we found out that Donostia had a food truck we knew we had to book them. Paul and his team exceeded our expectations, delivering an amazing Basque-inspired feasting menu for our guests. Food was a really important element of the day for us, so we were so pleased with how it turned out. Our friends are still raving about the food which makes us very happy!"
"The table wine came from Adrian's uncle's vineyard in the south of France. We absolutely love his wine so we were thrilled we were able to get some to serve at our wedding."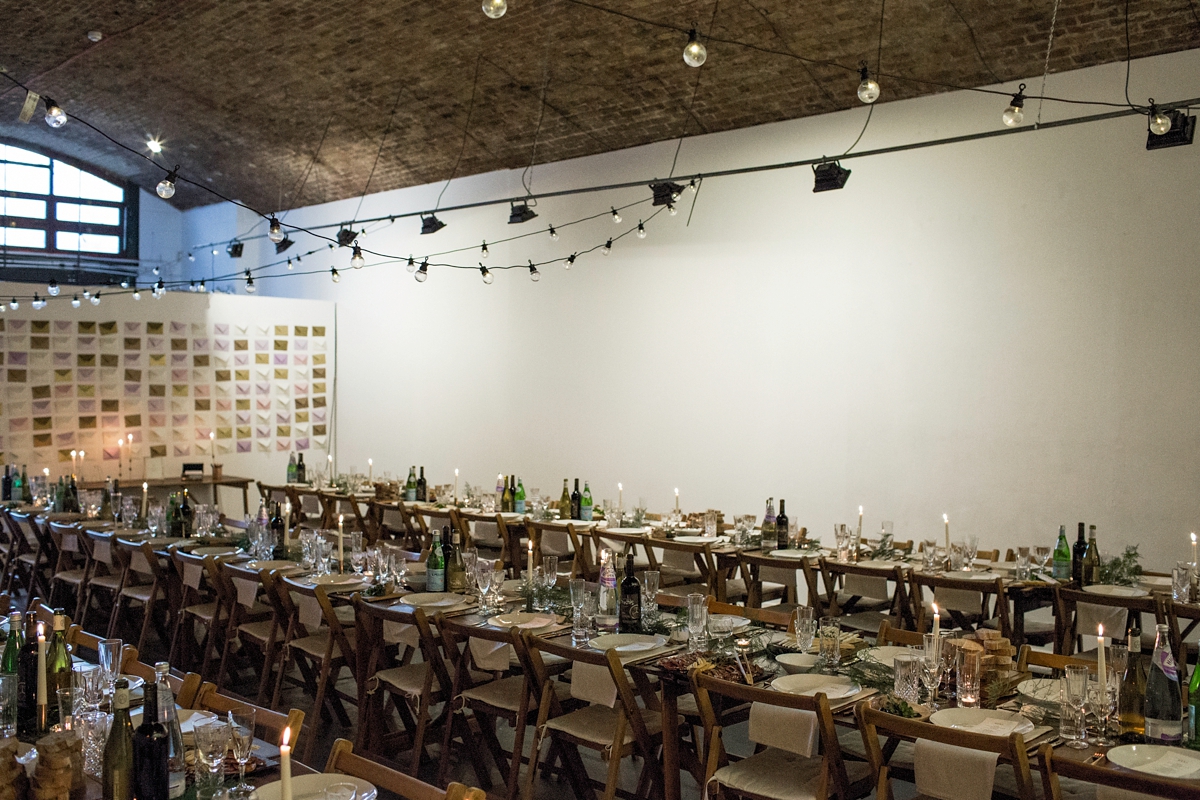 Jacqui and Adrian hired Lisa and Sam of Carmela Weddings to help plan, prepare and set-up for the day, and their advice and help must have been invaluable with their choice of venue.
"They did such a good job keeping us calm and on track in the lead up to the wedding and did such an awe some job of setting everything up on the day."
"We really wanted an effortless style that was about us as a couple – nothing too pastel or traditional but also nothing too on-trend or that would date quickly. We wanted the aesthetics of the day to fit the venue well and so we went with an urban look with festoon lighting and copper touches."
At the Hoxton Arches, décor was simple – just the asparagus fern table runners, mis-matched vintage wine glasses, copper cutlery and copper foiled menus. The gorgeously simple furniture was hired from All Things Borrowed (who you can find out more about on our Little Book for Weddings pages here) whilst the exquisite tableware came from Classic Crockery.
The venue looked breathtaking with its simple decor, and that floral installation is just incredible – what a piece. At the drinks reception, live music came from Belle and the Busker, who had also played during the ceremony.
"They were wonderful, even learning some songs for us."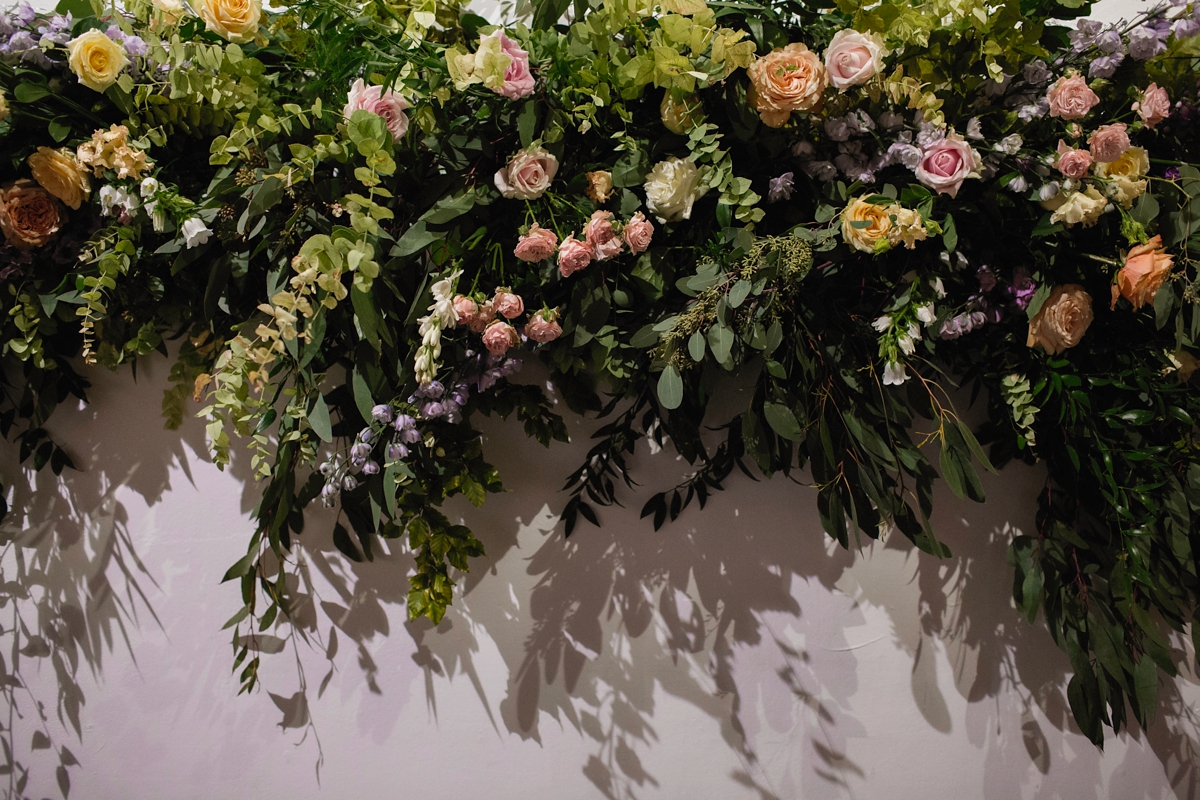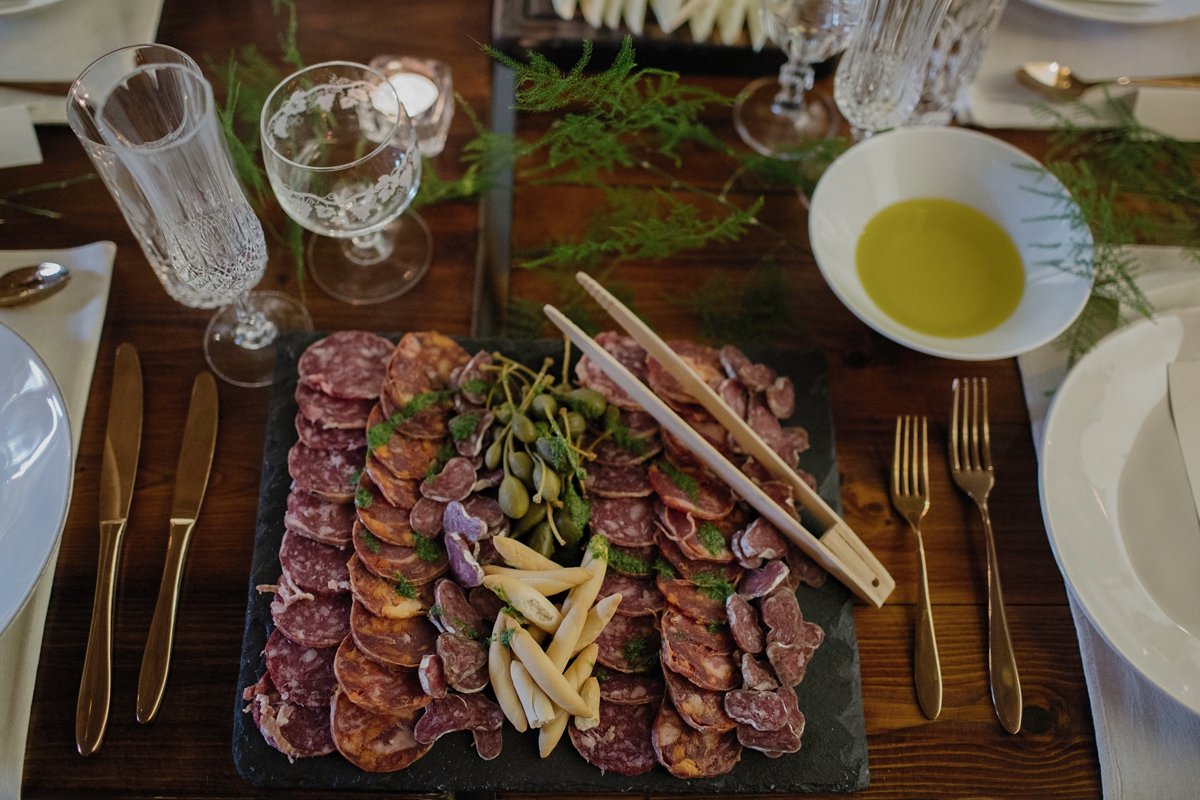 Instead of a sweet wedding cake, a tower of cheese, topped off with bride and groom mice knitted by Jacqui's mum, was served up.
"We went for a cheese tower from Neal's Yard Dairy instead of a traditional cake. As I'm from Ireland we made sure to include some Irish cheese and my mum actually brought over a small wheel of cheese herself to include."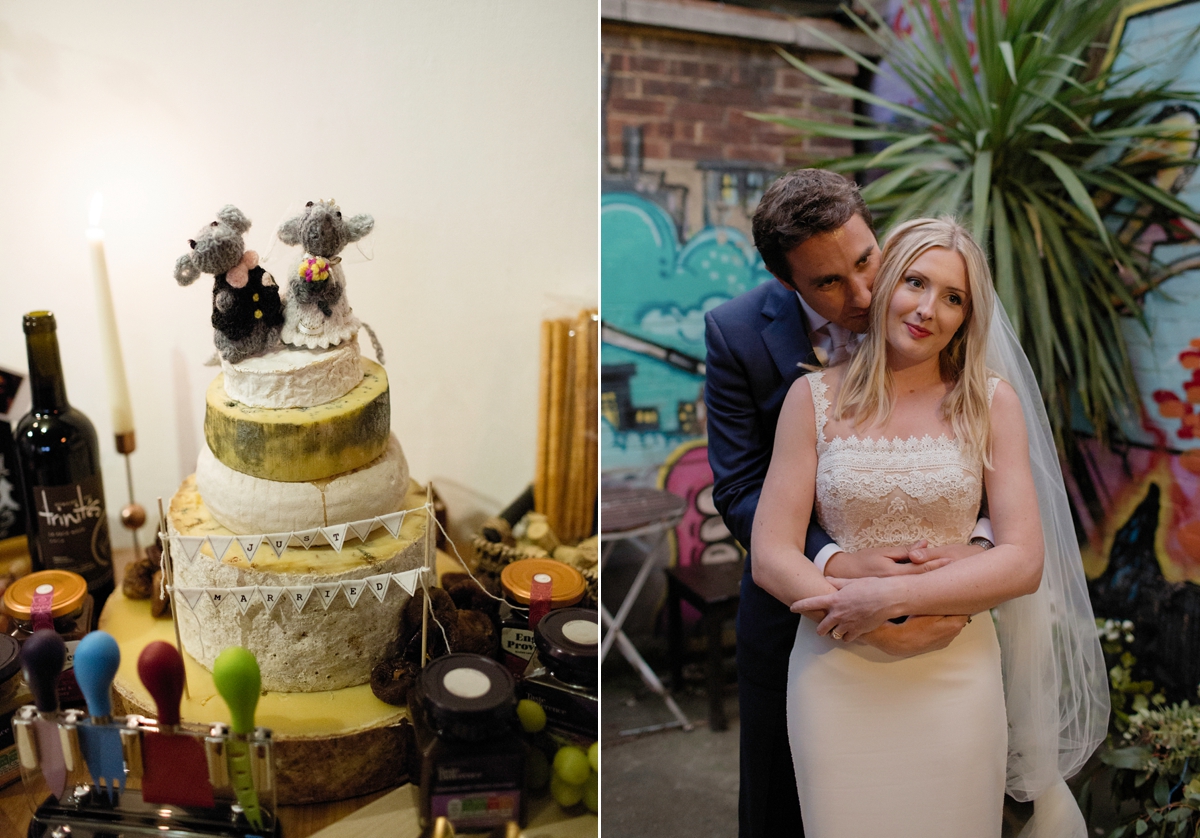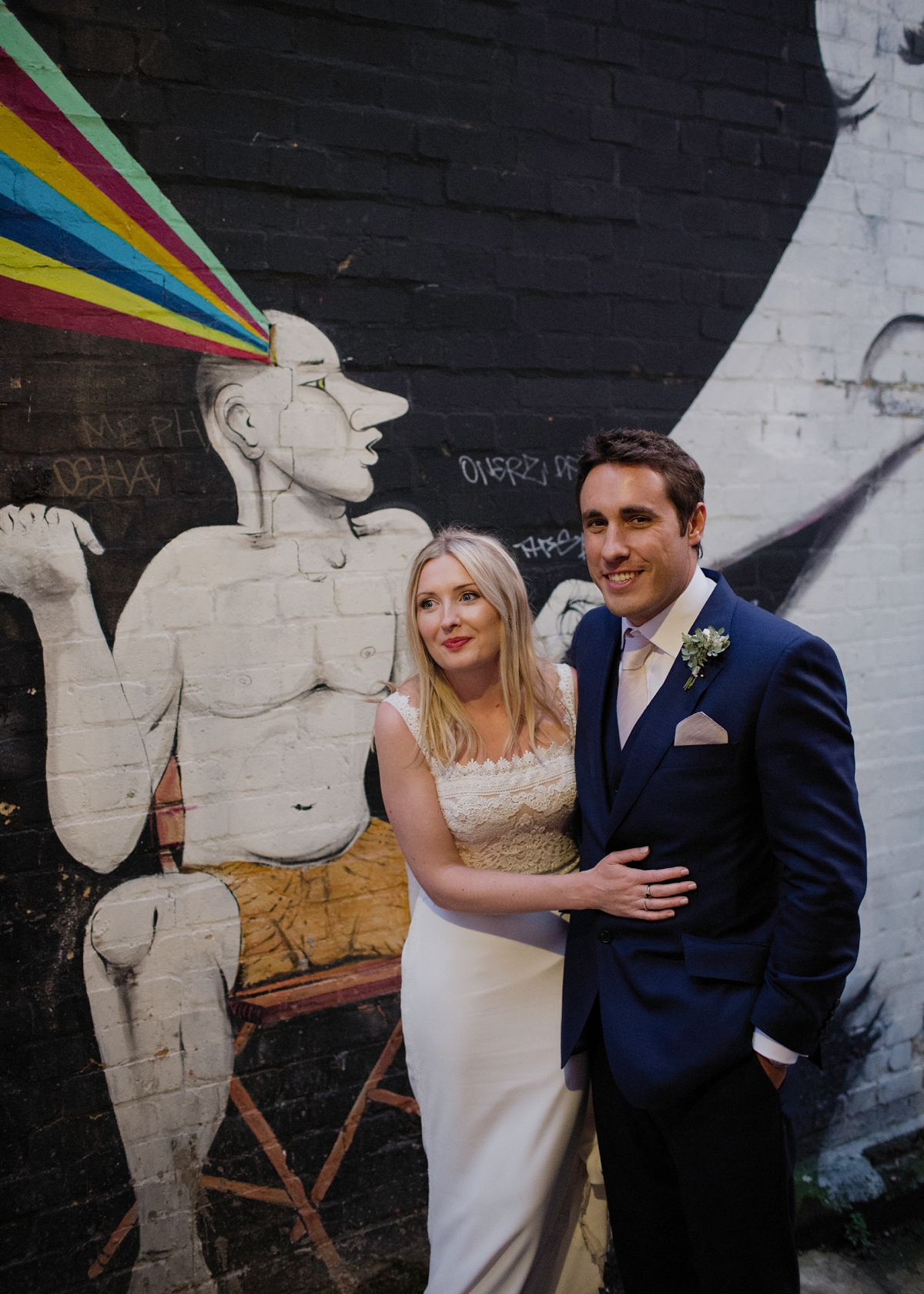 After the meal, the room was cleared for the evening party, where Wedding Smashers delivered a floor-filling set. If you like the look of this, please do visit their Little Book pages for more details about their services.
"We chose 'You Make My Dreams' by Hall and Oats for our first dance. We wanted something upbeat that would encourage our friends and family to join us on the dance floor. In the evening we had the Wedding Smashers. Our DJ, Max, made sure to keep the dance floor filled all night."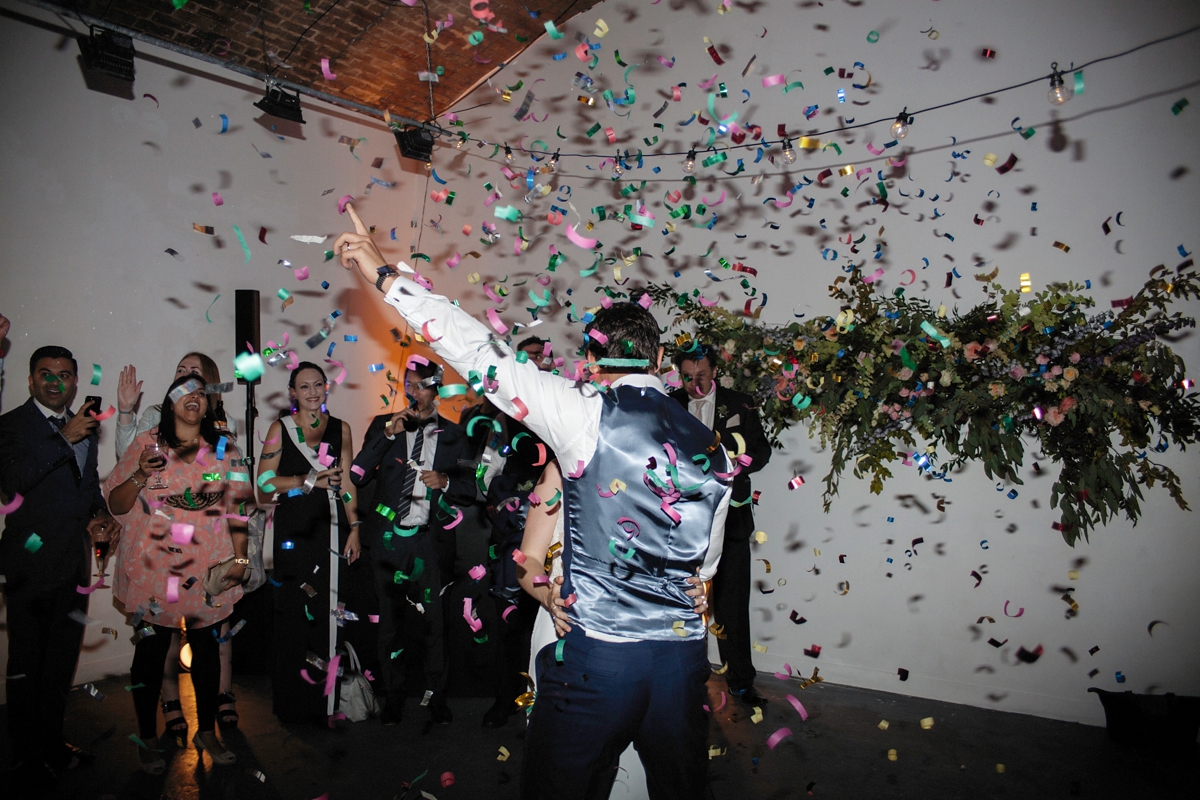 Words of Wedded Wisdom
"I knew weddings were expensive but I hadn't realised just how expensive everything was until we started planning! That being said we were very conscious of keeping on top of our spending, making sure not to go overboard. We did lots of the decor ourselves, made sure we negotiated as much as possible and also used any contacts we had. When we began planning we were given the advice to pick our top three priorities and allocate our budget accordingly. For us that meant good food, a free bar and music to keep everyone dancing till the early hours."
"I think it's important to enjoy the wedding planning process as much as possible. We did it in stages and took regular breaks from it. This ensured that we didn't get too overwhelmed by anything. Adrian and I also did the majority of the planning together as it was important to us that the day reflected both of us a couple."
"One of the main bits of advice I would give would be to ask for help and use your friends and contacts. So many of our friends helped us out in the lead up to the day, sorting things like staff, alcohol, playlists, stationary, the list goes on. We are so grateful for all of their help and support."
"Finally have a pre-wedding holiday. We were fortunate enough to be invited to a good friends wedding in Hvar, Croatia the week before ours. We made a week-long trip out of it which was wonderful in enabling us to be switched-off, relaxed and excited before our own wedding."
Such a beautiful wedding, thank you so much Jacqui and Adrian for letting us share your words and memories today.You both look so happy and beautiful, and I hope you're enjoying reliving your day through these wonderful photographs. Thanks, of course, go to Karolina at Hearts on Fire for her work.
Have a wonderful day, Ele xx