There are some exciting new trends and designers emerging in bridal currently – alongside some of the strongest collections I've seen yet from established designers.
I'm pretty bloody excited today to be writing about a designer brand new to the UK and available exclusively at one of our partnering Luxe Bride boutiques Miss Bush of Surrey, who anyone familiar with Love My Dress will know we have a close relationship with,  are delighted to announce themselves as the exclusive UK stockist of independent  bridal brand Lilly Ingenhoven.
Emma Marshall, Managing Director at this family run and forward thinking bridal boutique, is shifting her focus from corsets to comfort in response to an increasing demand from brides. And hot on the heels of our 2018/19 trends and influences article of yesterday, I'm excited to see that the mid-length dress and bridal trousers predictions both play a role in Ingenhoven's collection.
These gowns excite me. They bring something new and super cool to the wedding day wardrobe for the modern bride. I cannot wait to share our first Lilly Ingenhoven bride.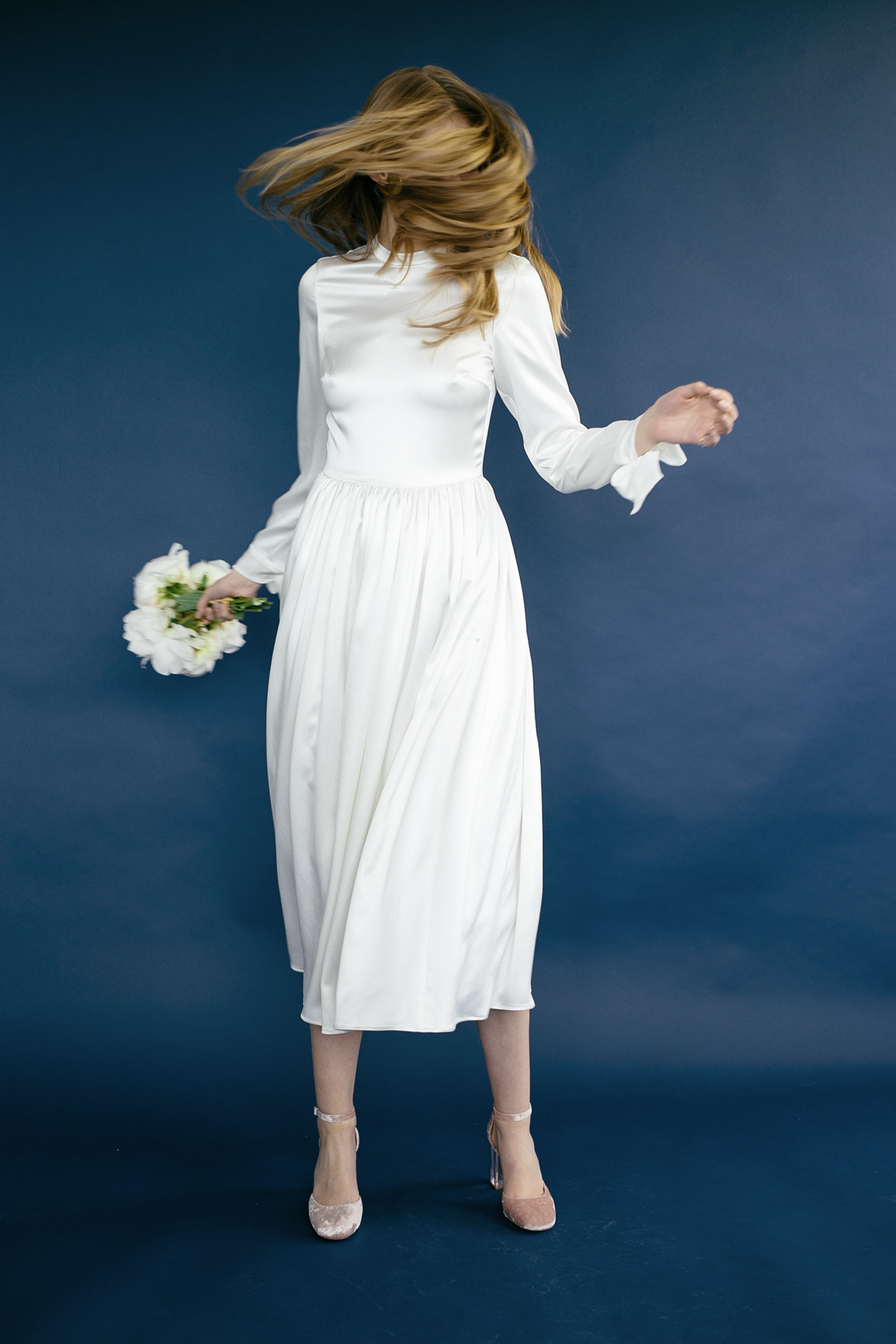 Emma says "one of the most requested qualities of wedding apparel in 2018 is that it is comfortable. For a boutique owner who has seen decades of brides wedded to their corsets – this has come as no surprise. Add this to the internet's fondness for boho and a trend for relaxed fit, and I have been actively seeking a unique bridal brand that ticks these boxes and adds its own style of magic."
"On an unguided wander through Instagram I found Lilly Ingenhoven. Having her own ready to wear line made in Germany, Lilly found herself, as lot of designers do, not having something to wear for her own wedding."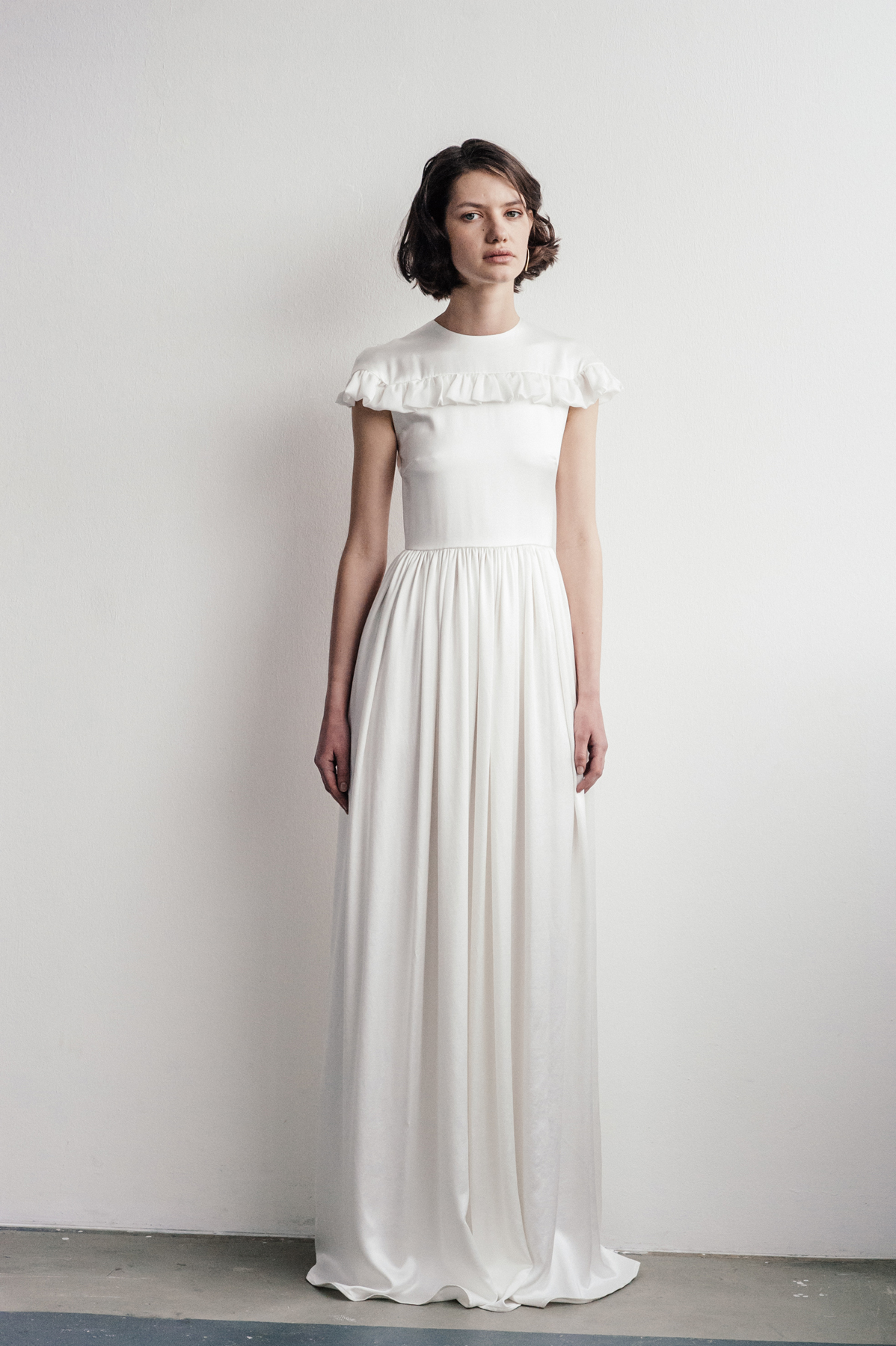 Gorgeous isn't it? Whilst utterly contemporary, there is so much about this collection that takes me back to the simple, elegant aesthetic of bridal fashion in the 1940's; those long, buttoned, chic sleeves, the gently gathered waists, the whole pared down, back to basics minus any fuss, vibe of it all. That the designer is able to throw in a silk hoodie and androgynous trouser and shirt combo and make it all work so cohesively is testament to her creative vision. That silk bateau neck column dress pictured below is a personal fave – sheer unadulterated and uncomplicated bridal glamour. I just adore.
"Lilly started her own [ready to wear] label five years ago and the bridal collection was introduced last year. Her style is Northern European; a nod to Hygge trends, her love of the outdoors 'exploring lakes and mountains' near her Munich home and simply being with friends.".
This, says Emma, has a great deal more resonance with British brides than designs inspired by Californian or Gold Coast lifestyles; "Specifically, Miss Bush brides are less keen on the nude lined, naked branch of boho – I would describe them as more 'indie' and whilst Lilly Ingenhoven designs are sleek they are not stretchy or body con."
"Given a British spin, they could been worn with a pair of DMs to give a tough 'gig and pub reception' look or some statement trainers or slides to work a more 'sports luxe' angle. Personally, I'd pick a brogue and sock as my own choice but an elegant velvet Mary Jane would turn heads."
"As the owner of satin luxe hoodies myself, I loved the idea of having an ivory silk hoody for wedding prep wear or brunch the day after with a pair of palazzo pants. Having recently attended the wedding of a friend that was a series of events (Chelsea Registry office, rehearsal dinner dress, ceremony dress, evening dress, brunch dress), I could see Lilly's pieces being picked as part of an overall wedding wardrobe."
"Made in pure silk in Ingenhoven's studio,  the traceability and provenance meets Miss Bush's strict criteria while still being secondary to my desire for the entire collection for myself along with the entire Lilly Ingenhoven ready to wear line."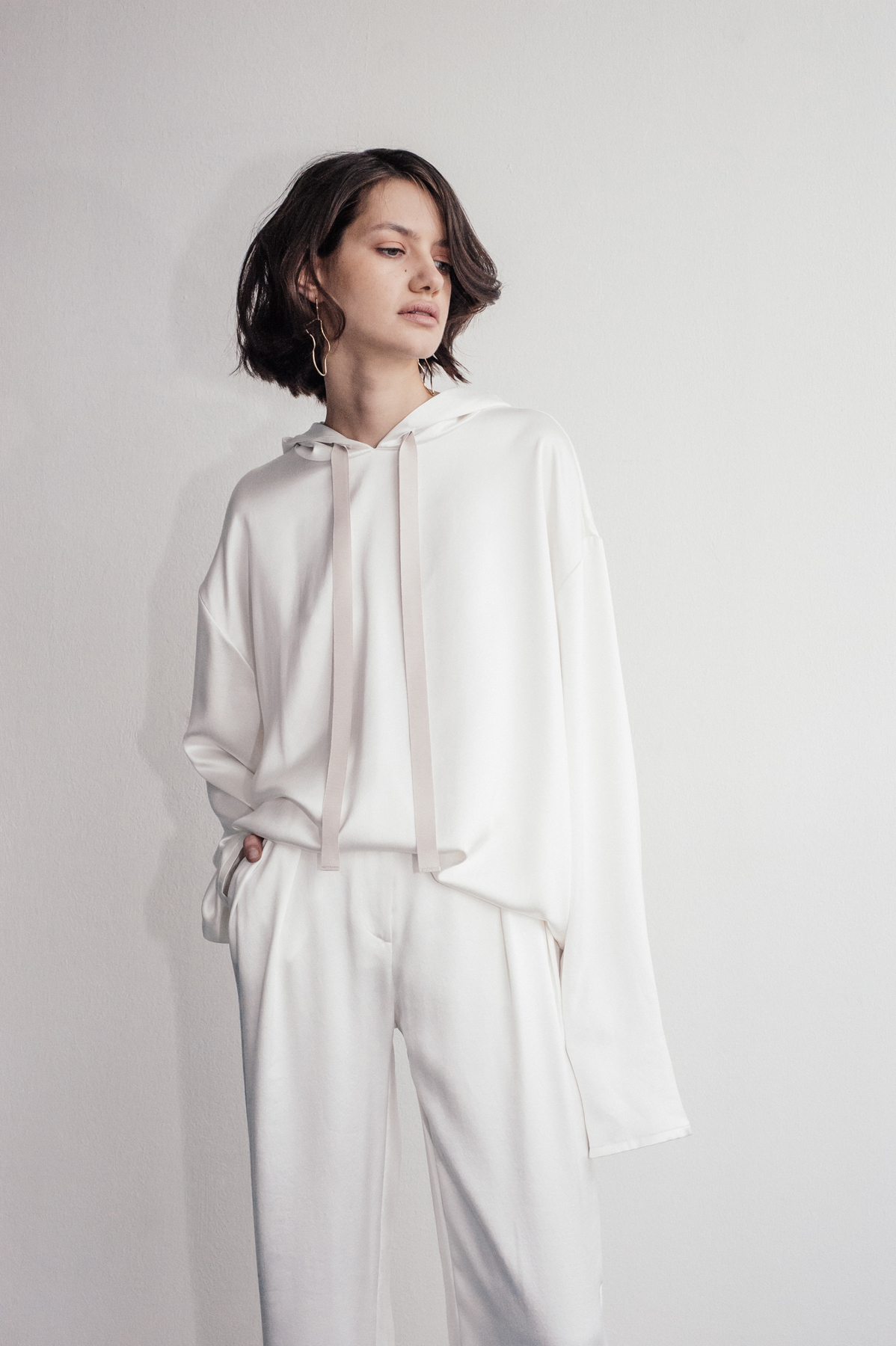 Lilly Ingenhoven Bridal is available at Miss Bush in Surrey from August 2018 and I encourage any of you who love what you see on this page today to consider making a special trip to visit Miss Bush if you can.
It's but a 20 minute train ride out of central London and a 5 minute cab ride from the train station. You will receive the most warm and honest, genuine and authentic welcome on arrival. Emma and her team are experts who gain great joy in making brides happy and who are passionate about empowering women through beautifully made clothes and the confidence boost of brilliant, effortless styling. Drop them a line today, they would absolutely love to hear from  you.