I'm constantly astounded by how different and unique of each and every wedding is that we share on here on Love My Dress, and how engaged couples work so hard to make their day their own and special to them.
This wedding has taken my breath away, with the beauty of the location, the timelessness of the photography and the love between the bride and groom that glows off this page. So, please do enjoy this wedding between Lorena and Edu. The date is 21 October 2017 and the location is the incredible Finca Marqués de Montemolar, perched atop the hills of Alicante, Spain, overlooking the bay of Altea. The bride and groom are Lorena and Edu, both wedding photographers at Caribou Fotografia and creators of Life In Wilderness, who chose their venue for its beautiful, beautiful location and views.
Film by Anker Prod
Their late Autumn celebration was inspired by nature, and you'll see how they've woven raffia, pampas grass, seasonal fruits and vividly-coloured flowers through each detail to create an incredibly beautiful celebration.
"It's an extremely beautiful place, where sea and mountains meet. We love nature and Altea is the perfect combination of mountains at the waterfront of the Mediterranean sea with the most iconic rock of Alicante, Penyon d'Ifach, as the best witness."
Photography Pablo Laguia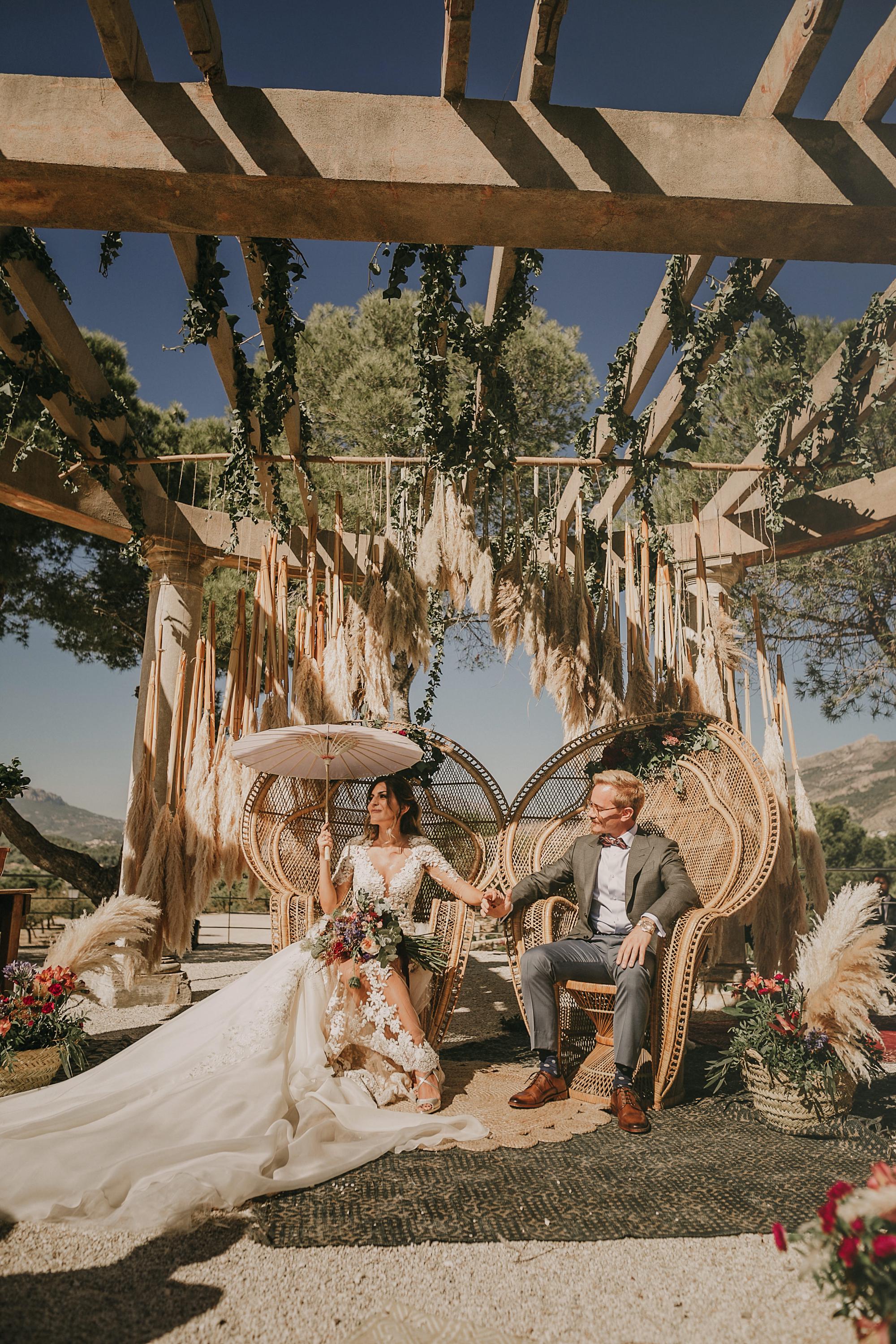 Lorena chose a breathtaking and daring gown by Spanish designer Rubén Hernández which featured a high-low hem and incredible train for a real touch of drama. Later in the day, Lorena removed the train to reveal the elegant back of the gown, and I love how she offset the glamour of her dress with a bright floral crown, created by La Trastienda Floristeria.
You'll be able to see Lorena and Edu's photographic eye for detail in the styling of their wedding, which they achieved with the help of wedding and event planners Paloma Cruz Eventos. Edu drew on his photography and filming skills for his at-home proposal, too.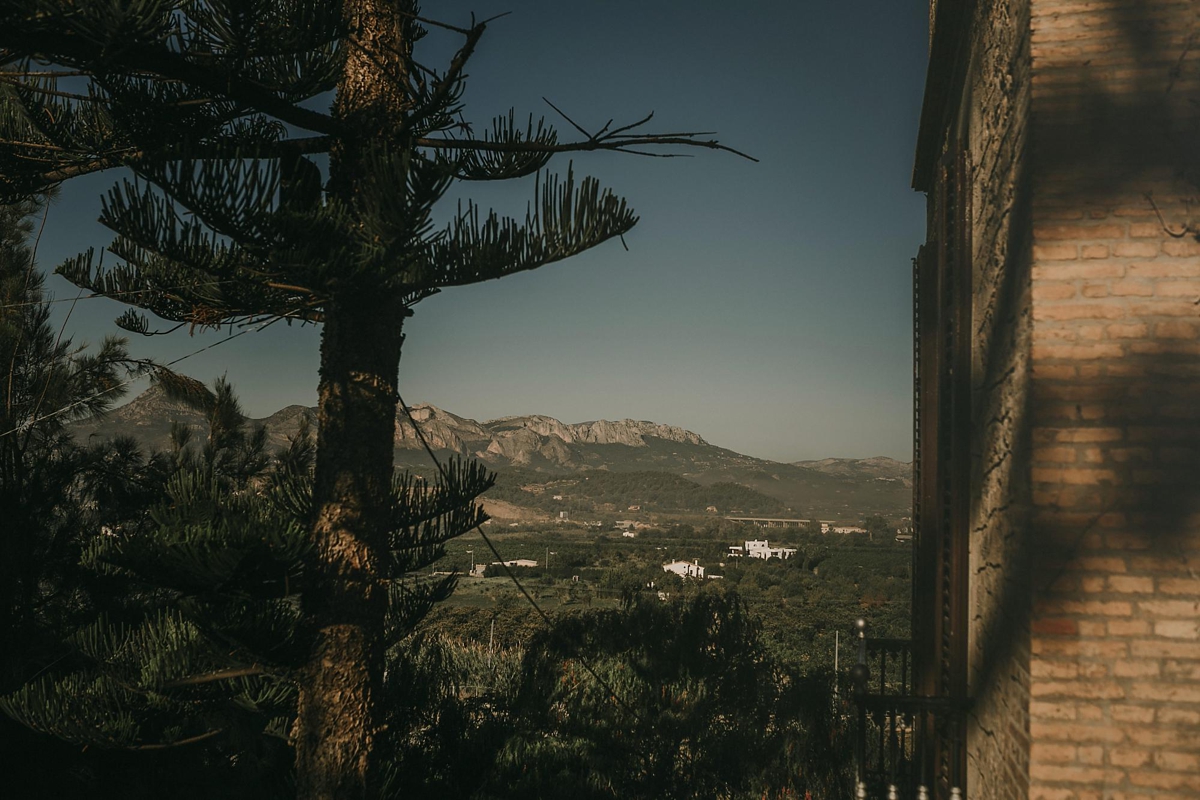 "We met when our paths come across under the influence of destiny six years ago in a town south east of Spain. Edu managed to make a video with all our emotive moments from our trips and our doggy family. Later every person in my life come with a 'say yes' advice at the end of the video. This was at home where all family and friends were witnesses of this special moment."
[JP-VIDEO]
The bride added pretty, strappy Gloria Ortiz heels and asked hair stylist Bionda Estilistas to catch her gorgeous long hair back from her face in a relaxed, wavy style.
These bridesmaids look so glamorous in their ASOS separates of V-neck, sequinned tops and full tulle skirts, both in a flattering pinky gold hue.
They all carried the most beautiful bouquets of seasonal flowers in a colour scheme of pinks, peach and pale purple, all set against a fresh foliage base.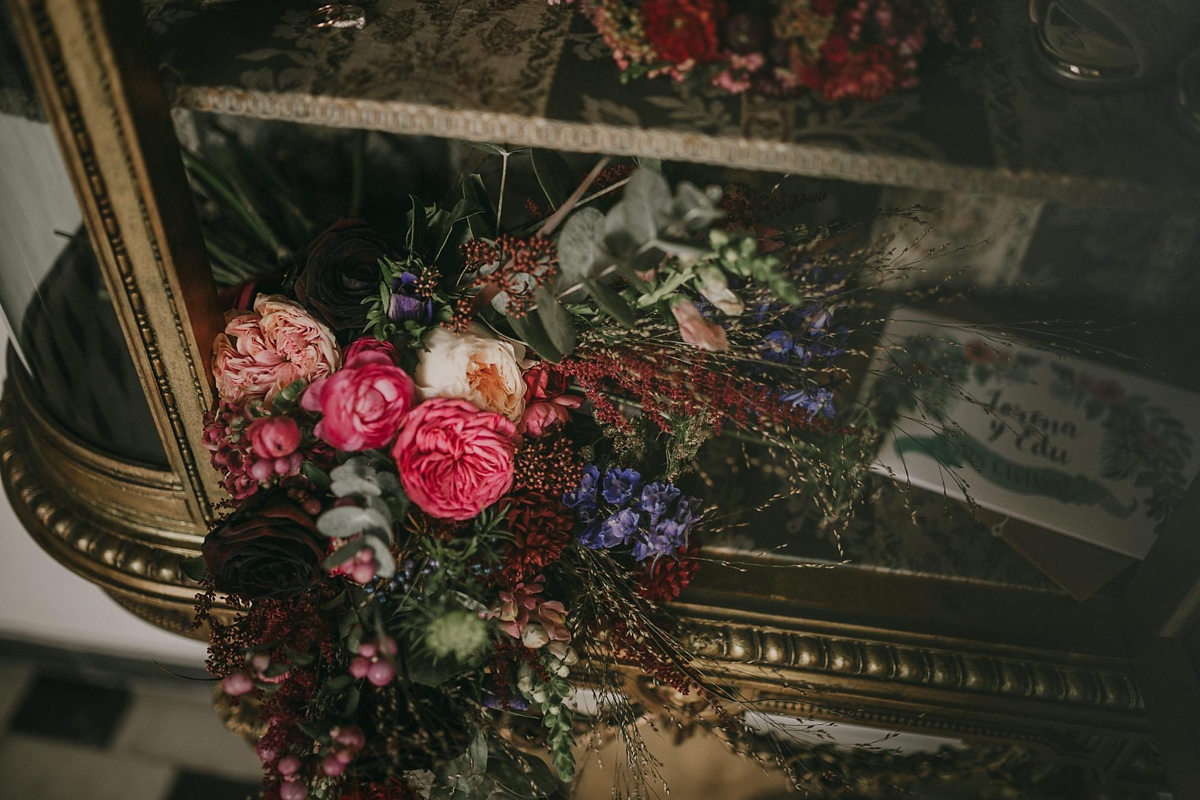 These were styled by La Trastienda, who created the rest of the floral styling – including those for the al fresco dinner, ceremony area and dance floor.
"They are artists and I love everything they do."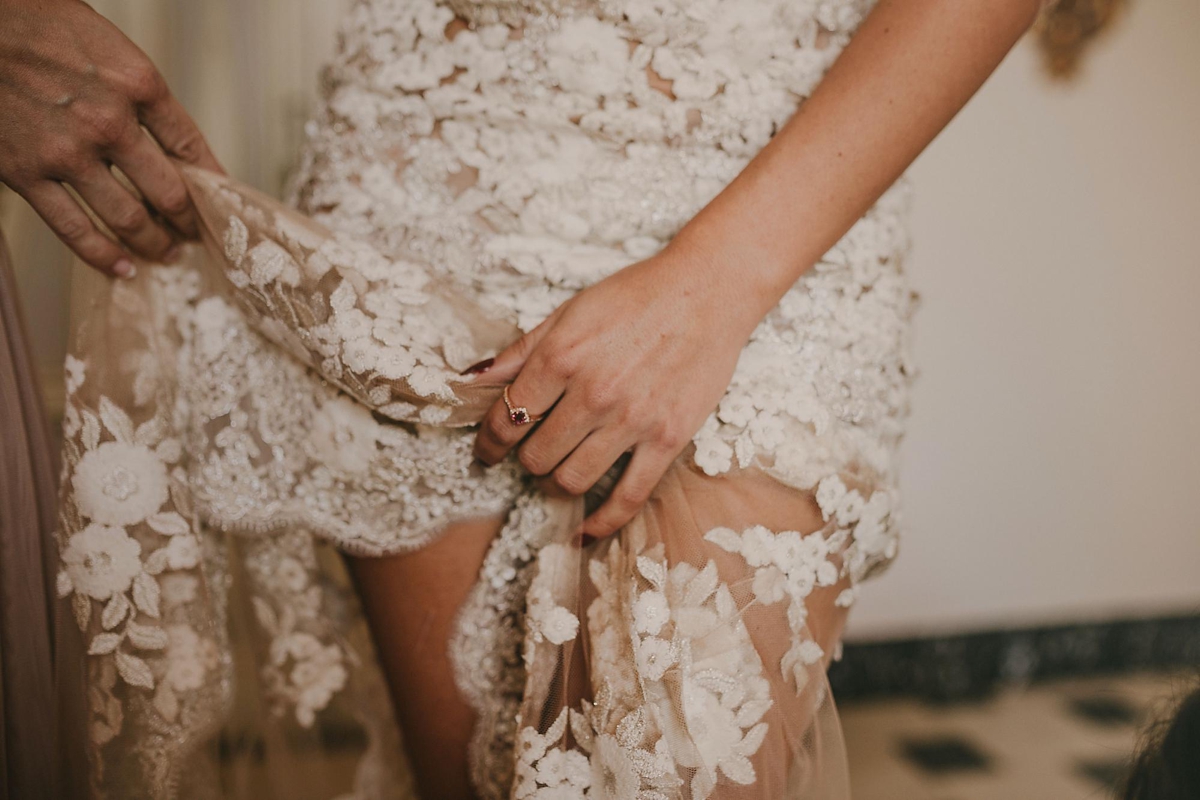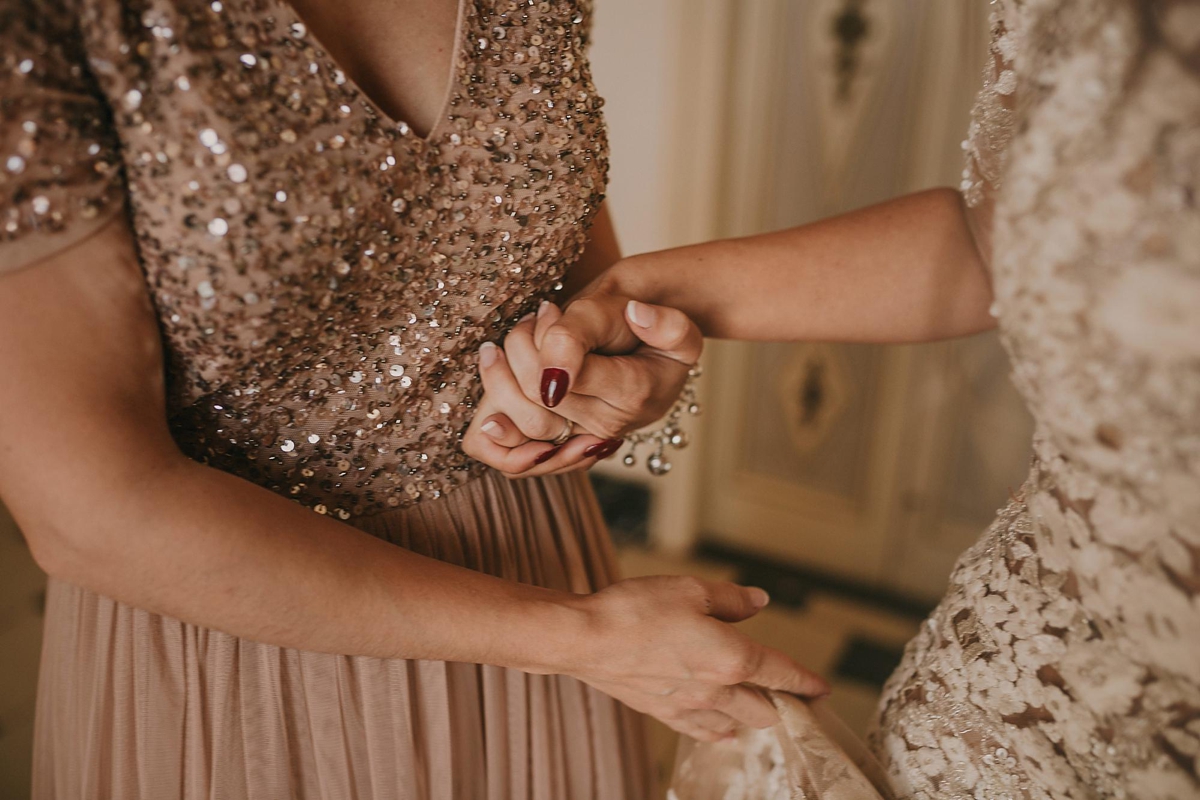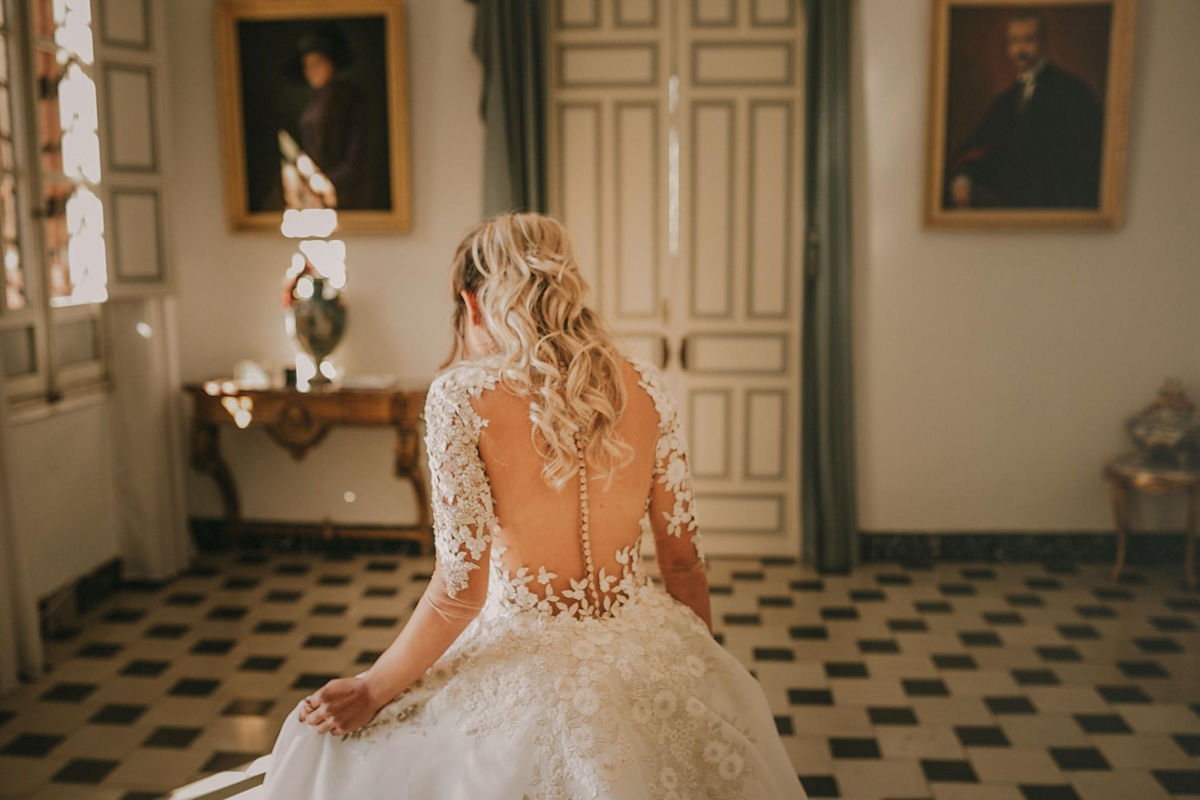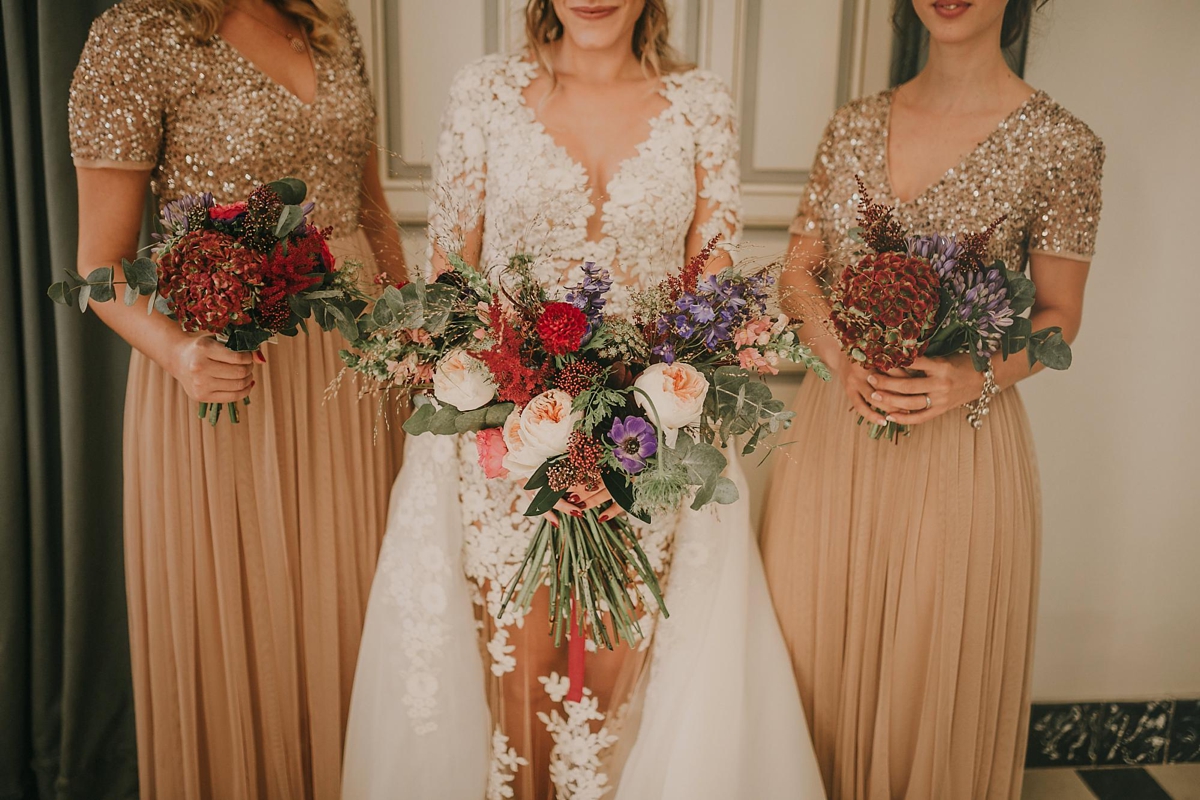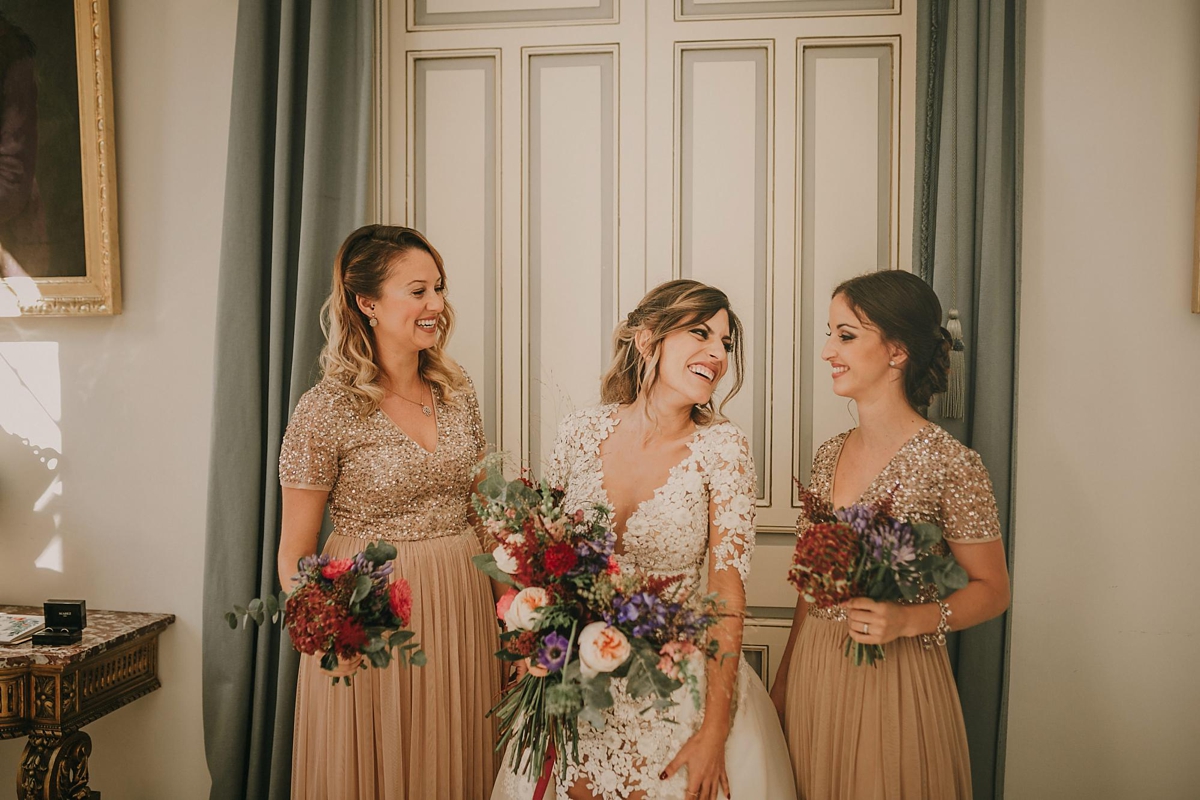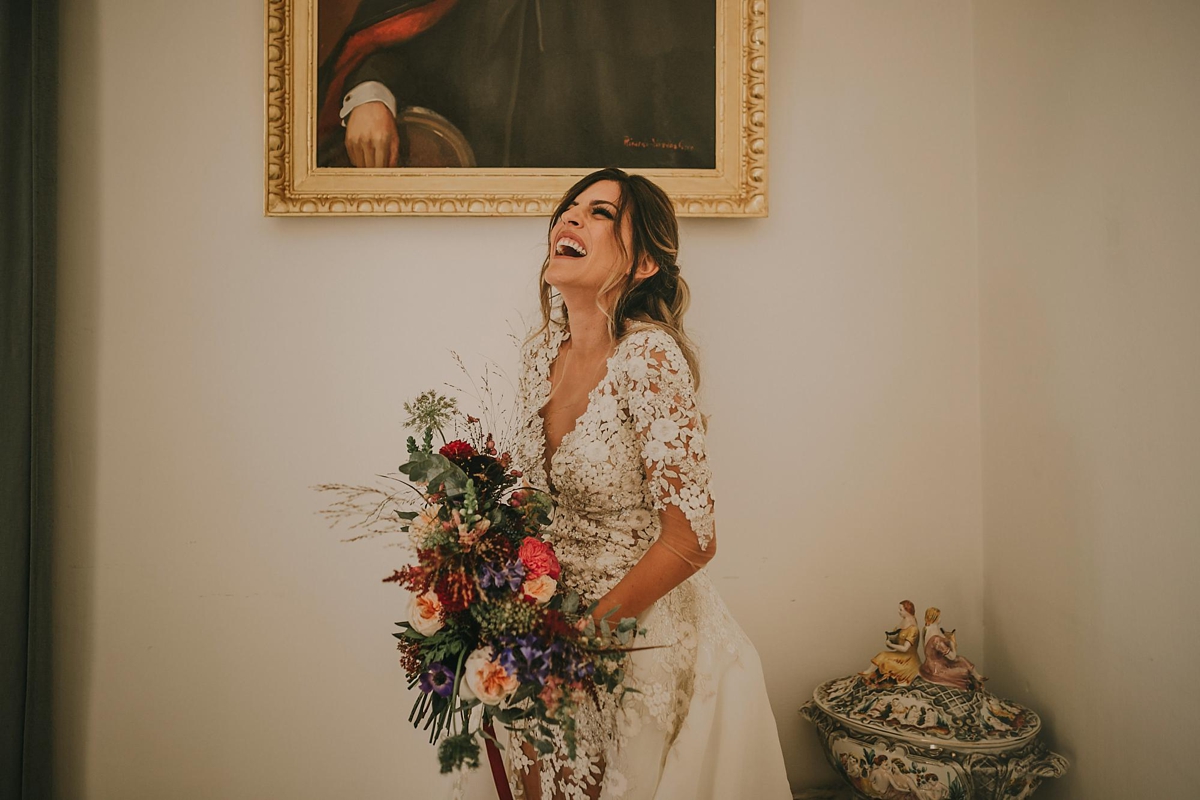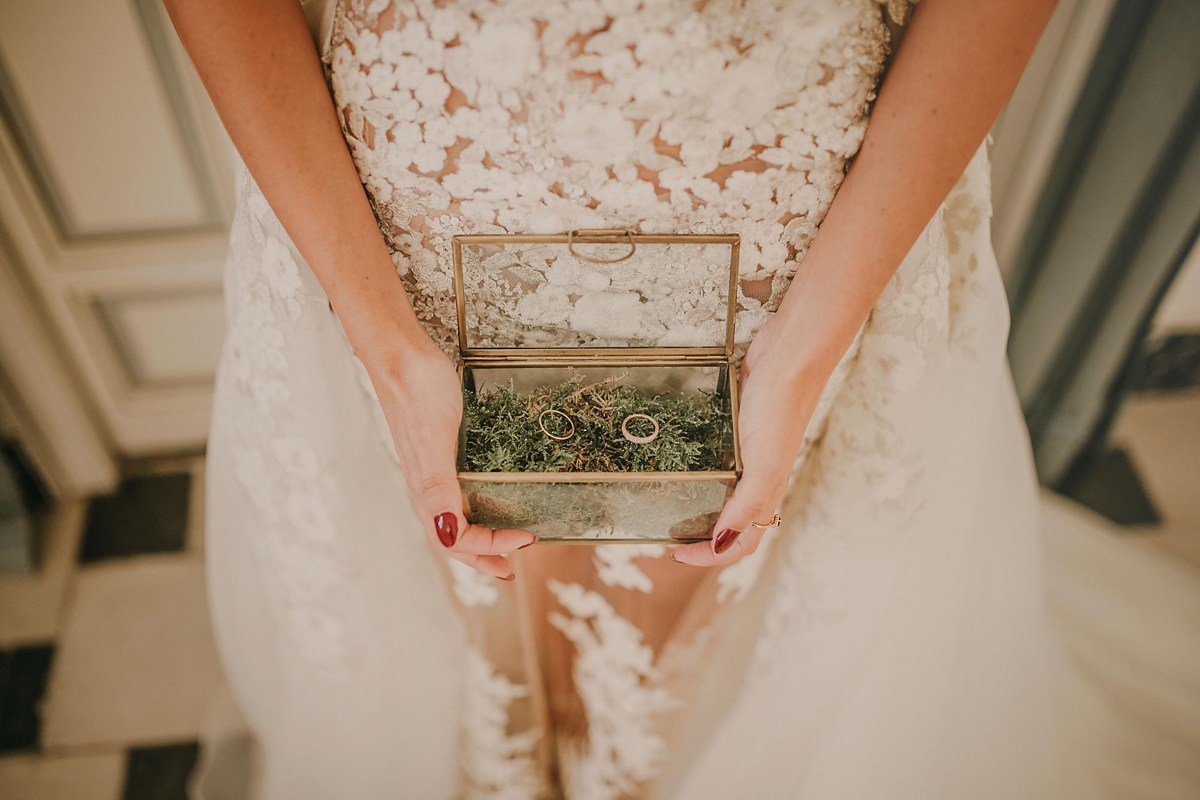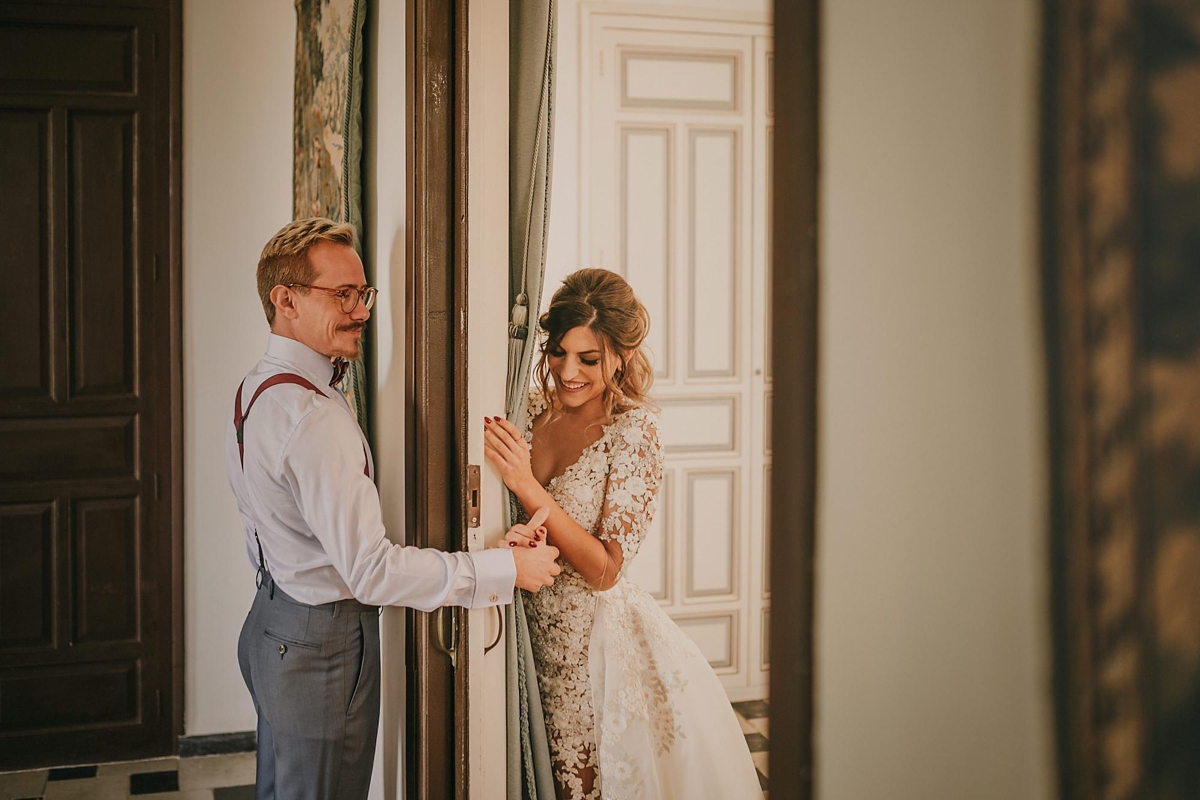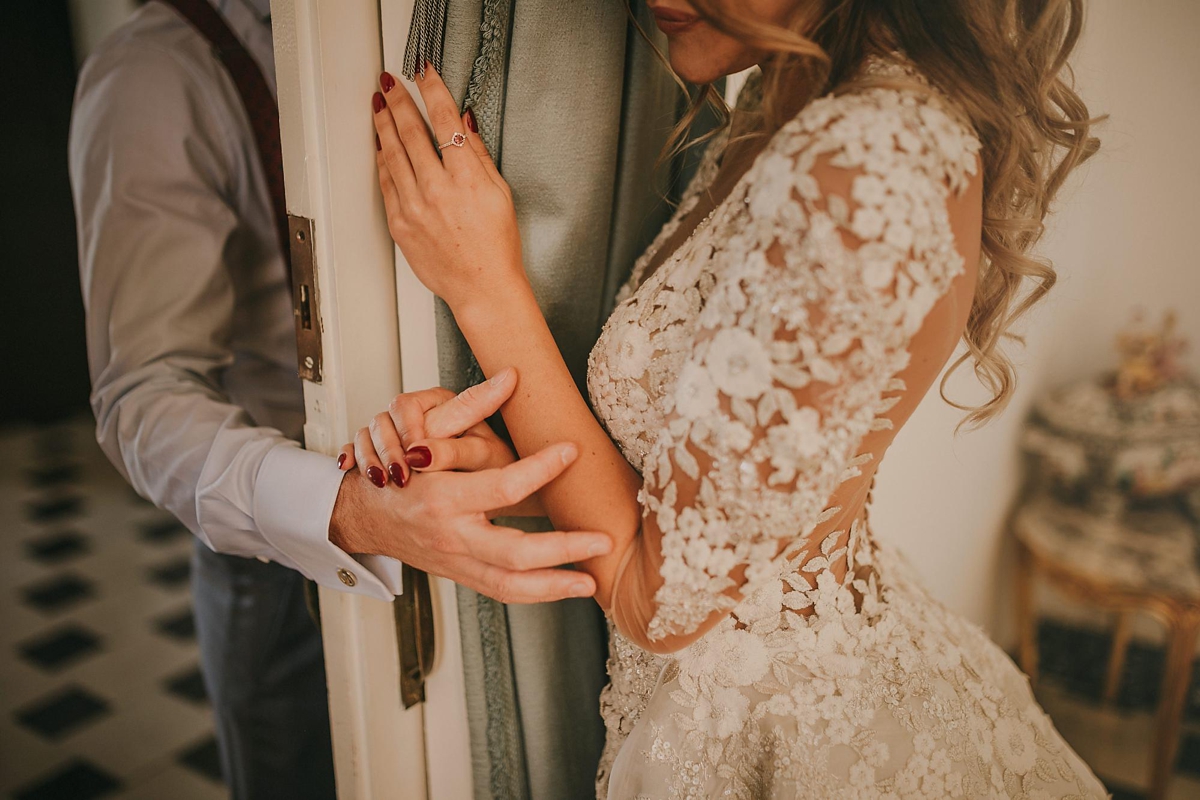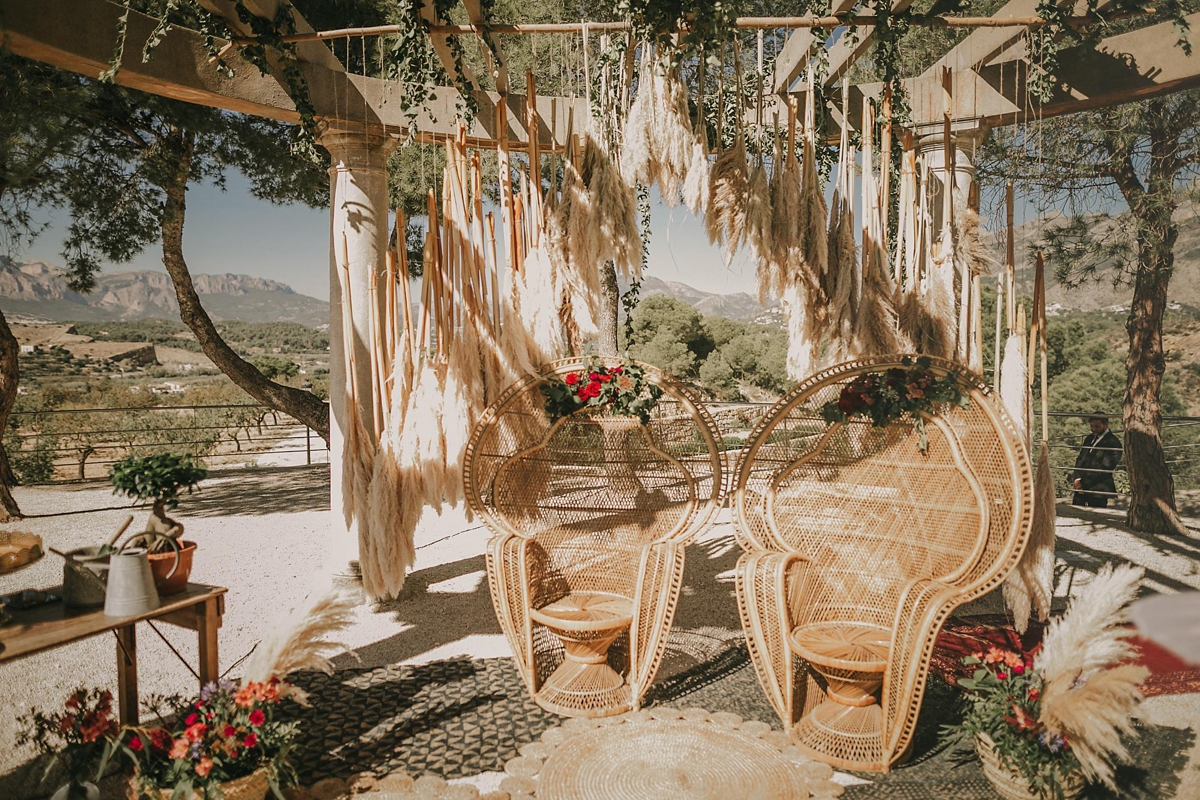 Edu is so dapper in his slick choice of suit jacket and trousers, made by Spanish designer Ermenegildo Zegna.
He finished off his look with a quirky bow tie and braces, Roberto Ley tan shoes and a Rolex watch.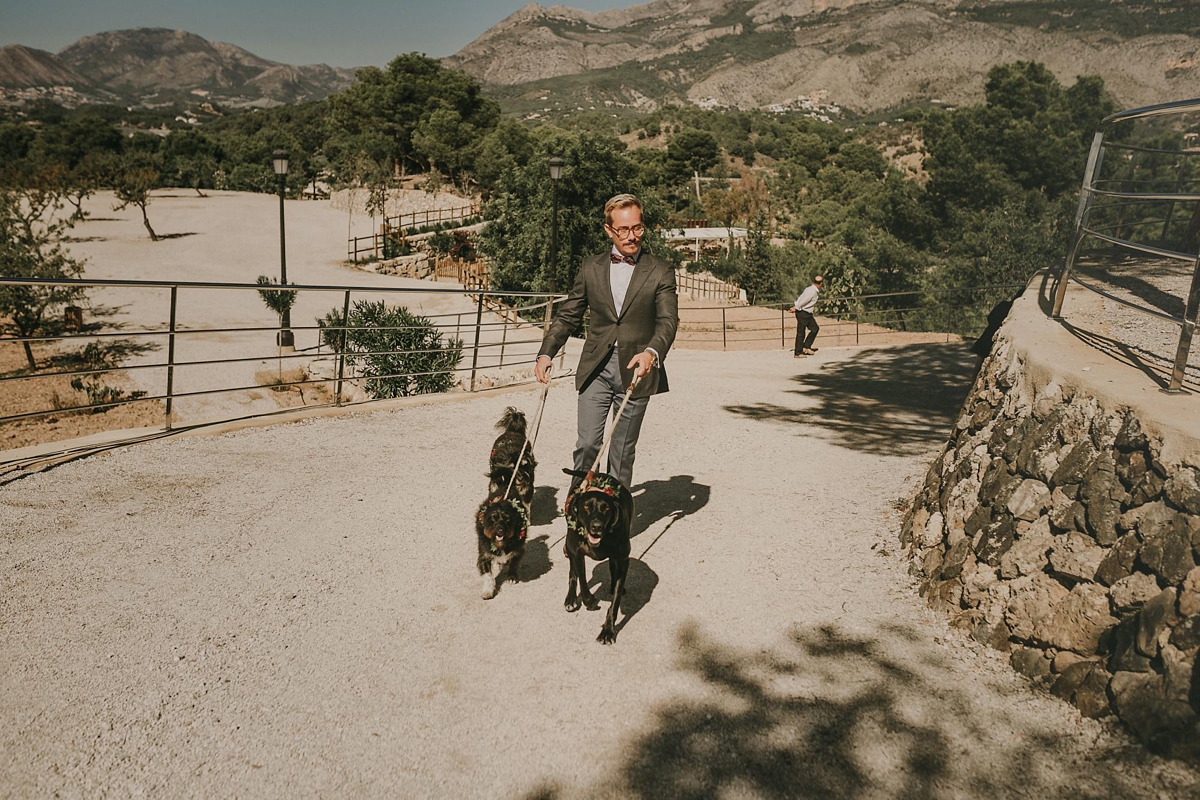 The civil ceremony was held outdoors under the shade of the trees, and Lorena was accompanied down the aisle by her father and the couple's dog to Hozier's 'Take Me To Church'. The couple exchanged rings designed by Suarez, in an occasion filled with joy and laughter.
The super-talented team at Paloma Cruz had constructed the ceremony area using vintage furniture and lots of natural detailing, my favourite being the pampas grass canopy, the raffia 'thrones' and the traditional cane parasols.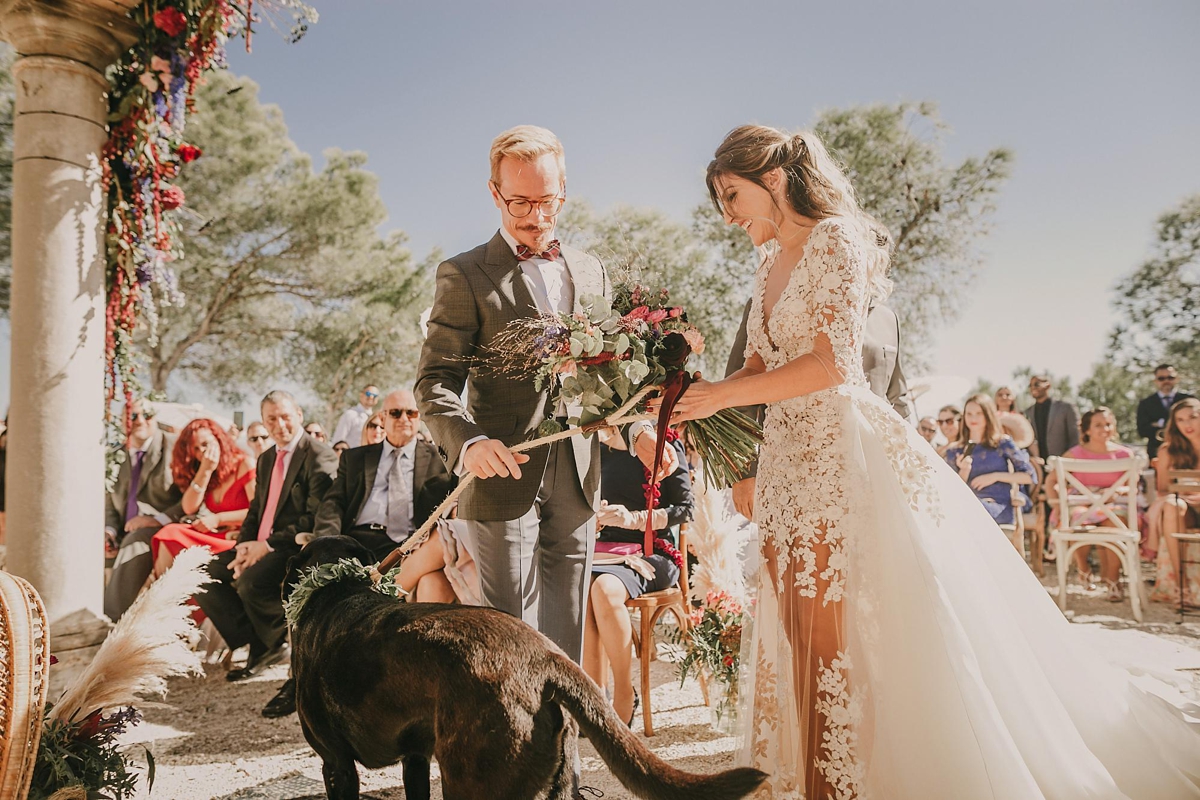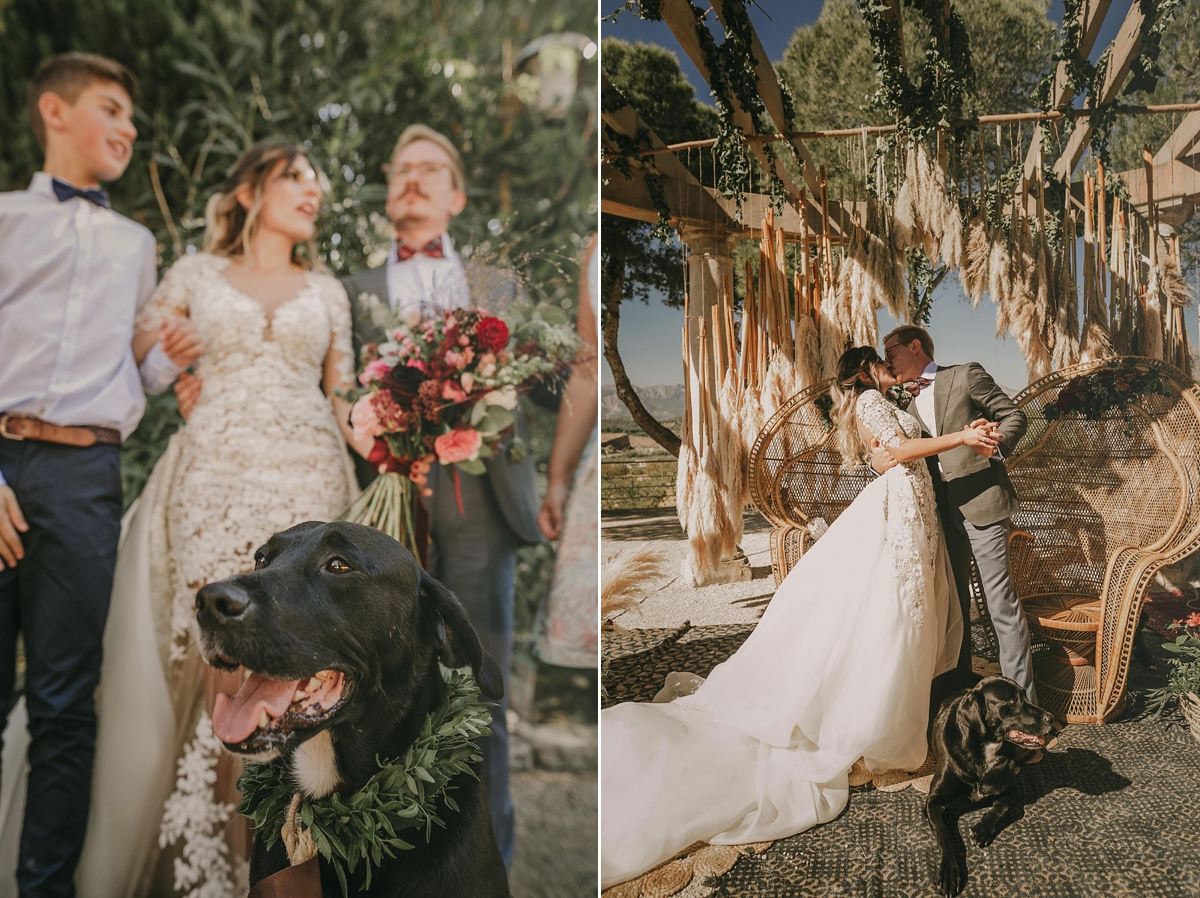 Every beautiful detail at Lorena and Edu's wedding was captured on video by Anker Prod, and on film by Pablo Laguia. Pablo has captured the vivid colours of the flowers, and the nature-inspired details wonderfully, and the shots of the Mediterranean landscape make me feel as if he's recorded a moment in time, along with its smells and warmth.
The posed shots are divine as well; Lorena and Edu are so picture perfect, and their pre-ceremony meeting must have been a really special moment for the pair.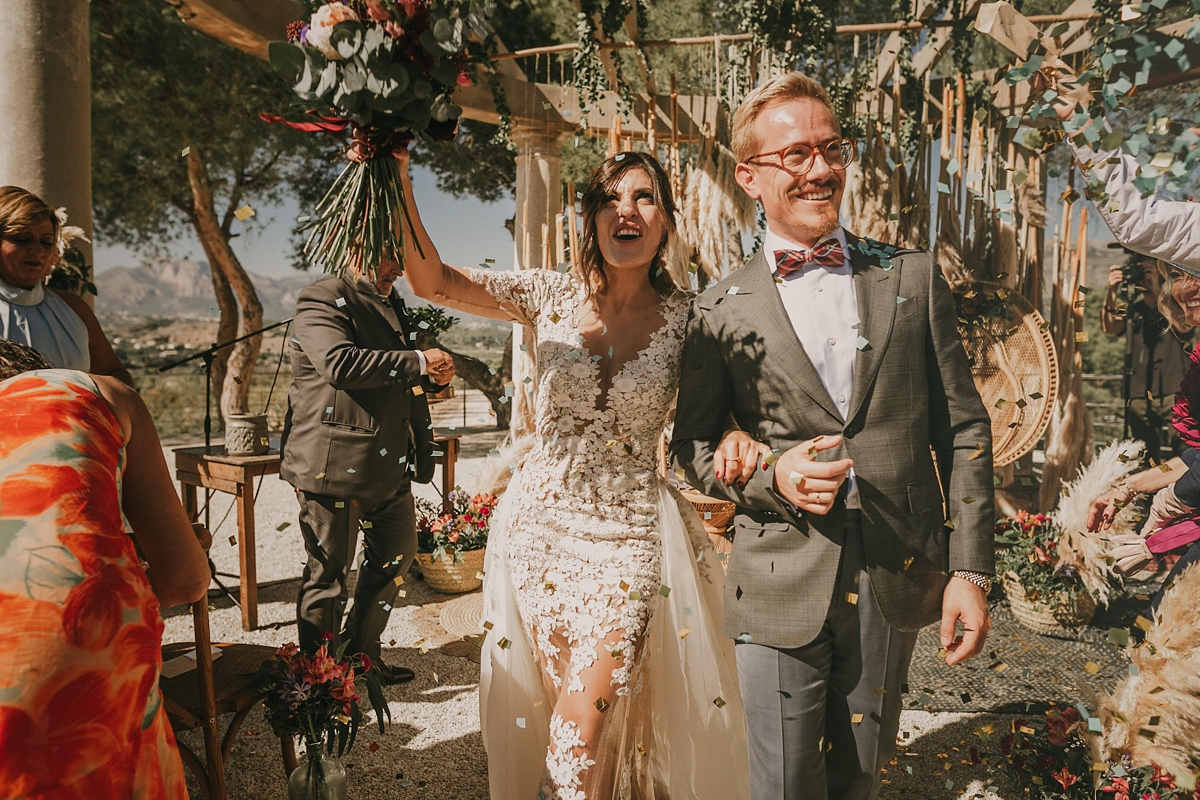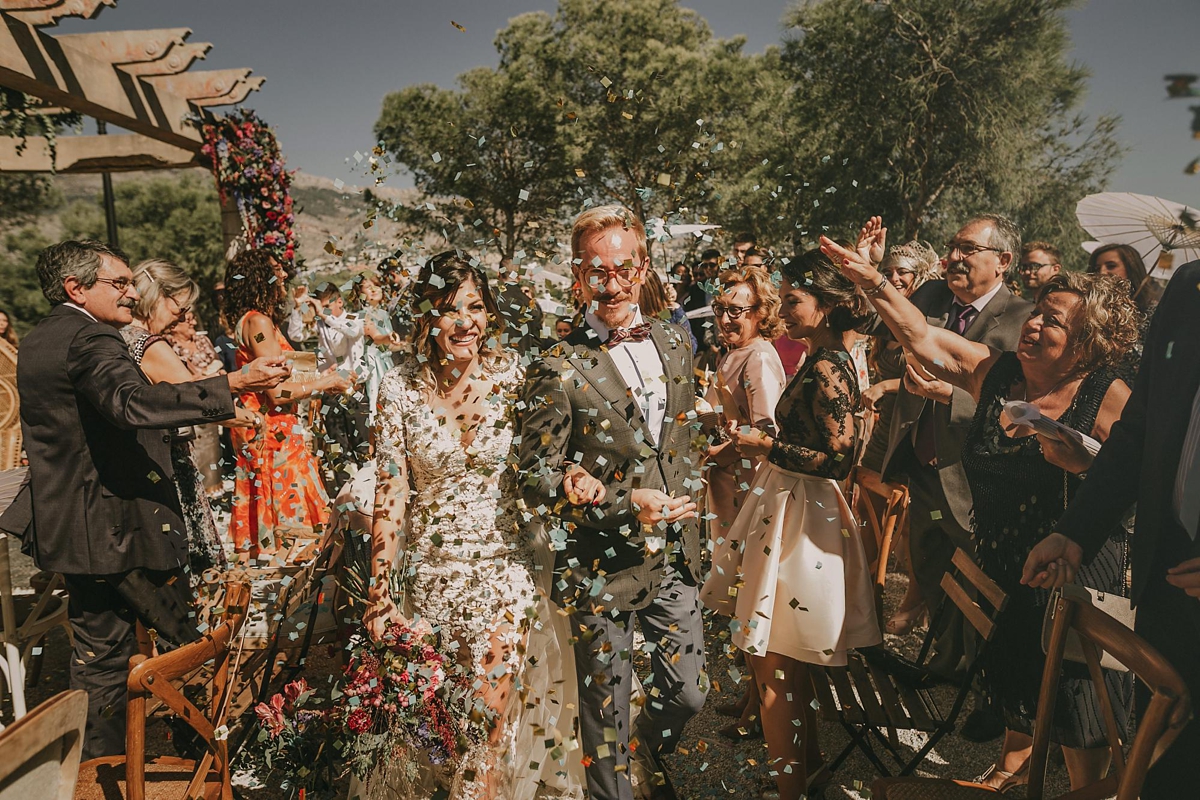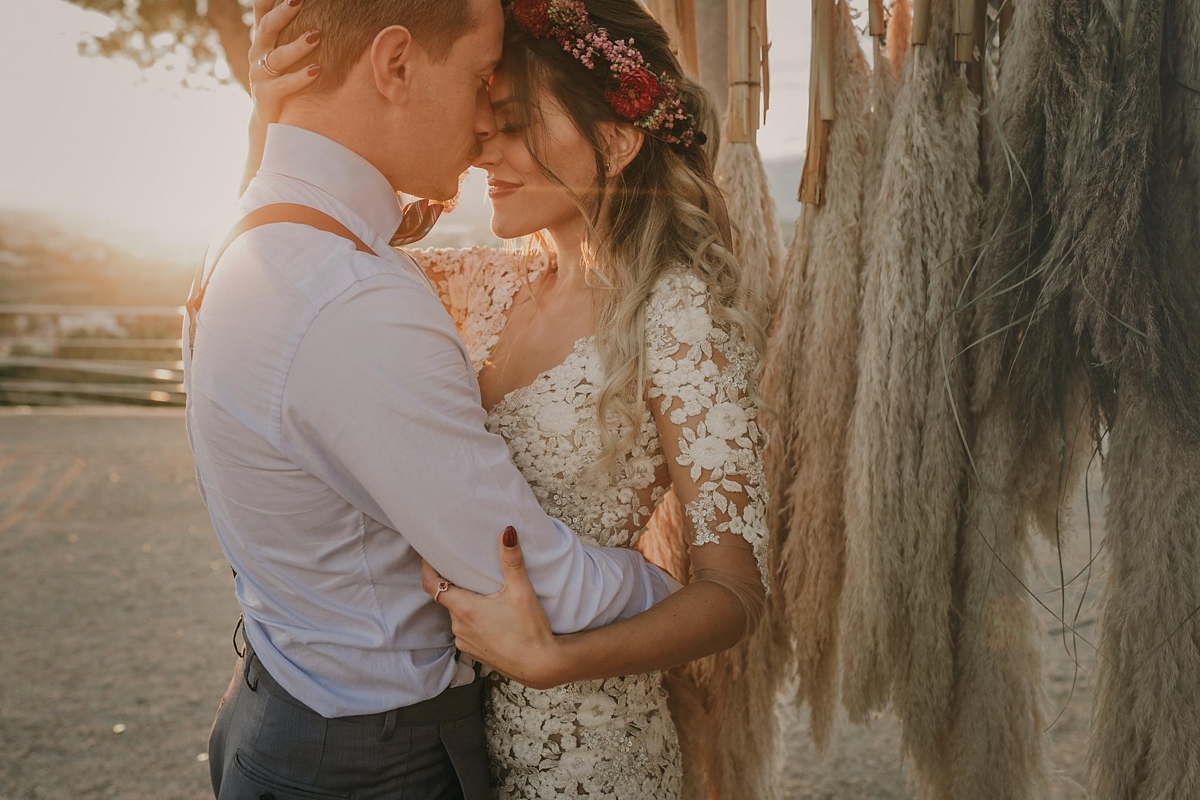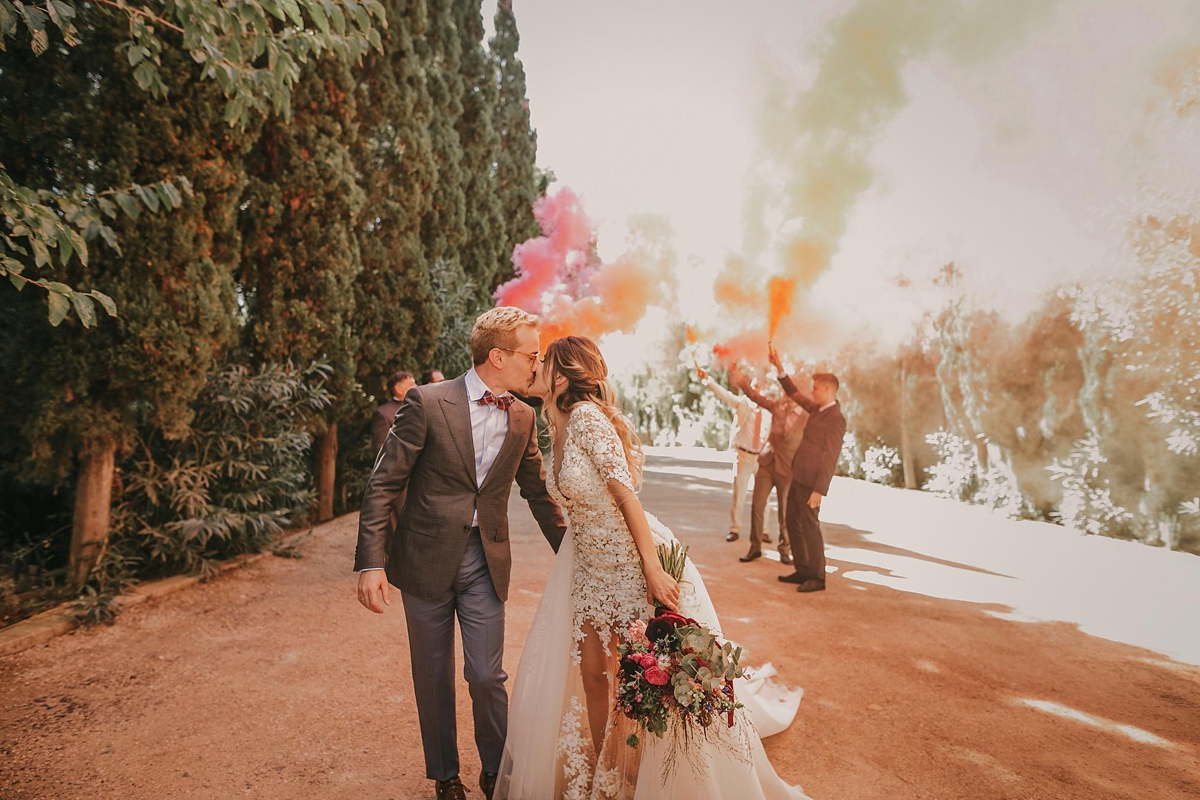 The al fresco dinner took place on intimate tables arranged beneath a shady canopy, decorated with floral tablecloths, swathes of foliage, and more of those vibrant blooms. I adore the chic, natural table settings, with a touch of glamour injected by the gilt cutlery.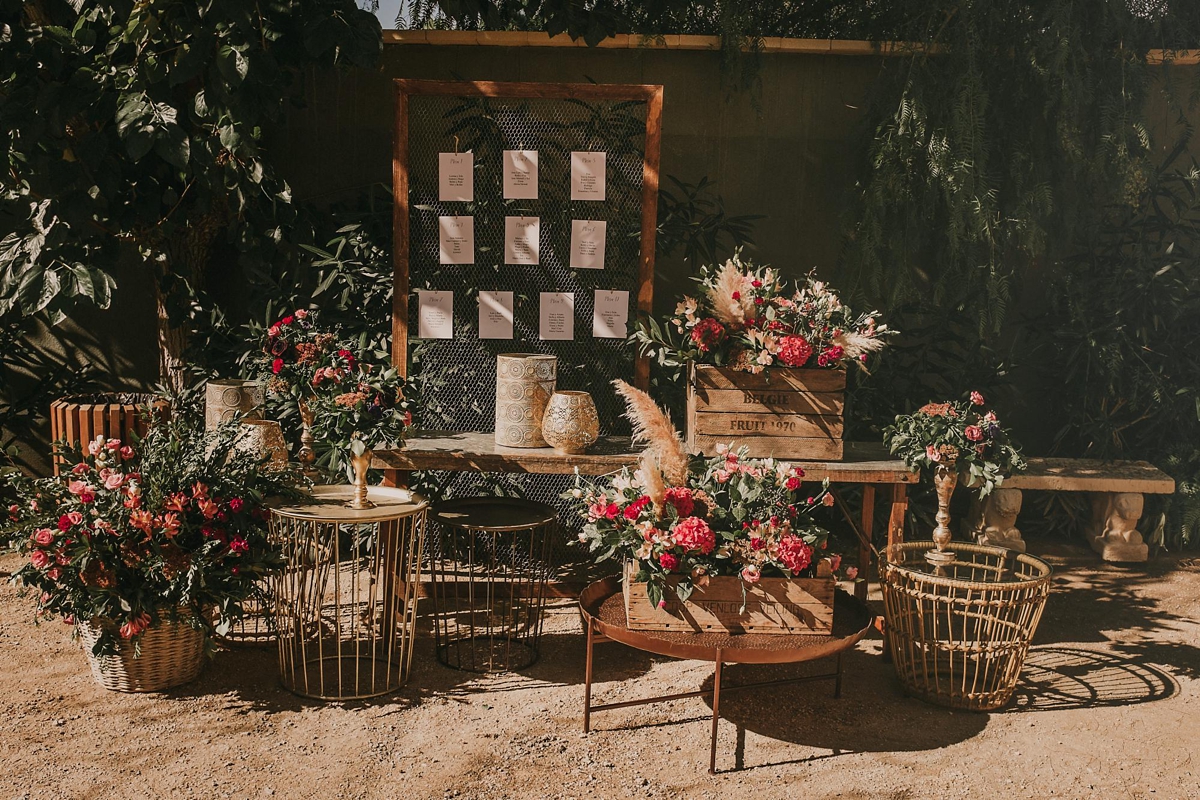 The dinner was catered by El Xato, and for dessert the guests were treated to the most beautiful table of desserts, piled high with doughnuts, miniature cakes, cakes and sweets, all decorated with fresh flowers and seasonal fruits.; almost too beautiful to touch!
Both the dessert table and the tall, foliage-decorated wedding cake were Caperucita Cupcakes creations.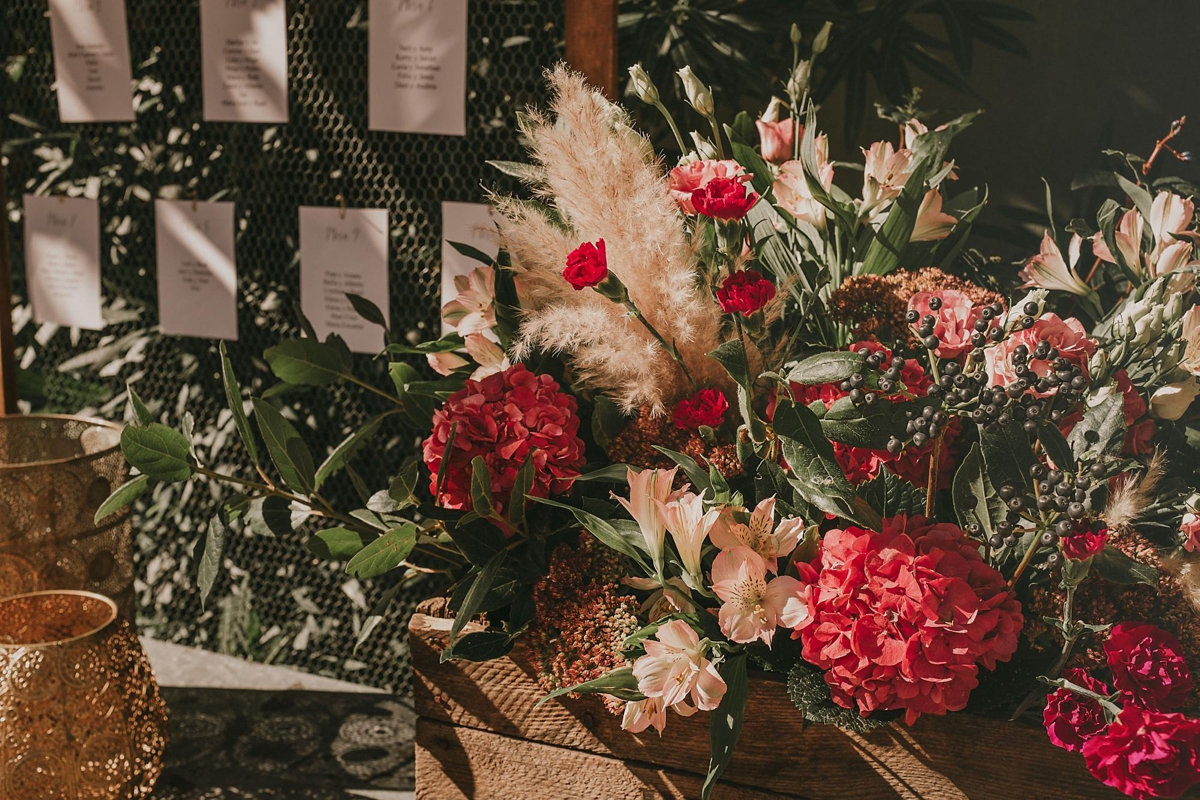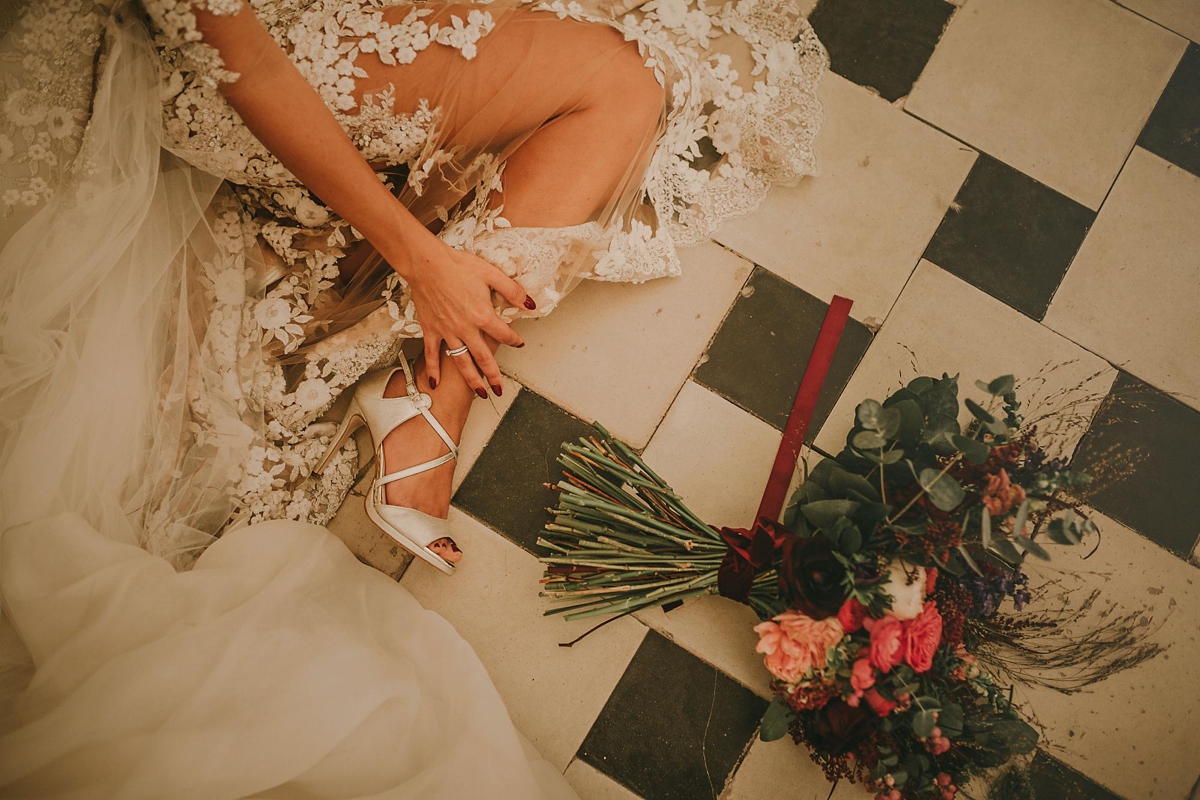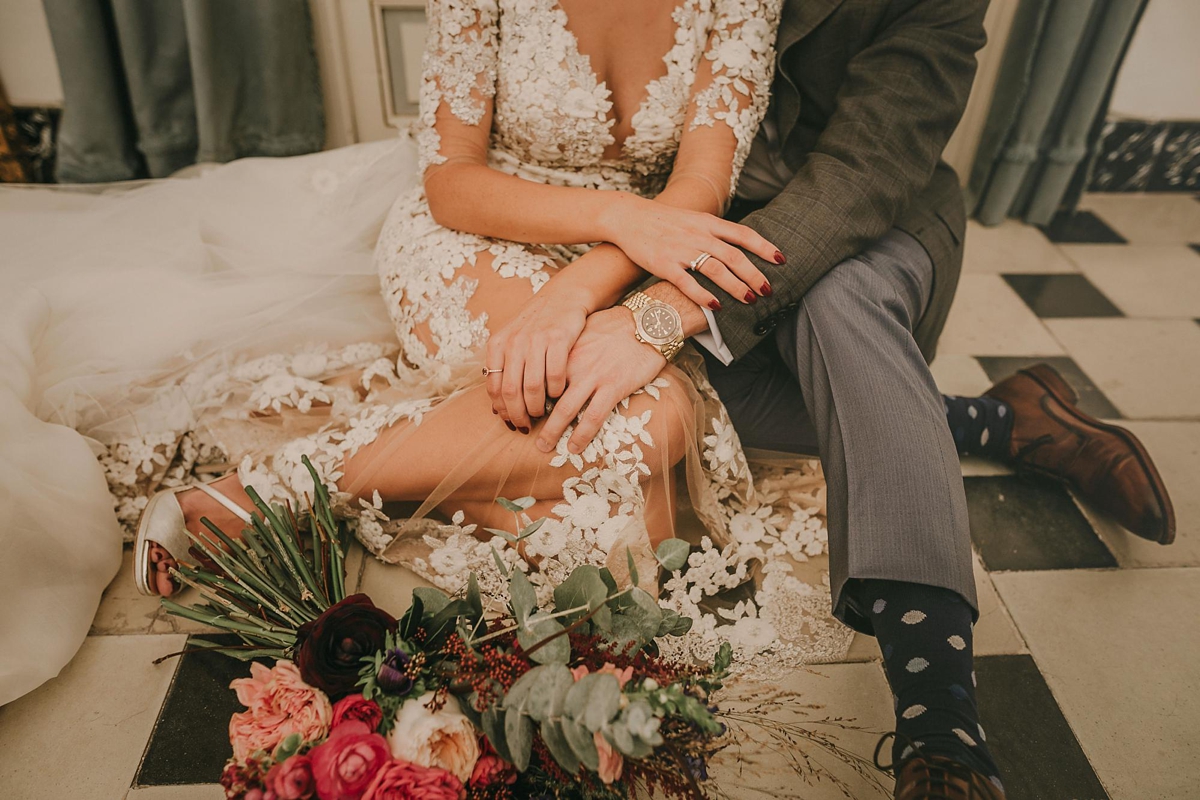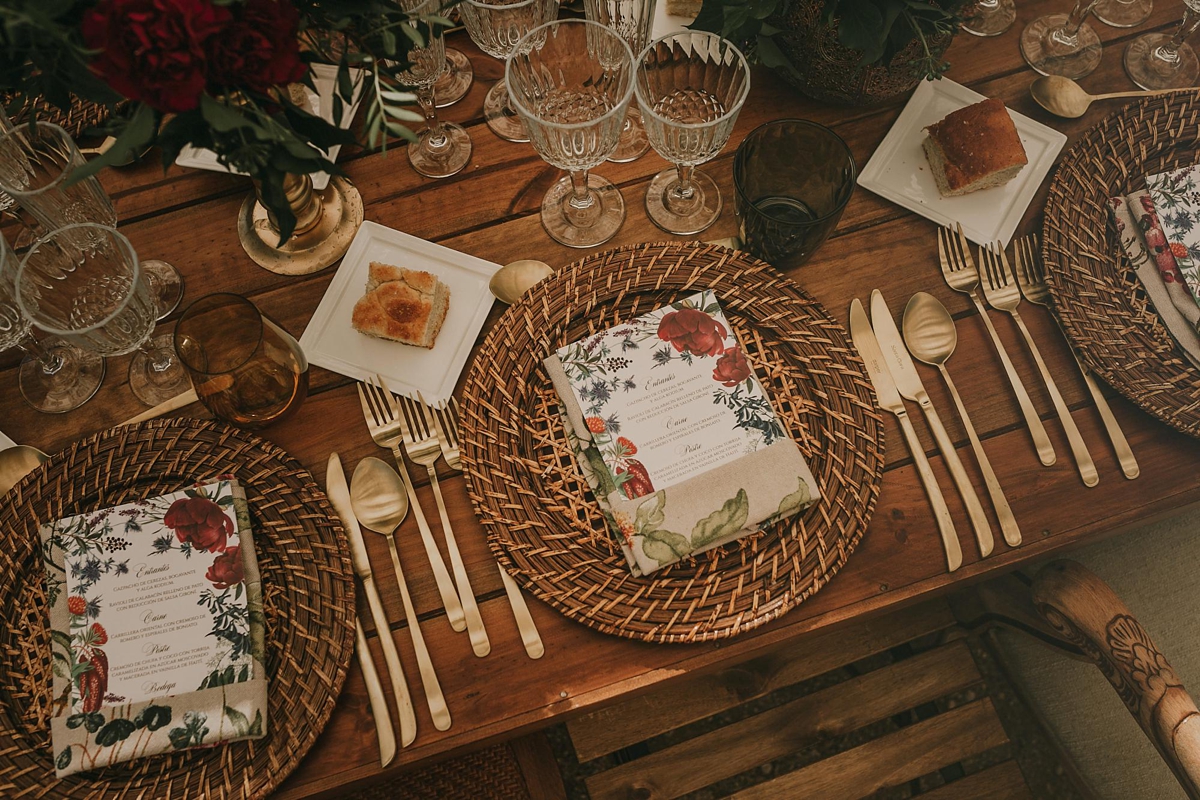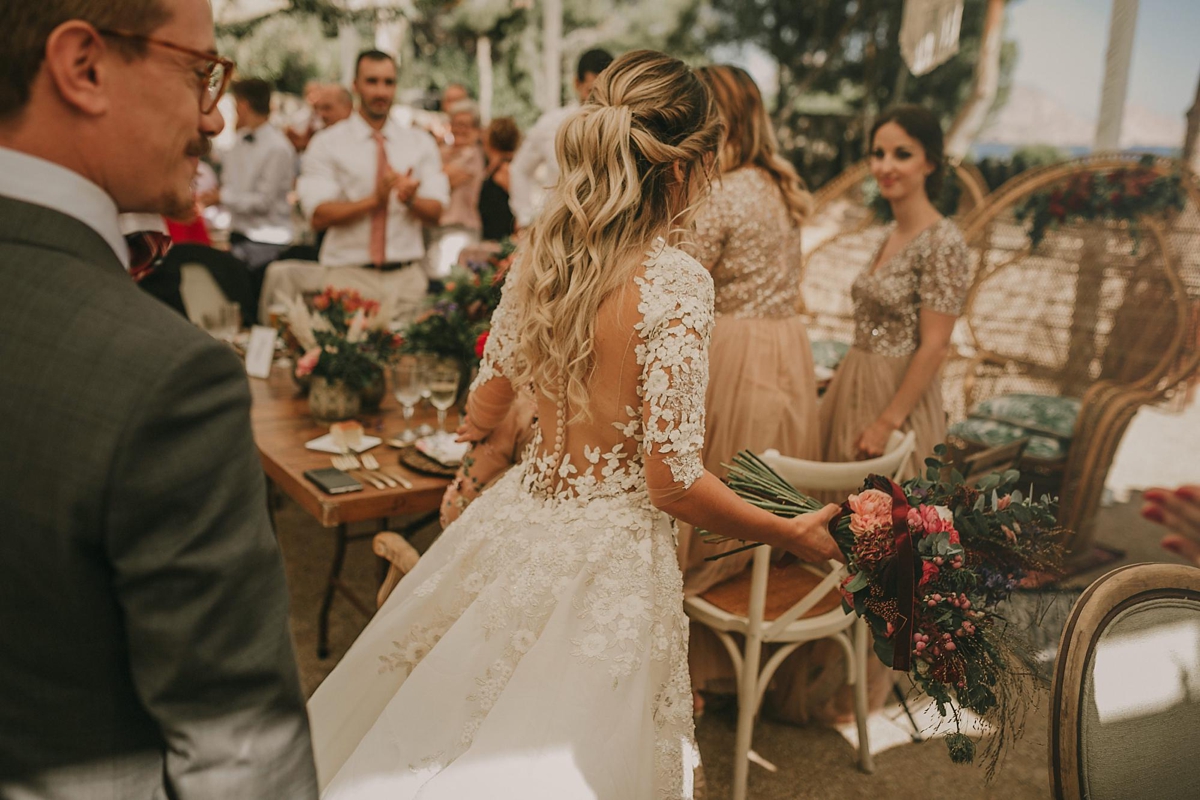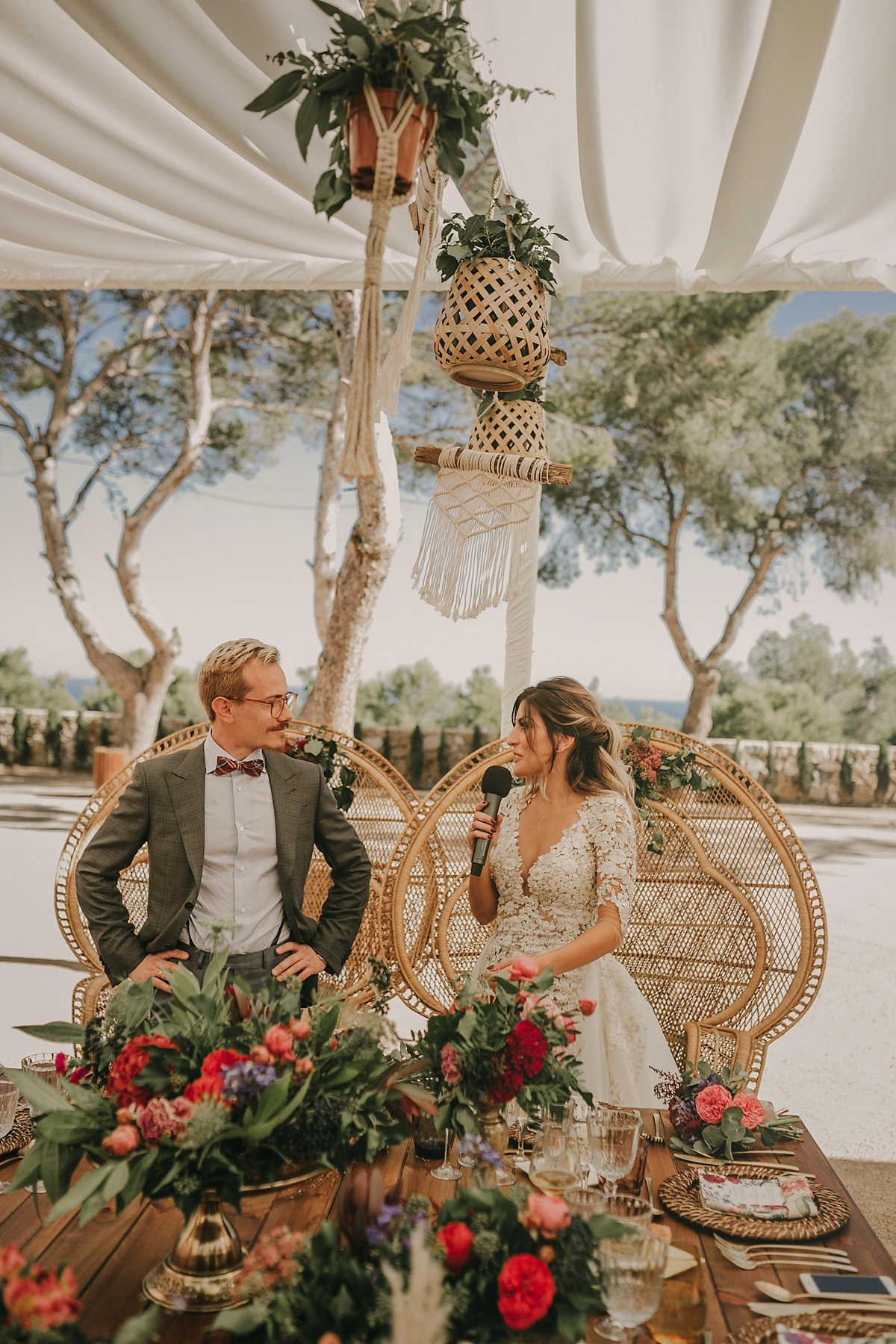 Each guest received a beautifully potted heather and a miniature bottle of Jägermeister, which got the evening party started. Later that night, the area was transformed as thousands of hanging fairy lights formed a magical canopy over the outdoor dance floor. Lorena and Edu's first dance was to 'The Night We Met' by Lord Huron.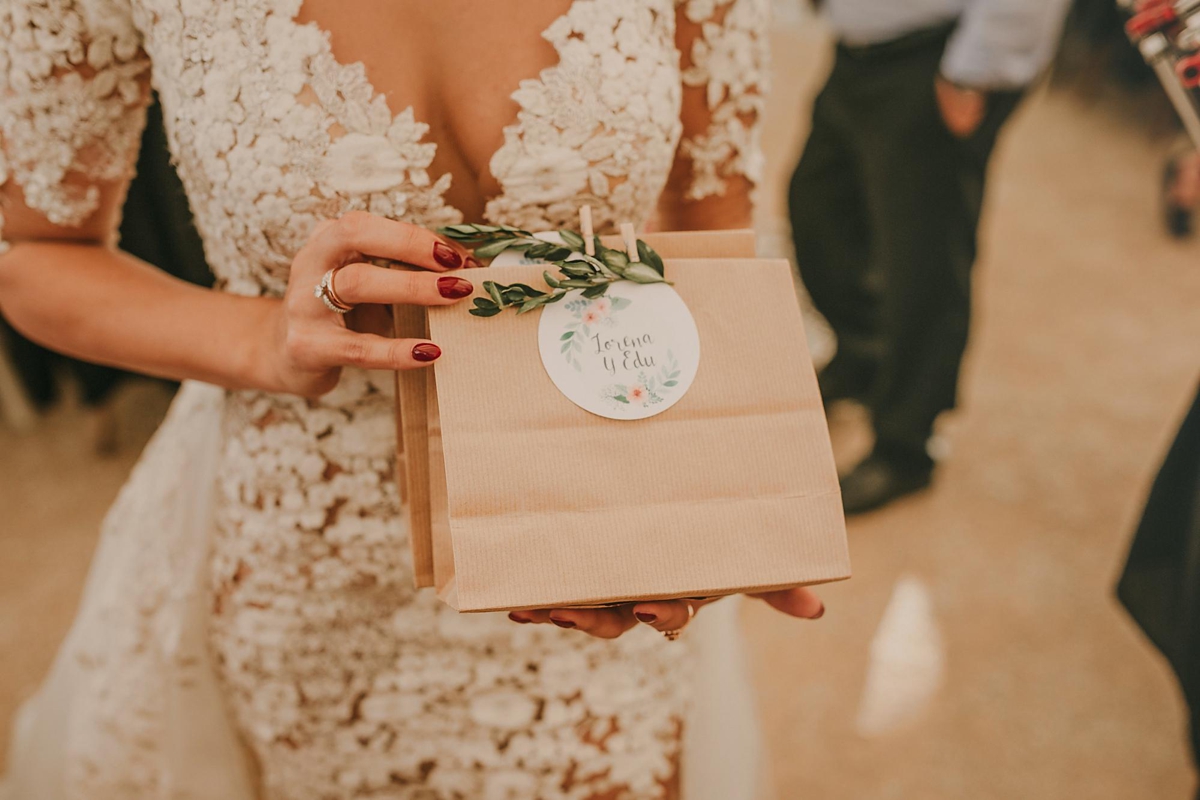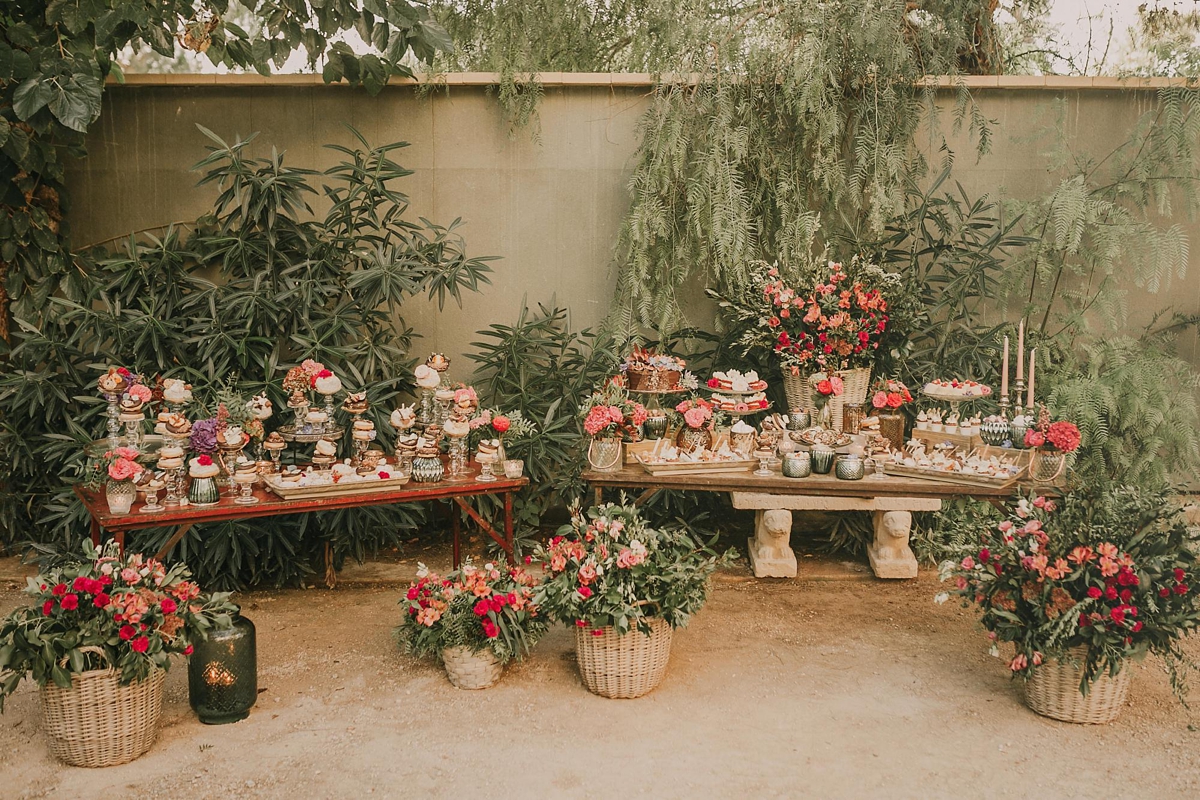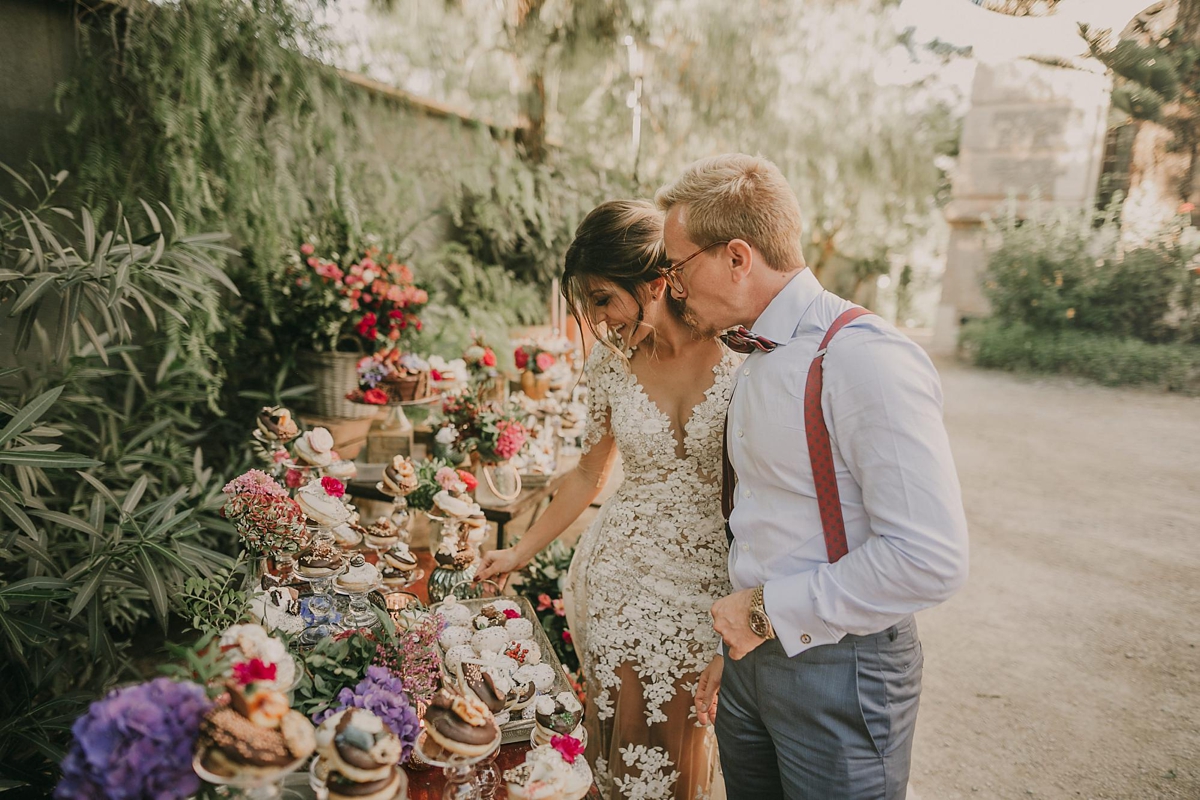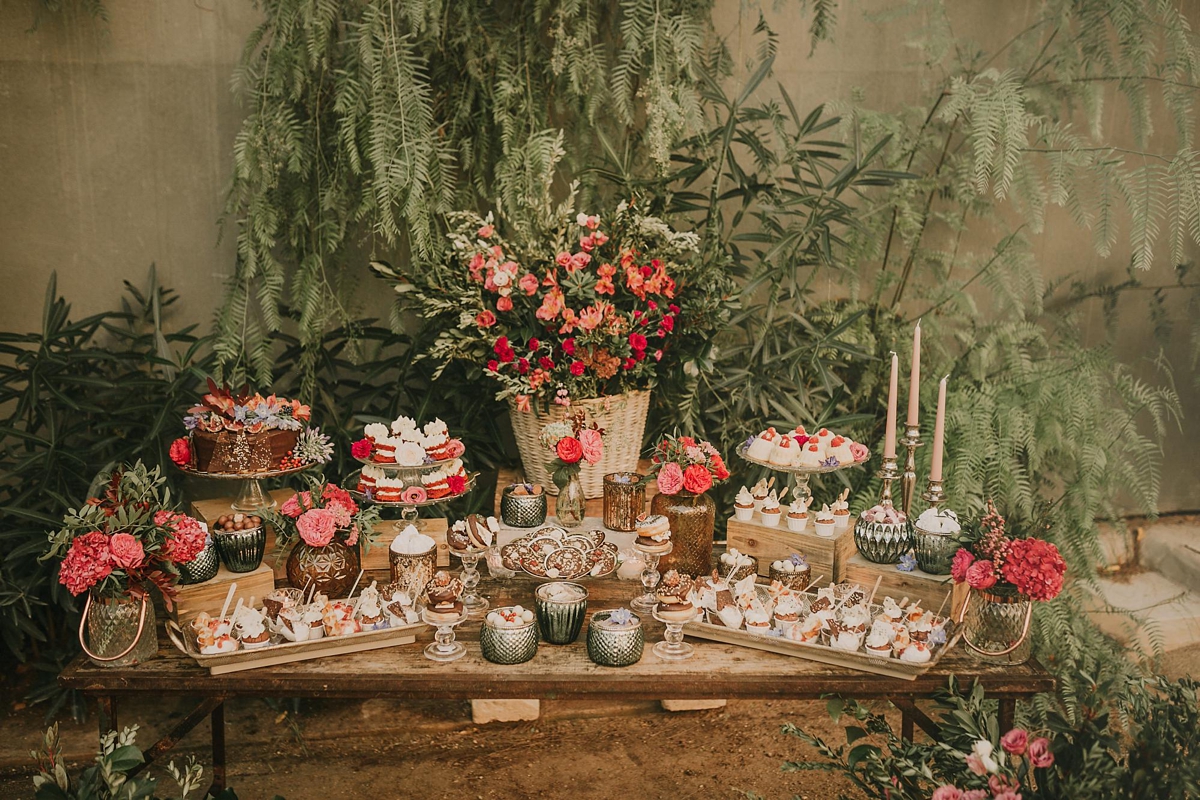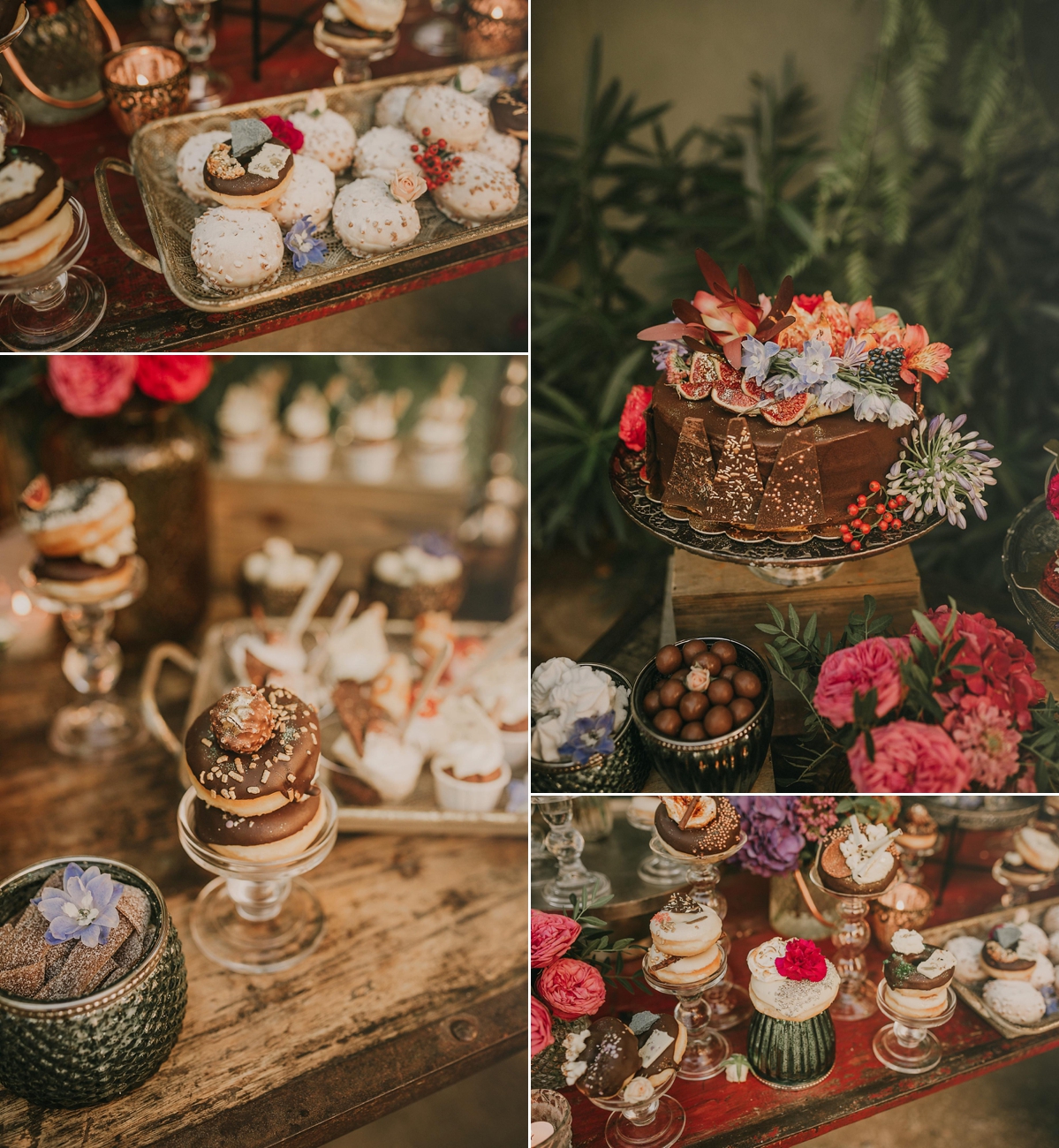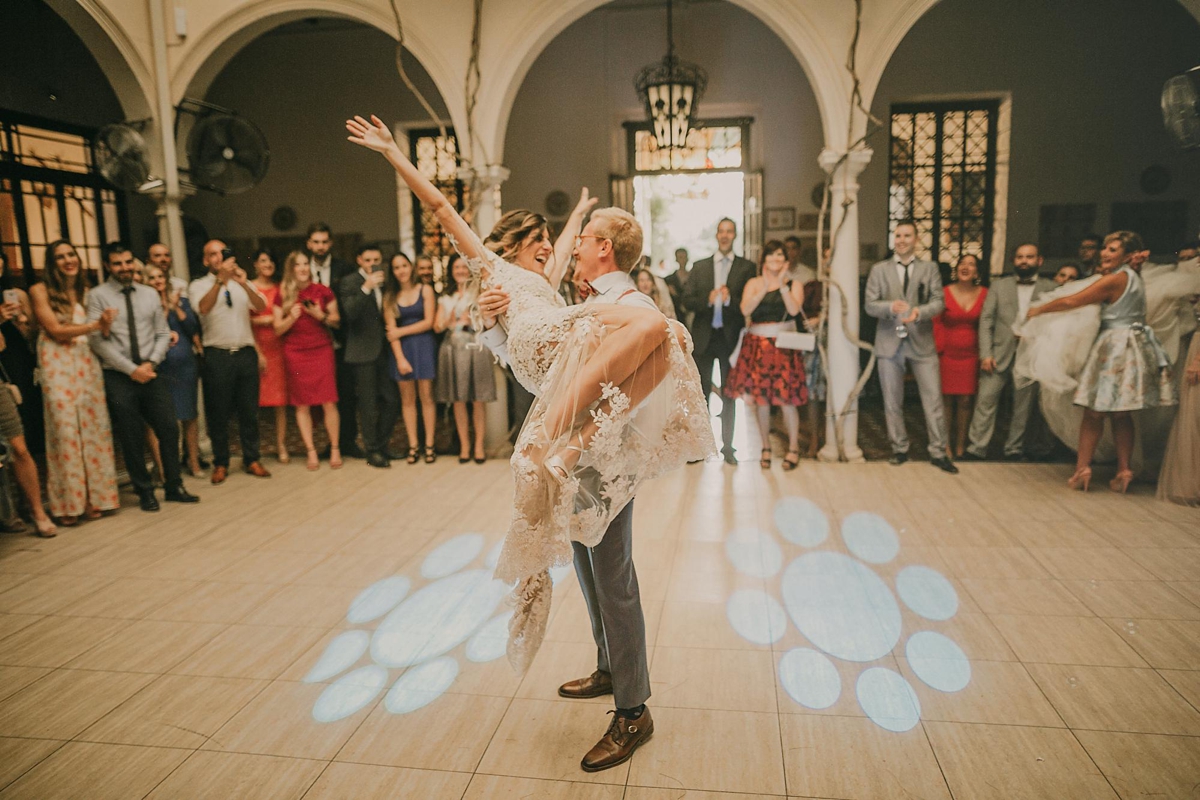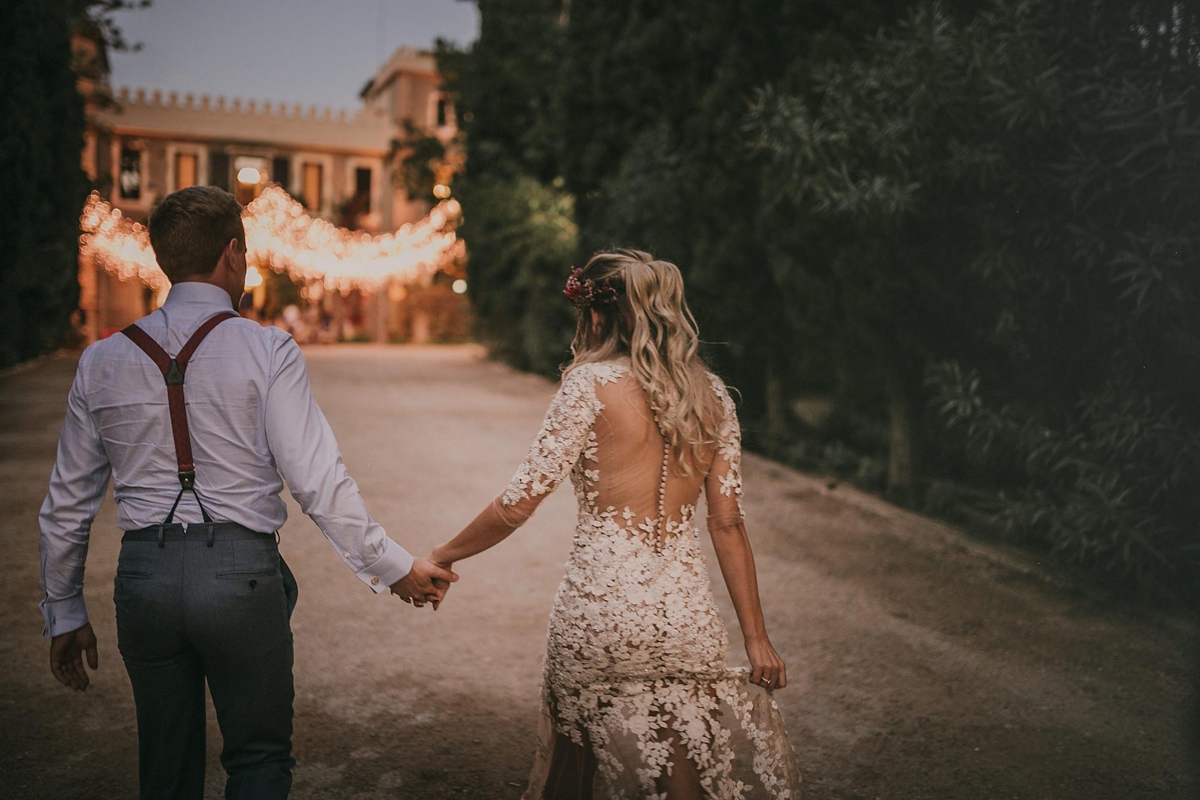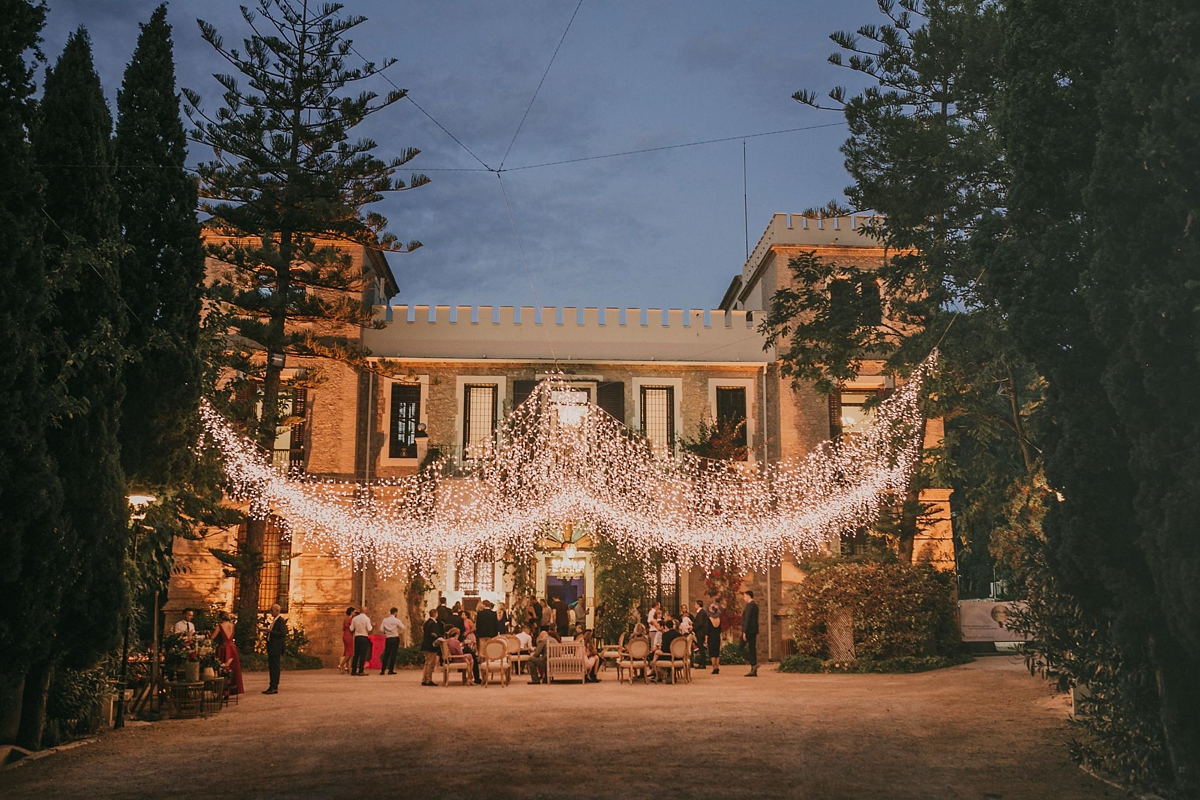 There are no words to convey how much I adore this beautiful wedding in all its floral glory. From the hilltop location to the dessert table and of course that incredible gown, it's been a real treat to share today. Thank you so much Lorena and Edu, and Pablo Laguia for sending these images in.
Ele xx