As we move further into September and closer to my own first wedding anniversary (on the 30th), I'm finding myself reflecting more and more upon what a wonderful day it was, and how this first year of marriage has subtly altered the fabric of the (almost) ten-year relationship I have with my husband.
It's been eye-opening and brilliant in so many ways. I'm also finding that in being given these glimpses into other couples' days, I'm seeing them through that lens also, and it adds an extra layer of loveliness. Today we're off to rural Warwickshire for an effortlessly relaxed barn wedding filled with gorgeous spring flowers. Meet Bryony, a recruitment manager, and Craig, an electrical contractor. They celebrated their marriage on the 23 March 2018 at Shustoke Barn – a beautiful red brick barn venue from Cripps & Co.
Bryony and Craig chose fantastic Little Book member Story + Colour as their photographer, and I love the strongly narrative approach they take.
"I always knew I wanted a relaxed, boho day, so the styling started with this. We wanted outfits that everyone would feel comfortable in and could hopefully wear again – staying away from traditional suits / dresses. Our house features a lot of greys and blues so I think subconsciously that's how I probably chose the colours for the day."
Images by Story + Colour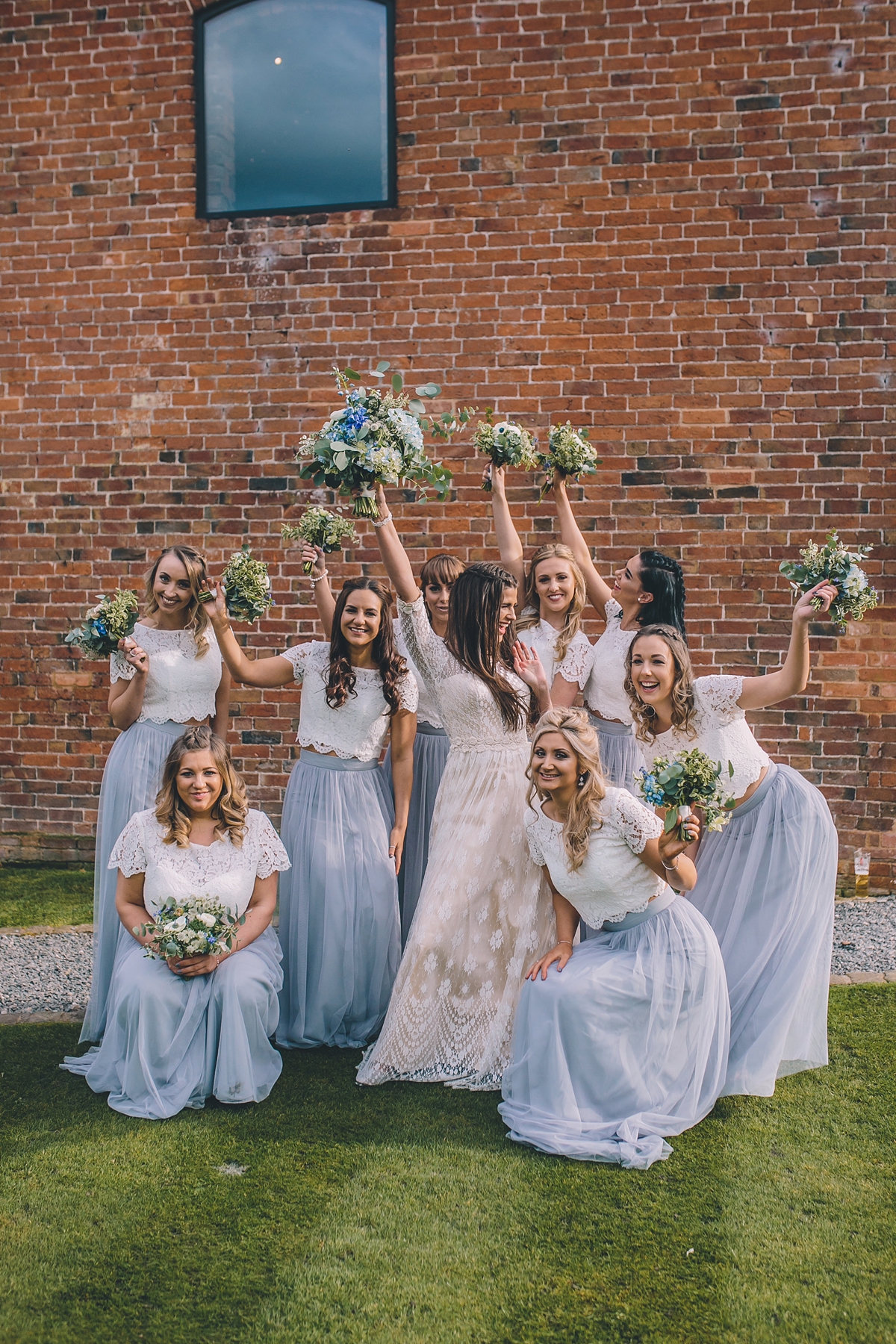 "I researched photographers for ages as wanted someone who wasn't a regular at the venue and would have a new set of eyes for the day. I came across Dan on an article on alternative wedding photographers, and loved the style and happiness he captured in each of the weddings. Dan captured our day perfectly. We opted for very few formal shots which was the right decision for us. Dan managed to capture the atmosphere of the day – relaxed and full of laughter! I know it is in the name but looking through the photographs is truly like looking at a picture story of our day – every moment and emotion caught."
Film by Opaline Films
Videographer Stephanie Garstin of Opaline Films captured the couple's day on film, and the following highlights are full of joy, laughter and fun.
"Stephanie is amazing, and I would recommend getting a videographer to anyone who is unsure. The day goes so quickly that it was so good to be able to watch it back again and take everything in for a second time!"

The floral inspired invitations were designed by Bryony's talented mum on beautiful textured paper, and set the tone for the soft blues and greys used throughout the day.
"My mother is quite arty, so I enlisted her to do the invites, order of the day and name cards. She did such a good job, everyone kept asking which supplier I used… and were shocked to find out she had done them!"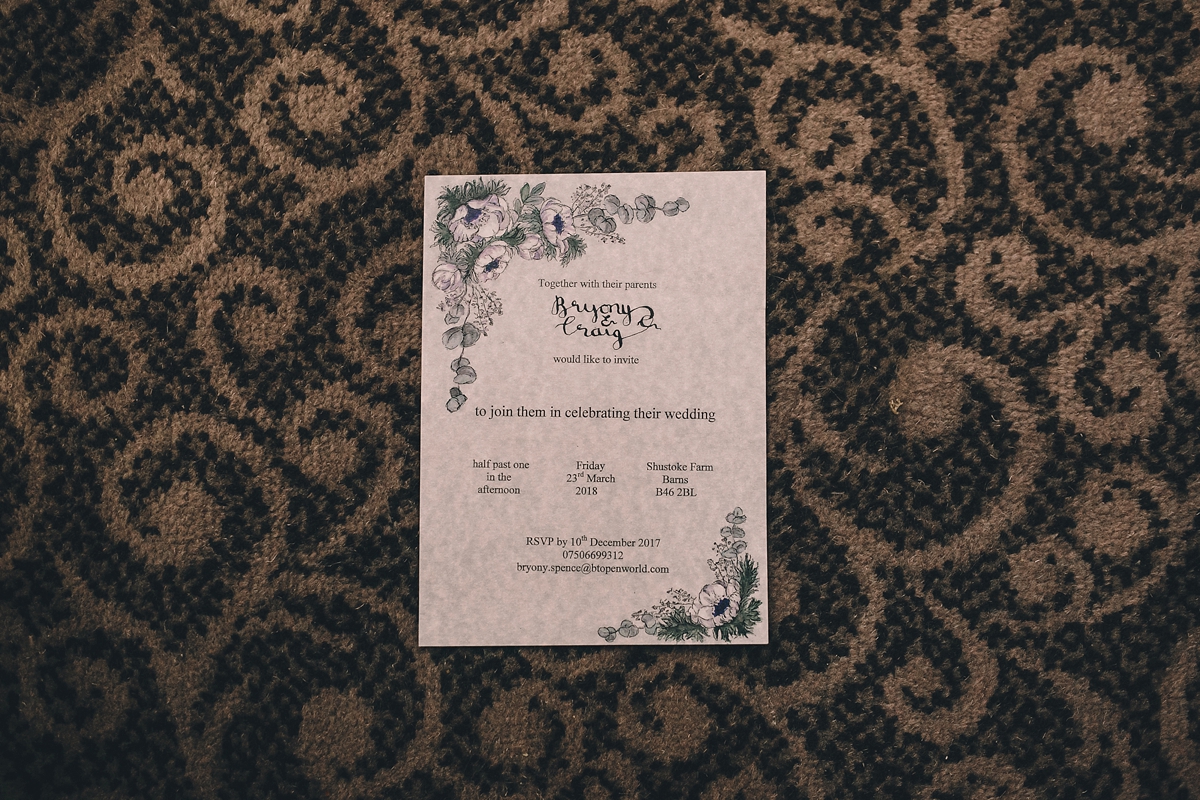 Bryony wore the most breathtaking, ethereal dress by Divine Atelier, which she purchased from Serendipity Brides. It perfectly suited the boho look she was going for, and the blush colour, illusion off the shoulder bodice and striking floral lace are gorgeously dreamy and romantic.
"I knew I wanted something a bit different to a traditional dress and that reflected my style. I had only come across a few that I really liked, and when I had booked the venue I revisited them and the Aimee dress stood out."
I looked up the designer and saw that they had two stockists in the UK. I called up Serendipity and asked for the price of the dress, and luckily it was in my budget so I booked an appointment!"
[JP-VIDEO]
"It was the first dress I tried on and I fell in love with it. The lace detailing is so intricate that it looks like it has been painted on, and I loved the illusion off the shoulder look!"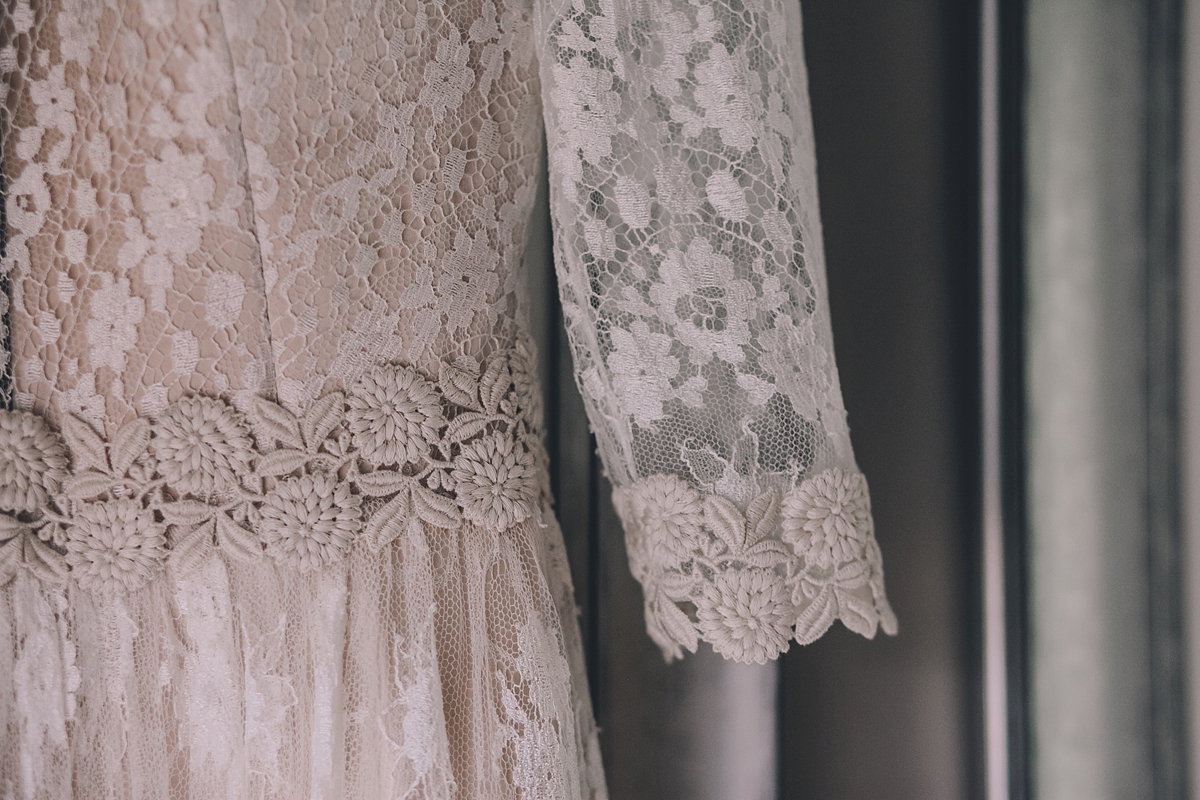 To accessorise, Bryony wore simple silver hoop earrings from ASOS and a bracelet from Topshop, which matched the guipure lace waistband of her gown.
"I knew I wanted to wear flat shoes – I wanted to be able to party all night… I came across the Zara pair by chance, when I was online shopping. The pattern and colours – blush and grey worked really well with colours already featuring in the day… and indeed meant I didn't leave the dance floor once!"
Juliet Johnson styled Bryony's hair in two incredible waterfall braids, which were caught at the back and became a fishtail. Her florist made a pretty fresh flower comb with delicate waxflowers and ranunculus. For her make-up, Bryony wanted a look that felt like her, complete with her signature lipstick, MAC's 'Velvet Teddy', and Emily Grosvenor did a brilliant job.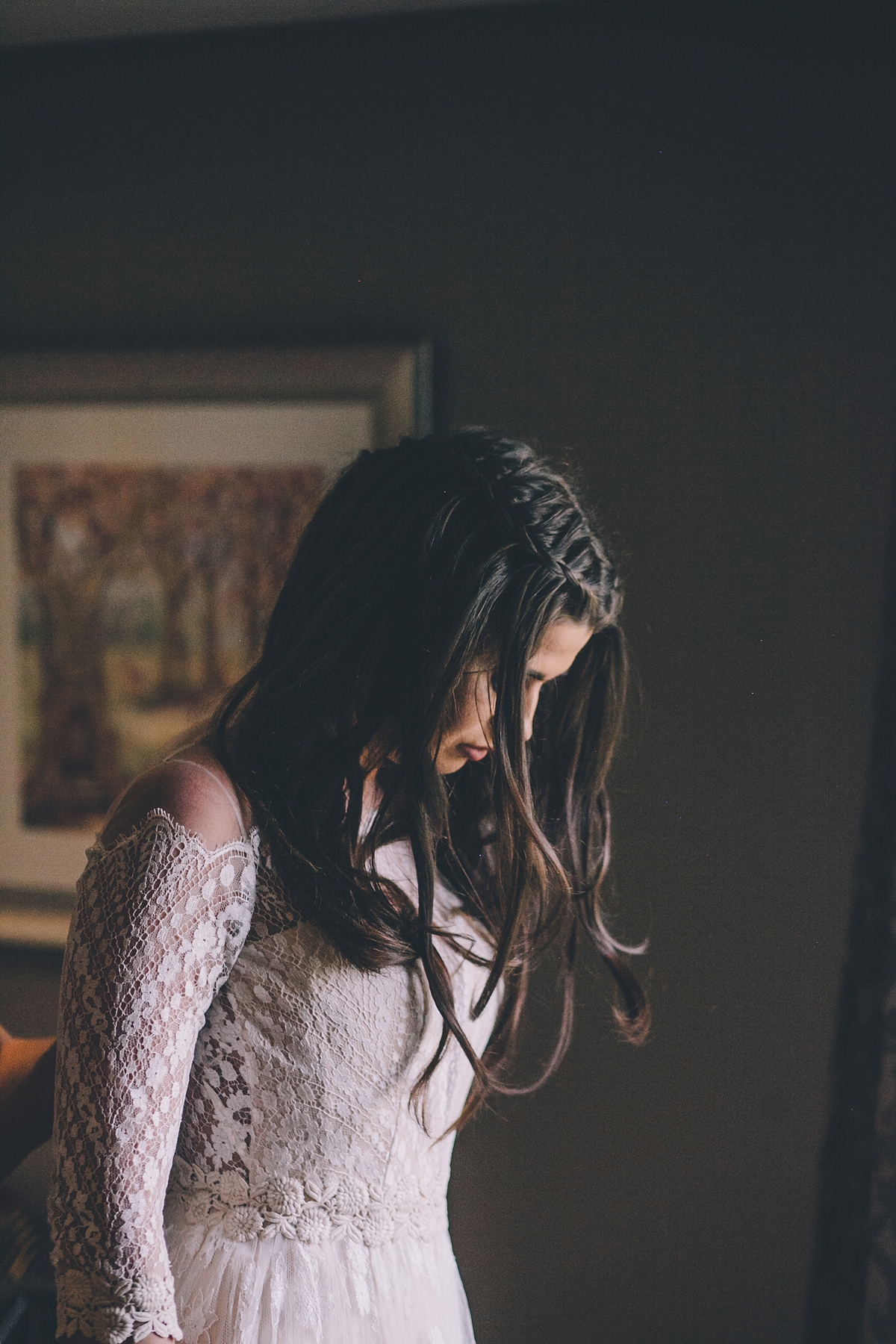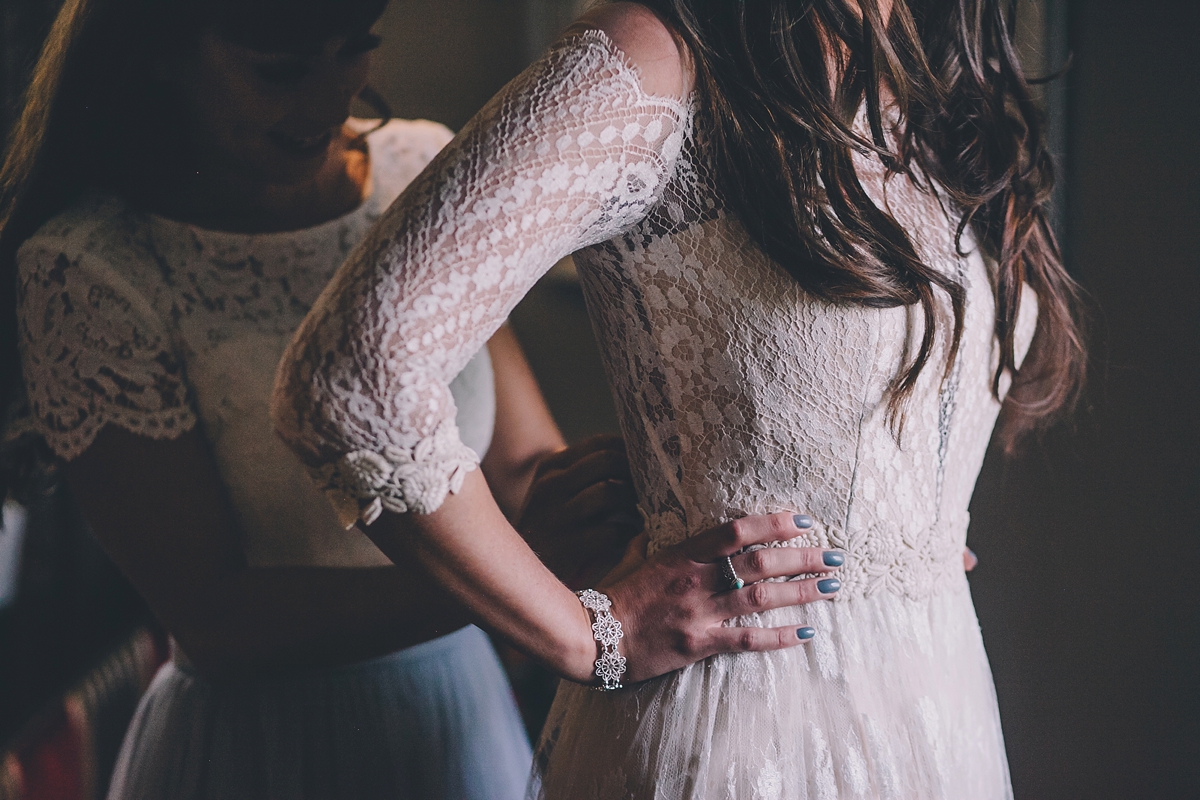 The bridesmaids wore their own shoes, long tulle skirts in dove grey and pretty white lace tops, which were bought online from Mix Bridal.
"As my dress was more of a blush colour I was keen to have some white feature on their dresses. Having 8 bridesmaids I wanted something I know would suit them all and you can't go wrong with a maxi skirt and short sleeve top! The two pieces were from MIX Bridal… The made to measure service was great and the quality was really good."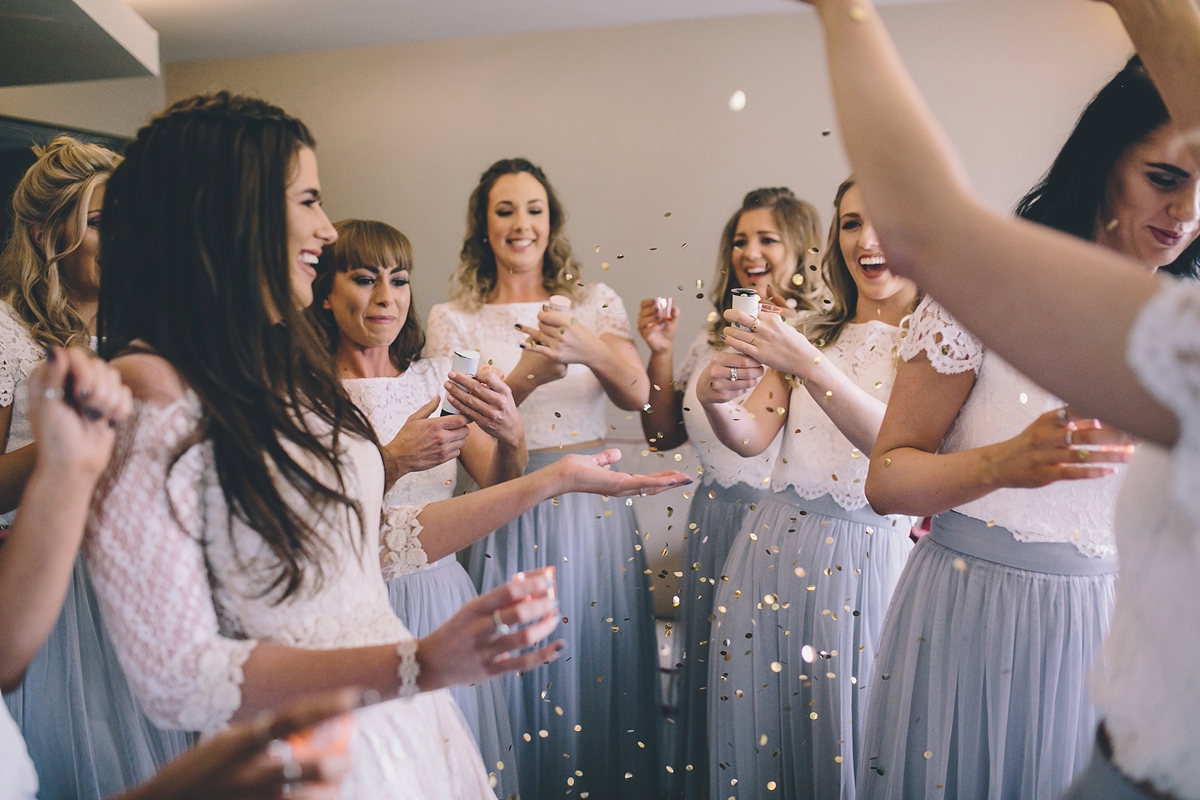 Right from the start, the couple knew they wanted a barn wedding, and looked at a number of options before they saw Shustoke Barn on their final viewing.
"Shustoke was our last viewing, and we had actually provisionally booked another venue, but as soon as we stepped into Shustoke Barn we knew it was the one! We both got 'the feeling!' It was so beautiful. We got married in March as I was too impatient to wait for the summer, and had a vision of a nice spring day. The weekend before was a weekend of horrendous snow, so I did start to panic but in fact we were very lucky and the sun came out for the first time this year!"
Groom Craig wore a blue tweed suit with a grey waistcoat, which he mixed and matched from Noose and Monkey. He paired it with an ASOS bow tie and Dr. Martens on his feet.
"Craig knew he wanted a tweed suit from the get go (he had wanted one for ages and finally had an excuse) – working as an electrical contractor, he doesn't get to wear one very often so he wanted to make sure it was extra special… It worked really well with the rustic barn look…The groomsmen's bow ties were the same pattern as the groom's but in a white and blue colour palette rather than his green and blue style."
The couple first met in March 2013 at a rave in Birmingham.
"I actually went up to Craig and chatted him up using the classic line 'I like your jumper'! It worked and he asked for my number before I left! Craig had originally planned to propose to me on a trip to India, and picked up the ring the week before. However he ended up proposing the same night he picked it up, – he said the minute he got it he just wanted me to have it. He did it in our dining room before dinner and with all the excitement, the food ended up burning! We got married just over a year after we got engaged."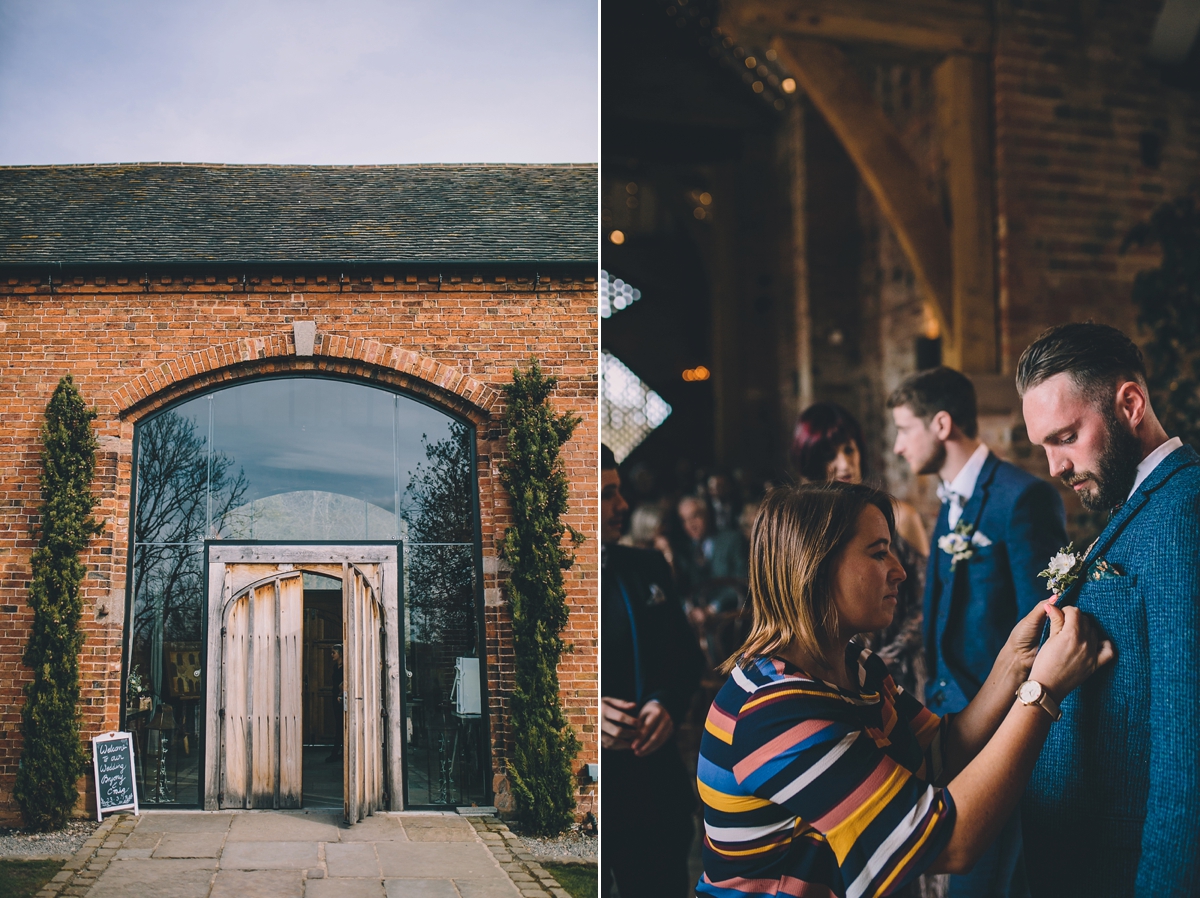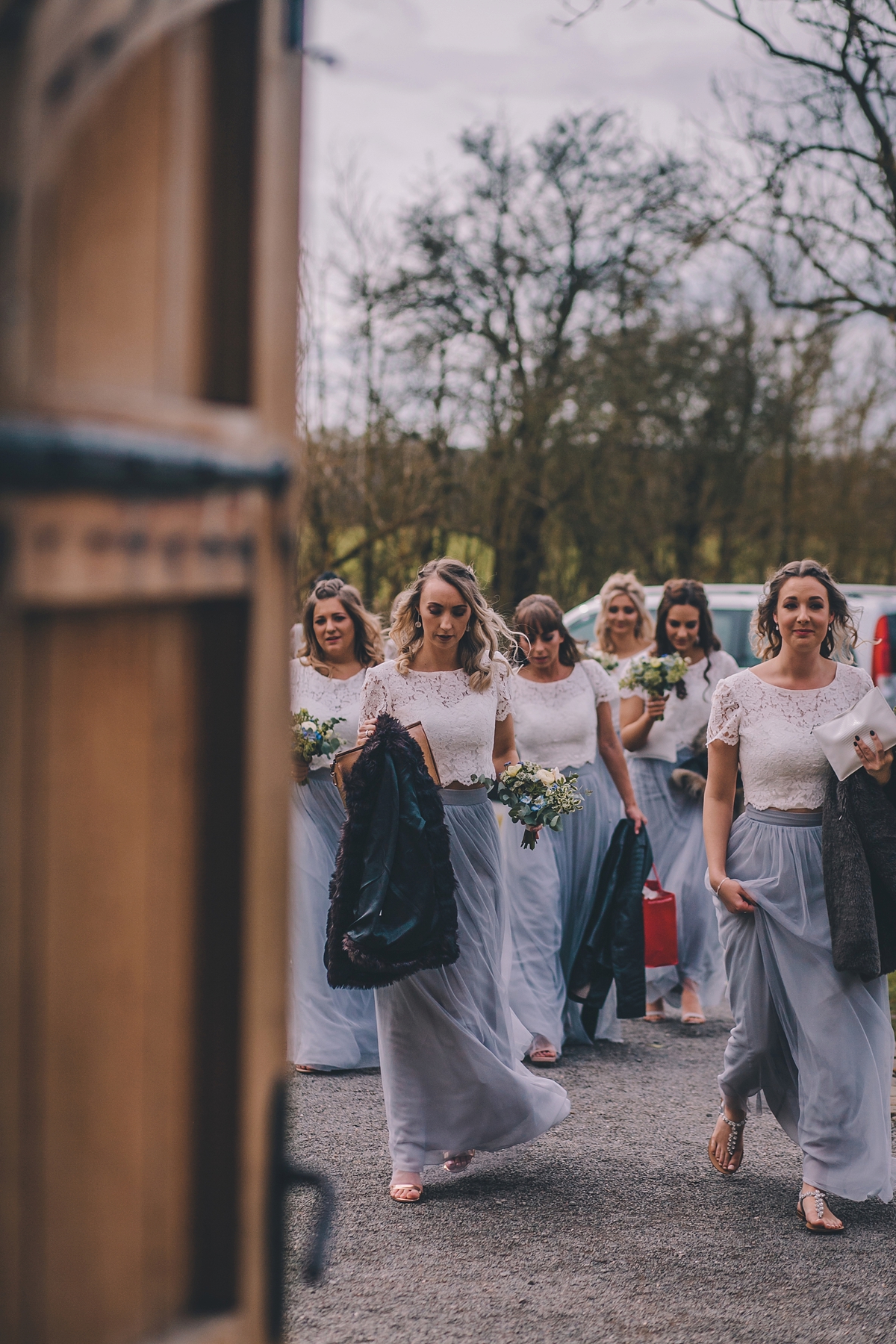 Hannah from Lichfield based Bloom Fleuriste worked to Bryony's brief of white and blue wildflowers with lots of greenery, and the finished effect was glorious.
"Hannah is amazing, I almost cried when she gave me my bouquet at the hotel… it was absolutely perfect. I knew I wanted white and blue wild flowers with lots of greenery, but I left the rest up to her, and she exceeded expectations. The bridesmaids had smaller versions of mine, and we had a suspended wreath of the same foliage that looks gorgeous in all the ceremony pictures! We also reused our ceremony table runner on the top table – it was like a mini meadow rather than a traditional runner."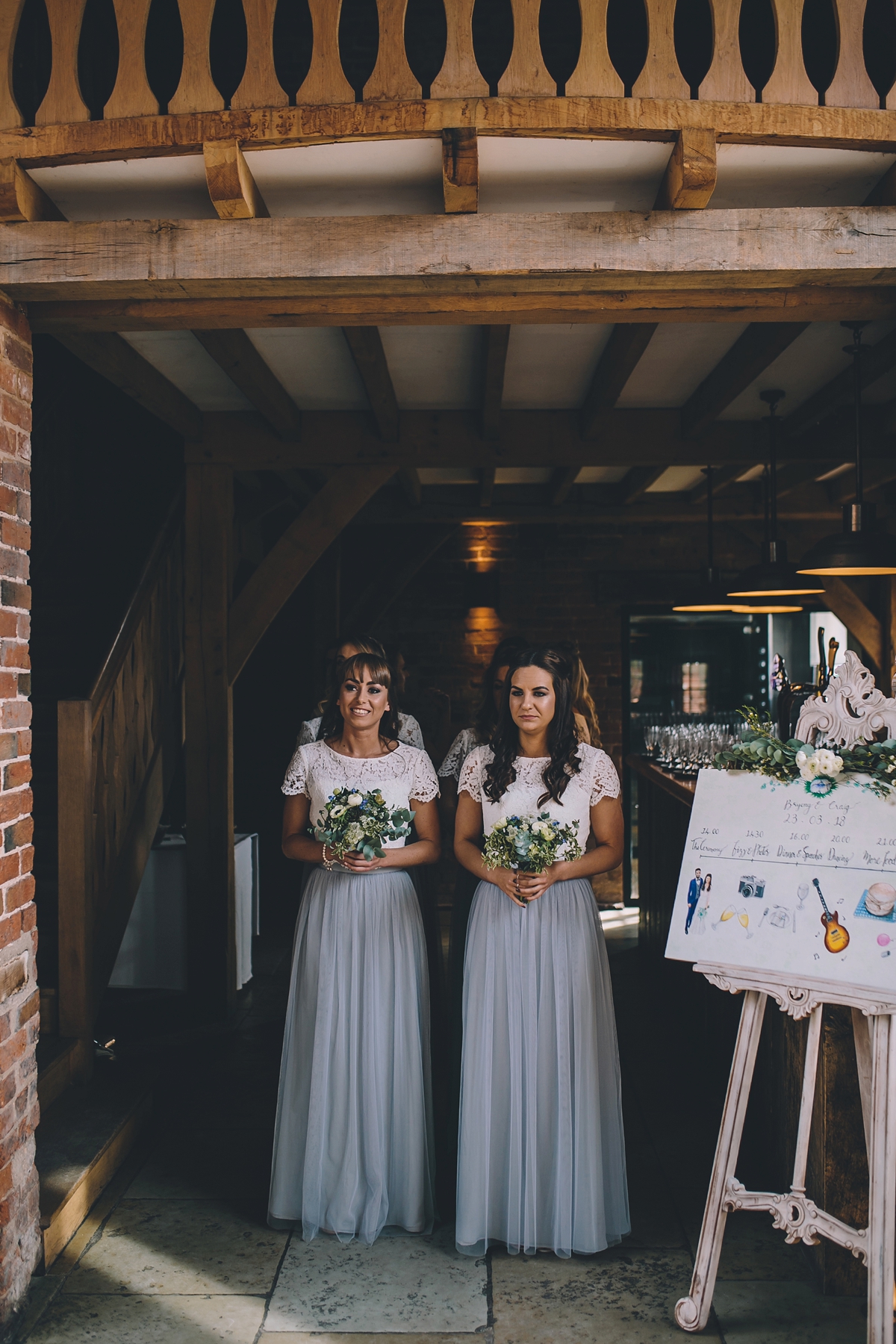 Bryony was accompanied down the aisle by her dad, walking to the song Only Love by Ben Howard. She carried a wild and wonderful bouquet in shades of blue and ivory, with gorgeous succulents and fragrant eucalyptus. The barn was filled with flowers, from a long table runner to vases of blooms, which brought spring indoors.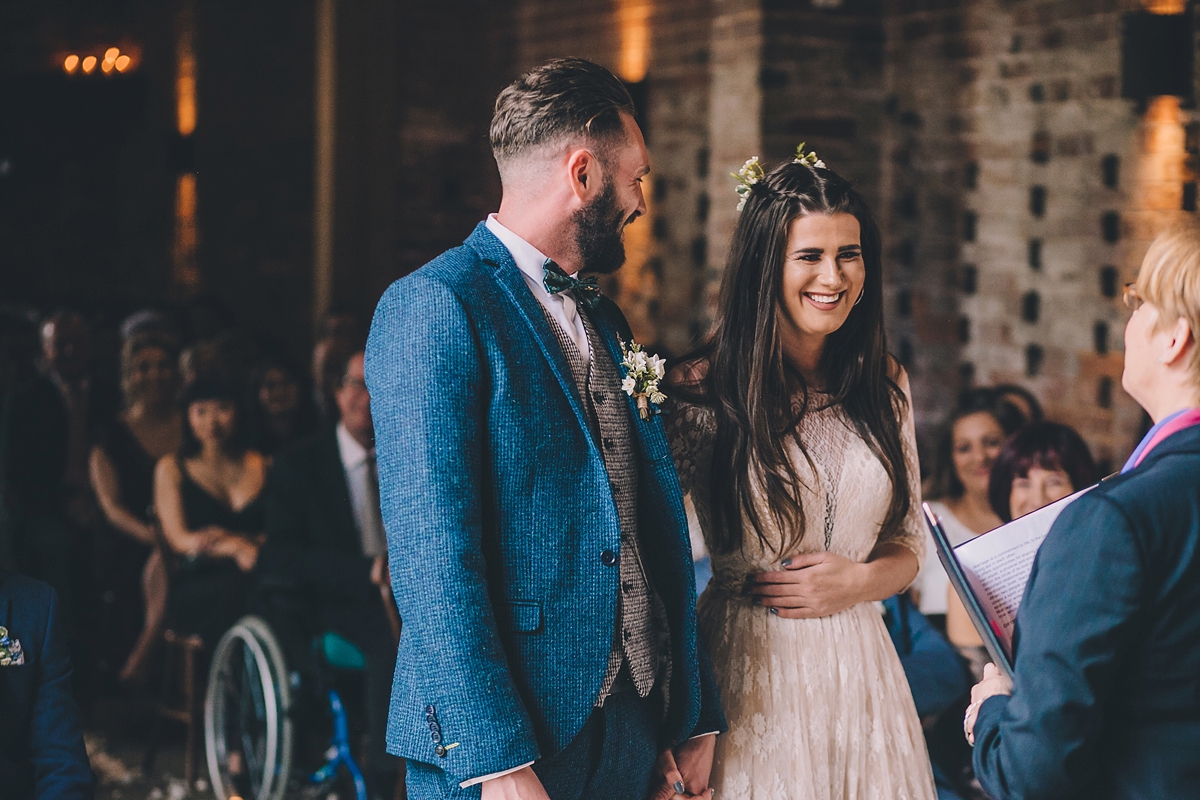 The couple chose modern and contemporary vows, which reflected their feelings about being best friends. They also exchanged rings, which they purchased from Diamond Heaven, based in Birmingham's excellent Jewellery Quarter.
"I found picking the readings extremely difficult as a lot of them I found sounded like they should be read by the Bride or Groom, or I found just too soppy. I finally decided two weeks before, and in the end was really pleased, everyone commented on how they worked really well within the ceremony."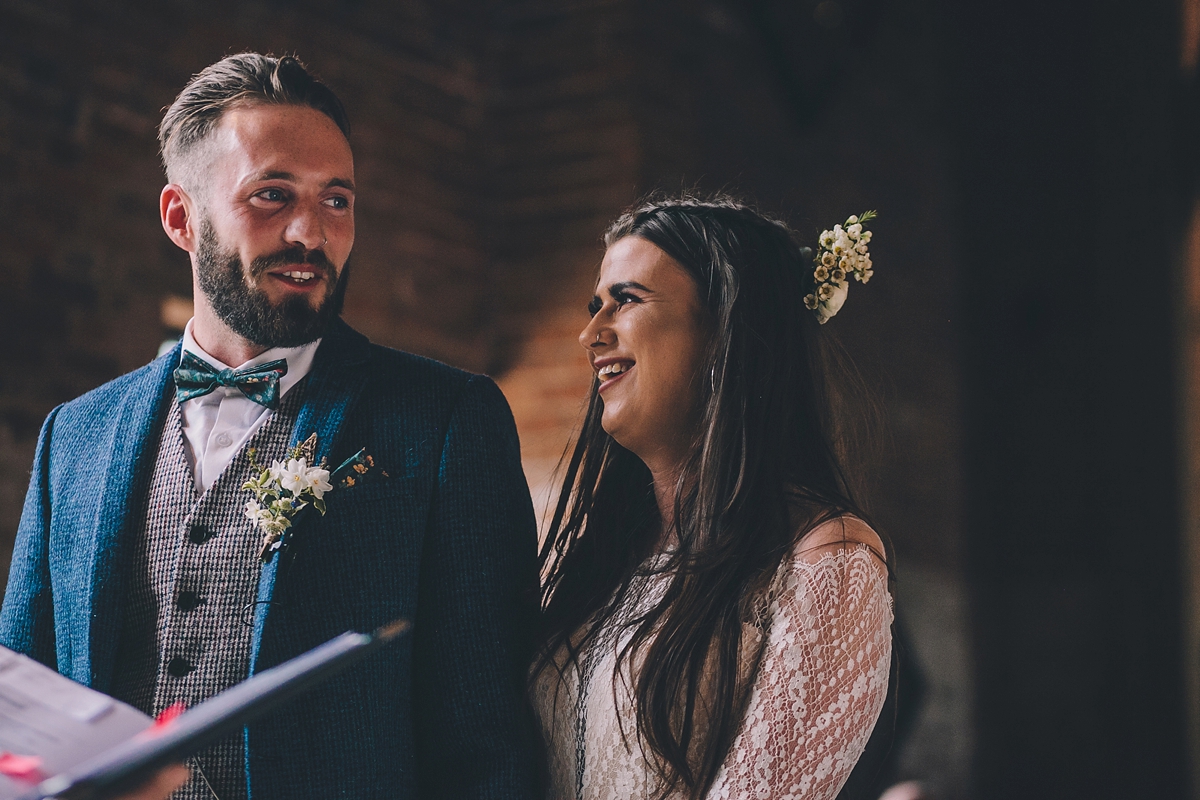 Before the ceremony began, bridesmaid Jenni read the timeless Union by Robert Fulghum. The second was a reading entitled It is Amazing.
"We have known each other 5 years and this reading has lines that say: 'You are different people today than you were five years ago. Five years from now you will be different still.' So we thought it was quite fitting! My bridesmaid Camilla who was there the night we met five years ago read this one."
Their third and final reading was an Extract From a Native American Wedding Ceremony, read by groomsman Paul. Looking back, the ceremony was Bryony and Craig's favourite part of the day.
"I was worried I would get emotional walking down the aisle, but I had the biggest grin on my face, it was lovely to see all your loved ones there and of course Craig waiting at the end! Although Craig was really nervous for the ceremony (I have never held a more sweaty hand!) , the minute it started it was filled with laughter (mainly every time one us said Craig's middle name) and it really set the tone for the day."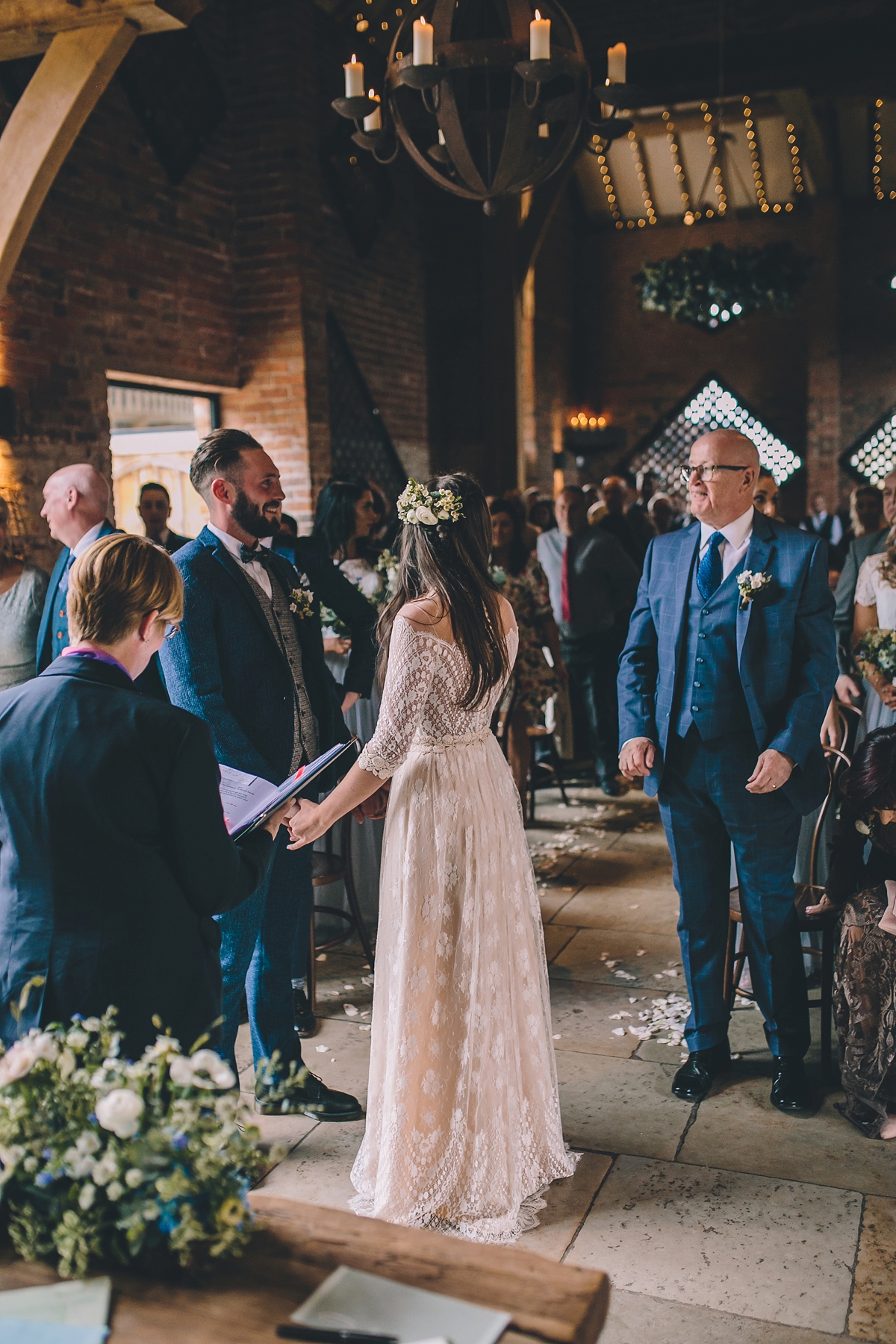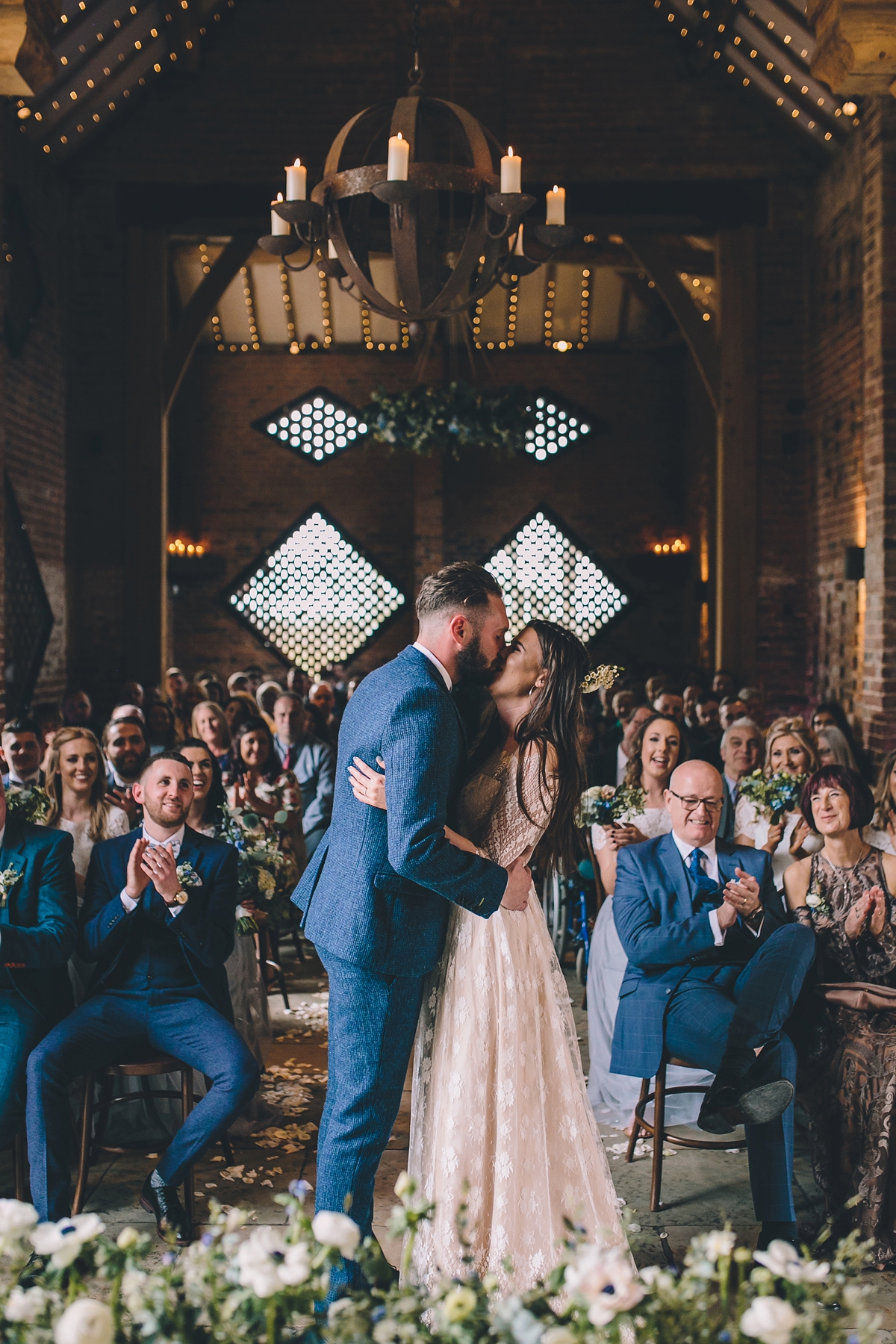 After the ceremony, there were delicious canapés from the catering team at Shustoke (which were so good, guests still talk about them today!).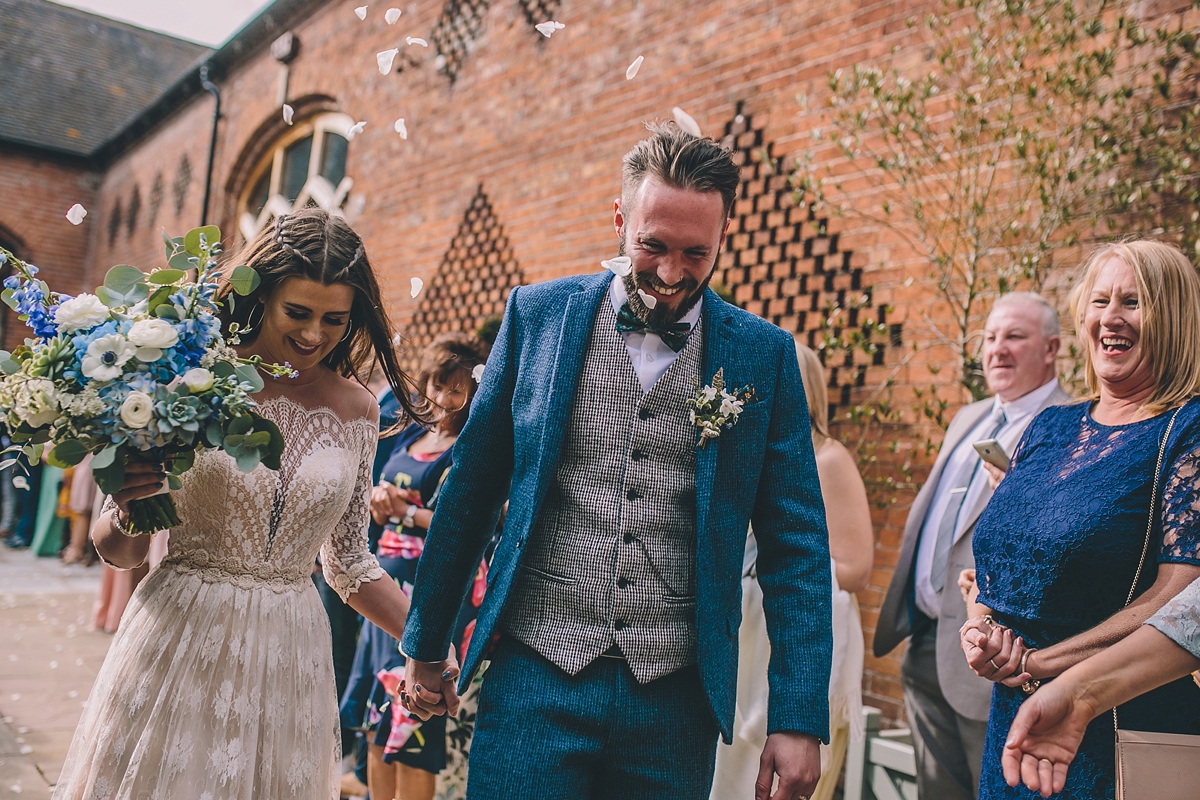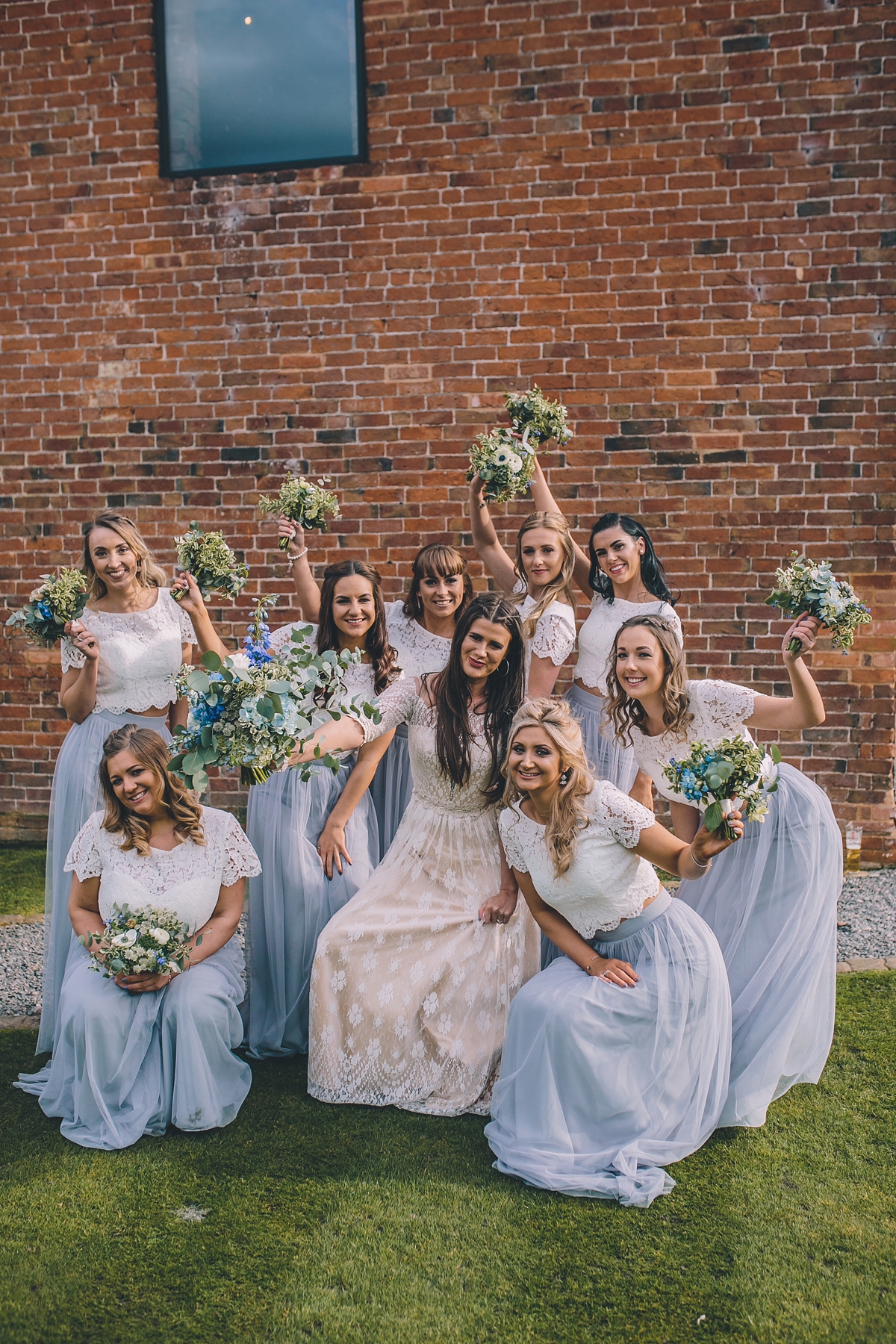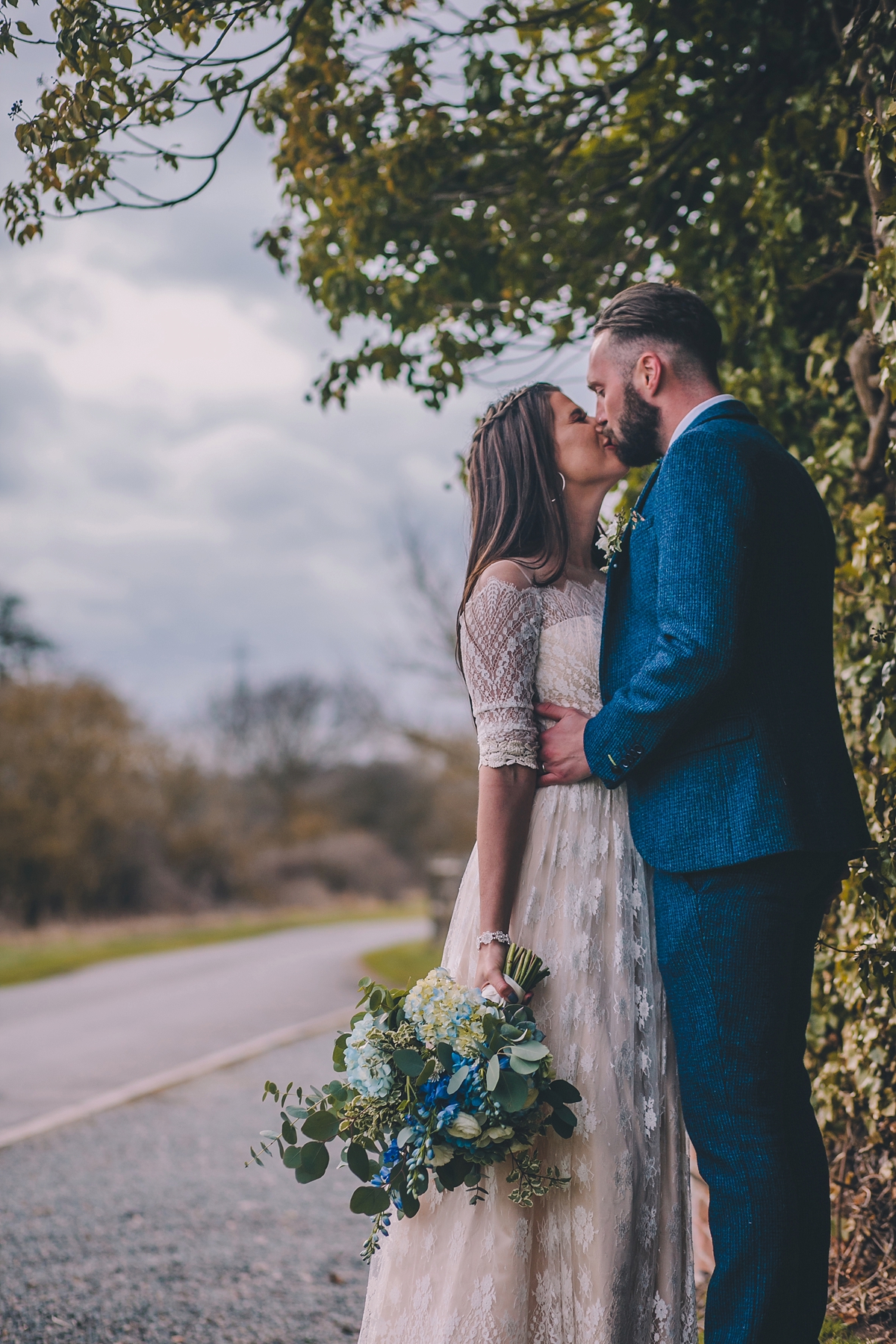 Inside, the barn was transformed for the wedding breakfast and evening entertainment to come. The warm red brick, gothic arched windows and high vaulted ceilings are just stunning, and the couple felt there wasn't much they needed to add in terms of decor.
I love the use of candles throughout, tucked on shelves and the various alcoves around the room. Rustic sliced tree logs served as table centrepieces, with jars and vases of flowers and candles.
"The order of the day features a painting of myself and Craig in our wedding attire so it was really personal. Our table plan we made as well, and featured all of our favourite places in the world, from our favourite sunset in Bali to our favourite island – Ibiza!"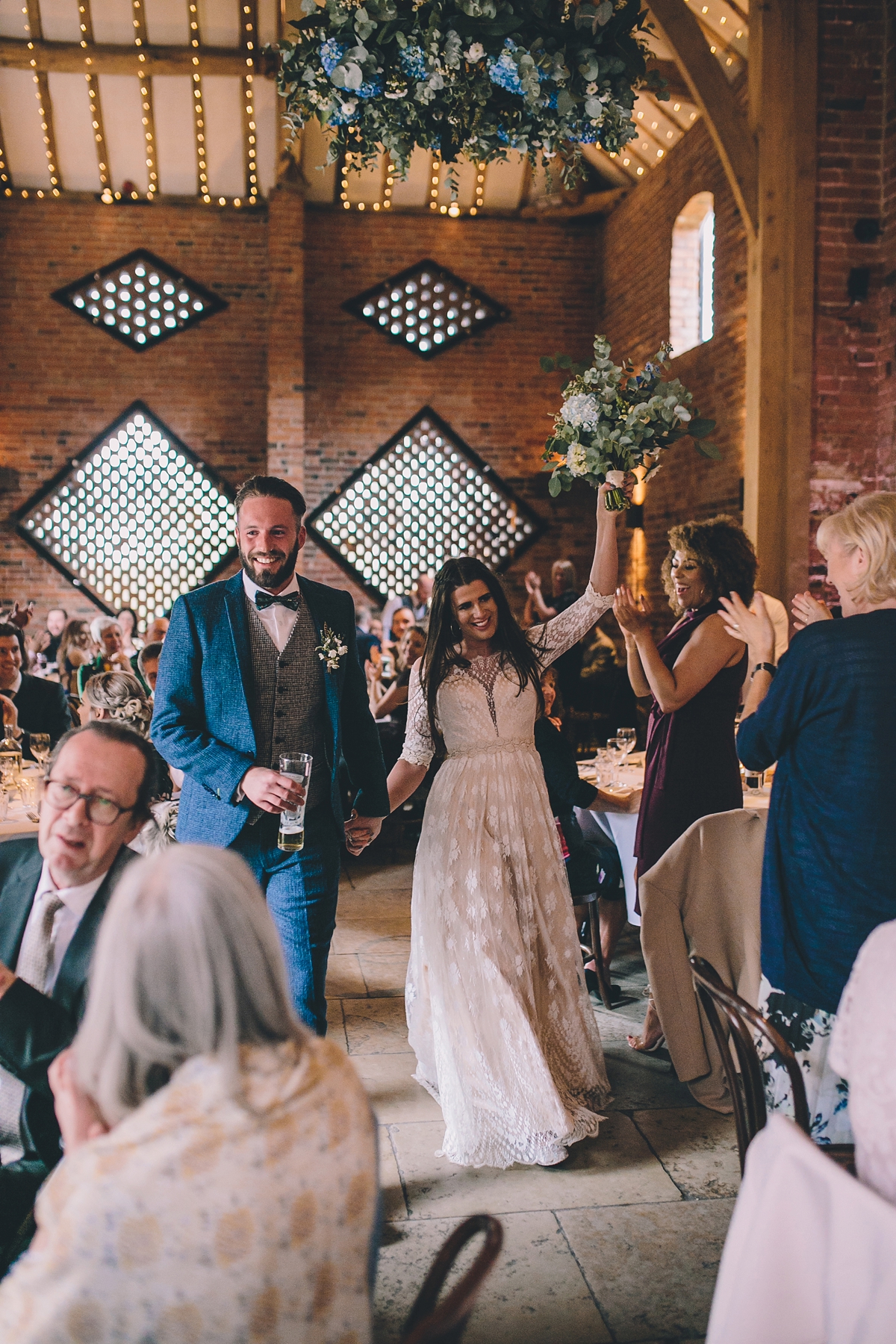 "We bought a lot of stuff ourselves, picking up things over the course of the year as and when we saw things… We picked up a lot from Excelsior Wholesale who sell to the public if you spend over £70! We also hired extra lanterns, crates, easels and a post box from Truly Scrumptious Weddings."
The wedding cake was a cheesy delight from the Cheese Shed, which the couple chose over a traditional, sweet cake.
"I'm obsessed with cheese so was always going to have a cheese wedding cake. I used their online cake maker tool, which shows you what it will look like, letting you chop and change the layers!"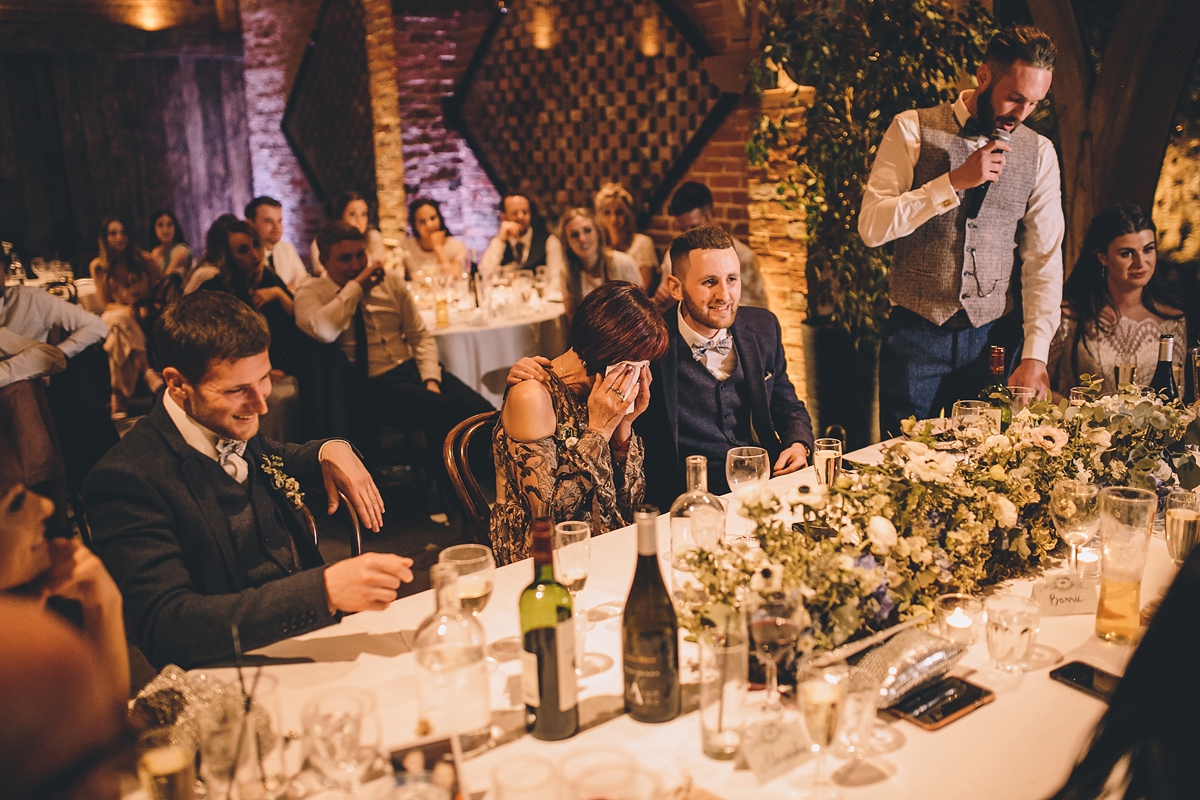 Shustoke looked even more magical at night, adorned with candles and atmospheric lighting making the brickwork glow. As evening arrived, Bryony and Craig made their way to the dance floor for their first dance as a married couple – Is This Love? sung by Corinne Bailey-Rae.
"On our second date, Craig drove me back up to my university apartment in Leeds. We sang along to Bob Marley the whole way and for one of our anniversaries we went to see the Wailers live, so knew we wanted one of Bob Marley's songs. This version worked a lot better for a slow first dance than the original!"

Continuing with the reggae vibe, the couple chose band East River to keep them all dancing throughout the night.
"I could not recommend them enough, our dance floor was packed start to finish! They played new and older songs and put their own twist on them."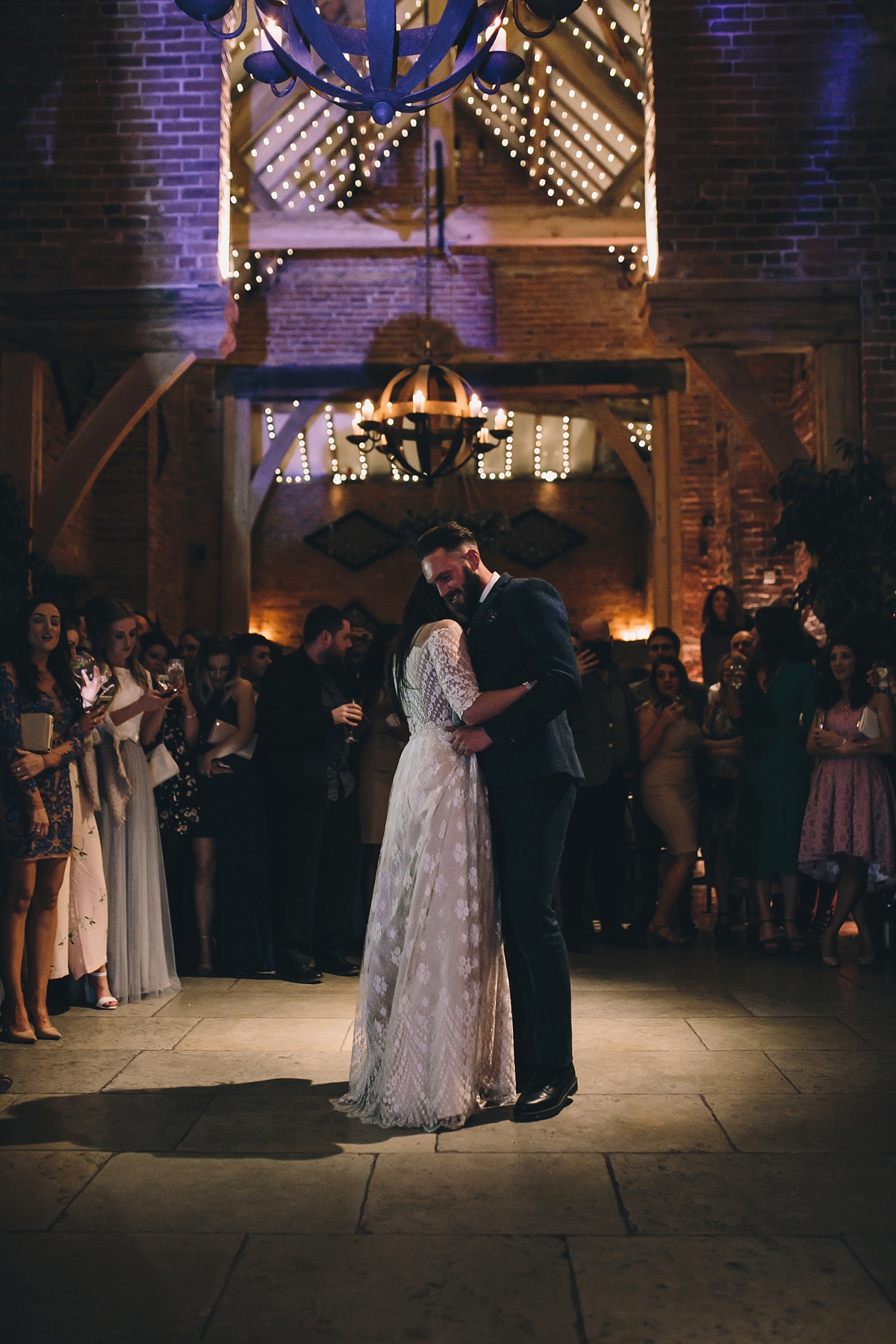 Words of Wedded Wisdom
"My words of advice would be, do what makes you both happy! My dad didn't formally give me away after he walked me down the aisle, our top table was in the middle of the room, we didn't cut the cake and I didn't throw my bouquet – which meant there was more time for drinking and dancing!"
Bryony and Craig, thank you so much. What a fun and romantic day, and what an incredible venue, too. Many thanks also to the wonderful Story + Colour, and Opaline Films for their beautiful work. You can view more lovely rustic barn weddings on our pages right here.
Until next time!
With love,
Laura