The Ordinary is a groundbreaking range of skincare that has been making huge waves in the beauty industry since its launch just over a year ago. Offering powerful, single-ingredient and low-cost products, the brand has revolutionised the way women look after their skin.
But, it's not without its downsides. If you're a die-hard beauty geek like me, your bathroom shelf probably looks rather like a pharmacy and that's just how you like it. But, if you're not a beauty geek, the chances are that you're more than a little confused by the chemicals, acids, powders, and oils on offer. What do they all do? When should you use them? How should you use them?
This round up doesn't include every product from The Ordinary, but I've picked the best-sellers and my must-haves and broken down what they do and how to use them so that you can shop with confidence.
I've listed products here in the order they appear on the website in order to make shopping for them a little easier, but I've included instructions for applying them at the end of each product or category. The general rule of thumb is to apply products in order of viscosity, starting with water-based products and finishing with oils and creams, and I've included an example routine at the bottom of the page.
So, are you ready? Here comes the science bit…

Retinoids
What they do: Retinoids (an umbrella term for retinoids and retinol) work by encouraging your skin's cell turnover; killing old cells and boosting new cell growth. They also stimulate collagen production (a protein responsible for maintaining the structure and elasticity of skin) and thicken deeper layers of the skin, which in turn helps with the appearance of wrinkles.
What to buy: Perhaps one of the more confusing categories on the website, the head-spinning list of rentinoids can be a little daunting to newcomers. While retinoids are a more powerful product that retinol, they are also far less irritating to the skin. Start with the Granactive Retinoid 2% in Squalane. Use every 2/3 days to begin with so that your skin can acclimatise to the product, but bear in mind that you might have some slight irritation (red skin, dryness or flaking). If your skin is happy with the 2% solution, upgrade to the 5% when you buy your next bottle.
When to use: Retinoids should be used in the evening, and these oil-based formulas should be applied after any water-based products and before thicker creams or oils. As Retinoids speed up the production of new skin cells, they should be used in a routine that also includes a chemical exfoliator such as glycolic acid to help with the removal of dead skin cells and avoid congested skin.
Caution: Retinoids can make skin more sensitive to UV radiation. As such, precautions should always be taken to protect skin when exposed to the sun.

Vitamin C
What it does: Helps with uneven skin tone, brightening and smoothing skin. It's a powerful antioxidant that helps protect skin from damage caused by the environment.
What to buy: There is a multitude of Vitamin C formulations on offer, each containing different forms of Vitamin C, differing strengths and complementary ingredients. Depending on what your main concerns are, I'd recommend one of the following:
When to use: Most Vitamin C formulas can be applied morning or evening. I apply mine in the morning on days when I'm not going to be wearing make up in order to even out the number of products I'm using in the am/pm. Otherwise I apply in the evening as the texture of the Vitamin C Suspension 23% + HA Spheres 2% doesn't sit well under my make up. Apply after water-based products, before oils and creams. Expect a small amount of stinging when Vitamin C products are first applied, this is normal and will quickly subside. It will not usually result in irritation.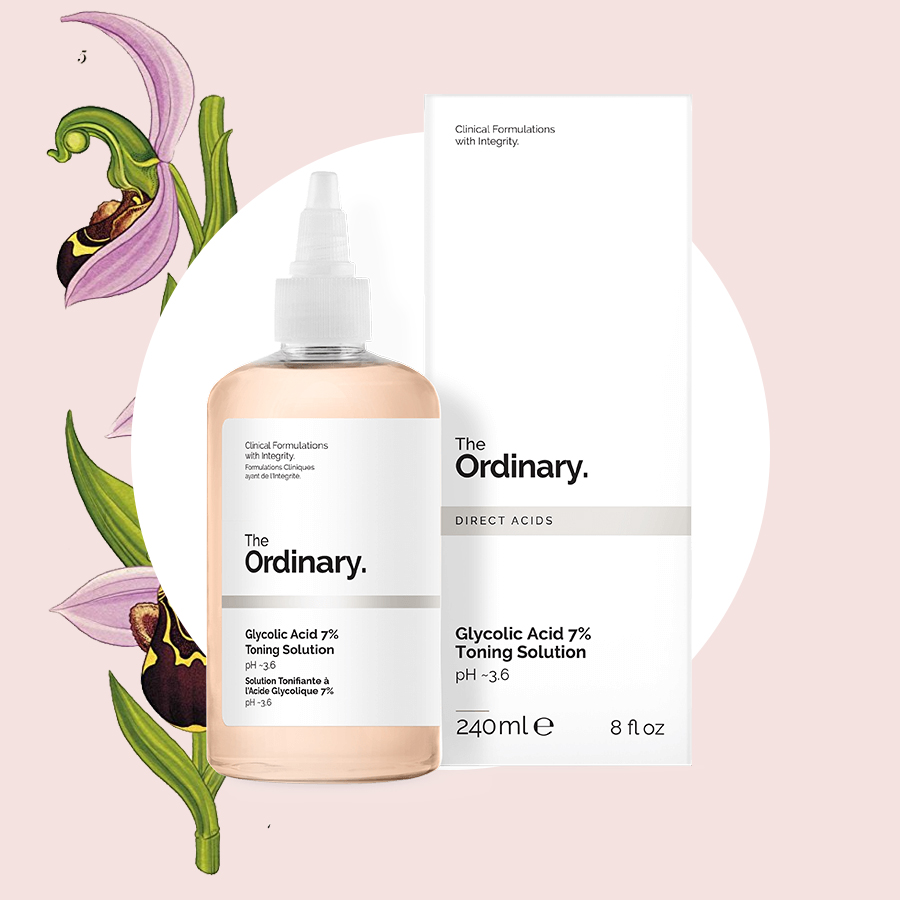 Direct Acids
Used to target skin tone and dullness and improve skin texture, The Ordinary offers a range of acids from a relatively mild 7% glycolic toner to an amazing 30% AHA peeling solution.
Glycolic Acid 7% Toning Solution – The Ordinary's answer to cult favourtie Pixi Glow Tonic (which contains a more mild 5% glycolic acid) this water-like tonic should be swept over the face after cleansing in the evening. The glycolic acid acts as an exfoliant and contains a Tasmanian Pepperberry derivative to help reduce irritation associated with acid use.
When to use: In the evening immediately after cleansing.Expect occasional stinging, and introduce to skin gradually starting with a couple of times a week and building up to daily use.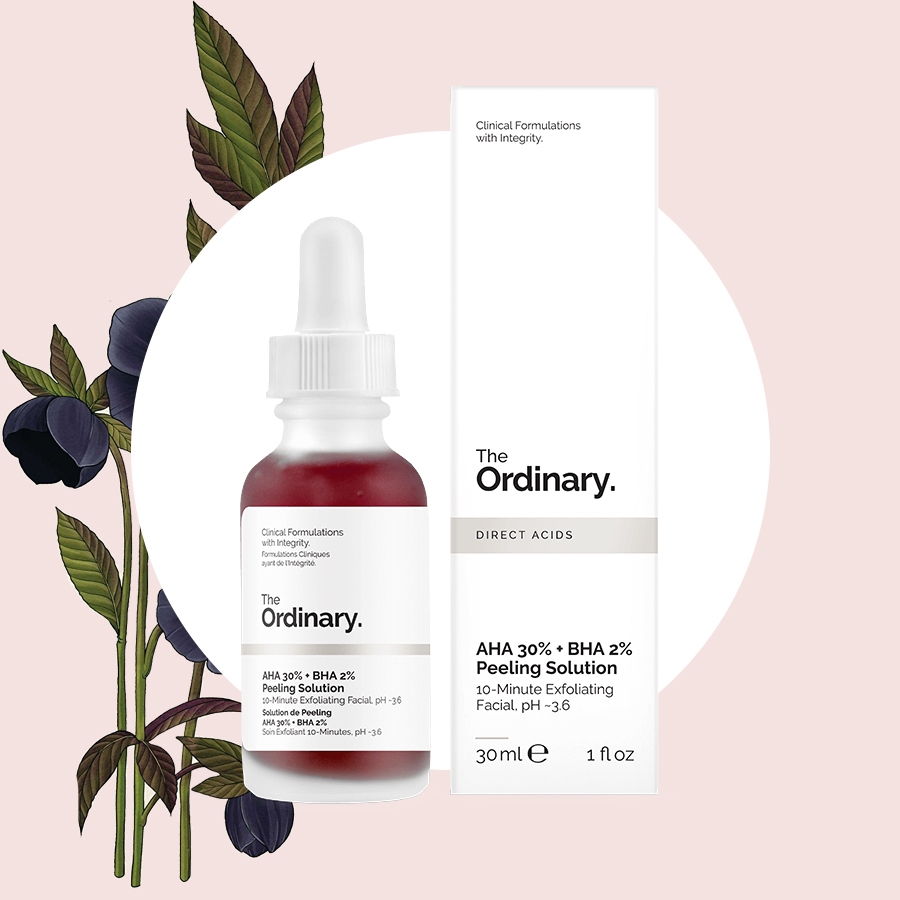 AHA 30% + BHA 2% Peeling Solution – This stuff has changed my life (#mostlytruestory). Not one to try if you're new to acids, I'd been using a glycolic acid toner for at least 6 months before I ventured to give this a go. It has a most unfortunate appearance (think Carrie at prom), but the results are absolutely worth the 10 minutes of tingling red goop face. This super-exfoliator will leave your skin super bright and smooth as a baby's derrière.
When to use: Use once or twice a week, and apply to dry skin after cleansing in the evening, and leave for no longer than 10 minutes.
Caution: AHAs make skin more sensitive to UV radiation. As such, precautions should always be taken to protect skin when exposed to the sun.
Azelaic Acid Suspension 10% –  For the rosy cheeked and rosacea prone amongst us, this brightening and skin tone-improving wonder cream is just what you need. Produced by yeast naturally that lives on the skin Azelaic Acid is a godsend for me when my rosacea rears it's red bumpy head once a month.
When to use: Apply morning or evening, after water-based products and before oils and creams.
Salicylic Acid 2% Solution – A beta hydroxy acid (BHA), salicylic acid exfoliates the inside of your pores, making it the perfect solution for breakout prone skin. It can be applied directly to spots for a targeted overnight treatment, or applied in a thin layer for an overall clean up.
Caution: BHAs make skin more sensitive to UV radiation. As such, precautions should always be taken to protect skin when exposed to the sun.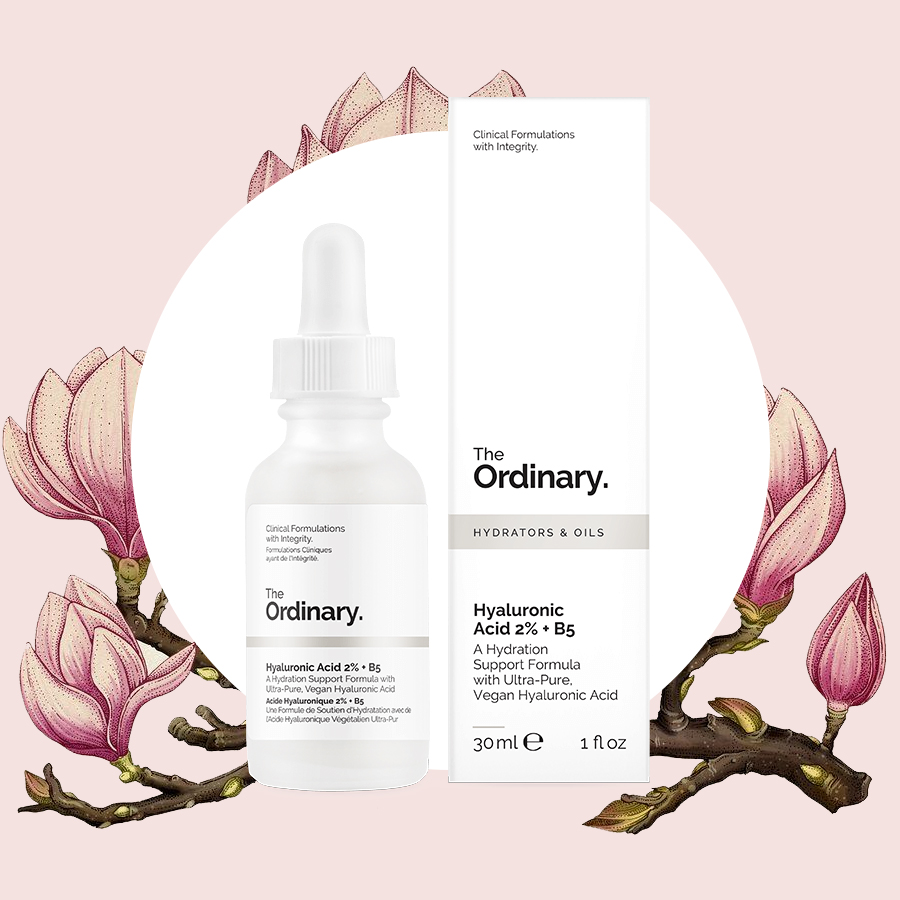 Hyaluronic Acid 2% + B5, £5.90
Hydrators and Oils
Hyaluronic Acid 2% + B5 (Marine Hyaluronics) – Possibly the biggest hit to come out of The Ordinary's ground breaking approach to skin care, their Hyaluronic Acid (HA) can be found on the bathroom shelves of every industry insider. I have a bottle in my bathroom in Devon, one next to my bed in London and one in my wash bag. You probably have one too.
A humectant that can hold up to 1,000 times it's weight in water, HA is essentially a sponge, sitting in the upper layer of the skin and holding moisture there, temporarily making skin look plumper and smoother and serving as a moisturising barrier. I always follow with a facial spray, giving all those spongy molecules something to soak up and hold onto.
The newly launched Marine Hyaluronics act in the same way, but the product is less viscose (apparently some people don't like the texture of the original HA formula).
When to use: Apply morning and evening, after cleansing and toning, before serums, oils and creams.
Oils
I've lost count of the number of people who've asked for product recommendations and then baulked at the mention of facial oils, telling me they have oily skin and they can't use them. Not so my friends, not even a little bit. The right oils, used in the right way can give you moisturised, soft, luminous skin. I have oily skin and I wouldn't be without my trusty oils for both cleansing and moisturising.
High in a variety of essential fatty acids, other plant acids, vitamins E and A, and much more, these organic plant oils can help with flaky irritated skin, dullness, and dehydration. If you're nervous about using oils on your face, start with a few drops of a light oil (try 100% Plant-Derived Squalane) rubbed between your palms and pressed lightly into the skin. When you start to feel the benefits, apply a little more and indulge in a facial massage while you're at it to really reap the benefits.
When to use: Apply morning or evening, after water-based products and serums. Use as the last step in your routine, after or in place of moisturiser. If you have very dry skin and find foundations drying, try mixing a drop of oil with your foundation before applying – a favoured trick of make up artists for creating a luminous finish.

High Strength Peptide Formulation (Matrixyl 10% + HA), £9.60
More Molecules
Matrixyl 10% + HA – It's all about the peptides (said in a Gok Wan style). Peptides are amino acids that form the building blocks of the protein in skin, most commonly collagen, elastin and keratin, which start to decrease in skin as it ages. Matrixyl is a peptide complex for improving the appearance of fine lines and wrinkles, mixed here with Hyaluronic Acid which temporarily plumps out skin, it's a bit of a game changer.
When to use: Apply morning and evening after cleansing and toning, and instead of HA, before oils and creams.
"Buffet" – This peptide cocktail is The Ordinary's answer to more conventional forms of skincare. An all in one combination of five different peptides and a probiotic in a base of 11 skin-friendly amino acids and multiple hyaluronic acid complexes, this skin firming serum is another of their biggest sellers. Up the ante by using their "Buffet" + Copper Peptides 1% which helps improve skin health as well as firming the skin and fighting signs of ageing.
When to use: Apply in the morning and evening, after cleansing and before oils and creams. If using the "Buffet" + Copper Peptides 1%, wait at least 30 seconds before or after applying and vitamin C products.
Argireline Solution 10% – Improves the appearance of skin 'prone to folds' – this one's for those pesky forehead lines and crow's feet (if you're the kind of person who finds those things pesky!)
When to use: Apply morning and evening to 'problem' areas, after toner and before oils and creams.
Niacinamide 10% + Zinc 1% – Reduces the appearance of skin blemishes and congestion. This potent blend of Vitamin B3 and Zinc regulates the skin's production of sebum
When to use: Apply morning and evening before oils and creams.An example routine (what I use!)
Morning
Evening
I also use the AHA 30% + BHA 2% Peeling Solution twice a week.
If you're keen to tailor a routine to your specific skin type and this hasn't answered all your questions, The Ordinary's customer service department is second to none and they'll reply to email enquiries with recommended products and when to use them.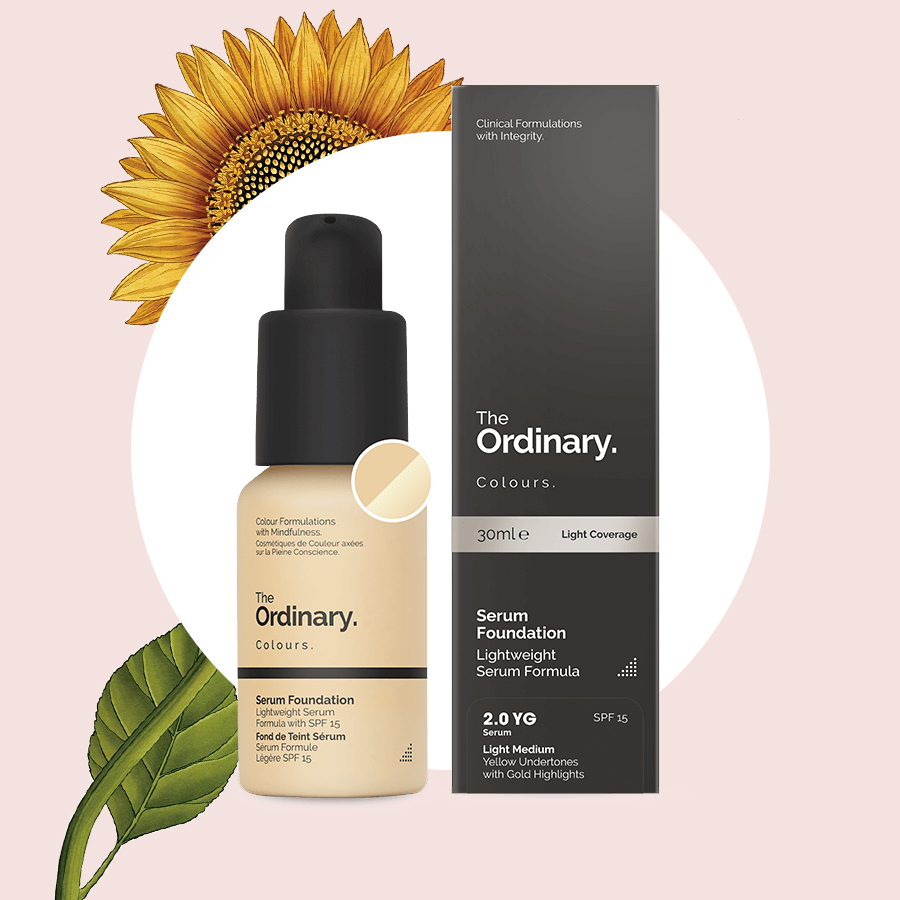 Colour
I've been a dedicated fan of The Ordinary's Serum Foundation since it's launch. They have a respectable 21 shades, although the collection is weighted in favour of lighter skin tones. I mix two of their colours together (2.0YG and 2.1Y) and find the super lightweight formula is comfortable to wear all day and doesn't cake or dry out skin. One word of warning – I travel a lot and found the pump dispenser was sometimes a little messy, but it was nothing compared to the leakage caused by switching to the droppers they sell!
If I've missed one of your favourite products, do let me know below. I'll soon be starting a series of skin care round-ups, looking at each step of skin care and the best products to try, and I'll be sure to incorporate these products in those line ups so that you can get a fuller idea of how to fit them into your skin care routine.
Wishing you all a glowy and peachy weekend! KT x